Welcome to the scuba diving capital of French Polynesia! Known as 'the infinite lagoon', Rangiroa is the world's second biggest atoll, so big that you cannot even see its other end. Like a giant pearl necklace floating in the ocean, the real magic happens underwater. Your daily routine? How about close encounters with scary looking sharks, hungry sea turtles and families of friendly dolphins? I spent six days in Rangiroa while backpacking across the South Pacific Islands and returned for a second visit a few years later. Here's a sample 4 days in Rangiroa itinerary which covers all the highlights the atoll has to offer and can be modified to fit your diving appetite.
Heading off to French Polynesia? In-depth island guides to all 5 archipelagos await you, including sample itineraries and essential travel tips & tricks.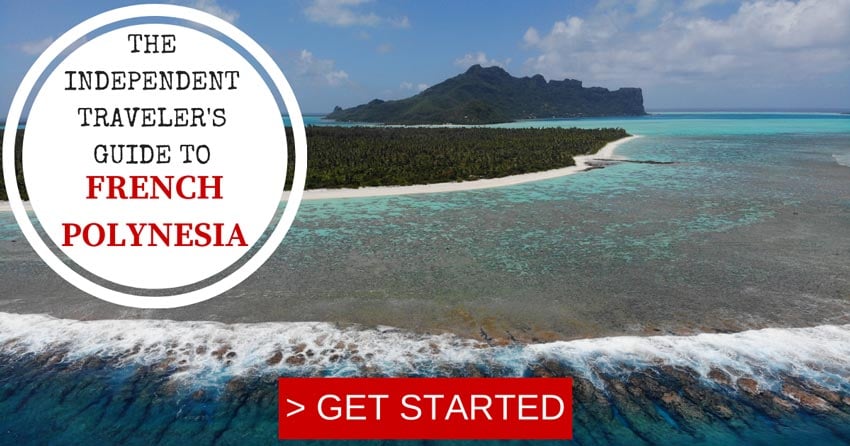 Tahiti, Tailor Made!
The Islands of Tahiti are among the last places to be colonized by mankind, 118 islands, each with its unique personality.
Get expert advice and assistance with planning your trip to the destination where tropical dreams come true!
---
4 Days In Rangiroa Itinerary Map
All places mentioned in this itinerary can be viewed on this companion map. Simply click on the image to open in Google Maps: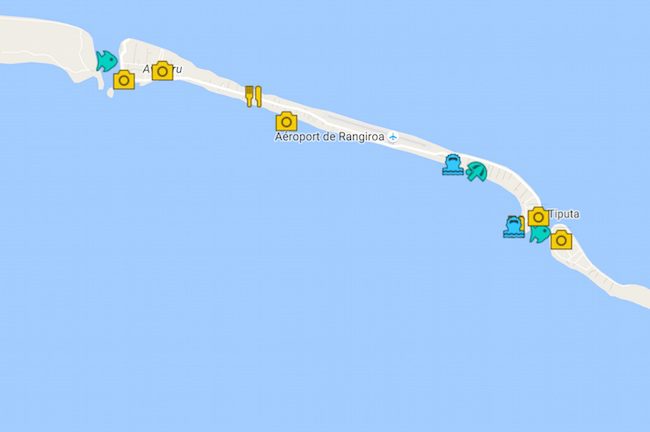 About this Rangiroa Itinerary
I visited the Rangiroa Atoll on two separate occasions, the first during my long voyage across the South Pacific islands and a few years later on a cruise from Tahiti to Easter Island as a tour guide. This itinerary is based on my experience and extensive research.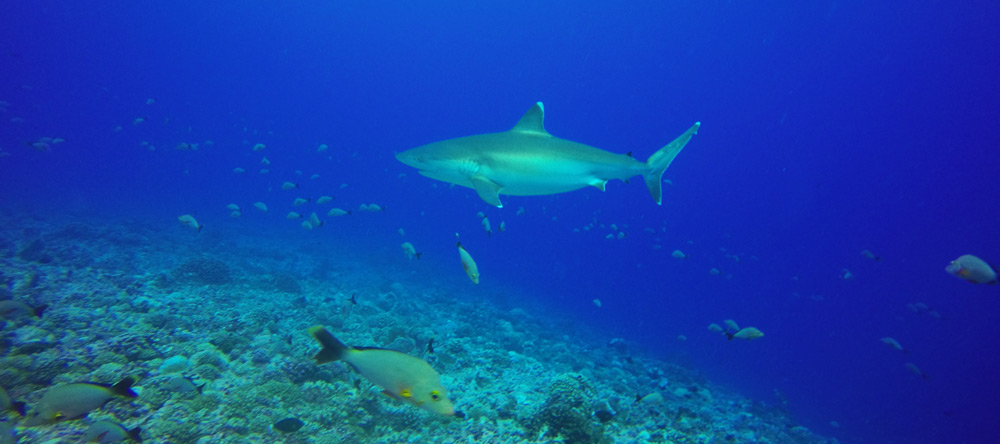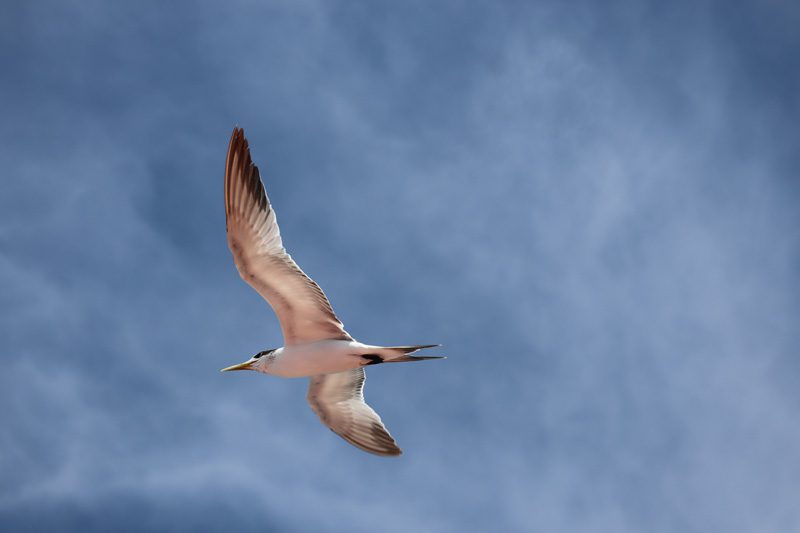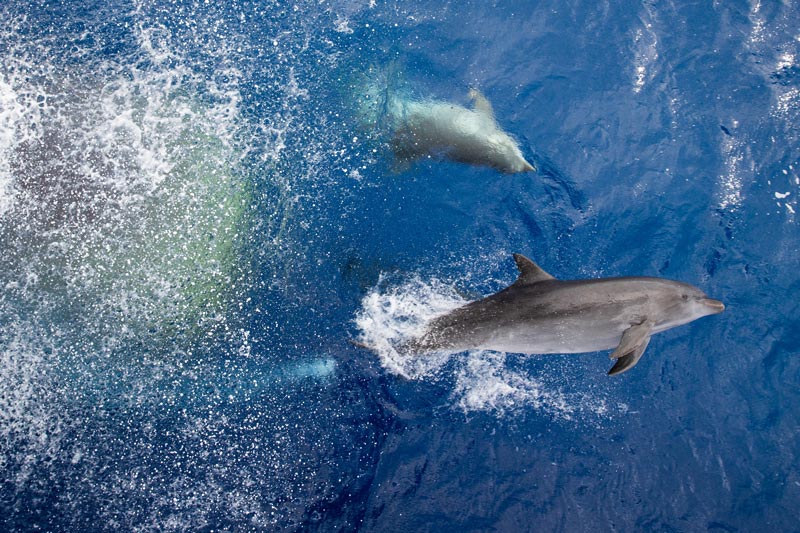 Image by Morgane Monneret
Day 1: Excursion To Lagon Blue Or Ile Aux Recifs
Here's a shocker: I actually recommend starting your visit to Rangiroa with a lagoon excursion and not with diving. Why? There are two awesome-looking spots on opposite ends of the lagoon that can only be visited on a full-day tour. Depending on the weather and if enough people signed up, these tours are prone to last-minute cancellations. To avoid missing out on this, get it done early in your visit to have enough time to re-attempt if things didn't work out. Use this day to also make some last-minute diving arrangements if you haven't finalized everything beforehand.
The first option is Lagon Bleu. An hour away by boat, you'll spend the day exploring remote motu (small islands on the edge of the lagoon) and snorkeling in pristine waters. The full-day tour includes a picnic lunch and should cost around 7500F per person.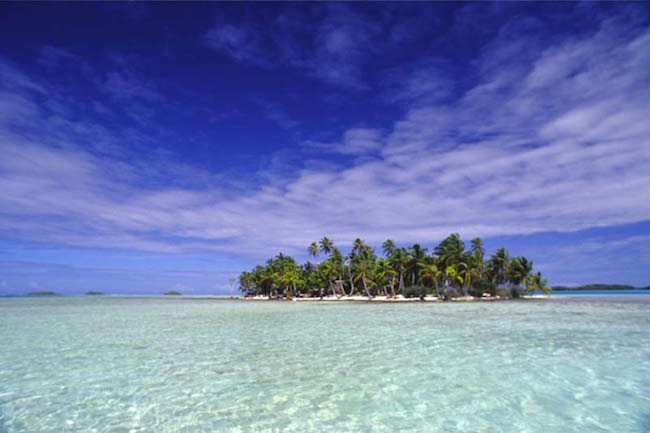 The second option is a trip to Ile aux Recifs, an hour by boat but on the opposite side of Lagon Blue (so you cannot do both on the same day). On this side of the lagoon, you'll swim in beautiful shallow pools created by razed coral boulders. You'll have a picnic lunch on a motu and the whole affair should be similar in cost to Lagon Bleu.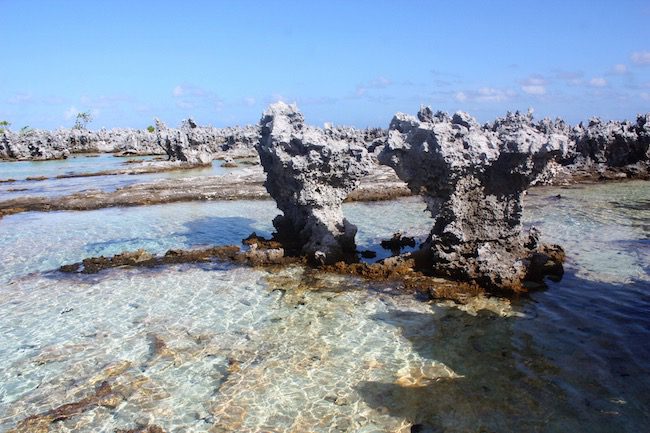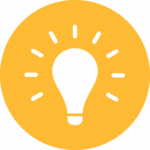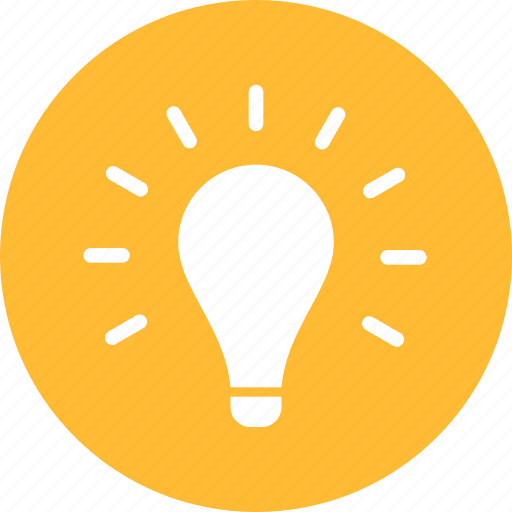 Pro Tip
Which excursion is better? I heard from some folks that Lagon Bleu is more impressive but don't take my word for it… my own trip was canceled at the last minute and on my last day in Rangiroa.
Alternatively, you can join a snorkeling tour that visits the aquarium, an awesome snorkeling site just minutes from the Tiputa Pass. This is actually a marine sanctuary and locals have placed underwater signs with explanations for snorkelers about some of the fish they're seeing in real-time. I highly recommend this tour if you enjoy snorkeling and wish to stick around the main village on this first day in Rangiroa.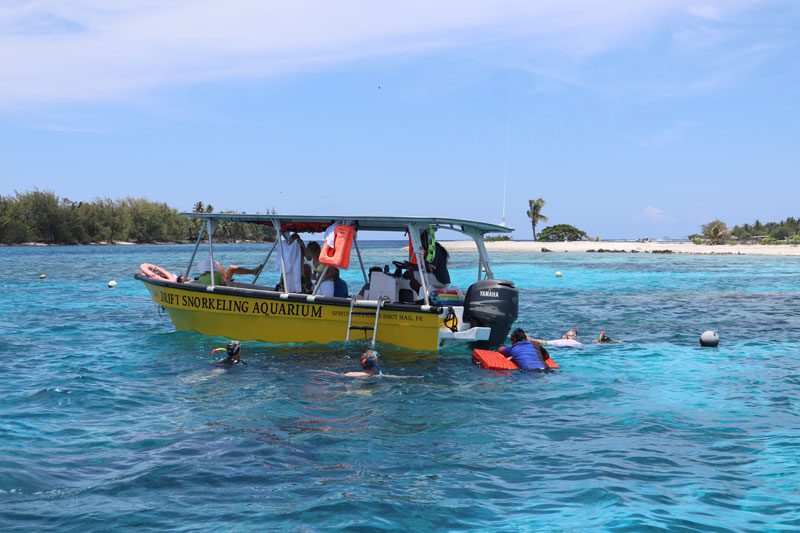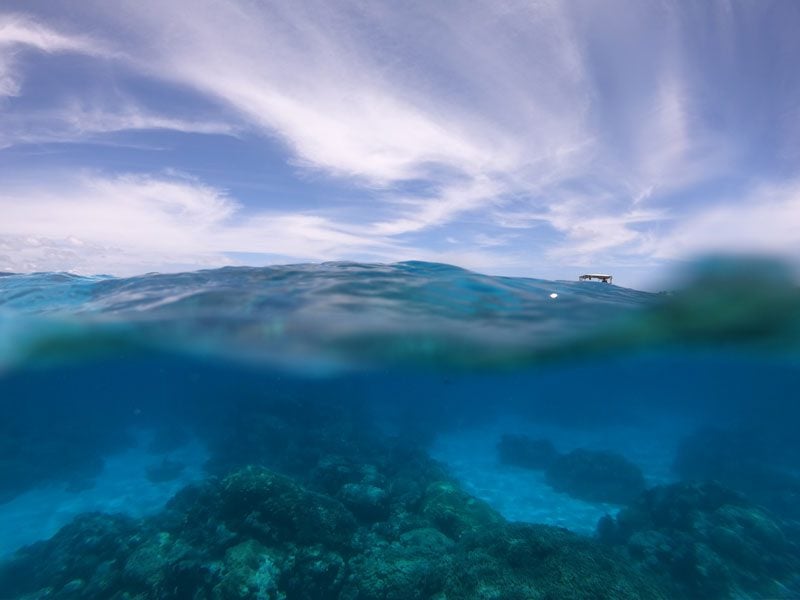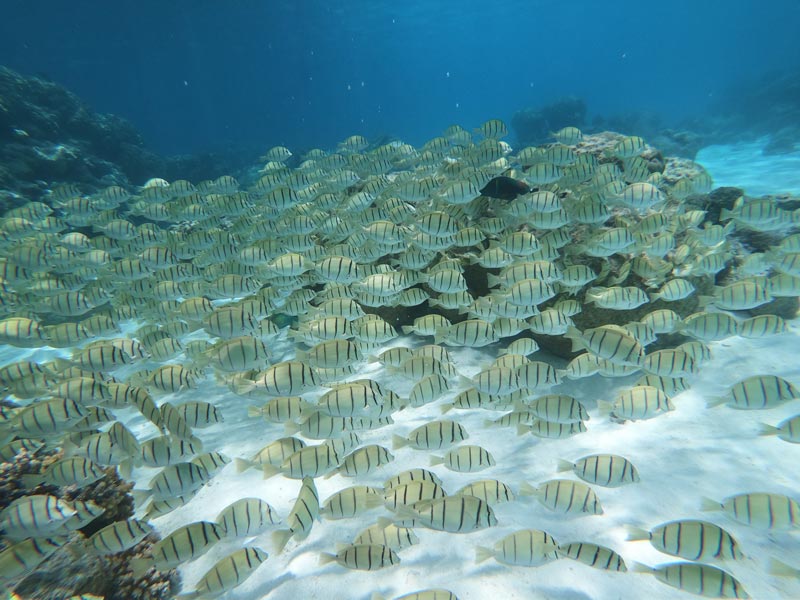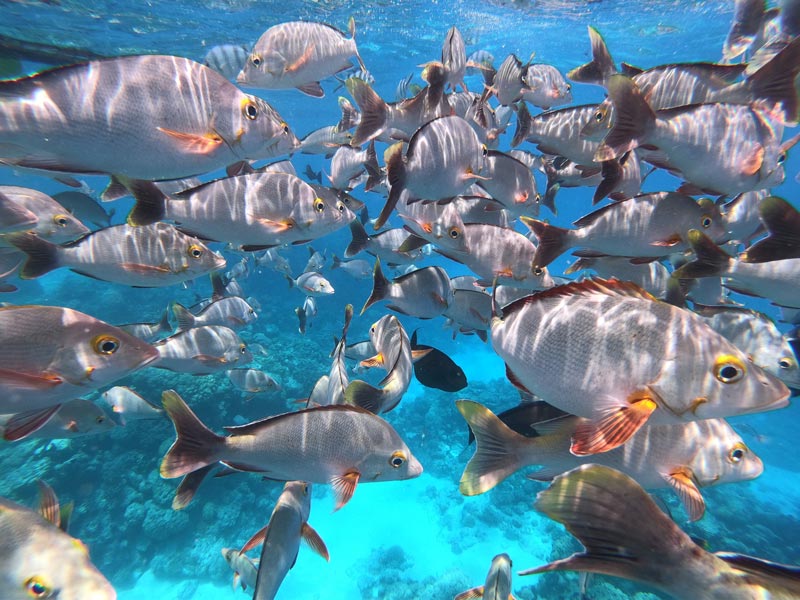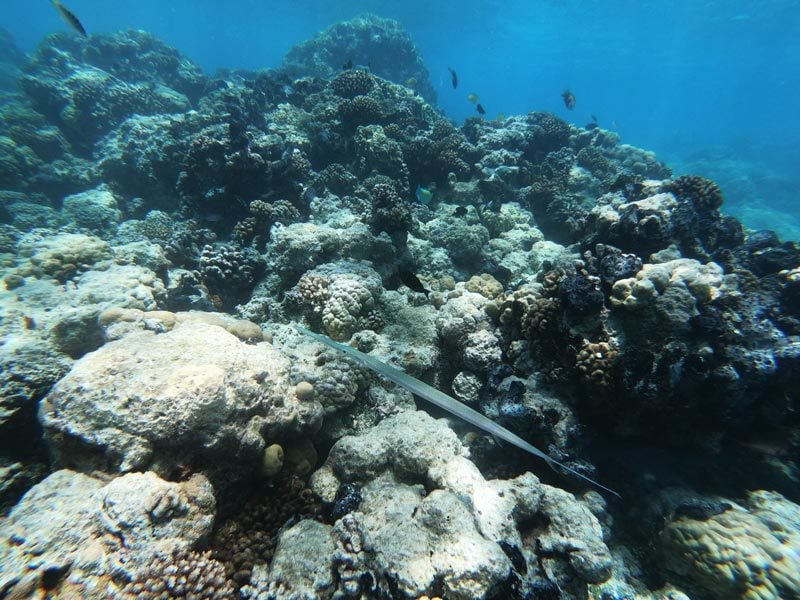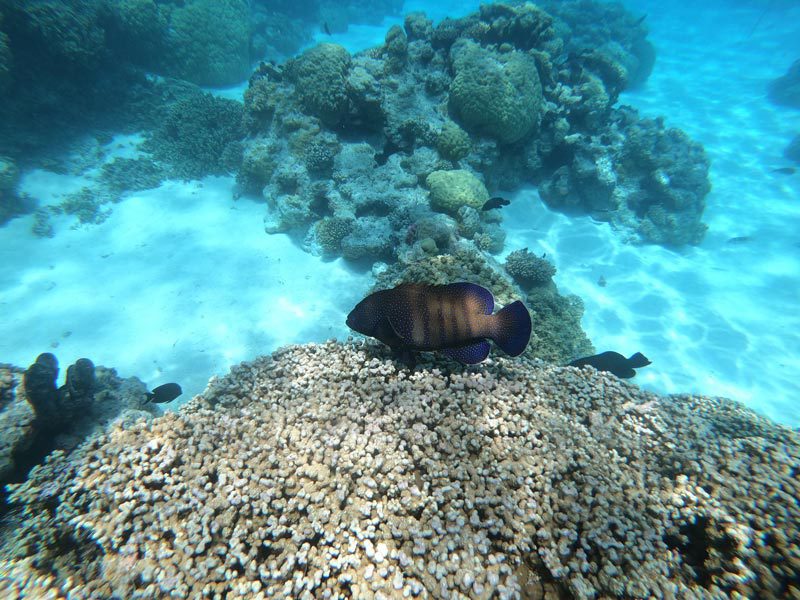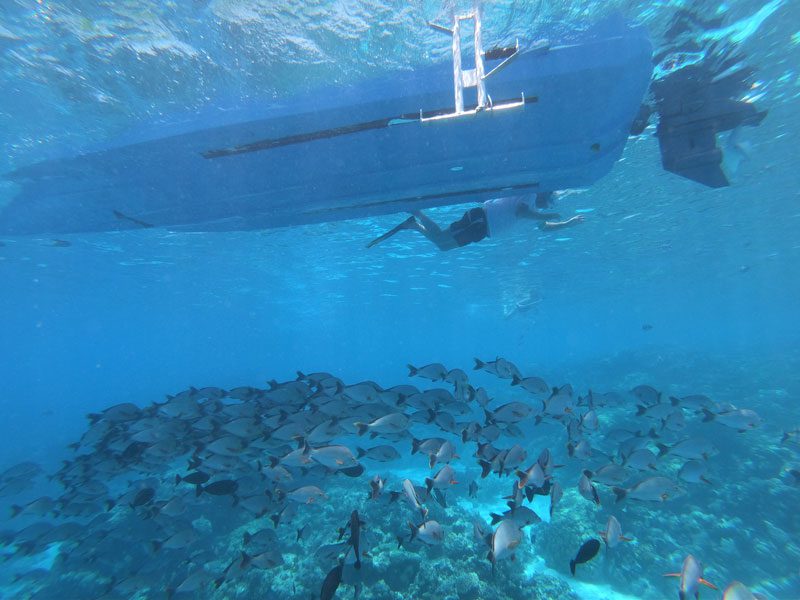 Day 2: Diving In The Tiputa Pass
On this day it's time to get down to business and do some scuba diving – the real reason you'll come all the way to Rangiroa. I personally went diving with the folks at The Six Passengers and can highly recommend them. They're part of the totally worth it Te Moana dive pass. You can read more about them and get some insider diving tips in the Rangiroa Travel Guide.
You'll do the bulk of your diving in the Tiputa Pass. It's narrow, It's deep and it's one of the best dive sites in the entire world!
Reef Dives
If you won't be 'shooting the pass' and drifting back into the lagoon, you'll likely dive around 'the angle'. That's perfectly fine as you'll get to cruise around massive schools of snapper, hang out with sea turtles and witness one of the richest marine ecosystems in the world. Oh, and there might be a few 'surprises' to look out for.
Out of the blue (literally), you might encounter families of friendly dolphins. They'll come really close and hang around for a bit before venturing back into the depths. Those who go a bit deeper will also see lots of sharks, maybe even a hammerhead or a tiger shark!
Drift Dives
As for the drift dives, that's what the Tiputa Pass is legendary for. Super-experienced divers will drift back straight down the middle of the pass, while us 'regular' folks will head back along the edge of the reef. It's still a very thrilling experiencing, having to grab on to something for dear life as the current pushes out, and riding it like Superman when it's pulling you in. Along the way, you'll cruise past channels and caverns where small fish like to chill.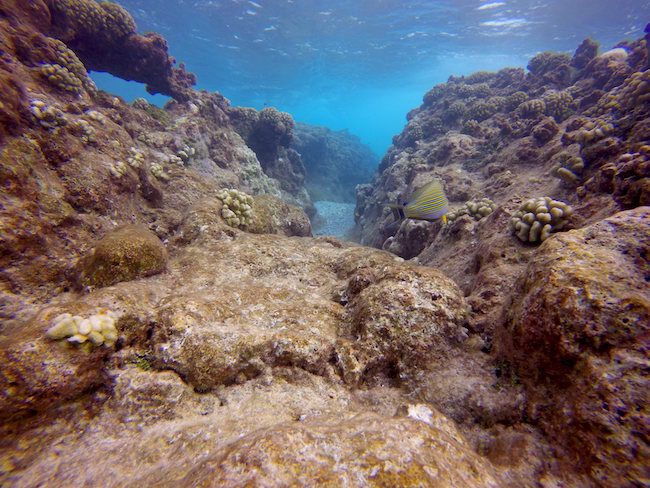 Back on the small zodiac, always be on the lookout for dolphins. They love to swim alongside the boat and escort you back into the safe waters of the lagoon. I love these guys!
Lunch
For a late lunch or dinner, head to Snack Puna, right by the quay. It's got a great little deck over the lagoon and traditional food that'll go down well after a tiring day at sea!