The island that made Paul Gauguin and Jacques Brel stay, will win your heart from the moment you touch down in one of its deep valleys. Hiva Oa really feels like the end of the line, simple and beautiful as life should be. Saddle up on horseback, put on your hiking shoes or put that 4X4 into first gear – there are so many surprises just waiting for you to discover. I visited Hiva Oa while backpacking across the South Pacific Islands. Here's a sample 5 days in Hiva Oa itinerary to help you plan your own adventure in paradise.
Here's a 90-second tour of Hiva Oa to get you into the spirit!
Traveling to other islands in French Polynesia? Here are the best ones!

5 days in Hiva Oa itinerary map:
Click on the image to view in Google Maps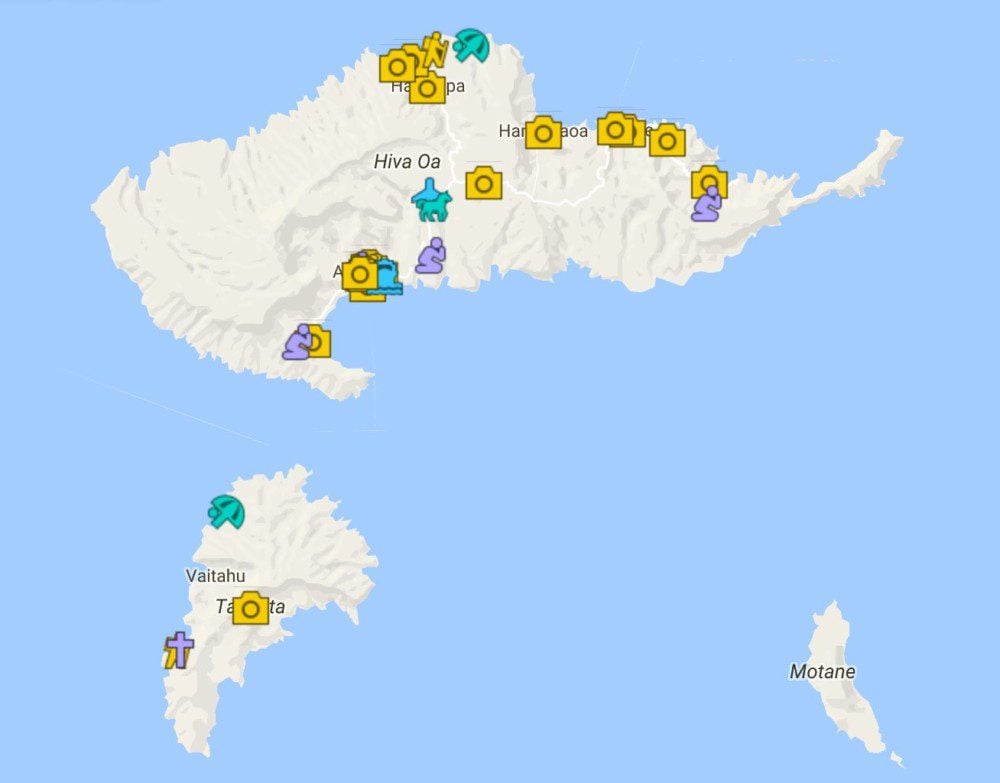 Where To Stay In Hiva Oa?
I stayed in a lot of pensions in French Polynesia but few were as memorable as Pension Kanahau. Not only is the view from your bungalow breathtaking, but your host – Tania, will treat you like family, and to food you'll be bragging about for months.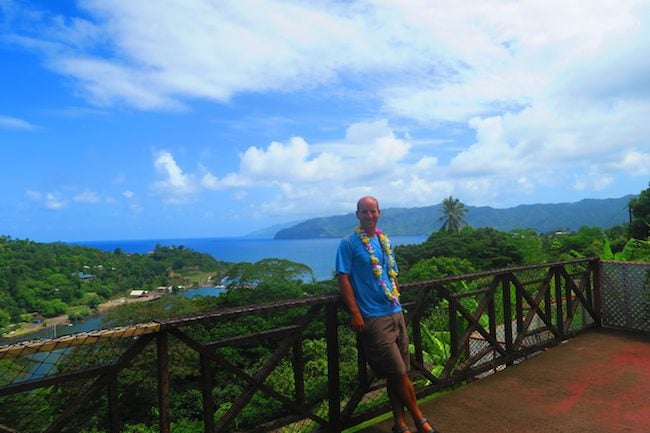 Quick note: I personally spent 5 days in Hiva Oa and this itinerary is based on that. If I had to absolutely scratch one day off my list, it would be the third day – but that's up to you.
Day 1: Exploring Atuona
Hiva Oa's only town is another beautiful South Pacific settlement that belongs in a Hollywood movie about paradise. Though its black sand beach is too rough for swimming, the cradling mountains provide the feeling of being in a much sweatier version of Switzerland. There's nothing and everything happening in Atuona at the same time. Tropically scented flowers provide the town's aroma, and the trees explode with fruit – just pick whatever you want.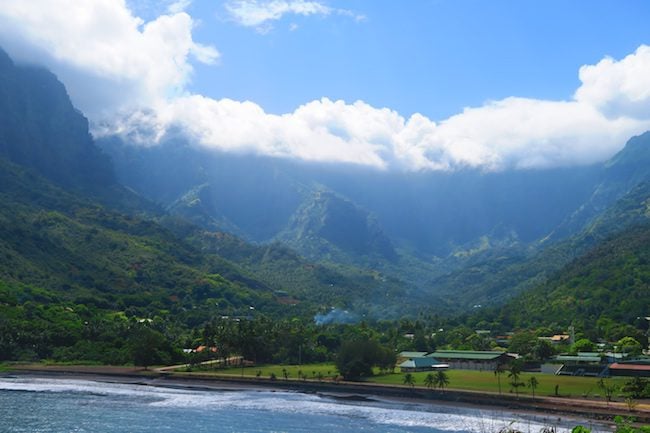 Gauguin & Brel
Start your tour with a visit to the Paul Gauguin museum in the center of town. The famous post-impressionist French painter lived his final years in Atuona, and the museum offers the chance to learn about his turbulent life in French Polynesia. Though you won't find here any original works, it's still kind of a must for any art enthusiast. In the back of the museum, a replica of the artist's home stands in the garden, complete with a super realistic statue of the man in action.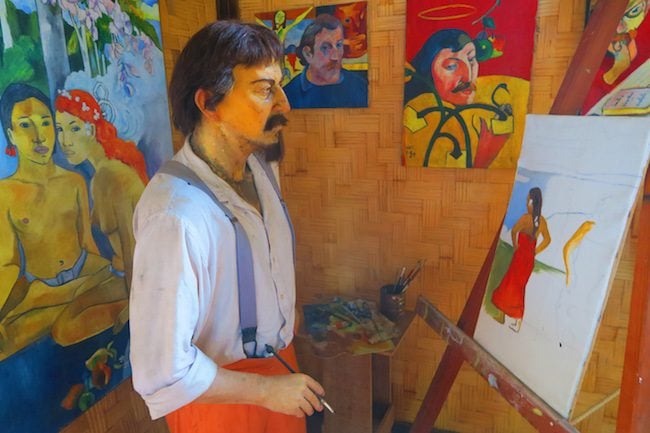 Fast forward almost 80 years, the legendary Belgian poet/singer/actor Jacques Brel settled in Atuona in search of a life away from the spotlight. Though arriving on his private yacht, he purchased a plane and name it Jojo. Adorned by locals, Brel was really immersed in village life, even using Jojo to perform medical evacuations to Tahiti, more than 3 hours away. The Jacques Brel museum sits in a large hangar just behind the Gauguin museum, and you can learn about his life while strolling around Jojo.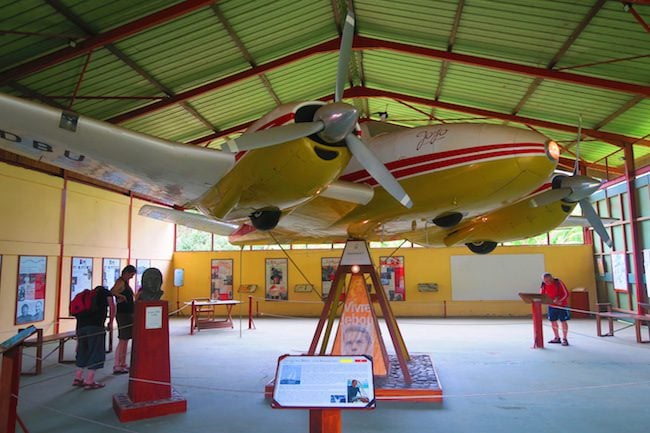 Church & Shopping
We'll revisit the two celebrities in a bit, but now it's on to check out the town's Catholic church. It's a charming open-air whitewashed house of worship, reminiscent of an old Mexican church. Behind it is a local school with a couple of impressive-looking trees.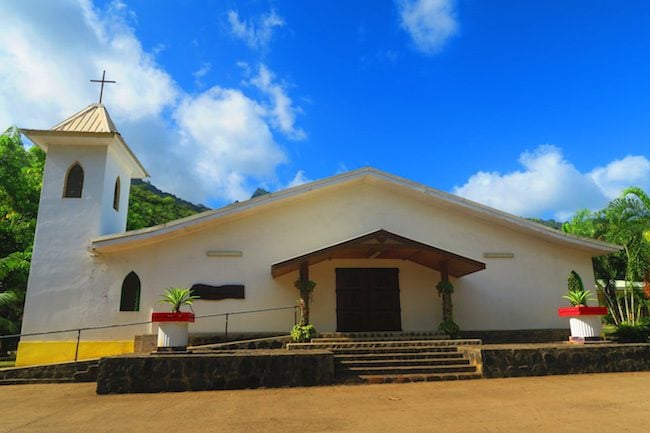 A few steps away is the Tohua Pepeu, a restored ancient complex that's used these days for the Marquesan Arts Festival. Behind the complex is the local arts & crafts center, a great place to buy exquisite Marquesan art if you haven't already done so (prices are quite steep, cash only, see the Hiva Oa Travel Guide for a secret shopping tip).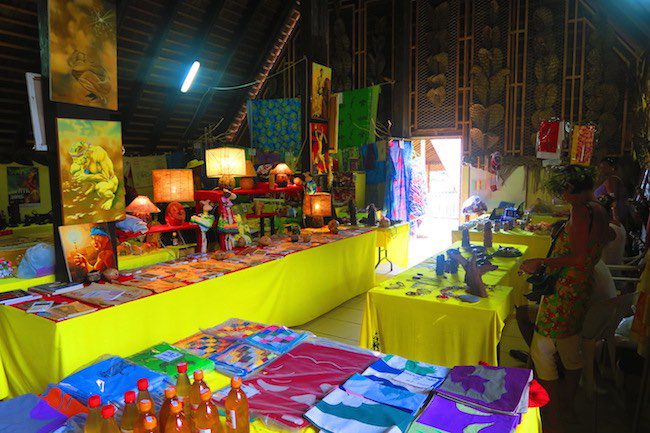 Lunch
Time for some lunch! Head to Snack Make Make for some grilled fish, chow mein or a burger. Wash it down with an ice-cold Hinano beer or a refreshing coconut. If you want some dessert (or just a sandwich), the Salon de The across the road will do just fine (and they have a WiFi).
Calvary Cemetery
To burn the calories, head up the hill to the Calvary Cemetery (Cimetière Calvaire). This cemetery not only has amazing views, but it's also the final resting place for locals, missionaries, Brel and Gauguin.
It's Hiva Oa's version of the celebrity cemetery of Pere Lachaise in Paris, with Gauguin and Brel's graves adorned with flowers and notes from fans who made the pilgrimage.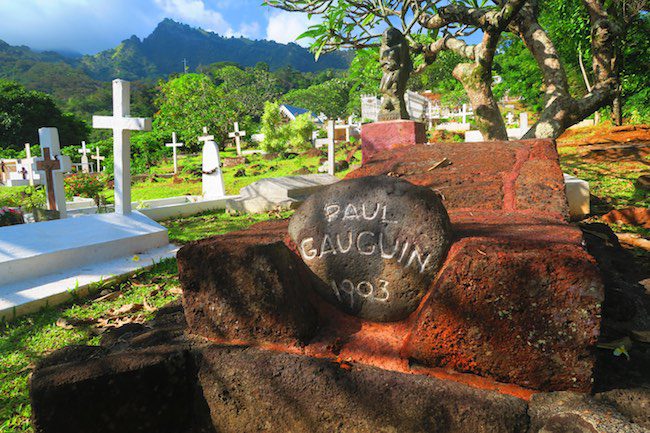 If you want to walk a bit further, it's another 15 minutes to the large cross for even better views!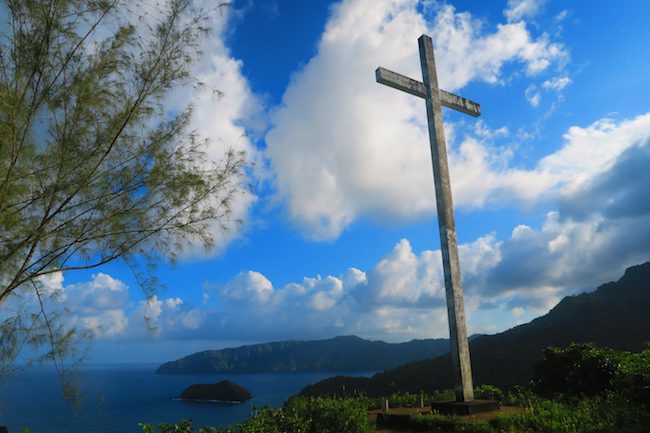 With your pilgrimage complete, it's back down to Atuona to buy a small snack, head back to your pension or relax on by the black sand beach to the sounds of the crashing waves. Welcome to paradise!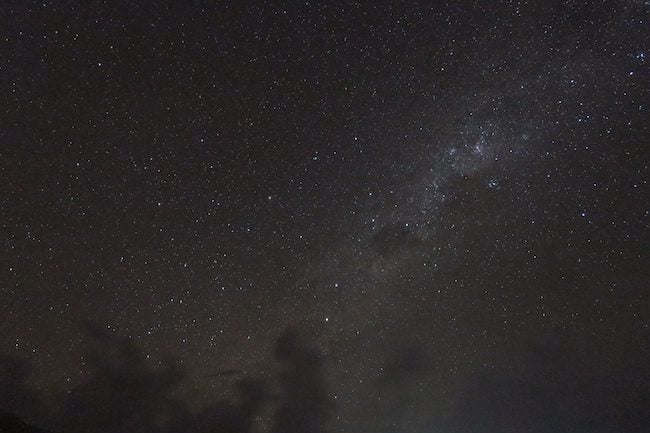 Day 2: Day Trip To Tahuata Island
Lying a few kilometers off the coast of Hiva Oa, Tahuata is the smallest inhabited island in the Marquesas archipelago. If you want to visit the island (and I highly recommend), you'll do so on a day trip from Atuona. Since tours don't go out every day, I recommend booking in advance.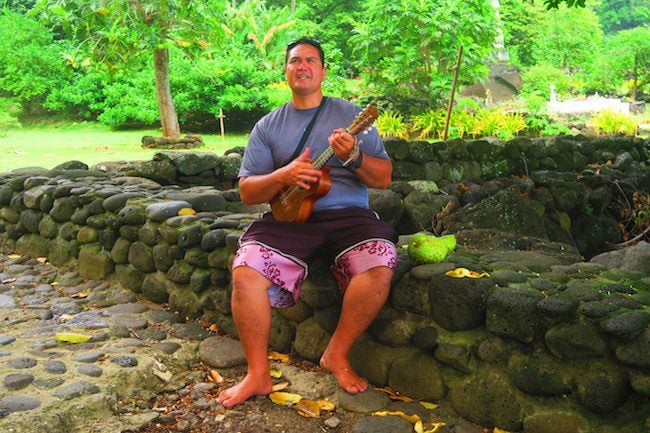 I met my guide Pifa O'Connor bright and early for the departure (+689-87727633 | Facebook Page | 10,000F per person). Pifa is actually half Irish believe it or not. His great-great grandfather escaped the Irish famine and the rest is history.
The trip starts with a 40-minute scenic boat ride, accompanied by manta rays as you leave the port. The voyage offers fantastic views of Hiva Oa's rugged coastline and Tahuata's more gently sloping hills.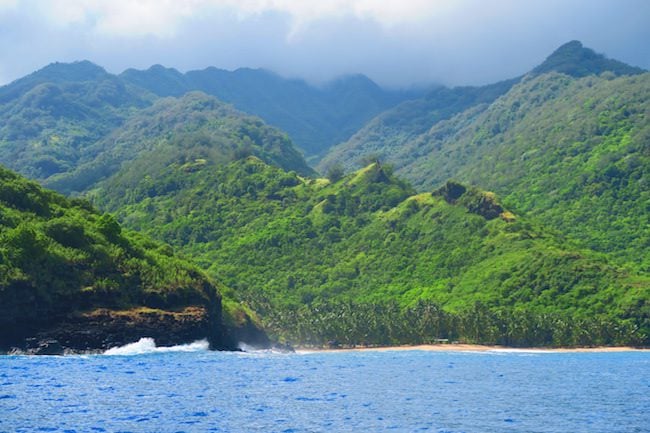 Hapatoni Village
Your first stop will be at Hapatoni Village, home to about 100 residents. 'Main street' is actually known as the ancient royal road, commissioned by a former queen and lined with tamanu, noni and other fruit-bearing trees.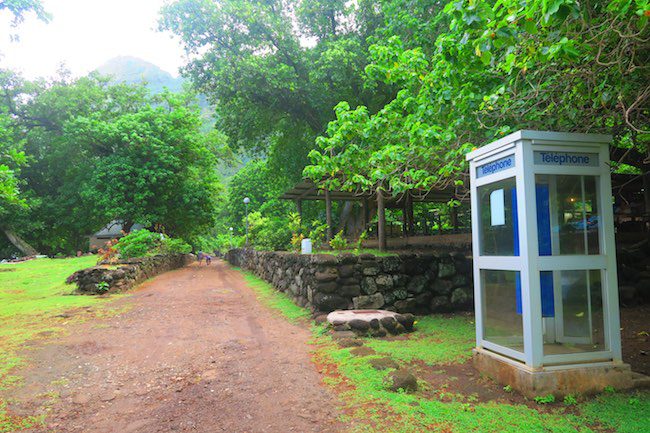 You'll probably bump into a local artist along the royal road, carving something beautiful out of sandalwood, rosewood or even animal bone. Pifa will then take you to the local artisan market that's likely open just for you. Though the merchandise on sale is incredibly beautiful and authentic, I found the prices to be quite expensive (better to buy in Nuku Hiva).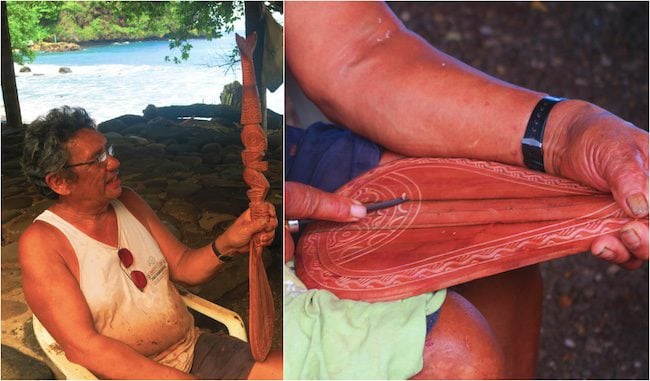 After a bit of window shopping, head inland to check out the ancient temple. There's a large stone that seems perfect for laying down on, and that's exactly what it was used for. Except whoever laid down here, never got back up… at least not with their head.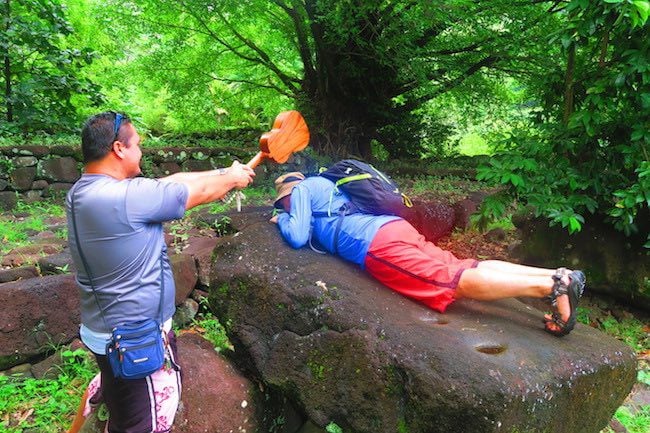 Before leaving Hapatoni, don't forget to check out the charming Catholic church, complete with impressive stained glass windows that wouldn't shame the best Parisian churches.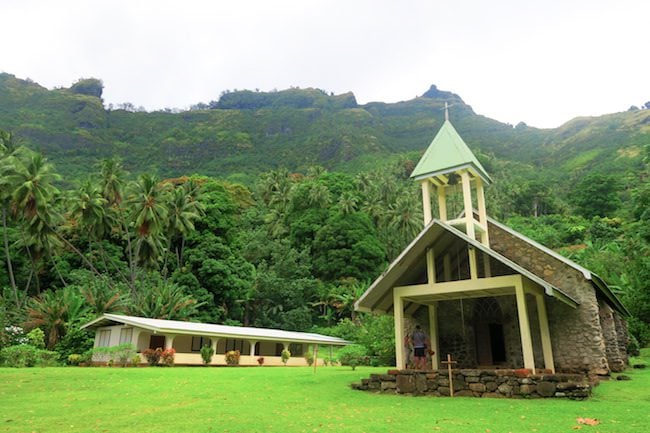 Lunch In Hanamoenoa Bay
It's back on the boat and a quick trip to beautiful Hanamoenoa Bay. Wave hello to the yachties anchored at its entrance and somehow swap over to a tiny rowboat that'll take you to the beach. I promise it's all worth it.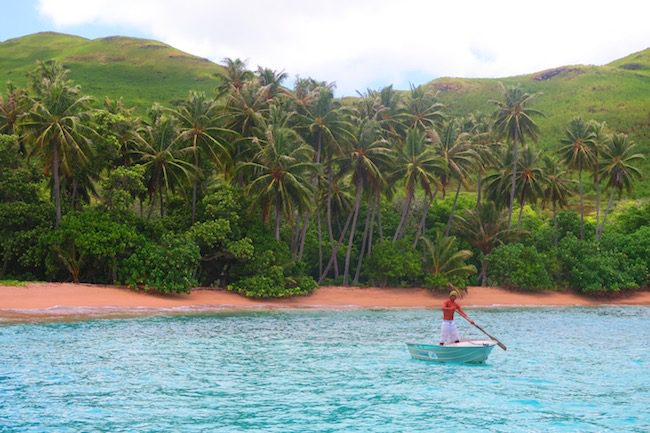 As Pifa and the crew prepare a BBQ lunch, go for a stroll along the beach and a dip in the waters. The views don't get better than this folks!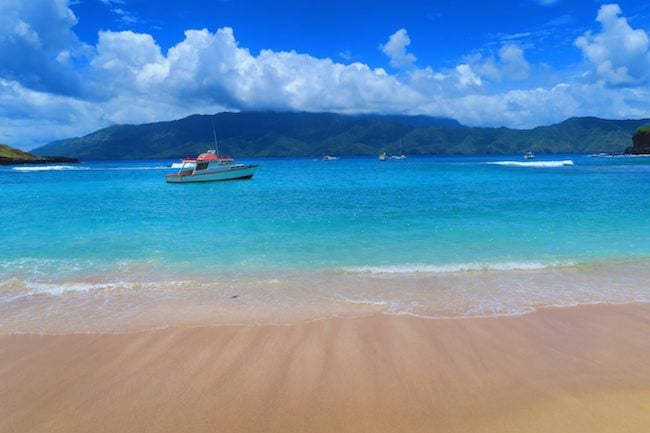 The relaxing ambiance is just perfect, as you'll definitely be in need of a nap after Pifa's incredible BBQ lunch. Grilled tuna, sashimi, poisson cru and even brownies! After lunch, find a comfy spot and recharge your batteries as Pifa serenades you with traditional classics on his ukelele.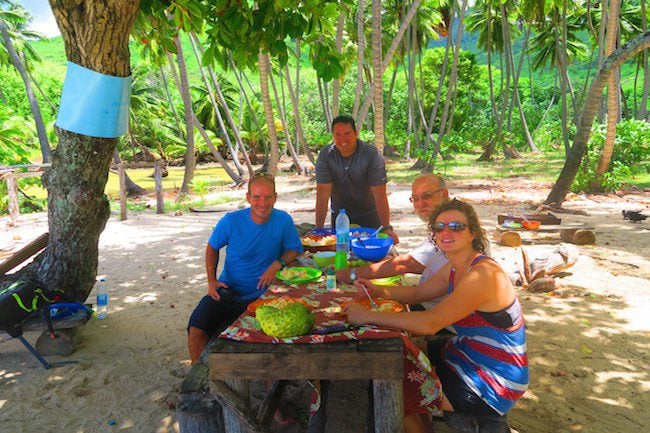 Back To Town
Back in Hiva Oa, you'll return to the port just in time to watch the local fishermen busy at work. They're actually out to catch small fish. Those will be sold in bulk to the yachties, who will use them as bait for catching the big fish out in the ocean.