The most stunning of the Hawaiian Islands, it is easy to understand why Hollywood comes to Kauai when searching for a paradise setting. Known as the "Garden Isle", a simple drive to the supermarket becomes a scenic affair on the oldest island in Hawaii. Given all this time, Mother Nature has managed to sculpt Kauai's lush peaks into artwork and created a wealth of dream beaches for us lucky visitors to choose from. With these and lots of other natural surprises, Kauai is a Hawaiian Island that you cannot skip. This 5 days in Kauai sample itinerary will ensure you see the very best of the island. So pack those hiking shoes and let's hit the road!
I spent 10 action-packed days in Kauai during the month of March while touring the main Hawaiian Islands to write this and other travel guides. It's important to note that, as on other islands in the state, Kauai's tour operators offer visitors an enormous choice of paid activities and organized tours. In this sample itinerary, we'll stick to the basics, showing you the very best of the island with little to no organized activities.
What's Included in this 5 Days Kauai Sample Itinerary?
This Kauai sample itinerary is made up of the following section. Continue reading or click on a particular day that interests you the most.
Day 1: Essential Kauai Tips, Lihue, Poipu and Hanappepe [Current Page]
Looking for a Quick Read?
---
Visiting other Hawaiian islands? Sample itineraries, guides to the best beaches and lots more are waiting for you in the Hawaii Travel Guide collection. Aloha!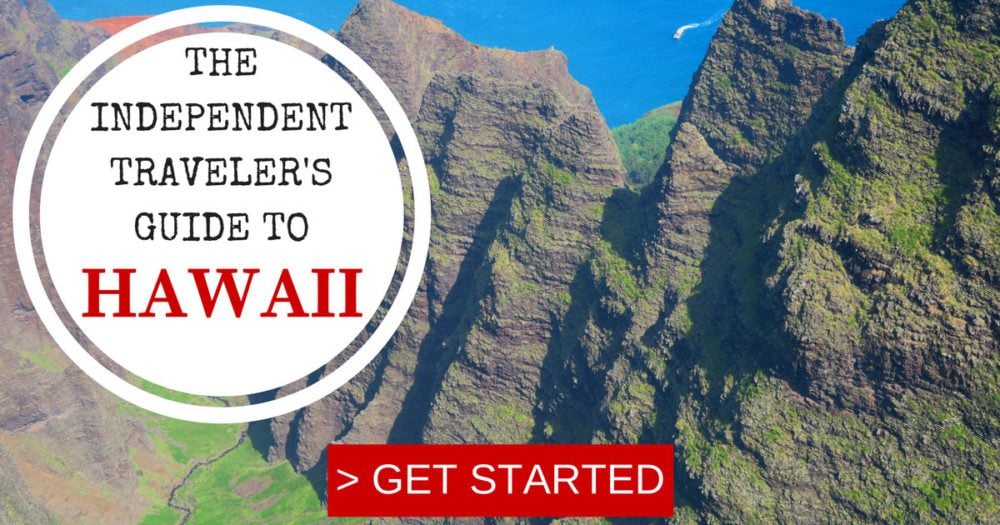 Why Visit Kauai?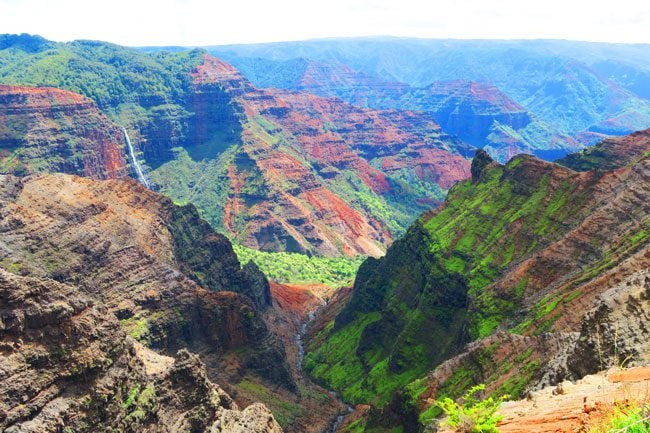 Dramatic Scenery
There's a good reason why Hollywood often heads to Kauai to shoot scenes of a tropical paradise.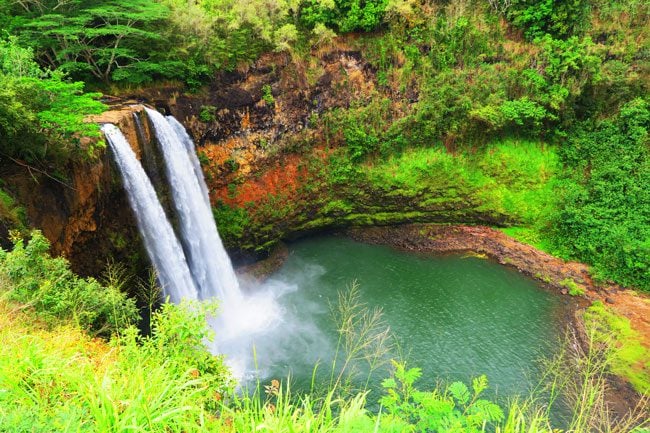 Tropical Vibes
Everything grows in abundance on the Garden Isle and heavy downpours mean waterfalls galore.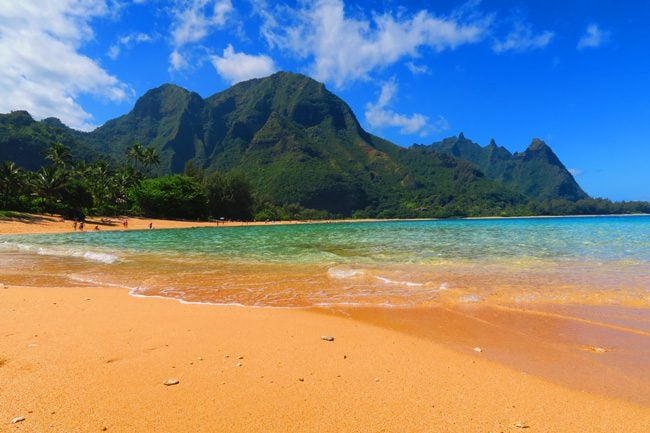 The Outdoors
Breathtaking beaches and exceptional hiking opportunities are some of the excuses for leaving your hotel room behind.
5 Days In Kauai Map
This map contains all the places mentioned in this sample itinerary. Click on the image to open in Google Maps.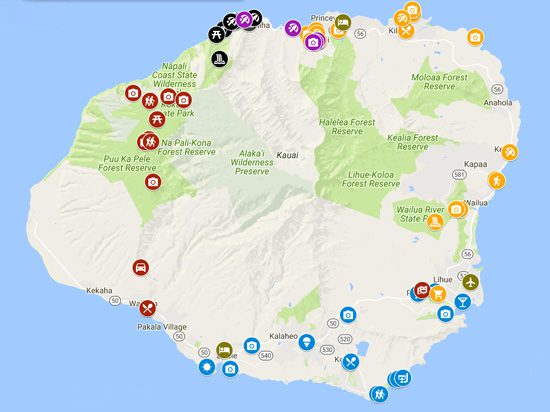 Kauai Travel Tips
Here are a few essential travel tips for Kauai. Don't forget to go over the things you need to know before visiting Hawaii, where you'll find general advice on visiting the Hawaiian Islands including how to save on costs.
When is the Best Time to Visit Kauai?
When thinking about when to visit Kauai, two factors should be kept in mind: weather and peak tourist seasons.
Weather: Kauai is certainly worthy of its nickname – "The Garden Isle". It is as green as it is thanks to enormous amounts of rain which soak (and erode) its jagged peaks and lush valleys throughout the year. Kauai's interesting weather patterns are covered more in-depth later on but, in general, you should expect drier conditions during the North American summer months and wetter conditions from November-March.
Peak tourist seasons: Kauai gets a lot of visitors… seriously a lot of visitors. It is a busy place throughout the year and we haven't even discussed the locals. There are lots of those too. Roads are often congested even out of peak seasons. Unless you absolutely have to, avoid traveling to Kauai during US school holidays or the official summer tourist season. During these times, the island will be even busier, travel times multiplied, and accommodations either fully booked or extremely expensive. The best time to travel to Kauai is in the 'shoulder season' when the weather is OK and your time on the island is more enjoyable (March-May and September-October).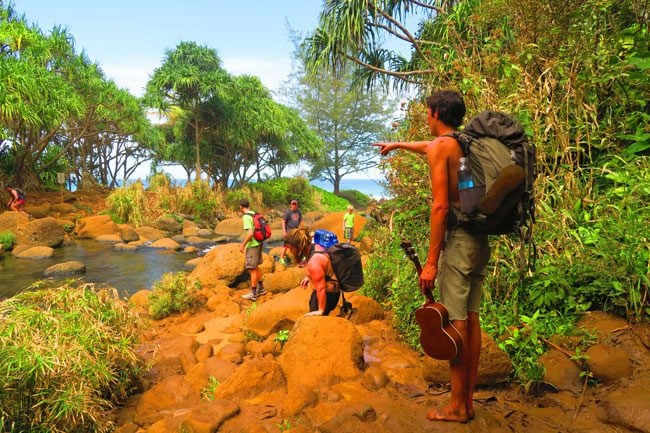 Where to Stay in Kauai?
Kauai is not such a huge island but it is large enough for it to make sense to split your time between the north and south coasts. Factor in the driving distances and road congestion and this makes even more sense. I recommend splitting your time between Princeville-Hanalei on the north coast and Poipu-Hanapepe-Waimea on the south coast.
Here's a link to a complete list of Kauai accommodations that you can book online.
North vs South
In general, the leeward south coast of Kauai (Poipu-Hanapepe-Waimea) sees a lot more sunshine than the wetter and more tropical windward north coast (Princeville-Hanalei). So if your Kauai holiday is geared more around beaches or if you don't mind the driving times, the south coast is probably where you want to spend most of your time. That said, the north coast is where you'll be closer to Kauai's dramatic eroded peaks and it is often quite cloud-free in the mornings.
If you absolutely do not want to switch accommodation in the middle of your stay in Kauai, a compromise can be Kapaa and Wailua which are both, more or less, in the middle of the 'sightseeing crescent' (Waimea to Ke'e Beach).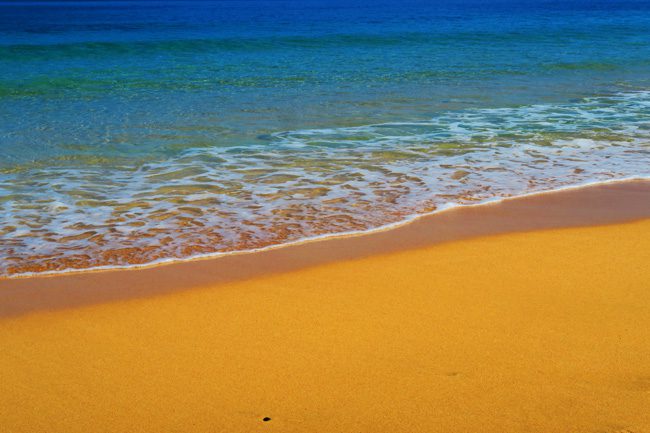 Accommodation Types
There's a feeling that Kauai is in short supply of mid-range and budget accommodations. Demand is high and instead of local authorities encouraging the opening of small family-owned accommodations, I have actually heard they're clamping down on those who are already in business. Perhaps it's because some do not possess the appropriate permits or perhaps it's something else. I am not 100% sure and things may change by the time you visit. My biggest advice is to book your Kauai accommodation as soon as you can.
When it comes to choices, Kauai has its f share of resorts (though nothing like Maui), mostly around Poipu, Princeville, and Kapaa. Bed and breakfasts are in short supply, backpacker hostels are in bad condition, and there are plenty of Airbnb's though the good ones get snatched quickly. If you're into camping, get your Kauai camping permit well in advance. You will also find a lot of condos for rent. Those are more or less proper apartments that are usually in some kind of timeshare resort or vacation rental community. When renting condos and staying at bed and breakfasts, you can expect to have a cleaning fee added to your bill. This can range from $50 per stay all the way up to $200. It's extremely annoying and makes no sense but it is a common practice especially in Kauai and Molokai.
Personally, I stayed at a cozy Airbnb in Hanapepe for a few days and splashed out at the Wyndham Ka 'Eo Kai in Princeville for a few other. The location is near perfect, inside the lush grounds of the Princeville resort area (featured in the awesome film The Descendants) and close to the charming village of Hanalei and its fellow north shore highlights. There's a Foodland supermarket just 5 minutes away from where you'll also find other shops and restaurants.
Units are very modern, spacious and feel more like a home rather than a resort. There's a swimming pool, BBQ facilities, tennis courts, daily free activities, and everything you would expect to have at this sort of place. I was quite reluctant to book this place since I prefer more local-style accommodations, but it really turned out for the best as the price was reasonable and the experience top-notch.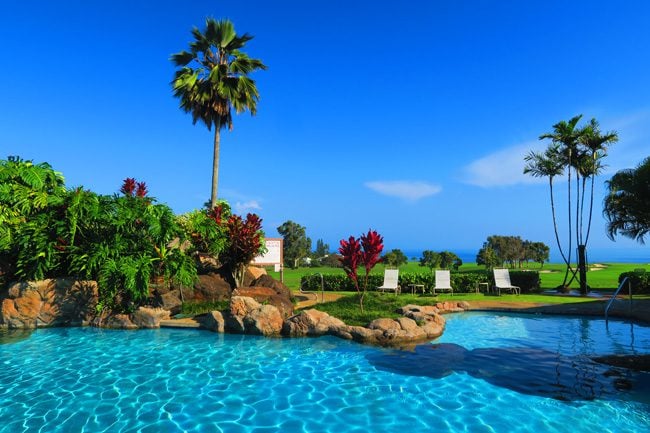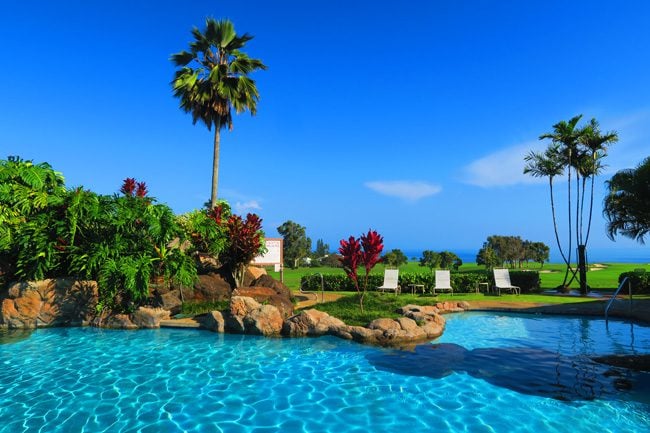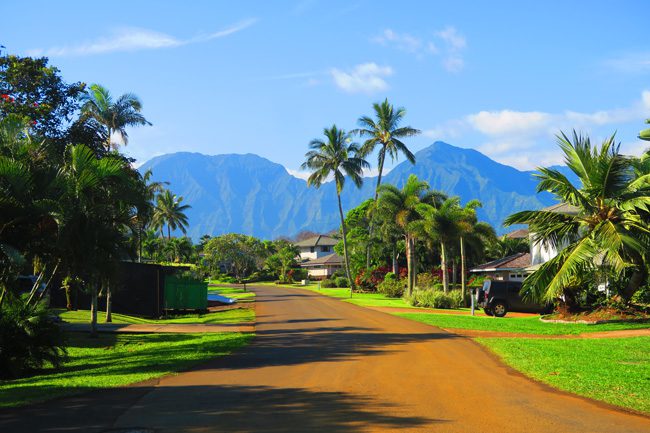 Weather in Kauai
Home to one of the wettest spots on the planet – Mount Wai'ale'ale – Kauai could never be this beautiful if it weren't for the enormous amounts of rain it receives. With comfortable temperatures throughout the year, rain is the biggest factor in making or breaking your holiday. If you look at Kauai average weather, the drier months are April-September and the wetter months October-March with heavy rainfall during the Christmas season.
However, Kauai has very interesting patterns and it is always wise to check the National Weather Center's website the night before and switch your itinerary accordingly, though even this must be taken with a grain of salt. This weather forecast allows you to drill down into different sections of the island where the weather can greatly vary. Kauai's northern mountain range generates a lot of precipitation that would otherwise simply 'pass over' the island. So much of the heavy rain tends to concentrate on the north coast and in the uninhabited interior. Most of the time, it rains in the form of a shower but in some rare cases, the island sees constant rain for days and even weeks. Moreover, heavy rain tends to fall at night – for some reason – so you can expect very sunny mornings that warrant hitting the road early. This is also the best time to photograph the jagged peaks.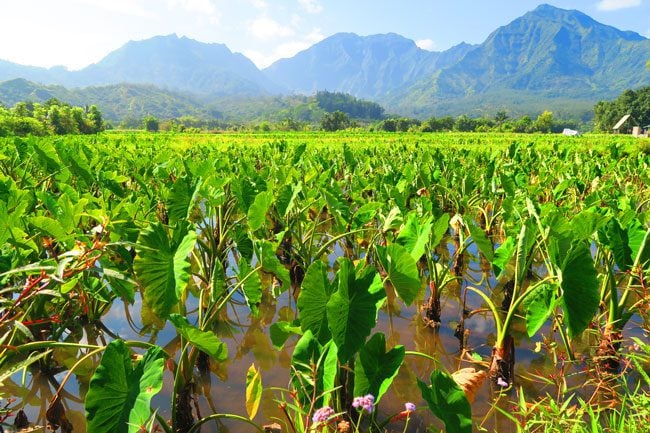 When I visited Kauai in March, the weather forecast called for heavy rain throughout the week. In reality, we enjoyed unusually sunny weather for the most part and even when it did rain, once you passed Lihue heading south, the skies were completely clear. So bottom line: try to avoid the super wet months and in any case, drill down into the island's weather forecast by specific area but with a critical eye.
Getting Around Kauai
I highly recommend renting a car from the moment you land in Kauai to the time you leave.
Traffic in Kauai is quite an issue, especially during the peak tourist seasons. Roads to major attractions (ex: Hanalei to Na Pali) are often reduced to a single lane in each direction and one-lane bridges. Traffic will also be bad around the major urban areas of Lihue and Kapaa, with Kapaa's traffic lights often causing major delays (use the bypass road). In fact, Kauai uses the contraflow system to cope with morning rush hour traffic into Lihue. Cones are placed on the road essentially adding another southbound lane at the expense of the northbound route.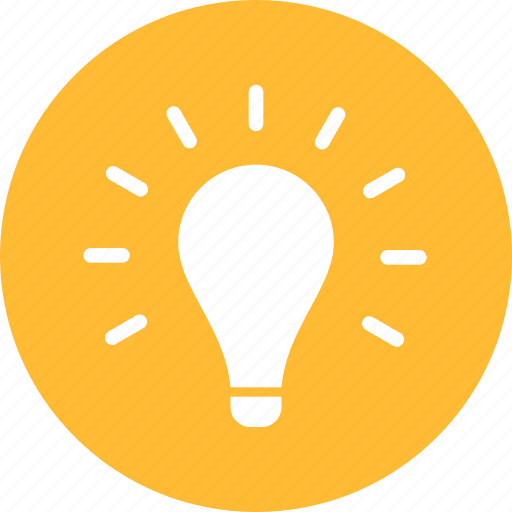 Pro Tip
have an early morning flight and heading to the airport from the north coast (Hanalei, Princeville, etc.)? Check driving times on Google Maps or Waze and leave extra time.
Listed here are all options I can think of for getting around Kauai.
By car: by far the best way of exploring Kauai. The cost of renting is quite reasonable, especially if you book well in advance. Keep in mind that the major car rental companies are located within Lihue airport grounds while the smaller ones (like Fox) are outside and require using their shuttle which doesn't run 24/7. The most important thing to keep in mind and to watch out for is the topic of insurance. Since Hawaii is a 'no-fault' state, car rental companies will scare you to death and offer incredibly expensive insurance plans. With the larger companies, you can usually decline this, but with the smaller ones, they often force you to take at the very least the cheapest package which can amount to about $15 per day.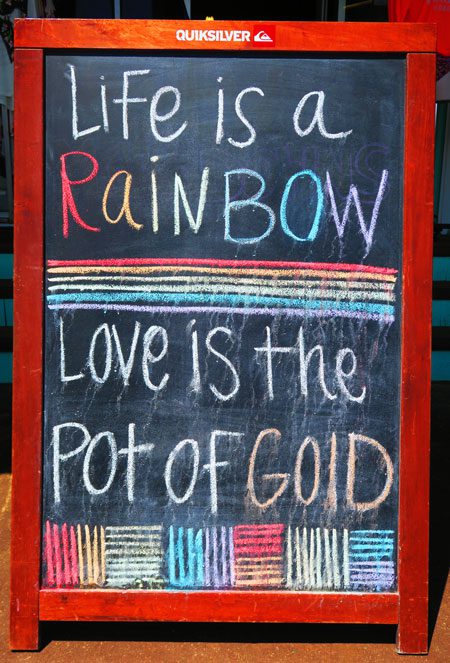 American car owners usually have an insurance policy that covers rental cars, but foreigners do not. If you're traveling from abroad, perhaps your travel insurance can include this type of coverage. In this case, you will need to show at the counter that you have coverage so bring a copy of your policy (in English). A 4WD is not a must in Kauai unless you wish to visit Polihale State Park and Ha'ula Beach (remote beaches).
By bus: Kauai does have a bus system consisting of small buses that run on several routes along the coast. However, it is not really convenient for heavy sightseeing and geared more for locals.
Hitchhiking: with so many hippies on the island, hitchhiking is quite common and safe. However, if traveling solo, take extra care and use your good judgment.
Cycling: Kauai's coastline is quite flat for the most part but I cannot recall seeing too many cyclists on the road.
What to Pack for Kauai?
Together with this 5 days in Kauai itinerary, I recommend grabbing a Lonely Planet Kauai guidebook and if visiting other islands, perhaps also Lonely Planet's Best of Hawaii. These guidebooks provide useful information at your fingertips and give a better understanding of Hawaii's culture and history. Needless to say, they make for a great souvenir in your travel library.
As far as packing goes, a visit to Kauai revolves mostly around the outdoors with the rest of the time spent at the beach. You must pack proper hiking and rain gear, keeping in mind that trails are often muddy and mosquitos present. For example, pack good waterproof shoes, sweat repelling clothing, light rain gear with a hat, camping gear if relevant, and even hiking poles for those who struggle with inclines. For the beach, it's really just the usual stuff. Have a look at this page for more information and recommendations.
Are Scenic Helicopter Tours Worth it in Kauai?
Helicopter tours offer a unique vantage point over Kauai's spectacular and often inaccessible wilderness. I seriously contemplated whether to join one of these but decided to opt-out. Like everything in life, they have their pros and cons:
Pros:
Access to Kauai's impenetrable interior on scenic tours which include flying over (or landing) in

Jurassic Park Falls

Unique vantage point to the Na Pali cliffs and Waimea Canyon

Possibility to experience the Na Pali cliffs and Waimea Canyon if you cannot hike those for physical reasons or if traveling with children

Awesome photos!
Cons:
Very (very) expensive

The actual flight time (i.e. the hovering) over the most scenic sections is very (very) minimal

You'll likely be snapping photos

ALL

the time

Tours are often prone to cancellations, and certain departure times (ex: 'early bird specials') are often prone to poorer weather (i.e. clouds)

You need to check the departure airfield and see if you are geographically close enough to do some exploring by car or on foot after landing

It is bad for the environment: for people hiking the trails, the air quality, and most importantly for the resident birds and animals
Staying Safe in Kauai
When sightseeing,

do not leave anything visible inside your car

or even in the trunk. Car break-ins are

unfortunately common

in

some

parts of

some

of the islands in Hawaii. Kauai is not as bad as other islands (like

Maui

) but it's best to not tempt anyone.

Cellular reception (including mobile data) is not that amazing, to say the least in Kauai. Therefore, ensure your accommodation has free wifi and download an offline Google Map of Kauai.

Kauai beaches can be dangerous

at times with high surf and strong currents. State parks will have proper warning signs and sometimes even lifeguards, but unofficial or remote beaches will not.

Don't be tempted to go for a swim in streams. These can often hide bacteria that can lead to nasty infections.
What to do in Kauai when it rains?
As mentioned above, Kauai is blessed with a lot of rainfall. In the event of heavy rain, here are a few activities to consider.
---
Day 1: Lihue, Poipu and Hanapepe
Start the first of your 5 days in Kauai on the sunny south coast on a road trip that combines historical towns, coastal hikes, and beaches. It doesn't really matter if you follow this itinerary from east to west (starting in Lihue) or from west to east (starting in Hanapepe).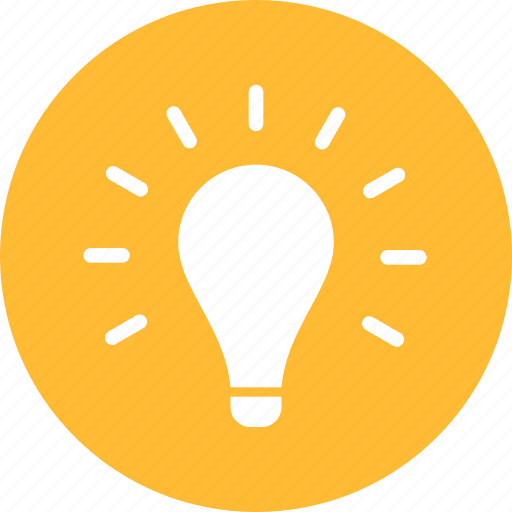 Pro Tip
Pro tip: days 1 and 2 are best explored while you're based on the south coast. If not feasible, simply account for longer driving times when planning your day.
Around Lihue
Lihue is the largest town in Kauai and it is here that you'll find fast-food joints, shopping centers, large supermarkets and everything else a small town has to offer. There are no must-see tourist attractions in the town itself but check if your visit coincides with either the busting Kauai community farmers market (Saturdays) and the smaller Kauai Grove Center farmers market (Mondays) and Kauai sunshine market (Friday). Here's a good list of all Kauai farmer's markets.
Menehune Fishpond Overlook
A brief scenic stop away from the main highway, the overlook reveals sweeping views of the Hule'ia Valley and the river that cuts through it. In ancient times, the river was tamed to form a large pond. The best time to visit the overlook is actually just before sunset, as the changing lights from the setting sun illuminate the valley. However, you can easily come back here for sunset (and drinks at Duke's Bar) but only if the skies are clear.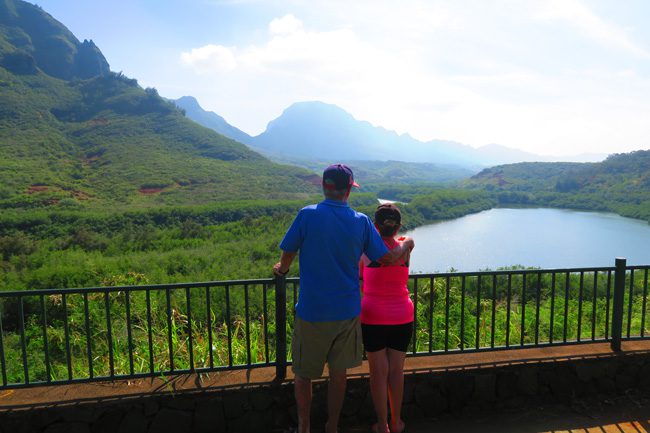 Tunnel of Trees
Right after the turnoff to Maluhia Rd (Highway 520) from the main highway (Highway 50), you'll drive through a brief tree-covered section rightly nicknamed the 'tunnel of trees'. It's about a mile-long, enchanting and cool, and in case you were wondering – man-made. For the best photo op, pull over at the fork.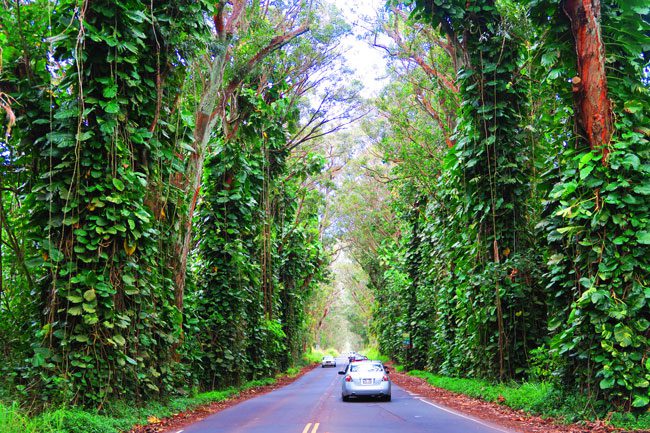 Old Koloa Town
Home to Hawaii's first sugar mill (1835), Old Koloa Town is on your way so you might as well stop and have a look around. A former plantation town that's been carefully restored into a tourist shopping complex, you'll find here a small museum explaining the history of the region, souvenir shops, and eateries. If you happen to be here on a Monday, check out the Koloa Farmer's Market (noon-2 pm).
Personally, I wasn't a huge fan of all these 'historic towns' in Hawaii. You find them on almost every island. Sure, they are historical, but nowadays, they're essentially just a collection of tacky souvenir shops. I do recommend stopping by at the Koloa Fish Market for some lunch to go (excellent poke bowls and traditional Hawaiian plate lunches).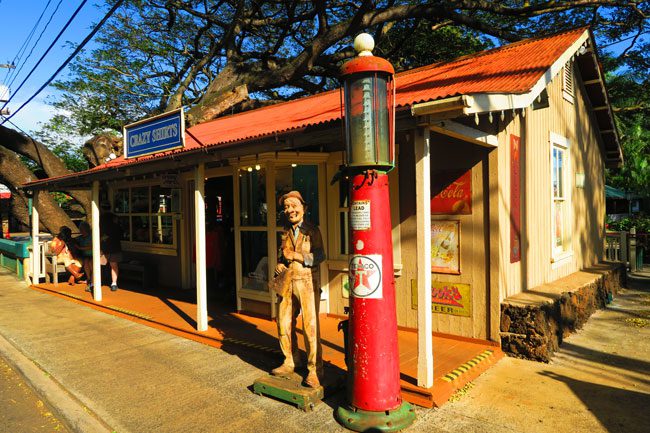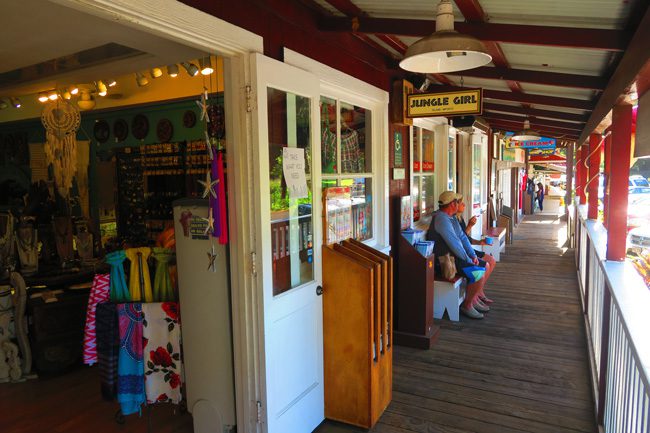 Shipwreck Beach
This would be the south coast's prettiest beach if it weren't for the massive Hyatt resort which reminds you we're still in America after all. Shipwreck Beach is blessed with soft golden sand and its shaded grassy area has picnic tables. Though the water looks very inviting, swimming can be very hazardous so perhaps just work on your tan, have lunch and rest before the upcoming hike.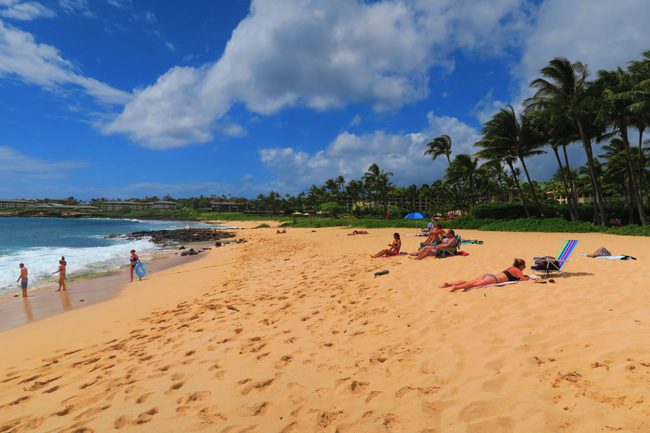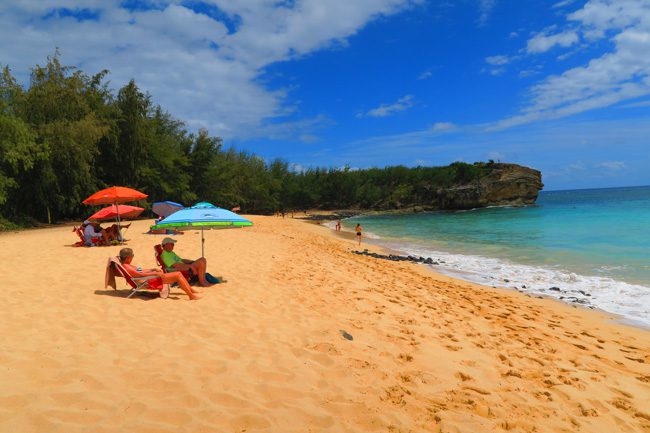 Mahaulepu Heritage Coastal Trail
Likely the highlight of the day, it's time to slip into your hiking shoes and embark on an easy scenic hike along the coastline on the Mahaulepu Heritage Coastal Trail. The trail starts at Shipwreck Beach and ends two miles east in remote Ha'ula Beach (can drive here with a 4WD).
The trail begins with a brief climb to Makawehi Point via the ironwood forest. From here, you're treated to panoramic views of Shipwreck Beach and the rugged coastline which you'll now be hiking along. The cliff is also a favorite spot for locals and overconfident tourists who bravely (or foolishly) take the plunge.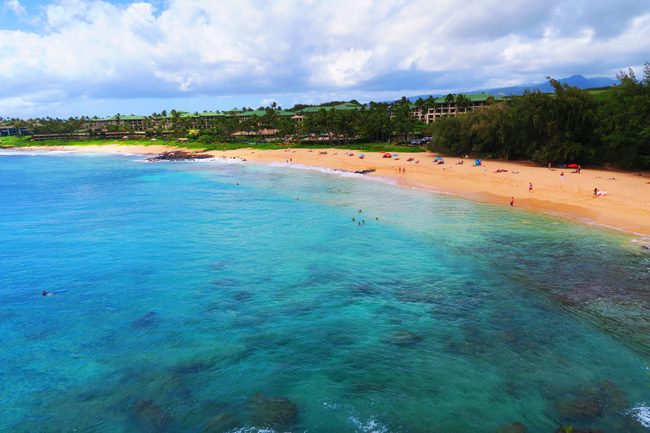 From Makawehi Point, the hike is mostly flat going and even if you veer off the sandy main trail, the general direction is pretty clear. Before the halfway mark, you'll reach a gorgeous cove that's hugged by sharp limestone pinnacles. On this side of the island, the strong winds have beautifully sculpted the eroding limestone in magnificent works of natural art and it is all yours to enjoy with very few people on the trail.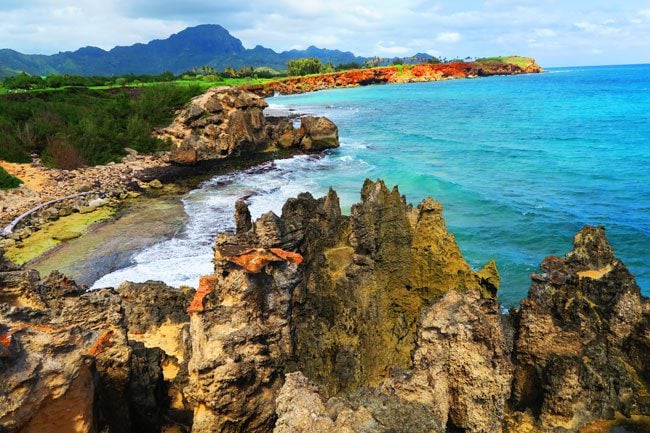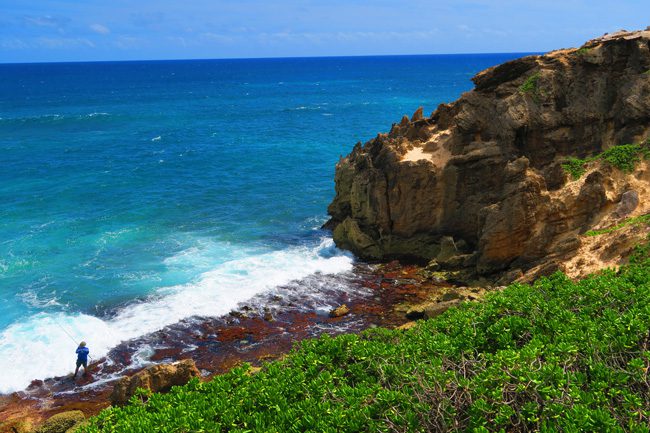 Moving along, you'll pass by the sacred remnants of an ancient Hawaiian structure as you round the golf course. It is here that you might, with a bit of luck, spot sea turtles cruising up and down the coast. At this point, you can either turn around or continue to Makauwahi Cave, Mahaulepu Beach and even further to Ha'ula Beach.
Logistics: wear comfortable walking shoes, bring lots of water and wear a hat as there's no shade along the trail.
Makauwahi Cave & Mahaulepu Beach
One of the coolest spots in Kauai, the Makauwahi Cave is reached via a giant sinkhole and is regarded as one of the richest fossil sites in Hawaii and perhaps the entire Pacific. It has only recently been excavated and is not that frequented by the masses. Through years of detective work, researchers have partially managed to peel the layers of mystery around the religious rituals that were performed on this site by ancient Hawaiians. They have also discovered rare animal species, fossil remains and peculiar "magic tricks" performed by algae. This place is so unique and beautiful, that even Hollywood took notice. Scenes from Pirates of the Caribbean and one of the Indiana Jones films were shot right here!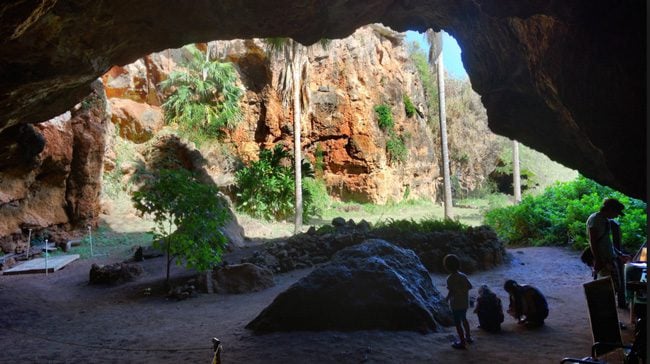 A short walk from the cave brings you to Lida's Field of Dreams, a private conservation project where you can get closely acquainted with large turtles. From here, it's a stone's throw away to Mahaulepu Beach (a.k.a Gillin's Beach). It's one of the wildest beaches in Kauai, where clothing is optional and snorkeling is good at its western edge when the ocean is calm.
Come here to chill, swim, snorkel or just for a quick stroll but bring everything you need because there's nothing man-made around here aside from a historic off-the-grid home. On some days (especially after storms), beach water might be contaminated from the nearby stream, but there will be signs in such cases.
Logistics: you can reach the cave and beach via the Mahaulepu Heritage Coastal Trail or drive here on the dirt road which begins right after the Grand Hyatt. When you reach a gate, turn right and park along the fence of the horse ranch. Free (and very interesting) guided tours are offered by the researchers themselves throughout most of the week (9 am-2 pm) and donations are highly appreciated.
Poipu to Hanapepe
It's about a 25-minute drive from Poipu to Hanapepe – the last leg of the day. After all that walking and soaking in the sun, make a pit stop at The Fresh Shave Ice. It's the best shave ice in Kauai and they quickly run out of popular flavors (~$6 per cup).
At mile marker 14, stop at the signposted Hanapepe Valley Lookout and catch a preview of the type of spectacular scenery waiting in tomorrow's trip to Waimea Canyon. The lush Hanapepe Valley is prime agricultural land and you should already spot the reddish color of the soil that you'll be more acquainted with tomorrow.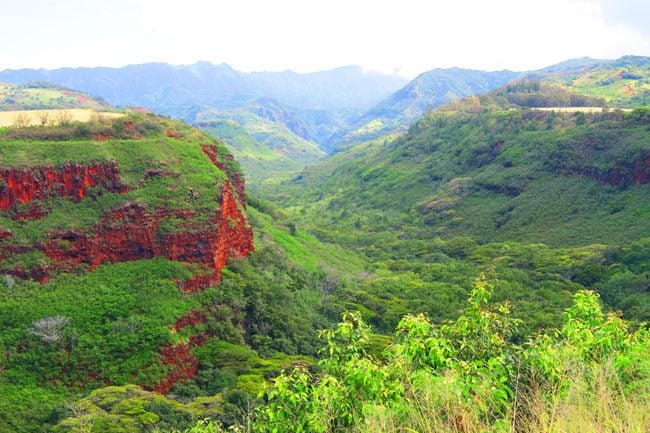 Hanapepe
Dubbed 'Kauai's Biggest Little Town', Hanapepe is actually super tiny. This charming town (I shouldn't even call it that) was a prosperous place back in the sugar plantation days. These days, Hanapepe is very laid back, attracting young residents who appreciate the sunshine and lack of noise. Over on the main street, Hanapepe's old wooden structures have been well maintained and a rich art scene has developed.
Hanapepe is a nice place to stop and stretch your legs and even base yourself at if you want to enjoy the Poipu sunshine without the crowds. For an extra bit of fun, cross the swinging bridge. As far as dining options, Hanapepe has plenty of those from the casual to the formal and even awesome local taro chips at Taro Ko Farm.
Sunset in Salt Pond Beach
Celebrate your first day of sightseeing in Kauai with a magical sunset in Salt Pond Park. The beach is quite popular with locals and it is named so thanks to the nearby salt ponds still in use today. There's a beautiful crescent of golden sand, palm trees that sway in the gentle wind and even a small rocky tide pool for the kids. On a clear day, the forbidden island of Ni'ihau can be seen in the distance.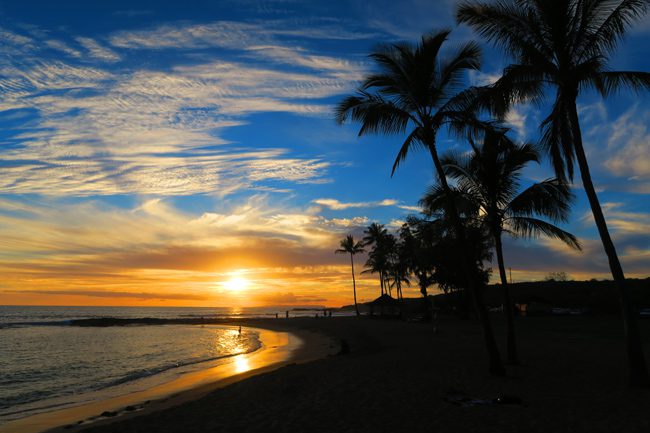 Extra: got more time? Check out the peculiar Glass Beach. Thanks to a nearby recycling plant, the sand has pretty much been taken over by tiny pebbles of glass in various colors.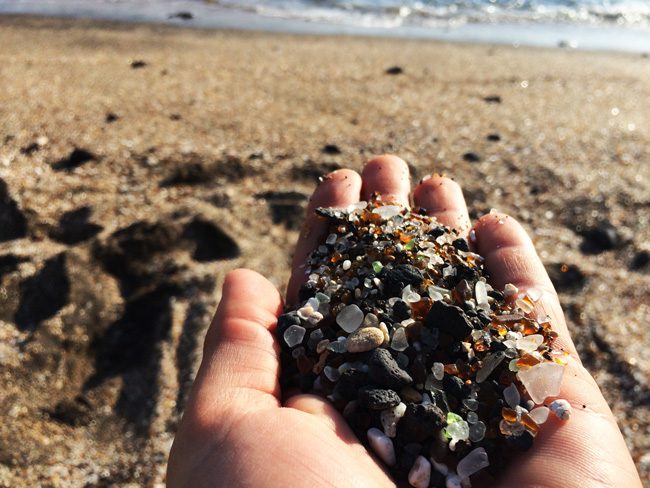 Day 2: Waimea Canyon and Koke'e State Park
The second of your 5 days in Kauai will be the most dramatic and awe-inspiring. We'll focus on the Waimea Canyon area – the Grand Canyon of the Pacific and hardly what you expect to find on a remote tropical island. Get your hiking shoes ready!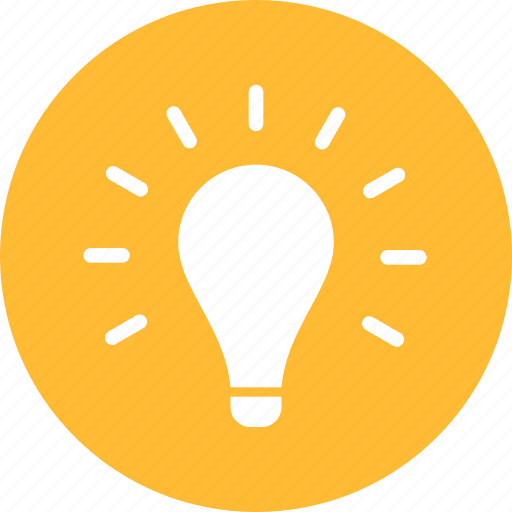 Pro Tip
this will be a very action-packed day. I recommend hitting the road by 8 am or earlier so you'll have enough time for everything while not having to rush or deal with the crowds.
Waimea
Start your day bright and early with a quick visit to historic Waimea, a former sugar plantation town whose location at the mouth of the Waimea River positioned it as a strategic stronghold. Waimea means 'reddish-brown water' in Hawaiian and it's easy to understand how this town got its name, with the river carrying the famous red soil from the canyon upstream as it flows to the Pacific.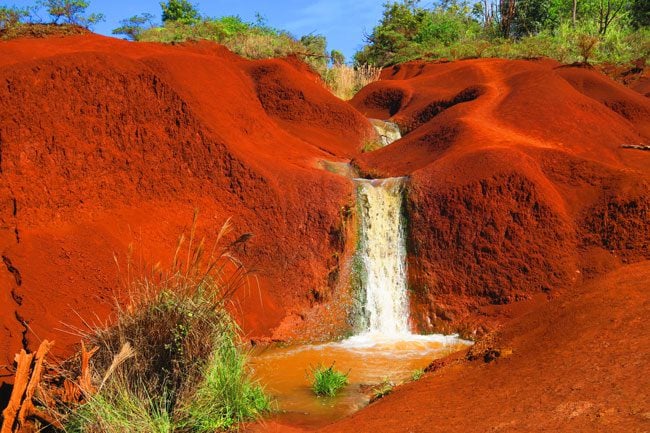 Waimea has a few interesting buildings to check out from an architectural perspective, primarily the First Hawaiian Bank which is built in Neoclassical fashion (for some reason). Make another quick stop at the Captain Cook statue, commemorating the British explorer's landing in Waimea in 1778. If you didn't bring a packed lunch with you, do not miss the highly acclaimed Ishihara Market, where you can stock up on groceries for the day but more importantly – awesome packed lunches, sandwiches and even poke bowls.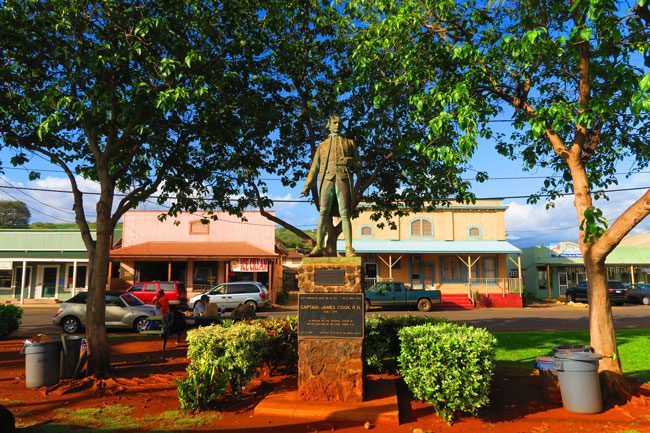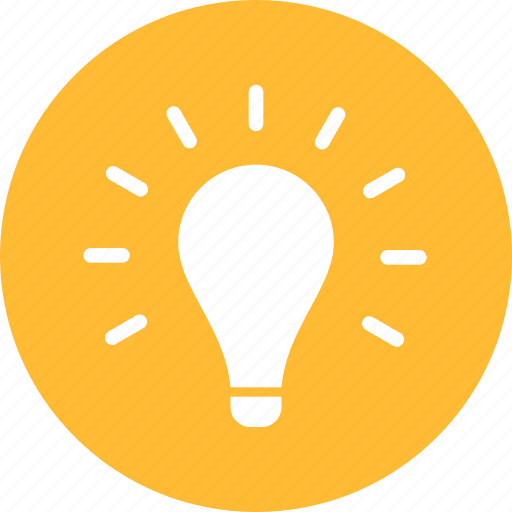 Pro Tip
we're about to cover Waimea Canyon and Koke'e State Park. Usually, visitors simply drive the scenic Waimea Canyon Drive from south to north and make short stops for vistas or hikes until they reach the Kalalau Lookout. However, since this itinerary includes the option of two hikes in this region, we will head nearly all the way to the end of the scenic drive, hike, and work our way back down. If you do not wish to hike, you can simply take the usual route.
Koke'e State Park
Squeezed between the signature peaks of the Na Pali coast and the bizarre wonder that is Waimea Canyon, Koke'e State Park offers the most stunning land-based views in Kauai. The park covers a vast expanse of high elevation terrain and offers optimal temperatures for exploring the outdoors. Delicate ecosystems home to endemic plants and animals cover large parts of the park, so don't forget your binoculars if you're into bird watching. Note that camping in Koke'e State Park is possible with a permit and advanced reservations.
As far as the weather goes, the Na Pali-facing sections can be very dry (as you'll soon see), while the eastern-facing Alaka'i Swamp is usually cloudy and of course – wet! It is best to get here by 9:30 am during the wet season when you are likely to have relatively cloud-free weather.
To get here, pick up Waimea Canyon Drive from just outside the town of Waimea and keep driving north. Don't be tempted to stop at all the overlooks as we'll drive back down this way. If you're concerned about not having optimal photography conditions on the way back, make a quick stop at Waimea Canyon Lookout.
Koke'e Museum
I recommend making this your first stop. Why? Because the museum sells a useful map of all the park's hiking trails. When I visited, staff were not that helpful nor knowledgeable but all I wanted was the map ($3). If the museum is not open, it's not a huge deal as the upcoming hike is well marked. The museum is also next to a beautiful picnic spot but we'll come back later.
Awa'awapuhi Trail
This was by far the best hike I did in all of Hawaii! It offers million-dollar views of the Na Pali cliffs from a very unique angle. The hike was recommended to me by my Airbnb host as I was contemplating a few options. She was right on the money and my timing was absolutely perfect (see logistics section).
The moderately challenging Awa'awapuhi Trail begins with a descent through the forest with nothing too fancy to report aside from a beautiful melody of songbirds. From time to time, clearings in the forest reveal severe landslides which this area is prone to – the reason why at the present time the more challenging Nu'alolo Trail is closed.
After about 1 hour of easy hiking, the forest gives way to barren cliffs. This is the Awa'awapuhi Overlook but don't stop here. If you feel confident enough, keep walking down and carefully scramble over a few boulders until reaching a perfectly positioned ledge. This is by far the best seat in Kauai.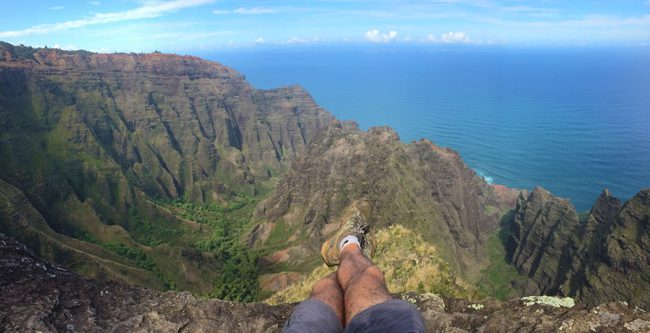 You'll feel like the 'master of the universe' sitting up here with the entire valley beneath your feet. It really doesn't get any better than this, however, you'll have the share the airspace not only with birds catching the thermals but also with a never-ending barrage of helicopter scenic tours entering and exiting the majestic Awa'awapuhi Valley amphitheater.
You'll want to stay here for a while and if you arrived early enough, the ledge will be all yours. The views will keep getting better and better as the sun fully rises over the valley, revealing its beautiful colors and the unique contours of the eroded Na Pali cliffs. Take note of the incredible acoustics of this spot. You can clearly hear people chatting on the boats nearing the cliffs and even animals in the valley below.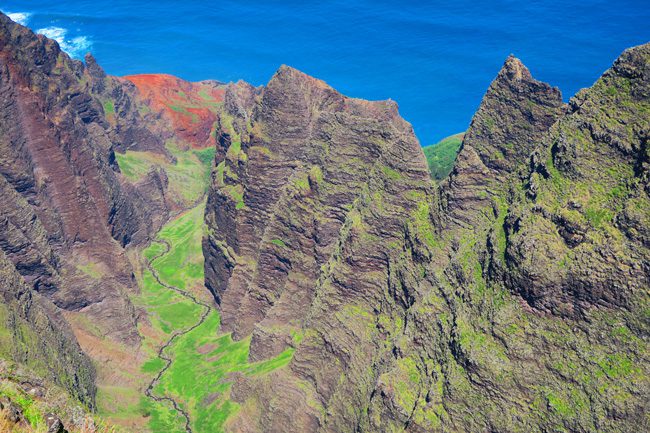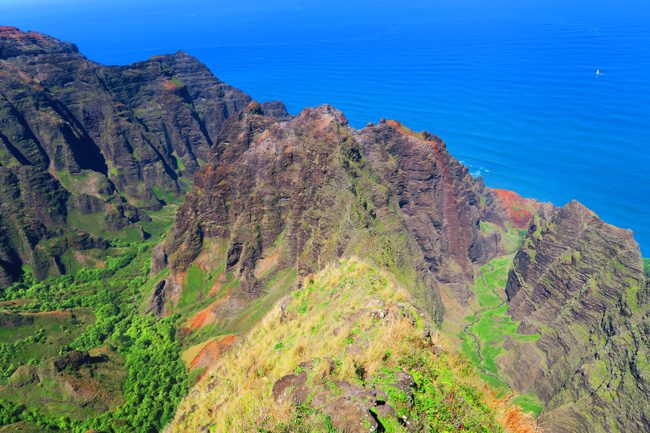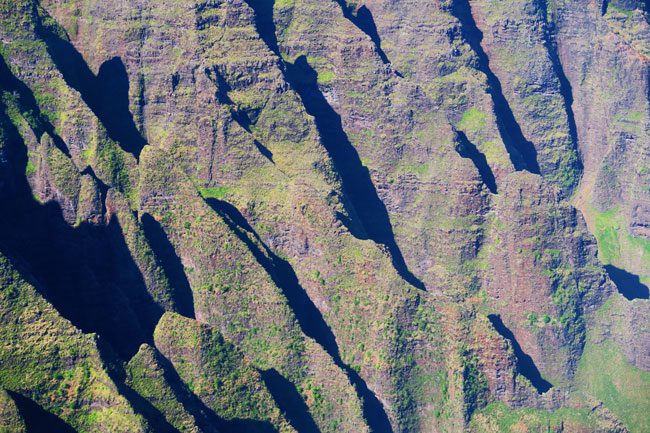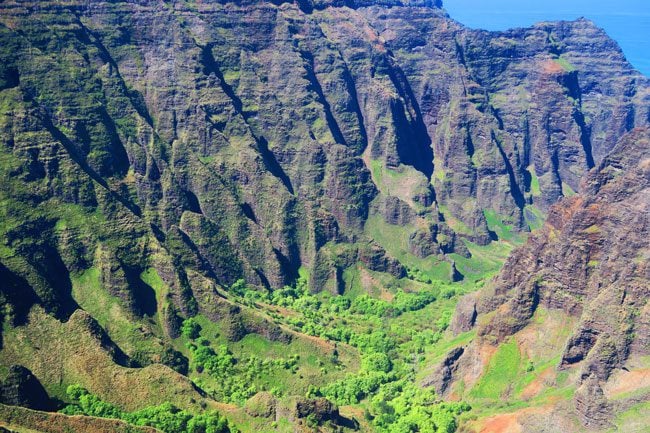 This is a unique view that can only be experienced from here. Even hikers on the Kalalau Trail are not as spoiled as hikers on the Awa'awapuhi Trail, perhaps only those on scenic helicopter rides or Na Pali coast cruises.
Logistics: to beat the crowds and the clouds, aim to start hiking by no later than 9 am. The trailhead is clearly marked and there's a small parking lot (just don't leave anything in the car). Wear sturdy hiking shoes, sun protection (the trail is mostly exposed), sweat repelling clothing, walking poles (if you struggle uphill). Bring food, water and a full change of clothes. The hike is about 3 miles each way (4.8km) and takes 3-4 hours to complete.
Kalalau Lookout
One of the finest panoramic overlooks in Hawaii, this is where you'll get the 'money shot' of the famous Na Pali cliffs – eroded and sculpted over millennia by the forces of wind and water. Oftentimes, the overlook gets covered with clouds in late mornings during the wet season so getting here early (but not too early) is a good idea. Even if conditions are cloudy, things can quickly change so don't give up hope. The Kalalau Valley that is seen from up here marks the end of the famous Kalalau Trail and you might be surprised to hear that there are still a few dwellers in the valley who choose to continue living life off the grid.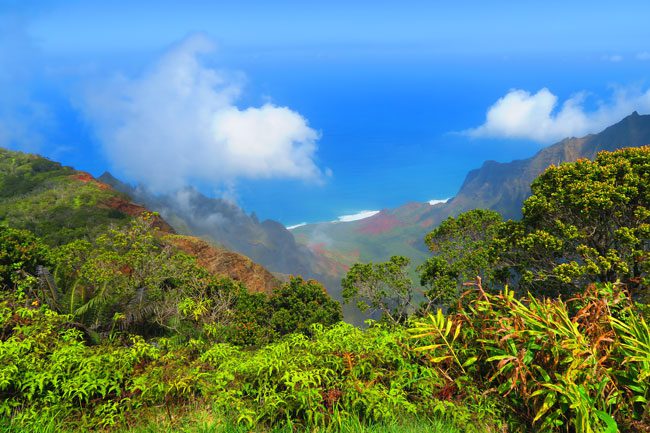 Pu'u o Kila Lookout
Offering slightly better views of the Kalalau Valley than the previous stop, the Pu'u o Kila Lookout is also the starting point for the Pihea & Alaka'i Swamp trail. This is another awesome hike that traverses a boggy swamp to spectacular viewing areas towards Hanalei Bay (Kilohana Lookout) and even to the interior peaks of Kauai which are usually eternally wet (7 miles return hike to the swamp). In this wet area of the park, you must come prepared for rain and expect cloudy conditions.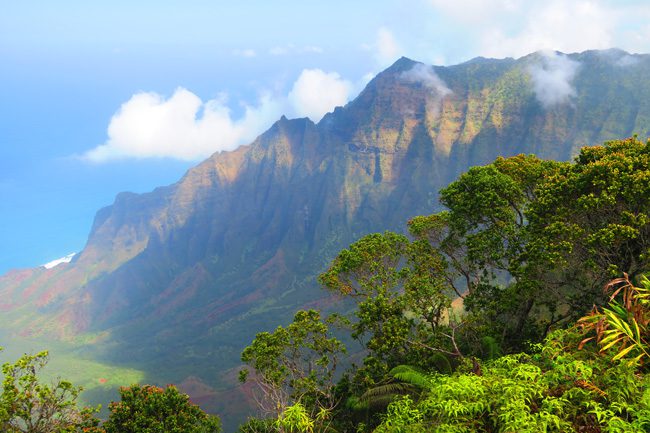 Even if you won't be hiking, it's worth walking down from the main viewing area via the packed-dirt path to enjoy more secluded views of the Na Pali cliffs on one side and over-the-canopy views from the other. On a clear day, you might even see Mount Waiʻaleʻale.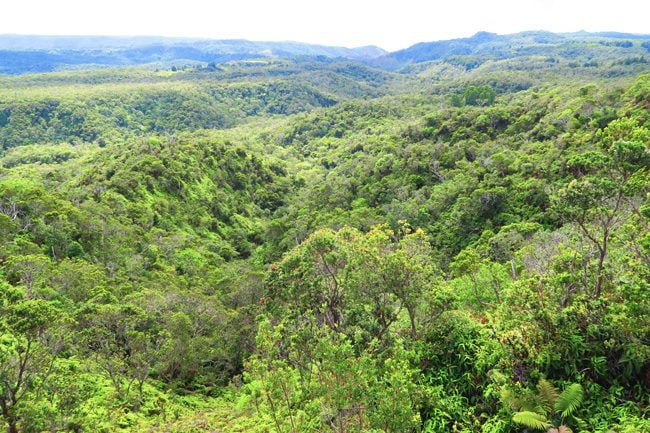 Picnic Lunch
If you haven't done so already, stop for a picnic lunch on the grounds of the campsite. The large grassy area is also right next to the museum and restaurant so you can enjoy a sit-down meal or just treat yourself to a well-deserved post-hike dessert.
Waimea Canyon
Words cannot describe the beauty and grandeur of Waimea Canyon. Known as the "Grand Canyon of the Pacific", it's hard to believe such a place exists on Earth, let alone on a small tropical island like Kauai. I thought I had already visited such wonders when exploring the remote island of Nuku Hiva in the Marquesas Islands of French Polynesia, but Waimea Canyon is on a whole other level and the best part is that it is very accessible to visitors of all physical abilities and time constraints.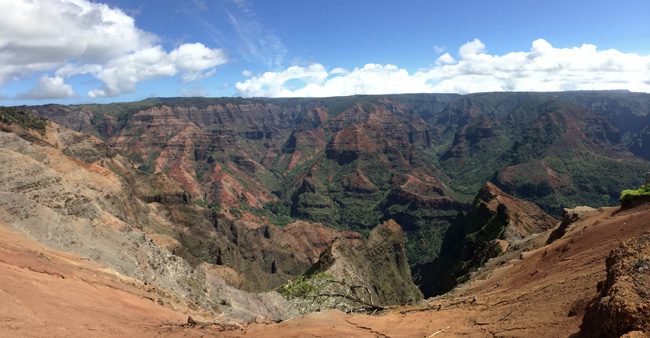 Waimea Canyon was formed over the course of millennia, thanks to the combination of a catastrophic collapse of the island's massive shield volcano, the enormous amounts of rain that eroded what was left, and the Waimea River which continues to sculpt the deep and elongated chasm (over 10m/16km long and over 3500ft/1066m deep). Waimea Canyon is best enjoyed on the scenic Waimea Canyon Drive and through hikes in various levels.
Cliff & Canyon Trails
If you're up for another hike after the morning's Awa'awapuhi Trail, the Cliff and Canyon Trails are a good choice. Technically still within Koke'e State Park, these two moderately challenging and connected trails lead you through the forest for about 1.5km before descending rapidly 400ft into the canyon.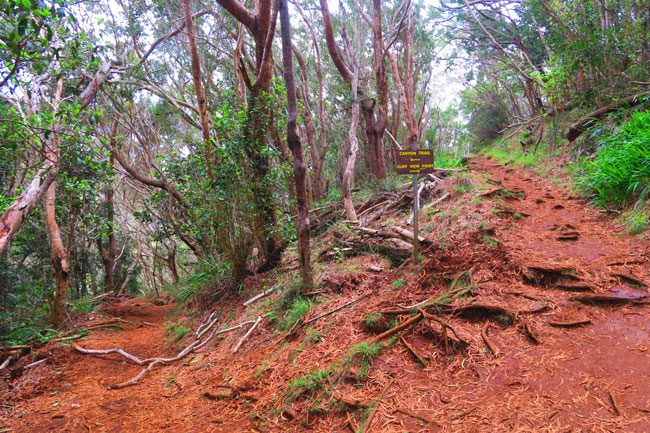 The trail ends in an exposed red-soil hill where you're once again treated to awesome views of the canyon. What makes this hike even more special is that you get to see the canyon walls opposite to those seen from the scenic drive. It's a lot quieter here and you'll likely see birds scavenging and having the time of their life before the rotors of yet another annoying scenic helicopter tour break the silence. Another bonus is the visit to the top of Waipo'o Falls. You'll see the falls from afar when stopping at one of the overlooks we'll shortly visit, but on the hike, you get to witness the waterfall's splash from up close.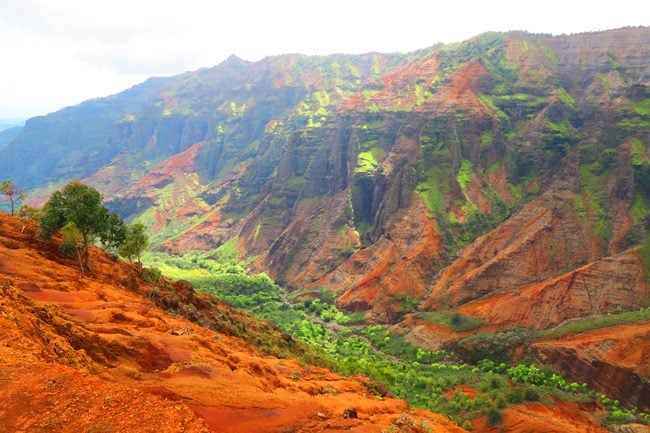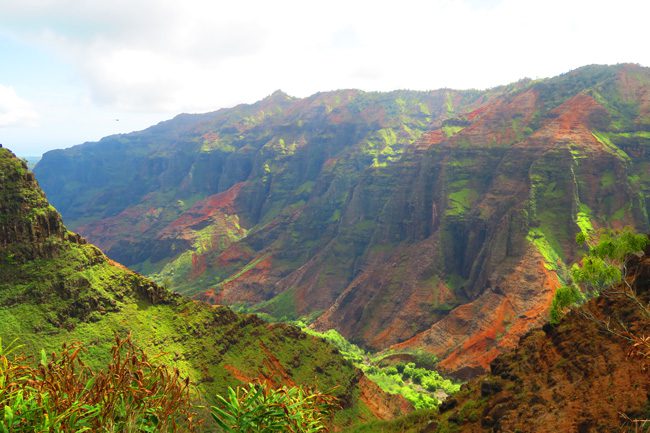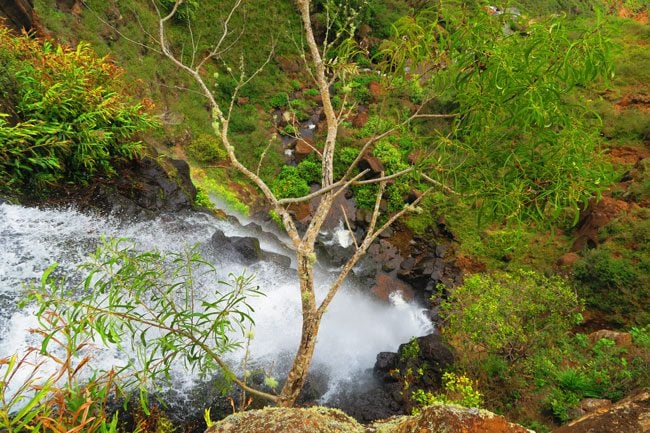 Logistics: to pick up the trailhead, drive south from the museum and look for the Koke'e State Park sign. This is where you'll park (leave nothing inside). Locate the 4WD trail on the opposite side of the road and pick up the signs for both trails. The 'cliff' portion of the hike is just 0.1miles (160m) and the 'canyon' portion of the hike is 1.7miles (2.7 km) for a total hiking time of max 3 hours return. The trail might be a bit muddy and slippery but not overly challenging. If you struggle with uphill portions, walking poles will do the trick.
Waimea Canyon Drive
Rivaled only by the Road to Hana on Maui, this 19-mile journey is one of the best scenic drives in the United States. Waimea Canyon Drive more or less follows the contours of the Waimea River from just above Waimea town north to the highest lookout in Koke'e State Park.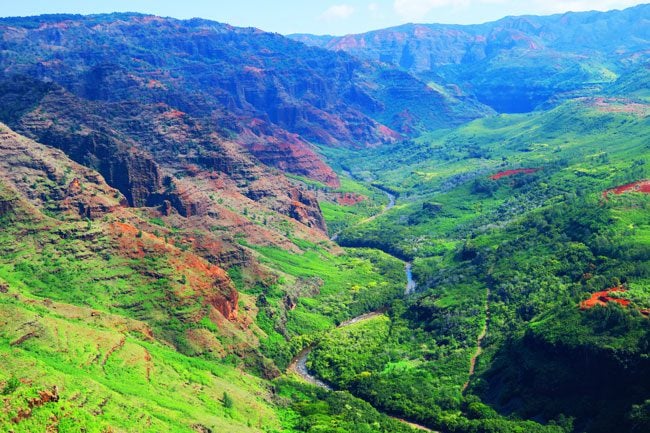 The scenic drive offers an overlook after overlook for you to pause, reflect and admire the immense beauty of the canyon (some are official overlooks and some not). Naturally, you won't be the only ones on the road but as you can see in this itinerary, we're working our way from north to south as opposed to the natural south-to-north (and then back south) route. Another plus of following this 'opposite route is that the views really keep getting better and better as you ascend northbound. Usually what happens is that you 'waste' a lot of time on the less impressive lookouts down south since those are the first ones you come across.
I'll list a few of the more worthy lookouts along the drive, noting that we've already covered two overlooks in Koke'e State Park (Kalalau and Pu'u o Kila).
Pu'u Hinahina Lookout
An organized lookout with parking also doubles as the starting point for a number of hikes. What I loved about this lookout is the interesting angle it offers, as if opening up the entire canyon in front of your eyes. You'll enjoy a unique downstream view of the Waimea River, Waipo'o Falls, and the Pacific Ocean in the distance on a clear day.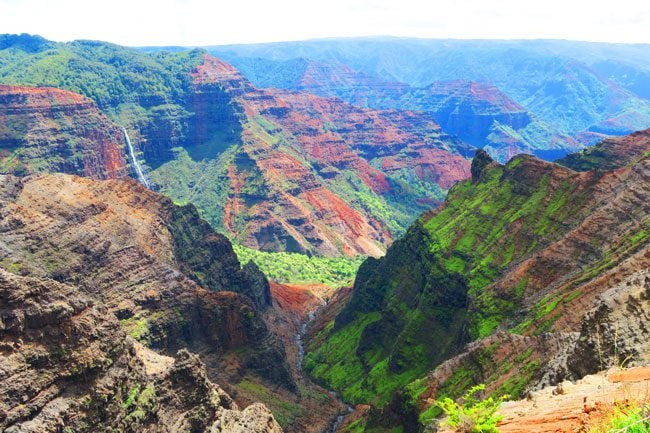 Waipo'o Falls Lookout
This unofficial lookout is essentially a small clearing between mile markers 12 and 13. This angle offers dead straight views of Waipo'o Falls – incredible!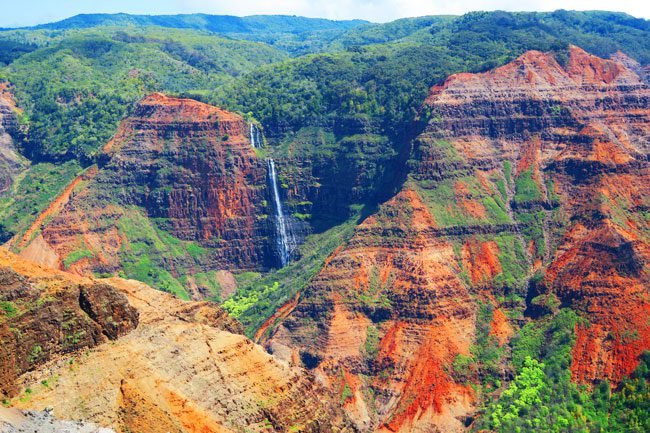 Waimea Canyon Lookout
This is the main viewing area and not one you want to miss though you certainly won't be the only ones here. The beauty in this lookout is the wide-angle it offers. You can simply see a lot of the canyon from here, including Waipo'o Falls. This is also a good place to stretch your legs and visit the bathroom before the drive back to civilization.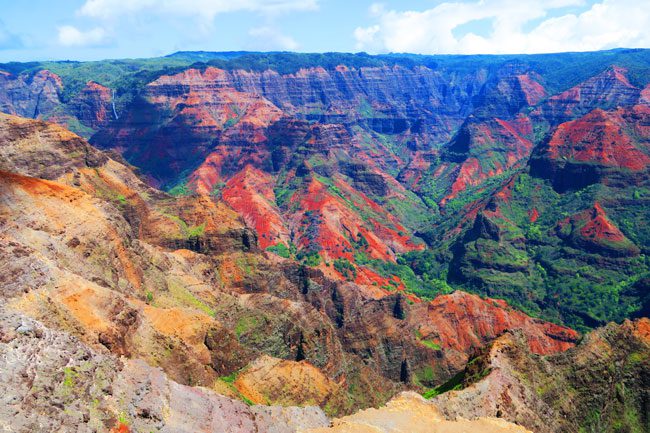 Back in Waimea Town after what should be a very fulfilling day, treat yourself to some shave ice or a bite to eat before grabbing a few hours of rest ahead of tonight's luau extravaganza.
Traditional Polynesian Luau Dance Show
You cannot visit Hawaii without attending at least one luau. I'm not a huge fan of the buffet dinner portion and its huge price tag but what is nice in Kauai is that you can simply attend the dance portion of the award-winning Luau Kalamaku. Considered to currently possess the most impressive dance show of all Kauai luaus, advanced reservations are required but even last-minute tickets can be bought since this place is huge (housed in a large tent that can comfortably seat over 1,000 people). You can purchase tickets just for the show, dinner plus show, and for a special VIP experience.
I skipped dinner and came just for the show (admission included soft drinks and a Mai Tai) and it did not disappoint. Dozens (and I mean dozens) of professional dancers take you back in time, sharing a beautiful love story that takes place at a time when the first Polynesians arrived on the island and when the gods ruled this virgin land.
I've seen my fair share of 'luau shows' in French Polynesia and the Cook Islands and here's what I liked and disliked about this particular show.
Liked: it focused on Tahitian dancing which is a lot more exotic and fast pace than the normal (sorry to say) boring hula, lots of dancers who seem to take their job very seriously, there's time for photos and chit chat with the dancers after the show.
Disliked: it was only 45 minutes long which might be the norm for Hawaiian luaus but it left me with a taste of wanting more, the fire dancing number was incredible but (as you would expect in lawsuit-capital America) mesh nets were raised to avoid anyone getting injured.
Day 3: Lihue to Hanalei Bay
Day three of your 5 days in Kauai will be leisurely spent road tripping on the east coast before rounding the corner to the lush north shore of Kauai. The day mostly revolves around short stops in scenic lookouts, beach walks, and food!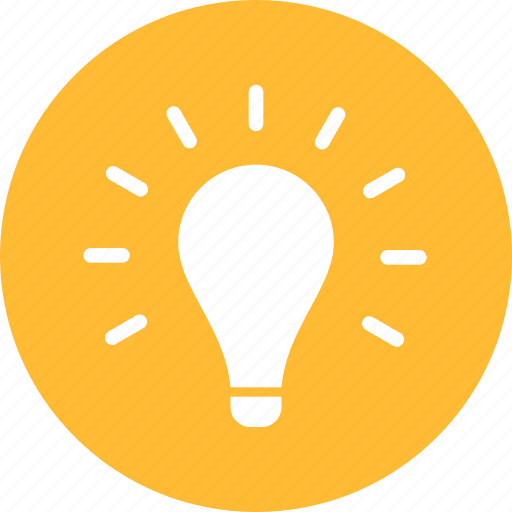 Pro Tip
Pro tip: days 3 to 5 are best explored while you're based in the north coast. If not feasible, simply account for longer driving times when planning your day.
Wailua Falls
These twin falls cascade in perfect sync to a natural pool that only a few brave souls manage to somehow reach. There's a small parking area near the lookout and though this is a quick stop, I'll warn you ahead of time – staring at Wailua Falls will hypnotize you! For the best photos, don't be shy and hop over the fence (just don't tell anyone I recommended this).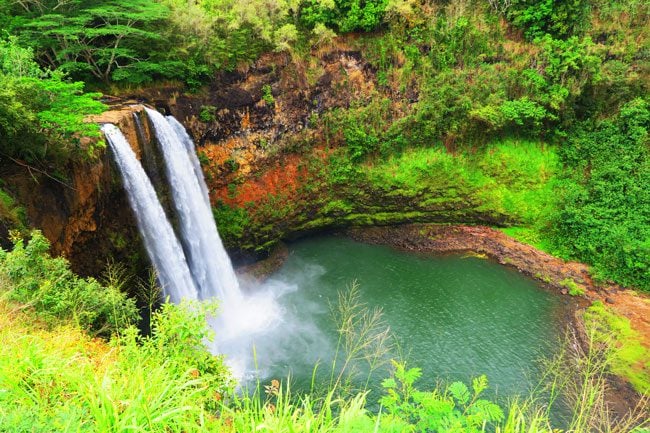 Wailua River Lookout
A very quick stop offering nice views of the Wailua River as it bends en route to the Pacific Ocean.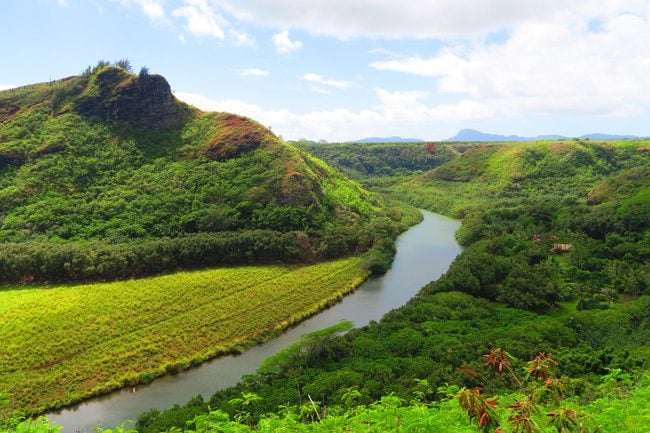 Opaeka'a Falls Lookout
Less than 100m after the Wailua River Lookout on the opposite side of the road, this lookout offers views of a partially visible waterfall and the Wailua River. There are also the stone remains of a native Hawaiian structure adjacent to the parking area.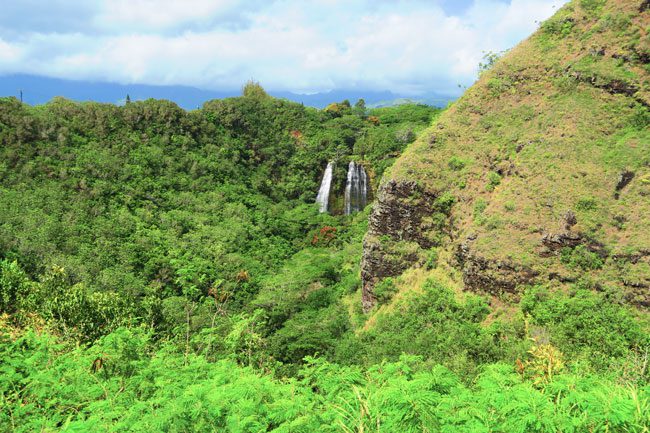 Kapa'a
The stretch of road from Wailua to Kapa'a is the busiest in Kauai. It is here that the bulk of the island's population resides and where package holidaymakers flock. Expect a traffic slowdown at best when nearing the town from either end and sometimes even major traffic jams (the Wailua bypass road helps with that). Kapa's itself can be a cool stop if you need to stretch your legs or grab something fresh to drink. Unless you're super hungry (in that case I recommend Pono Market), I advise waiting a little bit with lunch since we'll soon make a special stop. Feel free to check out the main street, do some window shopping, and stroll along the paved promenade in Kapa'a Beach Park. Oh, and if you just happen to stroll through town on a Wednesday afternoon, visit the Kapa'a Farmers Market – one of the best farmers markets in Kauai (3-5 pm).
Kealia Beach
Despite its close proximity to Kapa'a, Kealia Beach manages to retain a sense of pristine beauty. To reach the beach, you either drive or walk on the coastal paved path from Kapa'a.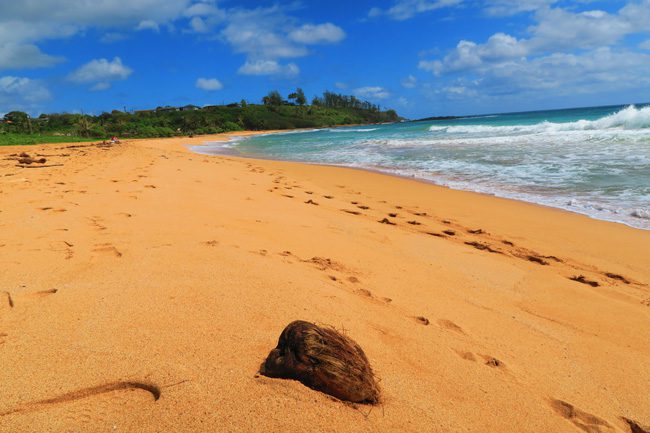 As you head north past Kealia Beach and Anahola, the scenery is very inviting as the north coast's signature peaks get closer and closer. There are a number of hiking trails in this area but we'll leave those for day 5. Look out for "the sleeping giant" and the "hole in the mountain". You'll need a vivid imagination and a clear day to spot these two anomalies.
Larsen's Beach
I found this to be one of the best beaches in Kauai, an off-the-beaten-track beach that's exposed to the elements and where you could very well be the only ones here. There's lots of shade, plenty of secluded spots and birds love to hover over the shallow waters to catch fish. It's a great stop for a beach stroll, picnic lunch or just to contemplate the questions of life. To get here, follow the dirt road to the parking lot and walk down the path for about 5 minutes. Unfortunately, due to camera malfunction, this is the only photo I can share.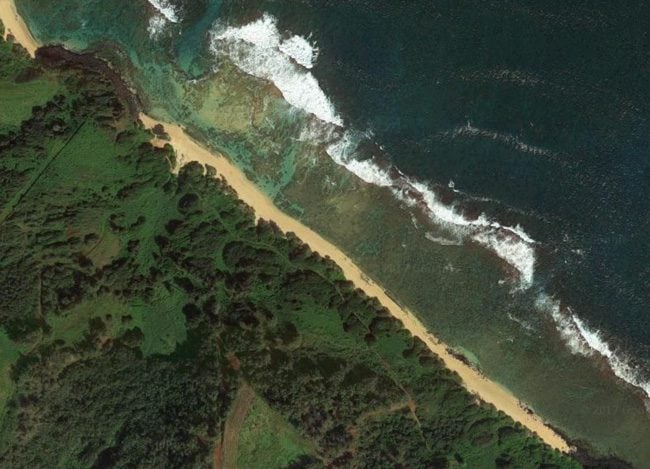 Lunch at Kilauea Fish Market
I mentioned earlier that it is well worth fighting the lunch crave and here's why. One of the best places to eat in Kauai, the Kilauea Fish Market whips up delicious local dishes that you don't want to miss. While you wait for your choice to be freshly prepared, hang out in the exterior shaded dining area or check out one of the neighboring art galleries. Together with my visiting folks, we devoured a round of fish tacos and ahi (tuna) burritos. The Fish Market is closed on Sundays and if you really can't fight the craving, they have a second branch in Kapa'a (but this is the original one!).
Kilauea Lighthouse
The Kilauea Point National Wildlife Refuge is a no-brainer stop after lunch in the fish market. Not only are the views simply out of this world, but this rugged mini peninsula is teeming with life. You'll feel as if you've entered the filming location of some award-winning BBC nature documentary right as you reach the viewing area outside the refuge. Sounds of massive waves smashing into the tall cliffs mix with those of thousands of protected birds such as albatross, boobies and frigate birds. You'll then enter the park and continue on foot to the old-school lighthouse which dates back to 1913. The lighthouse was vital in protecting ships navigating the traitorous waters on this side of the island.
The views and the symphony are even more impressive from the lighthouse. In front of you is the tiny island of Mokuaeae – a haven for seabirds that often fly the short distance to check you out. If you're super lucky, you might even see spinner dolphins and humpback whales to really make this a perfect day. Finally, look to your sandy left – that's "Secrets Beach", where we'll head shortly.
The refuge is open Tuesday – Saturday, 10:00 am to 4:00 pm. Since parking is limited, there's often a bit of a queue at the viewing area before you enter the gate (entrance is $5 per person).
Secrets Beach
Better known as "Secrets Beach", Kauapea Beach is hands down one of the best beaches in Kauai. It's quite tricky to reach but well worth the effort, a long stretch of soft golden sand, the bluest of waters, and the Kilauea Lighthouse in the far distance. There's even a hidden rocky cove that pleasantly detaches you from the outside world on the western edge of the beach.
You won't find too many tourists here, mostly locals who know a good beach when they see one, surfers, and even dolphins. Be advised that swimming can be very dangerous, especially during the winter months. However, Secrets Beach is a beautiful place to do a bit of relaxation and you can even call it a day since we'll have another full beach day on the north coast in day #5.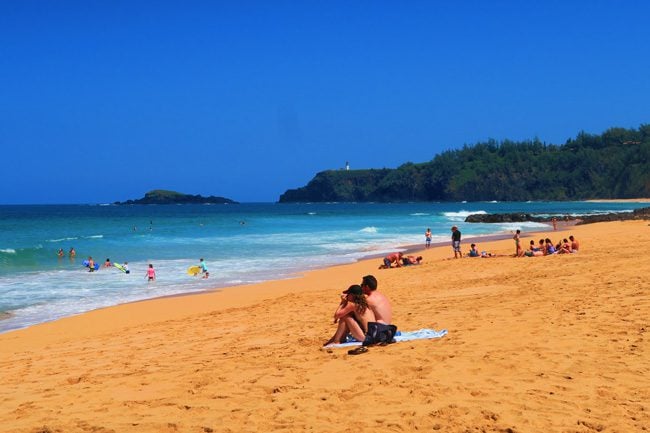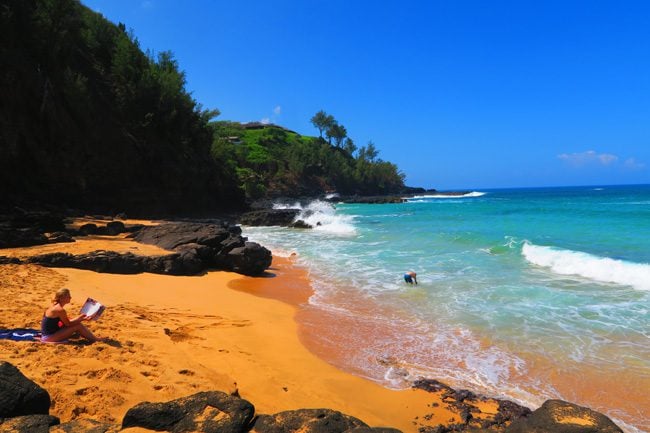 To get here, Turn on Kalihiwai Road and take the first right onto the dirt road. Keep going straight all the way until you reach a makeshift parking area. Leave nothing in the car (thieves have been known to stake out) and follow the steep path down for about 10 minutes.
Hanalei Valley Lookout
Passing the resort community of Princeville, you'll reach the Hanalei Valley Lookout before beginning the descent to what is arguably Kauai's prettiest corner. The panoramic views from the lookout are stunning: a colorful tapestry of lush mountains, taro patches that have been cultivated for centuries, and streams meandering to the Pacific Ocean. If you needed a reminder of just how lush Kauai is, here it is!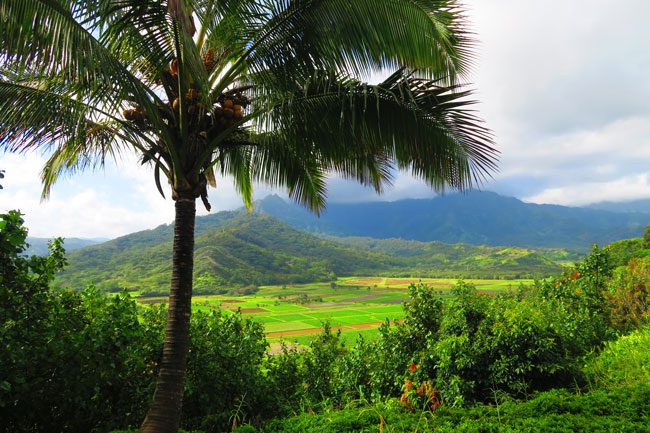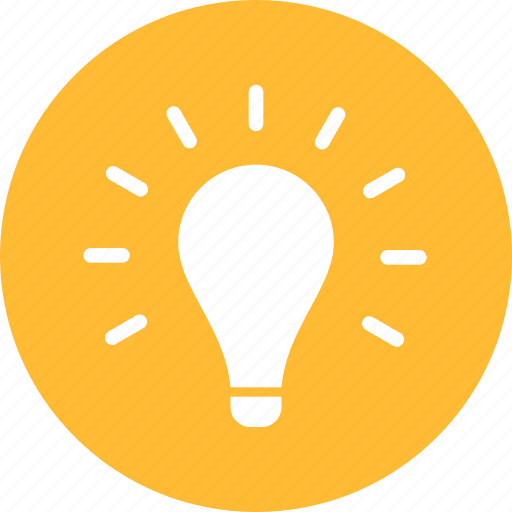 Pro Tip
there are even finer views of the Hanalei Valley just a two-minute drive from the official lookout point in the direction of Hanalei Bay. Pull over on the wide shoulder and enjoy the views.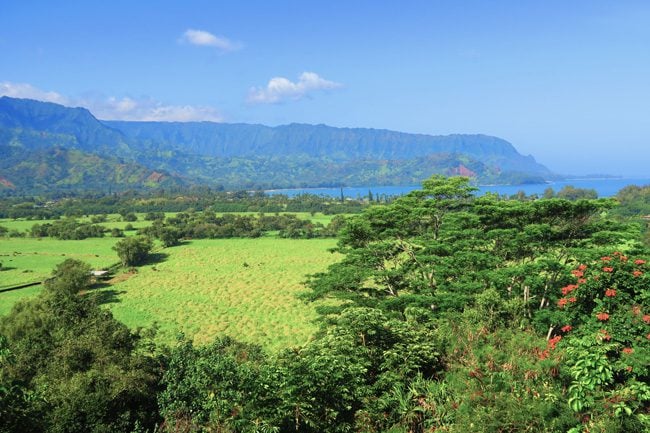 Hanalei
The village of Hanalei is the stuff dreams are made of, seeming to almost be too good to be true. Perhaps this is the reason why Hollywood keeps choosing this place time and time again, most notably in the critically acclaimed drama The Descendants, with George Clooney.
Nestled between the signature peaks of the Na Pali coast and the majestic Hanalei Bay, the village itself is a tiny collection of shacks turned into million-dollar mansions, healthy dining options, and surf shops or surf related 'whatevers'. It's well worth a stop and a stroll either before hitting the bay or after.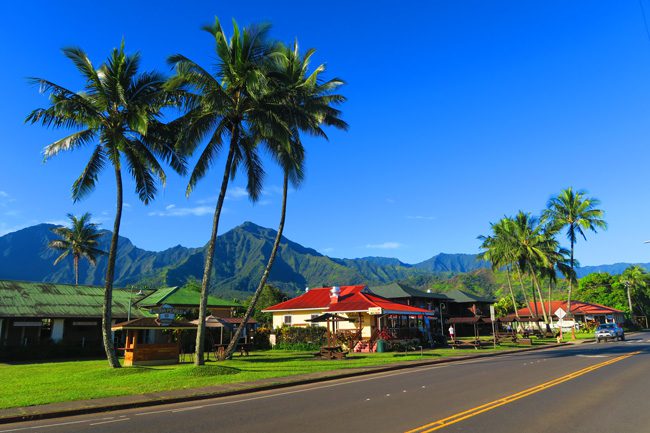 If you fancy an unpretentious bite to eat, head to Hanalei Gourmet (try the grilled marlin sandwich), and for drinks (and live music), head to the Tahiti Nui restaurant & bar. Hanalei also hosts a Saturday farmers market, but we'll come back to this later on.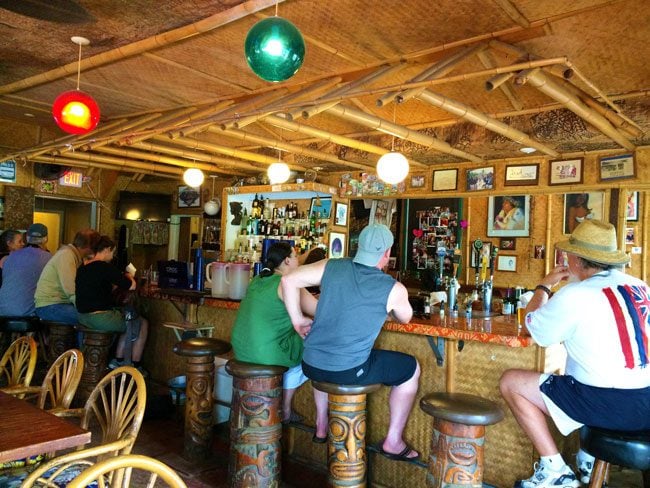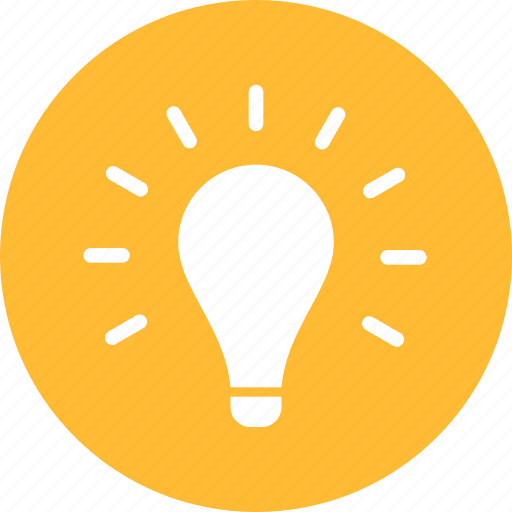 Pro Tip
Keep in mind that on day 5 of this itinerary, you'll have plenty of time to come back here, grab a healthy breakfast and check out the scenery in pre-noon daylight.
Sunset in Hanalei Bay
The largest and most impressive in Kauai, Hanalei Bay is a playground for all ages. Since Hanalei Bay is so massive, it is home to a number of official and unofficial beaches, starting with the busier Black Pot Beach in the east – where the famous pier is to be found, Hanalei Beach Park and Waioli Beach Park – somewhere in the middle, and the western edges of the bay where you'll likely not have to share the creamy sand with others.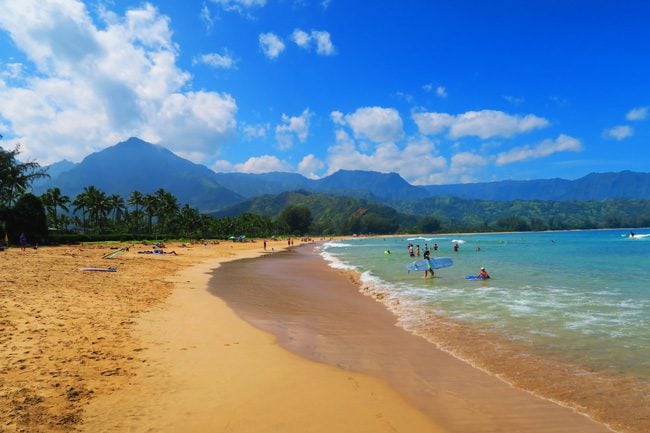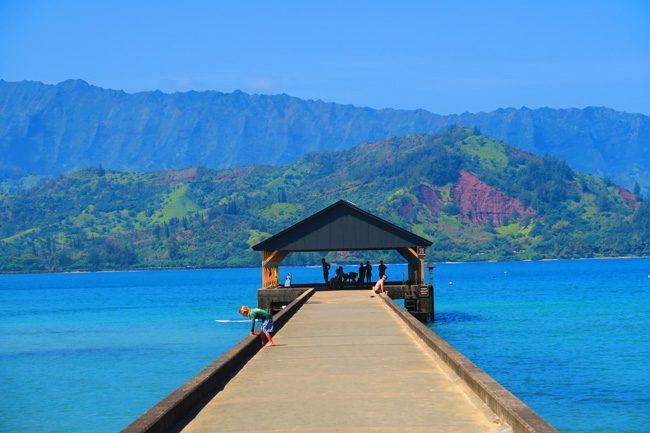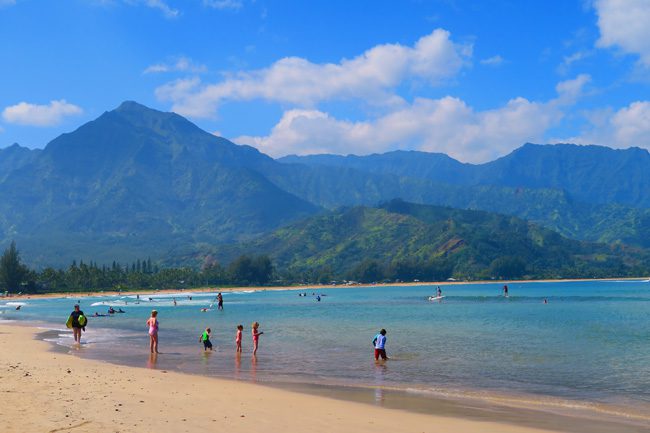 Hanalei Bay is the type of place where you can spend the better part of a full day and that's exactly what you'll be able to do on day 5. On this day, however, find a nice spot and turn your head west to enjoy yet another spectacular sunset in Kauai!
Day 4: Na Pali Coast, Kalalau Trail & Tunnels Beach
Get an early start, slip into your hiking gear and stretch those legs. Day #4 of your 5 days in Kauai will be spent exploring, primarily on foot, the majestic Na Pali Coast State Wilderness Park – Kauai's most famous sight. What's on the menu? Dazzling jagged cliffs, hanging valleys teeming with waterfalls, and seemingly impenetrable ridges hiding sea caves and secluded beaches.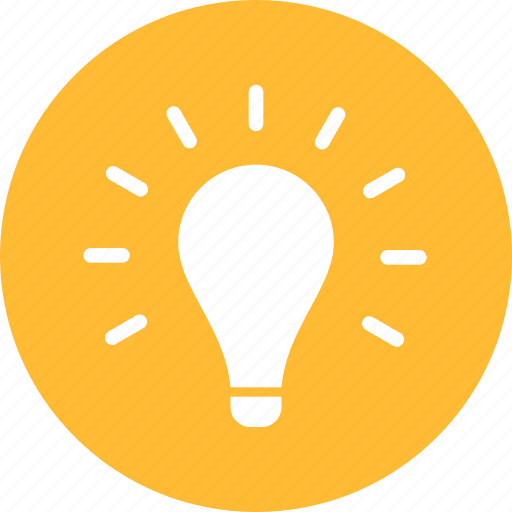 Pro Tip
the stretch of road from Hanalei to Ke'e Beach is stunning, with towering emerald mountains meeting pristine beaches galore. It's best to overcome the temptation and to simply keep going. There will be time on the return leg and on day 5 to revisit this coastline.
The Na Pali coast (meaning "the cliffs" in Hawaiian) extends from Ke'e Beach in the east to Polihale Beach in the west. What makes these cliffs stand out above the rest is their jagged shape – carved over the course of millennia by rain and wind. We caught a very good bird's eye view of the cliffs on day #2 during the hike on the Awa'awapuhi Trail but it is now time to experience the Na Pali cliffs from eye level.
There are basically five ways to see the Na Pali cliffs of Kauai: (1) on a scenic helicopter flight (see Kauai travel tips section for pros and cons), (2) kayaking the entire coast or part of it, (3) joining a scenic cruise (which usually includes snorkeling and dolphin watching), (4) hiking the entire course of the Kalalau Trail with an overnight camping stay, and (5) hiking the first section of the Kalalau Trail as part of a day hike – the most popular method which I'll now describe in greater detail.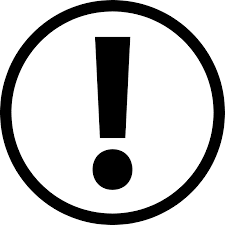 Update
Haena State Park, which includes Ke'e Beach and access to the Kalalau Trail is now subject to entry permits in order to cope with the large volume of visitors and limited space. You must reserve entry (car parking or walk-in) starting from 30 days prior to your visit (and no later than the day before) or reserve a spot on the North Shore Shuttle.
Kalalau Trail
Dubbed by some as the "most incredible hike in America", the Kalalau Trail runs for 11 miles (17 km) from Ke'e Beach to the Kalalau Valley and its gorgeous beach. The valley was once home to an advanced civilization of Native Hawaiians but, today, only a handful of hermits reside here along with a few lucky overnighting hikers.
Kalalau Trail Hiking Tips
The trail is divided into a number of sections, with the first section (Ke'e Beach to Hanakapiai Beach and the Hanakapiai Falls detour) doable as part of a day hike and not requiring a permit (but does require car/walk-in permit – see above update). Technically, to hike past Hanakapiai Beach you do need a camping permit even if not overnight camping, and if it's hiking the entire trail that you're after – you'll need to either book months in advance or have extreme luck.
The trail is can be slippery and muddy and you must check the trail's condition prior to venturing out there. There have been fatalities on the trail, mainly of hikers not adhering to warning signs and swimming in dangerous waters. However, the first leg of the trail is very safe even if a bit challenging.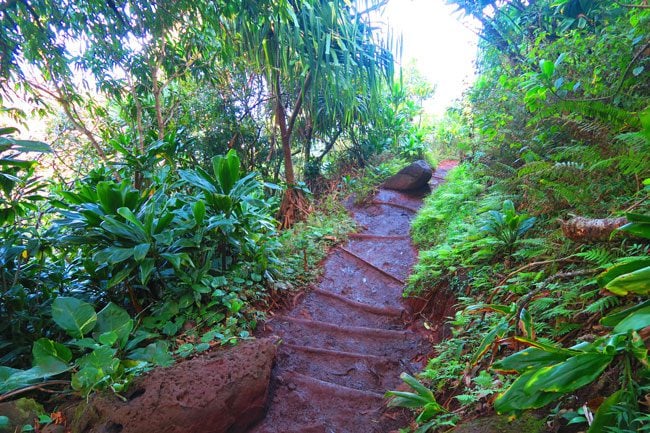 Traffic on the trail can be quite bad as this is a very popular hike. I strongly advise starting early to beat the crowds and for catching the usually clear morning skies. Parking can be a pain issue as well. The tiny parking lot at Ke'e Beach fills up very quickly but there's a larger lot by the taro fields about 500 meters before where you can easily find a spot until about 9 am. Wear: proper hiking shoes and understand they will get dirty, sweat-repelling clothing, sun protection, mosquito repellent, and walking poles if you struggle up/down hills. Pack: rain gear, a full change of clothes, wet ones, garbage bag, sandals or reef shoes for crossing streams if hiking the Hanakapiai Falls extension, at least 3L of water per person, lots of food and snacks. For examples of proper hiking gear, check out this page and for in-depth details about the trail, have a look here.
Ke'e Beach to Hanakapiai Beach
Aside from a few areas that might be challenging for some, the first section of the Kalalau Trail runs for about 2 miles from Ke'e Beach to Hanakapiai Beach. This section of the trail is quite busy so expect slowdowns every now and again. The earlier you start hiking, the less of an issue this will be.
You can expect stunning views back towards Ke'e Beach (better on the way back) and the rugged coastline, but not the 'classic' views of the eroded Na Pali cliffs. This can only be witnessed from the air, the sea, Kalalau Beach and Koke'e State Park. During whale season (January-March), pay extra attention as humpback whales might be coming up for some air (a.k.a breaching).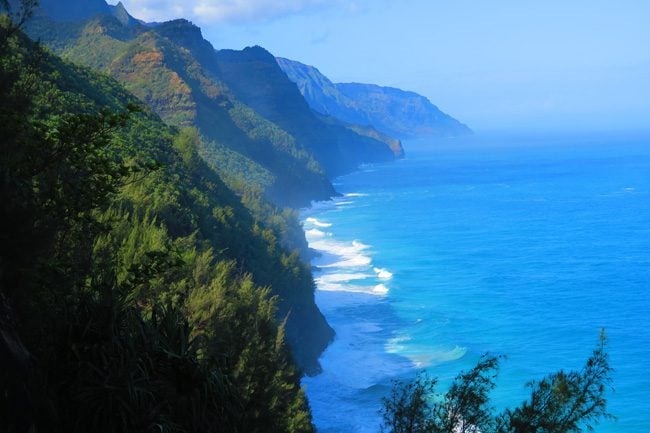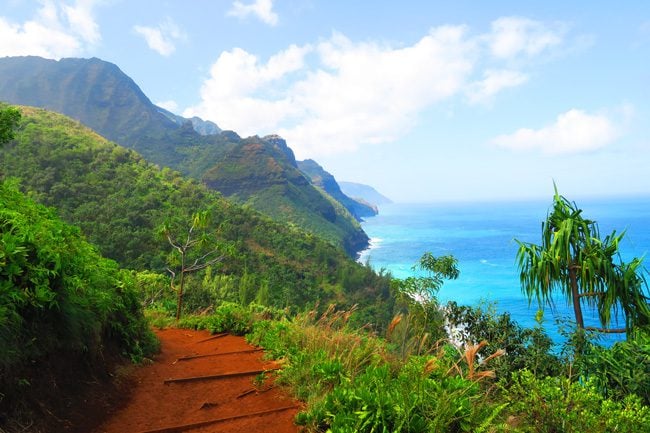 After a few switchbacks and muddy gulches, you'll eventually reach Hanakapiai Beach. Be aware that to actually reach the beach, you'll need to cross an active stream either by skipping over rocks or walking through the water.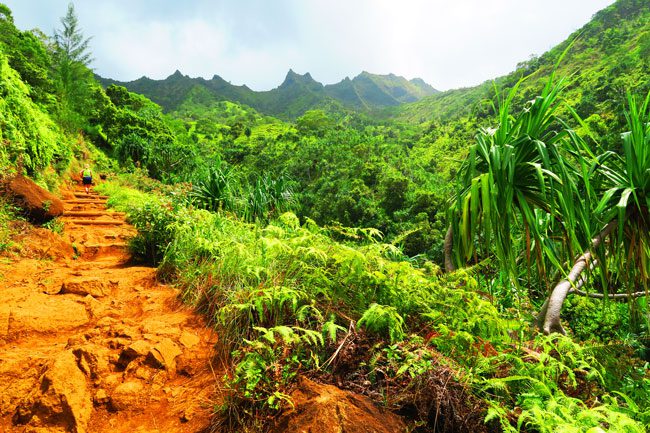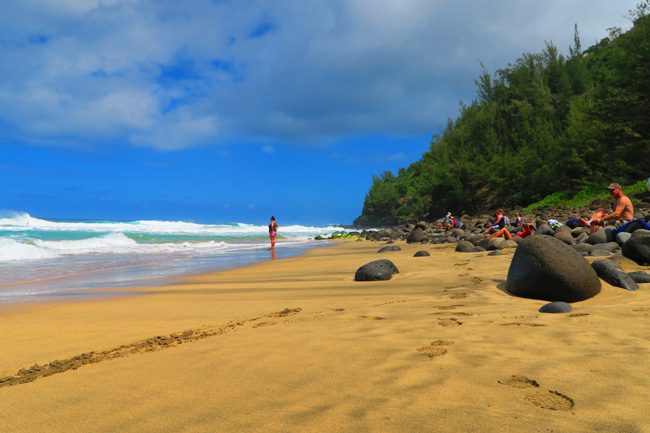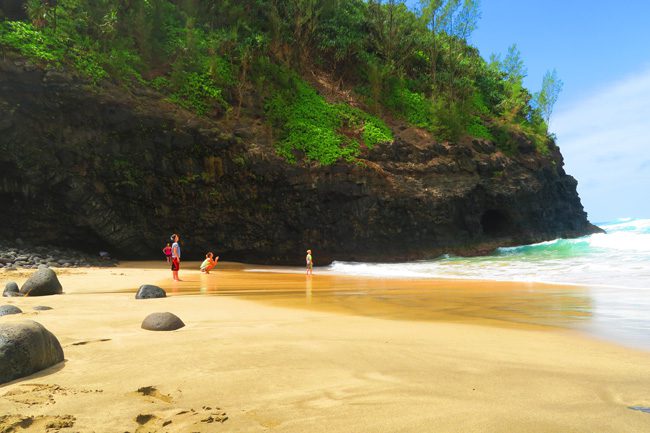 The beach itself is very dangerous for swimming but perfect for a picnic lunch before either heading back to the trailhead or continuing to the Hanakapiai Falls.
Hanakapiai Beach to Hanakapiai Falls
If you've already made it this far and won't be hiking all the way to Kalalau Beach, you might as well take the 2-mile detour (each way) to Hanakapiai Falls. I found this section of the hike to be more challenging than the first leg. Quite a few streams need to be crossed (I somehow managed to stay dry with a few acrobatic moves) and parts of the trail were quite muddy and narrow. However, it was well worth the effort as you'll soon see.
This little detour follows the contours of the Hanakapiai Stream to its very source. You pass through a small yet very impressive bamboo forest before entering a lush rainforest blooming with seasonal flowers.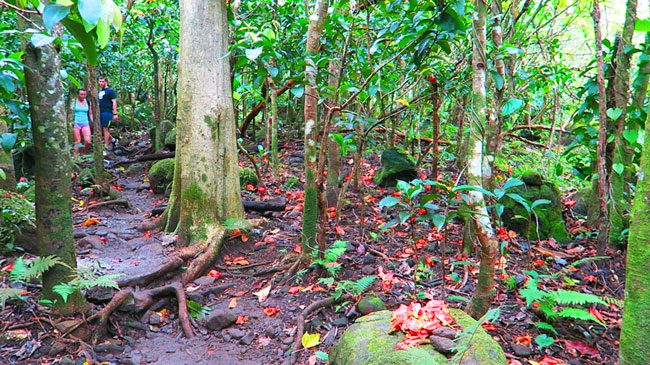 As sounds of the falls draw nearer, the trail becomes narrower, more congested and very slippery – so take extra care. The slow pace is further exacerbated with the wait on either end to cross the streams. Once you make it to the falls, all your worries evaporate into the misty air. The 300ft (91m) waterfall tumbles from way up in the heavens and swimming is highly advised (though a bit chilly). The natural scenery is reminiscent of Hi'ilawe Falls on the Big Island, except you'll have to share this magical place with at least 50-70 other hikers. This is Kauai after all!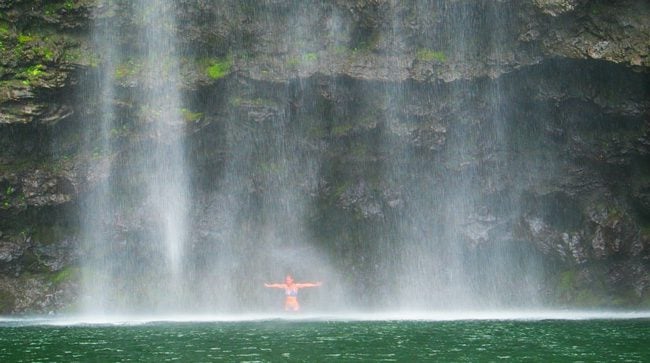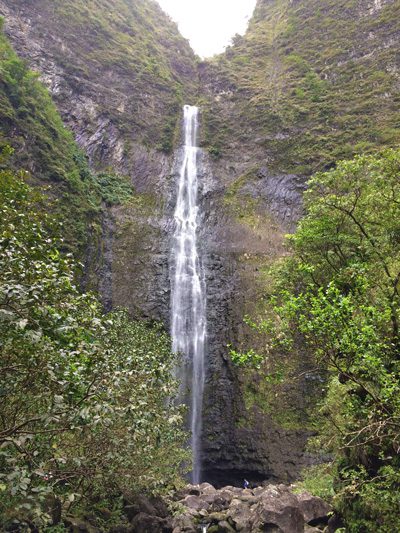 Beyond Hanakapiai Beach
You technically need to obtain an overnight permit even if just hiking for a few miles beyond the first beach. I hiked for about 2 miles and found the trail to be quite challenging at times, requiring a bit of climbing and squeezing through narrow sections. There are much fewer people to share the trail with and if you left in the early morning, you'll often be the only hiker on the trail and actually hear the birds singing (that is until yet another annoying scenic helicopter tour swings over). However, view-wise, the scenery isn't that spectacular unless you fully commit to going all the way. I recommend hiking to the first beach and then continuing to the waterfall before heading back to Ke'e Beach.
Ke'e Beach
At the very end of the north shore road, Ke'e Beach is a popular spot for Kalalau Trail hikers returning to civilization, snorkelers and sunset chasers. Expect large crowds in the afternoons as folks come back from the hike and regroup, but if you simply follow the beach as it curves back east, you'll find more seclusion. Swimming conditions may be very dangerous in the winter months so look for the signs by the lifeguard tower. For awesome views of the beach, hike for about 15 minutes on the Kalalau Trail to a scenic overlook.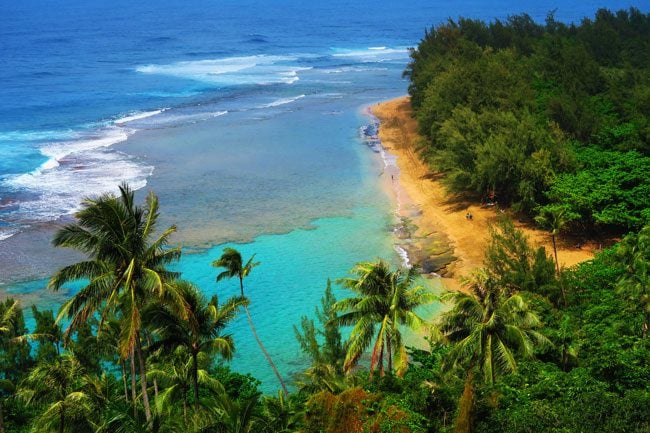 Wet & Dry Caves
En route back to the car, stop for a quick look at the caves you walked past on your way to the trailhead in the morning. One of these caves still has water in it (lots of it) but don't be tempted to go for a swim as it can be dangerous as well as contaminated.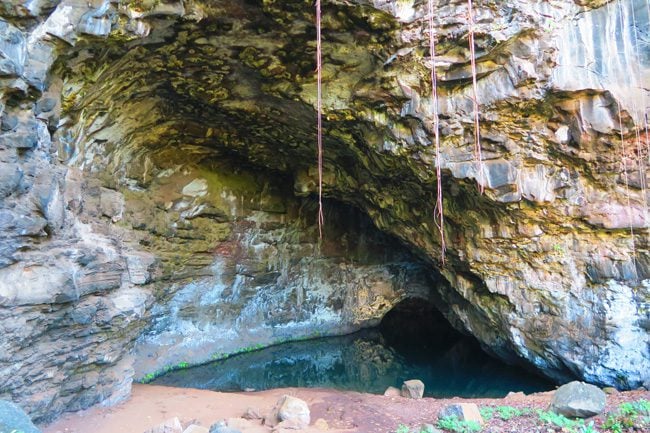 Tunnels Beach
Without a doubt, Kauai's best beach, Makua Beach – better known as Tunnels Beach – is as pretty as they come, reminiscent of the pristine beaches of the Marquesas Islands and even the 10/10 Ofu Beach in American Samoa. With crystal clear waters and the pyramid-shaped Makana Mountain – better known as Bali Hai – looming in the background, you can easily spend the entire day in Tunnels Beach.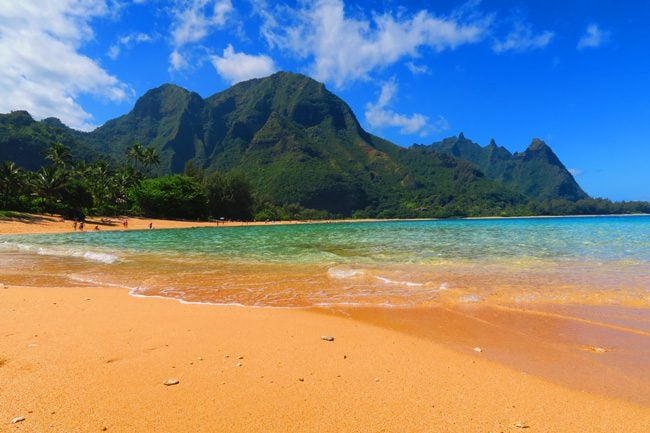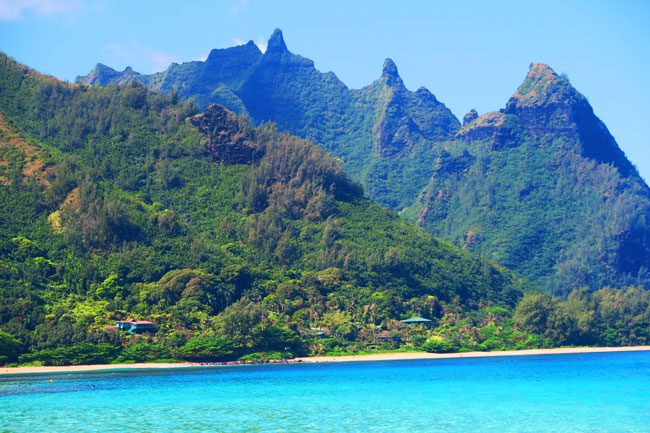 The beach is a prime spot for swimming and snorkeling, thanks to its relatively calm waters and a coral reef that is just a few meters offshore. As you can expect, Tunnels Beach is quite a popular hangout spot, especially on weekends and holidays, but there's plenty of space for everyone. After the strenuous hike, finish off your day in style and maybe even stick around for sunset.
Day 5: Relax on North Shore Beaches
The last of these 5 days in Kauai will be a relaxing affair. We'll take advantage of the north shore's stunning beauty and pristine beaches to unwind and recharge.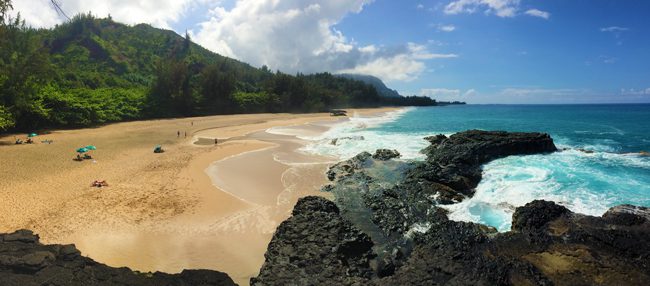 Morning in Hanalei
It's back to the charming seaside village of Hanalei for a healthy breakfast at the Aloha Juice Bar. The wait might be long but the acai bowls and fruit smoothies are the best I had in Hawaii.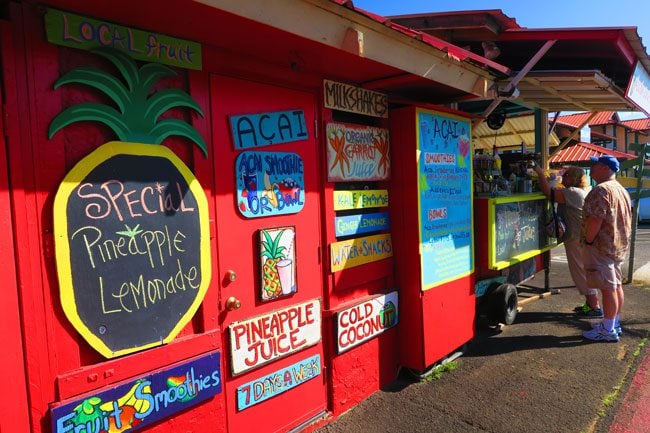 If it's Saturday, do not miss the Hanalei Farmers Market – the best farmers market on Kauai's north shore (9:30-noon). To the backdrop of taro fields and the lush emerald mountains, this market thankfully revolves mostly around food and fresh produce (though there are a few overpriced crafts on sale). Check out the various stalls, grab an ice-cold coconut, and maybe even discover some herbal medicine to make you feel good (have a taste of some noni juice).
Adjacent to the market is the picturesque church and mission house. Feel free to step inside and turn back the wheels of time to the missionary era of Kauai.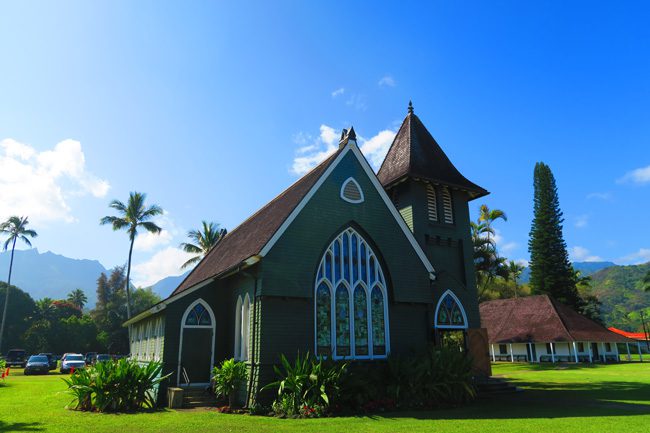 Choose Your Beach
Be sure to pack some shade, water and food, and head to your choice of beach. Top options include a revisit to Hanalei Bay, snorkeling, and swimming in stunning Tunnels Beach, the rewarding yet challenging-to-reach Lumahai Beach, or the fully facilitated Haena Beach. They're all good choices and if you're having difficulties making up your mind, simply split your day among two.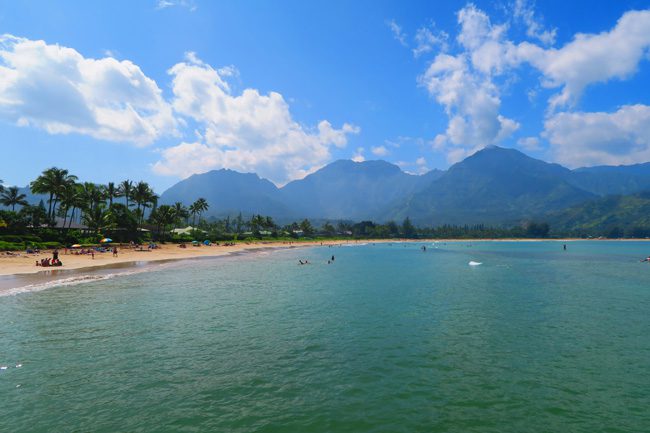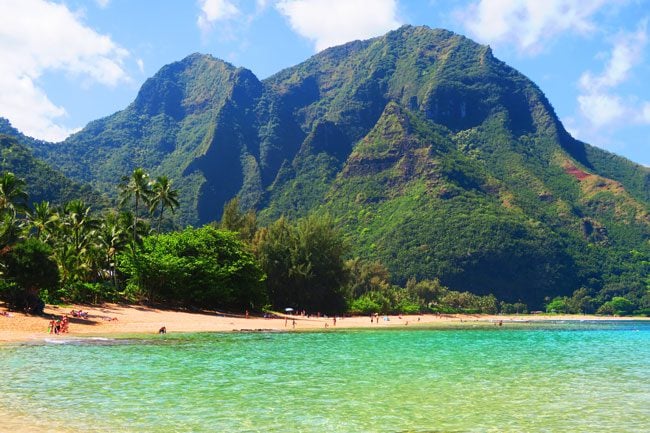 What's Next?
I hope you've found this 5 days in Kauai sample itinerary useful for planning your own adventure! Visiting other Hawaiian islands? Sample itineraries, guides to the best beaches and the must-see highlights are all waiting for you in the Hawaii Travel Guide collection. Aloha!
Looking for more information on Kauai?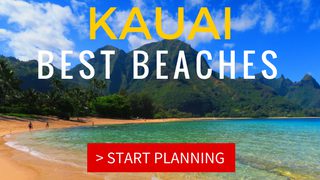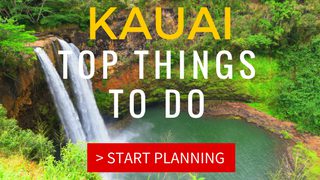 ---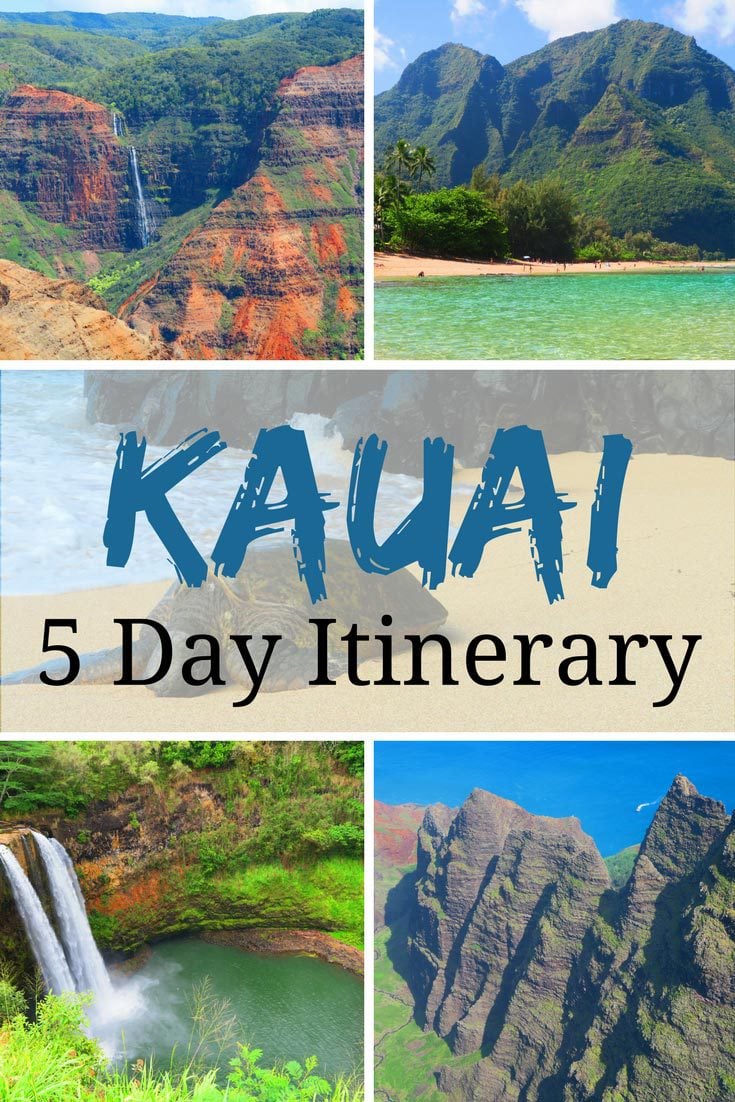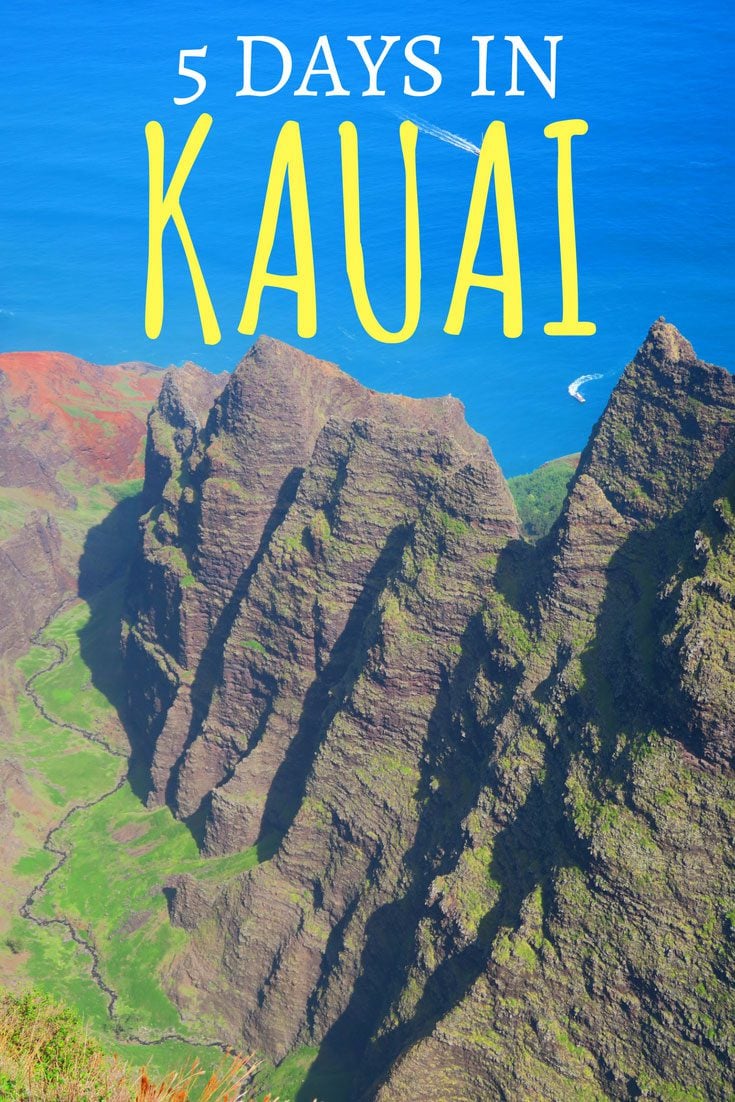 Pin These Images To Your Favorite Boards!