Day 4: Na Pali Coast, Kalalau Trail & Tunnels Beach
Get an early start, slip into your hiking gear and stretch those legs. Day #4 of your 5 days in Kauai will be spent exploring, primarily on foot, the majestic Na Pali Coast State Wilderness Park – Kauai's most famous sight. What's on the menu? Dazzling jagged cliffs, hanging valleys teeming with waterfalls, and seemingly impenetrable ridges hiding sea caves and secluded beaches.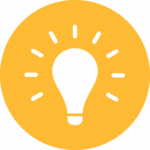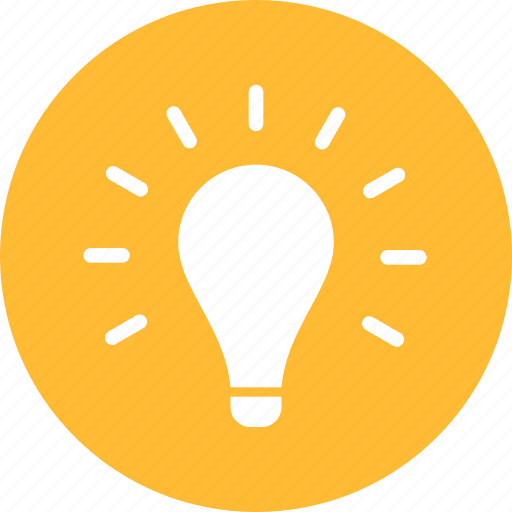 Pro Tip
the stretch of road from Hanalei to Ke'e Beach is stunning, with towering emerald mountains meeting pristine beaches galore. It's best to overcome the temptation and to simply keep going. There will be time on the return leg and on day 5 to revisit this coastline.
The Na Pali coast (meaning "the cliffs" in Hawaiian) extends from Ke'e Beach in the east to Polihale Beach in the west. What makes these cliffs stand out above the rest is their jagged shape – carved over the course of millennia by rain and wind. We caught a very good bird's eye view of the cliffs on day #2 during the hike on the Awa'awapuhi Trail but it is now time to experience the Na Pali cliffs from eye level.
There are basically five ways to see the Na Pali cliffs of Kauai: (1) on a scenic helicopter flight (see Kauai travel tips section for pros and cons), (2) kayaking the entire coast or part of it, (3) joining a scenic cruise (which usually includes snorkeling and dolphin watching), (4) hiking the entire course of the Kalalau Trail with an overnight camping stay, and (5) hiking the first section of the Kalalau Trail as part of a day hike – the most popular method which I'll now describe in greater detail.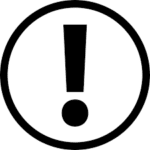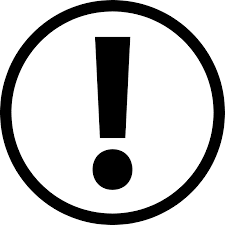 Update
Haena State Park, which includes Ke'e Beach and access to the Kalalau Trail is now subject to entry permits in order to cope with the large volume of visitors and limited space. You must reserve entry (car parking or walk-in) starting from 30 days prior to your visit (and no later than the day before) or reserve a spot on the North Shore Shuttle.
Kalalau Trail
Dubbed by some as the "most incredible hike in America", the Kalalau Trail runs for 11 miles (17 km) from Ke'e Beach to the Kalalau Valley and its gorgeous beach. The valley was once home to an advanced civilization of Native Hawaiians but, today, only a handful of hermits reside here along with a few lucky overnighting hikers.
Kalalau Trail Hiking Tips
The trail is divided into a number of sections, with the first section (Ke'e Beach to Hanakapiai Beach and the Hanakapiai Falls detour) doable as part of a day hike and not requiring a permit (but does require car/walk-in permit – see above update). Technically, to hike past Hanakapiai Beach you do need a camping permit even if not overnight camping, and if it's hiking the entire trail that you're after – you'll need to either book months in advance or have extreme luck.
The trail is can be slippery and muddy and you must check the trail's condition prior to venturing out there. There have been fatalities on the trail, mainly of hikers not adhering to warning signs and swimming in dangerous waters. However, the first leg of the trail is very safe even if a bit challenging.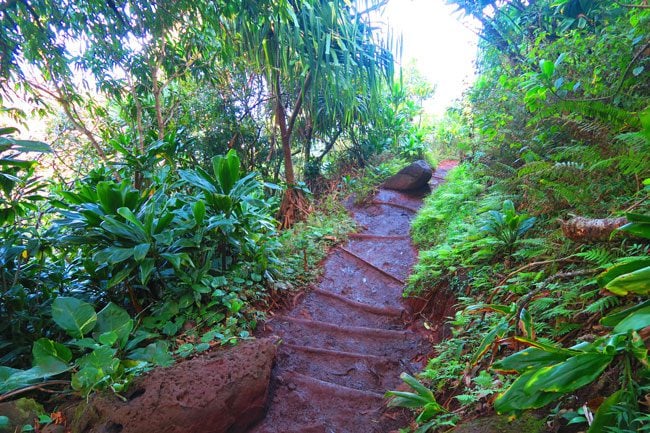 Traffic on the trail can be quite bad as this is a very popular hike. I strongly advise starting early to beat the crowds and for catching the usually clear morning skies. Parking can be a pain issue as well. The tiny parking lot at Ke'e Beach fills up very quickly but there's a larger lot by the taro fields about 500 meters before where you can easily find a spot until about 9 am. Wear: proper hiking shoes and understand they will get dirty, sweat-repelling clothing, sun protection, mosquito repellent, and walking poles if you struggle up/down hills. Pack: rain gear, a full change of clothes, wet ones, garbage bag, sandals or reef shoes for crossing streams if hiking the Hanakapiai Falls extension, at least 3L of water per person, lots of food and snacks. For examples of proper hiking gear, check out this page and for in-depth details about the trail, have a look here.
Ke'e Beach to Hanakapiai Beach
Aside from a few areas that might be challenging for some, the first section of the Kalalau Trail runs for about 2 miles from Ke'e Beach to Hanakapiai Beach. This section of the trail is quite busy so expect slowdowns every now and again. The earlier you start hiking, the less of an issue this will be.
You can expect stunning views back towards Ke'e Beach (better on the way back) and the rugged coastline, but not the 'classic' views of the eroded Na Pali cliffs. This can only be witnessed from the air, the sea, Kalalau Beach and Koke'e State Park. During whale season (January-March), pay extra attention as humpback whales might be coming up for some air (a.k.a breaching).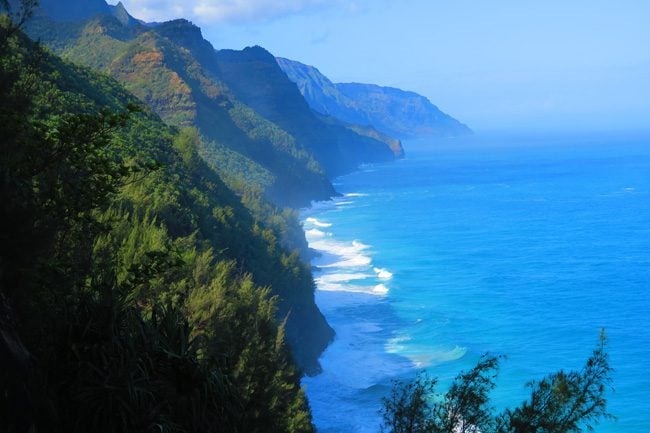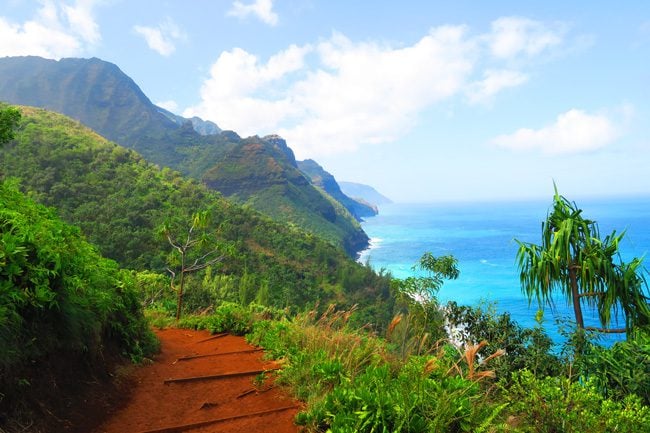 After a few switchbacks and muddy gulches, you'll eventually reach Hanakapiai Beach. Be aware that to actually reach the beach, you'll need to cross an active stream either by skipping over rocks or walking through the water.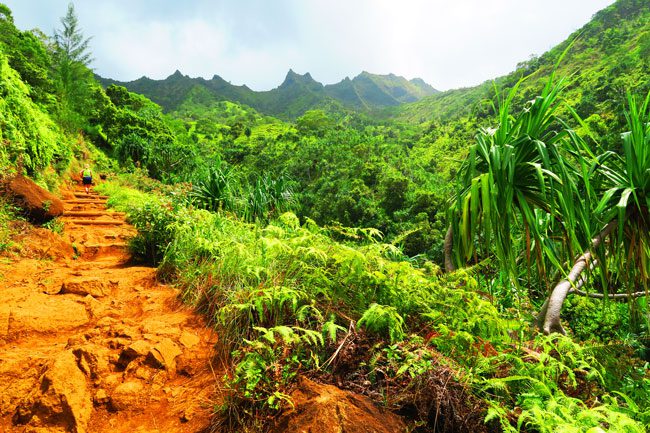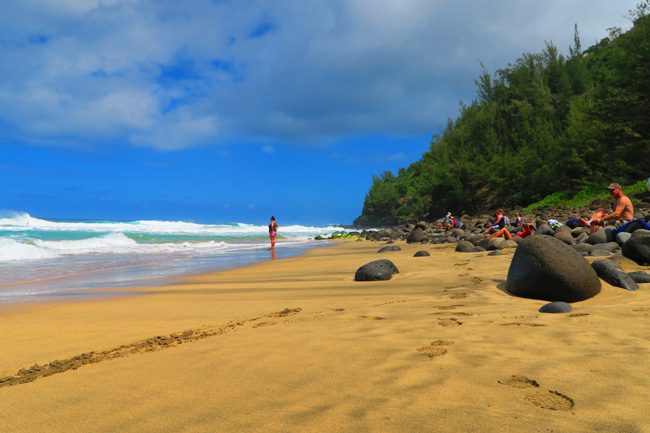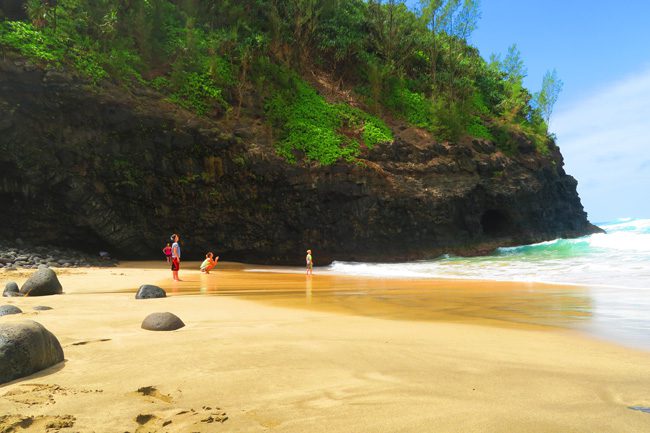 The beach itself is very dangerous for swimming but perfect for a picnic lunch before either heading back to the trailhead or continuing to the Hanakapiai Falls.
Hanakapiai Beach to Hanakapiai Falls
If you've already made it this far and won't be hiking all the way to Kalalau Beach, you might as well take the 2-mile detour (each way) to Hanakapiai Falls. I found this section of the hike to be more challenging than the first leg. Quite a few streams need to be crossed (I somehow managed to stay dry with a few acrobatic moves) and parts of the trail were quite muddy and narrow. However, it was well worth the effort as you'll soon see.
This little detour follows the contours of the Hanakapiai Stream to its very source. You pass through a small yet very impressive bamboo forest before entering a lush rainforest blooming with seasonal flowers.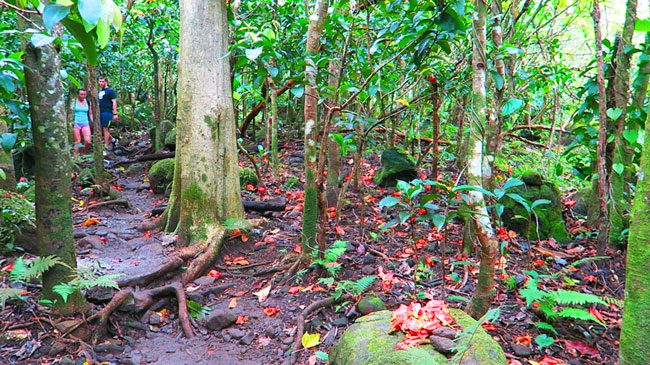 As sounds of the falls draw nearer, the trail becomes narrower, more congested and very slippery – so take extra care. The slow pace is further exacerbated with the wait on either end to cross the streams. Once you make it to the falls, all your worries evaporate into the misty air. The 300ft (91m) waterfall tumbles from way up in the heavens and swimming is highly advised (though a bit chilly). The natural scenery is reminiscent of Hi'ilawe Falls on the Big Island, except you'll have to share this magical place with at least 50-70 other hikers. This is Kauai after all!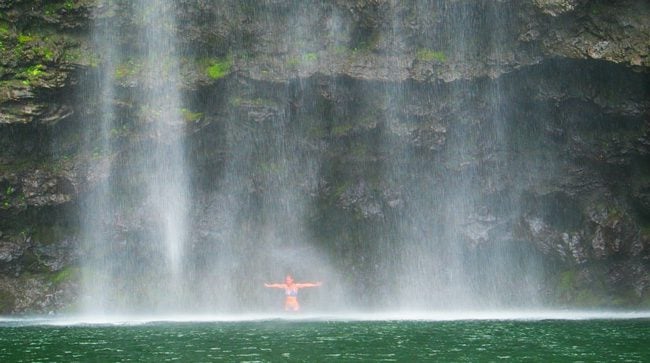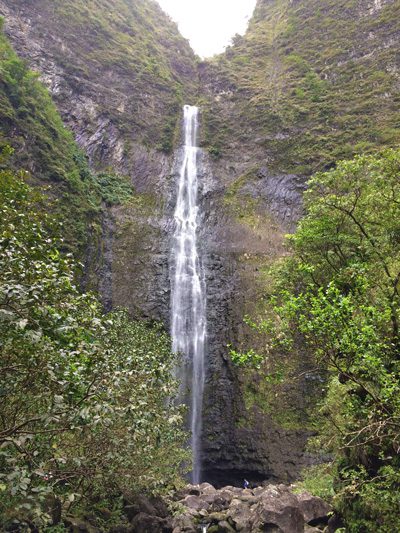 Beyond Hanakapiai Beach
You technically need to obtain an overnight permit even if just hiking for a few miles beyond the first beach. I hiked for about 2 miles and found the trail to be quite challenging at times, requiring a bit of climbing and squeezing through narrow sections. There are much fewer people to share the trail with and if you left in the early morning, you'll often be the only hiker on the trail and actually hear the birds singing (that is until yet another annoying scenic helicopter tour swings over). However, view-wise, the scenery isn't that spectacular unless you fully commit to going all the way. I recommend hiking to the first beach and then continuing to the waterfall before heading back to Ke'e Beach.
Ke'e Beach
At the very end of the north shore road, Ke'e Beach is a popular spot for Kalalau Trail hikers returning to civilization, snorkelers and sunset chasers. Expect large crowds in the afternoons as folks come back from the hike and regroup, but if you simply follow the beach as it curves back east, you'll find more seclusion. Swimming conditions may be very dangerous in the winter months so look for the signs by the lifeguard tower. For awesome views of the beach, hike for about 15 minutes on the Kalalau Trail to a scenic overlook.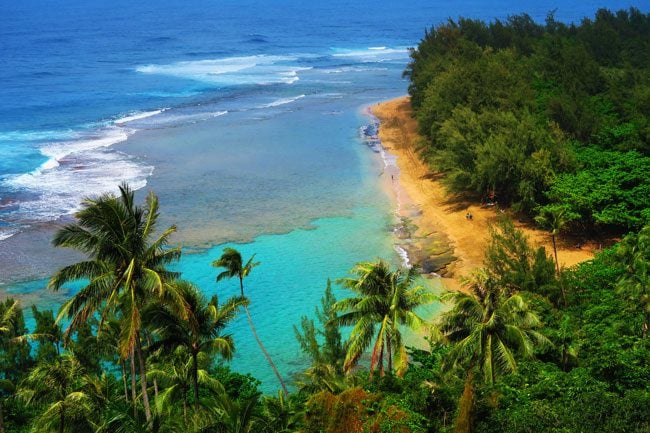 Wet & Dry Caves
En route back to the car, stop for a quick look at the caves you walked past on your way to the trailhead in the morning. One of these caves still has water in it (lots of it) but don't be tempted to go for a swim as it can be dangerous as well as contaminated.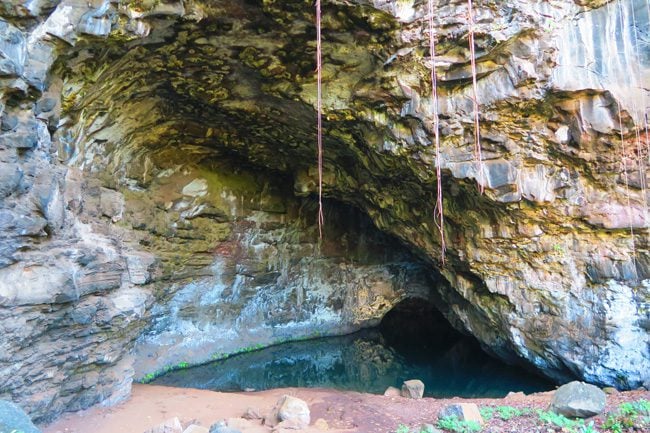 Tunnels Beach
Without a doubt, Kauai's best beach, Makua Beach – better known as Tunnels Beach – is as pretty as they come, reminiscent of the pristine beaches of the Marquesas Islands and even the 10/10 Ofu Beach in American Samoa. With crystal clear waters and the pyramid-shaped Makana Mountain – better known as Bali Hai – looming in the background, you can easily spend the entire day in Tunnels Beach.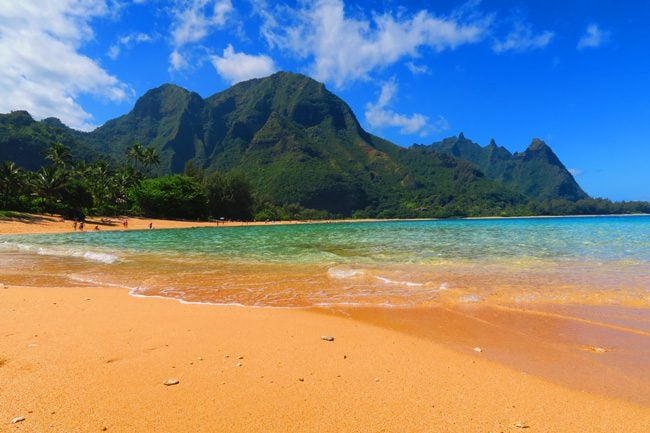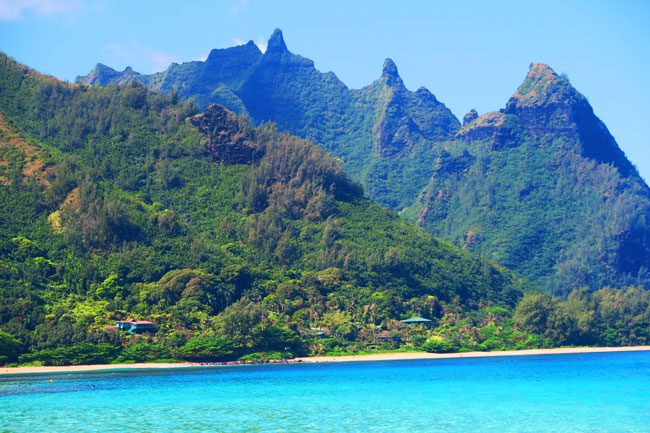 The beach is a prime spot for swimming and snorkeling, thanks to its relatively calm waters and a coral reef that is just a few meters offshore. As you can expect, Tunnels Beach is quite a popular hangout spot, especially on weekends and holidays, but there's plenty of space for everyone. After the strenuous hike, finish off your day in style and maybe even stick around for sunset.