Living A Fantasy In The Fakarava Atoll
My first week on a coral atoll was filled with many 'firsts', but nothing could have prepared me for what was to come. Living and diving in Rangiroa was great and all – but the second and final stop in the Tuamotu Archipelago of French Polynesia is something I'll never forget. This week, we head to Fakarava, known as the 'Dream Island'. Fakarava offers way more than just superb scuba diving. It's one of the prettiest islands you'll ever see, and its small population leaves a big impression. There's even a chance you'll bump into Robinson Crusoe on one of its secluded beaches. Above and beneath the waves, Fakarava is a place you won't want to leave.
Heading off to French Polynesia? In-depth island guides to all 5 archipelagos await you, including sample itineraries and essential travel tips & tricks.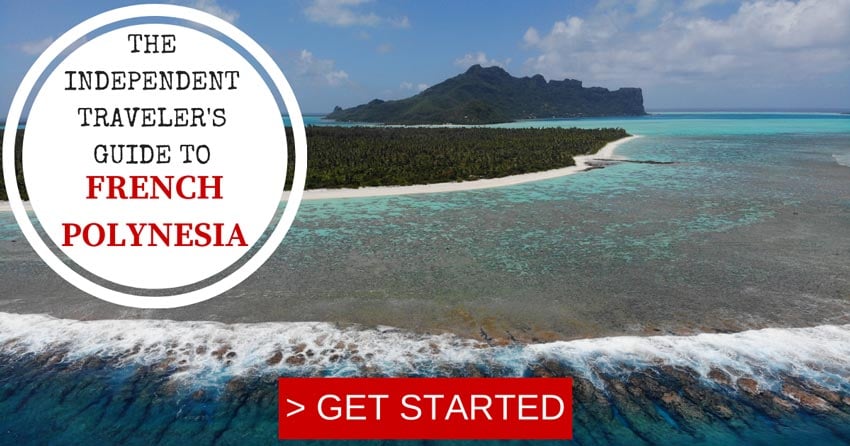 Tahiti, Tailor Made!
The Islands of Tahiti are among the last places to be colonized by mankind, 118 islands, each with its unique personality.
Get expert advice and assistance with planning your trip to the destination where tropical dreams come true!
Fakarava 101
Fakarava is the second largest atoll in French Polynesia, right after Rangiroa. Over 60 km long and 21 km wide, the interior lagoon is so big, you can't even see the other side. In fact, this lagoon is the former crater of a now extinct volcano that plummets over 1,000 meters into the Pacific Ocean floor.
The atoll is shaped like a crooked rectangle and can only be accessed via two lagoon passes, one of them the widest in all of French Polynesia. The real magic though lies beneath the waves, with pristine coral and walls & walls of fish. It's no wonder then that Fakarava is designated as a UNESCO Biosphere Reserve. Its delicate ecosystem is preserved by the government and local population, so that future generations may witness its beauty.
Speaking of the local population, only about 850 people are living in Fakarava, primarily living in the village of Rotoava – where time seems to sit still. So what do they do with all that 'extra' land and time? Some local families own motus (small islets) around the lagoon, where they head out to on weekends for some mosquito-free sun lounging and BBQ'ing. And what do they do for a living out here? Like in Rangiroa, life is quite simple. Aside from copra production, fishing, and black pearl farming – tourism is starting to pick up. But Fakarava is a paradise that has yet to be discovered by the masses. You won't find big resorts around here. It's hardly a busy place – and that's perfectly fine!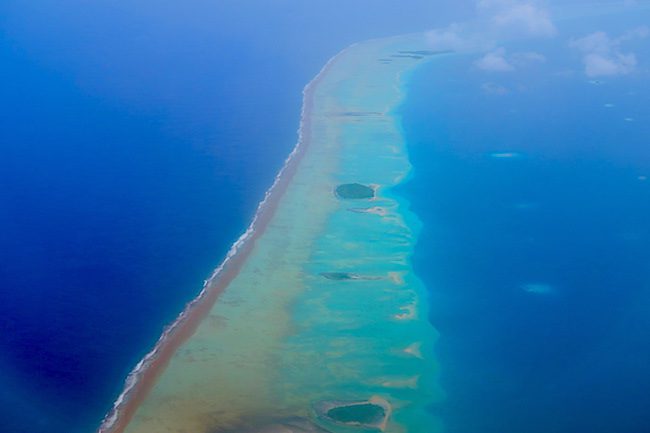 Home away from home
Fakarava was only a short flight from Rangiroa, but in true South Pacific fashion, we took off in cloudy skies and touched down in the sun. If you've been following the trip, you know by now that every Air Tahiti flight is a scenic flight. Flying over the Fakarava lagoon en route to the runway was like entering Wonderland. Below, in the lagoon, hundreds of tiny drops of white sand seemed to float in the azure water. You often see images like this in magazines, yet here it is right beneath you. It's not a dream, it's the South Pacific!
The tiny airport terminal sits right on the edge of the lagoon and the landing of the daily flight signals the beginning of 'rush hour' on the island. Pension owners greet new arrivals with a big smile and the traditional flower necklace. Everybody then hops in vans and heads in the direction of the main village in a motorcade of pensions, as if part of a UN convoy. Along the way, locals on the roadside wave hello, welcoming you to their tropical paradise.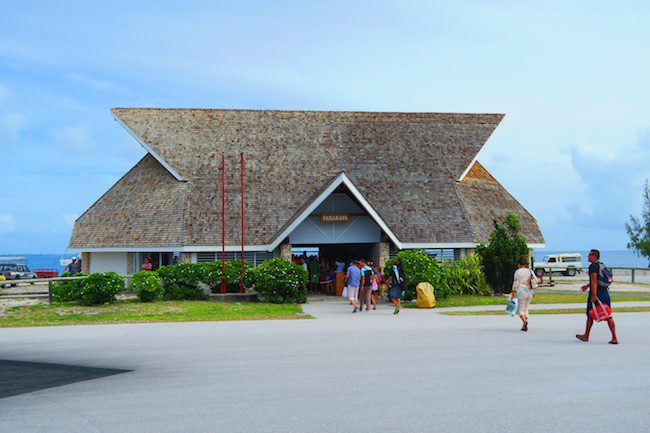 I was greeted by Jacques, the friendly owner of the Relais Marama – a favorite spot for divers, families, and lonesome backpackers. Jacques sailed around the world before discovering Fakarava, and the rest is history. He built the kind of place where you're bound to meet others and make a few friends.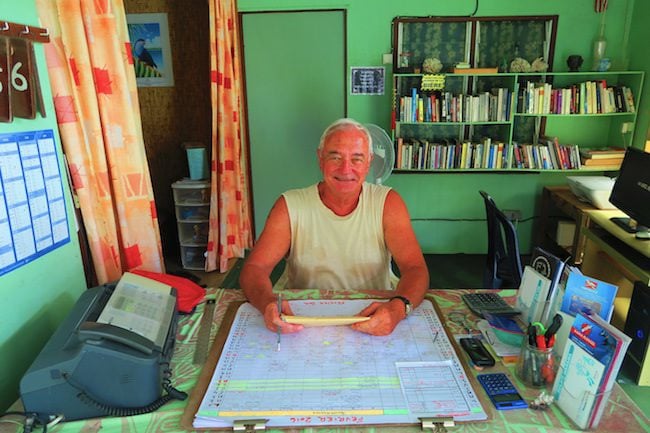 Jacques dropped me off in front of my small open-air bungalow, facing the ocean side of the atoll. The sounds of the crashing waves just meters away would be the soundtrack for the next six nights, and the gardenia growing in the garden would be the fragrance. I can definitely get used to this!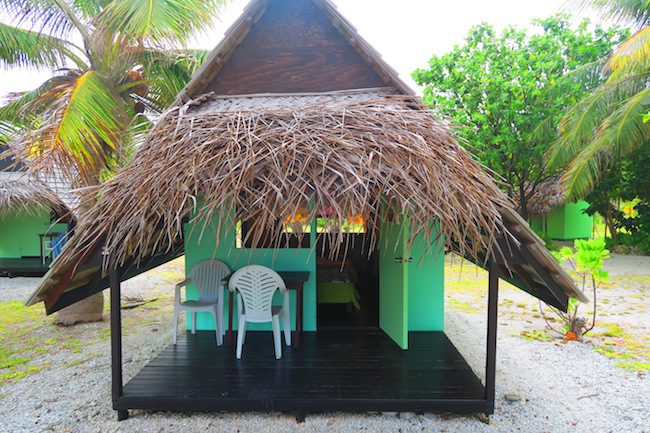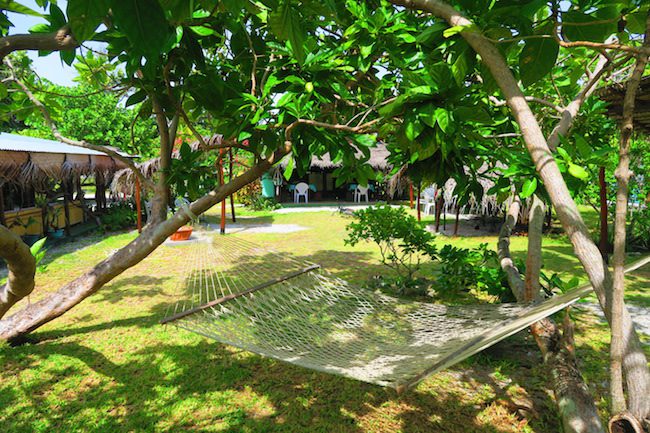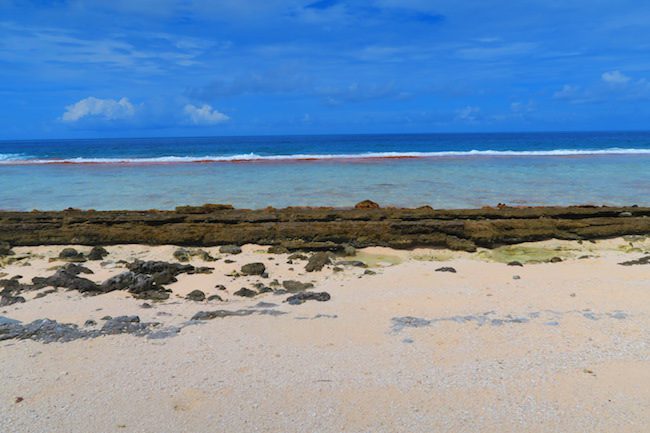 One of my neighbors just happened to be this weird-looking pyramid-shaped structure that looked like it was built by the ancient Maya. This is one of the oldest lighthouses in French Polynesia, pushing 100 years. Gone are the days when it warned ships just before they were about to crash onto the reef…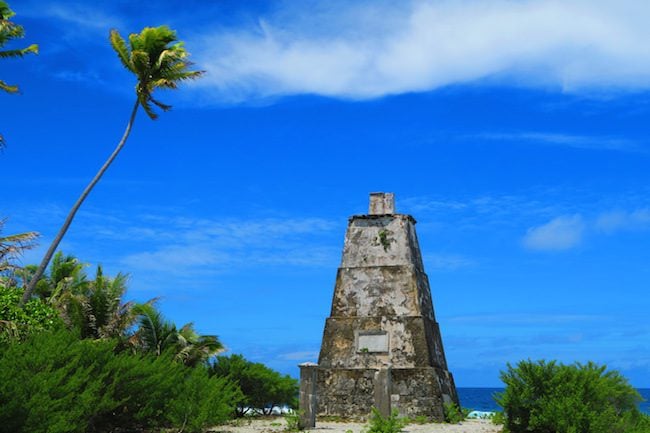 A date with Robinson Crusoe
All settled in, I grabbed one of the beach bikes and in what is by now 'standard procedure', set off to find a beach that's said to be among the best in French Polynesia. The beach is simply called 'PK 9 Beach' since it supposedly lies exactly 9 kilometers away from the main village.
I was pretty much all alone on the cement road, passing by pearl farms and not much else. The only man-made sound I would hear is that of the rusty bicycle chain turning and burning. Just a few minutes out of the village, you feel like the nearest civilization is days away.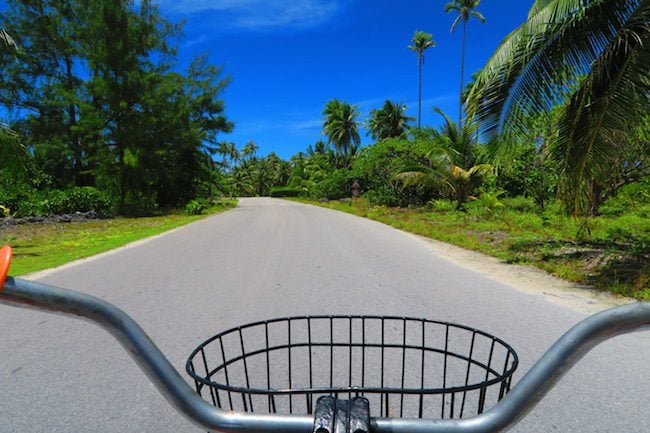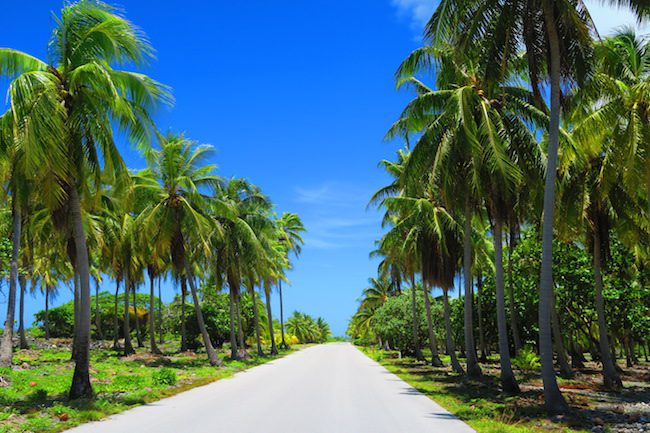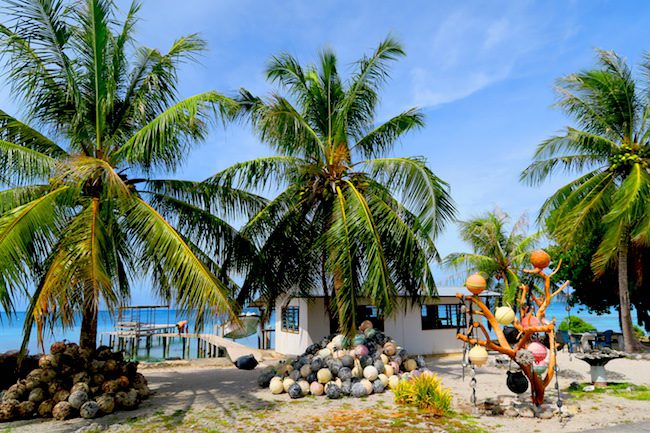 Just passed the airport, the road turned into dirt and there wasn't much until you reach the ocean. A few kilometers and a liter of sweat later, I found the small marker on the side of the road – this is PK9!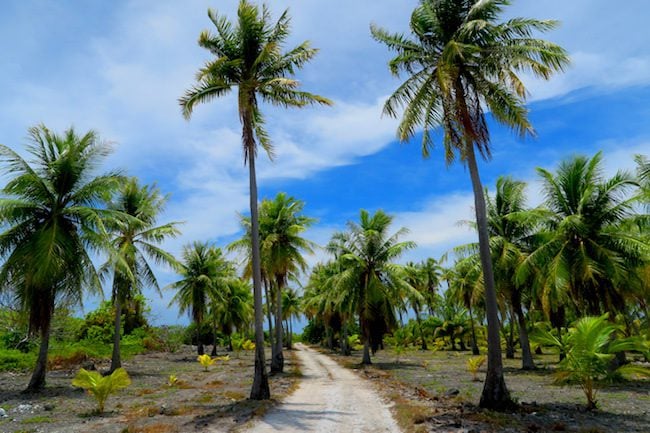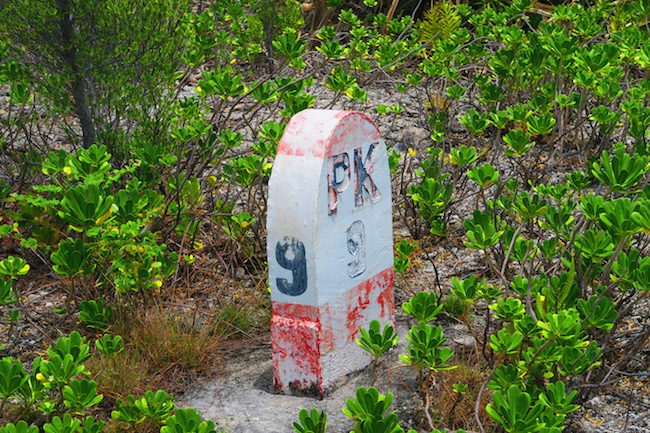 Another 300 meters of cycling towards the lagoon brought me to one of the prettiest beaches I've ever seen (and I know you've heard this before). What can I tell you, PK9 Beach deserves its reputation. The beach is as pretty as they come in the South Pacific, with powdery white sand and wild palm trees that brought back what seemed like distant memories from Lonnoc Beach in Vanuatu. If you wanna go Robinson Crusoe for the day, this is a prime spot.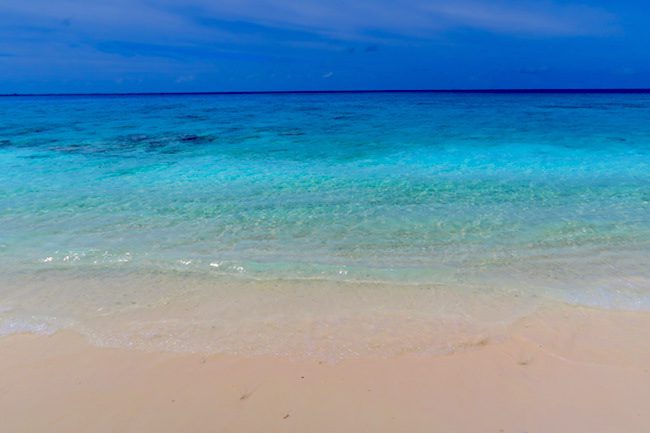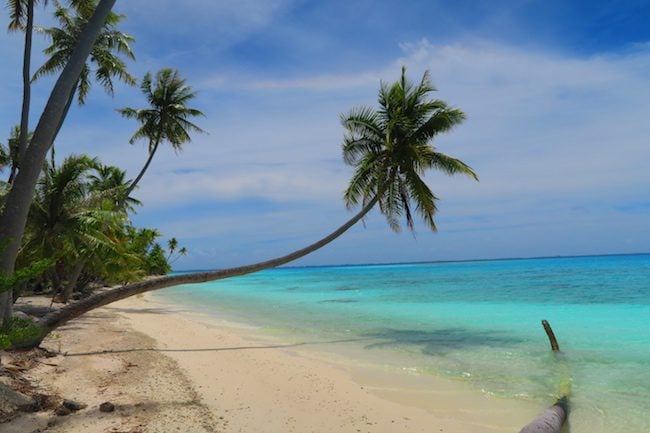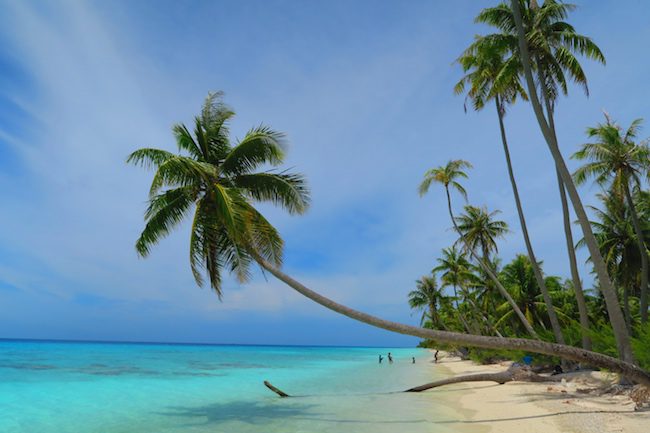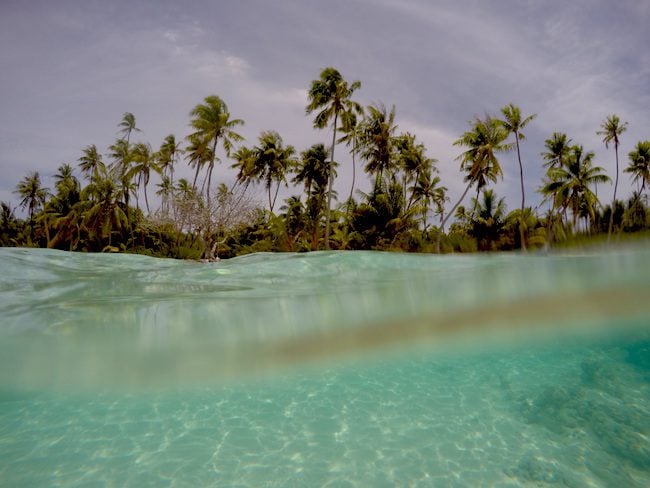 I could have stayed here for hours, but with the clouds starting to move in, it was sadly time to leave. As I made it back to the main road, I felt a terrible stab in the back of my head that kept getting worst and worst. "I've been hit". An angry wasp made a quick fly-by and took a nice bite. I guess nature wanted to leave me with a souvenir of PK9 Beach…
Evenings in Fakarava were spent in low-key fashion, just as I like it. After a delicious dinner of raw tuna at the local snack bar, I would assume the usual position out on the deck, tuning in to the sounds of the ocean waves and the swaying branches of the coconut trees until I was practically asleep. Needless to say that with these conditions, sweet dreams are almost guaranteed!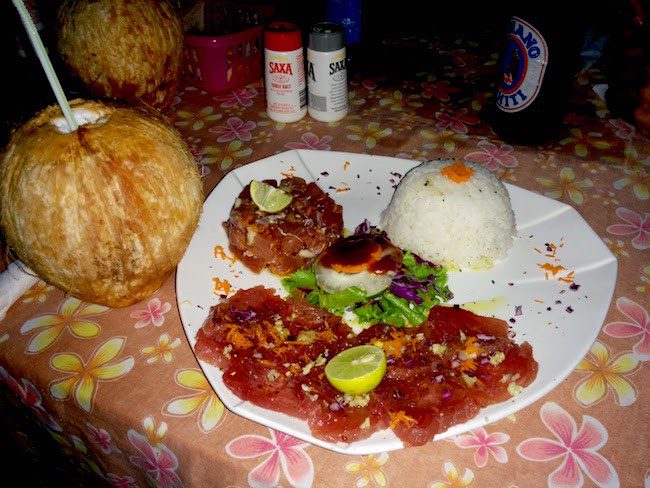 'Keeping it real'
The next day I met up with Vaiani Raoulx, a beautiful local resident of Fakarava, to get to know real island life. Vaiani used to live in Tahiti but moved here with her kids and husband, who just happens to be the village nurse. After a few years in paradise, there's no way she's leaving.
To start our local experience, we naturally went for some fishing! To catch fish, you need some bait. Now, we could just go to the shop and get some, but that wouldn't be 'keeping it real' – would it? So we walked to the wild ocean side of the island to look for some small crabs. We looked and looked and looked and no crabs. With the sun already up, the crabs were deep in their burrows… On to plan B.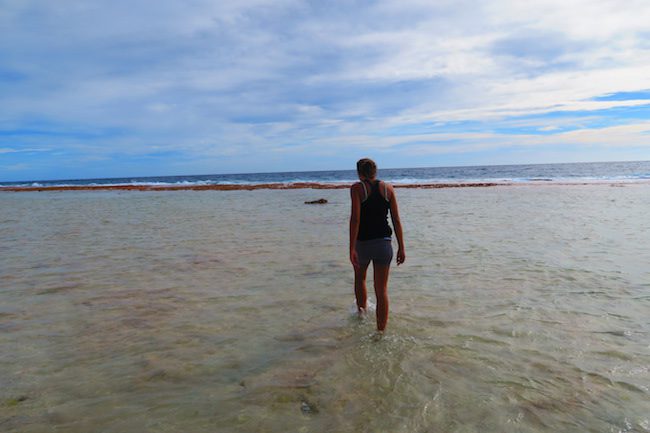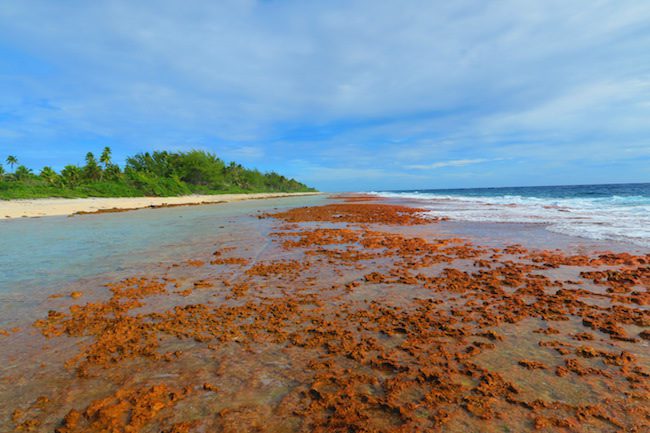 We hopped on our beach bikes and headed to her uncle's house to see if he's got any bait. Riding through town with Vaiani gives you a good sense of what's it like to live in Fakarava. Everybody knows EVERYBODY, and every few meters you stop to say hello, give a few kisses and quickly catch up on the local gossip. A short ride becomes a long one, but that's perfectly fine.
On the way, we cycled through the village of Rotoava. This little village is as picturesque as they come, and it smells so good too. Villagers seem to be obsessed with their front yards, usually full of gardenia and hibiscus. These very same flowers are used in the welcome necklaces and to decorate bedrooms.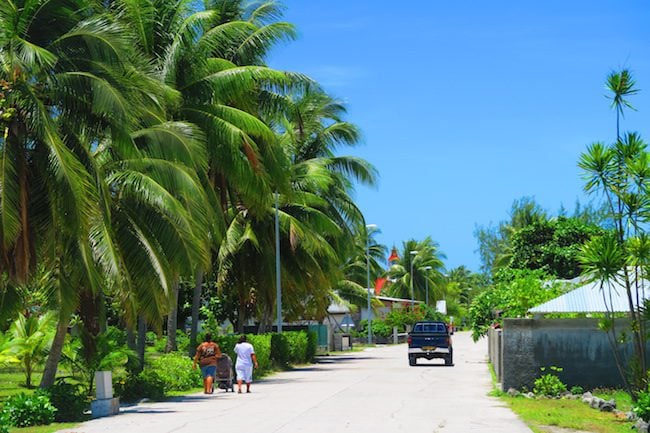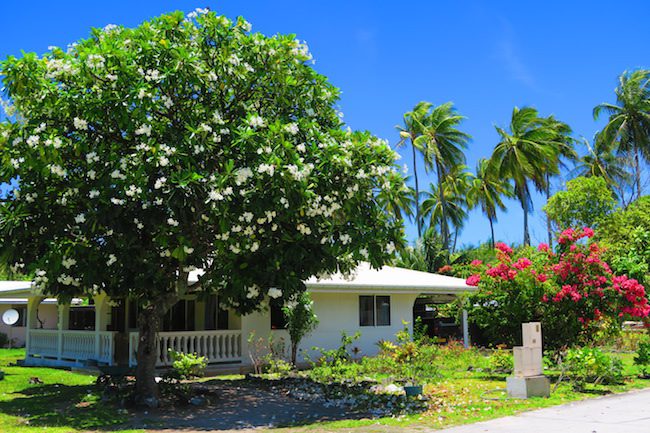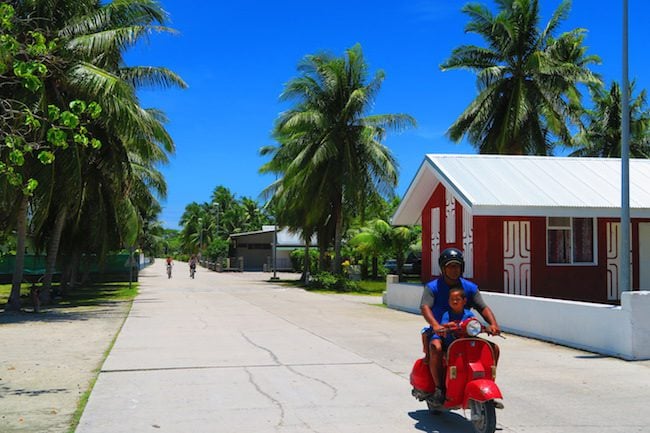 There's, of course, the local church, with its whitewashed walls and a red roof that stands out for miles. Let's not forget the local boutique, great for island fashions, and a pareo (sarong) for the beach. Ah…. life is good in Rotoava!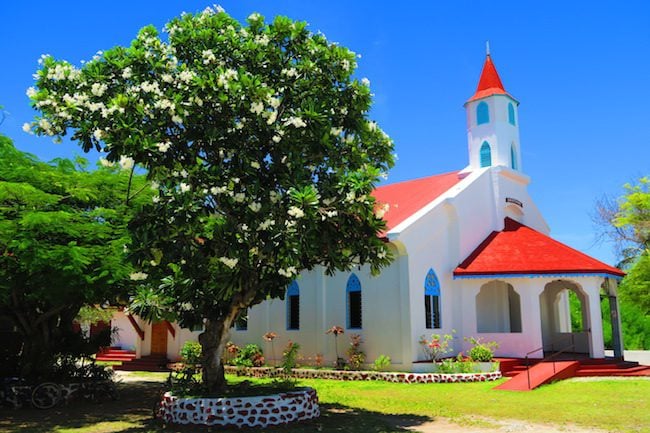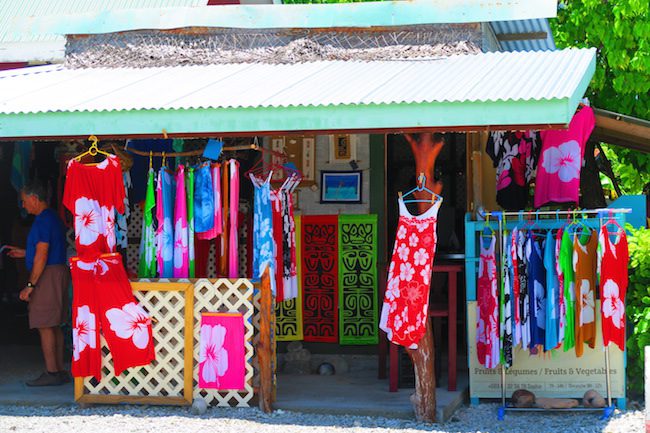 Of the not so pretty things that do stand out, are the abandoned homes that you see every so often. There's a perfectly good explanation for this though. In Polynesian culture, the land belongs to an extended family and is divided among its members. If a plot is not being used, there's a reason for another family member to settle in and claim it. So if you want to move to another island for a couple of years, it's best to just board the house and at the very least leave the foundations – or else your distant cousin might move in!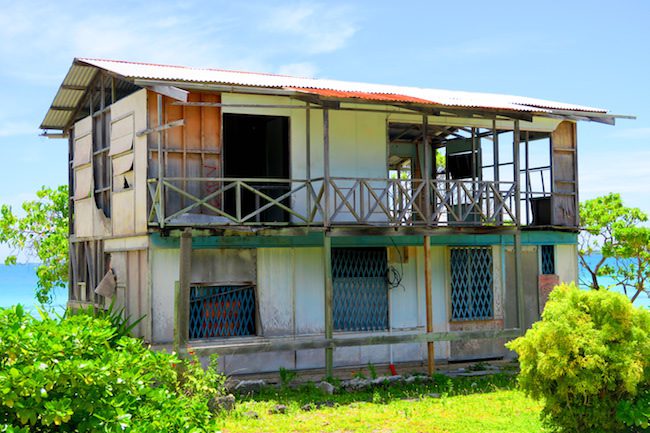 Vaiani and I picked up some leftover tuna at her uncle's house and headed to find a good spot for some fishing. We arrived at the main pier, where a cruise ship had just arrived and the welcoming party was busy warming up their instruments. It turns out the ship was on its way to the distant Cook Islands, when it ran into rough waters and had to change course. You had to see the looks on the faces of passengers as they disembarked in Fakarava. They were so happy to be on dry land.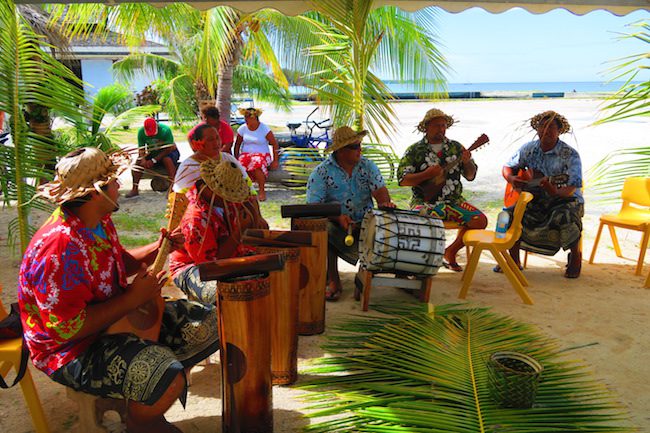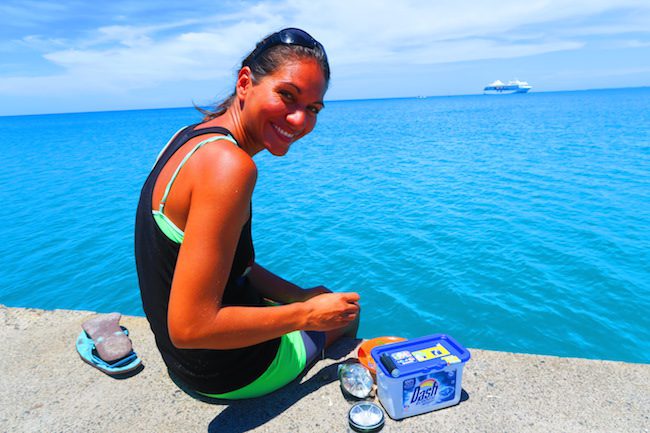 In a matter of minutes, Vaiani assembled a makeshift fishing rod from a few small rocks, a hook, and a fishing line. She's a natural, and caught her first fish right off the bat. I wasn't too bad either, catching a small one just a few minutes later.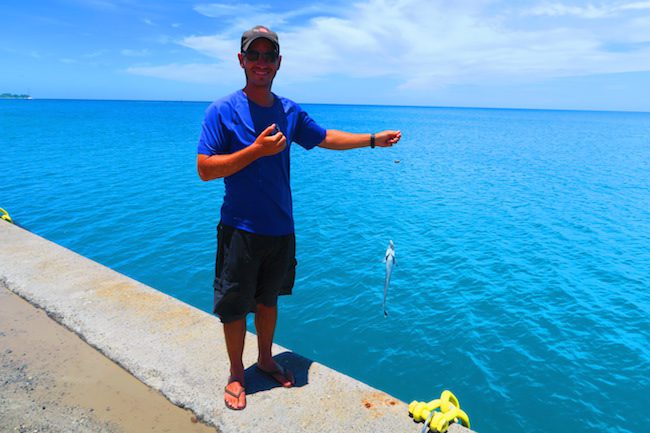 Mom, look what I made!
With Vaiani off to have lunch with her kids at school, I had a few hours to kill. I hopped back on the bike and went for a ride to the other side of the island. It's even quieter out here, and you can just pick a spot and jump for some snorkeling with sharks. Endless coconut plantations and pontoons extending out into the lagoon – paradise has been found!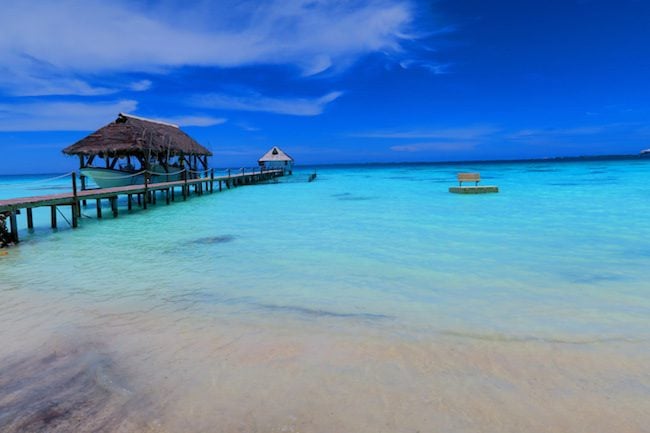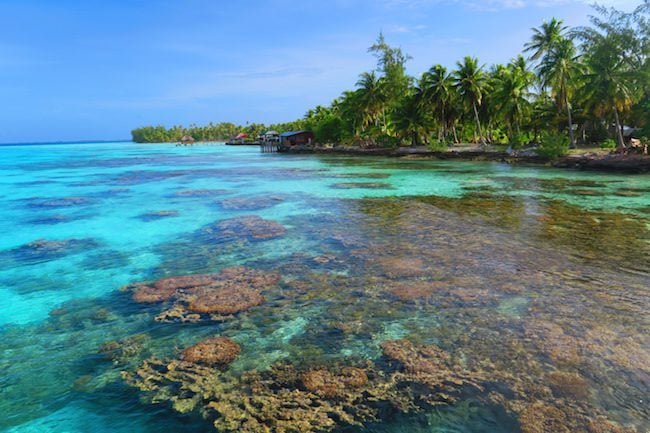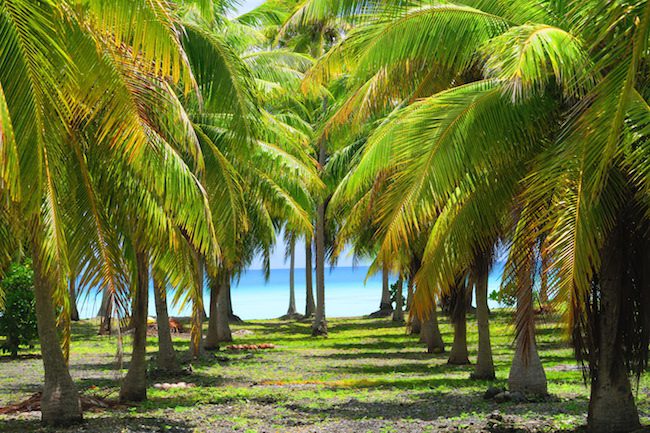 Back in the morning, Vaiani stopped at the town hall to run an errand. There, we met her friend Melanie, who offered us to join her for a bit of weaving in the afternoon. I met Vaiani after lunch and we headed out of the village to meet Melanie and Frank, who were already set up in a shady spot by the lagoon with freshly cut coconut branches.
Melanie is one of the best weavers in Fakarava. She can make anything out of the branches of the 'tree of life'. After measuring the circumference of my head, she gave me the basic drill-down and I was off to weave a hat. I already had some experience with weaving from back in Samoa and the Tiki Village in Moorea – impressing my mentors with the speed of progress.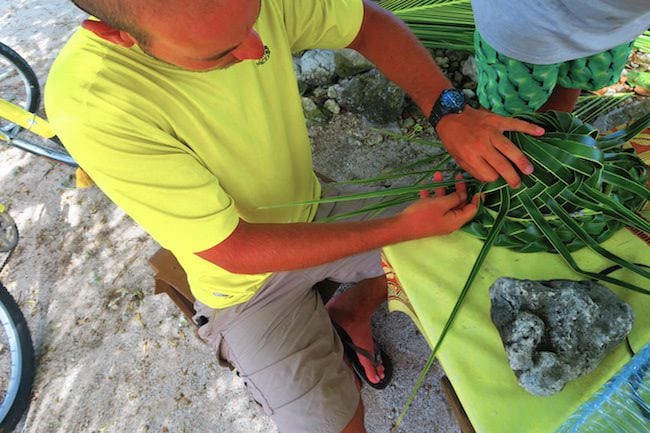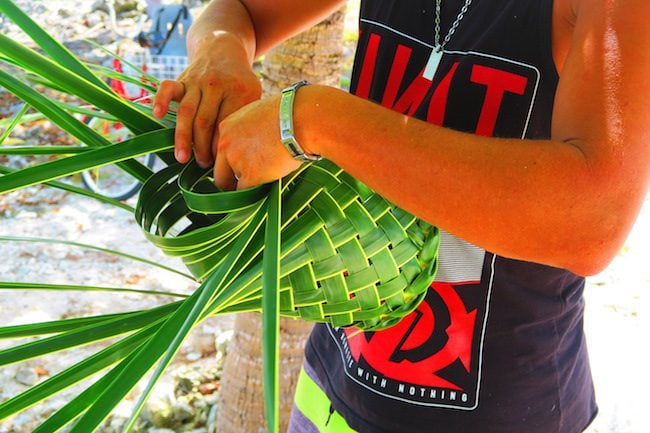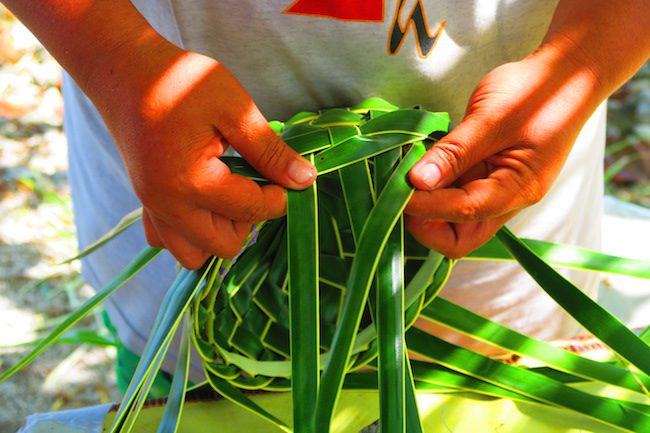 After a few minutes, I had a hat, Melanie had a lady's hat and Frank a purse – all from coconut leaves. These things can last for up to 10 years! Ladies – do you really need that Prada bag?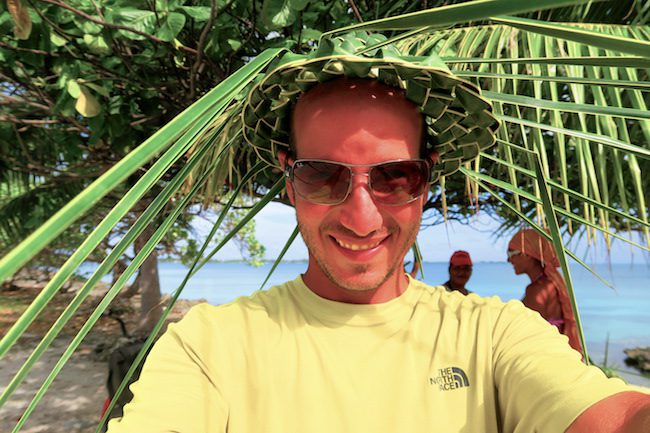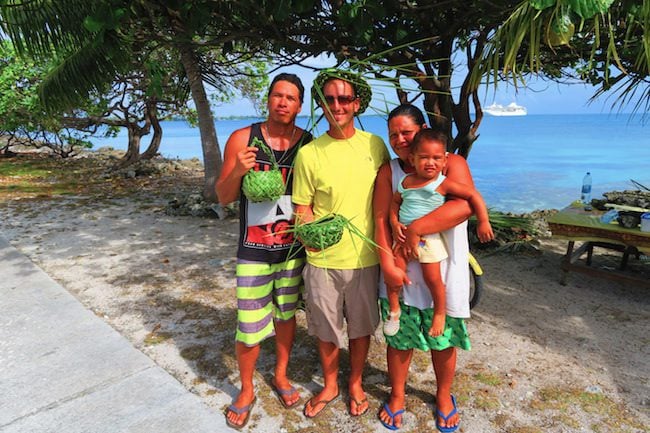 What a wonderful day of getting to know the island and hanging out with some real locals. Thanks Vaiani! I'll never forget this day. Well, I have the hat to remind me.
That night, Jacques decided to throw in a free BBQ for all the guests. He does that once in a while when he feels the vibe is good. I met Luiz – a Brazilian travel blogger, Titaina – a Swiss nurse that came for diving, and Stefan – another Swiss, who is about to start a new job in a few weeks. A few beers, fish and lots of travel stories later – it was time for bed before tomorrow's first dive.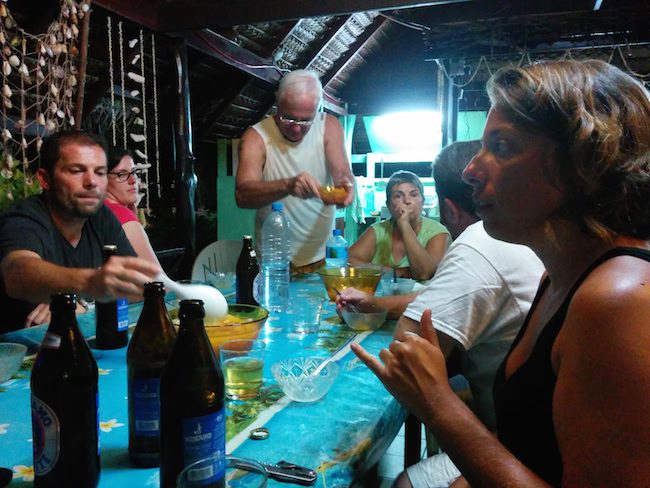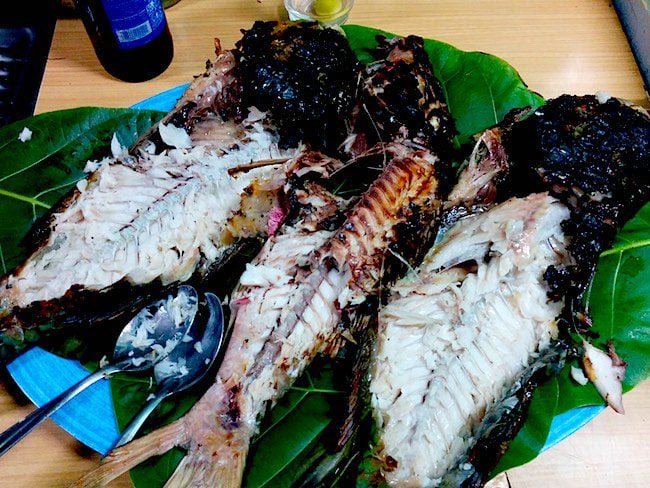 The best underwater scenery in the South Pacific and pink sand that will blow you away – click over to the next page!