From its grand monuments to its incredible food scene, Rome simply has it all. It's one of those classic European cities that can be visited multiple times with each visit devoted to a different flavor. Sure, you won't be the only ones visiting the Eternal City but with this detailed 5 days in Rome sample itinerary, you'll certainly have the upper hand. They say that Rome wasn't built in a day, and neither is the time needed to plan your own Roman adventure, so let's get started.
Rome Travel Guide Collection
Planning or thinking about a trip to Rome? Have a look at additional Rome travel guides, including essential Rome travel tips and the best places to eat in Rome!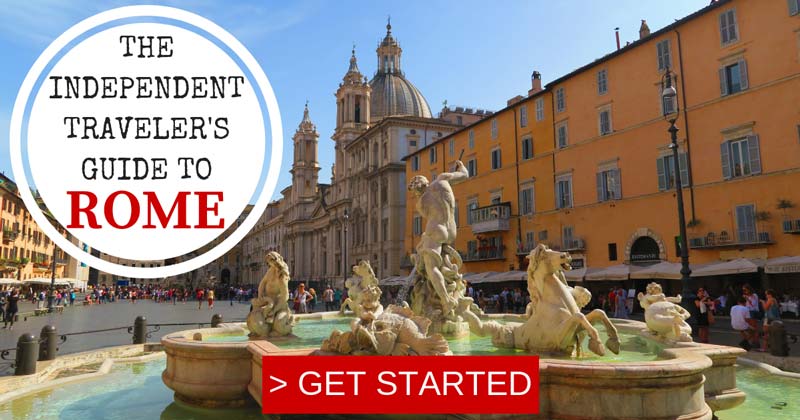 About this Guide
This 5 days in Rome itinerary is based on my own travels and very extensive research. I've visited Rome on several occasions, most recently, at the beginning of June on a couple's trip. Our preference for this particular trip was to really "act like tourists", combining sightseeing with good cuisine. We primarily explored Rome on foot, clocking many miles each day but also had time to rest and to stroll around at night. Every restaurant was thoroughly screened prior to the trip, with the help of local Italian friends and folks from home who paid a visit before us.

Quick Tour of Rome
Here's a quick video tour of Rome!
---
What's Included in this 5 Days in Rome Itinerary?
Several sections make up this itinerary:
5 Days in Rome Map
This map contains all the places mentioned in this Rome sample itinerary. Click on the image to open in Google Maps.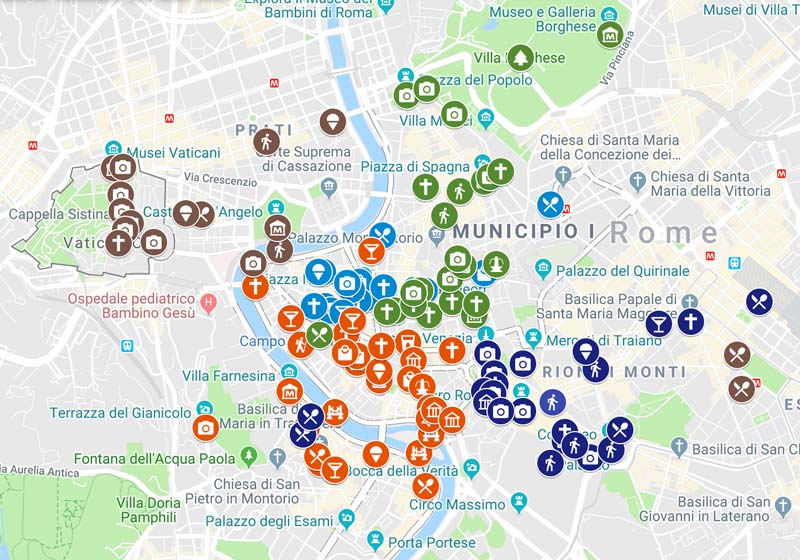 Rome Travel Tips
Throughout this 5 Days in Rome itinerary, I'll share with you specific travel tips in each section. However, I highly recommend going through this article highlighting general travel tips for planning a visit to Rome.
Where to Stay in Rome?
Choosing where to stay in Rome is a crucial ingredient in your trip. I highly recommend booking your accommodation well ahead of time as the city gets a lot of tourists, each looking to strike a bargain. Here's a list of all Rome accommodations that you can book online.
I personally recommend staying on the outskirts of the historic center, preferably on the side close to the Tiber River near Campo de Fiori and Piazza Navona. That way, you're within walking distance of all the major sites. In the Vatican and Prati districts, you can often strike better bargains but you'll need to put in extra effort to get to some sites and there isn't much to do at night. The Vatican is quite a tourist hotspot during the day and Prati is an upscale neighborhood squeezed between the Vatican and Piazza del Popolo. The chic neighborhood of Trastevere is very popular with tourists, combining a somewhat local setting, a rich culinary scene and relative proximity to all major sites. Lastly, if you want to stay in a "hipster" part of Rome where students like to hang out, consider the neighborhood of Monti.
We chose the Maribea Rome Center near Piazza Navona. We booked this accommodation several months in advance and kept checking for better value-for-money in the months leading up to the trip but really could not find an excuse for switching elsewhere. This place is essentially a divided apartment with three separate ensuite units. It's perfectly located and even allowed us to dine in the historic center and walk to Trastevere and back post-dinner. The units themselves are basic but newly renovated and well-stocked (even with a safe and small fridge), though lacking natural light. The best part was the self-serve breakfast. Since all food is accessible 24/7 so you can grab what you want, when you want. Apart from the lack of natural lighting, the only other drawback was the fact that the rooms are not cleaned over the weekend.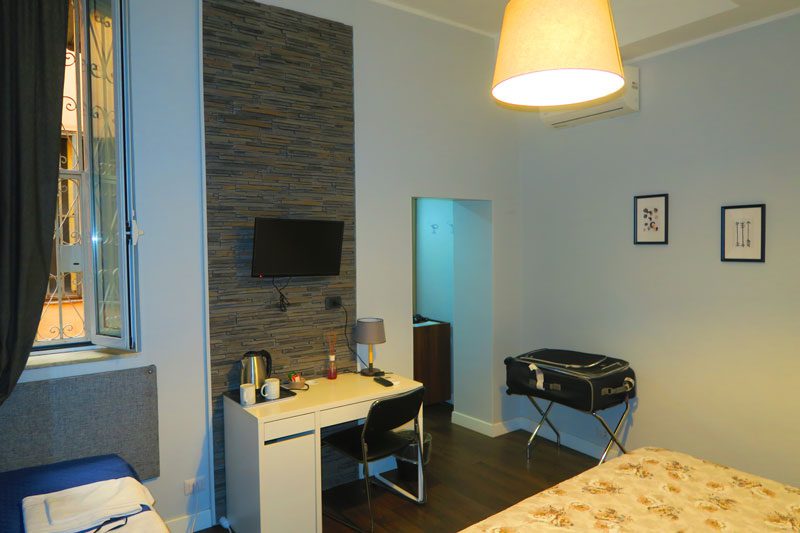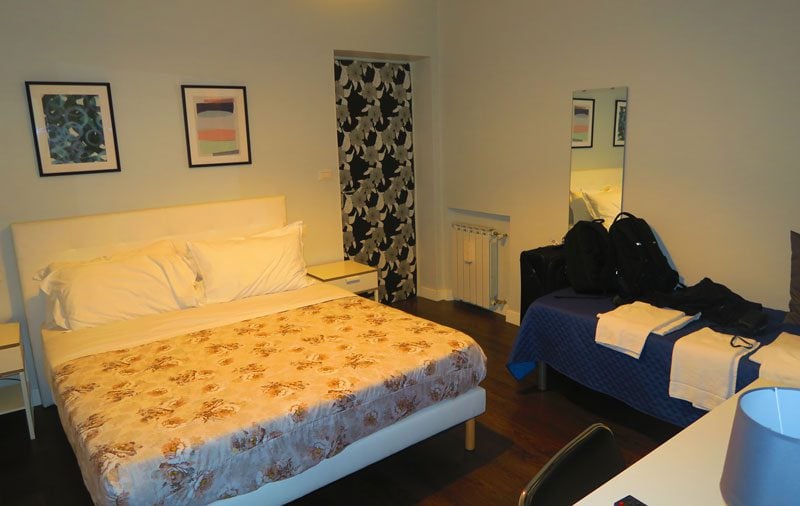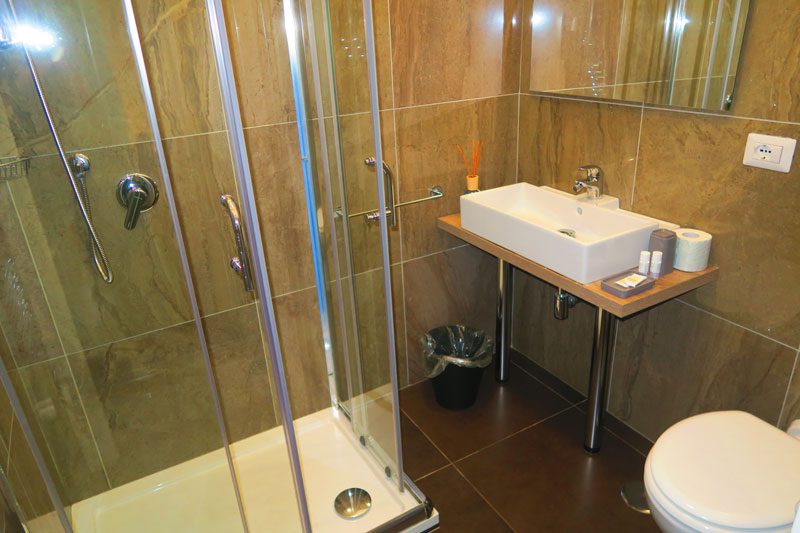 For a more luxurious stay, consider The Inn at the Spanish Steps and The Gran Melia Rome – both are highly recommended for romantic getaways.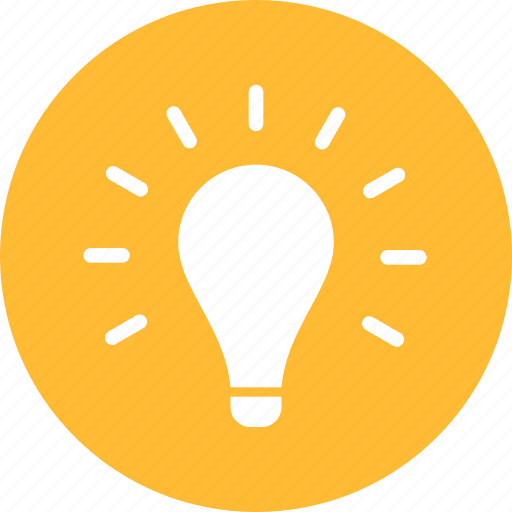 Pro Tip
Rome charges each adult visitor a 3.50€ per night tourist tax which is to be paid at the time of check-in.
Skip-the-Line Tickets
Nearly 10 million tourists visit Rome each year and they all wish to visit its major sites. Unless you wish to waste hours in line, you must purchase your tickets in advance for all major Rome attractions. You will be paying a small premium for skip-the-line tickets but it is well worth it. You can also purchase tickets directly from the official website.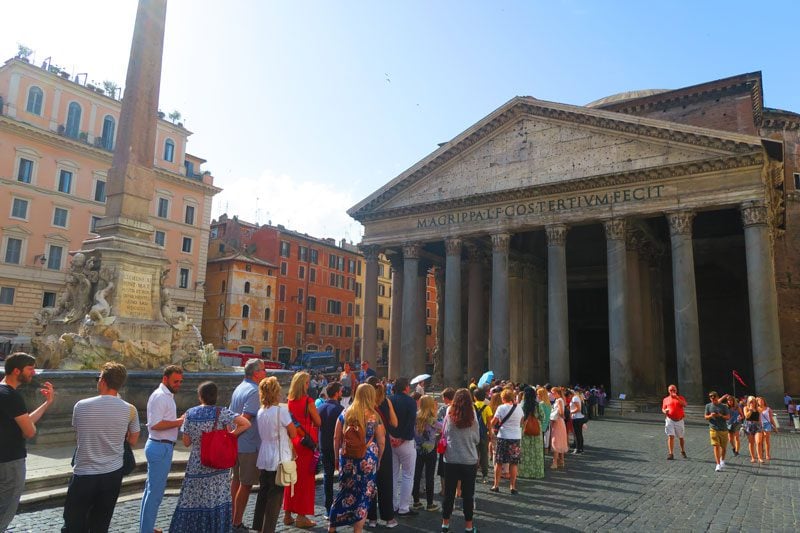 If you plan on doing a lot of sightseeing and not relying solely on your feet for getting around Rome, check out the Omnia Rome & Vatican Pass and the Roma Pass. Each offers entry to a different set of attractions (perhaps with some overlap) as well as other perks. I did the math and found them to be too expensive for what I was looking for, but they might work for some.
Day 1: Piazza Navona & Around
The first of our 5 days in Rome will be slightly shorter than the following days since it's an arrival day. Depending on your time of arrival and assuming you're staying in or close to the historic center, this day will be spent getting a taste of "classic" Rome.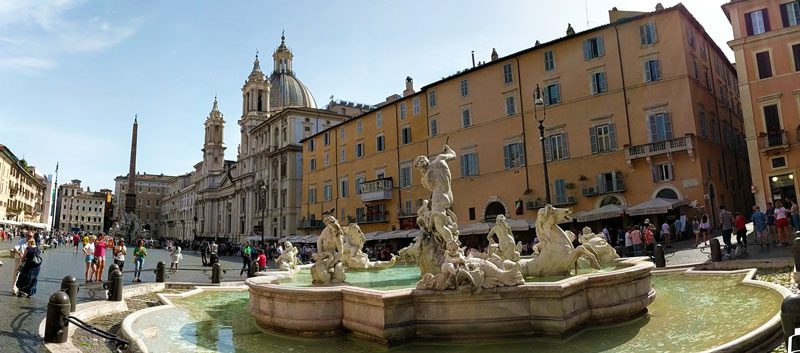 Via dei Coronari
After arrival and check-in, we were out and about at 2 pm. For a quick lunch, we headed to La Fraschetta at the recommendation of our hosts. This is a no-frills, nothing fancy chain; a top choice for local Romans who seek a quick bite. There are several locations and we dined not too far from the St. Angelo Bridge.
With our stomachs full, but not too full because dinner is still to come, we headed deeper into the historic center of Rome on Via dei Coronari. This is a major "artery" in the historic center, mostly known for its antique shops. You'll also find here a number of shops specializing in leather goods but the surrounding streets offer better bargains as Via dei Coronari is quite touristy.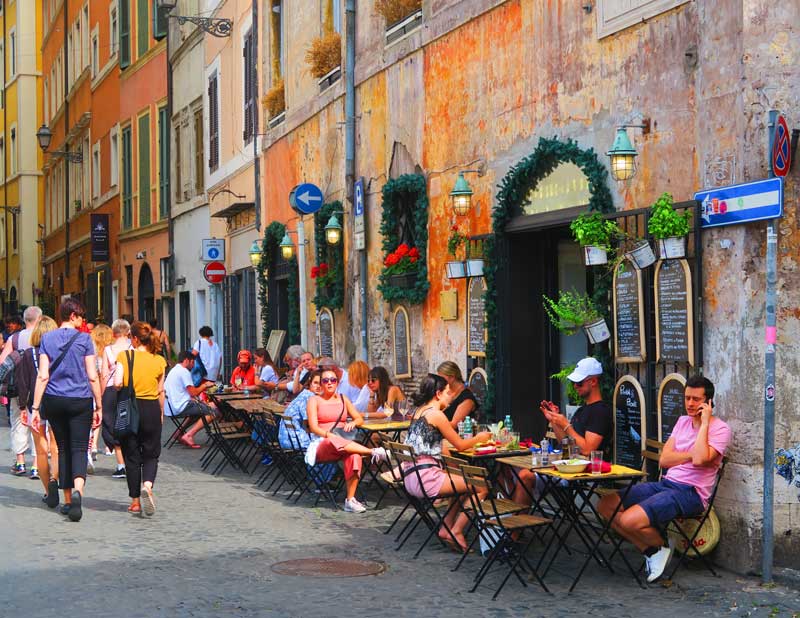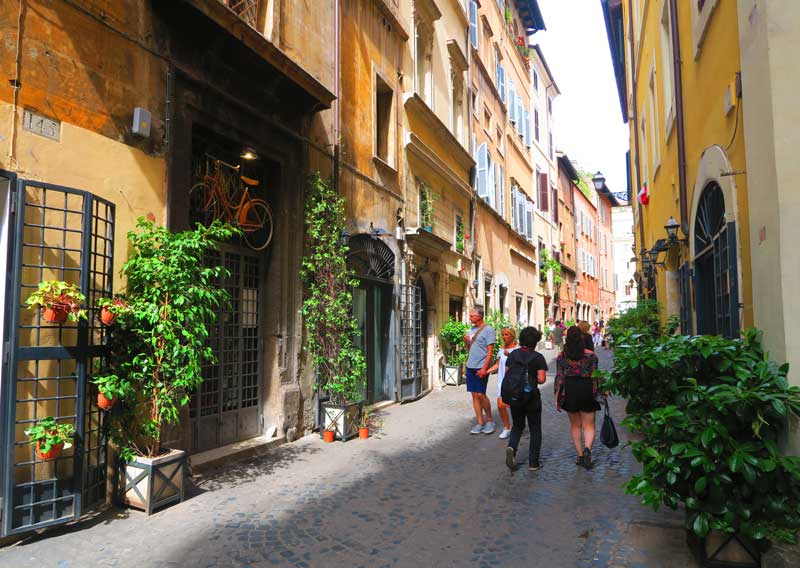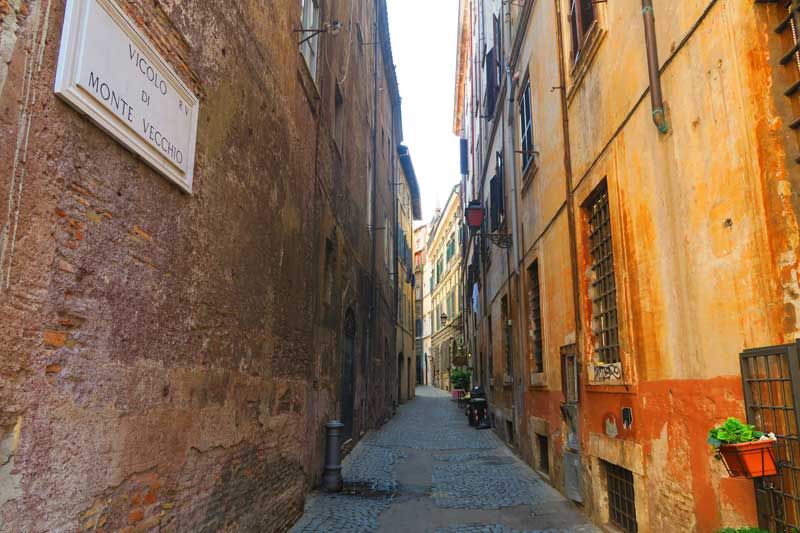 For our first round of ice cream in Rome, we headed to the Via dei Coronari branch of Gelateria del Teatro. If you're having difficulties finding the place, just look for the queue snaking outside their small shop. The ice cream here is very "creamy" (just like we prefer) and they have a few delicious flavors we found nowhere else in Rome such as peach-lavender (our favorite). We loved their ice cream so much that we came back for seconds on later days.
Piazza Navona
The natural next stop is perhaps the grandest of Rome's squares. Oval-shaped Piazza Navona sits on the site of an ancient stadium where chariot races took place. Nowadays, its perimeter is lined with cafes and restaurants, and the sun-drenched balconies above them likely offer the best people-watching opportunity in Rome.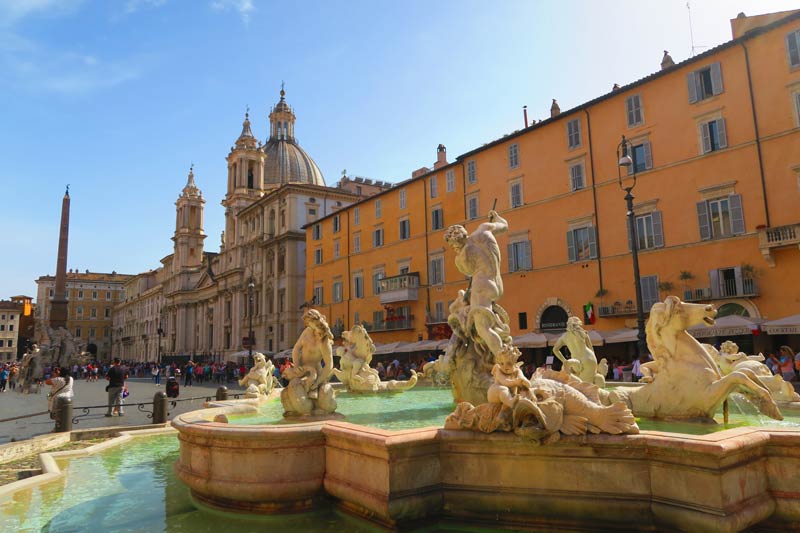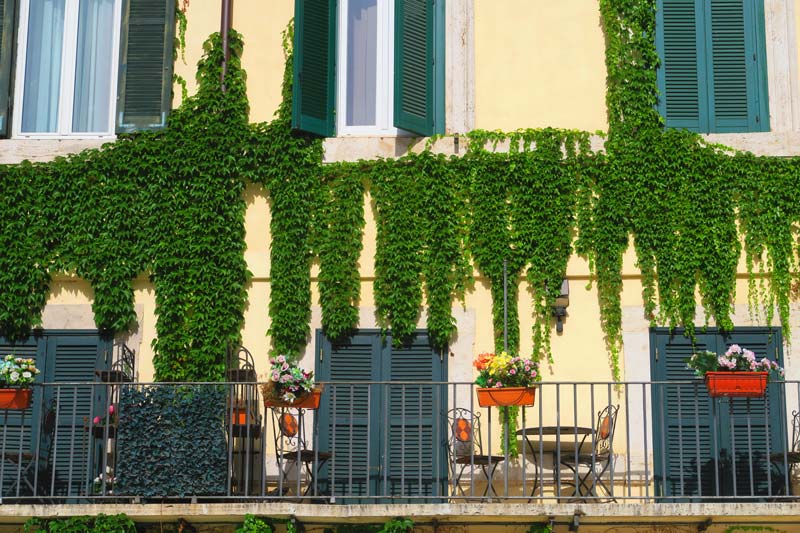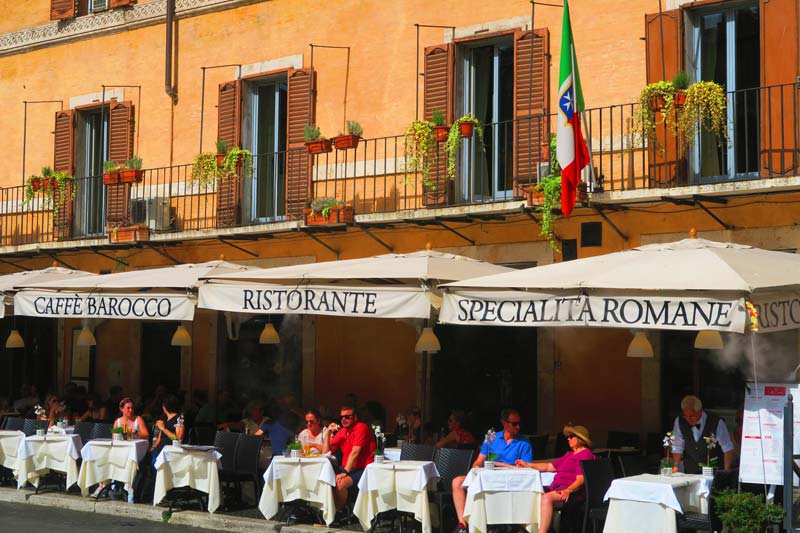 Piazza Navona also owes its beauty its three fountains, the center of which is topped by an obelisk. This is the Fountain of the Four Rivers, designed and even partially carved by legendary Italian sculptor – Gian Lorenzo Bernini. It depicts the four great rivers of the time: Danube, Ganges, Nile and River Plate.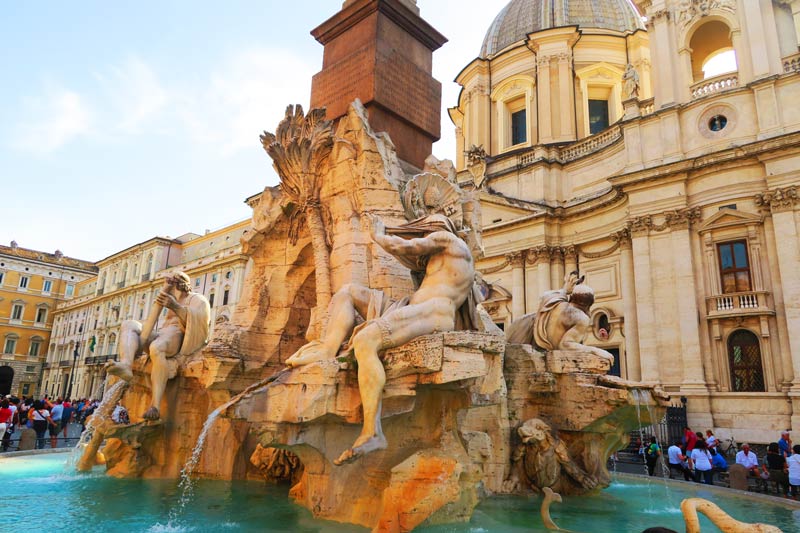 If you keep a diary, sort your photos in albums, still have a pen pal somewhere or are simply in need of a belt, it's worth checking out Cartoleria Pantheon dal 1910. It's a famous leather goods shop at the northwest corner of the piazza and their prices are reasonable for such original souvenirs.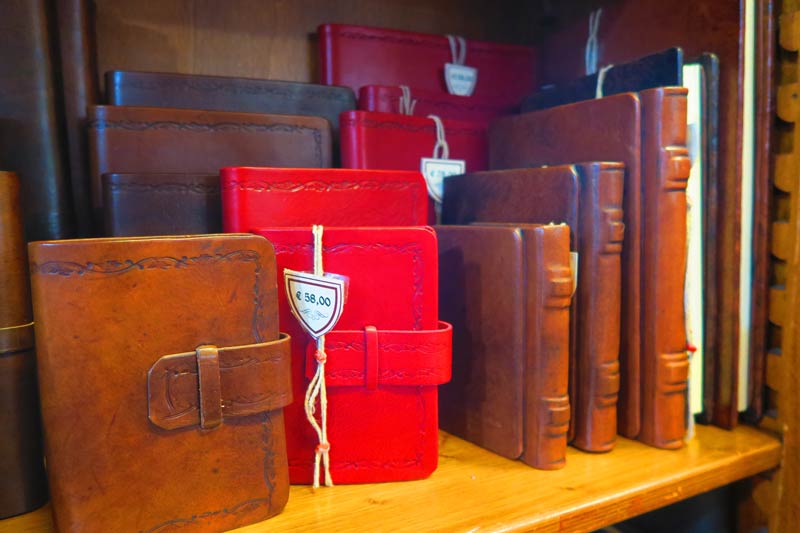 Sant'Agnese in Agone
This beautiful cathedral was dedicated to St. Agnes, the patron saint of young girls whose partial remains are somewhere to be found inside the magnificent interior. Visiting the cathedral is a no brainer if you're already in Piazza Navona but be aware of its opening hours if you wish to pay a visit (closed on Mondays).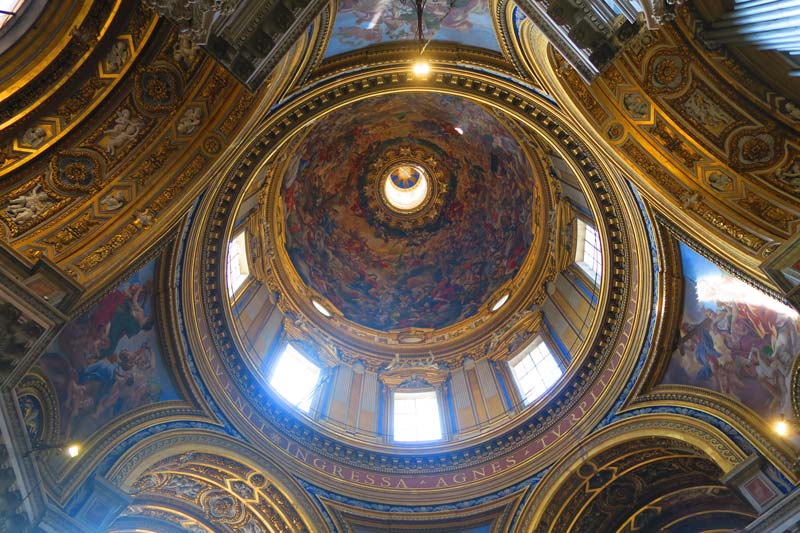 San Luigi dei Francesi
From one cathedral to the next, the Church of St. Louis of the French continues to raise the bar in terms of grandness. Famous for the 16th-century works of the Italian painter Michelangelo Merisi da Caravaggio depicting St. Matthew, I was blown away by the cathedral's decorated dome (closed on Thursdays). This is the "official" French church in Rome.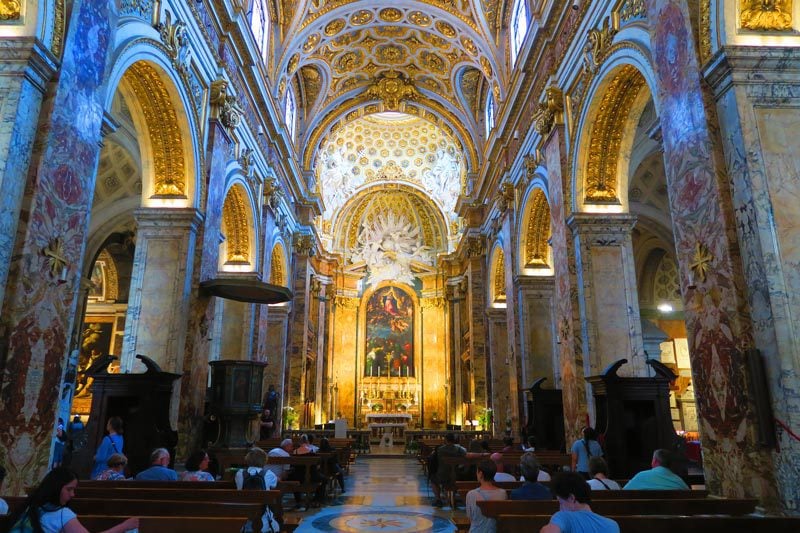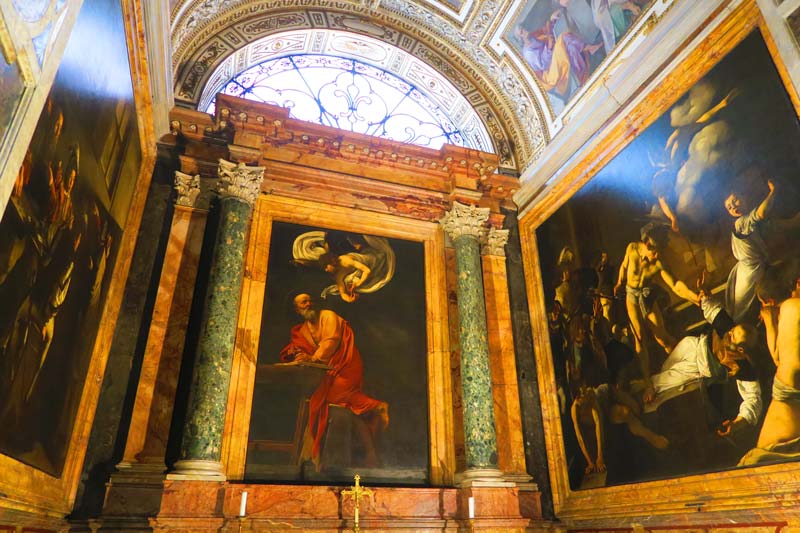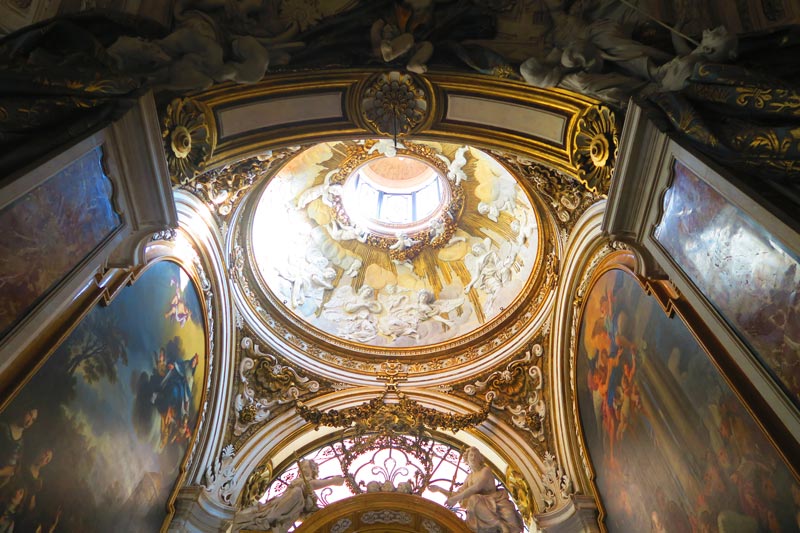 Santa Maria dell'Anima
Five minutes away on foot is yet another one of Rome's best churches, this time the "official" German church in the city. This cathedral boasts a stunning altar and you can even find the remains of a 16th-century pope somewhere along the nave. I took a special liking to the gilded ceiling featuring light blue colors. While we visited, a short but interesting ceremony took place, in which several German-speaking guards dressed in traditional uniforms and bearing swords, preluded a mass overseen by priests at the main altar.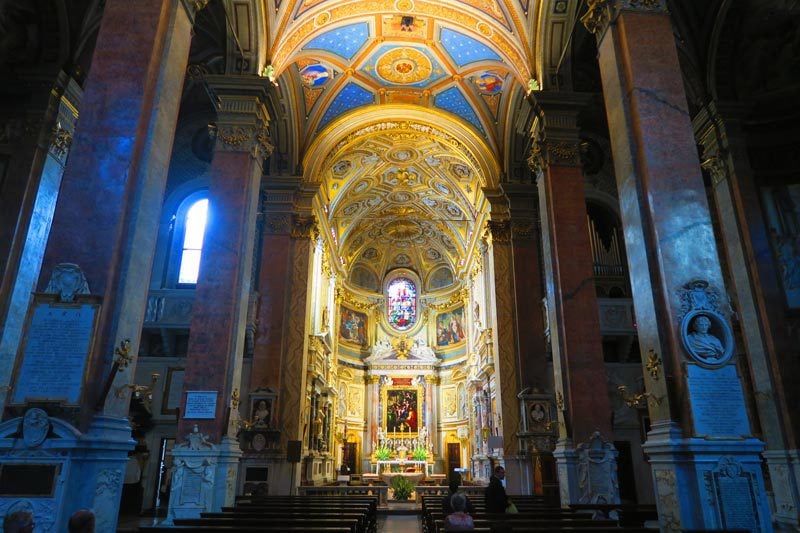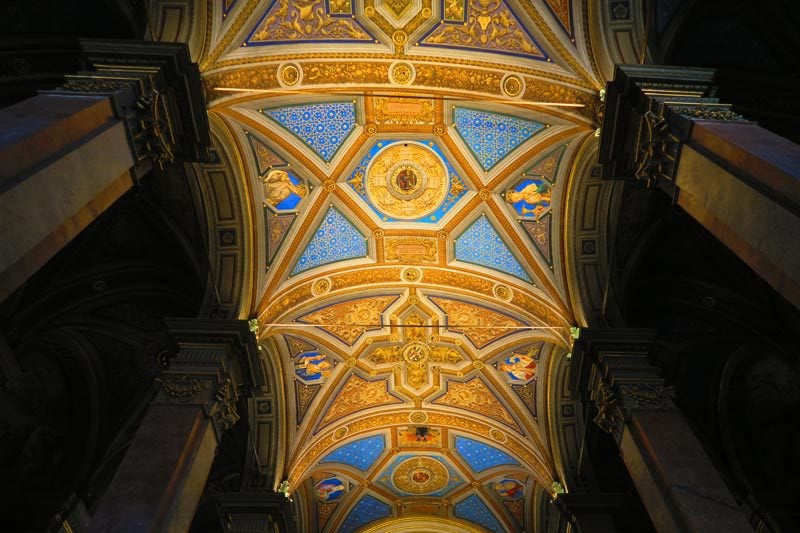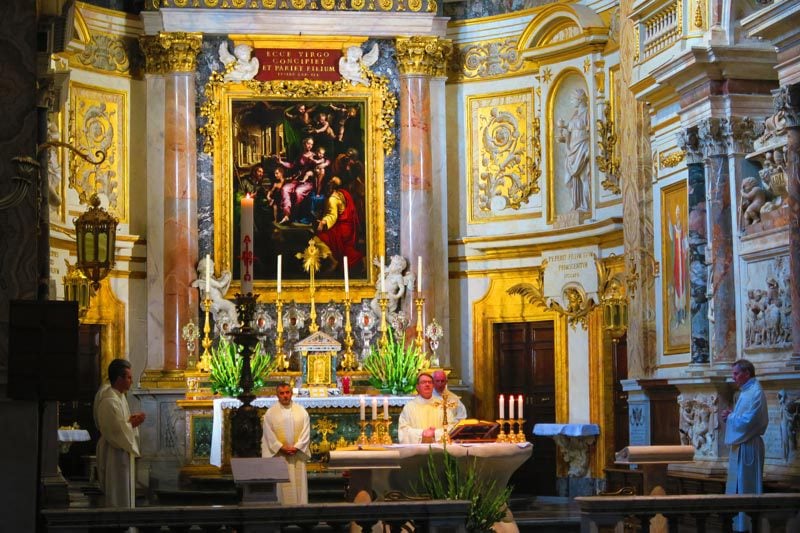 Chiesa di Santa Maria della Pace
This is a quick stop, I promise, as it's mighty difficult to catch this church when its doors are open. The cathedral's exterior is quite picturesque and fronting it are a few small restaurants in an unusually tranquil setting for lunch or dinner. Adjacent to the church is Chiostro del Bramante but we didn't find it interesting at all, including its somewhat famous cloister.
Via del Governo Vecchio
We headed back to our hotel for a bit of a rest before dinner via this trendy street which has no shortage of boutiques and culinary temptations to slow down your walk. If you still fancy some ice cream, stop at Gelateria Frigidarium, for wine to taste and take back home stop at Guerrini Enoteche, and for some pre-dinner wine grab a seat at Mimì e Cocò. For classic and chic straw bags, take a slight detour to GiuncArt, a fine craft shop on Via del Pellegrino.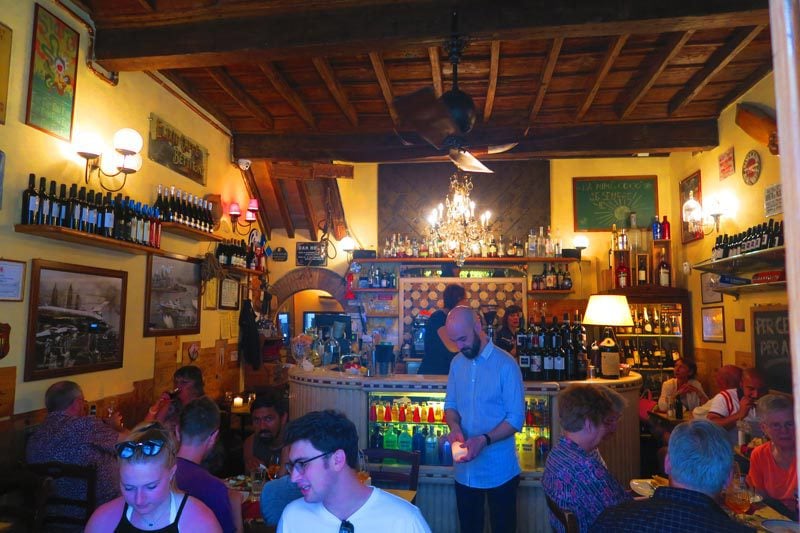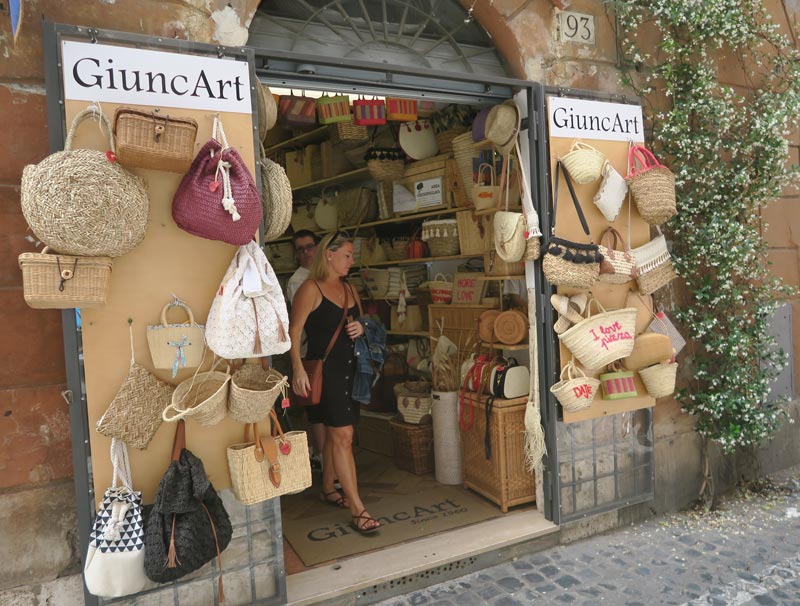 Chiesa Nuova
The last church visit on this first day in Rome is the Baroque Chiesa Nuova, completed in 1561. This large cathedral sits on the site of a former church known as Santa Maria in Vallicella and was founded by Filippo Neri. Neri is known as the Third Apostle of Rome, dedicating his life to helping the poor and founder of a society of secular clergy called the Congregation of the Oratory. What makes this place worth visiting is the quantity of exquisite religious artwork decorating its interior.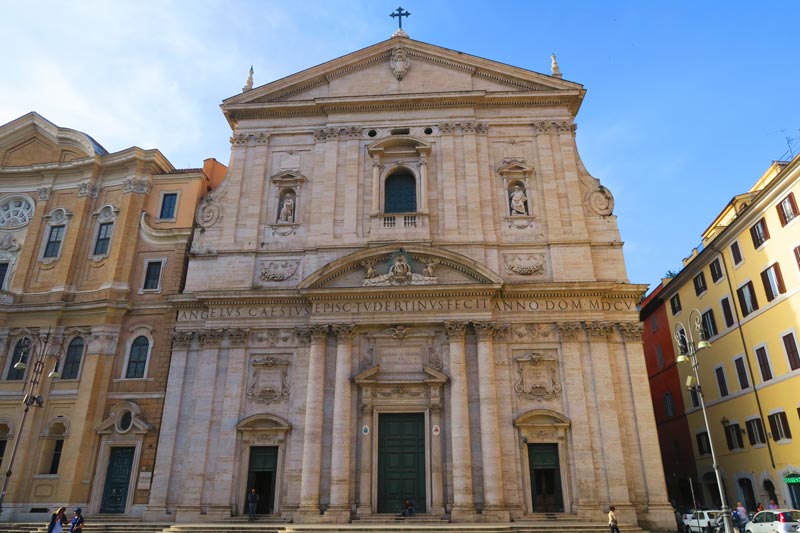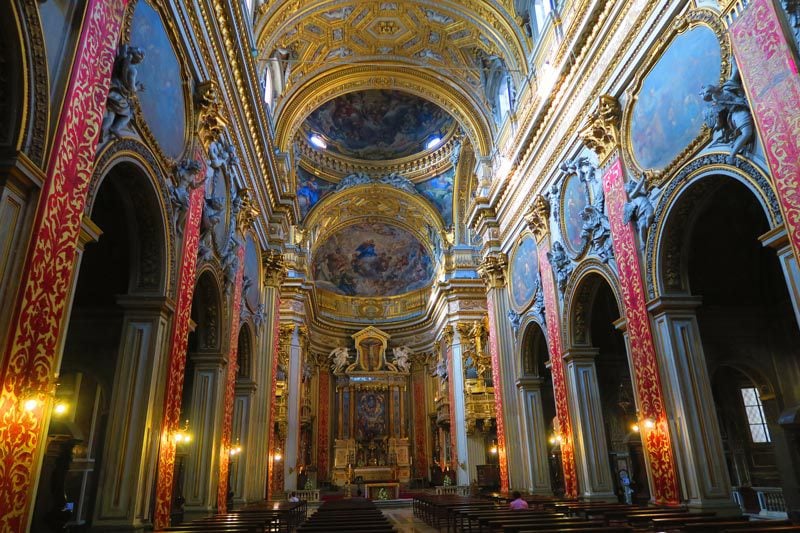 Dinner
For our first dinner, we made reservations a few days in advance at Pietro al Pantheon and were not disappointed. It was one of our best meals, both in terms of cuisine and ambiance. The typical Italian cuisine focuses on Judaeo-Roman culinary tradition, so we just had to accompany our tomato bruschettas with an additional starter of Jerusalem artichoke. To go with a bottle of red wine, we each dove into a bowl of spaghetti and pasta, and for dessert – tiramisu, of course. Portions were quite generous and the price was very reasonable for the location and quality. Be sure to make reservations in advance and I recommend interior seating for this particular restaurant.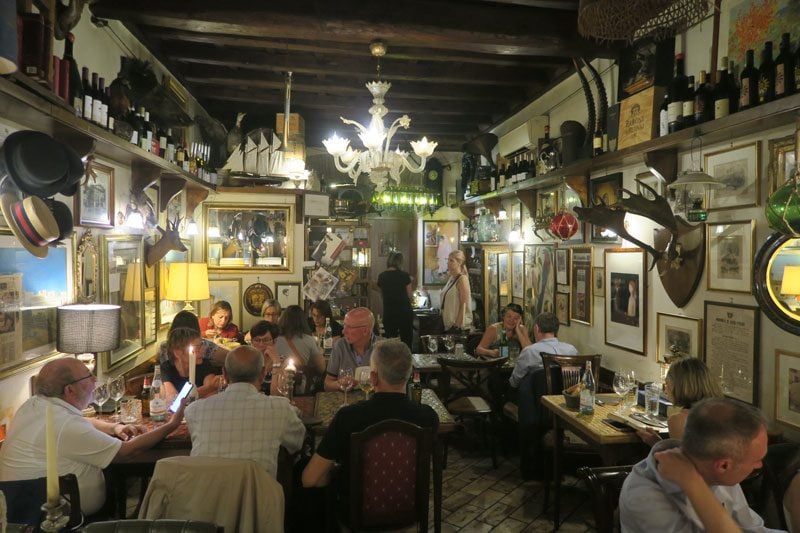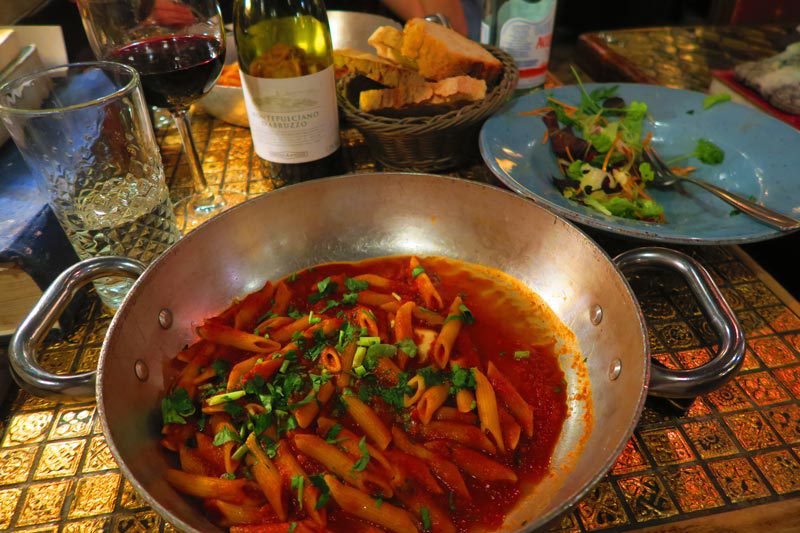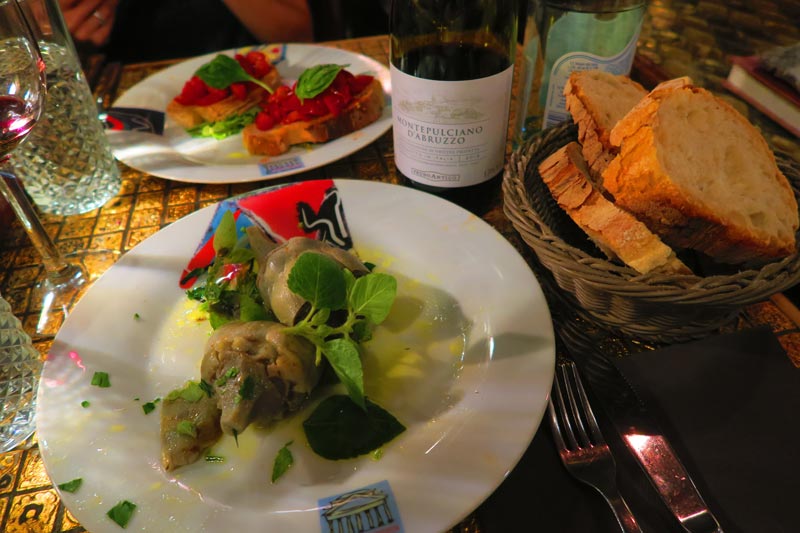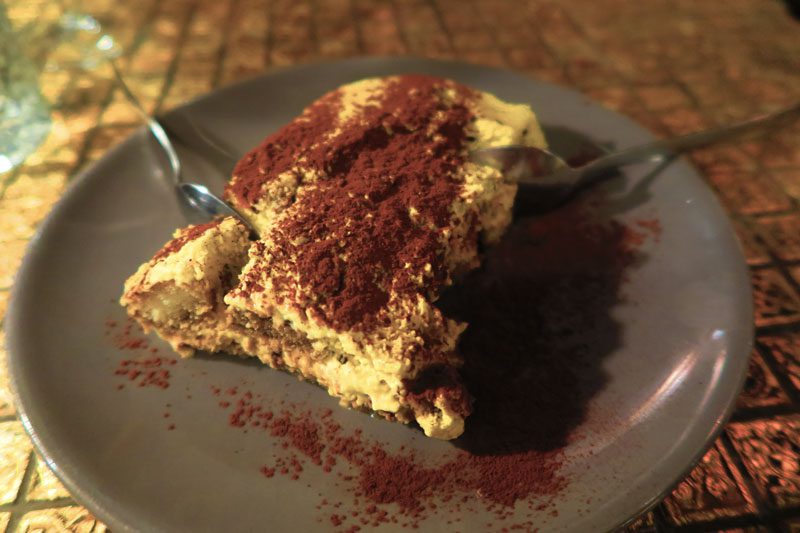 Rome's Historic Monuments at Night
Heading back to our hotel after a satisfying first day, we started a tradition that would accompany us on other nights. After the sun sets, Rome's historic monuments are lit and this makes for a very romantic stroll, not to mention a way to burn off at least some of the carbs. On this night, we walked past the Pantheon to close out the day.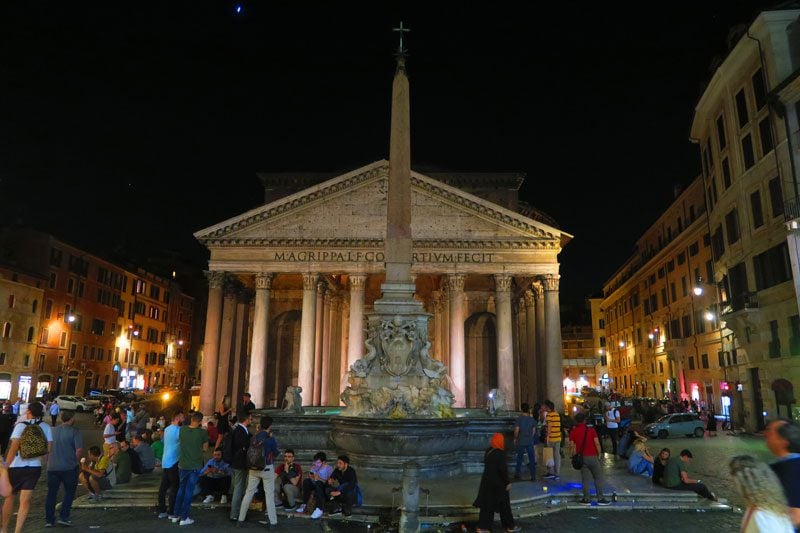 Day 2: Campo de Fiori and Trastevere
The first full day of our five days in Rome is an absolute delight for those who appreciate exploring a city on foot. We'll begin the day in Rome's colorful outdoor market before crossing the river to the romantic Trastevere district. We'll then head back via the former Jewish Ghetto to complete the circle.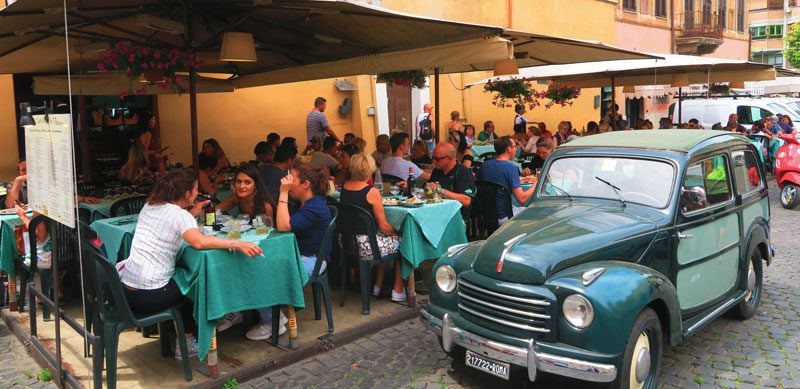 San Lorenzo in Damaso
San Lorenzo in Damaso was a quick stop before reaching the market. It is one of the oldest churches in Rome, though it has undergone a number of major renovations over the centuries. In the main altar, you can see the painting of Saints and Coronation of St. Mary by Federico Zuccari and below the altar lay the relics of Pope St. Eutychian and Pope St. Damasus I. We found this cathedral to be a lot quieter than some of the more touristy religious stops, but it is by no means a must-visit.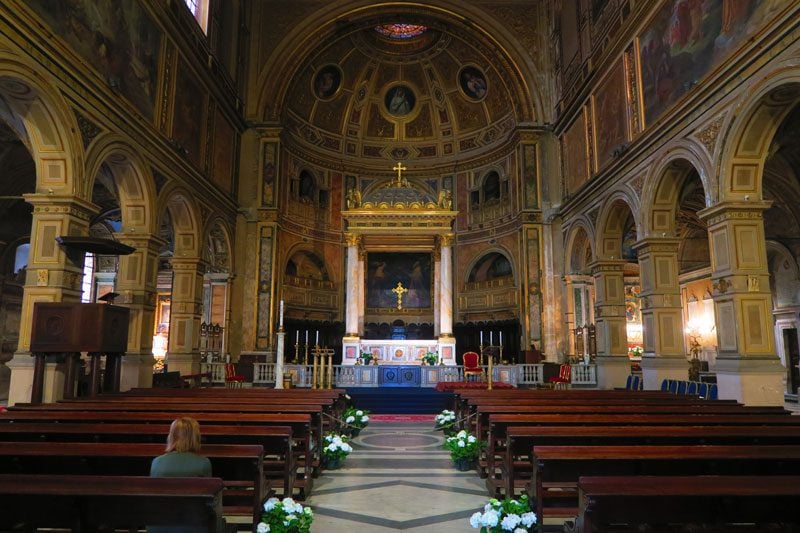 Campo de Fiori Market
Translating to "field of flowers", Rome's most colorful market is set on the grounds of a large square. The market is open every day but Sunday until around 1 pm so it's best to come here early in the morning. Cafes lining its perimeter invite you to grab a seat and have some breakfast, and just to be sure you don't miss the opportunity, prepare to be approached by waiters and their sales pitches. The statue at the center reminds visitors of the square's dark past as the site of public executions, including that of freethinker Giardino Bruno who seems to have pissed off the church in the 16th century.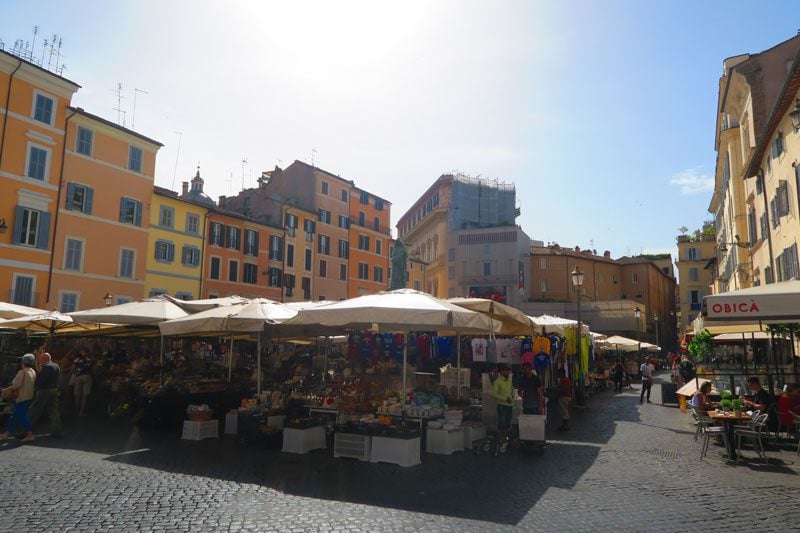 We first visited the market on a Saturday, which is considered the prime market day, but on the following mornings when we passed through, we didn't really notice much of a difference. The Campo de Fiori Market appeals mainly to tourists, though you will see some locals shopping for fruits and veggies here as well. Stalls mainly focus on local produce: fruits, vegetables, cheese, pasta and meat, but there are quite a few souvenir, clothing and kitchen-gadget stalls.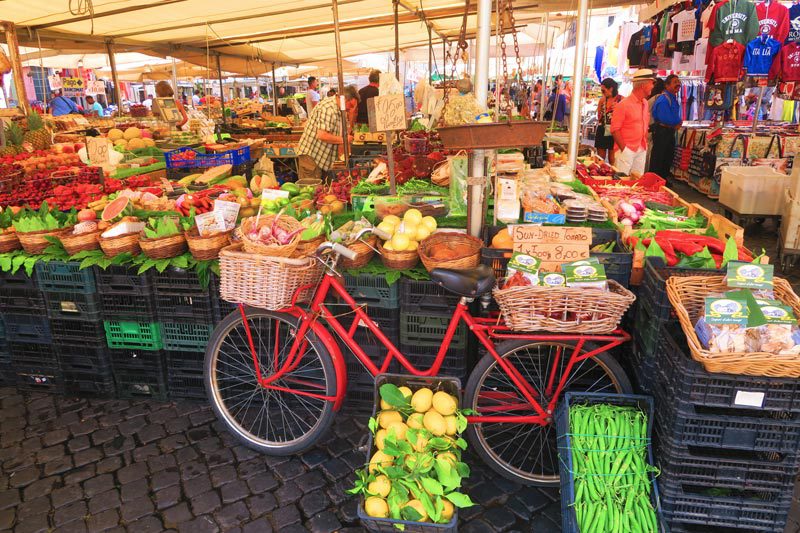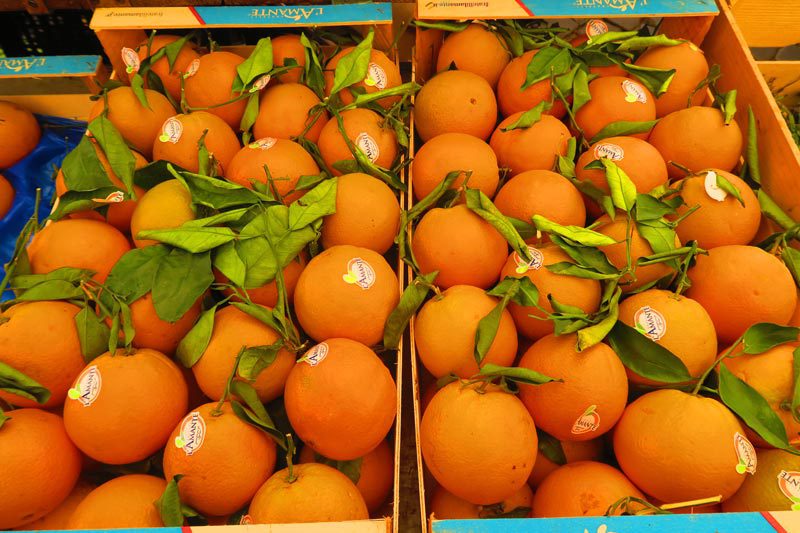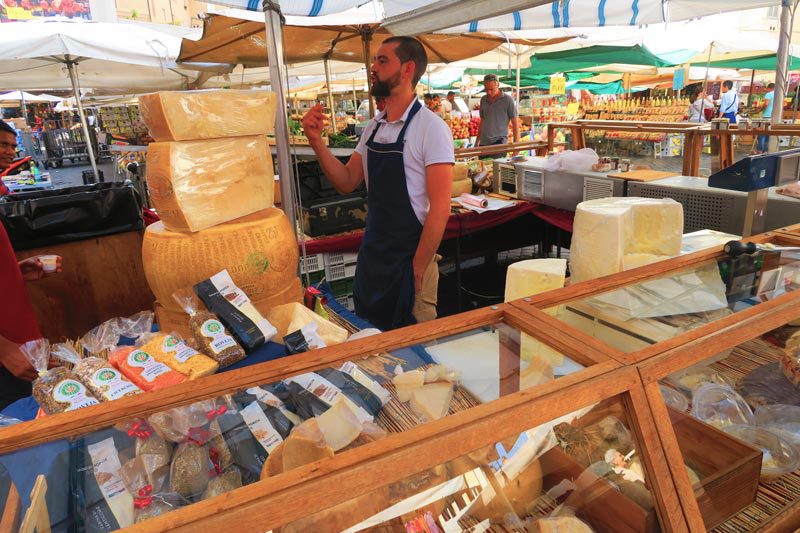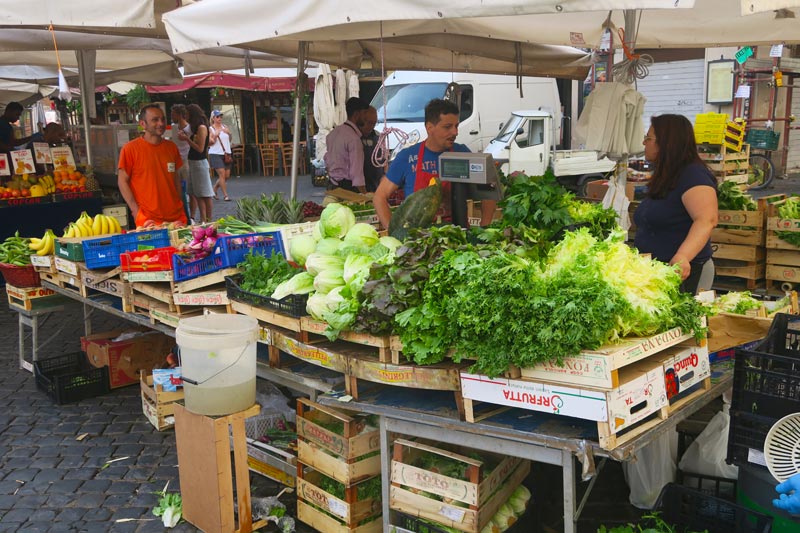 Personally, we did not purchase anything in the market itself but did take a liking to some interesting specialty shops along its perimeter and vicinity.
First on the list is Ancient Pizzicheria Ruggeri, an iconic deli that's been around since 1919. They have a great selection of cheeses, salads, and meats that can be blended to make sandwiches for a picnic lunch. They also have a decent selection of well-priced wines and liquors, though duty-free prices were comparable.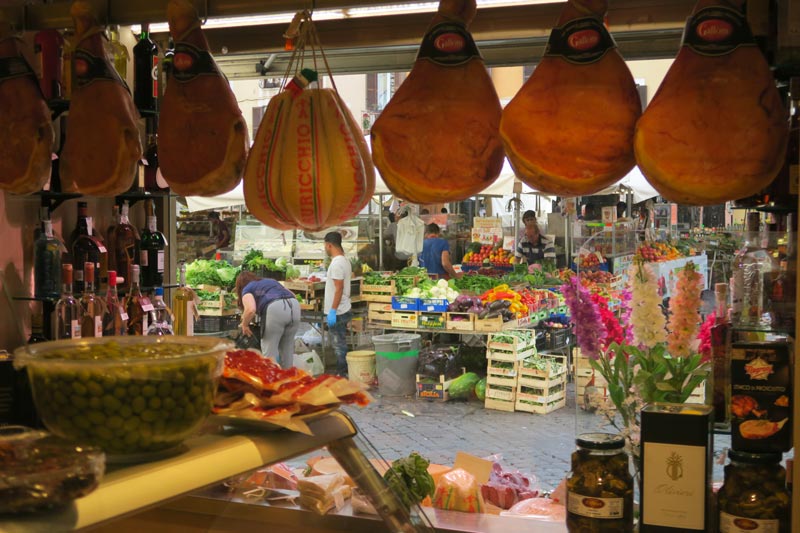 On the opposite end of the square, head to Norcineria Viola but not if you're a vegetarian as this shop has been specializing in cured meats since 1890! Additional optional stops include the legendary bakery of Forno Campo de Fiori, Bar Pascucci Frulatti for smoothies, Roscioli Salumeria Con Cucina for their deli and selection of wines (less for their restaurant), and Fatamorgana Chiavari for some of the best ice cream in Rome (and most "original" flavors).
At night, the Campo de Fiori comes to life and its restaurants are packed with dinner goers in search of that classic Roman meal. We did not dine here at night but did slice through en route to explore Trastevere by night.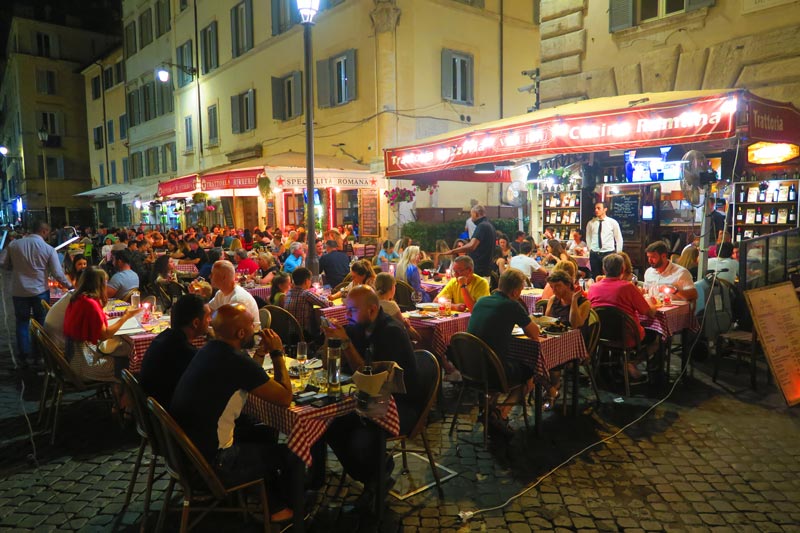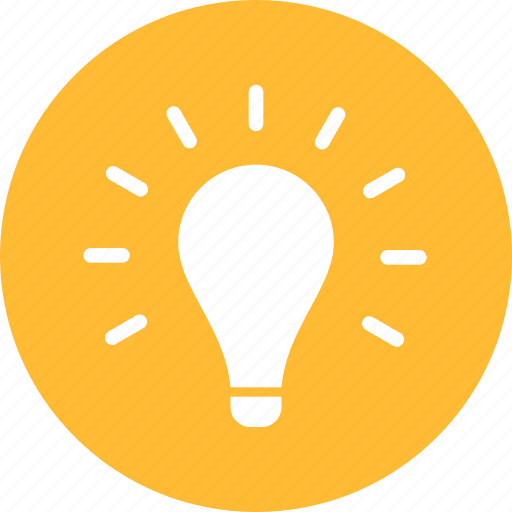 Pro Tip
For an additional market experience, head to Mercato Centrale Roma by Termini Station (open from 8 am to midnight).
Sant'andrea Della Valle
Completed in 1650, the church of Sant'andrea Della Valle is simply out of this world. Its dome is said to be the second-highest among Rome's cathedrals and its lavish Baroque interior is mindblowing. Especially impressive are the cathedral's frescoes which adorn its domes and ceiling. Such extreme attention was paid to every detail. Lining its walls and chapels are numerous exquisite religious paintings that are impressive even just for their sheer size. Be sure to visit in the morning hours as the church closes its doors for a long break before reopening at 4 pm.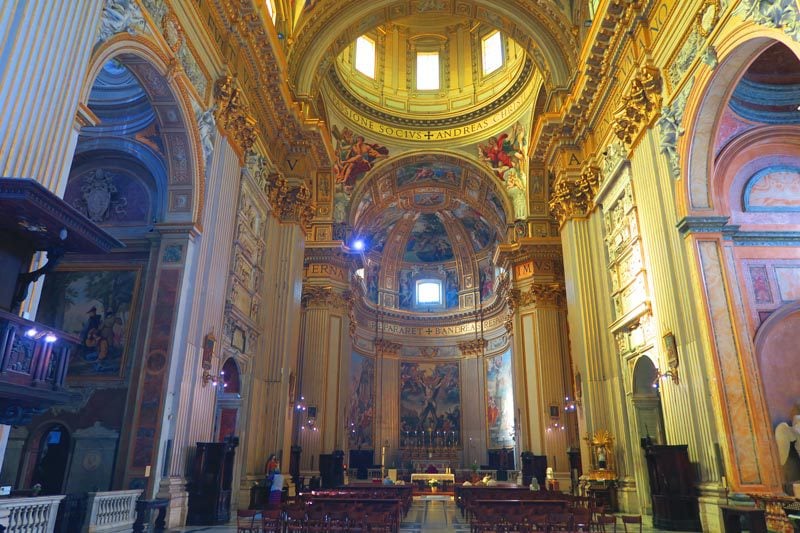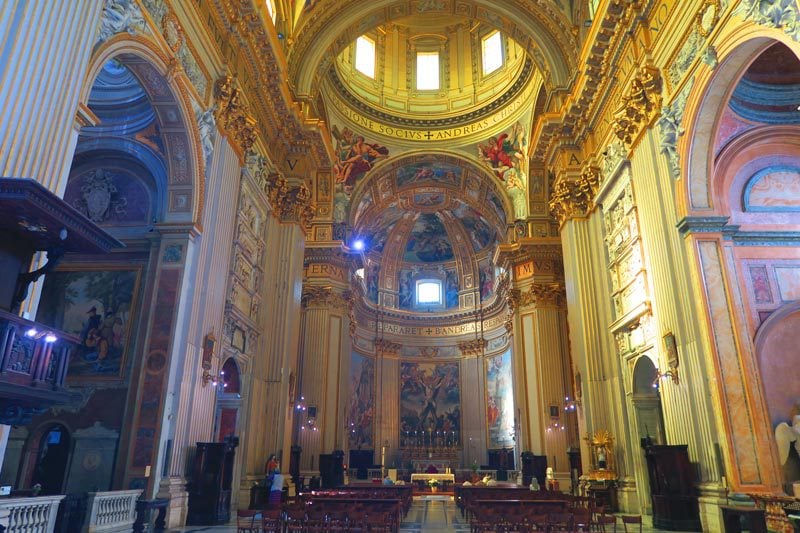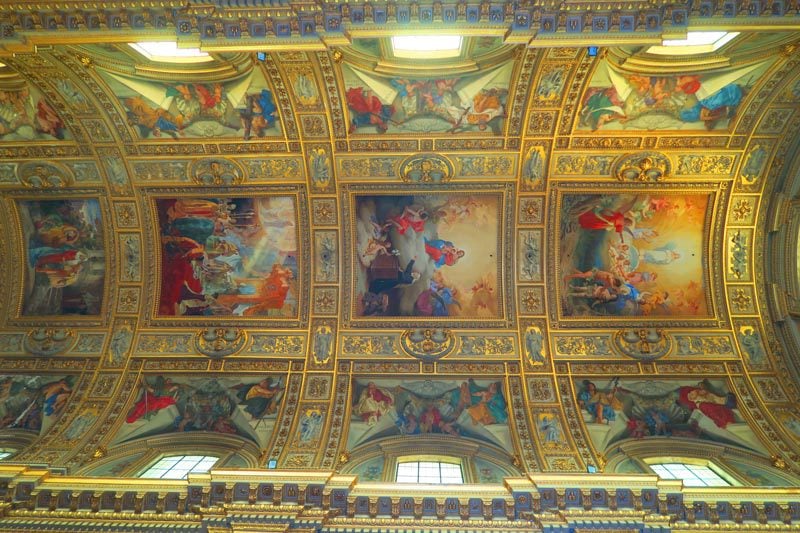 Largo di Torre Argentina
The ancient ruins at this large square are further proof of why Rome is such an amazing city to explore on foot. Walking from the market area to the banks of the river, we came across the remains of four temples dating back to the time of the Roman Republic (509 BC–27 BC). Nowadays, the fenced-off square is a cat sanctuary, home to hundreds of cats that are well tended to by the city and its residents. Near the square, the Rock Belt Store is a great little shop selling Italian-quality belts at great prices. We snatched a few belts for ourselves and for folks back home. Also nearby is the Turtle Fountain, a famous Renaissance fountain with bronze figures of young men, turtles and dolphins.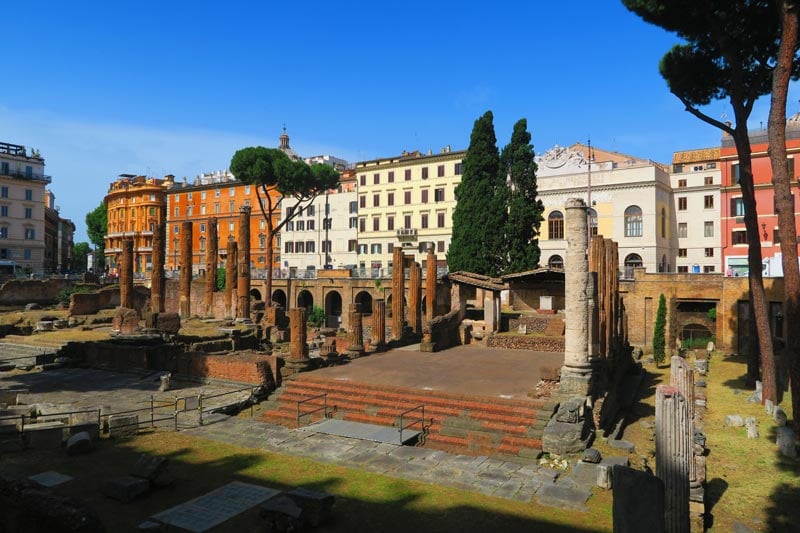 Chiesa del Gesù
This Jesuit church is the first of its kind in Rome and well worth a visit (both men and women must have their shoulders covered). As we've previously seen, Rome's best cathedrals are more like lavish museums of a past era. Inside the church, its interior is shining with gold, on its walls, its ceiling, and its altars. The frescoed ceiling is also quite incredible, especially when you take the time to make out the different scenes the artist meticulously painted over the span of years. I doubt something of this magnitude can be achieved, even by today's finest painters.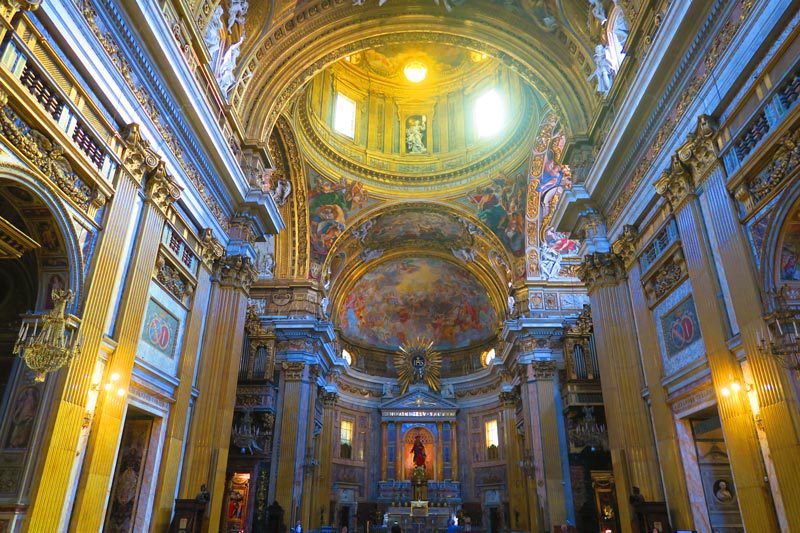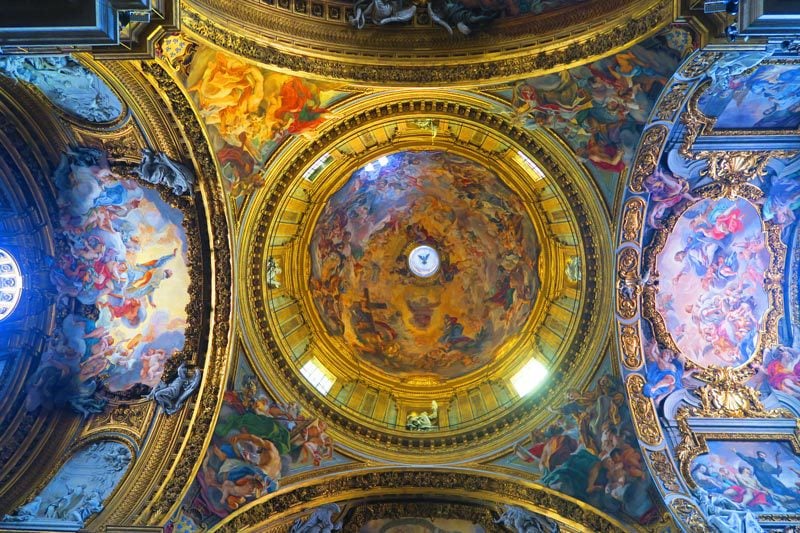 Crossing the Tiber River
We crossed the Tiber River to the Trastevere neighborhood over Ponte Sisto, a bridge built by Pope Sixtus IV in the late 15th century. It's one of the few options for getting across to the other bank and on the return leg, we'll use a different bridge to spice things up.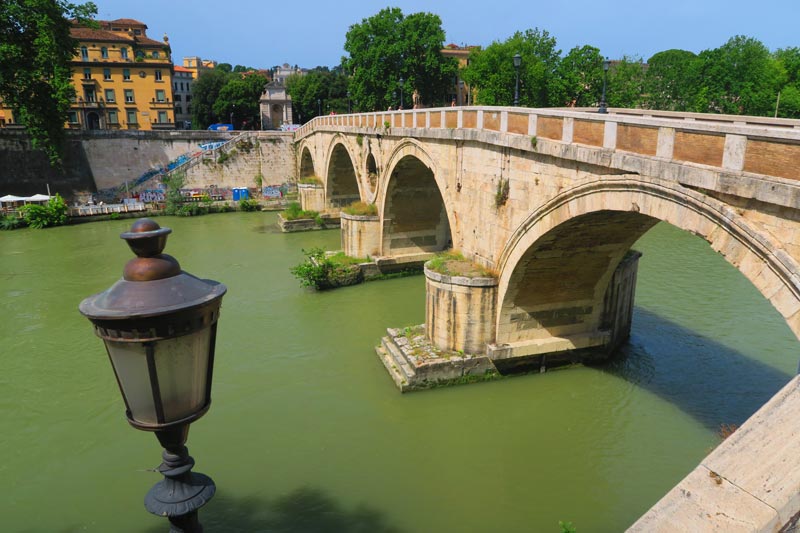 Trastevere
Welcome to one of Rome's most romantic areas, if not the most romantic of them all. Historically outside the city walls and a gathering spot for artists, Trastevere is nowadays a sought-after neighborhood. Its narrow cobblestone lanes are a quiet escape from the city center, converging in small piazzas where cathedrals and restaurants share the real estate. At night, the neighborhood really comes to life with street performers, overflowing bars and excellent cuisine.
Trastevere is the "classic" Rome you're looking for, not in terms of its place on the axis of time but rather for its culinary scene and the perfect blend of history and modern charm. In fact, Trastevere is where many scenes from the Woody Allen film To Rome With Love were filmed. I recommend paying a visit to Trastevere on your first full day in Rome since there's a great chance you'll want to return. We came back for dinner and for evening strolls over the following days.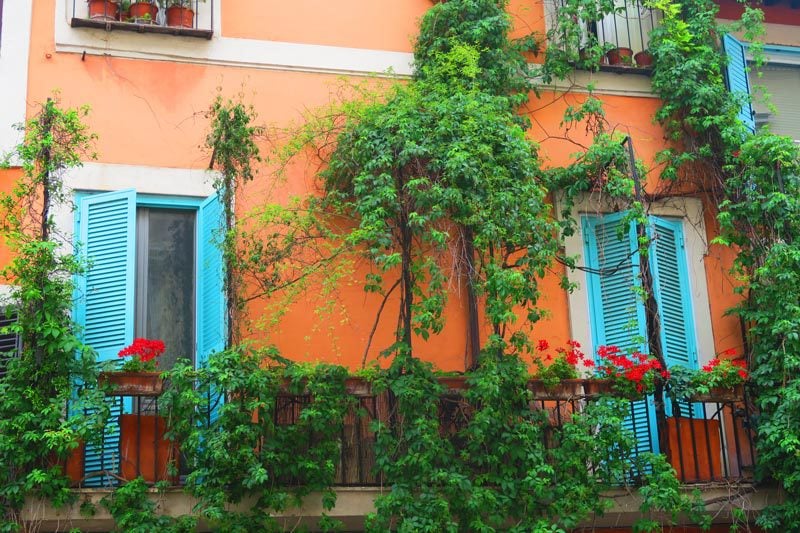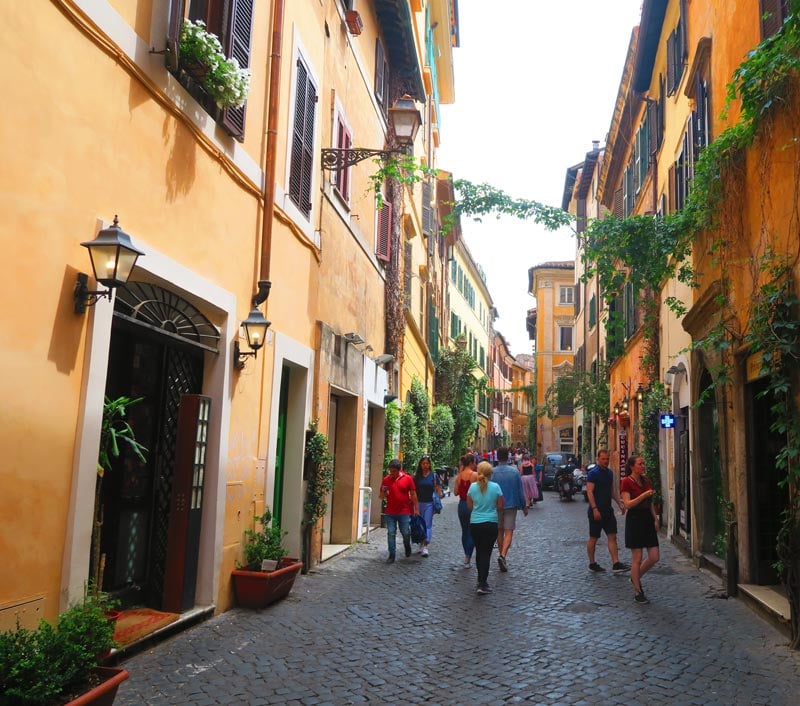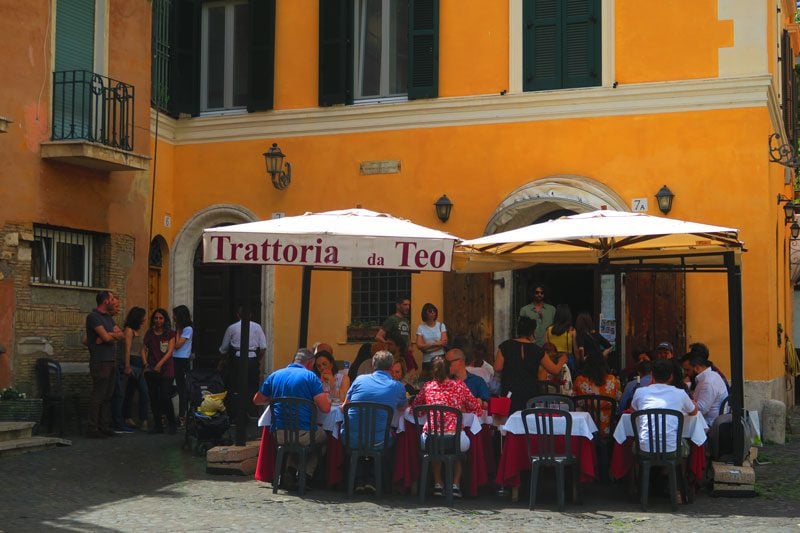 Villa Farnesina
Crossing beneath the Porta Settimana, our first real stop in Trastevere was at Villa Farnesina, a 16th-century mansion that's worth visiting if you like art but dislike crowds (10€, no pre-booking necessary). Built during the Renaissance by a wealthy banker from Siena, Villa Farnesina is famous for its frescoes painted by Raphael and other talented artists of the time. It only takes about one hour to 90 minutes to properly experience the mansion so I highly recommend it, especially on a rainy day in Rome.
The first major highlight in the villa is the Loggia of Galatea, a fresco painted by several artists including one Raffaello Sanzio da Urbino, better known as Raphael. Its most striking feature is that of a nymph riding a sea shell canoe drawn by dolphins.
In the second room is the Loggia of Cupid and Psyche and the Council of the Gods. This fresco was designed by Raphael but others had to complete the job as the maestro took on too many projects and was occupied elsewhere.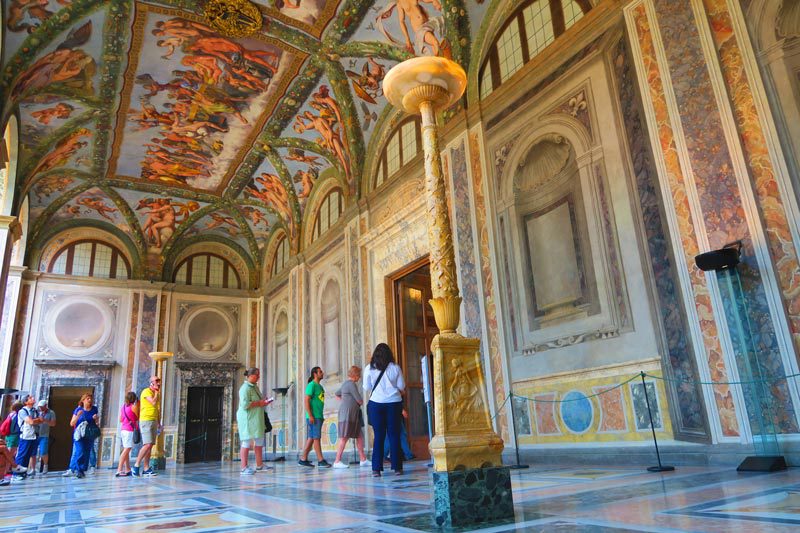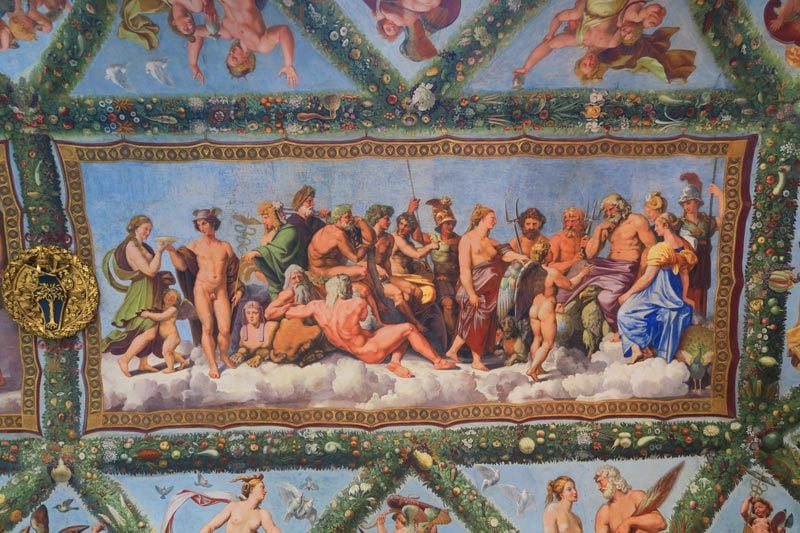 The next major highlight is the Room of the Frieze. In case you're wondering what a frieze is, it's a large horizontal painting, in this case wrapping around the top section of this room. An interesting feature is the columns, painted in such a way that gives them a sort of two-dimensional feel.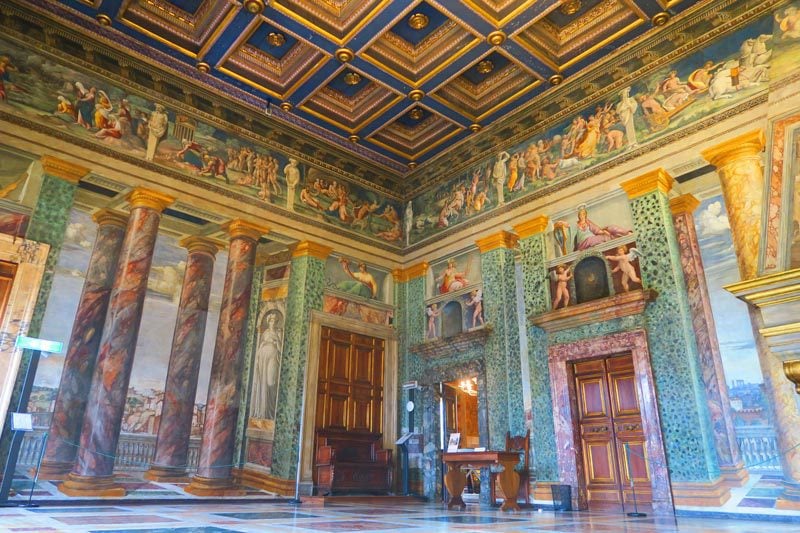 Janiculum Terrace
From the mansion, we paused for some coffee and headed fifteen minutes uphill via a series of steps to this lookout. The Janiculum Terrace is one of the best places in Rome for panoramic views. Even Roman couples have their pre-wedding photos shot here. From the terrace, you can see the monuments and domes of the historic center and the Vatican. Next to the Janiculum Terrace stands a large monument honoring Italians from the First War of Independence, fought in 1849.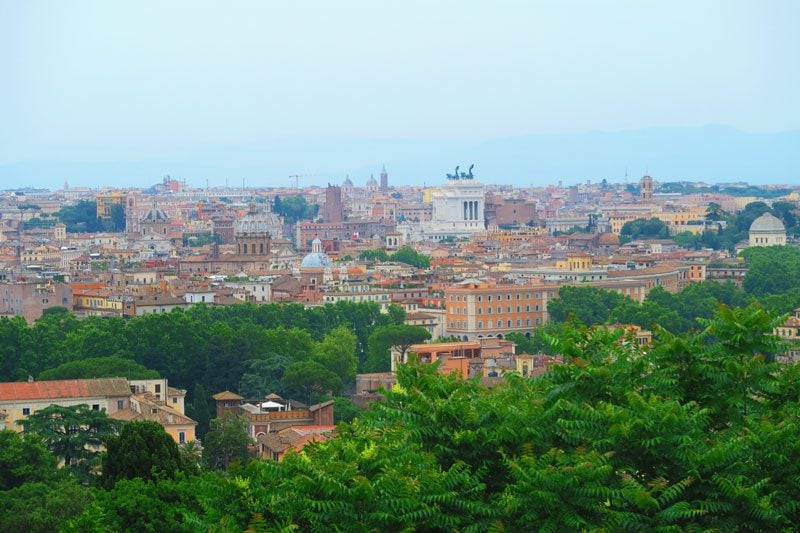 Piazza and Basilica di Santa Maria in Trastevere
Trastevere's main square is said to be the site where a fountain of oil sprung out of the ground on the day of Christ's birth. It's probably the reason why Christians have practiced their faith here pretty much ever since. The square itself is somewhat picturesque but its basilica is well worth visiting for its mosaics.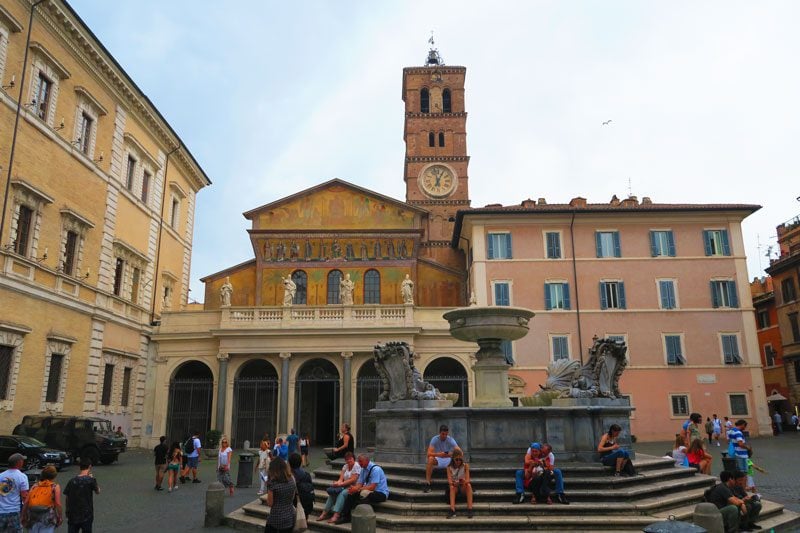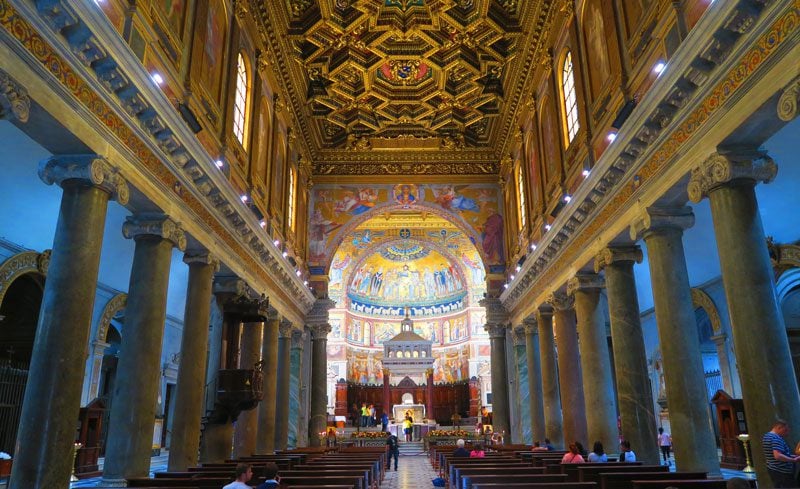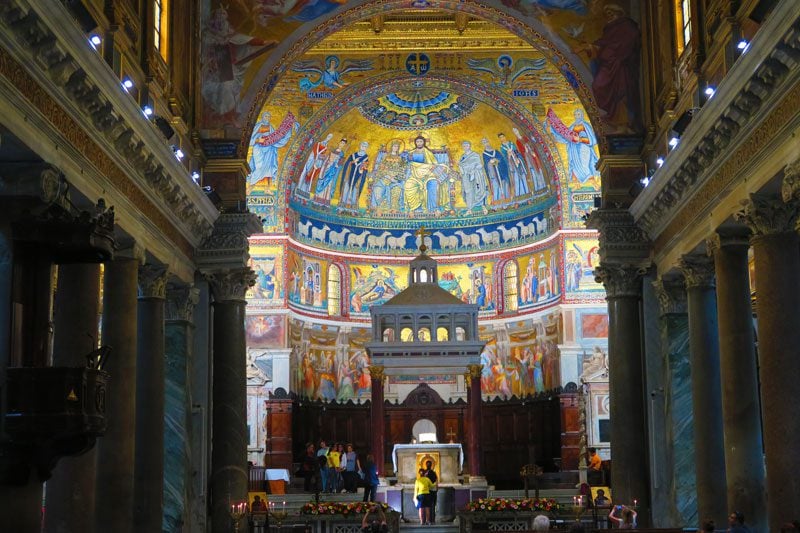 Pizza Lunch at Dar Poeta
Quietly tucked away in a narrow lane, Dar Poeta is one of the best places in Rome for pizza. If you can, grab one of the few outside tables and soak the vibe of Trastevere as you savor a delicious pizza, but don't be alarmed if there's a queue of people waiting to be seated as the restaurant's interior is quite huge and can easily accommodate large parties. We devoured two pizzas accompanied by drinks for about 15€.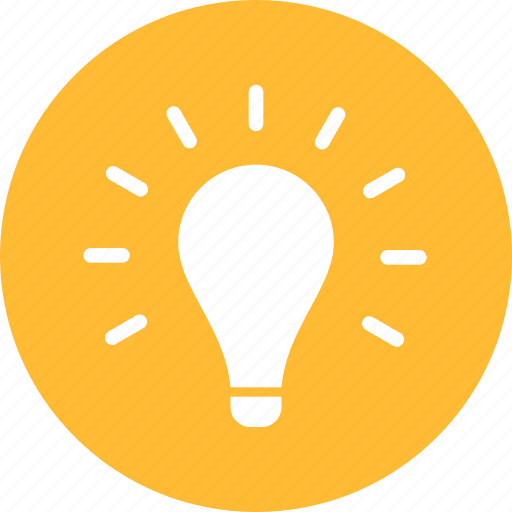 Pro Tip
If you fancy a pizza lunch, I recommend sharing a pie and ordering a side salad to supplement it. Even with a thin crust, eating an entire pizza on your own, though possible, should be followed by a nap and not by lots of sightseeing…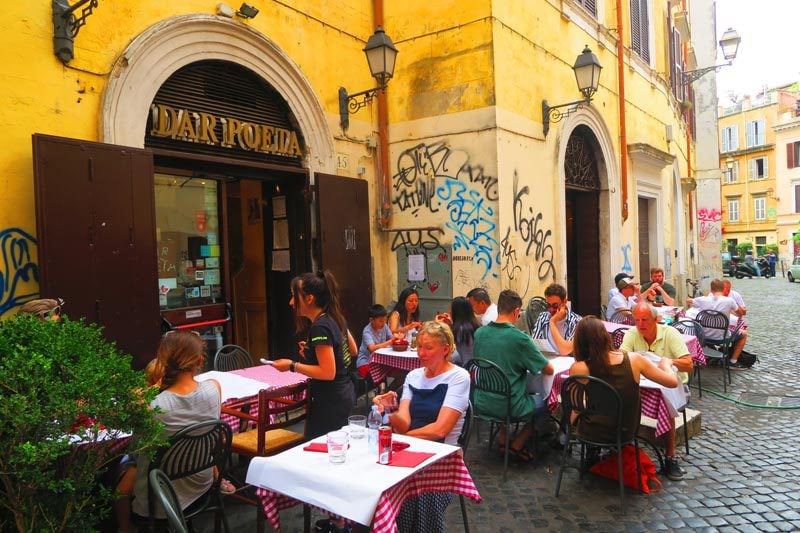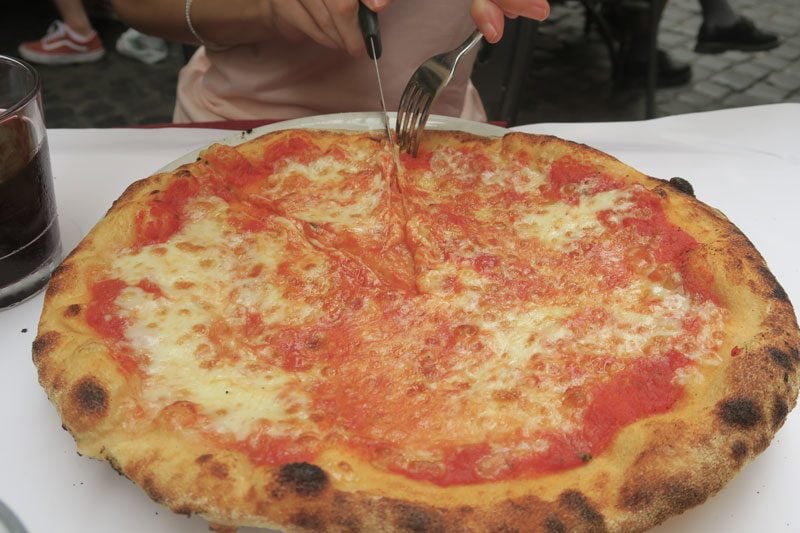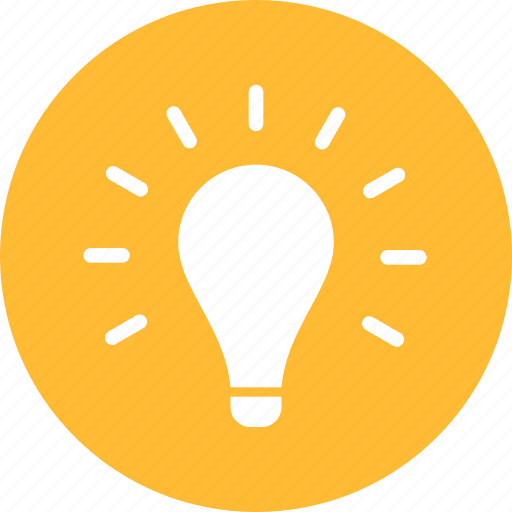 Pro Tip
Additional recommended Trastevere restaurants for lunch include Nannarella, Trattoria Da Enzo al 29, and Tonnarello. The latter two are challenging in terms of available seating and not all accept reservations.
Across the River to the Old Jewish Ghetto
After a well-deserved ice cream stop at Gelateria del Viale, we crossed the Tiber River at Ponte Cestio to Rome's lonely island – Isola Tiberian – from where we could catch a glimpse of the remains of the Ponto Rotto (built in the second century BC). On the other side of the island, we finally crossed to the other bank via the historic Ponte Fabricio, a bridge that has remained intact since its construction in 62BC!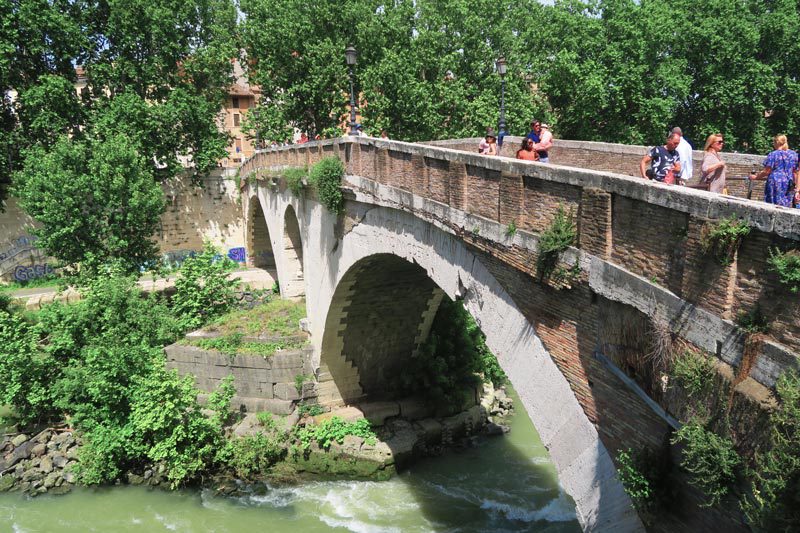 Old Jewish Ghetto
Right as you cross the river, you enter what is known as the Old Jewish Ghetto, a small area where Jews were confined to in the 16th century at the order of Pope Paul IV. Nowadays, the area's most attractive section is along Via del Portico d'Ottavia. Those interested in learning about the history of the community can head to the Jewish Museum at the Maggiore Synagogue.
The other interesting site in the old ghetto is the Portico of Octavia, an impressive ancient Roman gate and adjacent theatre (Teatro di Marcello). Both were off-limits when we visited due to restorations but can be appreciated from the exterior.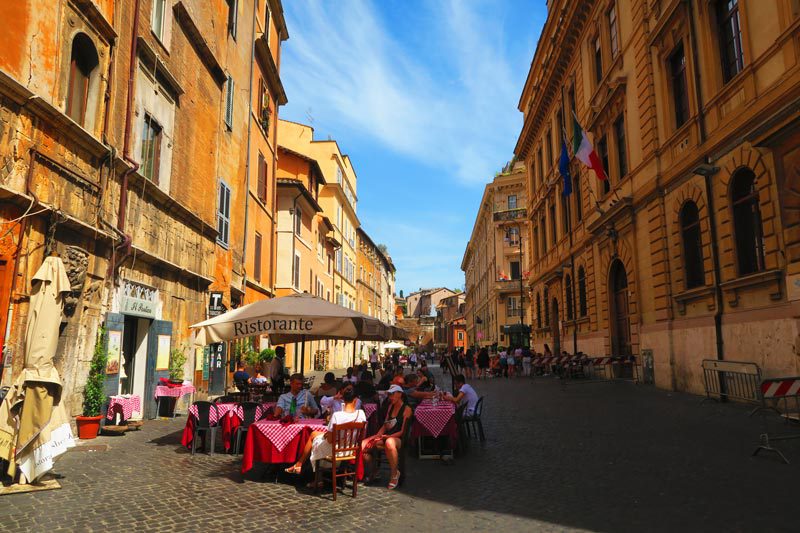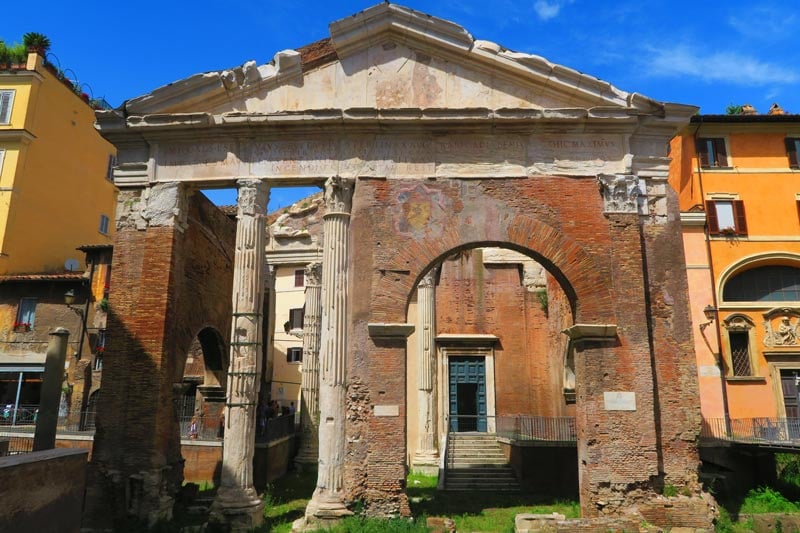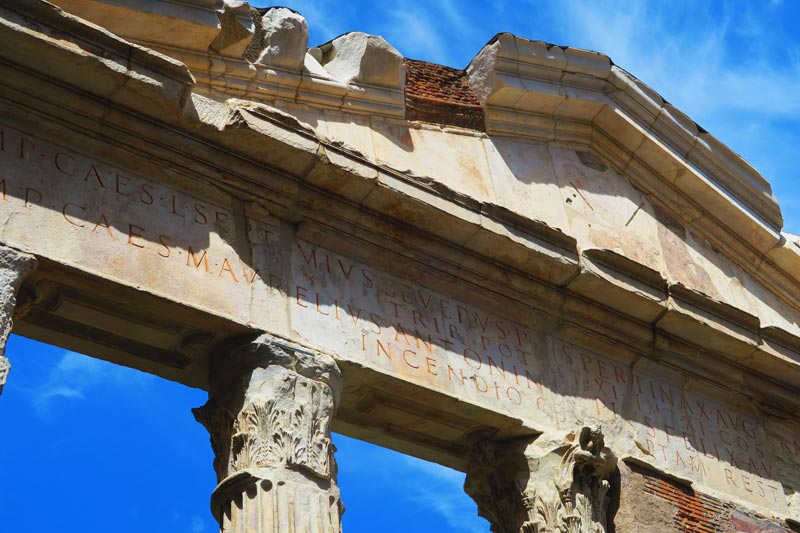 Via Giulia
Running parallel to the Tiber River, Via Giulia makes for a pleasant stroll to get back to the historic center. Home to a number of antique shops, mansions, consulates, and government offices, it gets very quiet here on weekends which is a rarity in central Rome. At its northern end is the church of San Giovanni Battista dei Fiorentini.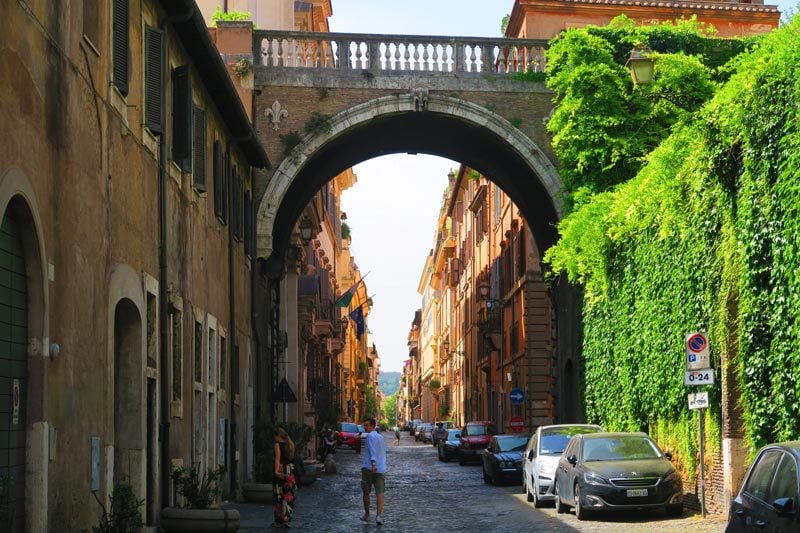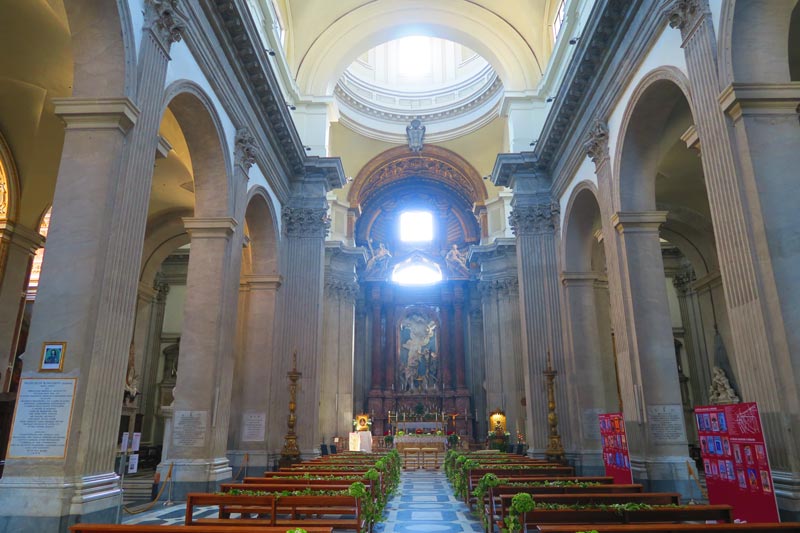 Wine Bar Dinner
We were still quite full from the pizzas at lunch so we opted to check out Rome's wine bar scene (enoteca). After much contemplation, we headed to Cul de Sac in the historic center. This enoteca has been around since 1977 but its early 1900's predecessor apparently started the entire wine bar scene in Rome back in the early 20th century. Cul de Sac has a huge selection of wines (they claim the number to be 1,500 labels) and the food is pretty good as well. We went for a selection of small dishes to go with wine and sat in its narrow interior.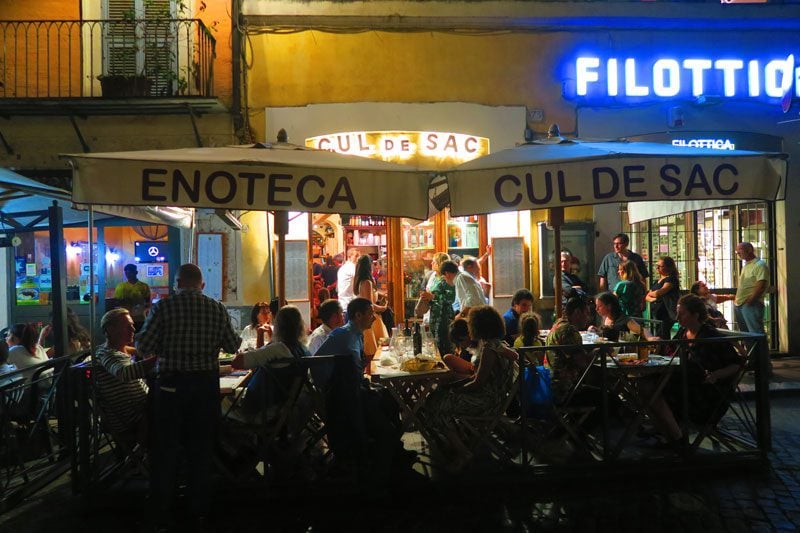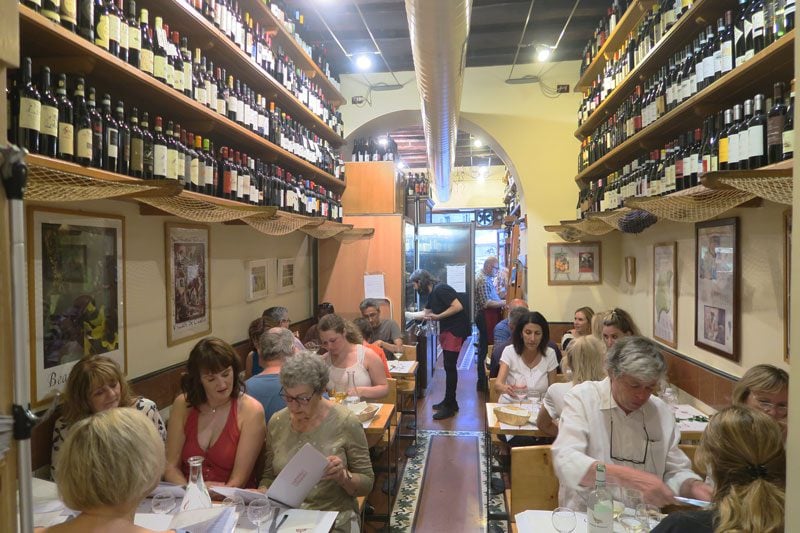 Rome by Night
After dinner and drinks, we couldn't resist the urge to keep walking and absorbing the vibe of a perfect Roman summer evening. We sliced through Campo di Fiori, where diners were cramming the piazza's restaurants, later crossing back to Trastevere which was simply buzzing on this Saturday evening with live music everywhere and a great atmosphere.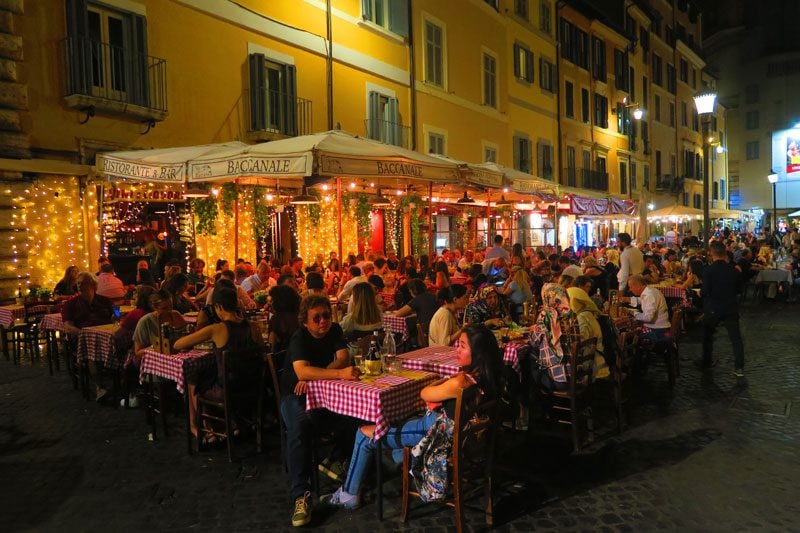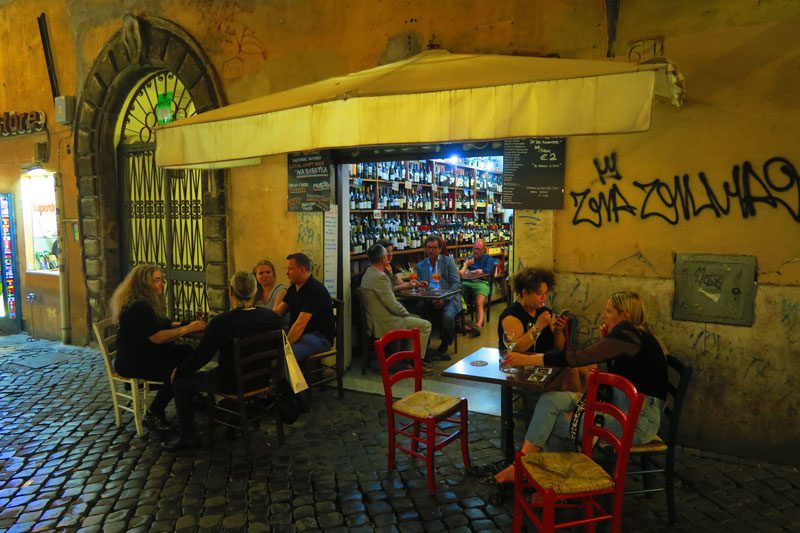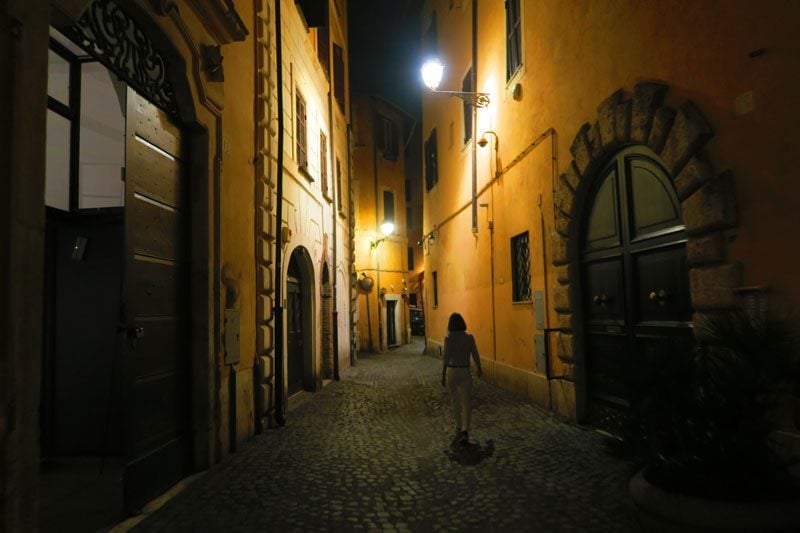 During the summer months, you can also head down to the left bank of the Tiber River where cafes, restaurants, bars, and arcades spring to life after sunset. It's a sort of promenade that better suits families rather than couples on a romantic vacation.
Day 3: Historic Center, Via del Corso & Around
The third day of our 5 days in Rome itinerary is devoted to the historic center and Tridente district, both for sightseeing and for some shopping. It would be another full day of walking but you can lighten the load doing the return leg using public transportation or a taxi. We'll reach as far as Piazza del Popolo and Villa Borghese, covering many of Rome's most famous sites along the way.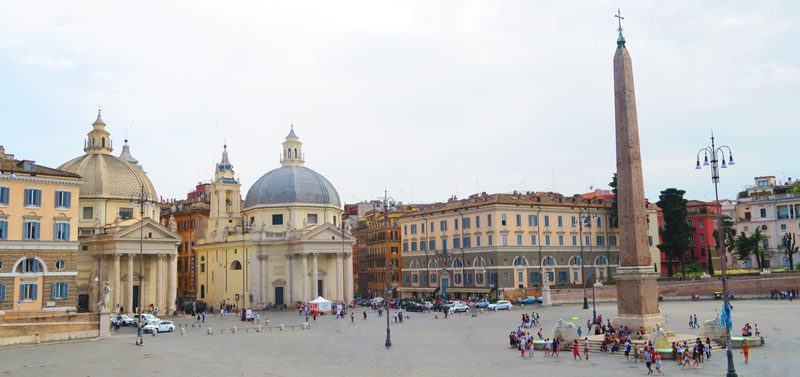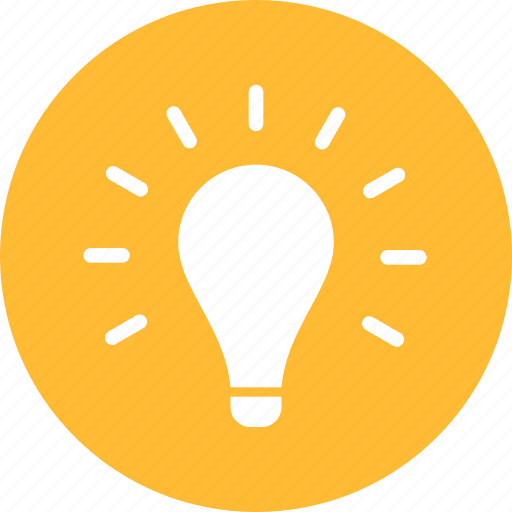 Pro Tip
We wanted to start the day at the Pantheon and even got there before the opening (8:30 am or 9 am on Sunday). However, there was already a huge queue of people and groups waiting to enter. I recommend visiting in the late afternoon, just before closing time (7:30 pm or 6 pm on Sunday).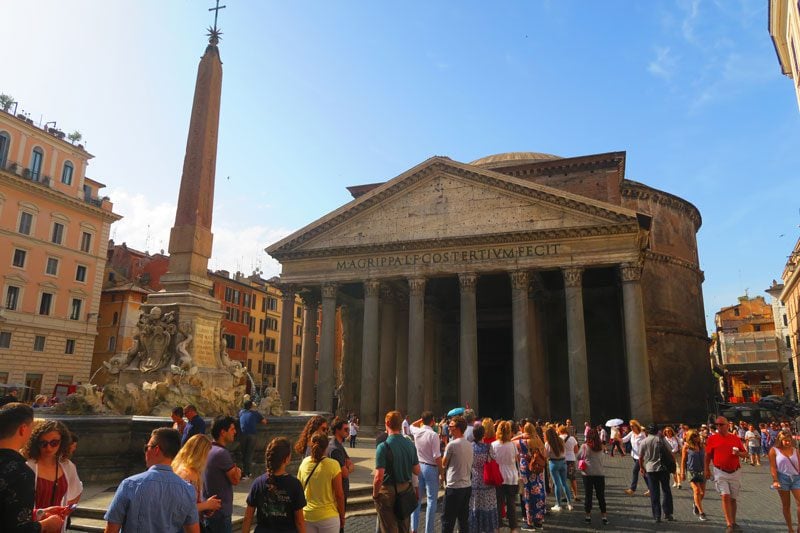 Coffee in a Classic Rome Cafe
They say that when in Rome, do as the Romans do but it's also perfectly OK (sometimes) that when you're a tourist in Rome, do as the tourists do. This is why we started the day at Sant' Eustachio Il Caffè, probably the most famous cafe in Rome. It is here that the home-roasted beans are said to be blended with water from an ancient aqueduct. Perhaps this explains the steep prices (1.50€ extra if you're sitting outside) but nonetheless, you simply must try the granita con panna!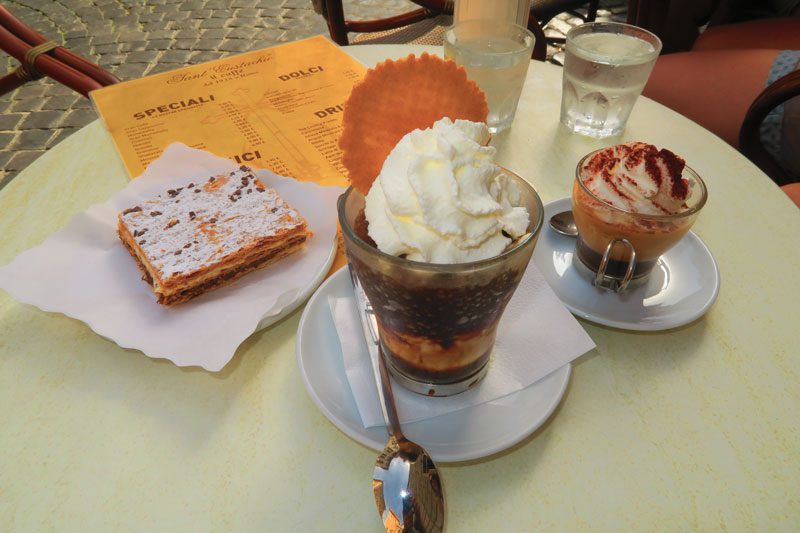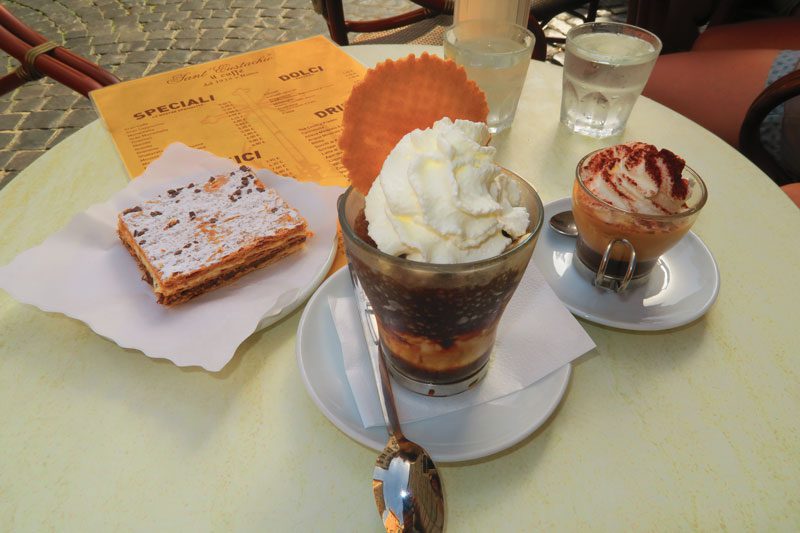 For a similar (and slightly cheaper) experience, head to La Casa Del Caffè Tazza D'oro. Its large and classic interior gives you the feeling that coffee has been drunk here for at least a century and their version of the granita is out of this world.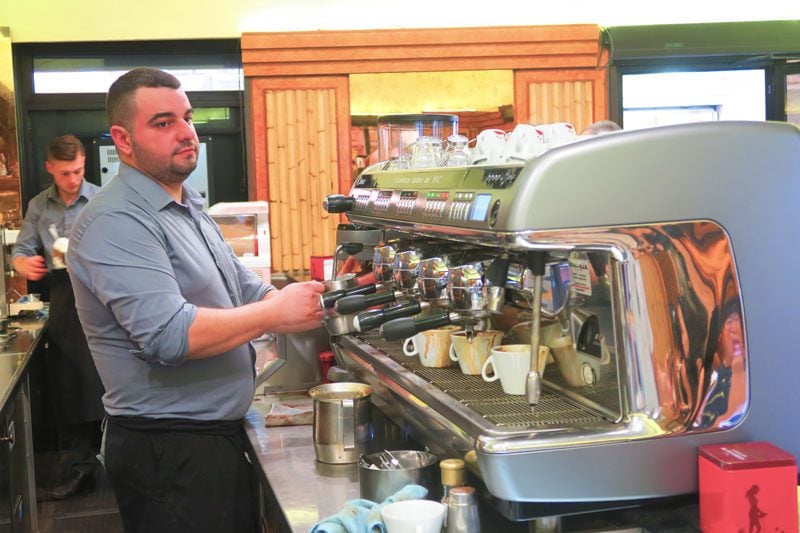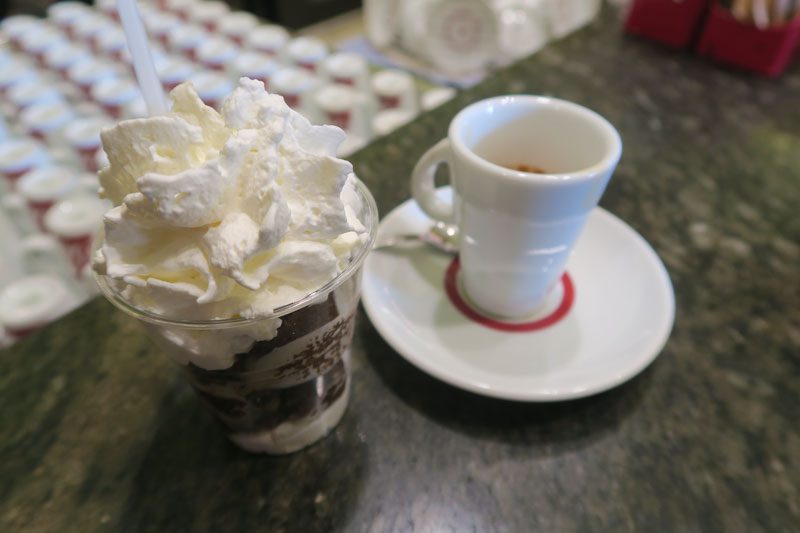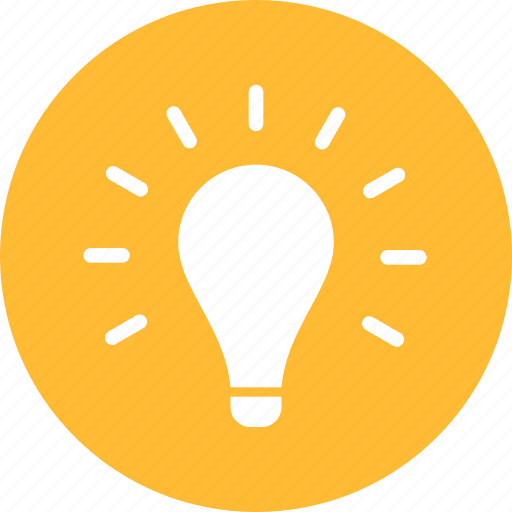 Pro Tip
Both cafes offer roasted beans and Nespresso-compatible capsules for purchase.
Sant'Ivo alla Sapienza
Since it was a Sunday morning, we visited this interesting church which is only open to the public on Sunday mornings. Built during the mid 17th century by Italian architect Francesco Borromini, the church is widely regarded as a masterpiece of Roman Baroque architecture. The church you enter into nowadays used to be the chapel of a university. Its interior is dominated by Borromini's rotunda, an absolute beauty though devoid of any lavish frescoes.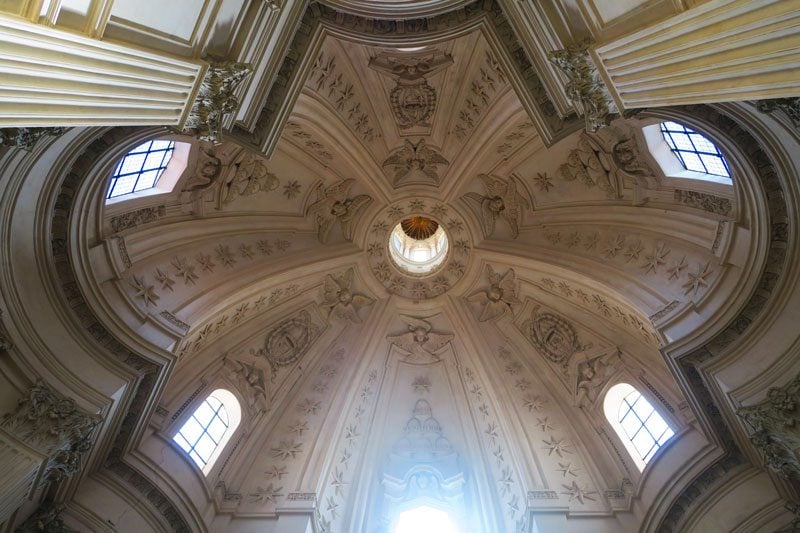 Basilica di Santa Maria Sopra Minerva
Built in the 13th century, this is the only Gothic church in Rome and a real treasure trove in terms of religious art. Of the basilica's many highlights, be sure to check out Michaelangelo's marble sculpture of Christ bearing the cross and the exquisite fresco depicting the Assumption. At the altar, check out the exposed tomb of Saint Catherine of Siena.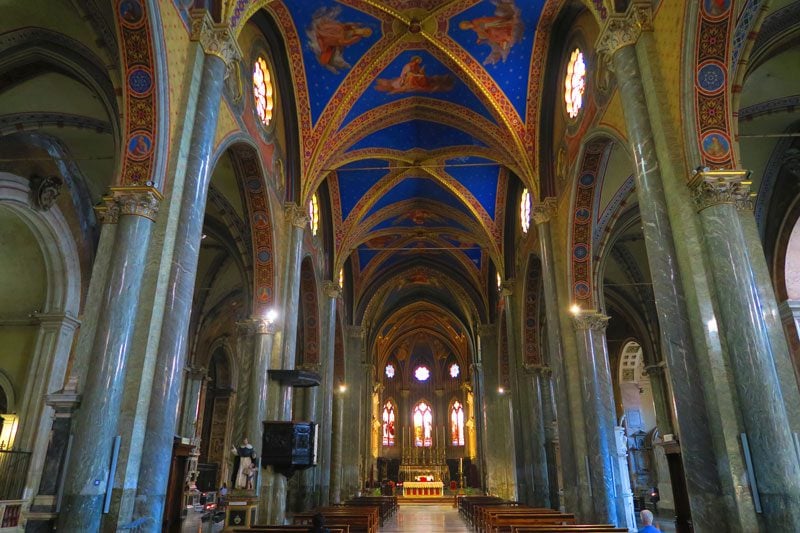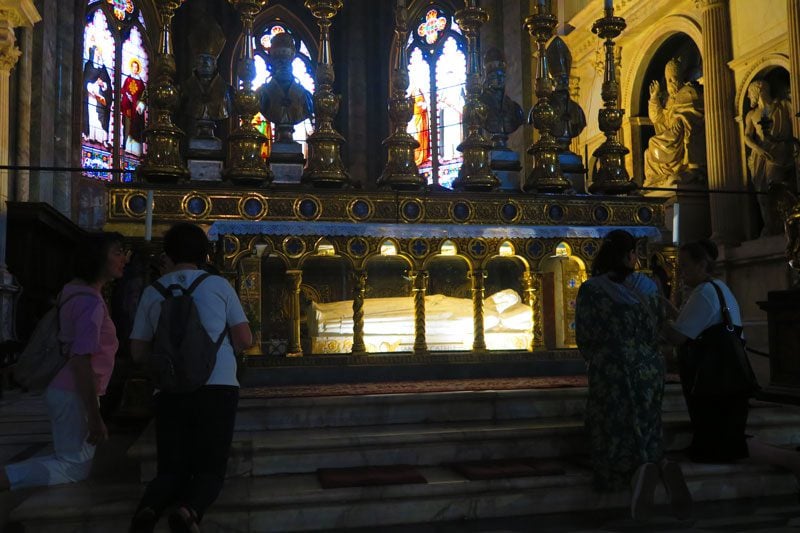 Just outside the basilica, and for those who have already had enough of my church visits, check out Bernini's famous 17th-century elephant statue carrying the weight of an ancient Egyptian obelisk, one of 13 obelisks decorating the Eternal City's piazzas.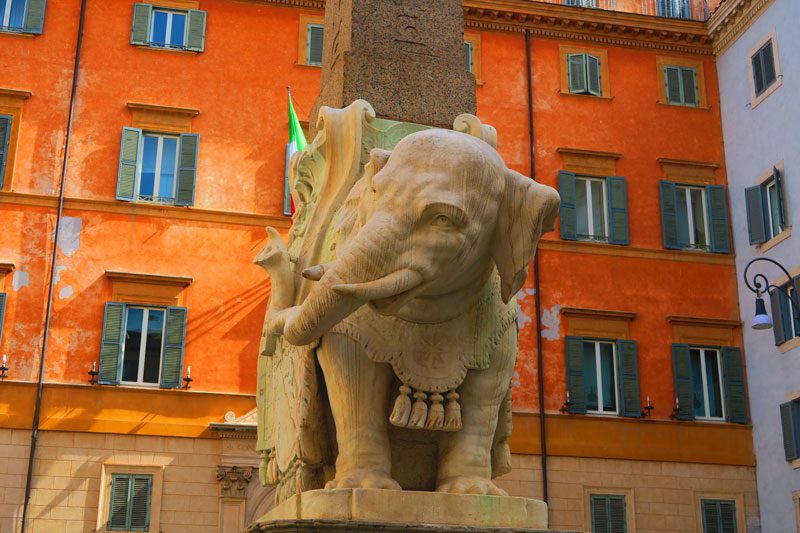 Sant' Ignazio di Loyola
Pretty much adjacent to Santa Maria Sopra Minerva, the cathedral of Sant'Ignazio is dedicated to the Jesuit founder Ignatius of Loyola. It is a must-visit for its incredible fresco ceiling depicting St Ignatius on his way to heaven.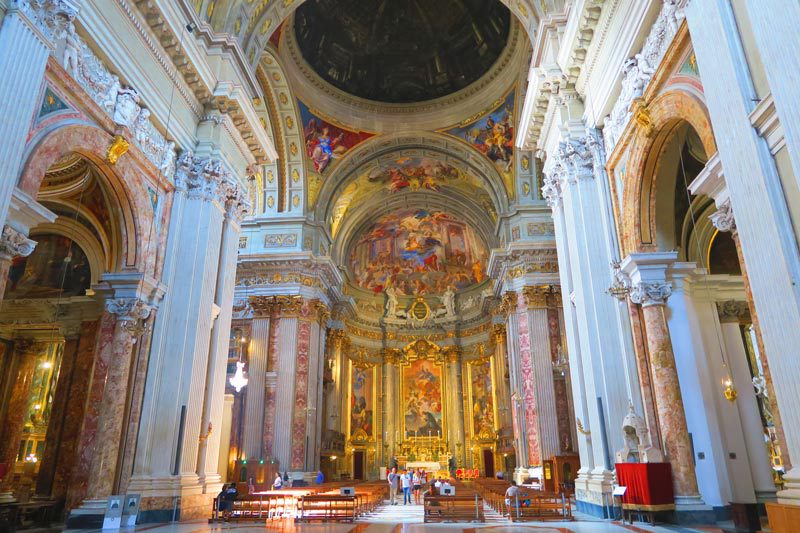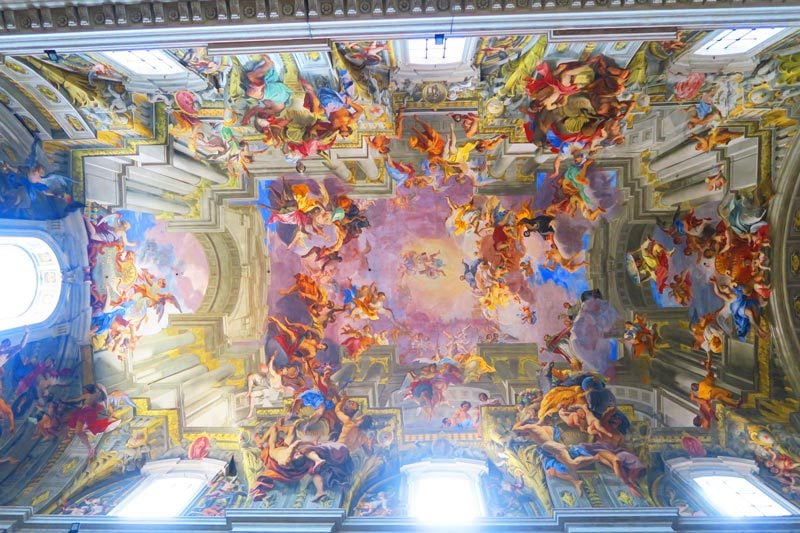 Doria Pamphilj Gallery
Yesterday in Trastevere, we visited Villa Farnesina and today, we'll visit a Roman mansion in the center of town. At the very bottom of Via del Corso near the grand Piazza Venezia, Galleria Doria Pamphilj is another "off the beaten track" museum worth visiting for those who appreciate art yet are allergic to crowds. We spent about one hour here and were super glad to have visited (12€ museum entrance, no pre-booking necessary, free audio tour).
Built in the 17th century by the Doria Pamphilj family, the mansion was fashioned in Rococo style. The Doria Pamphilj family is one of Rome's wealthiest clans and at the time, had close ties with the sitting Pope. The estate's founding family member had a special love for arts and he commissioned work to cover every inch of available space in the palace. Today, it is considered as the finest collection of private art in Rome, with work by the likes of Bernini and Velasquez. The family still has a residence within the estate that can be visited for an extra charge.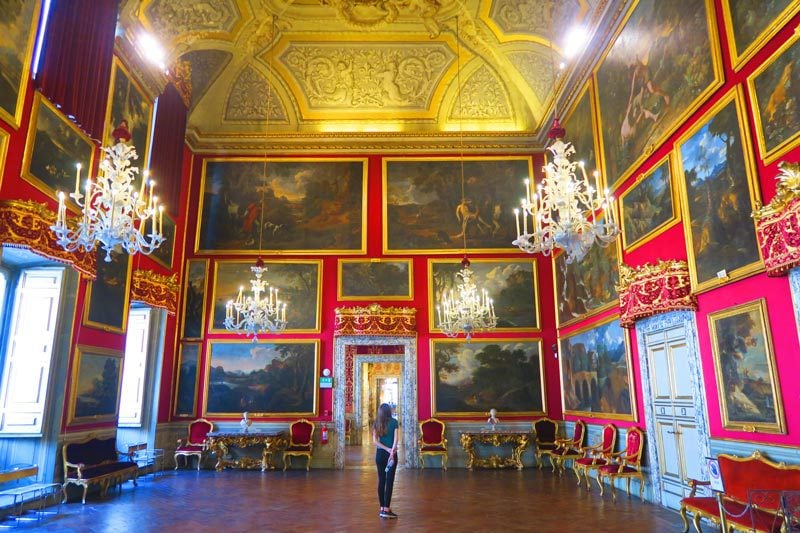 The most stunning feature in the gallery is the grand hall, reminiscent of a miniature version of the grand foyer in the Palais Garnier of Paris. The natural and artificial lighting in the grand hall, coupled with the ceiling painting and the walled mirrors create an illusion of walking on gold.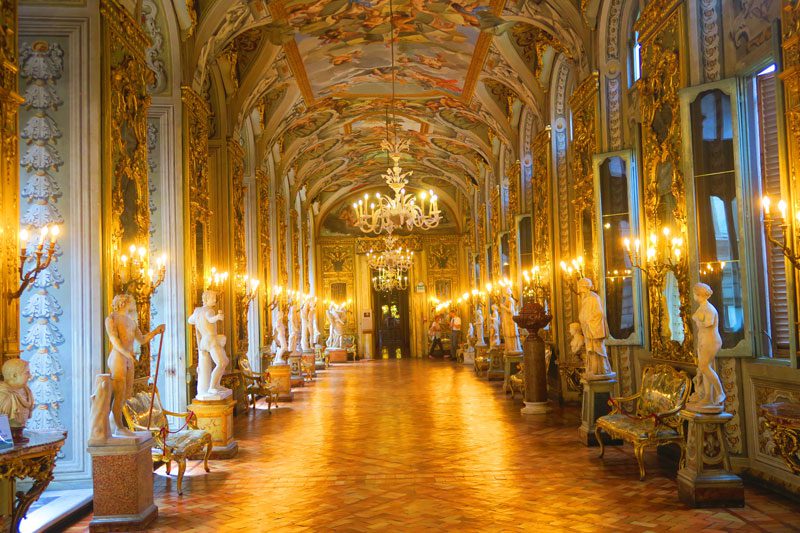 Via del Corso
From the Doria Pamphilj Gallery, begin the walk up Via del Corso to its grand termination at Piazza del Popolo. Via del Corso is one of Rome's most popular shopping streets. In fact, over the weekend (at least when we visited during early June), its upper (and narrower) section is closed to motorized traffic. Via del Corso is the main artery in the Tridente district; as you're walking towards Piazza del Popolo, to your left is the historical center and to your right are popular landmarks such as the Spanish Steps and the Trevi Fountain. The following paragraphs will highlight a few worthwhile stops on this route from Piazza Venezia to Piazza del Popolo on Via del Corso.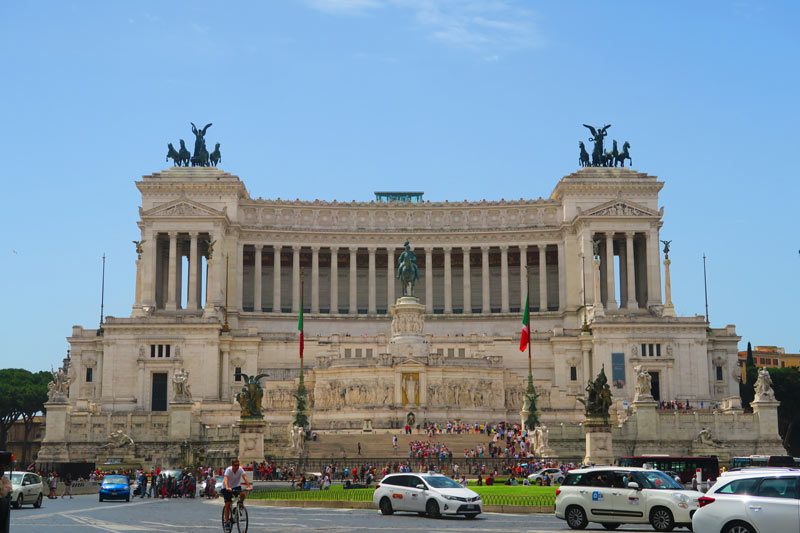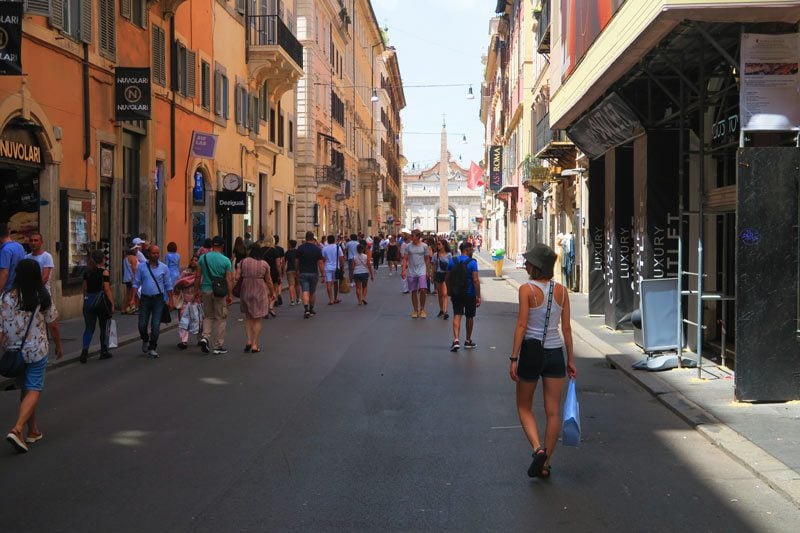 San Marcello al Corso
This church wasn't on my radar but it turned out to be another beauty, mainly because of its extravagantly decorated ceiling. This particular church was built during the 16th century but it rests on the foundations of a much earlier religious structure that dates back to the 4th century. Apart from its ceiling, San Marcello's other highlight is a 15th-century crucifix that miraculously survived a fire in 1519 which completely destroyed the church.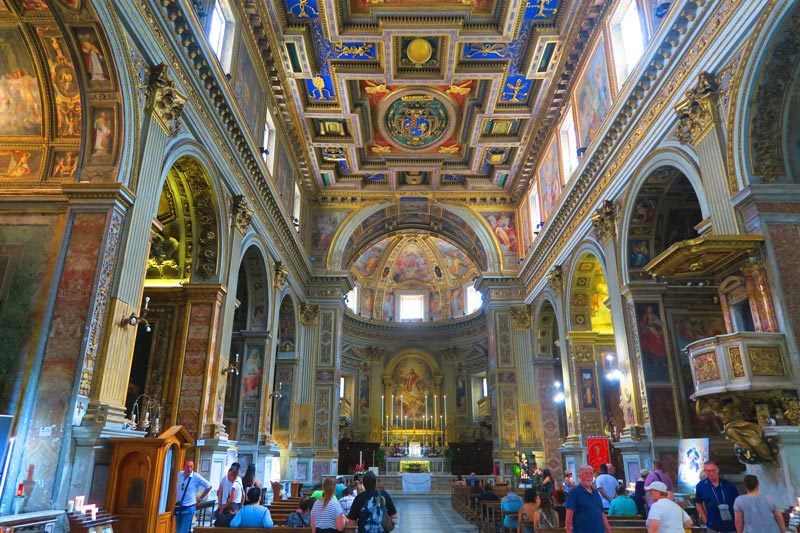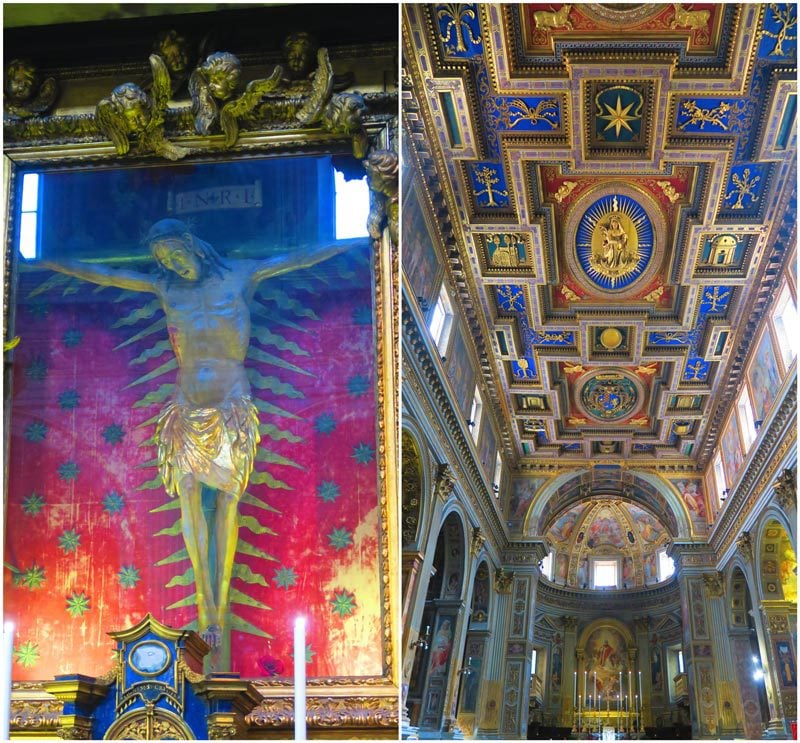 Piazza di Pietra
Ancient Rome enthusiasts will appreciate the short detour from Via del Corso to Piazza di Pietra which features 11 columns from the former Temple of Hadrian (dating back to the 2nd century AD).
Galleria Alberto Sordi
This isn't another art gallery, but rather a shopping arcade built in Art Nouveau fashion. This sort of building can be found in most large Italian cities, such as Galleria Umberto I in Naples. Across the street is Piazza Colona, home to Italy's prime minister and the Column of Marcus Aurelius which rises to a height of 40 meters and dates back to the late 2nd century AD. Be sure to inspect the column from a short distance to appreciate the depicted scenes carved into its surface.
Trevi Fountain
One cannot visit Rome without paying a visit to the Trevi Fountain. Yes, you will need to fight the crowds, selfie sticks and pickpockets (it's horrible during the daytime), but the newly restored fountain is not to be missed. It's hard to believe, but the Baroque-style grand fountain is actually built into one of the exterior walls of a Renaissance palace. The water gushing from its base of sculpted horses and god-like figures is sourced from one of Rome's aqueducts that supply the city with pure drinking water.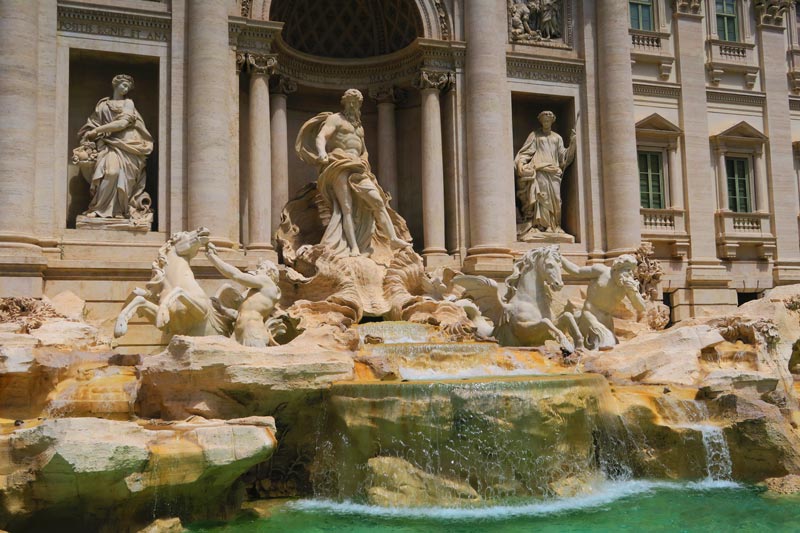 Apart from its undeniable grandeur, the Fontana di Trevi is best known for the touristy tradition of coin tossing, made famous by the 1954 film Three Coins in the Fountain. It is said that tossing one coin using your right hand over your left shoulder ensures your return to the Eternal City, two coins a romantic adventure with a Roman and three coins ensure progress from simply an affair with a local to an actual marriage…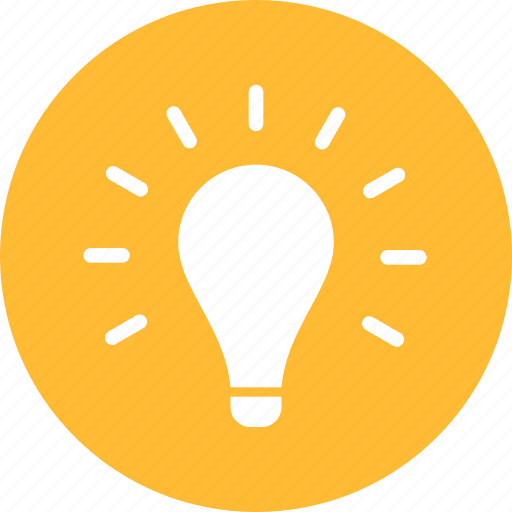 Pro Tip
Be careful with your personal belongings as the tight space is a perfect ground for pickpockets.
Via dei Condotti
Take Via dei Condotti to get from Via del Corso to the Spanish Steps. This short street is packed with high-end brands such as Louis Vitton and Tiffany and Co. You might not strike a bargain here but it's a fitting way to approach another one of Rome's most famous landmarks.
The Spanish Steps
Piazza di Spagna and the Spanish Steps are Roman landmarks that are not to be missed, though during the daytime, you certainly won't be the only ones here. The Spanish Steps take their name from the Spanish Embassy that has stood here for centuries, but the 174 steps themselves were laid out in 1725 to connect the square with the church at the top.
Before climbing the steps and enjoying the views on the hilltop terrace or the overprices cafes on the adjacent mansions, check out the Bernini fountain that resembles a boat. At the top, savor the views and check out the Trinita dei Monti if you're already here. It's nothing special but, as I said, you're already here…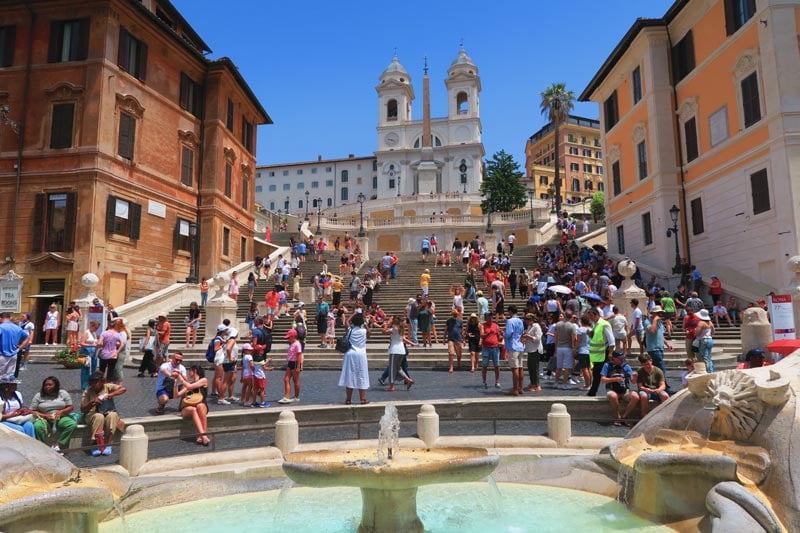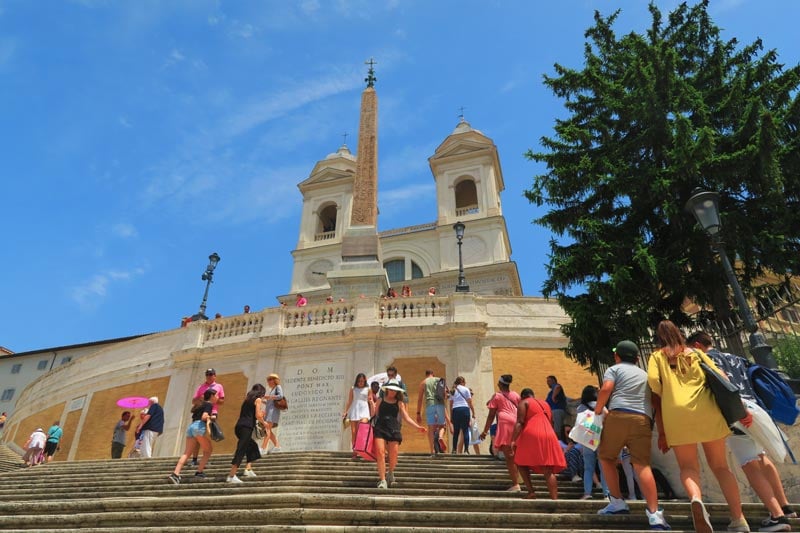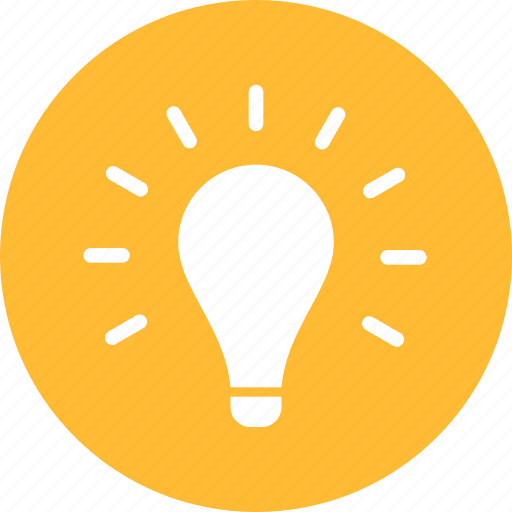 Pro Tip
From the top of the Spanish Steps, you can take a shortcut straight to Villa Borghese Park on Viale della Trinità dei Monti or head to the "Catacombs of Rome" in the church of Santa Maria della Concezione dei Cappuccini. Other nearby grand churches include Chiesa di Santa Maria della Vittoria and Santa Maria degli Angeli e dei Martiri.
Basilica dei Santi Ambrogio e Carlo
This 17th-century basilica is on Via del Corso as you head towards Piazza del Popolo so you might as well pop in for a visit. The basilica is home to one of Rome's largest domes and the fresco on its ceiling is well worth the slight neck pain.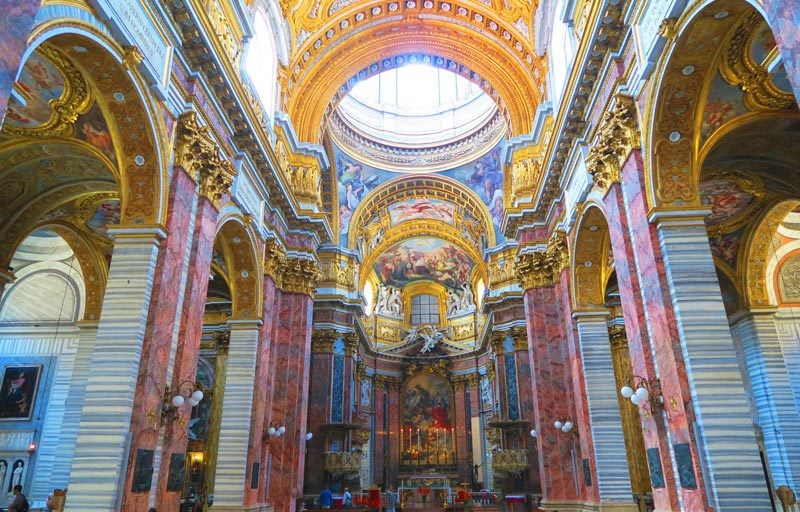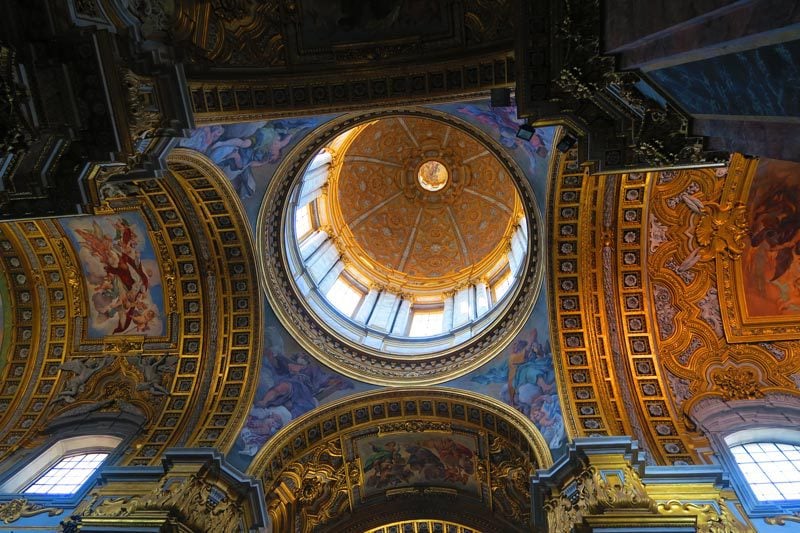 Piazza del Popolo
Via del Corso ends (or begins) at another one of Rome's most iconic landmarks. Erected in the 17th century, Piazza del Popolo was designed as a grand entrance into Rome and you can still clearly see the remains of one the city wall gates.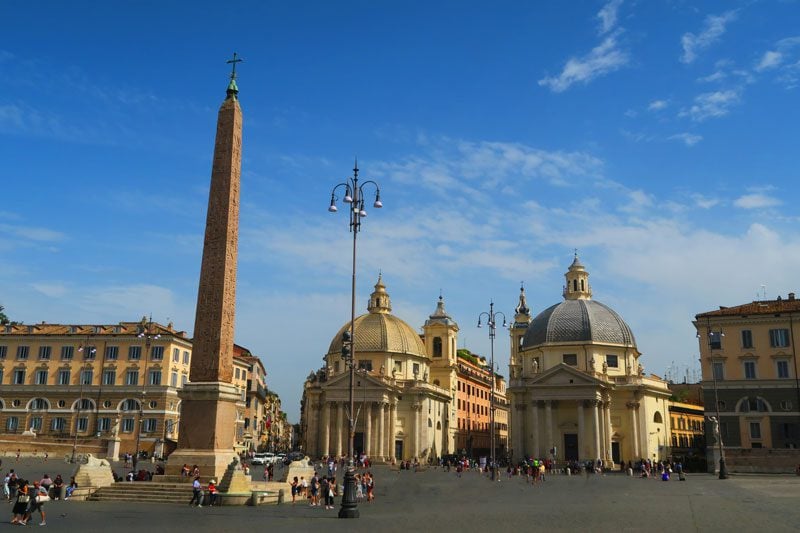 After walking up the congested Via del Corso, reaching this large square offers some relief, not to mention one of Rome's many "money shots" as far as photography goes, thanks to the symmetrically laid twin churches and obelisk fountain through which Via del Corso runs all the way to Piazza Venezia.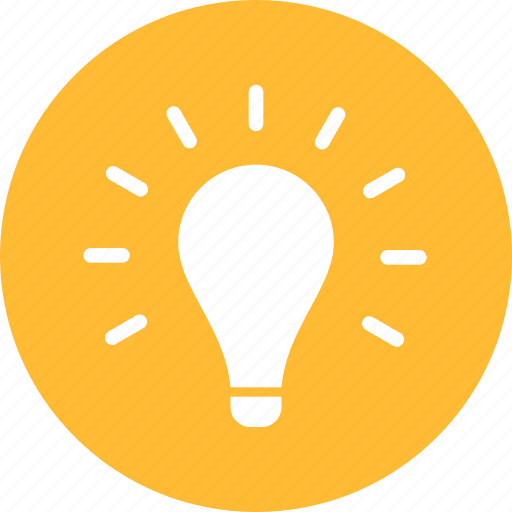 Pro Tip
Piazza del Popolo is linked to the Vatican via Via Cola di Rienzo which runs through the affluent Prati neighborhood.
Villa Borghese
From Piazza del Popolo, a staircase leads to Terrazza del Pincio which offers lovely panoramic views of the historic center and the Vatican. You are now in the Villa Borghese – Rome's "Central Park". In the past, the area marked where Rome ended and the countryside began. It was the chosen site for the Pope's summer residence and mansions of the city's elite families, one of which the current park takes its name after.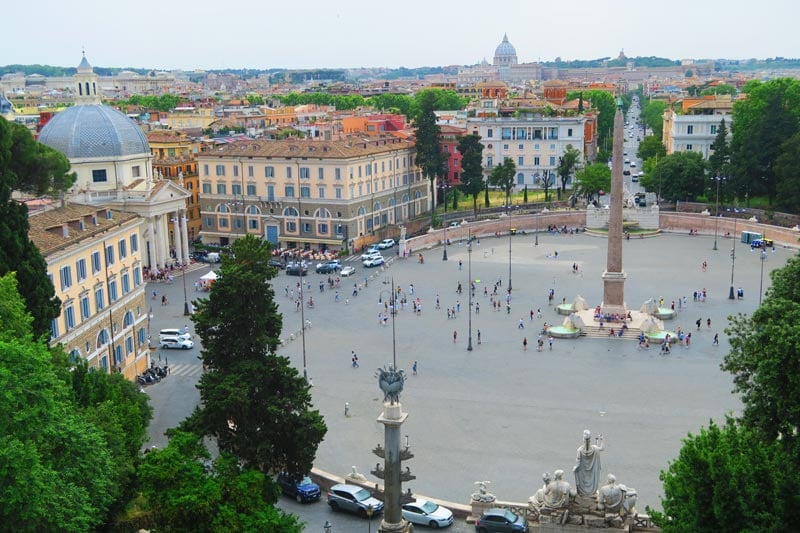 By far, the park's most famous resident is the Galleria Borghese – one of the best museums in Rome. Focusing on painting and sculptures, it is strongly advised to purchase tickets in advance for Galleria Borghese and devote at the very least a couple of hours for exploration. We opted to skip this museum in favor of extra walking and shopping time, but if we had an extra half day in Rome, would have surely paid a visit.
Apart from the museum, the park features a zoo, gardens, and miles of trails that offer families with children a chance for some bonding on specially outfitted "family bikes". During summer afternoons, the park comes to life with classical music performances.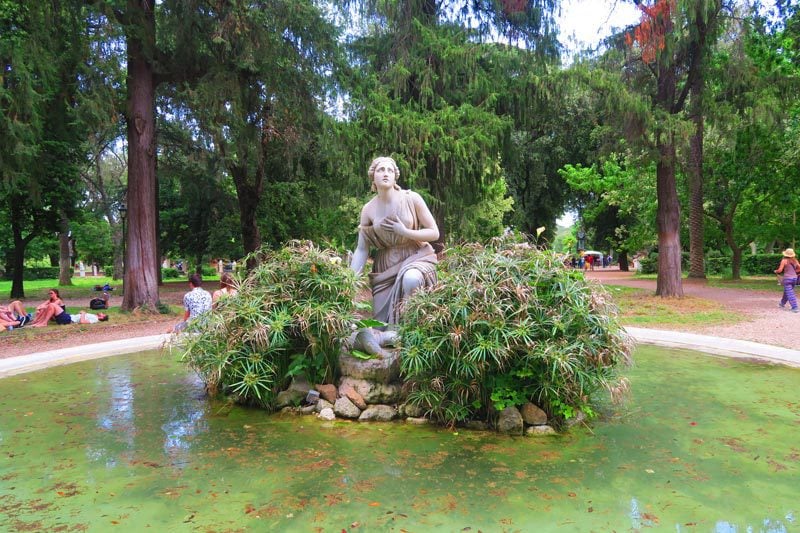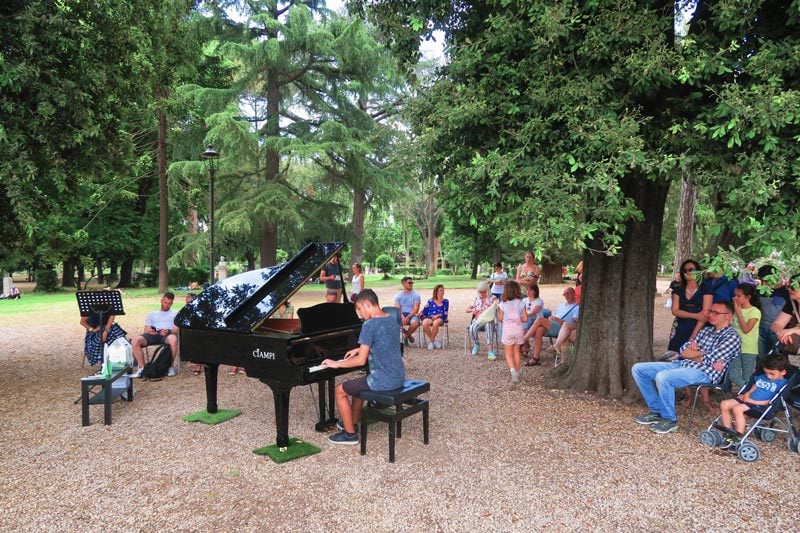 Instead of heading back to Piazza del Popolo, we headed to another panoramic lookout at Terrazza Viale del Belvedere and then continued to the top of Spanish Steps before heading down to Via del Corso to wrap things up.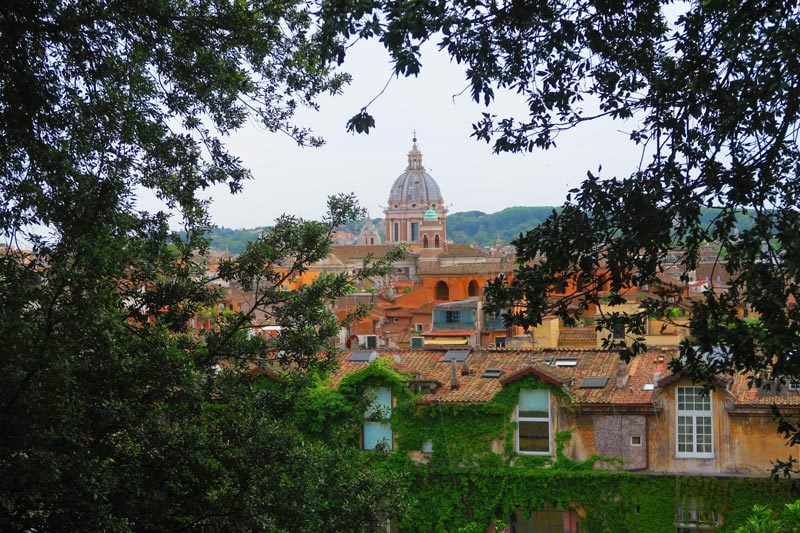 The Pantheon
Originally planned as one of the first sightseeing stops of the day, Rome's Pantheon was saved for last due to the long morning queues at its entrance. This was a great move as there was no waiting time at around 5:30 pm and its interior was only moderately congested.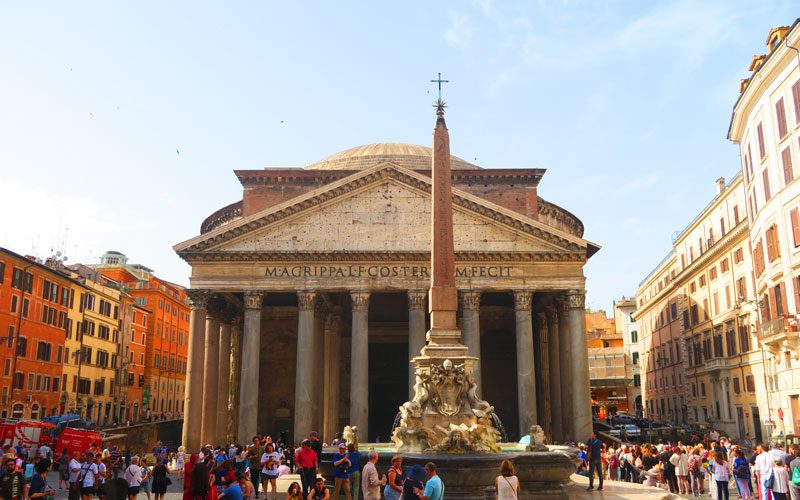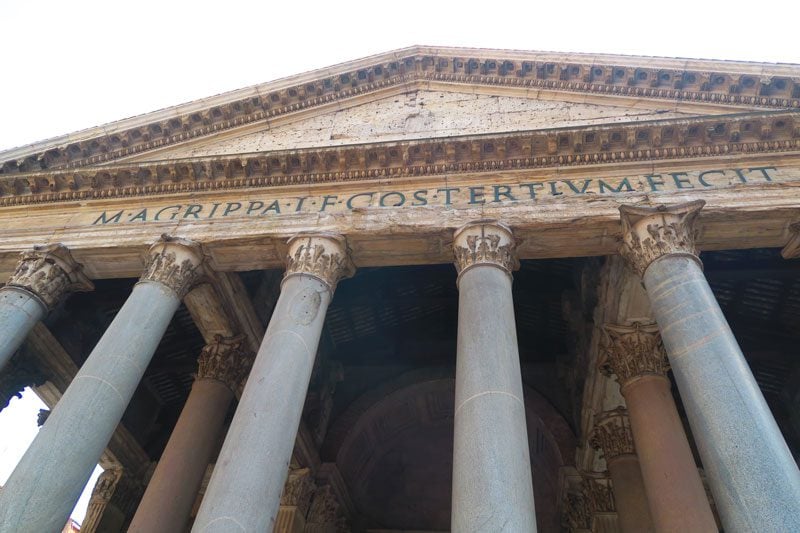 Free to enter (guided tours available), Rome's Pantheon is not as impressive as the Pantheon of Paris, but its staggering age (1,900 years old!) adds many percentage points to its overall appeal. Entered via Piazza della Rotonda, the Pantheon is the city's best-preserved structure from Ancient Roman times.
The name Pantheon means "temple of all the gods" and it was indeed built in the first century AD as a Roman pagan temple. In the following century, it was completed by the emperor Hadrian and has gone through several additional modifications over the years. Since the 7th century AD, the Pantheon has been used as a church, making it one of the oldest of its kind in Italy.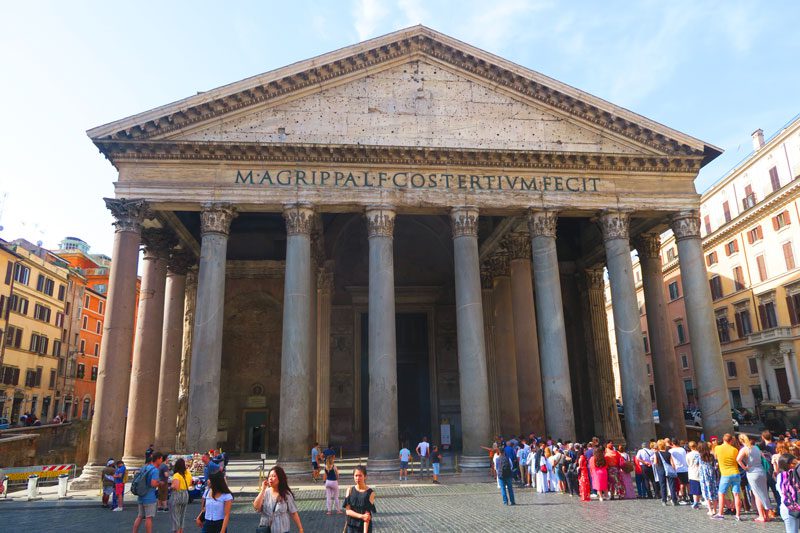 Viewed from the square, the Pantheon's signature columns and Latin inscription are a must in any photographer's frame, but it's the interior that is simply mind-blowing. Inside, a massive unfinished dome with its signature oculus shadows the final resting ground of former Italian kings and one mega artist – Raphael – to name but a few.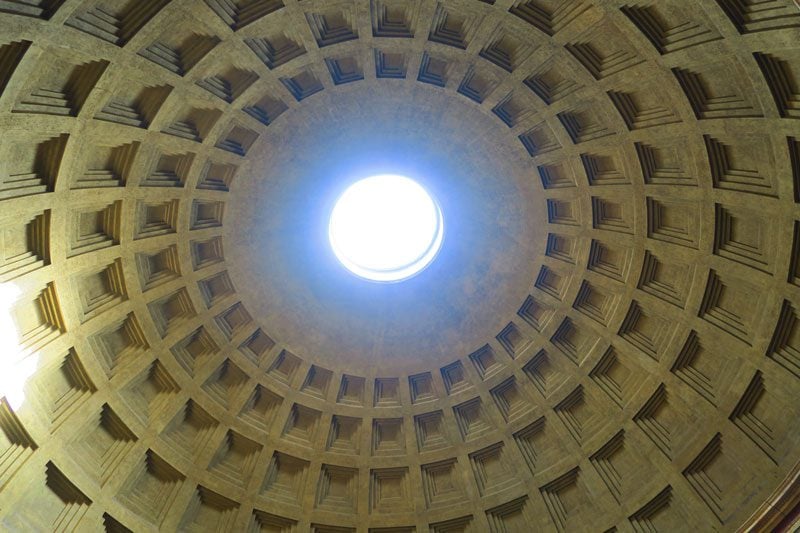 It's only once you're inside that you realize the engineering marvel that is the Pantheon, built to its size in ancient times and without any precision tools. In case you're wondering, water does rain to the Pantheon's floors, but it is drained by 22 holes at its center.
Dinner at La Fiaschetta
Right under our noses at less than a three-minute walk from our hotel, we enjoyed one of our best dinners in Rome at La Fiaschetta. Hiding in a small alley, this restaurant offers a somewhat intimate dining experience in its interior and the staff is super friendly (and helpful). We dined on tomato bruschettas for starters and continued to main dishes of tuna steak with spicy tomato sauce and pasta. For dessert, tiramisu, of course. Reservations recommended.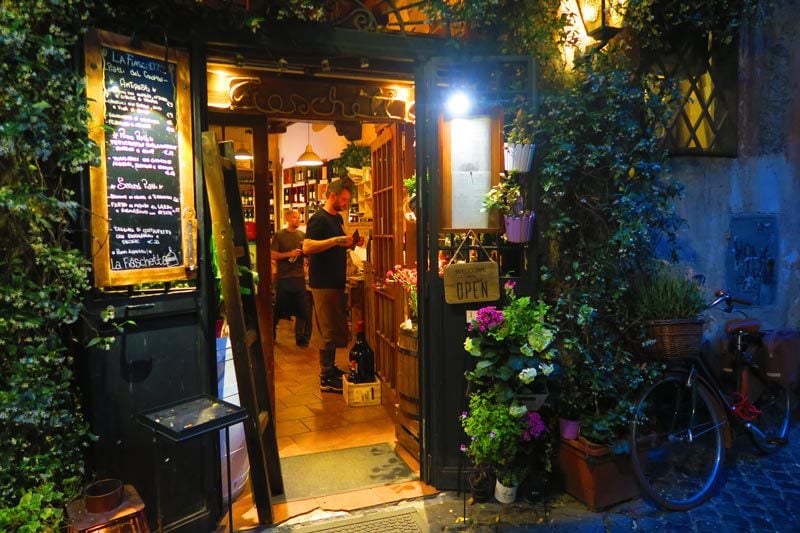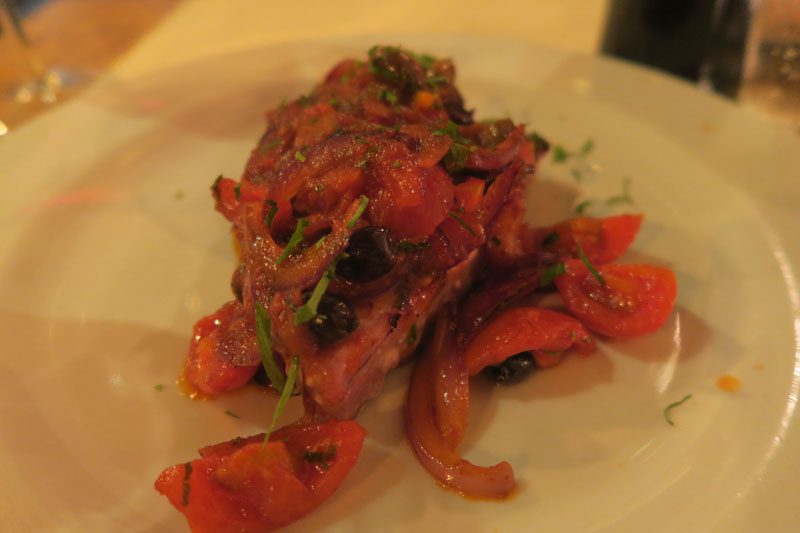 Rome by Night
Continuing with tradition, it's hard to resist returning to the places you visited during the daytime after the sun has set. On this evening, we burned a fraction of the (well deserved) dinner calories, with an evening stroll to Piazza Navona, the Trevi Fountain, Spanish Steps and the Pantheon – all of which are much more pleasant and romantic monuments to visit by night.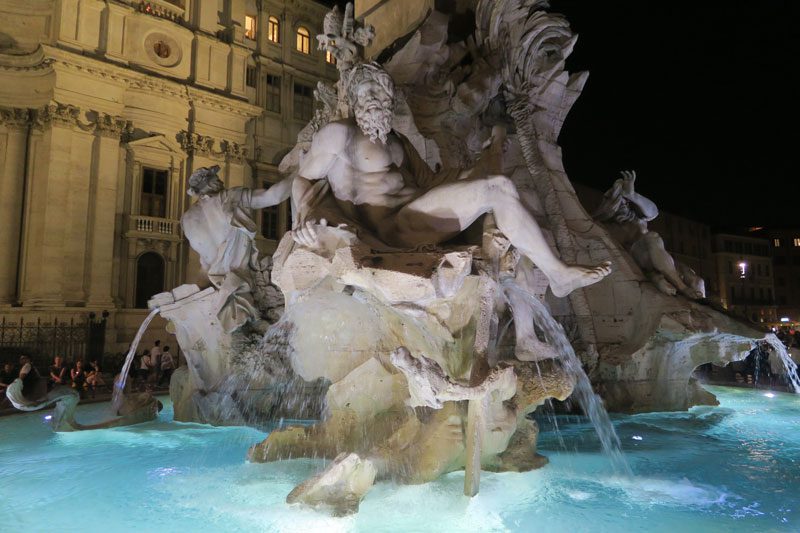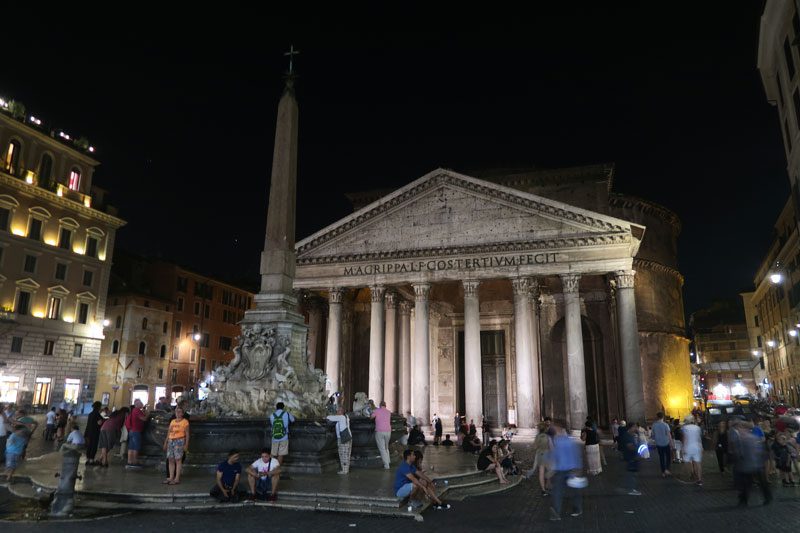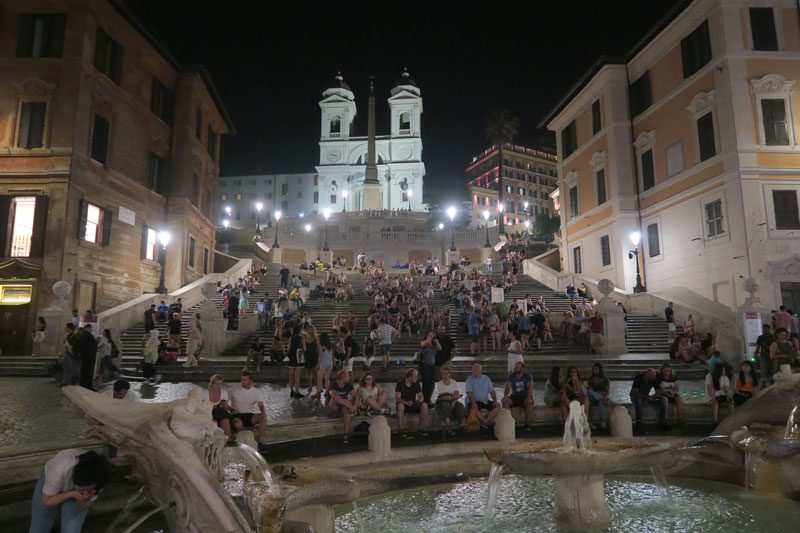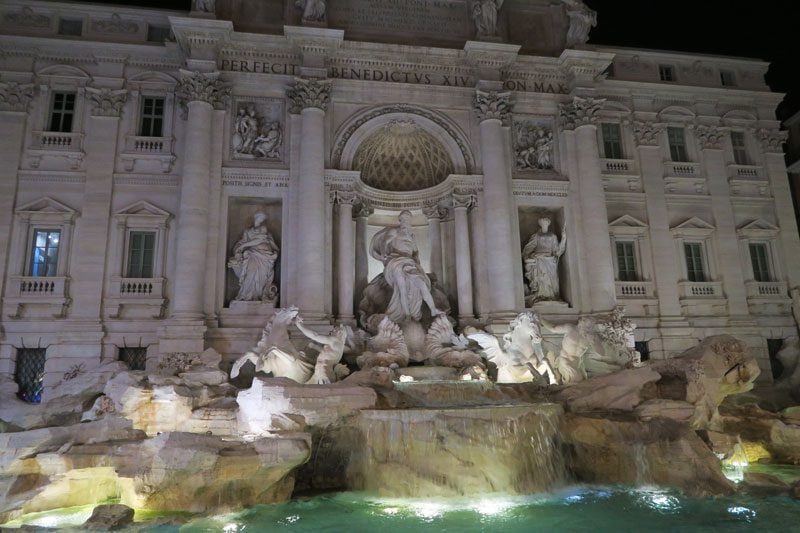 Day 4: Ancient Rome, Capitoline Hill & Monti
Day four of our 5 days in Rome itinerary will be mostly devoted to the area of the city known as Ancient Rome. We'll start the day with a visit to the iconic Colosseum and Roman Forum before heading indoors to one of Rome's finest museums. We'll end the day with an optional detour to Rome's "hipster" Monti district.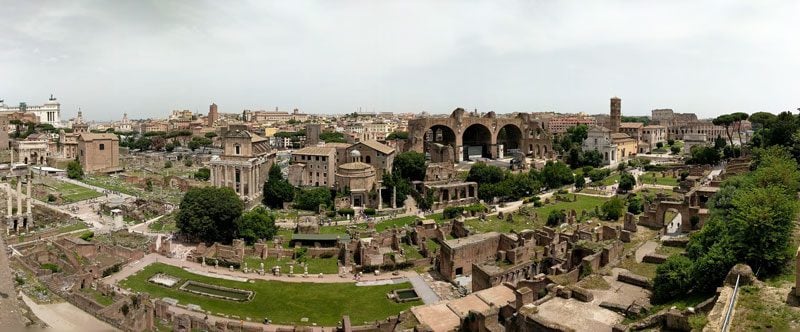 Background
Ancient Rome commonly references a period in history stretching from the founding of Rome in the 8th century BC until the collapse of the Western Roman Empire in the 5th century AD. This period can be further subdivided, but for simplicity, we'll leave it at that. From a modest beginning in what is today the city of Rome, the Roman Empire vastly expanded during its height and included roughly 20% of the estimated world population at the time.
Preparing for your visit to Ancient Rome
Roman ruins are to be found all over the city. However, a large concentration of magnificent ruins are concentrated in the area we're about to explore. That said, this is a day where you'll need to use your imagination since, as preserved as some of the ruins may be, they are albeit still ruins, and can only serve as an indication to the Ancient Rome's glorious past, much like in the ruined city of Pompeii on the Amalfi Coast.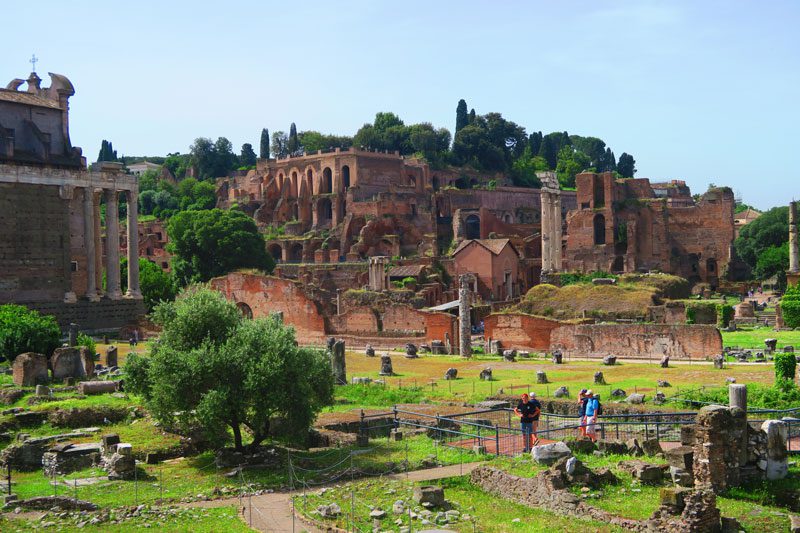 If you're visiting Rome in the summer months, this will be a challenging day, especially if traveling with children. There's a lot of walking to do, the crowds are at times unbearable, there's hardly any shade in the Forum and you'll constantly be approached in the public areas outside the monuments by an endless barrage of hawkers trying to sell you tickets, tours, water and souvenirs.
Here are a few essential tips for the day:
Set the right expectations with everyone. This will be a challenging yet rewarding day
What to pack: lots of water (large bottles are better since they can be refilled at fountains), sunscreen, hat, snacks, sandwiches, fruit and wear comfortable shoes and clothing.
Purchase your tickets as far in advance as possible to avoid waiting in line and to ensure entry to the Colosseum at a designated time that suits you (you must select an exact time slot at the Colosseum).
It's best to book a combo ticket that includes entry to both the Colosseum and the Roman Forum. The ticket is valid for single entries over the course of two days so you can technically see the Colosseum on one day and the Forum on the following day.
If archeology doesn't top your wishlist, you can enjoy views of the Roman Forum from Via dei Fori Imperiali and the lookout on the Capitoline Hill (read further for more info).
On extremely hot days, consider skipping the Forum as shade is hard to come by.
The Colosseum
After picking up some sandwiches from Ancient Pizzicheria Ruggeri and fruit from the Campo di Fiori market, we headed to the "most intense" sightseeing stop of the day at the Colosseum. The best way to approach the Colosseum is through Via dei Fori Imperiali. To your right is the Roman Forum and to your left is the Forum of Trajan.
It takes about 20 minutes to walk from Piazza Venezia to the Colosseum entrance and that's where the "fun" begins. If you booked your Colosseum tickets in advance, you will need to choose a specific entry time to the Colosseum.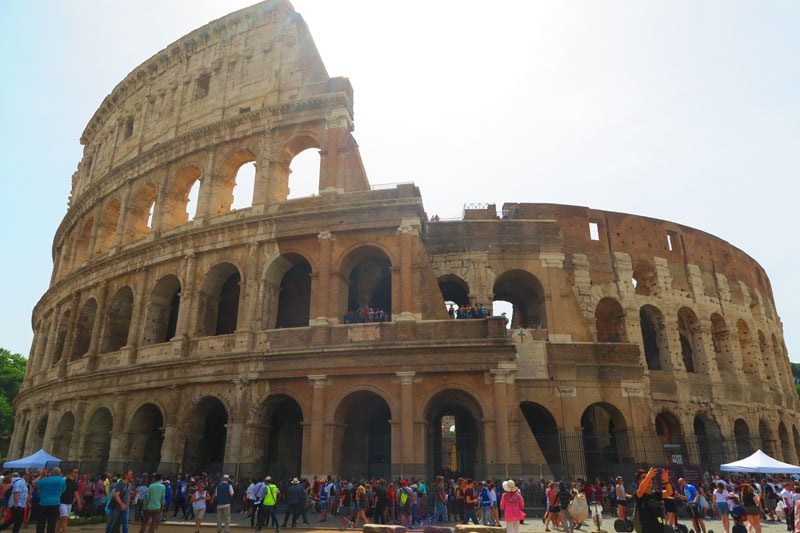 As you approach the entrance area, you will meet a sea of tourists, some trying to purchase tickets on the spot and most trying to find their designated queue (different tickets have different queues and lots of staff are there to help). In addition, you'll constantly be approached by hawkers trying to sell you water, souvenirs and guided tours. There's just no way to avoid this. About 15 minutes before your designated entrance time, you'll enter your queue and go through security, after which you are free to explore the Colosseum.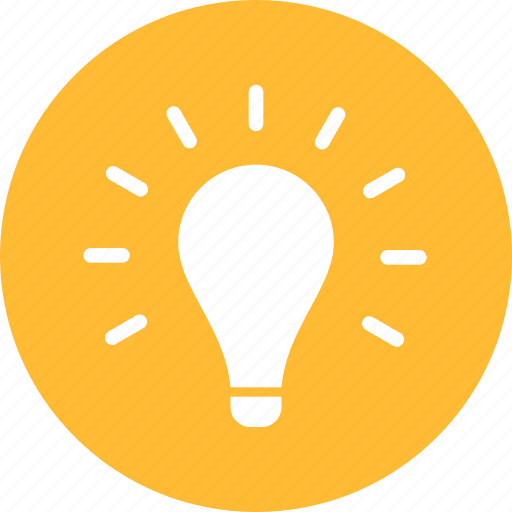 Pro Tip
There are several restricted areas that can be explored as part of a guided tour. At the time of booking, you will have the option to upgrade the regular entrance to include these.
The sheer scale of the Colosseum can only be appreciated from its interior, a massive stadium that stands the test of time (with lots of help) nearly 2,000 years after its construction. The stadium was used to stage gladiator battles, sometimes with ferocious animals thrown into the mix for an extra dose of fun. Archeologists are still peeling its layers and uncovering more secrets.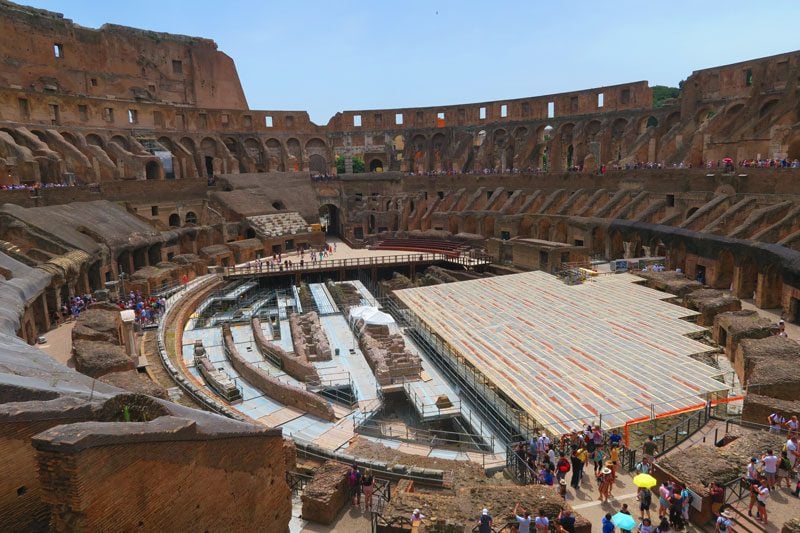 I recommend heading straight to the upper floor after you clear security and then walking around the lower floor before existing. The Colosseum also offers great views of the Arch of Constantine.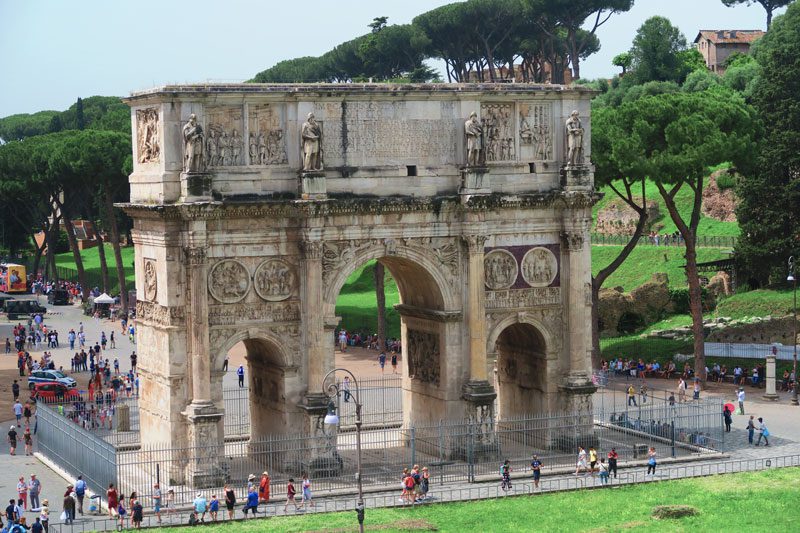 Basilica di Santa Francesca Romana
From the Colosseum entrance, there's a narrow path that leads to the entrance of this incredible church that's also known as Santa Maria Nova. It is said that both St Peter and St Paul prayed at this very spot. There's been a church here since the 10th century but, over the years, new sections were added such as the bell tower.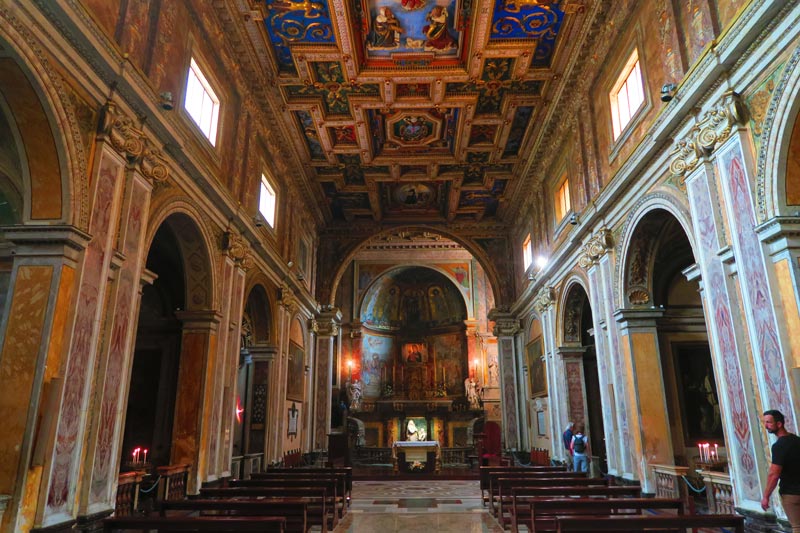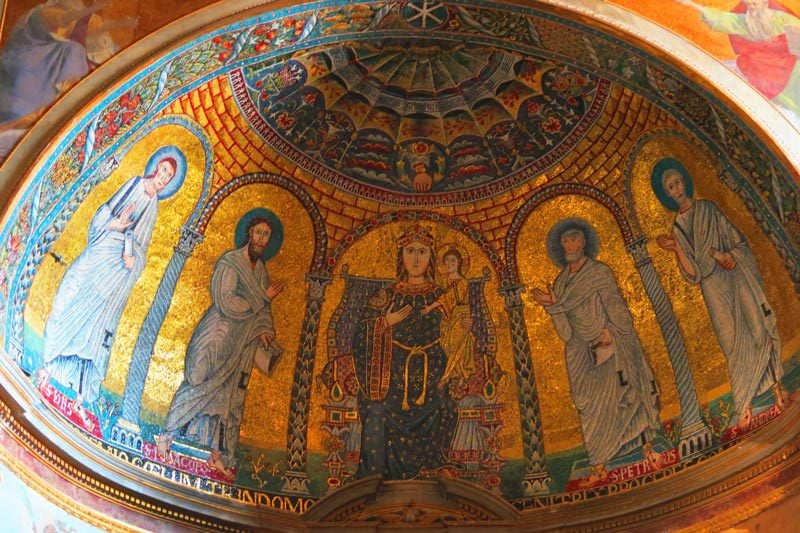 Apart from its exquisitely ornamented ceiling, the church is famous for its mosaics and crypt. Visiting the church is also a good idea if you need some shade and cooling off between the Colosseum and Roman Forum.
The Forum and Palatine Hill
Before entering the Forum, we needed a break and some food (we ate all our sandwiches pretty early in the day) so we headed to some tourist cafe on the hill overlooking the Colosseum (Via Nicola Salvi). There are a number of options here, some fancier than others.
Built on a small patch of low-lying grassy wetland between the Capitoline and Palatine hills, the Roman Forum was essentially the "downtown" of Ancient Rome. After the site was properly drained, the Forum took shape and became the seat of its political and religious institutions, until relocation to the Imperial Forums when the site could no longer meet the needs of the growing empire.
Consequently, the Forum lost its luster and regression to its present state was accelerated by a great fire, the rise of Christianity and barbarian invasions. It was only in the 19th century that archaeologists began to unearth what we see today. Visitors to the Roman Forum must use their imagination to picture its former glorious state but, simply taking into account its age, a visit to the Forum is a must in my opinion.
If you're visiting the Forum after the Colosseum, you'll be clearing security and entering via the Arch of Titus which commemorates the Roman victory in the Holy Land over the Kingdom of Judea.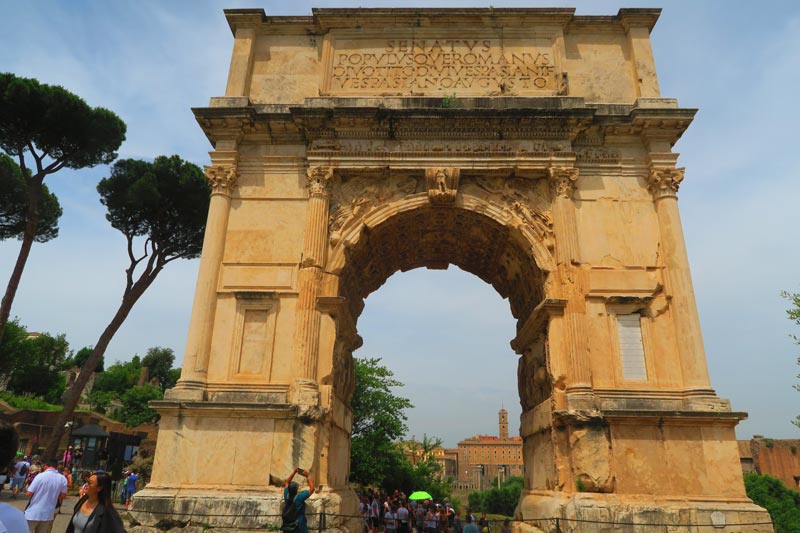 I then recommend veering left and climbing to Palatine Hill, a much quieter section in the massive complex. There's a modest museum here and lots of green space to rest amidst the ruins. You can technically also head down to Circus Maximus if you want but there isn't much to see there besides its massive oval shape.
The real excuse for visiting Palatine Hill is the terrace in its gardens, offering unprecedented views of the Forum and Colosseum. This is the money shot!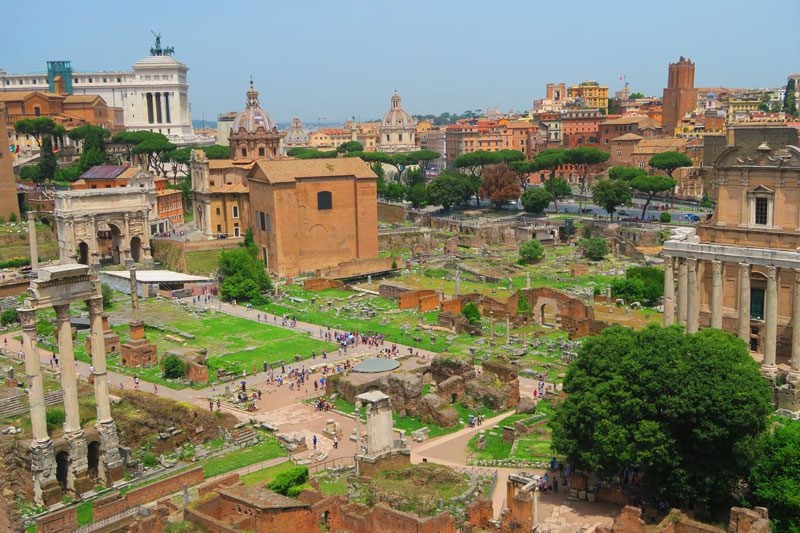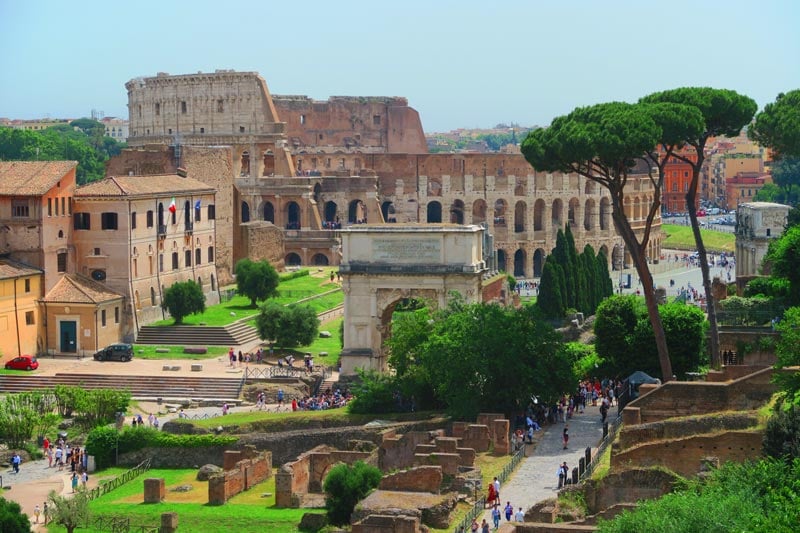 Back in the Arch of Titus, you are now free to explore the Forum. The best way is to simply stroll along Via Sacra – the "main street" – and veer right or left whenever you see something of interest. The mix of fallen columns, Roman scriptures on marble slabs and structures still barely standing after thousands of years, make for an impressive visit. I won't get into all the Roman Forum highlights, but there are lots of them. If you are keen on exploring the fine details of the Forum, here's a good resource.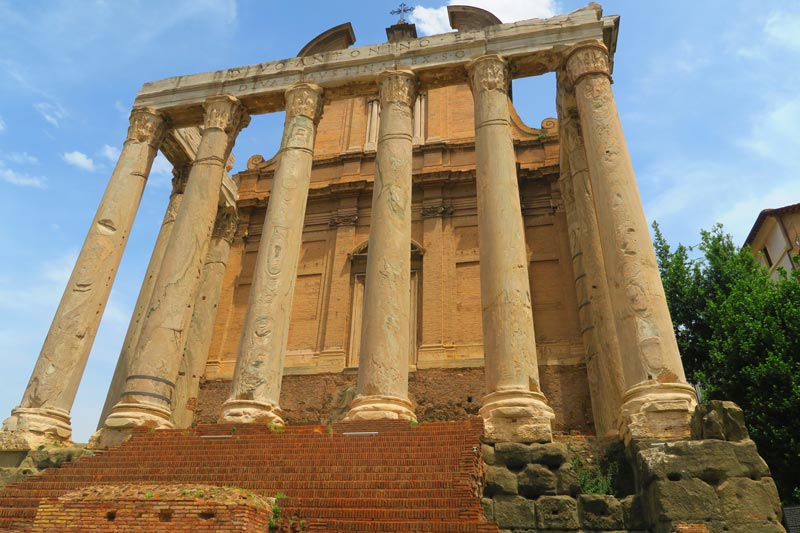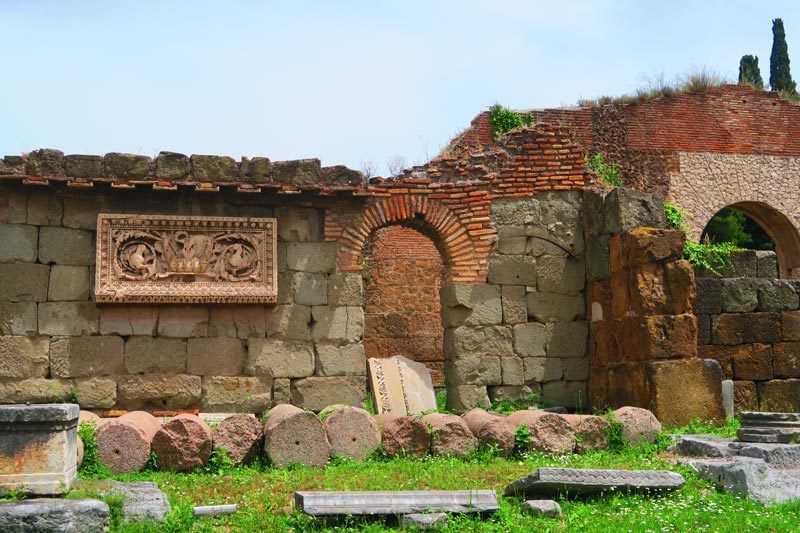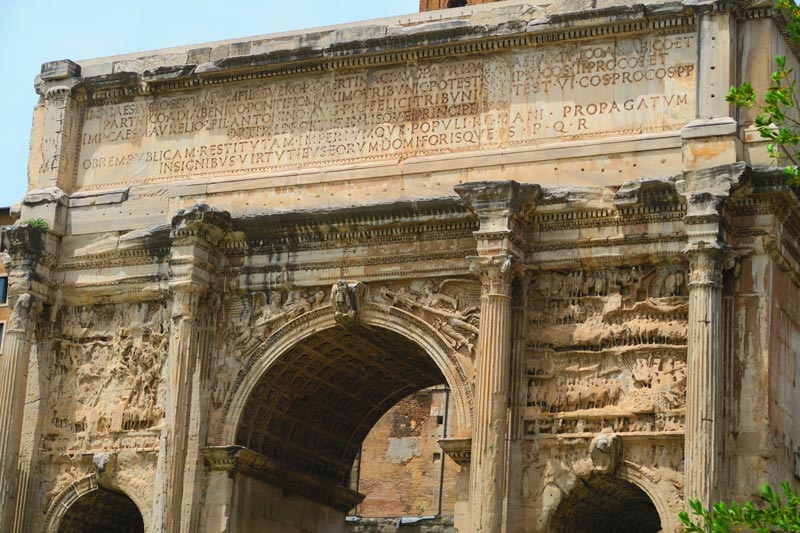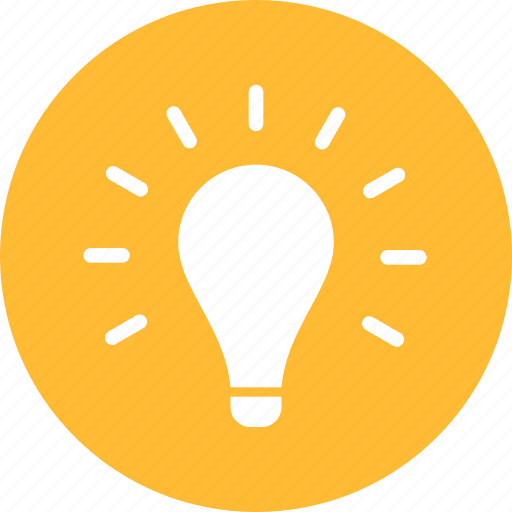 Pro Tip
Inquire with staff about the location of exits in operation during your visit and plan accordingly with your next stop after the Forum.
Vittorio Emanuele II
We exited through the Via della Salara Vecchia exit and continued to Piazza Venezia. Visible from just about every panoramic lookout in Rome, the Vittoriano monument dominates the large traffic circle and makes for an interesting quick stop (also known as the Altar of the Fatherland). The immense marble monument was erected at the end of the 19th century to commemorate the reunification of Italy and is topped by one of the world's largest statues depicting King Vittorio Emanuele II on horseback.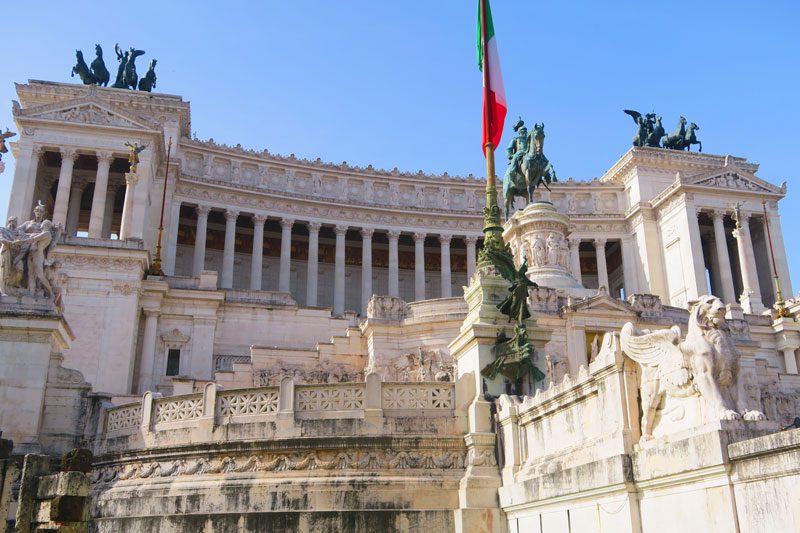 You can now enter the monument and explore its various free sites such as the Tomb of the Unknown Soldier and panoramic terrace, and for an extra fee take an elevator to its rooftop and visit a museum.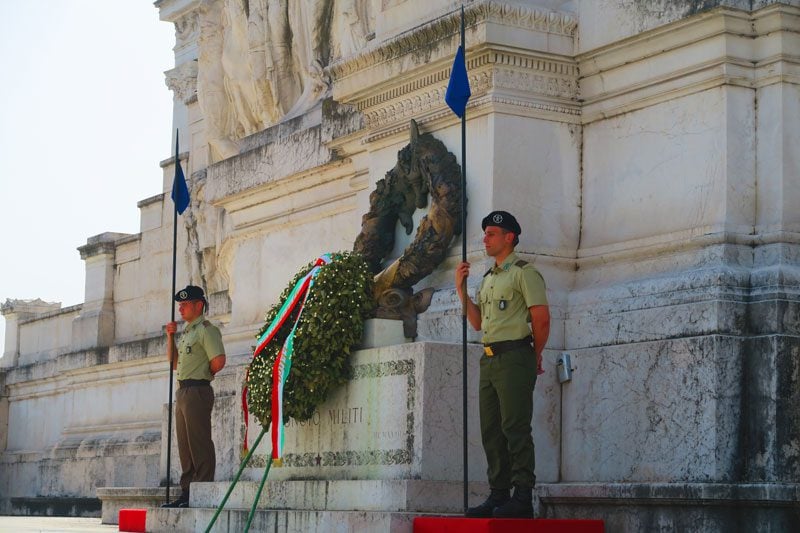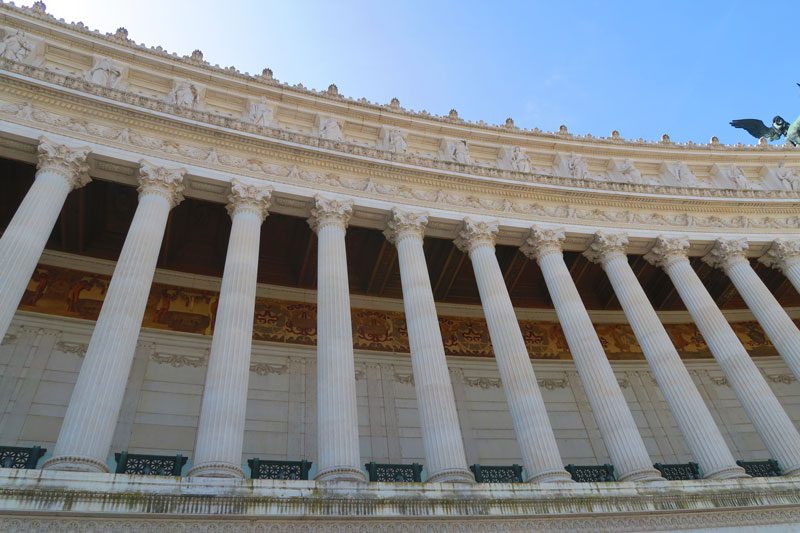 Basilica di Santa Maria in Aracoeli
Erected at the top of the Capitoline Hill on the site of a former pagan temple honoring Jupiter, this basilica is one of the finest churches in Rome. To get here, you'll need to climb a steep staircase but the effort is well worth it. Before entering the ancient basilica, be sure to look back and spot the Marcello Theatre.
The interior of the basilica is simply out of this world, more like a museum than a place of worship. Signs of the basilica's age of nearly 1,000 years are absolutely evident and its countless ornaments, sculptures and inscriptions can easily "kill" a good thirty minutes.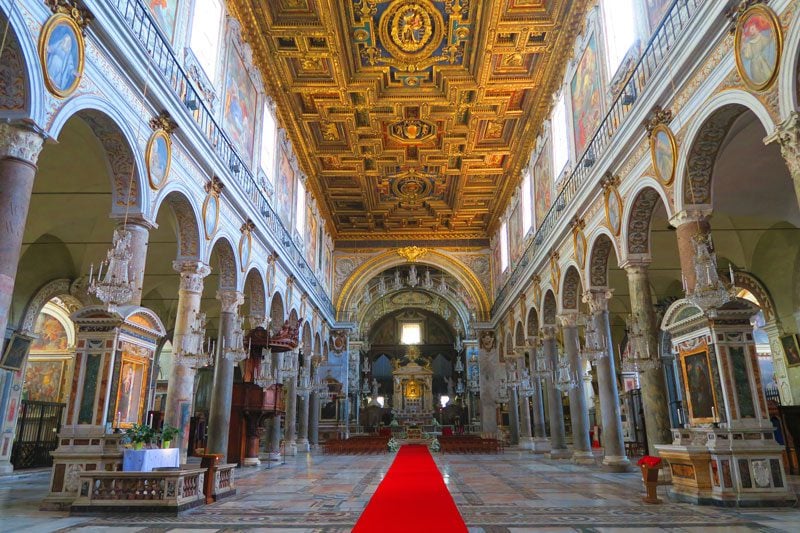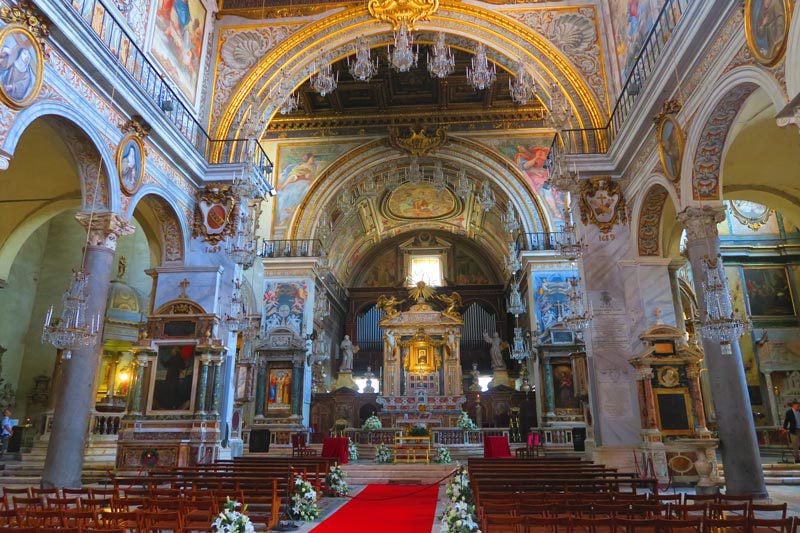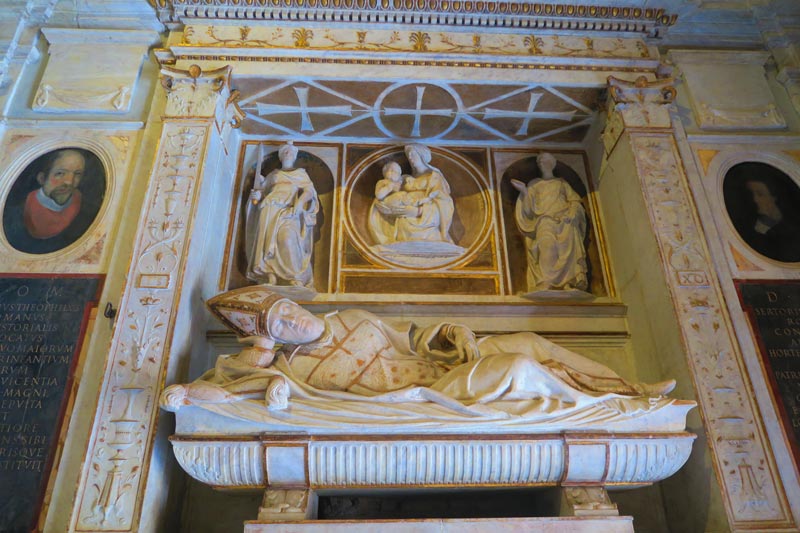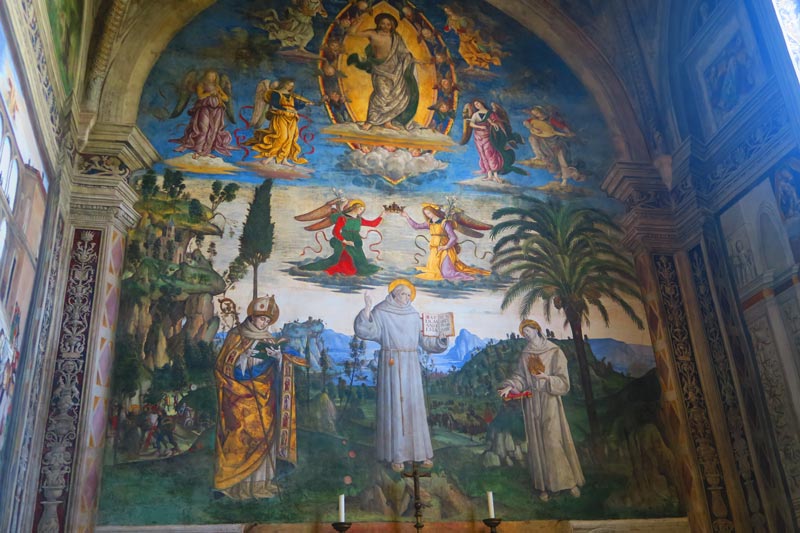 Capitoline Museums
The elegant staircase known as Cordonata Capitolina leads to Michaelangelo's perfectly proportioned Piazza del Campidoglio and the entrance to the Capitoline Museums which rank high on the list of best museums on Rome. The Capitoline Hill was a strategic seat of power in ancient times and it is from its name that the word "capital" came to be.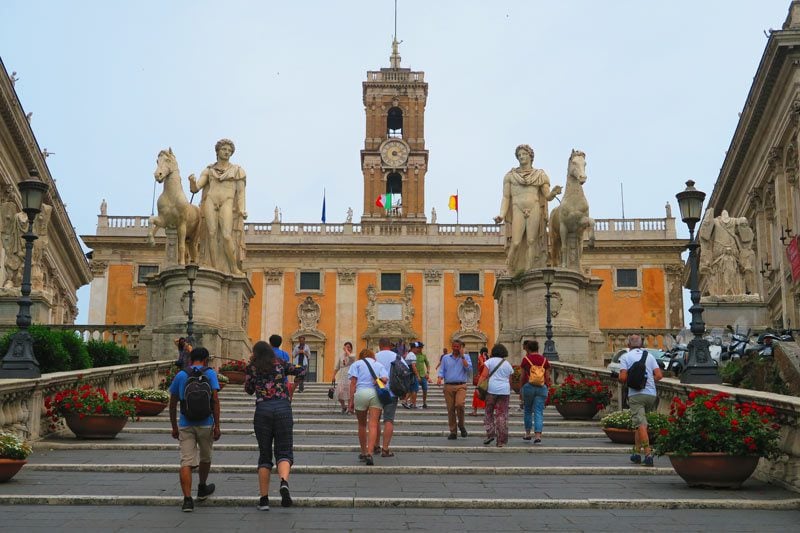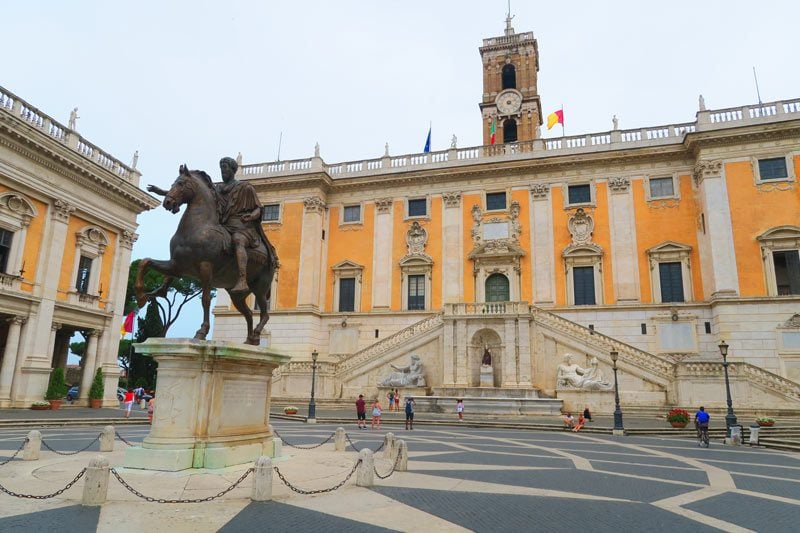 The main reason for climbing the hill is to visit the Capitoline Museums and their fine collection of sculptures and paintings. It's not a must to purchase tickets in advance but if your visit coincides with the arrival of multiple groups, there could be a queue. Also, note that you will need to leave your backpack in a small locker before entering (free).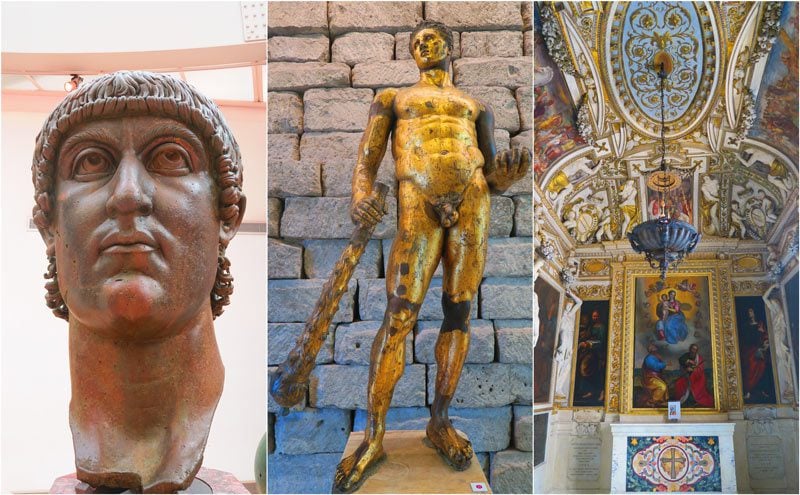 The museum is split into two separate buildings: the Palazzo Nuovo and the Palazzo dei Conservatori. We chose to focus our short visit on the Palazzo dei Conservatori where the top highlights reside, including the masterpiece bronze statue known as "She Wolf" which has become the symbol of Rome, fragments of what are thought to be sections in a massive statue of Emperor Constantine, paintings, exquisitely sculpted sarcophagi and more.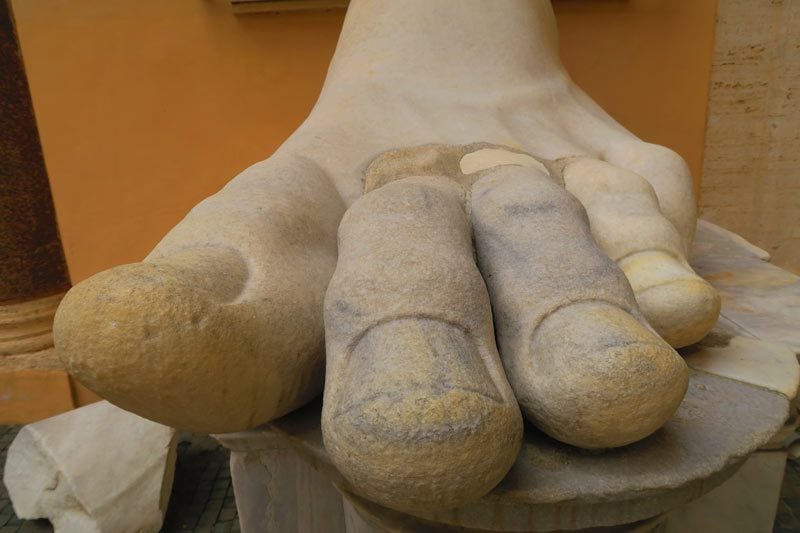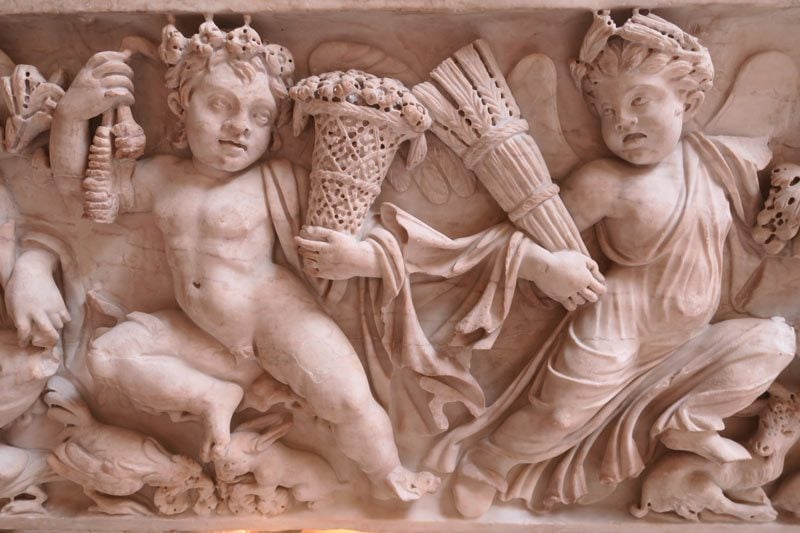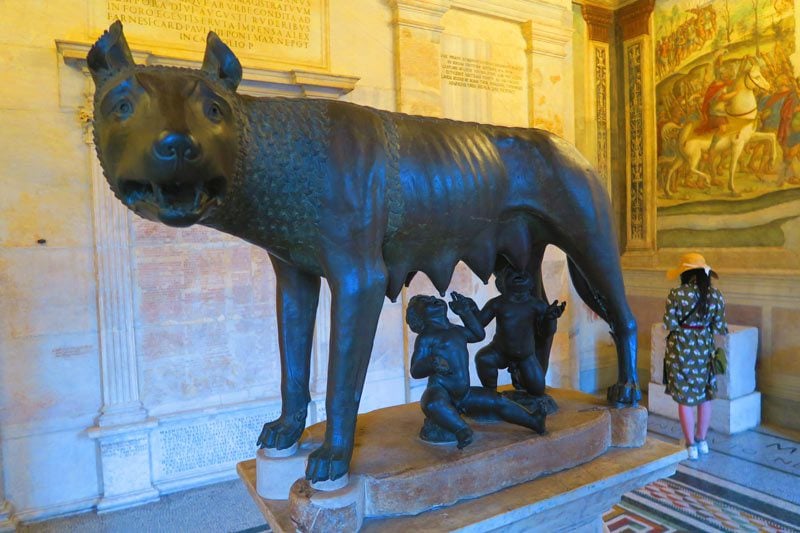 Panoramic Lookout
Another reason for climbing to Capitoline Hill, especially if you won't be visiting the Roman Forum, is the panoramic lookout at the intersection of Via Monte Tarpeo and Via del Campidoglio. Totally worth it!
Bonus: Walk to Monti
Still have some gas left in the tank? Continue the day by walking to the trendy Monti district which takes about 15 minutes on foot from the Capitoline Museums. Monti can also serve as a dinner & drinks destination if you feel the need to head back for a rest after the museum visit.
The most vibrant area in Monti is the small perimeter created by Piazza della Madonna dei Monti and Via Panisperna meeting the parallel streets of Via dei Serpenti and Via del Boschetto. After a long day of sightseeing, treat yourself to some ice cream at Il Gelatone Roma or a glass of wine at Astemio on Via Cavour. Both places rank high on my personal list of the best places to eat and drink in Rome.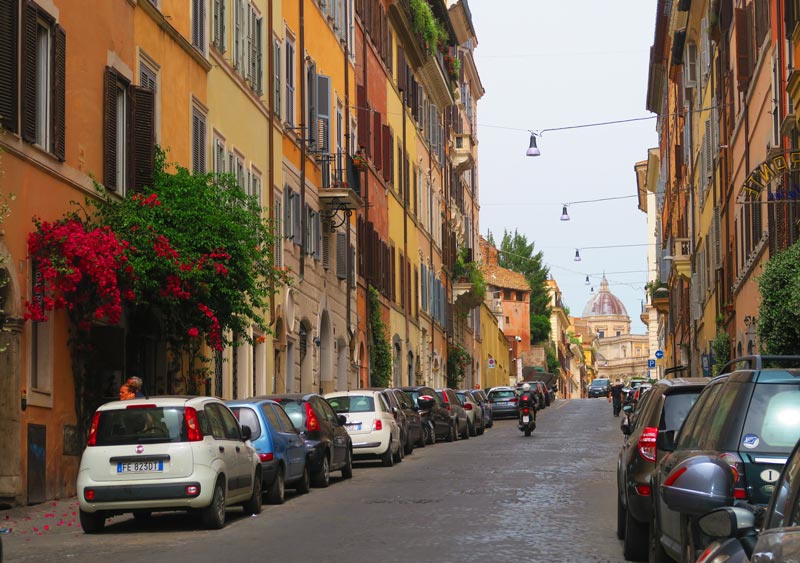 Santa Maria Maggiore
Completed in the 18th century but dating back to the 4th century, this basilica is one of the largest and most impressive churches in Rome. It is also a key place of worship so security must be cleared before entry. Inside, you'll be amazed at its spacious interior, artwork and collection of key figures to whom the basilica serves as their final resting spot, including former popes.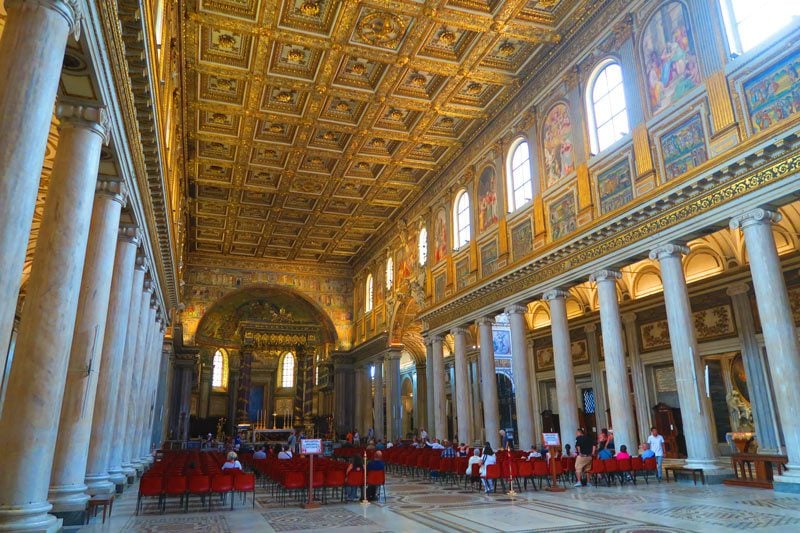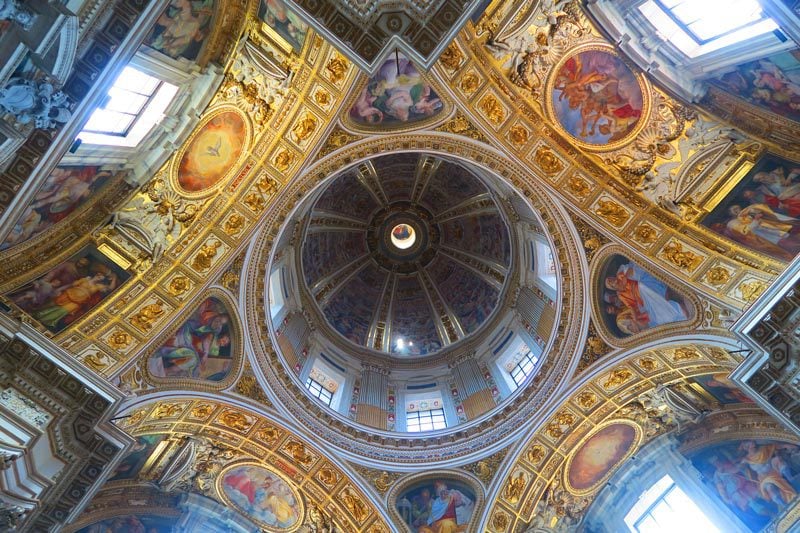 Perhaps the most impressive of the basilica's treasures is its very own Sistine Chapel, highlighted by a bronze Baldacchino carried by four angels.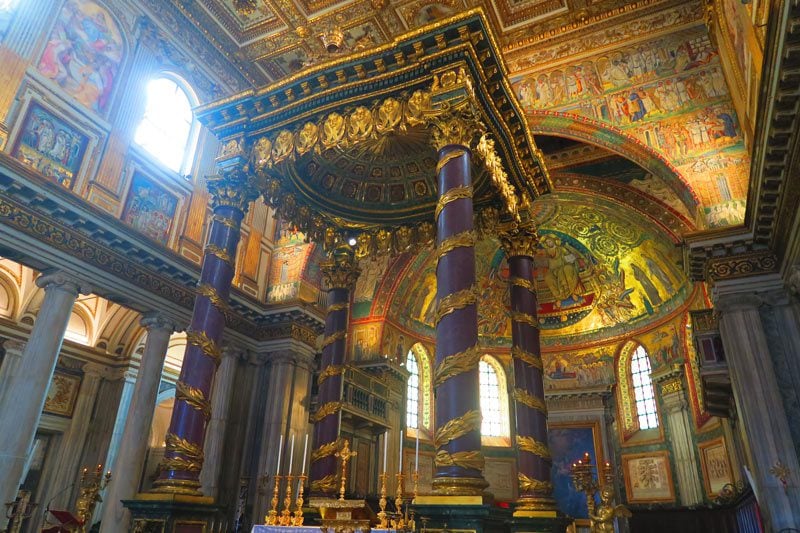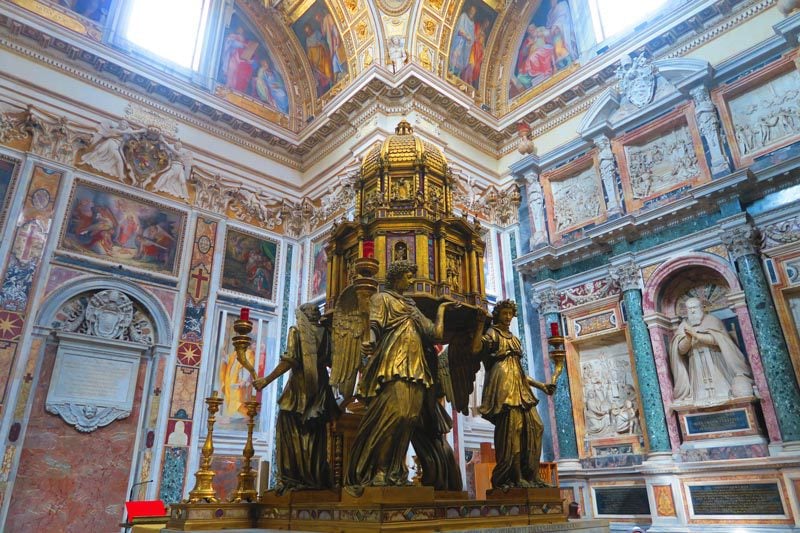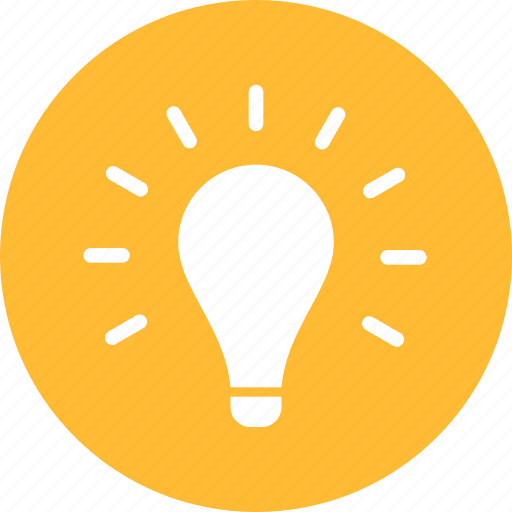 Pro Tip
From the Maggiore, you can head to Rome's Central Market (Mercato Centrale). You'll find there are plenty of dining options in addition to the "usual" market produce.
Dinner in Trastevere
For dinner, we walked back to Trastevere and dined in the outdoor terrace of La Scala in Trastevere. We made reservations in the morning and did not regret our decision. La Scala is romantically located in a lovely piazza at the heart of Trastevere and uses truffles in many of its signature dishes.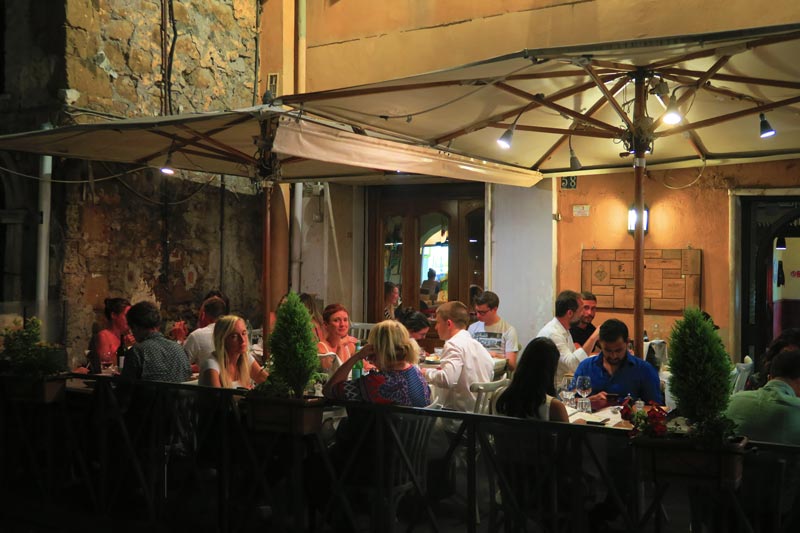 We started with some bruschettas with truffles, then continued to a beef dish… with truffles and arguably the best pasta we sampled in Rome (Roman-style pasta with tuna, cherry tomatoes and capers). The food was incredibly delicious and very well priced.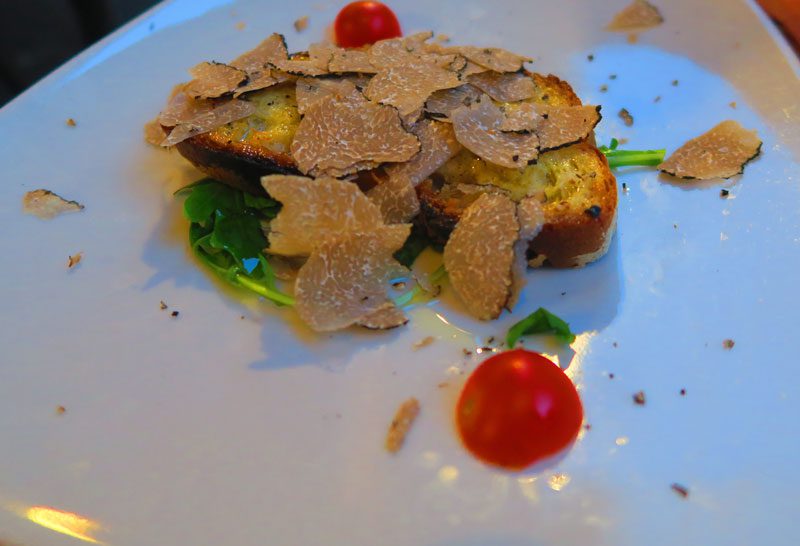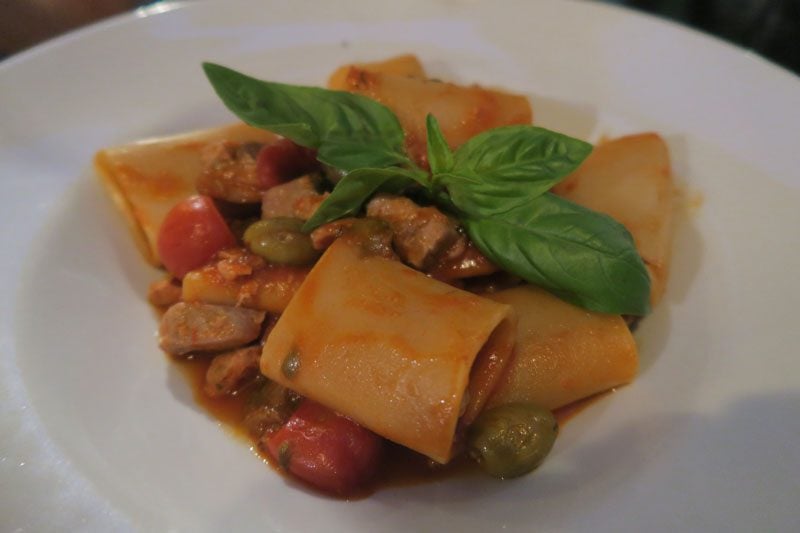 Day 5: The Vatican
The last day in this 5 days in Rome itinerary is mostly dedicated to the Vatican. Gaining independence in 1929 and covering an area measuring a mere 0.44 km², the Vatican is the smallest country in the world and the governing seat of Catholicism. As a tourist, you might forget that the Vatican is essentially a "giant office" but there to remind you are priests and nuns coming and going throughout the day.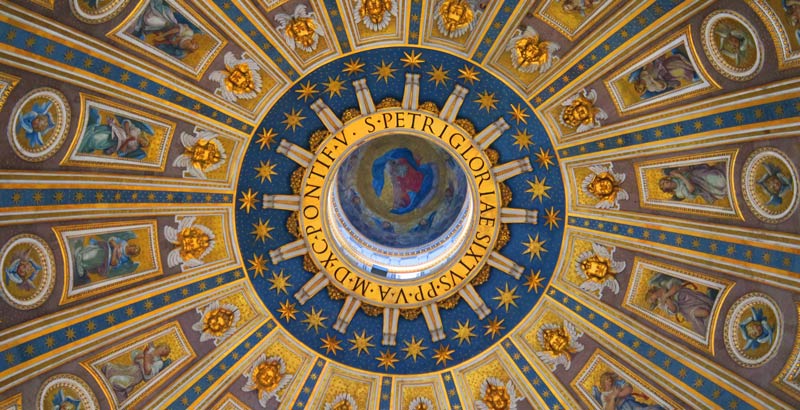 Preparing for your visit to the Vatican
Visiting the Vatican, especially with children, can make for a challenging day thanks to the popularity of its sites and the inevitable queues. Here are a few tips to optimize your experience:
Tips for visiting the Vatican
Consider it a must to purchase tickets in advance, at the very least for the Vatican Museums or you will be waiting in an endless line.
There are many museums and quite a lot of special tours that can be booked for those who really wish to uncover the layers but the basics remain the Vatican Museums, St Peter's Basilica and the bonus visit of Castel Sant'Angelo.
Since the Vatican Museums are closed on Sunday, it doesn't make sense to visit the Vatican on that day. Moreover, it's best to avoid Mondays as well since many groups and individuals are "waiting" for the first opening day of the week (but this isn't a rule of thumb).
Bring lots of water as there aren't that many refill fountains around. Snacks are also essential.
Be mentally prepared to be constantly approached by "agents" of tour companies trying to sell you tickets. They are simply relentless but you just need to practice saying "I already have tickets, thank you".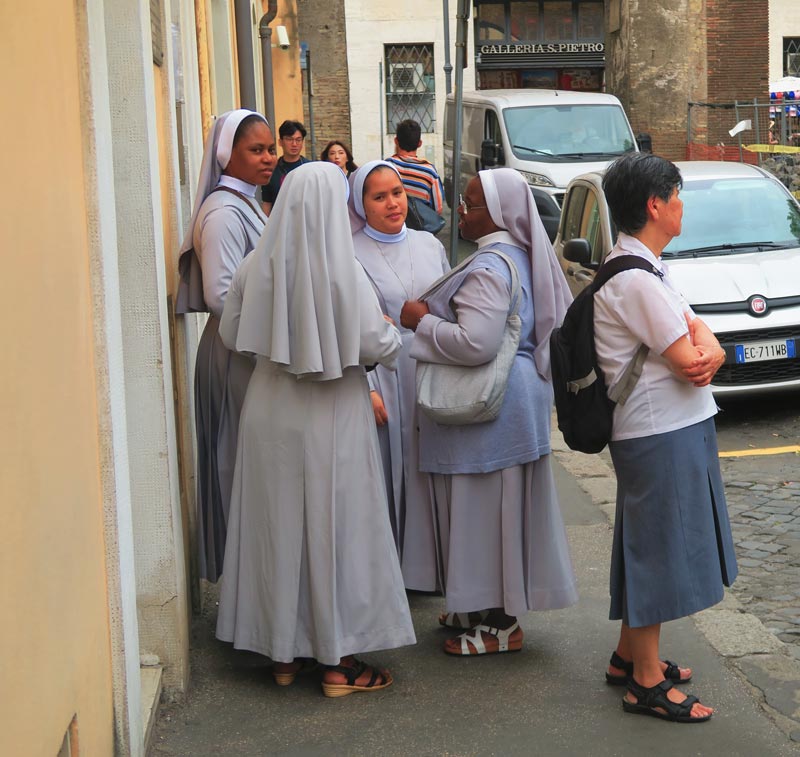 Ponte Sant'angelo
There's no better way to cross the Tiber River into the Vatican than over the Sant'angelo bridge. Adorned by angels sculpted by Bernini on either side, the bridge leads to the Sant'angelo Castle, an optional tour that will be mentioned towards the end of this Vatican itinerary. Look to your left at the Ponte Vittorio Emanuele II and its reflection on the river. At the edge of the bridge, begin the grand approach to St Peter's Square.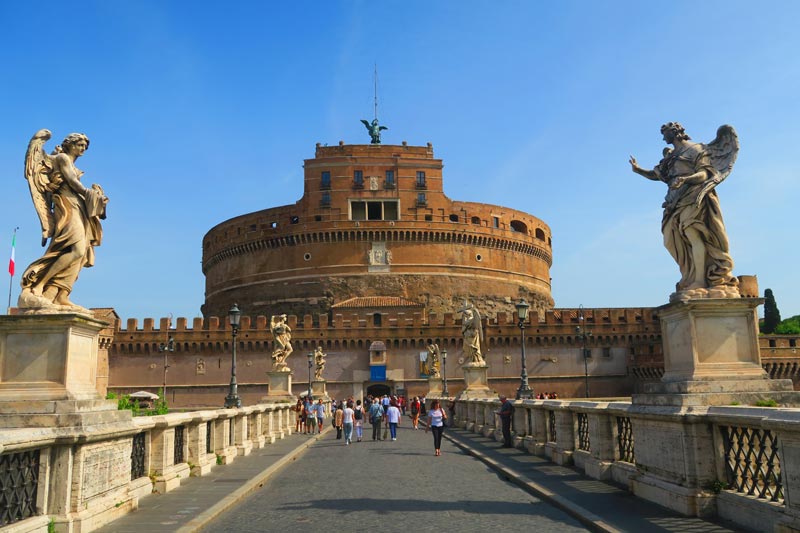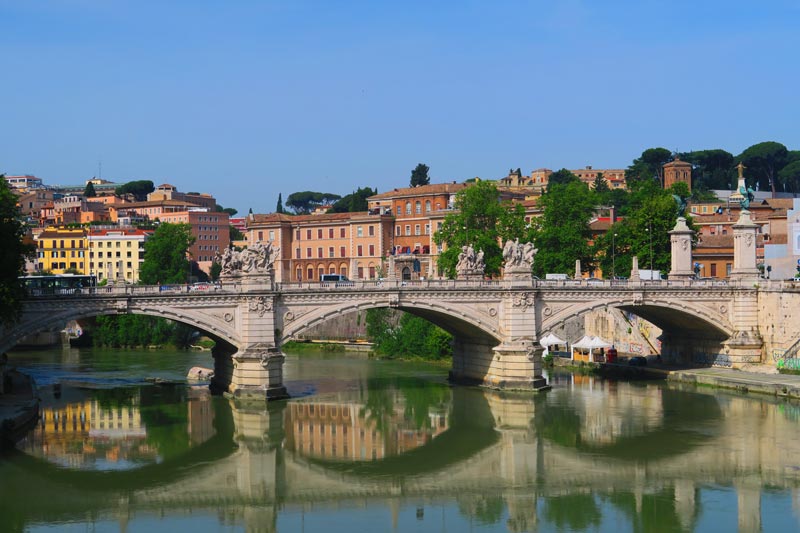 St. Peter's Square
Piazza San Pietro is without a doubt the grandest of all Roman squares and a fitting entrance to the ruling capital of the Catholic world, which for many centuries was the de facto global ruling power. The obsessively symmetrical piazza is filled with symbolism, thanks in part to our good friend Bernini. At the center of the square is an Egyptian obelisk hauled over to Rome in 36 AD and repositioned at its current location in 1586. From the square, you can see the famous balcony from which the Pope often addresses the masses.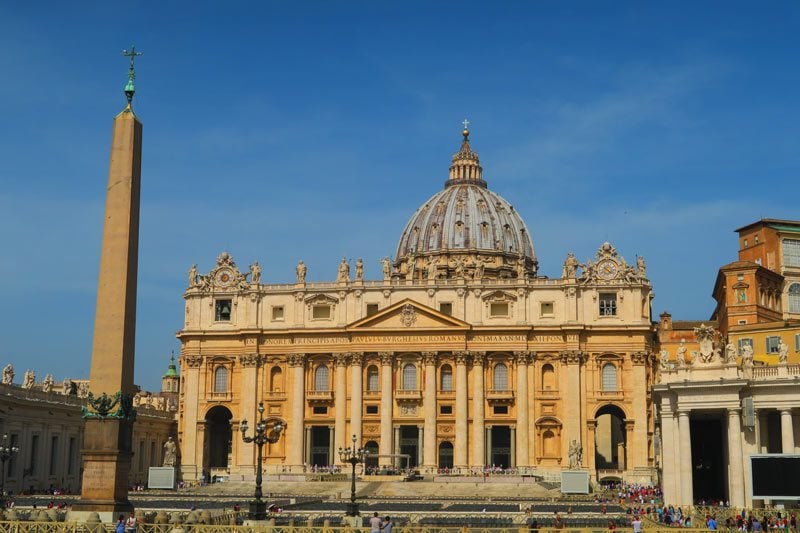 For visitors to the Vatican, this will be your first "wow" moment but also where you begin to realize that you are not the only ones here. The better part of the square is currently fenced off but you can enter after clearing security. Though you would think it makes sense to head inside the basilica, I actually recommend to first head to the Vatican Museums, get that "big task" checked off the list and return here later (much like we did with the Colosseum).
The Vatican Museums
Housed in a 15th-century Papal palace, the Vatican Museums are among the world's finest, ranking right up there with the Louvre in Paris and maybe even surpassing its appeal. It is certainly a must-see attraction for any first-time visitor to Rome (closed Sundays). Over the centuries, the Vatican has amassed a near-infinite amount of treasures, some hidden deep in its underground vaults and some which are on display for ordinary visitors such as us.
Just about every visitor to Rome pays a visit to the Vatican Museums so, from St. Peter's Square, you'll simply need to follow the crowds and walk for about 15 minutes until reaching the museum's entrance. Since you listened to my advice, you will have purchased your Vatican Museums tickets in advance and you'll simply breeze past those who are about to wait for hours in line. You'll pay a small premium but it is absolutely worth it. Show your confirmation to the staff and once you've cleared security, proceed upstairs to print your actual tickets from the machine (the process is very quick and efficient).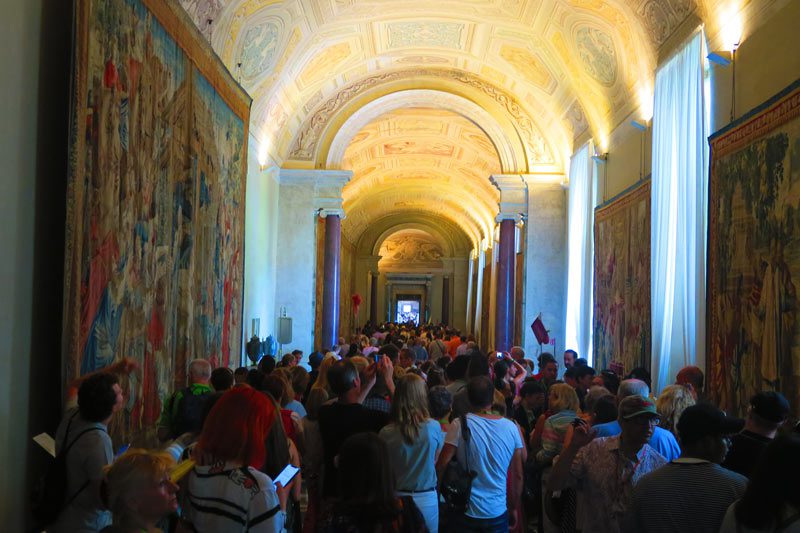 You could spend an entire day in the museum complex but if you just want to see the major highlights, two to three hours is a good amount of time to plan for. Keep in mind that there's pretty much a constant stream of visitors and groups so the claustrophobic feeling at times, isn't for everyone. Our tickets were for a 10:30 designated entrance and by 12:30, we were already out. The Vatican Museums are written in plural but essentially, we're talking about a single complex with interconnected wings that are referred to as museums.
First on our particular tour was the Pio-Clementino Museum, home to thousands of sculptures and artifacts from Ancient Greece and Egypt. The signature feature of this particular section (besides the various works which I will spare you from listing) is the sculpture gallery, a long hall adorned on both sides by ancient works.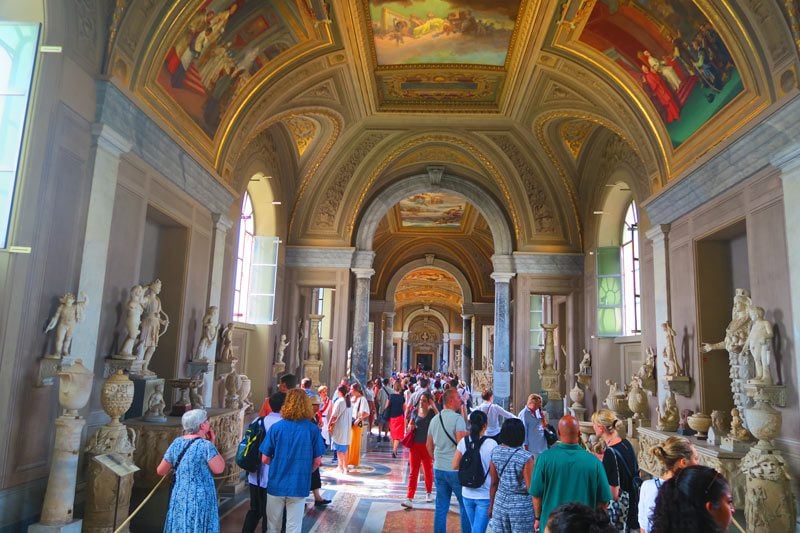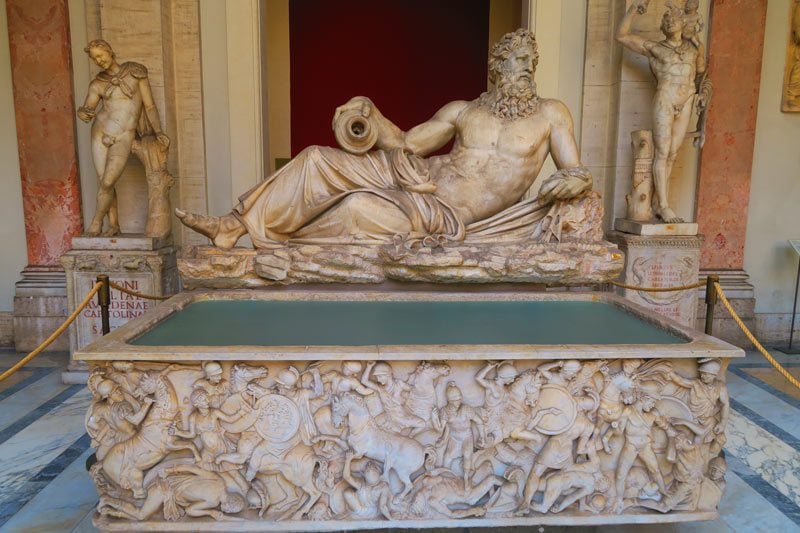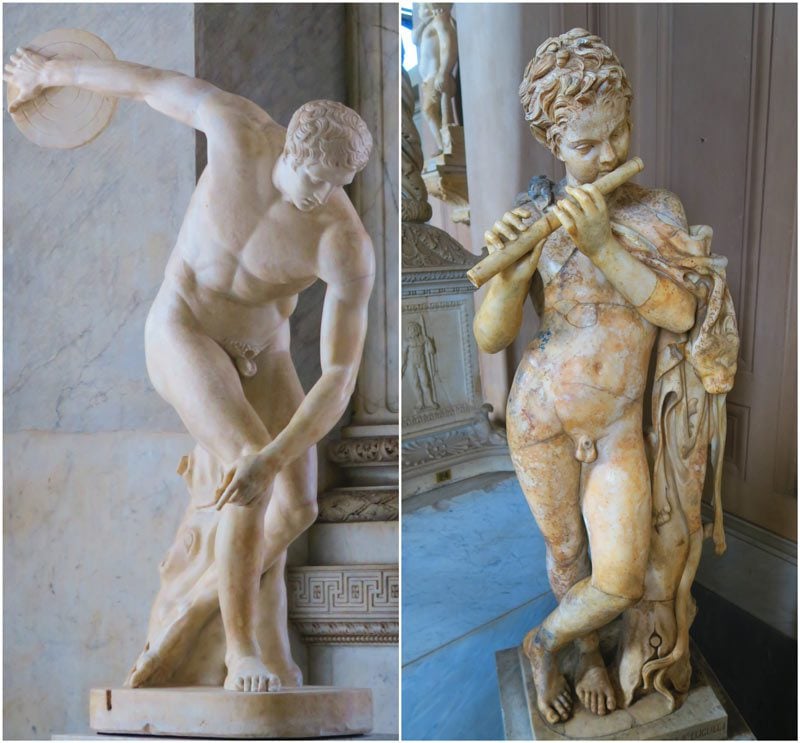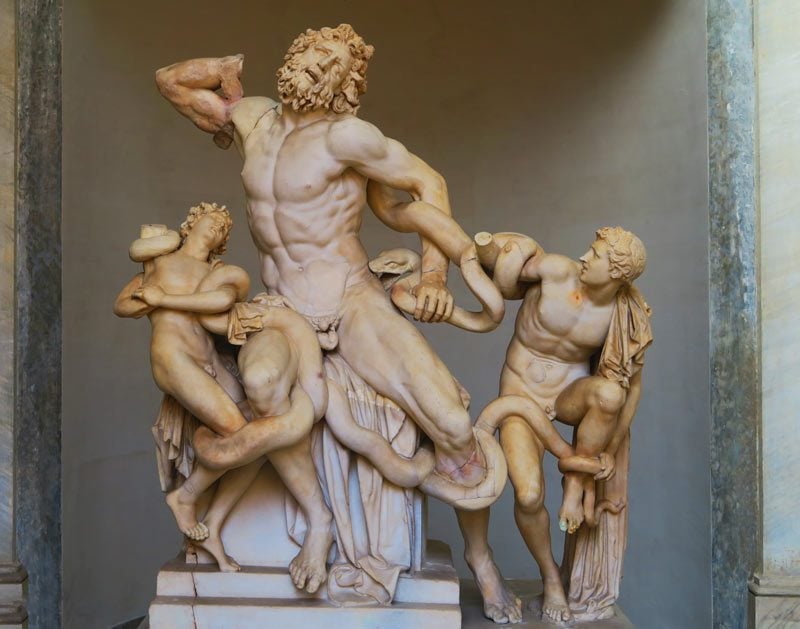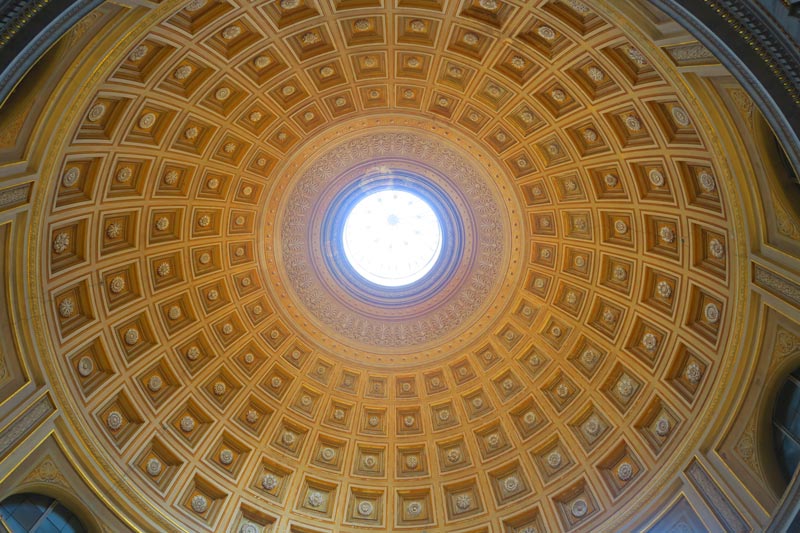 Next up Galleria degli Arazzi with its massive display of tapestries, followed by one of my favorite stops – Galleria delle Carte Geografiche. This long gallery displays exquisitely detailed 16th-century maps of Italy and the Mediterranean. As impressive as the giant maps are, don't forget to look up and marvel at the frescoed ceiling. It's hard to imagine the level of artistry that once existed in this part of the world.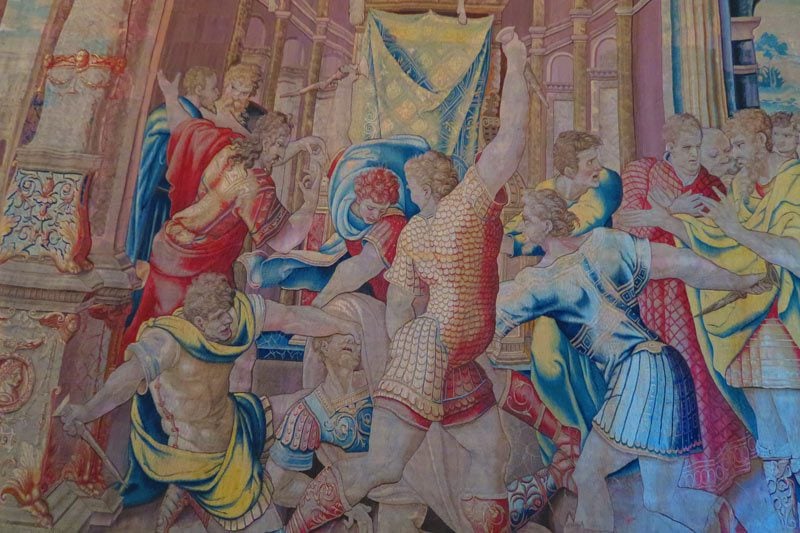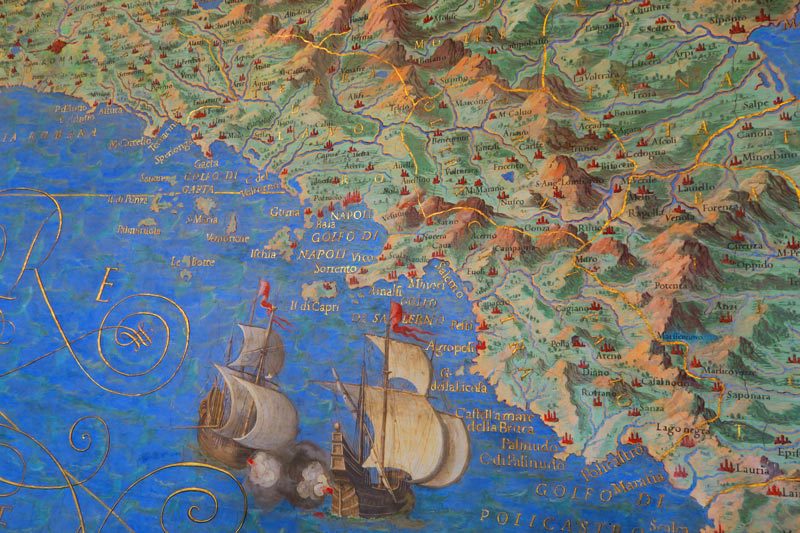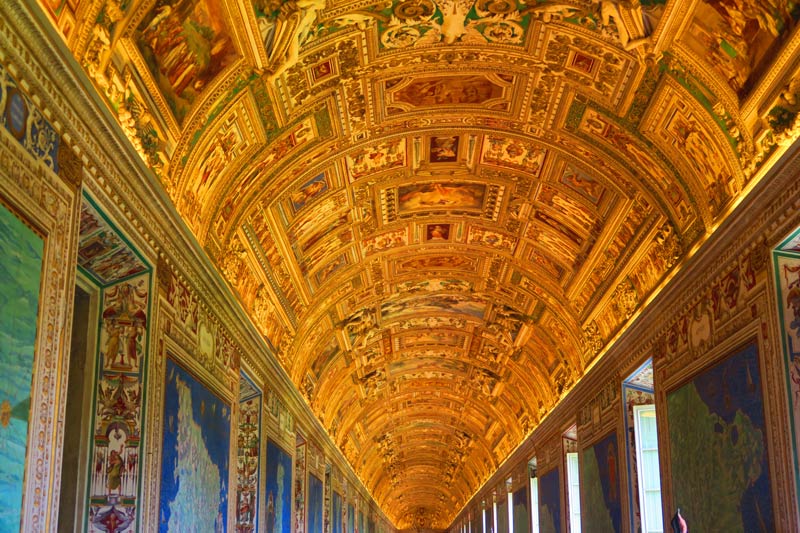 If you haven't moved from your seat by now, our next stop should do the trick. Apart from the Sistine Chapel, the Raphael Rooms at the Vatican Museums are the most prized stops on your visit. When Pope Julius II moved into the palace, he commissioned the gifted artist to "decorate the place" and the result is a collection of grand religious paintings that didn't leave a speck of white on the walls.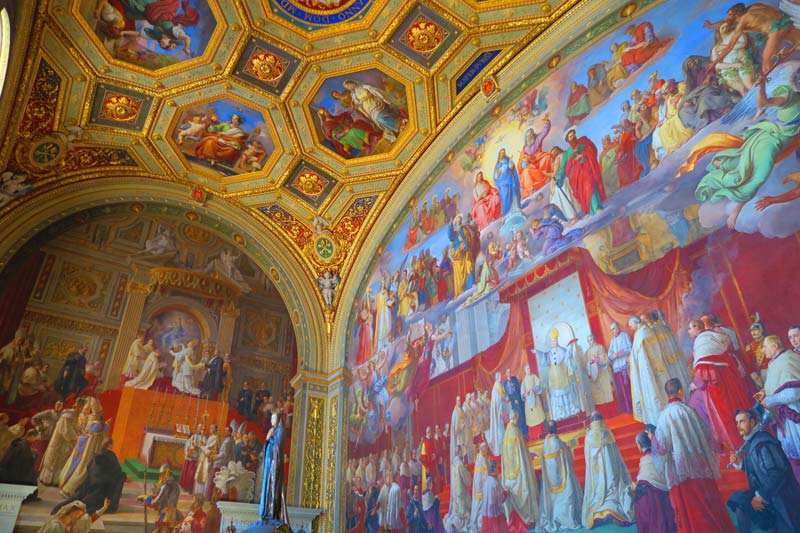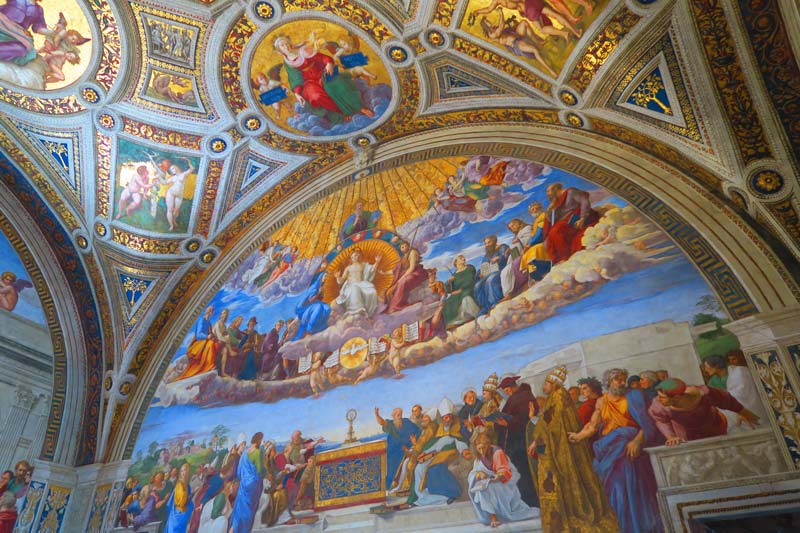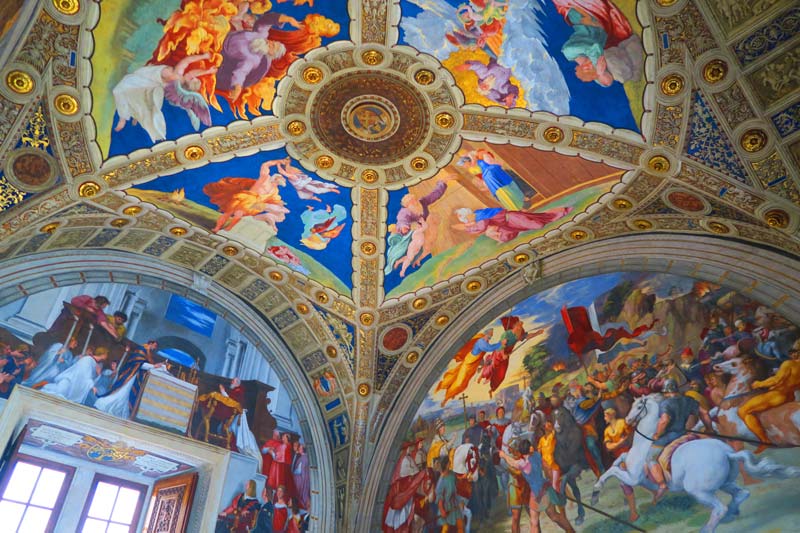 The last major stop is the grandest of them all, Michaelangelo's Sistine Chapel. Built during the late 15th century for Pope Sixtus IV, as its name suggests, this is a place of worship, where the Pope can pray in solitude if he wishes. In fact, if you've seen the film (or read the book) Angels & Demons, you might also recall that this is also where the conclave of cardinals meets to elect a new pope. As such, even with the never-ending stream of visitors, guards enforce a strict minute of silence inside the chapel every 10 minutes or so. Unfortunately, filming inside the chapel is strictly forbidden, but let's just say that it's not that difficult to sneak in a photo if you time things right.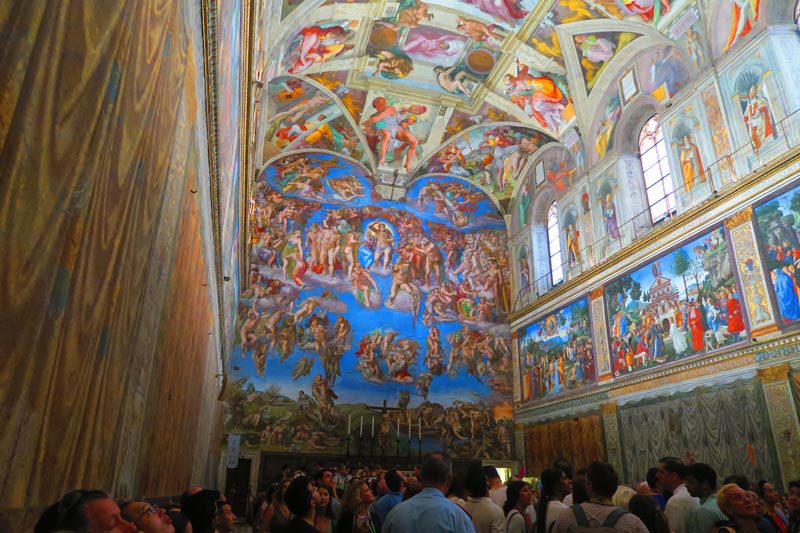 Lining the chapel's walls are depictions from the Last Judgment, but it is the ceiling painting that trumps everything. Its signature painting of the Creation of Adam is where you'll see the hand of God (nearly) touching man's.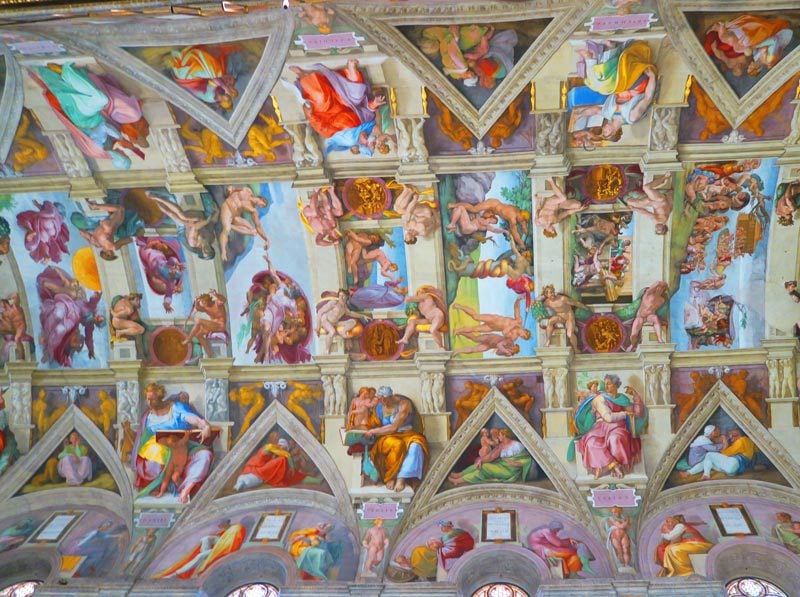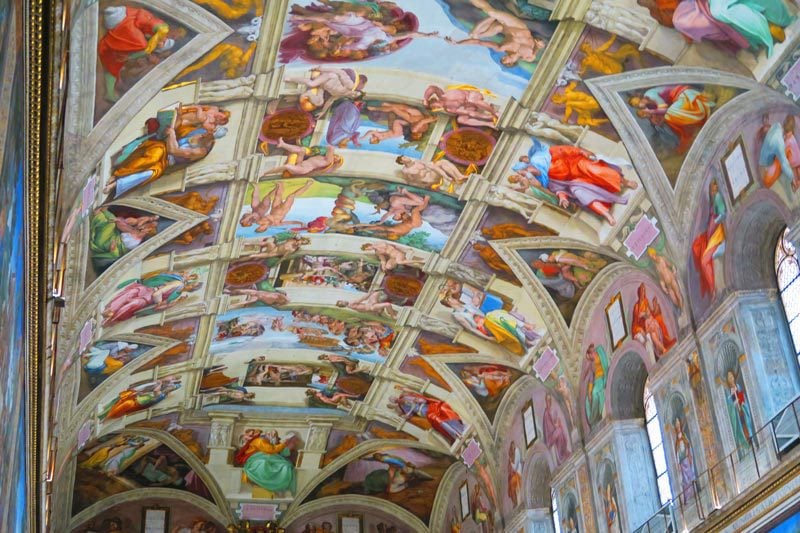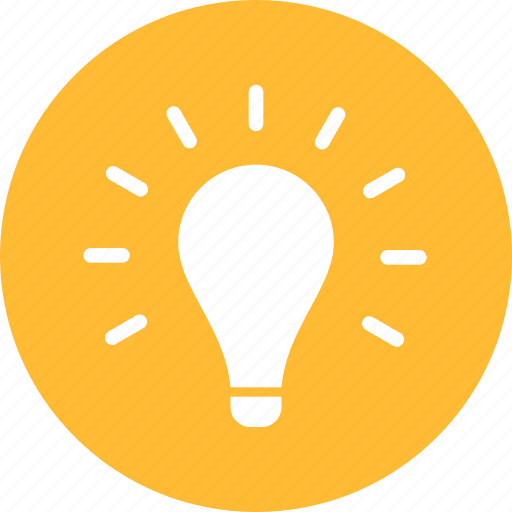 Pro Tip
There are benches inside the chapel but guards do their best to keep the traffic flowing. Time your passing of the benches to when someone gets up and you'll be able to take your time and marvel at the incredible artwork of the Sistine Chapel.
Lunch and Ice Cream
Value for money is hard to come by in this mega tourist area but head over to Borgo Pio Street where you'll find a selection of decent restaurants and cafes. After a small pizza and salad, we headed to Gelateria Del Monte for some of the best ice cream money can buy in Rome.
St. Peter's Basilica
Welcome to the largest church in the world and center of the Catholic world. St Peter's Basilica without a doubt tops the list of best churches in Rome, a massive shrine dedicated to St Peter who is buried right beneath the basilica. It took 120 years to complete its construction, with Italy's finest artists, including Bernini and Michaelangelo taking part in the holy mega-project.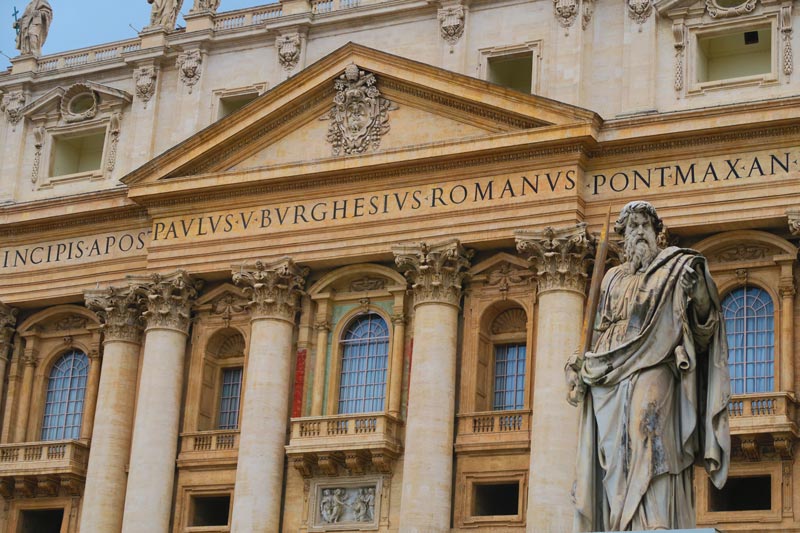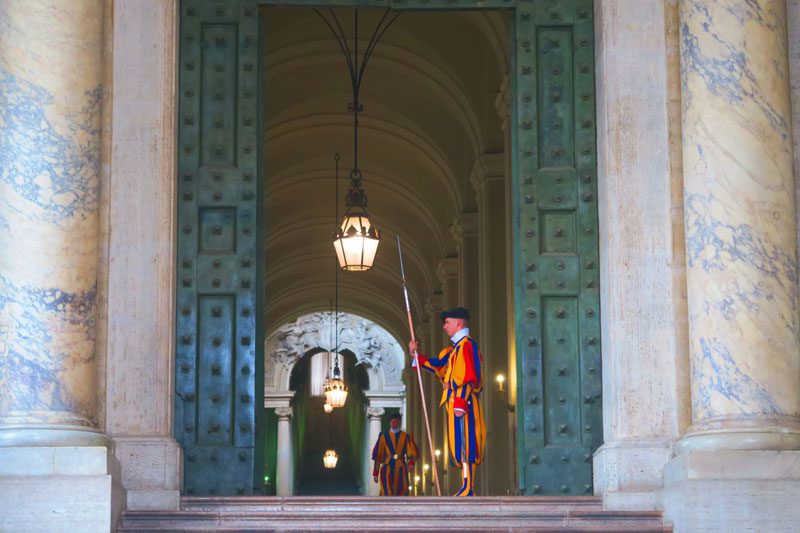 You'll need to clear security before entering St Peter's and if you purchased your tickets in advance, you'll be able to skip the queues and go to the front of the line. Don't forget that a strict dress code is enforced in St Peter's with both men and women required to cover their shoulders.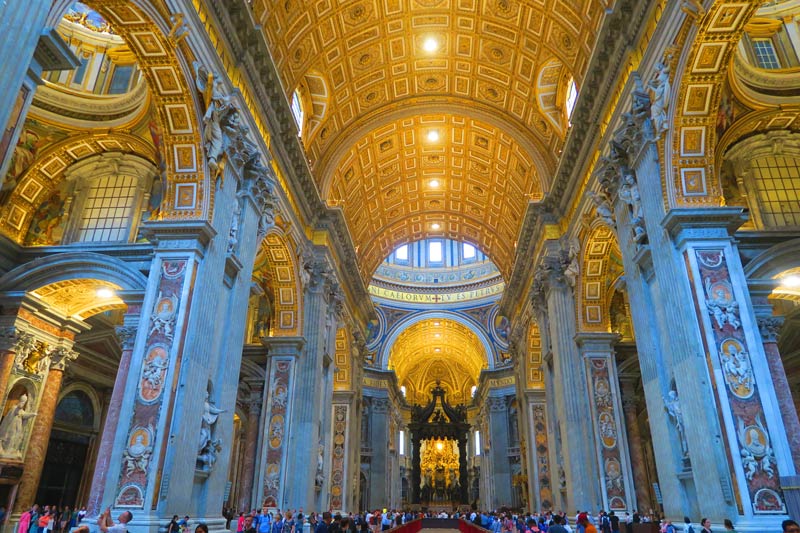 Of the basilica's countless treasures, be sure to visit Michaelangelo's Pieta and the Baldacchino. The former is a sculpture depicting Mary caring for a frail man and the latter is a jaw-dropping bronze canopy set high above the altar.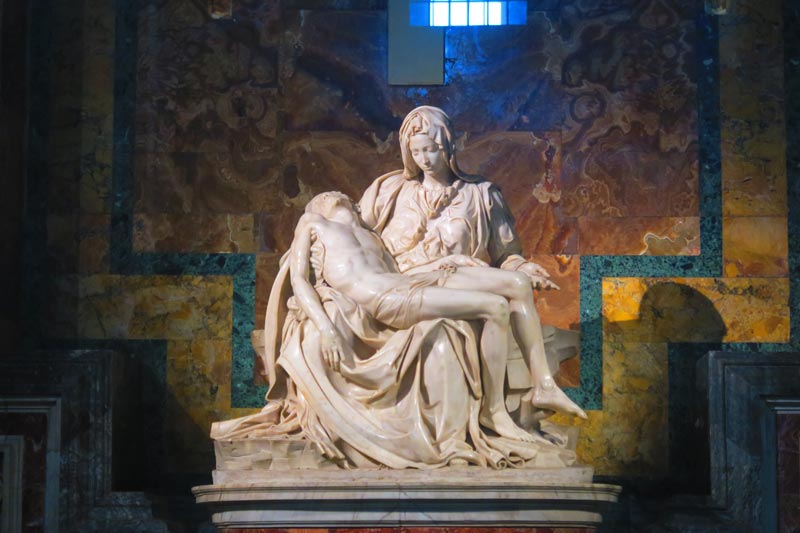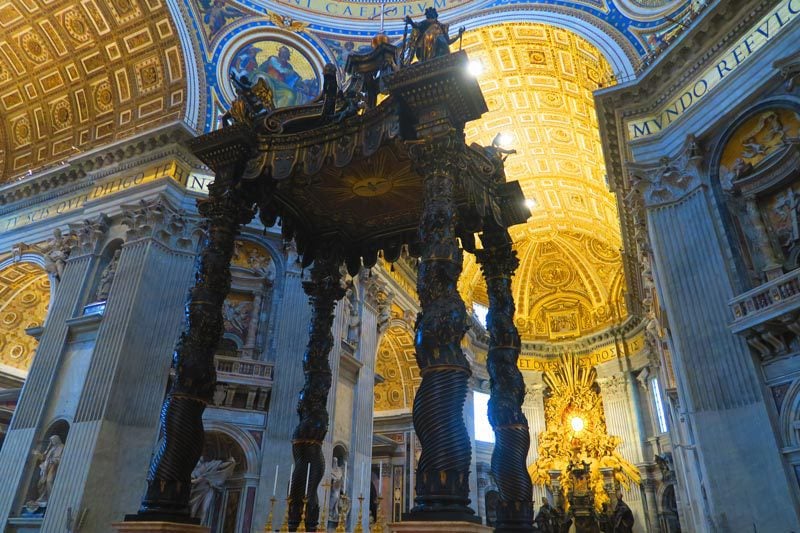 Other highlights in St Peter's include the basilica's decorated domes, religious sculptures and paintings. It's hard to fathom the amount of resources that were invested to construct this church and the value of its interior decorations, especially when you consider what else could have been done with this wealth to ease suffering in the past.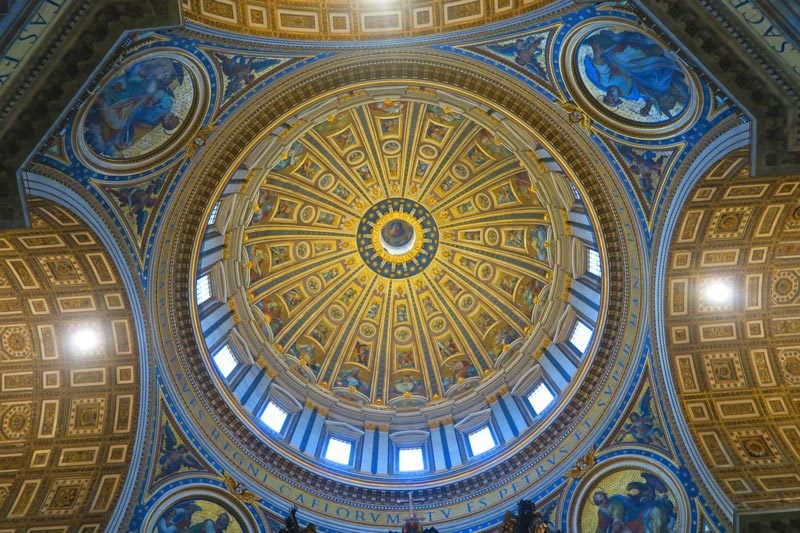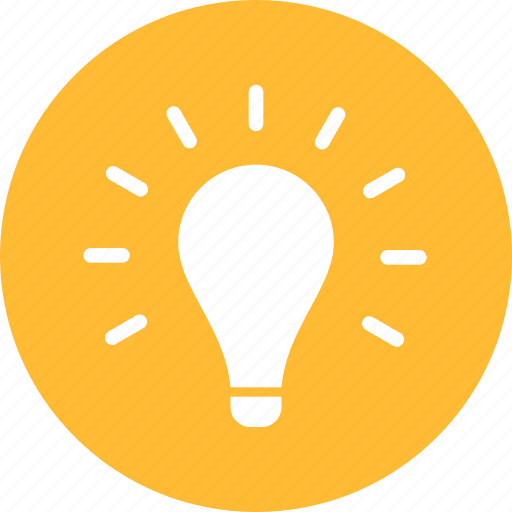 Pro Tip
If you have the time, purchase tickets to the basilica's dome and roof. These unique vantage points offer excellent views both of the grand interior and the piazza's perfect symmetry.
Sant'angelo Castle
This is an optional stop after the visit to St Peter's. If you still have some room left in your sightseeing gas tank, you can head back to the river bank and pay a visit to the Castel Sant'angelo (closed on Mondays). The circular castle was built in the 2nd century AD by Emperor Hadrian to serve as his mausoleum but it has been mainly used over the years as a fortress and place of refuge by various popes. After you explore the castle, be sure to head to its cafe and check out the panoramic views.
Prati to Piazza del Popolo
After exiting St Peter's Basilica, we had enough sightseeing for the day and headed back to the Via del Corso shopping area through Via Cola di Rienzo which cuts through the affluent neighborhood of Prati. This is a great shopping street, mixing high-end boutiques with more down-the-earth brands, but its appeal to us is that was it was surprisingly tourist-free. Just for the sake of it, we stopped for one last ice cream, this time at Gelateria la Romana – one of Rome's best.
Dinner in Monti
For our final dinner in Rome, we headed back to Monti for dinner at Trattoria Vecchia Roma. We had no luck reaching them by phone so with no reservations made, headed there early and got there just in time before a massive queue was forming outside at around 19:30 (10€ by taxi from the Pantheon area).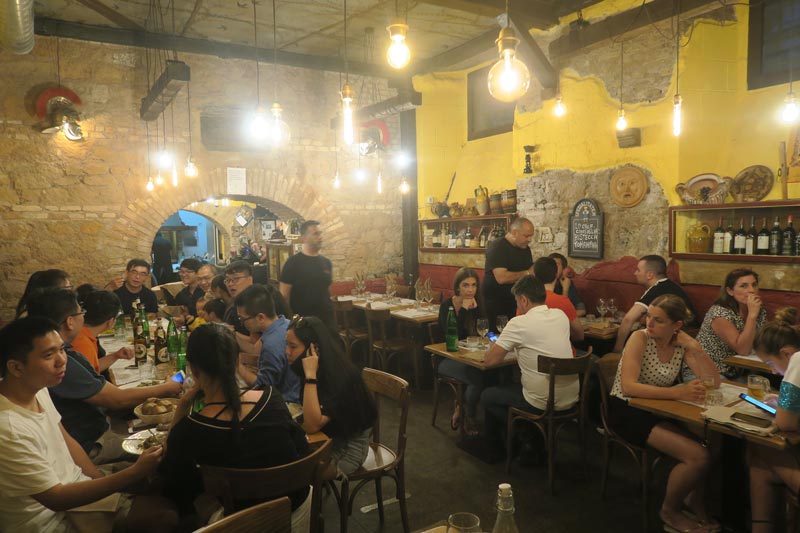 The vibe at this simple restaurant is very authentic. We had our usual bruschettas to kick things off, followed by a double order of pasts and swordfish. The service is quick and unpretentious, the house wine is more than enough and the prices are more than reasonable (less than 50€ for everything).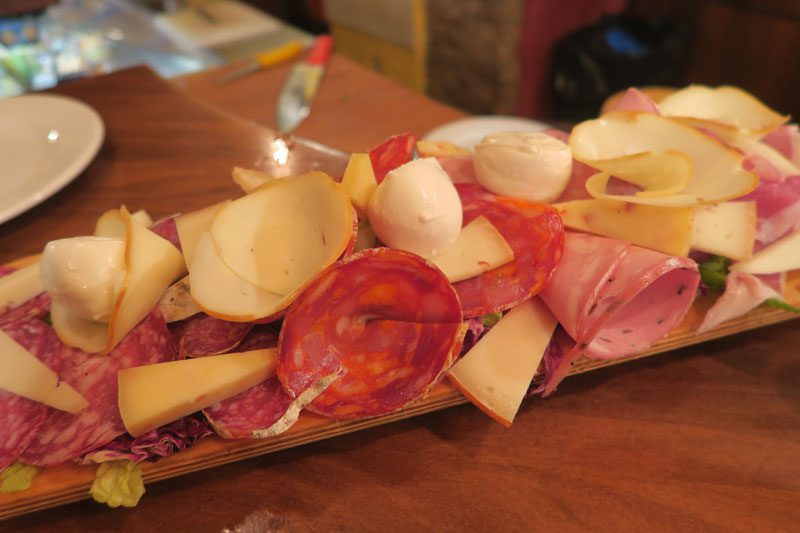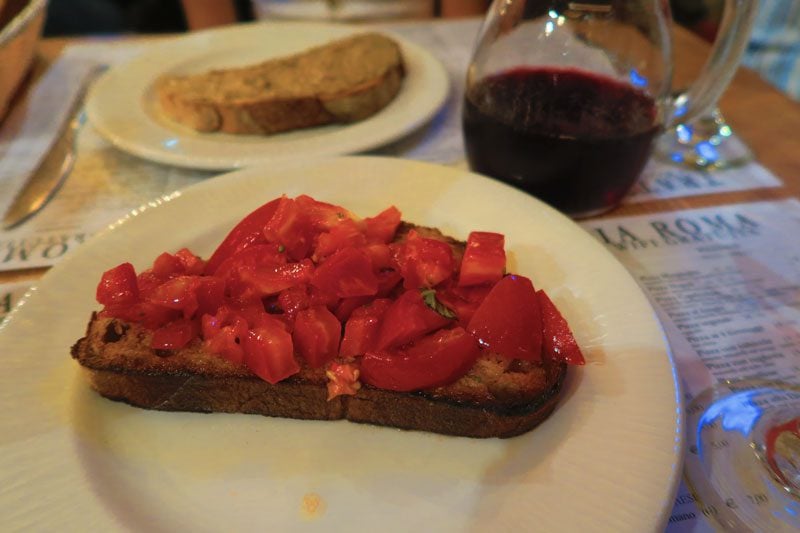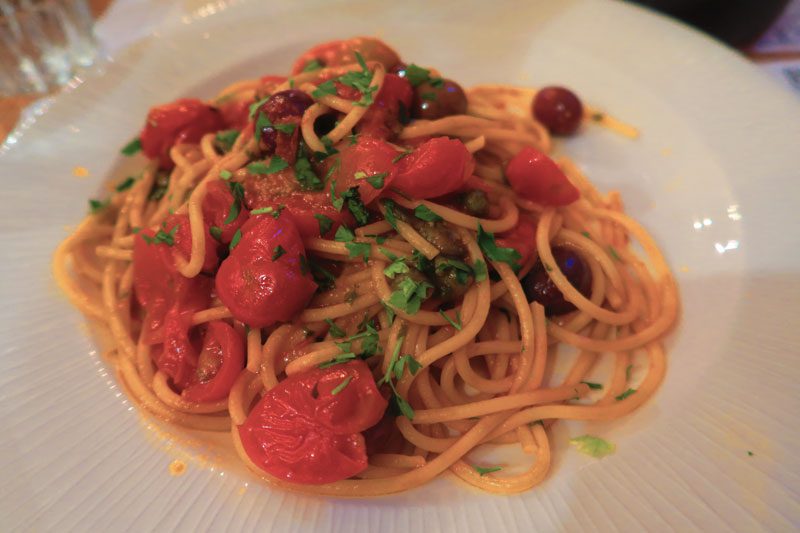 Rome by Night
As tradition goes, no matter how much walking we did during the daytime, there was also room for a night stroll to see the Roman monuments lit up by night. On this final evening in Rome, we strolled from Monti back to our hotel via the ruins of the Forum of Caesar and Piazza Venezia.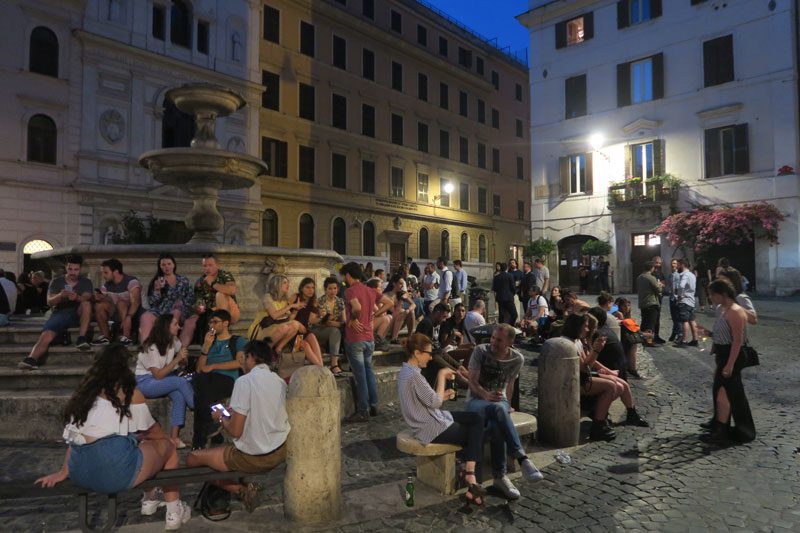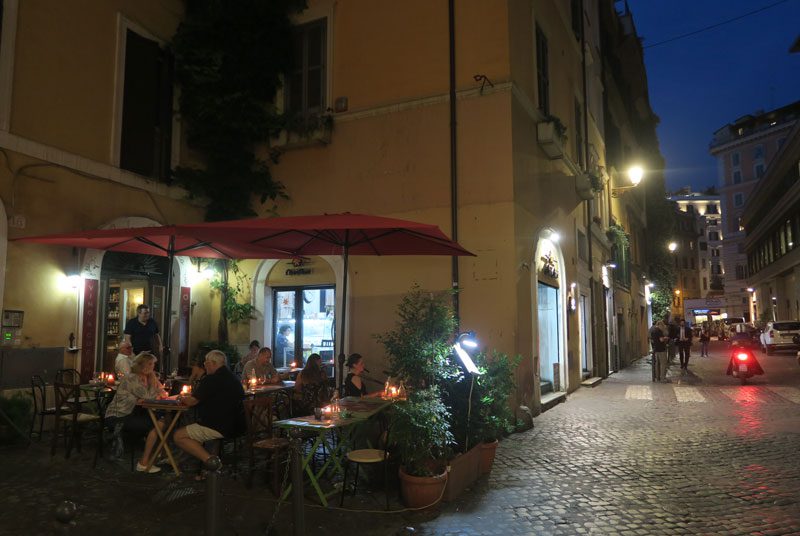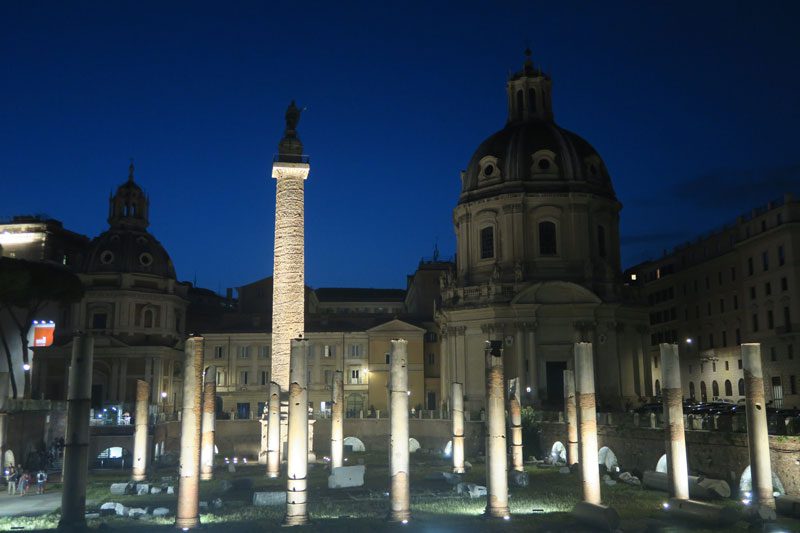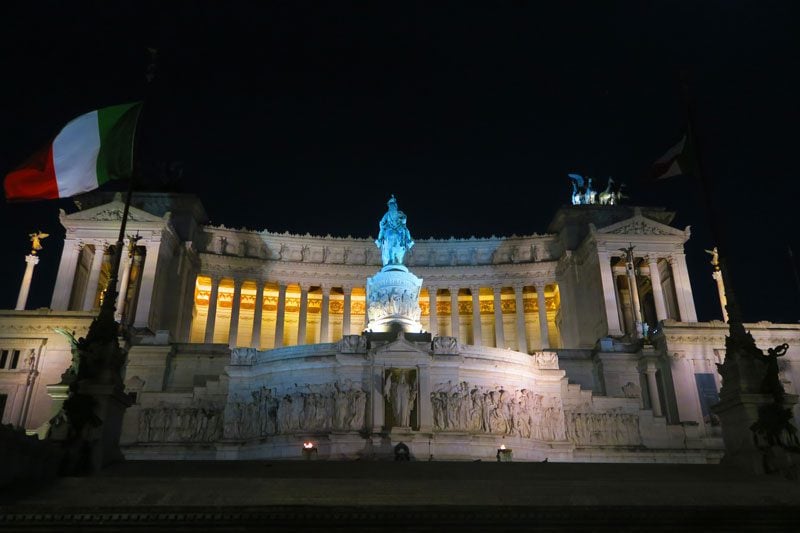 What's Next?
Congratulations! Now you can visit Rome like a real pro. I hope you've found this 5 days in Rome sample itinerary useful in planning your own visit to the Eternal City. Be sure to check out the rest of the Rome travel guide collection, including Rome travel tips, the best places to eat and lots more.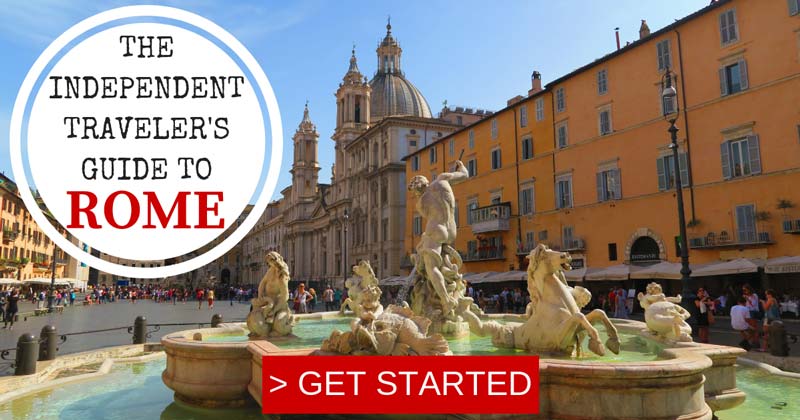 ---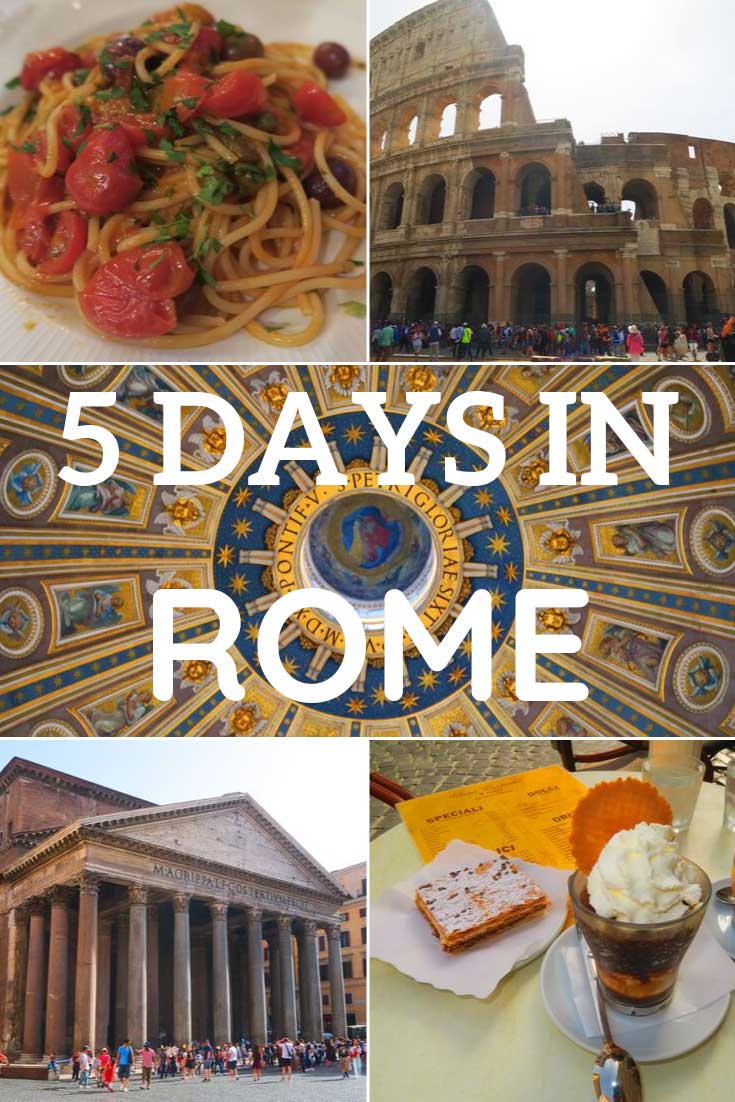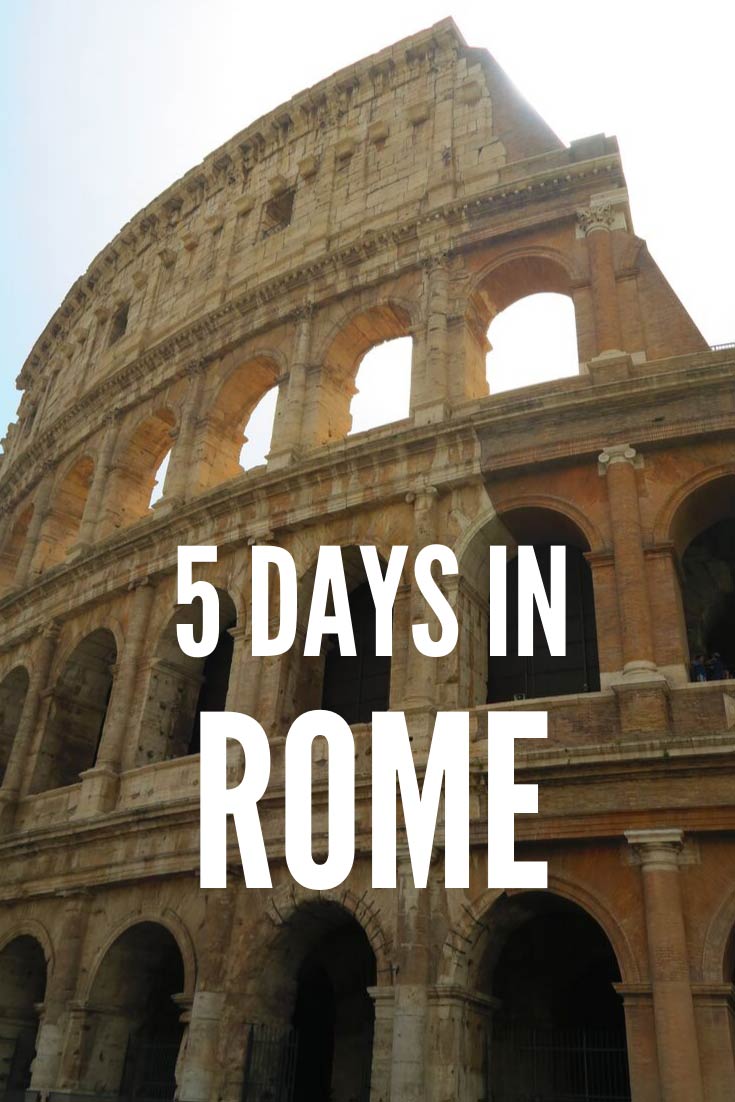 Pin These Images To Your Favorite Boards!