How To Spend A Romantic Day In Paris: Montmartre Itinerary
With cobblestone lanes leading to tiny squares with panoramic vistas, a village-like atmosphere and the best (free) views of Paris – Montmartre is as romantic as Paris can get. In this guide to the Montmartre neighborhood, we'll explore how to spend a romantic day in Paris and cover a charming section of Paris.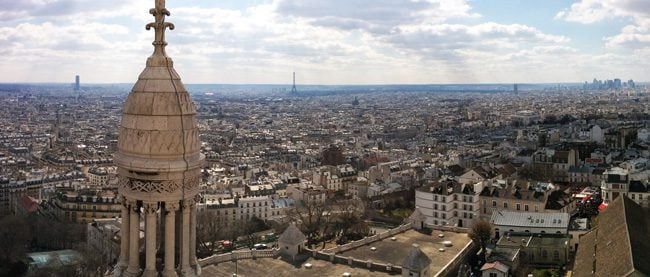 Heading to Paris?
Plan the perfect trip to Paris with free and in-depth Paris travel guides, including the Best of Paris collection and a guide to all major Parisian neighborhoods.
Why Visit Montmartre?
Cobblestone lanes, romantic views of Paris and a village atmosphere – do you really have a doubt as to why exert your energy making it up the hill. So many of those classic Paris photos are what you'll see when you visit Montmartre and it simply cannot be missed. For all these reasons, and more, Monmartre is the most romantic section of Paris
The Story Behind Montmartre
The highest point in Paris, Montmartre's history goes way back to the times of the Romans. It became holy ground after Saint-Denis was killed on the hill for preaching Christianity. It's probably how Montmartre got its name – 'Mont des Martyrs'.
As Paris developed along the banks of the Seine, Montmartre was just a small hilltop village, outside the city limits. It became a commune, making money off its vineyards, orchards, flour windmills, and limestone quarries.
In 1860 Montmartre was annexed to Paris but that didn't sit too well with the commune's residents and they revolted in 1871 in what became known as the famous Paris Commune. Thousands of village residents were killed in a bloody battle to restore government control. This revolutionary act might explain the leftist character of Montmartre and what attracted the folks who would eventually lead to its heydey.
In the late 19th century, artists from around Paris began to move up to the hill in search of cheap rents and freedom from the institutions. Dali, Monet, Picasso, Van Gogh, and many others spent some time here during those decades. Montmartre became the place to be for free thinkers, artists and partygoers. The neighborhood's parties became the talk of the town and everyone flocked to see the cabarets and sexy shows.
After a period of decline post WWI, Montmartre has certainly bounced back. Only a few meters from the Pigalle area, which is still a prime spot for sex shows, Montmartre feels like an artsy village – maybe its hilltop position shields it from the 'immorals' of the lower ground.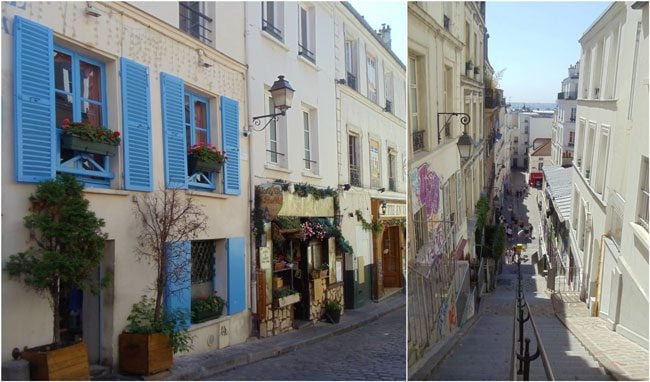 When to Visit Montmartre?
Montmartre deservingly draws the tourist crowd so it's almost always pretty crowded throughout the high season. My recommendation would be to visit Montmartre on a weekday (try avoiding Mondays as some shops & restaurants are shut) but also on a somewhat clear day. The views of Paris are what add to this neighborhood's romantic claim to fame.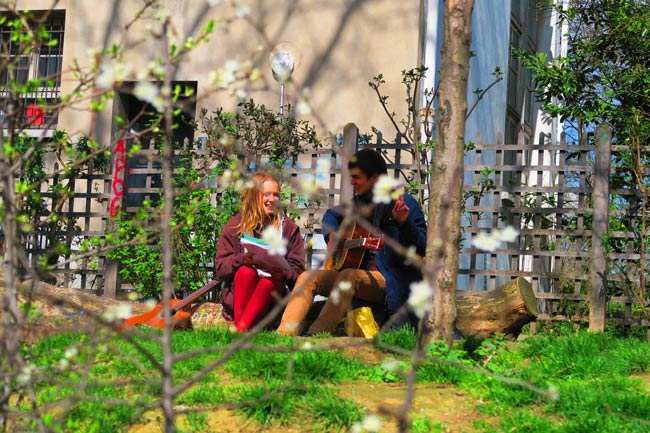 How to Get to Montmartre?
The best way to explore Montmartre is on foot. There are a few steps to climb but the distance we'll cover today is not huge.
I personally love the approach from Rue Lepic, where the closest Metro station is Blanche. This Montmartre itinerary is written based on this approach. It's less crowded and there are a few surprises to start things off with.
You can also approach the hill from the Pigalle Metro station or better yet, get off at the famous Abbesses station with its signature Art Nouveau canopy and make your way via the staircases of Rue Drevet.
If you're really in a hurry and want to get as quickly as possible to the Sacre Coeur Basilica, get off at the Anvers Metro station, just at the foothill of the mount.
How Long to Spend in Montmartre?
I would recommend planning to spend the entire day in Montmartre. This doesn't necessarily mean being here from breakfast to dinner but more like from around noon to the early evening hours. It's not a huge area but most of the fun is just strolling around and grabbing a glass of wine with a view. If the weather is not great, a half-day should be enough. You can combine your Montmartre itinerary with a show at the legendary Moulin Rouge and also with exploring pockets of the Pigalle area in the northern section of the Grands Boulevards. We'll end our day in Rue des Martyrs with one last surprise.
Montmartre Itinerary
All places mentioned in this itinerary can be found on this companion map. Simply click on the image to open in Google Maps.
Start: Moulin Rouge | End: Place des Abbesses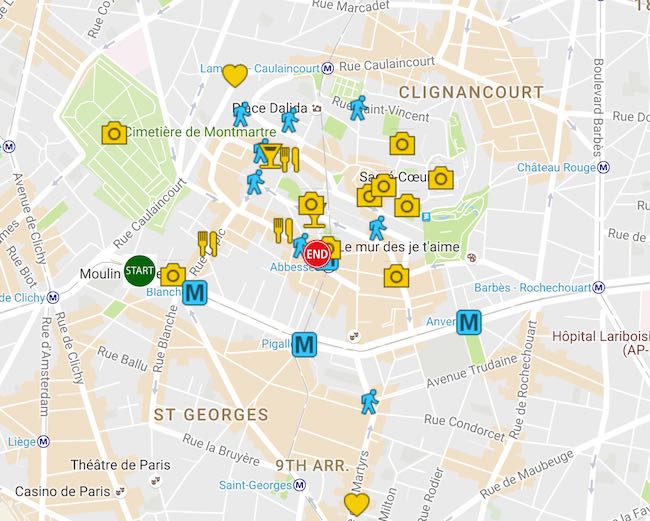 Kichi Kichi Ya Ya
We started our day at around noon on a Saturday, getting off at the Blanche Metro station. The first thing you see as you step back onto street level is that all-so-famous red windmill of the Moulin Rouge! In case you missed it, just follow the crowd.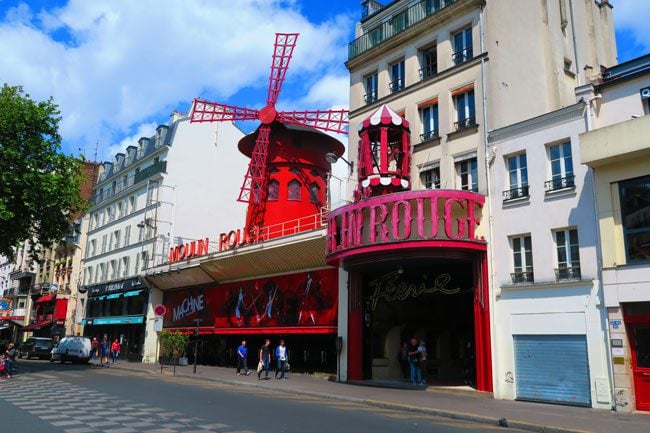 When you think of French music, you immediately think of the cabaret. And when you think of the cabaret, you immediately think of the Moulin Rouge. Back in 1899, Paris was in the midst of a rare period of peace. It was a time of great artistic renaissance, openness and a desire for le Joie Vivre (the good life). At the heart of this was the artsy hub of Montmartre and that's exactly where the Moulin Rouge was set up. Its famous theatre topped with the spinning windmill and young girls dancing the sexy Can-Can was a magnet for all Parisians.
The cabaret show, featuring beautiful topless dancers, has become world-famous and though I still haven't met too many Parisians who made it here, it's still a pretty good show. If you want to see the Can-Can, just book in advance. Tickets start at around €80 per person and there are various packages. To learn more, have a read through my Moulin Rouge experience.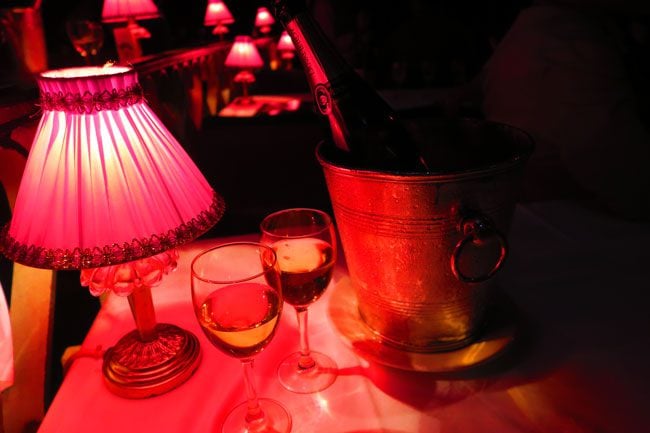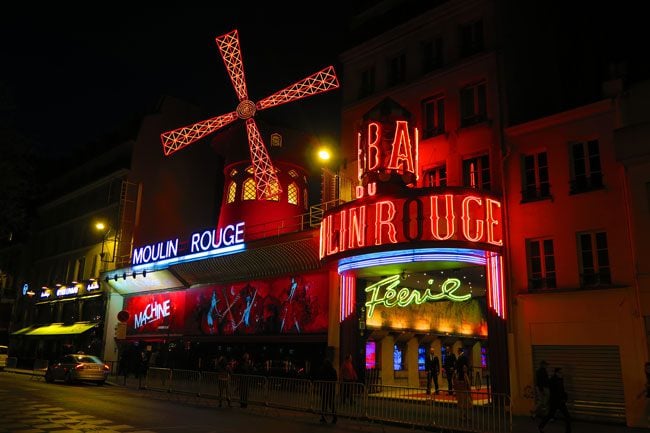 The Amélie Poulain Cafe
We now officially began to ascend towards Montmartre. We personally like the approach from Rue Lepic as it's less crowded and there's one super cool spot to grab lunch. Those of you who have seen the famous movie Amélie will immediately recognize the Café des Deux Moulins. This was a prime hangout spot for the movie's main character so finely played by Audrey Tautou. It's a nostalgic spot for brunch and if the sun is out, do your best to find a spot on a tiny outdoor terrasse!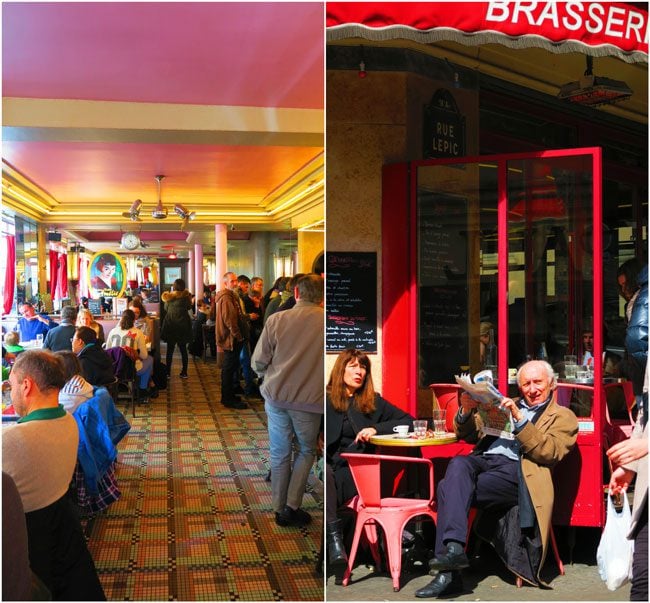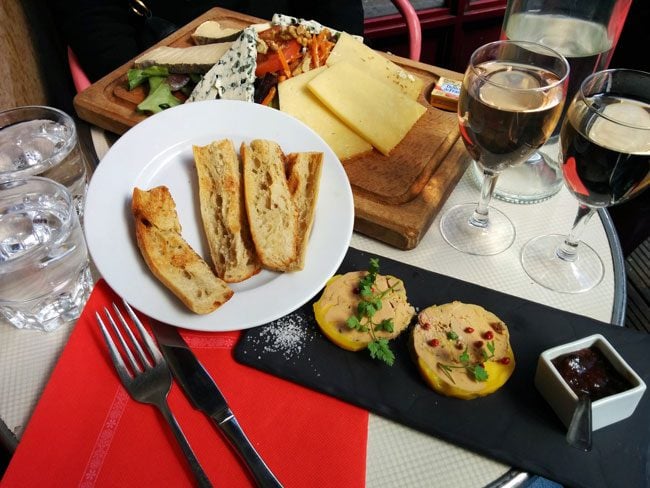 It's Totally Worth the Effort
After catching some comfortably warm spring sun, we continued upward via the picturesque Rue Tholozé. This tiny steep street is just what you'd expect in Montmartre and not to fear, there's a reward at the top!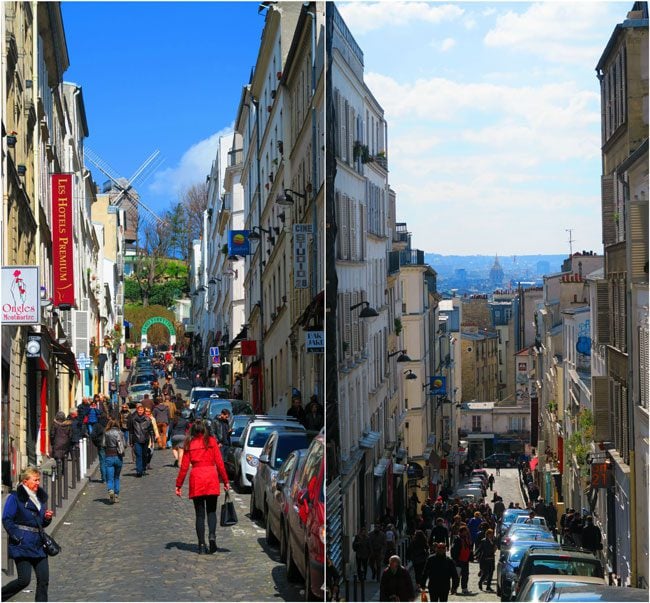 As you cross the finish line and join up once again with Rue Lepic, there's a wonderful view down below towards Paris. If you need a break or just another glass of wine, grab the best seat in the house at Autour du Moulin and enjoy the view!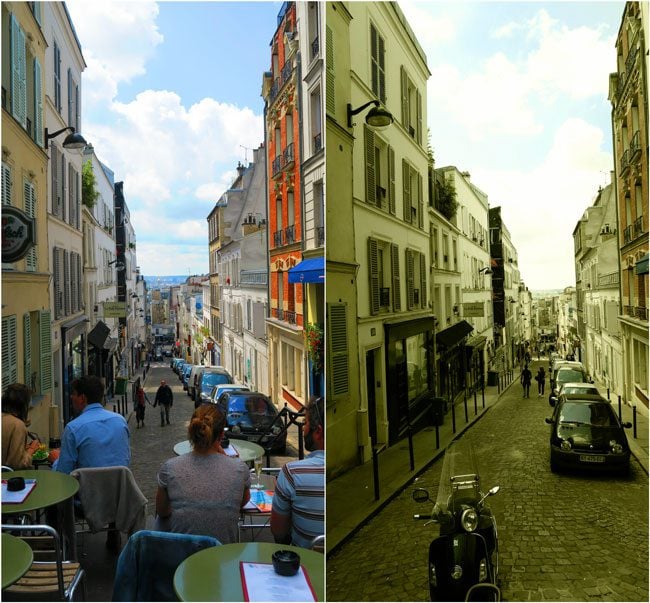 Just behind you is one of two surviving windmills that used to be scattered on the hill. Like down below at the Moulin Rouge, this was the site of crazy partying back in the day. In fact, those parties were so legendary, that Renoir decided to eternalize those special moments in his masterpiece Bal du Moulin de la Galette – which now hangs in the must-visit Musée d'Orsay. If you opted out of the Amélie brunch, check out Le Coq Rico. As the name suggests, chicken rules the menu in this highly acclaimed bistro.
We now started to make our way to undoubtedly the highlight of the day but there are still a couple of stops along the way. By now, you're in the highest and most sought-after part of Montmartre. Just have a look at the houses here, can you imagine the views they have?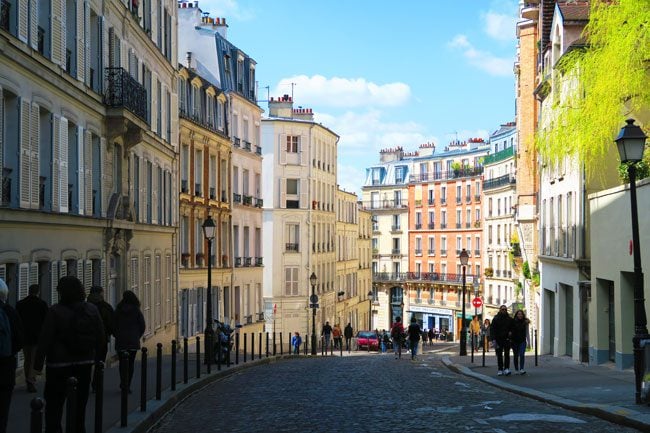 Aux Champs Elysees
But things can't be this perfect, right? The romantic village-in-the-middle-of-town appeal is by no means a secret, and sooner or later you'll make it to the 'village center'. Around Place du Tertre, things can get quite unbearable and that's why it might be better to head over here on a weekday. The old village shops have given way to souvenir shops and tourists arrive here by busloads. Don't get me wrong, this part of Montmartre is beautiful but with these kinds of crowds – you'll quickly be moving along.
And moving along we are. They say spring is the best time to visit Paris and after living in Paris for 3 months as spring gave way to summer, I can understand why. Parisians are just extra happy when the leaves start appearing again and it brings the best out in them, contrary to their pretentious global image. Have a look at one of the random springtime surprises that we came across just a few meters from Place du Tertre.
Have Your Portrait Taken
And now for Place du Tertre. It's one of those must-see places in Montmartre but one where you can't spend too much time in either – it's simply packed with tourists. The one-time village square is now one of the most popular places to visit in Paris and there's only so much of it (more like so little of it). The main attractions here are the portrait artists, and there's plenty of them to choose from (prices start at about €50). There are also lots of overpriced cafes overlooking the square and a restaurant smack in the middle.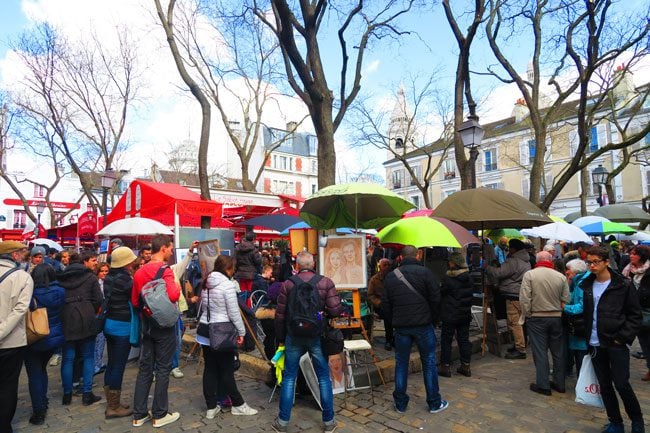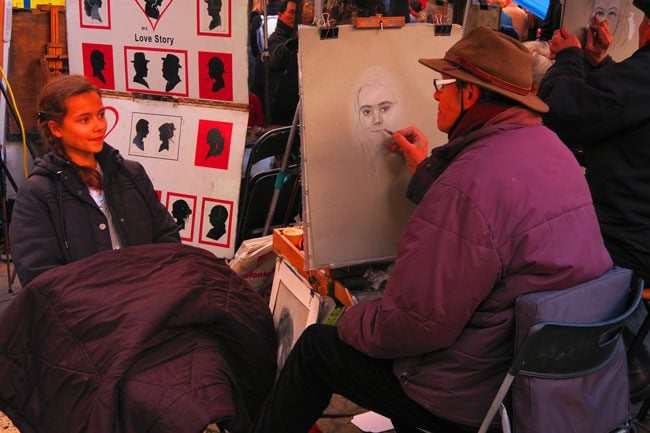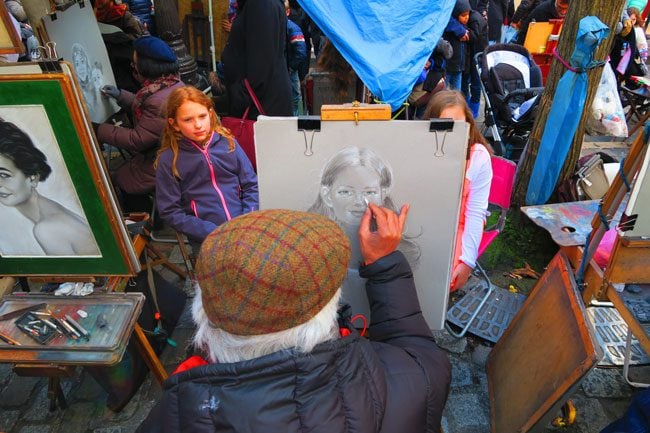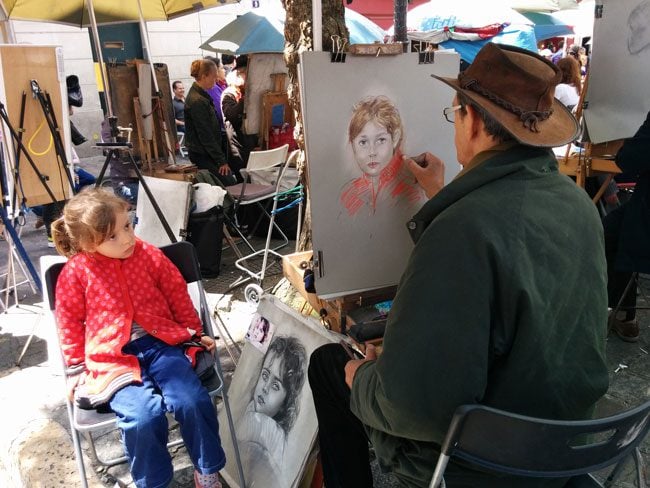 Ooh La La – the View is Amazing!
Once you had enough of the crowds, head to the nearby Place du Calvaire. It's a super tiny square but you'll get a good view of the famous staircases that lead up to Montmartre. If you keep walking on the same street, you might be able to catch one of the best views of the Eiffel Tower, in the backdrop of those all too charming Parisian rooftops with their ubiquitous chimneys and tin covers.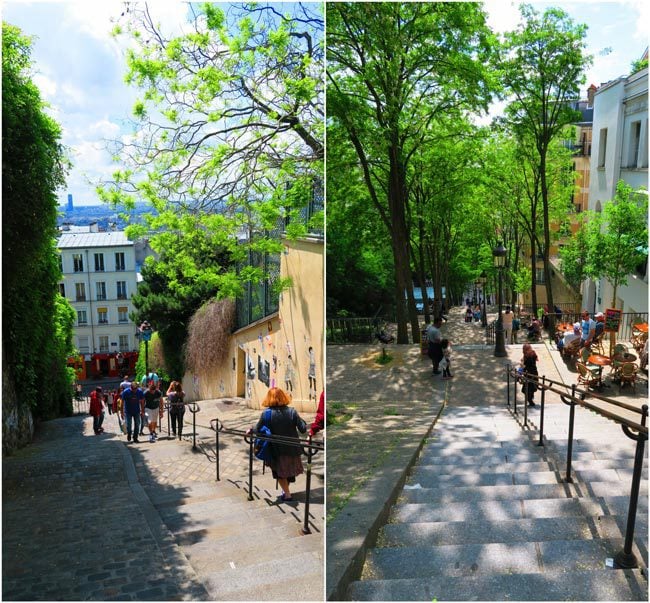 From one great view to another, we now inched closer and closer to the climax of the day but there's still one more stop along the way. Over at Square Nadar, you have another unique vantage point of the Eiffel Tower. Just how much you can see of the city below will vary by season but hey – it's on the way.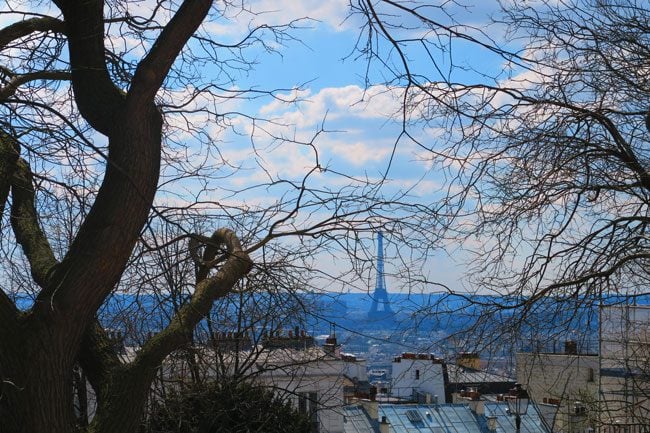 But enough playing around. It's time for the real thing!
The Sacred Heart
Sitting comfortably at the summit of Butte Montmartre, the highest point in Paris, the Sacré Coeur is not something that can be missed! The Basilica of the Sacred Heart is not among the Gothic churches of Paris like the Sainte Chapelle and Notre Dame, which have been around for centuries. In fact, it only opened for business in 1919. Its signature tower and baby-bottle-like domes can be seen from almost any point in Paris.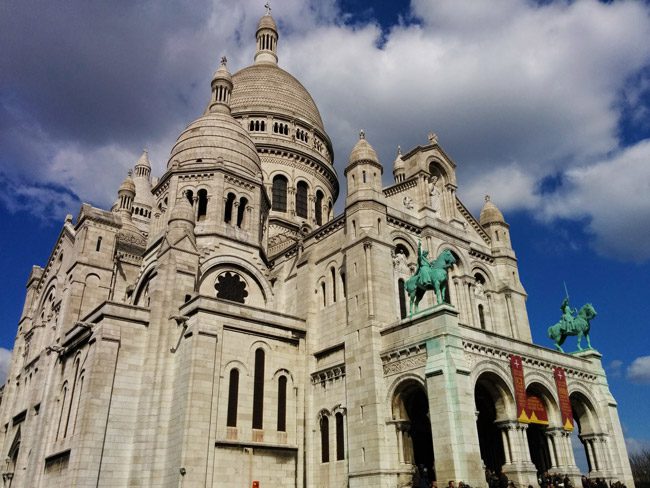 The basilica sits on property that was claimed as holy grounds by the Romans centuries ago. The excuse for building the church on the prime panoramic property is twofold. The first is said to be an atonement for the post-French Revolution 'sins' that eventually led to the grave French defeat to the Prussians. The second reason is to atone for the 'sins' committed by the neighborhood rebels during the famous uprising known as the 'Commune' in 1871. Either way, the Sacré Coeur is a beauty so let's head inside.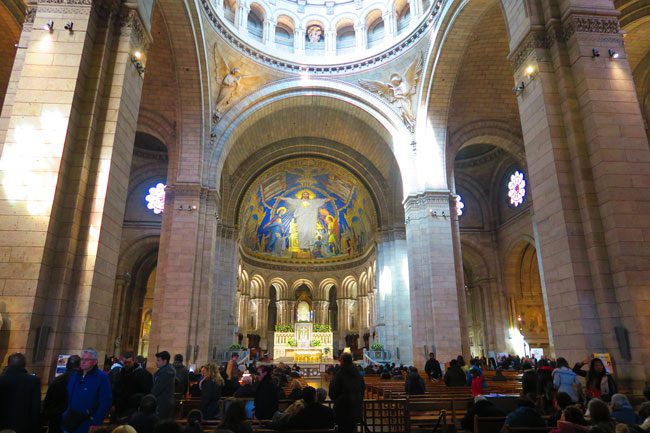 Built in classic French & Byzantine style, the church is as beautiful as you would expect and is free to enter (just the church). If the view from the outside terrace is not enough for you, then for a few Euros more, you can climb the 300 steps to the top of the dome for spectacular panoramic views of Paris. The view doesn't get any better than this and is probably only rivaled by the view from the Montparnasse Tower, on the opposite end of town.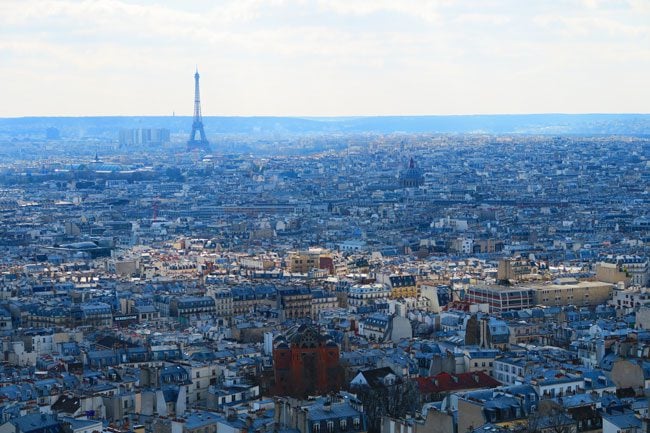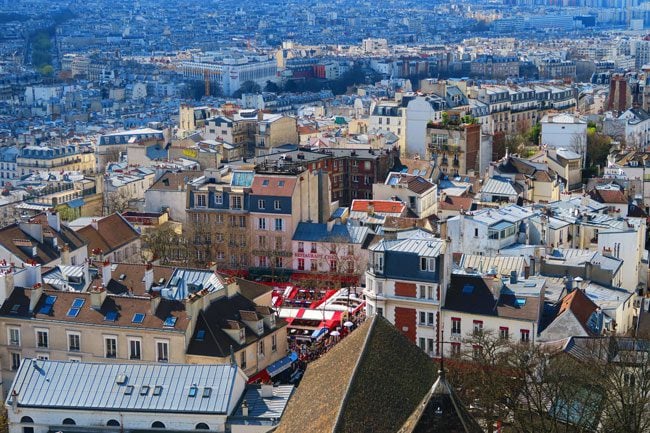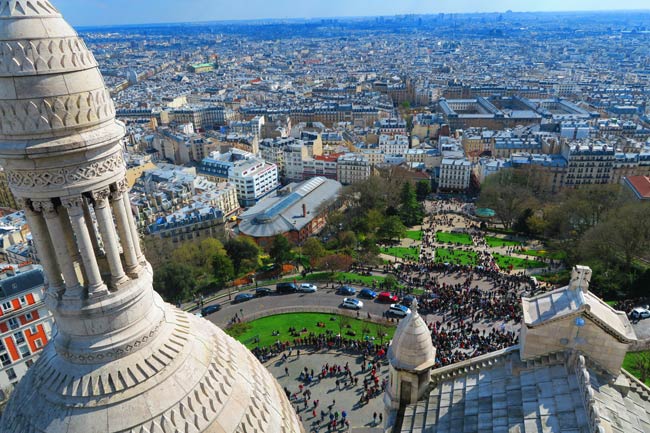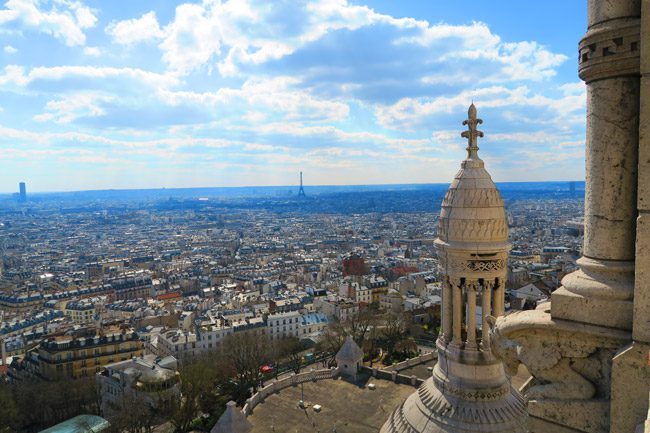 Your ticket will include a visit to the Sacre Coeur crypt, which has a few interesting sculptures but is not a must-see.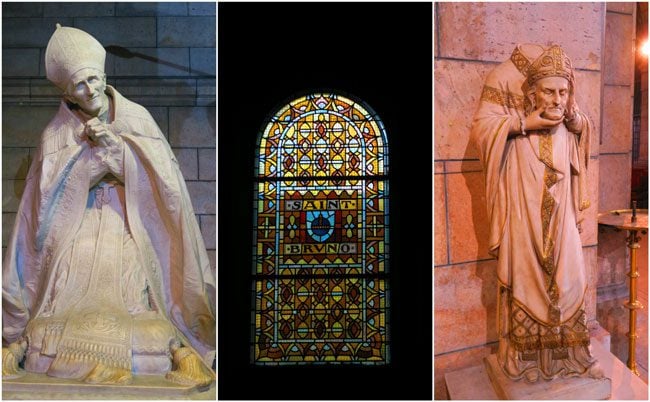 Warning: Keep Your Valuables Safe!
Outside the church, whatever it is you do, just keep your valuables safe. The stairs leading up to the Sacré Coeur attract the crowds and with the crowds, come the pickpockets. So don't let carelessness ruin your day!
They Make Wine Here?
The main activity after visiting the Sacré Coeur is more or less just strolling around. The area behind the basilica is the most charming in Montmartre. The cobblestone lanes, the street lamps, and those famous staircases – all make this part of Paris super romantic.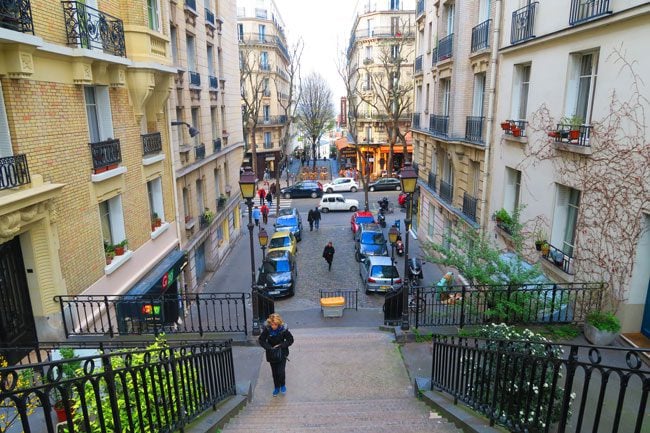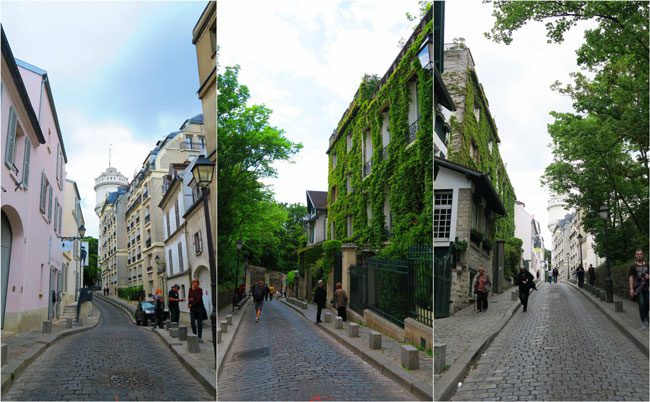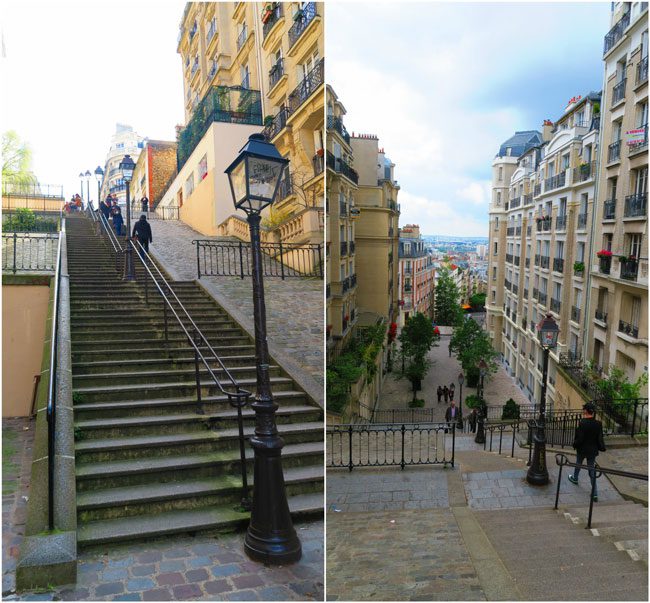 To continue the romantic theme of the day, we continued on Rue Saint-Vincent towards the Montmartre Vineyards. Did you know that they still make wine in the middle of Paris? It's difficult to actually see the vineyard these days behind the fence but every year, almost 2,000 bottles are produced right here in the former village. Every October, there's a festival to celebrate the harvest – just another reason to visit Paris.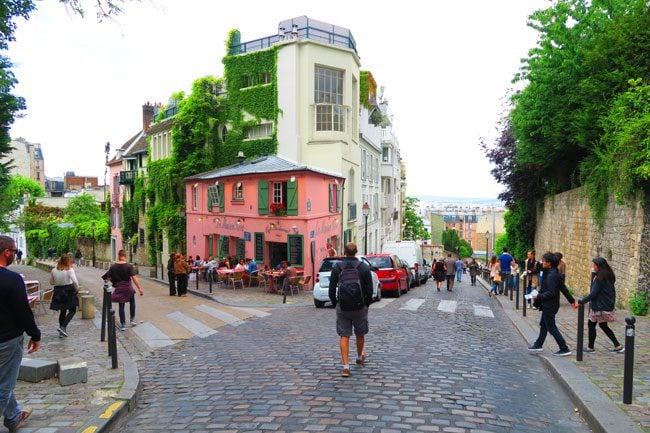 Our next stop will be Villa Léandre, stopping on the way at small squares like Square Suzanne Buisson and Place Dalida. This is a quiet, residential part of Montmartre for the lucky few who can afford to live here. This really does feel like being in some village in the countryside. Villa Léandre is a tiny dead-end street that's home to beautiful villas – don't miss it.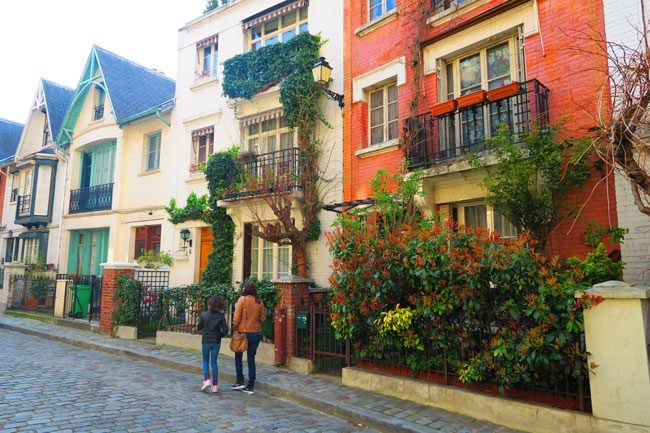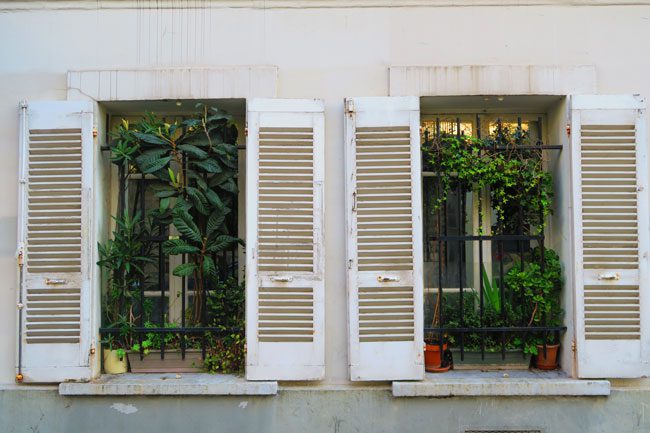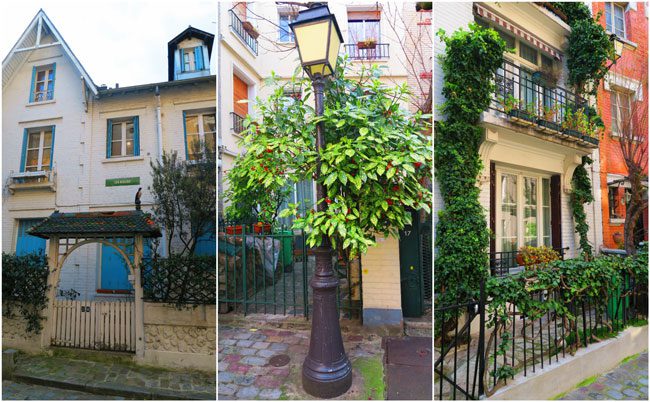 An Optional Detour
We're about to make our way back to our starting point but if you want to get a bit more adventurous, check out the Montmartre Cemetery that's pretty close by. It's not as grand as the Père Lachaise Cemetery (highly recommended) but still super cool to check out. Lots of neighborhood legends are buried in the former quarry and even dancers from the Moulin Rouge. To lighten up the mood, you can head over to Arnaud Larher for a sweet delight.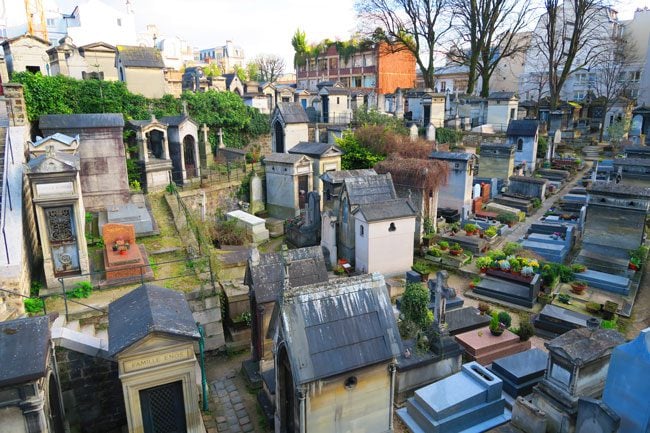 A Romantic Spot to Finish the Day
Heading back on Rue Lepic which then merges with Rue des Abbesses, the atmosphere is more vibrant yet still charming. Rue des Abbesses is loaded with trendy cafes, restaurants, wine shops, and Le Grenier a Pain – an award-winning boulangerie (bakery). I must warn you though that a simple cappuccino might set you back €6 in some of these places, but the people-watching is great!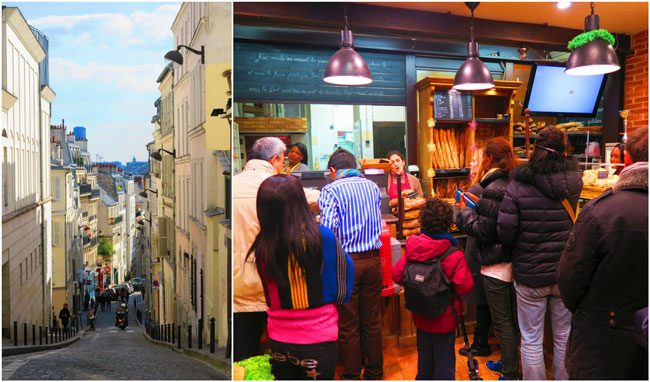 A worthwhile detour for a glass of wine is to Le Relais de la Butte. This bistro has one of the nicest outdoor terraces in all of Paris. Grab a glass of wine and sit outside, maybe even a small something to eat – and just enjoy the view! Just above you is the lovely Square Bateau-Lavoir with its famous water fountain, so if you're not in the mood for some wine, check out this spot instead.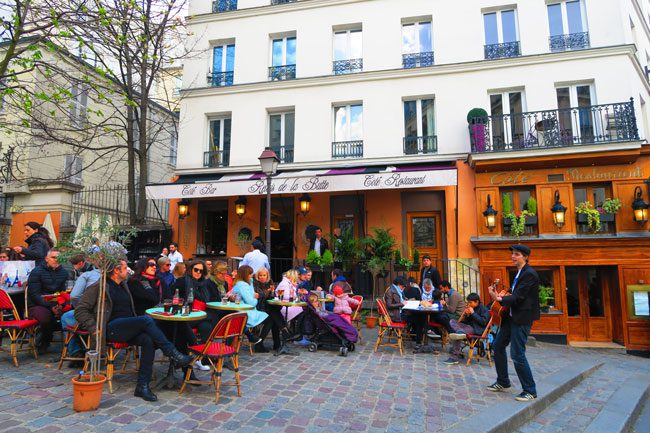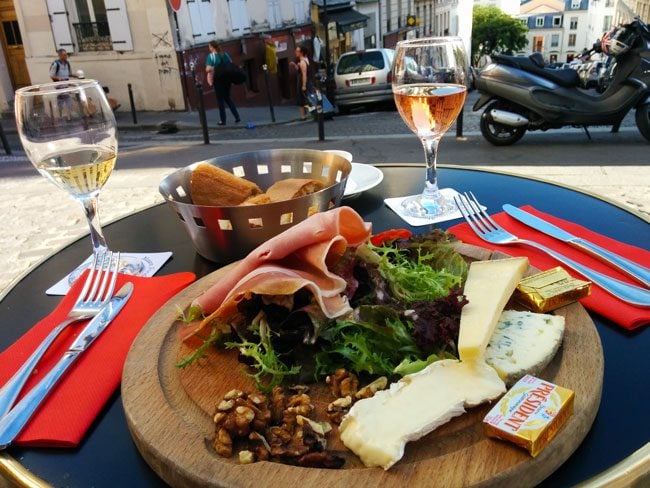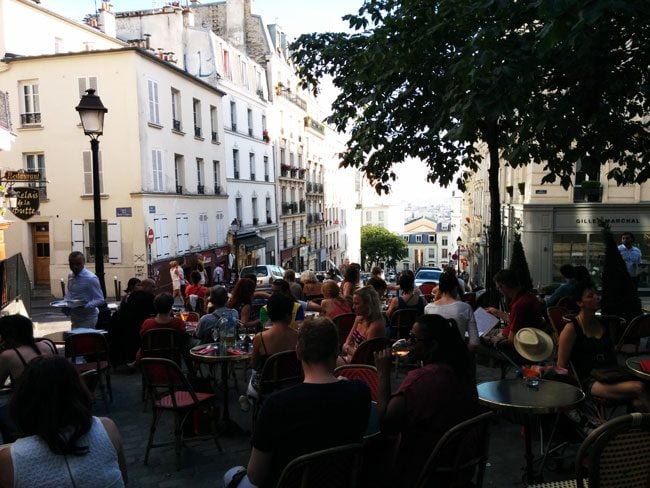 Our visit to Montmartre ends where it also could have begun – Place des Abbesses. This Metro station / charming square has one of the few remaining Art Nouveau canopies that have made the Paris Metro system one of the most romantic in the world (and that's very hard to say about subway systems).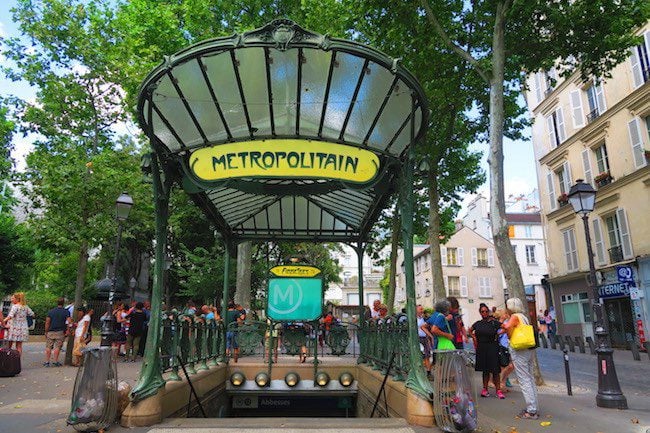 Don't be shy and head into the small park right behind the metro station (Square Rictus). The small park is home to Le Mur des Je T'aime – the 'love wall'. It's a kitschy yet romantic place to have your couple's photo taken to the background of 'I love you' handwritten in 80 or so languages.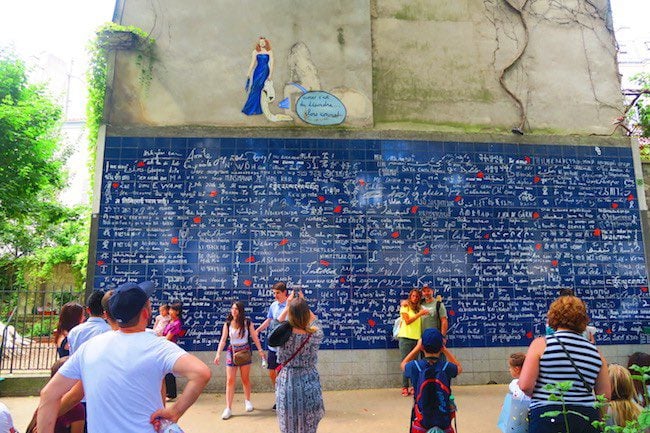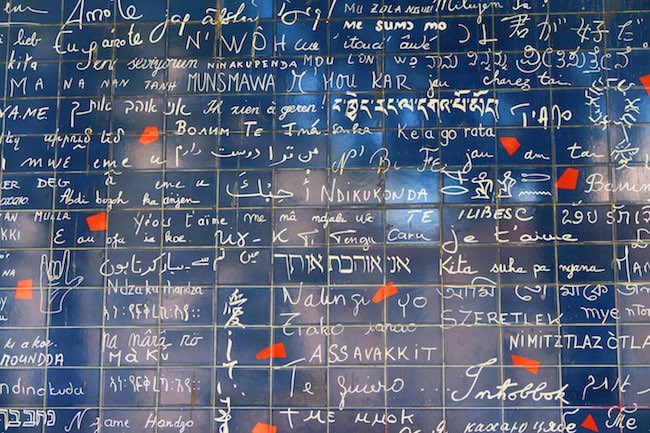 Just before reaching Place des Abbesses, pop into the gold-painted La Boutique des Anges, a story entirely dedicated to angles. Only in Paris will find such stores, a good opportunity to buy a romantic souvenir to take back home from this romantic day in Paris.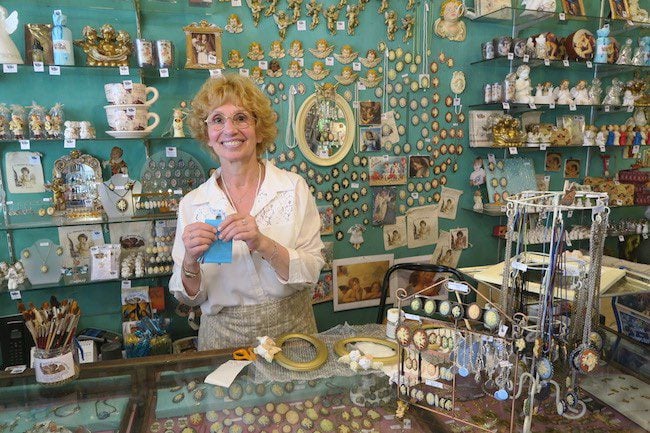 Extra Bonus
If you don't feel like hopping back on the Metro to your hotel, there's some more pleasant walking you can do. Further down the hill, walk down on Rue des Martyrs towards the center of town. This is one of my favorite streets in Paris and for good reasons. The street is loaded with bakeries, cafes, seafood shops, fruits & vegetable shops, and one of the best pâtisseries around – Sébastien Gaudard. Why not treat yourself to a delicious Parisian pastry? It's the perfect way to end a day in Montmartre!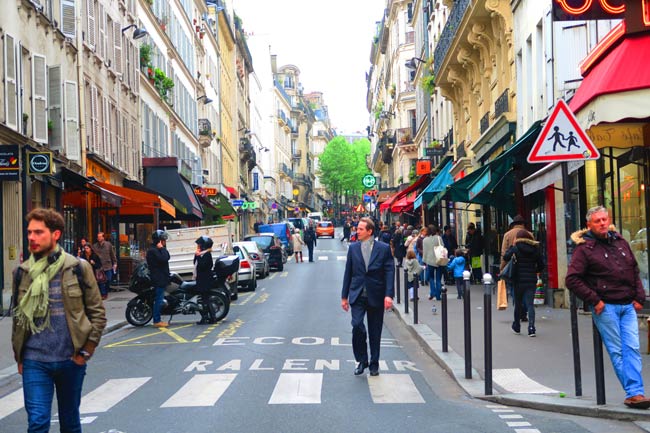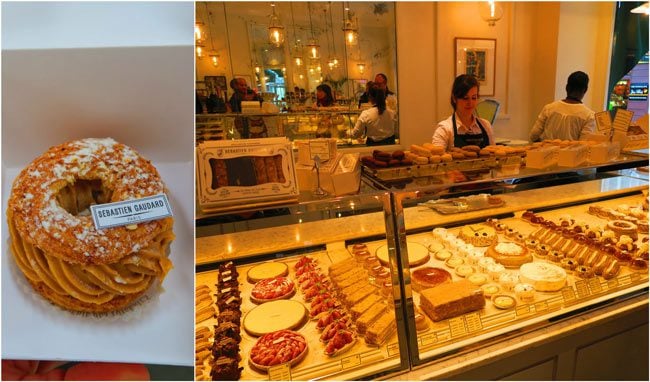 In Conclusion
I can't believe I didn't make it to Montmartre on earlier trips to Paris. It's hard to believe that a huge city like Paris can have a village at the heart of it and with such fine views as well! You'll especially enjoy spending the day in Montmartre if you're on a romantic visit to Paris. There's just something here, in the Paris of old, that brings out the romance that defines the City of Lights. The biggest tips I can give you are the ones I mentioned earlier: try and avoid weekends and aim for a clear day. The first tip is probably more crucial as things can get super crowded on this tiny hill. I hope you've found this Montmartre itinerary useful and even you're not on a romantic visit to Paris – you'll fall in love with this place!
What's Next?
Plan the perfect trip to Paris with free and in-depth Paris travel guides, including the Best of Paris collection and a guide to all major Parisian neighborhoods.