Part 1: Las Vegas (2 Days)
We start this Southwest USA road trip with a couple of days in Las Vegas, experiencing the complete opposite vibes of the next legs of our road trip.
Sleepless in Las Vegas
We had arrived in the evening and checked into the Palazzo resort, right on Las Vegas Boulevard, better known as 'the Vegas strip'. The Palazzo and its sister resort the Venetian, make up one of the most extravagant luxury hotel complexes in the world. As most resorts in Vegas go, this complex also revolves around a world theme, this time it's Venice Italy. The complex has over 8,000 combined rooms, dozens of restaurants, 2 huge casinos, a man-made river, and of course – a luxury shopping center (Lamborghini anyone?). In Vegas, the bigger the better! The Palazzo and Venetian have taken the Vegas 'art' of replicating famous landmarks to a whole new level. Outside, it's the replica of Piazza San Marco, with its famous clock tower and the Rialto Bridge. Inside, it's Venice's canals with their oversized gondolas – truly amazing, even if totally fake… it's Vegas after all so get used to it.
The Palazzo also dominates prime real estate on the strip. Just nearby you'll find major resort highlights such as the Mirage, Treasure Island, the Bellagio, the Paris Hotel, Caesar's Palace, and the Wynn, just to name a few. So it makes a great base for exploring other resorts in Vegas which, with their themes from around the world, really make up for an interesting night! It's also just in front of the Fashion Show Mall, an upscale shopping center that offers luxury brand shopping as well as some more down-to-earth brands.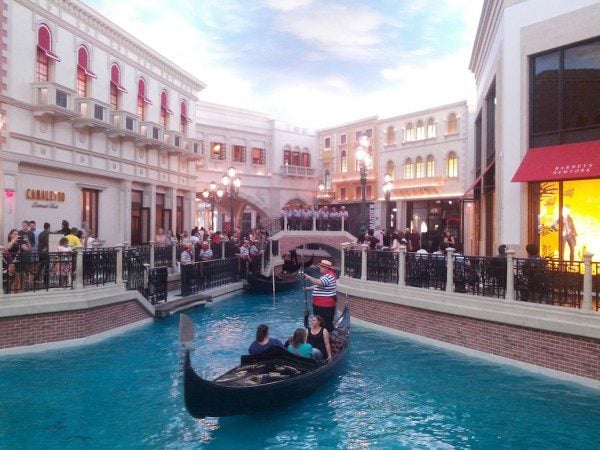 As for the casinos, both the Venetian and the Palazzo have their own, with a combined area of 20,000 square meters. The Venetian's floor seems to be more upscale and vibrant while the Palazzo's are quieter (at least when we visited). One thing to note for us non-heavy gamblers, if you're over the slot machines and feel like testing your blackjack skills, the table minimums at the Venetian and the Palazzo range from $10-15 so keep that in mind. If you're looking to extend your losing night a little bit longer, head over to nearby Harrah's or the Quad (and a bit further the New York-New York) – though the ambiance is not the same (and can drive you a bit mad after a while).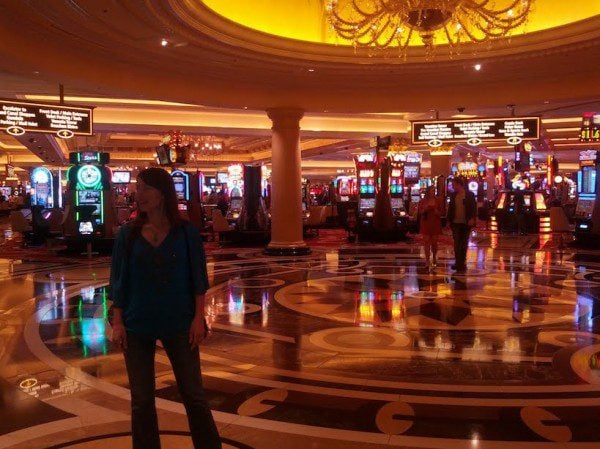 There are countless dining options at the Palazzo, from simple casual dining to super gourmet restaurants. For dinner, we headed over to Grand Lux Cafe which is open for nearly 24 hours. This is a family-style restaurant with almost everything conceivable on the menu. Portions are huge and the food is great. We had a burger along with grilled salmon and some appetizers to start.
The rule of thumb in Las Vegas is that you don't come here to sleep. Sure, the rooms are amazing and the bed ever so cozy but the real party is out on the strip. So despite our fatigue, we headed to explore the Las Vegas strip. The strip plays with your senses. Sounds of slot machines cashing out pay, sexy hostesses trying to get you to come into the casino (or check out a nearby 'gentleman's club' – limo transport included), massive hotels, volcanos erupting, pirates raiding ships, and an endless display of neon lights – the temptation is everywhere in Las Vegas!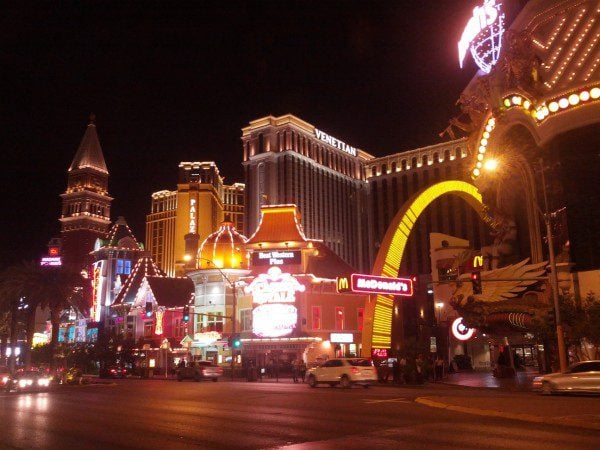 The Las Vegas Strip
From the Palazzo, you want to head south on the strip as aside from the Wynn (highly recommended to check out), there's not much happening up north (yet). Keep in mind that Las Vegas city blocks are huge so the distance from one major resort to another takes longer than it seems on the map. Also, you can only cross from one side of Las Vegas Boulevard to the other via pedestrian bridges. But don't worry, there are plenty of distractions on your way and you'll never get bored.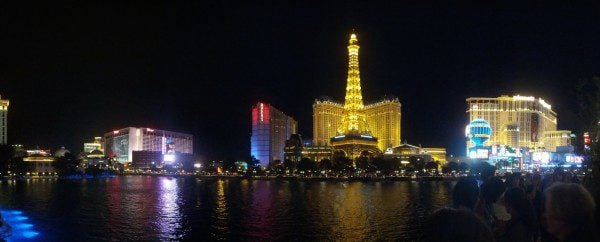 Other than the Wynn, other 'must-see' resorts to check both from the outside but definitely on the inside are the Paris Hotel, Caesar's Palace, and the Bellagio – which had the nicest interior of all the resorts we visited. After a successful night of slots and blackjack, we called it a night.
American Breakfast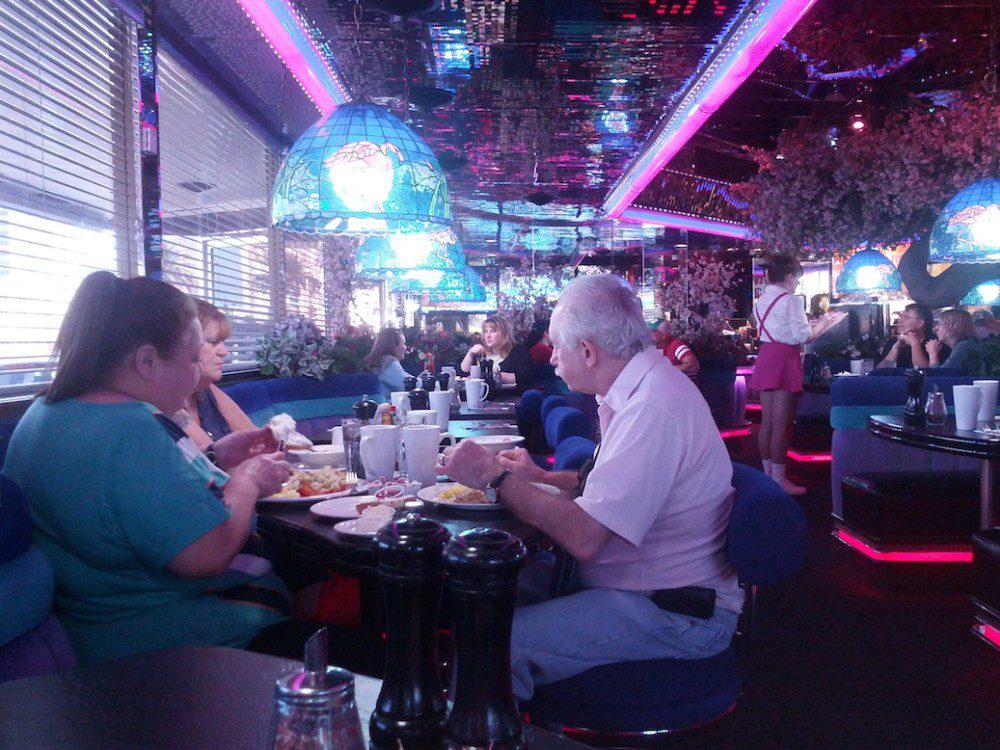 The following morning, we decided to venture out of the Palazzo for breakfast and try something original. We got a recommendation to head over to nearby legendary Peppermill Restaurant for one of their signature breakfasts in a 50's diner setting. It was a short 20-minute walk past the Wynn to get to this 24-hour breakfast joint. The staff as you would expect at a place like this is super friendly and we were offered several times bloody Mary's and mimosas, even though it was 8 am. This place serves American food at its best (or worst, depending on how you look at it). Portions are huge, I mean super huge. I ordered a regular omelet and got a triple-decker monster – only in America! So if you're looking for that old American experience without caring for calories, this place is a great experience. If you're looking for something else, the Palazzo has plenty of options though not as down to earth as the Peppermill Restaurant.
It was now on to another American experience, shopping! Las Vegas is home to not one but two premium outlets. We caught a taxi ($15) to Premium Outlets North as we were more interested in checking out the stores there. Be sure to check out Premium Outlets South's store listing and make the right choice for you. It's gonna be mighty hard to see both on the same day. In any case, these places are very popular and in our case, though we got there at 9 am, tourists were arriving by busloads (literally). Not to worry though as this place is large enough to accommodate everyone and the bargains make up for any inconvenience. On that note, if you're planning to return to Vegas by taxi, queues will start to form in the early evening hours and though they are quite efficient at getting taxis for everyone, try and avoid these queues and leave slightly early.
For dinner, we headed to Sushisamba in the Palazzo. This was a great choice and the food was fantastic in this upscale Japanese restaurant. The setting is very ambient and the menu is wide to choose from. We, of course, came for the sushi which is served fresh and with a fine touch of art. It's pretty moderately priced and for $30 each, we had plenty of sushi and drinks.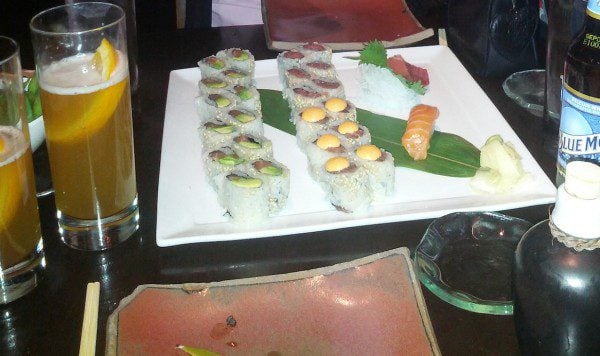 Cirque du Soleil Show
Aside from gambling, Las Vegas is pretty big on shows and some of the world's best acts perform here on a nightly basis. One of the long-time residents of Las Vegas is Cirque du Soleil, who has turned the circus from clowns and human cannonballs to hair-raising acts and amazing sets. There are several different Cirque du Soleil shows happening across town so check for the ones that suit your taste. We pre-booked tickets for Cirque du Soleil's 'O' at the Bellagio and for $130 per person, sat in the 5th row – not too bad. This show revolves around water and it is simply spectacular. Before you know it, the stage is transformed into a pool of blue water as dancers and acrobats perform death-defying acts high above and across the water. You can also book a premium package that includes a pre-show dinner at the Bellagio.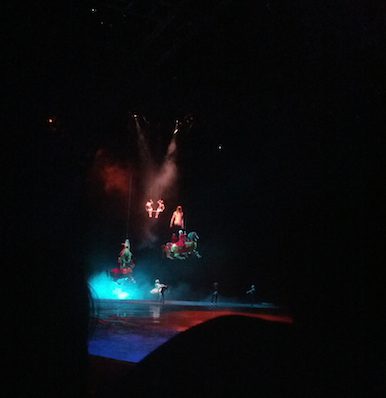 It's hard to choose which show to go to in Las Vegas with so many good names around. We made a good one by watching show trailers on YouTube and choosing the one we liked the most. It also gave us the chance to see the beautiful Bellagio hotel with its colorful interior and famous water fountains. Every 15 minutes in the evenings, these huge fountains break into a choreographed dance to the sound of familiar tunes.
As we were embarking on our road trip the next day with lots of desert driving, we called it a night and headed back to the Palazzo.
Any Regrets?
We missed the famous Welcome to Fabulous Las Vegas sign which is just outside the airport before you get to the Mandalay Bay resort. I know it's kitschy but still cool to see.
Skydiving over the desert was another option on our list and there are plenty of options to choose from. However, despite what they tell you, these can take up a full day so we decided to pass.
I already mentioned that the Palazzo is a one of a kind resort. So it's important to leave some time to relax by the pool and enjoy the scenery.