Part 2: Las Vegas to Monument Valley (2 Days)
Leaving Las Vegas behind, we'll venture deep into the desert and drive to the furthermost point of this road trip in Monument Valley.
The Drive to Monument Valley
This part of our southwest USA travels was the one we most looked forward to. It would be a 400-mile drive through the desert to one of the most famous places in America – Monument Valley. Even if the name doesn't ring a bell, you'll surely recognize Monument Valley from dozens of John Wayne westerns and one film you might recall starring Tom Hanks. More on that later. We planned to hit the road early but not too early and make it to Monument Valley just in time for the sunset, allowing 10 hours to cross through 2 states and driving through some of that famous remote American desert. Be sure to check sunset times for Monument Valley here.
We arranged to conveniently pick up our rental car from the Hertz location at the nearby Harrah's hotel, where we would drop it off on the return and spend the last night in Vegas.
Leaving Las Vegas, there's not much choice as far as roads go so take Interstate 15 towards Salt Lake City, Utah. As soon as you leave Las Vegas, you truly enter that great American desert. The road is as straight as an arrow at some points as far as the eye can see and the hills around you are spectacular. It feels like engineers added curves to the road just to keep you alert. Of course, you'll pass by that odd remote casino resort, which also adds to the atmosphere. We stopped early on at a gas station to pick up a road map which came in handy throughout our road trip.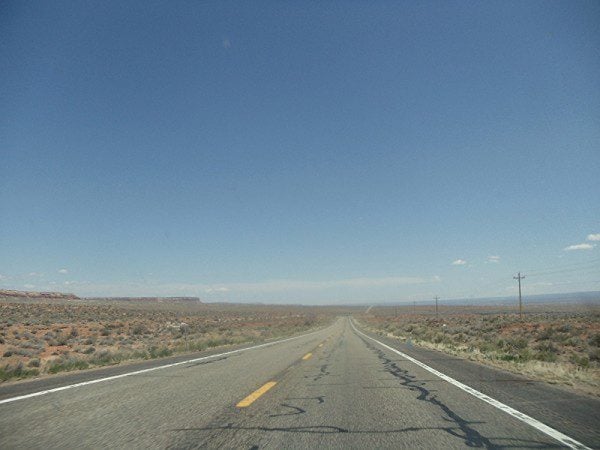 Once you cross over to Utah and reach the town of Hurricane, switch over to Highway 59 towards Kanab. The road will take you back to Nevada and back again into Utah. Getting off the interstates is highly recommended where possible as the road takes you through remote towns and the sweeping desert views.
Once we reached the town of Kanab, Utah, we stopped to grab lunch at one of the diners which is no longer in operation. A word of advice – keep the calorie counting for when you get home and enjoy some of those great-tasting American burgers and fries. This was mostly our diet for the next few days and we did not have any guilty feelings! So we had a great hamburger lunch with a side of nachos and salsa. The home fries are great and the prices are cheap.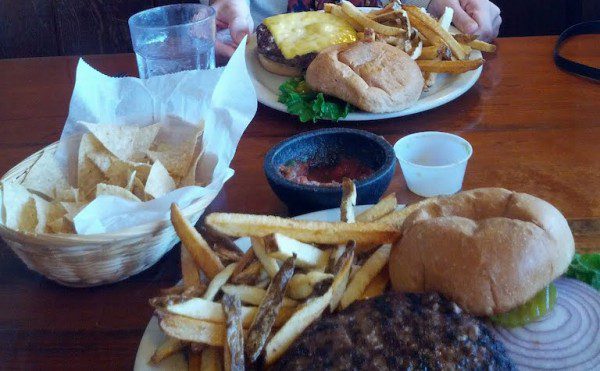 From Kanab, we planned to drive by the Vermillion Cliffs via HWY 89A, a beautiful stretch of round red cliffs in which you can spend a whole day visiting. However, the night before, a stretch of the highway simply collapsed to the canyon below, and the road was closed indefinitely. So we simply continued on HWY 89 towards Page, Arizona, and shaved a few miles off our original driving plan.
A few miles before Page, you'll start to see a large lake on the side of the road. This is Lake Powell, a man-made lake that was created when the Glen Canyon Dam went up and is today, a very popular spot for holidaymakers and their boats. Just after the sign for Glen Canyon National Recreation Area, you'll have the option of stopping at a great lookout point and seeing from up top the flooded canyon below.
A few more miles and you'll enter the town of Page, which was pretty much created to house the workers who built this dam, completed in 1960. The road will take over a steel bridge and just after, you can stop and walk back to get a great view of the Glen Canyon Dam, which harnesses the power of the mighty Colorado River to supply electricity.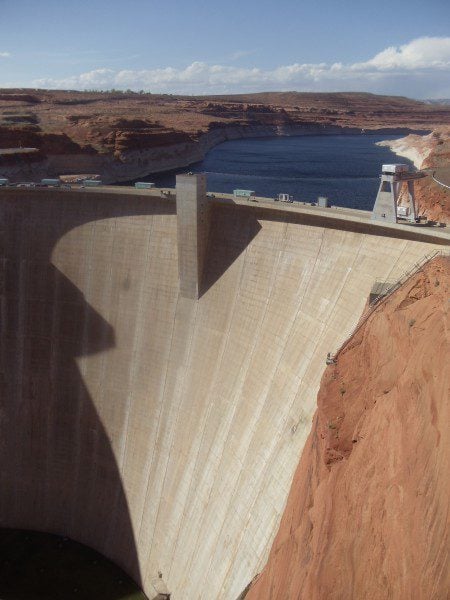 From Page, switch over to HWY 98, then to HWY 160, and finally to HWY 163 at Kayenta which will take you into Navajo country and to Monument Valley. You'll pass through Native American land and numerous mini-markets, or as they're locally called 'trading posts'. Once you pass Kayenta, you'll hit a beautiful stretch of straight road and catch your first glimpse of the strikingly red buttes (isolated hills with steep sides and a flat top) and eventually Monument Valley – unmistakably familiar at this point.
Sunset in Monument Valley
We finally reached our destination and one of the highlights of our southwest USA travel – Monument Valley Navajo Tribal Park, just in time to catch the sunset. Perfect timing! We parked the car in the car park of The View Hotel and joined the small crowd that waited to catch the light spectacle as the valley changes to different shades of red as the sun sets over Monument Valley. This is one of the nicest sunsets you will ever see and it's ever so quiet in this remote part of the USA. The best sunset view is offered at this spot so be sure to get here in time for the sunset on the day you visit. If you're a fan of deserts, as I am, you'll certainly feel that visiting Monument Valley is another 'achievement unlocked'.
Tired from the driving but extremely satisfied with the experience, we checked into The View Hotel. If you have already made it to Monument Valley, be sure to book well ahead of time to reserve your spot in this unique hotel which is the only one inside the park. While rooms are basic, they are comfortable and all face the valley floor, offering unparalleled views of Monument Valley from the comfort of your own balcony. At night, you'll see countless stars (and shooting stars) but the real highlight is to watch the sunrise over Monument Valley (more on that soon).

As you would expect, it's not cheap but it's worth it. We stayed in the Star Room ($215 per night on a weekday) which was more expensive than other options, as you are meant to have a more unobstructed view of the night sky but honestly, we didn't feel the difference. The hotel is a flat three-story building that's perched on the top of a cliff overlooking the valley. The hotel does mention that premium rooms are ones located furthest from the lobby and on the top floor, apparently offering more unobstructed views of Monument Valley. There's also a restaurant and a very nice, yet overpriced gift shop, showcasing fine Navajo art. All in all, consider yourself lucky if you manage to book this hotel.
Monument Valley Tour
Monument Valley Navajo Tribal Park is as you might have guessed – Navajo. This means it's not technically part of Federal US land and as such, Monument Valley is not serviced by the national parks scheme. This also means that the Navajo call the shots around here when it comes to fees and you don't have much choice. Though there might be a back way to enter Monument Valley, you'll probably just pay the $5 entrance fee to get to the visitors center at the View Hotel, which is the starting point for your Monument Valley visit.
Another worth mentioning point is the time. So that the entire area governed by the Navajo is w the same time zone, Daylight Saving Time is observed from April to October – the same as in Utah. If you're driving from Arizona, be aware of this and adjust your clocks. I know, it's weird, but that's the way things are.
As you can tell from the pictures, Monument Valley has certainly earned its reputation and it's no surprise this was a favorite spot for John Wayne. With towering red buttes mysteriously rising from the vast and flat valley floor, there's a lot of sacred history in this place too. The ancient Anasazi lived here for centuries until they mysteriously left around 1300 AD. The Navajo came in centuries later and this area is sacred ground with rock paintings scattered throughout and shrouded with ancient religious spirits that are believed to be present.
Sunrise in Monuement Valley
So as I mentioned before, they don't call it the View Hotel for no reason. In addition to spectacular sunsets, another must-do activity in Monument Valley is to wake up early and watch the sunrise. The hotel will let you know when tomorrow's sunrise is and you won't be alone as everyone pretty much gets up and heads to their balcony or the viewing area below to watch as the sun rises over the flat horizon. We are still undecided as to what is prettier, the sunrise, or the sunset. You can judge for yourself from the pictures and hopefully when you're actually there. As you click through the gallery, notice how the colors change.
Breakfast is served buffet-style at the hotel's restaurant and is pretty decent and inexpensive. Of course, the view is just amazing.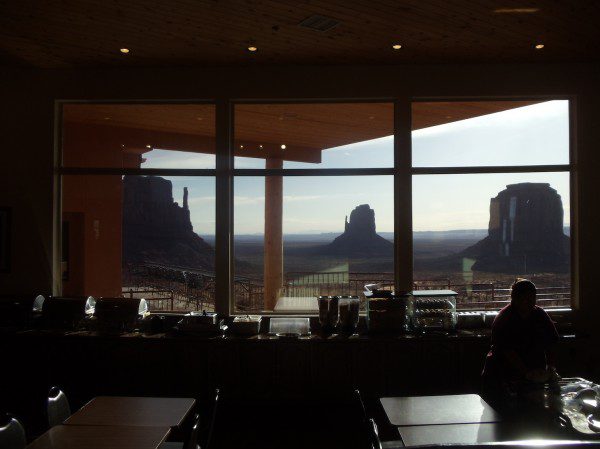 Run Forest, Run!
Before we turned to explore Monument Valley, we had to cross another item off the 'must-do list'. Remember that scene in Forrest Gump when Tom Hanks suddenly decides to end his endless marathons, much to the disappointment of his followers? Remember where that scene takes place? Well, here's a reminder for you. This beautiful stretch of dead straight desert road with Monument Valley in the foreground is just a few miles from the visitors center at the View Hotel. Get back into the car and drive back into Utah for about 20 minutes on HWY 163. You'll eventually find this stretch of road and just park the car and admire the view. It is worth it. The reason why we did this detour at this stage is that we didn't want the sun to be in the wrong direction so mornings are the best time to head out here.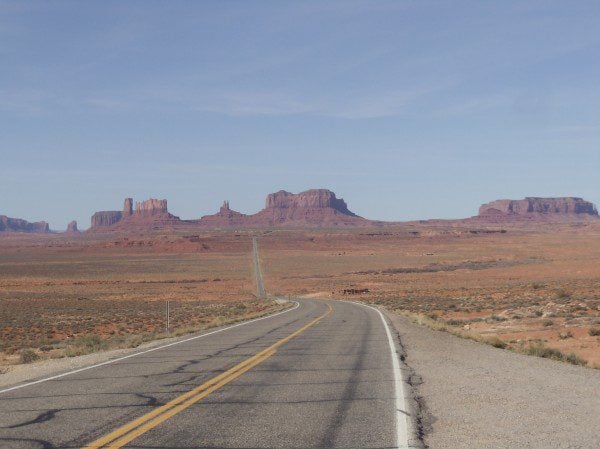 Now it was time to explore the valley floor and you have a few options here. You can either drive your own car down into the valley floor and ride along a 17-mile loop dirt road which will take you around most of the famous sites and lookout points. The advantage here is that it's a self-guided tour and you can stop wherever you want. The disadvantages are that your car (or the road on your particular day) may not be in good shape. Also, the 17-mile road doesn't take you to the remote areas where rock paintings are as well as where interesting rock formations can be seen.
The recommended alternative is to hire a Navajo guide from the car park of the View Hotel (it's all very official so don't be worried) that'll drive you down in a 4X4 truck and share with you the history of the place as well as the Navajo people. The fact that you'll get to spend some time with a Navajo is also a huge plus – let's face it, this opportunity doesn't come every day. Hiring a guide also gives you the option to explore, as mentioned before, areas of the park not accessible to self-guided tours. You can choose from ½ day tours, as we did ($100 per person) or full-day tours that include visiting scared areas outside of the park. We tried to shop around but prices are pretty much the same. We were lucky to arrange our own private tour, just the two of us in the truck, with King – our Navajo guide.
Driving along with King was a memorable experience and worth the steep price. You'll start your drive with the East and West Mitten Buttes which can be seen from the hotel and also offer a good view back towards the hotel, where you can admire how the structure blends in with the surroundings.

John Ford's Point is another worthwhile stop, offering you the chance to get on a horse for a ridiculous but much called for a photo op as well as a good view of the Three Sisters.
We then continued to drive deep inside the park, on roads that are only open to guided tours. You find yourself driving between immense rock pillars with strange circular chunks of rocks alongside the road. We got to see ancient deserted mesas with beautiful rock paintings depicting ancient spiritual beliefs. As you pass by here, you can help it but wonder what took place in these spots thousands of years ago.
Kicking it with King
King then took us to see a few natural rock arches, formed over millions of years as well as a pit stop in a large open cave where we were treated to a lovely live performance of traditional Navajo tunes. We were pretty much alone at this point and just listening to the silence of the desert (after King's performance) was a memorable experience.
We then stopped to see the Totem Pole, a large group of thin pillars rising from the desert floor and seeming to be out of place.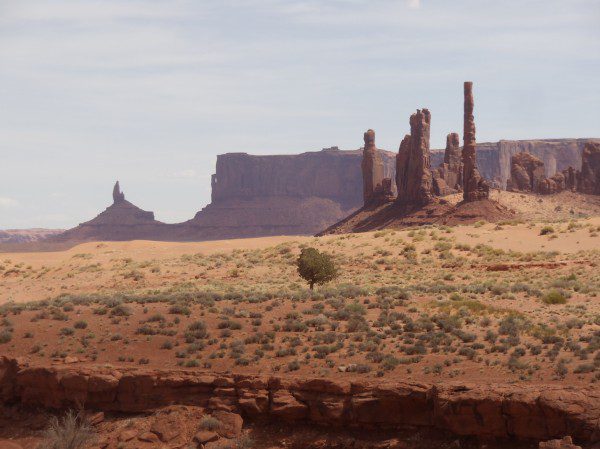 Our final major stop was at Artist's Point, which offers the best panoramic views of the buttes and the vast desert valley – simply amazing.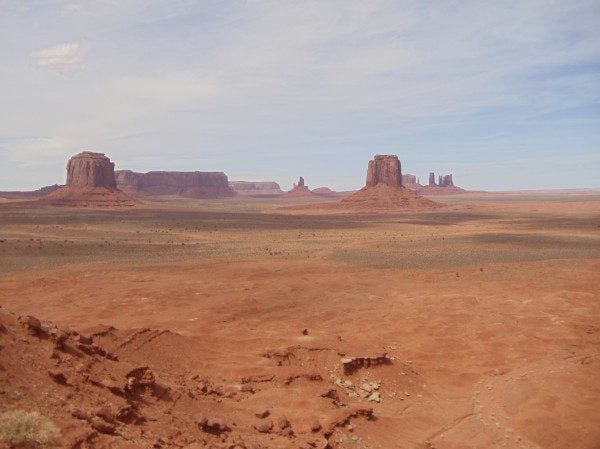 We got back to the visitor's center at around 4 pm for some coffee with unforgettable views. Monument Valley lived up to our expectations, and then some. It's certainly worth the long drive and spending a full day here overnight is highly recommended. Before hitting the road to Flagstaff, three hours to the south, we stopped just outside the park entrance where there is a plaza housing dozens of Navajo artists. It's cool to stop by and have a look, and maybe buy yourself a dream catcher. Prices are also a lot more down to earth compared to the gift shop at the View Hotel and you'll get the chance to talk with the locals – always a plus!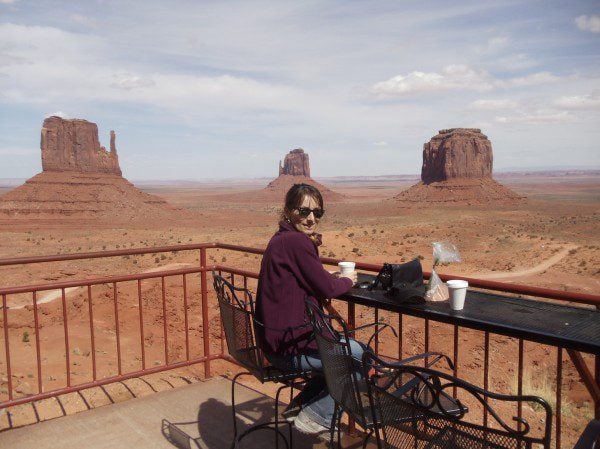 Flagstaff – Arizona
Three hours or 170 miles south of Monument Valley is the lovely town of Flagstaff. The scenery quickly changes along HWY 160 from red desert to alpine green. You theoretically can cut across via HWY 64 for 32 miles to get to the rim of the Grand Canyon but we decided to spend the night in Flagstaff as the lodges inside Grand Canyon Village were fully booked. It turned out great, though.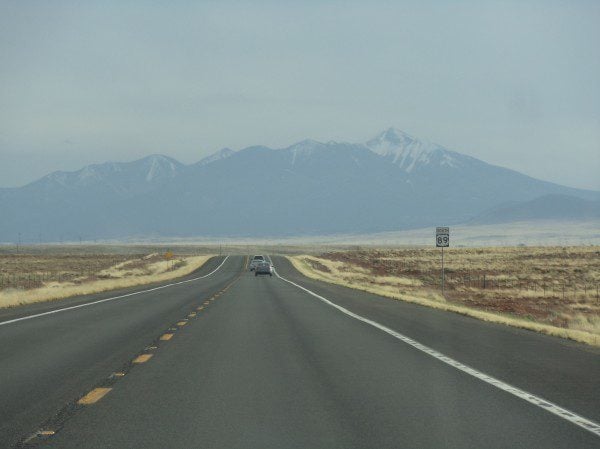 Flagstaff lies at the foothills of the San Francisco Peaks with Mount Humphreys dominating the skyline at over 3,000 meters. It's the main town in northern Arizona and has a rough feel to it as you would expect from a country town, with miles of train tracks rolling through the outskirts of town with its low-lying buildings and freight trains as long as the eye can see. Yet, at the same time, it also has a great vibe to it thanks to Northern Arizona University which is located here. It's also home to a great ski park which gets quite busy when there's snow so this town packs everything in just a few square miles.
There are lots of accommodation options here and we pre-booked at The Hotel Aspen Flagstaff, which wasn't right in the middle of downtown but was in a good enough location and at a great price (our Monument Valley and Grand Canyon accommodations were quite expensive). We didn't expect much from this place at $68 per night including breakfast but when we entered the 'executive king suite', we were pleasantly surprised. We pretty much had a small apartment, complete with a kitchen, living room, a comfortable bed, and even a jacuzzi smack in the middle of the bedroom. It wasn't a 5-star stay but we enjoyed this place.
Probably the Best Burger
For dinner, you have a lot of options downtown, and continuing with the burger theme, we asked around for the best burger joint in Flagstaff.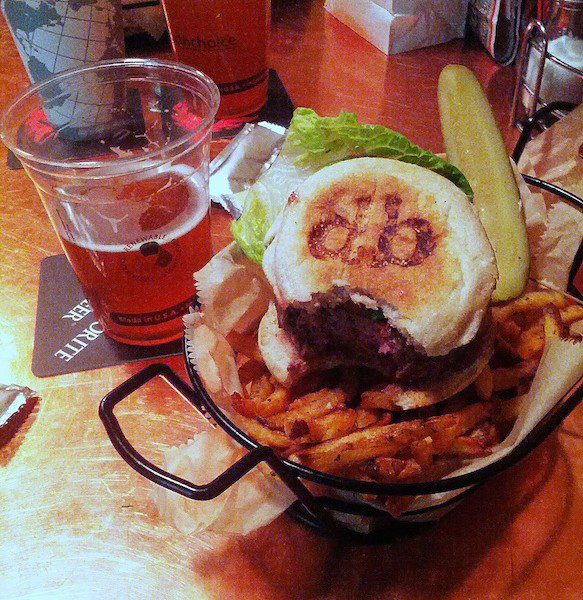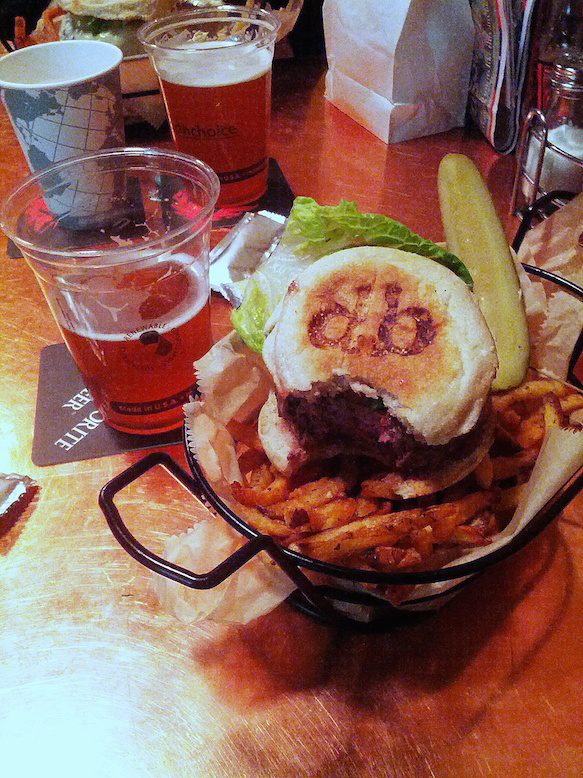 We were recommended to head over to Diablo Burger on 120 N. Leroux St, which is a favorite among locals and students alike and these guys do know a thing or two about burgers. This tiny burger joint serves excellent burgers. These babies were some of the best we've ever had and the college student staff were so friendly.
Heading back to the car, we were lured by our sweet tooths into The Sweet Shoppe & Nut House on 15 Aspen St. We simply couldn't resist the sight of the finely made chocolates here. And did I already mention that people are friendly around here? We pretty much got to taste a dozen or so samples before choosing and stocked up for the drive the next day. Try the chocolate-covered marshmallows, delicious. We love Flagstaff.
While The Hotel Aspen Flagstaff is great, their breakfast is not amazing so we headed over to Macy's European Coffee House & Bakery, just across the train tracks. This place serves real coffee, which is pretty hard to find in the US. There's a great college vibe here and locals pack this place. It also has excellent wi-fi, which probably keeps the crowds inside.
Our next stop would be Grand Canyon!
Any Regrets?
As I mentioned, we planned to drive the stretch of HWY 89A from Kanab to Page via the Vermillion Cliffs and drive along these beautiful red cliffs. While you could spend a day or two inside this park, we simply wanted to enjoy this scenic drive. However, we were forced to detour because of major roadworks, missing this opportunity.
Right outside the town of Page and two hours west of Monument Valley is Antelope Canyon. It's one of the most photographed places in the American Southwest and you'll surely recognize some of the sights. This narrow canyon is best visited when the sun is just right so you have to plan for this and hope it fits with your plan.
Only 44 miles east of Flagstaff is Meteor Crater, a huge crater caused by a slamming meteorite over 20,000 years ago which caused this massive hole that's 1.2 km in diameter and 170 meters deep. It looks cool in the pictures but with a full day planned in Grand Canyon, you need an extra day to explore the region around Flagstaff.