Part 4: Route 66 and Las Vegas (1 Day)
The last leg of this Southwest USA road trip takes us on a beautiful stretch of The Mother Road back to Las Vegas.
Grand Canyon Village to Route 66
The next day we would head back to Las Vegas via a short stretch of the legendary Route 66. We had breakfast at the Maswik Cafeteria near our lodge which wasn't very good. There is a supermarket next door if you want to buy something else.
Route 66 is an old 4,000 km rural highway that pretty much connects Chicago to Los Angeles via small (and now forgotten) American towns. Parts of it merge into today's modern highway system and some parts are left untouched. It's those stretches that most people picture in their minds when they think about Route 66, 'America's main street'.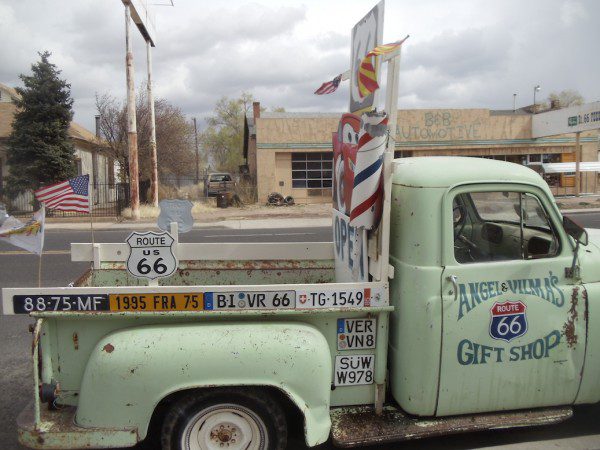 We drove on HWY 64 out of Grand Canyon towards Interstate 40 and got off at exit 121 heading towards Seligman. Right when you exit, you get the feeling of driving on that iconic stretch of road and Seligman makes for an interesting stop. It pretty much lives off the notoriety of Route 66 which is so famous in popular culture.
We stopped here for a stroll on a windy day and the tumbleweed in the streets, along with bikers riding through town on their choppers, only further added to that special feeling. Pretty much all the businesses here do their best to give off that 1950s vibe. You'll see plenty of old Coca-Cola signs, antique fuel pumps, root beer machines, and whatnot. It's quite cool and there aren't too many people around. We stopped for some coffee at the Route 66 Roadrunner.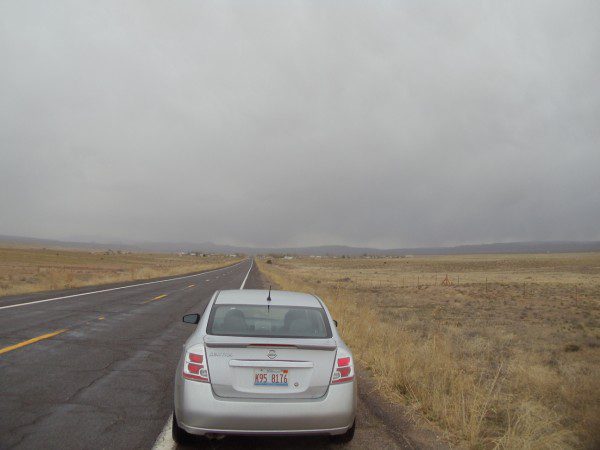 We continued along this isolated stretch of Route 66 which takes you through some lovely countryside scenery. Be sure to have some gas in the tank, as the few options around here are quite expensive. We stopped by in an old gas station turned into an antique museum/convenience store. This place was full of antique cars, fuel pumps, and other such memorabilia.
Greasy, Yet Delicious Lunch
Eventually, we reached Kingman. That stretch of Route 66 from Seligman, will take you about an hour to drive. In Kingman, we stopped for a late lunch at Mr. D'z Route 66 Diner. As you may have guessed, this is a 1950's style diner serving burgers and milkshakes amongst other things. Drop a quarter into the jukebox and enjoy your lunch!
Route 66 to Las Vegas
From Kingman, it was a nonstop 90-minute drive to Las Vegas on HWY 93. The road takes you right over Hoover Dam just before you reach Henderson. If you want to stop and have a look, be sure to get off the highway at Kingman Wash Access Rd and drive to the visitors center. We, unfortunately, missed it and it was not possible to turn back for the next few miles so we had to see the dam from … our rearview mirror.
We dropped the car off at Harrah's and checked in. What's great at these car rental locations, is that you can simply drop off the keys after hours and you're not bound by the closing times of the branch. This ain't the Palazzo and the crowds are certainly different but for $130, we got upgraded to a massive room. Harrah's casino certainly could use a renovation but the room itself was terrific. It is one of the 'old school' Vegas hotels though not as old school as The Sands or Dunes which have long been demolished.
We headed over to the Fashion Show Mall for some last-minute shopping and ended our Southwest USA visit cocktails and blackjack at the Paris Hotel.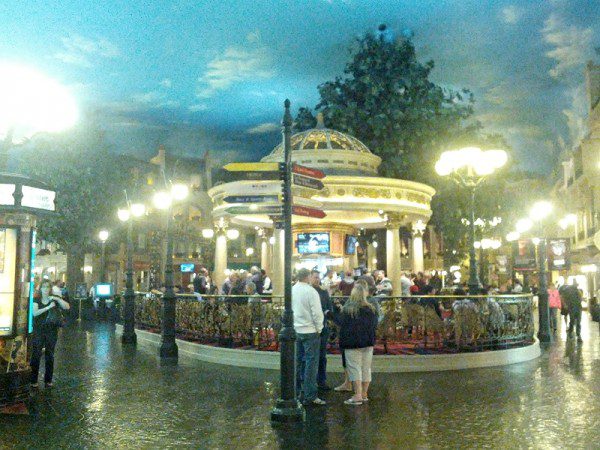 Our trip was officially over but we were treated to excellent views of some of the sites we visited from the plane.
Any Regrets
We missed stopping over at Hoover Dam. It's quite tricky to get there if you're coming from the south.
We wanted to check out Gordon Ramsay Steak at the Paris Hotel as we heard the food is great but we were still so stuffed from the diner food we had for lunch.
We would have loved to check out the Fremont Street Experience which is pretty much a stretch of old downtown Las Vegas street that's been covered in a neon light show.