Part 3: The Grand Canyon (1 Day)
The next leg of this road trip takes us to one of the greatest natural sites on the planet where we'll overnight and spend a full day exploring The Grand Canyon.
Flagstaff to Grand Canyon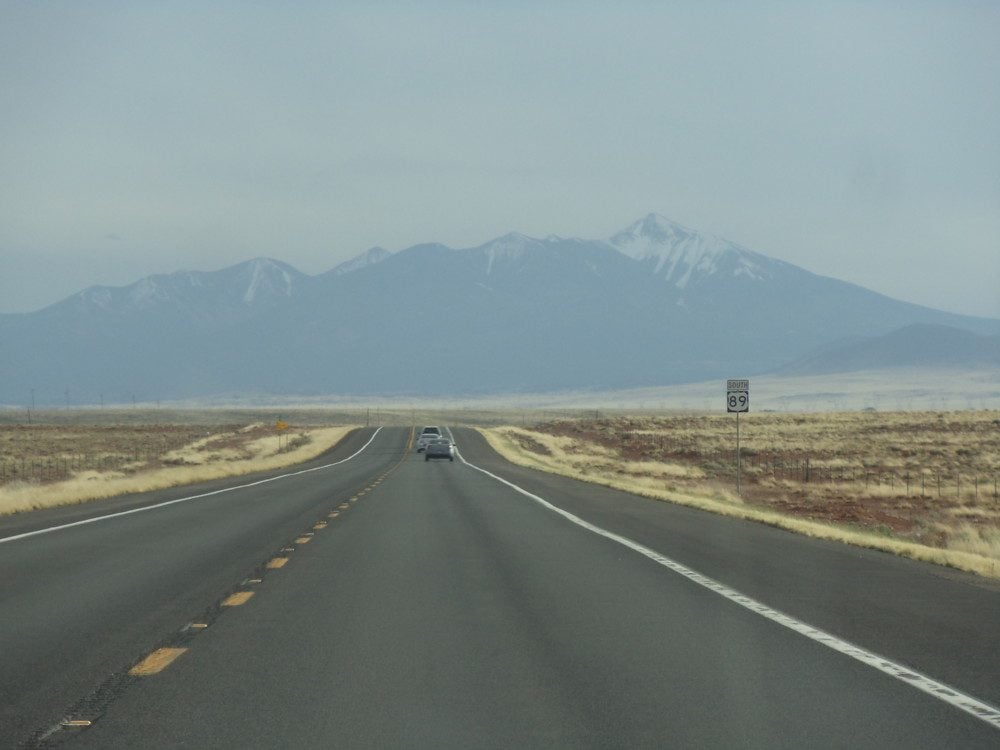 We were now on our way from Flagstaff to Grand Canyon and a 75 mile or 1 hour and 15-minute drive. Heading north out of Flagstaff on HWY 180, the road twists and turns through the alpine forest and you get a chance to see beautiful ski cabins, vast ranches, and the San Francisco Peaks. HWY 180 eventually becomes HWY 64 and that takes you over a long stretch of straight road right into the entrance of Grand Canyon National Park ($25 per vehicle, valid for 7 days).
There is no doubt about the Grand Canyon's spot in the shortlist of 'seven natural wonders of the world'. Carved over millions of years by the mighty Colorado River, the canyon runs for 277 miles and is 18 miles wide from north to south rims. This epic geological transformation has left its mark and layer after layer of uniquely colored rock, swerving across the rims in the contour of the sculpting Colorado River, reveals the process that has taken place here. In all this space, dozens of animal and plant species thrive, making Grand Canyon a mecca for travelers from around the world.
It's So Big… What Should I See?
Most visitors spend their time at Grand Canyon on the south rim, which is more accessible and with all the facilities. It's also the home of Grand Canyon Village, where the tourist rush to Grand Canyon pretty much started. More on that later. The north rim is much harder to get to and involves a considerable amount of driving, even if it does look pretty close when you look at it from the south rim. It also doesn't have many facilities and is more suited for trekking (you can trek there from the south rim). The advantage with the north rim is that not too many people make it there, especially not the busloads of tourists that you'll come across in the south rim. But not to worry, there are plenty of quiet spots on the south rim.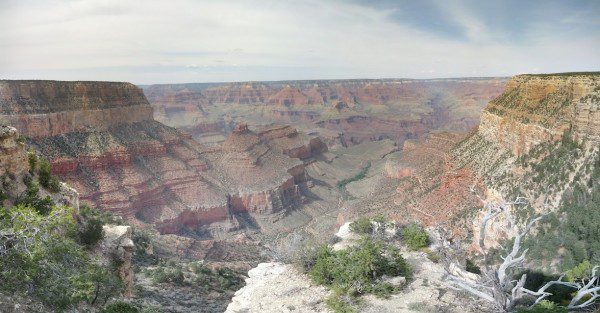 Speaking of quiet spots, once you've had a short stop at the visitors center (grab a map and talk to the friendly rangers to get some tips), hop back into the car and head out to Desert Drive. This is a 23 mile signposted road that offers excellent viewing spots of the canyon. It officially ends at Desert View with its famous watchtower but will eventually take you east along HWY 64, connecting with HWY 89, north to Page or south to Flagstaff. Each viewing spot along the way offers a different vantage point and the further you head east, the fewer visitors you'll encounter.
We started with a stop at Yaki Point followed by a stop at Shoshone Point, which after a short stroll, offers excellent views. You might even find a spot all to yourself.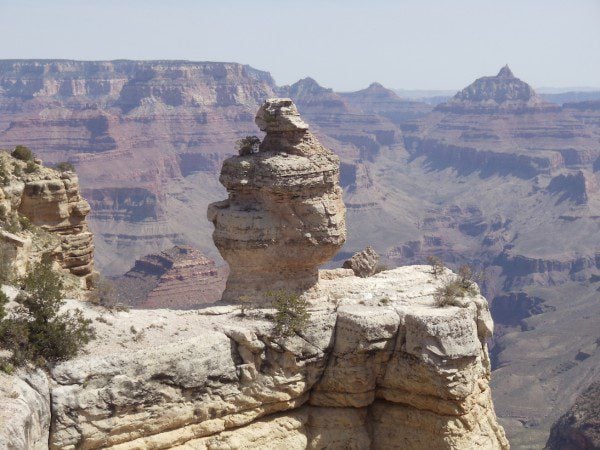 We then continued to Grandview Point, where the views are excellent and you can catch your first glimpse of the Colorado River just below. You can also walk down along the path and find your very own rocky spot to relax and enjoy the view.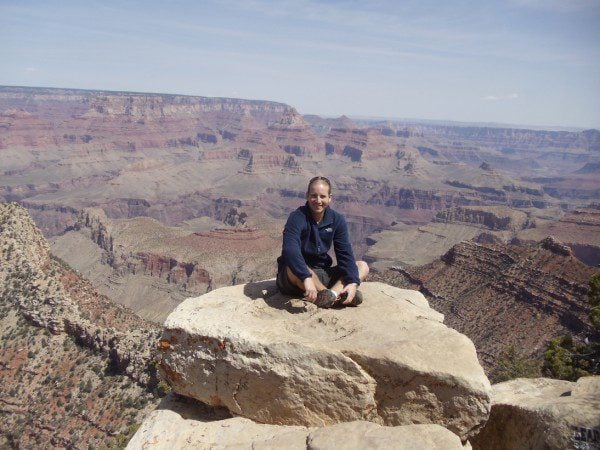 We could have continued to Desert View at this point, but decided to head back towards the visitors center and start to explore the western side of the south rim. Mather Point is just across from the main car park and though you have to jostle your way amongst the crowds, it offers excellent and sweeping views of the Grand Canyon. There are also a few smaller lookout points spread around this area, easily accessible and also with excellent (yet crowded) views.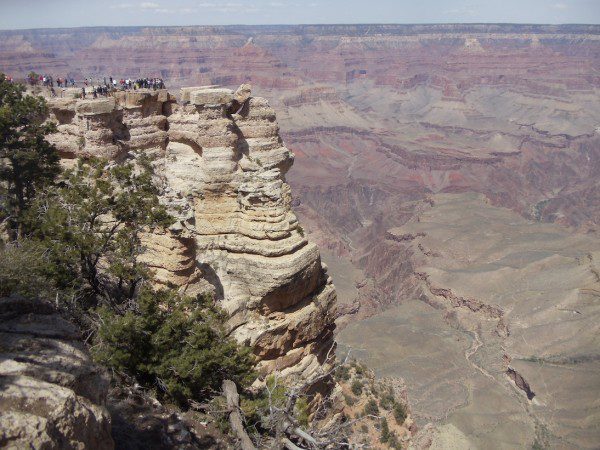 We left the car in the car park at this point and started walking along the south rim with a plan to eventually get to The Abyss viewpoint, 4.5 miles away. While Desert View is accessible by car throughout the year, the western part of the south rim is accessible during the high season only with the park's shuttle. These shuttles are free, efficient, and run in several lines reaching most parts of the south rim. Depending on where you wish to go, you may have to transfer lines at Grand Canyon Village. More on that later.
Our first stop on this walking tour was Yavapai Viewpoint, which offers wide and long-range views of the canyon and river. Next up was Grandeur Point, where you can start to see the famous Bright Angel Trail snaking its way down to the canyon floor.
By now, you'll pretty much be inside Grand Canyon Village, a small community built around the tourist facilities here. The view is not amazing here but it's a good time to rest and grab lunch. Unless you fancy eating in one of the restaurants here (or grabbing a beer), there aren't many good casual options so you may want to bring your own lunch. The cafeteria-style places are very overpriced and the quality is low. It is, however, worth checking out the historic El Tovar Hotel, which pretty much started everything around here. It feels like a warm mountain cabin, with wooden beams and stuffed animal heads 'decorating' the walls.
We then officially started to walk along Hermit Road, which is the 8 mile equivalent of Desert Drive, just on the western side of the south rim. It runs to Hermit's Rest where the road simply ends. You can hop on one of the shuttle lines, which drives from Grand Canyon Village to Hermit's Rest and back.
Our first stop was Trailview Overlook, which gives you a great view of the starting point of the Bright Angel Trail. This legendary 8-mile trail twists its way down to the canyon floor and the Colorado River. Depending on the time of day, at Trailview Overlook, you'll either see excited trekkers head out on their adventure or completely exhausted yet satisfied folks making their way back to civilization.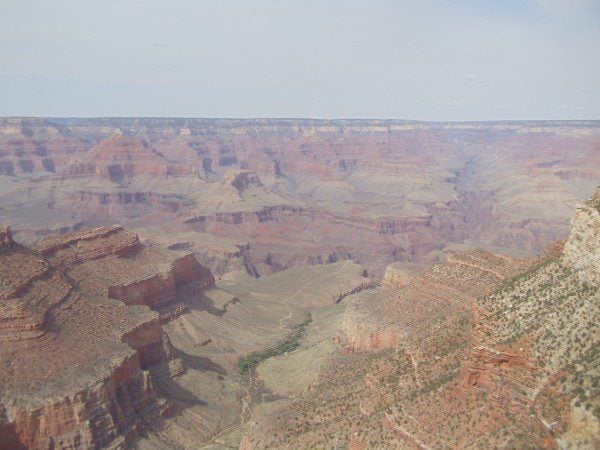 We then continued to The Abyss, stopping by at Maricopa Point, Powell Point and briefly at Hopi Point as we would come back here for the sunset. In some of these spots, you can see the Colorado River. After Hopi Point, we found ourselves pretty much alone on the Hermit Trail and had the Grand Canyon all to ourselves.

The Abyss is the furthest spot we've reached. You'll find yourself on the edge of a 900-meter chasm that plunges to the canyon floor. You'll also see interesting rock columns formed in the sandstone, some of them quite large.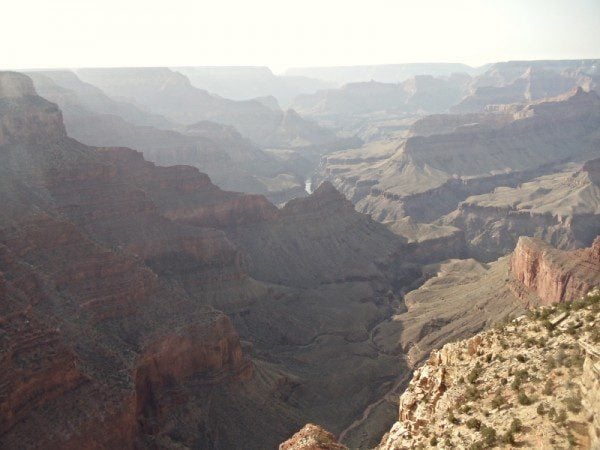 Sunset in the Grand Canyon
It was almost time for sunset (check out times here) so we headed back to nearby Hopi Point which is one the best spots for viewing the sunset in Grand Canyon. You want to get here early as not only does this place get very crowded with visitors like yourself and amateur photographers, but also because the real show is the actual transformation that the canyon undergoes. As the sun sets, the rocks emit different shades of red, orange, white, and even pink. This moment is not to be missed if you visit Grand Canyon – simply amazing.
As soon the sun sets, it gets pretty chilly out here (it was April) and you won't be the only one waiting for the shuttle so pack warm layers with you. Because we parked the car in the visitor's car park, we had to transfer lines in Grand Canyon Village. The shuttles are very efficient so you won't have to wait for too long (or wait at all).

We were lucky to find an overnight spot in one of the lodges (booked in advance) and checked into Yavapai Lodge. There are quite a few lodging options in Grand Canyon, some more upscale than others, some with a few and some without. If you want to spend a full day at Grand Canyon and especially if you want to see the sunset without a long drive afterward, book a room in one of the lodges inside the park. The Yavapai Lodge is spread across several flat buildings. The room was great, with an excellent shower and a comfy bed ($166 per night). It was worth it to stay here.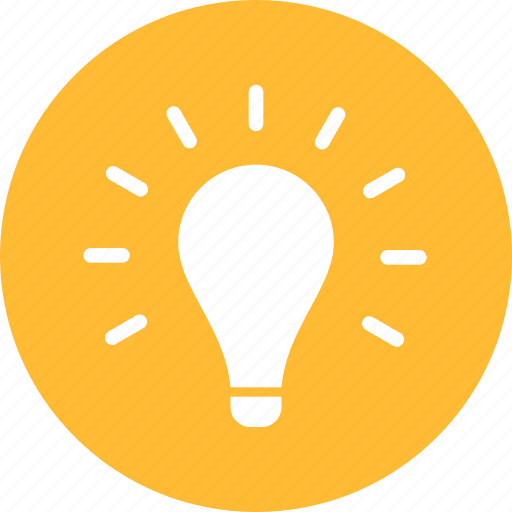 As for dinner, there aren't too many options in the village. You can go upscale and dine at the El Tovar Hotel (book in advance) but we headed back to the Bright Angel Lodge and the Arizona Room. No reservations were required here and this place serves traditional meets in a nice setting. We tried a few cocktails but they were not well prepared but the food was good, even if a bit pricey. Overall, it was a good choice as it was a great ending to a memorable day at Grand Canyon, a definite highlight in any southwest USA travel plan.
Any Regrets
It would have been great to have an extra full day to take the Bright Angel Trail. It's not possible to explore the rim and do the trail on one day. If you don't have enough time for a trek, exploring the southern rim is a smart option.
Don't get me wrong here, Grand Canyon is amazing. However, after coming from Monument Valley, which is remote and different than anything else, it felt like a bit of an anti-climax at Grand Canyon. But that's just our opinion.