Things To Do & Places To See In Aitutaki
Listed in this section are Aitutaki's prime highlights to fit into your itinerary.
Arutanga
Not much happens in the only town in Aitutaki. Arutanga is a place to come to get stuff done: use the post office, withdraw cash from the ATM, surf the internet, do some grocery shopping and… you get the point. While there are a few places for take away food and apparently even a bar (at least that's what I've heard), there's no need to base yourself as close as possible to town.
On your pit stop in Arutanga, be sure to pay a visit to the local market. Open Monday to Saturday from 7 am to 1 pm, there are usually a couple of friendly women who will be more than happy to chat with you. As for the variety, it's really a hit or miss. Coconuts are almost always available, but other fruits and vegetables come and go. There are also colorful sarongs on sale if you've left yours at home.
A definite highlight is the local Catholic church (CICC). This beautiful whitewashed church is the oldest in the Cook Islands, built in 1828 and looking like something straight out of a movie about a distant paradise.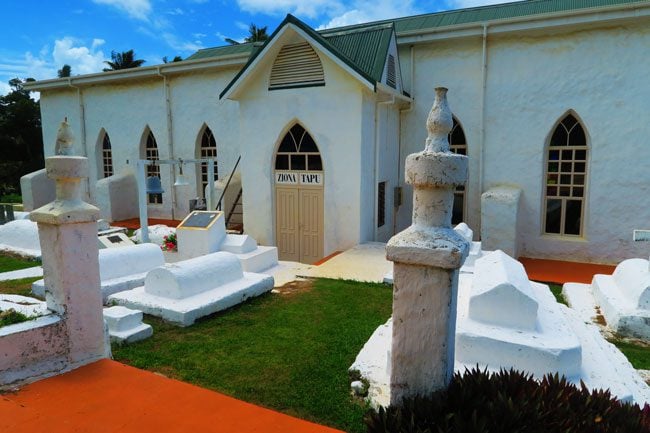 If you happen to be in Aitutaki on Sunday, do not miss the opportunity to attend church service – whether you're a believer or not (Service starts at 10 am for ~ 90 mins). Watch as locals wearing their Sunday finest sweep into the church with a huge smile, and feel totally welcomed as the Pasteur switches from Maori to English. The local choir breaks out in beautifully timed hymns acapella style, affording you one of those authentically local experiences that you'll cherish forever. If you won't get the chance to attend Sunday service in Aitutaki, you can give it a chance in Rarotonga.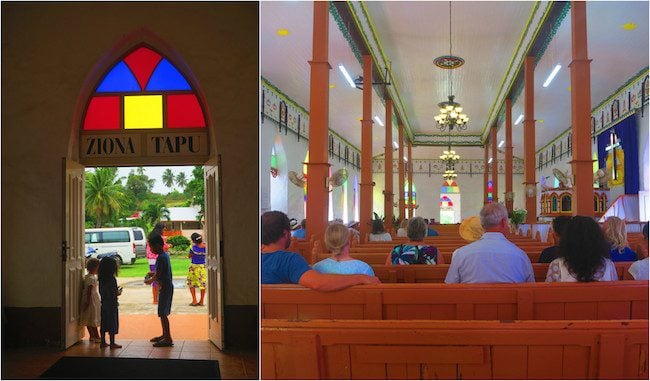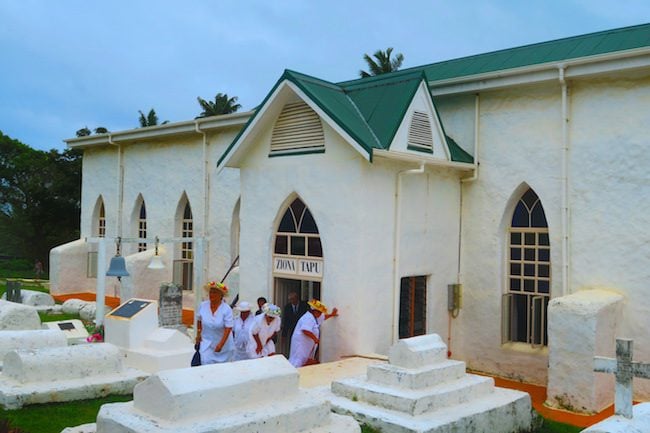 O'otu Beach
The best beach on the main island, the waters of O'otu Beach are usually too shallow to afford good swimming or snorkeling, but the lagoon colors are simply spectacular. Until you'll head out to explore that far reaches of the lagoon, this is as close to paradise as you'll feel.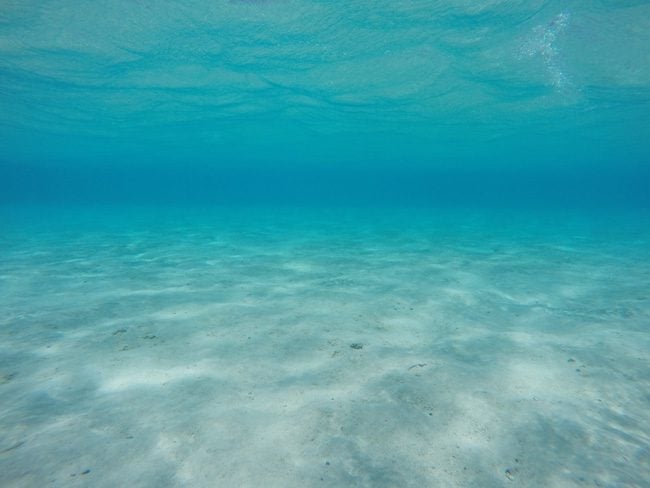 During low tide, you can walk far into the lagoon, stopping on small sandbanks for a 'pinch me I'm in paradise' break. The best part of the beach is freely accessed through a resort, where you can also grab some food or drinks. For even better swimming, head across the channel to the Aitutaki Lagoon Resort – which already faces the deeper side of the lagoon.
O'otu beach is also a popular spot for kayaking, with a couple of resorts nearby to rent equipment from.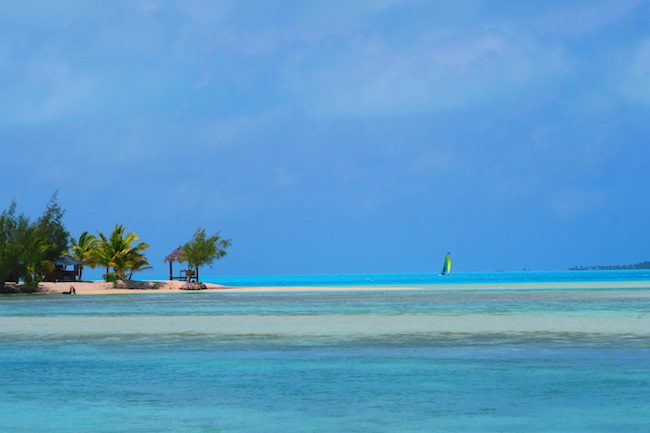 Roadtripping
The best way to explore the main island is on a scooter (see the 'getting around' section for more info). Paved roads in Aitutaki are in good condition, and even the unpaved roads cutting from east to west and down south can easily be traversed on two wheels with only fallen coconut branches getting in the way.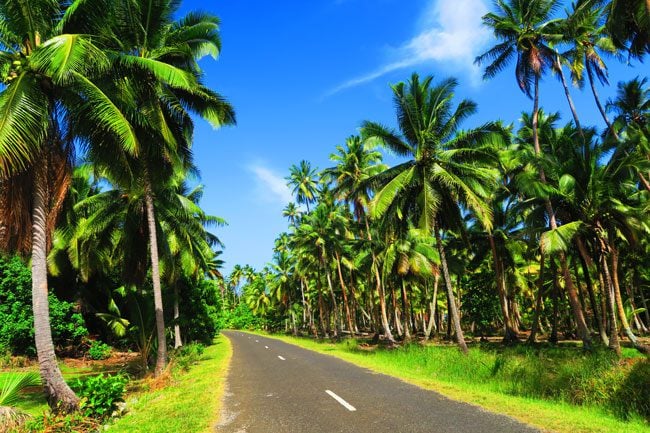 Ancient Polynesian Temples
Aitutaki has several ancient temples known as marae. On a mini road trip around the main island, I managed to find Marae Tikanga Rangi and Marae Te Poaki o Rae – two of the most important ancient temples. To get here, ask for directions in town and expect to get lost several times. The temples are hidden in a small forest that covers the bulk of the island's south side. If you don't know the story behind these temples, they'll seem like mere piles of rock. They are definitely not as impressive as the marae of French Polynesia, but they do hold deep ancestral meaning to local islanders.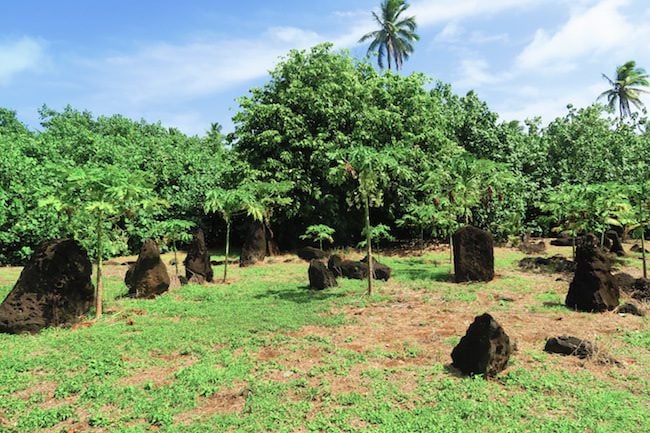 South & East
Not much happens in Aitutaki's southern and eastern sides, and that's part of the charm. Drive through a giant banyan tree and get off the paved road, riding through a maze of narrow dirt paths crisscrossing coconut plantations. You might have to put your 'figure-eight' skills to good use, avoiding fallen coconuts as you explore this remote part of the island. While the beaches aren't great for swimming, you'll have them all to yourself – perfect for a break or a deep reflection on life.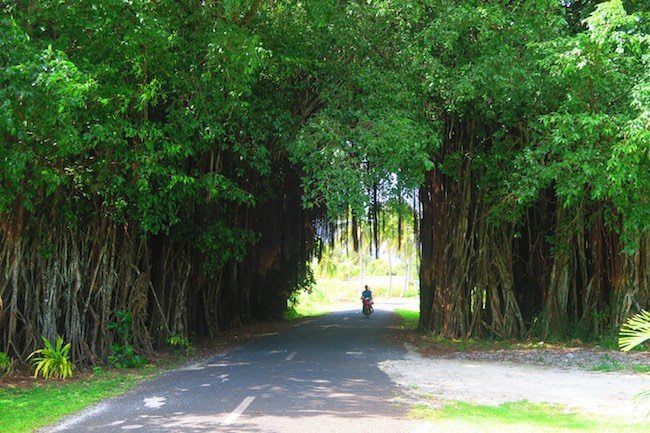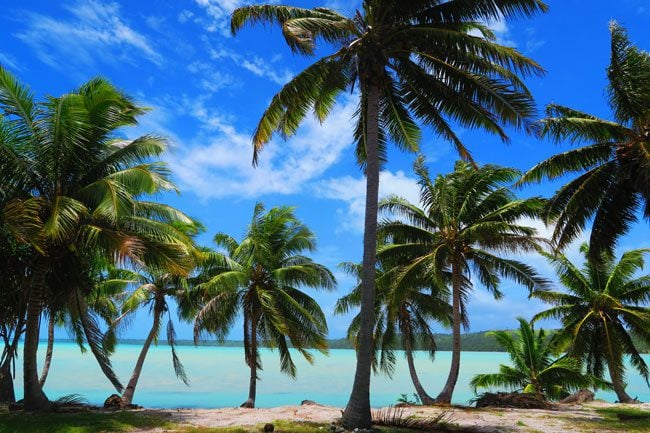 Hiking Mount Maungapu
The only bit of hiking you can do in Aitutaki, the 20-minute hike to Mount Maungapu is the best place in Aitutaki for panoramic views. Pick up the steep track across from the Paradise Cove Resort, and walk to the top of the hill at 124 meters.
From up here, you can continue on another trail to Piraki Lookout, but you can drive up there as well. The view from here is not as impressive as the view from the top of Maungapu.

Island Night
You'll quickly learn that pretty much all Cook Islanders love to sing, dance and play with fire. I kind of already had a feeling about that after visiting Samoa, but in the Cook Islands – they really take it up a notch with legendary 'island nights'. An island night includes a buffet dinner of traditional and Western dishes, along with a dance performance showcasing the exotic local culture. While the most extravagant island nights are in Rarotonga, the Tamanu Beach Resort puts on the best island night in Aitutaki every Thursday ($65 not including drinks, reservations essential).
You'll get here at around 6:30 pm and enjoy a delicious buffet dinner. Among the ridiculously huge variety, there's of course the ikamata – the 'national dish' consisting of raw chunks of tuna in coconut milk.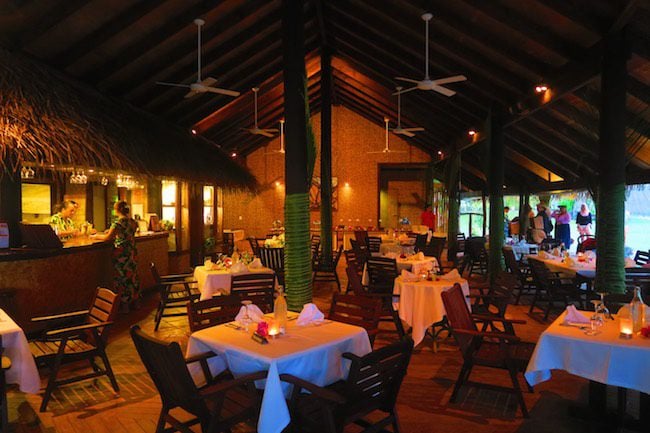 At around 8 pm the show begins, with dancers that you may recognize from Sunday church service putting on a show, with their exotic costumes and huge smiles. The women shake their hips and the men twist their knees much better than Elvis ever could. Guests will have their shot at grabbing the spotlight as well, so don't be shy!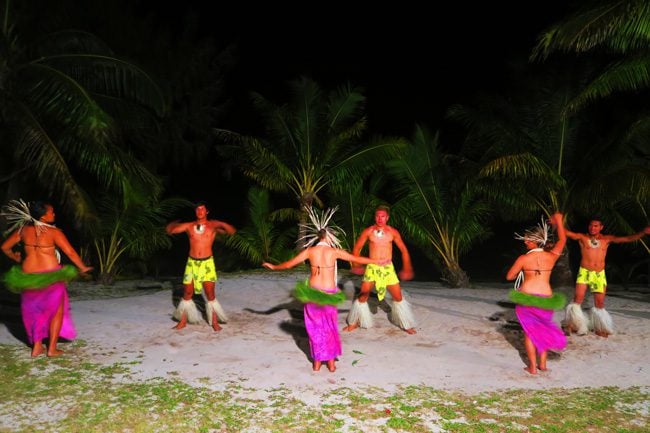 The climax peaks with the fire dancing show, as the boys put on a shockingly impressive display to the heavy sounds of the beating drums. Overall, it's a great night out, especially for couples seeking a romantic evening but also for families with children. If you didn't get the chance to see an island night in Rarotonga, don't miss the opportunity in Aitutaki.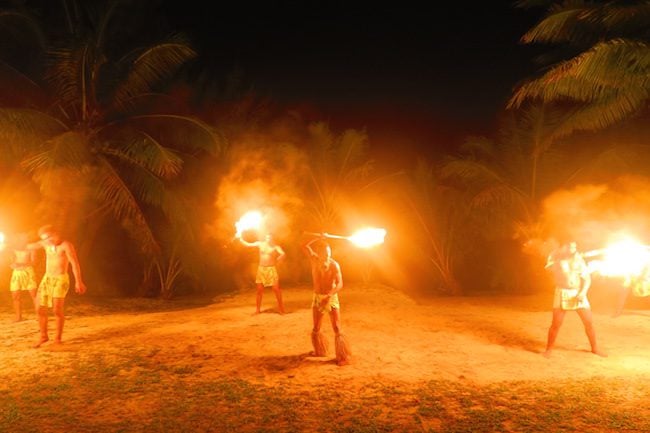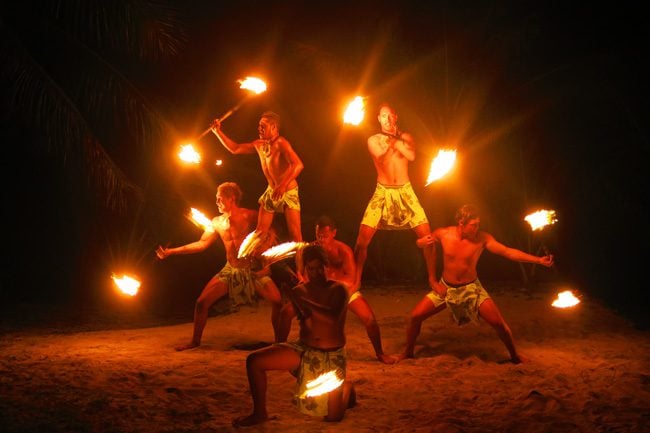 Aitutaki Lagoon Tour
The highlight of your visit to Aitutaki and perhaps of your entire Cook Islands holiday, a day spent exploring the magic of the Aitutaki lagoon is a day you'll never forget. I joined a full day lagoon tour with The Vaka Cruise, who have been cruising these pristine waters for 20 years.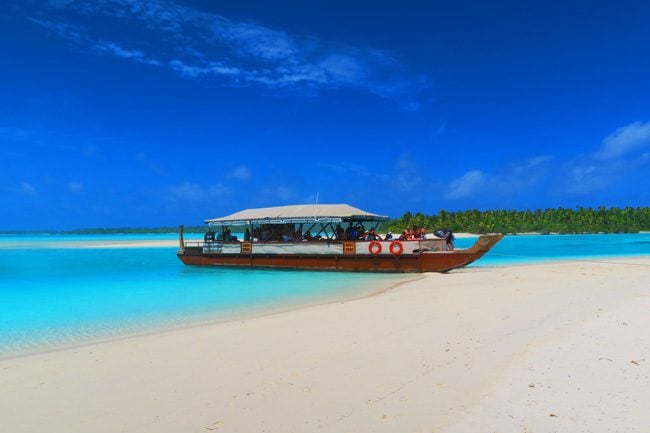 Your tour begins with a welcome drink aboard the 21-meter catamaran named Titi ai Tonga (meaning "wind from the south"). At the sound of the conch shell, you'll depart on a short cruise to your first stop Akaiami Island. En route, the friendly crew will serenade you with a trio of ukuleles – a perfect way to start a perfect day.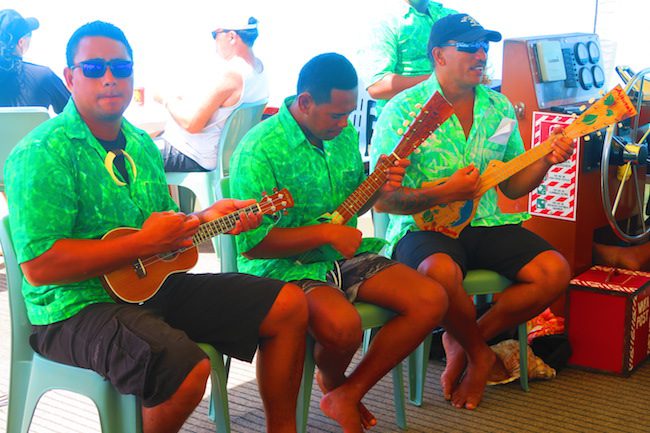 Akaiami Island is simply a dream of an island. It's the kind of place you pray to get shipwrecked on, and in fact, there are two lodges that allow you to do exactly that (see 'where to stay' section).
The island also has some historical significance, serving as a refueling stop on the legendary TEAL Coral Route that flew from Auckland to Tahiti way back in the day. Small seaplanes were used for the long voyage, with frequent refueling stops in remote islands. Passengers would get a few hours of beach bumming in Akaiami, while the plane was refueled. The only remaining evidence of what must have been the best 'layover' in history is this old jetty.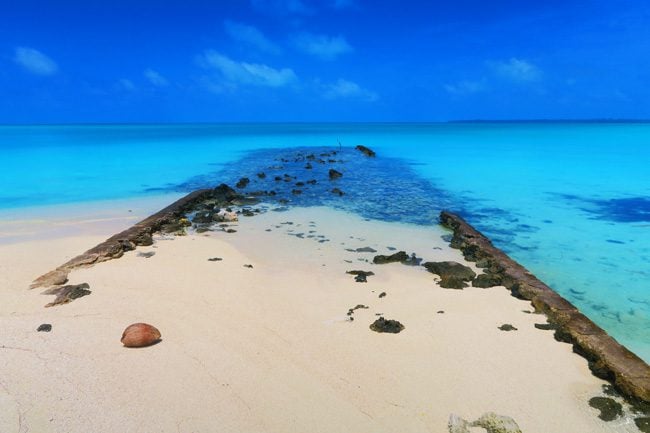 Sadly, you'll have about 30 minutes to enjoy this little paradise – giving you just enough time to stroll along the soft sand and take a refreshing dip. Not to worry though, this isn't the highlight of the day.
The next stop Motu Rakau, a little island with a beautiful beach on one side and a rugged one on the other. The motu is also a prime spot for birdwatching, so walk quietly through the forest and wait for everyone else to concentrate on the beach.
Now it's time to really hit the water. Put on your snorkeling gear and explore the coral garden. The visibility was some of the best I've ever seen – simply magic. There is no blue like the Aitutaki blue.
Look out for giant trevally fish that like to hang around the boat, giant clams and all those colorful tropical fish you've been dreaming about in those cold winter days back home.
As you get back on board, a BBQ lunch is served. Considering we were out in the middle of the lagoon, the variety of food on board was extremely impressive. There's plenty of it, it's delicious and you'll be coming back for seconds (alcohol can be purchased onboard).
The tour reaches its climax after lunch, with a visit to One Foot Island. As you'll near the island, the azure waters will simply blind you. Floating in those waters are sandbars of pure white sand – exactly like that photograph of paradise you've seen in travel magazines or screen savers.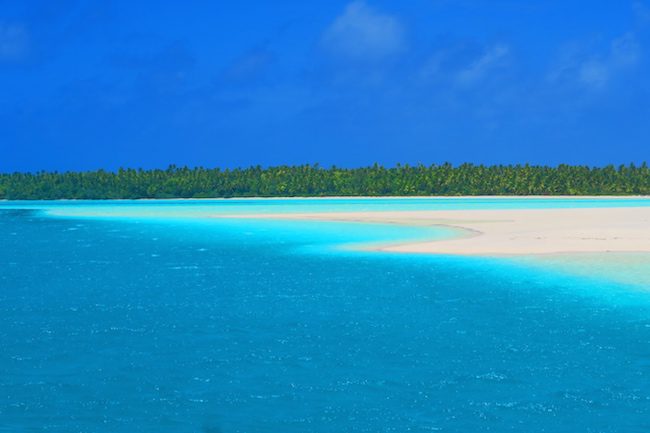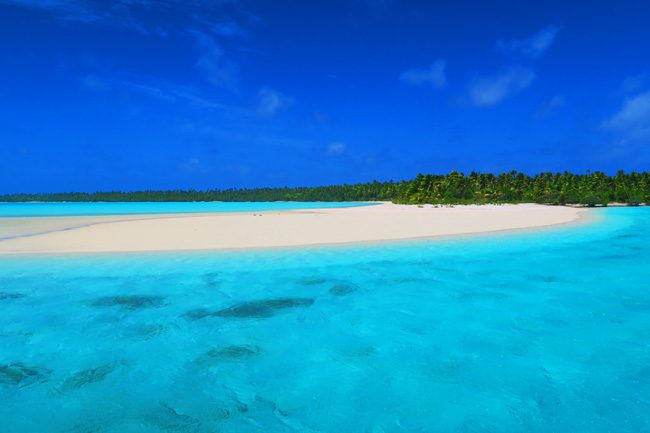 You'll land on One Foot Island and have well over an hour to explore, relax and admire one of the most beautiful islands in the South Pacific – and believe me, I've seen a few dozen of them.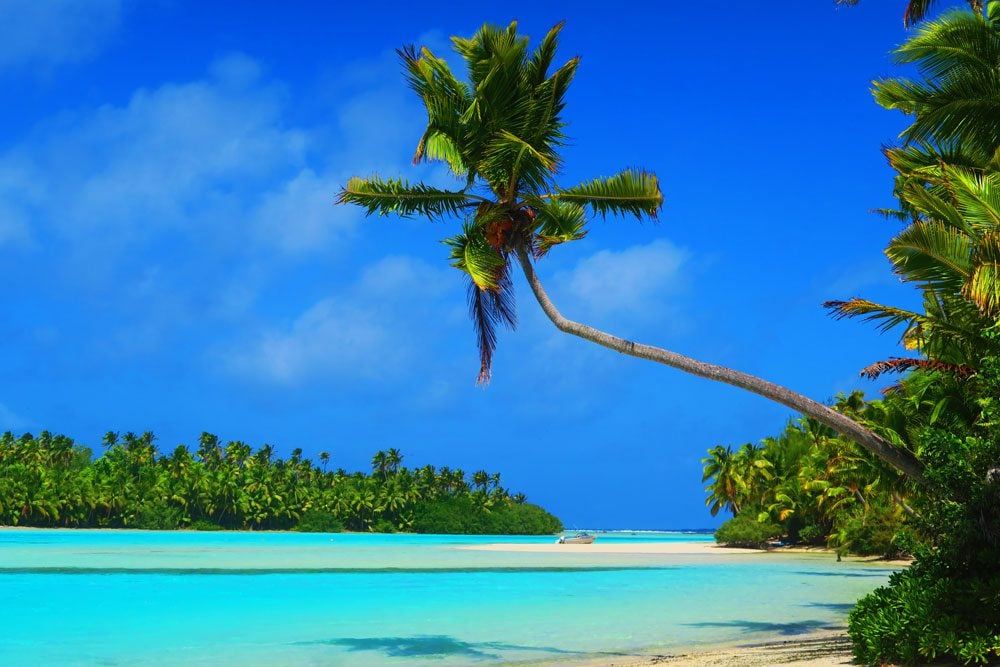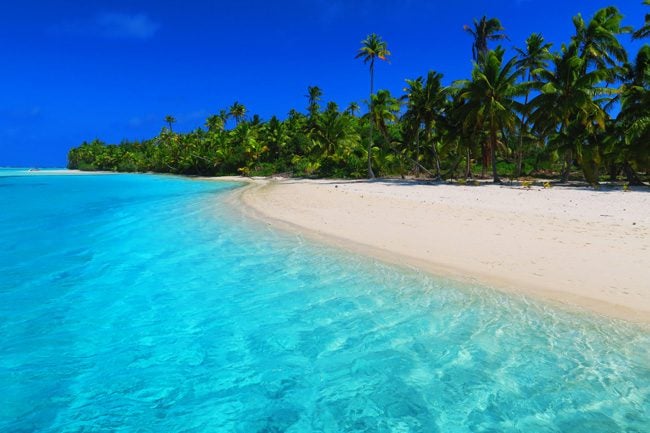 The snorkeling is nothing to write home about, but the clarity of the water is worth rolling off the beach. Look out for what looks like the underwater version of a silkworm. Eating its way along the endless seagrass, this odd-looking creature was something I'd never seen before.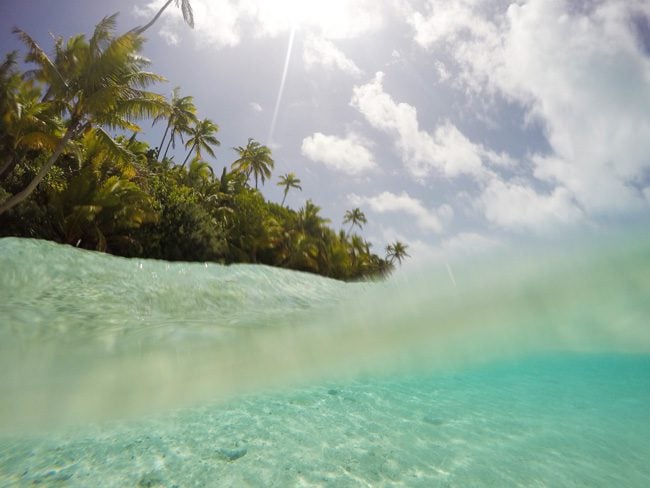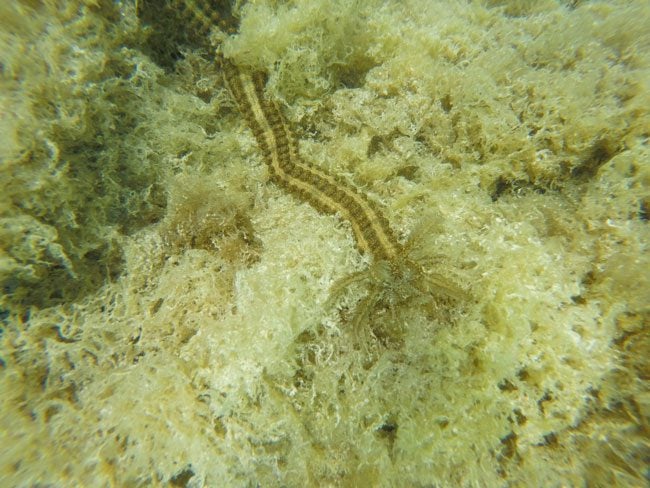 As you get back on board, don't forget to stamp your passport and prove that you actually made it to paradise and back! As you cruise back to the main island, your crew will teach you the millions of ways to tie a sarong (I didn't know there were so many) and a few lucky guests will learn a thing or two about Cook Island dancing.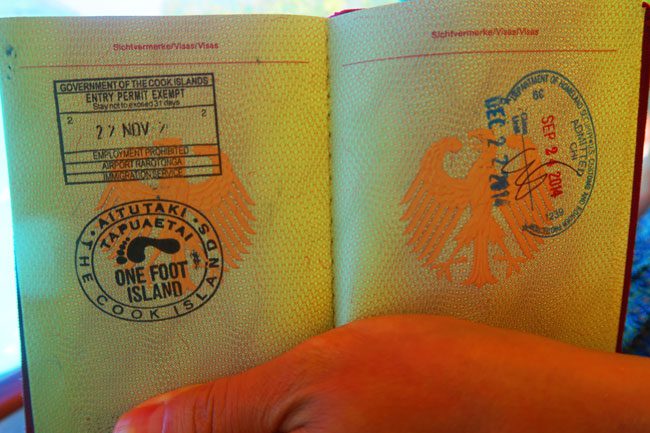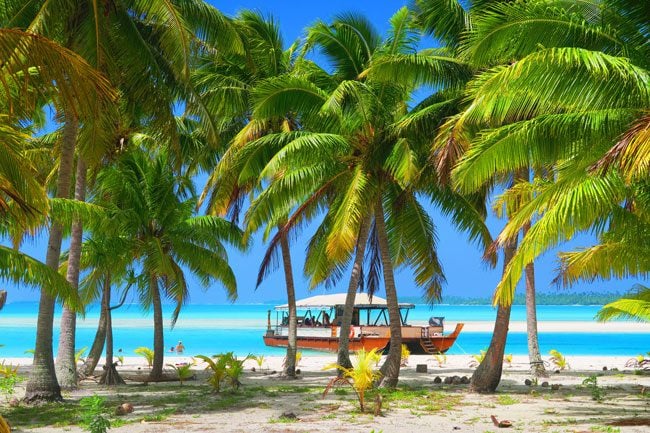 Logistics: tours depart at 10 am (returning at 5 pm) from Monday to Saturday just off the Aitutaki Village Resort, with tickets costing $125 for adults and $62.50 for children (NZD). Bookings are essential as you'll also be joined by daytrippers from Rarotonga. Bring with you: sunscreen, a hat, plenty of energy, and your passport! Everything else is supplied. Note that The Vaka Cruise visits three of the twelve lagoon motu. Other tours might visit more islets over the same amount of time, maybe even stopping near the wreck of the Alexander. In my opinion, you would likely feel a bit rushed, and I'm pretty sure most operate small boats.
Places To Eat & Drink In Aitutaki
Here are a few places to try:
Groceries: there are a couple of shops in town that sell everything you need for self-catering.
Boatshed Bar & Grill: a lovely little place just after the airport. The maritime theme cannot be missed and the food is excellent. I loved the ikamata, served inside an actual coconut.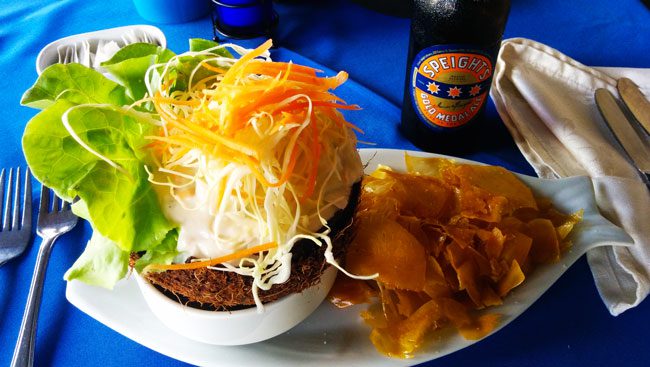 Tamanu Beach: the place for 'island nights' every Thursday (see 'things to do').
Koru Cafe: on the way to O'otu Beach, it's the best spot for breakfast in Aitutaki, though a tad overpriced in my opinion.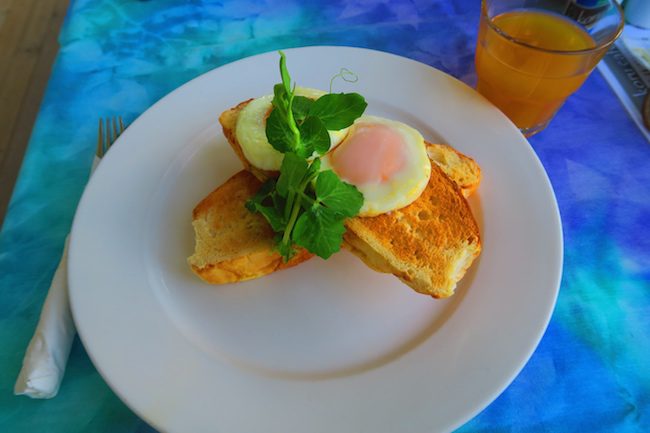 O'otu beach resorts: you can grab food and drinks in all the luxury resorts around O'otu Beach.
Additional Resources
I hope you've found this Aitutaki Travel Guide useful. Here are a few more resources to help make sense of your visit to the Cook Islands and to Aitutaki.