Aitutaki Island Travel Tips
Listed here are specific travel tips for Aitutaki to help in the planning stages of your visit.
Recommended Reading
How Many Days Do You Need In Aitutaki?
For those in search of getting off the grid, you could easily spend your entire Cook Islands vacation in Aitutaki. You'll seriously have a hard time getting back to 'reality' afterward. That said, 3-4 days in Aitutaki should be enough and if you're seriously pressed for time – you can also visit Aitutaki on a day trip tour from Rarotonga. I personally spent a full week in Aitutaki on my own and was a bit bored after a few days (mind you the weather sucked over the last 3 days).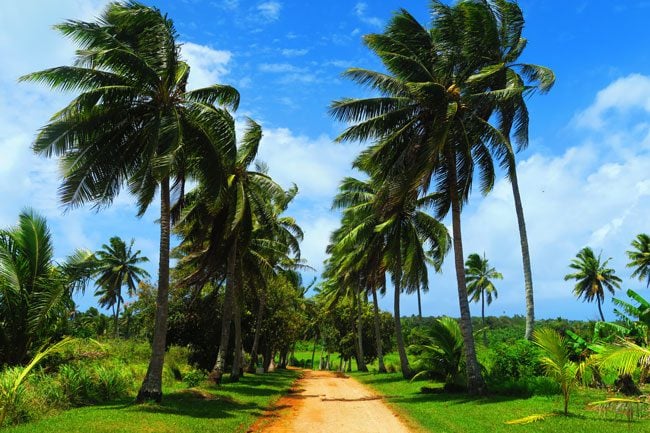 Is Aitutaki Worth Visiting?
While there's not much to do on the island itself, the Aitutaki lagoon is exactly how you imagined a tropical paradise to look like. While Rarotonga kind of feels like a 'pleasure playground', with lots of activities to keep you busy – Aitutaki is all about relaxation and exploring the lagoon. So if you're truly after some peace and quiet, you'll love Aitutaki – as long you as head out to explore the far reaches of the lagoon.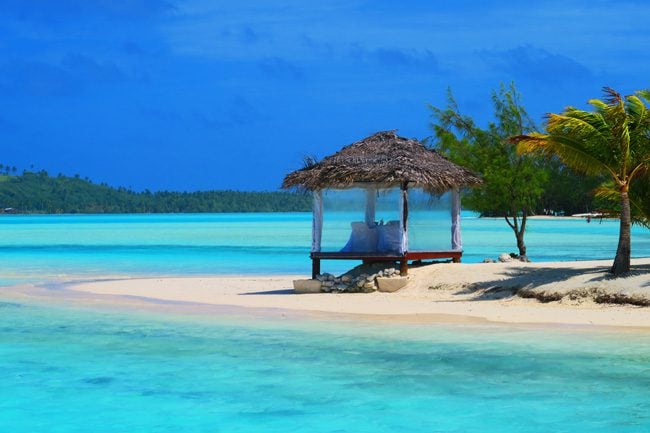 When Is the Best Time To Visit Aitutaki?
The weather in Aitutaki will be slightly warmer than Rarotonga, lying 264 km's north of the big island. Aitutaki enjoys comfortable weather throughout the year and is not as oppressively hot as other South Pacific destinations.
When to visit:
Cyclone season (November – March): cyclones are always a threat but rarely hit the island. Expect hot and humid days combined with rainy, cloudy, and thunderous periods that can be short-lived or last for a few days. That said, there are plenty of sunny days.
Cooler months (June – August): the southeasterly trade wind is in full swing, blowing away the clouds and affording consistent sunny weather. Temperatures will dip below 20 degrees at night so bring something warm with you. Perfect weather for kitesurfing.
Shoulder seasons (September – October & March-May): pleasantly warm days with fewer chances of cloud cover and rain. Temperatures will rarely dip below 20 degrees at night and rarely rise above 30 degrees during the day.
I personally visited Aitutaki at the end of November, during the start of cyclone season. The weather was great for the first 3-4 days, with plenty of sunshine. The last few days were marked but constant clouds that were the result of a weak cyclone that was brewing off the coast of Samoa. Keep in mind: December and January experience a surge in visitors. Book in advance if you plan to visit Aitutaki during this time.
What To Pack?
Have a look at the X Days In Y Packing List for recommended travel gear to the Cook Islands based on my own experience.
Money
There are two ATM's in Aitutaki. One is just off the side of the road halfway between the airport and Arutanga, while the other is in by the post office in 'downtown' Arutanga. Most businesses accept credit cards without any kind of surcharge, though some lower key accommodation do not yet have credit card machines. It's best to inquire to before.
Aitutaki Average Costs
Here's a breakdown of costs during my week in Aitutaki. I stayed at two different lodges, went on a lagoon tour and mostly cooked my own meals.
Tips For Saving Money In Aitutaki
Here are three ways to save a bit of money in Aitutaki:
Self-catering

: choose accommodations that have cooking facilities.

Coupons

: the official Aitutaki tourist map that you can pick up at the airport actually has pretty useful coupons for restaurants, bars and even scooter rental.

Prepare your own breakfast

: if the most important meal of the day isn't included with your accommodation, buy something at the grocery store for your entire stay.
How To Get To Aitutaki
By Air: pretty much the only 'real' way to get to Aitutaki. Air Rarotonga operates daily flights from Rarotonga to Aitutaki. It takes about 50 minutes and as with domestic flights in French Polynesia, the views from the plane are breathtaking – so grab a window seat!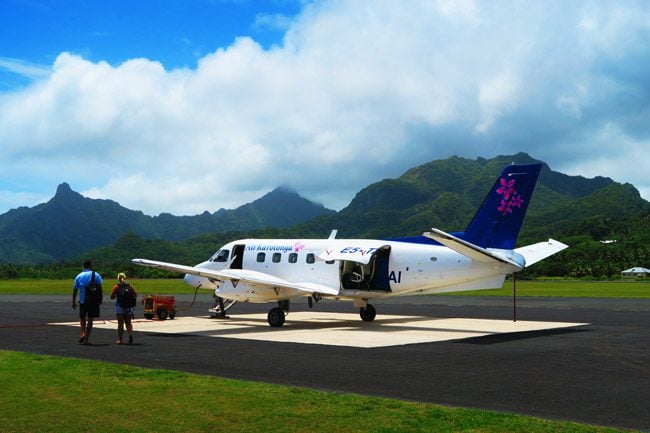 If you're pressed for time, Air Rarotonga offers a day trip package to Aitutaki. You'll leave Rarotonga in the morning, returning in the early evening. Aside from air/land transfers, your package also includes an island tour and a lagoon tour on The Vaka Lagoon Cruise. I personally went on this lagoon tour and I must say that it was by far the highlight of my visit to Aitutaki (read more in the 'things to do section').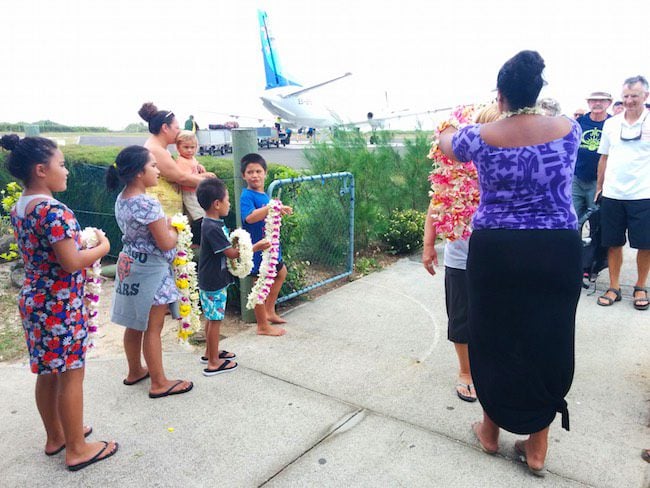 With the exception of the day trip, flights might get shifted a bit. If flights are empty or maintenance needs to be done on a plane, you'll get bumped to a later/earlier flight. You will get notified by email but just be sure to notify your accommodation of the change, preferably by phone. I got stranded at the airport by my hosts and had to change accommodations altogether.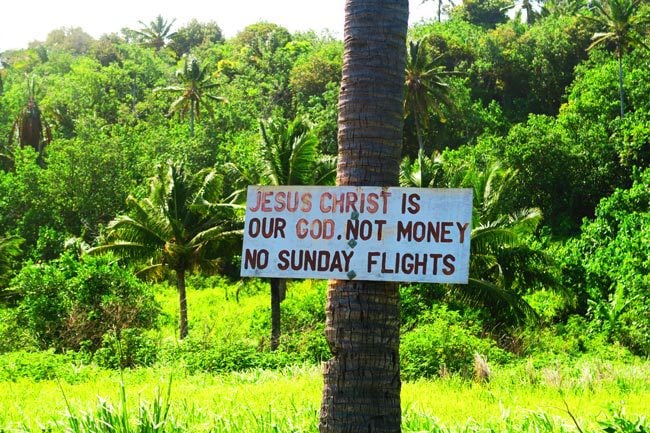 Also note that Sunday flights are a bit of an issue in Aitutaki, especially among the more traditional senior folks. It isn't uncommon to see a small group quietly 'protesting' outside the airport terminal on Sundays. This isn't anything like a labor union strike in France, but just be aware that it is a sensitive issue for some folks on the island.
Getting Around Aitutaki
The main island in Aitutaki is super small, but not small enough to be explored on foot like Maupiti Island in French Polynesia. Here are some options, keeping in mind that the more remote islets in the lagoon can be explored on a hired boat, windsurf or lagoon excursion.
To/from airport: all accommodations that I'm aware of offer either free airport transfers or charge about $10 per person.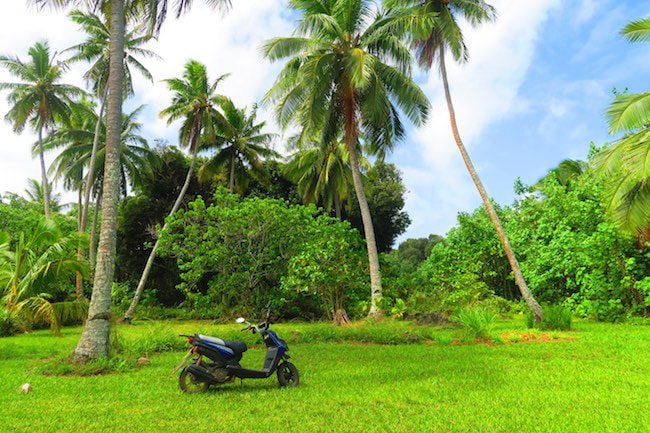 By scooter: by the far the most fun way of getting around Aitutaki. Rino's Rentals, located close to town, rents them out at $20 (NZD) per day with one free day for a week's rental. Popoara Rentals, located by the Boat Shed Bar & Grill, rents scooters for $25 per day or $20 if you rent for a week. I found the scooters to be in better shape at Popoara. Pro tip: you must at the very least have a temporary scooter license issued in Rarotonga (technically you should have passed your exam by now). If you didn't take this first step, you will not be able to rent a scooter in Aitutaki. Have a look at the Cook Islands Travel Guide for more info on how to get a scooter license in the Cook Islands.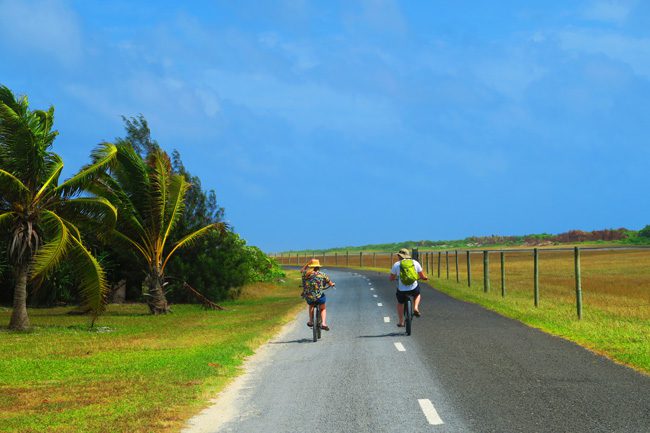 By car: if you're not up for riding a scooter, both companies listed above also have vehicles for rent. Prices should be between $70-85 (NZD) per day, with discounts for longer rentals.
By bicycle: if your accommodation doesn't offer free bikes to use, you can rent one from Rino's and Popoara for about $15 per day.
By boat: you can hire a boat or windsurf board and head out to one of the dreamy lagoon islets. Inquire locally or just join a lagoon tour like I did (see 'things to do' section).
Where To Stay In Aitutaki?
Aitutaki is such a small island that it doesn't matter all that much where you're basing yourself if you don't mind hiring a scooter/car. Accommodations cater to the mid-range / luxury traveler, with a small selection of basic options. I stayed both near O'otu Beach and close to Arutanga. Being close to town means you can walk to the grocery shop, market, internet cafe etc. The beaches on the west side of the island are not that great for swimming. O'otu Beach, on the other hand, is on a more remote part of the island. There are a couple of restaurants, a cafe, and a few resorts and bungalows. The beach is lovely, not great for snorkeling but great for kayaking and finding a small sandbar to chill on. Here are a few recommendations:
Rino's Motel
My favorite accommodation in Aitutaki, this lovely family-owned business is perfectly situated close enough to town yet far enough. O'otu beach is just a 15-minute ride away, and Rino rents out cars, scooters, and bikes at excellent prices. Calling this place a motel definitely doesn't do justice with the place. Rooms face a well-kept beach, OK for swimming (as all beaches on this side of the island are) but perfect for long strolls and stargazing.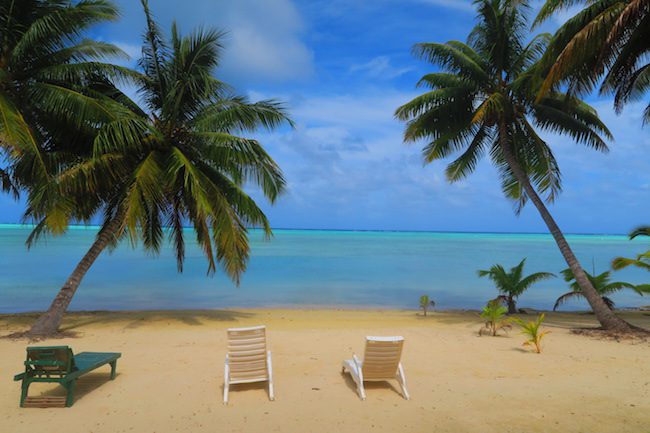 All units are self-contained, spacious, super clean, and with excellent sleep quality. Free breakfast and filtered water are offered, and you might even be able to connect to a wifi hotspot coming from the shop across the road. Rino also has a few larger apartments nearby that are super popular with large groups. Offering great value for money, I absolutely loved the three nights I spent here. Credit cards accepted, ask for bungalow #9!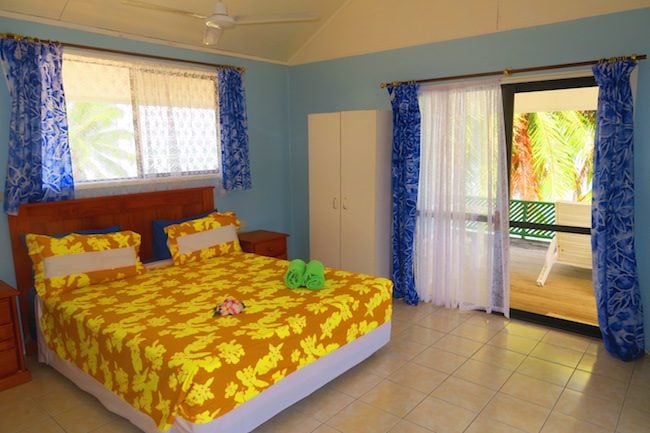 Te Roto Bay
On the airport side of Aitutaki, Te Roto Bay (formerly Inano Beach Bungalows) is a 10-minute walk from O'otu Beach, walking distance from a bar/restaurant, car hire, cafe, and wifi hotspot. Traditional thatched-roof units face a lush tropical garden, with a few larger units right on the beach. The beach is lovely for sunsets but not that great for swimming with poor visibility and shallow waters, though the owners have dug into the sand to create what feels like a deep swimming pool. All units are self-contained and the place itself is very (very) low-key, with not much happening (bar/restaurant currently closed) and the owners not really around. Filtered water costs $1 per bottle and credit cards are now accepted. Bring plenty of mosquito repellent as the mosquitoes on this side of the island are ferocious.
Luxury Options
Celebrating a special occasion? Want to spark the romance in paradise? Aitutaki boasts several top-notch resorts for those seeking the luxury holiday. On the western side of the island Etu Moana & Pacific Resort are top choices, while over on O'otu Beach, the Aitutaki Lagoon Resort gets top marks. The resort sits on a private little island, with a great spot for swimming or just lazing on the gorgeous beach. You can come here as a day-tripper if you buy lunch.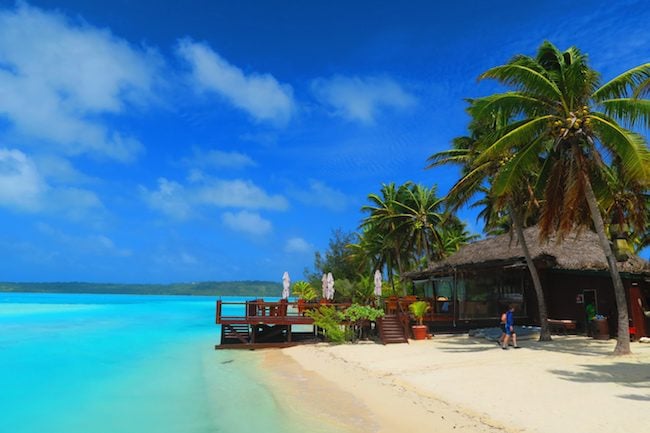 Off The Grid
Aitutaki's jewel in the crown is no doubt its magnificent lagoon. Its most magical spots are actually on the remote islets at the lagoon's edge. You can visit those on day trips from the main island, but if you really want to get off the grid – stay at Akaiami Paradise or Gina's Akaiami Beach Lodge. Keep in mind that while the setting is gorgeous, you'll have to rely on your accommodation for everything (transfers, food, etc.).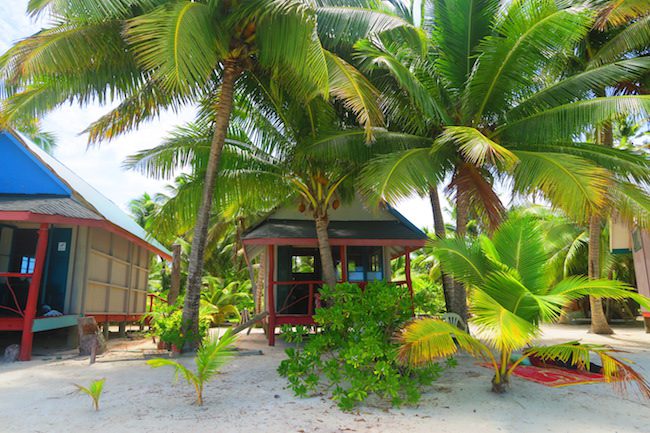 Diving In Aitutaki
The scuba diving in Aitutaki is said to be exceptionally good, with drifts dives, canyon walls, and lots of sharks. However, it is super expensive and I opted out in favor of more reasonably priced dives in Rarotonga. Bubbles Below and Aitutaki Divers offer two tank dives for about $200 (NZD). That's a lot of money. Another thing to consider is that outings are prone to last-minute cancellations due to bad weather or lack of a minimum amount of divers. Snorkelers are welcome to join. My advice would be: if you really want to dive in Aitutaki – aim to do this at the very start of your visit and book in advance.
Beaches
All beaches on the main island are beautiful but not that great for swimming. One exception is O'otu Beach, with the clearest of waters and the chance to walk to a tiny sandbar somewhere off the beach. The story is very different on the small islets at the edge of the lagoon, with beaches that will leave you speechless. You can rent a boat or hire someone to drop you off on one of these islets for the day, windsurf your way there or join a lagoon tour (like I did). Do not miss the opportunity to explore the lagoon.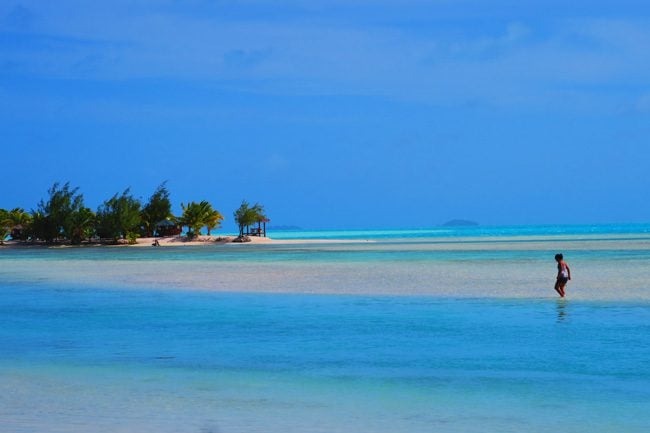 Drinking Water In Aitutaki
Aitutaki's water is supplied by collected rainwater. You should only drink filtered water in Aitutaki. Inquire with your accommodation before rushing to buy bottled water.
Internet In Aitutaki
At the time of writing this guide, Vodafone was the main (and perhaps sole) Internet and mobile phone provider in the Cook Islands. You needed to connect to their hotspots, which were spread in various places throughout the island. Some resorts may still use the Zenbu prepaid system so inquire before purchasing Vodafone credit. See the Cook Islands Travel Guide for more information.
Eating
Arutanga has several small grocery shops, a couple of restaurants and a small fruits & vegetables market open Mon-Sat from 7 am to 1 pm. Apparently, Neibaa's grocery shop on the eastern side of the island is the cheapest one and where locals do their food shopping.
See the 'places to eat & drink' section for specific recommendations.
Safety In Aitutaki
For general safety tips in the Cook Islands, have a look at the 'safety' section of the Cook Islands Travel Guide. As for Aitutaki specific safety tips, I can only warn you about the mosquitos. Especially on the lagoon side, they can be ferocious – so bring plenty of mosquito repellent and pray for some wind.