Considered to be one of the most beautiful islands in the world, Bora Bora immediately conjures images of a romantic tropical paradise set in ultimate luxury. Known as 'the Romantic Island' Bora Bora is the destination that's on every couple's wish list. But there's lots more to this tiny island than just fancy overwater bungalows. With lush covered peaks rising sharply out of a massive lagoon that's radiating in the brightest shades of blue – Bora Bora is the stuff dreams are made of. This Bora Bora Travel Guide aims to help you plan that vacation of a lifetime, so let's head off to paradise.
About This Guide
I spent three months in French Polynesia, as part of a six-month backpacking trip across the South Pacific Islands – with three days in Bora Bora. I later returned to Bora Bora on two separate occasions, reliving my favorite experiences while trying out new ones. This travel guide to Bora Bora was written based on my experiences and is meant to help you make the most of this once-in-a-lifetime destination. The Bora Bora Travel Guide is geared towards independent travelers, but any visitor will find it useful.
Heading off to French Polynesia? In-depth island guides to all 5 archipelagos await you, including sample itineraries and essential travel tips & tricks.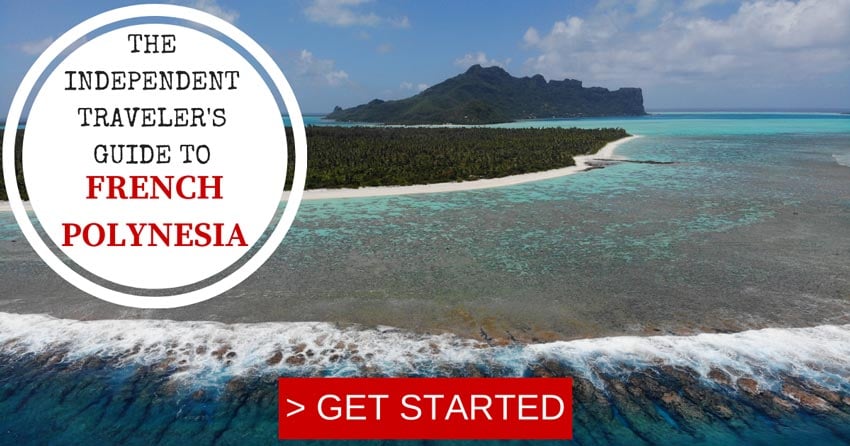 Tahiti, Tailor Made!
The Islands of Tahiti are among the last places to be colonized by mankind, 118 islands, each with its unique personality.
Get expert advice and assistance with planning your trip to the destination where tropical dreams come true!
---
Why Should You Visit Bora Bora?
To be perfectly honest, if you're an independent traveler not doing the whole resort scene, the main reason to visit Bora Bora is to tick it off your list. Here's my honest opinion: the island is stunning from a natural perspective! Its lagoon is one of the most beautiful I've seen and its volcanic peaks are even more impressive in real life. However, the island lacks the kind of local charm that you'll find elsewhere in French Polynesia.
In addition, you totally can enjoy Bora Bora without spending thousands of dollars on accommodation. However, in terms of value for money – other islands take preference. So in my case, I only spent three full days here to see what the hype is all about (and to write this guide). Don't get me wrong, I can totally see how this place was a paradise before the resorts came. But the type of folks who flock to Bora Bora are not exactly the adventurous kind, 'let's go out and explore' bunch.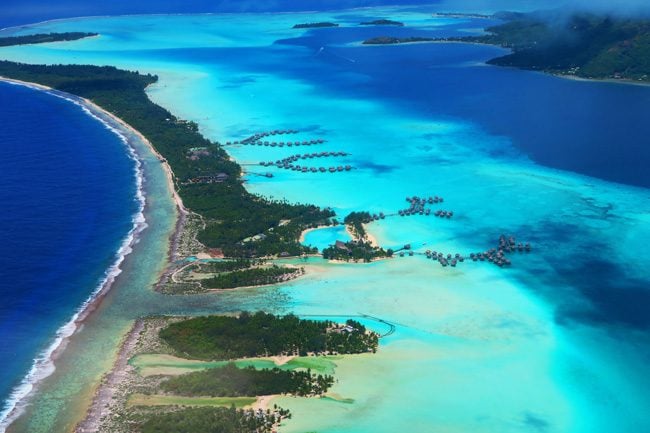 What's Included In This Bora Bora Travel Guide?
Several sections make up this travel guide:
Interactive map, where to stay and background [This Page]
Bora Bora Travel Guide Map
This map features all the highlights mentioned in this travel guide. Click on the image to open in Google Maps.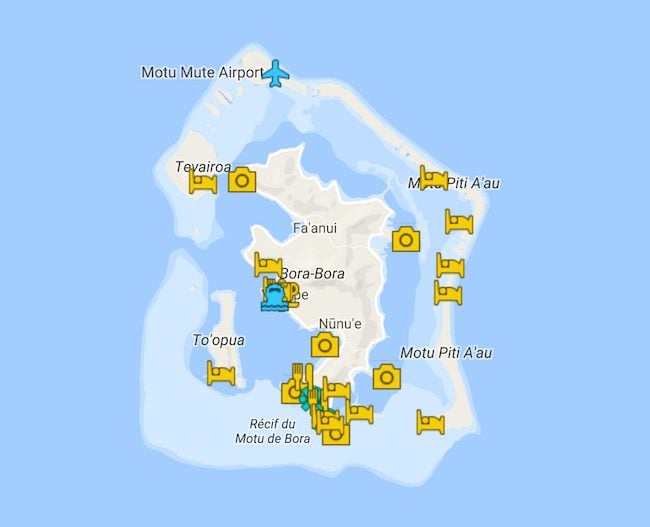 Where To Stay In Bora Bora?
This is really (and in some cases literally) the million-dollar question. Bora Bora has managed to market itself to the world as the ultimate luxury destination, one where the rich and famous come to play, and where honeymooners come to start marital life in great debt. You could certainly live this 'luxury dream' in Bora Bora if that's what you're looking for.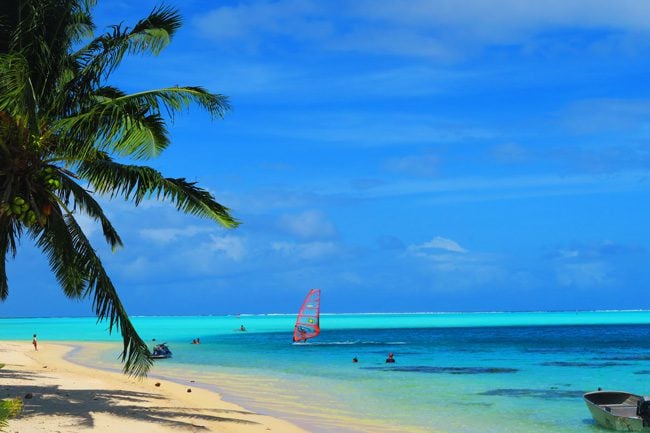 But… if you think Bora Bora is way out of your budget – think again. Traveling solo across French Polynesia, I found quite a few budget options on Airbnb in-and-around the main village of Vaitape. Quite a few local families are leveraging Airbnb to earn extra income, with some either offering a room inside the family house or an independent unit elsewhere. Even if you didn't find anything suitable on Airbnb, there are a few other options – both 'regular' hotels and luxury resorts. Here's a guide to all of the recommended places to stay in Bora Bora!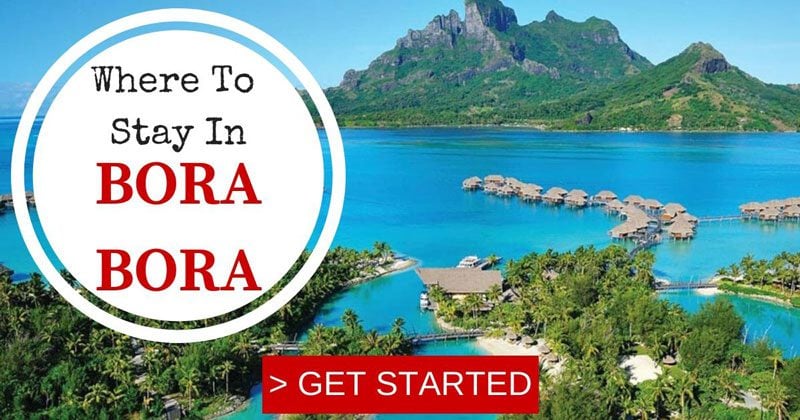 Facts & Brief History
Bora Bora is part of the Society Islands group in French Polynesia, about 275 km from Tahiti. Like other beautifully sculpted islands in this archipelago, Bora Bora consists of an extinct volcano rising from a protected lagoon almost triple the size of the island's landmass. Less than 10,000 locals are living on the island, primarily living off tourism.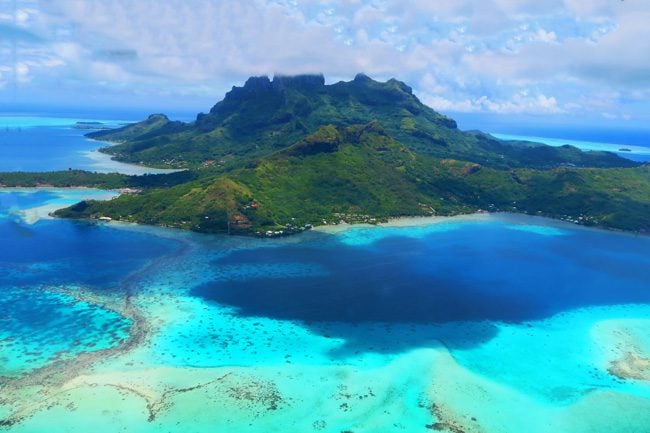 It is believed that ancient Polynesians arrived in Bora Bora sometime in the 9th century. Originally nicknamed Pora Pora, the island's Polynesian name means 'created by the Gods'. Indeed, along with neighboring Maupiti, Bora Bora is the oldest island in this beautiful archipelago.
Europeans first arrived in Bora Bora during the 18th century, with Captain Cook in 1769 and the missionaries in 1820. Ironically, Bora Bora's rise to the top of the global tourism wishlist is mostly owed to WWII.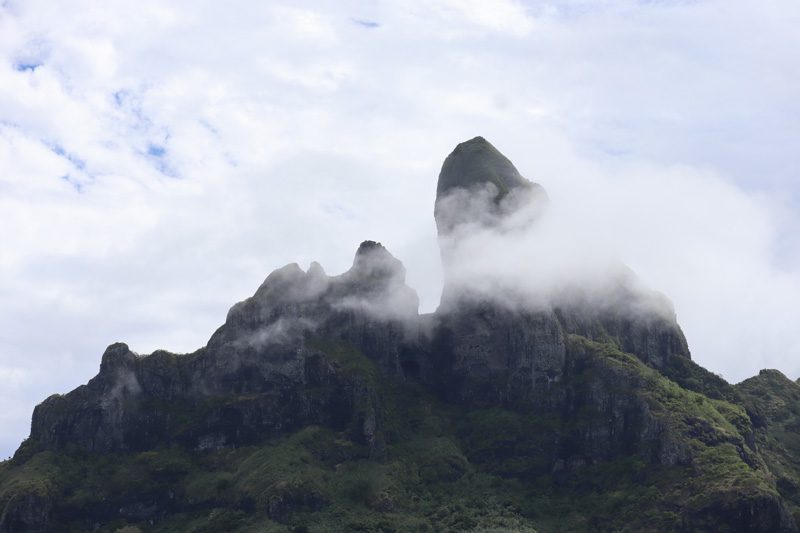 After the bombing of Pearl Harbor in 1941, the US began setting up military bases in the remote islands of the South Pacific (see Aitutaki in the Cook Islands and Pago Pago in American Samoa). Operation Bobcat began in 1942, transforming Bora Bora into a fortified supply base. An airstrip was built, hills were installed with canons, roads were paved, fresh water was supplied and over 5,000 troops called this place home. Without much combat action around here, these soldiers had plenty of 'R&R'. With the war over, they returned to the US with stories of paradise, and voila – the Bora Bora hype begins!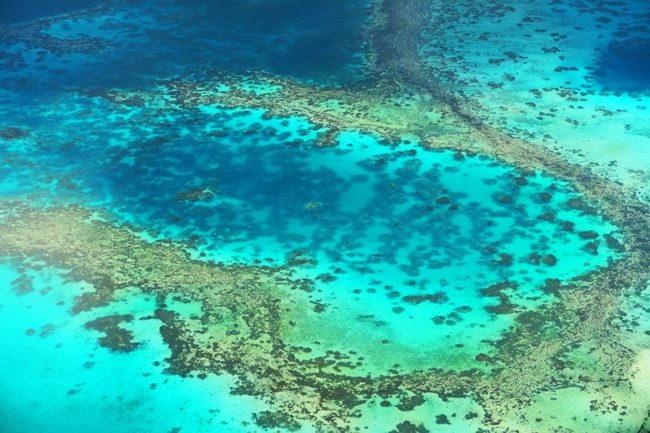 These days, tourism is the number 1 source of income on the island. Ultra-luxury resorts and their signature overwater bungalows are the name of the game. It's not all rosy though in Bora Bora. The island has almost completely lost its traditional charm, with mass tourism taking over. Some locals aren't all that happy seeing their island transformed. Though some reap the benefits of mass tourism, you'll find many poor villagers on the island not benefiting from the resort scene. If you're looking for authentic Polynesian life, you probably won't find it in Bora Bora. But its natural beauty and global hype make this destination irresistible.