Close Encounters With Dolphins In The Rangiroa Atoll
It was time for something totally different after spending nearly two months in the mountainous Society Islands of French Polynesia. After a week long love affair with Huahine Island, time to once again pack the bags and hop over to island number eight. Well, this one is technically not an island… In this week's update from the South Pacific Islands, we'll visit the world's second biggest atoll – Rangiroa. It is known locally as 'the infinite lagoon' and In fact, it's so big, you can fit the entire island of Tahiti inside its lagoon and still have some space left over. It's also the scuba diving capital of French Polynesia, regarded as one of the world's greatest dive sites. If you like seeing some big fish – this one's for you!
Rangiroa is part of the Tuamotu Archipelago, one of the five that make up French Polynesia. The Tuamotus form the largest chain of coral atolls in the entire world. Dotted with 78 atolls, less than 16,000 people live in an area that stretches the South Pacific over a distance that roughly equals the size of Western Europe! But wait, what the heck is an atoll?
Heading off to French Polynesia? In-depth island guides to all 5 archipelagos await you, including sample itineraries and essential travel tips & tricks.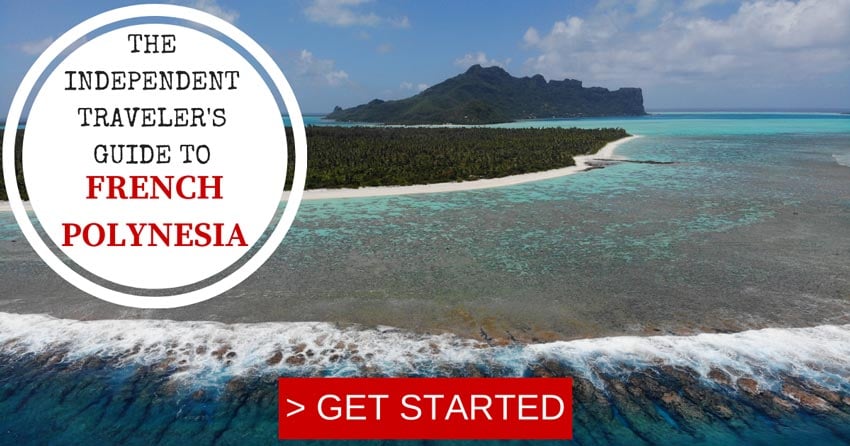 Tahiti, Tailor Made!
The Islands of Tahiti are among the last places to be colonized by mankind, 118 islands, each with its unique personality.
Get expert advice and assistance with planning your trip to the destination where tropical dreams come true!
Welcome to the exciting world of geology!
In this week's lesson, we'll learn about coral atolls. An atoll is essentially a coral reef, usually ring-shaped, that encircles a lagoon. There might be ways to get into the lagoon, known as passes (see below image), but it might also be completely enclosed. However, an atoll wasn't born an atoll, so here's the catch. As oceanic volcanoes rise above the water and become islands, a coral reef forms a barrier around the island, just as we saw in Maupiti, Bora Bora and many other islands we visited over the last few weeks. The reef begins to form when the volcano becomes extinct, and that's also when it begins to slowly sink back into the ocean depths. Over time, all that's left is a beautiful ring in the middle of the ocean housing a calm interior lagoon and an 'ex-volcanic' crater somewhere down below. The coral atoll sits slightly above sea level, with palm trees being its tallest features. As long as the coral can keep growing upward, the atoll will survive.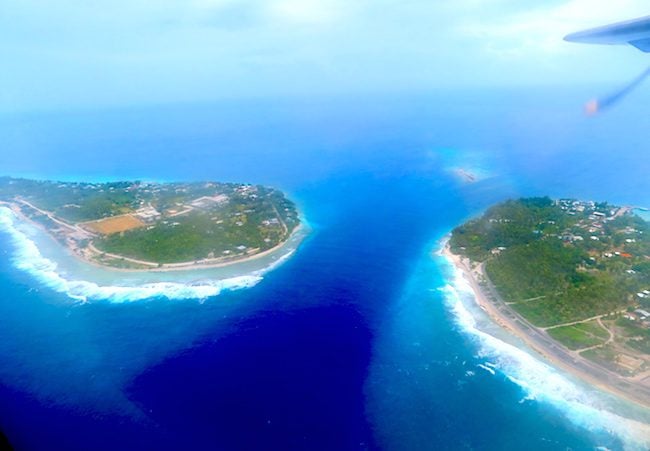 Back to the Tuamotus now. Where its first Polynesian settlers came from and when is still a big mystery. Some say they came over from the Society Islands following local conflict in paradise, and some say they came over from the distant Marquesas Islands, en route to colonizing the Gambier Islands and Easter Island. But unlike the Polynesians, Europeans didn't find the Tuamotus all that interesting. After all, aside from coconuts, hardly anything edible grows around here. There are no underground freshwater reservoirs and if you don't collect the rainwater – you're screwed! But wait – on come the French, who did find one use for the huge atolls…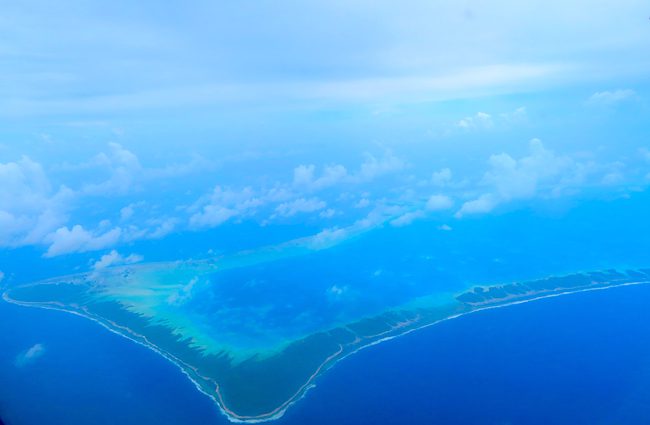 Here's a riddle for you
If a nuclear bomb goes off in the depths of an uninhabited atoll, does it make a sound? During the 1970s the French government tested nuclear bombs in some of the lagoons around here. Though many were employed in this massive operation, a lot of resentment towards the French government's lack of accountability for health issues is still present. It's a huge deal for locals around here.
Today, inhabitants of the Tuamotu atolls enjoy a traditional Polynesian life in the slow lane, primarily live off fishing, copra production, tourism and black pearl farming. Most of the Tahitian black pearls are born in the warm waters of the Tuamotu lagoons, though this industry has seen a sharp decline recently. For tourists, the prime reason for visiting the atolls of this archipelago is the scuba diving – some of the best in the world. With excellent visibility, dolphins and sharks as the norm – it's as good as it gets. So let's get right to it.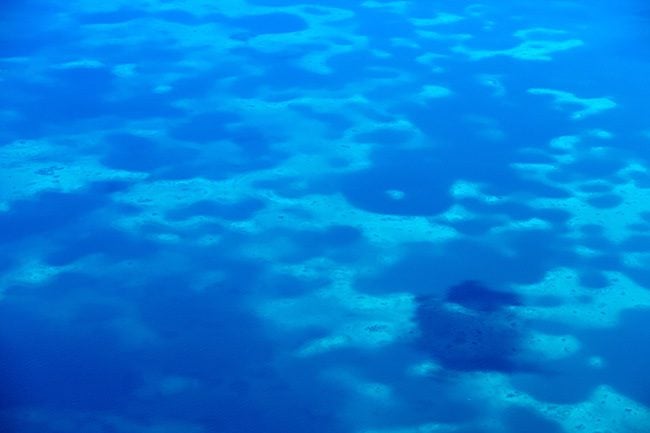 Welcome to Rangiroa
I reached Rangiroa on a one-hour flight from a Tahiti, with a connection long enough to quickly visit the big city once again, and long enough to want to head back to outer islands for some peace and quiet. Flying to Rangiroa is something I'll never forget. After another beautiful glimpse of the island of Moorea, there wasn't much but an endless blue ocean until sparkling rings began to appear beneath the window shade.
Within those rings were tiny droplets of white sand, as if taken straight out of a magazine for places you must visit before you die. As the plane began its final descent, the features that make up the atoll became clearer: hundreds of individual motus (small islets), connected to each other like pearls on a necklace, stretching out into the infinite horizon. The approach to the Aitutaki Lagoon in the Cook Islands was similar, but the wow factor much bigger on this occasion.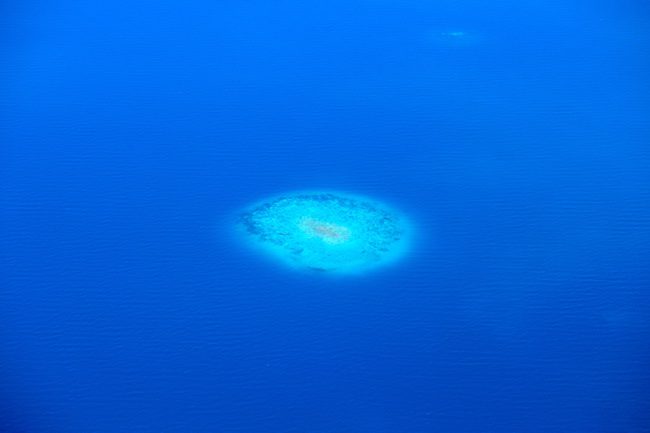 Rangiroa is so big, you can't even see the other side of the atoll. It stretches across 80 km of blue lagoon, with a maximum width of 32 km. That's very big folks! Imagine what an enormous volcano once stood here… In contrast to the size of its lagoon, there's not much land around here. As you just saw in the aerial picture, the land stretches for only about 300 meters. But that's plenty of space for the atoll's 2,500 residents, who live in just a small handful of villages – leaving most of the motus completely uninhabited.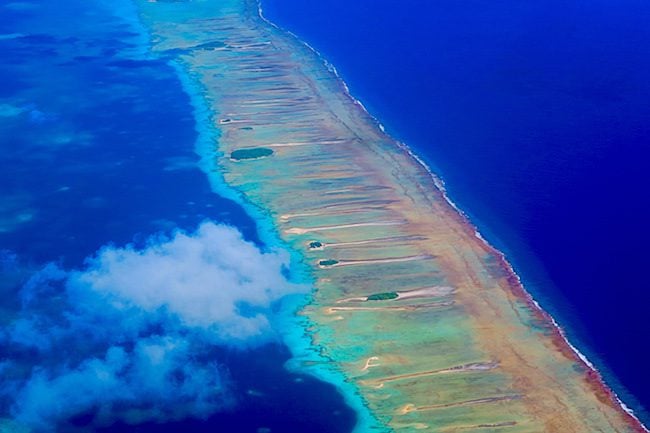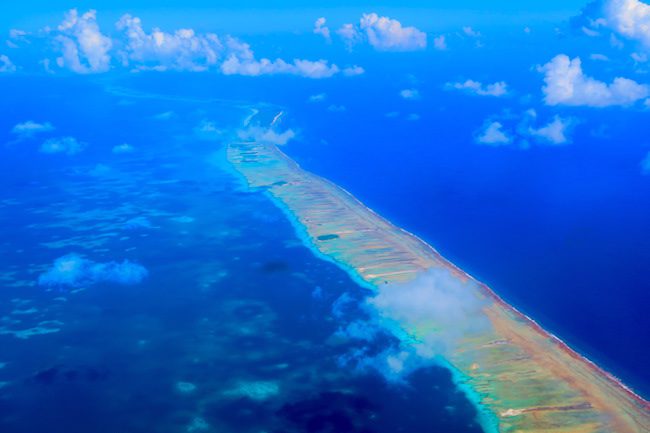 I landed right at the start of a week-long school holiday. The airport was extra busy – with locals coming back home and lots of excited divers who couldn't wait to plunge into the water. There were also lots of French families living in Tahiti who came here on vacation. Either mom or dad, or both, just happened to be a doctor/nurse/teacher. I found this a reoccurring theme in French Polynesia. If your profession is either of the above, there's a pretty good chance you can pack your family and move to Tahiti for periods ranging from 6 to 24 months. It's not bad to have a tropical overseas territory in the South Pacific, ah?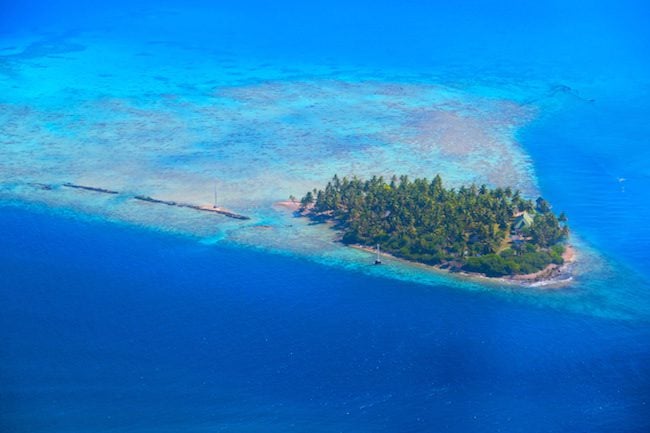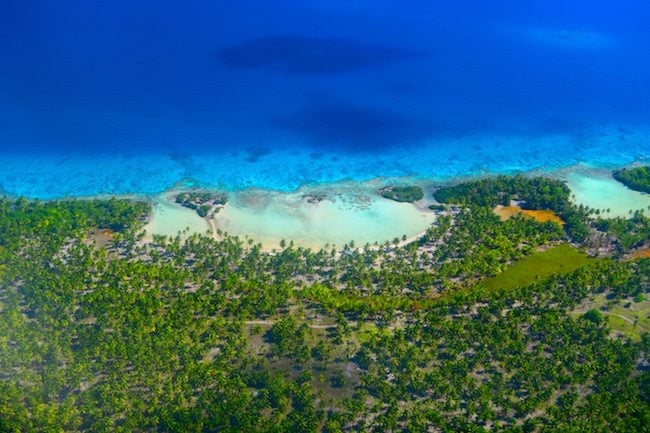 With not much land to go around, chances are you'll be staying right on the beach, and this was the case at Pension Teina & Marie. I got myself a cute little bungalow facing the lagoon, dropped my bags off and grabbed the snorkeling gear to see what the underwater fuss was all about.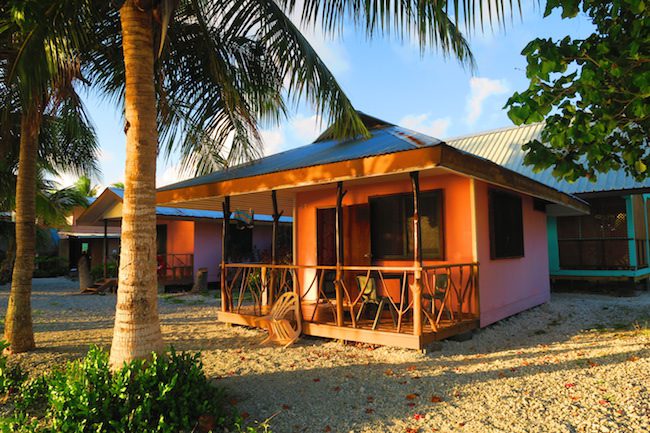 What a lagoon weirdo!
I didn't even have to venture more than 10 meters out into the lagoon to spot dozens of white and blacktip reef sharks just circling around me. Back in Huahine, we saw hundreds of such sharks from a super close distance during the shark feeding. In this case, the sharks were actually out to catch some food on their own. It's a little bit scary being so close to so many with nobody else around you, but after a few days over here, it's the same as seeing birds in the blue sky.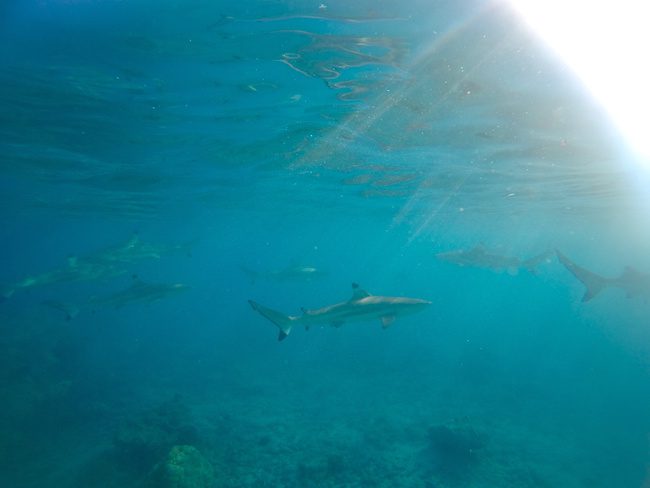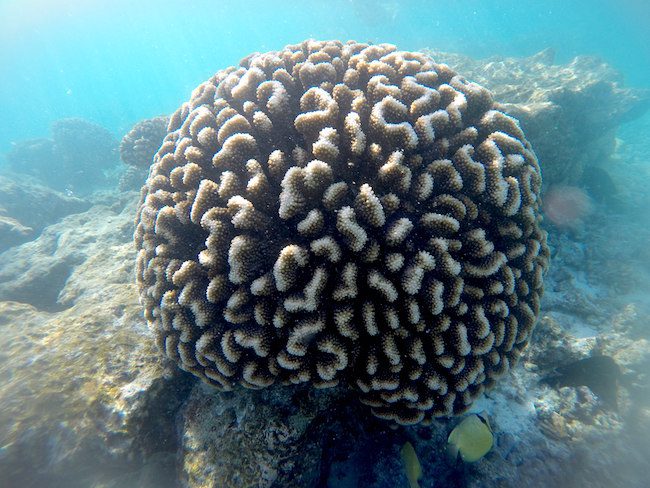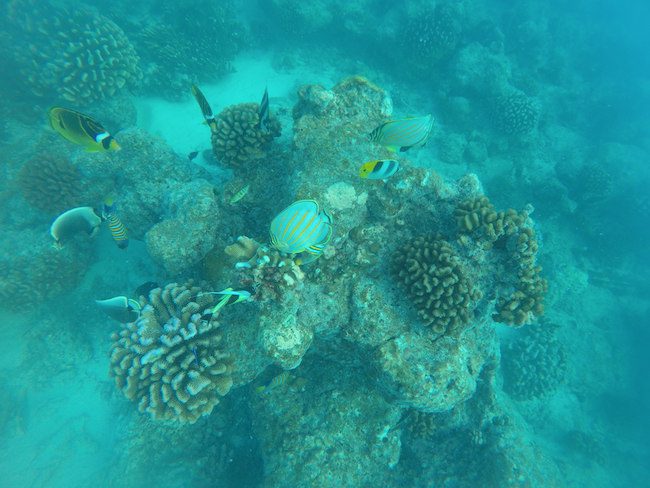 There was, however, one little fellow who scared the cr@p out of me, way more than the sharks. I'm no marine expert so I don't know this guy's name (feel free to help me out in the comments), but his parents definitely should have gotten him some braces when he was young, 'cause he's got a couple of big teeth sticking out the front. He reminds me of the actor Rick Hoffman, the one that plays Louis Litt on 'Suits'. His primary goal in life is to annoy you apparently. He kept on charging straight at me, only stopping after getting a taste of my camera lens. He would then pretend to retreat back into the lagoon, only to pull a U-turn and make another charge. I thought it was amusing at first but he kept on coming, even when I retreated in defeat. What a lagoon weirdo!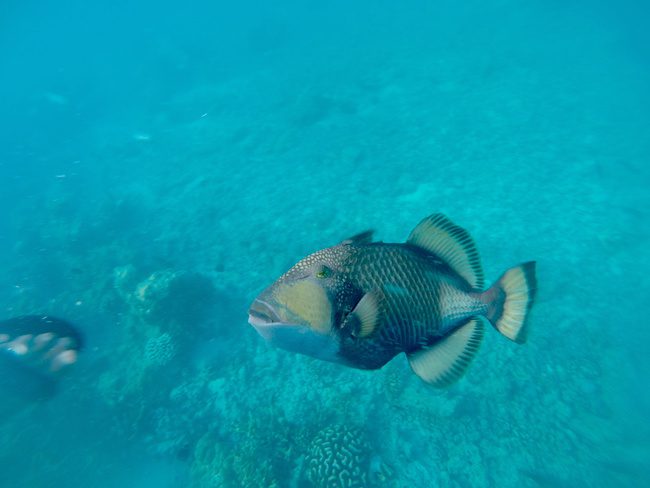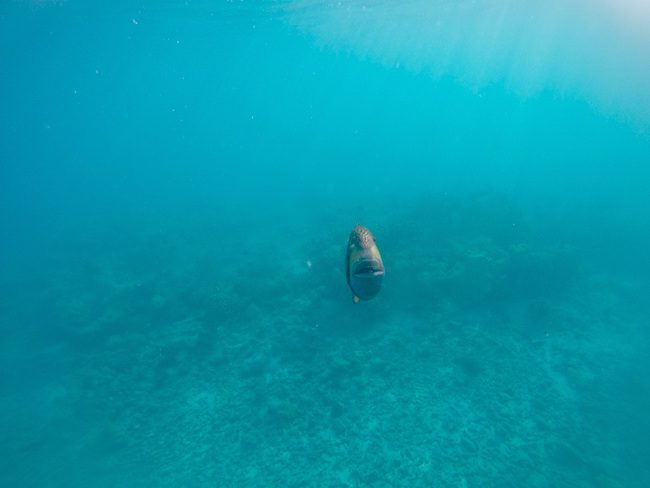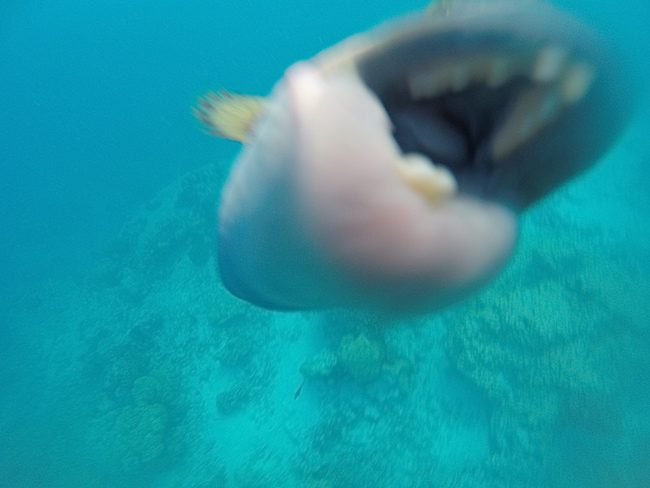 Back on dry land and with all fingers intact, it was sunset time, as fishermen were heading back home after yet another successful day. There is so much seafood around here, so it was no surprise to find fish, fish and more fish on the menu of our communal dinner. Simply delicious! And to cap this first evening off – some star gazing. I'm running out of wishes to make…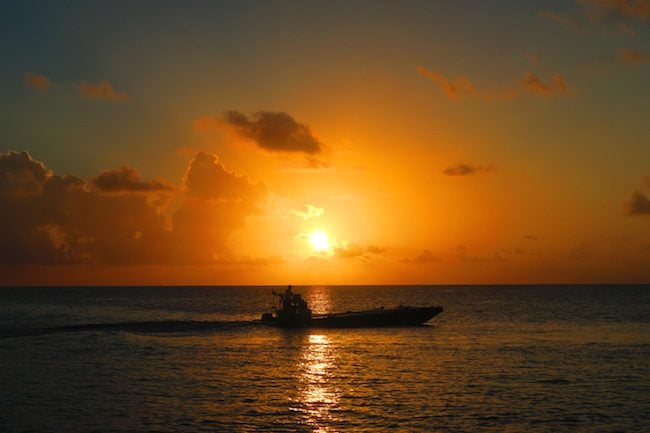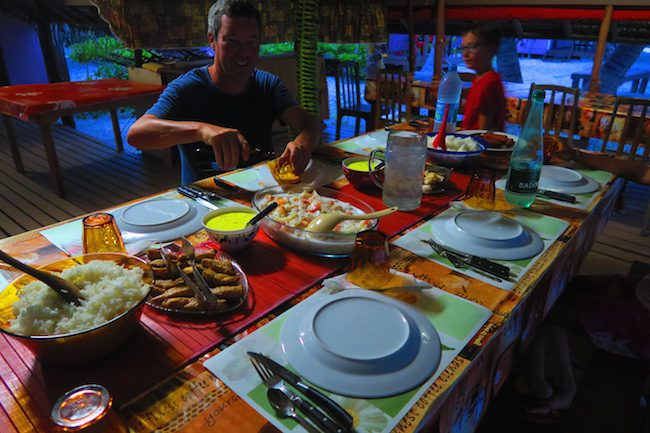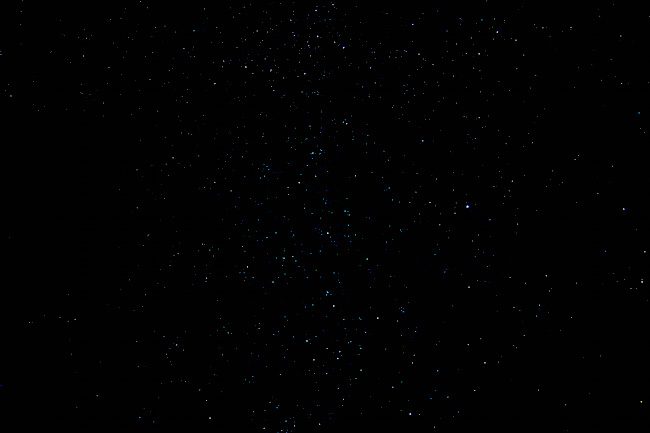 Cycling around Rangiroa
The following morning was a gorgeous one, perfect for exploring the little that's around. I sorted out my diving schedule early on, rented a rusty beach bicycle from the local grocery shop and headed out. Most human activity in Rangiroa takes place on the main motu, which is large enough to sustain a village, a few dive centers, a bunch of pensions and even a paved road. Cycling around here is really for the lazy, flat throughout without much traffic – just falling coconuts.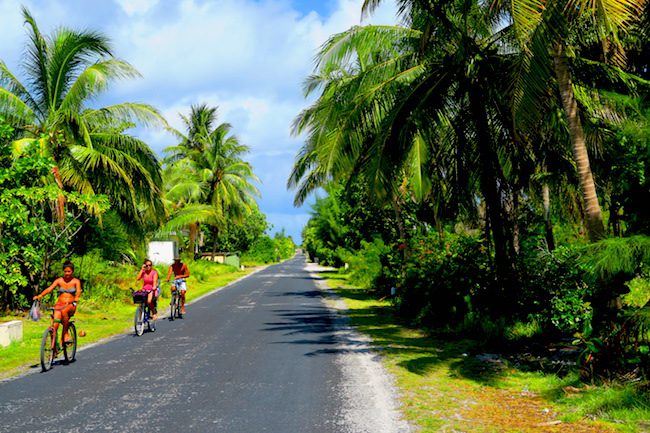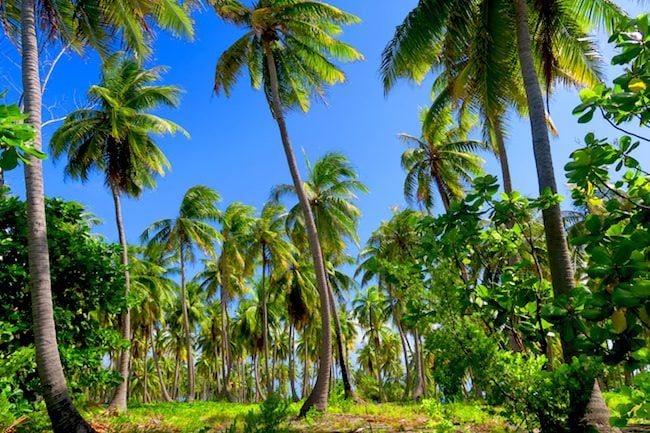 I guess the only thing missing in Rangiroa, and in the atolls in general, is the fruit. I was so used to stopping at roadside stalls and picking up some fresh fruit like in Moorea, but there's none of that around here. In fact, fruits and vegetables arrive here by boat once per week (weather permitting), and everything is pretty much pre-ordered by the locals. What isn't missing around here are the sharks. You just leisurely cycle along and see them wandering around in the shallow water right beside you.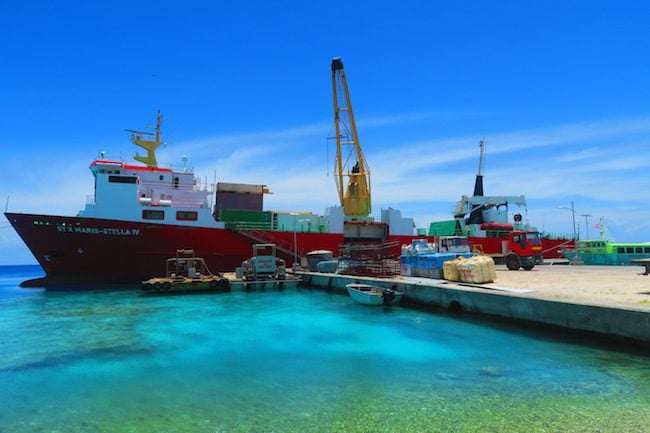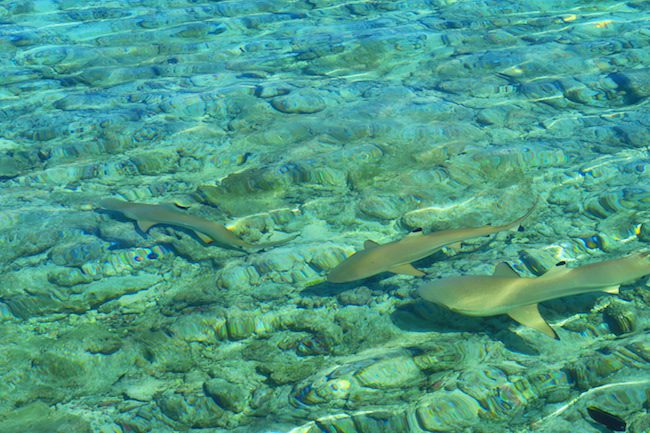 As for the beaches, Rangiroa is not really blessed with those either. A two-hour boat ride to the other side of the lagoon will take you to a few gorgeous ones, but around the village, there's not much sand. There is one public beach that's not bad, but it's the color of the water that leaves a lasting impression. I got to the beach just as the local soccer team was practicing in the dead heat of this perfect Saturday. Don't forget to hydrate guys!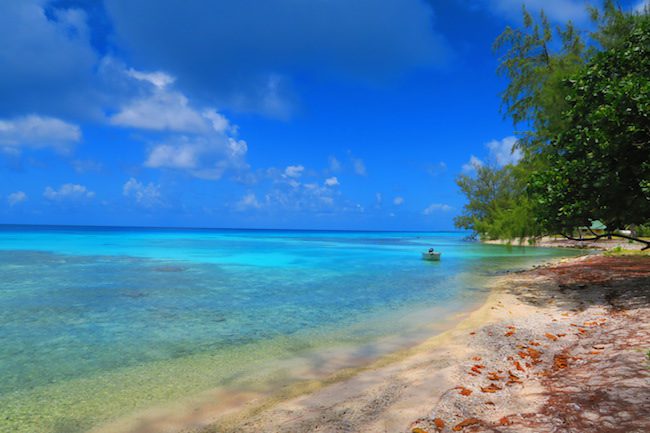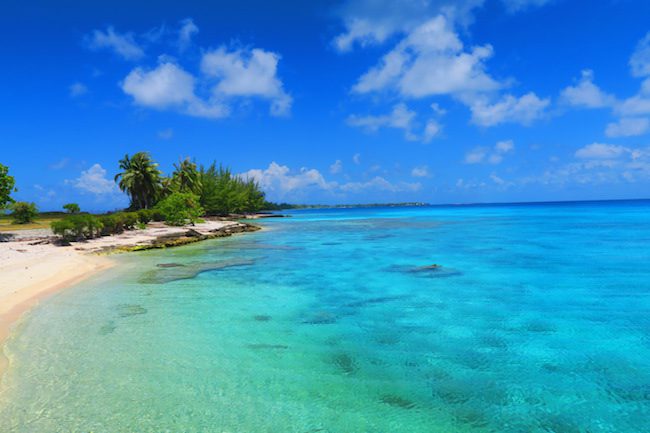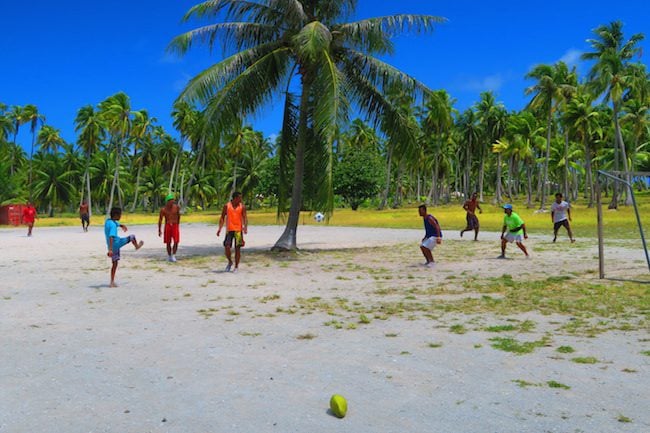 After only 3 km of sweaty cycling, the rusty chain of my rusty beach bike gave in and I needed to call for some roadside assistance. After a bit of 'island time' waiting, I was back on the road and at the village of Tiputa, at the opening of one of the main passes in and out of the lagoon. The village is the biggest in Rangiroa, but I use this term loosely. Believe it or not, it's the biggest town in the archipelago and when locals come here, it's like they've arrived in Manhattan. As small as a village may be, there's always more than one church…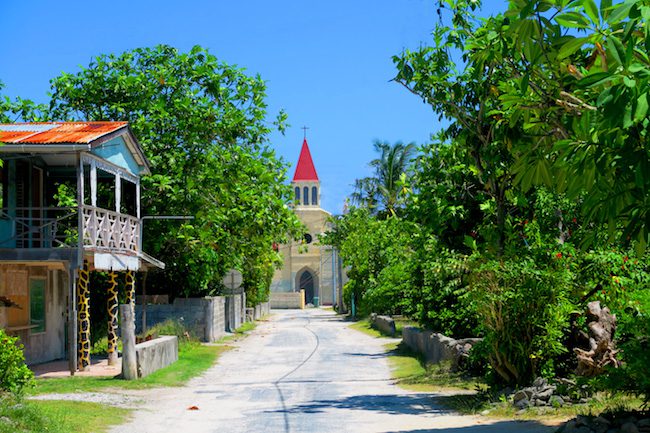 It was a quiet Saturday, with not much happening in the village except at the pier – where local fishermen were gearing up for dinner. Honestly, it took this guy just a few seconds to catch each fish – too easy with such an abundance of fish around here.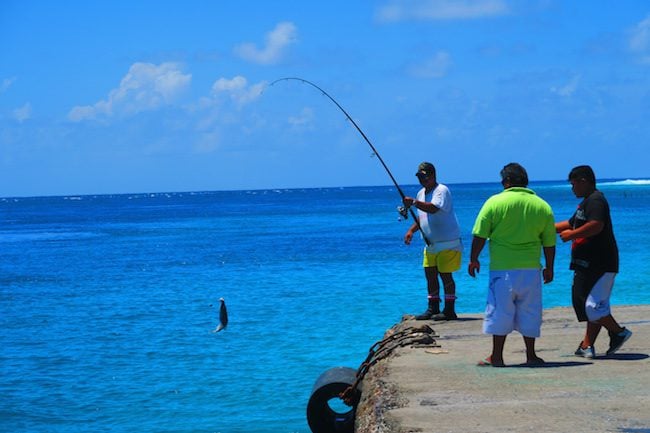 Ready to finally see some real underwater action? Head over to the next page for some diving in Rangiroa!