Swimming With Sharks & Stingrays In Moorea
The weeks after Christmas & New Year's are often characterized with a feeling of an anticlimax. Those back at work know what I'm talking about. The next big vacation is in distant July and the days are short and dark. But those 'post holiday blues' ain't happening in Moorea folks. For the local islanders, the clocks were simply adjusted back to 'island time', which is about a quarter of the speed of life back home. In this week's update from the South Pacific, we'll spend most of our time exploring Moorea's marine life. We'll have close encounters with sharks of all kind, sting rays, dolphins and a few underwater creatures that you don't want to meet in a dark alley… For those who make it to end of this post, there's a special surprise from Tahiti!
Heading off to French Polynesia? In-depth island guides to all 5 archipelagos await you, including sample itineraries and essential travel tips & tricks.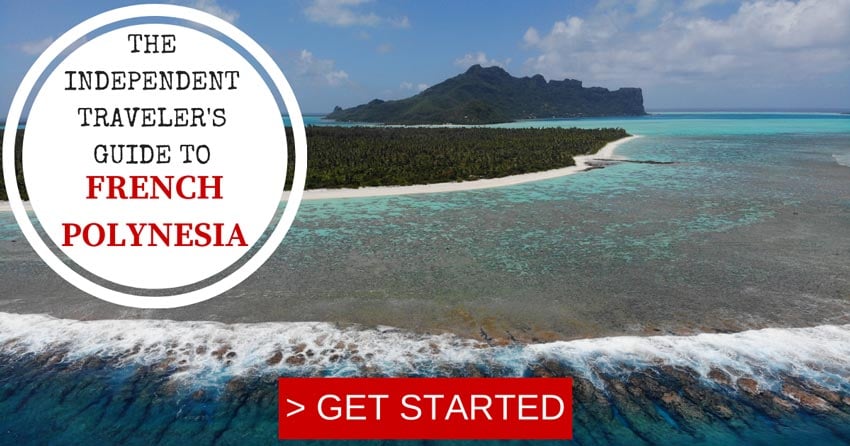 Tahiti, Tailor Made!
The Islands of Tahiti are among the last places to be colonized by mankind, 118 islands, each with its unique personality.
Get expert advice and assistance with planning your trip to the destination where tropical dreams come true!
The first week of 2016 was plagued with a lot of rain. There weren't many opportunities to enjoy Moorea's fine hikes like in the first couple of weeks, but I did get the chance to get some writing done and plan the complicated last leg of my journey in the South Pacific. More on that later on.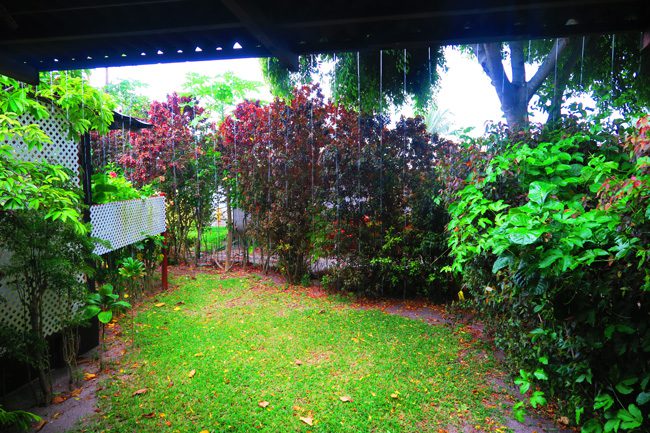 I'll have another shot please!
Of the few indoor activities to do in Moorea, one of the best has to be a visit to the local juice factory. Anyone who's been to French Polynesia knows that irresistible feeling of picking up a few cartons of exotic juices at the supermarket. The Moorea Juice Factory was set up in 1981 by local pineapple growers, to turn the delicious Queen Tahiti pineapples that grow here in abundance, into a national drink. The factory has since expanded to produce juice from a variety of fruits and their combinations. How about some papaya passion fruit juice, or the super healthy multi-fruit juice, infused with the famous Noni!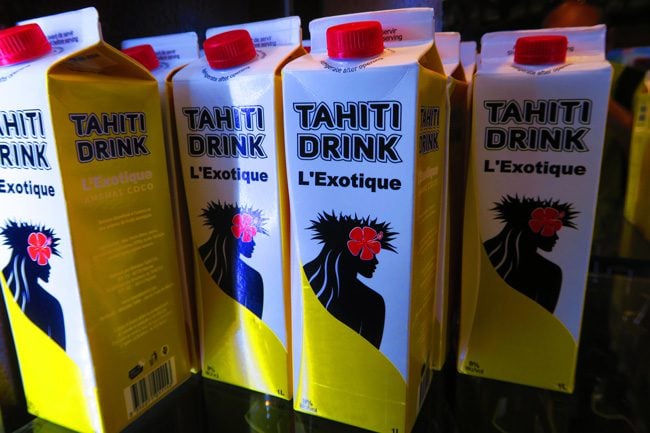 Aside from juice, the factory also has a distillery up its sleeve, producing vanilla liquor that definitely gives the Irish Bailey's a run for its money. To top things off, they also make delicious jams over here. My absolute favorite is the guava spread. With a little bit of luck and some smart packing, maybe a few lucky folks back home will get a taste of this breakfast delight.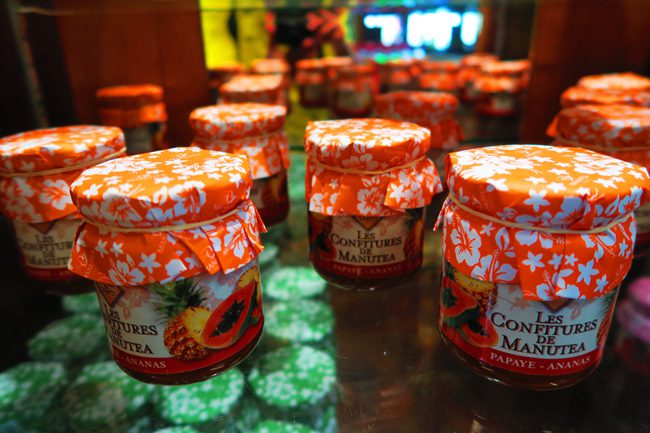 The factory runs tours of their operation, and like every great factory tour, there's a tasting at the end. You just have to keep count of all the Tahitian punch chasers that are thrown at you, before getting back on the road.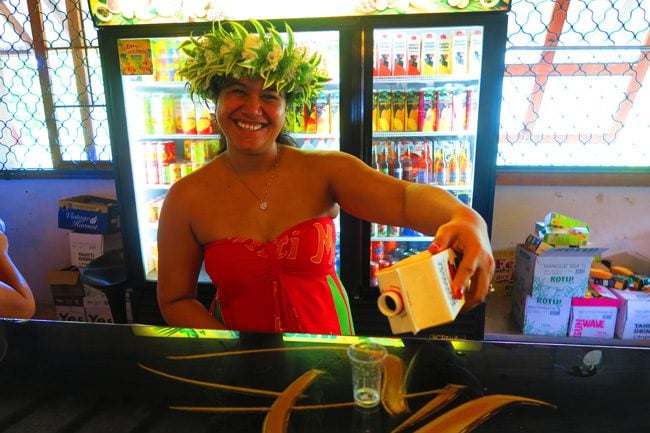 With the weather clearing up a bit, I stopped at the Moorea Tropical Garden for lunch with a view. The friendly locals cultivate a challenging plot of land on the mountainside and manage to grow lots of vanilla up here. The highlight of the visit is no doubt the local Tahitian lunch, complete with Taro, breadfruit, fish, a few things I can't recall their names and a generous glass of pineapple papaya juice. So yummy!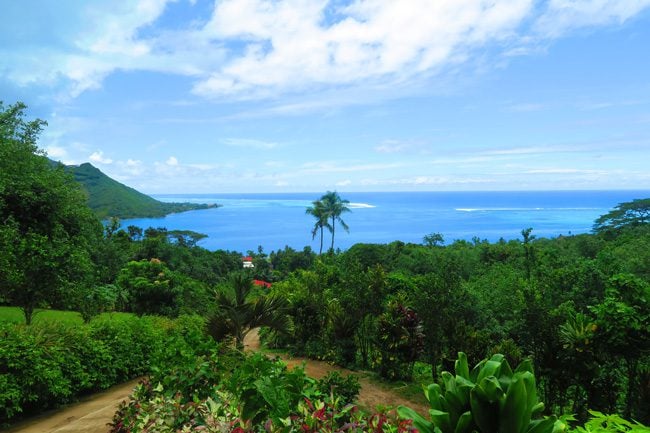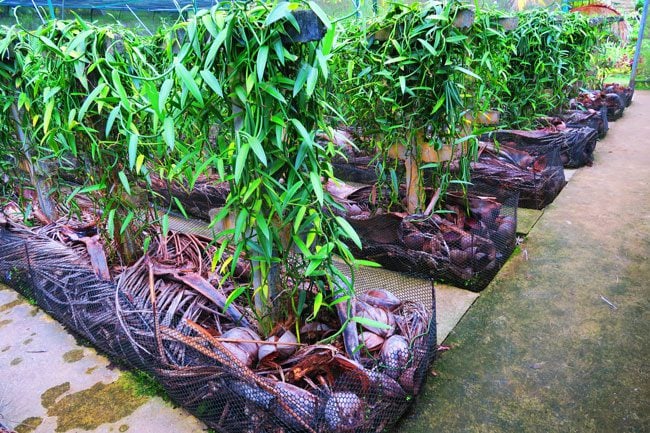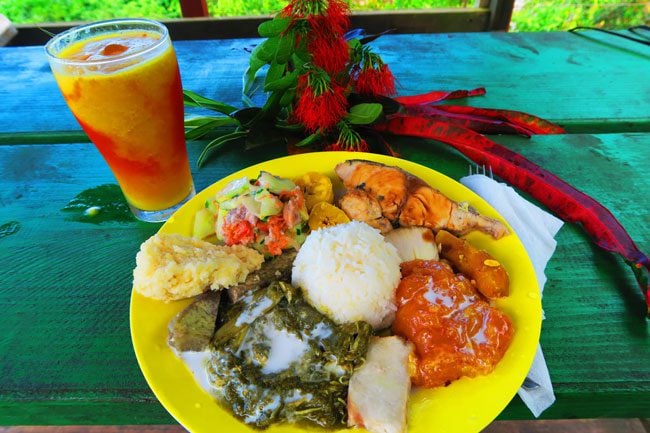 Polynesian food is packed with energy that can keep you going for hours. With this boost of energy, I headed down the hill and into the Intercontinental Resort to check out the Moorea Dolphin Center. The center gives visitors the chance to get up close and personal with the ocean's smartest creatures while advocating conservation and marine protection. Three dolphins call this place home: Kuokoa, Hina and Lokahi. One of them is apparently is a retired French navy vet. He's one of those dolphins that was trained to place bombs on the bellies of enemy ships… They are super friendly and just love showing off their swimming abilities and vertical leap. Super impressive!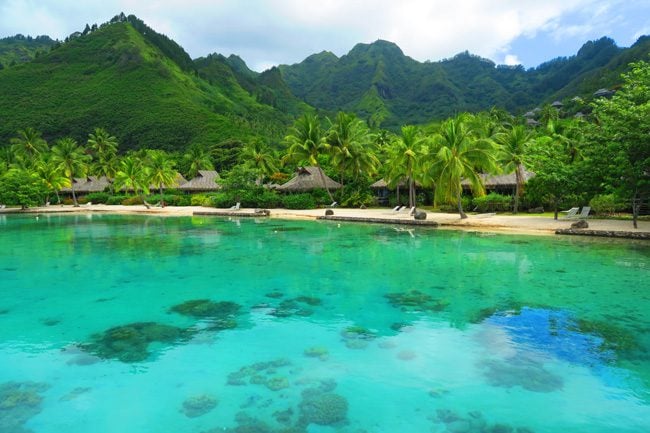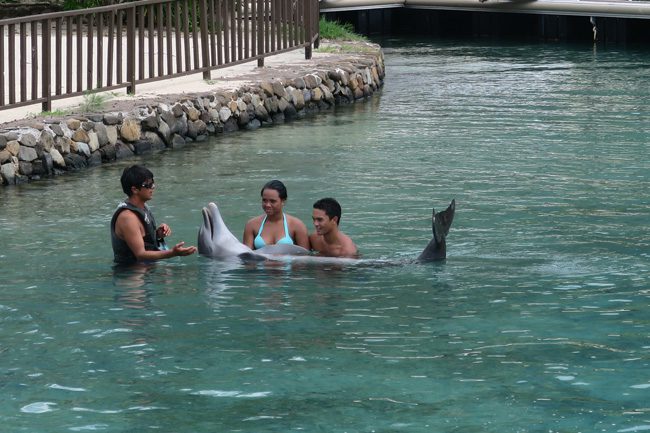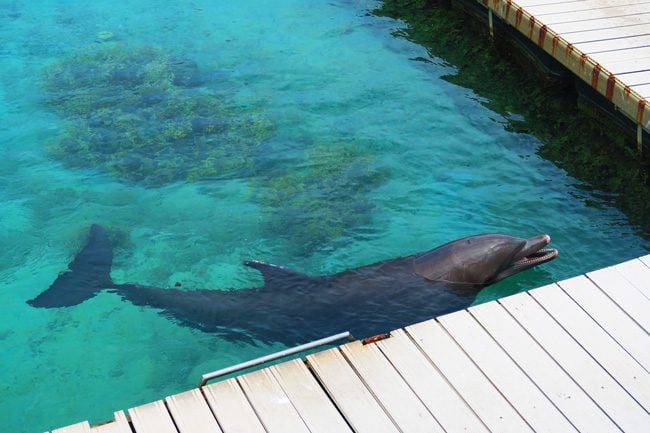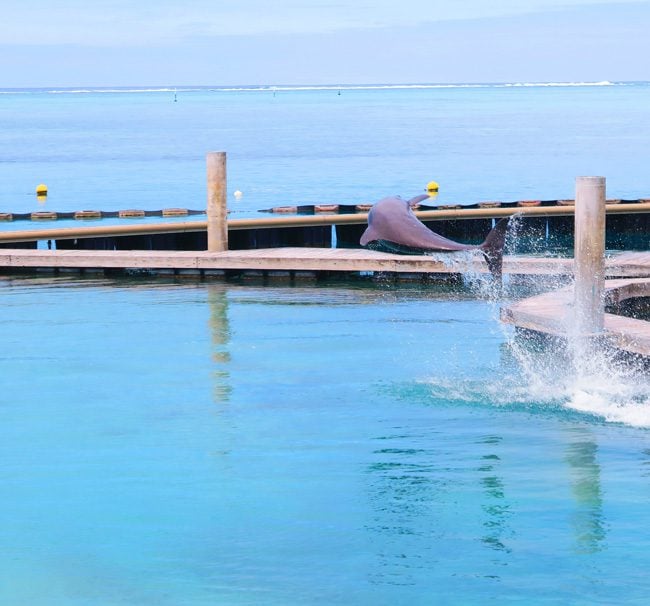 I hope nobody got that on tape…
Before heading underwater, it was time to see for myself what all the drum noises popping out of the nearby Tiki Village were all about. I've been hearing these tribal sounds off the beach for three weeks now. The Tiki Village has been showcasing traditional Tahitian culture since 1983 and is somewhat of a legendary local establishment – kind of like that 200-year-old Irish pub in Dublin.
It all starts during the day, where you can participate in workshops to bring you up to speed with everything a Tahitian needs to know. You start off with making your very own pareo (sarong), which kind of ends up looking like an American tie-dye shirt, only this thing comes in handy at the beach as opposed to getting you a nice beating by the neighborhood bully (the '60s are over folks).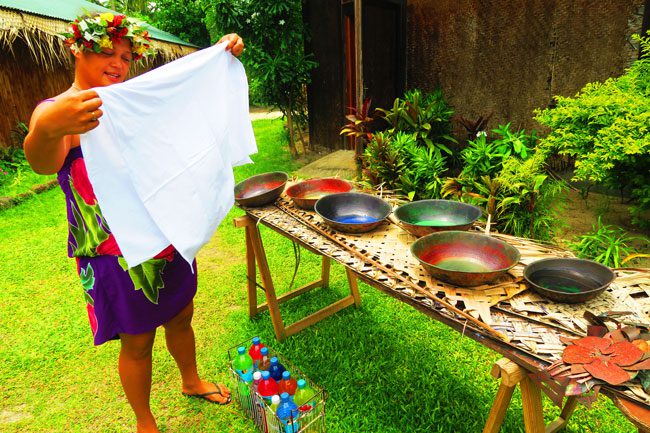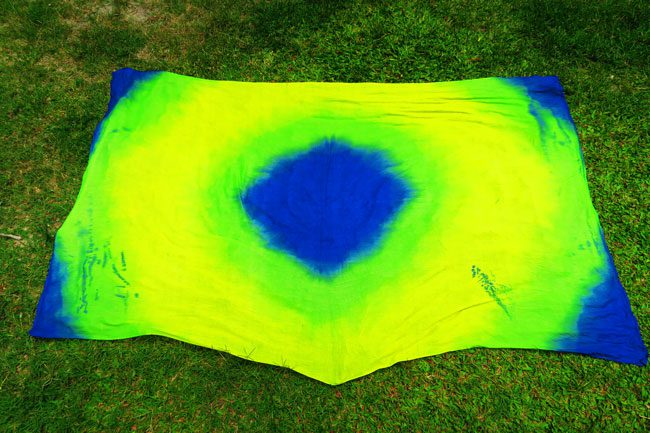 Naturally, after making the pareo, you move along to weaving a handbag out of the branches of a palm tree. As we saw back in Samoa, the palm tree is not called 'the tree of life' for nothing. After a few minutes of weaving, you end up with a bag that'll last you for weeks. Ladies, do you really need that Prada bag? Imagine walking down the Champs Elysees or 5th Avenue with one of these babies! Coconuts, papayas, makeup and beach gear – anything goes with these local bags!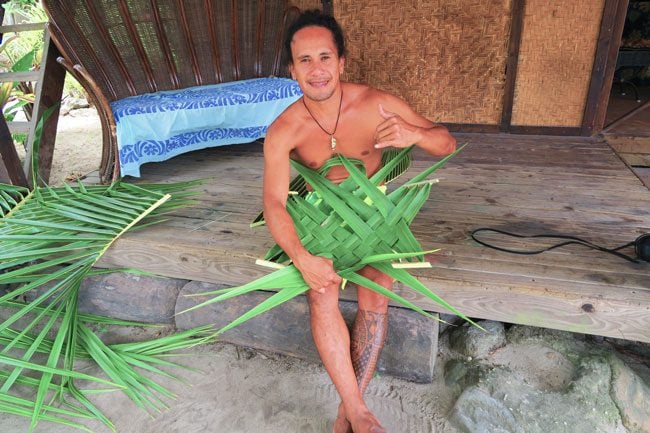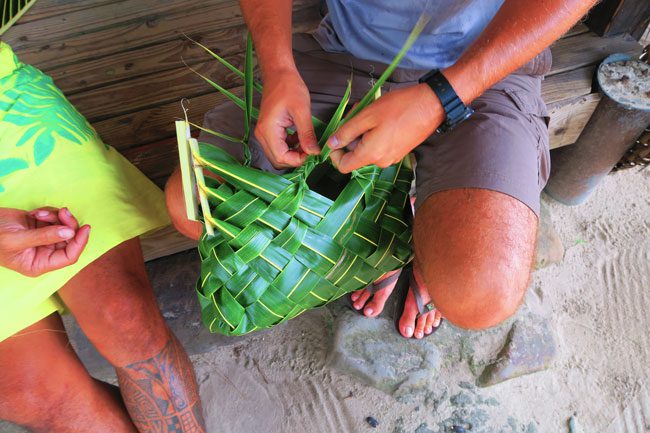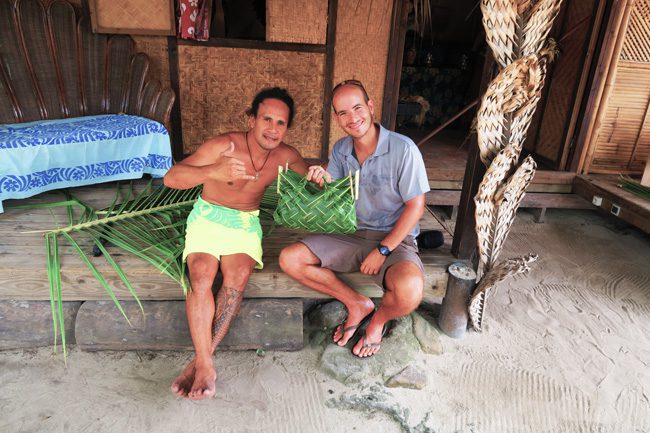 Feeling great about my Tahitian skills up till now, we proceeded to the musical workshop. My kind hosts really didn't know what they were getting into… This white guy got no rhythm! Knowing how to play the ukulele is kind of a must if you want to be a Polynesian, so there was no choice but to go along with the embarrassment. My teacher sketched a few basic accords in the sand, and we began to 'play'. Boy, I was terrible, but after a few long minutes, I managed to hit a few notes. I got some practicing to do…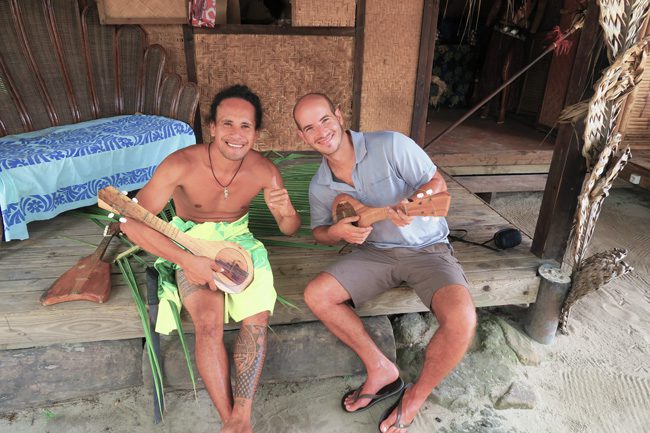 Our final workshop was in the culinary department. Finally, something I am remotely good at. On the beachfront deck, a table with fresh fish, lime, vegetables and some coconut milk awaited me. We learned how to make the national dish of Tahiti, the poisson cru – a delicious concussion of raw fish salad that you just can't get enough of! I can totally whip this up back home… if I can only get my hands on some fresh fish and coconut milk.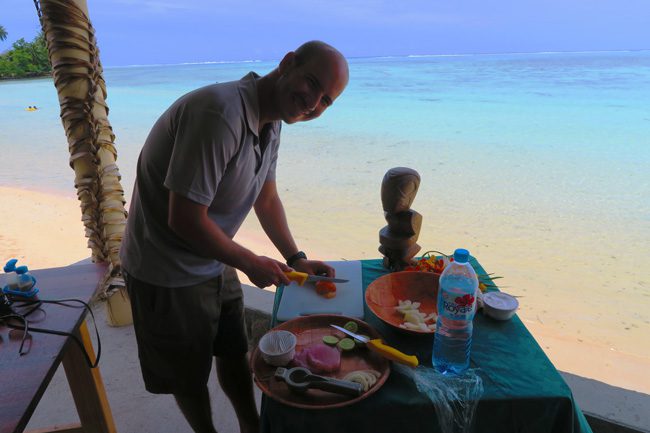 Tahitian dancing at its best
With the basics of living like a Tahitian out of the way, it was time for the grand spectacle – the traditional Tahitian dance show! It all starts with the 'excavation' of the earth oven, where some of tonight's food has been cooking underground for 6 hours!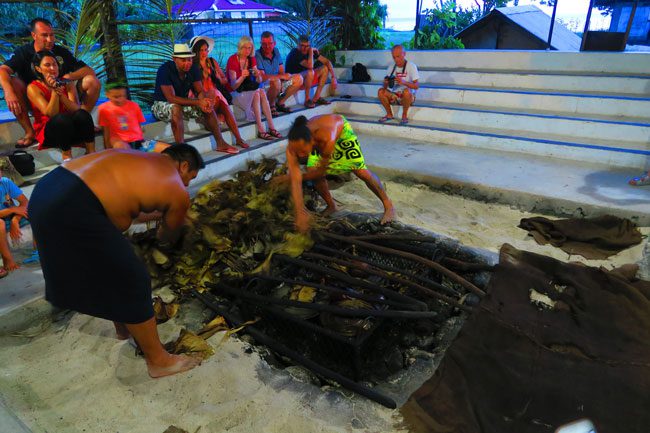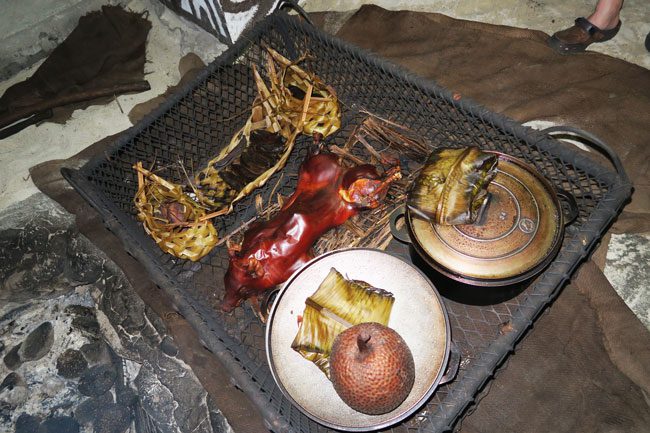 Following a delicious dinner and some music, this time with the pros playing, the show finally began. But the guys at the Tiki Village still had another trick up their sleeve and they brought onto the sandy stage the men and women for some dancing. I must say that the men had it the hardest. As you'll soon see, Polynesian dancing involves shaking your knees in angles not known to Western men apart from Elvis Presley. I thought I had enough embarrassment for one day with my ukulele performance, but this one really takes the trophy. It must have been the worst performance the Tiki Village has seen in its 33 years of existence. I hope nobody got it on tape…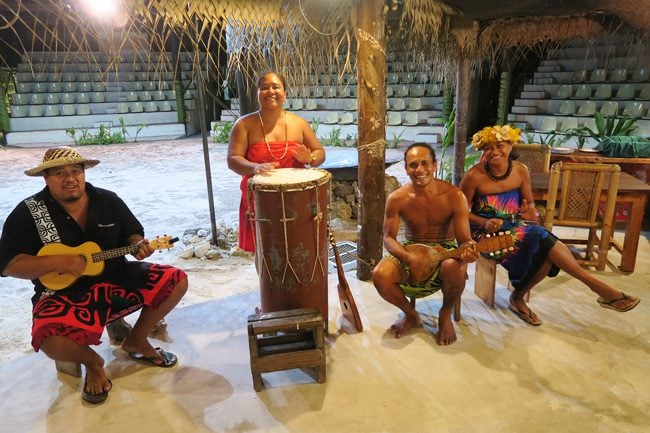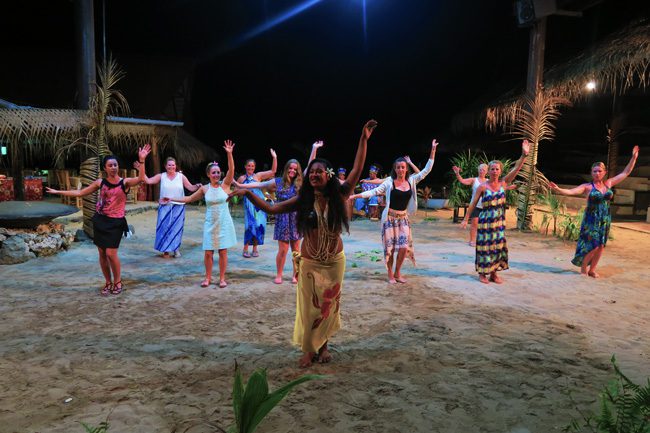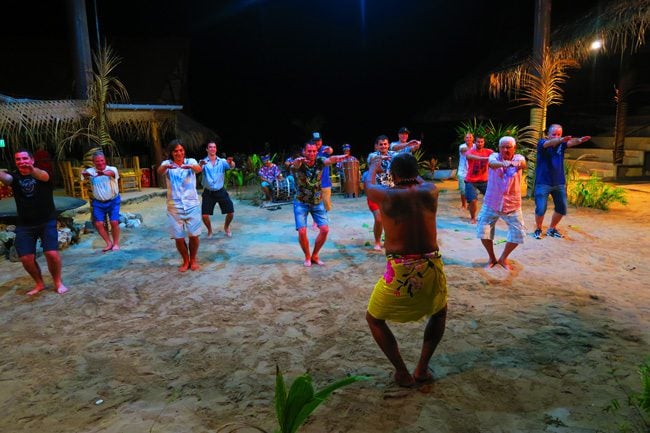 Now it was time for the pros to show us how it's really done. The performers in the Tiki Village are among the best in French Polynesia. These guys tour the world to showcase their culture and it certainly is an impressive one. The plot revolves around a badass warrior on a distant island with tattoos all over his rear end. He lives on land with his men, while the women live out in the sea. One day, the men discover a huge shell in the ocean and take it back to land. The women, unhappy of course, make an amphibious assault on the village, defeating the fit men and winning their shell back. Curious to find out what's inside, they order the men to crack it open. To their amazement (and the audience's), a beautiful princess emerges from the shell.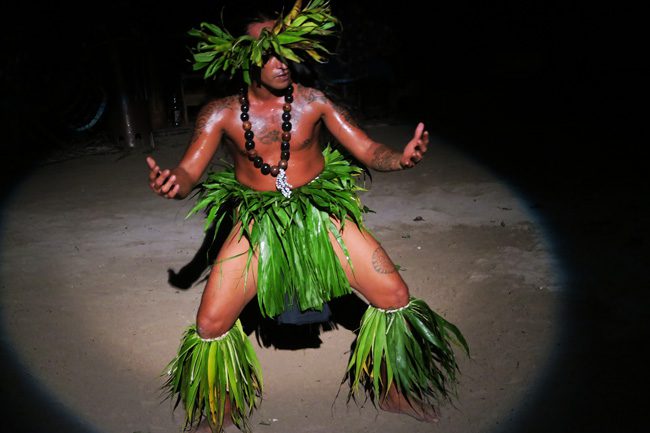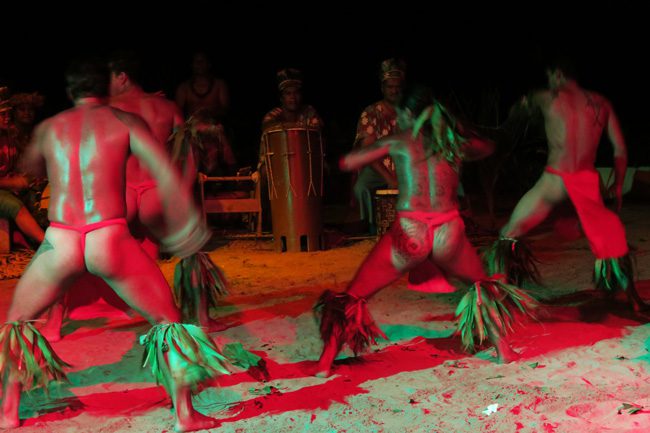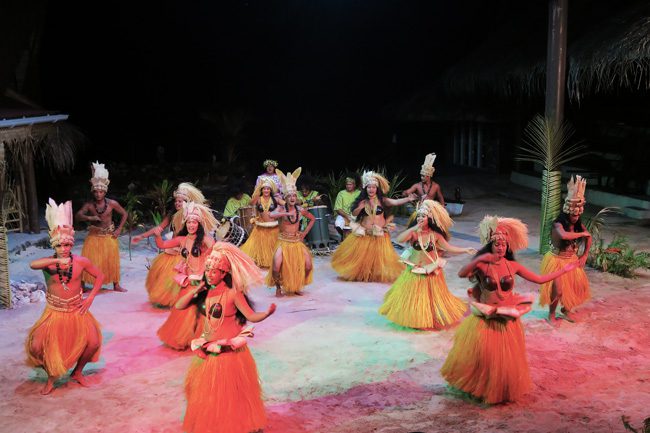 As you might expect, the princess falls in love with the local prince and wedding preparations commence. The groom gets a few more pre-wedding tattoos, while the bride is simply… groomed. They are then joined together by the high priest before being paraded through the village en route to a happily ever afterlife, on land. Have a look what it felt like during the show. The music is captivating!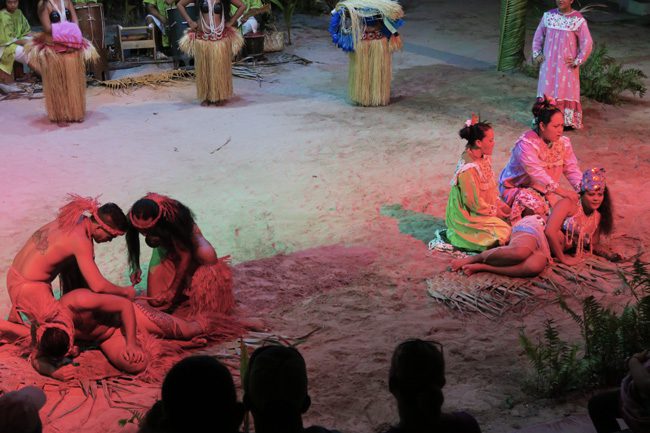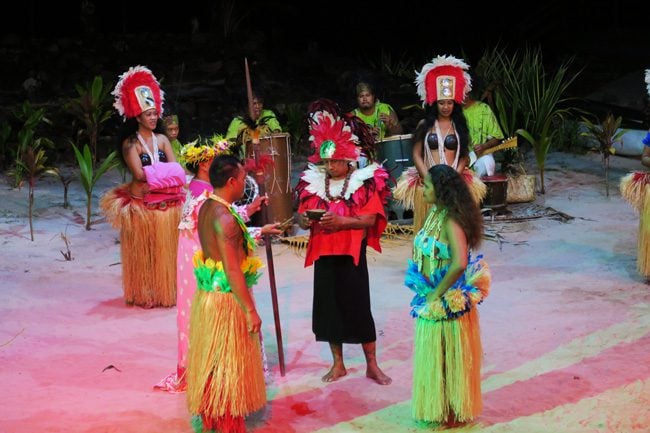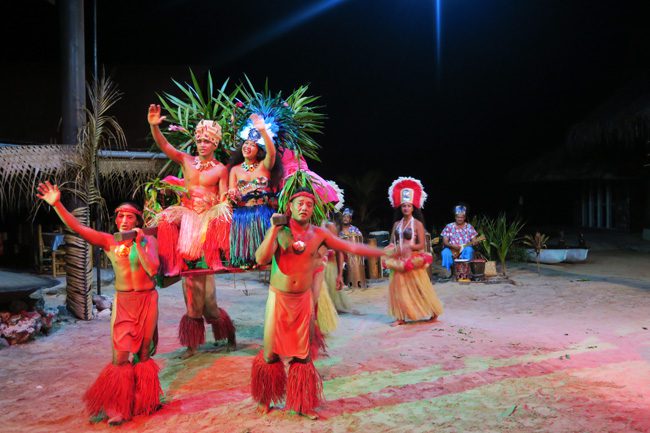 Just to keep the party going, the local dancers come back onto the sandy stage for what has to be the best fire dance show I've ever seen. I mean, these guys are REALLY good! See for yourself.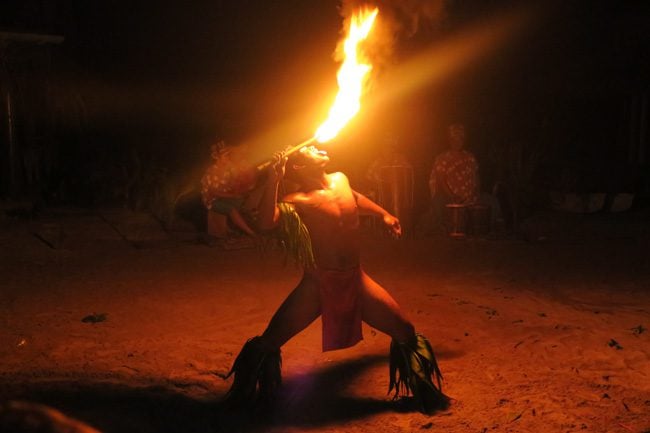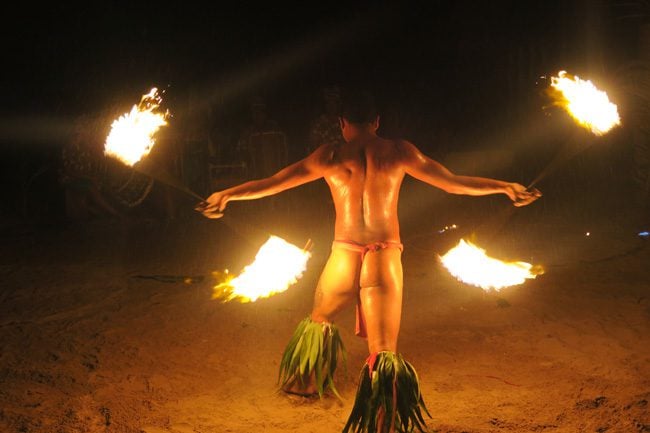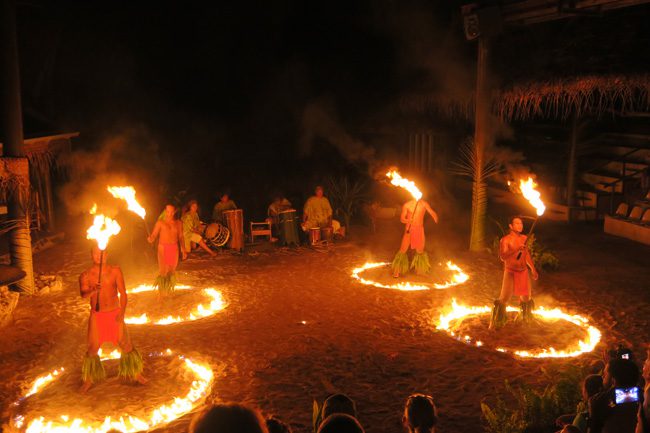 I've seen a few traditional Polynesian dance shows, back in Samoa and the Cook Islands – but the Tiki Village was something special. It's one of those moments where you pinch yourself and realize: damn, I'm really in French Polynesia!
Ready to head underwater? Click over to the next page and let's see some sharks!