Take it slow on the drive from Bryce Canyon to Arches National and explore the scenic backcountry on a memorable road trip on two of Utah's exceptional scenic byways. In this one-day itinerary, we'll hit the road and see how to squeeze the most out of this long desert drive.
In the fall of 2022, I completed an intense five-week road trip in the American Southwest, which included driving over 6,000 miles across four states with a focus on visiting national parks. I spent over two weeks in Southern Utah and a full day driving from Bryce Canyon to Arches National Park. This travel guide is based on my experience and extensive research.
Why Visit?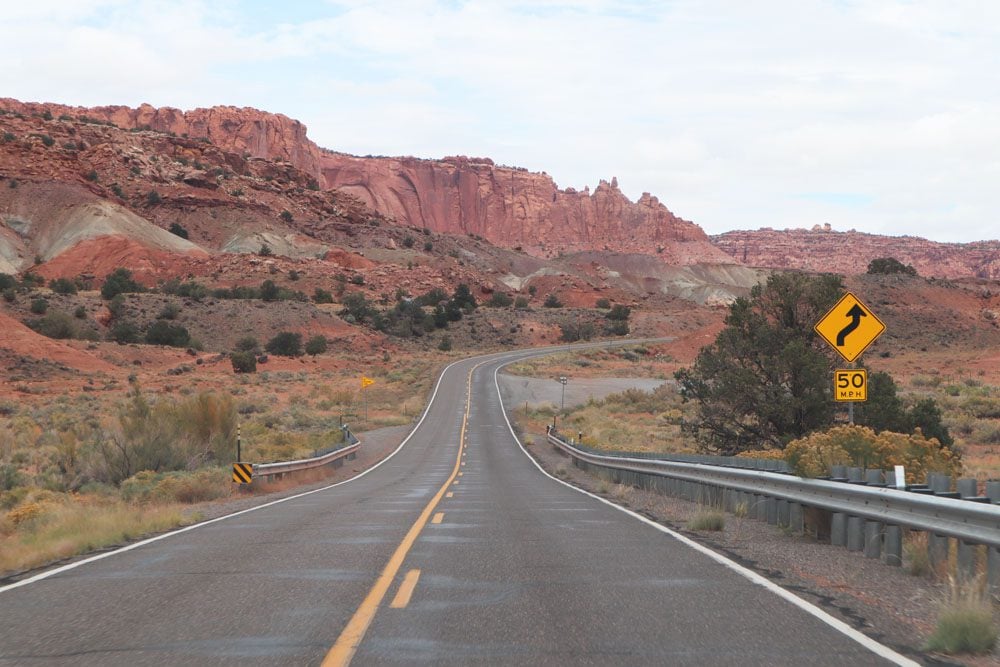 Scenic Byways
Highways 12 and 24 are two of Utah's scenic byways, turning the drive from Bryce Canyon to Arches NP into an experience on its own. These scenic roads travel through some of the Southwest's remotest and finest desert landscapes.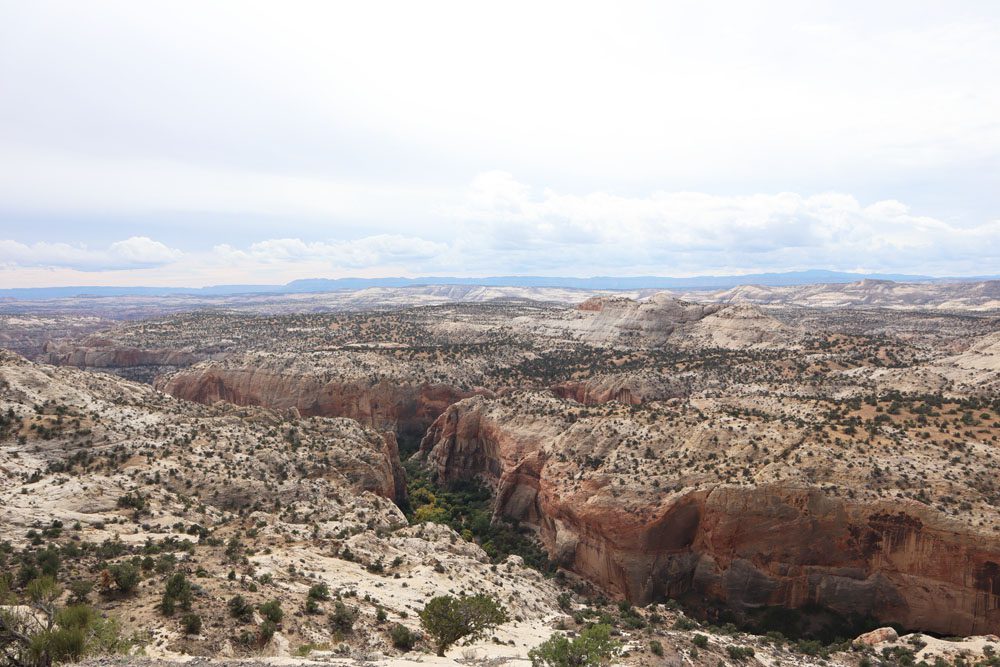 Grand Staircase-Escalante
Enjoy a quick sample of this mammoth national monument, with its strange rock formations, detours on miles of dirt roads, and a hike to a fantastic desert oasis for drivers making good time.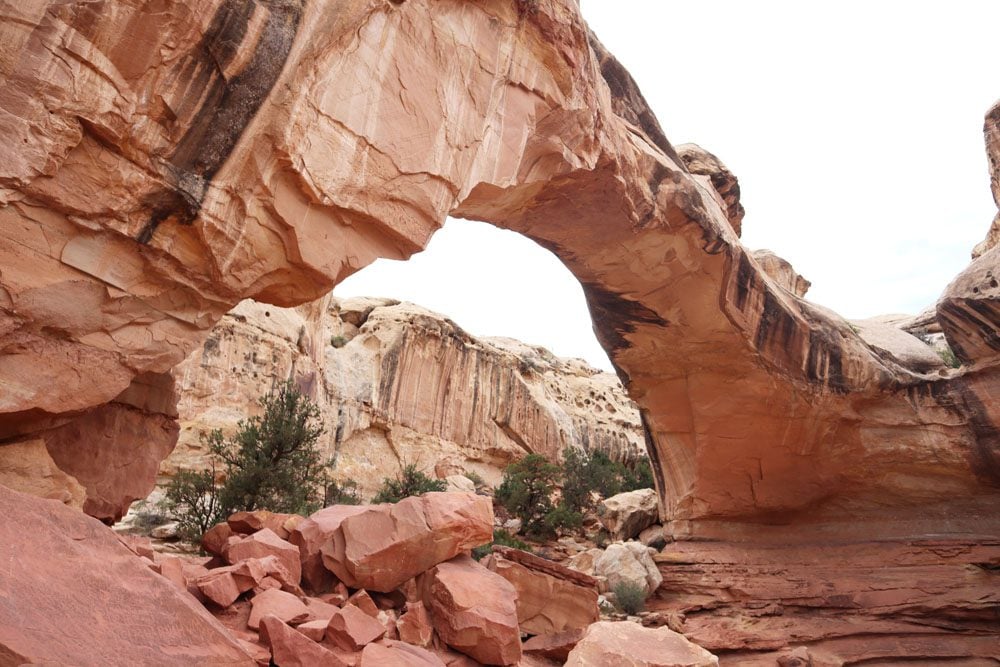 Capitol Reef NP
Drive through the northern tip of Utah's second-largest national park. Stop at roadside viewpoints with "classic" Wild West vistas, see historic sites, and embark on short hikes to properly experience the desert landscape.
Brief Overview
The drive from Bryce Canyon to Arches National Park is one of America's finest road trips, offering the chance to experience two of Utah's 28 scenic byways. Scenic byways are roads that not only connect point A with point B but are an experience on their own. They're a great way to get off the beaten track and combine driving with exploring exciting sites off the highway or further inland. In our case, the drive from Bryce Canyon to Arches takes us through Grand Staircase-Escalante National Monument and Capitol Reef National Park.
Grand Staircase-Escalante National Monument extends over 1.9 million acres of sandstone canyons, plateaus, cliffs, and unique rock formations. The immense national monument derives its name from the Escalante River Canyons and a series of stunning colorful cliffs known as Grand Staircase. There are very few services or paved roads inside the park, but Highway 12 provides a quick taste and an excuse for an extended return visit to Southern Utah.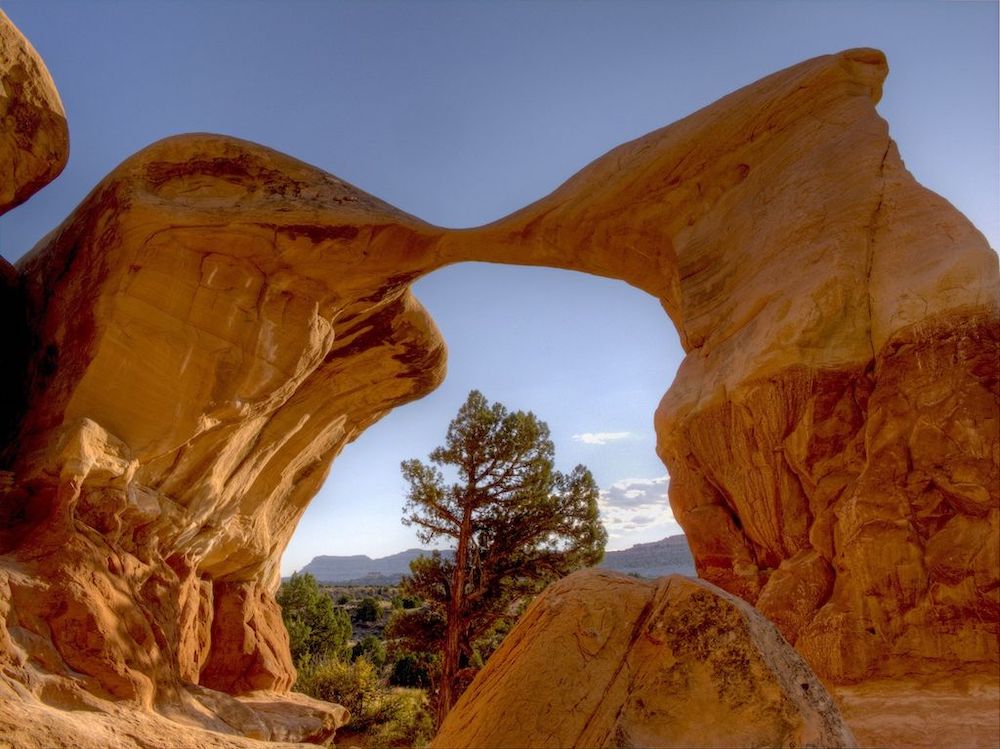 Capitol Reef National Park is the second largest of Utah's national parks but is the least visited member of the "Mighty Five". Nevertheless, several experienced travelers I met during my five-week road trip raved about Capitol Reef's beauty and off-the-tourist-radar vibe. The national park boasts stunning "classic" desert scenery, but to adequately cover its grounds, you need a few days and a bit of camping. Scenic Highway 24 slices through the northern tip of Capitol Reef, complemented by a few interesting sites that do not require many detours.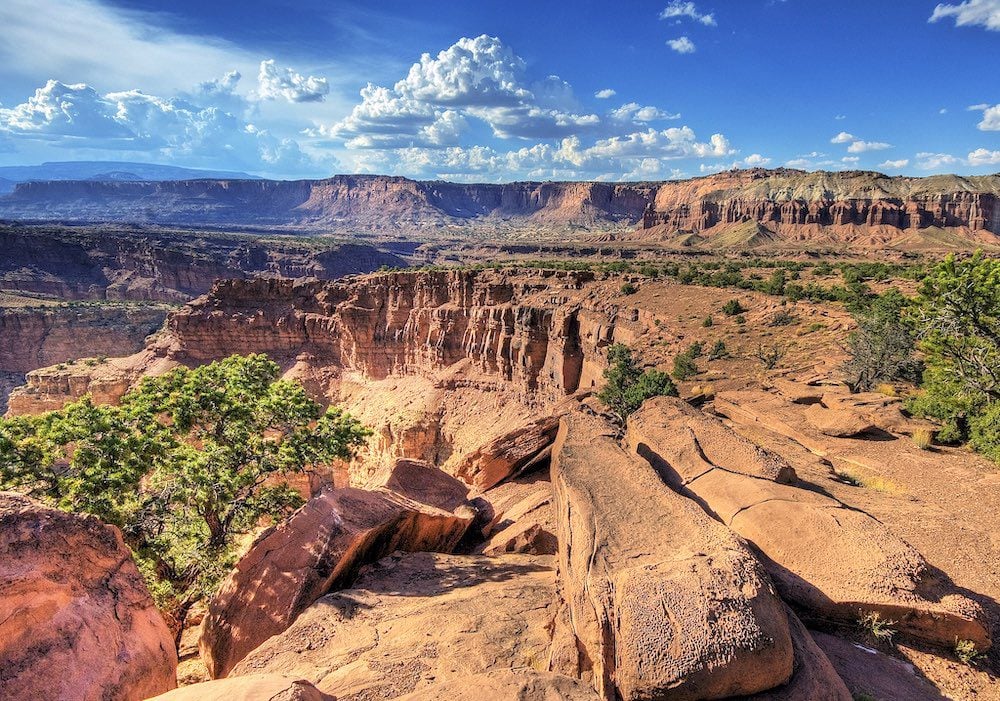 What's Included in this Itinerary?
Three sections make up this road trip guide from Bryce Canyon to Arches NP
Additional Southern Utah Resources
Check out additional travel guides to Southern Utah, including travel guides and itineraries to Utah's "Mighty Five".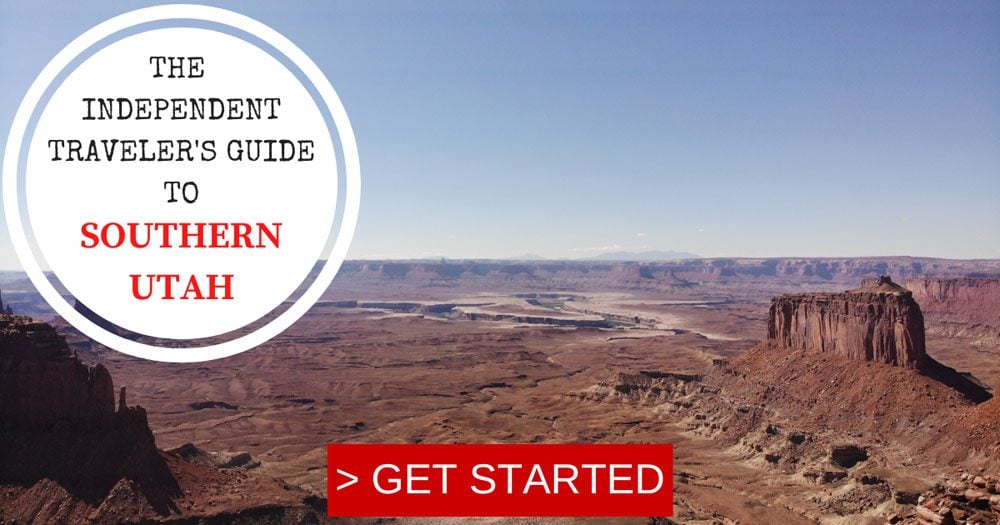 Bryce Canyon to Arches NP Road Trip Map
Click on the image below to see all places mentioned in this itinerary on Google Maps.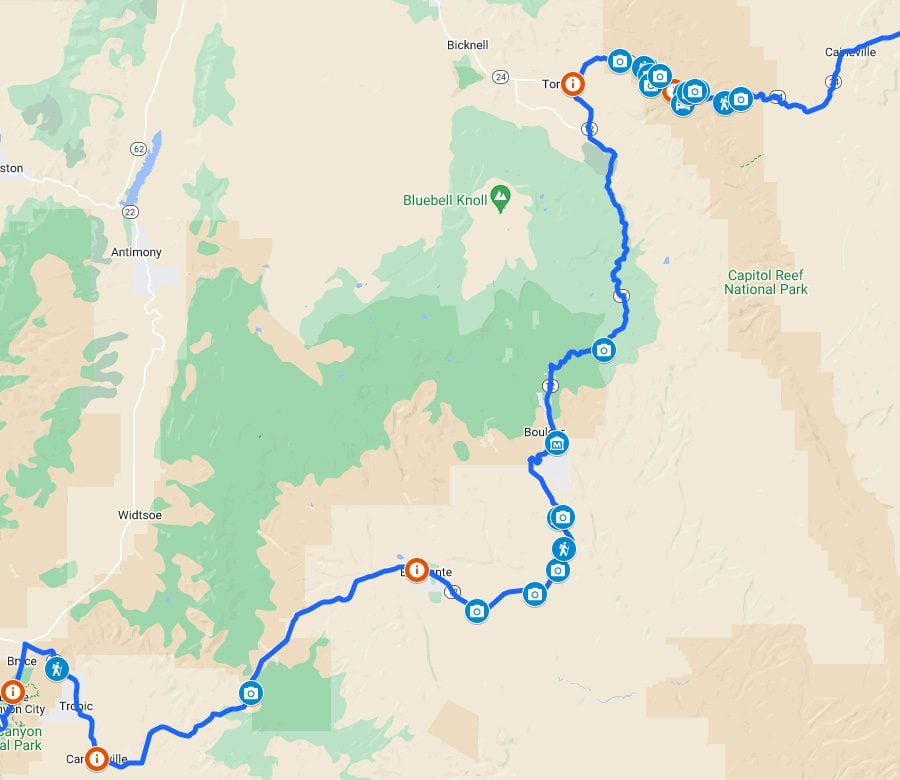 Planning Tips
This section highlights key travel tips for planning the drive from Bryce Canyon to Arches National Park.
How Long is the Drive?
The drive from Bryce Canyon to Arches NP on scenic byways 12 and 24 takes about five hours, not including stops. The total distance is 265 miles (236 km).
There is a shorter option if you're pressed for time. Head to Highway 89 and merge with Interstate 70 for most of the journey. Then turn to Highway 191 towards Arches NP and Moab. This journey takes about 2.5 hours to drive the 245-mile distance (395 km).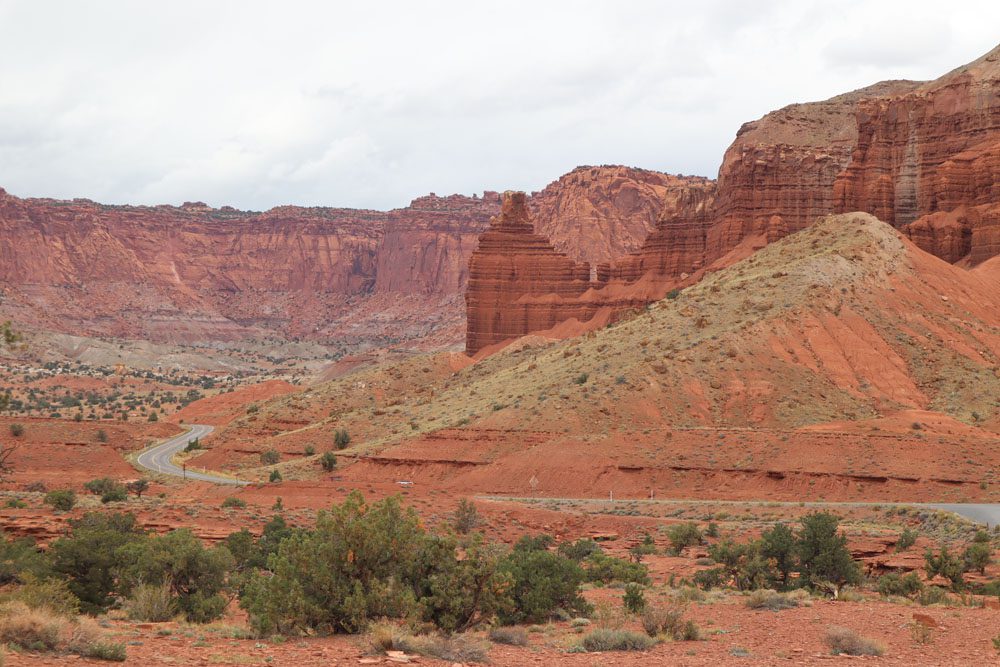 How Many Days Do You Need?
One day: this itinerary focuses on completing the drive from Bryce Canyon to Arches National Park in a single day. If you leave Bryce Canyon in the morning, you'll make it to Moab (the gateway town to Arches NP) early in the evening and have time for brief stops along the scenic drive.
Two days: if you have an extra day, spend it at Capitol Reef NP. Tick another member of Utah's "Mighty Five" off the list, and explore the more impressive and manageable of the two parks.
Three days: spend the extra night at Grand Staircase-Escalante and see a slightly more significant chunk of this colossal park using dirt roads to reach a few top highlights. Alternatively, devote another night to Capitol Reef.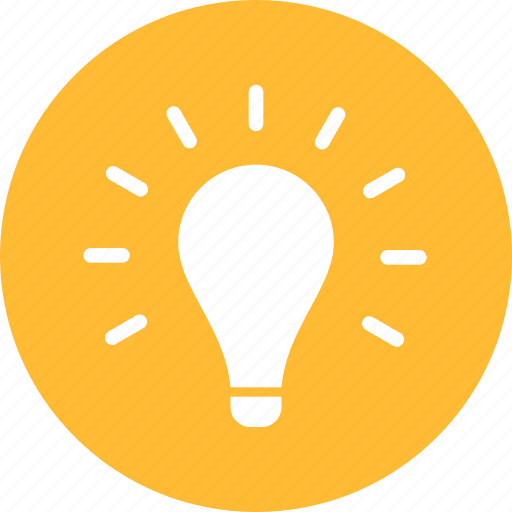 Pro Tip
The secret sauce to this road trip is to leave Bryce Canyon at just the right time. The one-day plan is more feasible in the summer when the days are longer and it's likely more possible to combine the long drive with sightseeing.
Where to Stay?
Spend the night in Moab if you drive from Bryce Canyon to Arches NP in a single day. Moab is the gateway town to Arches NP and Canyonlands NP. You'll find here a healthy selection of motels in all price ranges and camping options. Prices are a bit high in Moab, but it's a very convenient base for exploring the area's national parks.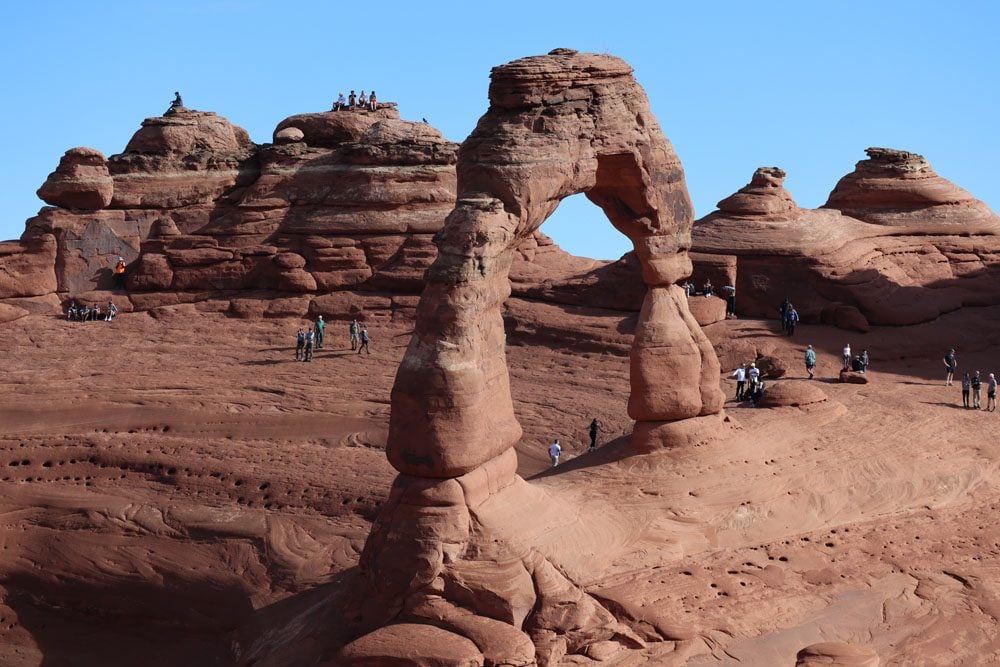 If you're spending a night in Capitol Reef, the best option is in the popular Fruita Campground. However, if camping is not what you're after, the towns of Caineville and Torrey are the best options.
In Grand Staircase-Escalante, the small town of Escalante is the best option, with Boulder a close second. Additional options in nearby towns might also be available. For camping, Calf Creek is a sweet spot.
Mobile Reception & WiFi
Do not count on catching a signal beyond the major towns on this drive. Instead, I strongly advise downloading an offline Google Map of the area and plotting the points of interest you wish to visit before leaving Bryce Canyon. That way, you'll still be able to navigate from point to point even without reception. I also highly recommend purchasing All Trails Pro and downloading trail maps of the hikes on your wishlist so you can navigate offline.
Getting Local Information
If you have any questions, need some advice, or just want to be on the safe side, stop at one of the visitor centers along the drive. You might also be able to get information and maps of Grand Staircase and Capitol Reef at the Bryce Canyon Visitor Center.
In Grand Staircase-Escalante, information is available at the Escalante Interagency Visitor Center in Escalante, the Cannonville Visitor Center, and Wayne County Tourism in Torrey. In Capitol Reef, information is available at the Capitol Reef NP Visitor Center near Fruita.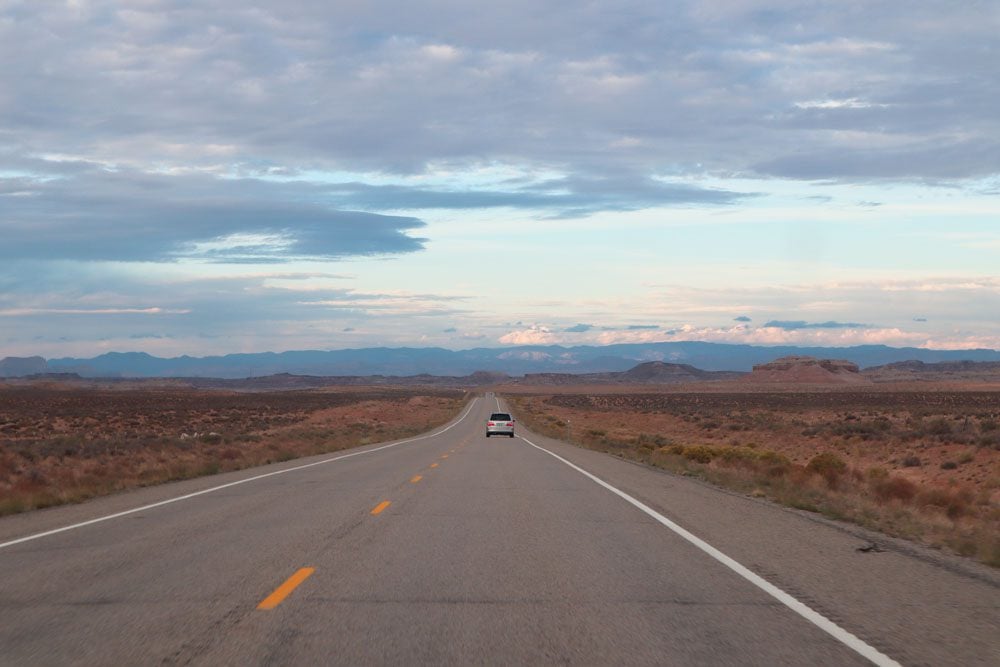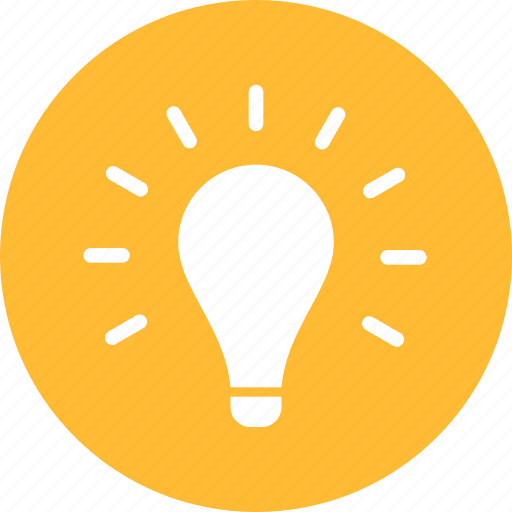 Prepare for the Drive
Here are some basic tips for driving safely from Bryce Canyon to Arches.
Inspect your spare tire and parts (even on a rental car), and check your oil and other essential fluids.
Fill your gas tank when leaving Bryce Canyon.
Download offline navigation maps but also carry a physical map of the area.
Carry a USB car charger.
Stay on paved roads and only drive on dirt roads that suit your vehicle.
Familiarize yourself with what to do when your car overheats.
Carry a first aid kit and a flashlight.
Do your best to avoid driving at night in remote sections of the scenic byways.
If planning to spend extended time in Grand Staircase or Capitol Reef, pack emergency water and food just in case you'll get stranded for a few hours, and notify your hosts or park rangers if heading to very remote spots for the day.
Grand Staircase-Escalante Via Highway 12
The first leg of the scenic drive from Bryce Canyon to Arches stretches for 113 miles along Highway 12 to Torrey. This section highlights interesting roadside stops suitable if you're passing through and not spending the night in Grand Staircase.
Mossy Cave Trail
As you leave Bryce Canyon National Park in the direction of Tropic, hoodoos begin to give way to homesteads. Before entering Grand Staircase-Escalante, consider hiking the short Mossy Cave Trail. The canyon here gets a lot of water, thanks to an irrigation ditch constructed by Mormon settlers back in the day.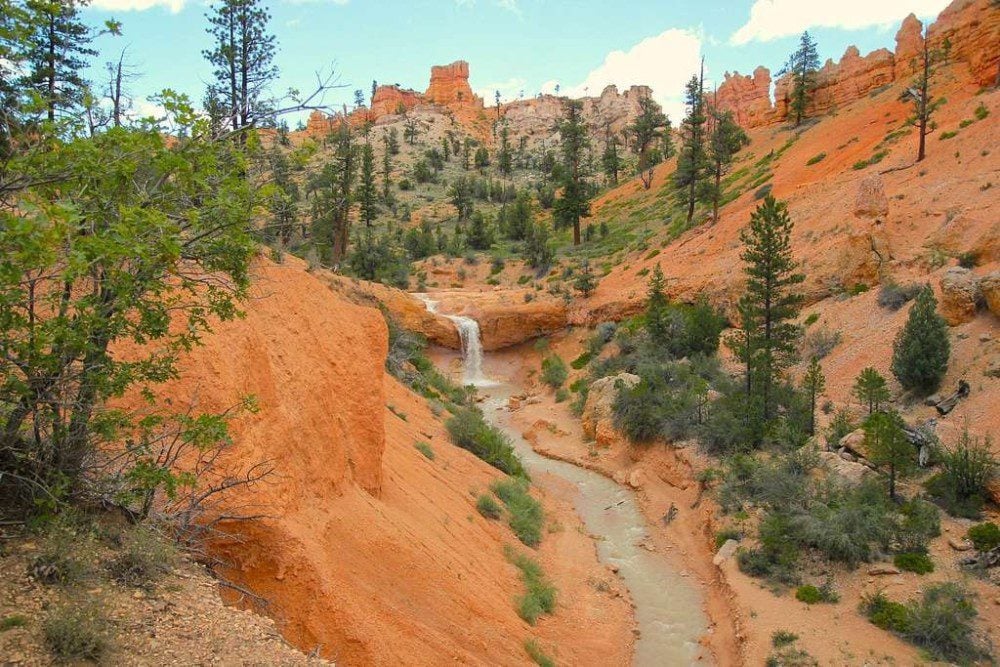 Powell Point Vista
This is the first of many scenic roadside stops. From this viewpoint, Powell Point and its strange rock formations are seen in the far distance.
Hole in the Rock Wayside
It's a long drive on a dirt road to reach one of the national monument's top highlights at Hole-in-the-Rock, not something that's plausible without spending the night in the area. So instead, stop at this scenic area to admire the Straight Cliffs as they extend 50 miles to the cliffs of the Colorado River.
Head of the Rocks Overlook
Feel as if you're standing "at the top" of the desert at Head of the Rocks Overlook. From this vantage point, you can see from Aquarius Plateau to Navajo Mountain. That's a lot of ground in a single frame. I especially enjoyed seeing the next stretch of Highway 12, somehow snaking its way around and atop this rugged terrain to continue the push from Bryce Canyon to Moab and Arches National Park.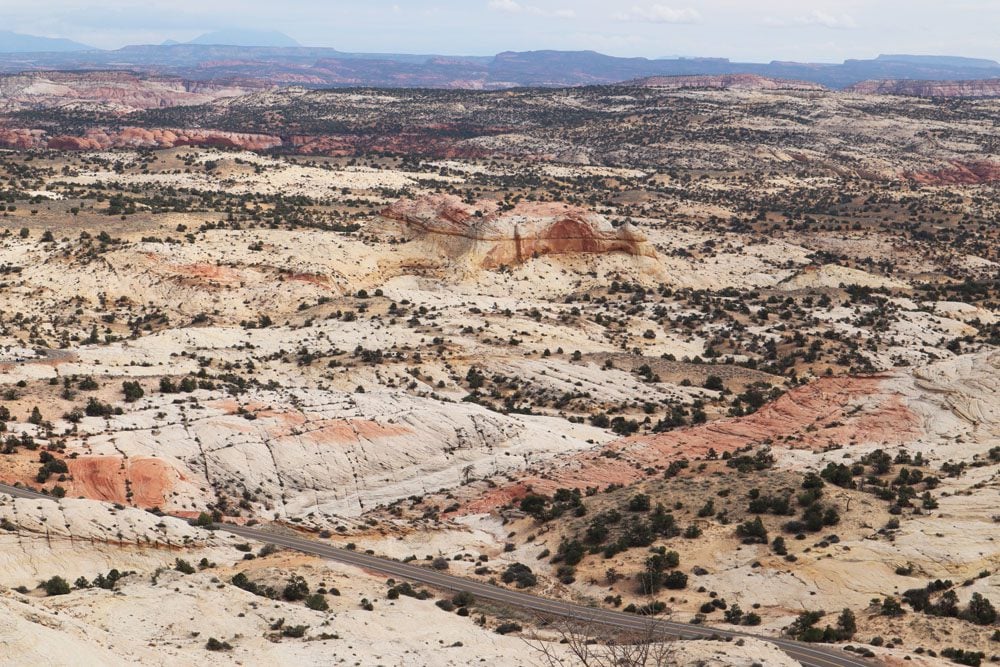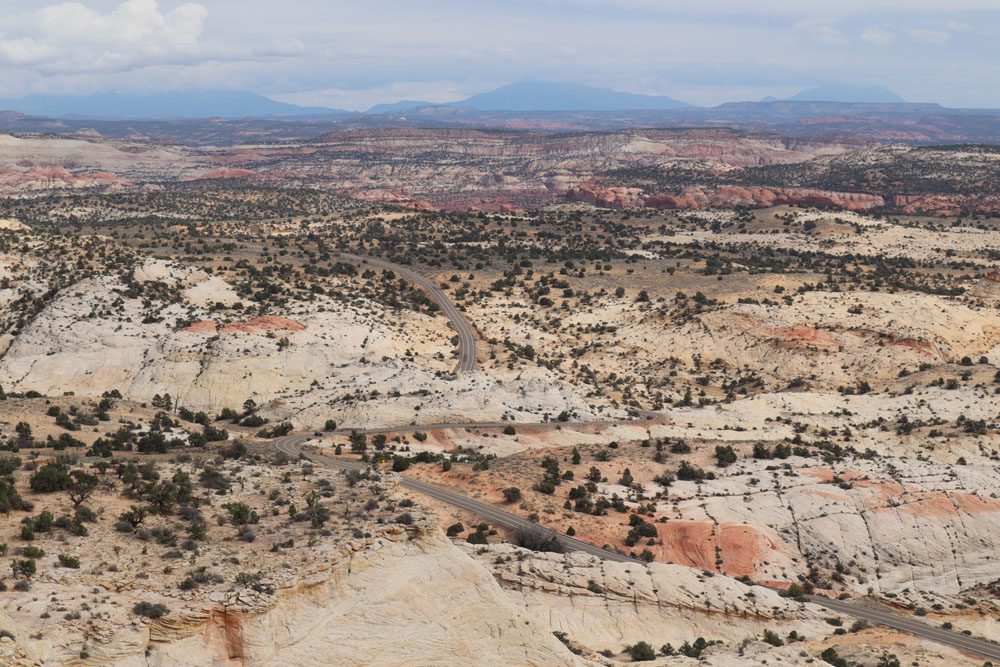 Boynton Overlook
This scenic lookout is located high above a sharp bend in scenic Highway 12 just before meeting the Escalante River, hidden by thick canyon walls.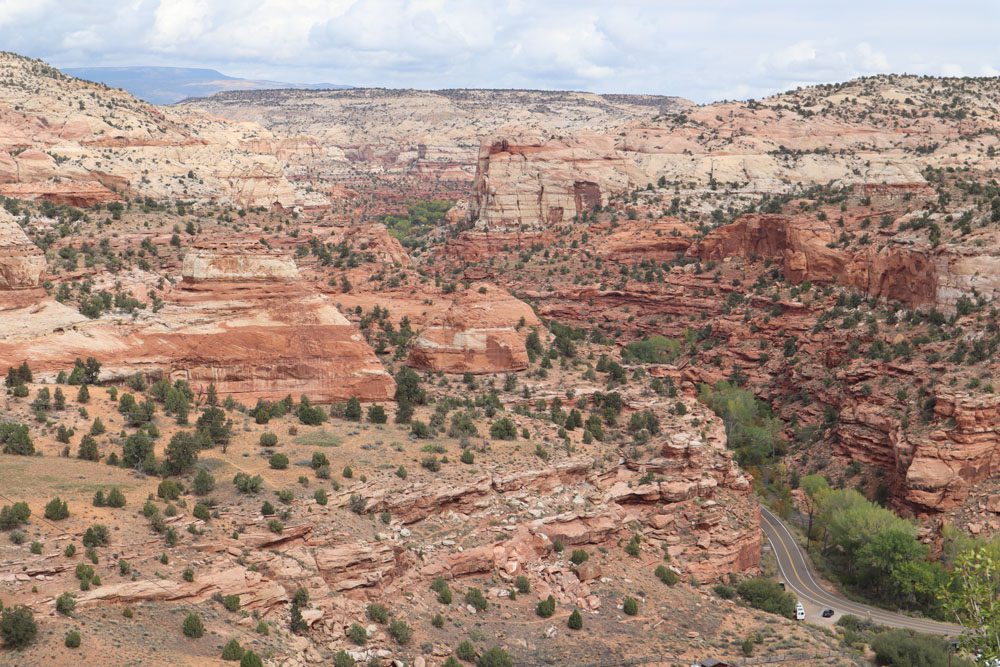 Lower Calf Creek Falls
If you're having a good time, the hike to Lower Calf Creek Falls might be the highlight of your day. Calf Creek Falls is one of the most notable and unique features in Grand Staircase-Escalante. Park at the campground, and pick up a few park brochures and a trail map. The six-mile hike takes anywhere from 2-4 hours, depending on your speed. Parts of the trail are sandy and strenuous but just think about the reward of taking a dip in this desert oasis.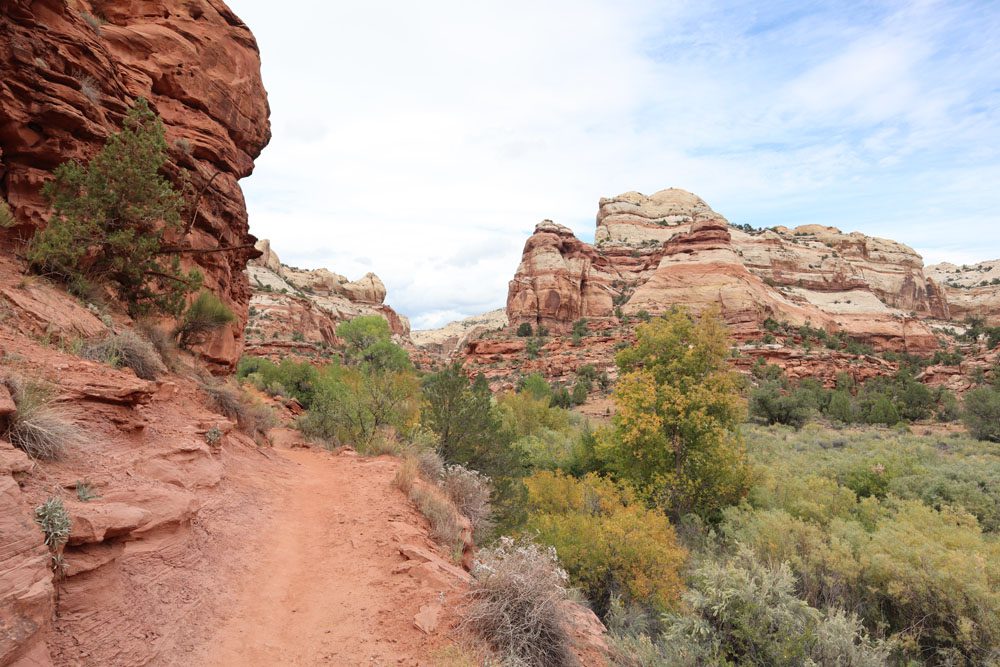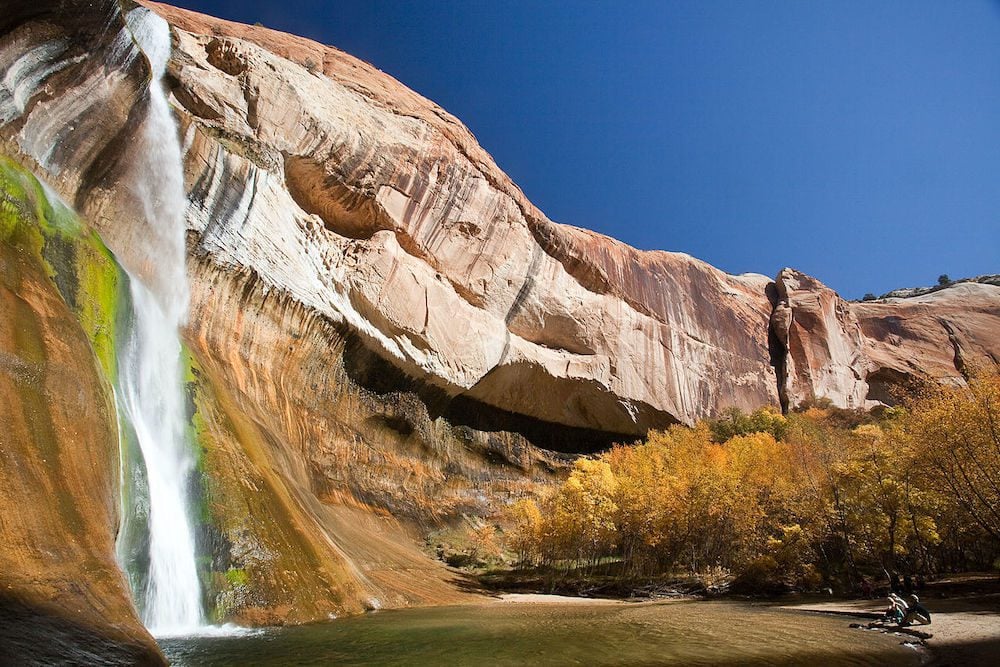 Calf Creek Viewpoint
Shortly beyond the trailhead, a roadside stop offers a bird's eye view of the lush creek hidden from the monotonous outside world.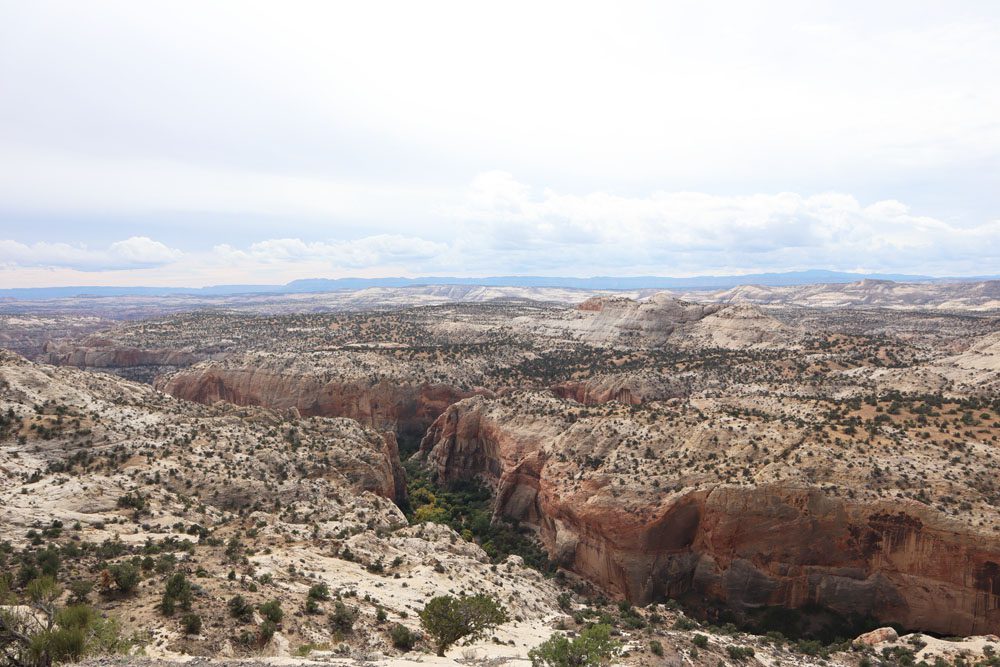 Anasazi State Park Museum
If you have the extra time or are curious about the region's Native American history, stop at the Anasazi State Park Museum in Boulder. The museum is a preserved ancient village that was one of the largest Anasazi communities in Utah.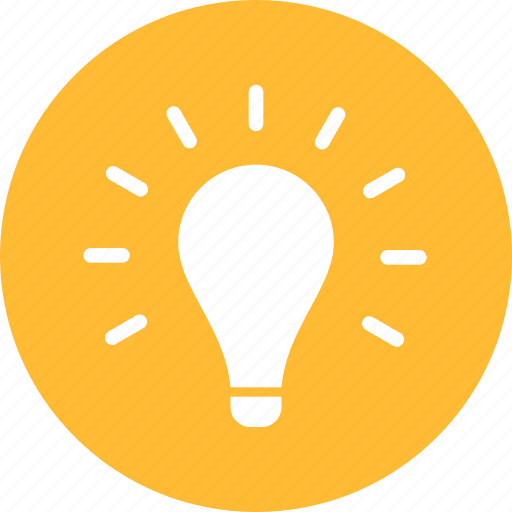 Pro Tip
If you're having a hard time leaving Grand Staircase-Escalante, consider overnighting in Boulder or camping in the area. Boulder is the starting point for the Burr Trail, one of Utah's premier backcountry roads. The 66-mile dirt road cuts through the heart of Capitol Reef NP and ends (or begins) in Lake Powell.
Homestead Overlook
The scenery takes a dramatic turn beyond Boulder, as scenic Highway 12 quickly gains elevation up to around 9,000 feet and the temperature plummets. At this elevation, the desert gives way to forests thick with aspen trees and cattle.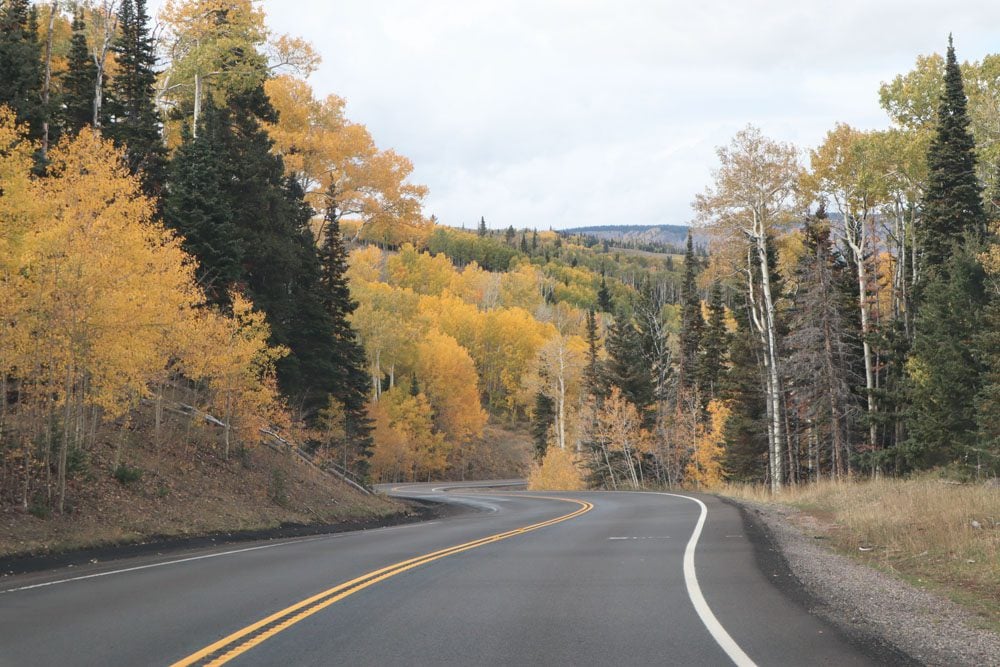 Homestead Overlook is one of the possible roadside scenic stops on this stretch. See how diverse the landscape is as you look to the horizon in the far distance.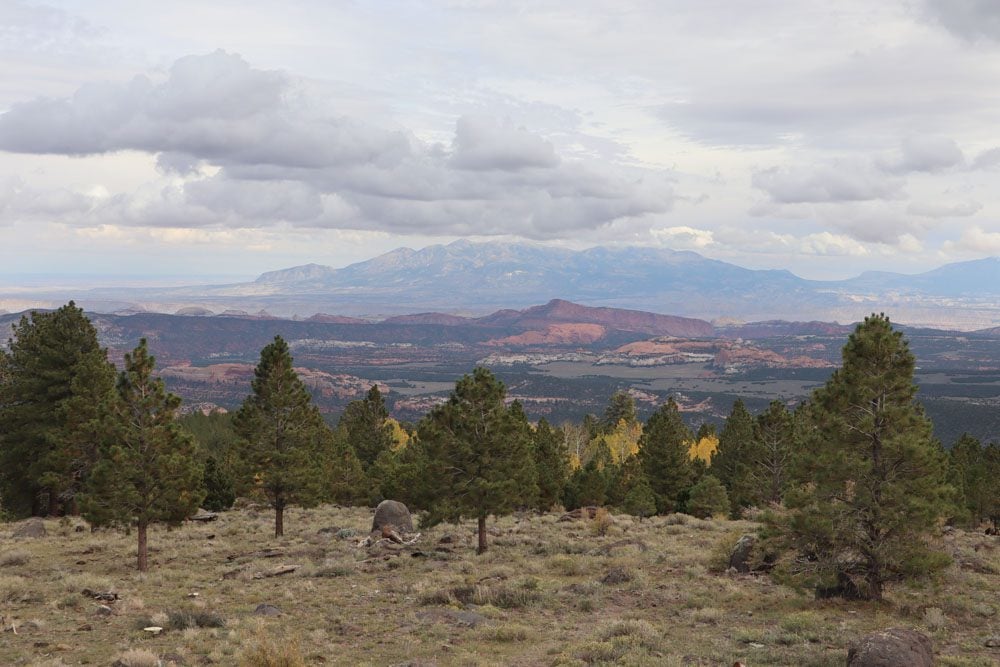 Torrey
Scenic Highway 12 terminates in Torrey, but it also marks the return of the "classic" desert landscape. Take a right turn at the junction with Highway 24 and enter Capitol Reef National Park.
Capitol Reef National Park Via Highway 24
Highway 24 takes us through the northern section of Capitol Reef National Park and eventually "merges back with civilization" at Interstate 70. Though just a short stretch of this scenic byway slices through the national park, there are many quick stops and longer detours to enjoy Southern Utah desert landscapes.
Twin Rocks
A quick stop that isn't by any means a must. As the name suggests, a pair of similar-looking mushroom-shaped rocks sit atop a mountain peak.
Chimney Rock
Another quick stop, this time at a more striking landmark. Erosion and winds have beautifully sculpted this mountain over the eons, leaving a lonely outcrop at its end that rises to the air like a chimney. Notice the sandstone cap at the top of the chimney. A short hiking trail can extend your visit, but most likely, you'll want to push ahead.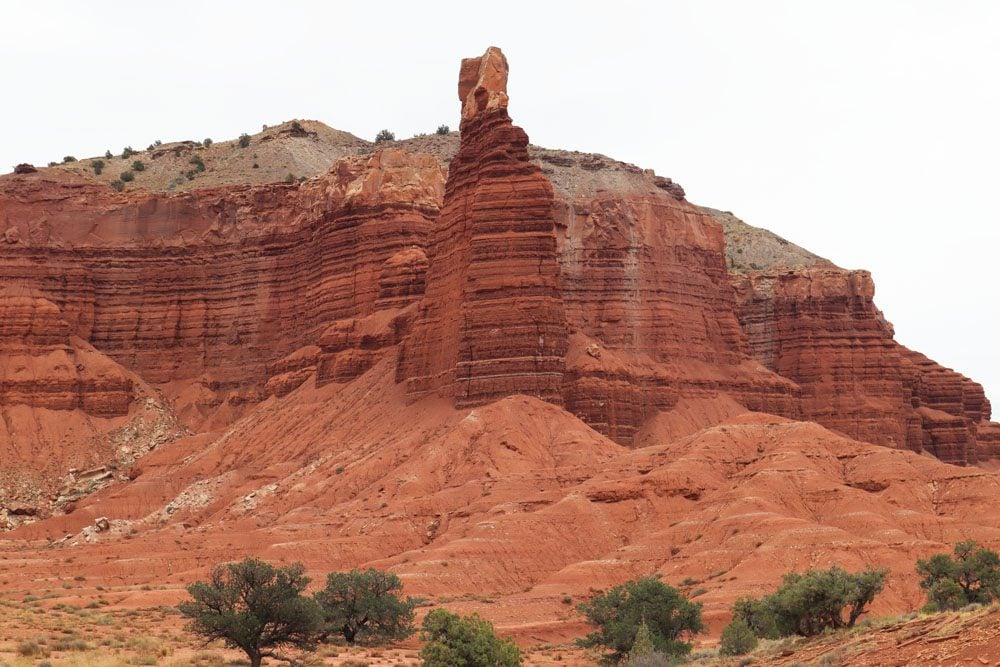 Panorama Point
Panorama Point is a worthwhile stop, offering a pretty vista of the area and cars heading to or from Goosenecks Overlook.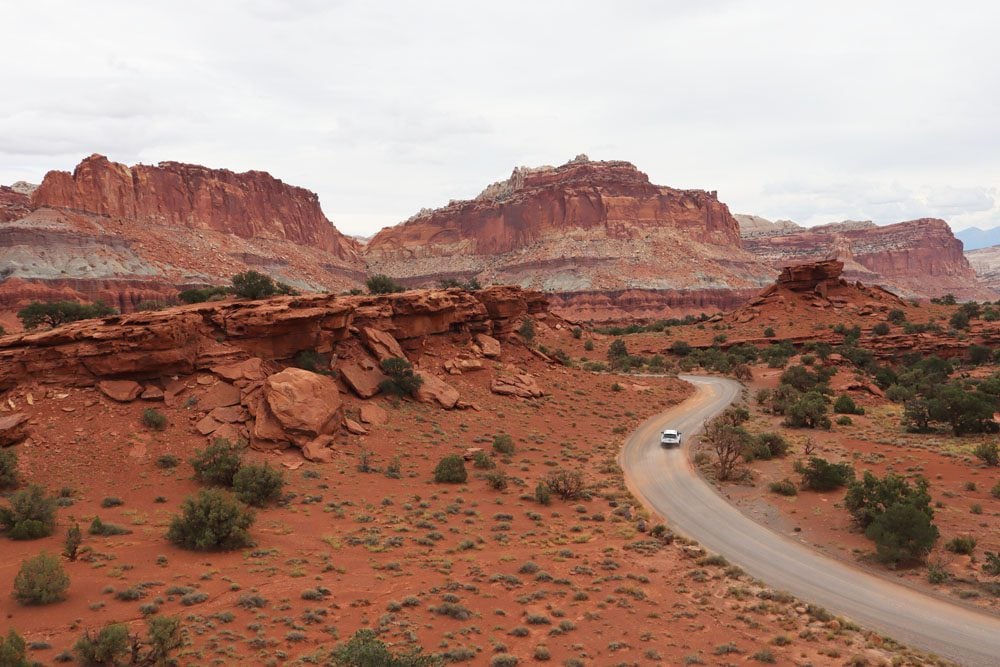 To reach Goosenecks Overlook, take the dirt road from Panorama Point and pick up the short walking path to the overlook. From the viewing area, see how Sulphur Creek continues to shape the landscape. The rock layer that you see just above the creek is over 280 million years old.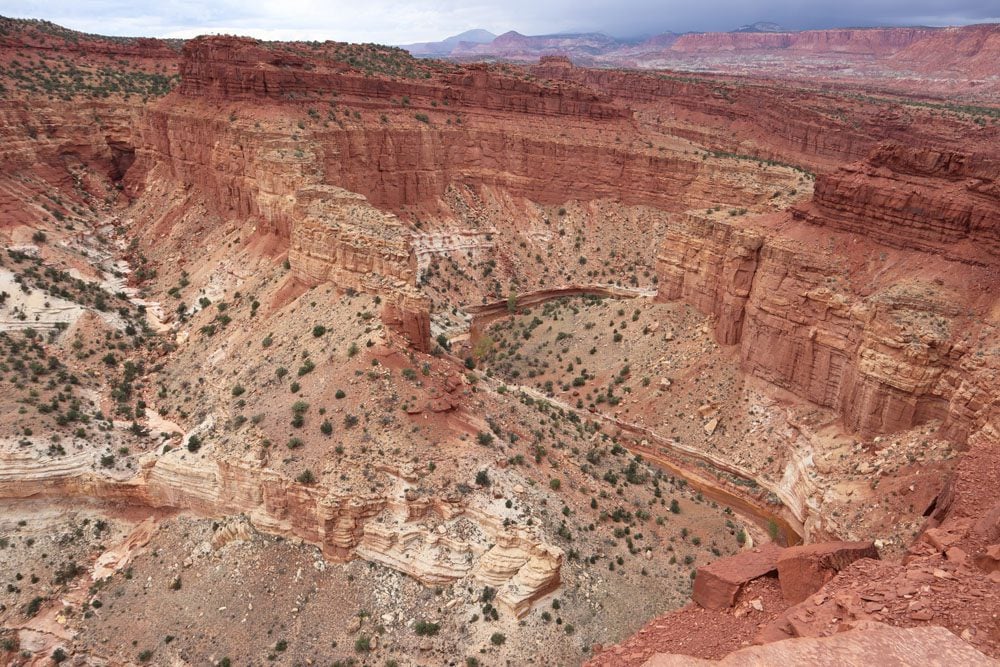 The Fluted Wall
Keep your eyes peeled for this easy-to-miss roadside stop (also known as "The Castle"). The ripples of the Fluted Wall are beautiful and reveal countless layers of sediment stacked in chronological order.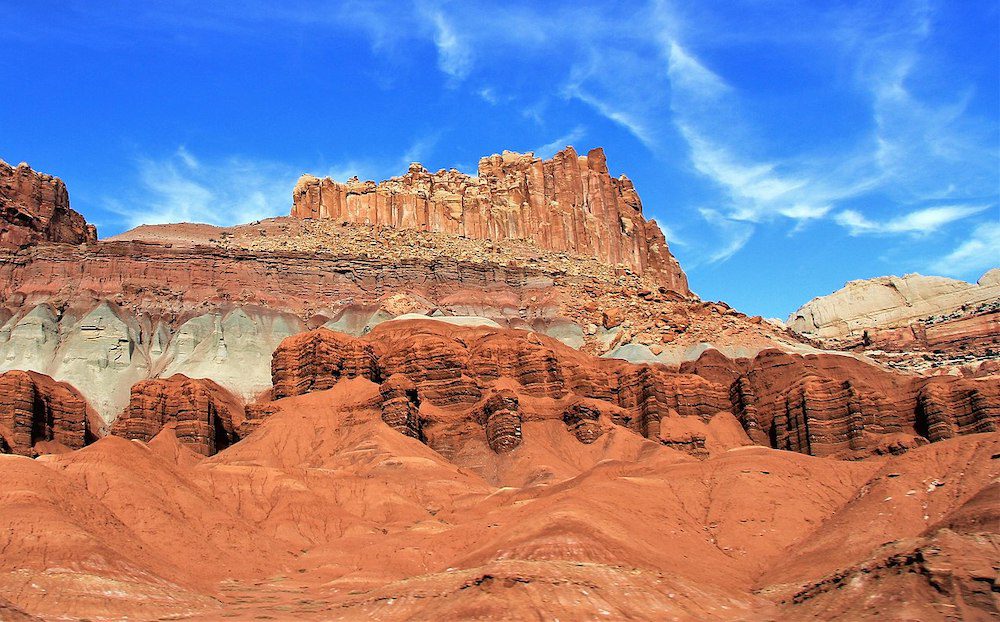 Capitol Reef Visitor Center
In the "outskirts" of Fruita, stop at the Capitol Reef Visitor Center if you have any questions or contemplate an extended stay in the national park instead of rushing it to Moab.
Fruita
Historic Fruita is Capitol Reef's most famous and scenic settlement. The village was founded by Mormon settlers in 1878, who used freshwater from the Fremont River to set up orchards (that's how Fruita got its name).
Fruita was abandoned in 1955 when the National Park Service took over, but the orchards and a few historic buildings still stand, most notably the old one-room Fruita schoolhouse. Slightly before the schoolhouse, exit the highway and explore the grounds of the Fruita Campground on foot. Stop at the Gifford Homestead to learn about the area's history and sample some pie.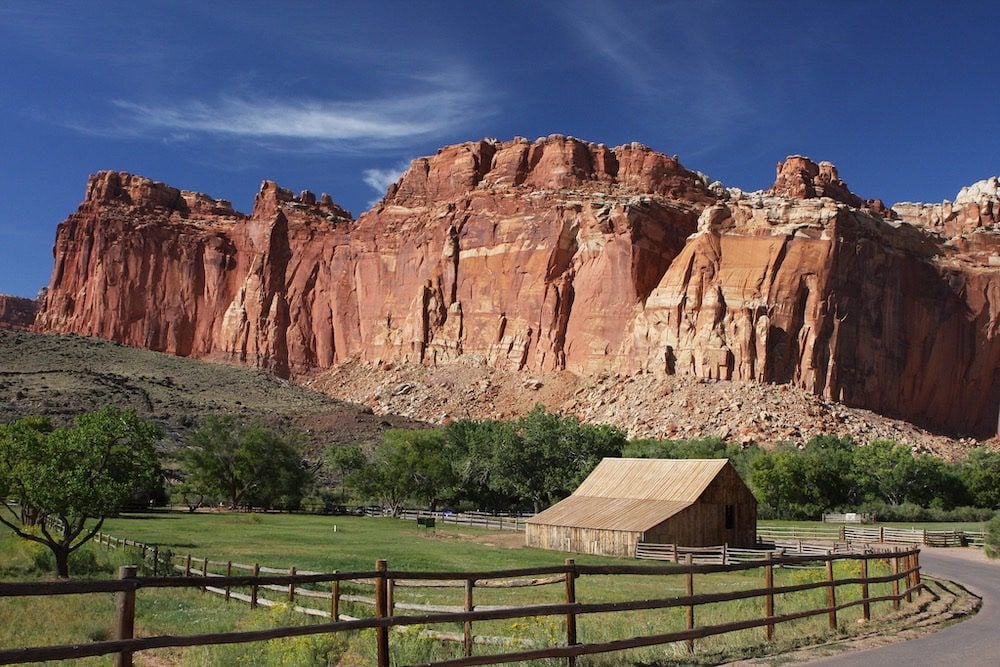 The Fruita Scenic Drive
Before heading back to Highway 24, take this lovely (paved) detour that stretches for about eight miles parallel to multi-colored pinnacles. Even though there is no fee for entering Capitol Reef (this might change in the future), a steep $20 fee must be paid to drive the scenic road. Here's a good description of highlights along the drive.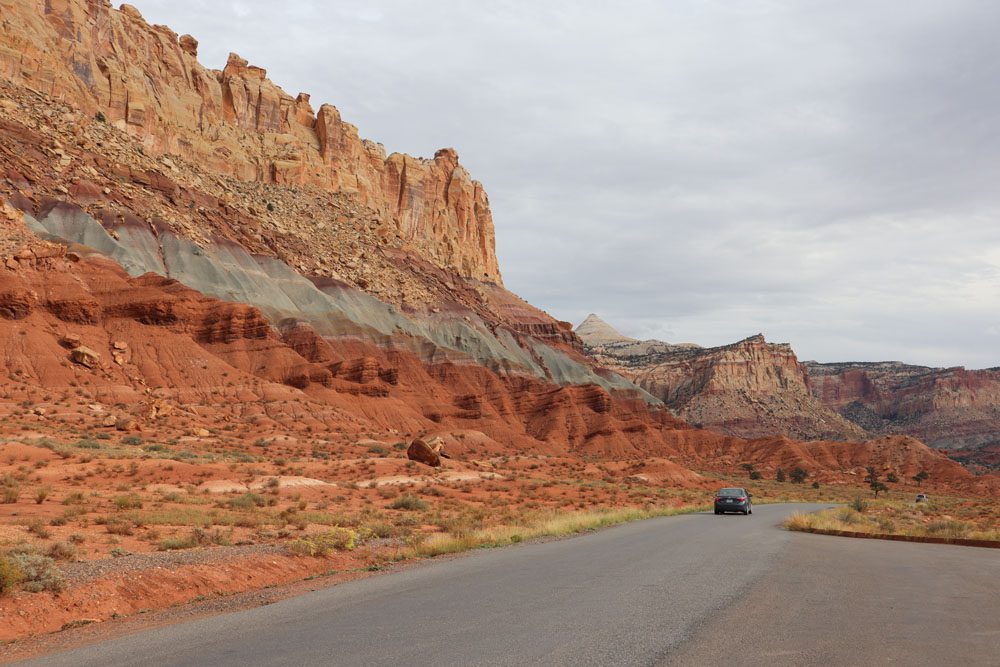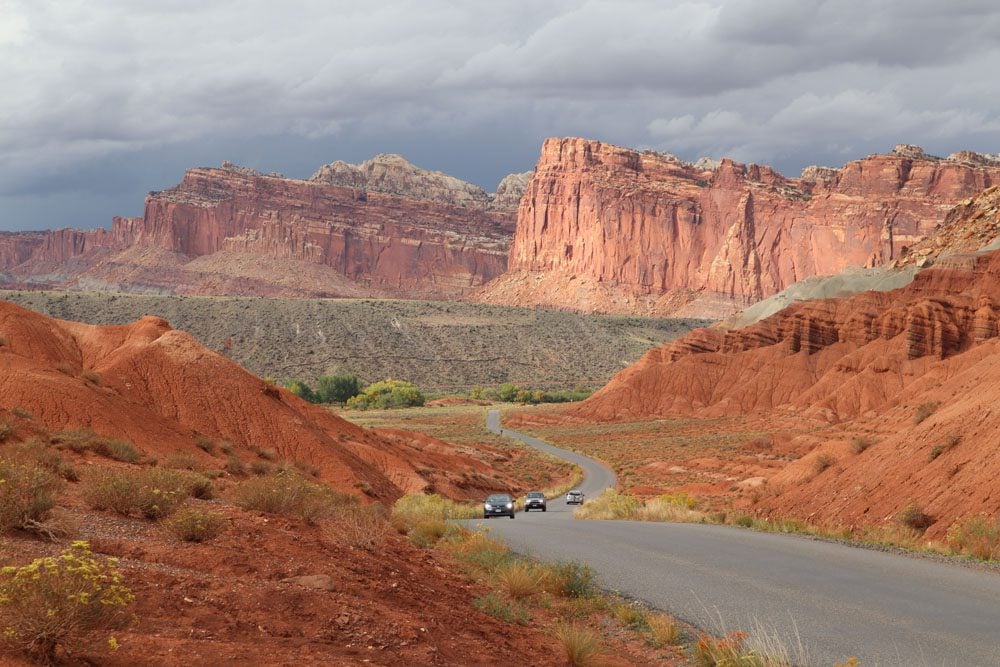 Native American Petroglyphs
Back on Highway 24 and shortly after the historic Fruita schoolhouse, pull over to see these striking Native American Petroglyphs. Pick up the wooden boardwalk from the parking area and walk along its smooth base. The petroglyphs are works by a mysterious tribe that lived in this area between 300-1300 CE. Some petroglyphs are a few meters above the cliff's base, making you wonder how exactly they got up there to paint with such precision?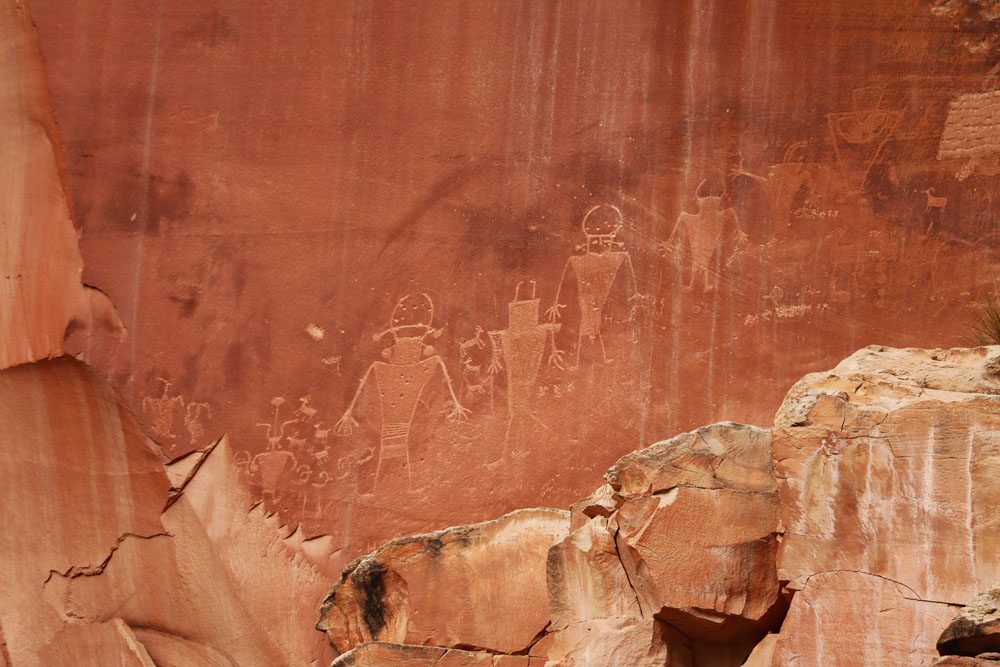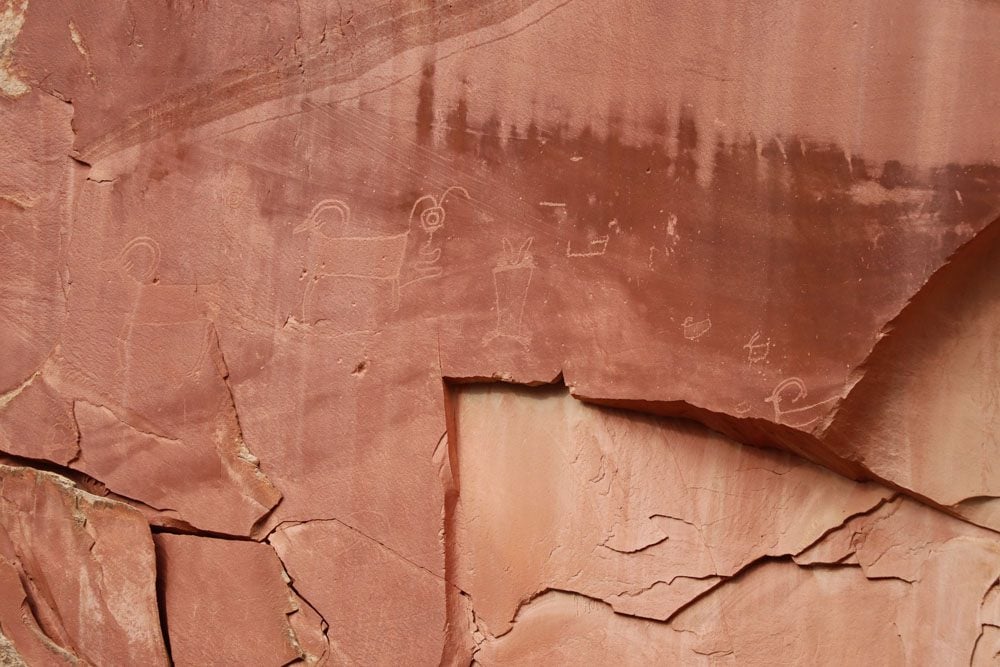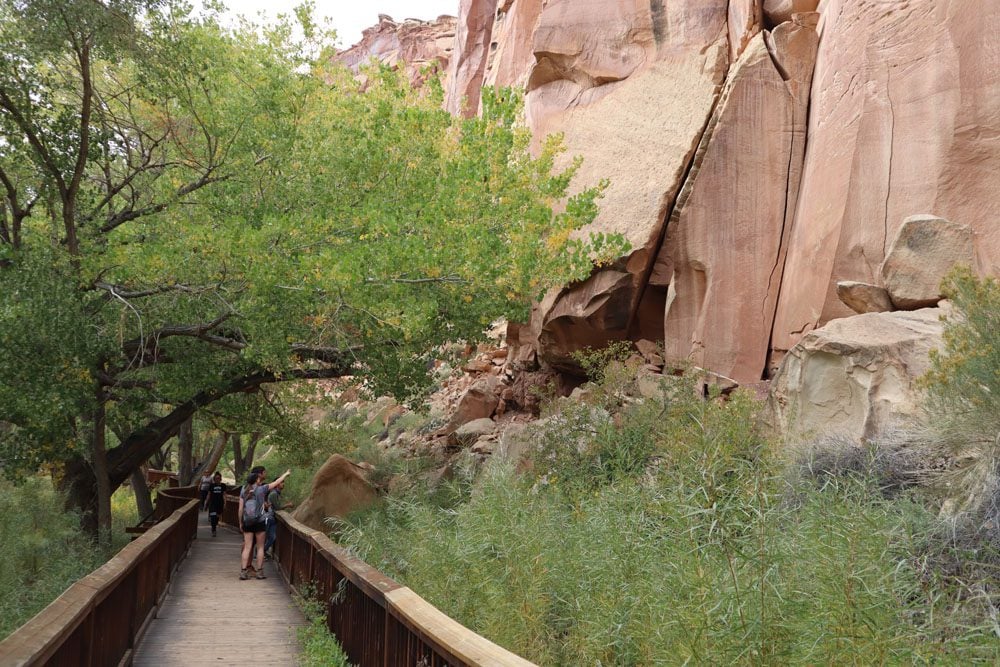 Hickman Bridge Trail
Pick up the trail to Hickman Bridge a few minutes down the road beyond the petroglyphs. This short trail begins with a quick ascent and eventually leads to the 133-foot natural arch. The hike can be extended on a detour to Hickman Bridge Overlook and even further to Rim Overlook.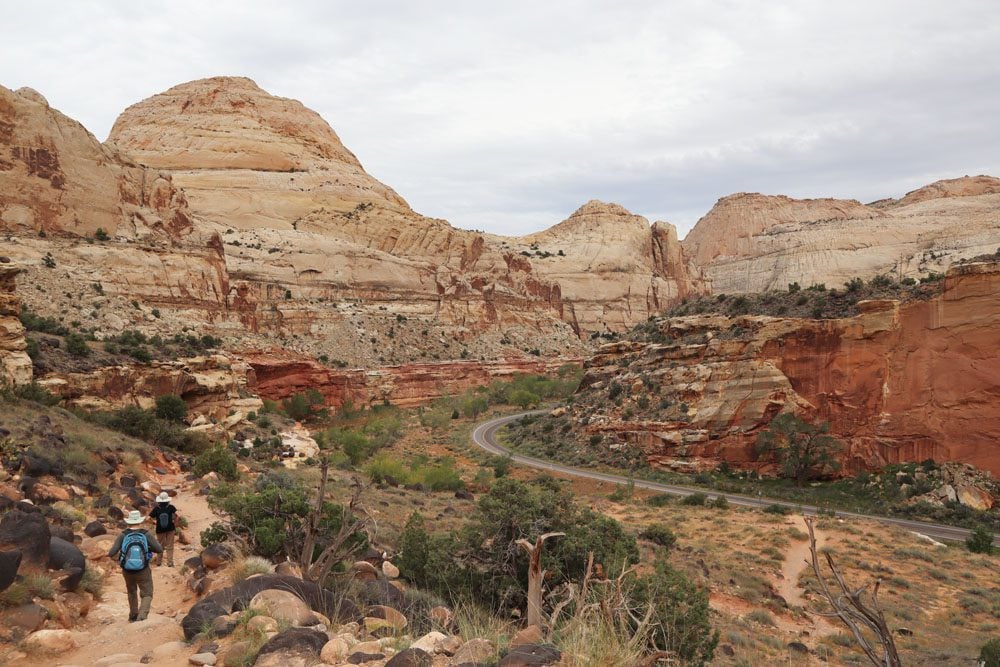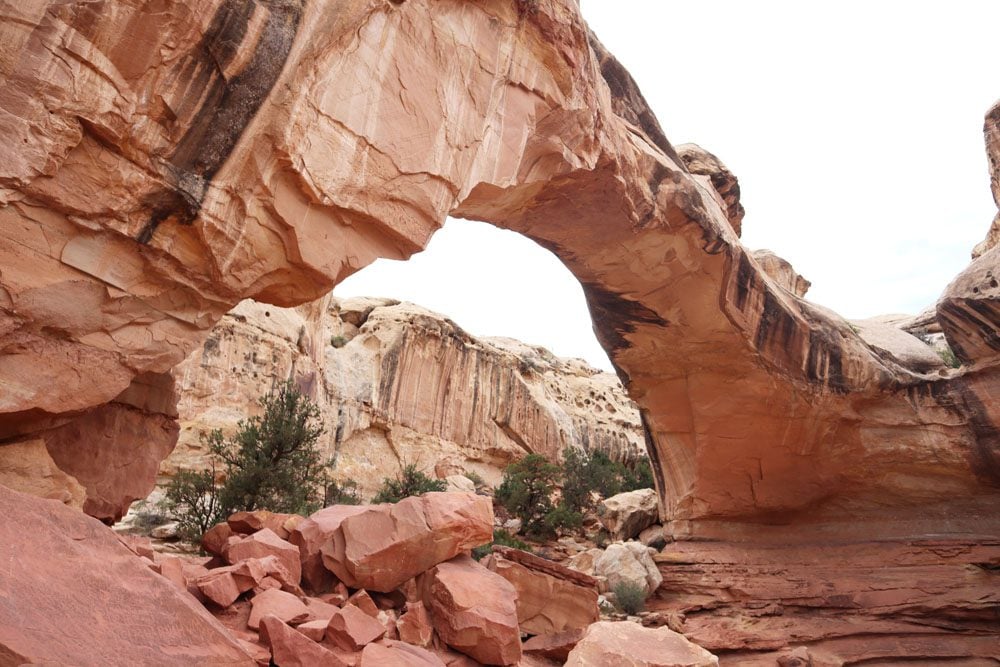 Grand Wash Trail
If you want to leave natural arches to Arches National Park, consider hiking the Grand Wash Trail further down the road. This easy trail can be combined with the Cassidy Arch Trail for a slightly longer adventure.
Behunin Cabin
This historical site lies near the park's boundary on Highway 24. The tiny cabin is the product of one of the early Mormon settlers and once housed 15 family members!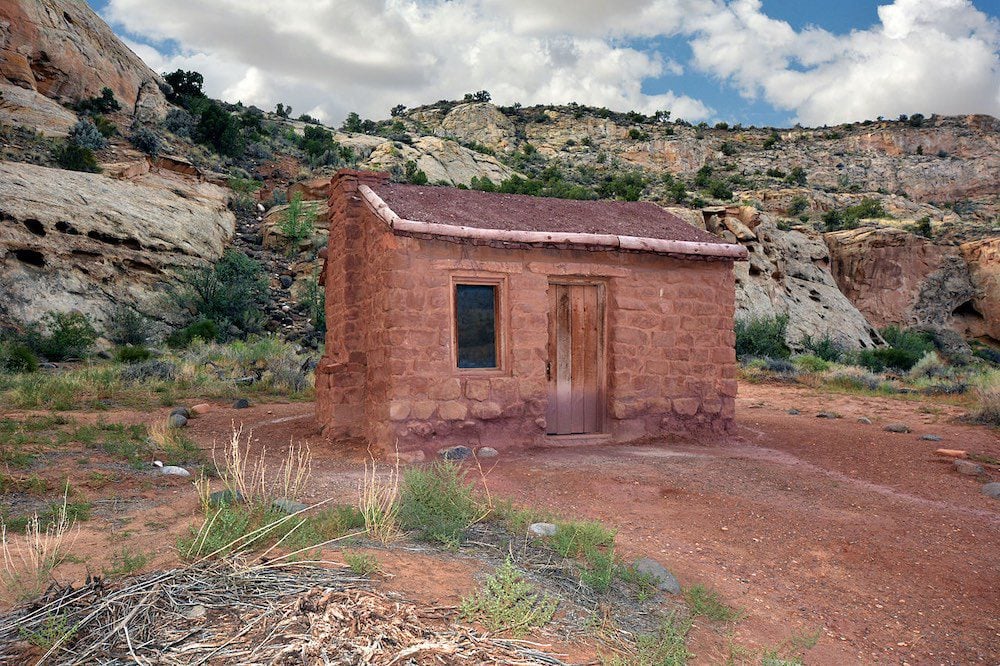 Caineville to Interstate 70
There aren't any must-see sites on the final stretch of the drive from Bryce Canyon to Arches National Park, but it is nonetheless memorable. After all, a scenic byway is a road that's so unique that it's an experience of its own. Beyond the national park boundary, Highway 24 passes through a few forgotten farming villages that make you wonder what residents do when they need some milk?
Beyond Hanksville, Highway 24 is straight as an arrow as far as the eye can see. The scenic byway eventually ends at Interstate 70, which continues the scenic theme of this road trip despite the re-emergence of eighteen-wheelers. Take I-70 beyond the Green River to US 191 and continue to Arches National. You'll likely overnight in Moab, with its neon signs, motels galore, and steakhouses.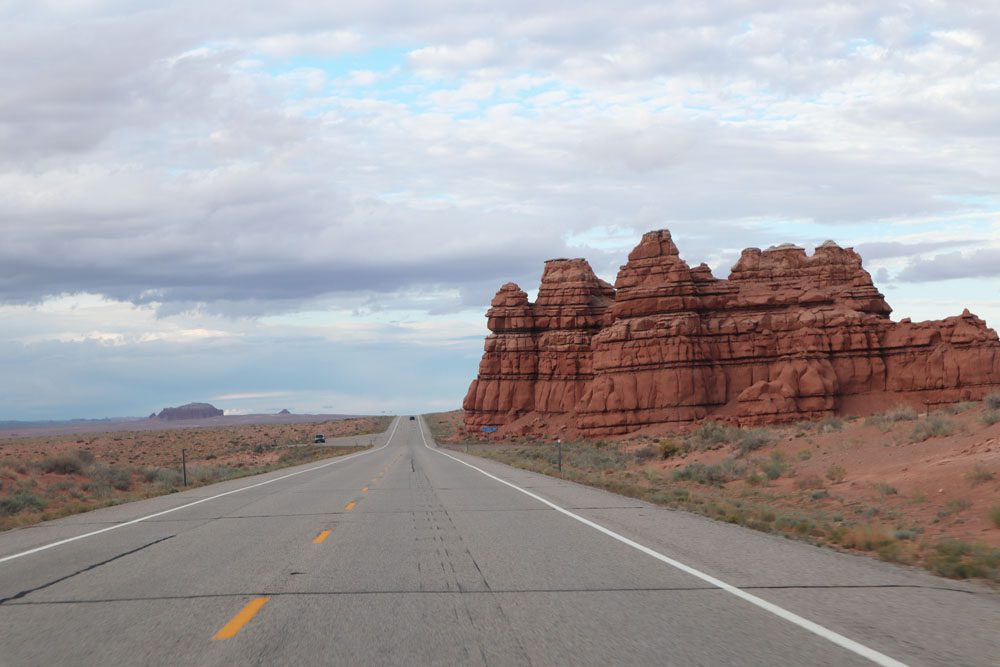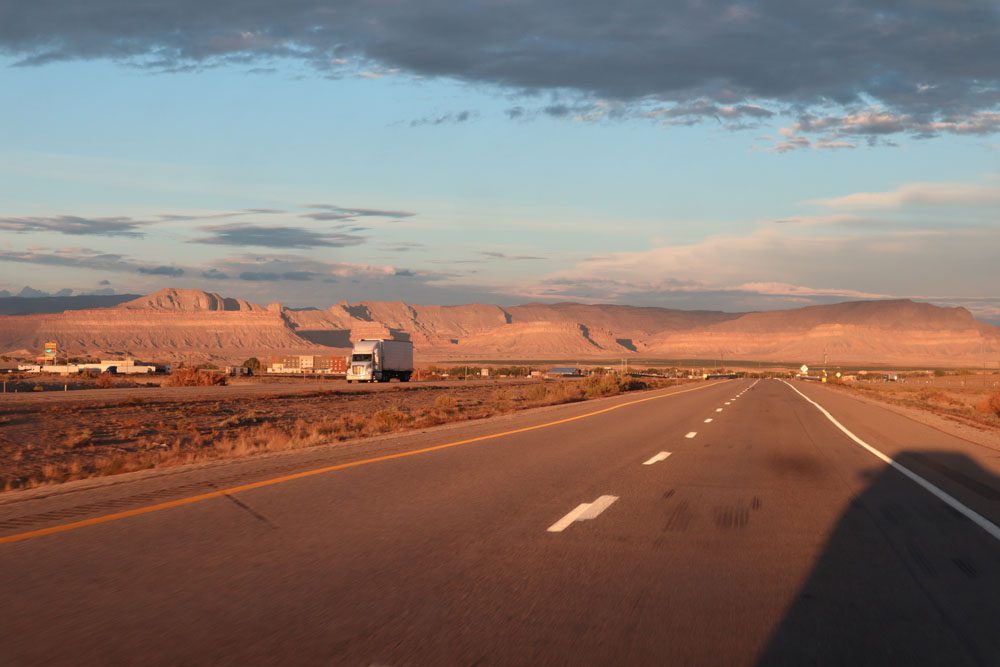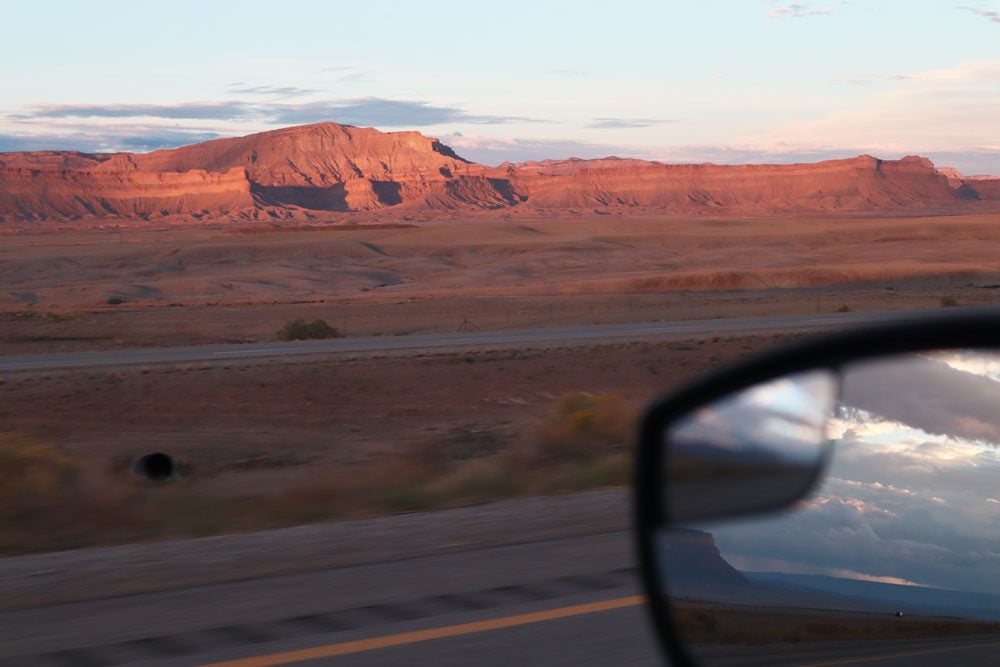 What's Next?
It's been a long but memorable scenic drive from Bryce Canyon to Arches National Park. If you left Bryce Canyon early enough in the day, this itinerary is doable during the longer summer days. Be sure to check additional travel guides to Southern Utah, including travel guides and itineraries to Utah's "Mighty Five".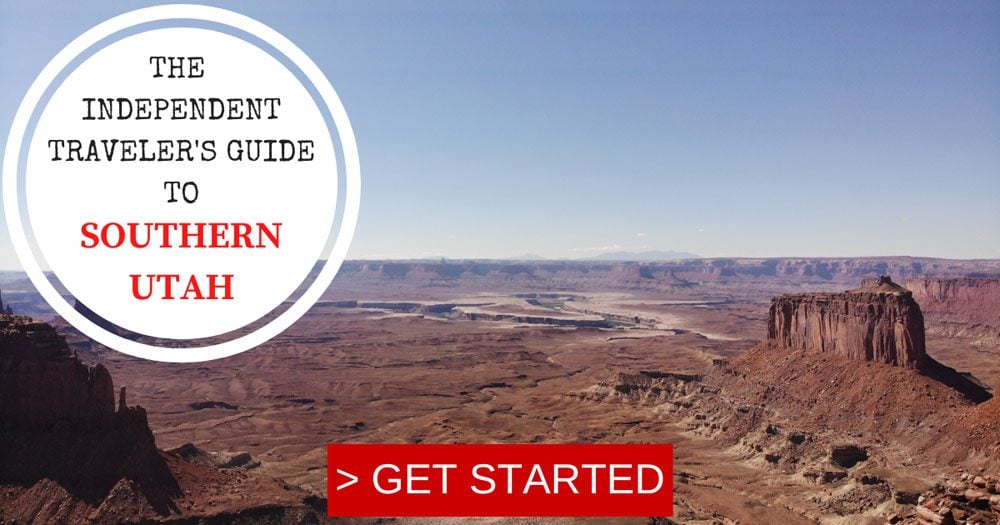 ---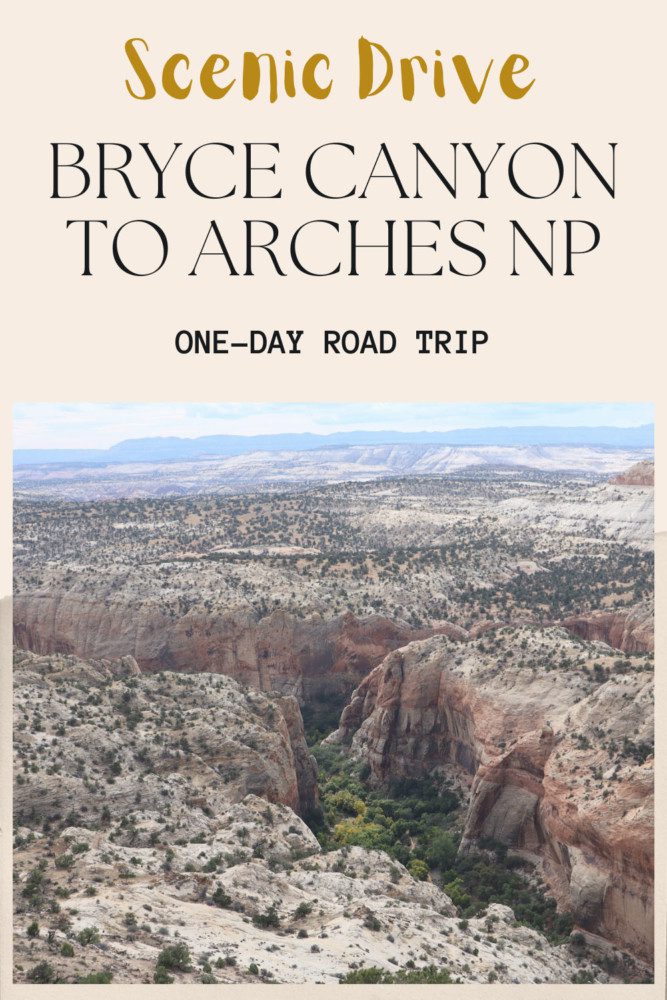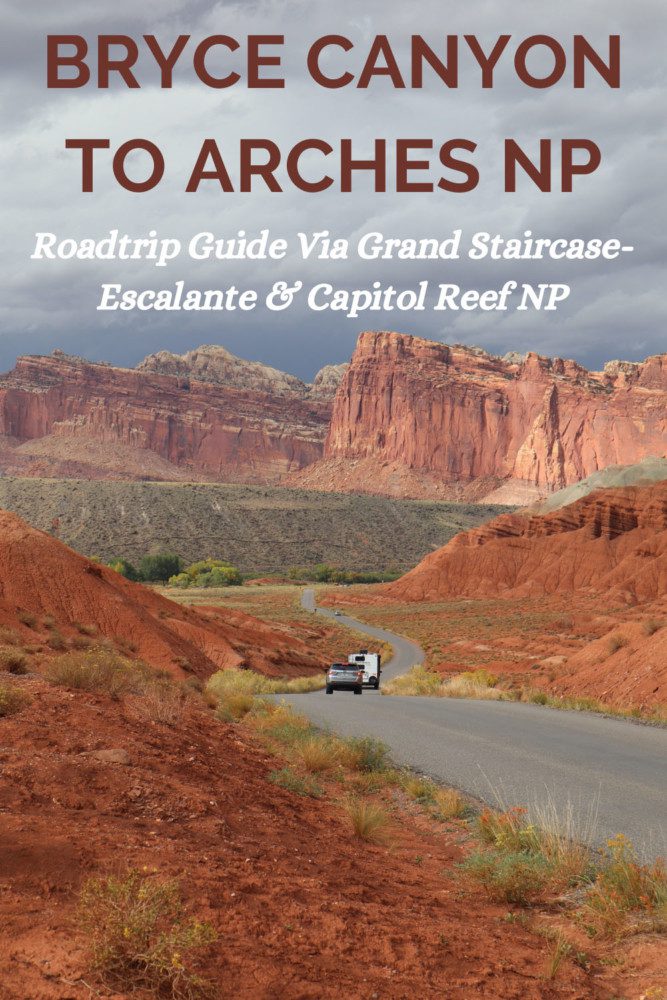 Pin These Images To Your Favorite Boards