I already fell in love with Fakarava as I peaked out of my Air Tahiti window seat. From up here, the magical atoll looks like a NASA satellite image – a massive ring of coral rock in the middle of the vast ocean, encircling a blue lagoon often sprinkled with tiny golden sand bars. Fakarava not only offers scuba divers the chance to visit underwater heaven, but also offers anyone the chance to enjoy life as it should be – extra slow and on your very own tropical beach. Visit this dream atoll before the secret is out, and use this Fakarava Travel Guide to make your tropical wishes come true!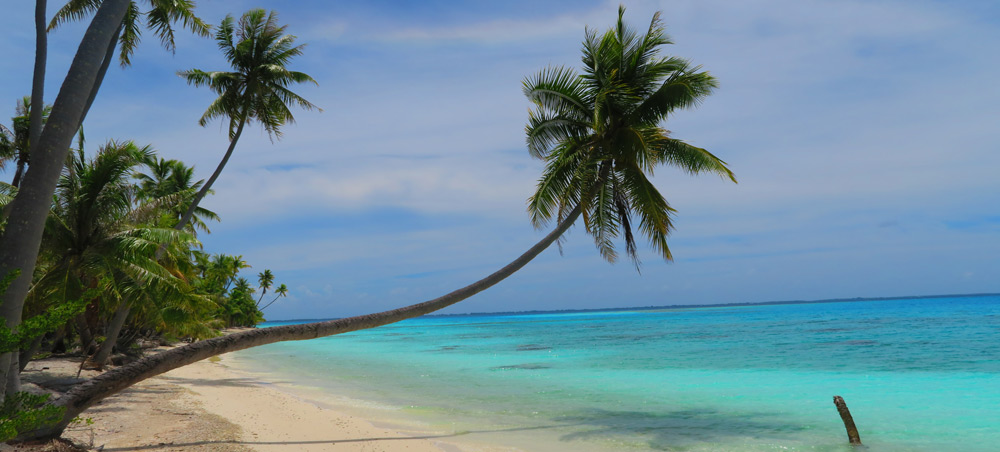 About This Fakarava Travel Guide
I spent three months in French Polynesia, as part of a six-month backpacking trip across the South Pacific Islands – with 7 nights in Fakarava. This travel guide to Fakarava was written based on my experiences and is meant to help you make the most of this destination. The Fakarava Travel Guide is geared towards independent travelers, but any visitor will find it useful.
Heading off to French Polynesia? In-depth island guides to all 5 archipelagos await you, including sample itineraries and essential travel tips & tricks.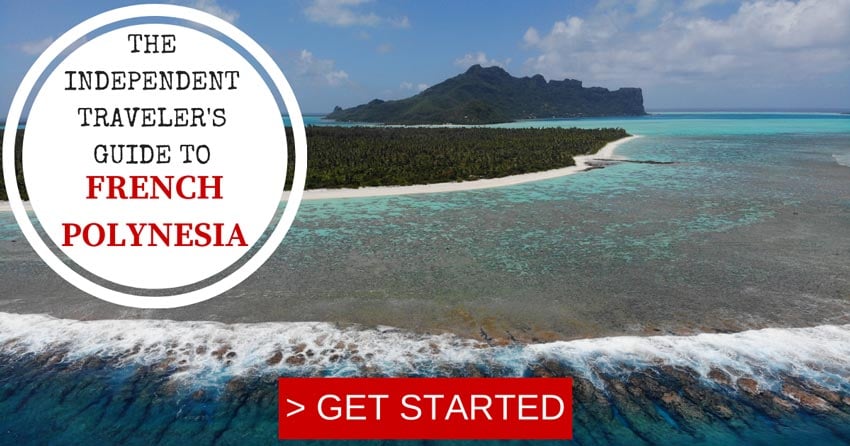 Tahiti, Tailor Made!
The Islands of Tahiti are among the last places to be colonized by mankind, 118 islands, each with its unique personality.
Get expert advice and assistance with planning your trip to the destination where tropical dreams come true!
---
Why Should You Visit Fakarava?
If you love scuba diving but looking for something beyond, Fakarava is a perfect choice. On the diving side, Fakarava never disappoints – with pristine coral as equally impressive as the walls of sharks. But the 'added value' in my opinion is the possibility to enjoy life in the slow lane back on dry land, whether on a stroll through the sleepy village or on your very own tropical beach.
While neighboring Rangiroa is (relatively) mass-marketed, Fakarava is still off the tourist radar (for now). You'll find fewer hardcore dive enthusiasts who schlep their gear with them wherever they go, and a lot more down-to-earth independent travelers like you. Fakarava can also be "two destinations for the price of one". Its north (lagoon pass) is the most visited but it's the south pass that's most known for superb diving and pink sand beaches. You'll need to lower your standards and make an extra effort if you wish to overnight in the south pass.
Here's a quick tour of Fakarava. Enjoy!
What's Included in the Fakarava Travel Guide?
Several sections make up this travel guide:
Facts and brief history
Essential travel tips for visiting Fakarava
Things to do and places to see in Fakarava
Fakarava Travel Guide Map
This map features all the highlights mentioned in this guide. Click on the image to open in Google Maps.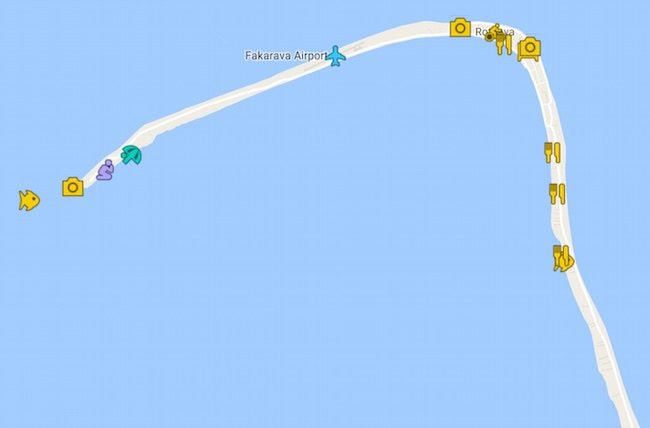 Facts & Brief History
Before diving into what Fakarava has to offer, let's briefly discuss the uniqueness of the island and its archipelago.
The Tuamotu Atolls
Fakarava is part of the Tuamotu Archipelago of French Polynesia. Consisting of 78 islands and atolls, the Tuamotus form the largest chain of coral atolls in the world, covering an area of the South Pacific roughly the size of Western Europe! Visit the 'facts & brief history section' of the Rangiroa Travel Guide to learn more about atolls and the Tuamotu Archipelago in general.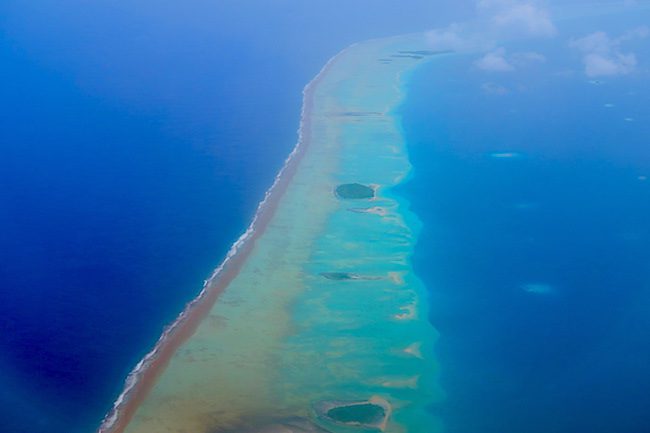 Fakarava
The second-largest atoll in the archipelago, Fakarava is home to the largest lagoon pass in French Polynesia – the Garuae Pass (~2km wide). The atoll is home to incredibly rich marine life, which is protected as part of Fakarava's status as a UNESCO Biosphere Reserve. Its huge lagoon may not be as big as Rangiroa's, but it measures a whopping 60*25 kilometers, sitting on top of a former volcano that sunk millions of years ago that reaches a depth of 1,100 meters!
About 850 locals are living on this huge yet isolated stretch of narrow coral rock. They live a very easy-going life, tending to coconut plantations used in the production of copra, cultivating black pearls, fishing, and catering to scuba diving tourists.