A hike for the ages
We then dropped the guests off at the airport and Tania dropped me off at the village of Hanaiapa for the start of the hike down to Hanatekuua Bay. Tania showed me the hidden trailhead, and off I went on one of the best hikes in the South Pacific.
Wildflowers and wild goats greeted me right from the start. This is a prime hunting spot for locals, and the goats know this all too well. After a quick ascent up a hill, I could appreciate the beauty of Hanaiapa Bay – so deep and encircled by impenetrable mountains.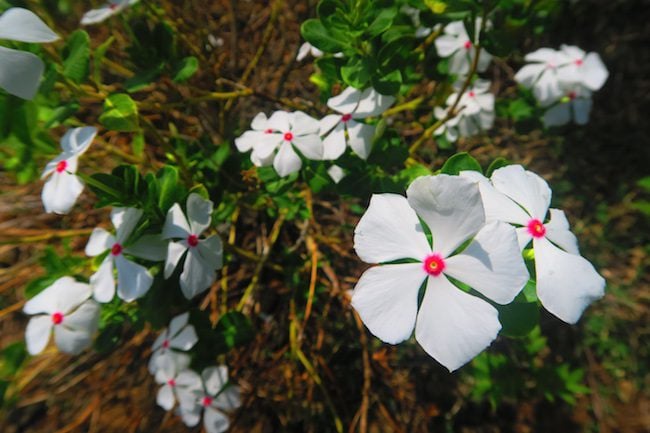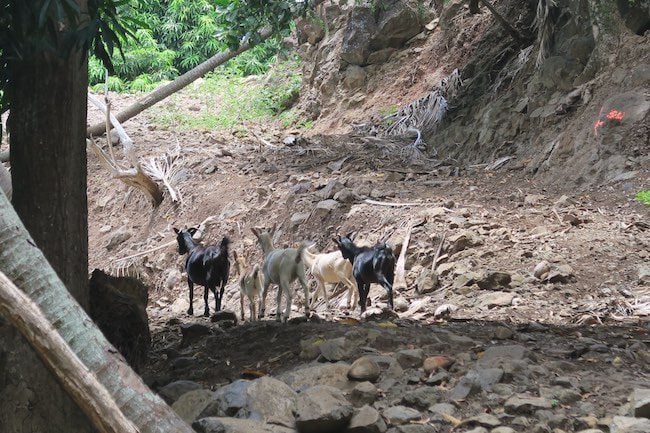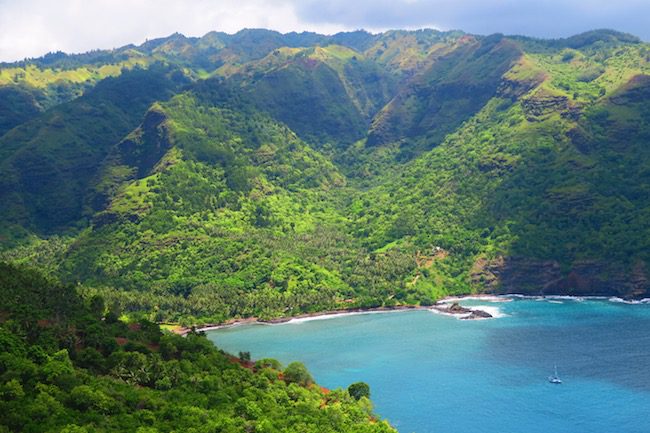 As I continued along, I spotted a waterfall cascading straight into the ocean. I haven't seen something like this since Mcway Waterfall in Big Sur, California. I grabbed a seat on some rock and enjoyed the view along with a grapefruit that Tania packed in my bag. It's so pretty and there's nobody here.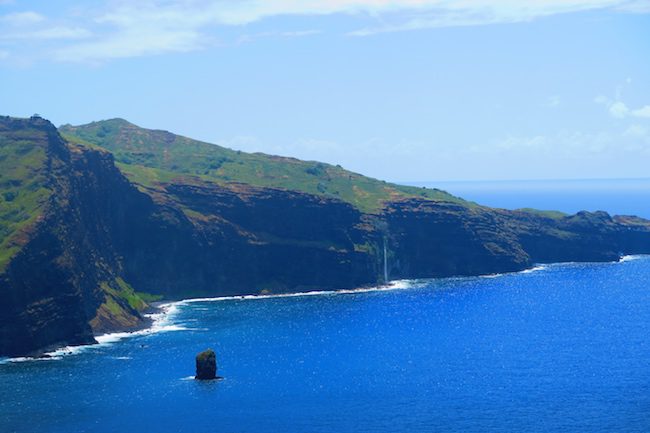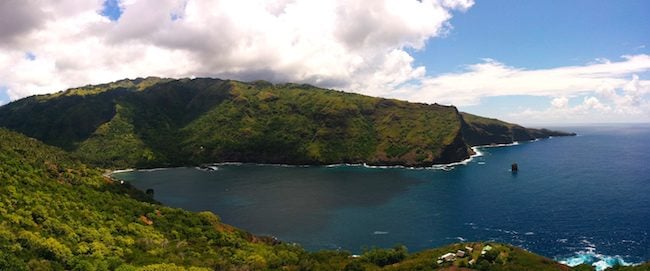 A few kilometers later, I could swear I saw a mirage – a dreamlike bay of the brightest of blue wrapped by cliffs that keep it a secret. I can see a few people down on the white sand beach as if stranded there for years. Could this be Hanatekuua Bay? Let's get down there and have a look for ourselves.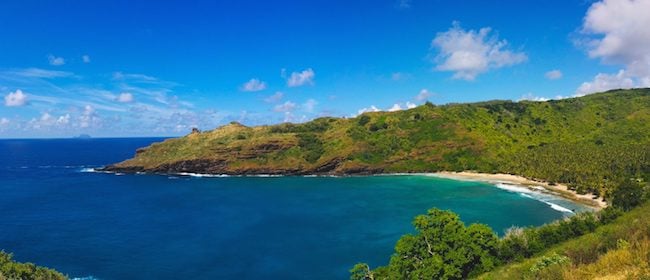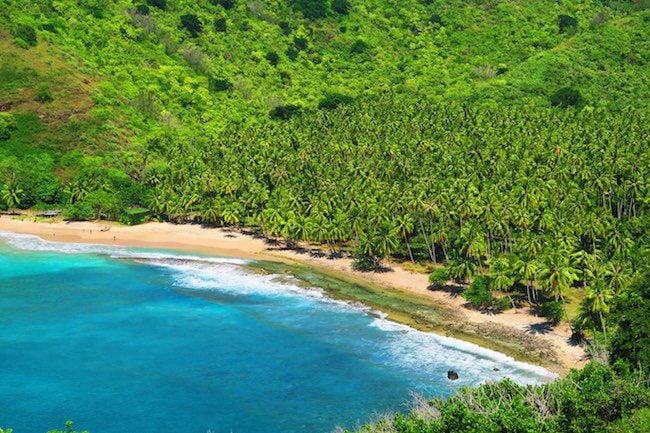 A scene straight out of a movie
Down at the beach, my feet were sinking into the soft sand with every step. The scene was taken straight out of a movie – exotic carefree locals catching tiny crabs washed ashore with every breaking wave. The crabs would then be gently placed in a small basket woven from palm leaves – a local delicacy, to be only sprinkled with lime and eaten raw.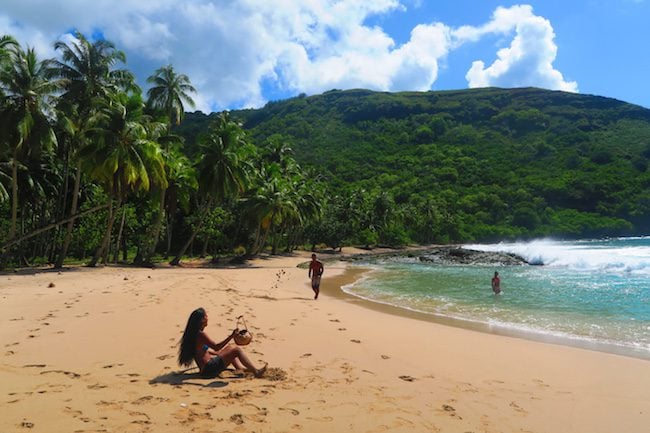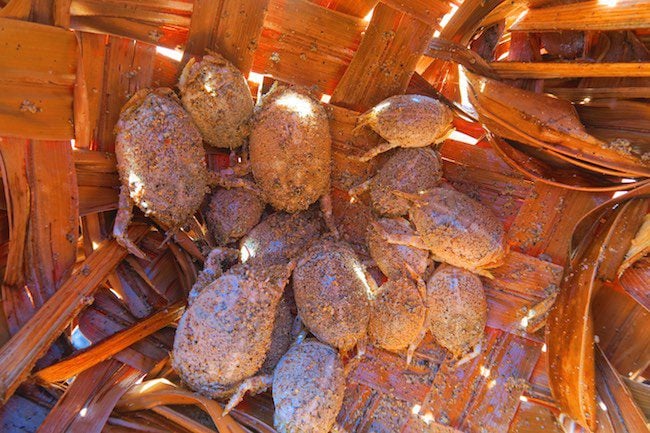 After getting crushed by the waves, I went to have a chat with the locals. I must say my French has greatly improved in the last three months in French Polynesia. There was grandma, her daughter, her son, his cousin and their girlfriends. Turns out the palm trees just behind the beach is their copra plantation.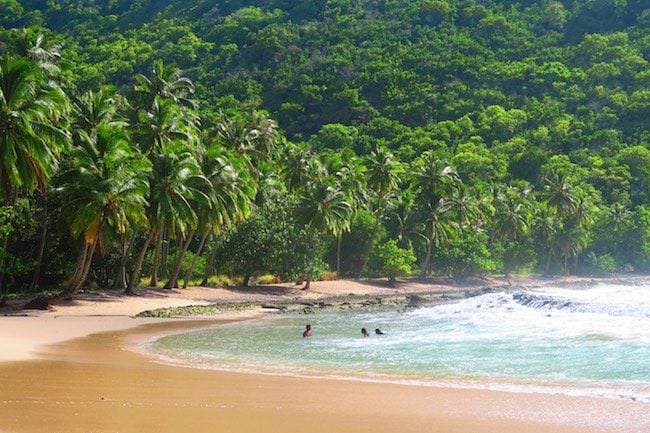 They spend a few nights a week living and working out here. It's mighty hard work: picking up the coconuts, chopping them open, carving out the flesh, drying it up in the sun and finally packing in 50kg bags (worth about $12 each). Those bags need to be transported by boat back to the village, or on horseback when the sea is rough. Each person must go through 50-100 coconuts a day in order to produce a few tons a month – enough income for the family.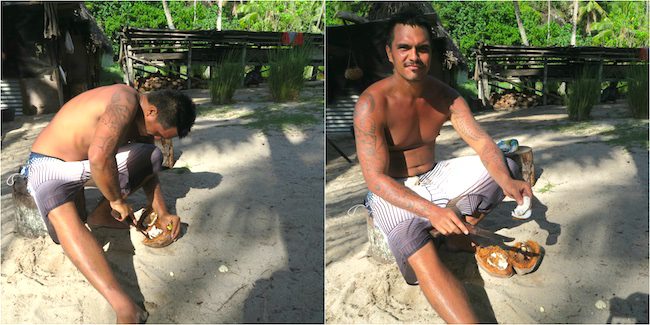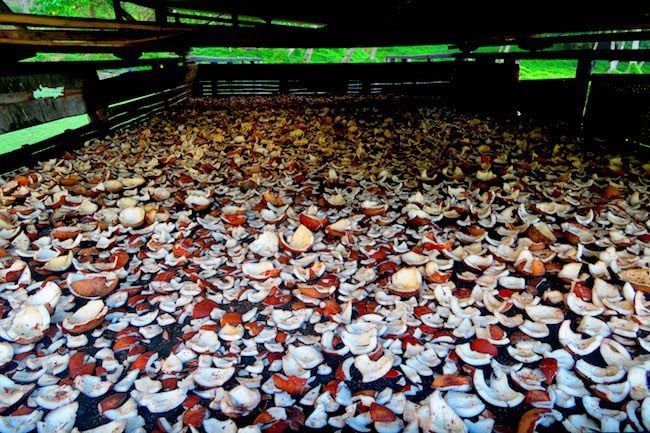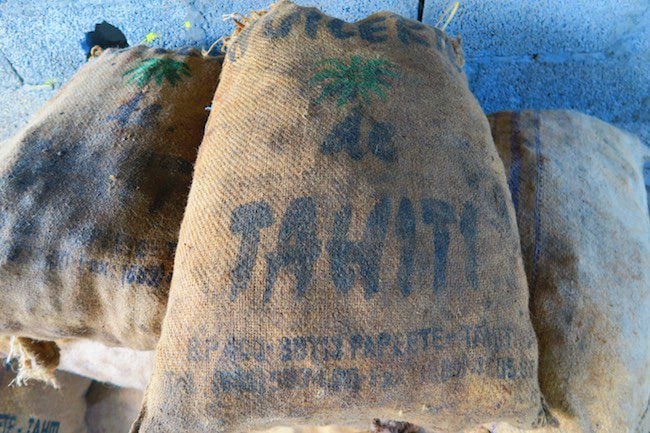 Did I already mention that it's hard work? I got a quick lesson on how it's done and then I was off to try on my own. It looks super easy but it's totally not. The family doesn't complain though; they like being out here, in nature and without the stress of city life. Who can blame them? Just look at this place.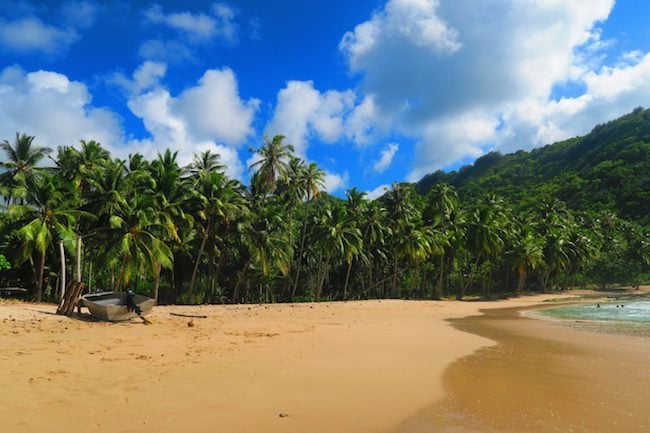 It must be my lucky day!
The family offered me a ride back to the village on their boat. Apparently, this was my lucky day – first the good weather on horseback, then this gorgeous hike and now this. Not that I minded hiking back, but this way I could spend more time on the beach and chat with the guys about their life and mine.
At around 4 pm, we pushed the small boat back into the water and headed back. En route, I got to see from sea level what I saw from above. We even spotted a manta ray swimming alongside the boat. The family was happy, finishing another workweek in their little paradise.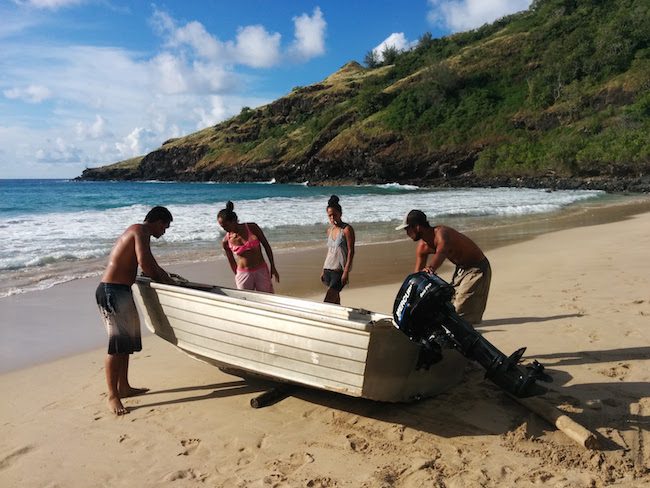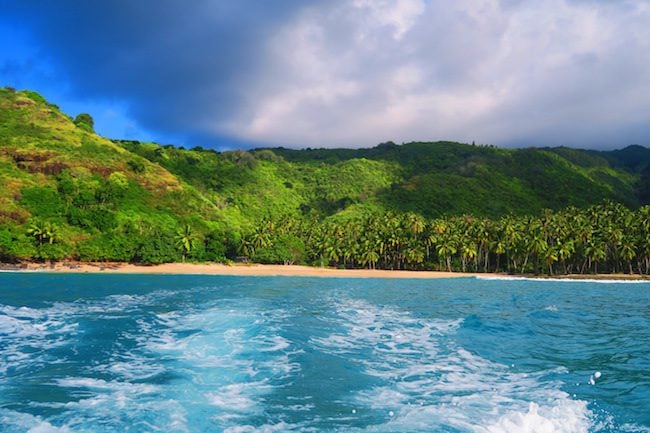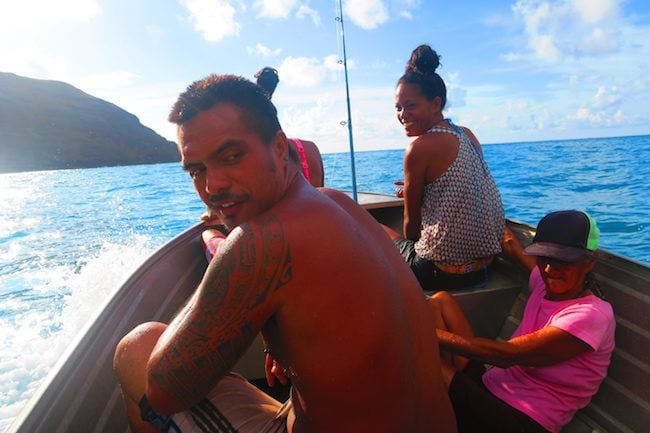 Do you see what I see?
Back in the village, the lighting was just perfect to witness another local spectacle. In the bay, a small cliff rises out of the water, reminiscent of James Bond Island from The Man With The Golden Gun. If you look closely, you can spot the head of an African man on one side and a woman's head on the other. To add to the fun, there's an even bigger cliff to the left – looking like a huge moray eel. How about the manta ray cliff? As with the Buddha head and the reclining pregnant woman in Huahine, I came to realize that pacific islanders have a lot of time on their hands to figure these rocky wonders out. A few minutes later, Tania arrived to pick me up with that beautiful smile of hers. I'll never forget this day!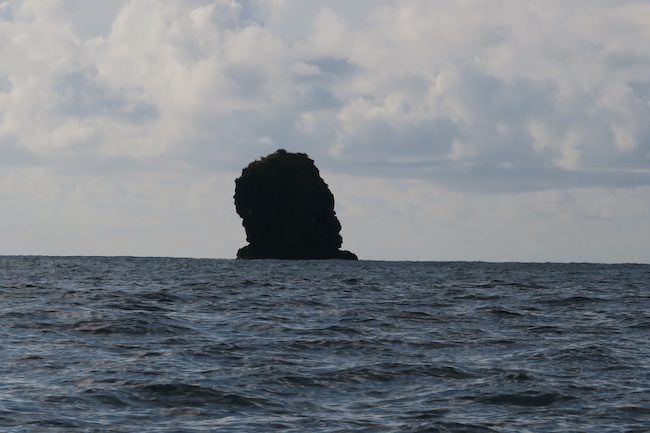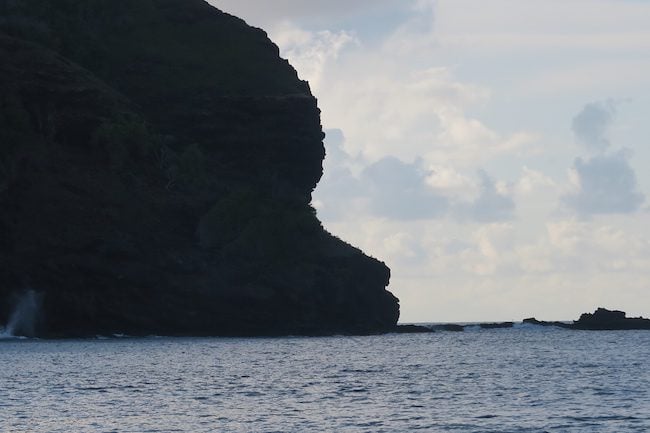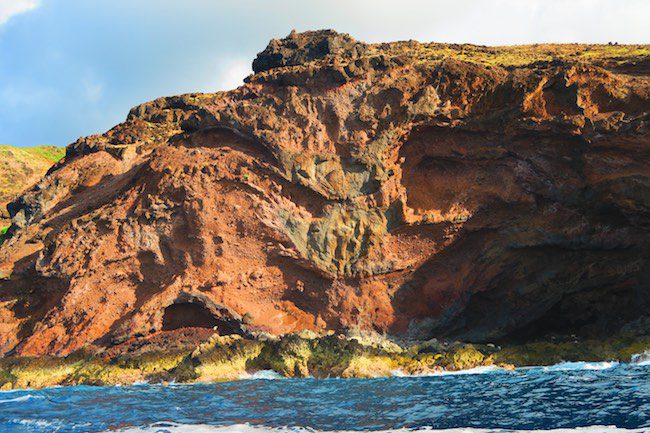 Road trip in Hiva Oa
Saturday would unofficially be the last day of this six-month trip. Tomorrow it's back to Tahiti for a couple of days and then back home. I simply cannot believe how fast time flew by. To finish off the trip with a big bang, I rented a tiny Suzuki Jimny 4X4 and headed out on a road trip to Hiva Oa's prettiest coast. With no radio reception, I found a leftover reggae CD in the car. Not exactly local music, but it'll do.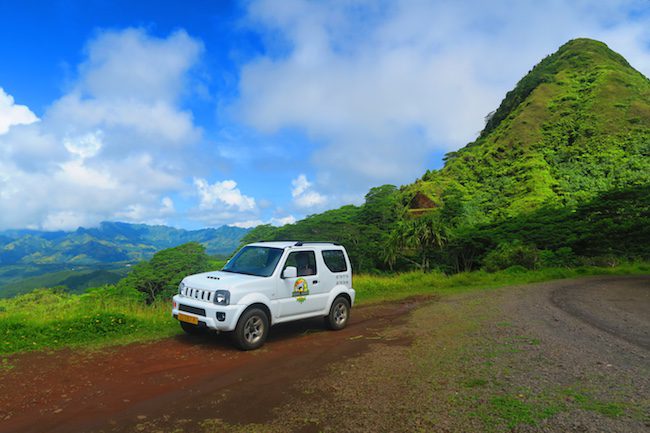 The first stop was the 'smiling tiki'. Yes, that's right. In the middle of the forest just off the main road, there's an old tiki statue that seems to be smiling. Nobody's exactly sure why.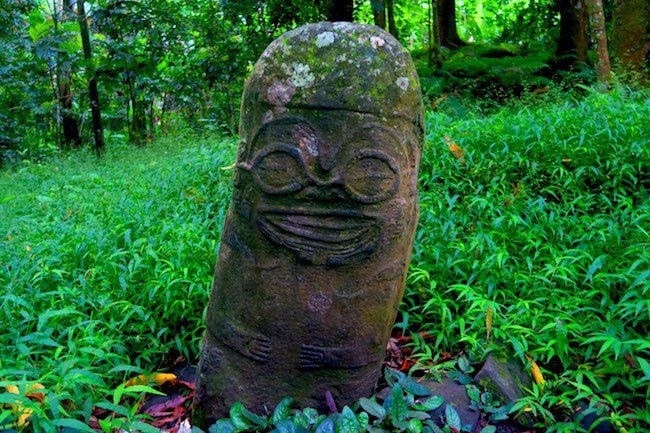 Past Paco's horse ranch (hi Ottawan), the paved road turned into dirt. I would drive less than 100 km's on this day, but hardly going over 30! Obstacles would include gigantic potholes, fallen rocks, scary-looking bends and wild horses from time to time… I just love Hiva Oa!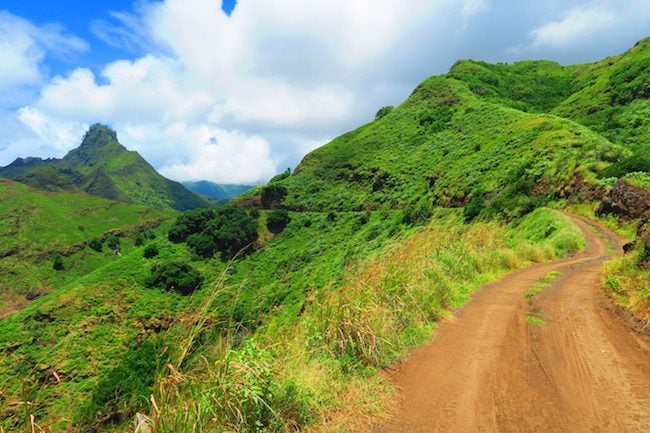 The airport road ended where the plateau began, and for the next 30 minutes, I was literally driving at the very top of the island. The views from up here were breathtaking – but they're nothing compared to what's coming up on the other side of the plateau.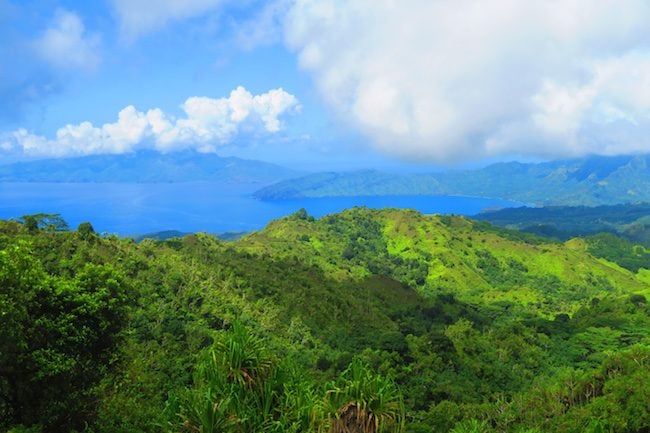 The end of the line
As the Jimny made it down to the other side, Hiva Oa's wild northeast coast revealed itself with all its glory. Rugged cliffs pounded by the ocean waves open up to bay after bay hiding remote villages. Atop those cliffs, a narrow one-lane road snakes its way along the coastline, often visited by families of wild goats. It is simply stunning out here!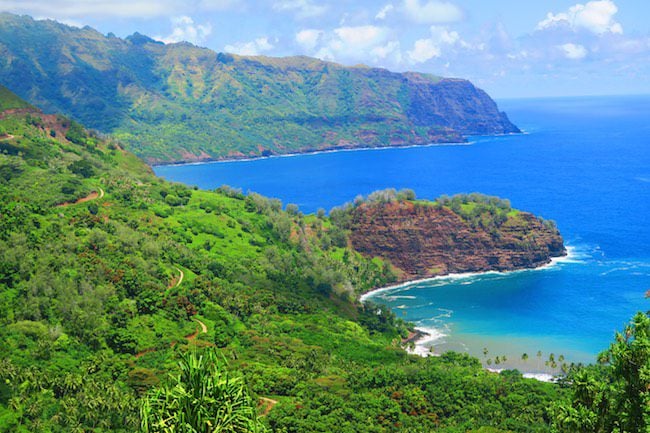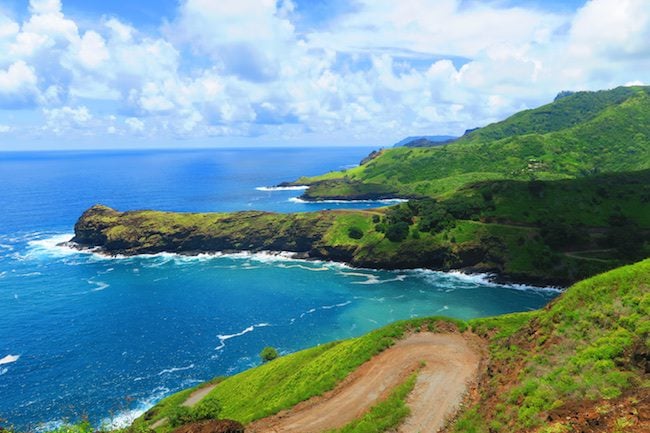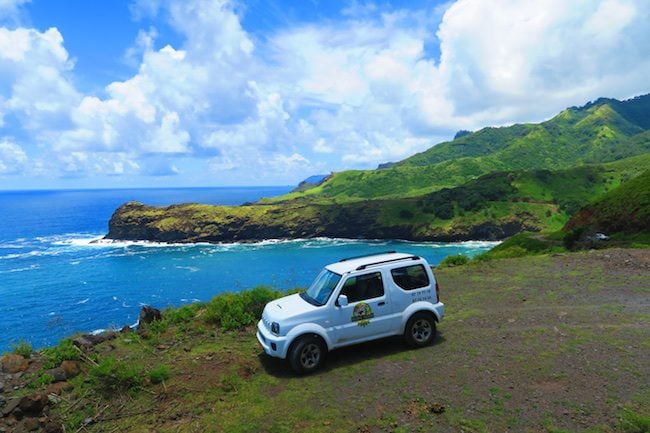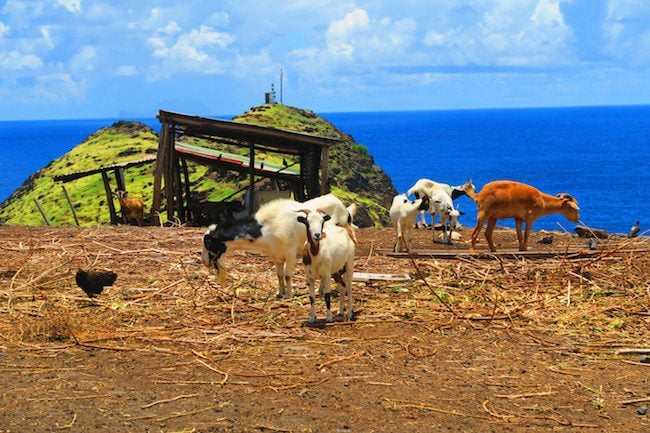 The road would now take me up a series of hills and down to beautiful bays. Each bay is home to a handful of families that live in the valley. There's nothing out here but palm trees, the mountains and extreme heat on a hot day. I stopped to ask for directions, as a family was actually hosing down their tin roof just to keep them from boiling up inside the house. Forget about air conditioning out here.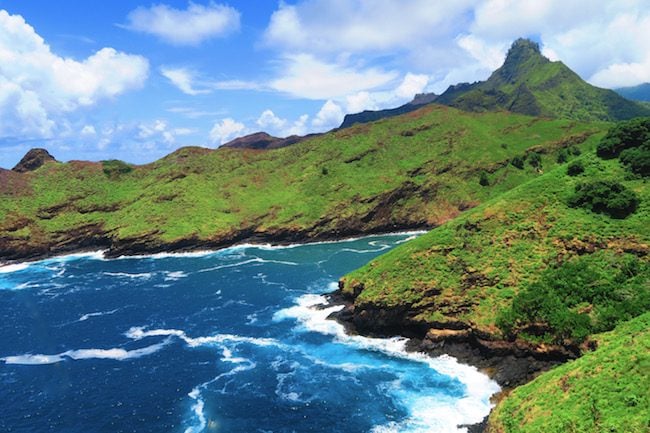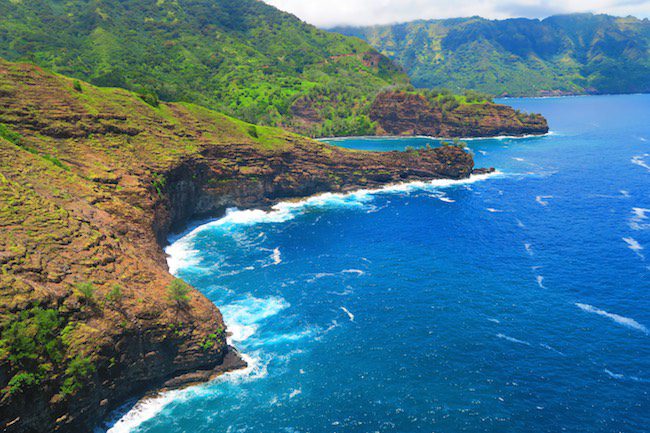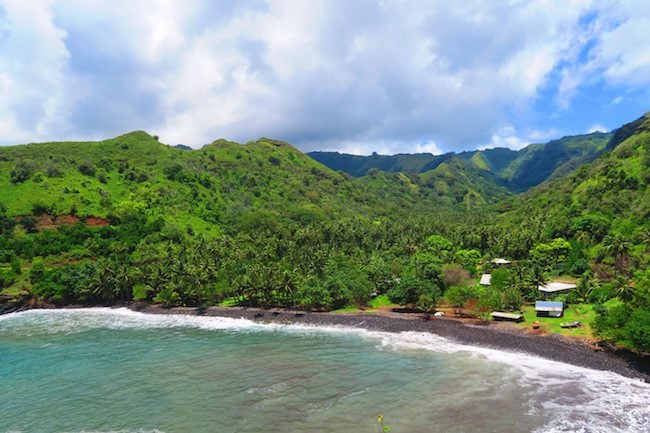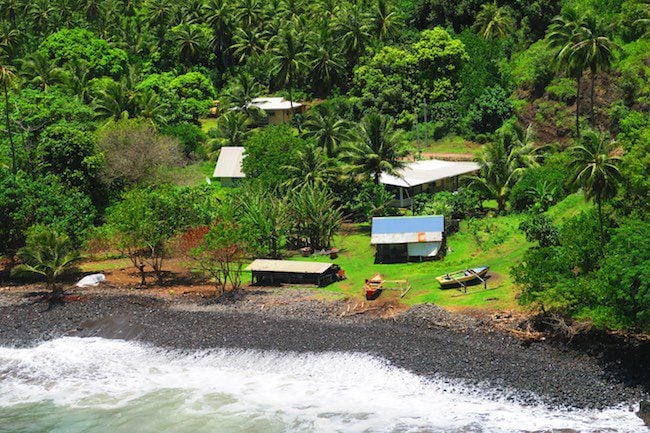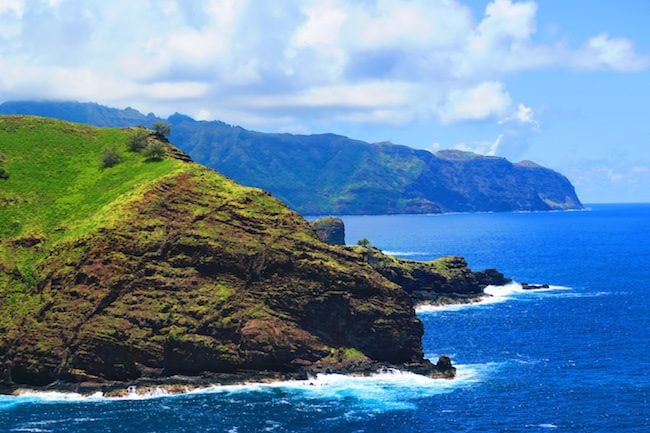 Of all the pretty sights I saw on this special last day, none were as beautiful as Eiaone Bay. It marked the end of the coastal 'road' and really felt like the end of the line. It took me over two hours to drive 59 km out here. Such is the driving in Hiva Oa, slow going and frequented by stops to suck in the views of a lifetime.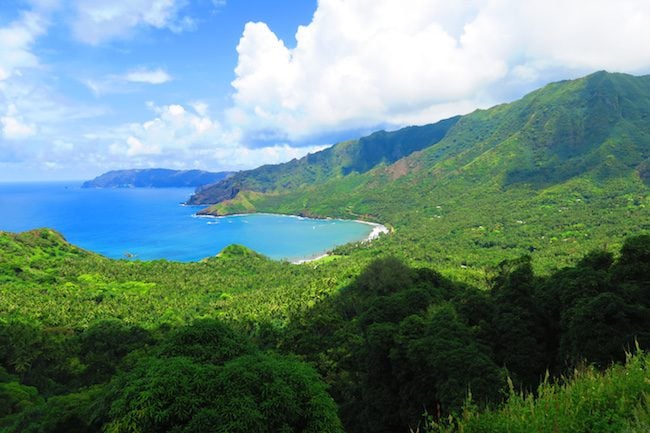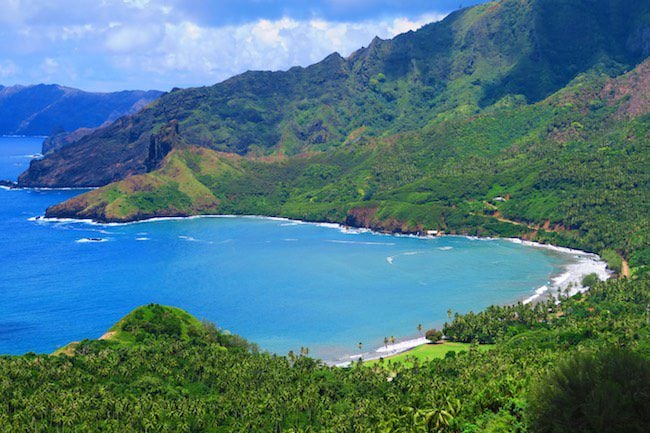 I could have stayed up here for hours, but there's a special surprise somewhere in the valley down below. I put the Jimny into first gear and went to check out the village. It was a very sleepy Saturday afternoon. The few families that live all the way out here were either hanging out at the beach or firing up a BBQ at home. It all seemed so peaceful, that is until you reach the beach. Waves break so close to the protective wall, and this was on a calm day. Nonetheless, the sound of the breaking water mixing with the palm trees swaying in the wind and the mountains around you – is just out of this world.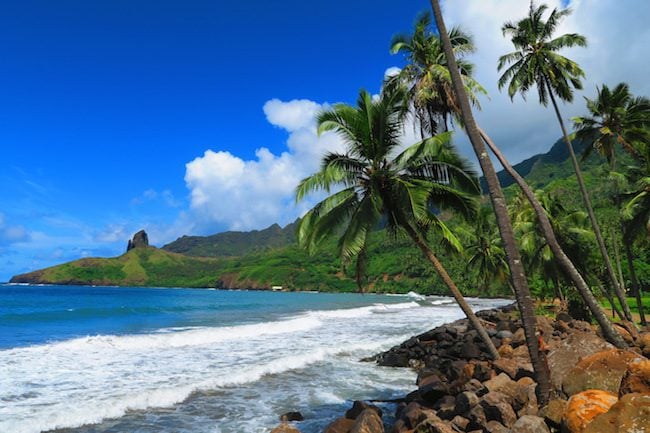 This place is W-E-I-R-D
The real reason for driving all the way out here is the Lipona archaeological site. It is one of the best ancient sites in the South Pacific, and the clouds slowly moving in certainly set the stage for an eerie visit to an already eerie place. Forget about marae Taputapuatea in Raiatea, the consecutive ancient temples of Huahine and even the ones in Nuku Hiva – Lipona is on a whole other level.
Scattered around two platforms are mysterious-looking tiki statues. These statues depict ancient Gods and scenes from the past. There was a tiki with six fingers! That's right six! It seems straight out of an episode of Ancient Aliens. Just behind him, was a statue rising 2.67m off the ground. That's only 5 centimeters less than the tallest man ever, yet this tiki was somehow carved out of volcanic rock centuries ago. How the heck did they make this?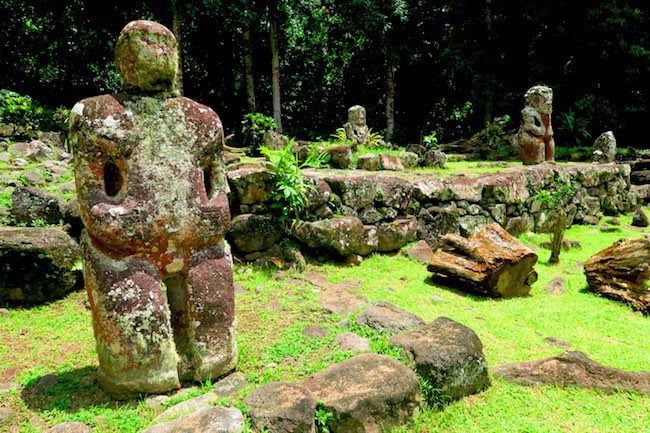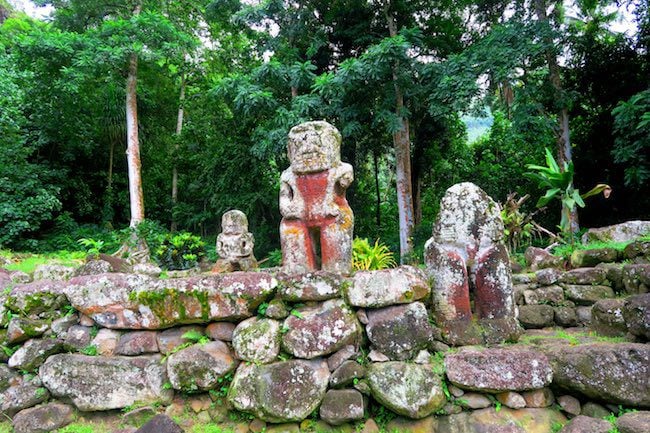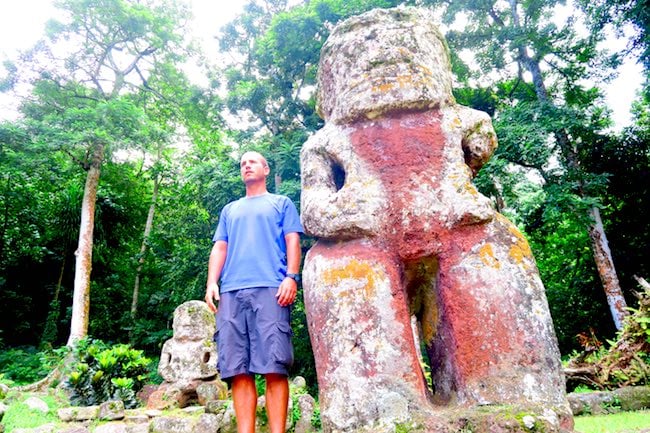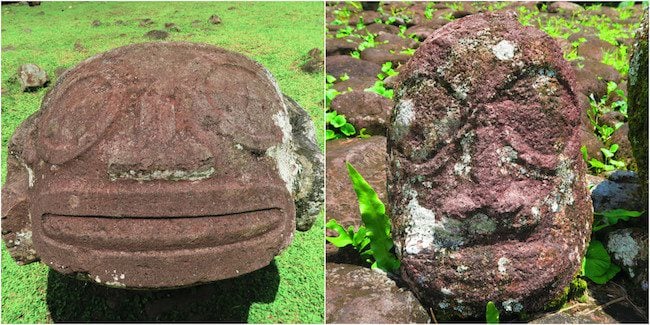 Were these ancient statues fashioned from religious belief? Pure imagination? or maybe inspired by visitors from outer space? … What do you think?
Considering I was all alone at the Lipona site, I could really feel the ancient supernatural powers present. The Polynesians even have a word for it – mana. And man… did I feel it.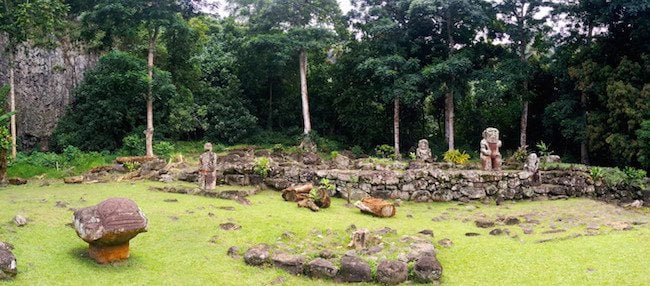 I planned to stay here longer, but as if the spirits were telling me it's time to go, loads of mosquitoes started to aggressively move in. Back inside the Jimny, I somehow need to make it all the way back to Atuona… fun, fun, fun! It took me the entire day to drive less than 100 km's but boy did I enjoy every single one.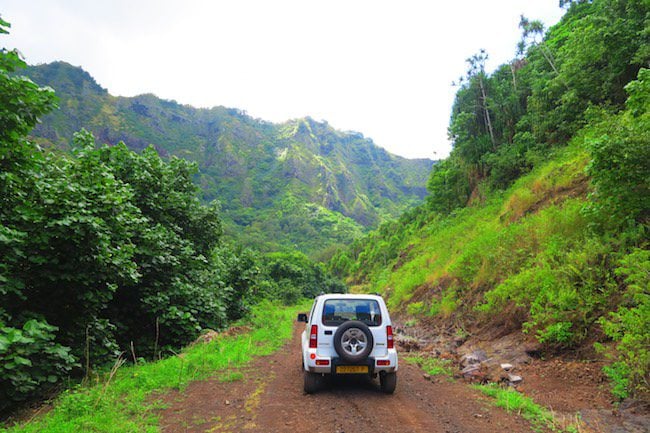 Tania, I'm gonna miss you!
At the pension, Tania prepared a special last dinner for me, and we spent the rest of the evening eating, chatting and laughing away. Sadly packed and ready to go, the Sunday flight was delayed by three hours due to rain. That was OK though. I got to see for the last time the excitement that locals have, as they wait with their flower necklaces and crowns for loved ones arriving from Tahiti.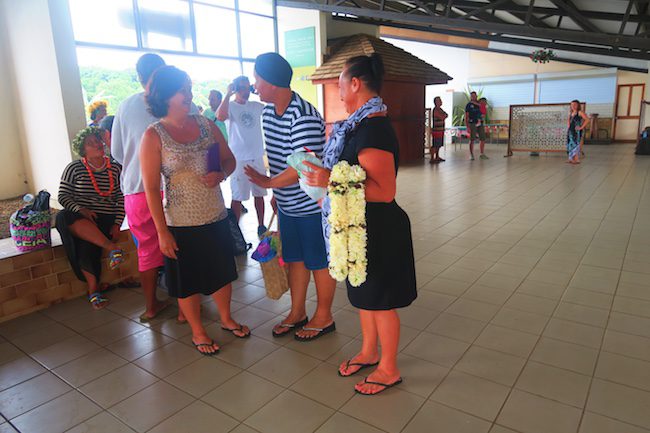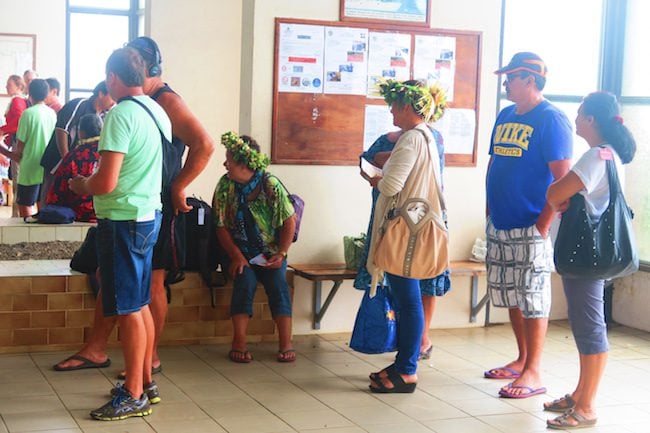 Ah…. Hiva Oa! I can totally see why Gauguin and Brel stuck around. The Marquesas Islands were really something from another world. So much beautiful nature, so many things to see, so much ancient history and such friendly people living in so much open space. What a fitting end to three memorable months in French Polynesia!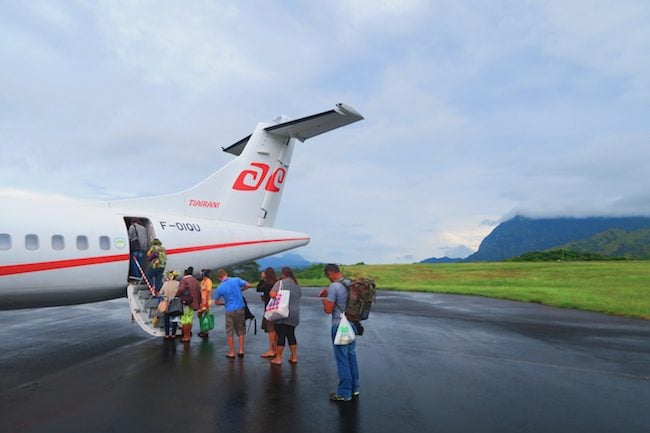 What's Next?
Well… it's now time to head back home. I cannot believe six months of living on tropical islands in the South Pacific have come to an end. It will be weird not walking around with a camera everywhere… Next week, I'll share with you my thoughts about visiting paradise. Was it worth quitting my job at Google for this? What's next? All that + the ultimate top highlights from the trip, coming up!
Heading off to French Polynesia? In-depth island guides to all 5 archipelagos await you, including sample itineraries and essential travel tips & tricks.