Return To Paradise: Part 2 – Huahine, Bora Bora & Maupiti
What if you could not only find your personal paradise but also return for a second visit? A few months ago I returned from a second voyage to French Polynesia, a visit that pretty much coincided with the near one-year anniversary of the first voyage. In the previous post, we explored the islands of Tahiti and Moorea. This second (and final) chapter takes us to the islands of Huahine, Bora Bora, and Maupiti.
Heading off to French Polynesia? In-depth island guides to all 5 archipelagos await you, including sample itineraries and essential travel tips & tricks.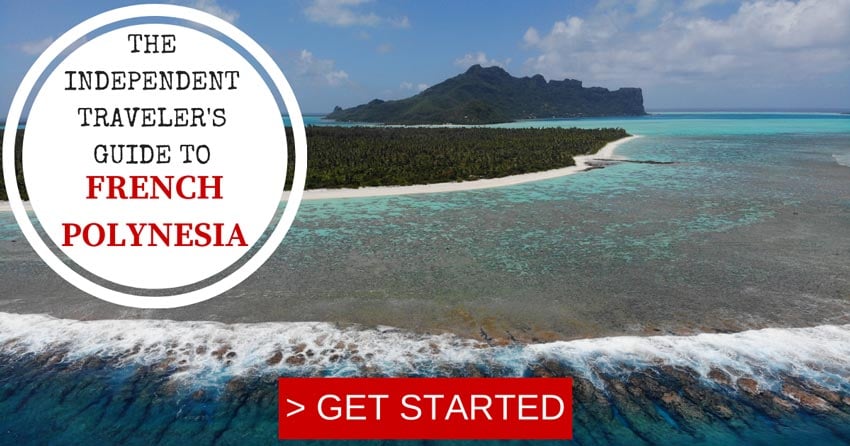 Tahiti, Tailor Made!
The Islands of Tahiti are among the last places to be colonized by mankind, 118 islands, each with its unique personality.
Get expert advice and assistance with planning your trip to the destination where tropical dreams come true!
Huahine
Forty minutes of flight separate the main island of Tahiti from Huahine, but life here could not be any different. The feeling of having escaped the "gravitational pull" of Tahiti is evident in Huahine right from the start. Things just move at a much slower pace, the kind of island you could retire in if all you need in life is a pretty sight for the eyes. Known as the "Garden of Eden", everything grows in abundance in Huahine, with the island's small-scale farmers exporting their crops to the markets over in Tahiti. And for the wise visitors who land on its shores, Huahine is pretty much off the tourist radar – an authentic place to relax, unwind and do some sightseeing. My previous visit to the island included a busy week of running around and close encounters with reef sharks. This time, it was really all about slowing things down.
Fare
The first day in Huahine involved hanging around the charming main village of Fare – a true testament to the proverb "size doesn't matter". Taking the beach path to the village, my good friend and traveling mate – Isabelle – and I were greeted by fit Tahitians practicing the national sport a few months ahead of the national outrigger-canoeing championship. This is an important event on the Tahitian calendar, with teams competing for bragging rights from all five of the French Territory's archipelagos.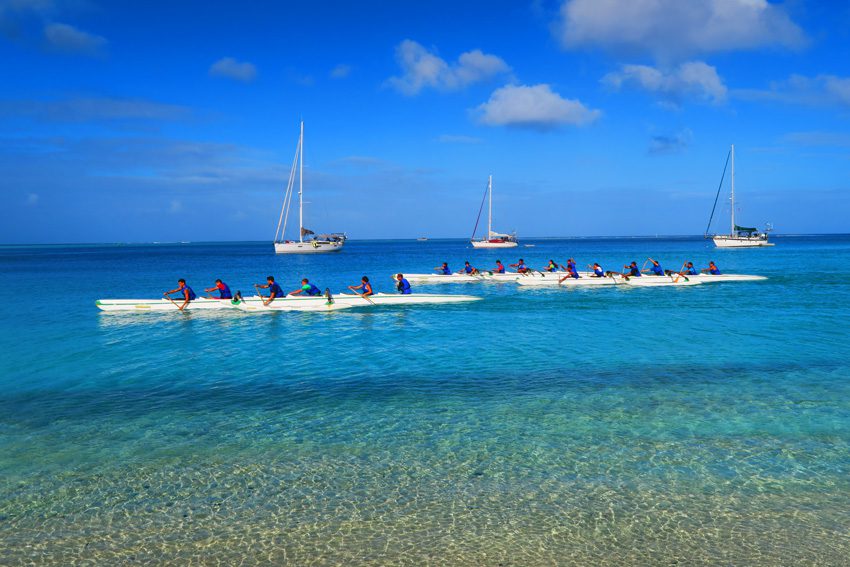 It was Friday in Fare (pronounced fa-re) and locals were getting ready for the weekend (not that their week was so stressful, to begin with…). It turns out that every Friday morning, a group of guys and their guitars get together to help greet the weekend. I asked them to play my favorite Tahitian song and they were more than happy to make my day.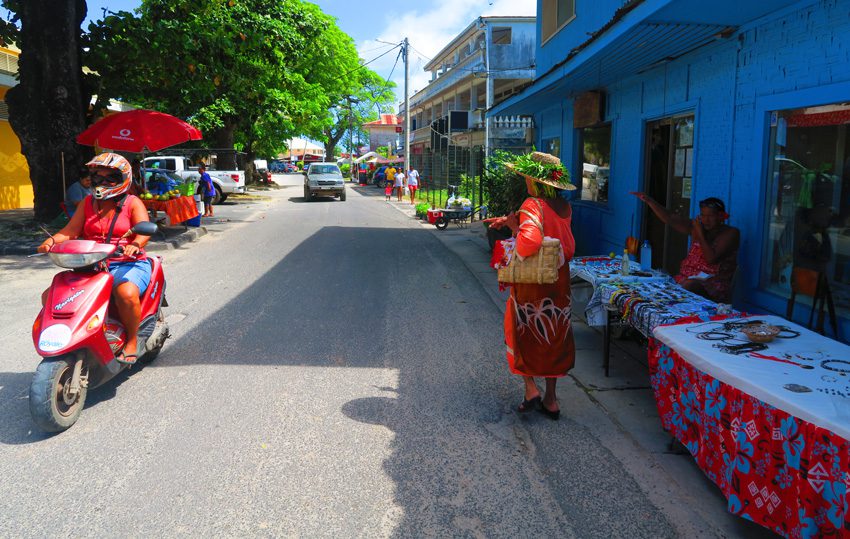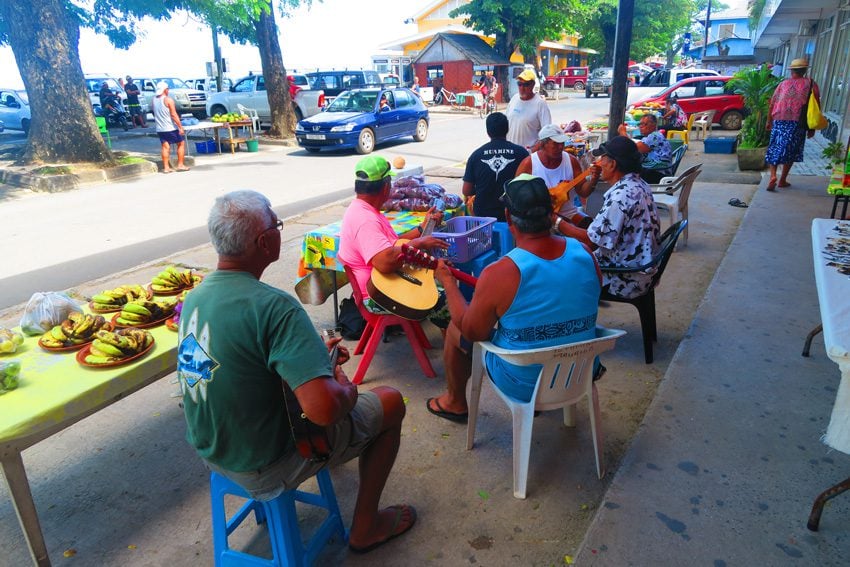 Running a few errands in the village and stocking up on supply, it was time to hit the beach and, in Fare, it means just a three-minute walk north of "Main Street".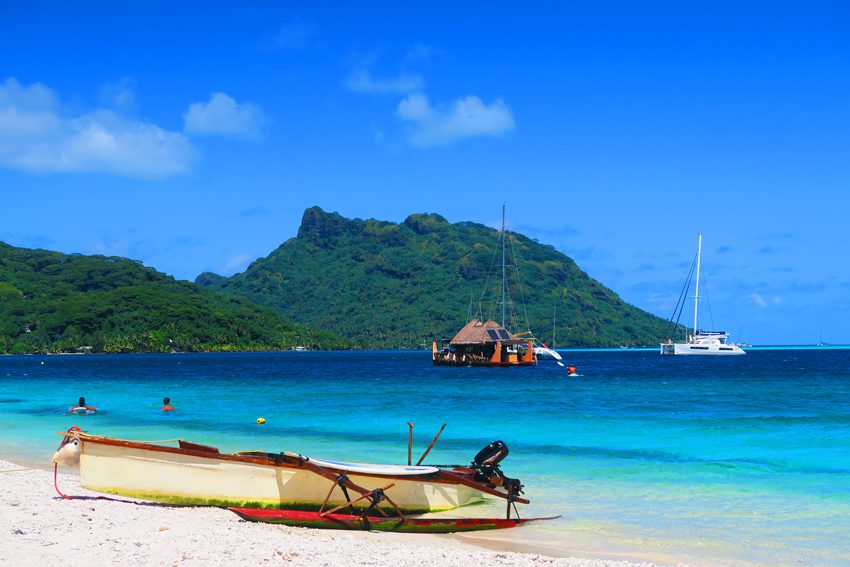 Road Trip Around Huahine
With our batteries slightly charged, we managed to roll off the beach and actually do something, renting a car to circle the island for a bit of sightseeing. In fact, Huahine is made up of two islands connected by a narrow bridge: Huahine Nui ("Big Huahine") and Huahine Iti ("Little Huahine").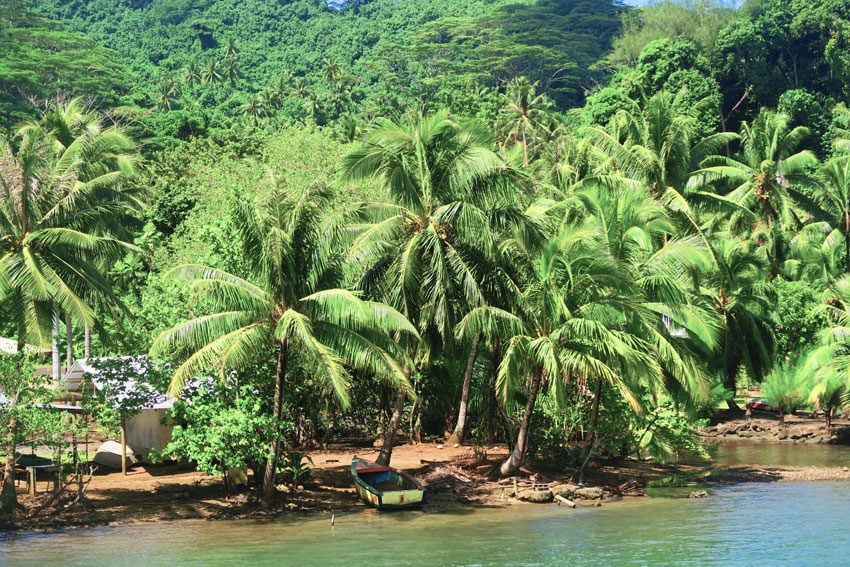 Huahine has an exceptional abundance of ancient Polynesian stone temples – a testament to the rich religious life that took place high on the hills and along the lagoon's beaches. A visit to the temple atop Matairea Hill is the most rewarding one as it involves a hike through a thick rainforest which hides the remains of additional temples amid giant banyan trees.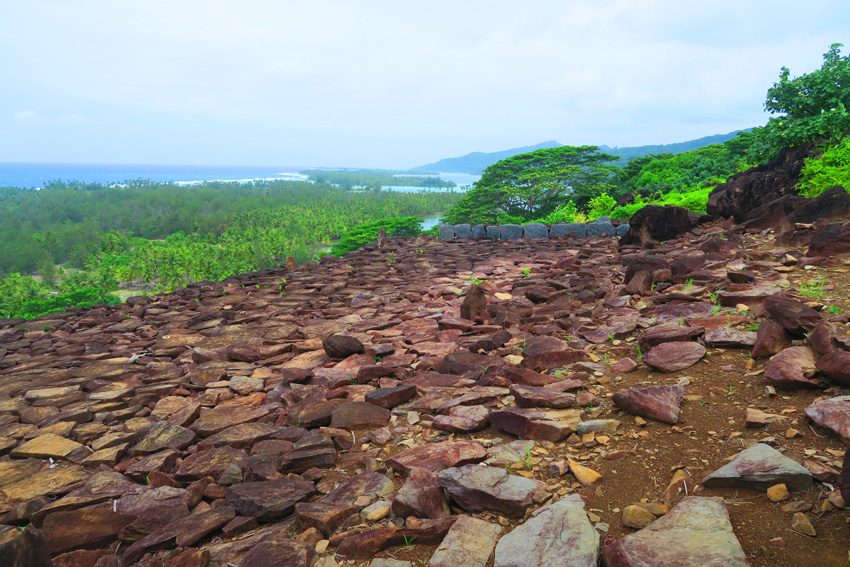 Ancient islanders weren't only religious, but they were also very smart. The V-shaped fish-traps that they laid out in shallow parts of the lagoon are still used these days to catch dinner from time to time. You can see such ancient contraptions on another authentic Polynesian island – Hawaii's Molokai – but the ones in Huahine are the real deal.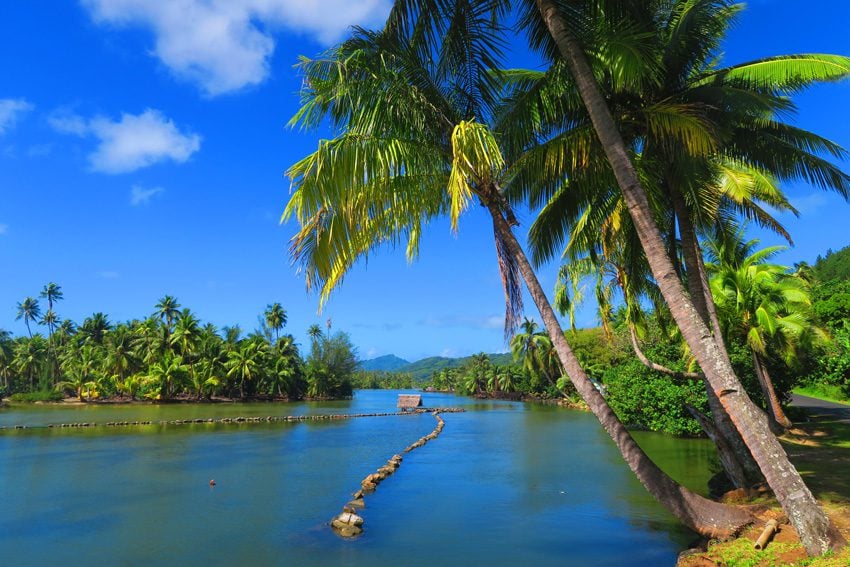 Blue-Eyed Eels
The most freaky stop on the road trip around in Huahine is the visit to the island's celebrity residents. I'm not talking about a famous rapper or movie star, but rather the "sacred blue-eyed eels". Though they are quite scary-looking, these guys are absolutely harmless. In fact, their eyes are blue-colored due to their blindness, leaving them no choice but to get up close to foreign objects and use their sense of smell and touch to get the "big picture". Locals love playing with the eels and keeping them well fed. After all, it is believed that the eels living in this specific stream carry the spirits of ancient islanders! In true Huahine fashion, we cracked open a can of sardines that we bought in Fare and treated the eels to an early lunch.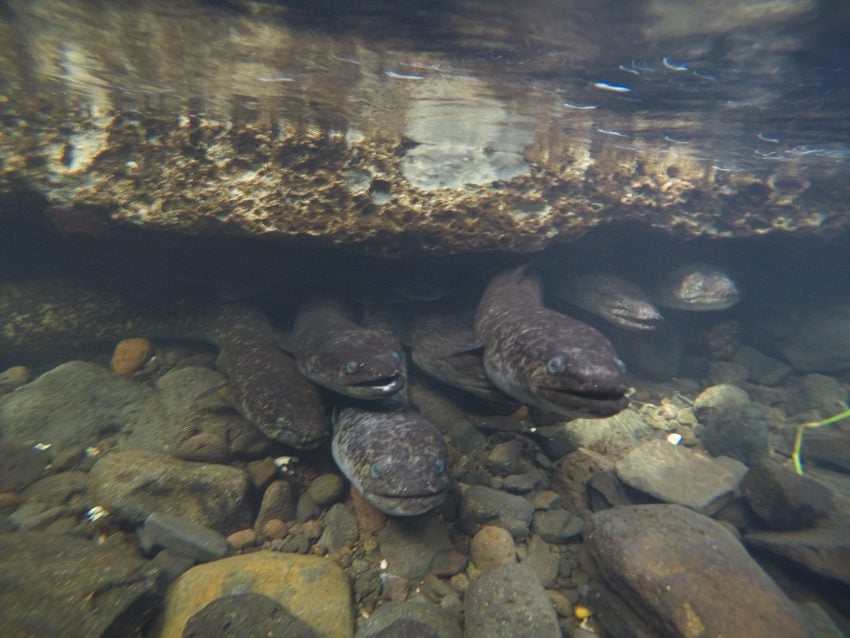 Bora Bora
What more can be said about one of the most famous islands in the world and definitely the most visited in French Polynesia? Well, all I can say is that Bora Bora is indeed beautiful, but don't make it your life's mission to make it here without exploring the territory's lesser known (and prettier) gems. I spent three days in Bora Bora on my first trip to the South Pacific and this time around, Bora Bora turned out to be a "bonus stop" on our short island-hopping journey. You see, we had to spend the night here en route to our truly desired next stop – Maupiti (you'll soon see why) – but the flights just didn't work out. A layover in Bora Bora… life can be cruel sometimes.
World's Prettiest Airport
In my opinion, Bora Bora may not be the prettiest island in French Polynesia, but it certainly has the prettiest airport… in the world! Constructed during WWII by (lucky) U.S. forces stationed on the island, the airstrip on the islet (motu) at the edge of the lagoon is still in use today. To get to the main island or to the luxury resorts situated on other motus, a scenic boat transfer from Bora Bora's airport is called for.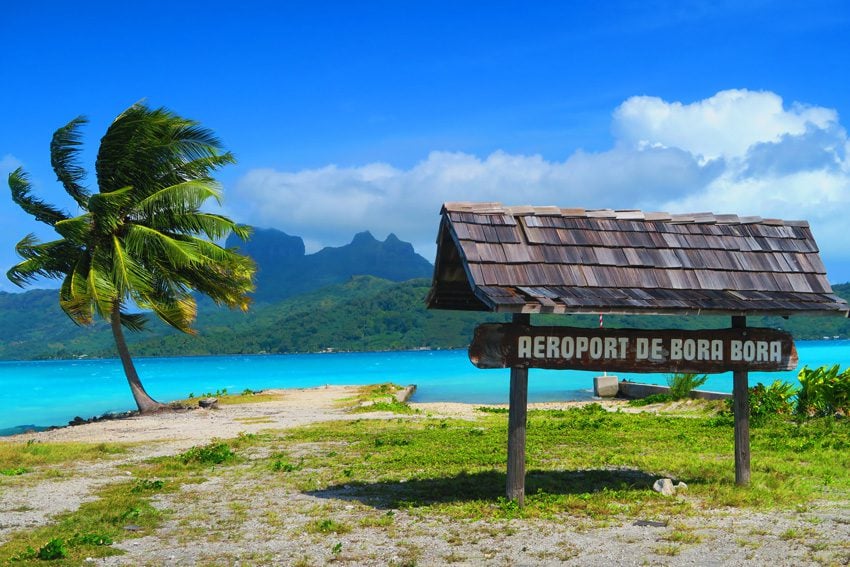 The Lagoon
Apart from over-the-top luxury resorts (surprisingly which do not have to be the default choice), Bora Bora's main draw is its spectacular massive lagoon. Roughly three times larger than the island's land mass, staring at the lagoon's changing colors with the movement of the sun is an activity that on its own can fill up an entire day.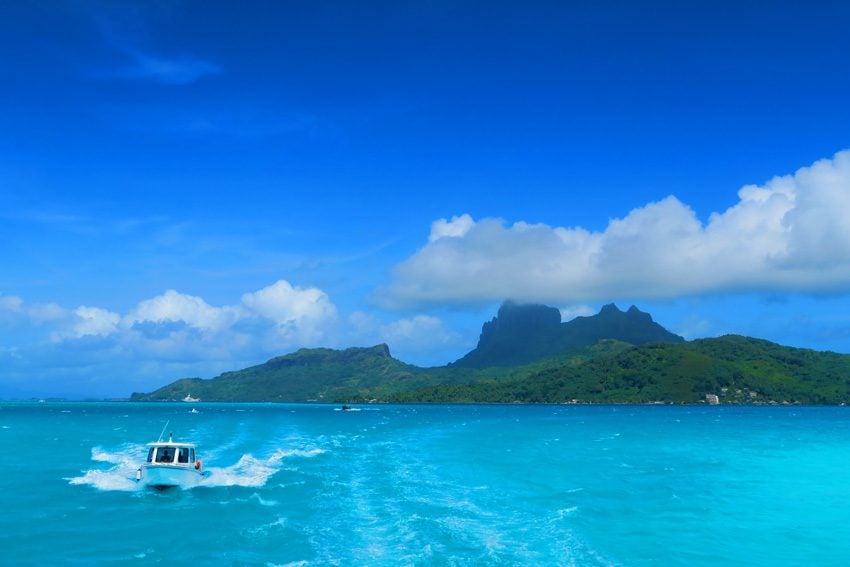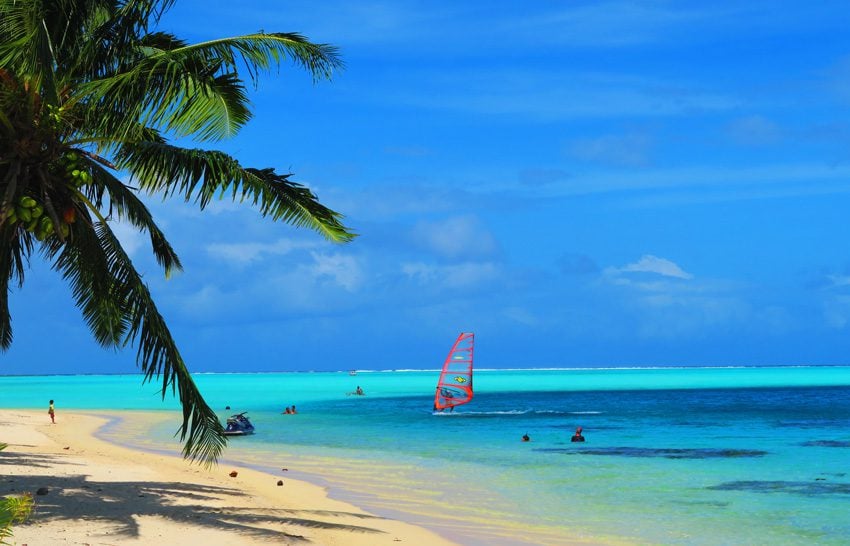 Maupiti
There's no better way to bid farewell to paradise than with a visit to "Paradise's own paradise". The island of Maupiti is like no other in French Polynesia, the closest definition to all the travel cliches you can come up with. It is the oldest island in the archipelago, displaying just a fraction of its original height as it slowly sinks back to the depths of the Pacific Ocean – a process which all islands in this part of the world go through.
Maupiti is Bora Bora's little sister, not just due to their close proximity but also due to Maupiti's topographical shape – a near exact scaled-down replica of the touristy island that can be circled by foot in less than two hours!
However, the island's few residents decided to forgo the riches that come with mass luxury tourism and to resist the construction of any large-scale tourist facility in order to keep the pristine nature of their home – the "Preserved Island". On Maupiti, you won't find any resorts, no cocktail bars, and not even an ATM.
I spent a memorable week in Maupiti on my first journey and I still remember every minute of the every day. I got the chance to not only explore the island but to also stay at a local family-owned pension – Tautiare Village. I was eager to revisit the family and to taste Dawn's – the hostess – amazing cuisine.
The Airport Experience
You really can't refer to Maupiti's airport as an airport. It is just a small landing strip that spills over to the lagoon. Just like in Bora Bora, passengers need to be ferried from the airport on the motu (islet) to the stunning main island.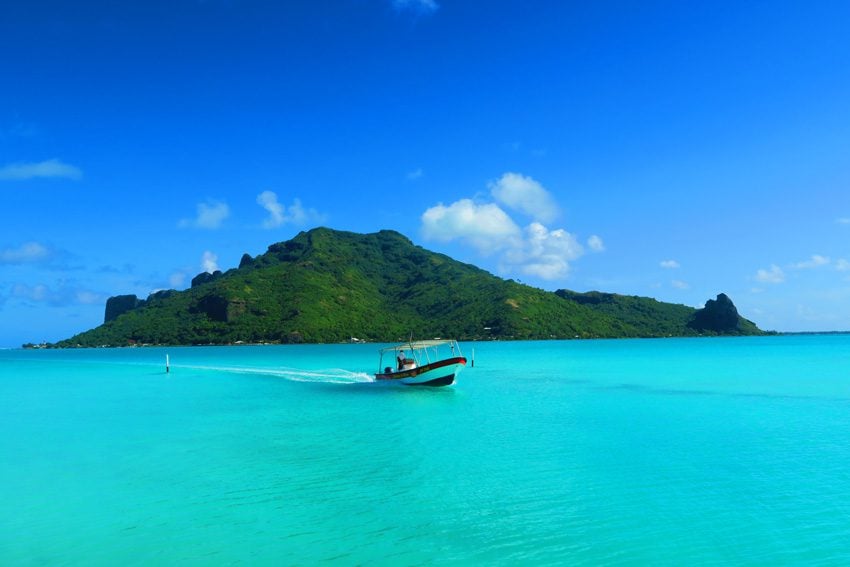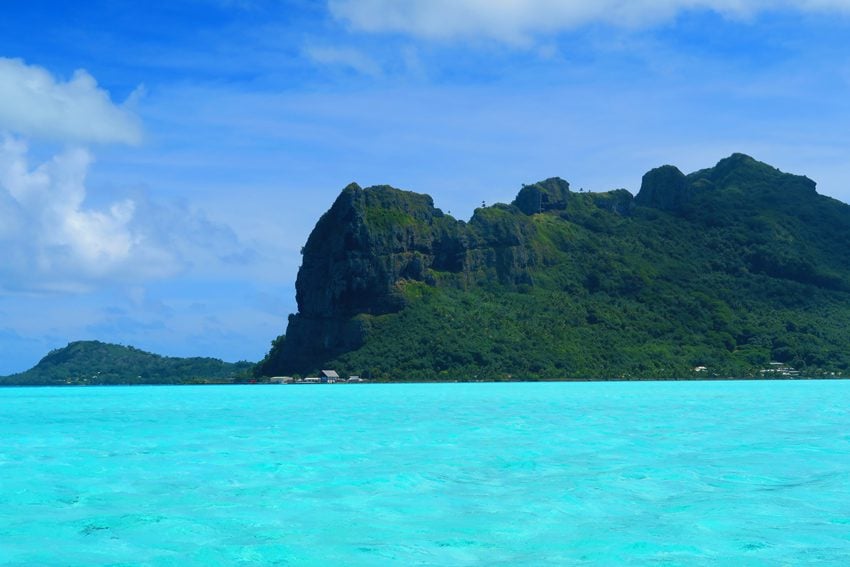 Island Life
For those who can resist materialistic temptations, life in Maupiti is simply perfect. Islanders enjoy nature at its best and have very little to no "man made" stress. Isabelle and I set out to walk to the only village in Maupiti in the morning hours, as our hosts were busy collecting tiare flowers to be used in the making of flower necklaces for today's arriving guests.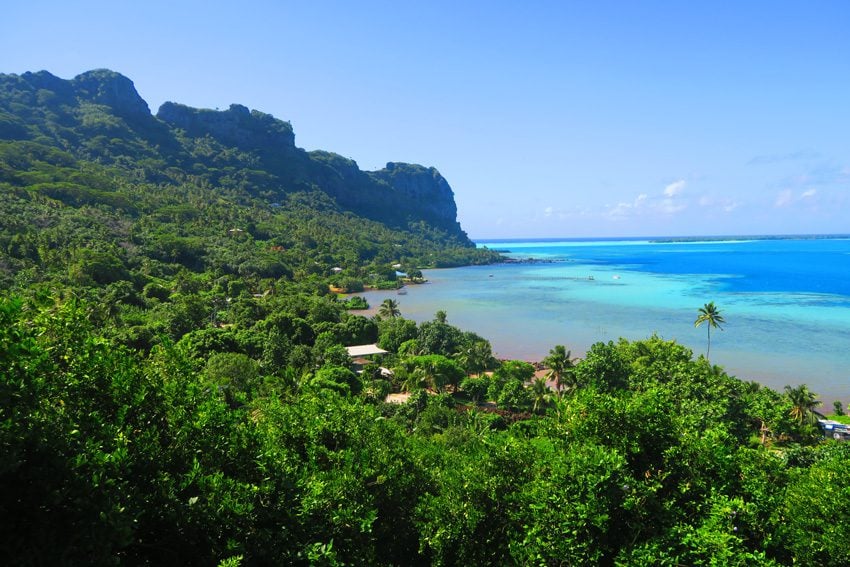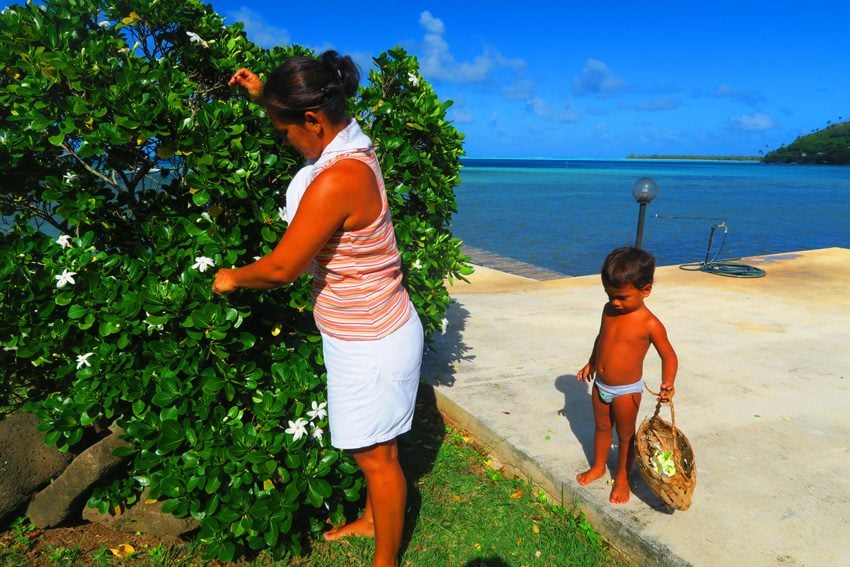 Every island in French Polynesia has at least one "designated bakery" licensed and equipped to produce the subsidized baguettes. Baked twice per day, once in the early morning and once in late afternoon, these baguettes cost less than 50 cents a piece.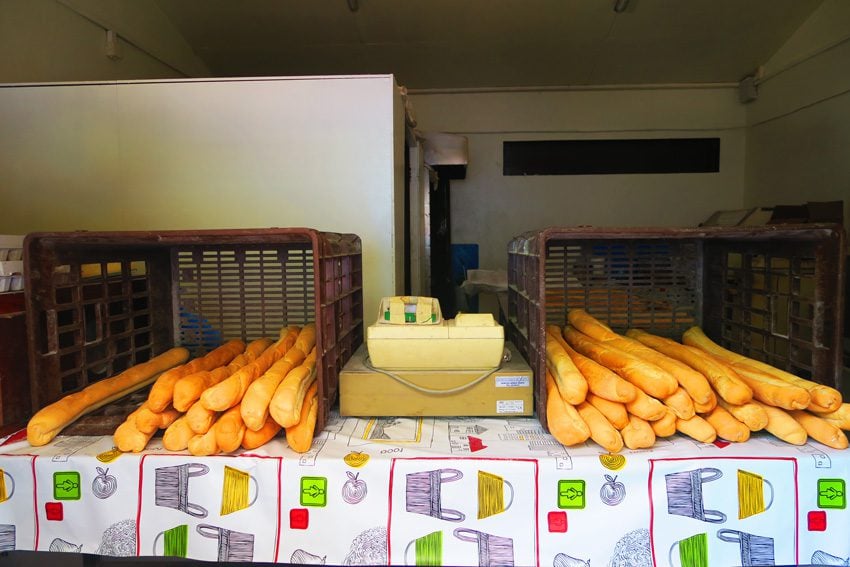 Islanders are not overly religious in Maupiti, but they are quite traditional. One such tradition – which I first witnessed in Samoa – is the Polynesian tradition of burying loved ones in the front of the homes, usually under the shade of a fruit tree. Living family members often "hang out" close to their ancestors in early evening hours and never forget where they came from.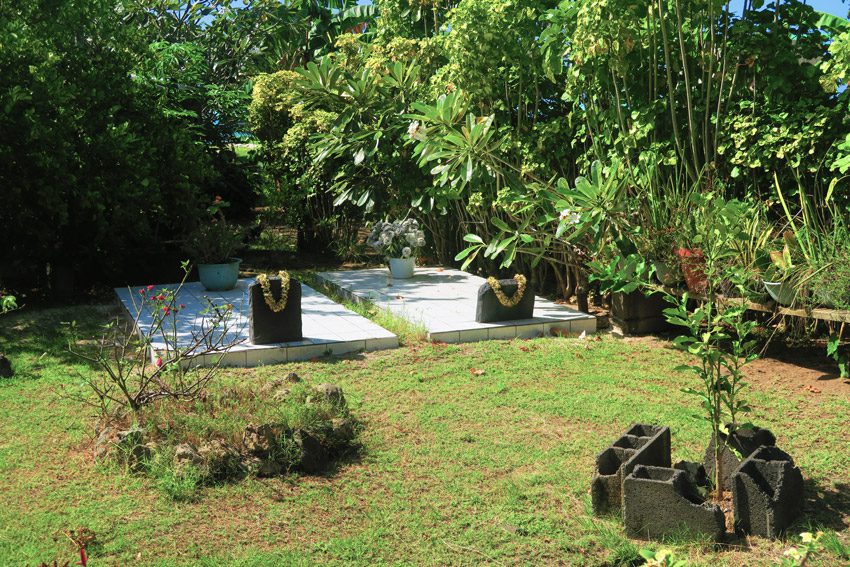 In the village of Vaiea, we made it just in time as the morning "market" was drawing to a close. The four or five stalls were quite empty but we did manage to buy a few ice-cold bottles of fresh coconut water. It's funny that back home, a small bottle of "not-so-fresh" coconut water costs over $3 while we paid less than $1 for a liter of the real deal. Vaiea was, however, slightly busy on this particular day with locals fundraising to send both parents of an ill newborn baby to France.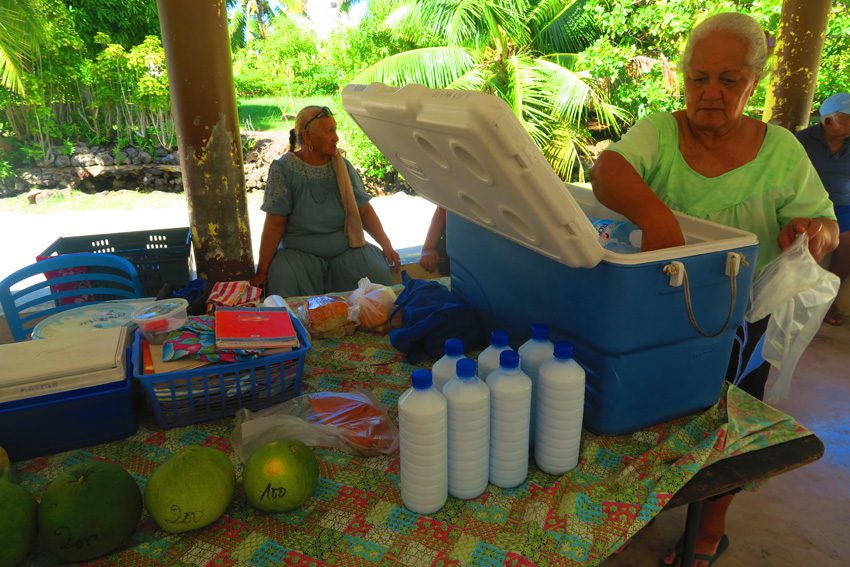 In the absence of any form of nightlife, all that's left to do is to listen to the palm trees swaying in the breeze, the lagoon waves meeting land, and to count millions of stars!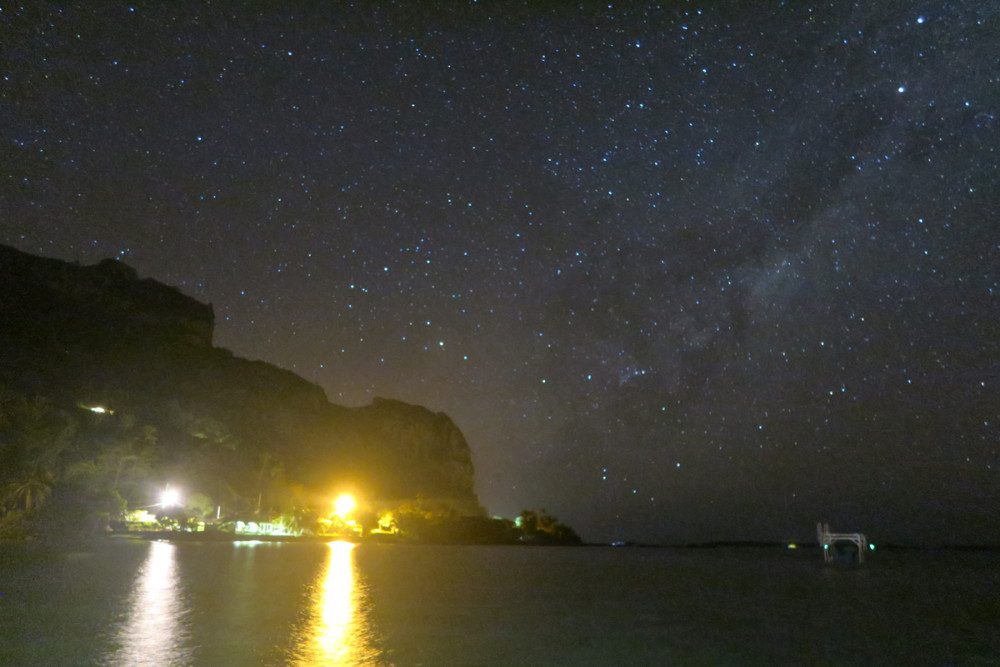 Hiking Mount Teurafaatui
Even though Maupiti is slowly sinking and will one day become an atoll, it still has a few peaks to show off with. The short (but sweaty) hike to the summit Mount Teurafaatui affords incredible views of Maupiti's lagoon and the village of Vaiea, which becomes smaller and smaller as you ascend.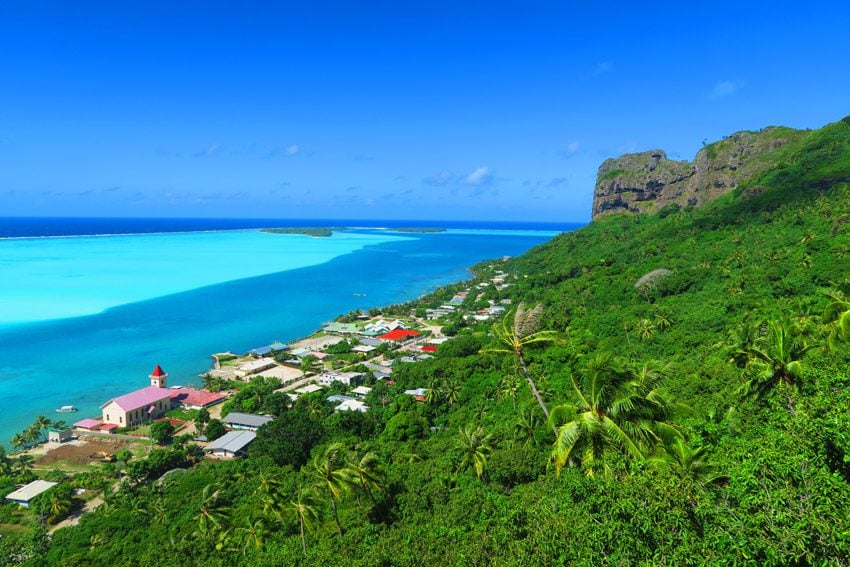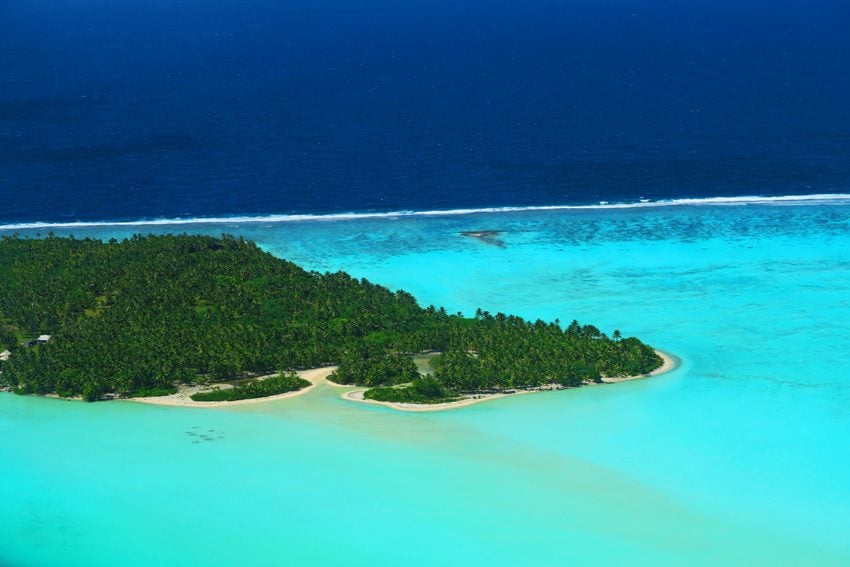 The view from the summit is totally worth the effort and there's even a steady breeze to cool off satisfied hikers. Believe it or not, some locals who have lived here all their lives have yet to climb the mountain. You might say they're on the lazy side of life (and I wouldn't totally disagree with you) but, if you think about it, how well do you know your own surrounding?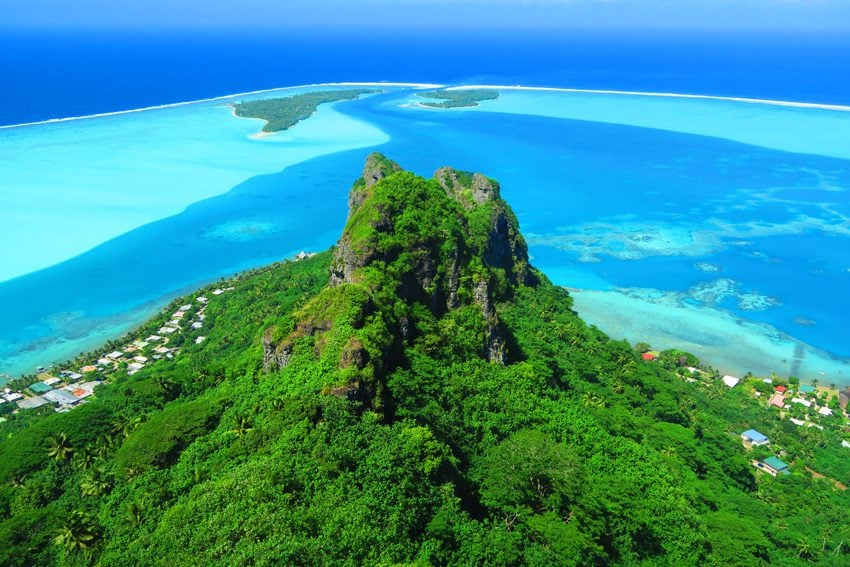 The summit also offers a clear look over the only lagoon "pass" in Maupiti – the naturally-formed opening in the coral reef. Such openings allow for the passage of boats in and out of a lagoon and cleanse its waters using the tide. Maupiti's lagoon pass isn't an easy one to navigate through, an activity that's best left for experienced sailors.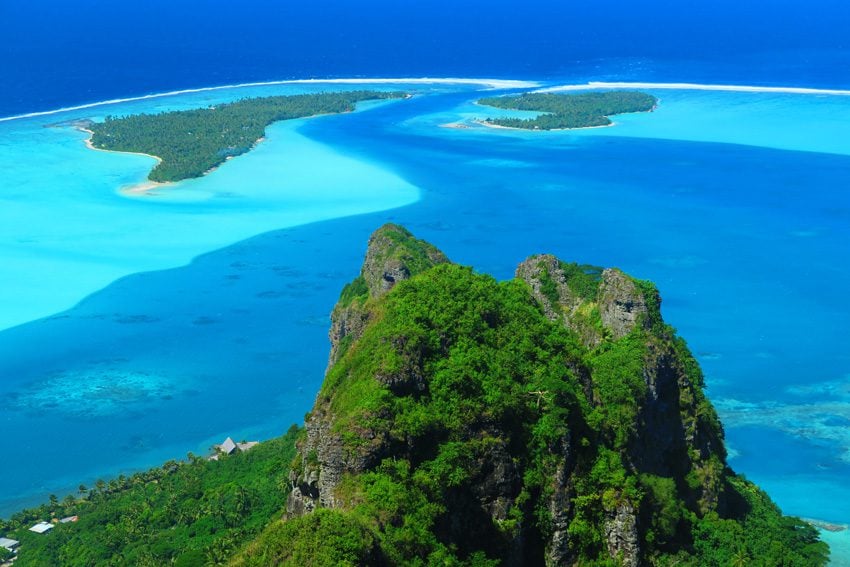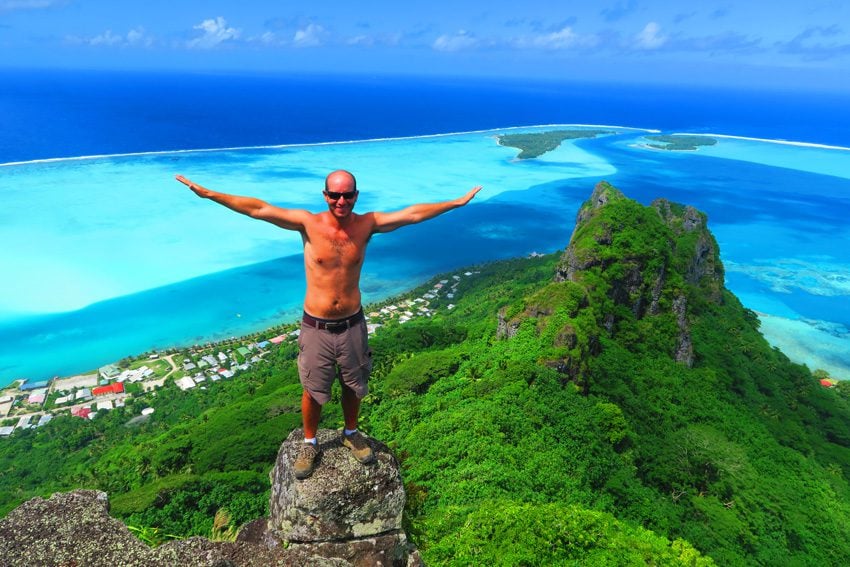 Sammy Maupiti Tours
On this second voyage to the islands of Tahiti, I avoided any repeat organized tours. An exception to that rule was a lagoon tour with Sammy. Sammy was sick the last time I visited but his father – Gabi – took me on an unforgettable tour of the lagoon. Eager to show Isabelle the magic of the lagoon and thrilled to join the first couples who took advantage of my newly-established Tahiti Tailor Made services, a date with Sammy was called for!
The tour started at the Manta Ray "cleaning station" where we snorkeled with giant manta rays who were slightly shy on this particular day. We then moved over to the "coral garden" and snorkeled in pristine water together with tropical fish of all kind, thousands of empty shells, and even a quick-passing reef shark.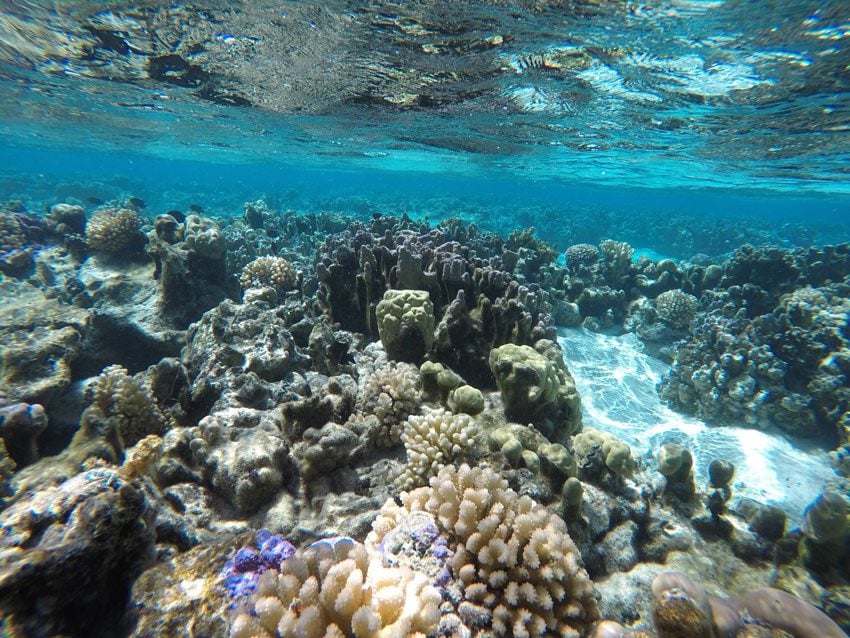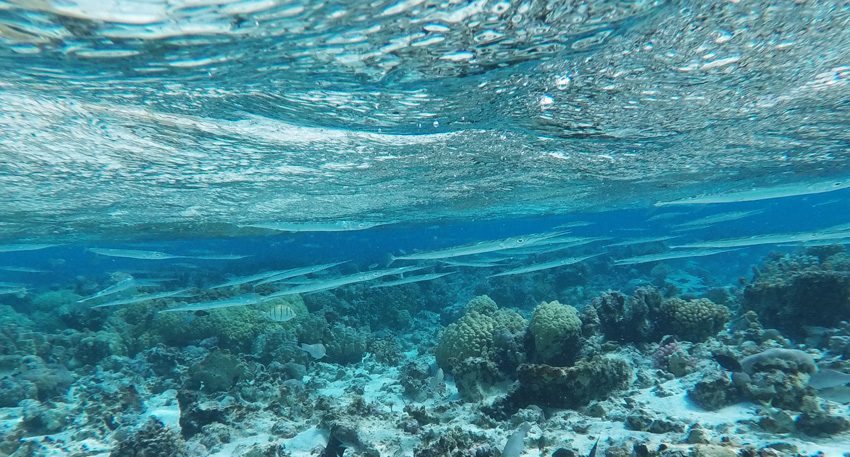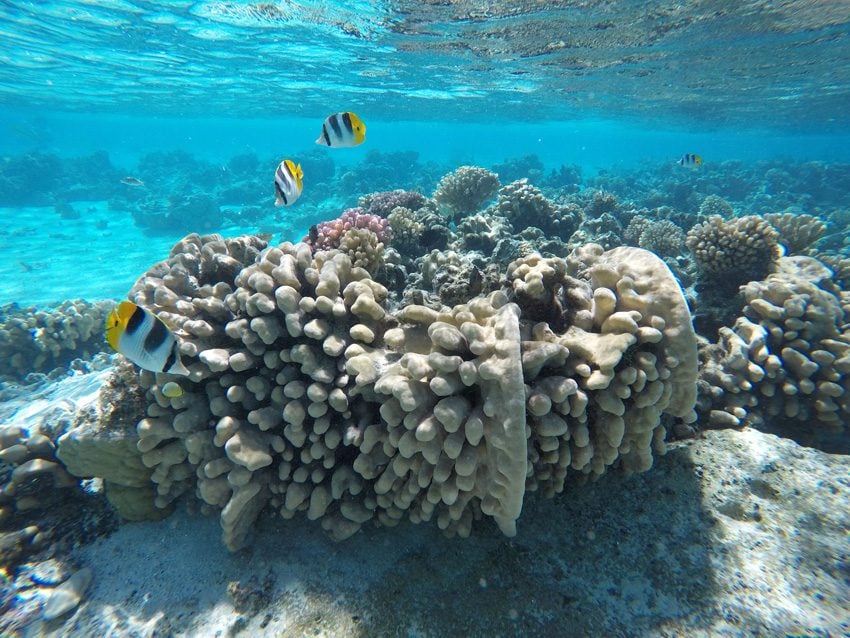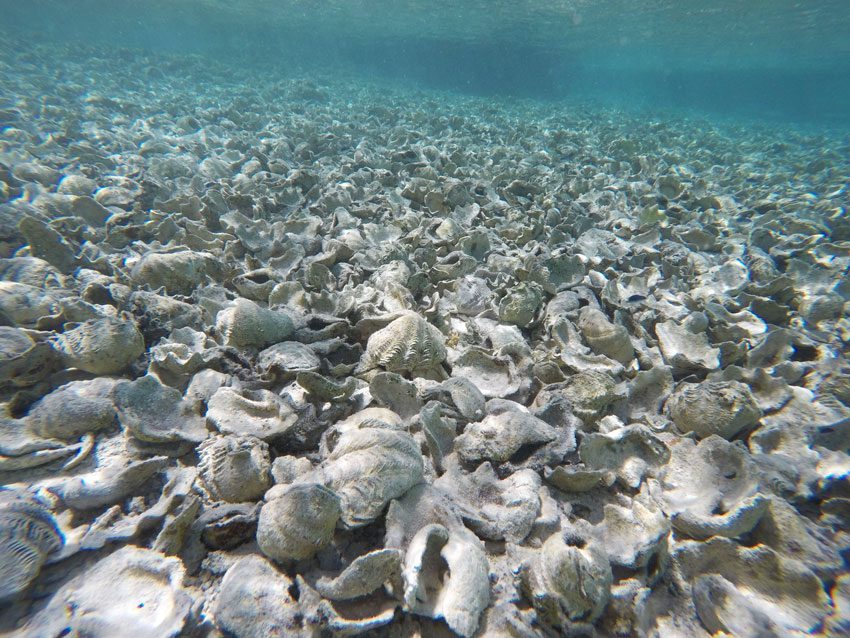 No lagoon tour is complete without a BBQ lunch and, in our case, this meant parking it on a dreamy islet at the edge of the lagoon overlooking Maupiti. The resident stingrays knew what was coming post-lunch and started to congregate near the beach.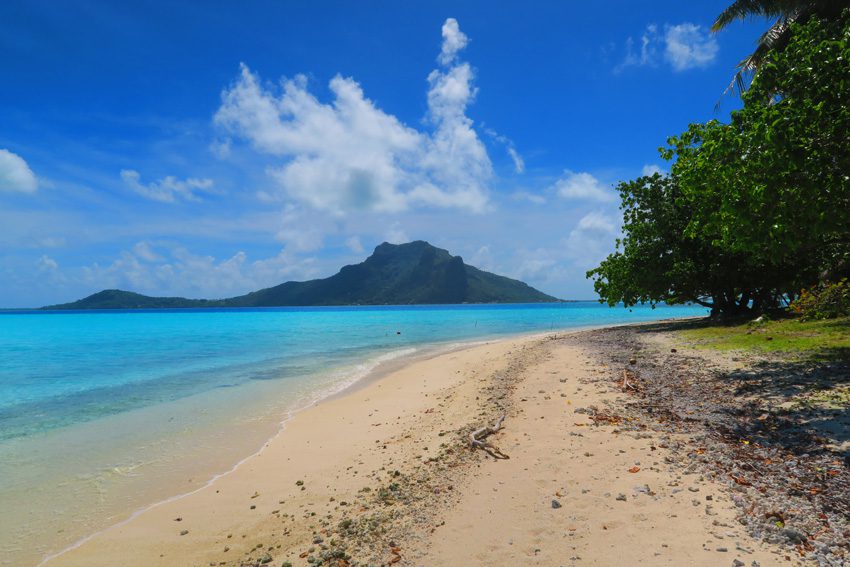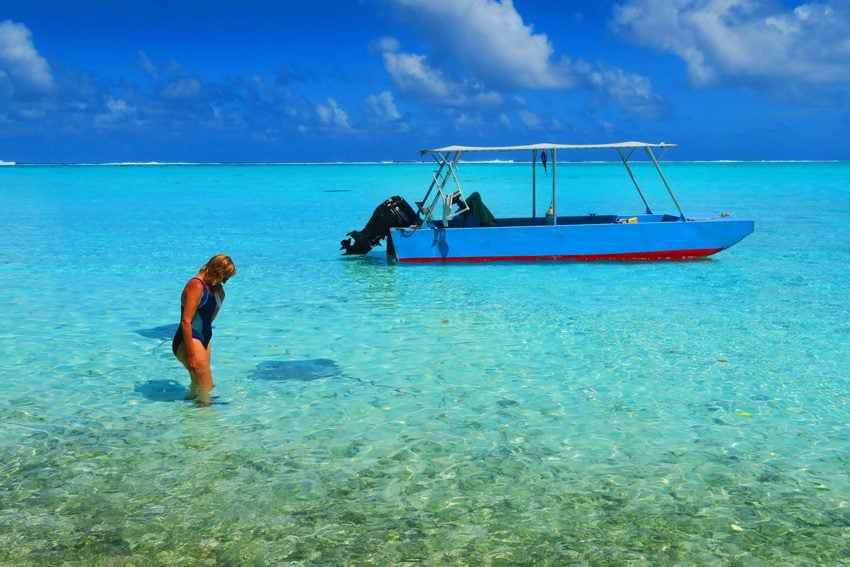 As the red tuna steaks were thrown on the fire, Sammy began to prepare the coconut cream for one of the raw fish dishes. It's not an easy task and though you can buy ready-made coconut cream from Thailand in every shop, there's nothing like making it fresh, on the spot.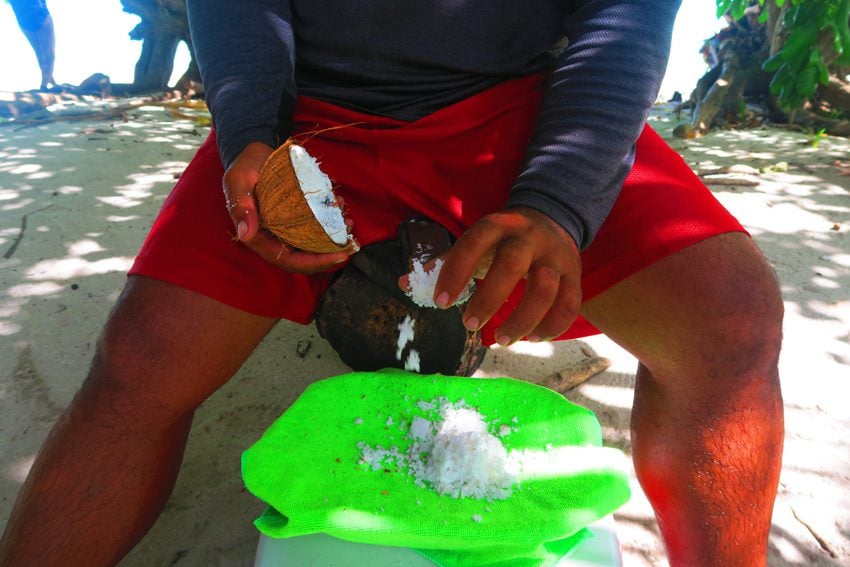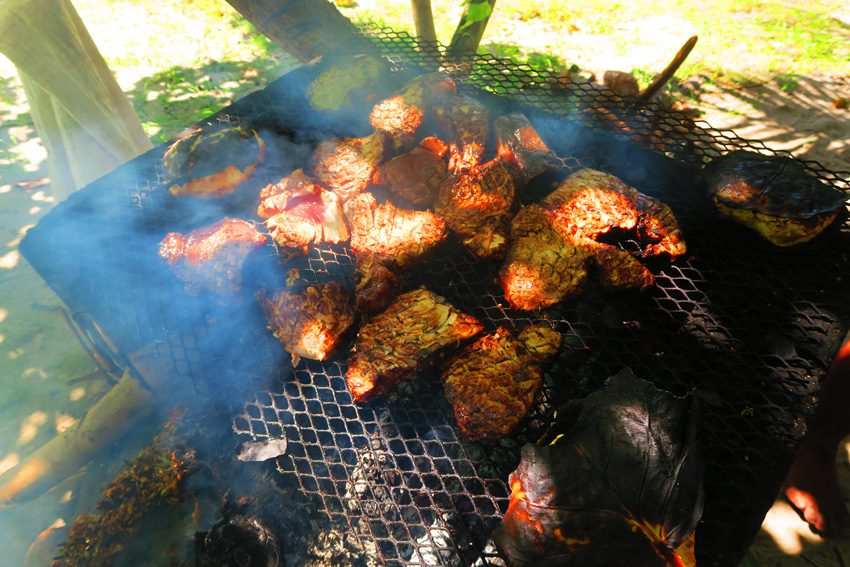 As delicious as the food was (and it really was), Sammy kind of over did in the quantity department. That meant some leftovers for the stingrays…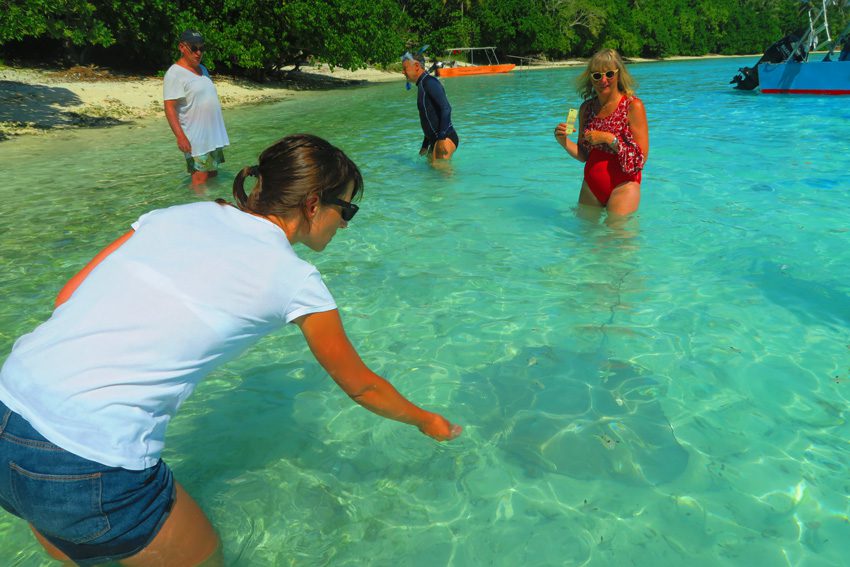 On the way back to the small quay just outside the village, Sammy circled the island for us with his boat. During lunch, we "complained" about the absence of Hinano Beer to accompany the delicious meal. Little did we know that Sammy had placed a call to his friend on the main island, who in turn rendezvoused with us at a beautiful beach with a few 6-packs waiting in the back of the jeep. Manuia! (That means cheers in Tahitian).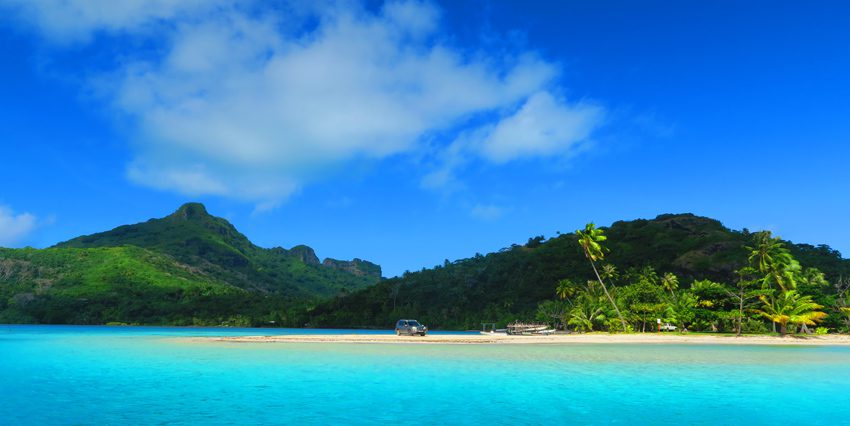 Walking Across the Lagoon
On our last day in "pretty Maupiti", we decided to "go Moses" and walk across the lagoon in a shallow area which connects the main island to Motu Auira – a dream of an islet. The aqua-walk is a rewarding exercise, accompanied by friendly spotted eagle rays and reef sharks who come to observe the daring tourists from up close. The locals simply use their boats to get to the islet but what's the fun in that?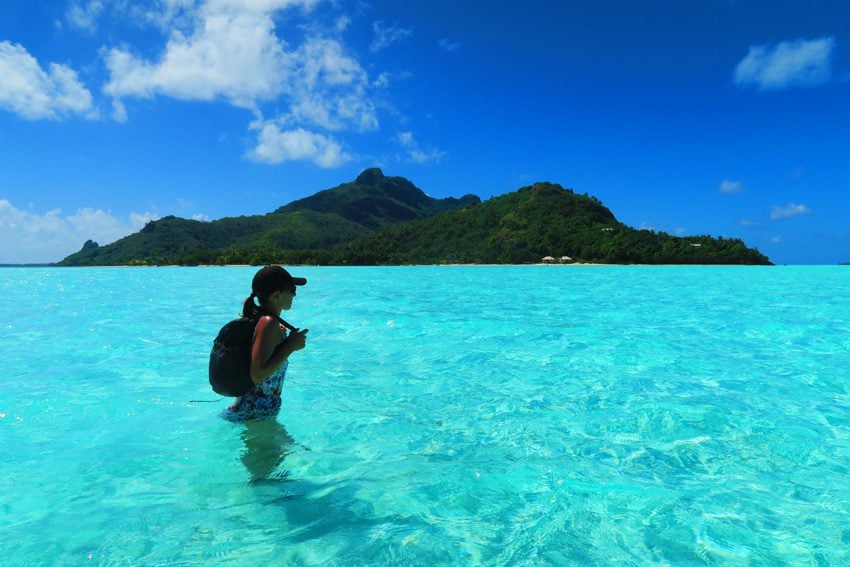 The lagoon-facing side of Motu Auira is the stuff tropical-beach dreams are made of. Only a small handful of residents live out here and, in true Maupiti style, they like to hoist their boats slightly above the water line in order to reduce their wear-and-tear.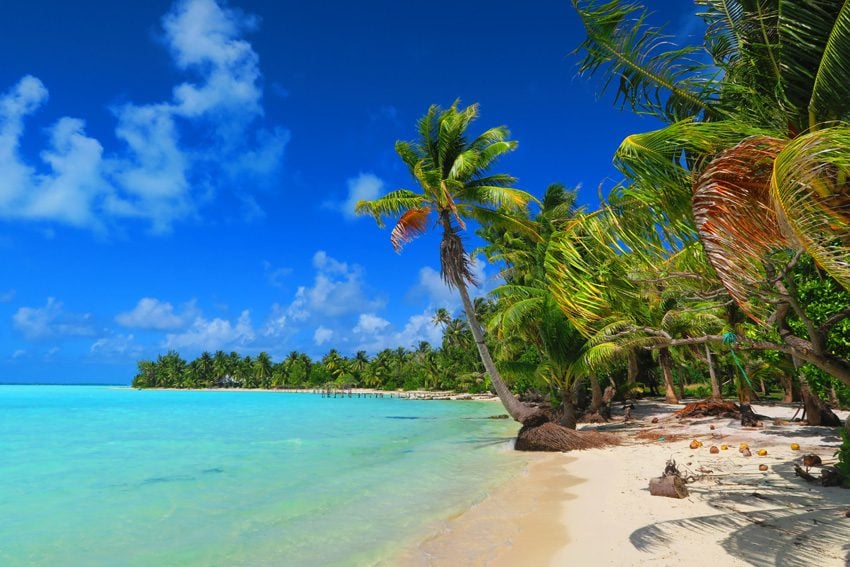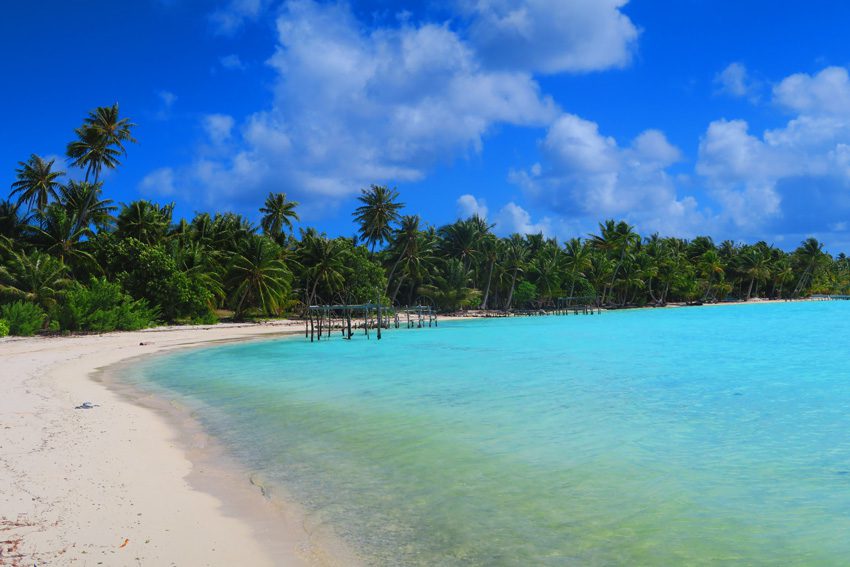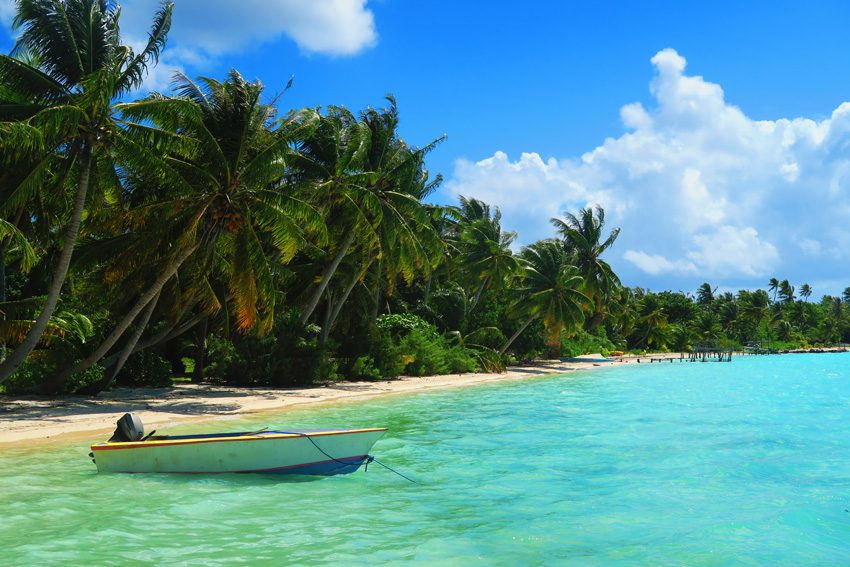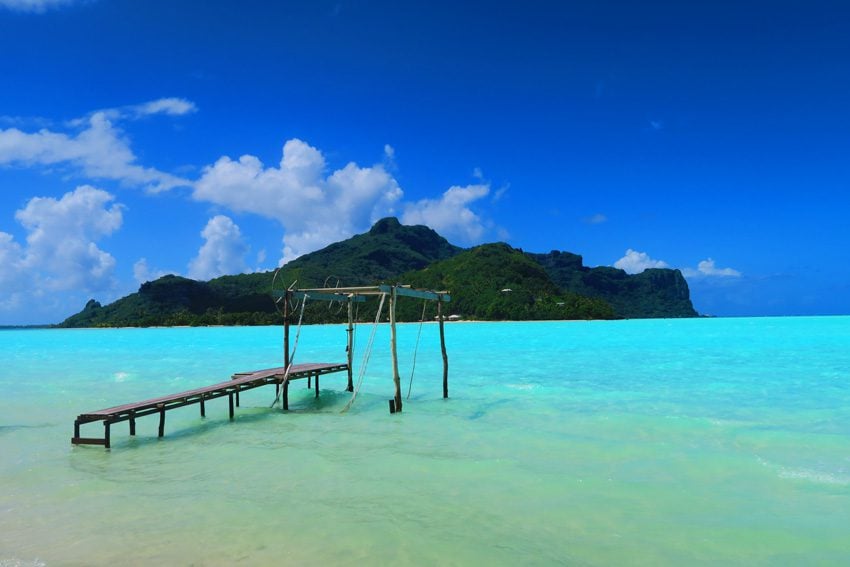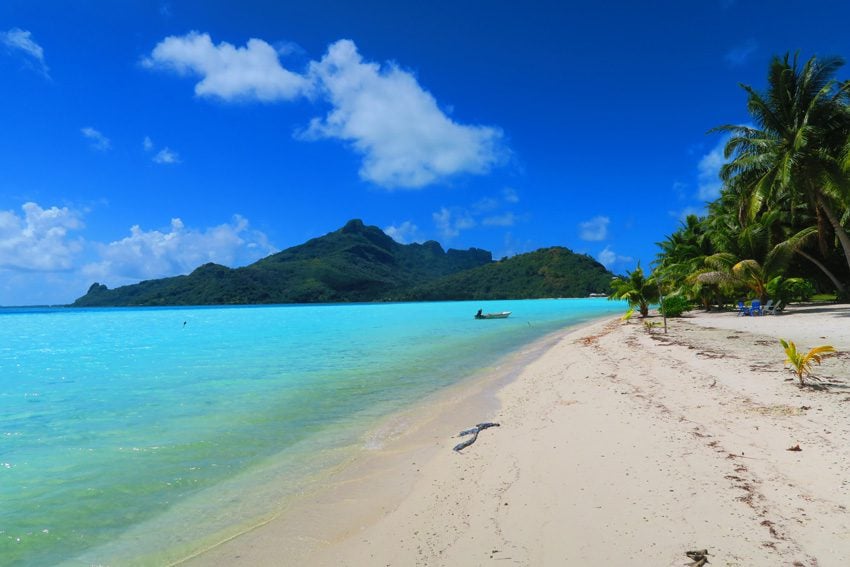 But every motu (islet) has two sides to it and it was time to pay a visit to the reef-facing side. Our planned destination was a natural swimming pool that I remembered was somewhere around here and, en route, thousands of hermit crabs cruising the beach make it look as if the sand is moving.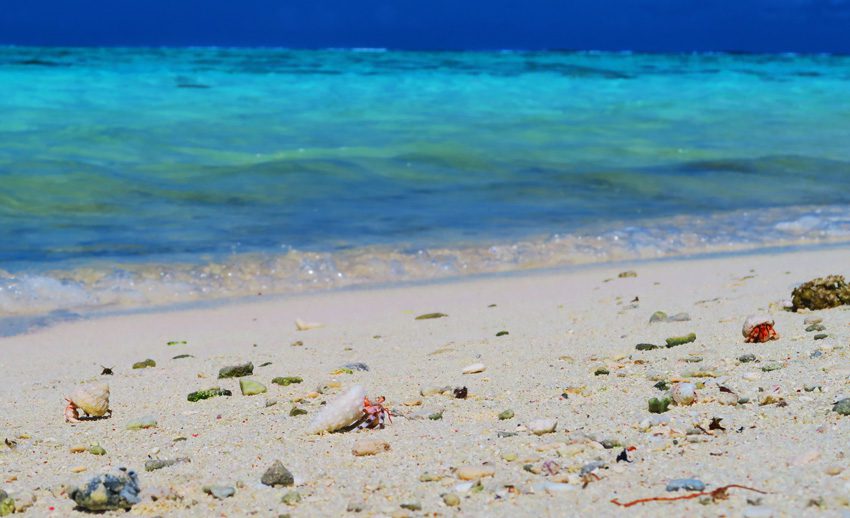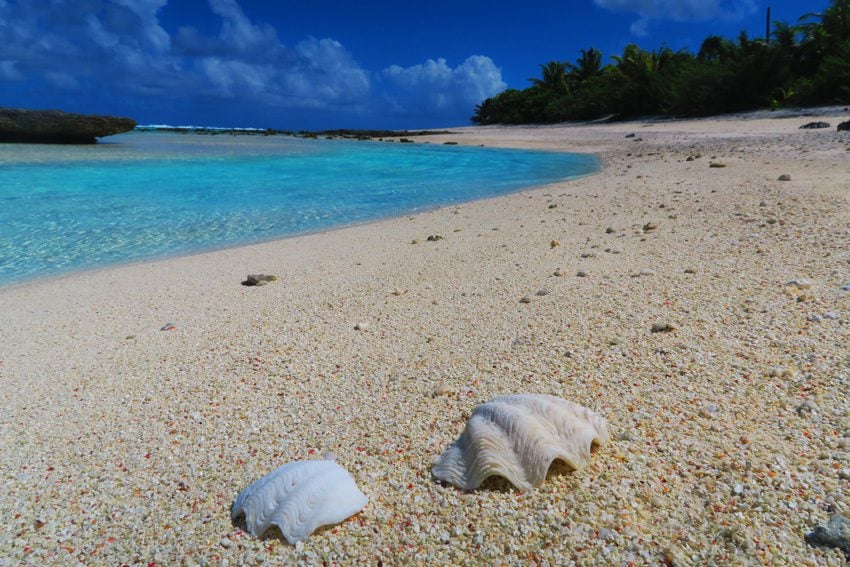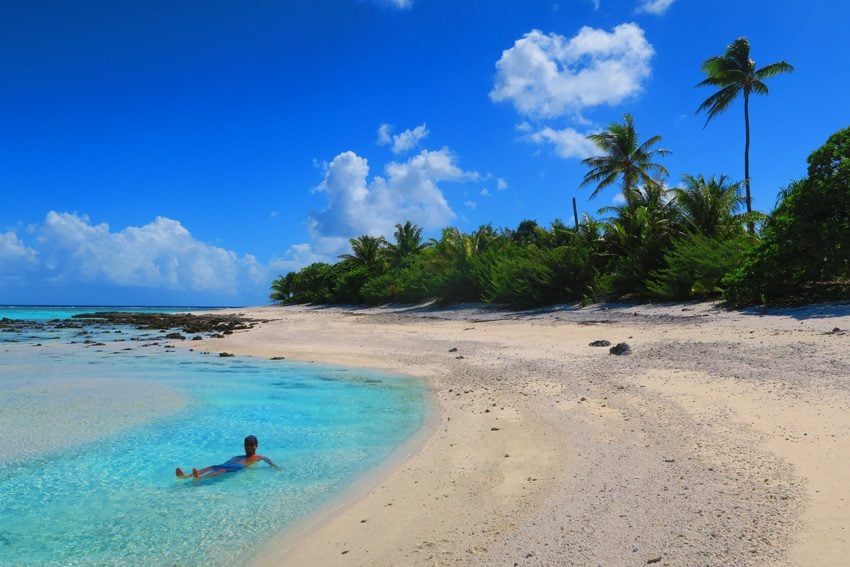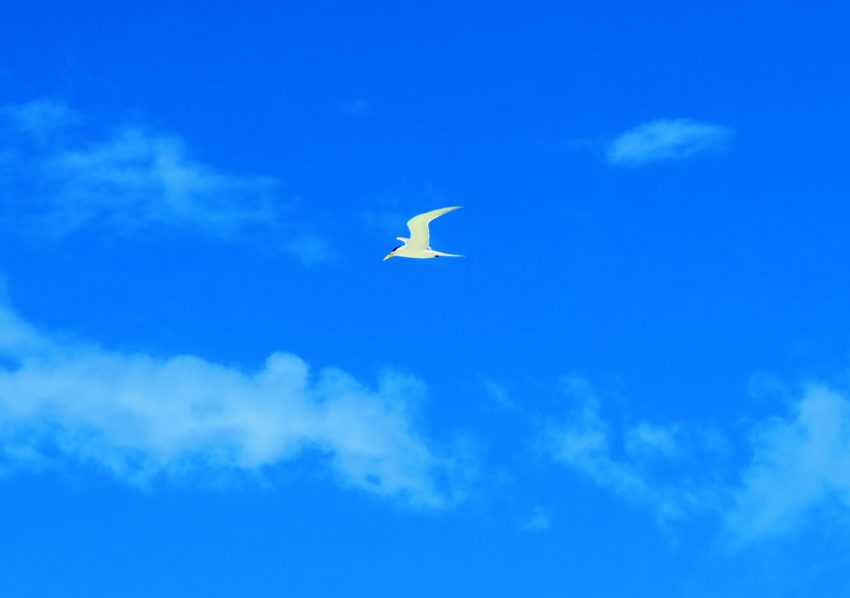 Out here, there wasn't a soul around us, which only made the encounter with a shark while snorkeling that much scarier. The water is crystal clear at this beach and "littered" with an endless amount of brightly-colored shells that open and shut as you near them. However, there are also a few creepy crawlers to be on the lookout for… You don't want to be bitten by a moray eel.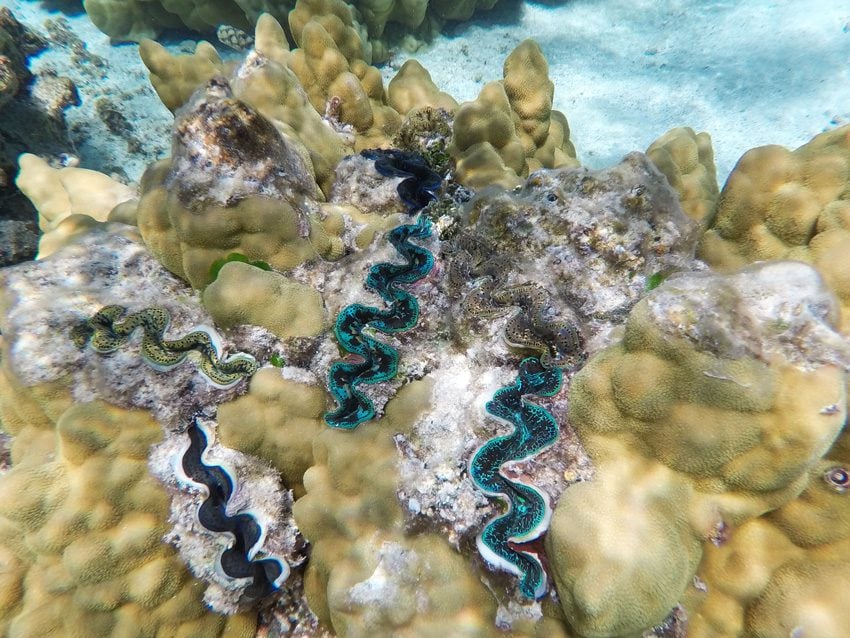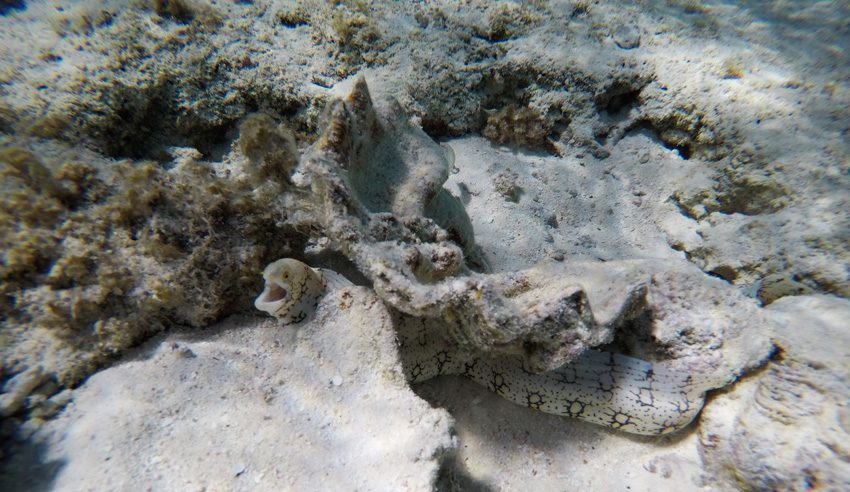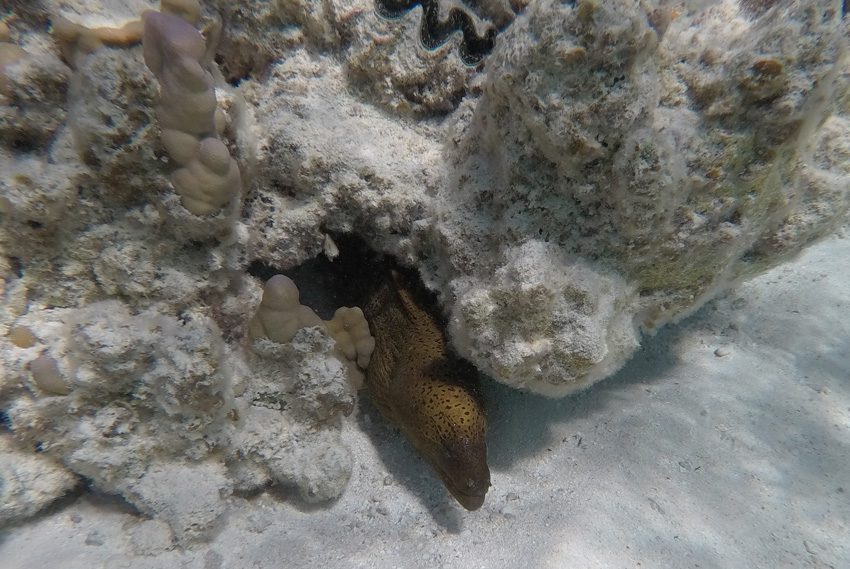 ---
Closing Thoughts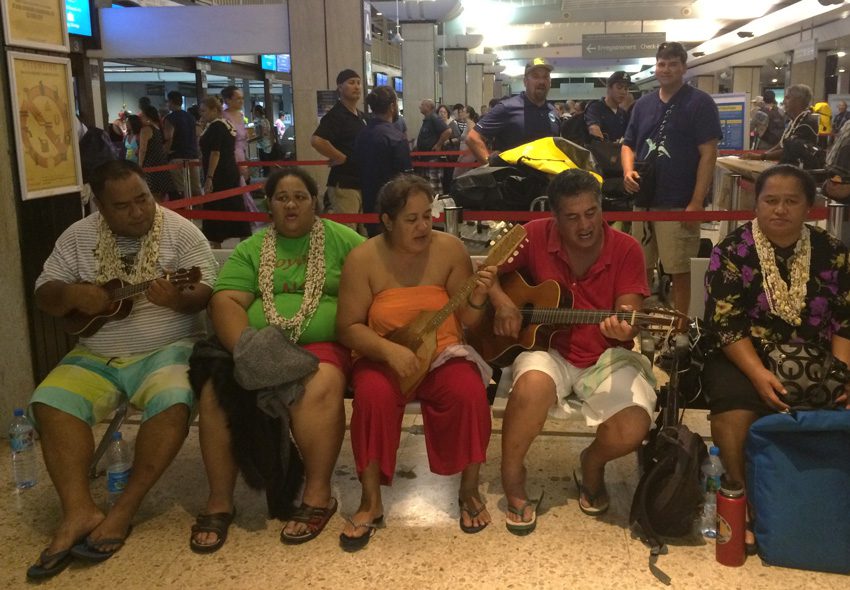 What happened on the night we departed really sums up why the Islands of Tahiti are such a unique destination. You see, when family members or dear friends are about to board the plane, months or even years can pass until all are reunited in paradise. On this particular night, an ordinary family began to sing and play Tahitian "oldies" to lift the spirits of their entourage before bidding farewell to loved ones. It was an emotional scene as tourists and locals joined hands together swaying from left to right, eyes sparkled under the fluorescent lighting as tear ducts began to open up, and the heavenly scent from fresh flower necklaces ready to be tossed on the necks of new arrivals reminded you that returning to paradise is just a matter of boarding a plane.
I know for sure that in a previous life, I must have been a Tahitian. This place feels too much like home. Coming back for a second visit and taking things slowly not only assisted in putting the true meaning of life in perspective but the constant rewind and vivid flashes of moments from the first time in Tahiti helped me understand just how different of a person I've become. Every person has "their own Tahiti" if you know what I mean. Mine just happens to be here.
When you're ready to scratch the Island of Tahiti off your travel bucket list, let's chat. And remember: dreams will stay dreams until you make them come true!
Tahiti, Tailor Made!
The Islands of Tahiti are among the last places to be colonized by mankind, 118 islands, each with its unique personality.
Get expert advice and assistance with planning your trip to the destination where tropical dreams come true!