Best Cafes & Restaurants in Saint-Germain
With so many options, listing all the best places to eat in Saint Germain would be impossible and pointless. Instead, I'll share with you my highlights which include a mix of the well-known spots as well as ones I discovered randomly – in no particular order.
Café Les Deux Magots & Café de Flore
Right by the charming Place Saint Germain, Les Deux Magots & Cafe de Flore are pretty much synonymous with Saint Germain and symbolize the neighborhood's heyday. These two legendary cafes hosted Paris's literary, artistic and intellectual elite of the time. Simone de Beauvoir, Picasso, Hemingway, James Joyce, and many others dined here. Today, these cafes are visited by thousands of tourists looking to relive some of that old Parisian magic.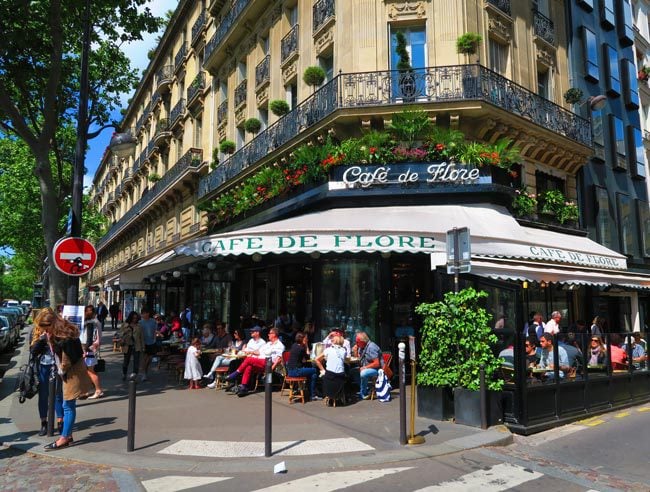 If you're lucky, find a spot on the front terrasse of Les Deux Magots and listen to the music that's surely coming from the direction of the square, popular with street performers. Though these two spots are super touristy, they are still what you would consider classic Parisian cafes and they're worth paying a visit.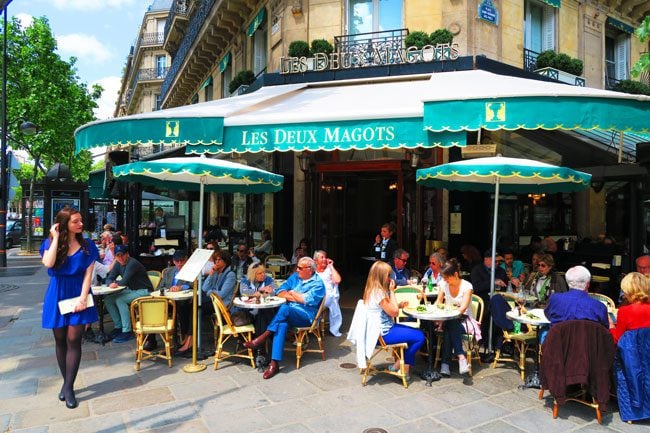 Le Bonaparte
If the terraces of Les Deux Magots & Cafe de Flore are full, try the nearby Le Bonaparte. Though there's nothing special about the menu but the terrasse is just perfect on a sunny day!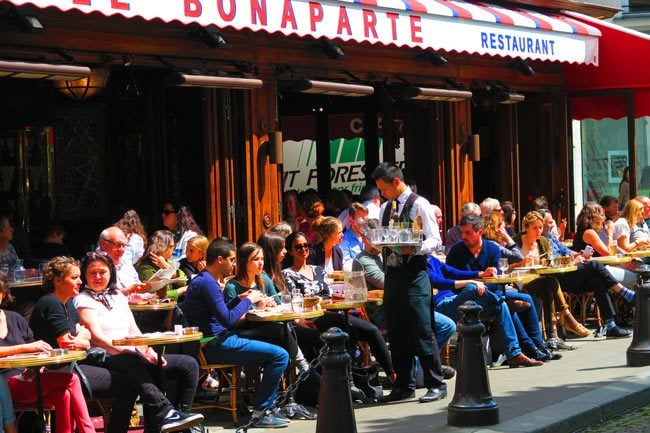 Bar de la Croix-Rouge
Commanding prime real estate in one of the best people-watching spots in Saint Germain, there is something very appealing in just grabbing a spot in the terrasse under the chestnut tree and killing some time.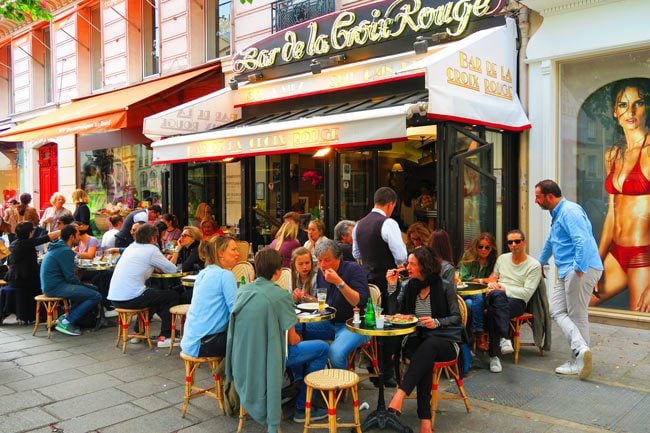 Café de la Mairie
There's nothing fancy about this cafe but the location is everything and it's one of my favorite cafes in Paris. Right across from Place Saint Sulpice, you'll want to wait for a spot to free up on the outside terrace. Drinks are reasonably priced and nobody will rush you to leave.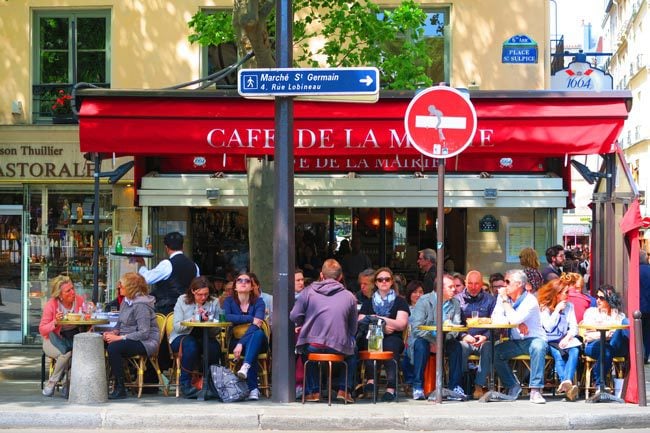 Le Saint Germain
Outside of the main neighborhood attractions, this cafe was one of the first places I sampled when moving to Paris for three months and one of my favorites. Once again, the outside terrace is the place to be but aside from that, the staff is surprisingly friendly, the baguettes are fresh and the salads super generous.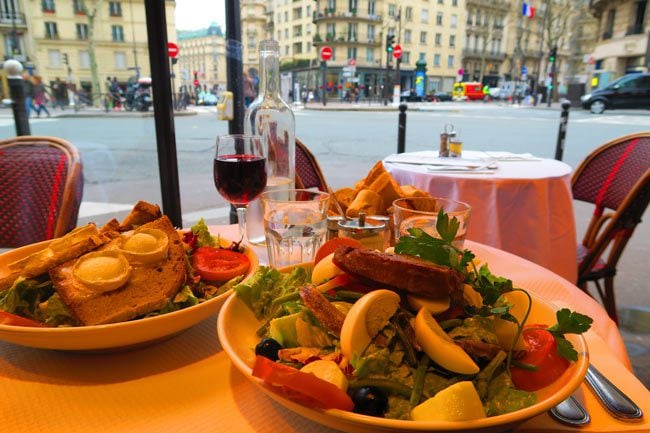 Rue de Buci
This former market street is now dotted with cafes and restaurants. It's always busy around here and you'll surely find something you like. Though a bit touristy, Le Bar du Marché still retains some old Parisian charm – the waiters still dress in traditional overalls and French caps.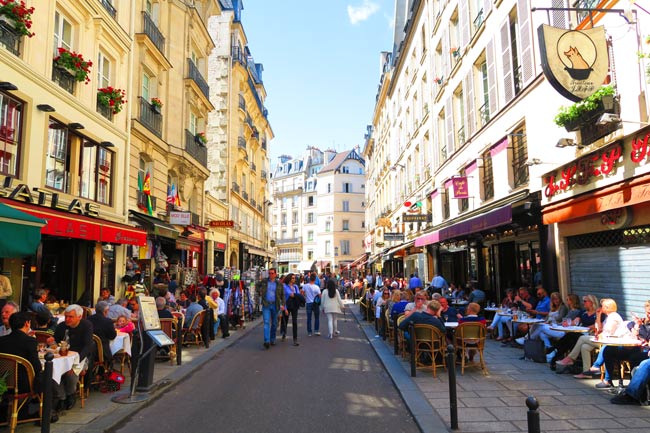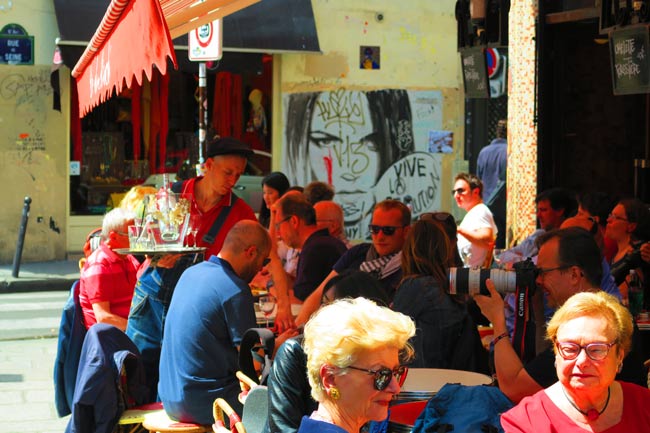 Le Procope
I dined here with two buddies of mine who visited me as part of our culinary weekend in Paris. Procope has been around since 1686 and even Voltaire and the great Napoleon wined and dined here. Not the cheapest dining option around as you can imagine, but if you come here for lunch, you won't have to tap into your savings account. For about €45 each, we had foie gras for starters, duck breast, and steaks with bone marrow for mains, along with red wine on the side. Be sure to check out the private dining rooms on the top floor – so cool!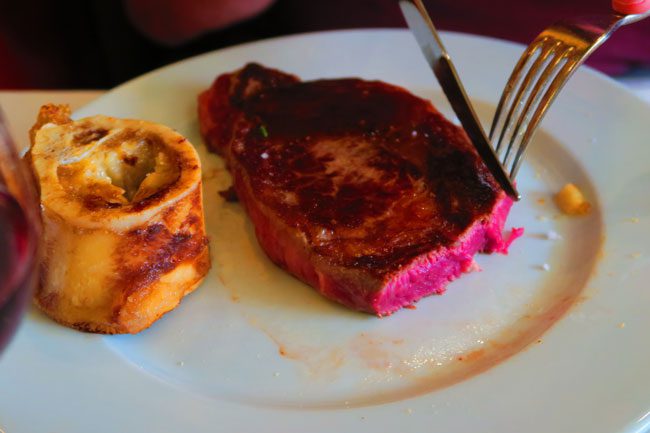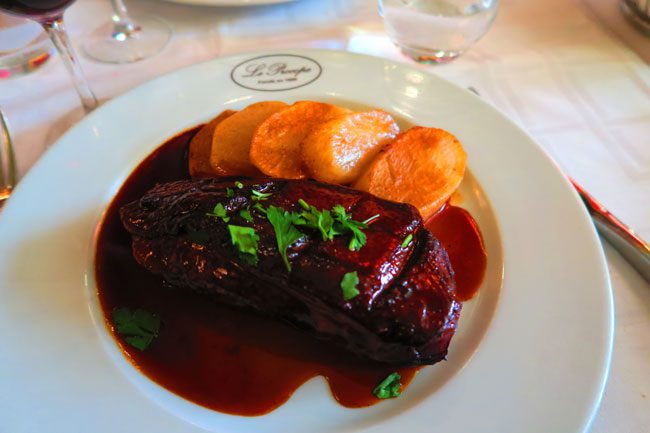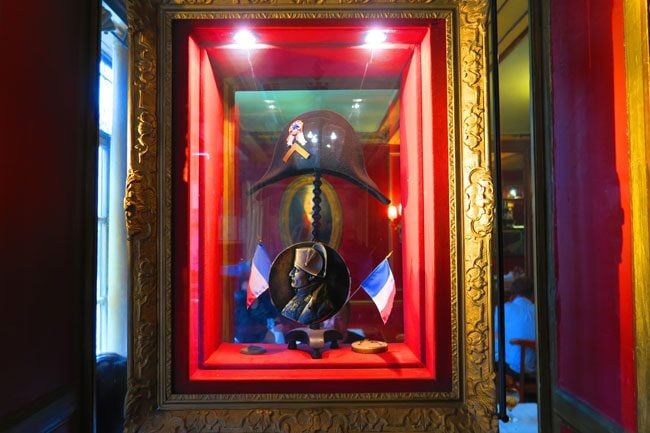 L'Avant Comptoir
Isabelle and I came across this place totally by chance, really out of sheer hunger. It turned out to be one of the best lunches we had in all of Paris. Though things get quite tight outside on the terrace, the food is delicious. We had the tuna steaks which were out of this world and for dessert decided to be adventurous with some vanilla ice cream over strawberries with get this – basil sauce.