How To Spend a Culinary Weekend In Paris
A few weeks ago, two of my good joined me in Paris for a long weekend of fun. You're probably thinking, 'what kind of fun can a guy weekend involve'? Well, I'm sorry to disappoint some of you out there, as our long weekend in Paris did not involve any erotic cabarets or anything in that department. Instead, we had nothing but one mission in mind – to boldly go where (probably) many have gone before and experience a culinary weekend in Paris!
Now, since there's more to Paris than just good food (there's also great wine, of course), our culinary weekend in Paris also involved exploring some of the top sights in town – as long as they were on the way to the next feeding/drinking stop! The result was a memorable few days, a few extra kilos, and lots of good memories.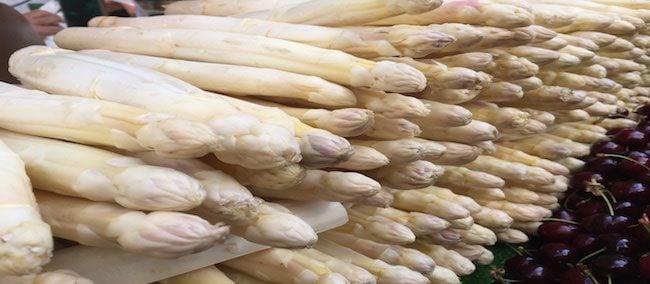 Before we begin the tour, let's go over the 'rules' that we agreed to abide by on that weekend: (1) thou shalt not skip a meal, (2) no food can be consumed without the company of wine, except for breakfast (3) you must be adventurous and try out things that you normally wouldn't.
So let's begin our tour, shall we?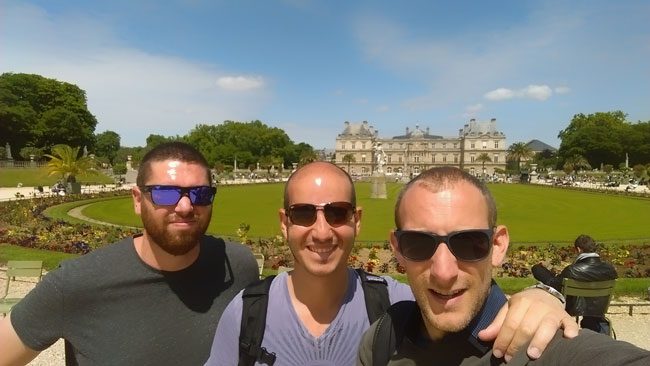 Day 1 – Friday Night
After all, the parties had arrived and settled in, it was time for our first dinner. We did spend the weeks before marking tips we received from friends and family on a shared map, but like all good plans, it usually comes down to improvising.
So, we ventured out in the general direction of the super cool Rue Montorgueil in the center of town. During the day, this is the neighborhood's 'market street', complete with cheesemakers, wine shops, butchers, fruits & vegetables and I'm sorry if I'm leaving anyone out – of course…the bakeries, how can we forget about you guys!
At night, the street comes to life with dozens of restaurants and wine bars. We found a cute little place called Comptoir de la Gastronomie just off Rue Montorgueil that specializes in Southwest French cuisine. How bad can a place be with that name, right?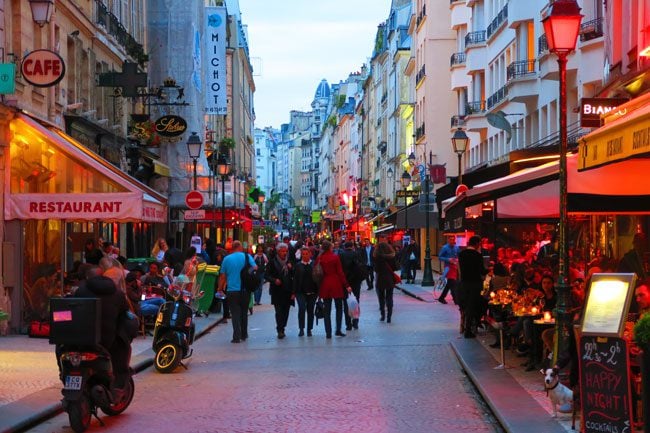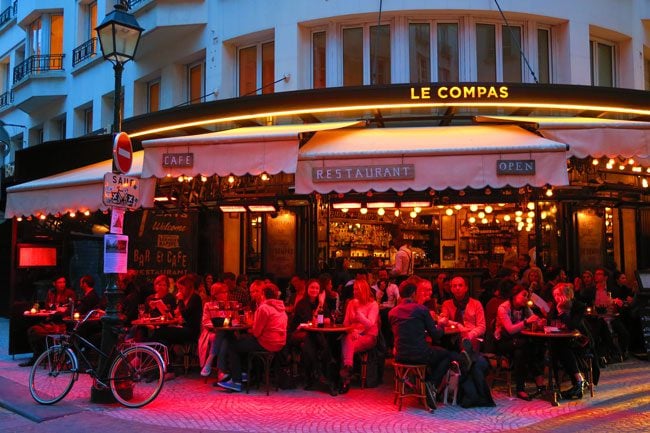 For starters we went for all too typical yet delicious foie gras but to spice things up a bit, we also ordered a side of cured meats. There was a strange-looking guest on the plate that put rule #3 to its first test. I'm talking about that weird-looking and 'whitish' thing just to the left of the fantastic red one in the picture below. Can you guess what it is?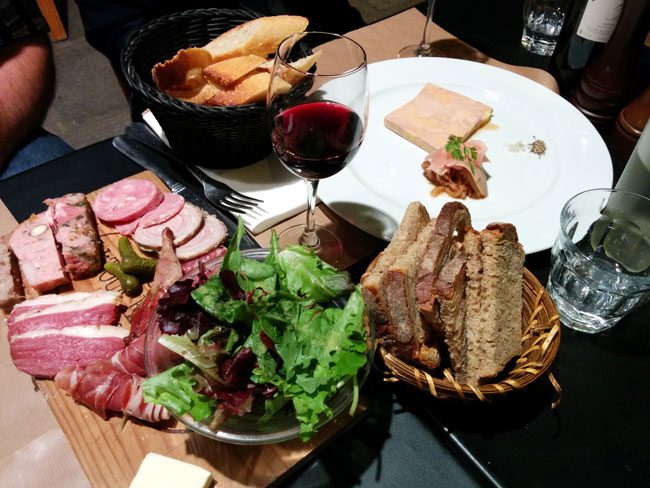 Well, it looks like a bunch of spirals inside larger spirals and that's pretty much what it is… After confirming with the friendly waiter, the verdict was in: it was the intestines inside the intestines of one very unkosher animal. Can't say it was delicious but hey, if it's good enough for the French, who are we to judge, and in any case – a rule is a rule!
The main dishes were a little bit more down to earth as you can see, yet super delicious: Idan continued the trend and went for a pork steak, Oded checked out what the sea had to offer with some fish and I went for a solid, and some would say boring hamburger. But it wasn't just any hamburger as the lovely waiter said – it was a delicious mix of lamb and beef, from the Southwest of France, of course!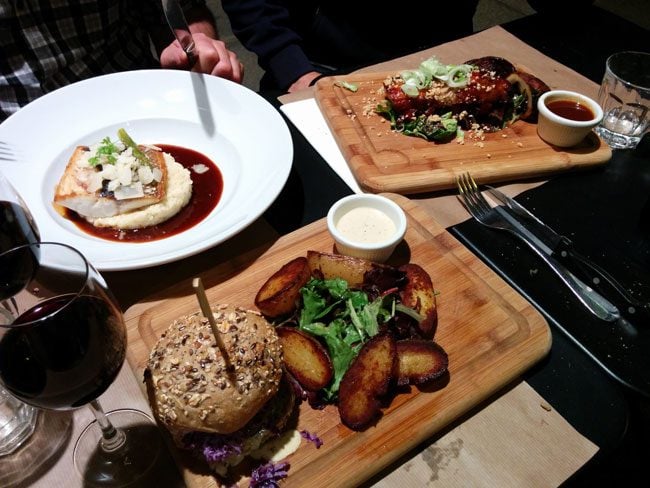 By the end of our first great meal, the streets were starting to empty, lovers were heading back home and we felt a great sense of joy with our first achievement unlocked!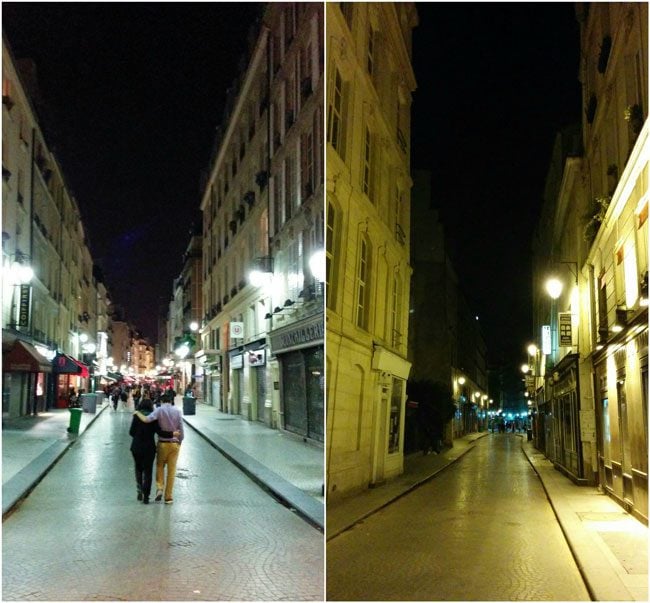 Day 2 – Saturday
The first full day of our culinary weekend in Paris would take us to some of my favorite parts of town. For breakfast, we headed deep into the Latin Quarter and another one of those 'market streets'. This time it was Rue Mouffetard and it was another great example of just how much Paris is a city that's made for living in it. Almost every part of Paris has its designated street, where one can stock up on fine produce and enjoy a good meal. This rule of thumb holds even in areas that are filled with offices. This is one of the reasons Paris is so unique!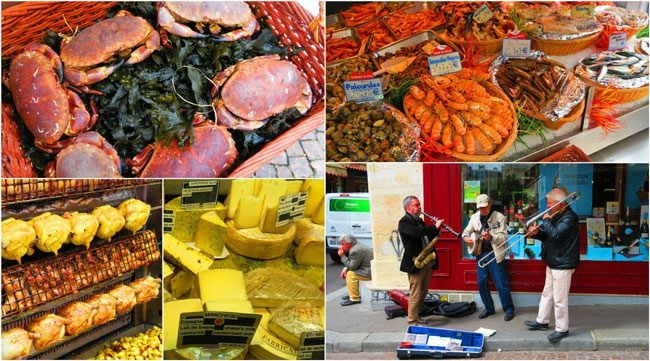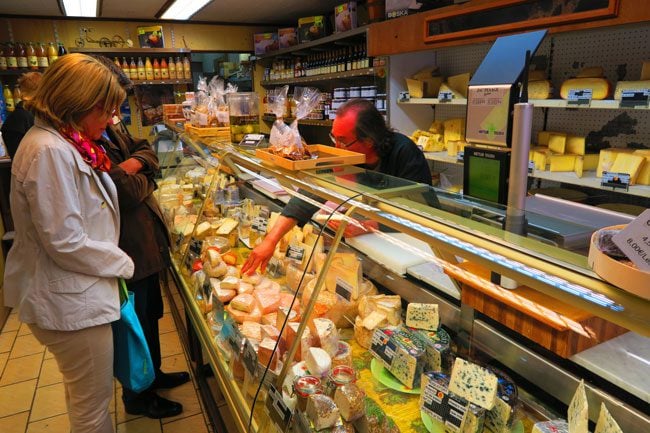 Anyways, in the case of Rue Mouffetard, there's more than just great croissants & cheese. This is an ancient street, built in Roman times and part of the road that linked Paris to Rome!
This time, we went for a classic Parisian breakfast consisting of an overpriced cup of coffee and delicious croissants. Making our way up Rue Mouffetard, we stocked up on some goodies for the road. How can you refuse?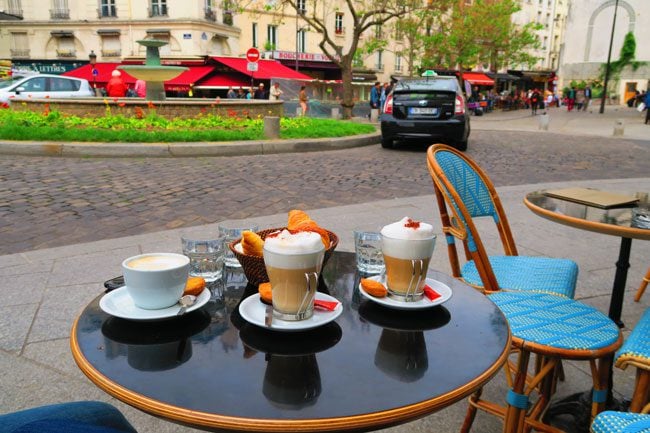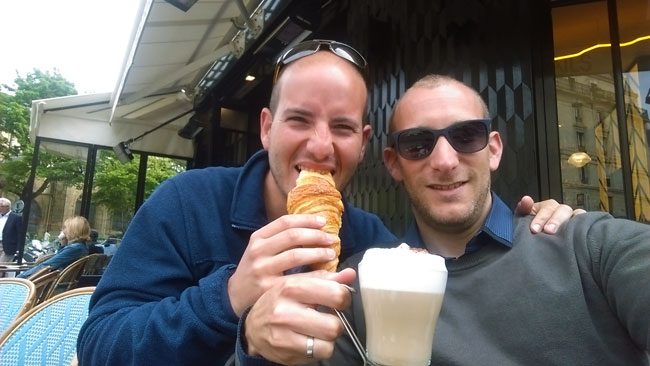 Our random walk in the Latin Quarter took us to a charming little street with a not so little name, Rue de la Montagne Sainte Geneviève. This part of the Latin Quarter feels more like a small village and since my watch showed that noon had just passed, we didn't feel guilty about stopping for a glass of wine. Les Pipos was our choice for a fresh glass of white wine and some people watching.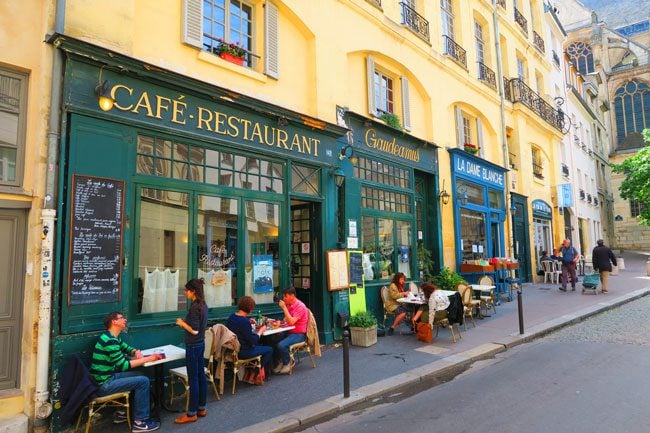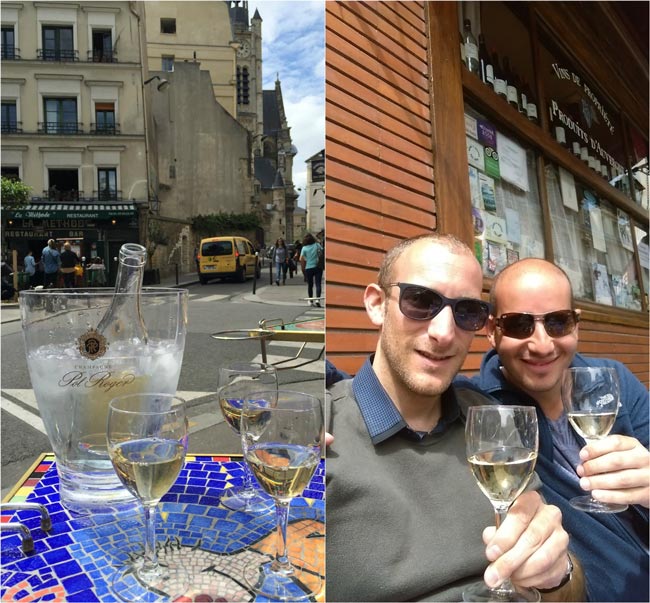 It was clearly time for an afternoon nap by now and what better place for a nap in Paris than the fabulous Jardin de Luxembourg. If you've been to Paris, you know what I'm talking about. Sitting on what used to be a small palace, this has to be one of the nicest city parks in the entire world.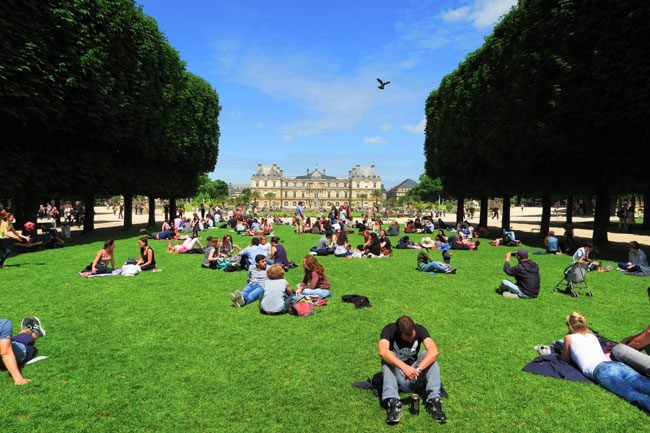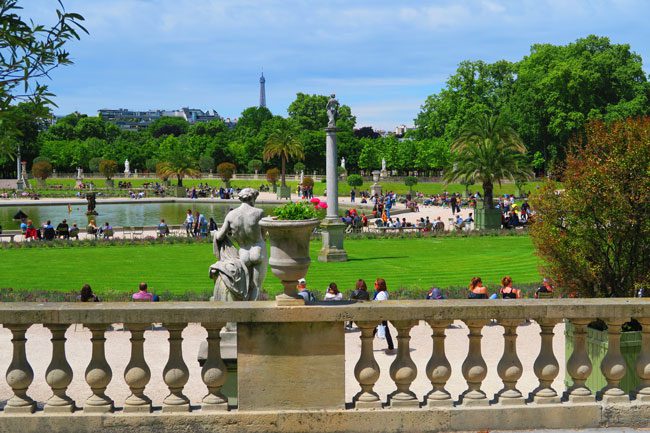 Things can also get pretty steamy over on the lawn, as you can see. Paris is, after all, the romance capital of the world…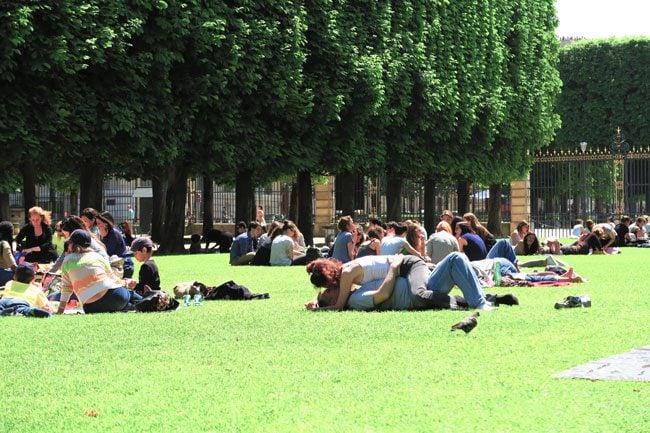 Well rested, we set out on a mission to visit one of the top pastry shops in Paris. Des Gâteaux et du Pain certainly lived up to its reputation. Pastry chefs in Paris really take their work seriously and the result is usually something that looks more like artwork. The price is set accordingly and at over €5, this ain't your normal muffin! I must say that it's well worth the price and though each of us shared their piece of art with the others, it was clear we all wanted to (literally) have our cake, and eat it too!

In an attempt to burn at least some of the calories, we walked back to the apartment, crossing over to the right bank across those famous bridges over the Seine. On the way, we stopped to check out Lafayette Gourmet, the mega fine food shop just next to the famous Galeries Lafayette department store. If you want to stock up on some foie gras, wine, tapenade, or any other French delicacy – this could be a good option.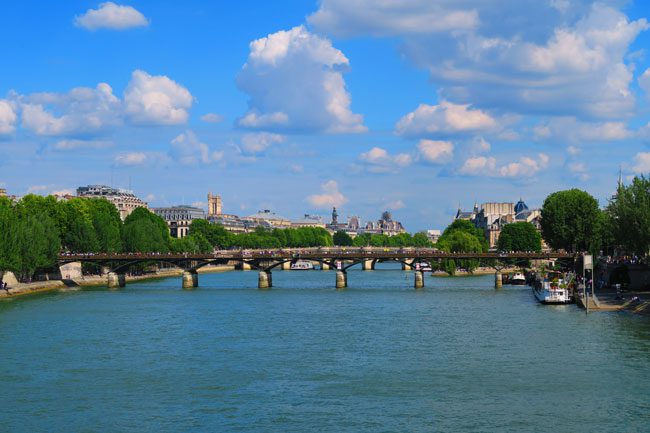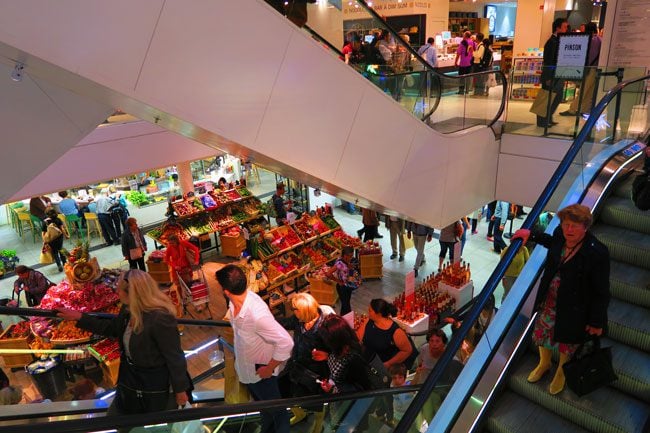 And now for dinner, oh what a dinner. Rule #3 states that 'you must be adventurous and try out things that you normally wouldn't' and with Oded insisting on at least one seafood night – we pretty much knew what was coming! On a friend's tip, we booked a spot at L'Ecailler Du Bistrot, over in the Eastern part of Paris close to Bastille.
None of us can claim to be super seafood experts so we thought it's a good idea to start with a seafood platter and build up some confidence. What we got was a mountain of seafood that some of us have never seen before. The more experienced of the gang, Oded, showed us how to eat oysters and we then proceeded to tackle the snails, crabs, and other creatures of the sea, with eating utensils that look like they came out of a medieval torture chamber. I must say that I kinda liked it… the seafood that is!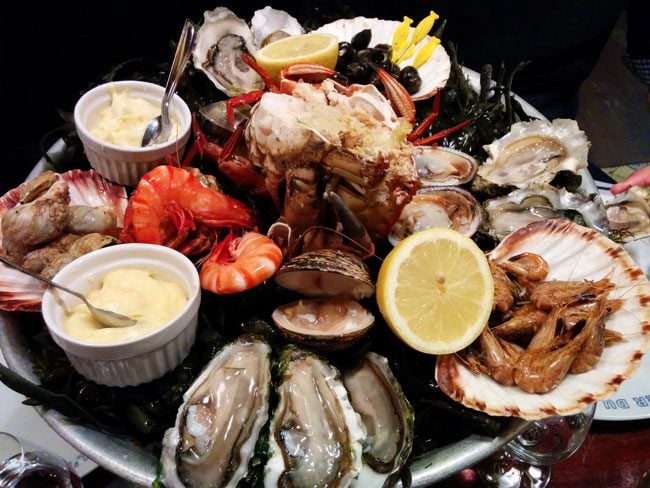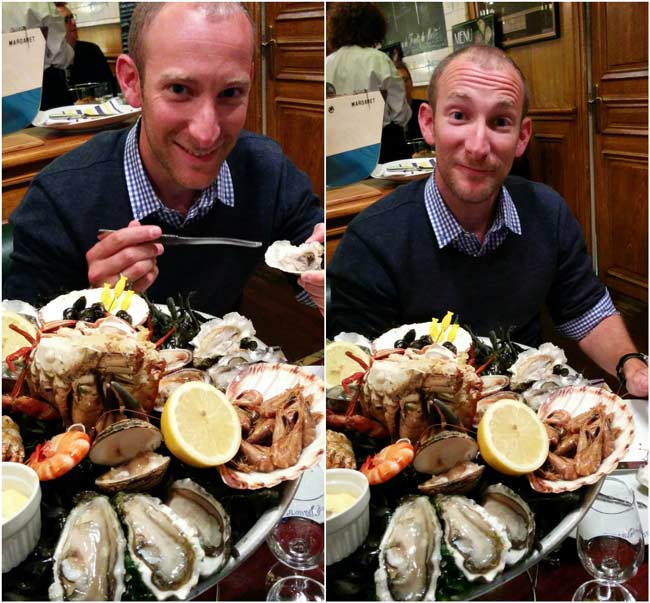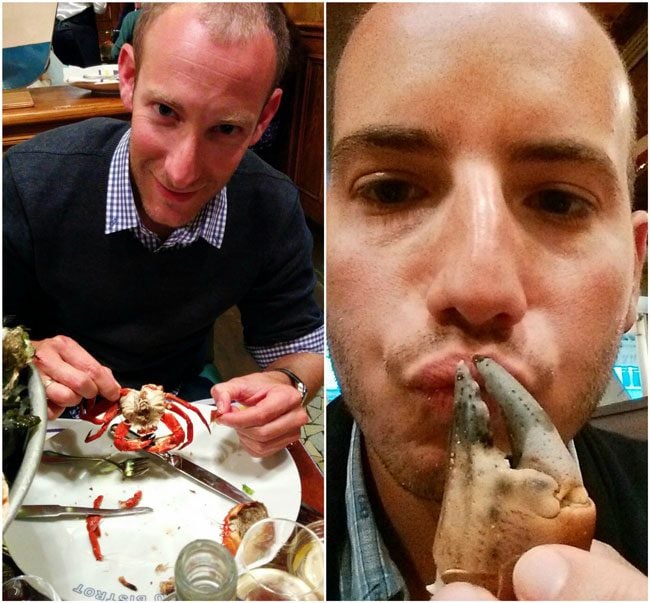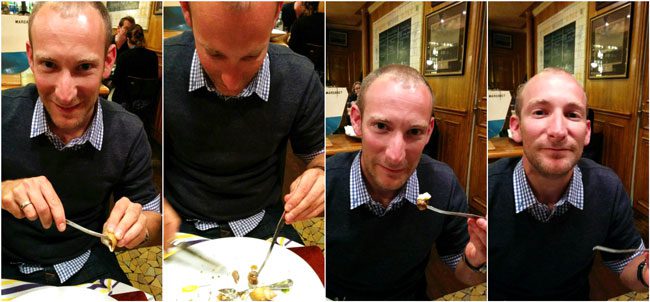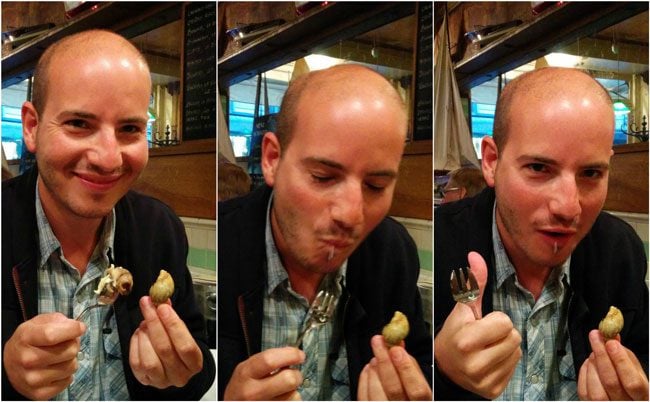 For mains, we each went his separate way. Oded had the sole fish – which he beautifully handled, as you can see in the before and after shots. Idan and I went for different types of lobsters – super fresh and right from the water tank next to us.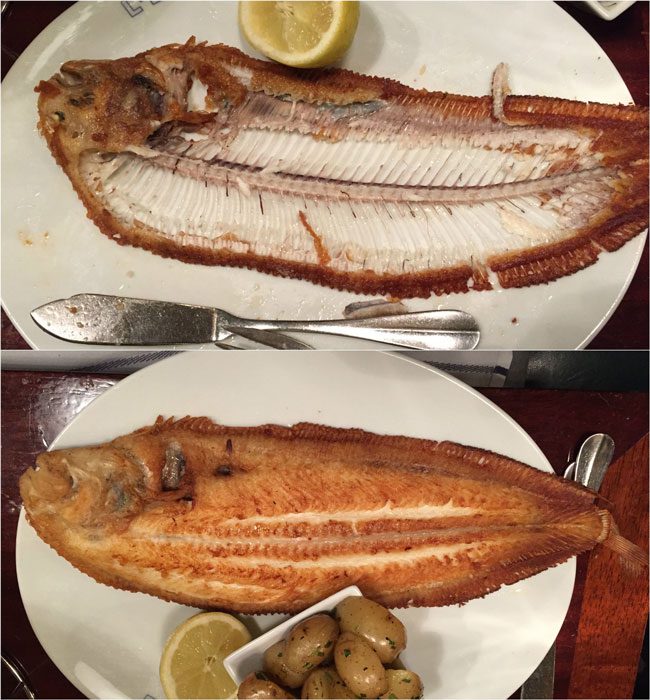 Before calling it a night, we decided to see what all the fuss was about, over the Oberkampf area of Paris. This part of town is currently the hotspot for bars and nightlife so we decided to check it out. What we found was indeed a few cool bars and excellent vibes, but the highlight was randomly making it to the Limyè Ba Yo Festival – a music festival commemorating the victims of colonial slavery through music, in Place de la République. There's always something happening in Paris!
Watch the super popular Haitian band Tabou Combo live in concert @ the Limyè Ba Yo Festival right here!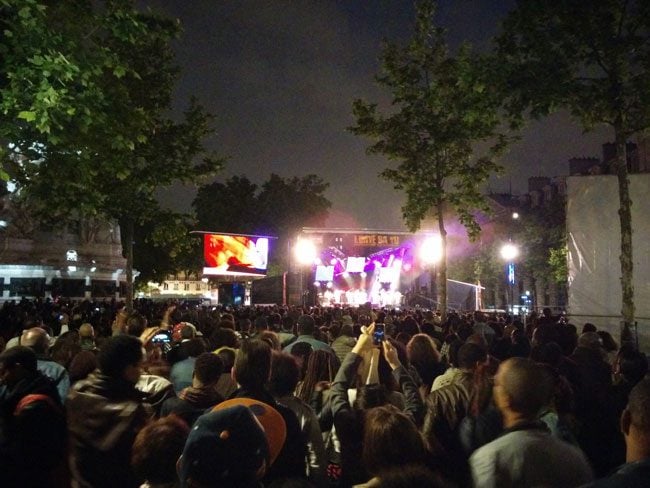 Day 3 – Sunday
We started our Sunday morning on this culinary weekend in Paris, with a visit to Rue de Lévis. This little gem of a street is right next to where my apartment was in the 8th district. As I mentioned before, every neighborhood has its 'market street' and Rue de Lévis is one such street.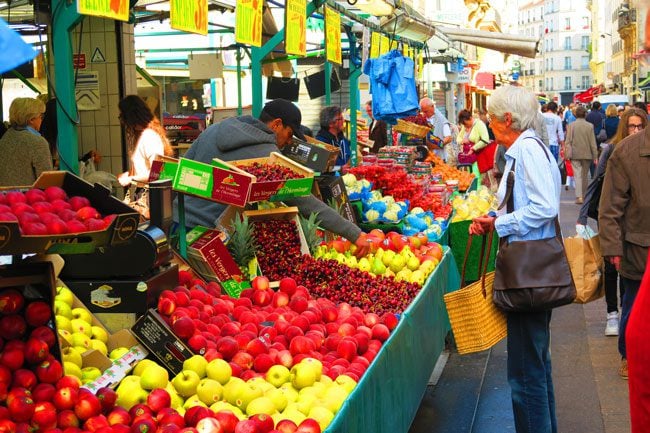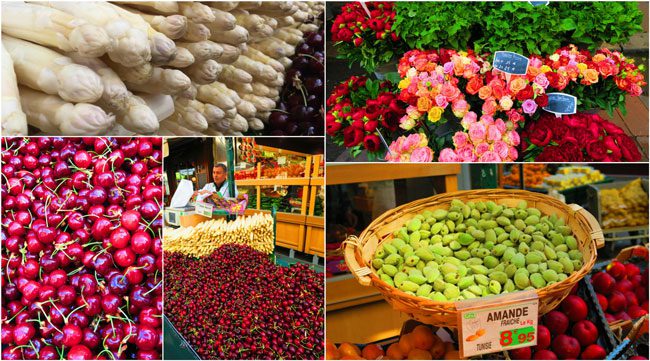 Starting your day with a stroll through a street like this will put a smile on your face. In the case of Oded, there were also some tough decisions to be made at the local bakery. Coffee was served with a great view of the busy street, where the posh people of the 8th district were starting their day. Does it get any better than this?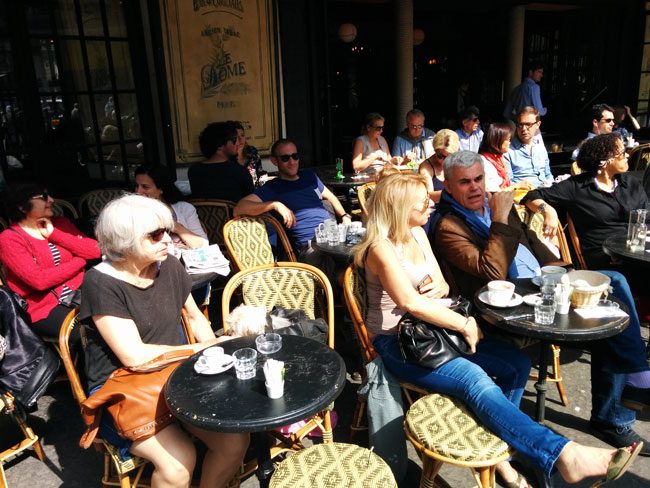 Moving along, we headed to the trendy Marais area, a great part of Paris to visit on Sundays. Our first stop was the Marché des Enfants Rouges, a covered food market that used to be operated by orphanage kids wearing red – hence the name. We stocked up on some fresh produce and baguettes (of course), in preparation for a mini picnic.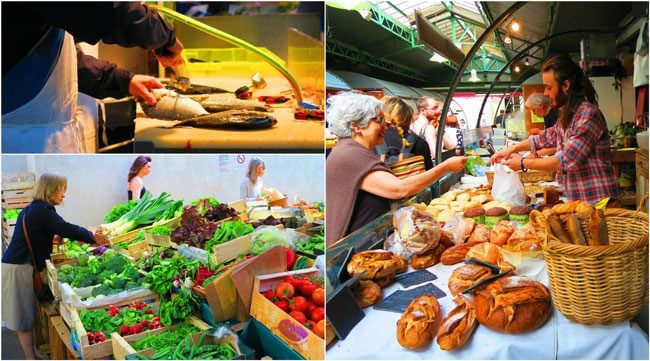 In another sinful move, we simply couldn't help ourselves and surrendered to another noon round of rosé wine – we just needed a good excuse to stay put and have a few more moments to watch the people go by from the comfort of a cafe's terrace – a favorite Parisian pastime.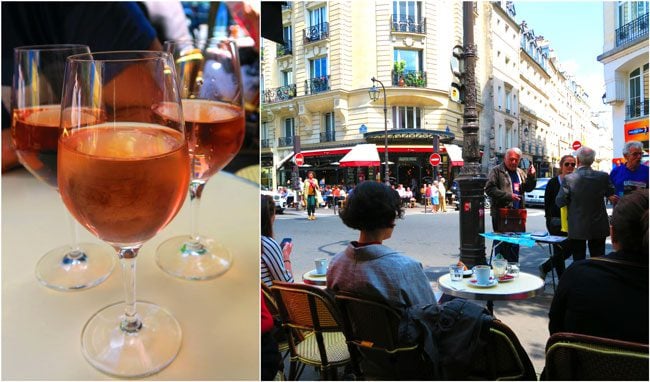 Finally, we made it to Place de Vosges, another beautiful park that used to be a palace. This spot is super popular to relax, picnic, and just pass the time – that was also the intention of Henri IV who built this place back in the day.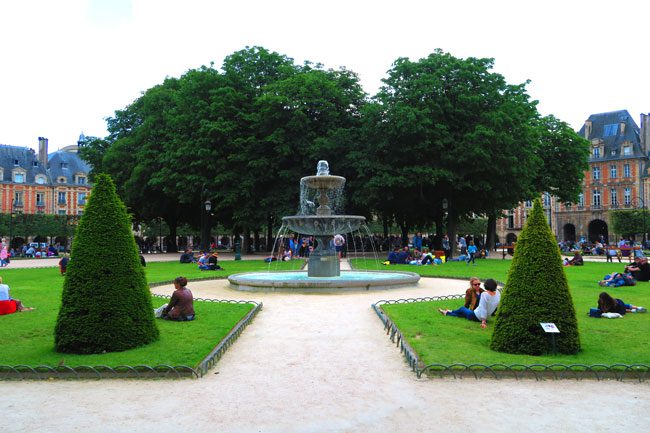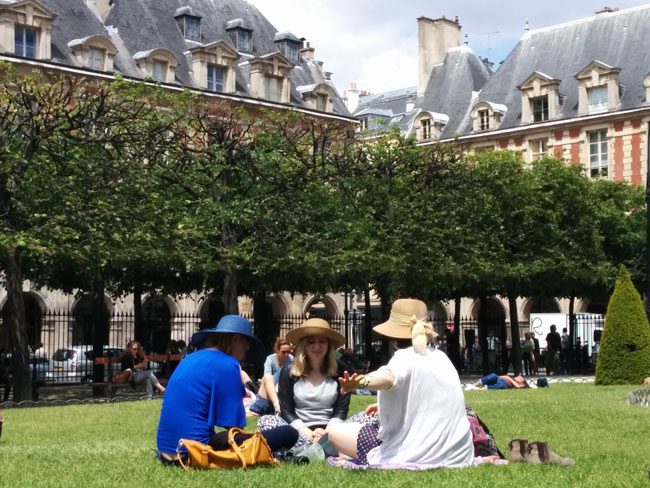 For lunch, we wanted to make things difficult for ourselves so we set out to try our luck with a few restaurants we had marked on our famous shared map but that didn't pick up the phone. En route, we passed by the ever romantic Île de la Cité before entering the old narrow streets of Saint-Germain-des-Prés.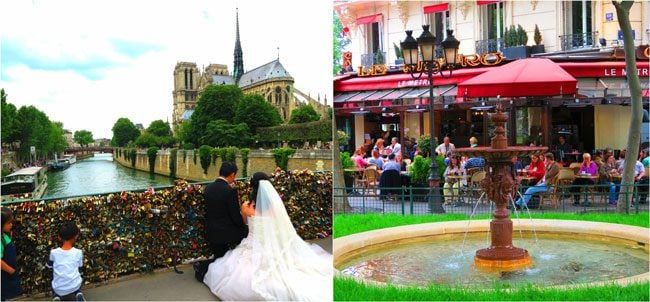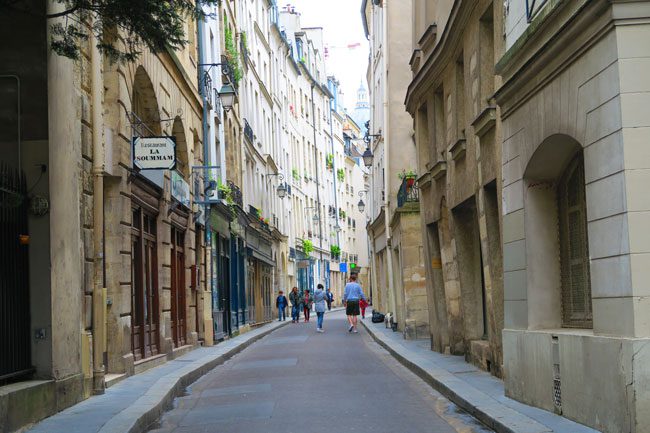 I guess we should have known there's a good reason why those restaurants didn't pick up the phone, but Google said the places were open so don't blame us. The trick is to make the most out of a bad situation and boy did we do that.
We randomly stumbled upon a good-looking restaurant in the heart of Saint Germain called Le Procope, and with a great sense of inertia, stepped inside. People say that the best experiences in life are those random, unplanned ones – and the people are right, at least in this case. Le Procope has been around since 1686! that's right, it's not a typo. Even the great Napoleon wined and dined here. His famous cap is on display just by the entrance.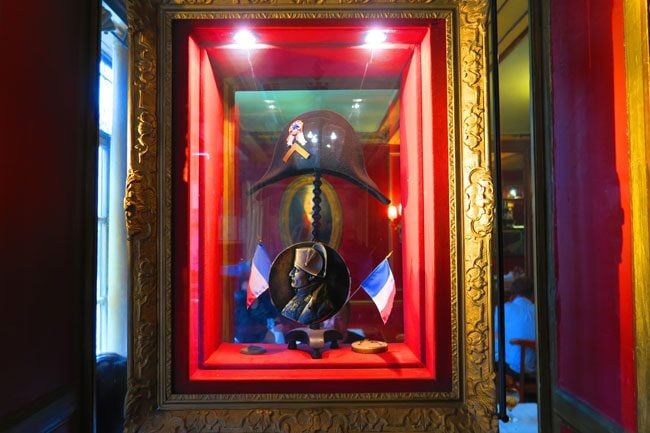 As you can imagine, this is not the cheapest place in town but to affordably enjoy a place like this, do what all the other Parisians do and come here during lunch for a reasonably priced and delicious set menu. For starters, we went once again with a classic foie gras and for mains, beef steaks with some bone marrow & fries on the side, and the famous confit de canard (duck leg) from the southwest of France, apparently the duck capital of the region.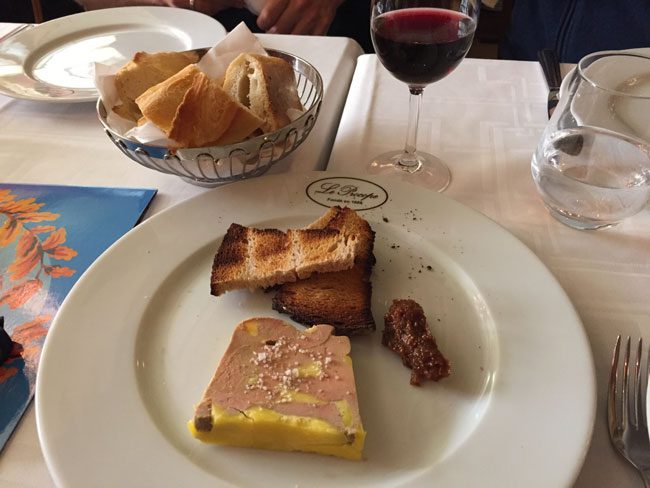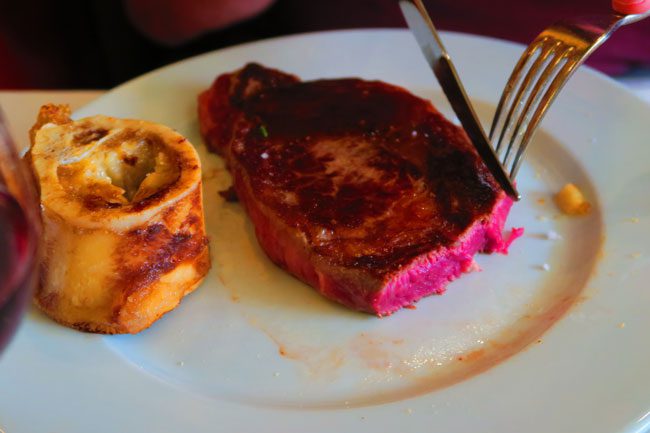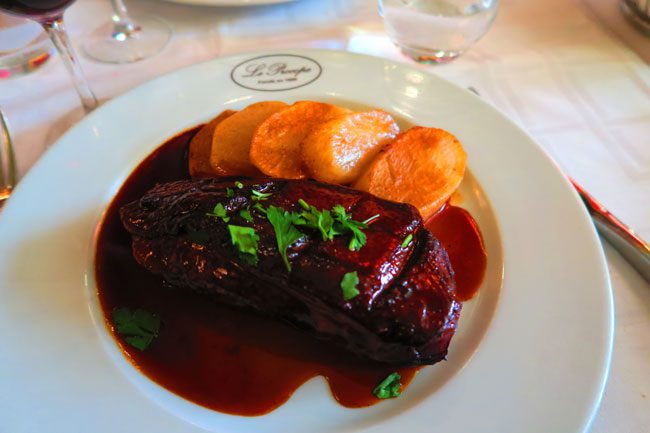 The food was excellent and the waiter dressed in what looked like a tuxedo certainly added to the atmosphere. For about €45 per person, it was worth it considering we also had a good bottle of wine. If you come here, be sure to check out the dining rooms on the top floor – so cool!
As for dessert, well I was stuffed, but the boys still had a tiny bit of room. We walked through Rue de Buci, with its famous restaurants and one super cool cheese & meat shop, and eventually made to La Tarte Tropézienne. This pastry shop specializes in making one thing and making it well. A Tropézienne comes from Saint Tropez and is two round pieces of sweet brioche with a healthy dose of vanilla custard in between. It's so damn good and if you love vanilla custard, you won't be able to resist the urge!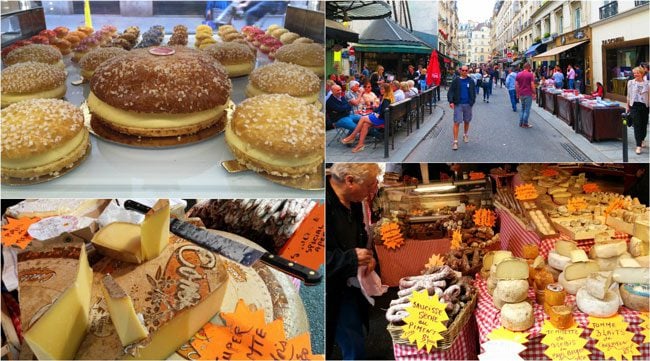 Pretty much stuffed for the next few hours, we headed over to the banks of the Seine, just next to the gorgeous Pont Alexandre III. This is the spot to catch some early evening sun during the warm months. Young people from all neighboring arrondissements (districts) flock over to this spot to: see, be seen, and have some good wine. During the summer, pop-up bars spring up, DJs spin their records and the vibe is magical (not to mention the view).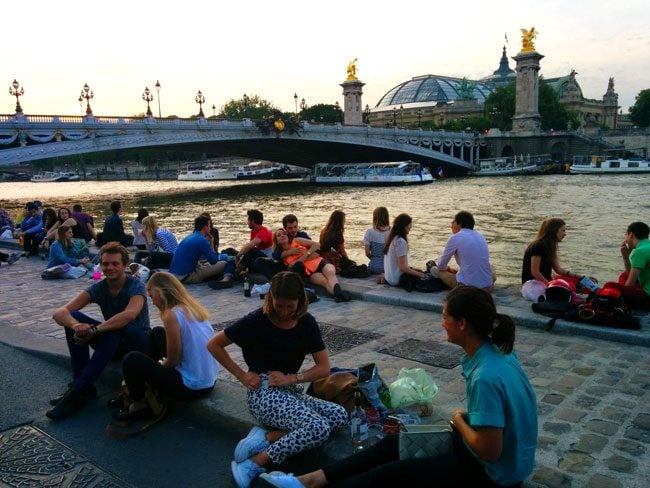 On our last evening together, we headed to the jazz area of Paris and ventured down to the old cellar of the Sunset Sunside Jazz Club for a free 'jam session' though I am not sure jam session can be associated with jazz. In any case, there was some serious talent down there and even if the beer was way overpriced, we had a great time.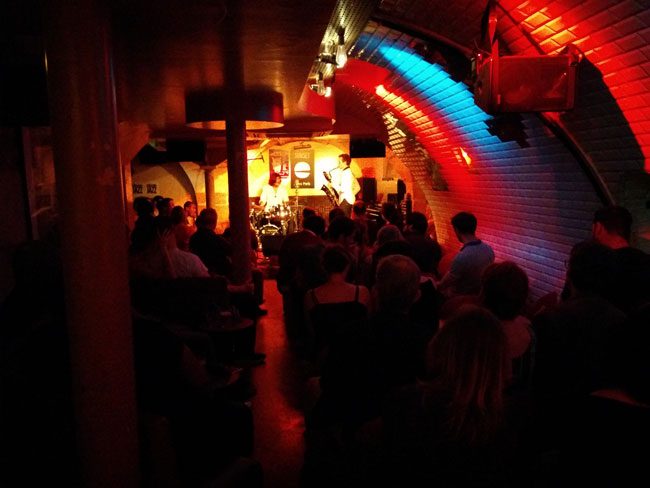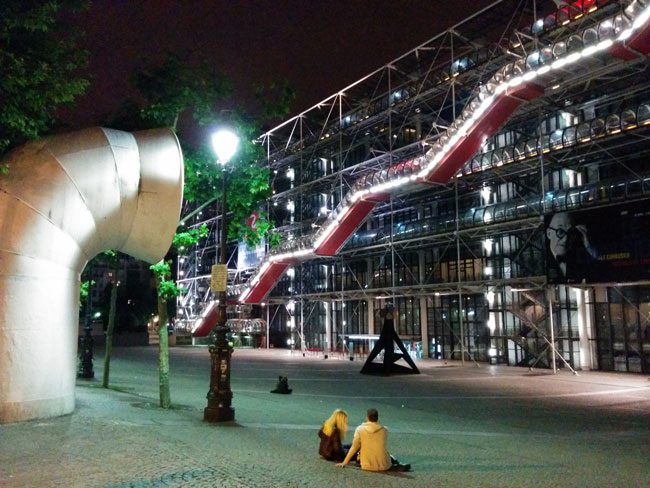 Day 4 – Monday
Yes, Monday was still part of the weekend as many are during May in France (they have so many holidays here). It was a short day for us, with the guys starting to head home. Unfortunately, we had to break some of the golden rules as one of us went a little bit too far with tasting the local food and had a bad crepe in one of the street food stalls. But he did somehow suck it up and we headed out towards the hilltop used-to-be-village of Montmartre.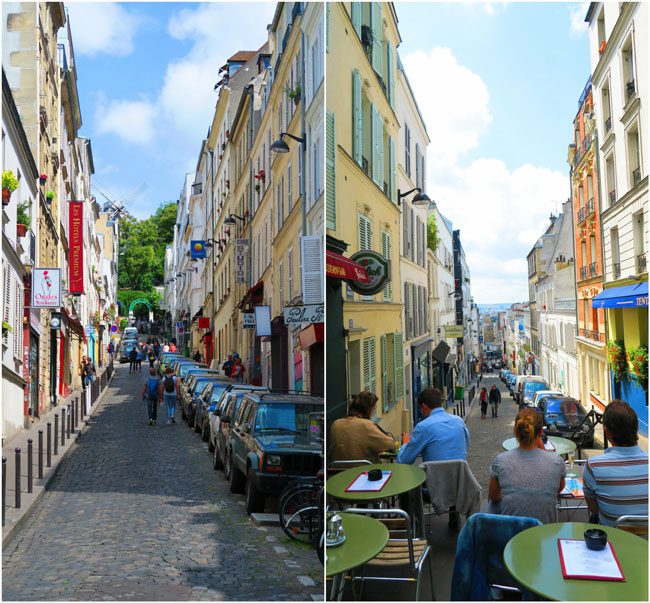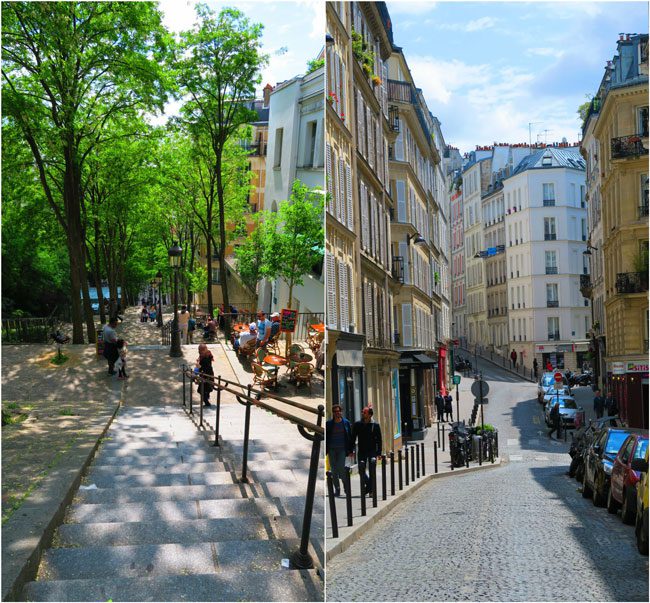 Passing by the legendary Moulin Rouge, we started the ascent towards Montmartre. This has to be one of the cutest parts of Paris and it's probably the reason why there are so many tourists around. Montmartre used to be the home of many Parisian artists and they came here for good reasons. Narrow cobblestone lanes lead to steep staircases that take you further up until reaching the top, where the Sacre Coeur basilica dominates the skyline. The views are incredible, that is, if you can negotiate your way amongst the crowd.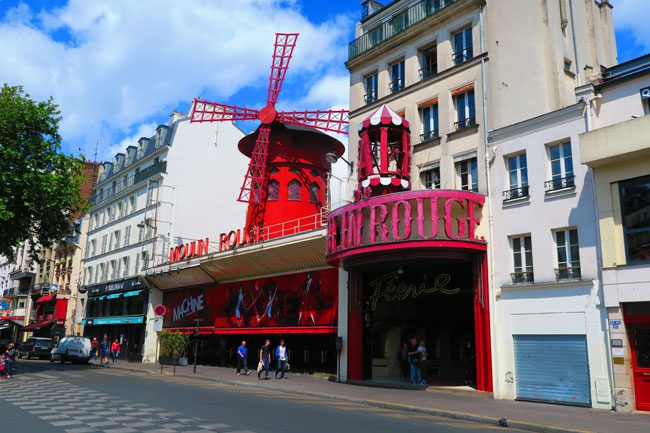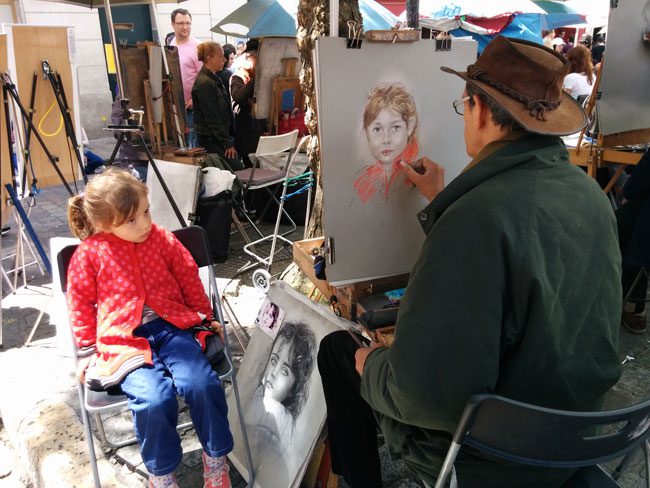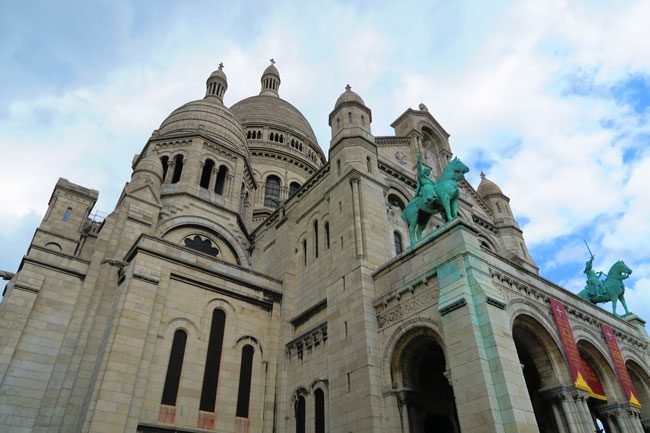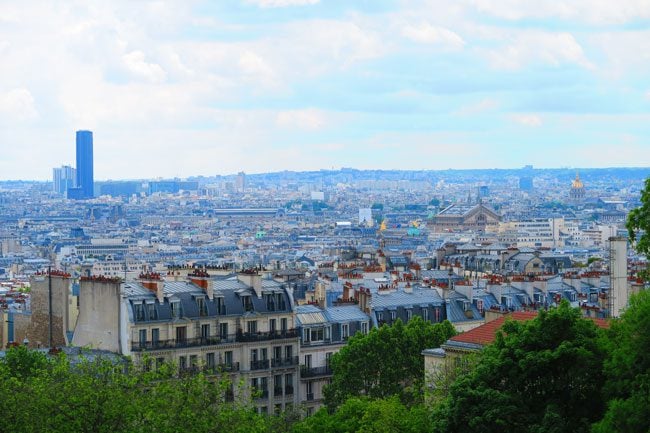 Our culinary weekend in Paris was coming to an end but not before we grabbed one last lunch in a Parisian brasserie. Since all good things come in 3's, we had one last foie gras for the road. That was pretty much it for this long weekend. We had a great time, a great deal of food & wine and lots of good memories!