1 Day In Bryce Canyon Itinerary
A visit to Bryce Canyon is a celebration for the eyes and a unique lesson in geology. The smallest of Utah's national parks is easily explored on a one-day visit that combines scenic viewpoints and short hikes. This one day in Bryce Canyon itinerary offers an in-depth look at how to maximize a quick visit to Zion's neighbor.
I first visited Bryce Canyon during a family road trip back in the mid-90s and recently returned for a two-day visit as part of a long road trip in the American Southwest. This one-day Bryce Canyon itinerary is based on extensive research and my experience.
Why Visit Bryce Canyon?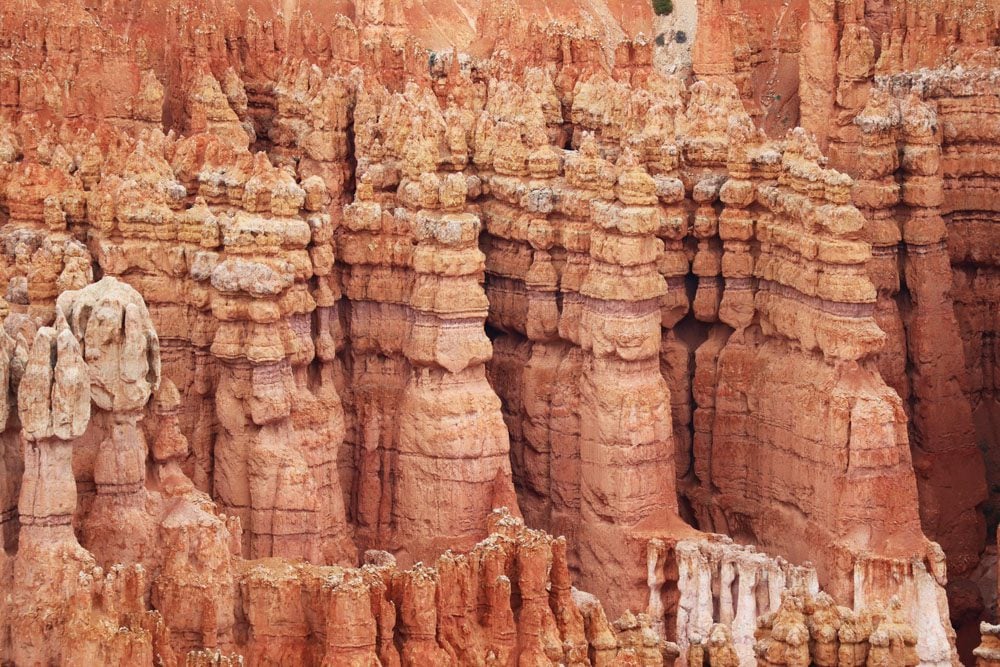 The Hoodoos
The natural forces of erosion seem to work at high speed in Bryce Canyon. Extreme overnight temperatures meet the morning sun and sculpt the reddish limestone into peculiar pillars like nowhere else.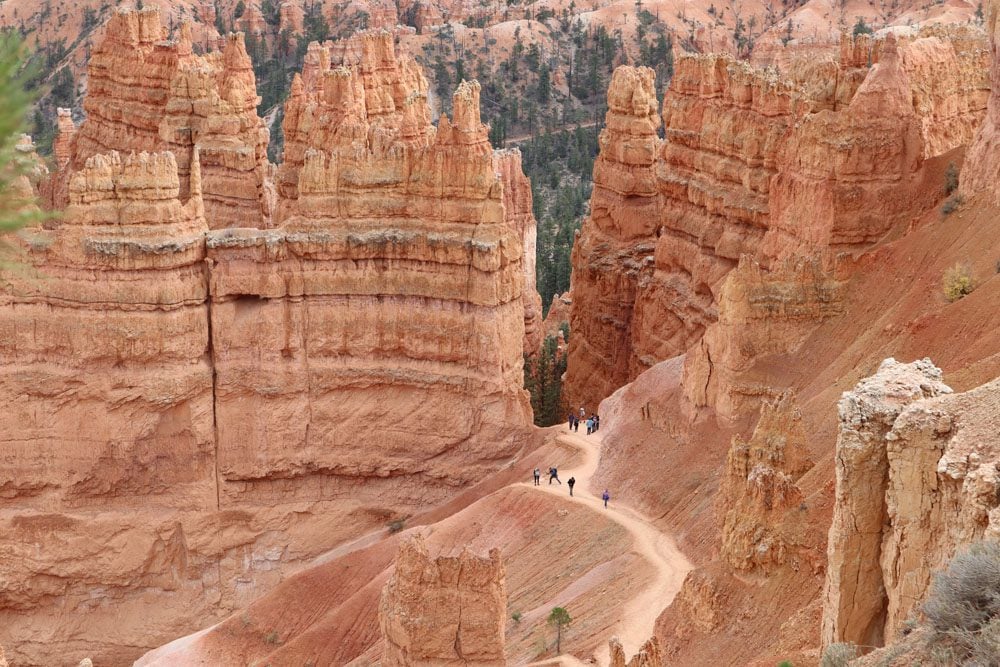 The Hiking
With over 65 miles of trails, every hiker can find a suitable way to get to know Bryce Canyon on foot. Easy rim trails offer solitude from the busy viewpoints, but for the best experience, descend to the Bryce Amphitheater floor to really get to know the hoodoos.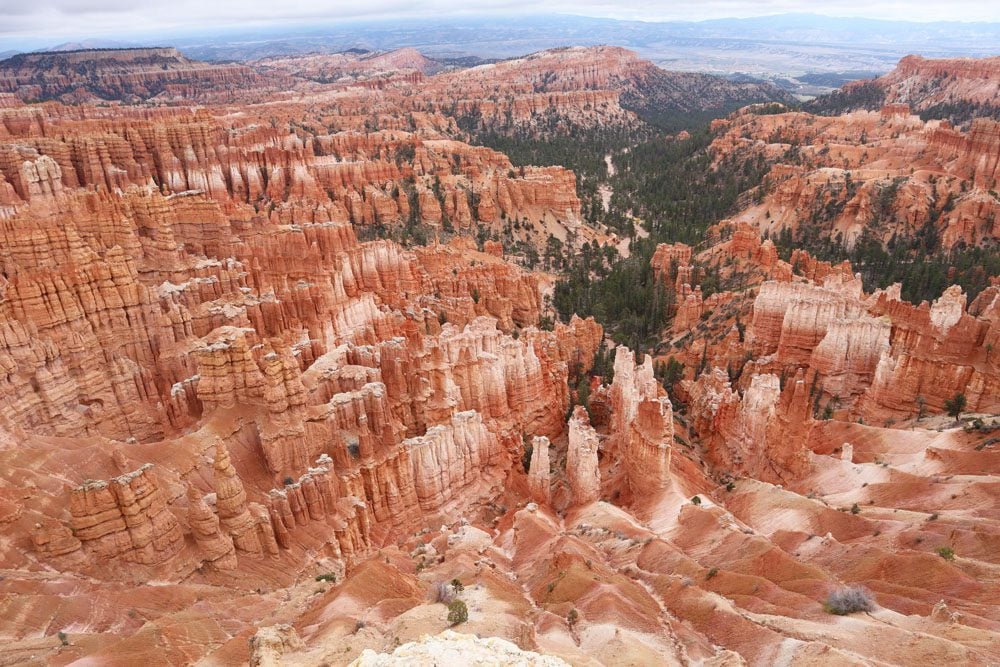 The Small Size
Bryce Canyon is small and adequately explored on a one-day visit that combines scenic viewpoints and short hikes. Overnighting around Bryce is a memorable stop on any Southern Utah road trip.
Additional Resources
Check out additional Bryce Canyon resources and combine your visit with additional members of Utah's "Mighty Five" using in-depth Southern Utah travel guides.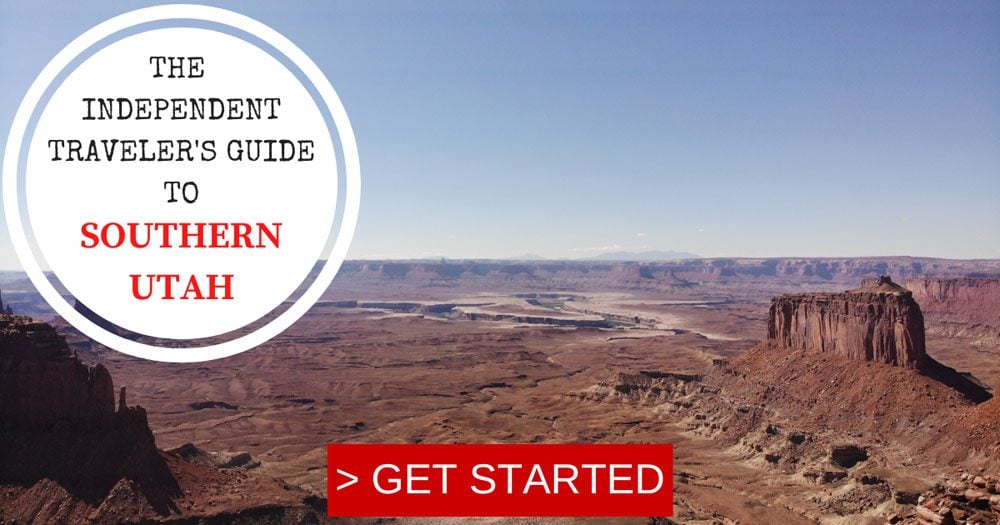 One Day in Bryce Canyon Itinerary Map
Find all of the places mentioned in this itinerary on this companion map. Simply click on the image to open it in Google Maps.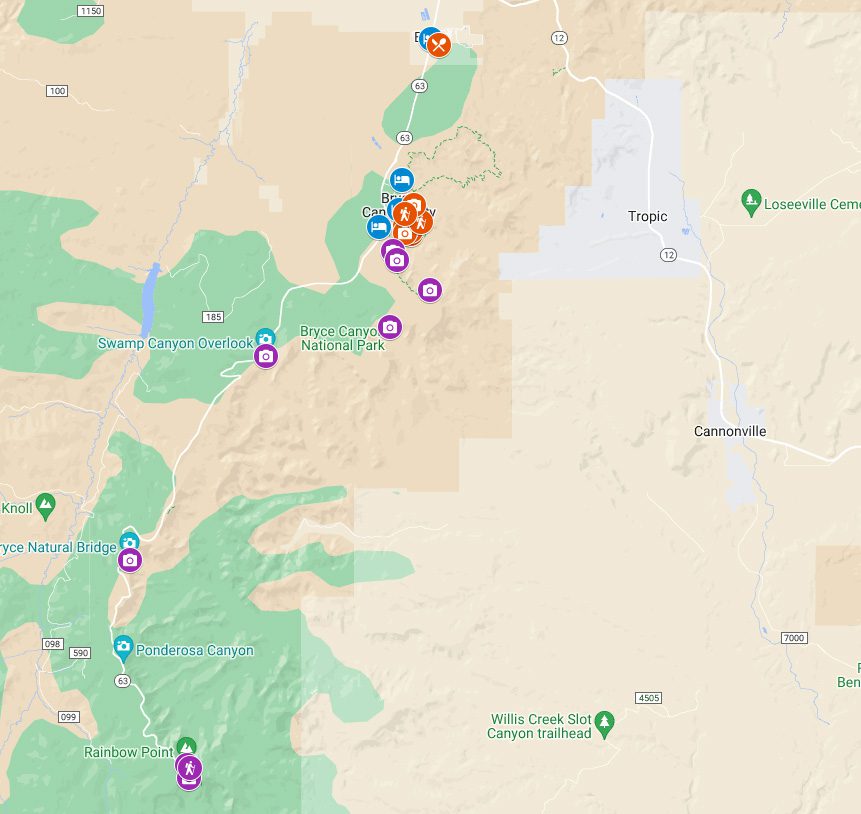 Where to Stay in Bryce Canyon?
You can technically do a rapid visit of Bryce Canyon and continue to your next destination on the same day. However, since you've made it this far, I highly recommend spending the night before in or around the national park to maximize your one-day visit to Bryce Canyon.
Inside the park: the Lodge at Bryce Canyon is the only "proper" accommodation inside the national park, and advanced reservations are recommended. Though it isn't cheap, the lodge is well positioned close to the rim, so rising early for sunrise or watching the Milky Way shine above the hoodoos is much easier when staying here. If you're looking at camping options, the North Campground is closer to the rim than the Sunset Campground. Both likely do not accept advanced reservations, so finding a spot could be a hit or miss.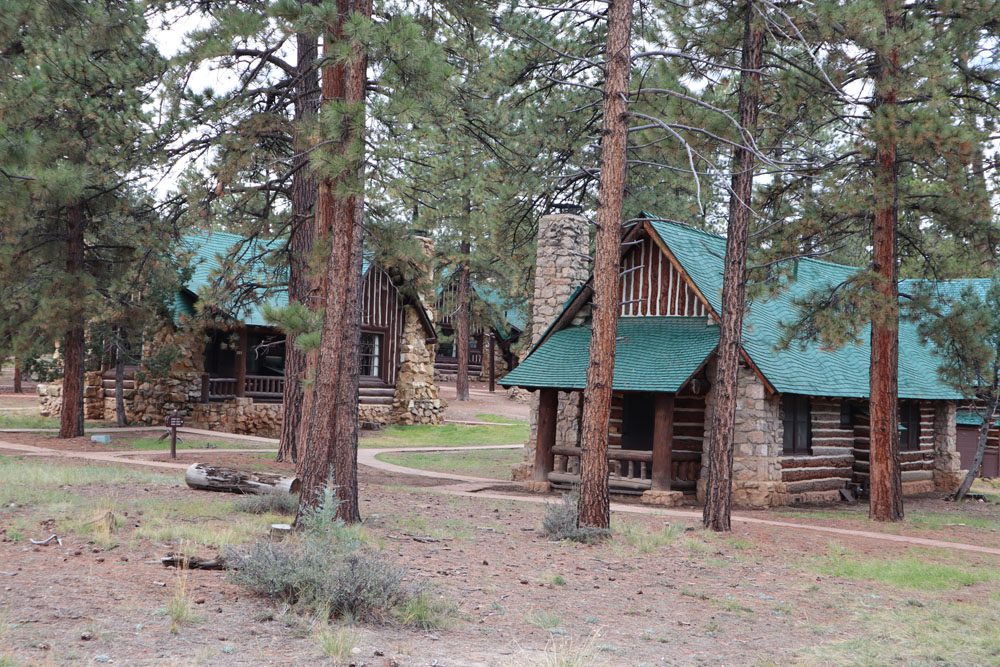 Outside the park: you'll find many options in Bryce Canyon City, which sits right on the outskirts of the national park. A good mid-range option is the vast Ruby's Inn. Rooms are basic but very comfortable, and the lodge offers all the amenities and guest services you can think of. If you can't find anything suitable close to the park, check options in nearby Tropic.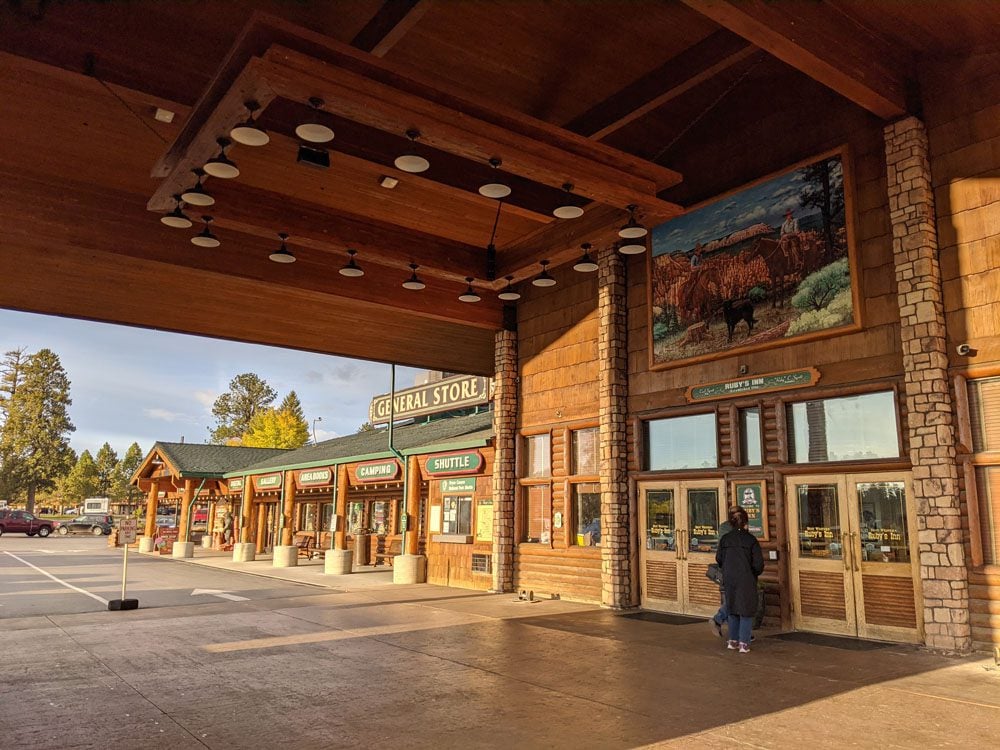 Arrival
Due to Bryce Canyon's remote location, it's best to overnight near the park to have a full day of sightseeing the next day. However, it's also possible to arrive in the early afternoon, do a bit of sightseeing, and leave the rest for tomorrow morning before driving to your next stop in the afternoon.
Scenic Drive to Bryce Canyon
The most scenic way to reach Bryce Canyon is via Highway 12, heading east from Highway 89. After a few miles, you'll enter the Dixie National Forest and pass under Red Canyon Arch. The scenic road was constructed to provide access to Bryce Canyon. The arch results from blasting through the red limestone during road construction.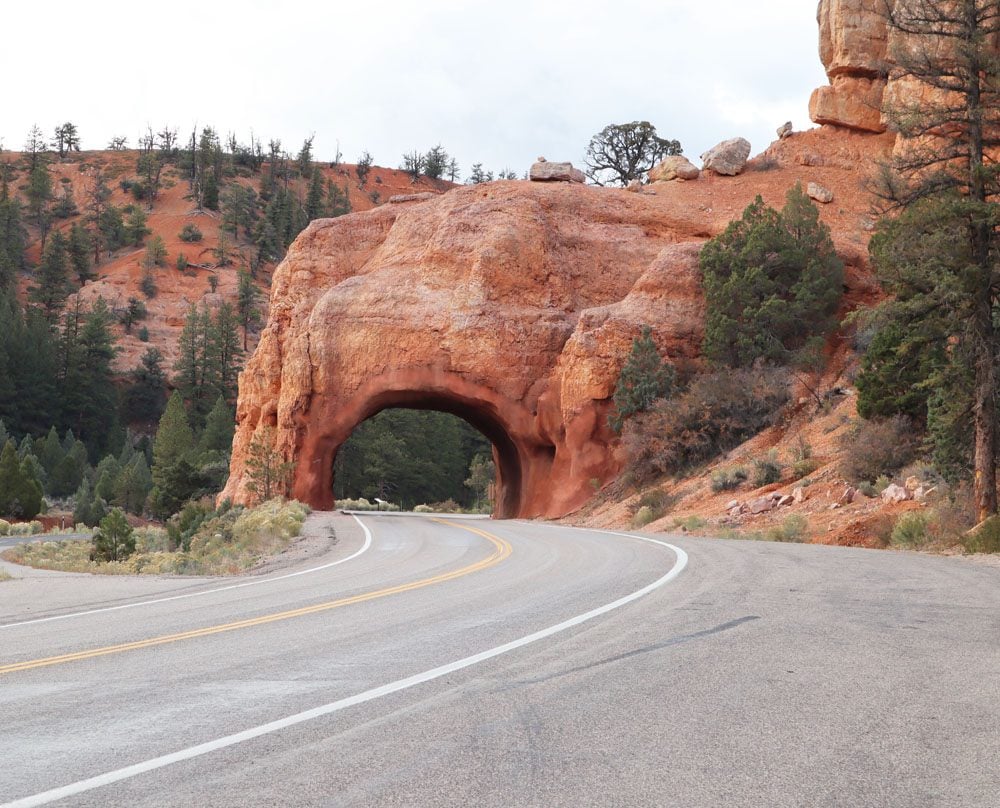 Evening in Bryce Canyon City
No matter where you choose to stay, see if there's an evening dinner and show at Ebenezer's Barn & Grill. There isn't much happening in Bryce Canyon City after hours, but this touristy experience is undoubtedly an exception. Enjoy a decent meal and country music classics performed live on stage.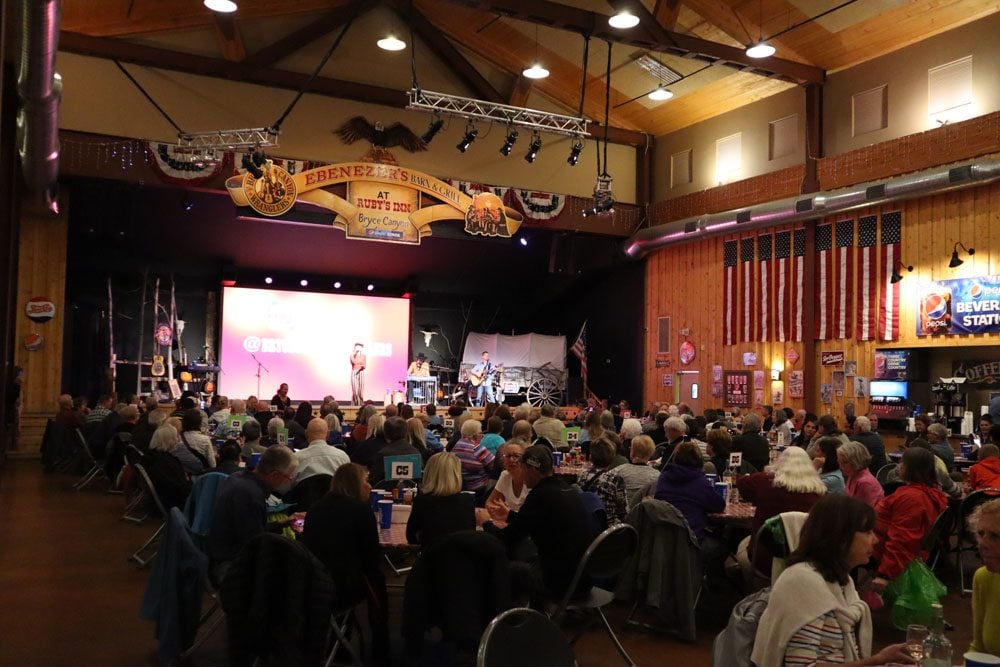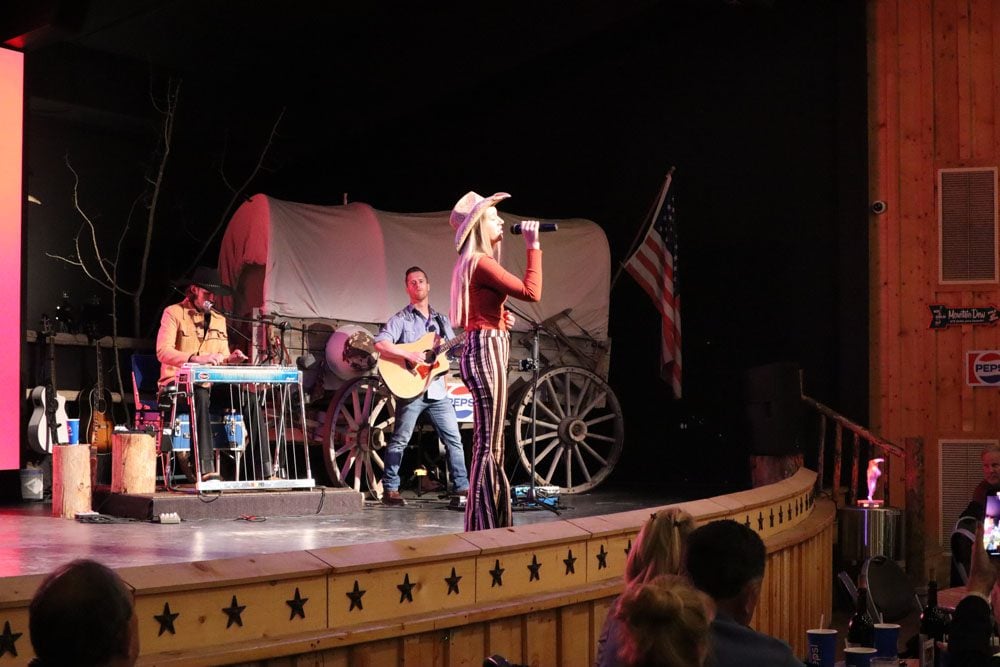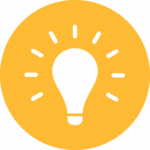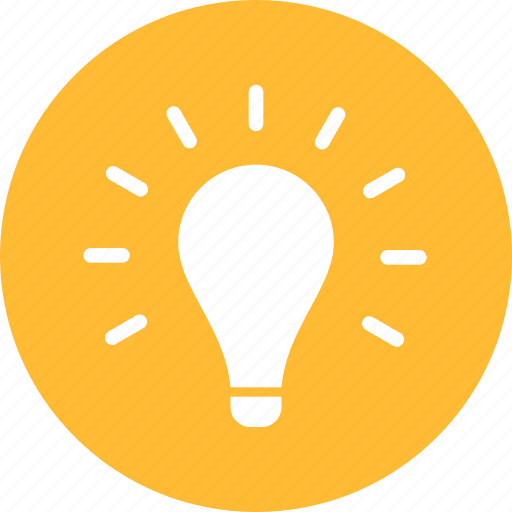 Pro Tip
It is also possible to purchase show-only tickets without dinner. For an optimal experience, reserve seats close to the stage.
Watch the Night Sky
If you have the will and it isn't too cold outside (Bryce Canyon evenings can be very cold), enter the national park (open 24 hours) and head to one of the scenic viewpoints along Bryce Canyon Road to watch the night sky. Since 2019, Bryce Canyon has been designated as an International Dark Sky Park, which means the quality of the park's night skies is exceptional. So bring something warm and watch the Milky Way shine above the hoodoos.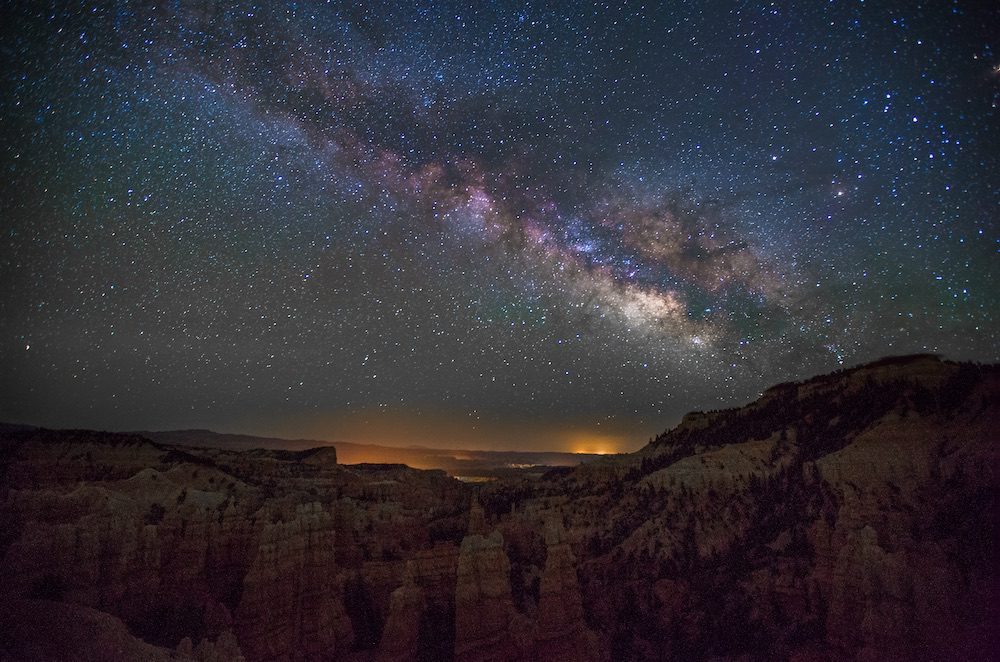 Morning
We'll spend the morning on this one day in Bryce Canyon itinerary to explore the Bryce Amphitheater. Bryce Canyon is not technically a canyon but rather a series of crescent-shaped depressions known as amphitheaters. The Bryce Amphitheater is the park's prime attraction.
Hiking in the Morning at Bryce Canyon
The optimal time for hiking in Bryce Canyon is during the morning hours. Beat late-risers and day-trippers by hiking early in the day. This is especially recommended during the summer months, when frequent afternoon thunderstorms put a damper on any hiking plan. Moreover, the morning sun shines directly on the hoodoos since the Bryce Amphitheater faces east.
Optional Sunrise Viewing
If you're an earlier riser, experience sunrise at the Bryce Amphitheater. Head to either Sunrise or Sunset Point, but also consider Bryce Point for its unique angle. What is special about this time of day in Bryce Canyon is witnessing the gradual glow of different shades of color in the limestone as the sun slowly rises.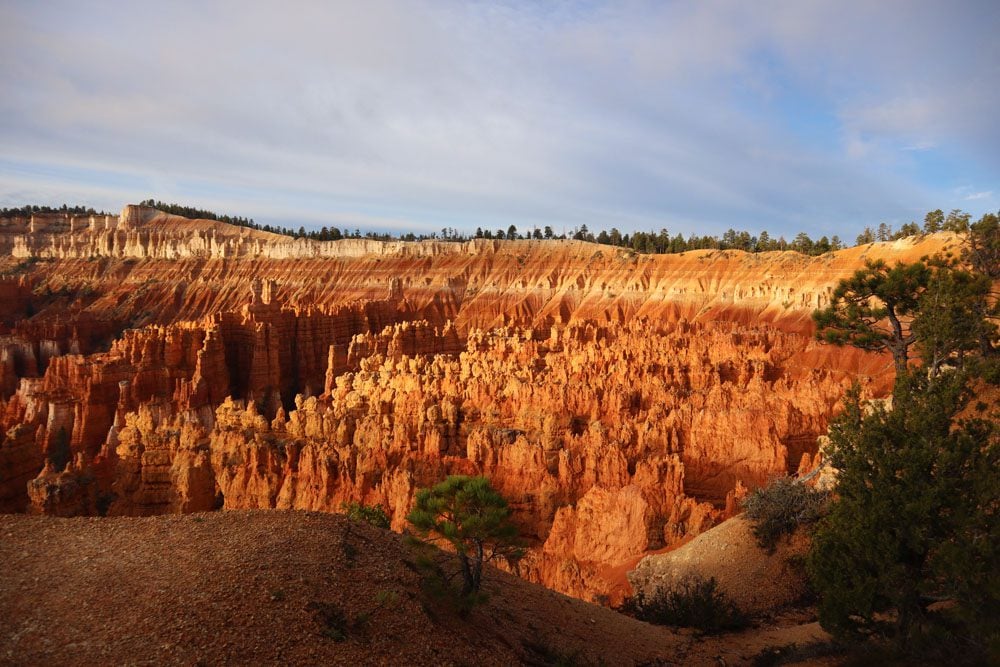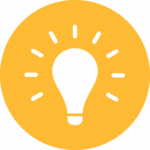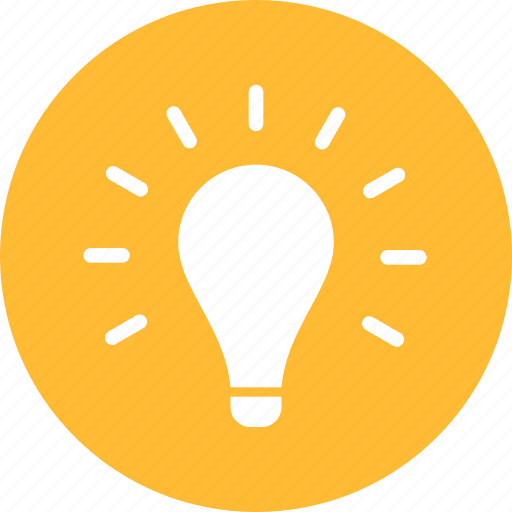 Pro Tip
Before making an effort, check the morning weather forecast.
Sunset Point
Sunset Point is the main scenic lookout at Bryce Canyon, but visitors don't only come here for the views but also to plunge to the Bryce Amphitheater floor or walk along its rim on some of the park's most popular hikes. Add to this the large picnic area and facilities, and you start to get the point. Despite the large parking area, it can get crowded in Sunset Point.
The views from Sunset Point are stunning. Thousands of hoodoos cluster together, only separated now and again by a hiking trail that quickly disappears behind a wall of limestone pinnacles.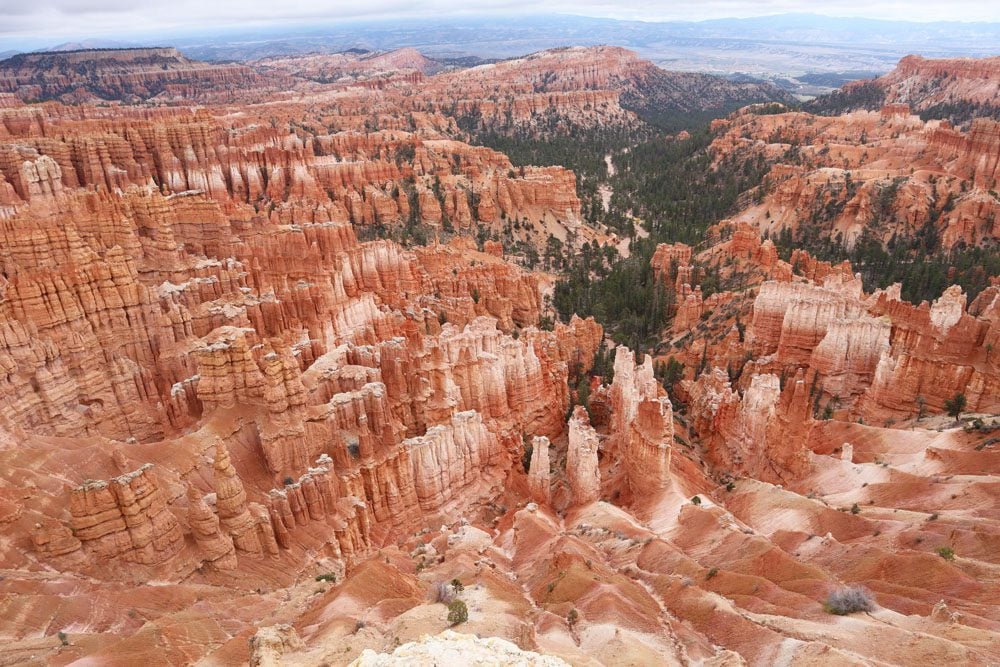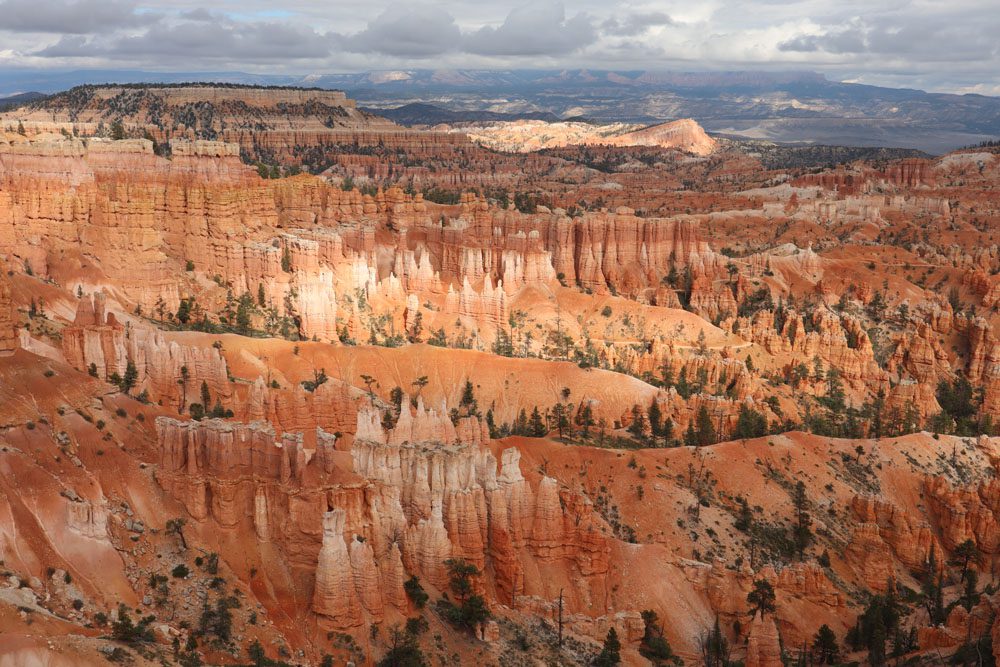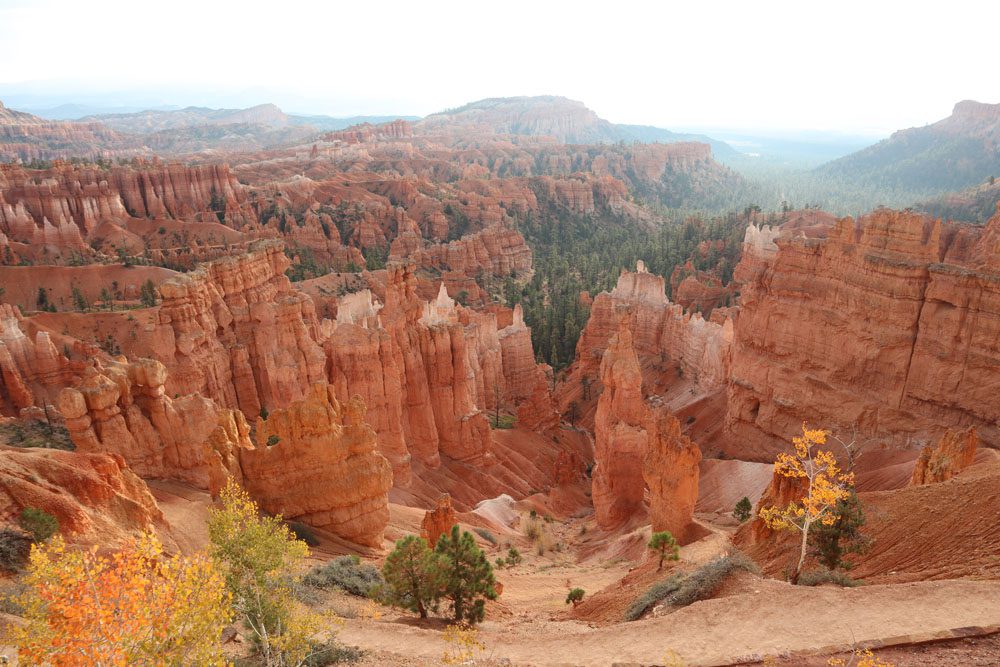 Try spotting Thor's Hammer, Bryce's most famous hoodoo, and the narrow cavity known as Wall Street. Also, look north beyond the rim's Chinese Wall and try spotting Fairyland Canyon. This scenic and quiet spot is best viewed from Fairyland Point.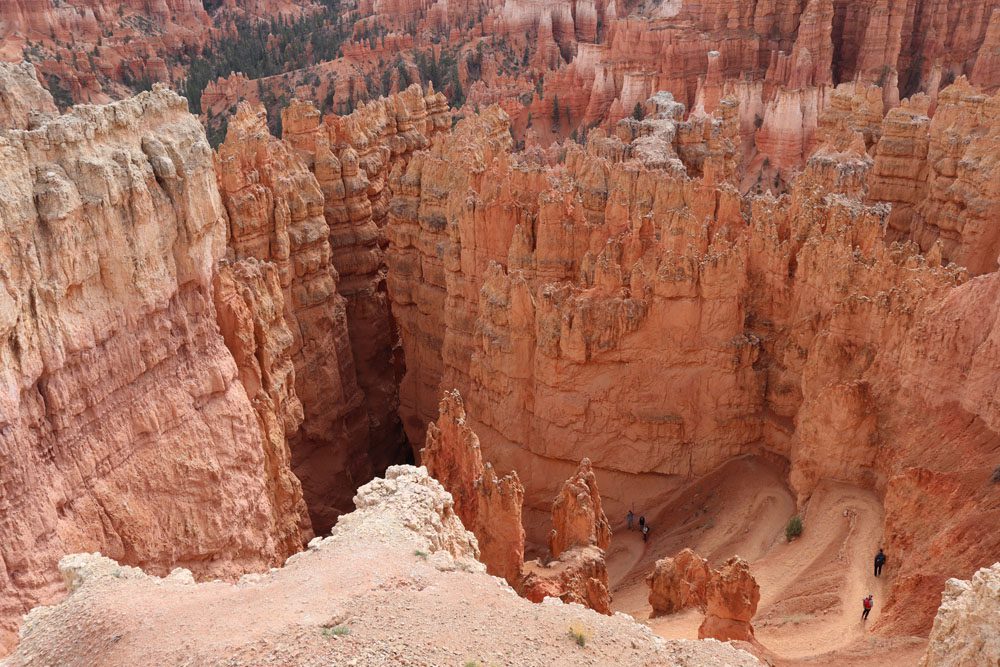 Navajo Loop Trail
The Navajo Loop Trail is the most popular hike in Bryce Canyon. This easy trail (1.3 miles | 2.2 km) offers a quick taste of what's happening on the Bryce Amphitheater floor and includes a couple of thrills.
Pick up the trailhead at Sunset Point and start the quick descent towards Wall Street via a series of short switchbacks. Wall Street is a narrow cavity that slices through a cluster of towering hoodoos. There's a lot more space as you exit the claustrophobic tunnel, dotted with pines and juniper trees. The trail briefly continues in this open space and then begins to loop back to Sunset Point, offering close-up views of Thor's Hammer on the final stretch.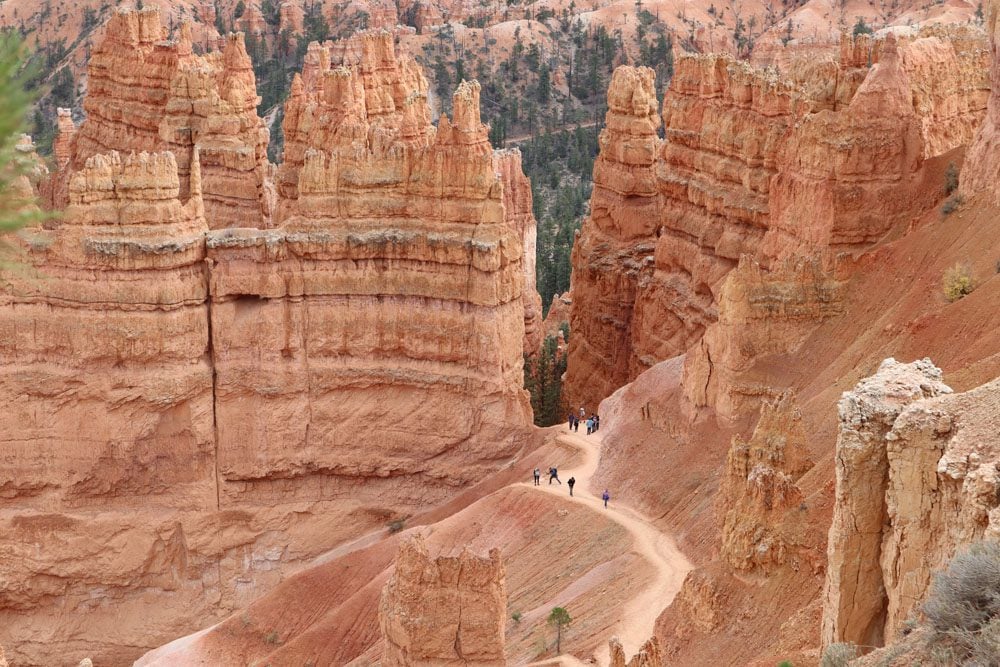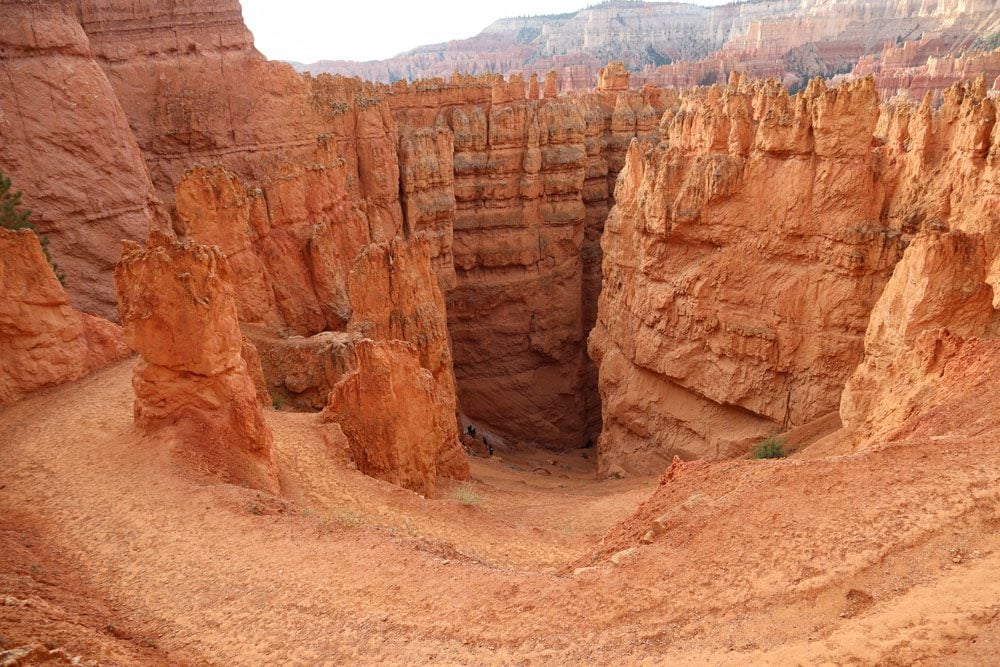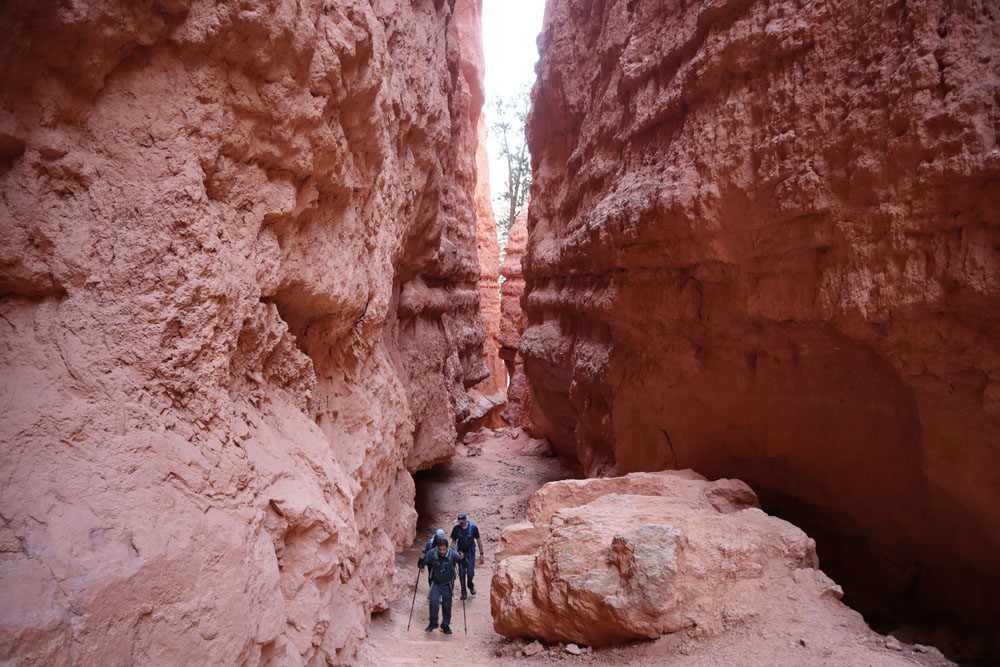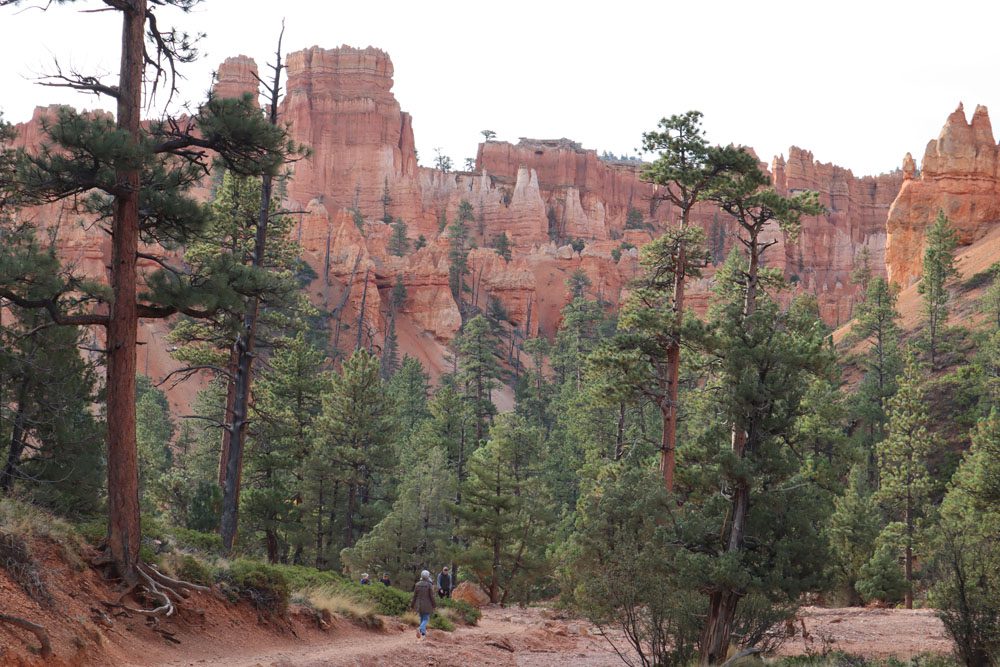 Queen's Garden Extension
A popular option is to continue the fun and combine the Navajo Loop with the Queen's Garden Trail (2.9 miles | 4.6 km). Instead of circling back to Sunset Point, look for the clearly-marked Queen's Garden Trail. This easy trail continues in the flat forest but quickly begins to beautifully weave around clusters of hoodoos and even right through them.
The trail is named after a hoodoo resembling the queen's statue in London, but it's tough to spot this due to erosion. The Queen's Garden trail ends at Sunrise Point.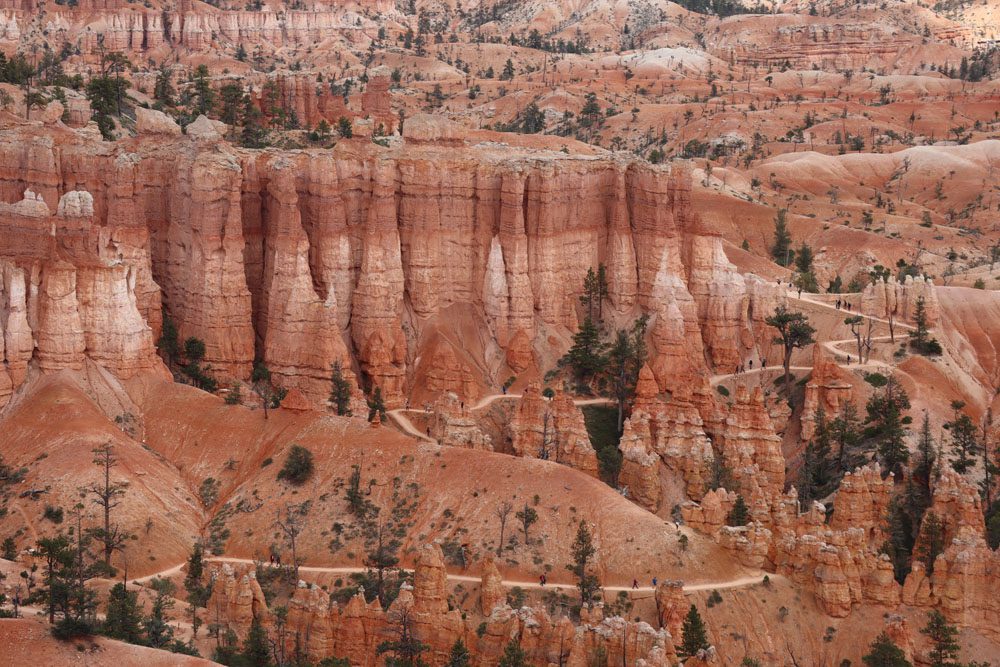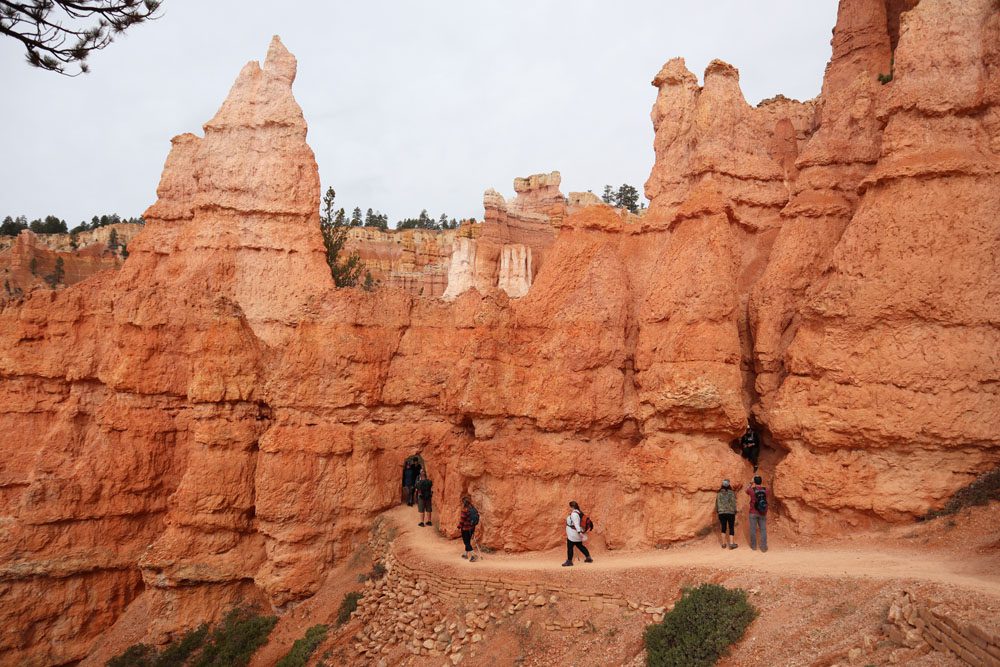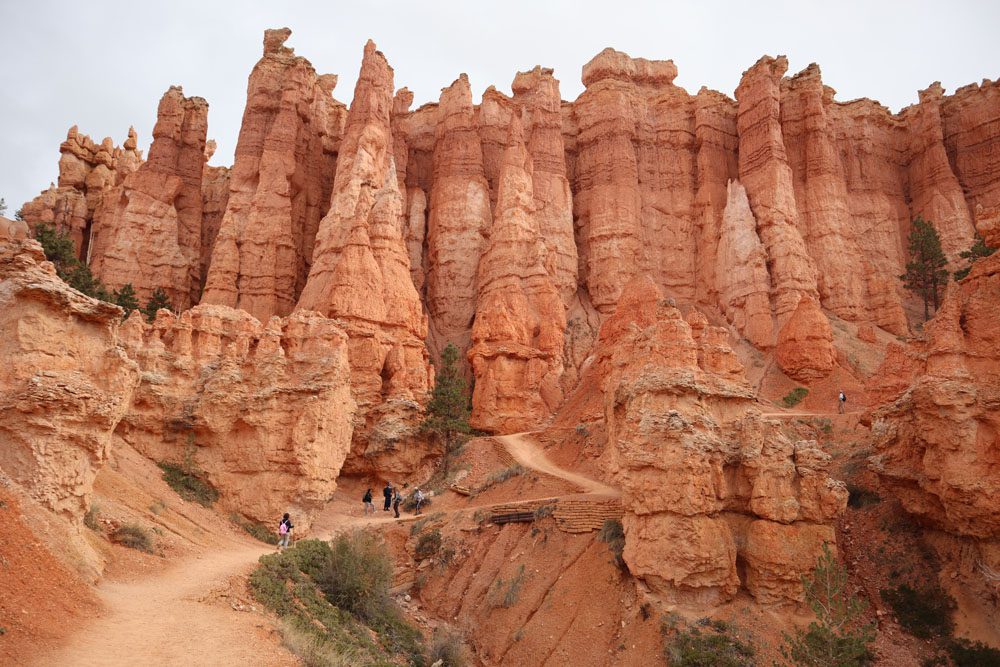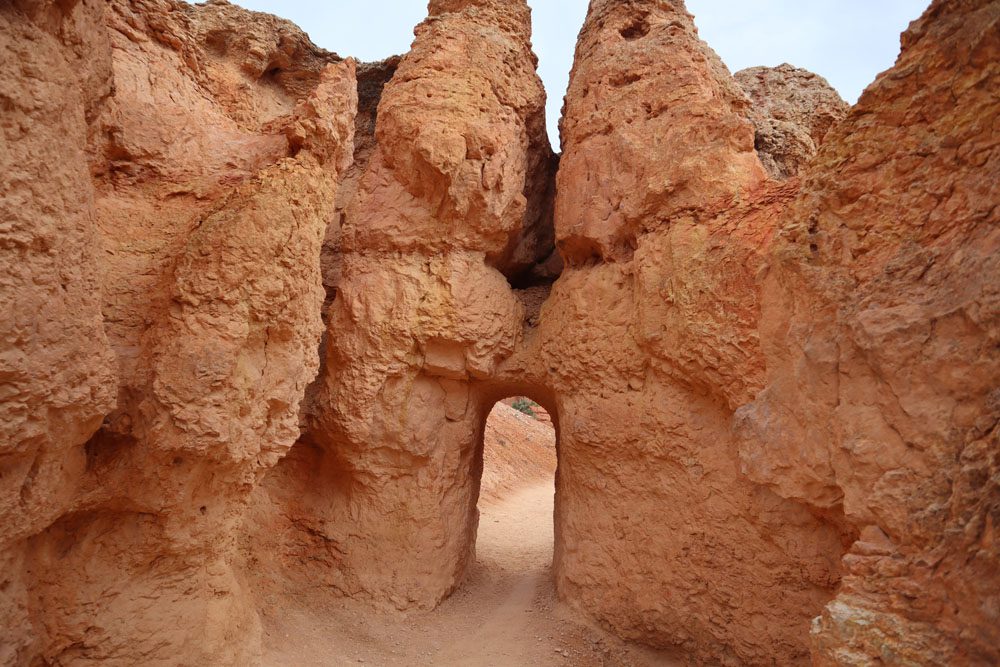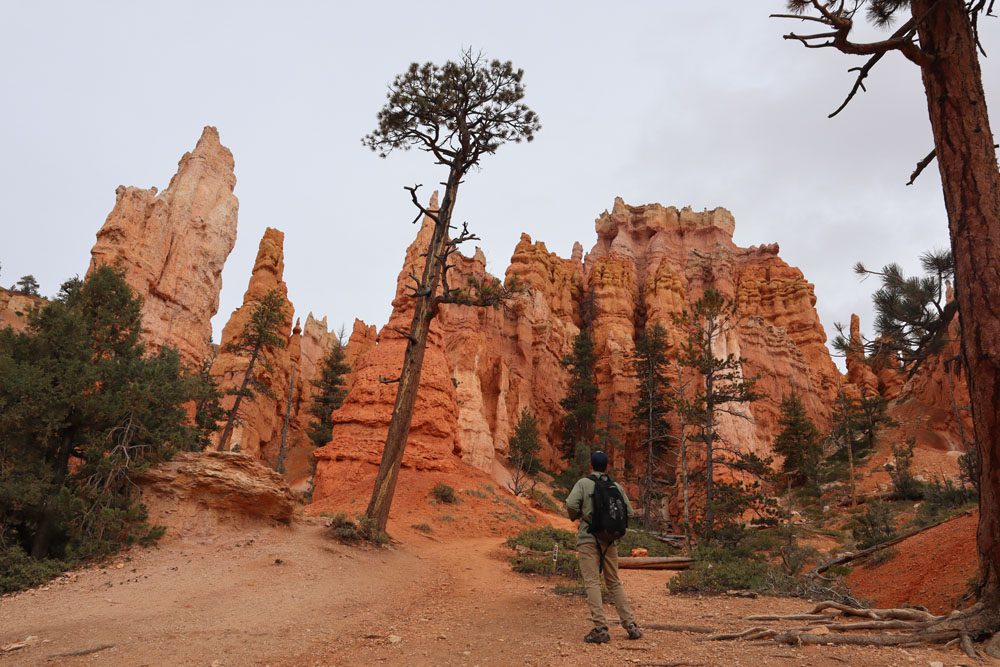 Easier Alternative: Bryce Canyon Rim Trail
If you find it difficult or too time-consuming to hike the Navajo Loop or the Queen's Garden trail, pick up the easy Bryce Canyon Rim Trail and experience breathtaking views of Bryce Amphitheater with fewer crowds. The trail stretches from Sunrise Point to Bryce Point. Its busiest (and easiest) section is between Sunrise and Sunset Point.
Sunrise Point to Sunset Point
As we climb out of the Bryce Amphitheater after completing the Queen's Garden trail, take the time and enjoy your accomplishment from Sunrise Point.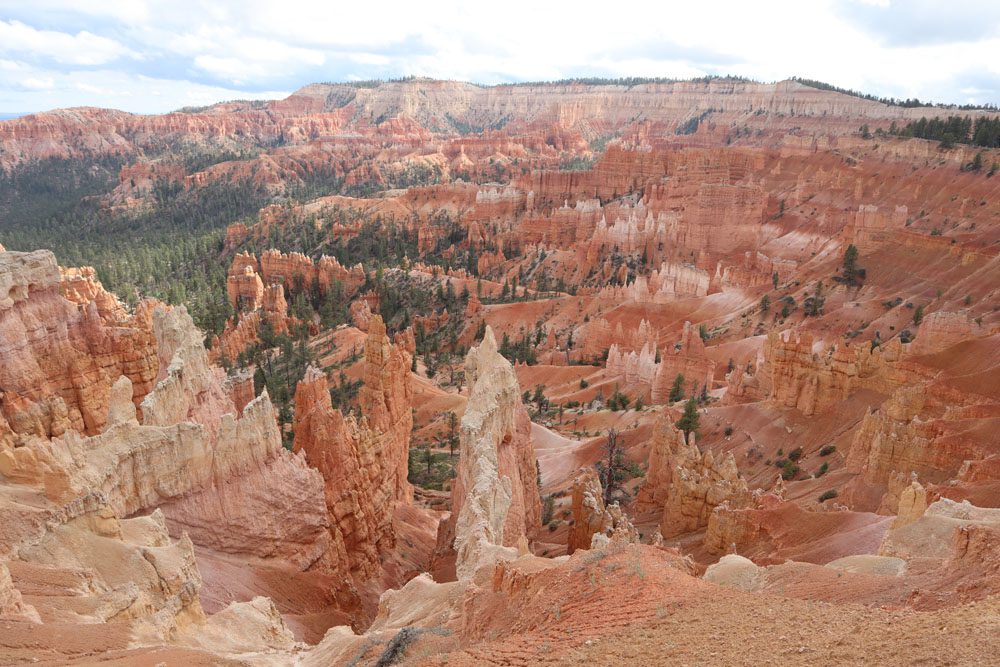 Then, walk back to Sunrise Point along the Bryce Canyon Rim Trail (see above). On the way, stop to check out the historic Bryce Canyon Lodge. Outside visitors are also welcomed at its restaurant, but for something more casual, see the adjacent coffee shop is open.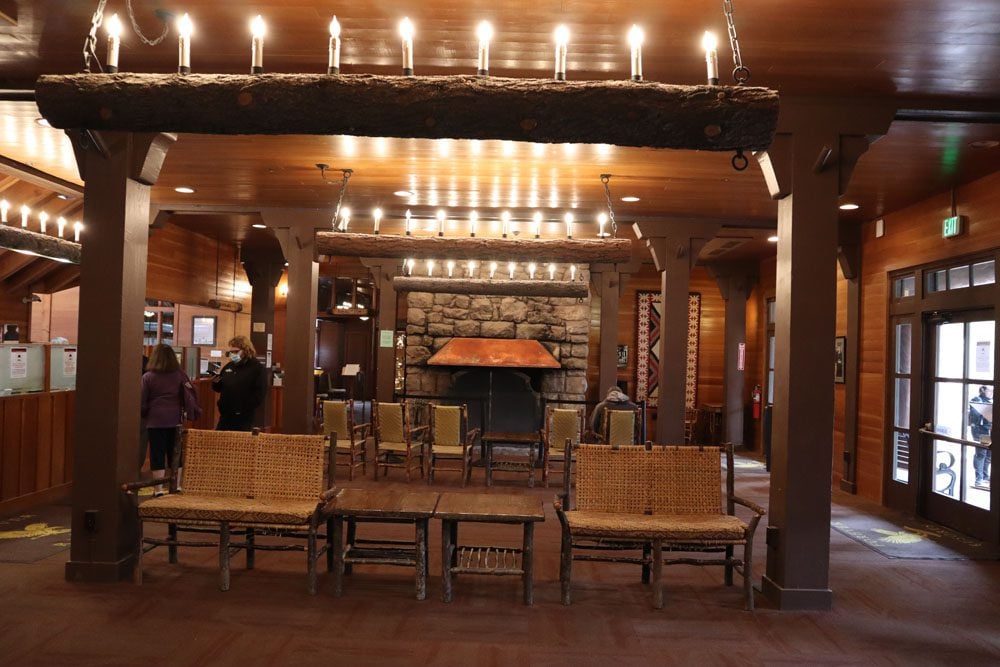 Afternoon
Spend the afternoon on your one-day visit to Bryce Canyon by wrapping up the Bryce Amphitheater tour, later exploring the far reaches of the park on a scenic drive to Rainbow Point.
Sunset Point to Bryce Point
The Bryce Canyon Rim Trail continues from Sunset Point to Bryce Point. You do not need to walk the entire stretch, but you can if you want to. Alternatively, get back to your car or use the free shuttle to reach Inspiration Point. The rim trail section between Sunset and Inspiration Point is slightly uphill.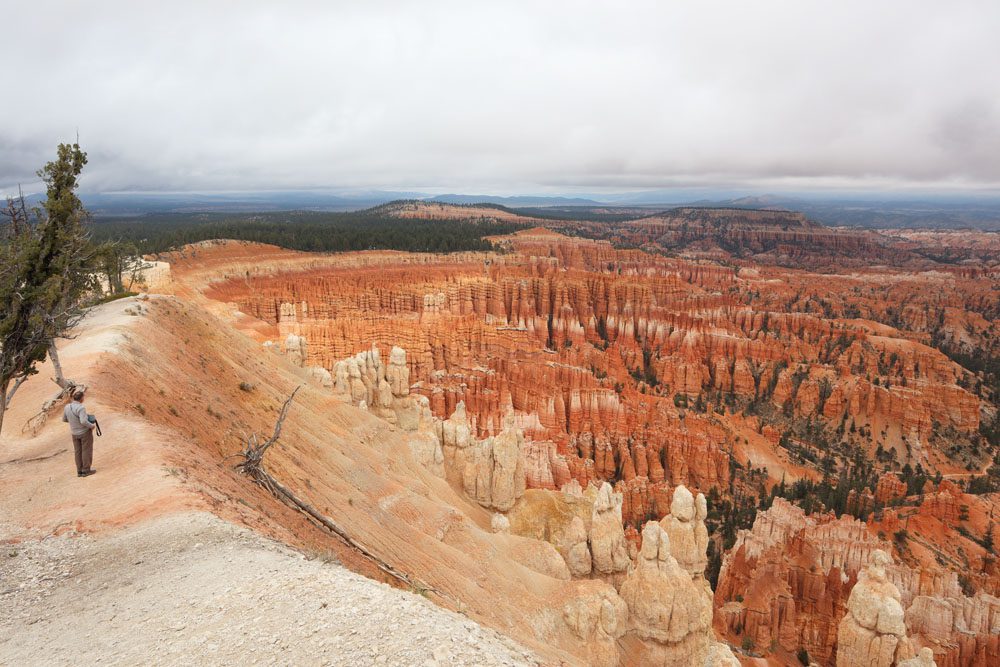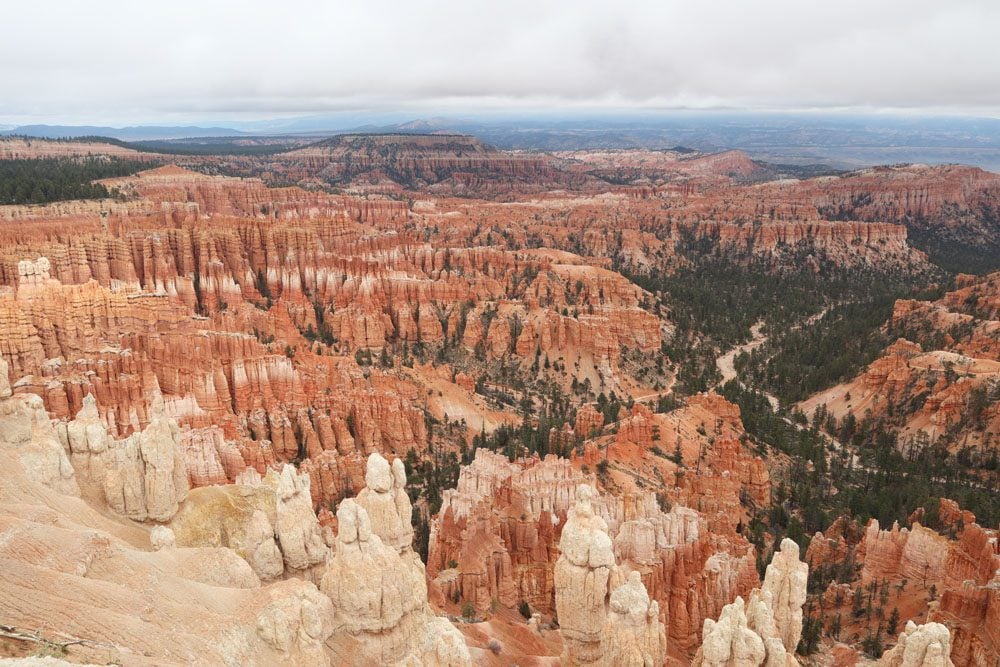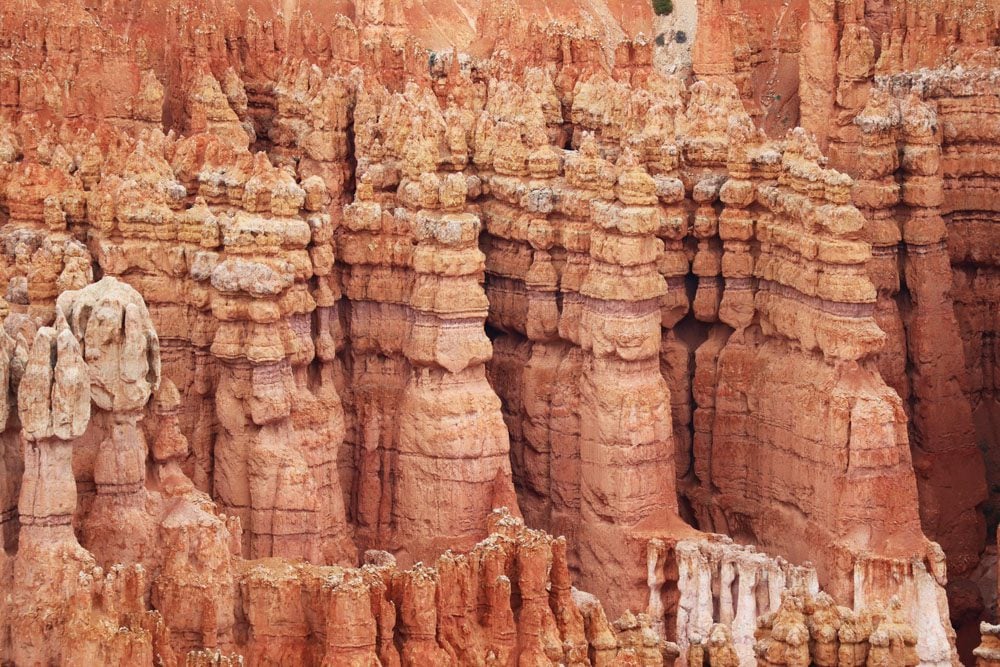 At Inspiration Point, enjoy additional sweeping views of the Bryce Amphitheater. Then, slightly climb further to Upper Inspiration Point for even better views.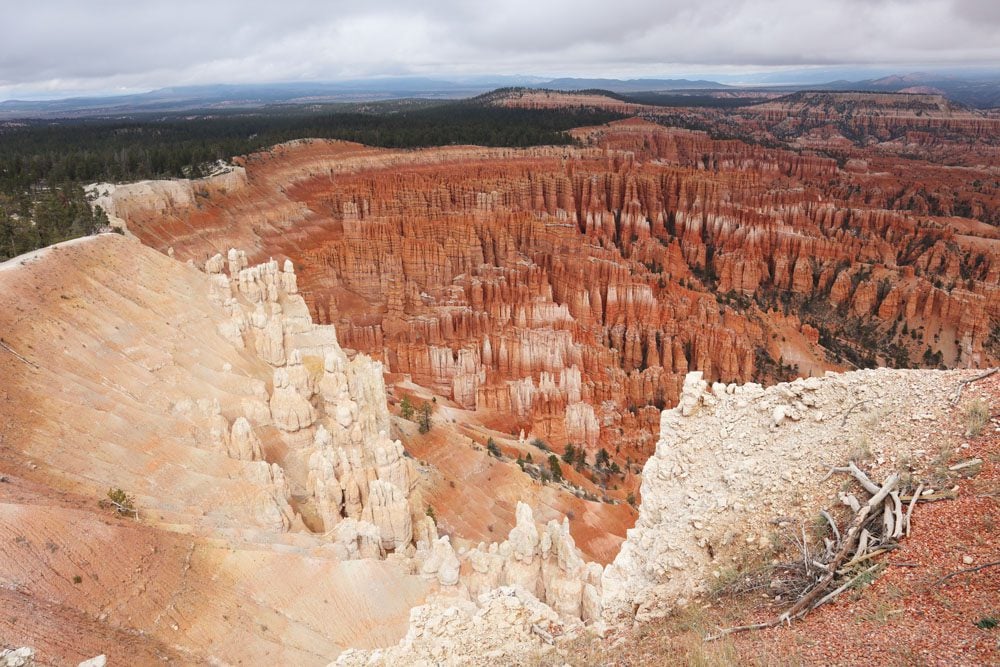 Bryce Point sits at 8296 feet. Its strategically-positioned viewing platform makes it one of the most famous viewpoints at Bryce Canyon, and for good reasons. From here, you get a slightly more distant and broader perspective of the Bryce Amphitheater. Moreover, if you hike to Bryce Point, you'll see for the first time brightly-colored windows, a cluster of hoodoos with a wide opening. The acoustics at Bryce Point is also something to take note of. If there isn't much chatter, you should be able to hear hikers hundreds of feet below.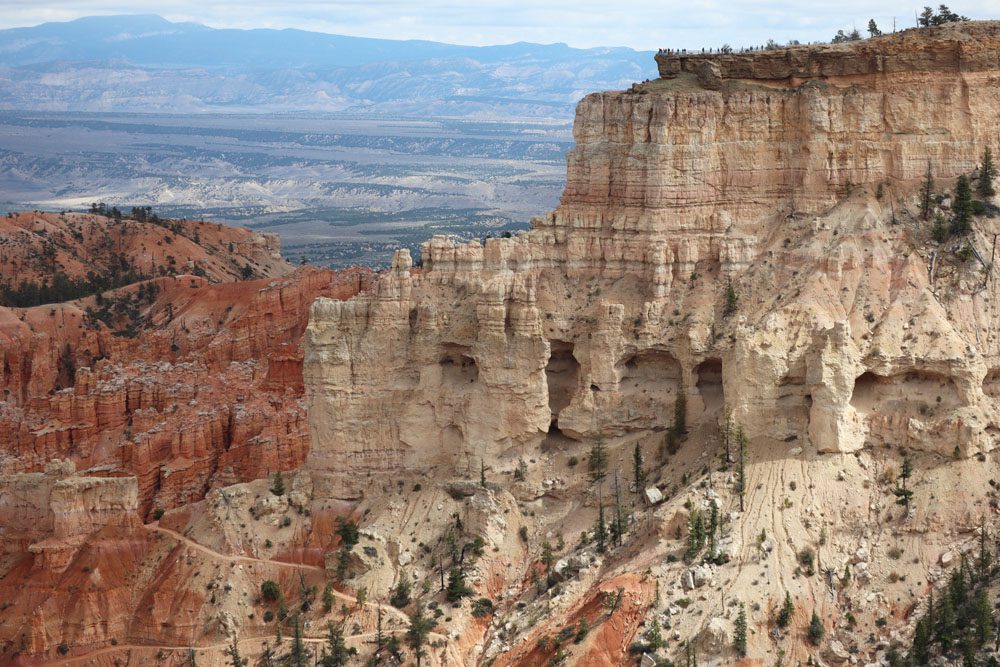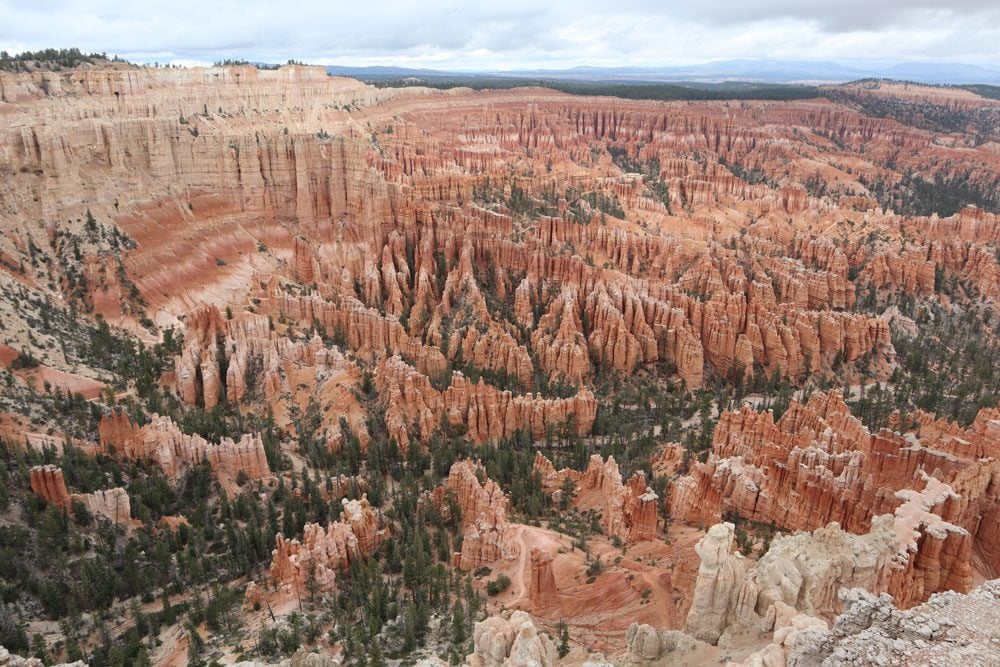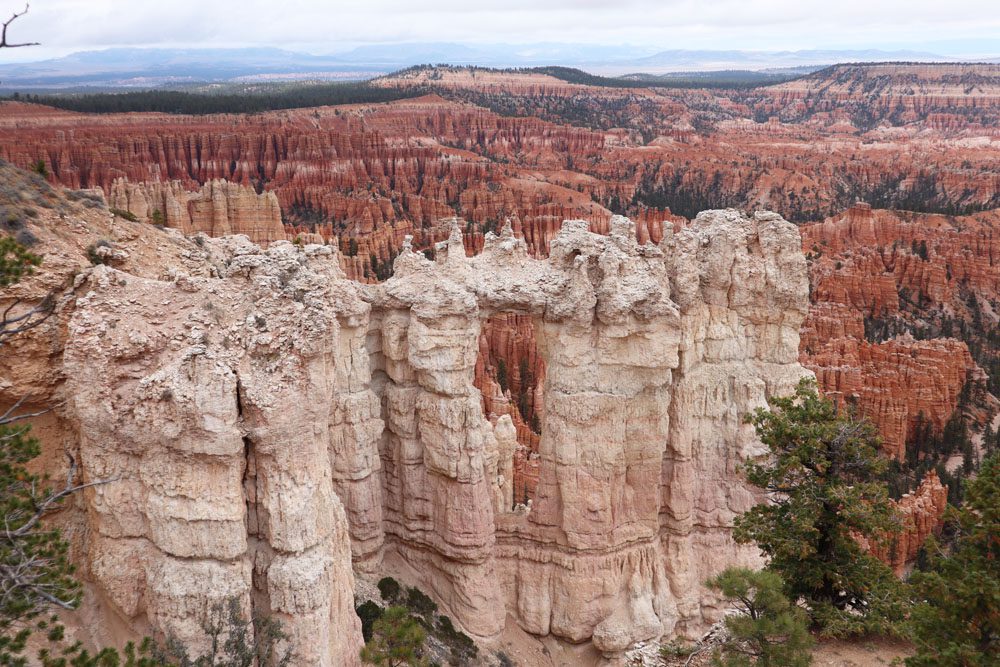 Paria View
This relatively quiet viewpoint is known for its castle-like hoodoo. Also, keep your eyes peeled for falcons in the skies and elk in the meadows.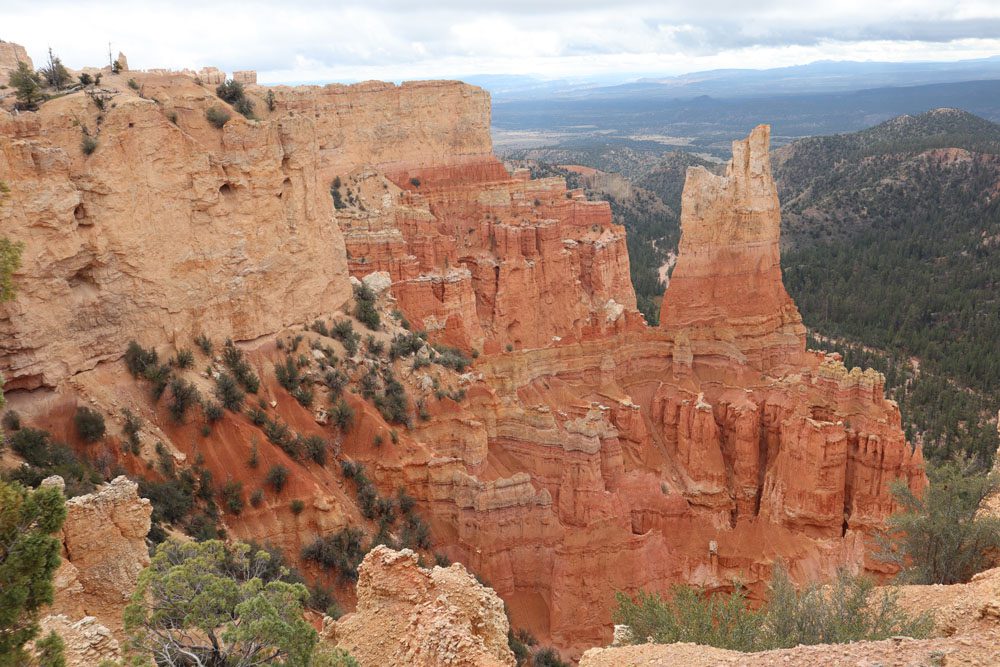 Swamp Canyon Overlook
From Paria View, it's back to Bryce Canyon Road on the drive to the end of the line. Stop at Swamp Canyon Overlook for lovely views of hoodoos and pines. Hikers can pick up the Sheep Creek and Swamp Canyon trail (4 miles | 6.4 km).
Natural Bridge
Check out this 85-foot natural arch suspended high above a gully. Though hard to see in the image below, the arch is composed of the most reddish stone in Bryce Canyon.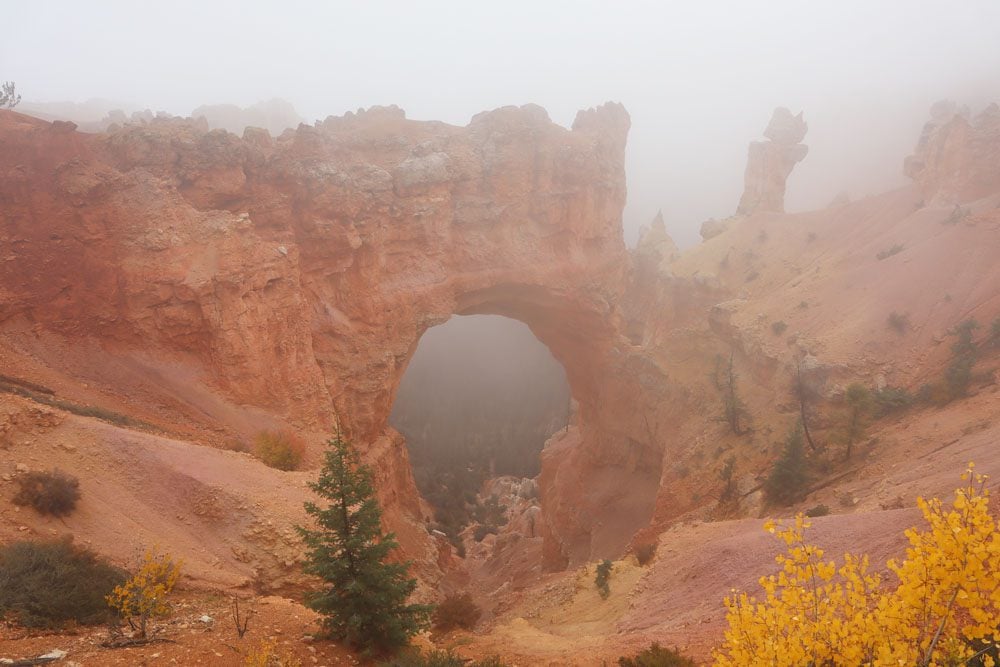 Rainbow Point
The scenic drive ends at Rainbow Point and its neighbor Yovimpa Point. You're now more than 1,000 feet higher than Sunset Point, so pack something warm for this stretch. From Rainbow Point, you can pretty much see the entire national park. Nearby at Yovimpa Point, you can see distinct, colorful layers in the rock, also known as "staircases". If you have the time and legs, hike the short Bristlecone Loop Trail.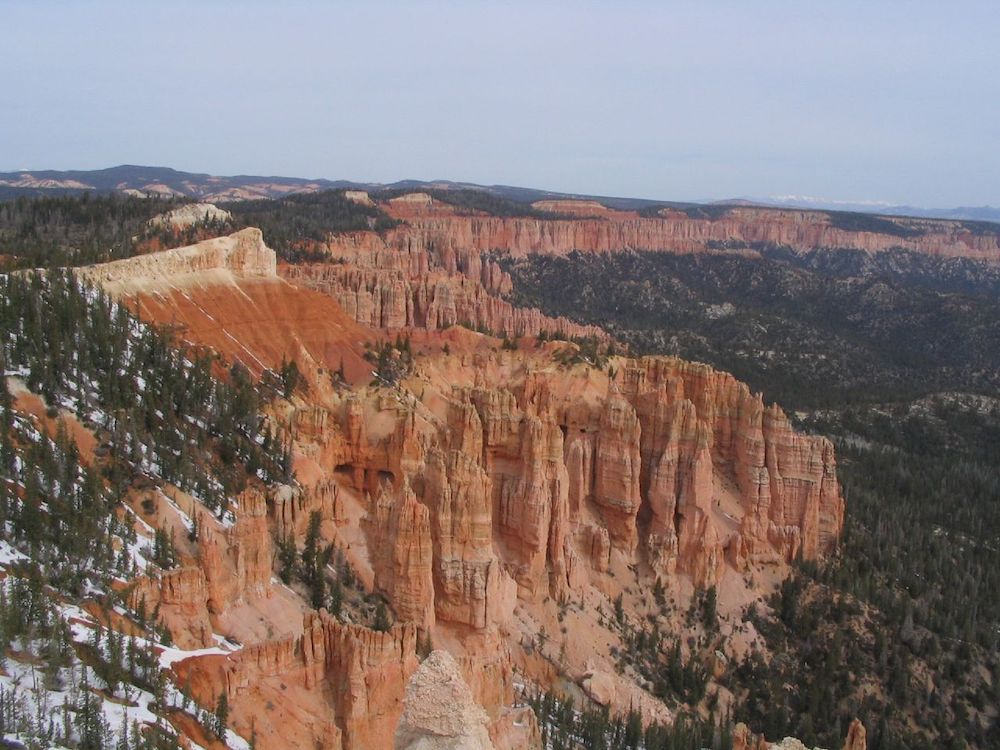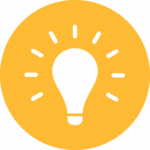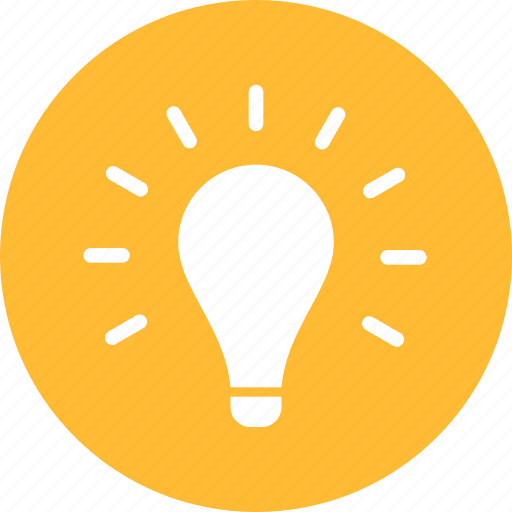 Pro Tip
If you aren't planning to hike at all or just walk the short stretch of the rim trail between Sunrise and Sunset Point, start your tour of Bryce Canyon at Rainbow Point and work your way down.
Watch the Sunset
If you aren't in a hurry to your next destination, head back to Sunset Point to bid a proper farewell to Bryce Canyon and its hoodoos. If you arrived early on the previous day, you might also have time to catch the sunset before dinner.
What's Next?
This wraps up an action-packed one day in Bryce Canyon itinerary. As you've seen, it's possible to see all of the national park's top highlights on a one-day visit and even have the time to squeeze in a short hike or two. Be sure to go through the essentials of planning a successful visit using the Bryce Canyon Travel Guide. If you're visiting other parts of Utah, check out additional travel guides to the region.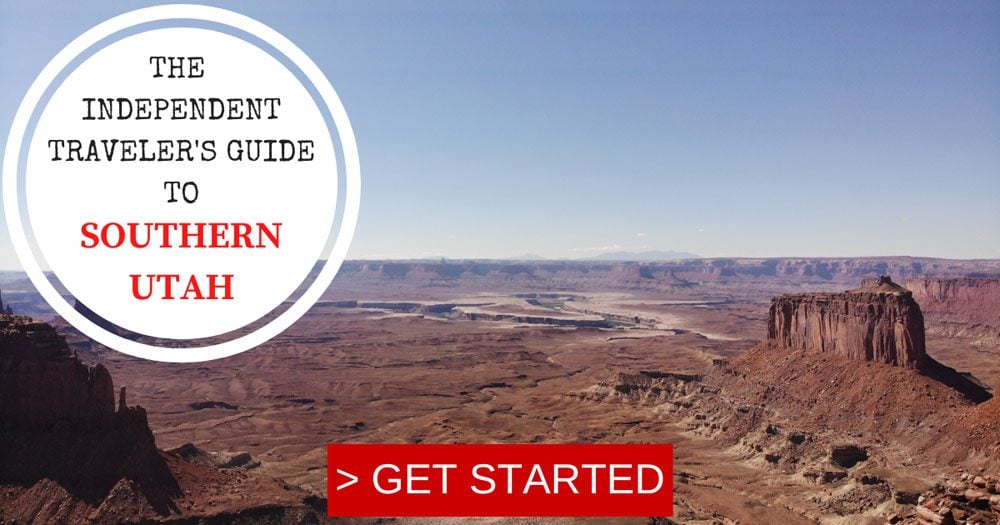 ---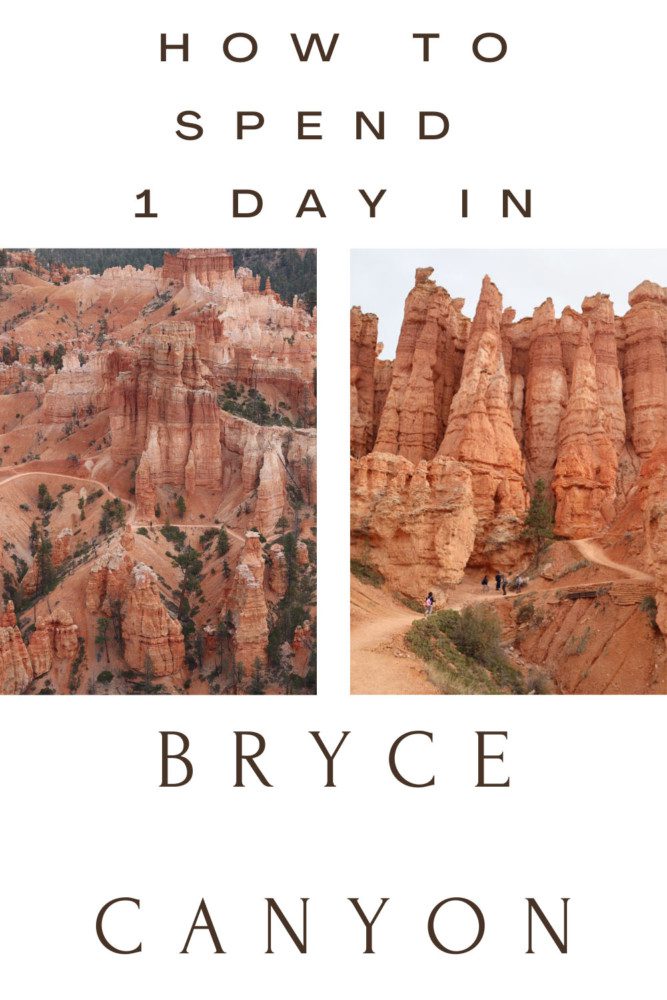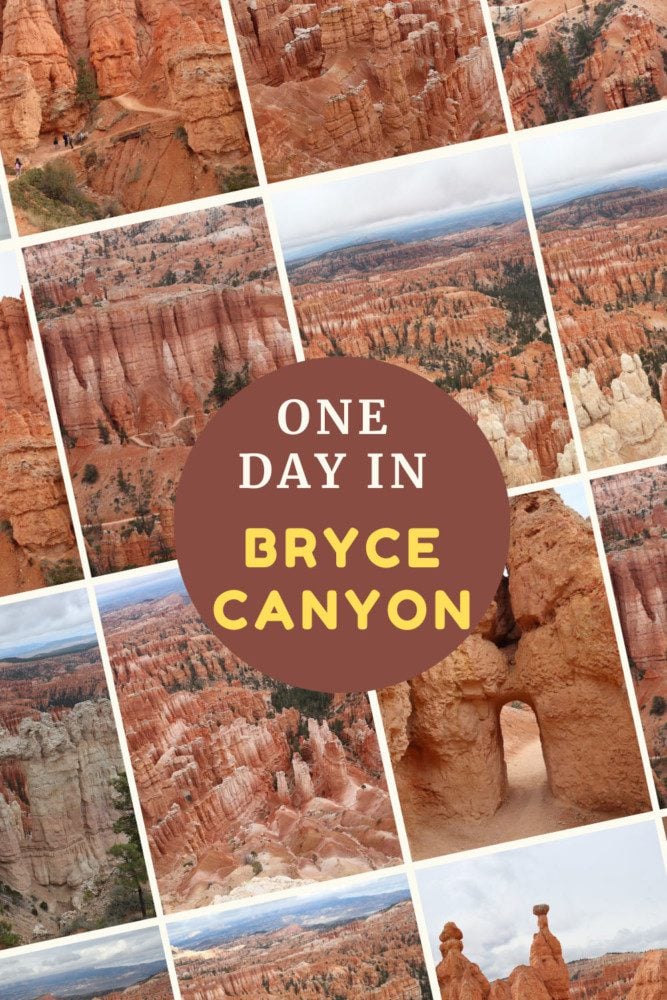 Pin These Images To Your Favorite Boards