1 Day In Mont Saint Michel
The legendary Mont Saint Michel, right on the border of Brittany & Normandy in France, was for years on the short list of places I wanted to visit. The image of a tiny medieval island, fully accessible only at low tide, with a giant pointy monastery at its peak – was more than enough to make us head out on one day visit to Mont Saint Michel. In this travel guide to Mont Saint Michel, we'll explore how to get the most out of your one-day visit.
Brief Mont Saint Michel Background
The modern story of Mont Saint Michel probably dates back to the year 708, when as legend has it, the Archangel Michael made an appearance and ordered a monastery to be built at the very top of this pointy island. For centuries to come, the island would be a strategic stronghold for the Britons and French, not be conquered by even the English during the Hundred Years War.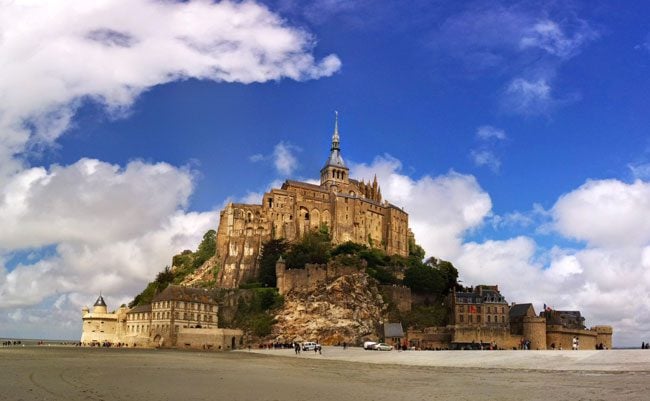 With the post-French Revolution dechristianization movement in France, the monks in the monastery were pretty much gone and instead, the monastery became a prison. The prison was finally closed in 1863 and Mont Saint Michel was declared a historic monument in 1874. UNESCO named Mont Saint Michel and its tidal bay to a World Heritage Site in 1979 and today, only 44 residents of this tiny medieval village receive over 3 million visitors every year.
Mont Saint Michel Travel Tips
I'll share with you in this section a few tips to help you make the most out of your visit.
With over 3 million annual tourists, this tiny island gets super crowded. To have a chance of enjoying your visit, aim to arrive as early as possible (between 9-10am) and purchase your ticket to the famous abbey in advance.
You cannot drive all the way to Mont Saint Michel. A new carpark and shuttle service have been set up about 2.5 km away. You'll park your car and either hop on the free shuttle or walk on the newly paved road all the way to the entrance. We arrived at 10 am and left at around 3 pm and paid €12.50 for the parking.
Mont Saint Michel Bay is extremely tidal and you will see in the photos just how much more mystery and beauty the tide adds to this already mysterious place. You can access the medieval village even at high tide but be careful not to venture into the bay.
There are a few accommodations in and around Mont Saint Michel. If you cannot book anything inside the village, I recommend spending the night in nearby Saint-Malo as we did. It's a picturesque walled city right on the coast and despite technically being in Brittany (Mont Saint Michel is in Normandy), it's only an hour's drive from Mont Saint Michel.
There are loads and loads of 'tourist traps' inside the medieval village, fighting for your attention and dollars. Aside from the ubiquitous souvenir shops, these traps include numerous 'medieval prisons & dungeons'. I would seriously consider how authentic these are and I personally did not venture inside.
If you're heading back to Paris, be warned of the infamous French toll roads. On the drive up, we followed the quickest route on the GPS and ended up paying €115, that's right, for a short stretch of toll road (there was no way to know how much it would cost ahead of time). Keep that in mind, do some research before and/or avoid toll roads.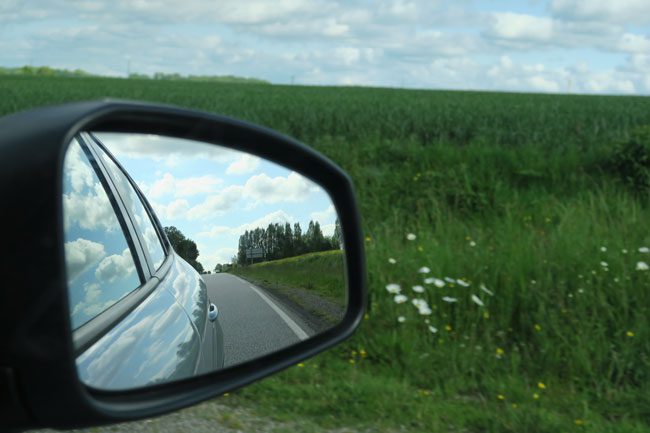 Getting There
We had spent the previous night in beautiful Saint-Malo, only an hour's drive away. We looked for accommodation inside Mont Saint Michel but actually, things worked out well as Saint-Malo was just perfect. At the recommendation of our B&B host, we left Saint-Malo by no later than 9 am, to make it to Mont Saint Michel ahead of the weekend crowd, arriving at around 10 am.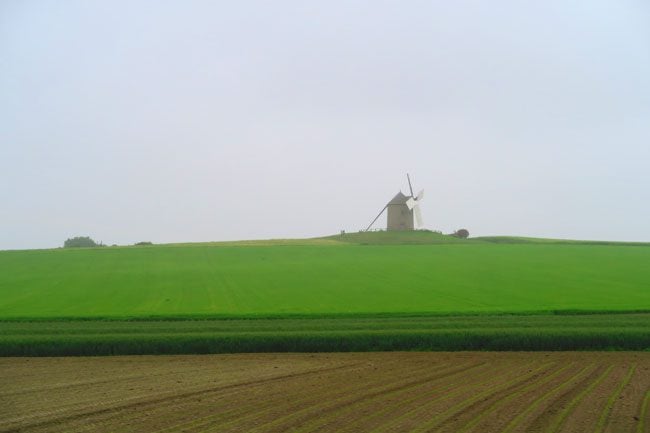 The foggy drive did not look promising but don't let this spoil your mood. In this part of France, the weather can quickly change, as you'll soon see. We parked the car in the designated parking lot and hopped on the shuttle to the village entrance. Yay! we made it! I must admit that even in the fog, Mont Saint Michel is still very impressive, just like I imagined it to be.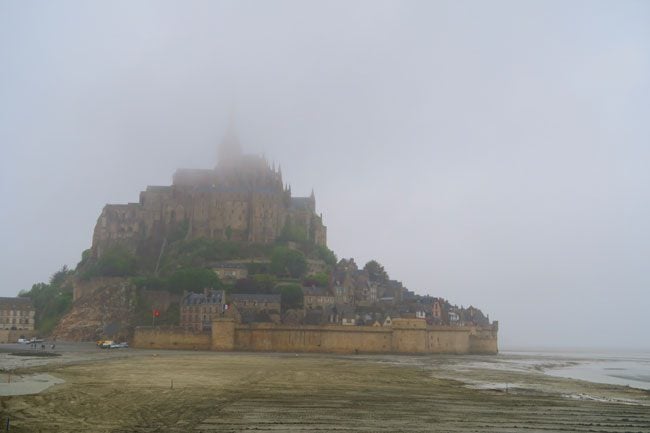 Walking Up To The Abbey
There aren't too many options at this point but to enter the medieval fortress and start making your way up to the famous abbey. The main 'street' is a narrow claustrophobic mix of souvenir shops and unofficial museums, luring visitors to step inside and head down to an old medieval dungeon. I am not sure if this is authentic or not but use your good senses and continue walking towards the abbey. In fact, you want to start your visit to the abbey, all the way up at the top, and then make your way down. That way, by the time other busloads of visitors arrive, you'll already be inside the abbey with a lot less crowd.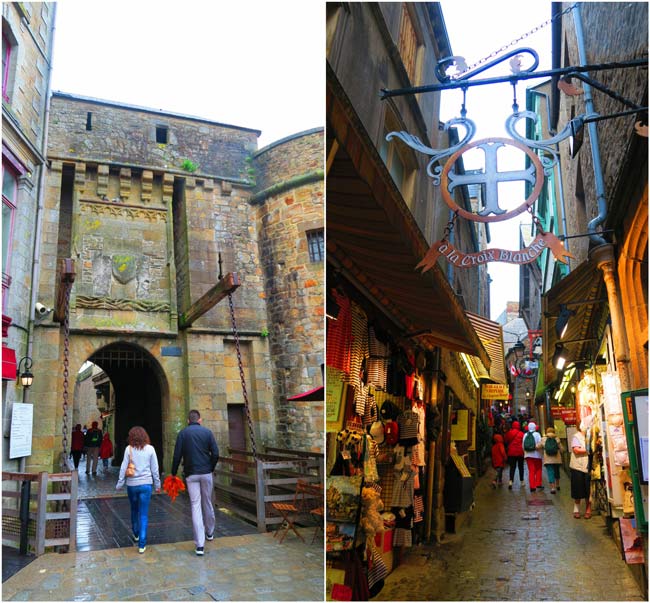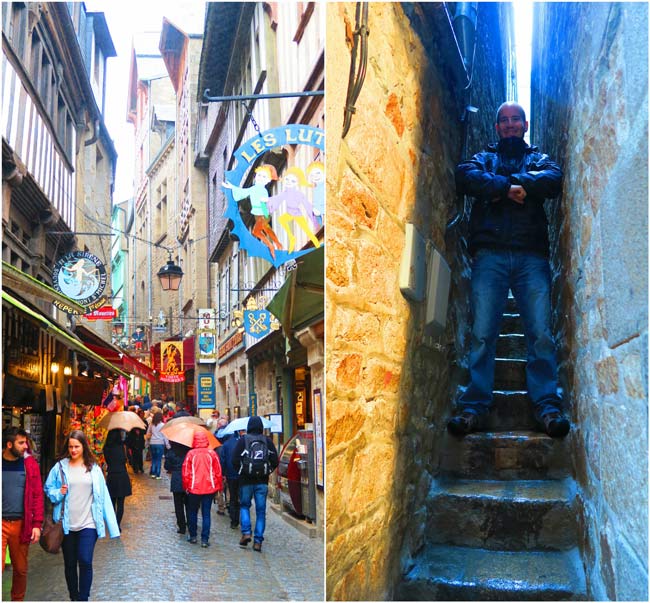 There are a few deviations here and there that you can make. A good one is at the Parish Church, about halfway up to the abbey. This tiny church dates back to the 15th & 16th centuries.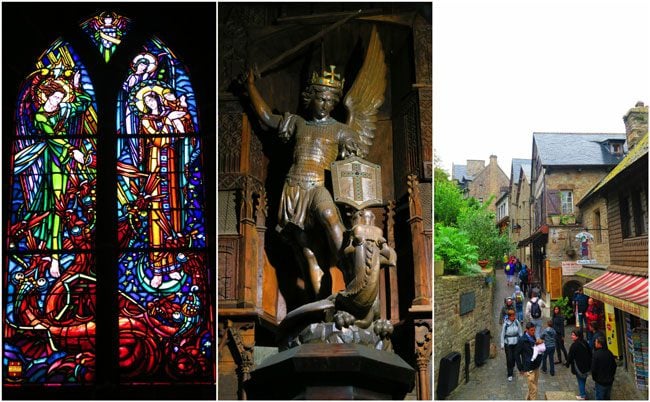 A bit further up, you can walk along the old ramparts and catch great views of the town below, the abbey above you and perhaps even a few adventure seekers taking advantage of the low tide and making their by foot to Mont Saint Michel (only do this as part of an organized tour as it can be fatally dangerous with the tides).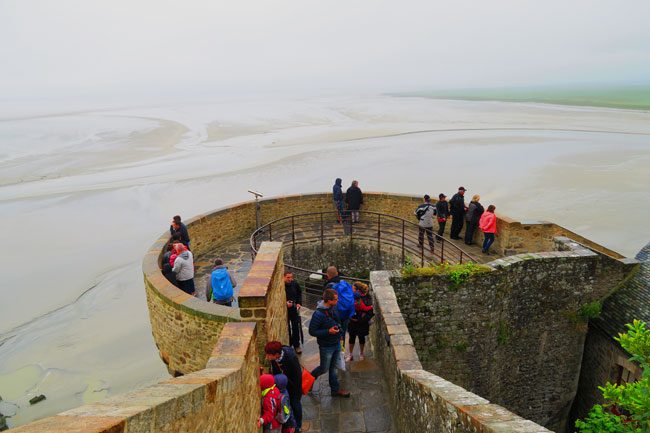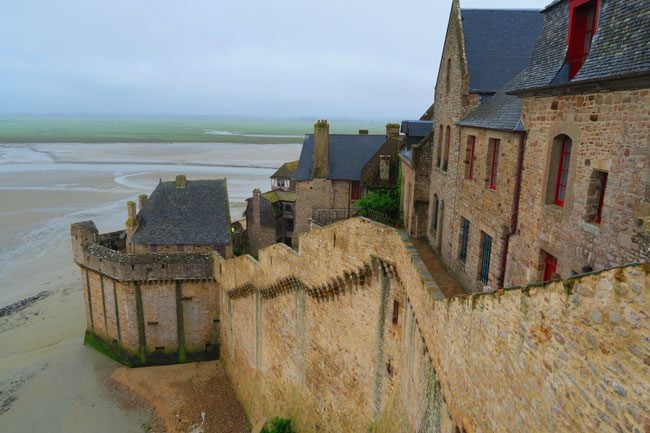 The Abbey
The famous Mont Saint Michel abbey & monastery are accessed through steps leading you all the way to the top. This is definitely the highlight of the trip as far as sightseeing goes. The abbey & monastery have been around since the 8th century and they are certainly showing the signs of aging in this moist climate. Even by today's standards, this is a real piece of engineering marvel. The massive structure sits atop the pyramid-shaped island and is essentially a giant fortress wrapped around the steep granite rock. What wouldn't they do in those days for a saint?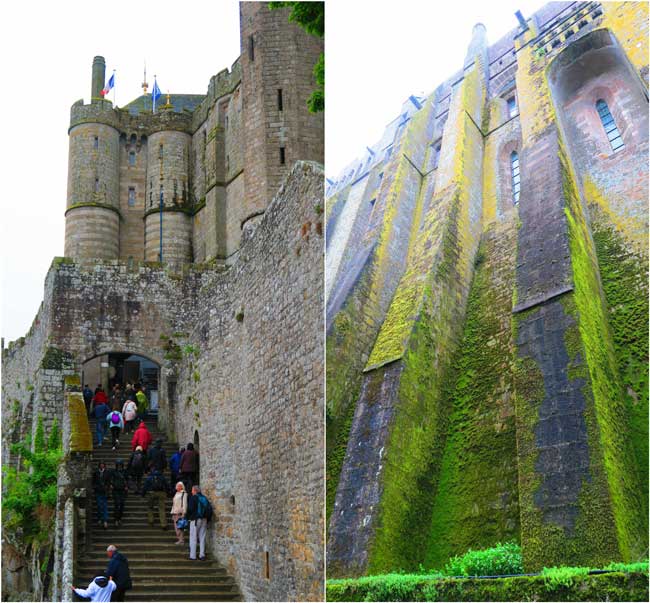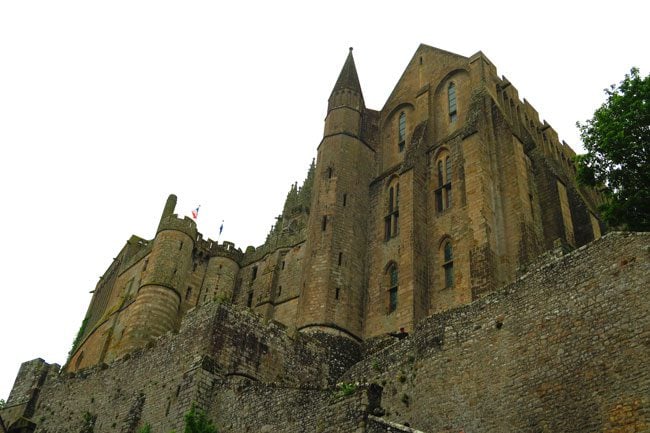 The entrance to the abbey is around 10€ and I recommend buying your tickets in advance. Though we entered without a queue at about 11 am, by the time we got out about an hour later, there was a massive line to buy a ticket.
The first stop on your tour is the terrace, offering medieval soldiers a commanding view and for you, the 21st-century tourist, fantastic panoramic views. If the winds are right, you might be treated to this bizarre behavior by the local seagulls – hovering in the air, just for fun. Super strange!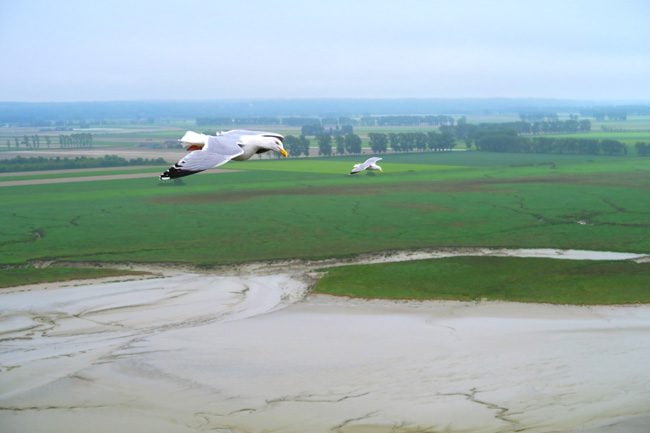 Next up is the abbey church, rebuilt after the Hundred Years War, following a collapse in 1421. There's nothing too fancy over here except the fact that the church is about 80 meters long and on top of this tiny island!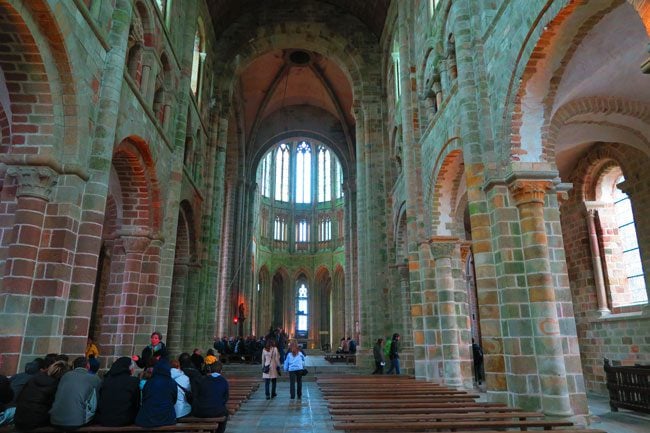 Your next stop is probably the prettiest. The abbey's cloister was built in the 13th century and was designed as a gathering spot for meditation or ceremonies, as well as a way to connect the various sections of the abbey. Can you imagine a medieval war going on down below and you're just chilling in this tranquil spot?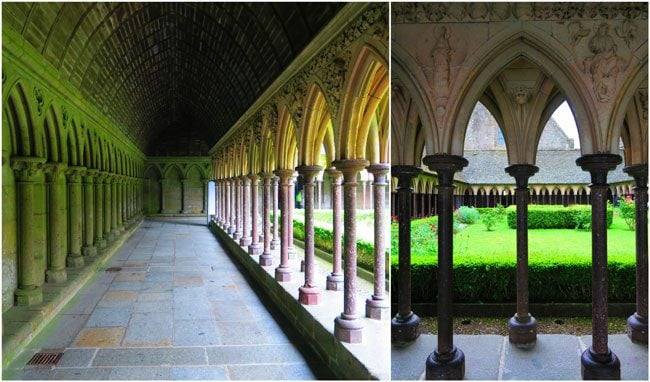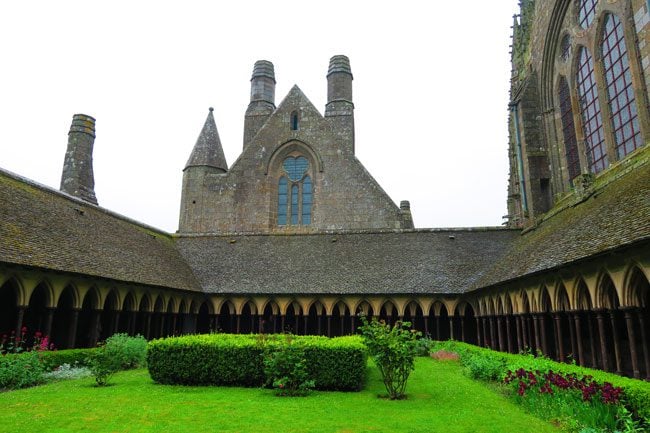 Next up is the Guest's Hall, a massive room with a giant fireplace that was used as a room for hosting royals and noblemen and women.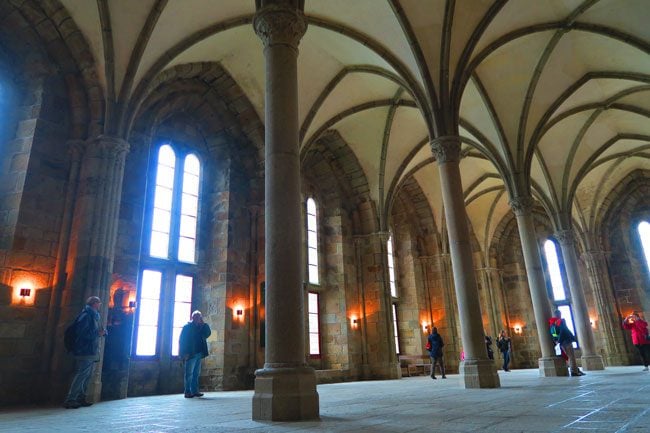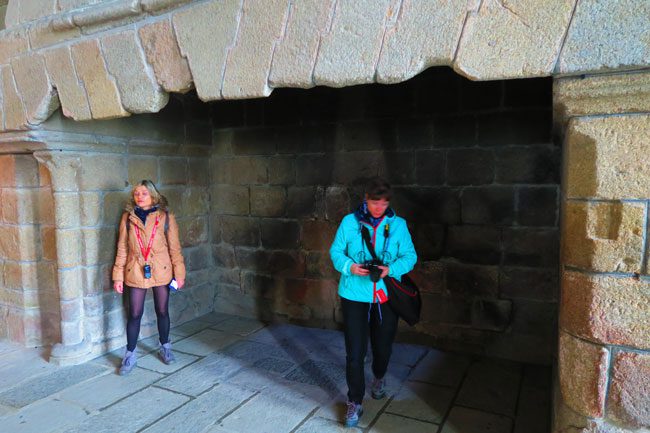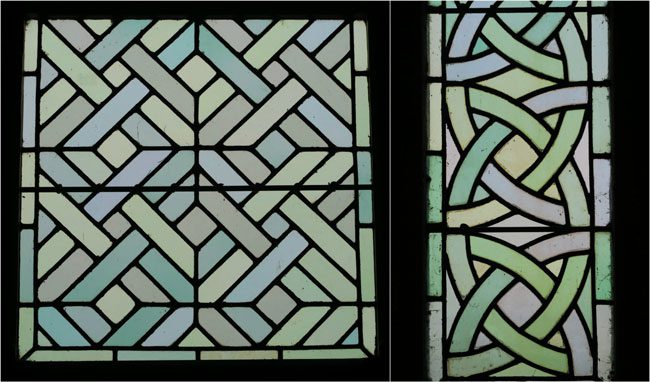 Your visit of the Mont Saint Michel abbey then takes you to a couple of crypts that were basically built to support the rooms above and then to a massive wheel that was installed in 1820 to make deliveries to the prison that replaced the monastery, after the French Revolution.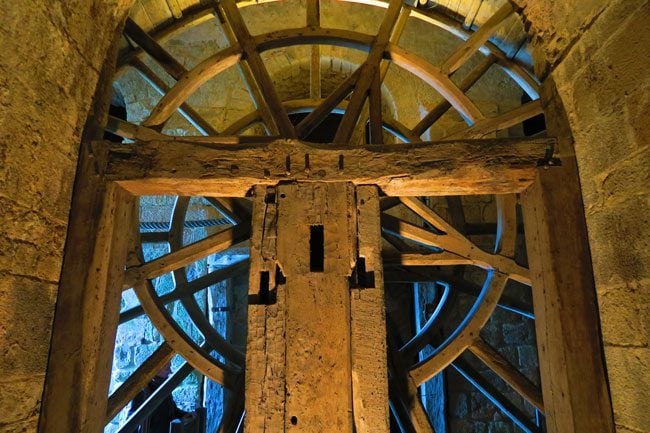 The last major stop is at the Knight's Hall, another massive room that actually sits right below the cloister. As the name does not suggest, this hall was actually the study room of the monks.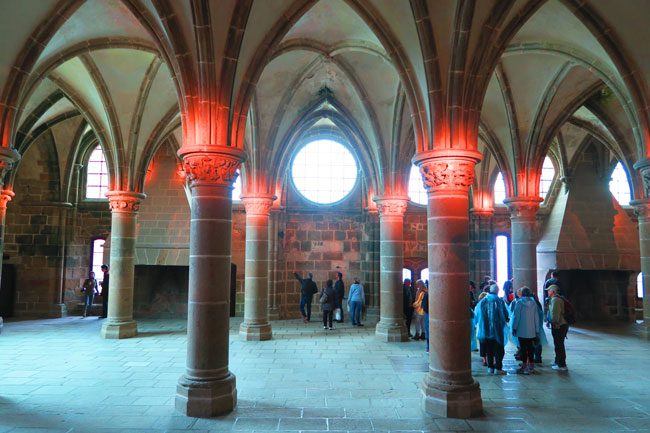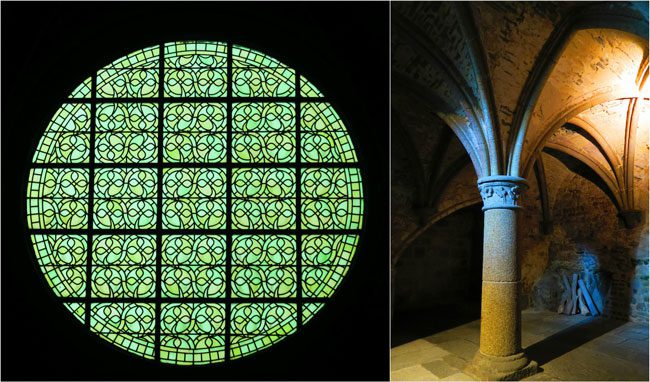 Overall – the abbey is definitely a must-see when visiting Mont Saint Michel: good views, lots of history, impressive architecture and a few strange seagulls – what's not to like?
Lunch
If the abbey was the sightseeing highlight of our one-day visit to Mont Saint Michel, lunch at the legendary La Mère Poulard restaurant was the absolute highlight of our visit! First starting out as a hotel (still is today), Annette Poulard added a restaurant back in 1888, as a way to keep the hotel guests a little longer and to satisfy the craving of arriving passed on the island. She became world-famous for her souffle-style giant omelets and this is the reason people from all over the world make the journey here, including statesmen, dukes, kings & queens, musicians, actors and us common folks.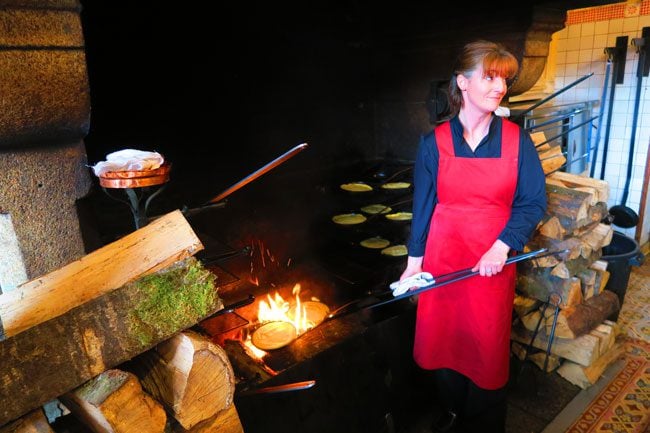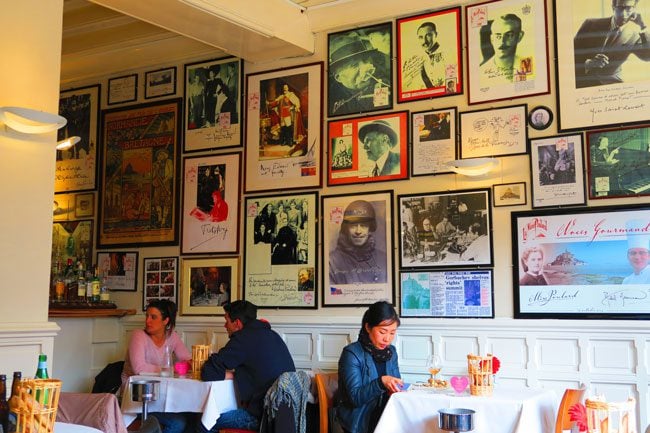 Apparently, the secret is in the batter, hand-mixed into a creamy paste. But that's not all, the batter is mixed to a unique beat, really making a show out of it as you can see in the video. The batter is then poured into copper bowls and placed on a wood-burning fire – just like Annette prescribed over a hundred years ago! The result is a giant and a super fluffy omelet that just melts in your mouth.
It ain't cheap though folks, and make sure you're sitting down for this one. The basic omelets are priced at over €50, that's right f-i-f-t-y Euros! The good news is that the lunch set menus are easier on the pocket and if you come after 3 pm but before dinner, the deal is even better. For about €170, the three of us took the set menu consisting of foie gras and other cured meats for starters, the famous omelet for mains (each with their own filling) and probably the best creme brulee we've ever had, for dessert. Oh, and being in Normandy, you really do have to drink some cider on the side – so good!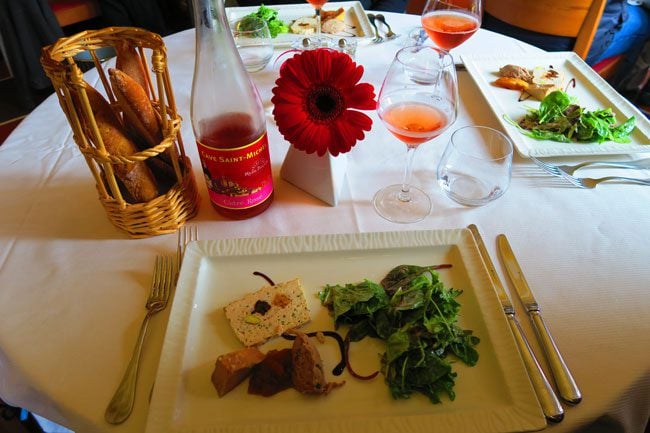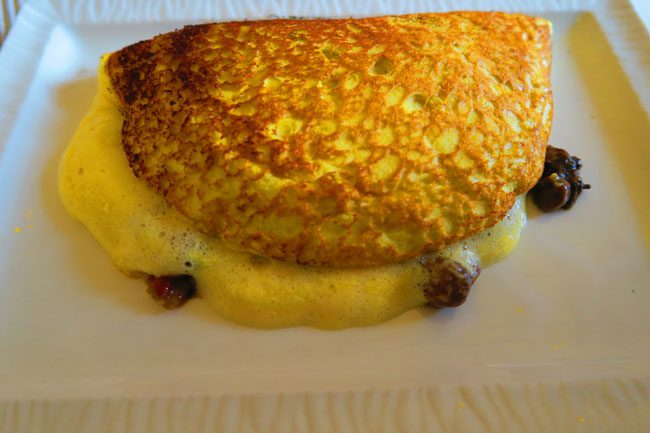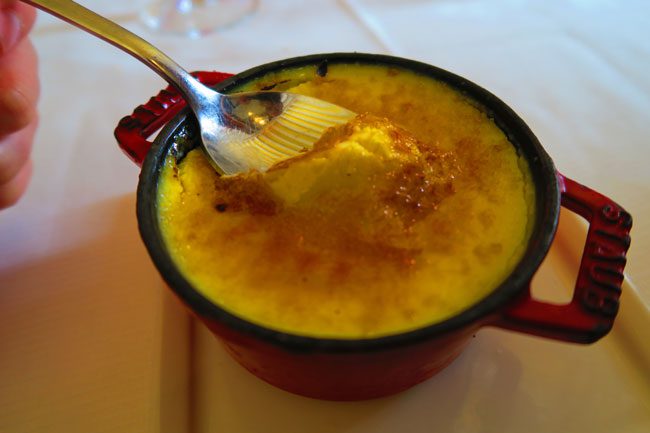 Overall, eating at La Mère Poulard is super expensive but it is super good. At two hours long, it was probably the longest lunch I've ever had and definitely a unique experience that if you can afford, give it some thought – but not too much thought as reservations are an absolute must!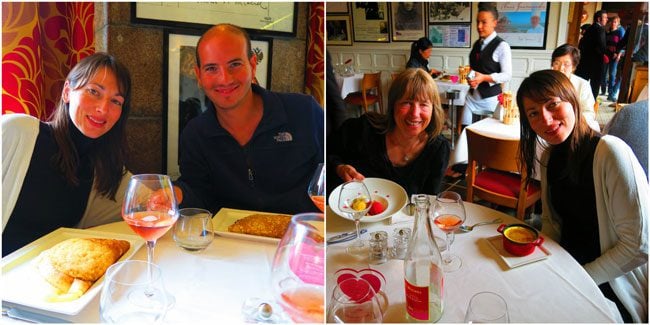 Before Leaving
By late afternoon, the weather cleared up as you can see. We took advantage of the good weather and snapped a few photos just outside the main gate where the shuttle drops you off.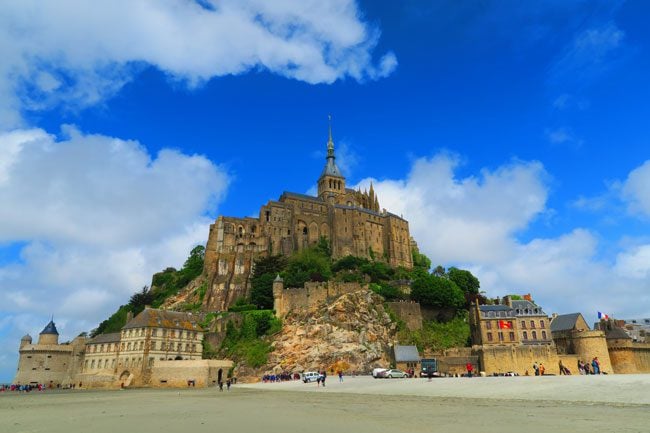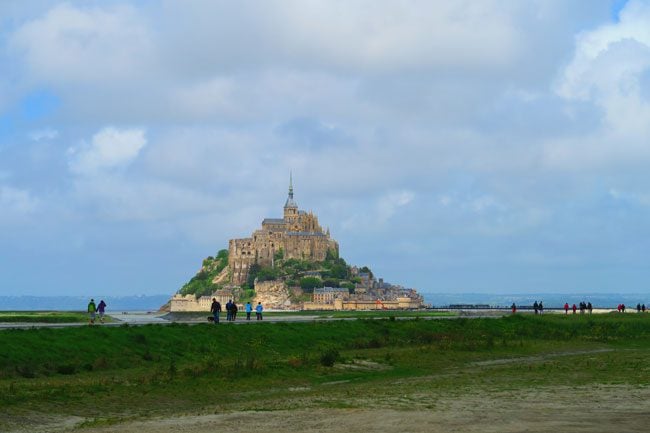 Just as you leave the parking lot, you'll see a few shops on the road selling local delights. We stopped in one of those and stocked up on some local cider. There are pretty good views from a distant perspective of Mont Saint Michel – exactly how I imagined it to be.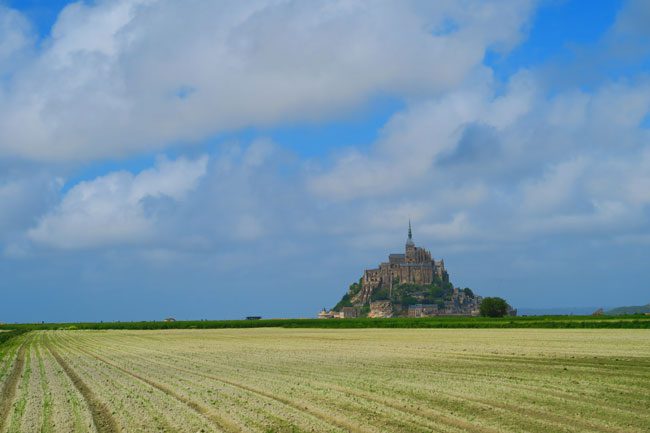 Closing Thoughts
Our one day in Mont Saint Michel was a dream come true. It's been on our 'to do' list for so long, so coming here as part of a long weekend from Paris, was a no-brainer. Visiting Mont Saint Michel can either be a dream come true or a nightmare. This place is super tiny and super popular. I hope this travel guide will help you plan your own visit to Mont Saint Michel!