Part III: 3 Days In Ko Lanta

Looking back, Ko Lanta was our favorite stop. The island may not feature the dramatic limestone cliffs of Railay or Phi Phi, but the lack of drama is exactly its main selling point. Lanta is a place to relax, a place that's perfect for families with children or couples, a place where you can do as little or as much as you want. In an effort to prevent Ko Lanta from turning into another Ko Phi Phi – the island's municipality has strict laws against noise, hawking, and littering. Prices for tours and taxi/tuk-tuk rides are always clearly displayed, taking away the need to negotiate.
Ko Lanta also features the longest beaches in the Krabi area and that means plenty of space to call your own. Unlike Railay and Phi Phi, locals actually live in Ko Lanta. So curious travelers have the chance to experience authentic markets and village life – another Lanta plus!
In just 3 days in Ko Lanta, we couldn't possibly see everything it has to offer. I'll list all the things we personally did, but keep in mind that you could easily spend a week here and not be bored (cooking classes, caving, and elephant rides anyone?).
3 Days In Ko Lanta Map
Click on the image to open in Google Maps. The map features all the Ko Lanta highlights mentioned in this section.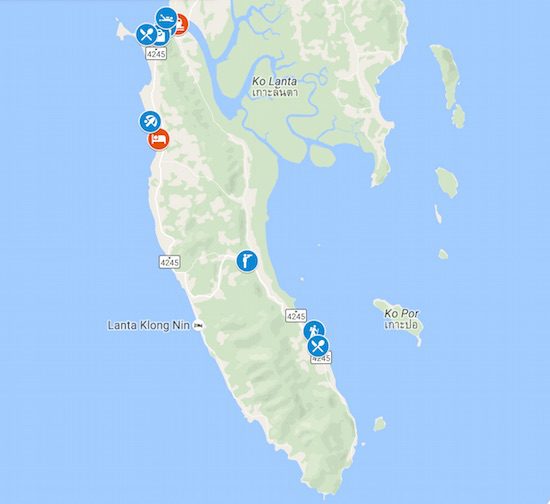 How to Get to Ko Lanta?
You can actually reach Ko Lanta by land from Krabi, thanks to a series of bridges connecting the mainland with Ko Lanta Noi and then Ko Lanta Yai – which is where you want to stay. To get to Ko Lanta from Railay Beach, Ko Phi Phi, and other island – ferries and speedboats are available in high-season. We took a two-hour ferry from Railay Beach which was super comfortable. The coastal views and the flying-fish were inspiring, and it was fun catching some sun on the deck. Boats arrive at Ban Sala Dan – the main town in Ko Lanta Yai – where you'll pay a municipal tax of THB 10 and catch a tuk-tuk to your accommodation (prices are fixed and displayed on rate sheets).
Where to Stay in Ko Lanta?
Ko Lanta caters to the entire spectrum of accommodations: from luxury resorts to holiday homes, to backpacker hostels. After much research (believe me), we decided to base ourselves in Long Beach (the best beach on the island) and to avoid the high-ground so that we don't have to venture too far to get to the beach. We eventually chose the Lanta Casuarina Beach Resort and it did not disappoint. The resort is right on the beach and its rooms and villas circle a very inviting swimming pool.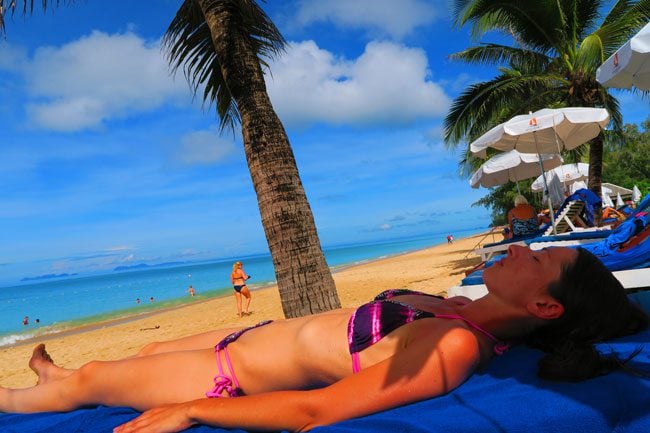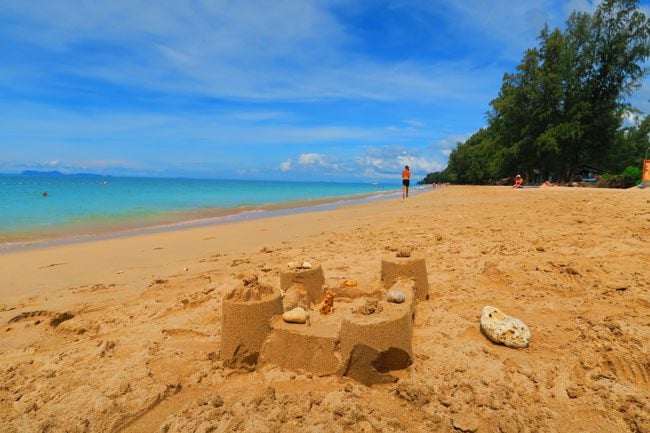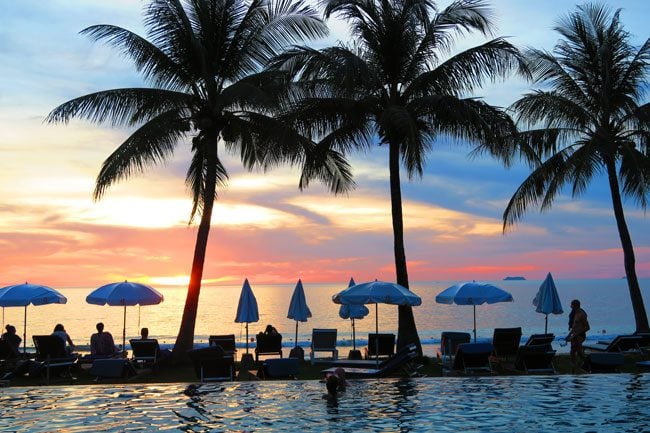 The back rooms are motel-style so – if the price is right – I recommend the villas, which all have sea views. The units are spacious, modern and most importantly – the AC works well! There's a great outdoor balcony for catching up on your reading and pondering life's greatest questions. In the morning, the birds take care of your wake-up call and at night, the crashing waves take care of your sweet dreams. This is pure relaxation!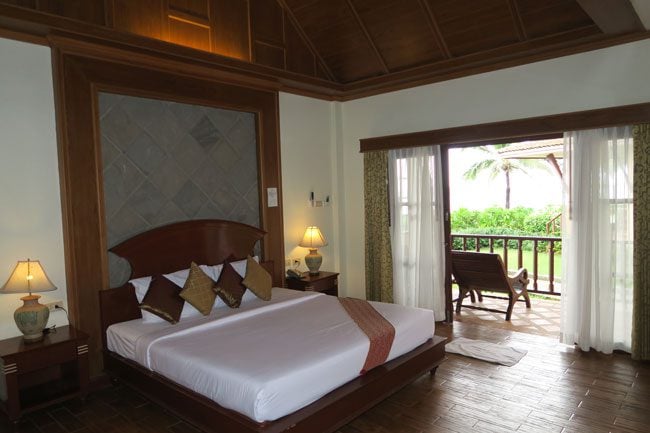 The resort's restaurant faces Long Beach and we especially loved coming here to admire the glorious sunsets with happy hour 2X1 cocktails in our hands. The food is quite good and not that pricey, with lots of traditional Thai dishes (oh yeah chicken-cashew) and Western food (leave that for back home) to choose from. Don't miss out on the fruit shakes!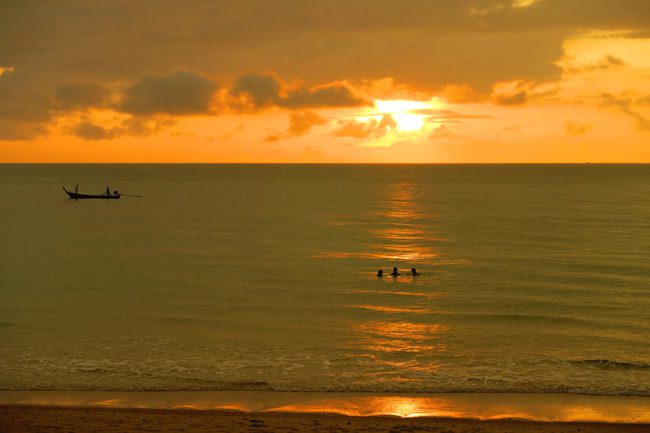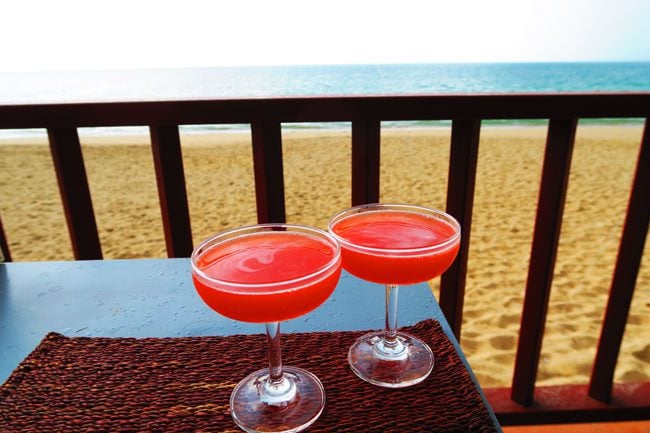 And of course – the massages! Right on the beach in this case. The ladies have the perfect sunburn treatment for careless white folks like me: a deep tissue aloe vera massage (THB 400).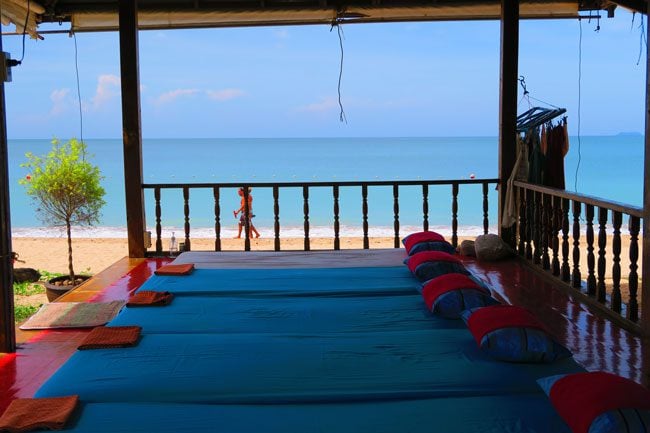 Ban Sala Dan & Market
The once sleepy fishing village of Ban Sala Dan is the first thing you'll see in Ko Lanta. This main town has everything you need: shops, restaurants, ATM, dive centers etc. On the approach to the dock, you can still see the old wooden homes that are resting on piles over the water – classic Thailand.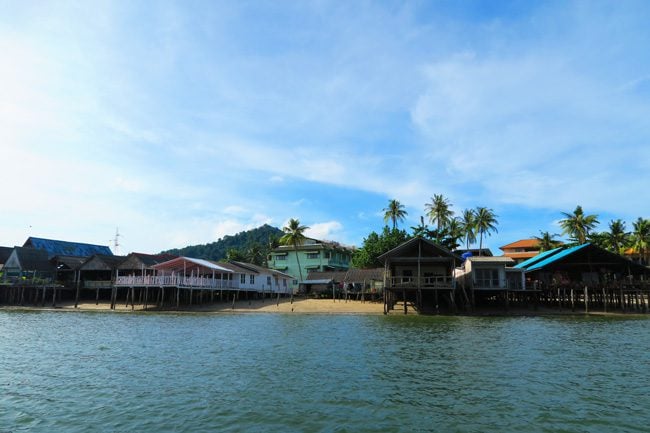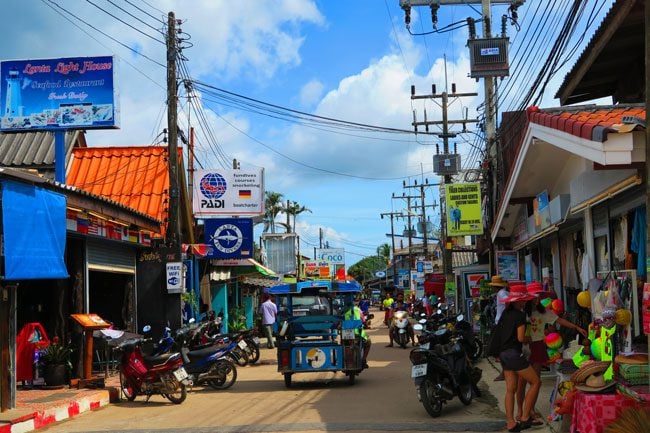 Of all the tourist attractions, the town has two interesting markets that are worth checking out. The first is the modern crafts market just as you're coming out of the center of town. The market is more like a small complex of shops, each selling things like bags, clothing, woodwork, toys and other souvenirs. Prices are marked on each item so there's no need to negotiate. For that – we'll head to the 'real market', where prices were 30% cheaper!
The 'real market' is located just outside of town on the side of the road. It's known as the 'wandering market', a fitting name since almost every day it pops up in a different village on the island. On the days in Ban Sala Dan, the market is at its best.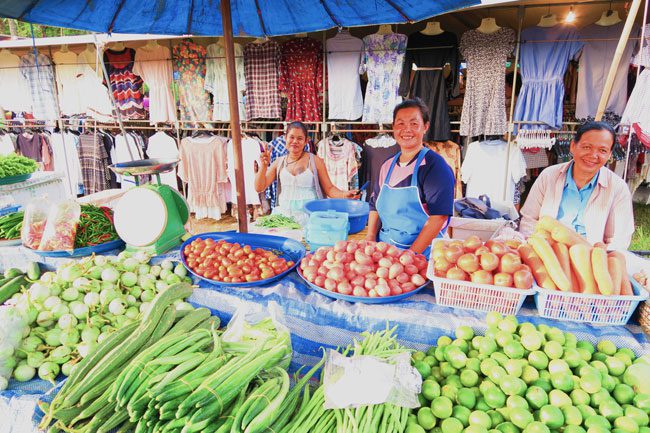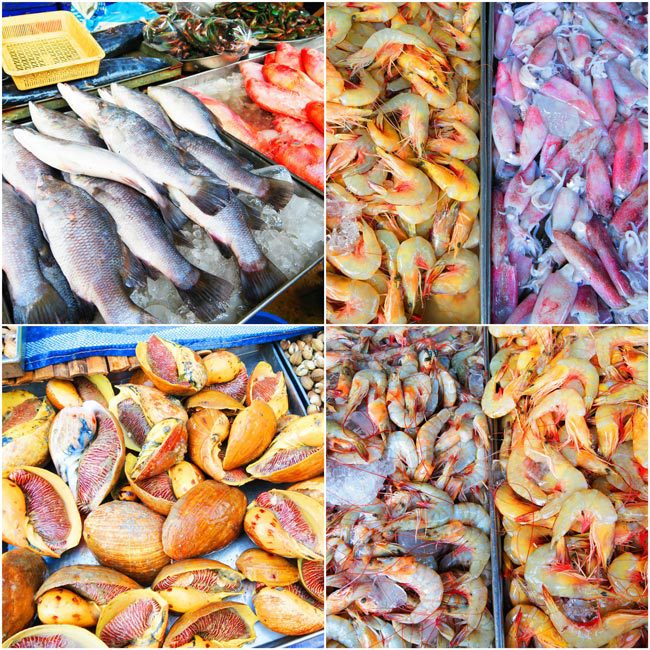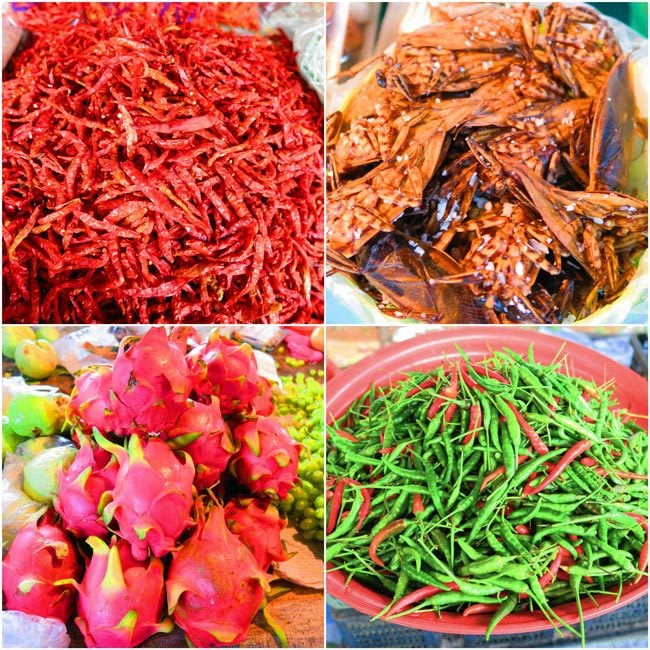 This is not a market for tourists by any means – 100% local and incredible to experience if you love markets like I do. It's mostly about food and there's plenty of it: from the cooked to the raw and from the familiar to the bizarre. Here are some sights and sounds from the market.
Long Beach
Officially named Ao Phra-Ae but more commonly referred to as Long Beach – this beach is, well… long! Beautifully long, in fact. It's so easy to find your spot on the beach and really unwind, or go for a swim in the warm waters without having a longboat get dangerously close to you like in other Thai beaches.
During the day, walk up and down the long sandy beach, grab a massage and fruit shake when you feel like it, and catch some shade beneath the casuarina trees when it gets too hot.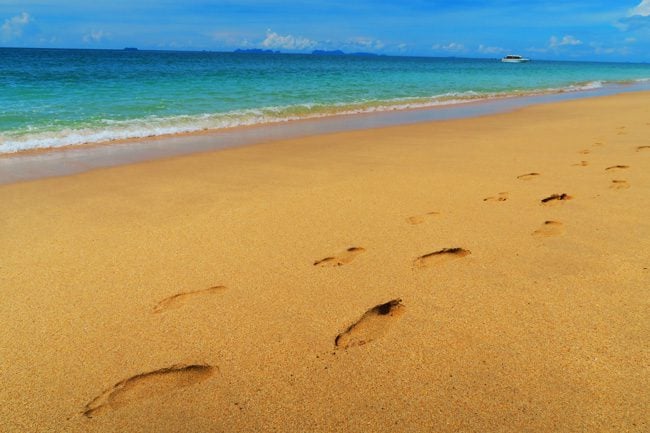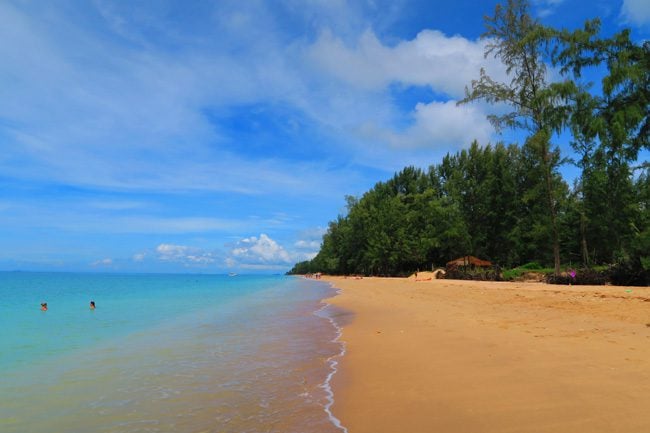 At night, you'll share the beach with busy crabs working to make a living in the pitch dark (bring a flashlight). But all you have to do in order to spot the beach bars and restaurants is to follow the spinning lights coming from the fire dancing shows. We especially loved the cocktails and reggae music at Koby Bar – somewhere in the middle of Long Beach.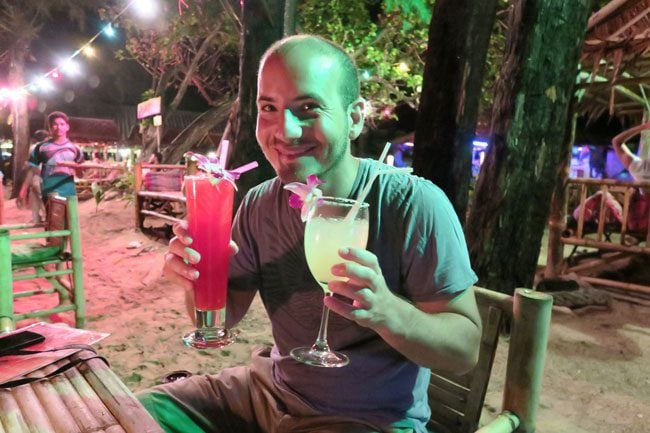 Scuba Diving & Snorkeling Tours
Much like in Railay Beach, the small islands off Ko Lanta make for popular snorkeling excursions. Since we already did one of those, it was time for some scuba diving (for me, at least). The best dive sites near Ko Lanta are at Ko Haa and Ko Bida. Not all dive centers make it out to these sites every day (there's a limit), so you'll need to double check. We went with the only five-star dive center in Ko Lanta – Hidden Depths – and the experience was first-class. They picked us up at our hotel and treated us to breakfast and a proper briefing in their dive center. I went for a two-tank dive (THB 4100, including THB 600 marine park fee) and Isabelle went snorkeling (THB 2300).
Photo credits: Steve Branson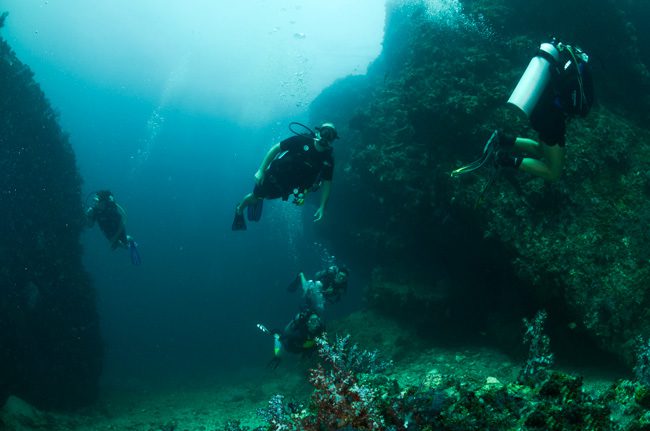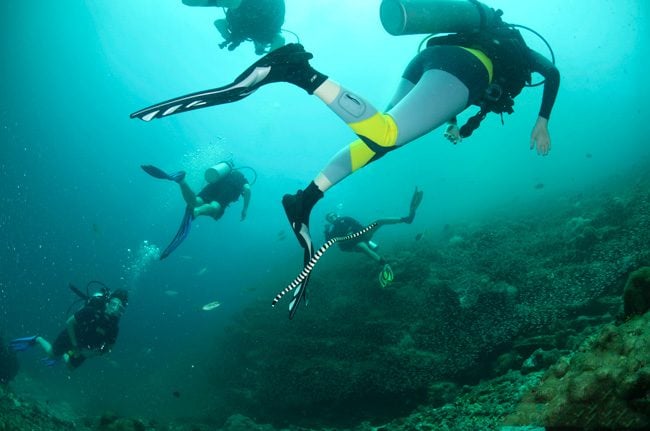 The dives off Ko Haa were quite spectacular and you can clearly see that the marine park is serving the coral right. We ventured in-and-out of caves and spotted interesting marine life that I didn't even encounter in the South Pacific.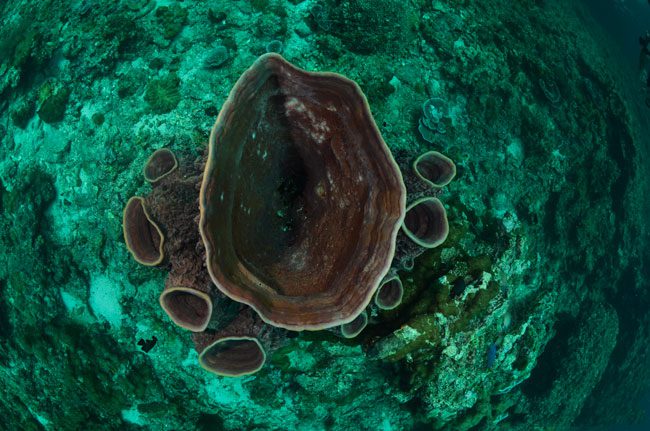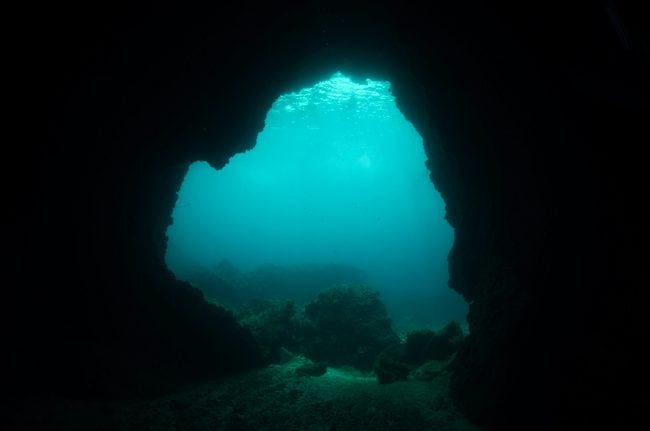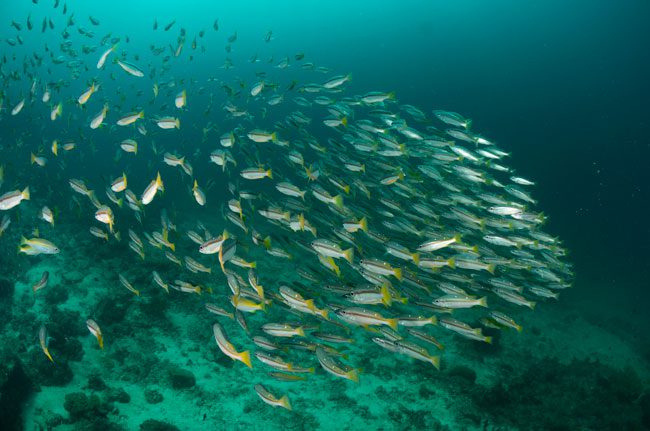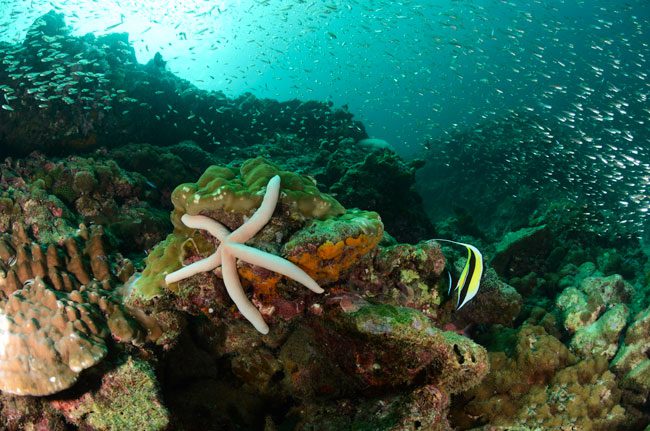 But the fun wasn't over when we exited the water. Upon our return to the dive center, a traditional Thai lunch awaited us. Can you believe that? We got to properly fill our log books, chat with the super-friendly staff and enjoy a delicious lunch right on the water!
Scenic Viewpoint
Ko Lanta is a big island so renting your own set of wheels and exploring totally makes sense. We didn't feel like risking it with a scooter (THB 200) so we opted for a tuk-tuk ride across the island to Lanta Old Town with a stop at the scenic viewpoint (THB 500 return). The island's mountain range divides the more developed west coast with the calmer east coast. A stop at the viewpoint before descending to Old Town is absolutely well worth it. The panoramic views are spectacular and there's also a popular restaurant/cafe for those in need of a quick break.

Lanta Old Town Old
Officially known as Ban Si Raya, this is the oldest settlement in Ko Lanta and its former capital city. These days, the sleepy village is a collection of charming wooden homes built over the water and businesses catering to day trippers and overnight guests.
We went for lunch at the Sandy at Old Town, a fantastic little restaurant. The food and the service were so good, that we totally splashed out. We started with fruit shakes, continued with green curry (of course) and fried rice with mango duck, and finished things off with banana waffle and ice cream for dessert!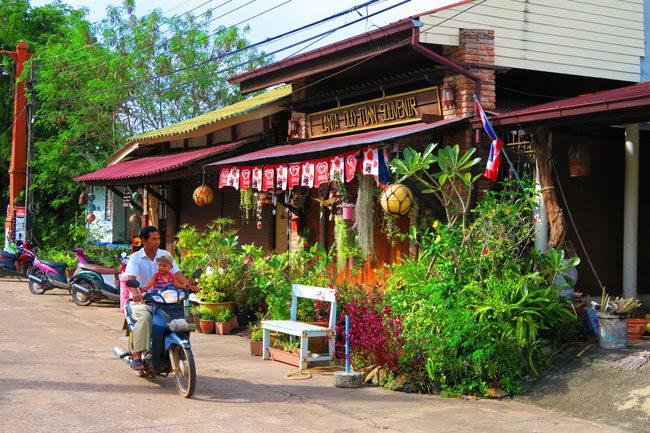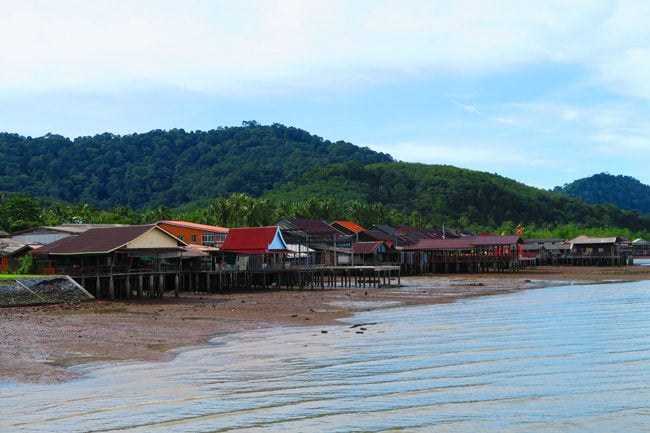 The trip to Old Lanta is not a must do but we had a great time. It was great to explore the island even if it was just for a short time. As I mentioned before, totally feel free to rent a scooter and ride around the island. There are lots of small villages and hidden beaches to be discovered. Just be extra careful with self-driving, especially when the road is wet. In the comforts of our covered tuk-tuk, we passed by a few unlucky tourists who slipped off their scooter…
Dinner at L. Maladee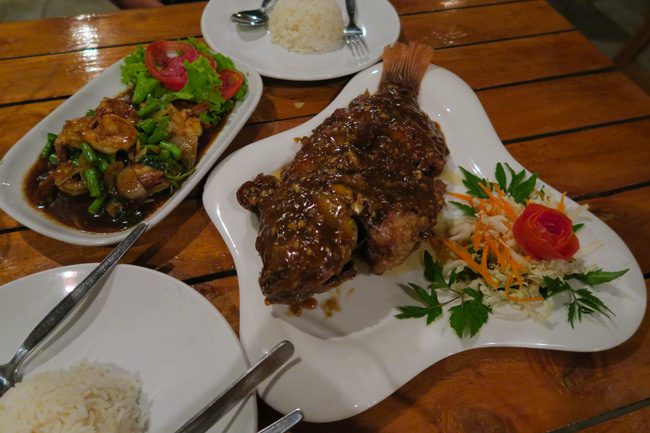 What a smart move to make reservations here for our last night in Ko Lanta. This family-run restaurant serves up a great atmosphere and delicious food. Heck, there's even a shrine inside. The specialty here is the seafood but you'll also find your usual Thai favorites. Choose your own fish and while it's cooking, devour some spring rolls and down a few Chang beers.
We went for the grilled red snapper in garlic sauce and prawn stir fry with green beans. This dinner was one of our best during our two weeks in Thailand – without a doubt!