Part II: 3 Days In Railay Beach

The first stop on the island-hopping section of the trip takes us to Railay Beach, which is actually not an island but rather part of the Laem Phra Nang Peninsula. Secretly tucked between towering limestone cliffs, this incredible masterpiece by mother nature is, unfortunately, everything but a secret.
In this section, I'll highlight all the top things to do in and around Railay Beach. Our daily routine in the first two days mostly involved: beaches, massages, meals, fruit shakes and cocktails. In fact, that should be the strategy for lazy days in Thai beaches and islands – always satisfy your immediate craving! On the third day, we decided to be a bit more active – venturing to nearby islands on a day trip. This part of the world is so beautiful after all…
3 Days In Railay Beach Map
Click on the image to open in Google Maps. The map features all the Railay Beach highlights mentioned in this section.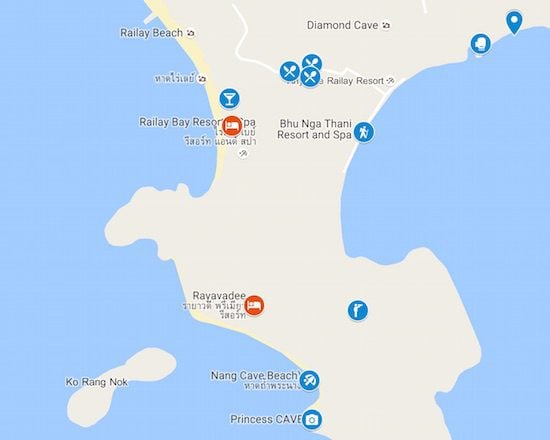 How to Get to Railay Beach?
Railay beach is connected by ferry to Ko Lanta and Ko Phi Phi. Coming from Bangkok, it's a 90-minute flight to Krabi. At the airport, hop on the minivan to Krabi Town but continue to Ao Nang Pier (THB 150). At the pier, purchase a ticket to Railay Beach (THB 100) and wait until nine other passengers do the same thing.
Where to Stay in Railay Beach?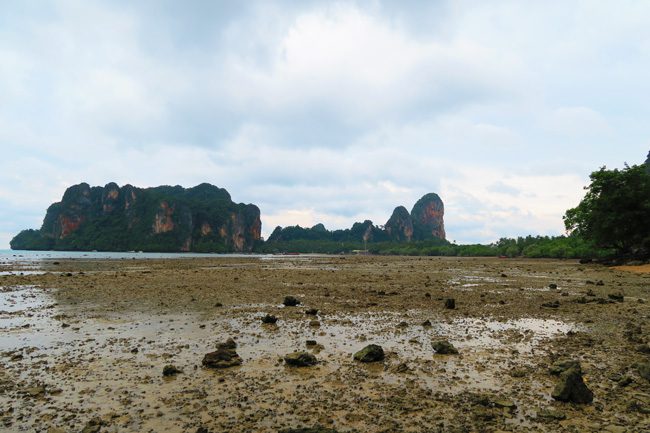 Due to its small size, accommodations in Railay Beach come at an extra premium. Value for money is not that great compared to other stops. Railay Beach is divided into east and west. East Railay is partially taken over by mangrove and its beach is very tidal. It's also where the busy promenade is located and where logistics such as garbage disposal and shipping take place. That said, we did come across a few incredible-looking resorts and lodges on the cliffs overlooking the northern section of East Railay. You can also just find a cheap place to stay on this side and spend your day just 5 minutes away in Railay West.
Hugged by the massive limestone cliffs on both ends – West Railay is really where you want to base yourself, especially its quieter northern section. The beach is stunning, the sunsets are incredible and the resorts are usually set amid palm trees and lush tropical gardens where songbirds do most of the talking. Prices in West Railay are higher and you'll have to book quickly as supply is short.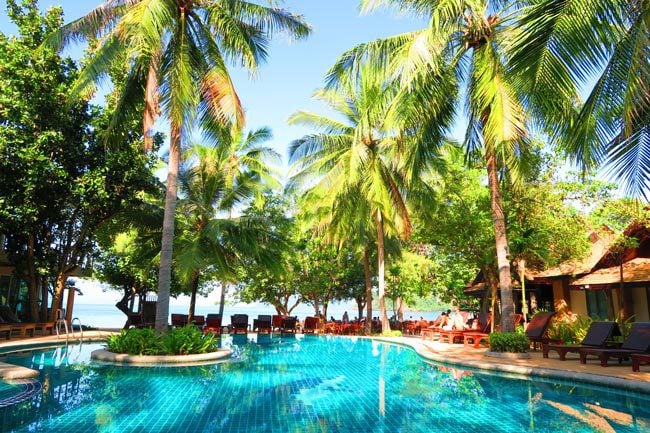 We stayed at the Sand Sea Resort in West Railay, in a superior bungalow which was the cheapest option (though costing ~$140 per night including breakfast). The bungalows were all located in a lush tropical garden and were quite comfortable, though in need of a bit of sprucing up (especially the bathroom). Breakfast was very good, served in a beachfront restaurant where you can also grab lunch and dinner. The front and back swimming pools were a great escape when the beach got too crowded (and it always does), and there was even a small minimarket to buy snacks. If you really want to stay in style – the Rayavadee is one of the best luxury resorts in the area.
West Railay Beach
Best enjoyed in the early morning hours and late afternoons, this is the prettiest beach in the peninsula. The emerald waters are perfect for swimming and the cliffs will keep curious kayakers busy. Oh, and the sunsets are out of this world (but more on that soon).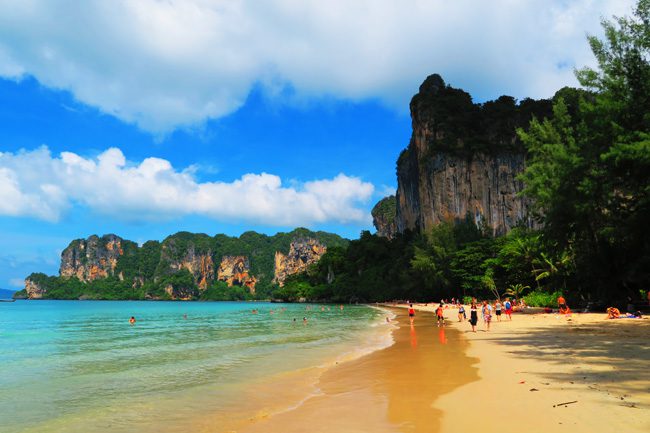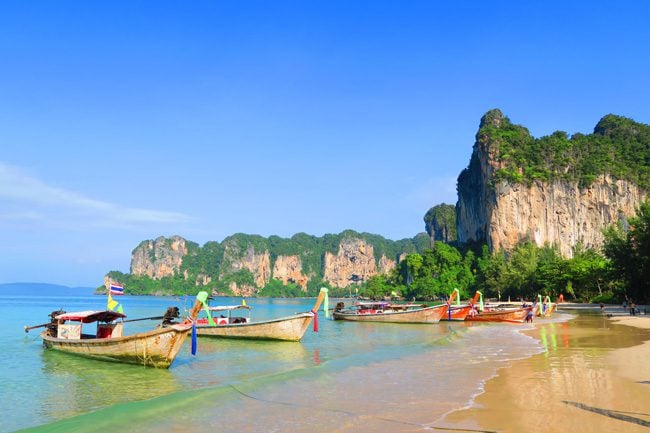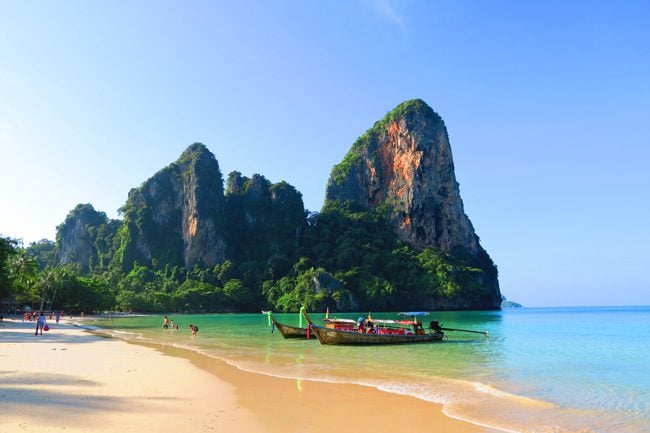 Unfortunately, locals haven't yet decided to keep the longboats away or at the very least confine them to a section of the beach. They're super loud, always spew out black smoke, and take up precious beach space. By noon, the beach gets very crowded with sunbathers and longboats ferrying day-trippers and new arrivals. I found that that northern section of the beach tends to stay quiet.
Princess Cave Beach
Also known as Ao Phra Nang, getting to this pretty beach involves a short walk from East and West Railay and a meeting with the friendly resident monkeys. Getting their attention doesn't involve a whole lot, but having a banana will really get them to like you.
As in West Railay, you want to come to this beach early in the morning or late in the afternoon. The beach gets VERY crowded with daytrippers and longboats that double as restaurants.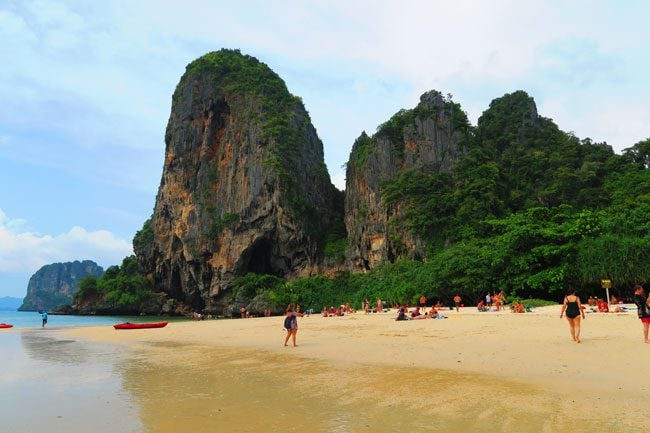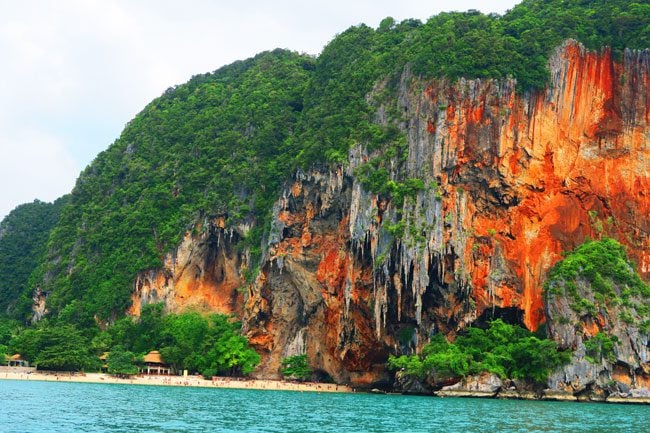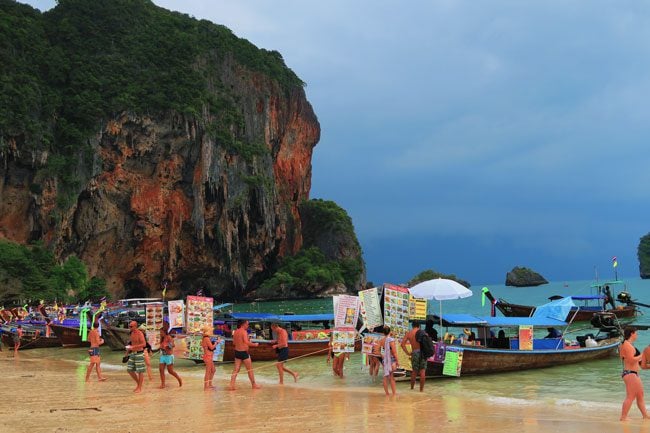 The main attraction is the cave – said to hold the spirit of an Indian princess whose boat was lost off the shores of this very beach. If you fancy some rock climbing, the enclosing limestone cliffs are a popular spot with lessons readily available.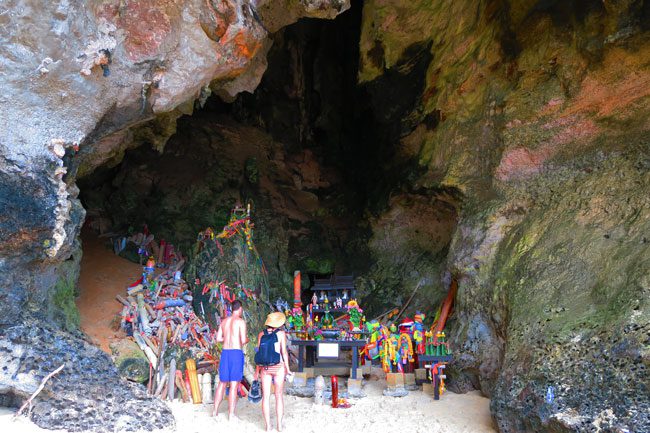 Panoramic Viewpoint
Not as high as its panoramic rival in neighboring Ko Phi Phi, the Railay Beach viewpoint gets a lot fewer visitors – a definite plus! Getting up here isn't easy and shouldn't be attempted if it has been recently raining (trust me). About halfway to the Princess Cave Beach, you'll see warning signs and a set of ropes heading up the cliff. Yeap – this is it! The slippery climb takes about 20 minutes, as monkeys mock you from the canopy. Prepare to get muddy, bring plenty of water, and don't even think about wearing flip flops! From the viewpoint, there is a challenging path to a 'secret lagoon', but we opted out. The viewpoint is best visited just after sunrise and during high tide East Railay.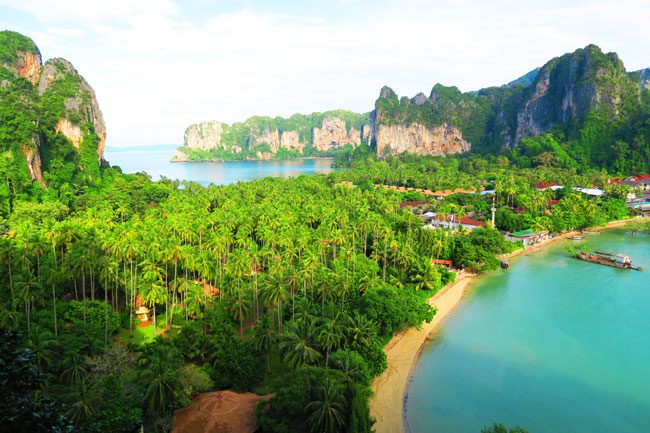 The Promenade & Food Scene
Running up much of East Railay is its narrow promenade. The swampy beach on this end of Railay is not a place you want to go for a dip, making the concrete open-air mall a little easier to swallow. Since Railay is quite isolated and requires a boat in and out of, the promenade actually comes in very handy even though it's the obvious sign of just how overdeveloped this once beautiful piece of land is.
The promenade is busiest at its center and gets quieter as you move northbound. Its narrow path is lined with ubiquitous tour operators, massage huts, mini markets and budget eateries where – with the exception of the resort restaurants – it looked to me that it's 'eat and drink at your own risk'. It is from here that I suggest to book tours and onward journeys if you haven't already done so. Heck, you can even book a bus to Singapore! We compared prices and bargained at a few stalls, eventually coming to the conclusion that prices are quite fixed.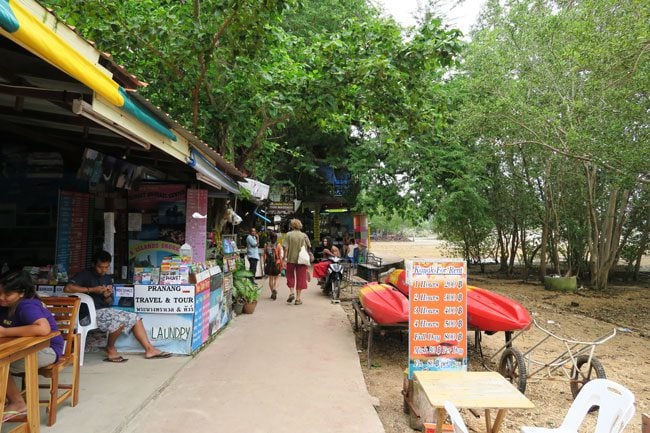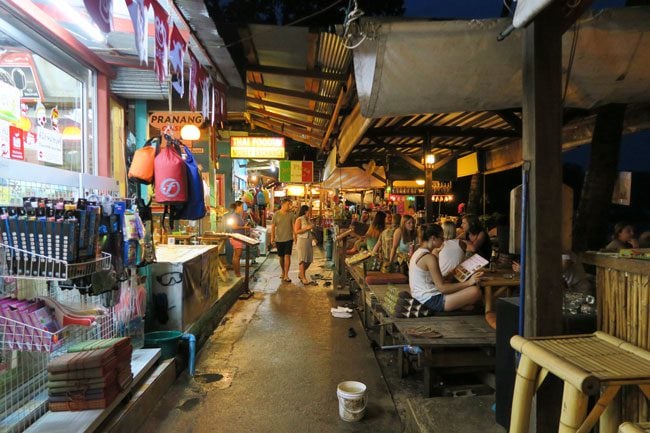 Intersecting the promenade is a sandy street that was our favorite place to stroll and grab dinner. We especially loved the Mangrove Restaurant for the super-authentic Thai dishes, and Kohinoor for the -believe it or not – incredible Indian food. Both were not only delicious but also seemed to be sanitary – passing our 'food poisoning test' (see Thailand travel tips section).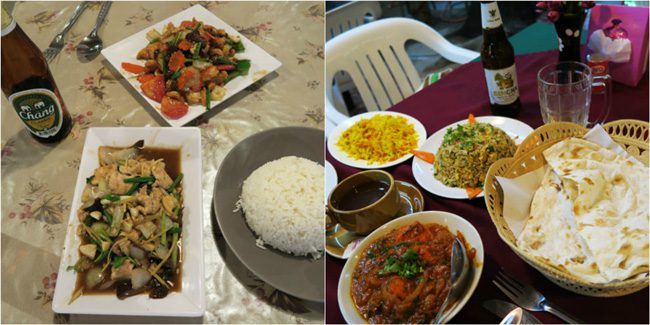 Sunsets
The sunsets off Railay Beach are some of the prettiest I've ever seen, definitely ranking up there with the sunsets of the Australian Outback and the remote South Pacific Islands. About an hour before the sun is due to set, head to West Railay and grab your spot on the beach in front of the Flame Tree restaurant. Order a cocktail (clue: the mai tai comes in a pineapple) and enjoy the spectacle!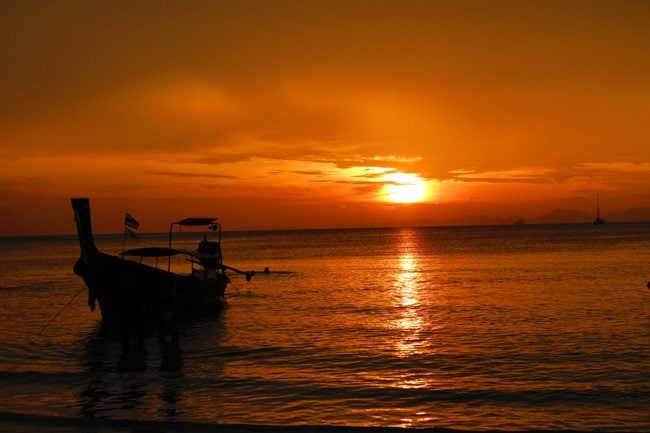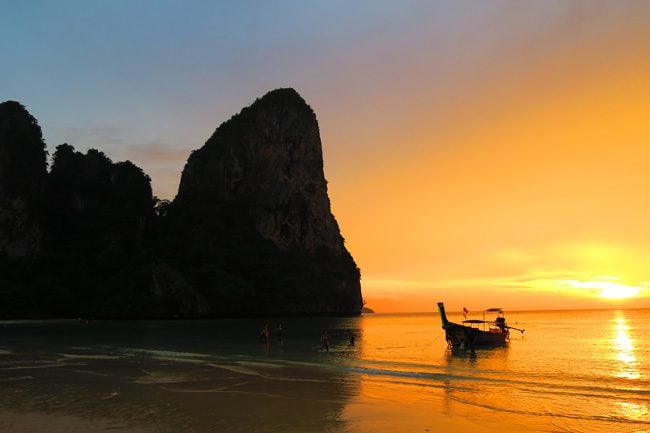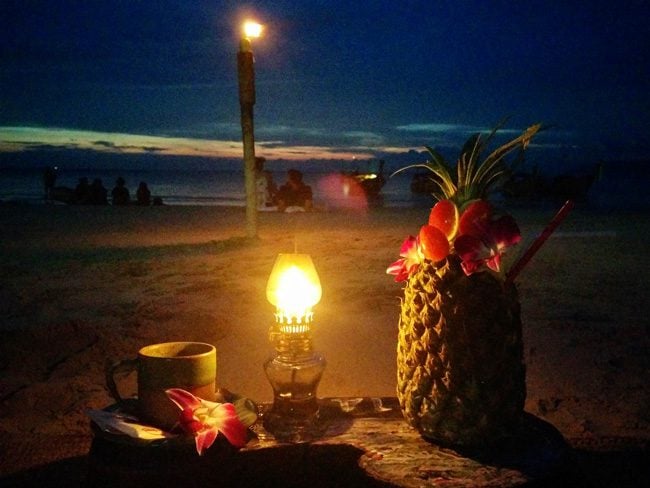 Thai Boxing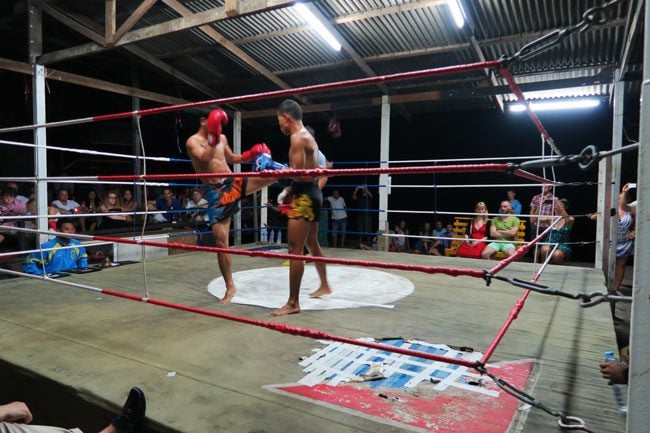 You can't visit Thailand without witnessing a Thai Boxing match. Lucky for you, the Last Bar in the East Railay promenade hosts fights every other day of the week. Aside from intense fighting, there's a whole lot of drinking and flashy fire dancing. Here's what it looks and sounds like.
Massages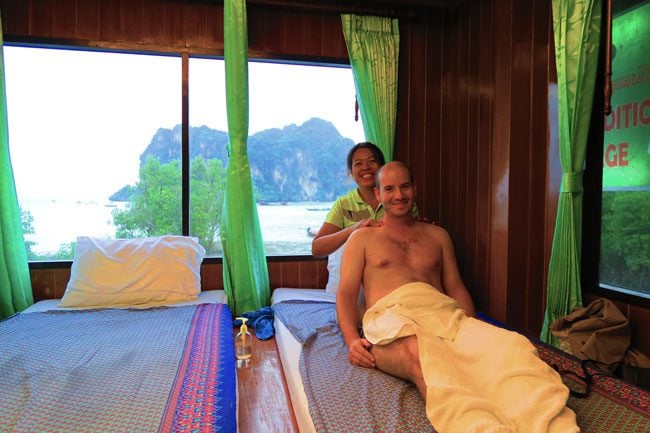 I mentioned earlier that your daily routine mostly includes a rotating schedule of beach, food, fruit shakes, naps, cocktails and… massages! The best place in Railay Beach for a massage is at the Last Bar Massage – in the far north end of the promenade. Unlike the massage 'parlours' down south, this one is very quiet, professionally run, and includes awesome views over east Railay. There are plenty of options on the massage menu, but we opted for the one-hour coconut oil Thai massage. The strong ladies took care of every ache in our bodies and displayed moves we've never seen before. The price was THB 350, much cheaper than in the resorts and looking back – the best massage we had in Thailand!
James Bond Island Tour
Like everyone, we too seriously thought about going on a day trip from Railay Beach to 'James Bond Island'. You know, the famous island from The Man With the Golden Gun. Well, the actual island is called Phang Nga and we had already read and heard that its present state is like nothing in the Bond film. Scaramanga, Nik Nak and 007 have long left. We heard. The water is murky and hundreds of tourist and souvenir stands take up the better part of the beach. So what's the point of visiting? In case you're still wondering: tours depart Railay Beach at 9:30 am and return at 5 pm. They involve an overland ride by minivan with a few uninteresting stops and then a quick visit to the James Bond Island and some kind of 'floating village'. We opted out in favor of an island-hopping trip which was totally awesome. Keep reading.
Island-Hopping Day Trip
The last of our 3 days in Railay Beach was spent on an island-hopping boat tour to the beautiful limestone islands and their beaches. We booked via Pranang Tours in Railay Beach for THB 450 including lunch and water. Unlike the James Bond Island tour, the islands on this particular trip are close to Railay Beach and Krabi, allowing you plenty of time to make 3-5 stops including a few snorkeling sessions.
We shared a longboat with a few other guests which wasn't bad at all. You can book a private boat if you fancy but keep in mind that all tours (and there are a lot of them) make the same stops so you won't be along in either case. That's the caveat of traveling in Thailand – it's oh so beautiful but you're hardly the only one there, so set the right expectations. For that awesome feeling of having tropical nature all to yourself – head to the South Pacific Islands!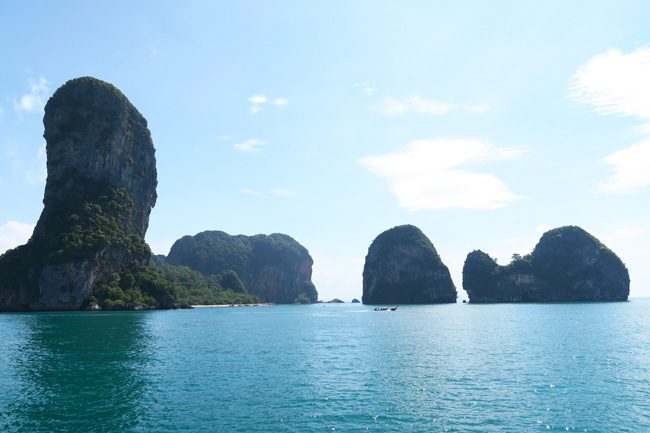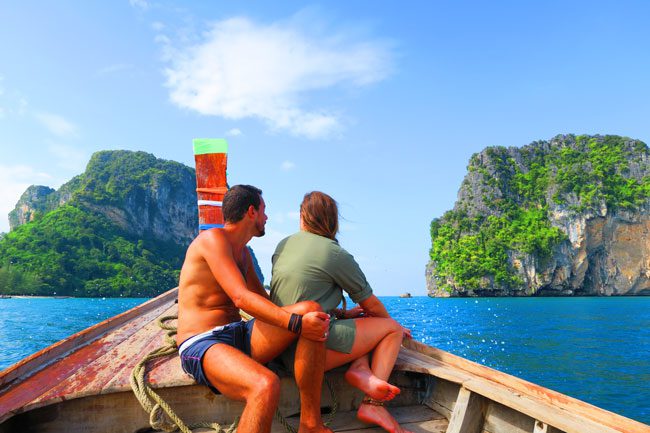 The first stop was Poda Beach (Ko Poda) – a majestically wide patch of pure white sand. The beach stretches at a perfect angle for admiring the beautifully sculpted limestone coastline of Krabi. We had about 45 minutes for chilling and swimming.
Our second stop was for 45 minutes of snorkeling at the base of giant limestone cliffs. It was sad to see the bleached coral but surprisingly, there were lots of tropical fish swimming around us. We then continued to the famous 'Chicken Island'. Yeap, that's right! When you see the photos it all makes sense, though – doesn't it? We stopped for some more snorkeling just off the chicken's neck and some fresh watermelon on board.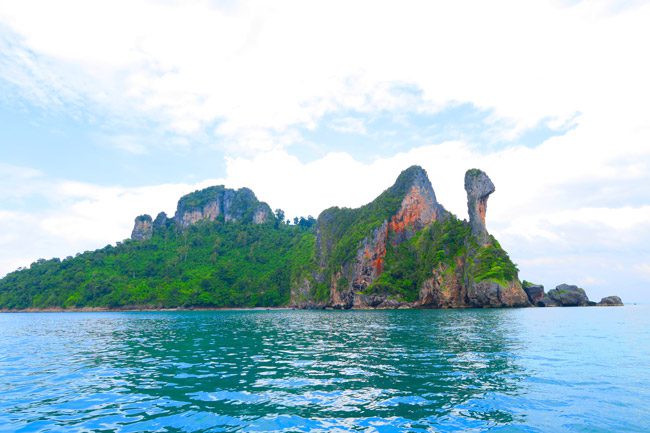 For lunch, we landed on beautiful Tup Island which – at low tide – is connected to small islets via a sandbar. If you want to feel like Jesus, try your walking-on-water skills! Ko Tup is the popular lunch spot for all the ubiquitous longboat tours. It does get pretty crowded but there's plenty of room for everyone. Lunch included mildly spicy green curry – so yummy that it kicked off 5 consecutive days of nothing but green curry for me!
The tour then wrapped up at Ao Phra Nang – better known as Princess Cave Beach. For those taking the tour from Krabi, this was their final beach stop. Since we were already staying in Railay Beach, we opted out and just walked back to our hotel. At this time of the day, the beach was unpleasantly packed. Overall – we were super happy to have joined this tour instead of the James Bond Island tour. We were back in our room by ~ 2:00 pm (instead of 5 pm), still with plenty of time to relax and do something else (like napping!).