Part IV: 4 Days In Ko Phi Phi

The most famous island in this end of the Andaman Sea, Ko Phi Phi Don is the perfect example of the double-edged sword that is the Thai tourism industry. It's an absolutely stunning island, with signature symmetric twin bays, dramatic cliffs, and white-sand beaches galore. But unfortunately, as soon as you arrive at its highway-of-a-pier, you start to wonder how on earth this tiny stretch of land supports the thousands of tourists who've just arrived with you? Well, the short answer is that it doesn't! It's enough just to look at a Google satellite view of the island's tourist hub to realize there's a problem here…
This problem has been worsened by the additional influx of tourists following the rise to fame of its sister neighbor – Ko Phi Phi Leh – featured in the sub-par Hollywood film – The Beach. In 2004, Ko Phi Phi Don was flattened by a tsunami, but these days, the only reminders are the broken-off coconut trees which have yet to grow back to their pre-tsunami height.
That said, if you carefully choose where to stay in Ko Phi Phi, you will have an amazing time, far away from the madness. So keep reading, you've come to the right place!
4 Days In Ko Phi Phi Map
Click on the image to open in Google Maps. The map features all the Ko Phi Phi highlights mentioned in this section.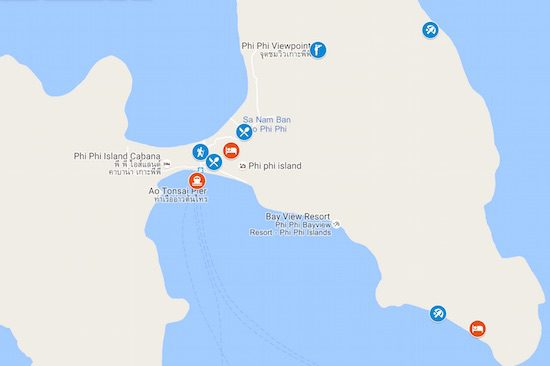 How to Get to Ko Phi Phi?
Koh Phi Phi Don is easily reached by ferry from Phuket, Krabi, Ko Lanta and smaller stops along the routes such as Railay Beach. We paid THB 300 to get from Ko Lanta to Ko Phi Phi, with the journey taking a little over an hour. At the pier, you'll pay a THB 20 'island cleanup tax'. Pro tip: we had to catch a flight from Krabi in the morning and the ferry from Ko Phi Phi wasn't exactly running like a swiss watch. It was a really close call and we had to pull a few strings. So keep this in mind and take an extra buffer. In any case, decline the offer to purchase a Krabi airport taxi voucher on the ferry. That way, as soon as you arrive, you can flag down an eager driver without having to wait.
Where to Stay in Ko Phi Phi?
The decision where to stay in Ko Phi Phi will 100% affect your experience on the island. Unless you are coming here for the party scene, to hang out with backpackers, or to be within walking distance of everything – avoid staying in and around the village of Tonsai (you'll see why later)!
Ko Phi Phi has a ton of accommodation options for all price ranges but since demand is always high – so are the prices. From my experience, you have three options, starting from the worst to best.
Stay in Tonsai Village: if you absolutely, 100% want to stay in the main village and be close to all the action – I can recommend the PP Palmtree Resort. It strikes a decent balance between location, price, and value. It's also relatively quiet here – a high-priced commodity in Tonsai.
Stay in the remote beaches: looking back, staying in the upmarket resorts in the more remote parts of the island is not a bad idea. The beaches are amazing and there's really no need to venture to Tonsai. The only concern is being 'trapped' when it comes to food and excursion options – but it's a small price to pay in my opinion.
Stay in Long Beach at Phi Phi The Beach Resort – by far our favorite accommodation in our 14 days in Thailand. As you'll later see, Long Beach is a gorgeous stretch of white sand and – as its name suggests – long (though not as long as the one in Ko Lanta). The real kicker here is that Long Beach is a quick boat ride from Tonsai village (THB 100 each way) but the crowds just don't seem to make it out here. So you are close enough to the action but the action is far away from you!
Staff will pick you up at the pier (and drop you off) for free, and whisk you away to paradise. The resort features charming wooden huts – all perched on a hill overlooking the beach and Ko Phi Phi Leh in the far distance. Tropical flowers are blooming everywhere and butterflies definitely outnumber guests. We especially enjoyed the exterior shower, free minibar, and spending hours out on the balcony. Look at that view! In the early morning hours, fix yourself a cup of coffee and listen to the rainforest waking up with zero noise pollution as those annoying longboats have yet to start their diesel engines.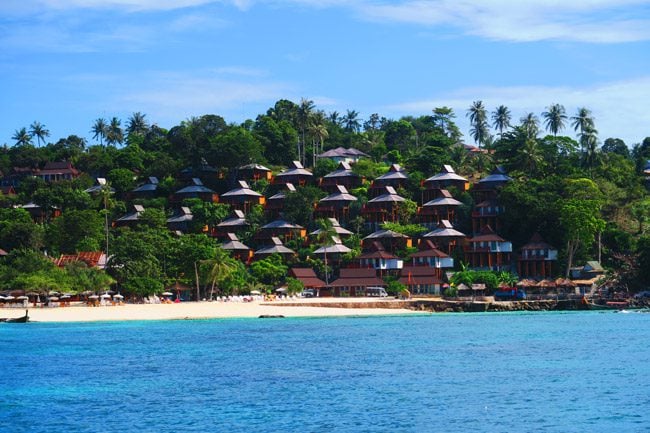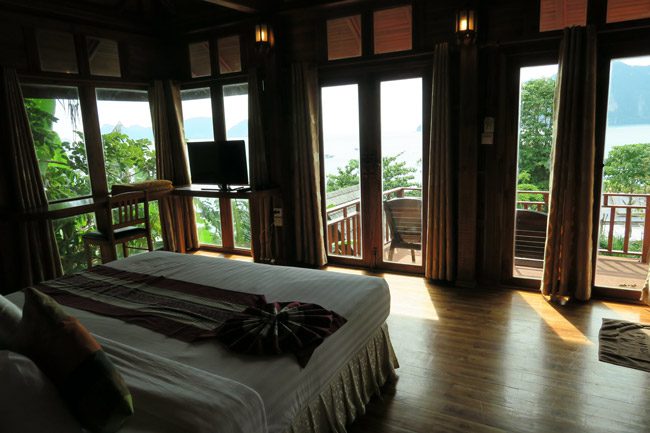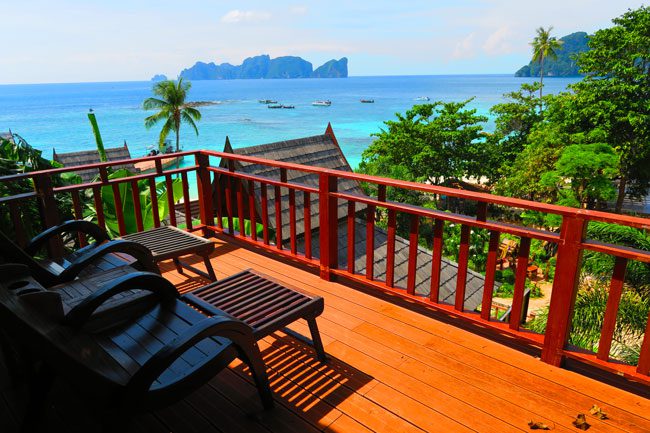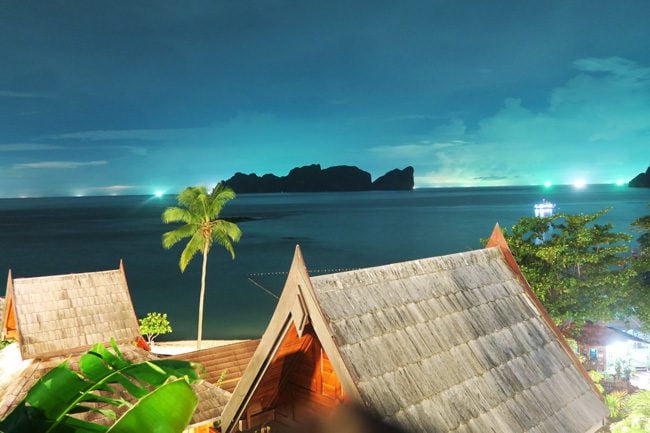 As for the food, breakfast was outstanding and the resort's restaurant was well priced for dinner under the stars. And yes, of course, there's a happy hour! How else will you pass the time on the beach? To mix things up, there are two or three additional good restaurants in the other resorts on the beach – all pretty good and decently priced. If you really want to visit Tonsai village by day or night, THB 100 will do the trick (each way).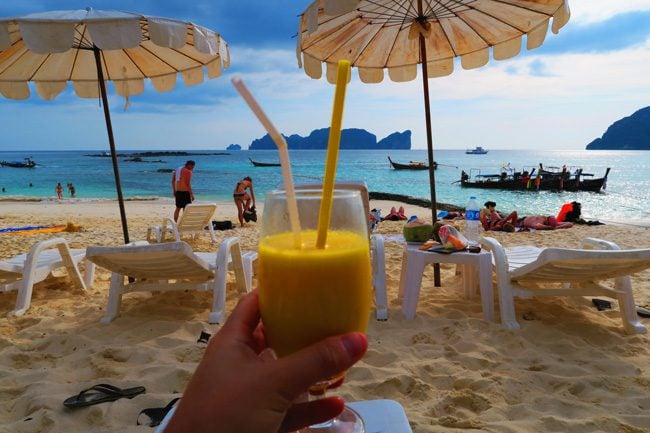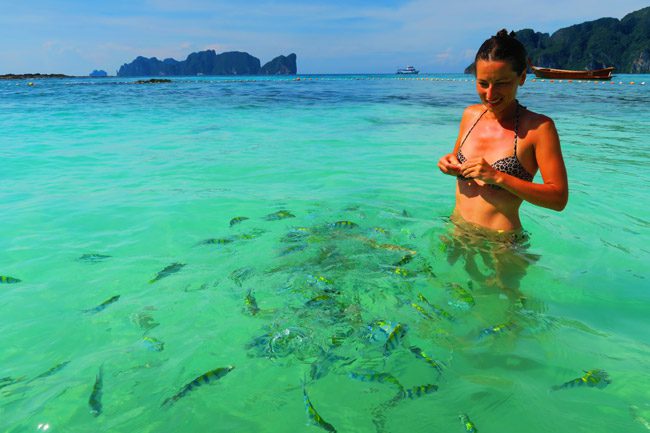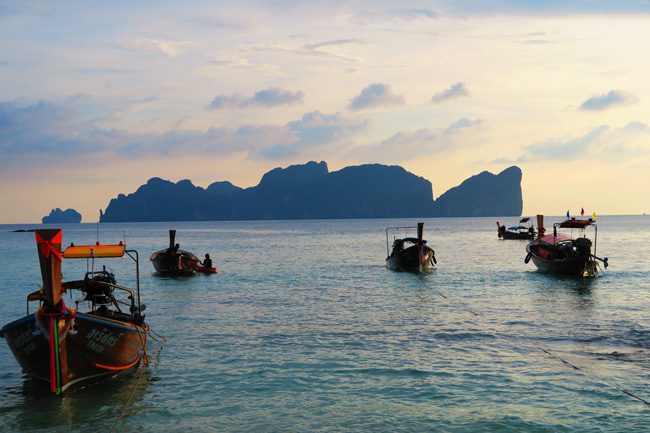 We had the perfect routine of food, fruit shakes, beach, massage, cocktails and more food. However, we made the grave mistake of deliberately switching hotels midway so that we can get a taste of Tonsai. Don't be foolish like we were!!! Doesn't the bandwagon crowd in Tonsai realize that paradise is just a short boat ride away, and for pretty much the same price?!
Long Beach

Its official name is Hat Yo but everyone calls this place Long Beach, and I guess you can figure out why. It's not as long as Ko Lanta's Long Beach but by Ko Phi Phi standards – this is one of the best beaches!
The beach is swimmable throughout the day and features a small patch of reef just meters offshore which with some decent snorkeling. We managed to spot clownfish, angelfish, and even stonefish! Our favorite activity though was feeding these guys with some leftover breakfast.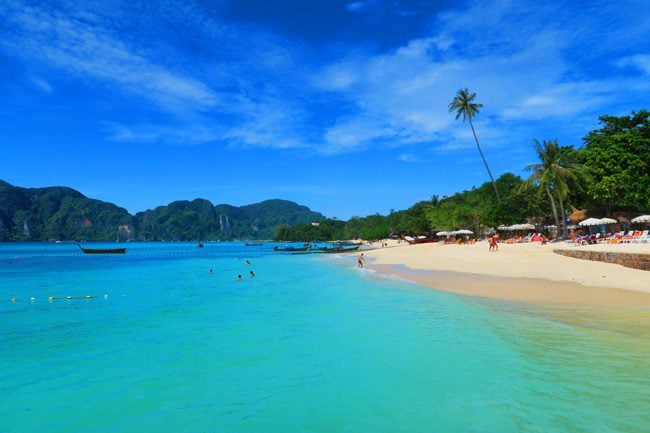 Long Beach is separated by land from Tonsai Village, so aside from a few curious day trippers, the only beach bummers are the resort guests. The only annoyance is the constant stream of longboats zipping and up down the coast but that's a general Thailand issue. At night, a low-key beach bar features the quintessential Thai fire show, but it's so peaceful that you can still hear the waves crashing.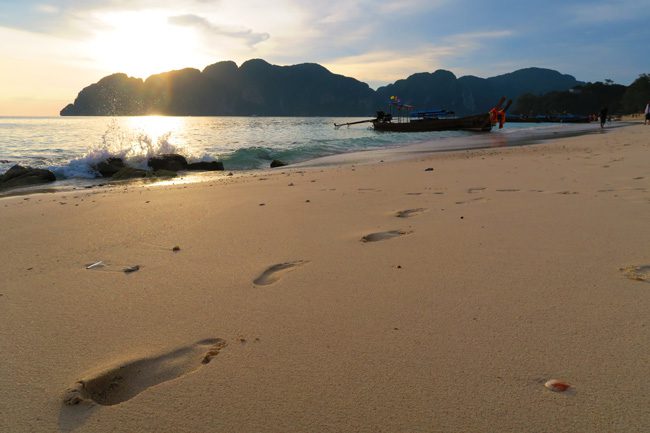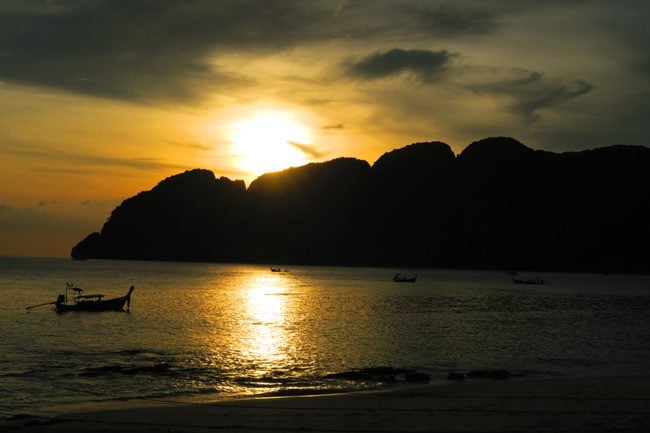 Scuba Diving
We ran out of the time but by the looks of things, the dive trips from Ko Phi Phi to Koh Bida were well priced (THB 2500 for two dives). Inquire with Long Beach Divers.
Day Trip To Maya Bay & Ko Phi Phi Leh

UPDATE: due to overcrowding and damage to the natural environment, Maya Bay is off-limits to visitors until June 2021 (at least). Therefore, choose from other day trips from Ko Phi Phi to either Bamboo Island or Mosquito Island (or both) and also consider trips to remote sections of Ko Phi Phi itself.
The #1 day trip from Ko Phi Phi Don is a visit to its beautiful and rugged little sister – Ko Phi Phi Le. Since this isn't exactly a secret – especially since the filming of The Beach – the trick is to leave early in the morning in order to avoid the crowds. We went for a 3-hour private longboat tour departing Long Beach at 7 am for THB 1500 (includes park fee).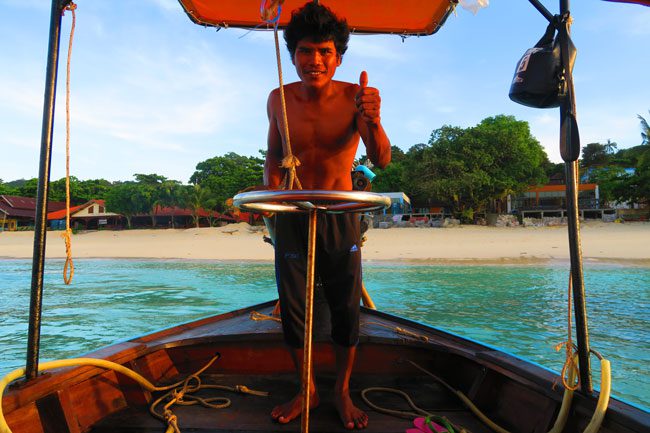 It's a very scenic 30-minute ride to your first (and most famous) stop – Maya Bay. Towering limestone cliffs almost completely encircle the bay, giving the feeling of detachment from the outside world if it weren't for the stream of longboats and small yachts entering together with you. We touched down on the shores of Maya Bay at 7:30 and the vibe was pleasantly quiet. The only caveat was that the sun hadn't yet fully risen, preventing us from seeing the bay's waters in all their aqua blue glory.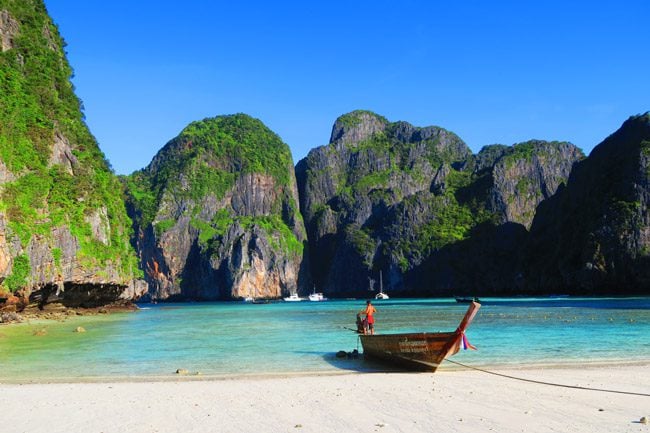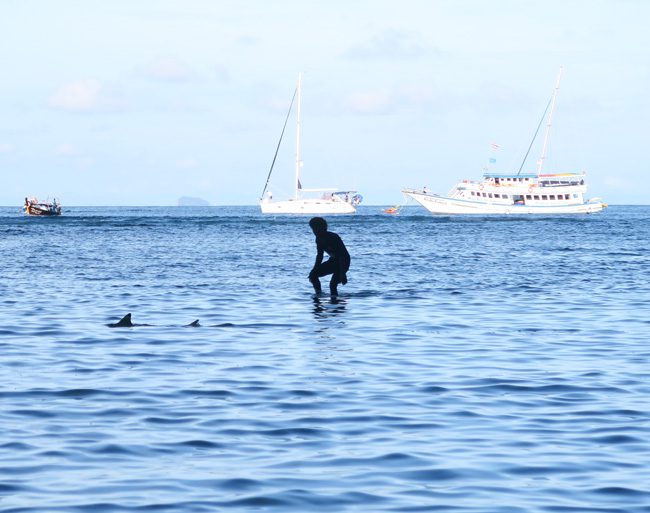 We had 50 minutes to walk around and explore the beach area. Our guides even spotted a few reef sharks and lured them close to us in what looked like a very 'ballsy' move. We also saw a few overnight campers waking up so – if you have the extra time – this could be a great option for really experiencing the magic of Maya Bay and the island.
By the time we left Maya Bay at around 8:30 am, rush hour was beginning. Our guides swung the longboat to a cove on the southern end of the island and we had 20 minutes to snorkel in Loh Samah Bay. Though the coral was pretty much all dead, there were tons of beautiful tropical fish. I recommend bringing your own mask and snorkel since the equipment onboard usually sucks.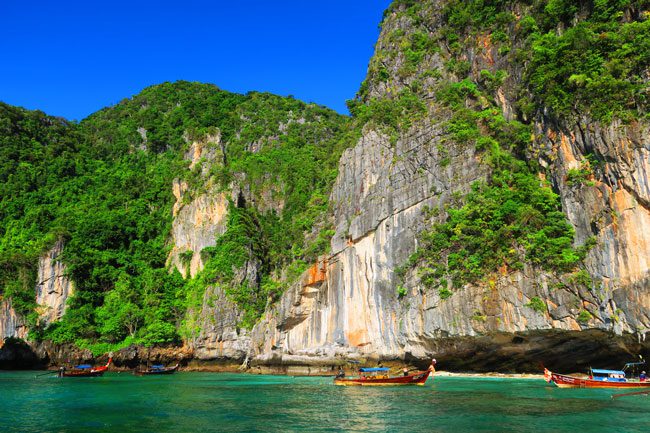 We then continued to Pileh Lagoon. The long approach to the lagoon affords incredible views of the surrounding cliffs, leaving you feeling completely tiny. Our timing was absolutely perfect as there weren't too many boats out here and the sun was radiating above our heads to show the magnificent colors of the lagoon.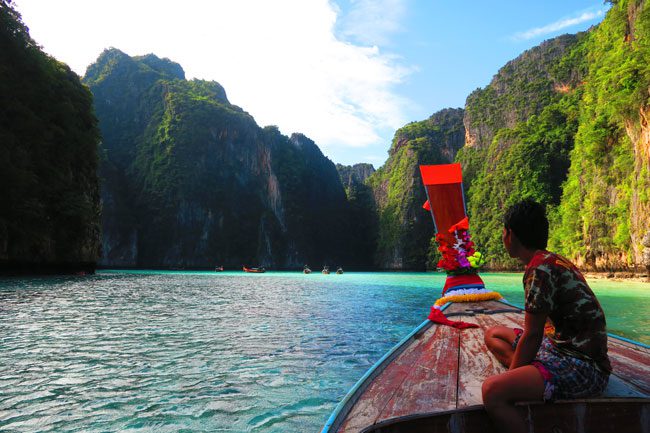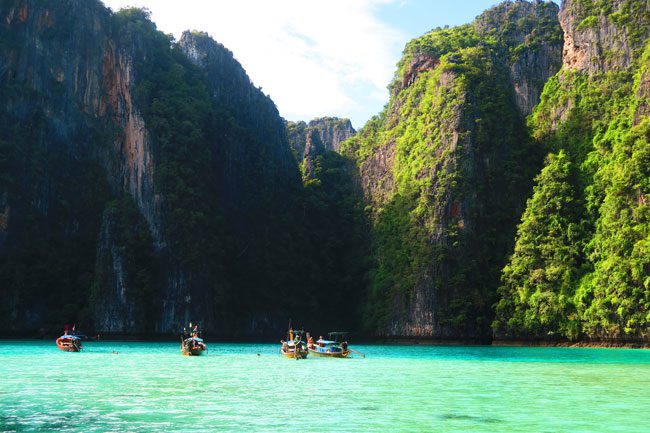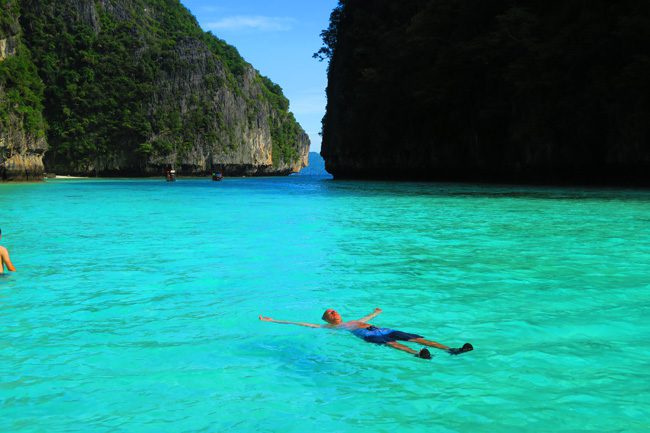 We had 20 minutes to swim and float in the shallow waters before making the trip back to Long Beach – arriving at 10 am just in time for breakfast. There are many variations of this tour which extend your day to include stops in Bamboo and Mosquito Islands. For us, the visit to Ko Phi Phi Leh was enough. It would have been nice to spend more time in Maya Bay but – considering the incoming traffic – I am not sure this is possible without overnighting there.
Ton Sai Village & Beach
I couldn't think of a more fitting name for the village of Tonsai other than 'sin city'. This tiny patch of once pristine land is way too overcrowded. Its center is a maze of narrow alleys lined with tattoo parlors, discount shops, ubiquitous tour operators, English pubs and mostly cheap eateries.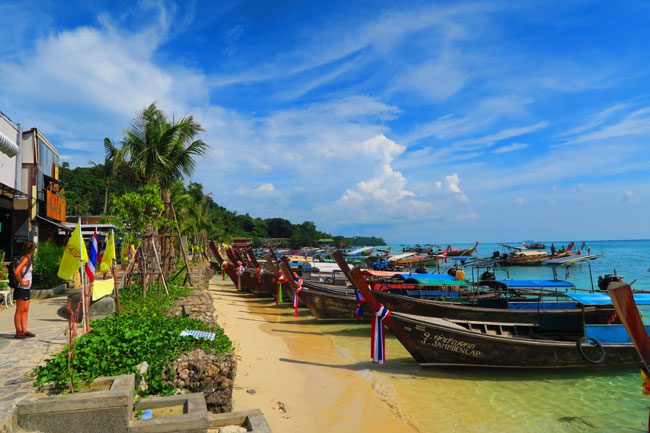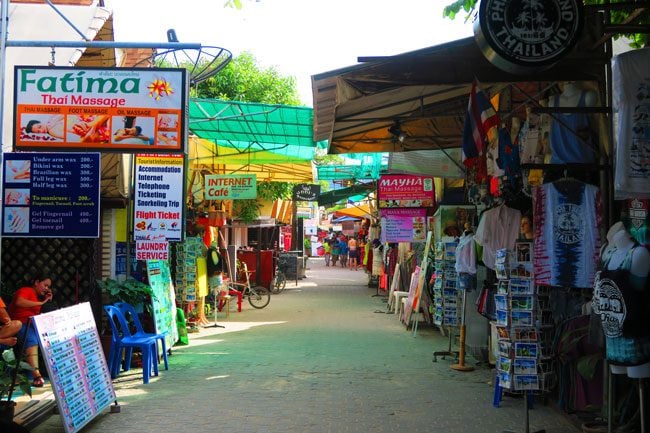 I'm afraid the news from its beach is no better – absolutely packed and requiring much attention with every step you take to avoid beer bottles, cigarette butts, and backpackers with the nerve to play a game of beach soccer. Relief from the overcrowdedness is only slightly felt in the early morning and late afternoon hours – when the massive ships carrying daytrippers from Phuket and Krabi depart.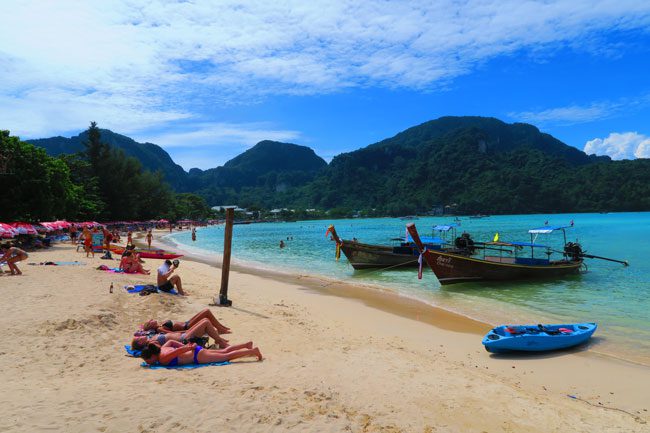 Perhaps things calm down at night – you might be thinking? Wrong answer! In fact, the daytime mayhem is just a prelude to what's to come after the beautiful sunset: alcohol sold by the bucket, wet t-shirt contests, ubiquitous nightclubs and electronic music. It's not exactly the atmosphere a couple or a family is looking for. However, if you're a backpacker seeking to 'capture a flag' (if you know what I mean) – Tonsai is for you!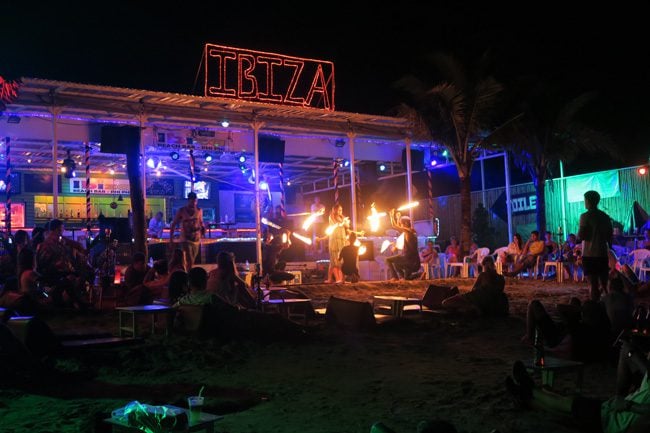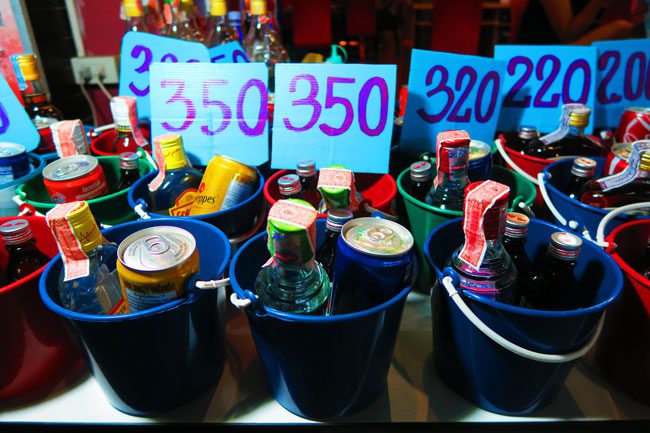 Scenic Viewpoint
Unless you're rock climbing in Ko Phi Phi, the most strenuous activity is without a doubt the rewarding climb to the panoramic viewpoint overlooking the island's twin bays. It's the quintessential Ko Phi Phi photo spot, very popular during sunsets and early mornings. Easily reached from Tonsai Village, just follow the signs and pay the THB 20 at the entrance to the 'tropical garden' leading to the top. We climbed just after breakfast when it still wasn't that hot, though by the time we reached the summit we were soaked in sweat. The good news is that fruit shakes and cold drinks can be enjoyed with the great views, thanks to the summit's cafe.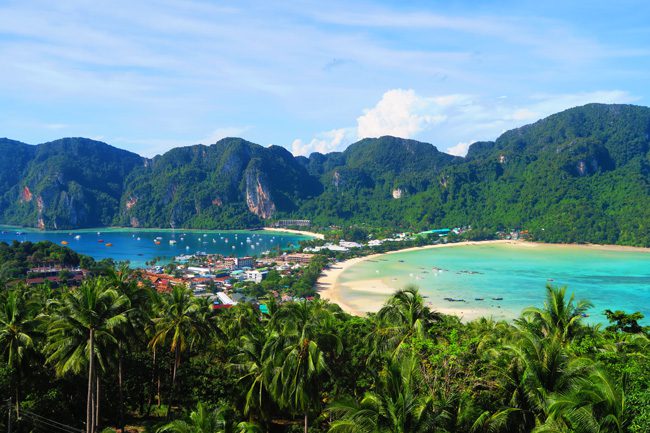 The viewpoint is also a crossroad where a series of trails to secluded beaches intersect. We used this opportunity to descend to Rantee Beach and spend the day in a gorgeous spot away from the beach-scene-mayhem of Tonsai.
Rantee Beach
Had it not been for our mistake of switching accommodations from Long Beach to Tonsai (it was a pre-booking mistake), we probably wouldn't have bothered to make the effort and hike to Rantee Beach. You can easily hire a taxi boat from Tonsai to Rantee for THB 600, but we leveraged our visit to the viewpoint to make it down here on foot (20 minutes). There are signs from the viewpoint to Rantee but they disappear after a while, leaving you to trust your instincts in the dense jungle to find your way down to the beach (it's not as hard as it sounds but bring mosquito repellent and a pair of long pants!). You can try and ask the monkeys and butterflies on the way for directions, but I'm not sure they'll cooperate.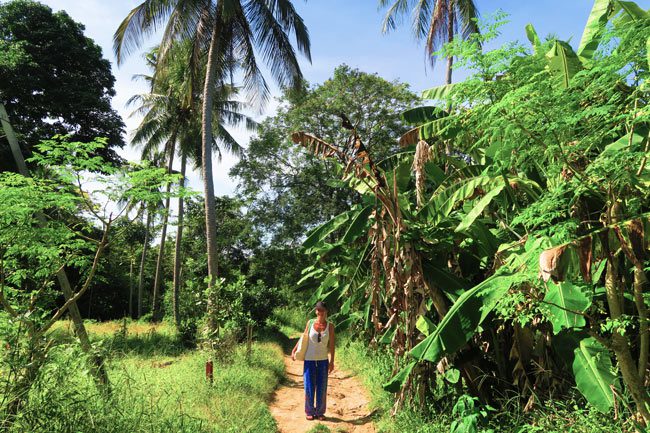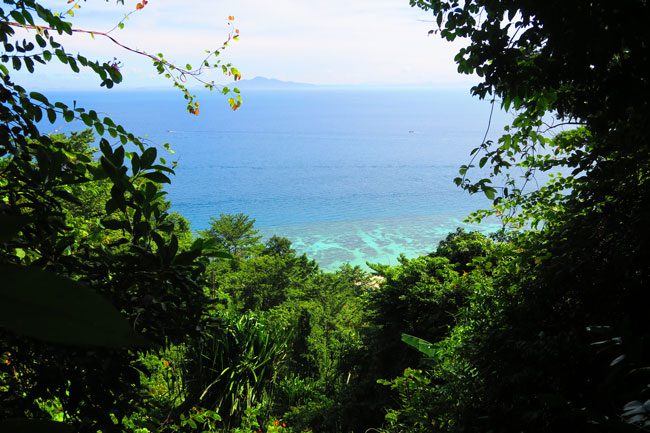 At some point, a patch of coral reef and white sand appear from beyond the canopy like a mirage. A few steps later, you make landfall on beautiful Rantee Beach. Aside from another day tripping couple, there were only a small handful of guests on the beach from the few low-key guesthouses located here.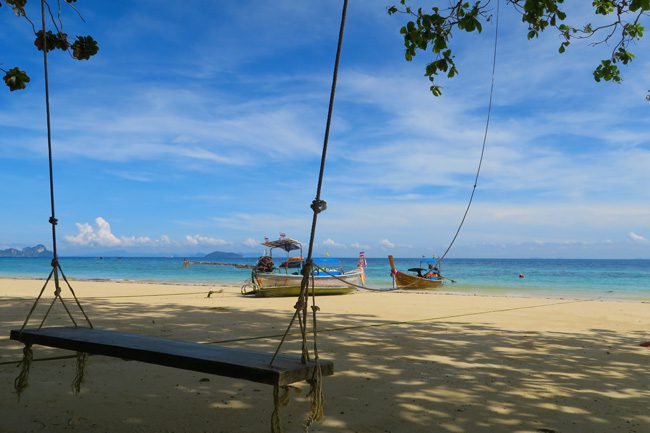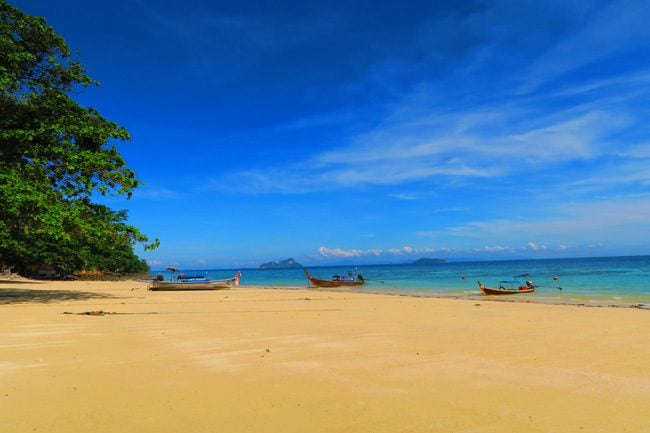 Palm and casuarina trees provide the shade, while entertainment includes: snorkeling, napping, massages and daydreaming while riding the giant swing. We absolutely loved this place and I kind of feel bad about letting the secret out! Bring some water with you but don't worry about food as there's a typical beach restaurant to satisfy your daily craving for green curry and fruit shakes. You can technically walk back to the village, but an easier way is just to pay THB 200 for a scenic ride back.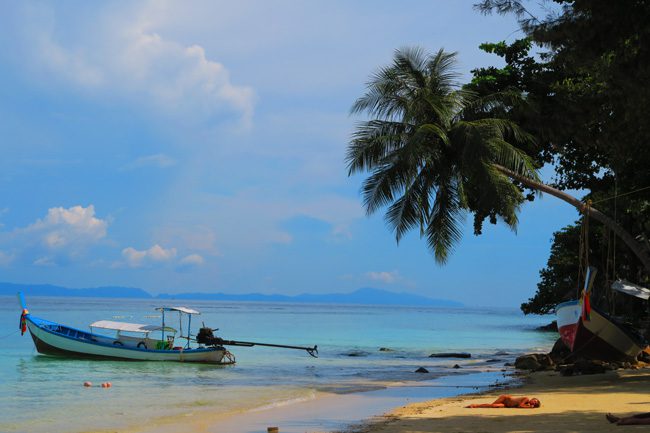 Places to Eat in Koh Phi Phi
Aside from the beach restaurants in Long Beach, here are the places we absolutely loved in the main village of Tonsai.
Grand PP Arcade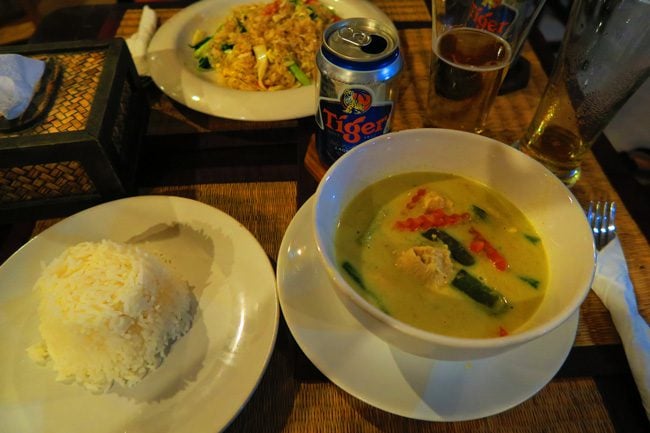 A quiet and romantic escape from the madness of the village. The restaurant features an outdoor setting and makes (by our accounts) the best fruit shakes in Thailand. We devoured some fried rice with shrimp and chicken cashew nut. The dishes are not only delicious but also large and sweetly decorated.
Anna's Restaurant
I'm not sure who Anna is but I do know the green curry she makes is the best in Tonsai. This restaurant is quite popular so it's best to make reservations in advance.