Part I: 3 Days In Bangkok

It's enormous, smoggy, always congested, chaotic and smelly at times – but I simply adore Bangkok! It's a city where magnificent ancient temples share the same city block with slums and luxury skyscrapers, a city where the most ordinary-looking tree can be a holy pilgrimage site, a city where exposed electric cables dangle over your head like clues in a treasure map and a city with an endless variety of street food ranging from the bizarre to the exotically sweet. You'll either love it or hate it but in any case, pass through it, so simply embrace the mess. We started our 14 days in Thailand with 3 days in Bangkok and came back here for one final day of shopping and celebration (see part V). Let's start with a few essential Bangkok travel tips.
Looking for a quick read? Here's a list of the top 10 things to do in Bangkok!

Bangkok Travel Tips
Getting to/from the airport:
You can easily use a combination of the Airport Rail Link + BTS 'skytrain' to get from/to the center of Bangkok to/from Suvarnabhumi Airport. The journey should take approx. 30 minutes and cost less than THB 100 per person.
Taxis should cost under THB 400, depending on the traffic. The official taxi stand at the airport will print a voucher and guide you to your taxi. Though your driver might insist on a flat rate, insist on using the meter. To your fare, a THB 75 expressway toll and THB 50 airport charge will be added.
Getting around:
Bangkok is H-U-G-E, not exactly a city for walking like Paris or Rome.
Long journeys: the fastest way is the MRT (subway) and the super-convenient BTS 'skytrain'. Google Maps can help you choose the best routes.
Riverboats: if you can quickly get to the banks of the river – the Chao Phraya Express Boat is great for north-south journeys in the center of Bangkok.
Tuk Tuks: due to the heavy traffic, the 'in-your-face' motor pollution and the lack of desire by drivers to embark on long voyages – the famous Bangkok tuk-tuks should only be used for short journeys. Carry small bills of 100, 50 and 20, ask locals how much your fare should cost before flagging down a driver, ALWAYS agree on the price before commencing the ride, never agree to make ANY stops along the way (especially if offered to stop at a gem store) and finally, if you don't have a good feeling – another tuk-tuk is always 5 seconds away.
Taxis: great for shorter rides, preferably when there is less traffic (there's always traffic). Even though it's the law, it will be difficult to get the driver to turn on the meter. So either insist, bargain over a flat-fare, or flag another one down. By displaying a real-time Google Maps route on your phone, you'll know if you're getting ripped off when the meter is on.
Shopping:
One of the greatest joys of a holiday in Thailand. Siam Square is lined with modern shopping malls, but the best one is the MBK Center. For souvenirs, nothing beats the Chatuchak Weekend Market which takes place every Saturday and Sunday (see Part V).
Tours and discounts:
Browse through this list of skip-the-line and guided visits in Bangkok's top attractions. You'll also find unique experiences such as river cruises and cooking classes.
Safety and health:
Thailand has seen its fair share of civil unrest and military coups. Naturally, Bangkok is always the epicenter for such volatile times. It's wise to avoid the city in such times but if you have no choice, stick to the tourist areas and you should be fine.
Do not drink tap water! Bottled water is readily available and cheap.
Bangkok is a smoggy and humid city. It's a good idea to pack some 'wet-ones' with you for freshening up, especially before putting something in your mouth.
It seems that locals never cook at home with the infinite amount of street food in Bangkok. Often looking quite delicious – be careful where you eat and look for healthy signs (cleanliness, refrigeration, lots of local patrons).
Where to Stay in Bangkok?
Figuring out where to stay in Bangkok is a cause for a major headache. Bangkok is huge, there are many districts, and hotels are completely spread across the map. The good news is that supply is plentiful and excellent bargains are always to be found, even for last-minute bookings. As first-time visitors to Bangkok, I recommend basing yourself either in the Sukhumvit District (like we did) or the Khaosan District. Each has its pros and cons.
Sukhumvit District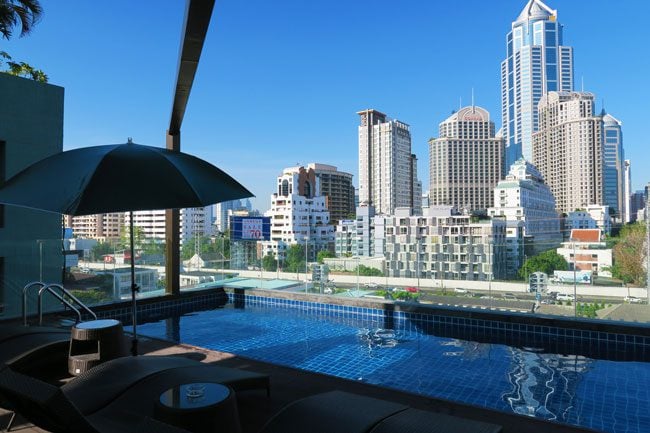 Lining both ends of Sukhumvit Boulevard is one of the most exclusive districts in Bangkok. With close proximity to Siam Square and the river, Sukhumvit is home to fancy apartments, loads of restaurants and a good nightlife. The best part is that the BTS Skytrain cuts right through it, and the metro isn't too far away. The only downside is the distance from the Grand Palace area and its multitude of sites (BTS and metro don't reach this part of Bangkok). We stayed at the Hotel Icon – very clean and comfortable and within walking distance of the district's nightlife. The best part was the rooftop swimming pool – a great way to end a long day with seriously awesome views of the Bangkok Skyline.
Khaosan District
Within walking distance of all the major Bangkok temples, the area around Khaosan road is synonymous with the city's vibrant backpacking scene. During the day, the road is buzzing with bazaars and cafes while at night it's the food and nightlife scenes that take over. With a ton of accommodation options for all budget types- stay in this area if you're looking to be close to the action and don't mind the madness of the big city.
Bangkok Itinerary Map
This map contains all the Bangkok highlights mentioned in this 14 days in Thailand sample itinerary. Simply click on the image to open the map in Google Maps.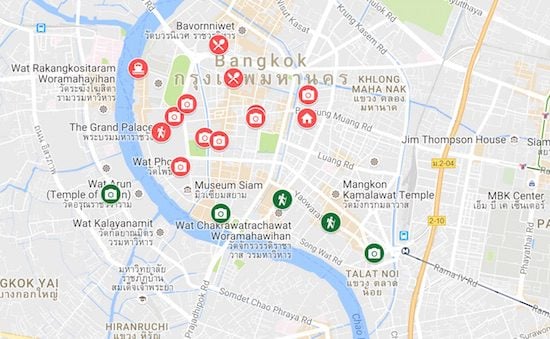 Day 1: Chinatown, Flowers and Temples
We'll ease into the Bangkok madness with a relatively easy-going first day. We'll start in the vibrant Chinatown district and end further up-river in the Rattanakosin district. Though we'll visit a few temples today, we'll leave the heavy-lifting for tomorrow after adjusting our clocks.
The Golden Buddha Temple
The Golden Buddha temple – also known as Wat Traimit – will be the first of many beautiful temples we'll visit in Bangkok. The main attraction here is obviously the golden Buddha figure which proudly sits atop a lotus-decorated pedestal. In case you're wondering – the 5-tonne Buddha is indeed made of gold, approximately 10 million dollars' worth of gold! It was likely sculpted in the 13th century and shipped to Bangkok covered in plaster to avoid theft. By complete coincidence, the gold was discovered when the Buddha was accidentally knocked over in the 1950's. Signs said it was THB 100 to enter and no photography was allowed, none of which were actually enforced. The rest of the temple stick to the 'gold motive' of the place – totally worth exploring and a lot less congested than the Golden Buddha's chamber.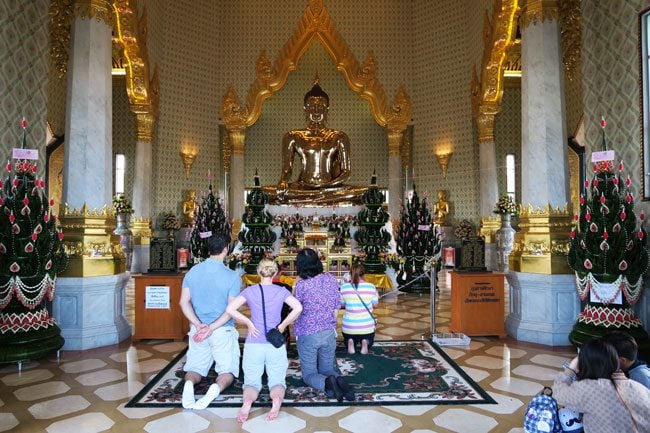 Exploring Chinatown
By far the best Chinatown I've ever visited, Bangkok's Chinatown is a confusing maze of narrow alleys intersected by busy thoroughfares. Getting lost is totally part of the fun and trying to catch your bearings is a challenging task even for seasoned navigators.
From the Golden Buddha temple, walk along Yaowarat Road or Charoen Krung Road (also known as New Road). Flashy signs – in Chinese of course – hang on to the buildings, hosting bazaar after bazaar and gold-shop after gold-shop.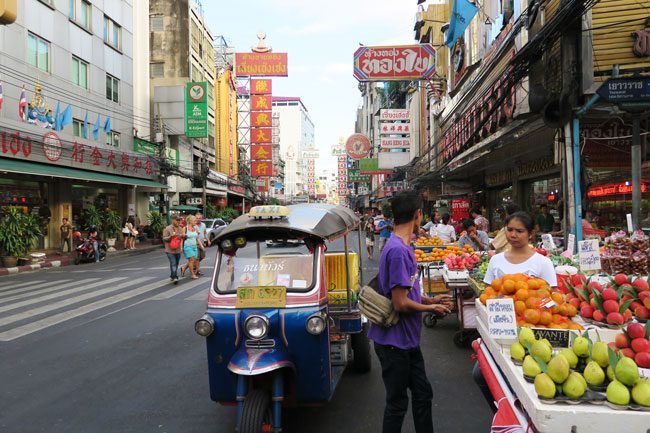 Somewhere in the middle of New Road, turn towards the river on Soi 16 and venture through this narrow street to Sampeng Lane (also known as Soi Wanit 1). This is probably the most interesting street in Chinatown, lined with stalls selling traditional Chinese medicine, fruit and vegetables, and take away food where no animal part goes to waste (if you know what I mean). Each stall is like its own little world, with different scenes taking place as you're passing through. I also encourage you to veer off Soi 16 and explore the even smaller lanes. Those often open up to small squares that are usually home to small street-food hubs.
Bangkok's Chinatown is a great place for lunch and you'll be faced with many options (and perhaps health concerns). We really wanted to sample some authentic food but didn't feel like getting sick on our first day in Thailand. So in one of the shops we visited and felt a good vibe with the owner, we simply asked for his recommendation. Since he didn't speak English, a drew a map for us on a piece of paper and wrote down the name of a dish we should show upon arrival. His little treasure map led us to what would otherwise be an ordinary-looking stall. The instructions on the map called for a double order of delicious green chicken curry with a side of rice and fermented egg. It was delicious albeit very spicy! Here are a few sites and sounds from lunch.
Pak Khlong Flower Market
Flowers are a big deal in Thai tradition. You'll realize this after your first temple visit. Though best experienced in the early morning hours, the main flower market is totally worth a post-lunch visit. Families sell bagfuls of colorful petals, bouquets, and woven flower necklaces – to be used by locals as offering to Buddha, and by hotels to spice up the lobby. The kaleidoscope of colors can lead to a bit of a daze; I didn't realize that flowers even came in some of these colors!
In the back of the market, fruits and vegetables are also on sale. It's always exciting to stroll around an exotic market and see what's growing on the other side of the world. Watch as ginger is painstakingly peeled and mountains of parsley weighed the old fashion way on actual scales. The fun doesn't end when you exit the market, as the adjacent streets are also packed with flower stalls and street food stands to satisfy the never-ending craving of shoppers and sellers.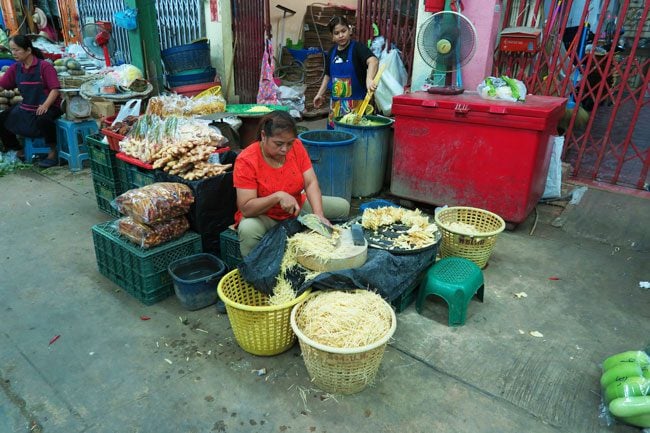 Wat Arun
Also known as the Temple of Dawn, Wat Arun is one of the must-visit Bangkok temples. From the flower market, it's an easy 15-minute stroll to the Tha Tien pier where THB 3 get you across the river to Wat Arun with some seriously nice views on the short journey.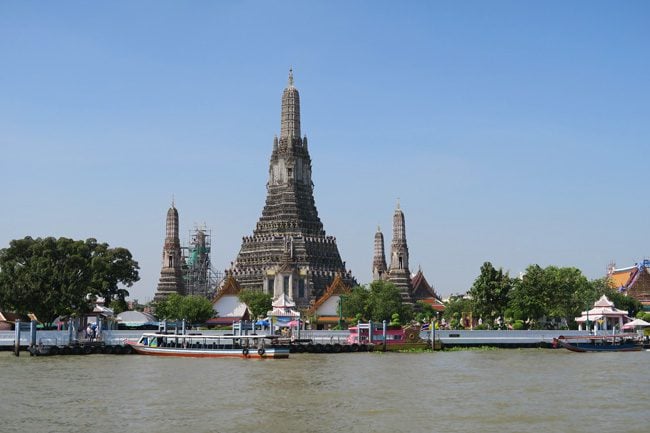 The temple's' signature feature is its 81-meter prang – a tall tower-like spire that is often richly carved and decorated. Entrance is THB 50 and before you climb the prang, have a stroll around this beautiful complex and visit the various shrines and courtyards where praying is always taking place.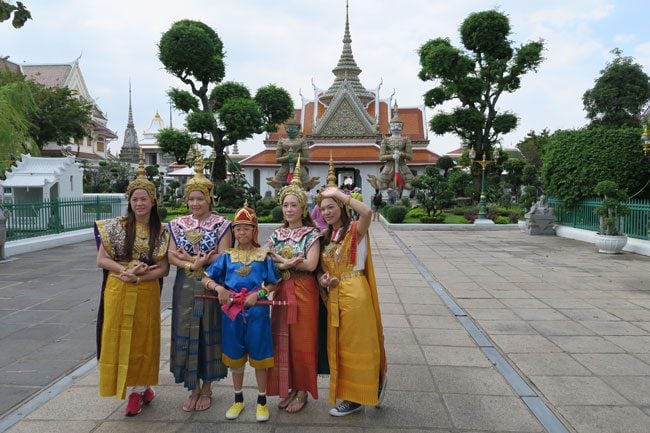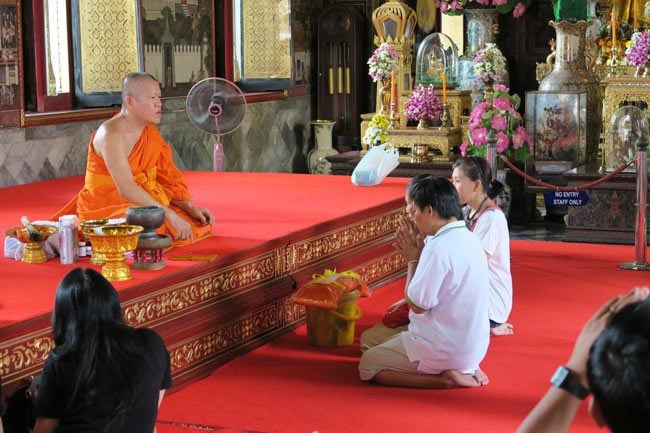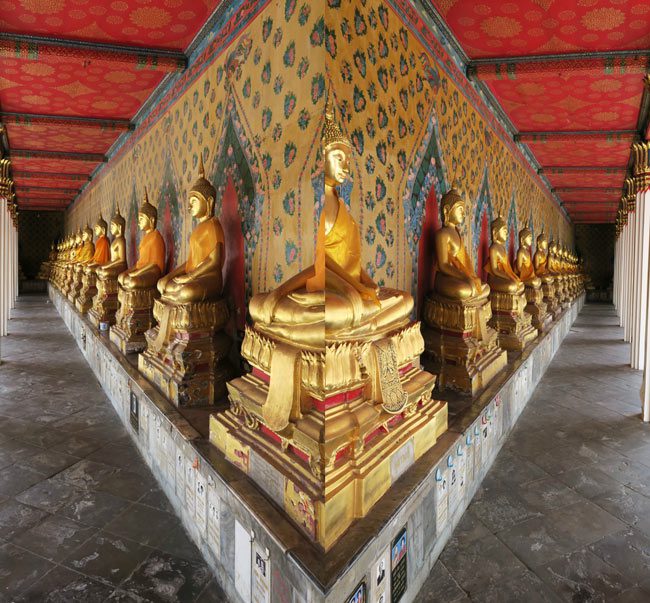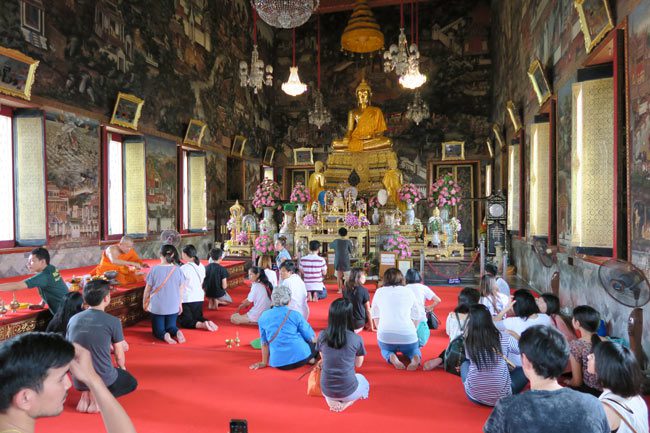 The tower itself is comprised of two stages, with the second being pretty steep. When you've made it to each level, walk around the platform and have a close look at the intricate decorations and the incredible level of detail.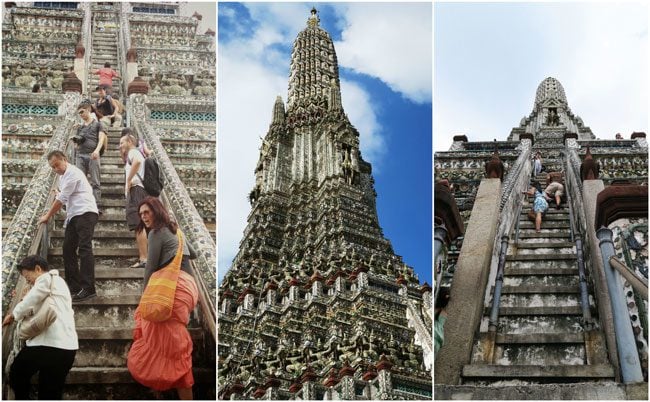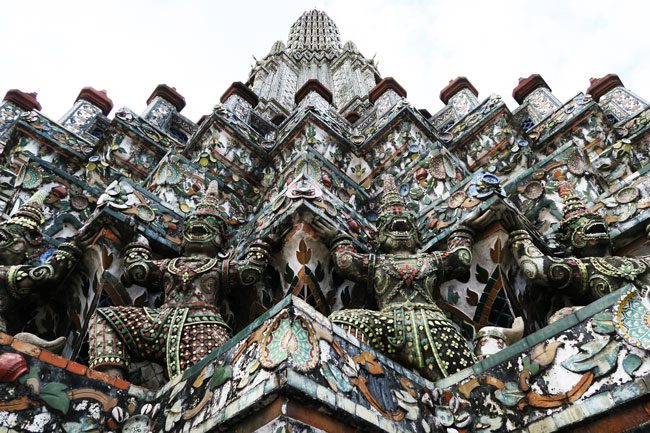 We decided to be extra adventurous and explored the area outside the temple complex, but there's nothing special to report from here so when you're done – simply take the ferry across the river and onto the next stop.
Dinner & Drinks in Sukhumvit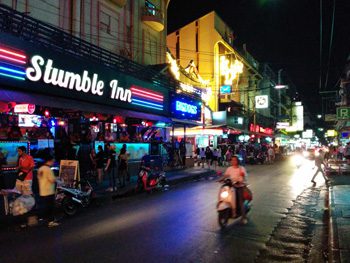 To end our first action-packed day in Bangkok, we sampled the Sukhumvit district's nightlife scene. This is one of the best places in Bangkok for easy-going nightlife: never boring but not too crazy. The section of Sukhumvit Road between the expressway and Ratchadaphisek Rd. is lined with street food stalls, discount shops and totally illegitimate 'pharmacies', while the numbered side streets – called 'soi' – are where you'll find restaurants and bars. Some of the 'sois' are a bit tacky – with cheesy music and alcohol sold by the buckets – while others are more appropriate for a couple's night out. The best is Soi 11, where you can enjoy dinner, drinks, and karaoke at the Zanzi Bar, or beers with expats at Cheap Charlie's.
Day 2: Grand Palace, Reclining Buddha & Khaosan
This will be a 'heavy-lifting' day where we focus our attention on the Rattanakosin district – a royal island where the city's most important monuments lie. So put your walking shoes on, don't forget your hat and lots of water and hang in there as there will be a small surprise!
The Grand Palace
A huge complex of temples, palaces, shrines, and mausoleums – The Grand Palace of Bangkok is an absolute must-visit. The palace was officially inaugurated as the residence of the King of Siam in 1782, though the royal family has moved to nearby Dusit in 1925. Due to its huge size and the vast amount of daily visitors it receives, I strongly suggest starting your day with a visit to the Grand Palace.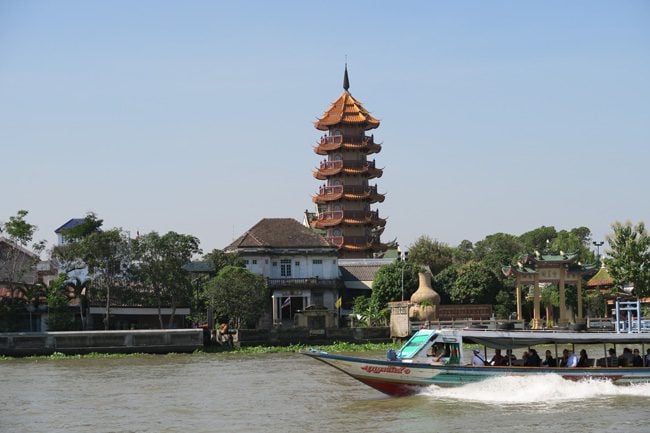 Getting to the Grand Palace depends on where you're spending the night. Since we stayed in the Sukhumvit district, we simply used the BTS (~THB 40) to get to the river and then hopped on the Chao Phraya Express Boat all the way to the #9 stop at the Tha Chang pier (~THB 40 per one-way ticket or ~THB 150 for a day pass). Using the Chao Phraya River to navigate Bangkok is not only an efficient way to beat the traffic but also a great way to catch awesome views of the city and life on the river, that is more like a highway.
A few things to note:
The Grand Palace is a heavily guarded site and there's only one entrance, so simply follow the crowds.
Be aware that con artists will approach you with the bad news that the palace is closed today because of a 'special' ceremony or some other excuse. They'll instead offer to take you on tuk-tuk city-tour and stop at gem and garment shops where you'll totally be ripped off. DO NOT pay attention and simply keep walking. The Grand Palace is open every day!
Admission is THB 500
You will be asked to put on long pants so pack some with you (if you haven't got any, they have a few rags you can borrow).
There's lots of walking to do so be sure to wear a hat and bring a bottle of water (free refills in fountains spread around the complex).
Most of the action lies in the Wat Phra Kaeo – also known as the Temple of the Emerald Buddha. It can get very crowded around here but the beauty of the place is out of this world. In fact, the temple complex feels like some kind of movie set.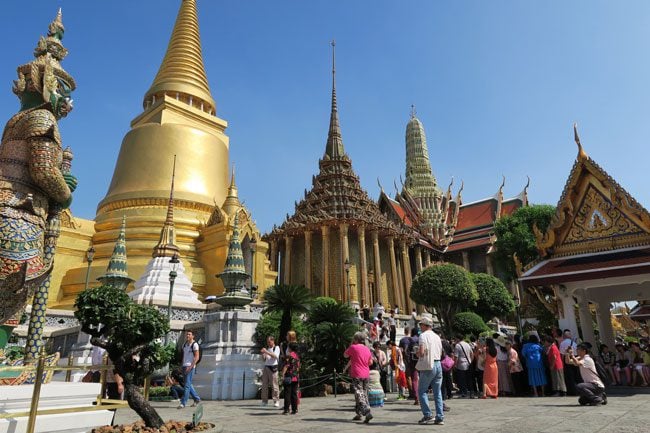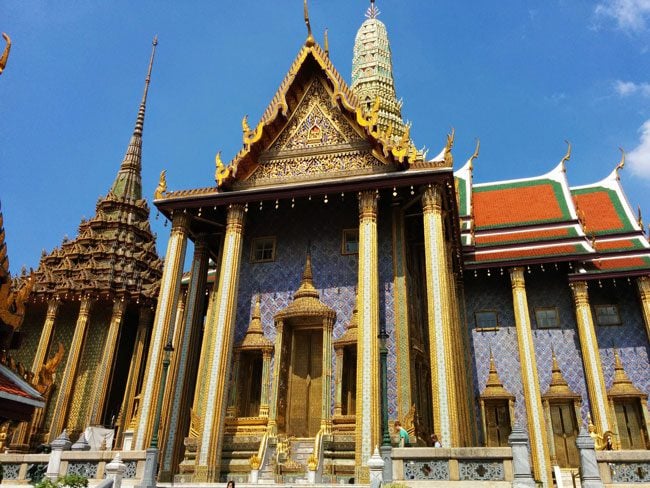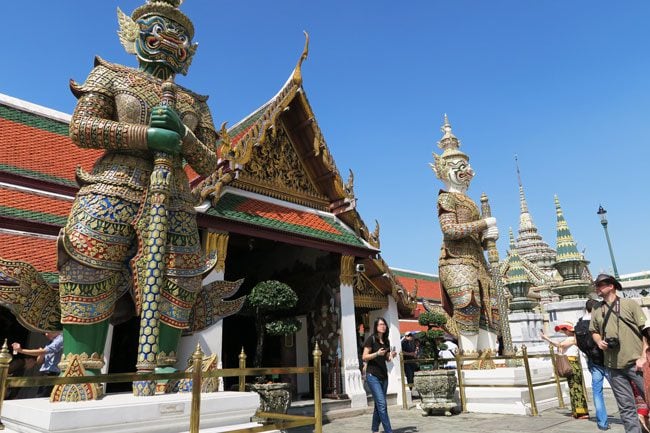 The intricate level of detail on every spire, gate and column makes you wonder if something like this could even be constructed with the tools we have today. The amount of gold – some solid and some coated paint – leave you blinded at times under the blazing sun. This place is out of this world. And wait, we haven't even visited the Emerald Buddha.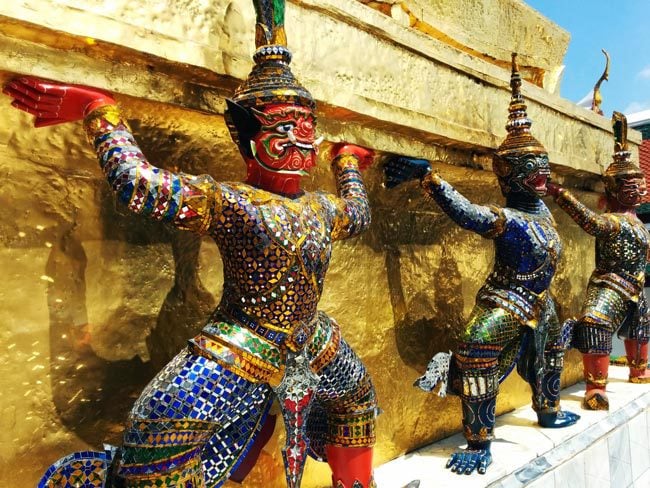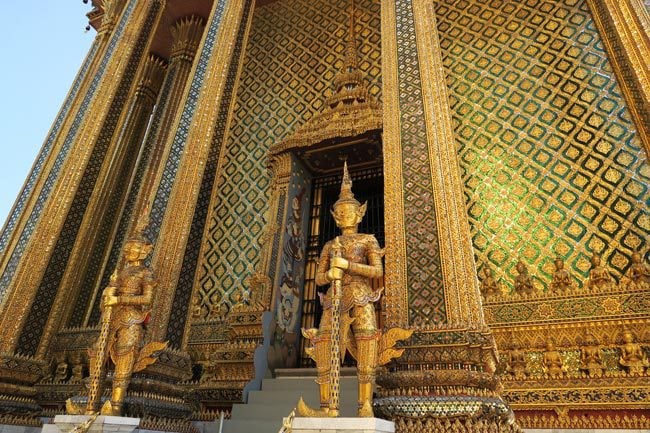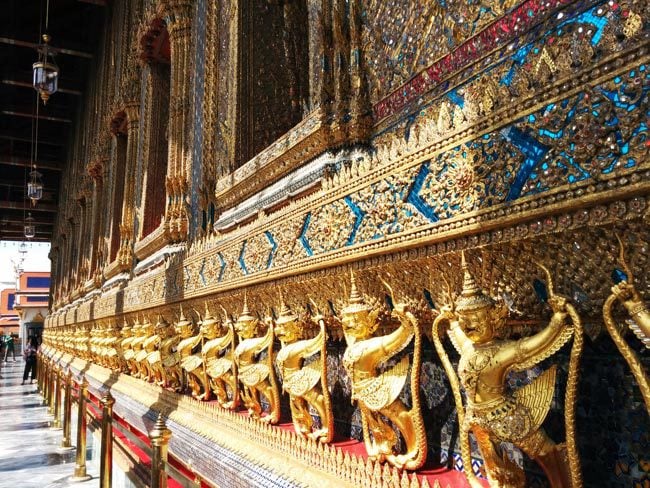 At the very heart of this complex – atop a 9-meter high pedestal – sits the Emerald Buddha. This is one of the holiest Buddha figures in Thailand so photography is absolutely forbidden. The figure is said to have been created many centuries ago, exchanging many hands and carrying out many miracles until finding a permanent home in this temple.
The second complex you'll visit is the actual Grand Palace. A lot of sections are sealed off to the public, but simply walking around amid the impressively huge royal structures is a moving experience.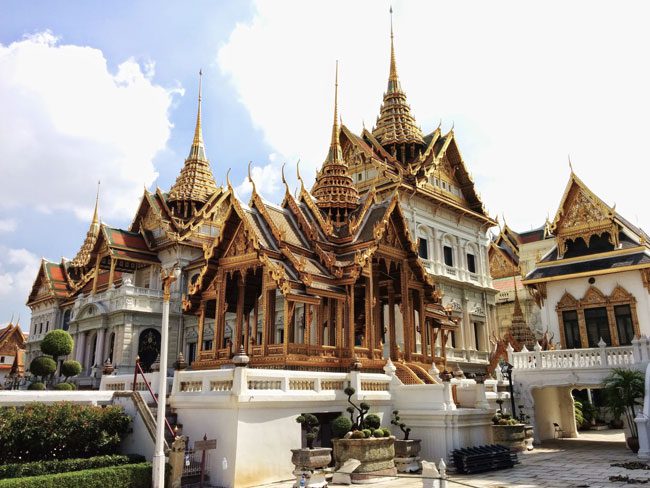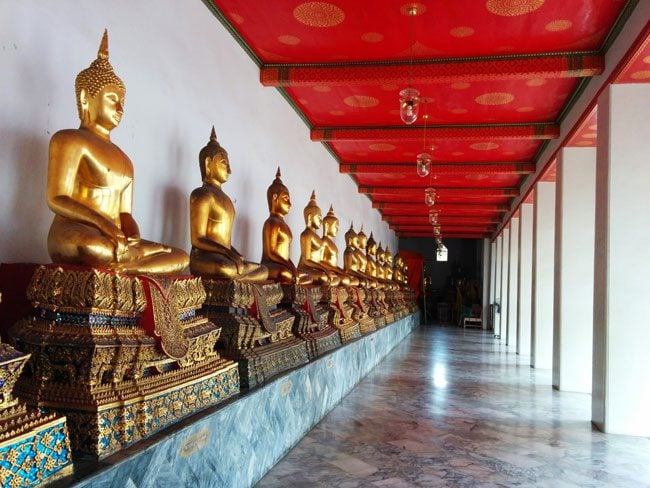 Wat Pho: The Reclining Buddha
A five-minute walk from the Grand Palace brings you to Wat Pho: the oldest temple in Bangkok (THB 100 – includes a bottle of water). The huge complex offers a pleasant stroll amid spires and gates guarded by massive Chinese-influenced sculptures.
The highlight is without a doubt the chapel of the Reclining Buddha. In a huge chamber, a 45 meter-long gold painted Buddha leisurely reclines – representing the holy figure entering a state of Nirvana. For good luck and longevity, buy a set of 108 coins from the monks and drop one to each of the 108 metal bowls that extend the length of the Reclining Buddha.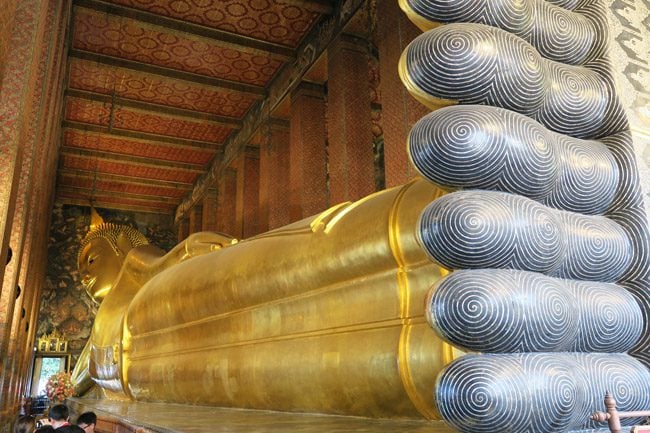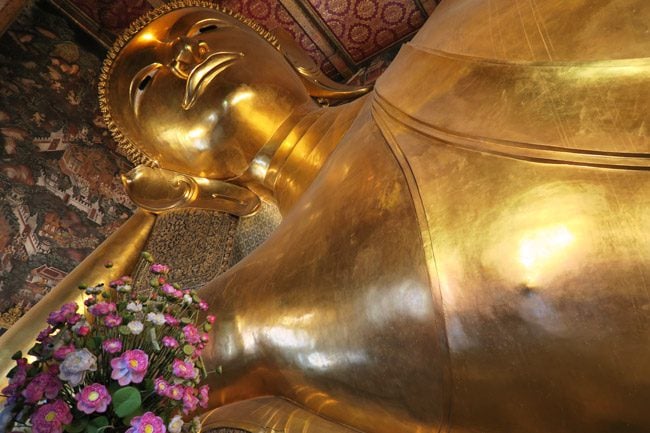 Though the Reclining Buddha's chamber gets all the attention, be sure to explore the rest of the temple compound – where quiet courtyards, hidden shrines, and other impressive golden Buddhas are awaiting.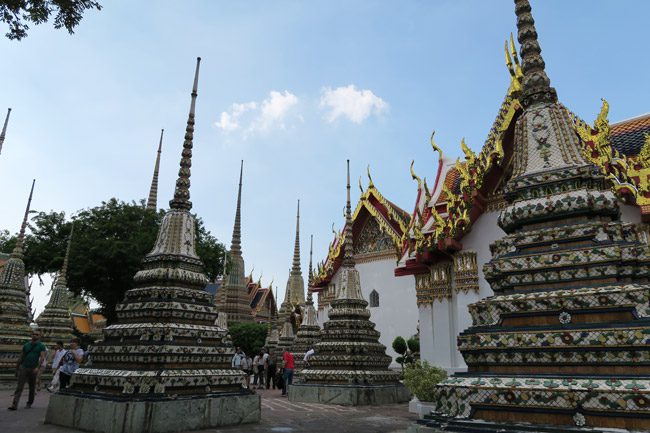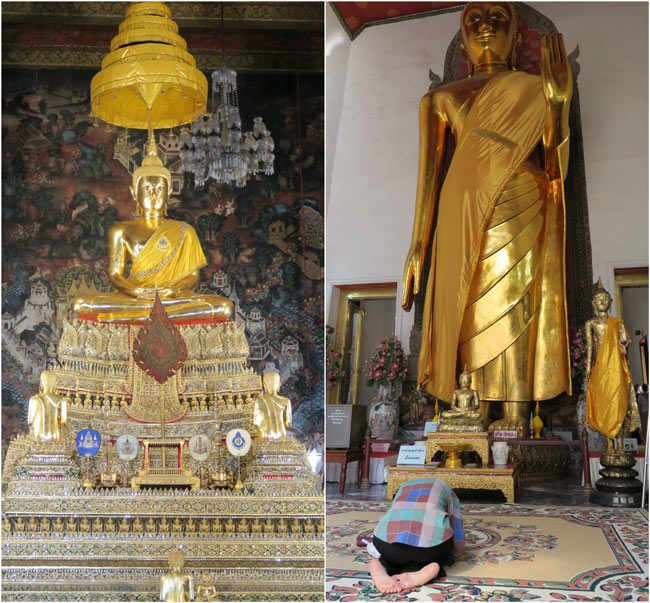 Since we've already done a lot of walking, it's time to finally experience one of those famous Thai massages! It just so happens that the grounds of the Wat Pho are also home to a massage center. I believe this place is actually some kind of school. It does get quite busy so I suggest first coming here to register and get a number before venturing off to explore the complex. You can choose from a 30 or 60-minute foot or Thai massage (~ THB 260-420), and though slightly more expensive than what we later experienced – the location and the timing couldn't be more perfect!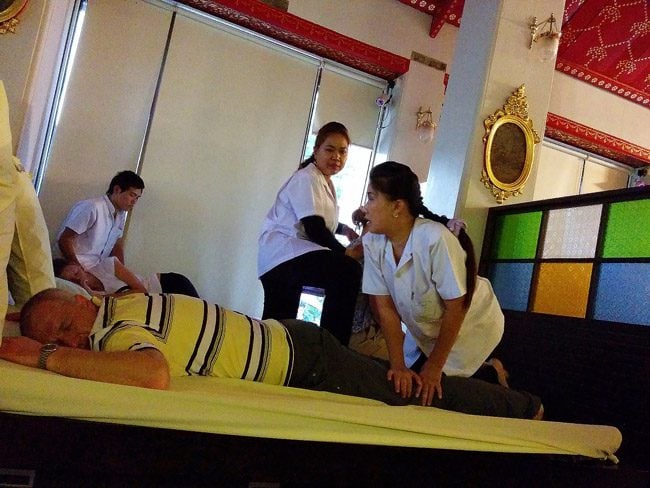 Wat Pho to Golden Mount Walk
You can extend your sightseeing day with a 30-minute scenic walk from Wat Pho to the Golden Mount (Wat Saket). Use this opportunity to sample authentic Thai food in Thanon Tanao (Tanao Road) – where there are plenty of dining options. Along the way, check out from the exterior: Lak Muang, the pretty temples of Wat Ratchapradit and Wat Rajabopit, the 25-meter high Giant Swing and its companion temple – Wat Suthat. Finish off the day in Wat Saket (Golden Mount) and check out Bamrung Muang Road – the place in Bangkok for Buddha-related paraphernalia.
Evening in Khaosan Road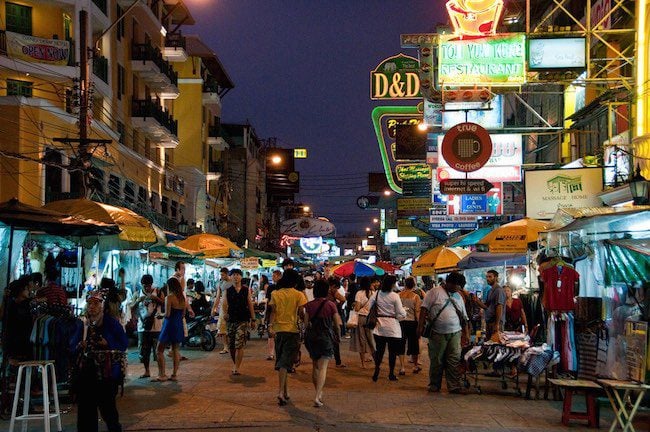 For some evening action, head to the area in and around Khaosan Road. This is the Mecca for Bangkok backpackers, an area crammed with internet cafes, cheap accommodations, and sketchy tour operators. At night, the area comes to life with an interesting food scene, loads of bars and those infamous ping-pong shows. The intense atmosphere may not be suitable for everyone, probably more for the curious traveler who is already taking a liking to the (charming) madness of Bangkok.
Day 3: Day Trip to Ayutthaya
There are two good options for this last day in Bangkok before heading to the islands. (1) The first is a day trip to the area's famous floating markets – made famous by the scene in James Bond. Many of these markets are flooded with tourists, so to really have a good experience, getting away from the city is a must. Here's a good list of the top floating markets in Bangkok. (2) The second option (and the one we opted for) is a day trip to Ayutthaya – the ancient capital of Thailand and UNESCO World Heritage Site. It was one of the best decisions we made on this trip – a day spent in the outdoors in the company of historic temples far away from the madness of the mega-city.
Getting to Ayutthaya from Bangkok
Ayutthaya lies 80 km's north of Bangkok and takes less than two hours to reach if you leave early enough in the morning (~ 8:30 am). Organized tours can take you straight from your hotel, but the best way to enjoy the ancient city is on a self-guided tour. You can take the train from Bangkok to Ayutthaya if the departure times fit your schedule (it didn't for us) or get to the Victory Monument with the BTS and metro and take the stairs down to the ground level on the eastern side of the massive roundabout (see the accompanying map). It is from this area that private minivans depart to Ayutthaya every 20-30 minutes. If you're not sure, simply ask one of the vendors and they'll be happy to show you the way.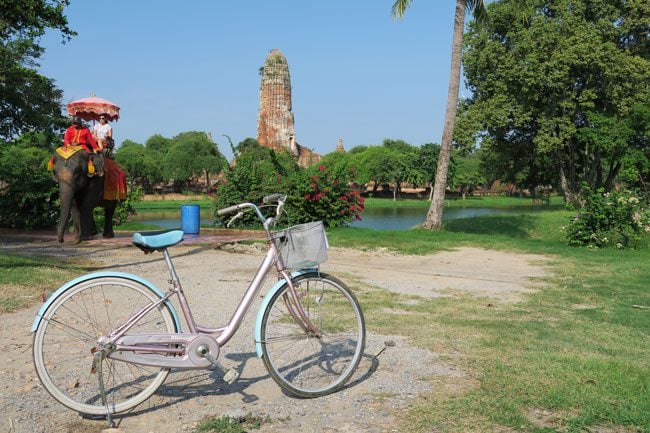 One way fare is ~THB 70 and once you reach the town of Ayutthaya, a tuk-tuk will take to the entrance for ~THB 60. Drivers will do their best to get you to hire them for the entire day (~THB 200), but the best way to explore the complex is on a rusty beach bicycle which you can easily rent at the entrance or in the nearby guesthouses (~THB 50 for the entire day).d
Exploring Ayutthaya
Spreading across a vast area on an island surrounded by rivers, exploring the ancient capital city requires a lot of ground to cover. The island is home to many temples, a few lakes, and even small communities. Road signs aren't great (to say the least), but it's so pleasant and tranquil to ride along the paths that you won't really mind getting lost. You'll usually be required to pay ~THB 50 at the major temple complexes, where you can also grab a map of the complex, food and drinks.

I recommend starting your visit at the Wat Phra Mahathat, where you'll also find the famous head of the Buddha stuck in a bodhi tree. From here, work your way west and visit the other temple complexes until you reach yet another reclining Buddha. You can also ride an elephant near Wat Phra Ram – the quintessential Thailand experience though I am not sure how much the elephants enjoy this…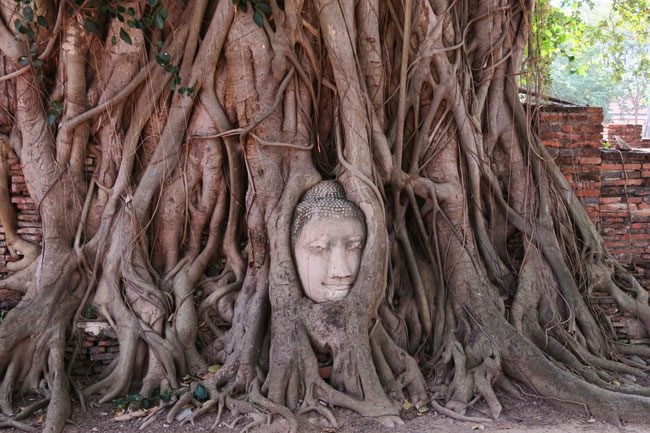 If you're visiting Ayutthaya on a day trip from Bangkok, you won't be able to see everything as there's just too much. Aside from the temples, there's a floating market nearby, a night market and other highlights. This is the reason why there are hotels and guesthouses around here. We wrapped things up and grabbed a late lunch at around 3:30 after seeing the major highlights. Don't forget that days are a lot shorter in the tropics and the ride back takes almost two hours due to the evening traffic.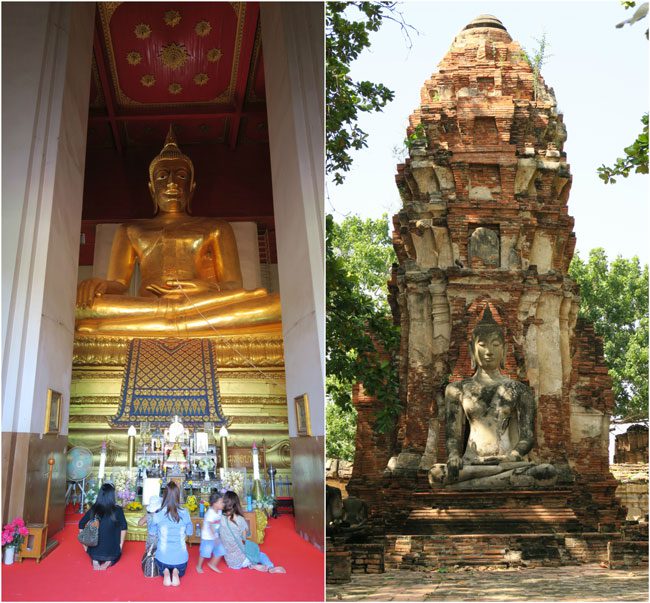 Evening Drinks in Sky Bar
To celebrate an action-packed three days in Bangkok, put on a pair of jeans and a nice shirt and head to the Sky Bar. Bangkok's posh skyscrapers are home to quite a few rooftop bars, but this is considered the 'best' one. Personally, this isn't my cup of tea but I just had to see what all the fuss was about. If you make it there before 9:30 pm, you'll likely avoid the long queues that form every single night. The rooftop bar is technically free to enter, but the $20 cocktails are sort of the price of admission. It's crowded, noisy and everyone is busy taking selfies with those stupid sticks (which should be outlawed!) – but nonetheless a worthwhile experience if you've had enough of the street bazaars.