Day 3: La Jolla, the beaches, Cabrillo Point & Point Loma
I hope that by now, you're not asking the question 'what the heck is there to do in San Diego' – there's so much! On the last of my 3 day San Diego visit, I will explore the beach towns that are so synonymous with the California lifestyle. The greater San Diego coastline is scattered with towns that will make you want to visit the nearest real estate agent – this is as good as it gets if you like beach towns, whereas to the outsider it seems the only cause for concern around here is whether the surf is gonna be good or bad? If you're visiting San Diego and not heading out here, you're missing out!
My plan was to work my way from north to south, starting at La Jolla and ending the day with a sunset at Point Loma. For this, I'll need a car, and rent for a day is super cheap (under $50). I rented the car from an airport location since it's the only place which operates 24/7 branches. Since I couldn't drop the car back in a city location after 6 pm and anyways my flight was super early the next day, it was a good idea to rent from here and simply drive myself to the airport the next morning.
Exploring La Jolla
One day is just enough to get a taste for this part of Southern California and since we need to get back to work tomorrow, let's get started. A short 20-minute drive from the airport and you reach the mega affluent seaside community of La Jolla (pronounced la-hoya).
As for breakfast, well there are a few good options in La Jolla but as I always do my best to write about places I actually visit, I'll cover 2 options here. The first and more 'hipsterish' breakfast option can be found at Bird Rock Coffee Roasters. The coffee is from all corners of the globe, super fresh, organic and as you would expect – fair trade. The baristas are friendly and have a fine touch of art. There's no need to rush and I'm pretty sure there are a few folks on Macs that spend a good couple of hours here every day.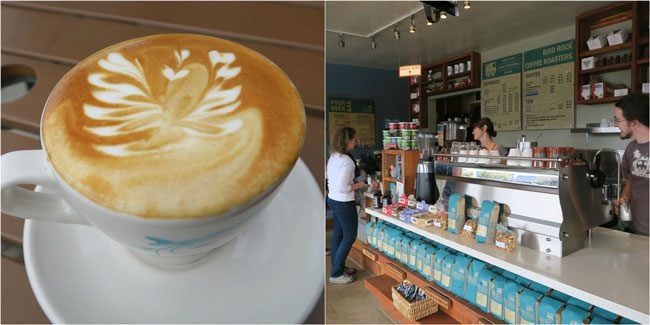 The second breakfast option could not be any different than the first. Head over to Kono's Cafe, where breakfast is served all day, every day. Portions are enormous and if you managed to finish the breakfast burrito on your own, I strongly suggest you make an appointment to ensure all arteries are clear. I'm just kidding, it's super popular with locals and there's a sunny deck outside overlooking the promenade, where you can enjoy your calories and do a bit of sightseeing – if you know what I mean.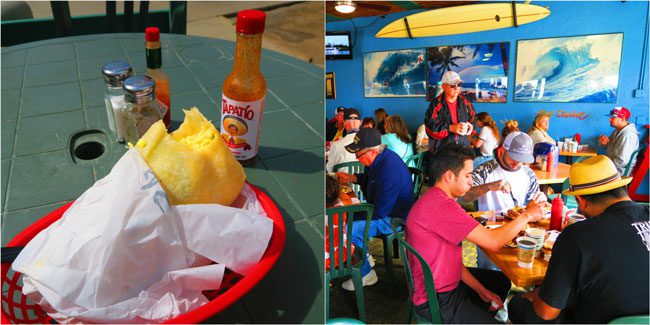 Now back to the real reason why we came here. Over on the north side of town, park the car (2-hour free street parking) and head down to La Jolla Cove. There's no way to miss this, just follow everyone else (so maybe come here on a weekday or in the early morning). This beautiful sheltered cove has crystal clear waters but you'll have to share the beach with seals and pelicans – the real residents around here.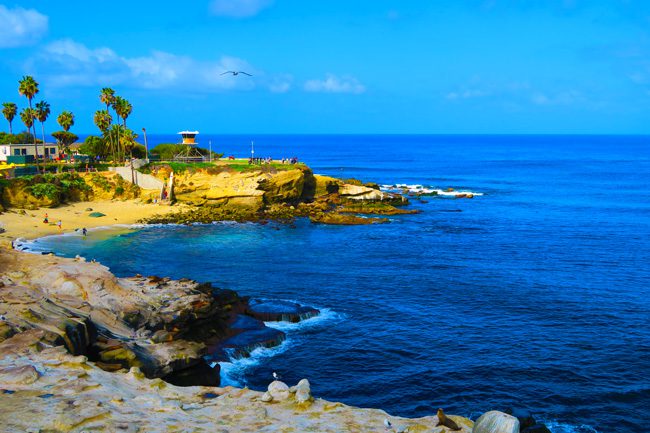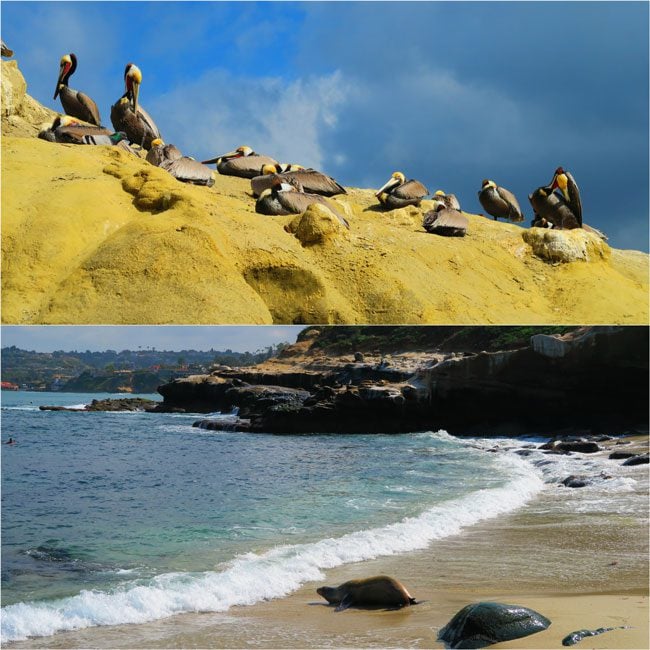 It'll be hard to say goodbye to La Jolla Cove but hey, the show must go on. Continue walking along the beach promenade where million-dollar homes meet the fresh Pacific Ocean breeze. The beaches are beautiful and so it's no surprise to see quite a few artists getting their muse over here.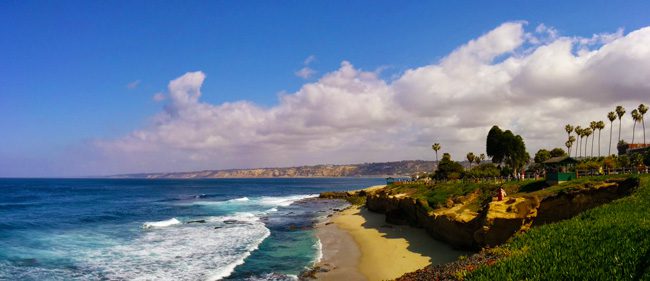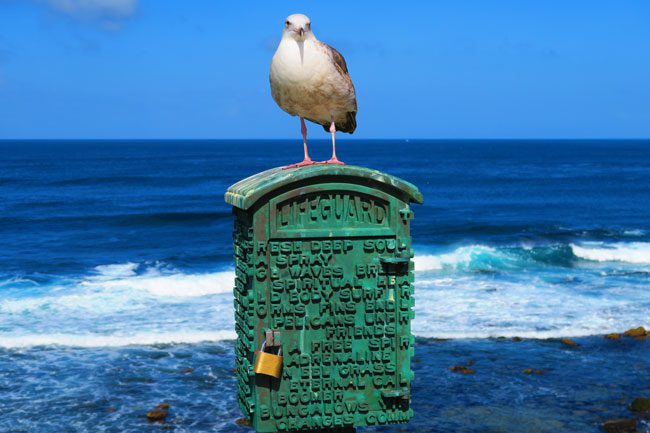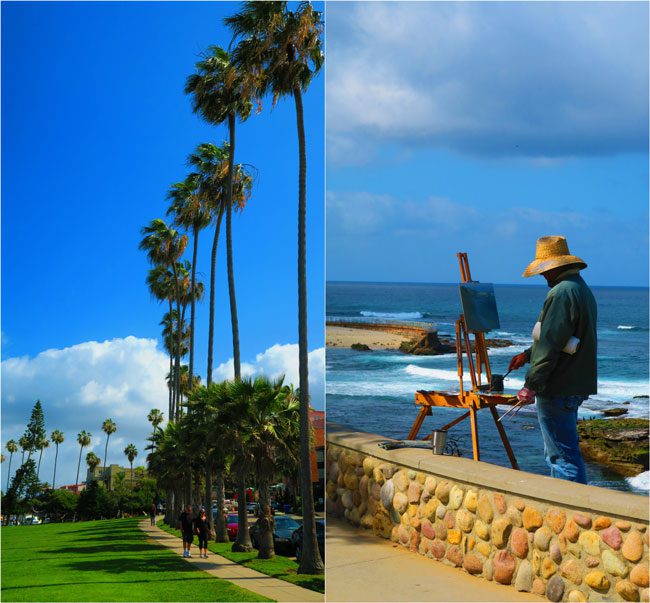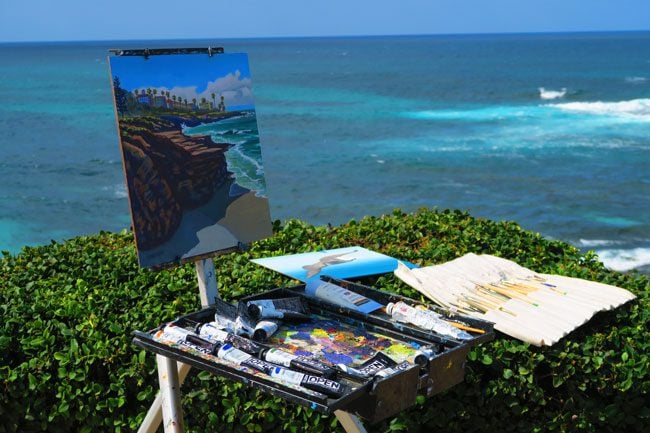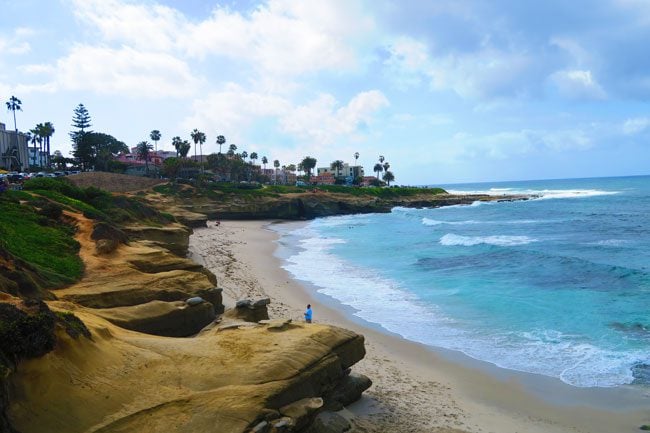 Reluctantly I made my way back to the car via Prospect Avenue, there is still so much to see today after all. Prospect is the main street and it's lined up with galleries, jewelry shops, investment banks, and excellent restaurants. If you're looking for a good California meal with a view, you have a few options here.
Pacific Beach
A short drive, and actually exactly where Kono's Cafe is located – we arrive at Pacific Beach. Split by a pier that also doubles as a cool hotel, the northern section is super relaxed and there's plenty of space for everyone, including all the surfer dudes and aspiring young models. It really reminded me of Baker Beach in San Francisco that had a similar laid-back vibe. The southern end is a more happening place if you're looking for action and its beachfront promenade goes all the way to our next stop – Mission Beach.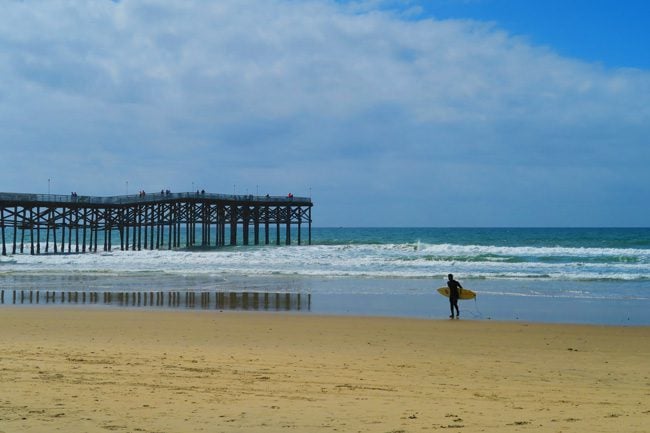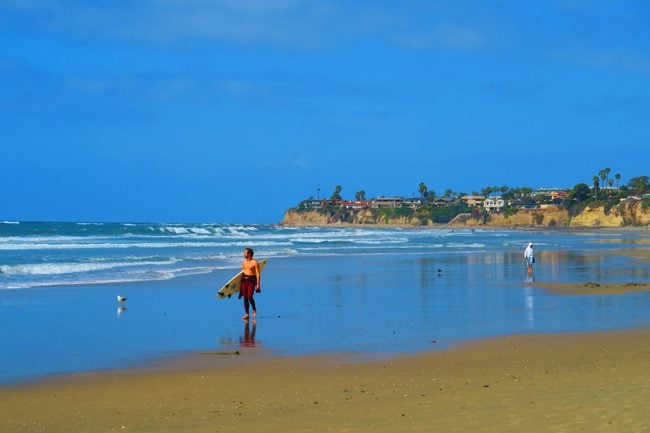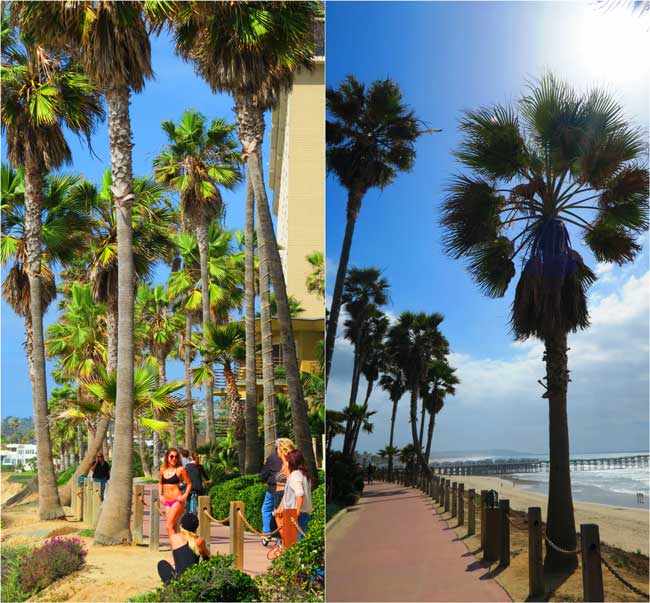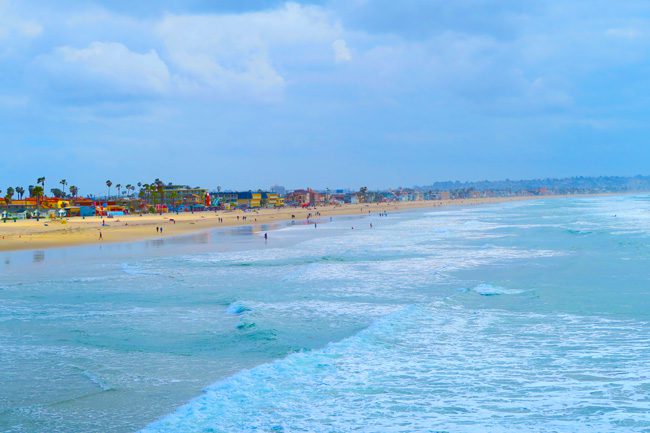 People watching at Mission Beach
So, you could walk on the beachfront promenade from Pacific to Mission beach but you catch my drift by now – there's a lot to see and we've got a sunset to catch. So a very short drive down south and we reach Mission Beach. On a sunny day, I can definitely picture thousands of good-looking Californians tanning away on the beach and holiday folks sipping on margaritas at the beach bars or having a BBQ in their Airbnb-rented beachfront homes. Of all the things in the world, there's even a roller coaster here and of course – surf shops galore. If you're not spending time at the beach, or at the bar, it's cool to walk up and down the promenade – just watch out for the roller skaters.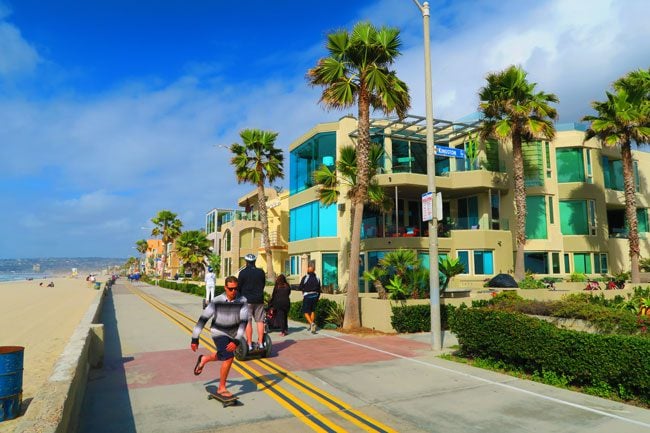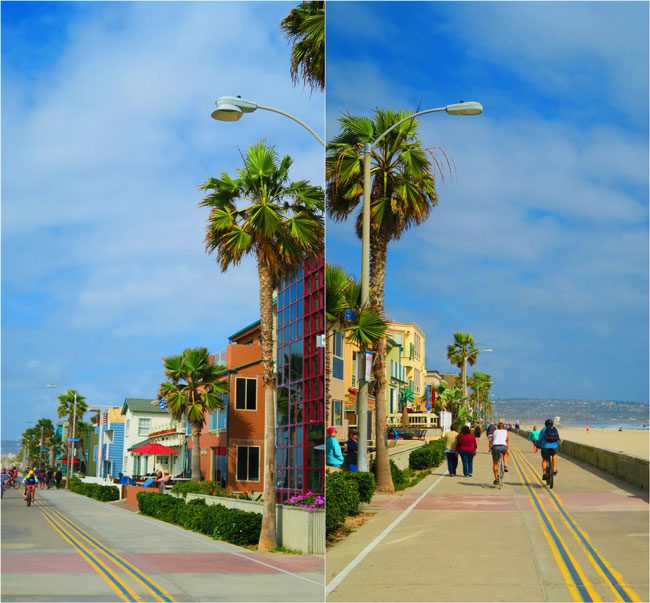 Saying farewell to 'Goose' at Point Loma
It was time to get moving but I haven't forgotten about lunch. Since the weather is nice, why not have an outdoor lunch. On the way to the tip of Point Loma, stop by at Chris's Liquor & Deli. Though the liquor is mentioned before the deli, I must tell you that the sandwiches here are definitely worth the buzz. Whether you go for the Shipwreck sandwich, the Harpoon, the Aztec or the Whaler – you won't be disappointed. You can grab a few craft beers for the road – though only if you're not doing the driving!
There's plenty of Navy presence over here and it's no surprise since pretty much half of the peninsula is military ground. The good folks at the Navy are 'kind' enough though to give civilians access to Cabrillo National Monument, at the very tip of the peninsula. The drive offers beautiful views of the bay and San Diego but also takes you through a massive Navy Cemetery. Feel free to stop by and pay your respects to so many who have given their lives throughout the years.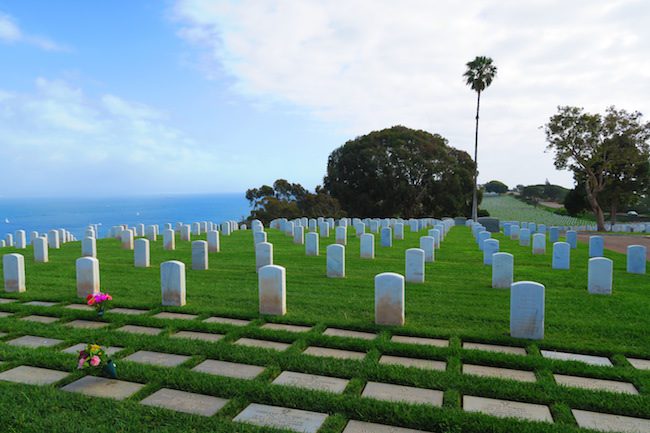 Entrance to the Cabrillo National Monument costs $5 and there are a few things to explore in this lovely little spot. First thing first – lunch with a view. The sandwich from Chris's was good enough on its own but with this kind of view – man, I wish I would have bought two of them!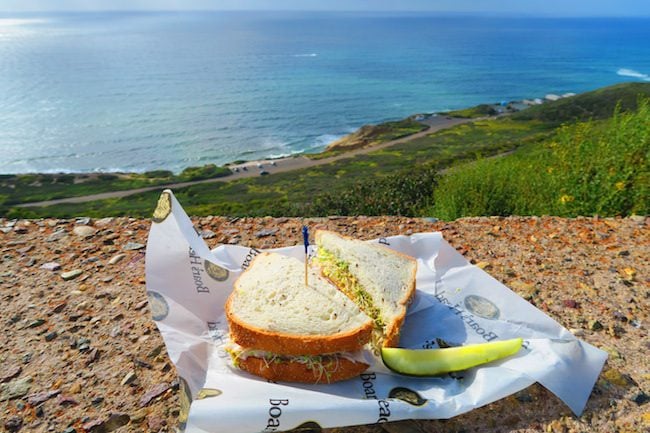 The highlight over here is Cabrillo Point, named after Juan Rodriguez Cabrillo, the first European to make landfall in California back in 1542. Today, he's got the best seat in the house, with fine views towards San Diego, the massive Navy base, and the endless Pacific Ocean.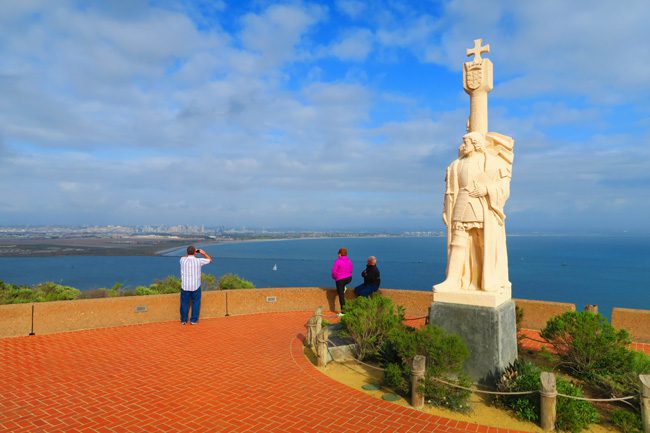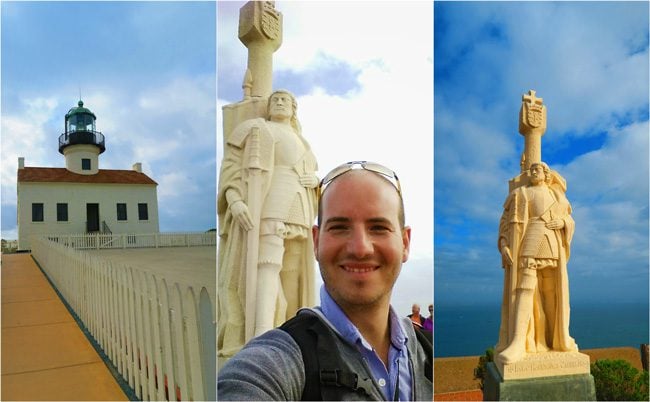 Another highlight is the old lighthouse where, similarly to the lighthouse at the Cape of Good Hope in South Africa, it was built at a spot that was too high to cut through the fog so had to be replaced a few years later. If you look further down, you'll see its 'version 2', also home to some pretty sleek Navy officer houses. Top Gun fans might recognize this as Viper's beachfront home.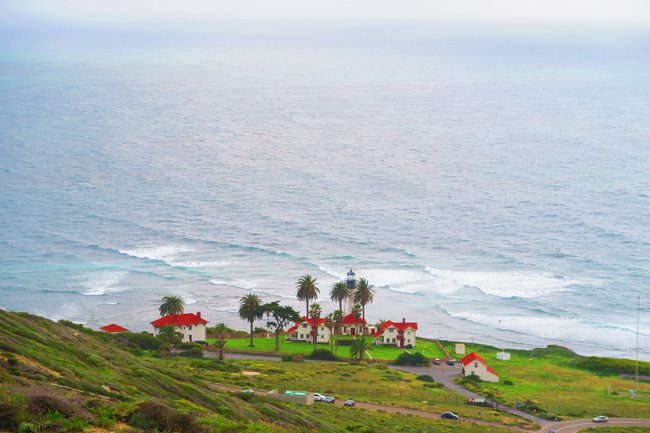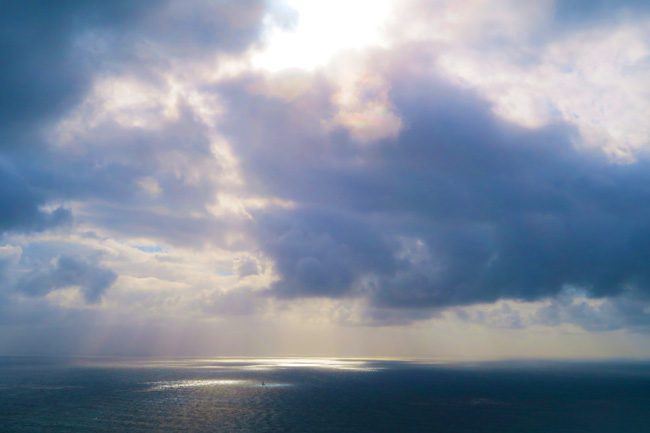 Last but not least, a short drive down from the high ground to the tide pools. You can walk around and examine this rugged coastline from up close but I didn't find it incredibly special. If you are lucky, you might see a few migrating whales during February – March, en route up north to their summer feeding grounds.
The sun just had to say a personal goodbye
I must say that I was a bit disappointed since it was pretty cloudy throughout most of the afternoon. As I've mentioned before, I tend to bring the crappy weather with me from Ireland wherever I go. However, I did stay optimistic as the weather was showing signs of cooperating just ahead of the sunset.
The best place to catch the sunset in San Diego is at… think very hard… Sunset Cliffs. If I thought La Jolla was nice, I was in for another surprise. I parked the car and had a walk around this tranquil neighborhood, where kids come to surf after school and later, grab a spot on the cliff to watch the sunset.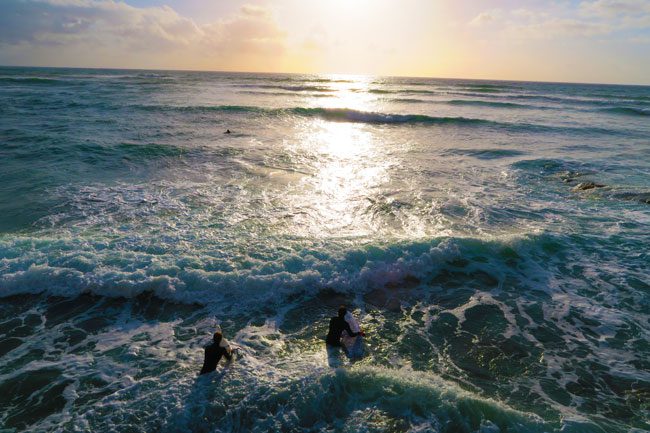 I found a nice quiet spot and watched as the clouds cleared up and treated me to one last memorable California sunset to end my 3 day San Diego trip.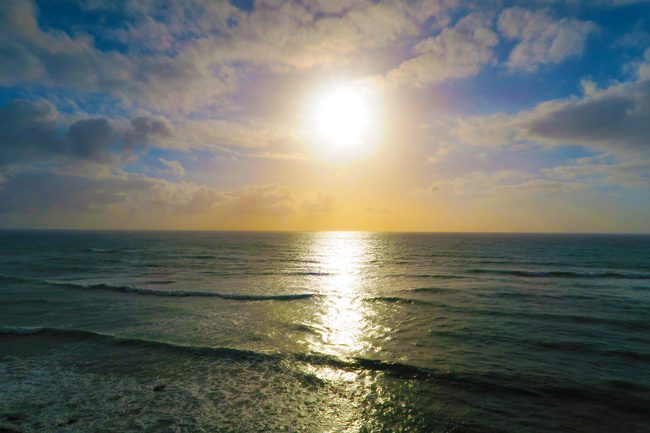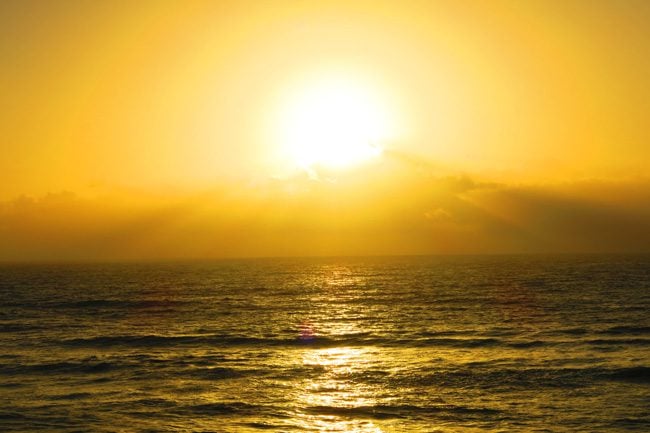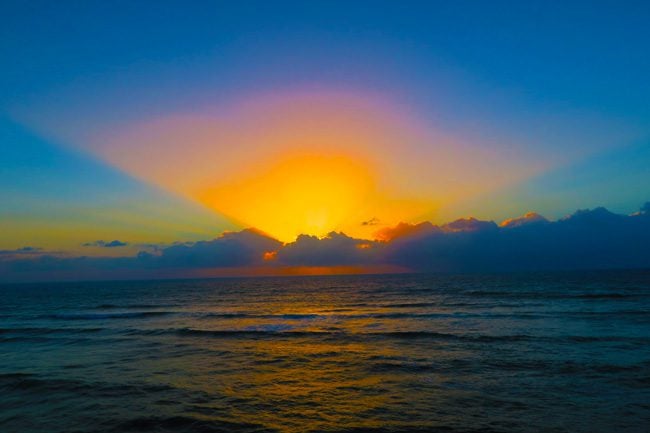 What a great day! Four beaches, great food, chilling out with seals and a fiery sunset. San Diego – you did not disappoint! There are so many things to do in San Diego and you can probably easily combine it with a visit to Los Angeles.
I hope you found this 3 days in San Diego travel itinerary useful and remember to buzz the tower next time you're in town (this will be the very last Top Gun reference. I promise).
Any Regrets?
Tijuana anyone?