A big city with a small town feel, San Diego packs in fun for any type of visitor. Miles of golden beaches and good surf, a ton of history, great nightlife and the best weather money can't buy – San Diego will make you start thinking of moving.
On the backend of a business conference in late February, I had the pleasure of spending 3 days in San Diego and exploring this part of Southern California. Though it's the 7th largest city in the entire United States (and #2 in California behind Los Angeles), San Diego has an easy-going vibe to it.
Sure, it's got those skyscrapers that most American cities have, but also a real small-town feel to it. Perhaps it's because of the miles of golden beaches that stretch on its western edges, drawing people away from the city center and into beautiful seaside communities that'll make you want to move here in a heartbeat.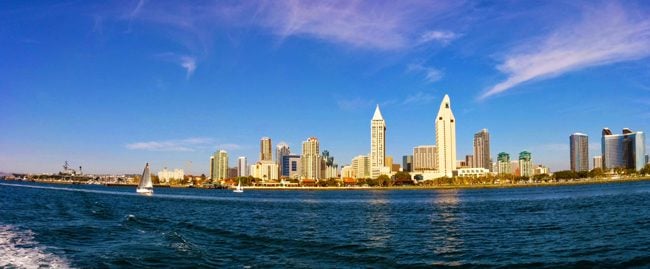 San Diego is also a Navy town with a very strong presence both on the ground, at sea, and in the hearts of local folks. It's also the filming location of one of the greatest motion pictures ever to be made – Top Gun! I apologize in advance for anecdotes to the movie here and there throughout this guide.
So if you're kind of convinced by now but still wondering what is there to do in San Diego for 3 days? You've come to the right place. This 3 days in San Diego travel itinerary will cover the area's major attractions and is very much suitable for a long weekend of fun in the sun.
What's Included in this 3 Days In San Diego Itinerary
Several sections make up this San Diego itinerary
3 Days in San Diego Travel Itinerary Map
All places mentioned in this itinerary can be found on this map. Simply click on the image to open in Google Maps: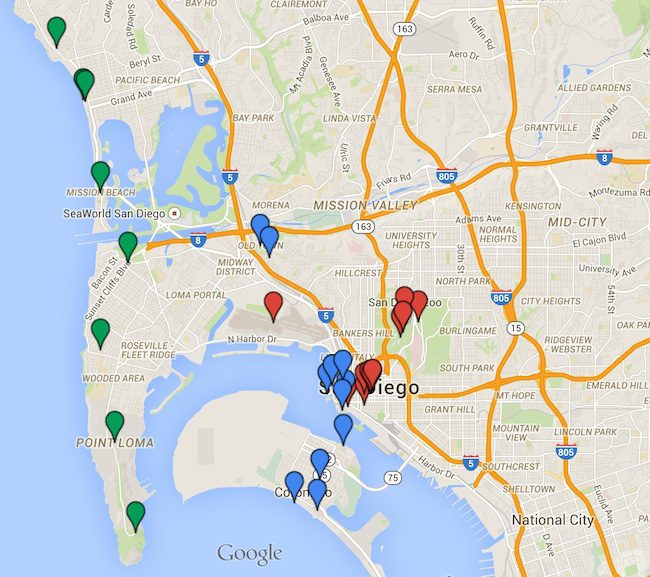 San Diego Travel Tips
Don't leave home without the Lonely Planet Guide to Southern California. It's got loads of info about San Diego, Los Angeles, and everything in between. Together with this guide, will be your best friend on your visit to San Diego.
San Diego International Airport is just a 10-minute drive from downtown. A taxi will cost you about $15 and you can also grab a bus for much cheaper than that (check here).
Weather in San Diego is pleasant all year round and even if you're visiting in the winter months, don't be shy and bring those shorts with you just in case (and definitely sunglasses).
Though San Diego is a pretty laid back town, you're still in Southern California, so if you plan on going out at night, have some decent clothes with you as some bars have a light dress code.
San Diego's charm lies within its bay and though there are tons of hotels inside the town, try and stay around the waterfront (especially if you enjoy a morning run).
San Diego has a pretty good public transportation system of trolleys and buses (check here for daily pass options). However, if you're planning to check out the beach towns, and I strongly recommend you do, a car is kind of necessary.
As always in the US, pretty much add 20-30% to any price you see to account for tax and tips.
Day 1: Balboa Park, San Diego Zoo, Downtown & The Gaslamp District
We'll spend the first day in San Diego exploring its downtown area, but not before we head to one of the best urban parks in the world.
Arrival
Though as I've mentioned in the introduction, San Diego is a large city, it certainly doesn't feel that way. The San Diego International Airport is just a 10-minute ride from downtown and having arrived very late on a Friday, I took a short taxi ride to the Manchester Grand Hyatt.
The Manchester Grand Hyatt commands prime real estate along the San Diego Bay. It's one of the nicest hotels in town for folks who like large hotels and rooms have excellent bay views. By its sheer size and grandeur, it feels like a Vegas-style hotel and we're not that far from Sin City. Rooms are as comfortable as you would expect and there's even a rooftop bar that opens at 3 pm, offering even better views of the bay and the famous Coronado Bridge.
Here's a full list of all San Diego accommodations that you can book online.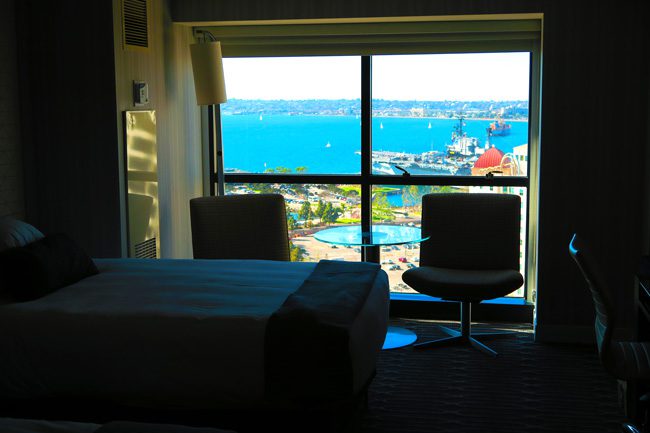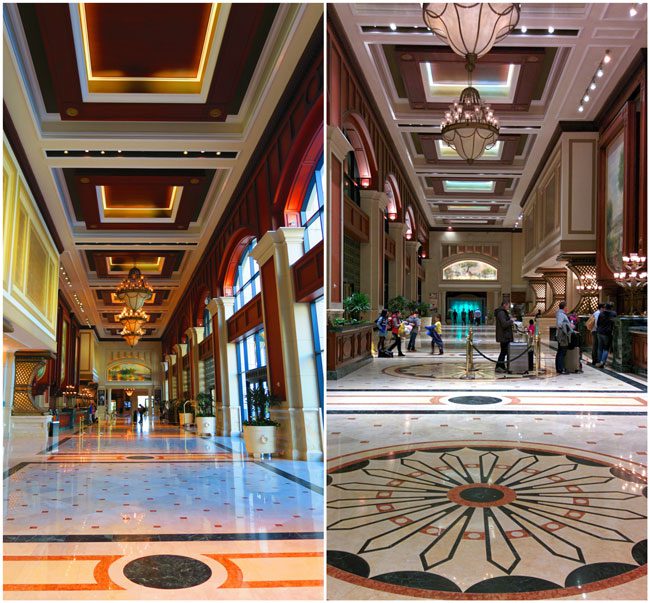 Take me to the zoo
On the first full day of my 3 days in San Diego visit, I headed to Cafe 222 for breakfast. Locals line up outside for this award-winning breakfast place- so they probably know a thing or two about the most important meal of the day. Dishes range from basic eggs to award-winning waffles and don't forget those free coffee refills. It's not the place for calorie counting but hey, we're in America!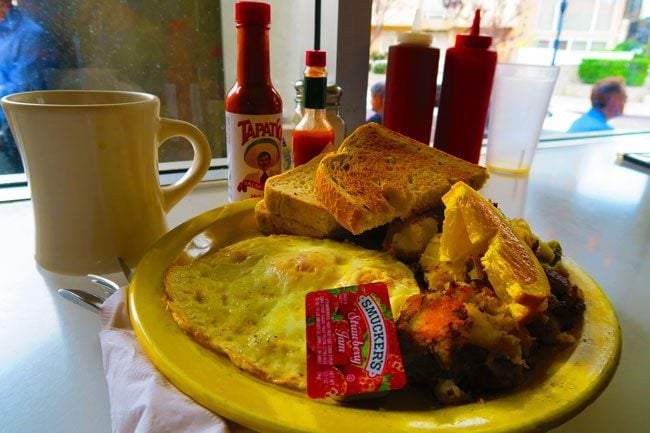 With energy levels high, I took a cab to San Diego Zoo in Balboa Park. We'll talk more about the region's most famous urban park in a little while but for now, let's get inside one of the most famous zoos in the world.
Following the Panama-California Exposition of 1915, many of the animals used for the expo were left abandoned. Dr. Harry Wegeforth thought it's a good idea then to establish an open-air zoo on the grounds of Balboa Park and so, the San Diego Zoo was born. Today, it's one of the world's largest and most famous zoos with over 3,000 animals on 100 acres of land. The concept here is to have as few cages as possible and provide animals with a habitat that resembles their natural home as much as possible. The zoo is also part of a much larger organization that promotes animal conservation around the world. Though I'm a huge fan of animals but not of zoos, the San Diego Zoo is much different than others I've seen. It's definitely among the must-see places in San Diego.
Entrance is by no means family-friendly, and you'll have to say goodbye to $48 to get in with the basic pass (check online here for special deals). As you would expect, you're kind of a trapped audience once inside so if you want to avoid resorting to burgers, hot dogs, and fries, or want to save a few bucks on food & drinks – bring with you some snacks for the road – just don't feed the animals with those Doritos!
The zoo is massive, with miles of trails and dozens of sections devoted to creatures from around the world. Though it might seem super touristy to do, I strongly suggest hopping on a free open bus tour just as you get inside. The short ride will give you a good sense of what's out there, what you want to cover and how.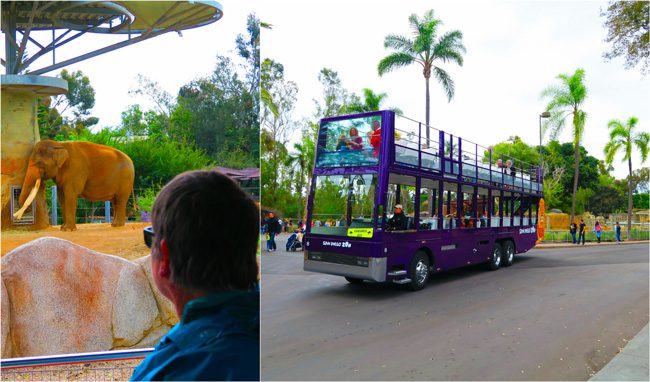 After completing my intro tour, it was time to say hi to the animals. Highlights include rhinos and giraffes at the Urban Jungle, cute koala bears in the Outback, elephants, lions, and jaguars at the Elephant Odyssey, adorable panda bears in the Panda Canyon (expect queues) and polar bears in the Northern Frontier section. Of course, there are so many others including the usual terrifying reptiles that always seem to crawl their way into my dreams after a visit to the zoo!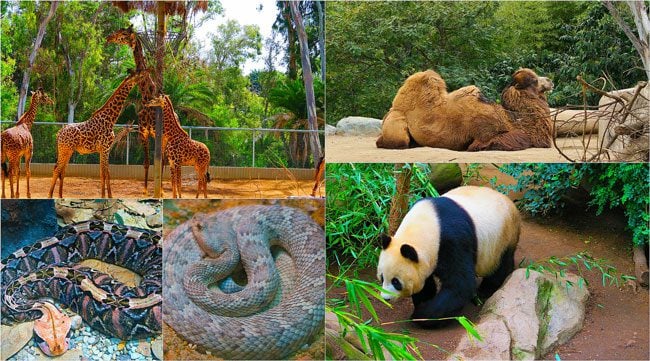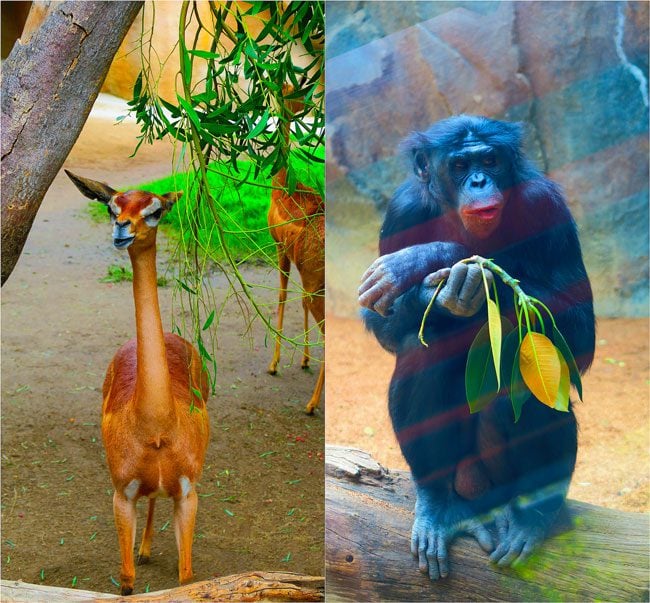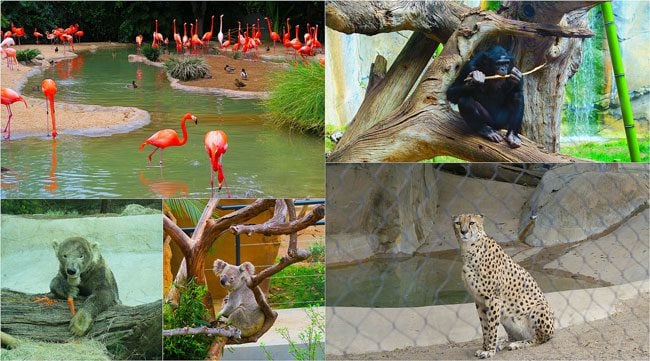 If you're not with young children and keep moving along, you can pretty much see everything in about 3 hours. I just worked my way across and up, eventually using the Skyfari tram (free) to get back to the entrance, while getting a lovely bird's eye view of the zoo and Balboa Park.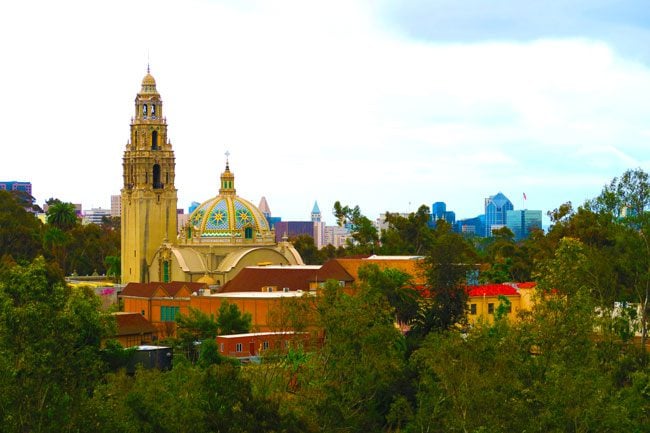 A park named after Rocky Balboa?
Speaking of Balboa Park, it was time to say goodbye to the animals and explore the park. Balboa Park is the largest 'urban cultural park'. What exactly does this mean? It means that it's not only a massive green oasis in the middle of town but also home to dozens of museums, gardens, Spanish colonial buildings and open-air theaters. And no, it's not named after the Italian Stallion, Rocky Balboa (who is a fictional character just to remind you – unlike Maverick & Goose) but rather after a famous Spanish maritime explorer.
Most of the action happens around El Prado, where you'll find the major museums (check this site for admission prices and packages). It's a great way to spend a weekend day but even if you're not into museums or don't have the time (like myself), it's fun (and free) to just wander around.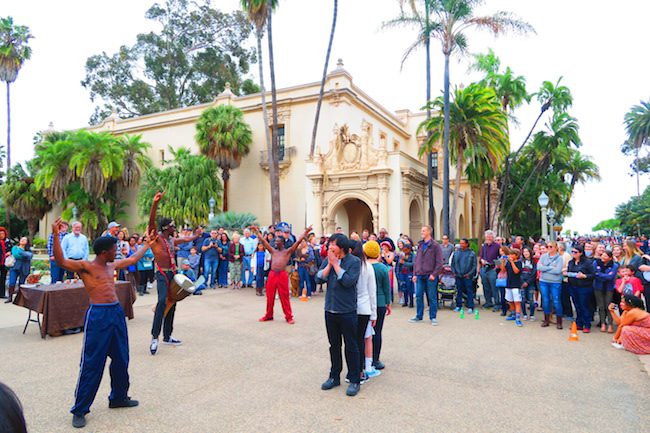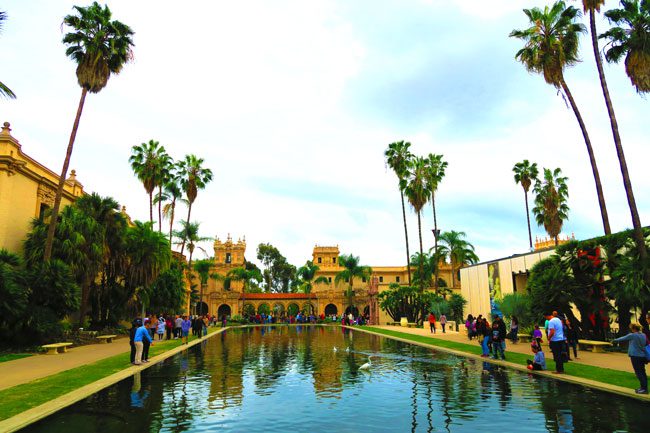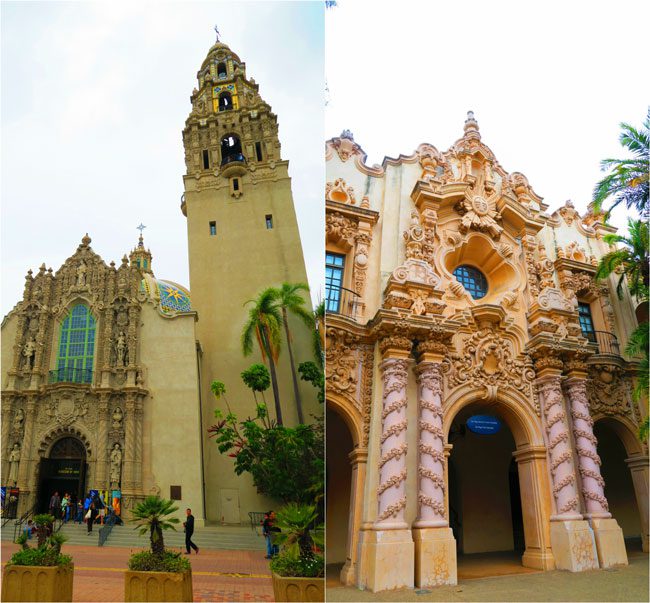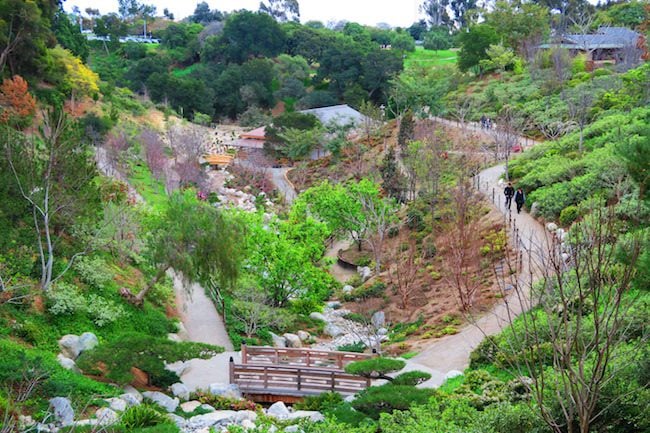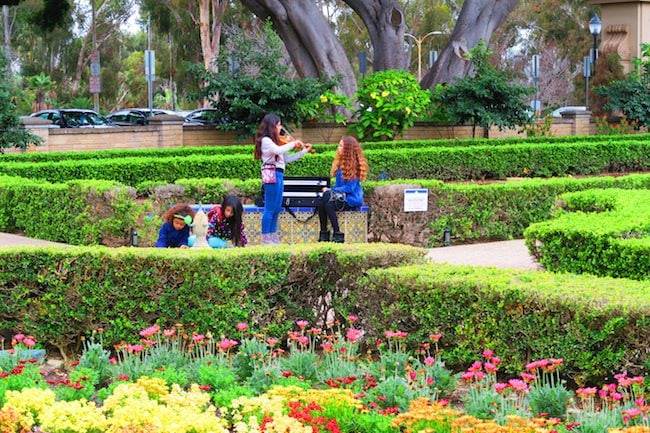 If you happen to hear some loud church music, don't be alarmed. Just head over to the Spreckels Organ Pavilion, grab a seat and listen to one of the world's largest organs blasting away (watch it live here). On the way, you can also grab a look at the Japanese Friendship Garden, a haven for those who need more peace and quiet. It kind of reminded me of my visit to the Japanese Tea Garden in San Francisco.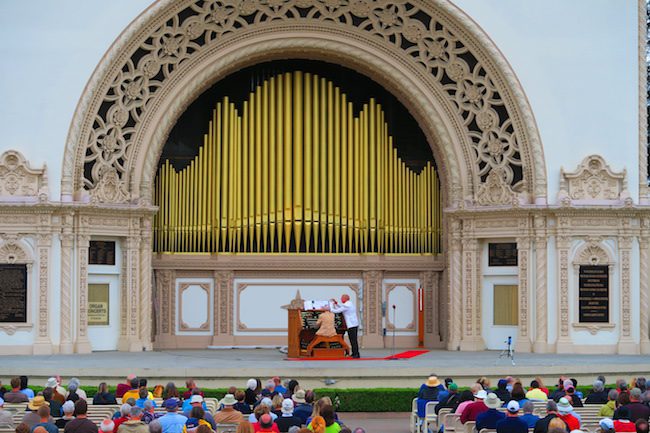 All that walking around and watching the animals snack away at the zoo made me hungry. Lunch in Balboa Park is not a bad idea and lunch at The Prado in Balboa is an even better idea. The atmosphere is great whether you're dining inside or out on the Spanish-style terrace. The food is not too bad either, to say the least, and you can choose from a wide lunch menu, including signature deli sandwiches.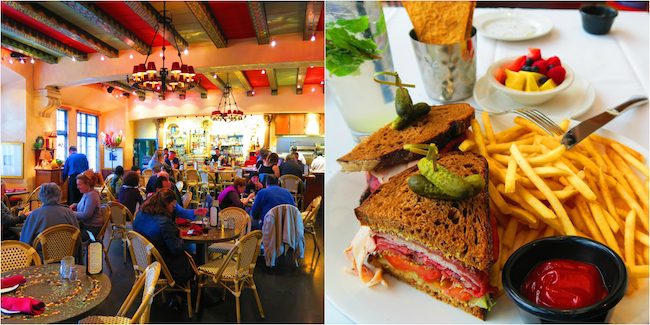 Exploring downtown San Diego
Though California has been in a state of drought for the past few years, it was no match for my habit of bringing the Irish weather with me wherever I travel and the skies opened up for a little while. What do you do in the US when it rains? You go shopping – of course! A short cab ride away is the Horton Plaza Mall, a beautifully strange-looking outdoor shopping mall that has all your favorite brands. For folks visiting from outside the US, don't forget that you get an extra 10% off at Macy's – I'm just saying…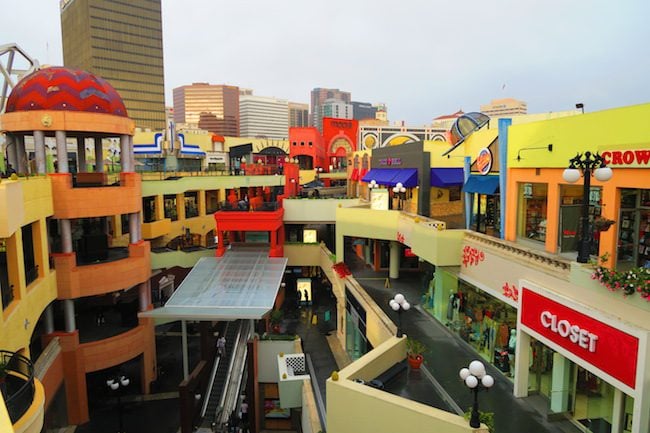 The mall sits right next to San Diego's most famous town square, the Horton Plaza which, unfortunately, is undergoing a major facelift so we'll just have to keep moving along. We are now in the famous Gaslamp District, the historical downtown of late 19th century San Diego. Though gas has given way to electricity, strolling around this 16 block area is super cool, especially at night – we'll actually be back in a few hours.
By day, the Gaslamp District is home to boutiques, cafes, restaurants and a bunch of cool shops. There are also a few historical buildings worth checking out, like the Balboa Theatre and the Louis Bank of Commerce, a tall wooden Victorian building and another reminder of my visit to San Francisco. There's a small-town vibe to the Gaslamp District, with few traffic lights and no skyscrapers – you'll quickly forget you're in the second-largest city in California. This all changes at night…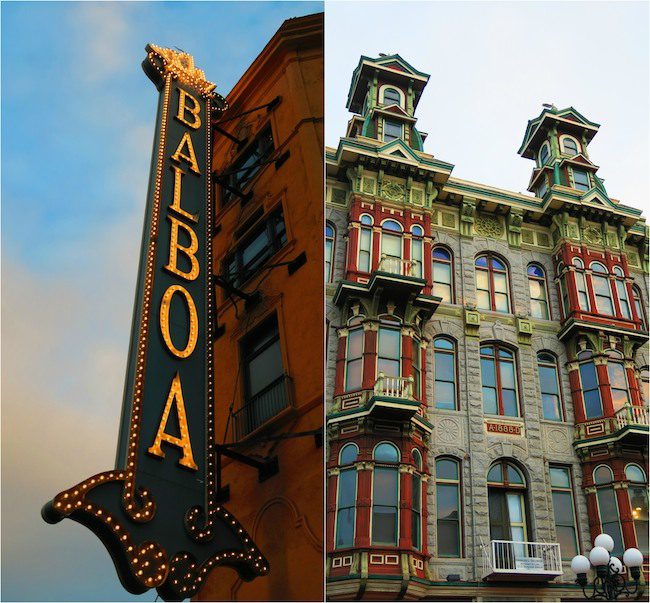 Saturday night in San Diego
By night, the Gaslamp District is transformed. Chilled cafes and dinner menus give way to cocktails, loud beats and a swarm of party-goers who descend on this patch of downtown San Diego. It's definitely the best place to party in San Diego on a Saturday night and best approached from the bottom of Fifth St, where you'll see the famous Gaslamp District arch which you may have overlooked during the daytime.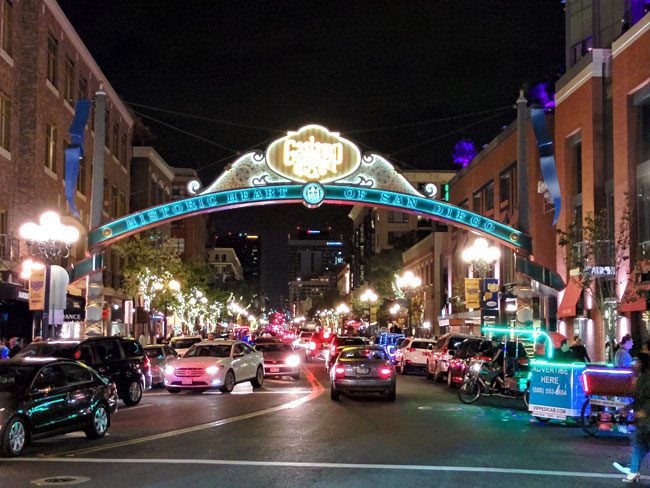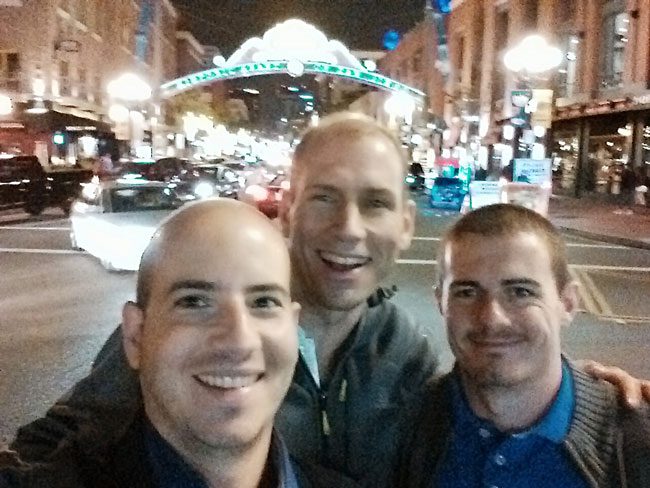 I didn't check out all the bars since 'why fix if it ain't broken' but it will be difficult to bar hop after 10 pm as queues can get pretty long. I started off at Barley Mash with my South African buddies Ian and Michael. This place really sheds its posh wine bar exterior at around 11 pm and the dance floor is definitely the place to be. After a few drinks and a few beats, we took one of the friendly tricycles down the street to Coyote Ugly.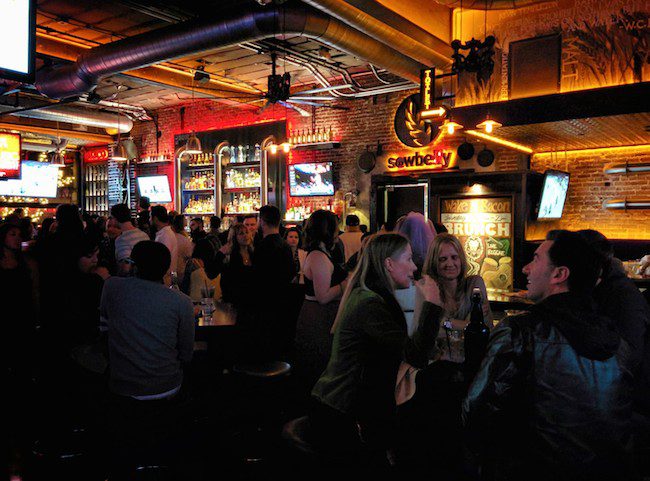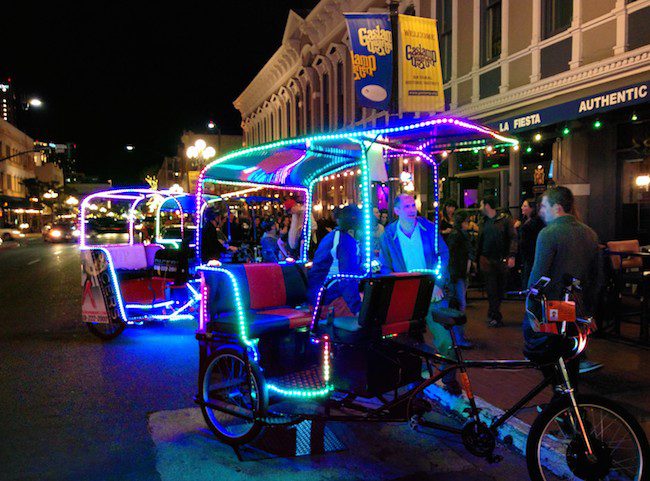 If you're looking for Piper Perabo dancing on the bar while preparing a few cocktails, you're bound to get disappointed. Nonetheless, though definitely not a politically correct establishment – it's a fun place to grab a few drinks and do a few 'body shots' while laying down on the alcohol-soaked counter.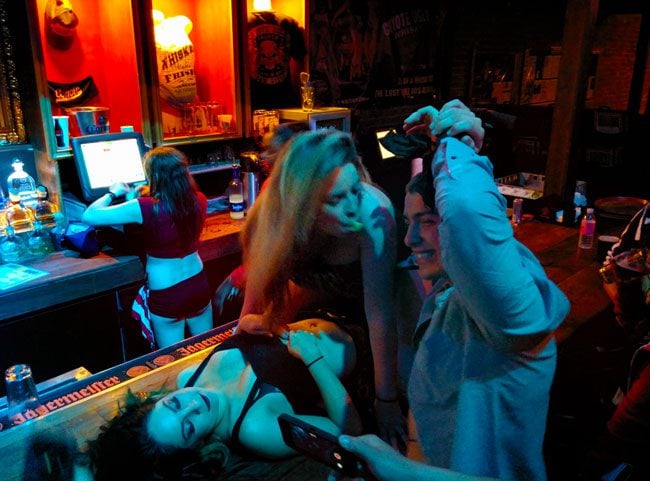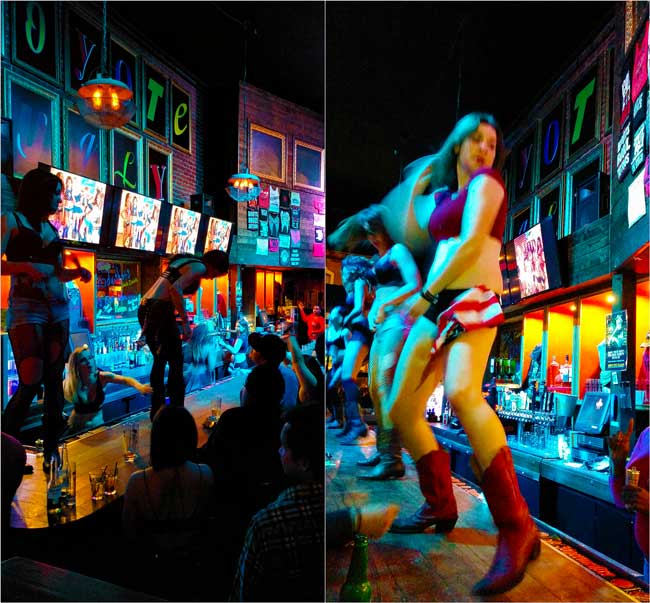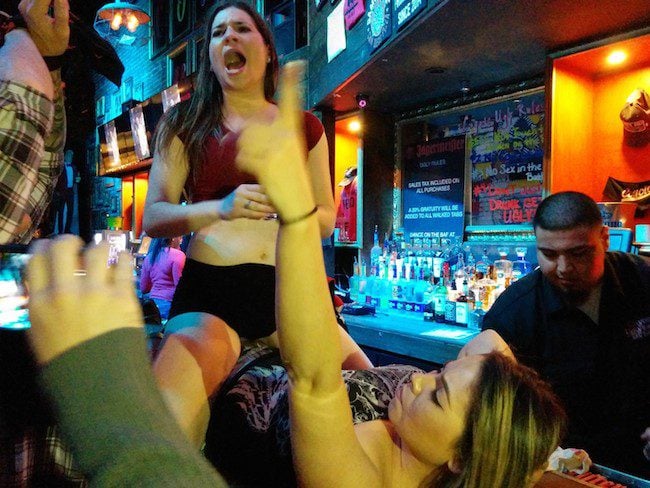 Jetlagged and a little wasted, it was time for a nightcap. I had a blast on the first of my 3 days in San Diego visit and so happy I made it here in time for Saturday night!
Any Regrets?
I'm not a massive fan of museums but with more time, I would probably check out a museum or two in Balboa Park. There are 15 museums here so you're bound to find a few that you fancy visiting.
The Horton Plaza is the major town square in San Diego but during my visit, it was closed for renovations. Be sure to pop in and follow up on progress on your next visit.
San Diego has been overtaken by a wave of craft breweries and bars selling… craft beer. There are loads of them scattered across town and worth checking out if you fancy a brewsky. I wanted to check out Hamilton's Tavern which is a bit further out. Also, I heard a rumor that The Yard House sells them by the… yard.
Day 2: Old Town, The USS Midway & Coronado
For the second of my 3-day San Diego itinerary, I decided to do something a little different. Instead of a big breakfast, I went for a big run. Harbor Drive and the Embarcadero are great spots for a morning run in San Diego. You'll rub shoulders with the mighty USS Midway and catch some of that early California sunshine that even in February, still warms you up. We'll be back later in the day to further explore this area of town.
Exploring Old Town San Diego
Aside from great beaches and fine surf, San Diego is rich with history and today, I will explore pretty much where it all started, in Old Town. The easiest way to get there is with the red line trolley, which you can catch at the famous Santa Fe Railroad Depot. This iconic San Diego landmark was built in classic Spanish style in 1915 for the expo (the same one that led to the creation of the zoo). It's still a functioning train station today and definitely worth checking out.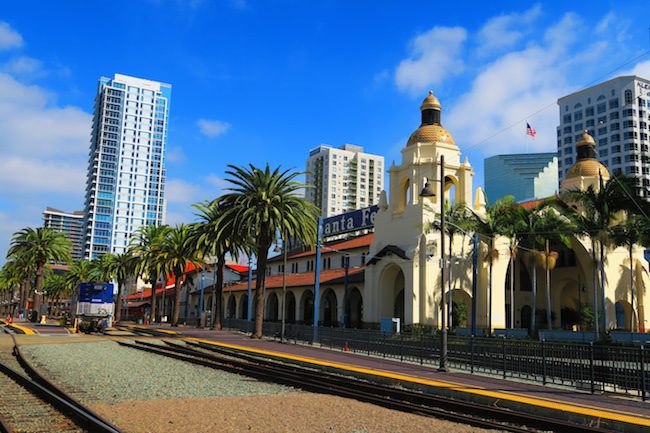 The Spanish colonized this part of California in 1769 with a hillside garrison and of course, a Spanish Mission. As part of a Pacific Coast Highway road trip, I visited the Carmel Mission and learned about one famous Padre named Junipero Serra who built 21 missions in California, one of them – right here in San Diego. In the 1820s, the Mexican presence in this part of California grew and down the hill where the garrison stood, a small little town began to form around a large square. This same square is the present-day Old Town San Diego.
Today's Old Town is both touristy and historical. Restored and reconstructed buildings around the original squares are the main attraction here. Highlights include a visit to the Casa De Estudillo, an 1830 adobe and Casa de Bandini, the former home of a politician and writer. Fans of the Old West will also appreciate the wagon museum and old courthouse. I must admit that it was quite interesting to learn how this remote part of the continent was settled back in the day.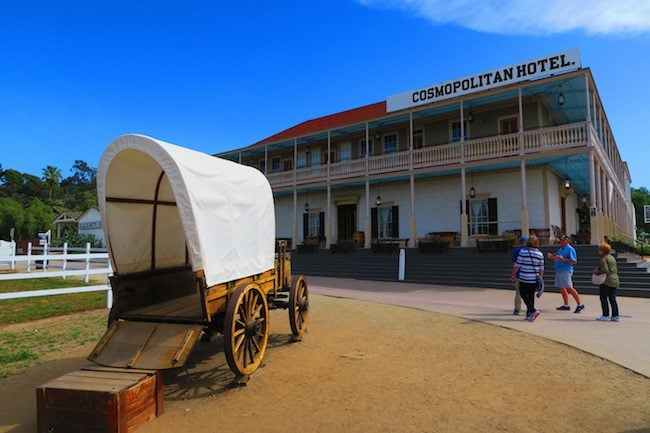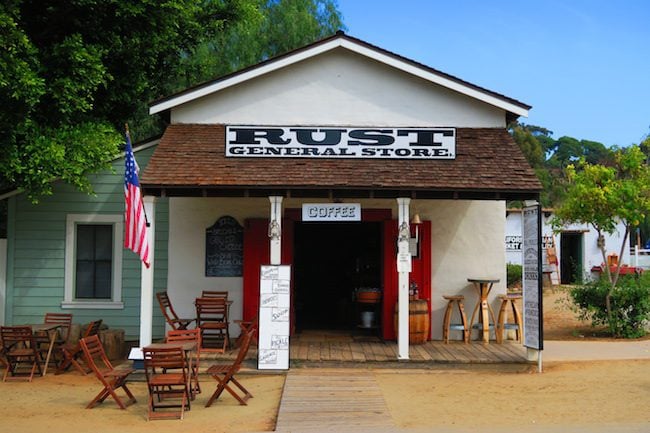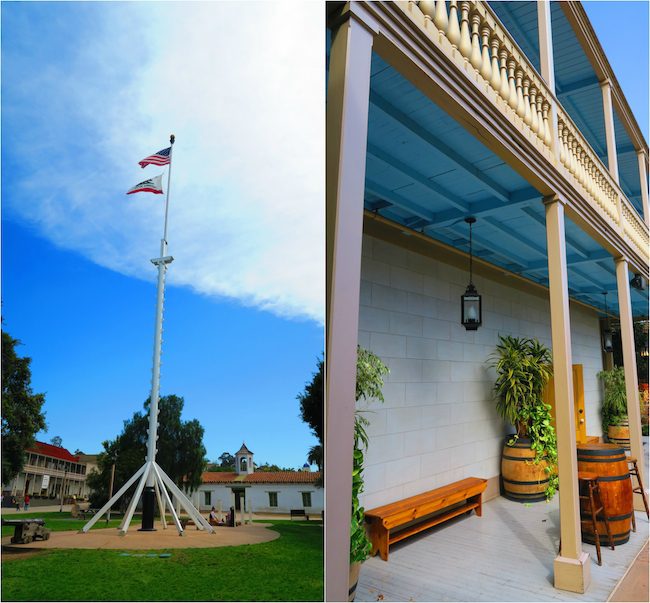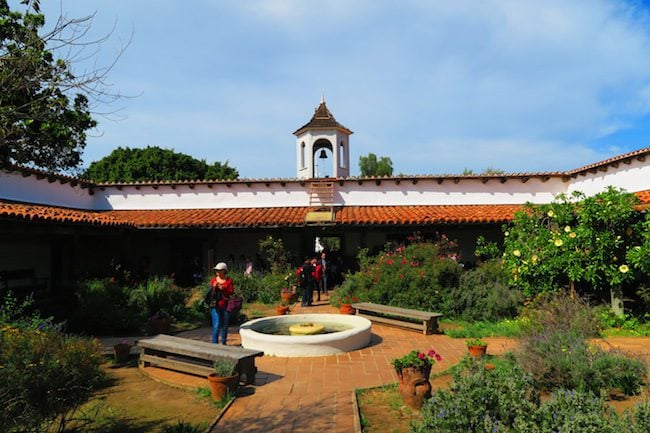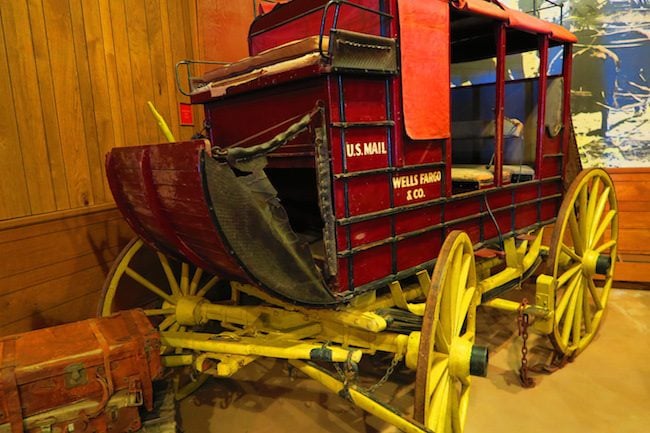 If you're not a huge fan of history, Old Town has a few things for you as well. You'll find here plenty of cafes, restaurants, galleries, souvenirs and a few specialty shops selling anything from Spanish ceramic tiles to 'try it at your own risk' hot sauce. Another one of my favorites was the tobacco shop & museum which goes out of its way to provide visitors with an authentic feeling but is surely not the healthiest strategy for the employees.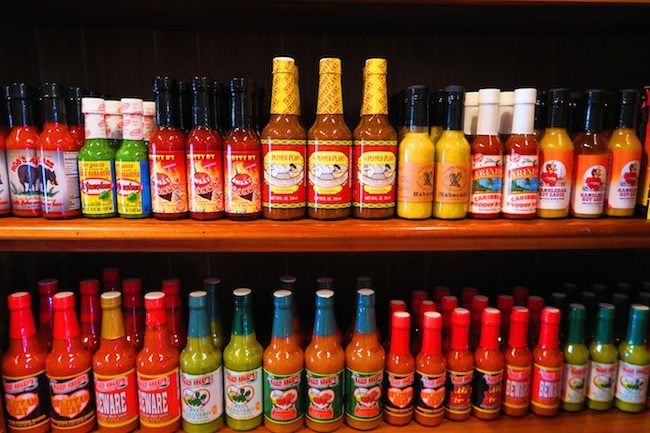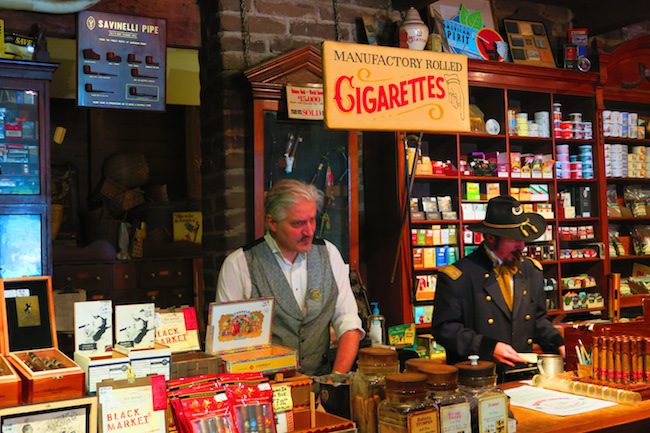 Tacos, Tacos, Tacos
For lunch, I decided to satisfy my craving for Mexican food and headed outside the Old Town complex to Old Town Mexican Cafe. It's been making excellent Mexican food for over 30 years and everyone in town knows about it. You'll pretty much find anything you want on the menu and the tortillas are made fresh on the property – just have a look as you enter. I had excellent chicken tacos and to be honest – could have just kept going!

"I feel the need, the need for speed"
Back on the trolley and back to the harbor, it was such a typical San Diego sunny day that I decided to explore the lovely waterfront. Living in Ireland has probably not done wonders for my vitamin D levels so soaking up some much-needed sun was a good idea. Harbor Drive boasts a relaxed promenade, dominated by the USS Midway, which we'll visit in just a second – and eventually makes its way to Seaport Village, a complex of cafes and waterfront restaurants, built around the harbor that's home to fishing vessels and fancy yachts.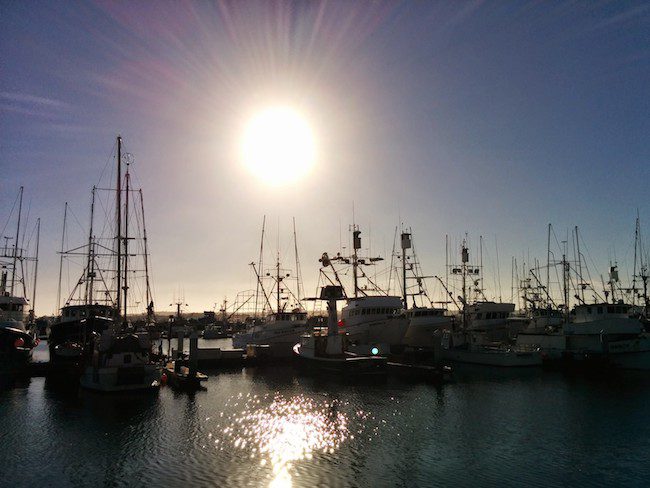 At the point at which a nice suntan started to feel like a burn, I headed over to something that is a must-see in San Diego, certainly if you're a guy (sorry ladies). The USS Midway Aircraft Carrier proudly served the Navy from 1945 to 2002 and nowadays is a super popular floating museum. It's only fitting that the Midway is docked in San Diego, seeing how this town loves its Navy and military vets. It costs $20 to get on board (last admission at 4 pm) and the self-guided audio tour will take you inside to the belly of the behemoth and up top to the bridge. You can then fantasize on the flight deck about flying at the helm of WWII fighters and super-fast jets like the F-4 and the F-18, the same ones Maverick and Iceman fly!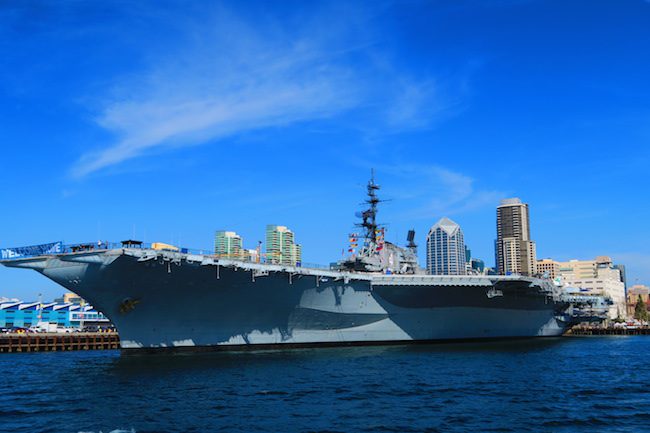 After getting a lesson that no nation should mess with America, I headed over to the Broadway Pier and hopped on the Coronado Ferry to explore a super chilled part of town and enjoy the sunset (hopefully). A one-way ticket costs $4.50 and the 15-minute ride on its own is worth it just for the views. You'll get a great view of the San Diego skyline, the iconic Coronado Bridge and if you're lucky, might see a couple of Navy SEAL zodiacs speeding their way in and out of the harbor.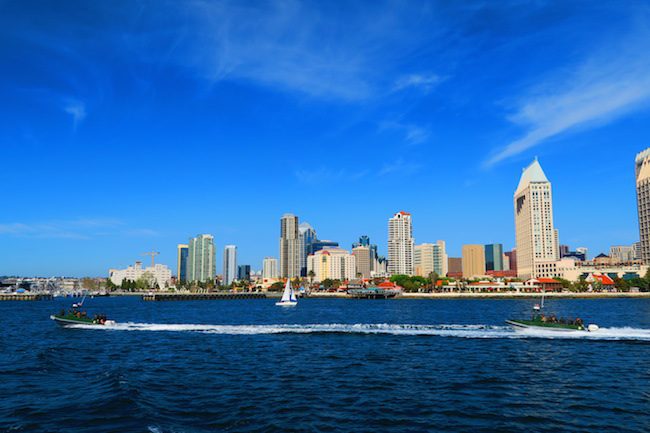 Welcome to the Hotel Coronado – it's such a lovely place…
Simply put, Coronado is the kind of neighborhood anyone would like to live in. What's not to like about a super clean, super chilled and super sunny neighborhood that feels more like a resort. If I thought San Diego had a good quality of life, Coronado is 10X that. From the ferry landing, I walked along Orange Avenue towards the beach, passing along charming white picket fenced homes, those tall California palm trees you all know what I'm talking about and cool little shops you'd think exist only in small towns.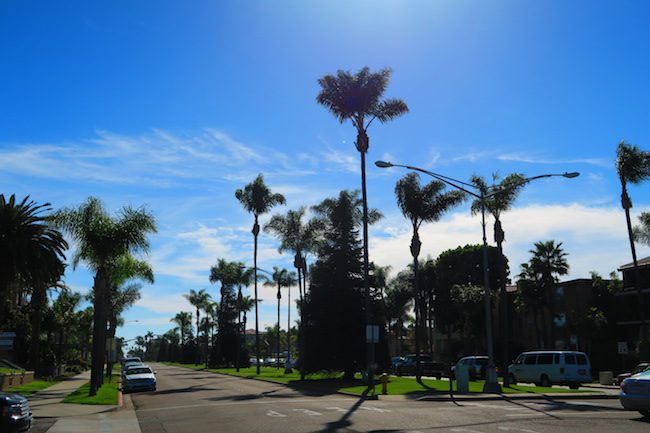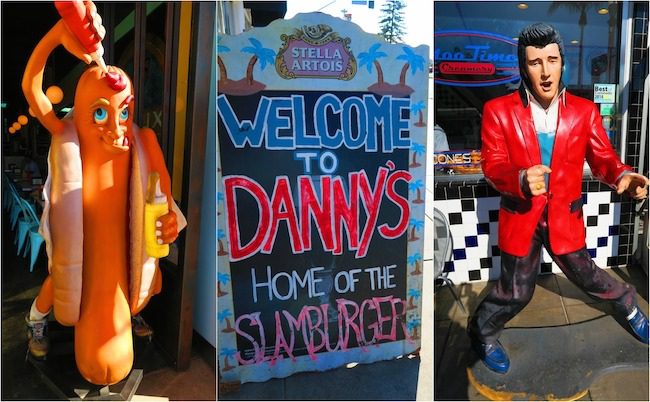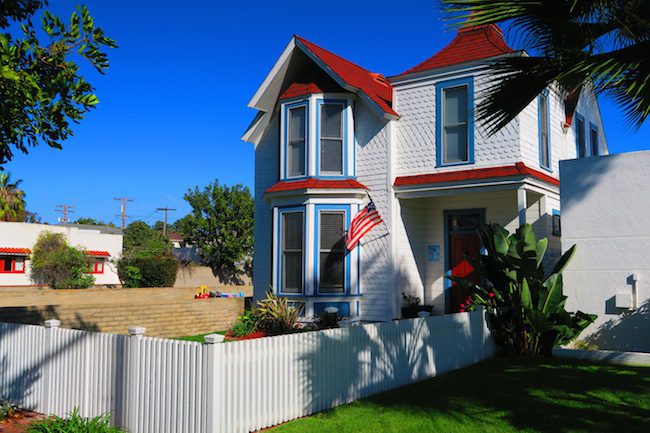 You'll eventually make it to Coronado's most famous resident (except the Navy of course), the historic Hotel Del Coronado. Known around town simply as 'the Del', this hotel pretty much started everything around here in 1888, when it opened up its doors as a Victorian-style health resort. It's still a huge tourist draw with a ton of history and not to mention priceless views of the Pacific Ocean.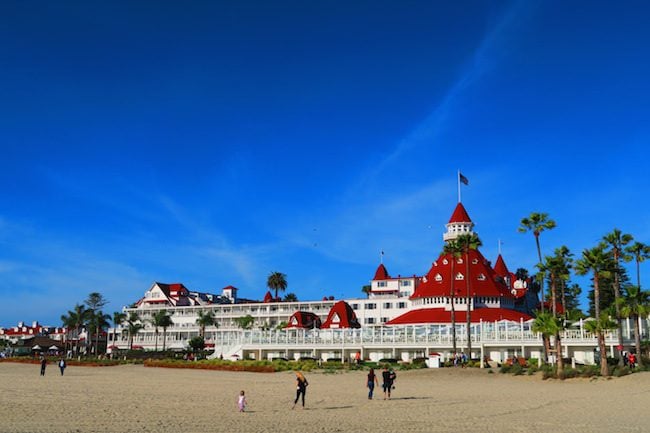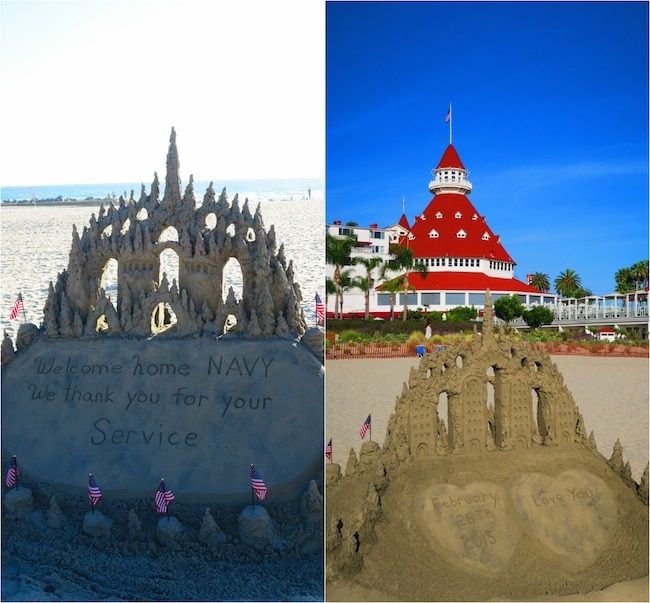 Speaking of the ocean, Coronado beach is not too shabby either – a wide and long stretch of golden sand. It's the perfect spot to unwind and thank the sun for a lovely day. I guess this is what "California Dreaming" is all about!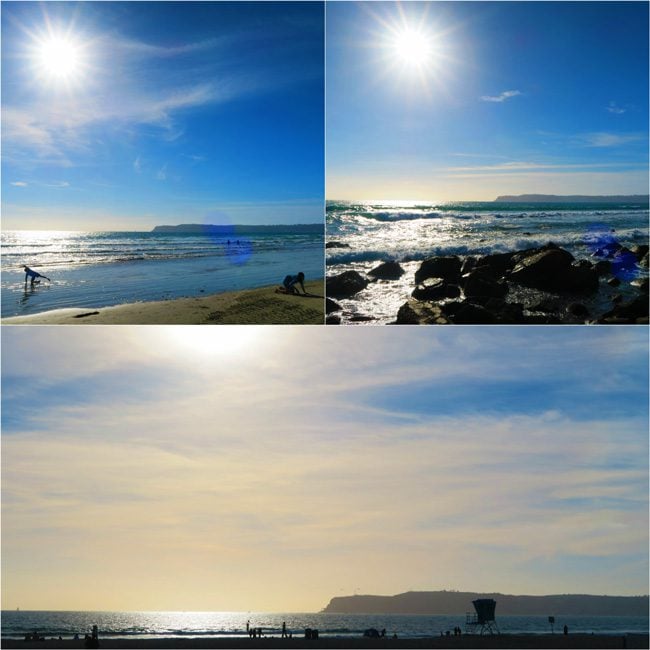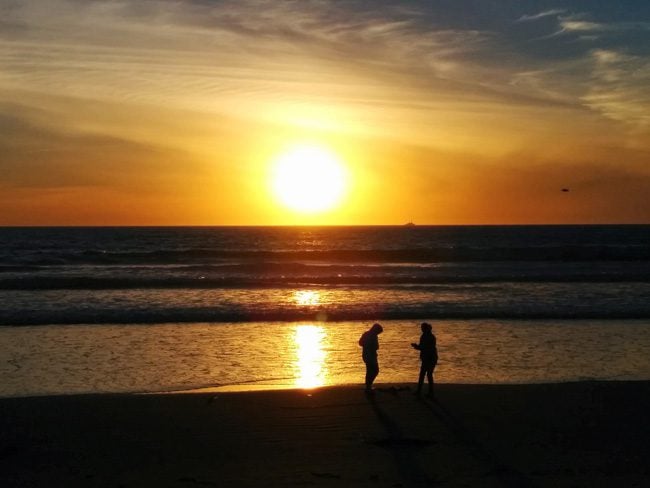 Goodness gracious great balls of fire
What a sunset ah!? That kind of beauty makes you hungry and for a Top Gun fan like me, there's only one place in San Diego to grab dinner. I can't believe that this spot was right under my nose, a stone's throw away from my hotel. This little spot is where Maverick, Charlie, Goose, and his wife (played by Meg Ryan) had one of their last moments together before Goose's tragic accident. It's also where Maverick and Charlie reunite and live happily ever after – the Kansas City Barbeque.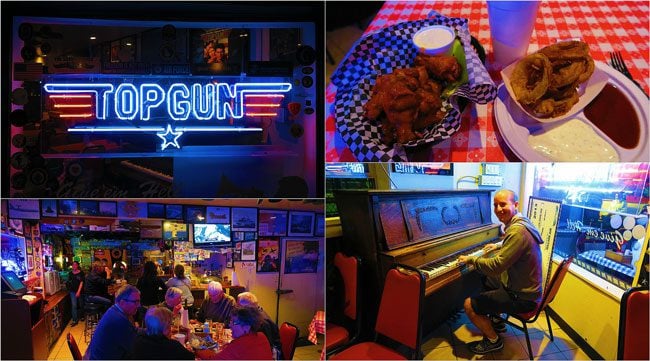 This little joint was used in the filming of Top Gun – the greatest movie ever made back in 1985. The owners have certainly not forgotten about this and are happily making a living thanks to this wise decision even after 30 years. The original piano is still here, the walls are lined with memorabilia and the BBQ is not too bad either.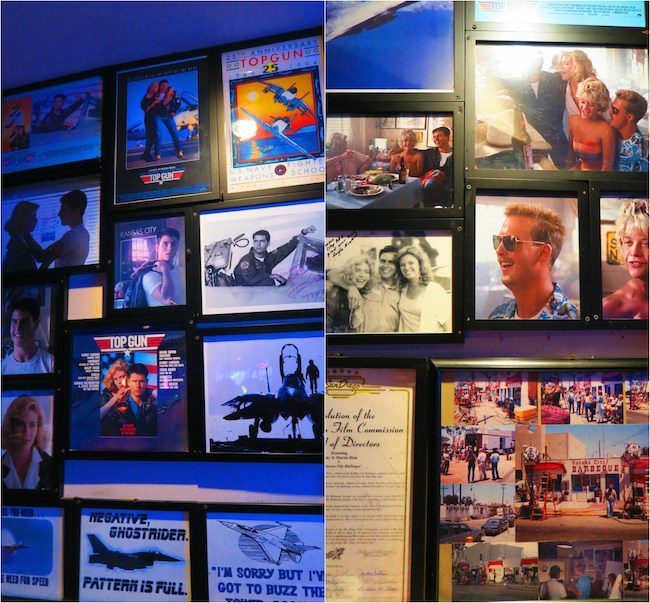 Any Regrets?
San Diego has a lovely Little Italy and if you're a fan of the cuisine, certainly make your way here. To my luck, there are so many Italian restaurants in Dublin and due to time constraints (and a limited, albeit big appetite), I decided to skip this part of town.
Day 3: La Jolla, the beaches, Cabrillo Point & Point Loma
I hope that by now, you're not asking the question 'what the heck is there to do in San Diego' – there's so much! On the last of my 3 day San Diego visit, I will explore the beach towns that are so synonymous with the California lifestyle. The greater San Diego coastline is scattered with towns that will make you want to visit the nearest real estate agent – this is as good as it gets if you like beach towns, whereas to the outsider it seems the only cause for concern around here is whether the surf is gonna be good or bad? If you're visiting San Diego and not heading out here, you're missing out!
My plan was to work my way from north to south, starting at La Jolla and ending the day with a sunset at Point Loma. For this, I'll need a car, and rent for a day is super cheap (under $50). I rented the car from an airport location since it's the only place which operates 24/7 branches. Since I couldn't drop the car back in a city location after 6 pm and anyways my flight was super early the next day, it was a good idea to rent from here and simply drive myself to the airport the next morning.
Exploring La Jolla
One day is just enough to get a taste for this part of Southern California and since we need to get back to work tomorrow, let's get started. A short 20-minute drive from the airport and you reach the mega affluent seaside community of La Jolla (pronounced la-hoya).
As for breakfast, well there are a few good options in La Jolla but as I always do my best to write about places I actually visit, I'll cover 2 options here. The first and more 'hipsterish' breakfast option can be found at Bird Rock Coffee Roasters. The coffee is from all corners of the globe, super fresh, organic and as you would expect – fair trade. The baristas are friendly and have a fine touch of art. There's no need to rush and I'm pretty sure there are a few folks on Macs that spend a good couple of hours here every day.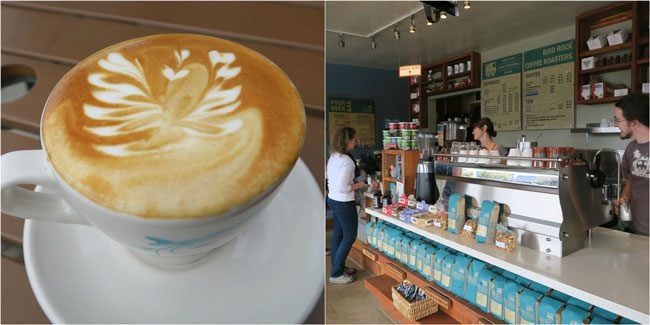 The second breakfast option could not be any different than the first. Head over to Kono's Cafe, where breakfast is served all day, every day. Portions are enormous and if you managed to finish the breakfast burrito on your own, I strongly suggest you make an appointment to ensure all arteries are clear. I'm just kidding, it's super popular with locals and there's a sunny deck outside overlooking the promenade, where you can enjoy your calories and do a bit of sightseeing – if you know what I mean.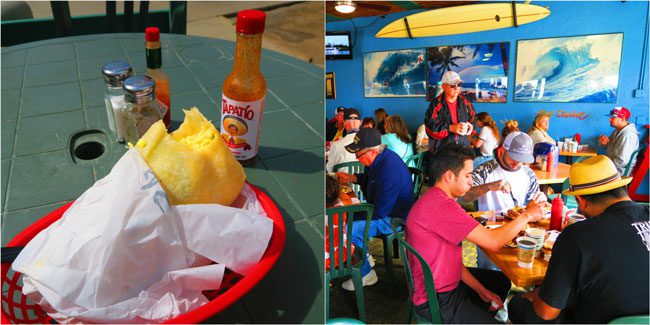 Now back to the real reason why we came here. Over on the north side of town, park the car (2-hour free street parking) and head down to La Jolla Cove. There's no way to miss this, just follow everyone else (so maybe come here on a weekday or in the early morning). This beautiful sheltered cove has crystal clear waters but you'll have to share the beach with seals and pelicans – the real residents around here.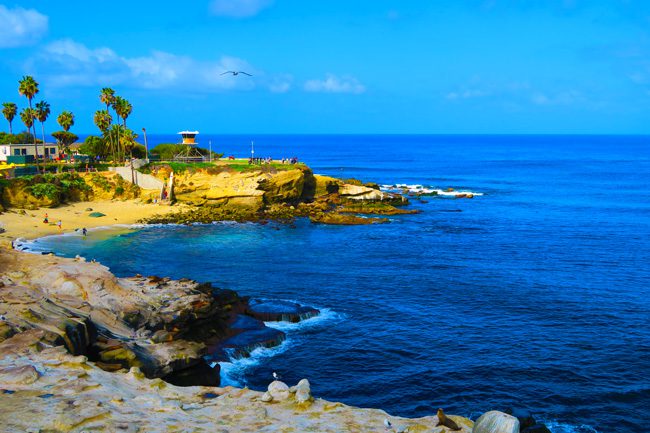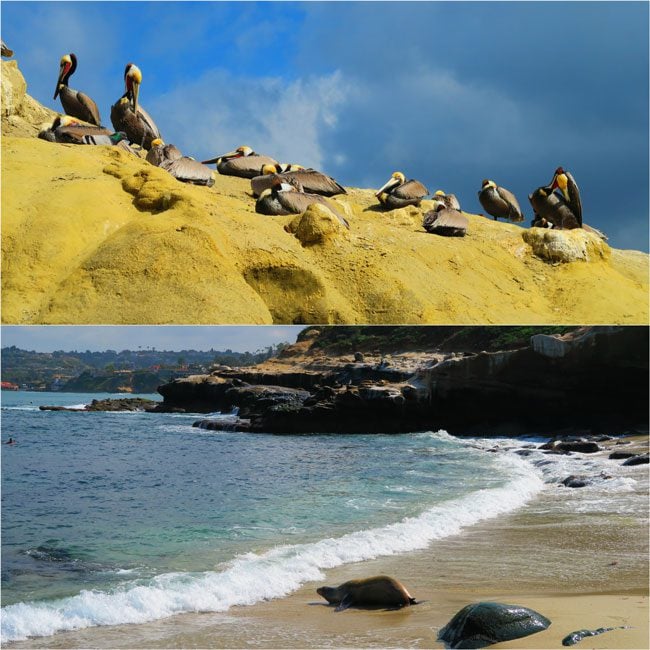 It'll be hard to say goodbye to La Jolla Cove but hey, the show must go on. Continue walking along the beach promenade where million-dollar homes meet the fresh Pacific Ocean breeze. The beaches are beautiful and so it's no surprise to see quite a few artists getting their muse over here.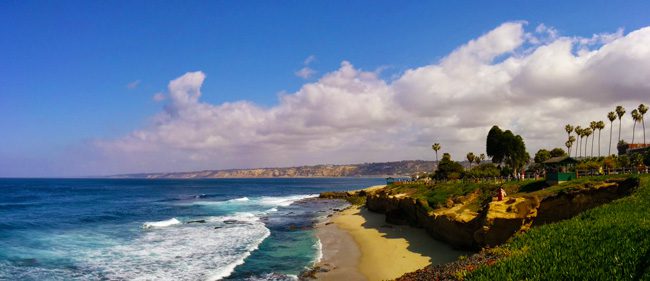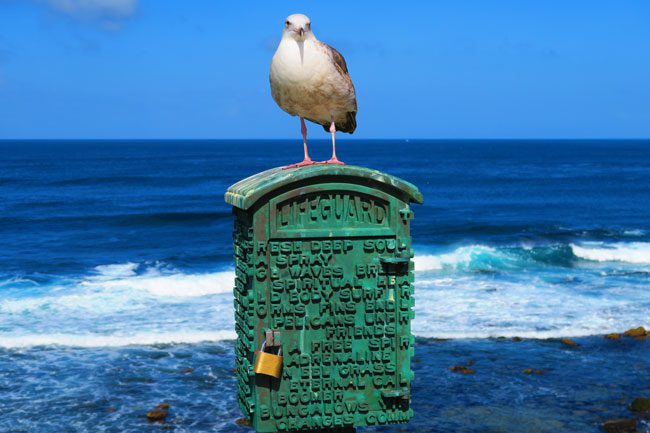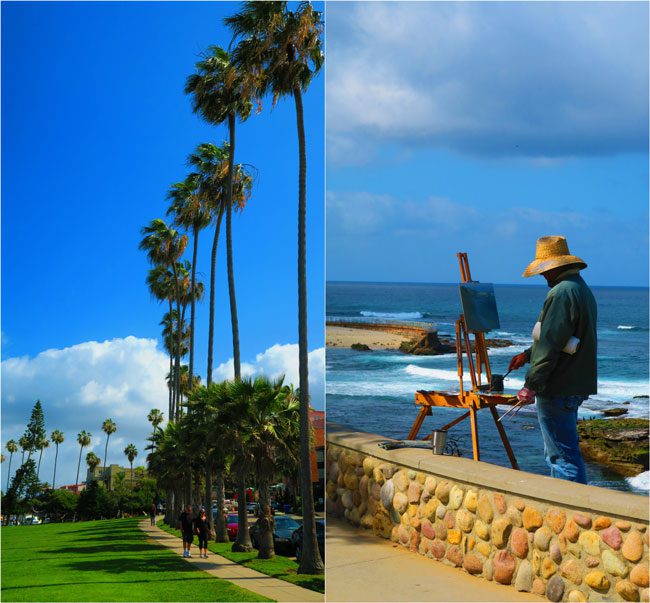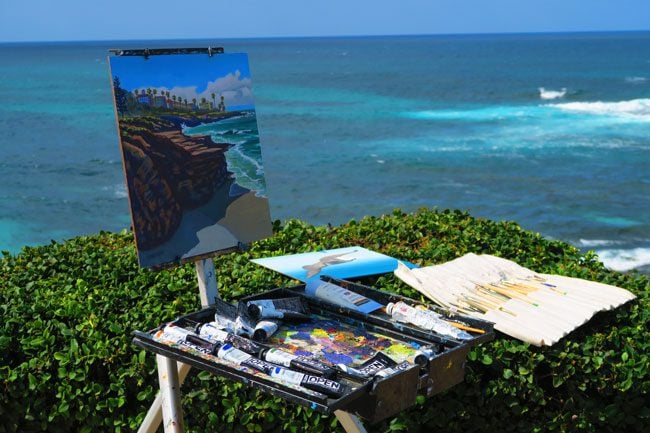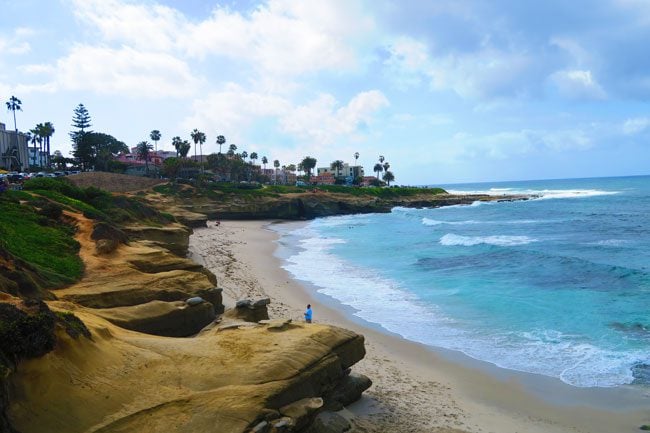 Reluctantly I made my way back to the car via Prospect Avenue, there is still so much to see today after all. Prospect is the main street and it's lined up with galleries, jewelry shops, investment banks, and excellent restaurants. If you're looking for a good California meal with a view, you have a few options here.
Pacific Beach
A short drive, and actually exactly where Kono's Cafe is located – we arrive at Pacific Beach. Split by a pier that also doubles as a cool hotel, the northern section is super relaxed and there's plenty of space for everyone, including all the surfer dudes and aspiring young models. It really reminded me of Baker Beach in San Francisco that had a similar laid-back vibe. The southern end is a more happening place if you're looking for action and its beachfront promenade goes all the way to our next stop – Mission Beach.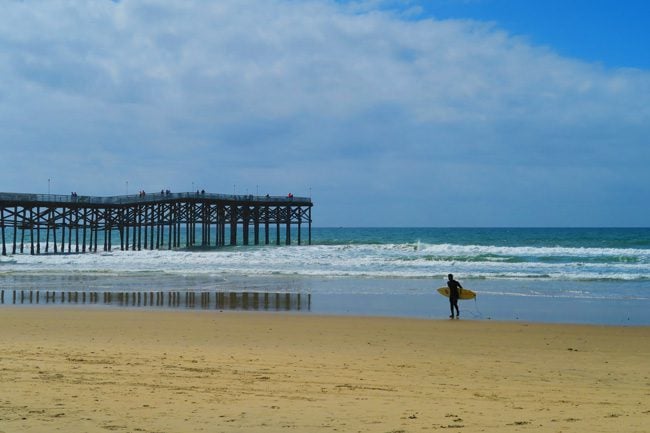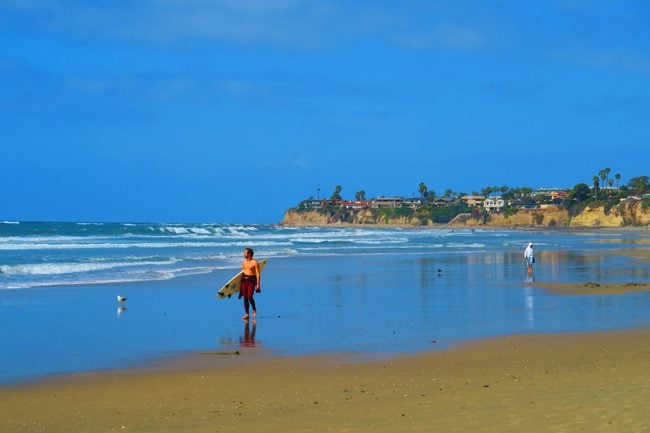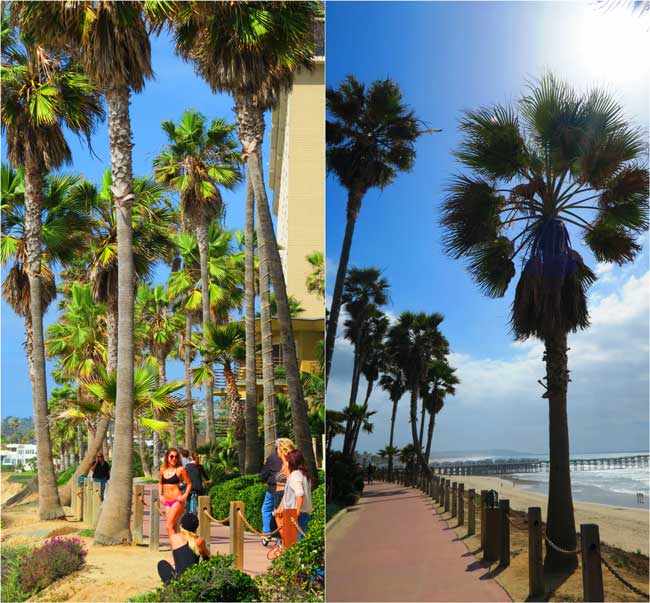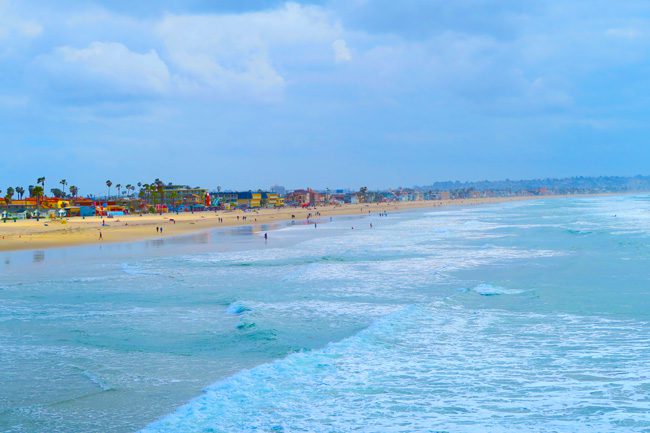 People watching at Mission Beach
So, you could walk on the beachfront promenade from Pacific to Mission beach but you catch my drift by now – there's a lot to see and we've got a sunset to catch. So a very short drive down south and we reach Mission Beach. On a sunny day, I can definitely picture thousands of good-looking Californians tanning away on the beach and holiday folks sipping on margaritas at the beach bars or having a BBQ in their Airbnb-rented beachfront homes. Of all the things in the world, there's even a roller coaster here and of course – surf shops galore. If you're not spending time at the beach, or at the bar, it's cool to walk up and down the promenade – just watch out for the roller skaters.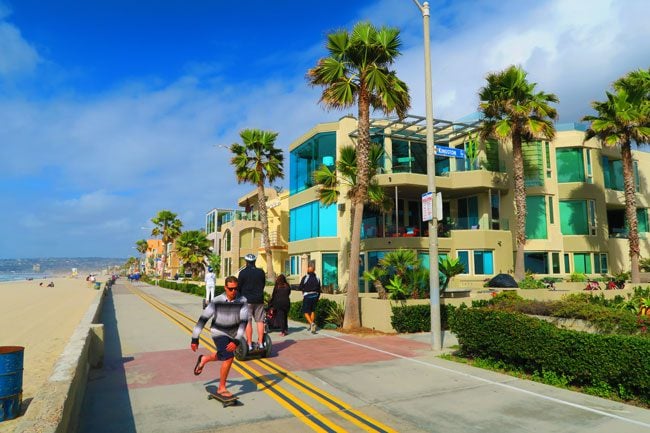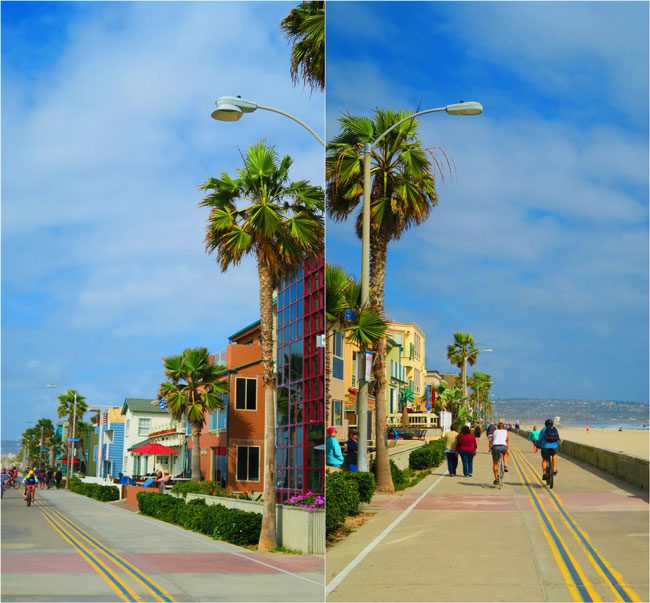 Saying farewell to 'Goose' at Point Loma
It was time to get moving but I haven't forgotten about lunch. Since the weather is nice, why not have an outdoor lunch. On the way to the tip of Point Loma, stop by at Chris's Liquor & Deli. Though the liquor is mentioned before the deli, I must tell you that the sandwiches here are definitely worth the buzz. Whether you go for the Shipwreck sandwich, the Harpoon, the Aztec or the Whaler – you won't be disappointed. You can grab a few craft beers for the road – though only if you're not doing the driving!
There's plenty of Navy presence over here and it's no surprise since pretty much half of the peninsula is military ground. The good folks at the Navy are 'kind' enough though to give civilians access to Cabrillo National Monument, at the very tip of the peninsula. The drive offers beautiful views of the bay and San Diego but also takes you through a massive Navy Cemetery. Feel free to stop by and pay your respects to so many who have given their lives throughout the years.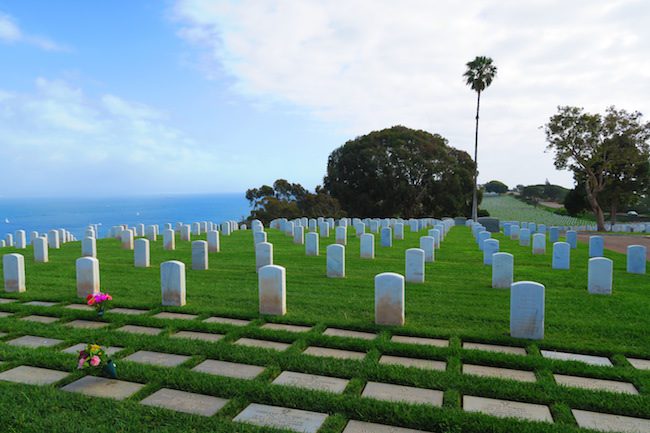 Entrance to the Cabrillo National Monument costs $5 and there are a few things to explore in this lovely little spot. First thing first – lunch with a view. The sandwich from Chris's was good enough on its own but with this kind of view – man, I wish I would have bought two of them!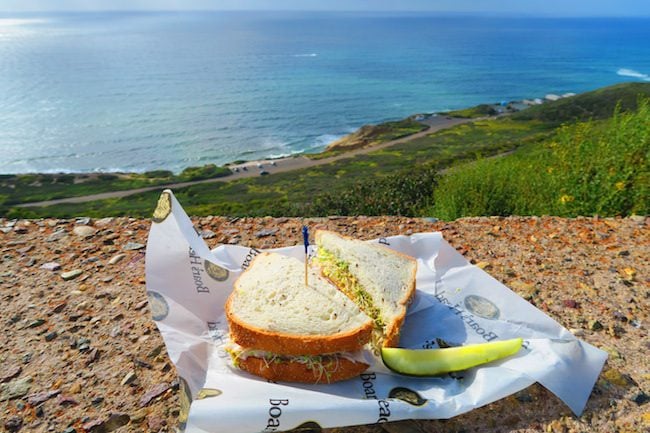 The highlight over here is Cabrillo Point, named after Juan Rodriguez Cabrillo, the first European to make landfall in California back in 1542. Today, he's got the best seat in the house, with fine views towards San Diego, the massive Navy base, and the endless Pacific Ocean.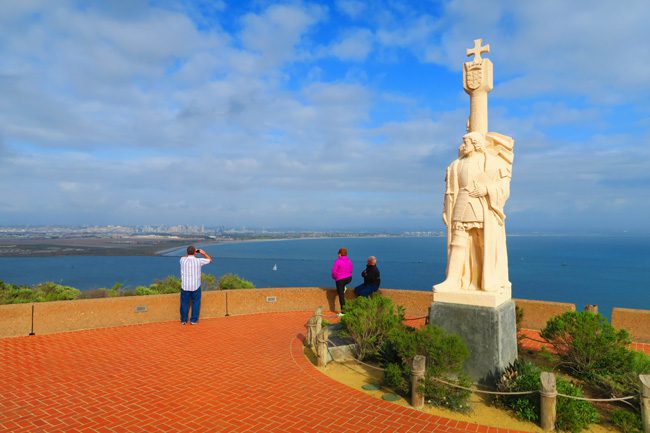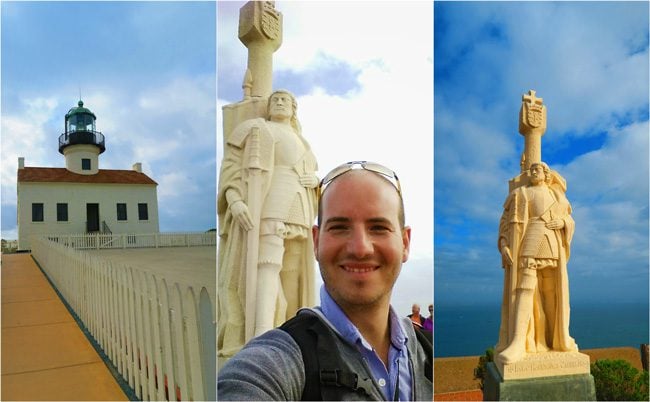 Another highlight is the old lighthouse where, similarly to the lighthouse at the Cape of Good Hope in South Africa, it was built at a spot that was too high to cut through the fog so had to be replaced a few years later. If you look further down, you'll see its 'version 2', also home to some pretty sleek Navy officer houses. Top Gun fans might recognize this as Viper's beachfront home.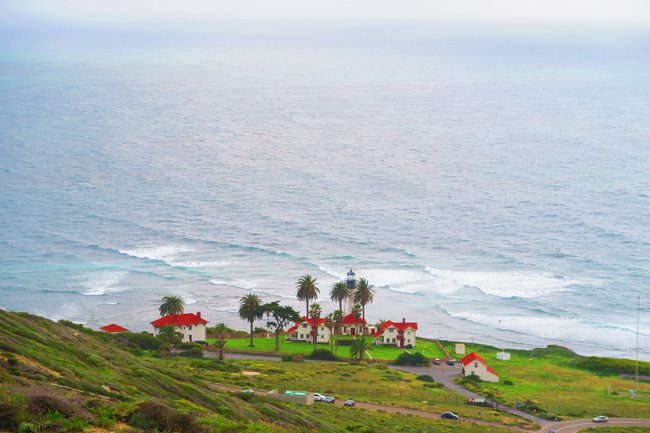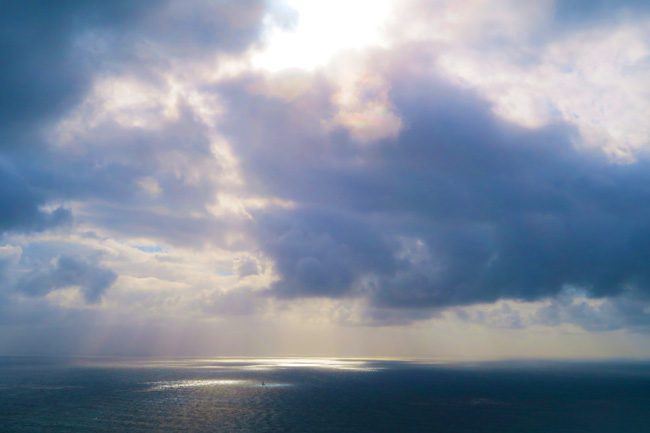 Last but not least, a short drive down from the high ground to the tide pools. You can walk around and examine this rugged coastline from up close but I didn't find it incredibly special. If you are lucky, you might see a few migrating whales during February – March, en route up north to their summer feeding grounds.
The sun just had to say a personal goodbye
I must say that I was a bit disappointed since it was pretty cloudy throughout most of the afternoon. As I've mentioned before, I tend to bring the crappy weather with me from Ireland wherever I go. However, I did stay optimistic as the weather was showing signs of cooperating just ahead of the sunset.
The best place to catch the sunset in San Diego is at… think very hard… Sunset Cliffs. If I thought La Jolla was nice, I was in for another surprise. I parked the car and had a walk around this tranquil neighborhood, where kids come to surf after school and later, grab a spot on the cliff to watch the sunset.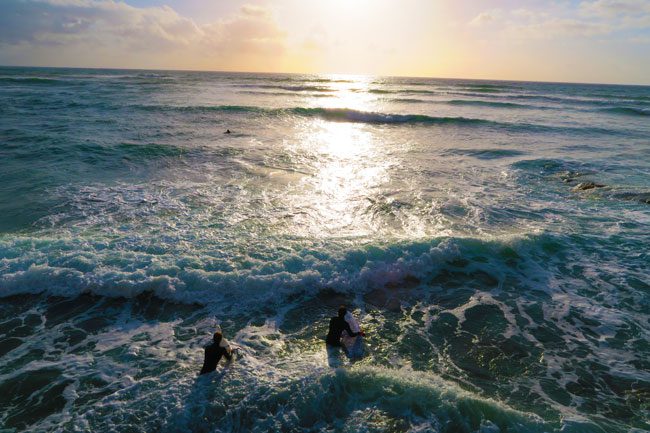 I found a nice quiet spot and watched as the clouds cleared up and treated me to one last memorable California sunset to end my 3 day San Diego trip.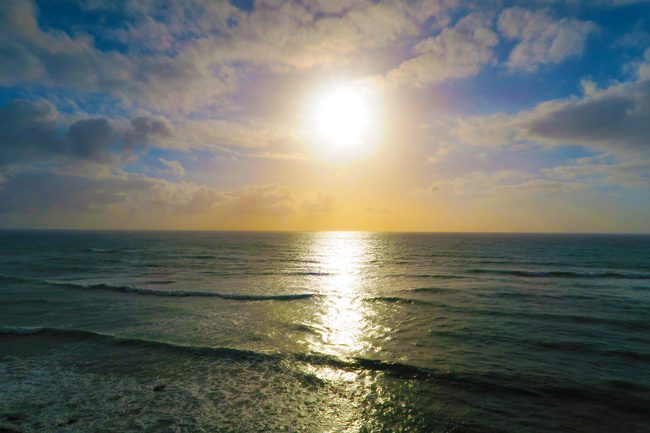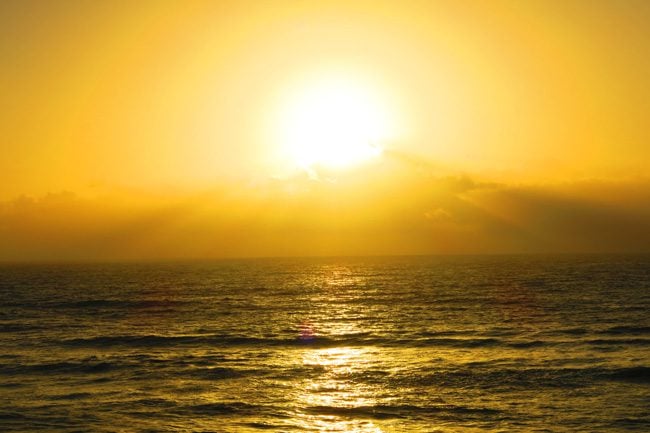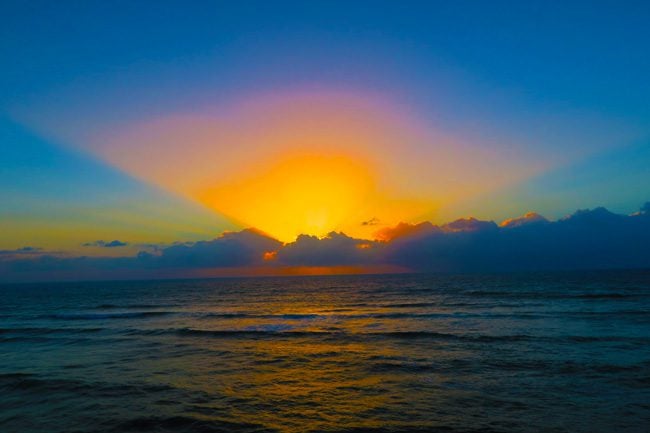 What a great day! Four beaches, great food, chilling out with seals and a fiery sunset. San Diego – you did not disappoint! There are so many things to do in San Diego and you can probably easily combine it with a visit to Los Angeles.
I hope you found this 3 days in San Diego travel itinerary useful and remember to buzz the tower next time you're in town (this will be the very last Top Gun reference. I promise).
Any Regrets?
Tijuana anyone?