Day 1: Union Square, Chinatown, North Beach & Telegraph Hill
We arrived the evening before and conveniently stayed in an apartment on Market & 10th St. It's not the best part of the town at the moment, especially at night. A taxi from the airport can set you back $45-60 and in rush hour, can be a lot more. Instead, we took the BART from the airport directly to the Civic Center stop, paying only $8.75 one way and taking about 30 mins.
The following day, we headed out to explore the downtown area of San Francisco. The first stop was Lotta's Fountain, at the corner of 3rd St. Named after actress Lotta Crabtree, this now decommissioned fountain, served as a gathering spot after the devastating 1906 earthquake. Market St. is also a great place to see some of San Francisco's railway cars (not to be confused with the cable cars). These railway cars were actually bought by Muni from other U.S. and world cities, restored, and put in service within the city. Each car is uniquely painted and you can read about its origin on board.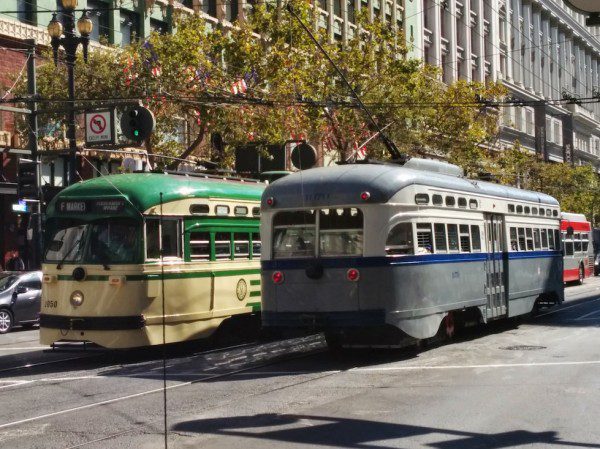 It was time for breakfast and we headed to Union Square and Sears Fine Food on Powell St. just across from the famous Sir Francis Drake Hotel. Aside from the signature meals this place has been serving since 1938 (including the famous Swedish pancakes), it's rich with old San Francisco history and you'll see right when you walk through the door. Ceiling fans, wooden decor, and tiled floor tell the story of this place and hundreds line up here each morning (breakfast served until 3 pm). We had the eggs benedict on English muffin and a vegetarian omelet with hash browns – delicious! At the end of your meal, spin the slot machine on your way out for your chance to win some yummy prizes.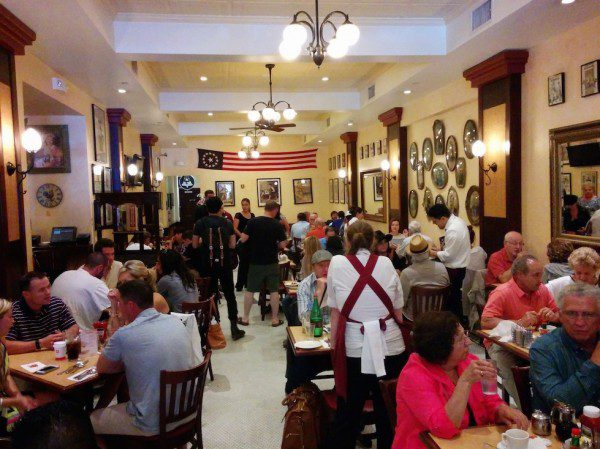 Next up was Union Square, San Francisco's major shopping spot. The square itself is lovely to walk through (or skate through in the winter) and surrounding it are dozens of shops and hotels. You'll find here luxury brands like Tiffany's, Coach and Burberry, but also more down to earth shops like Nike, Levi's, DSW and of course, Macy's. Macy's Union Square is actually made up of two buildings, one for men and the other for women. If you're visiting from outside the US, be sure to get your visitors pass, which will give you a 10% discount at Macy's. Be sure to also make your way up to the top floor and to the Cheesecake Factory. Though this place does serve ordinary dishes, it's famous for… you guessed it – cheesecake. Choose from dozens of variations and enjoy the best view of Union Square from the outside balcony. Other good shopping choices in the area include nearby Maiden Lane on Morton St. and the Westfield Shopping Center on Market.
A short stroll away on the corner of Grant and Bush is the entrance gate to a totally different world, Chinatown. San Francisco is home to the oldest Chinatown in the US and walking through some areas of it really does feel like you're in a different place. Chinatown is concentrated around two major streets: Grant and Stockton, along with the side streets in between. Grant Avenue is more tourist-oriented while Stockton Street is home to more locally used businesses. The best and most famous way to enter Chinatown is via the Grant Avenue Chinatown Gate.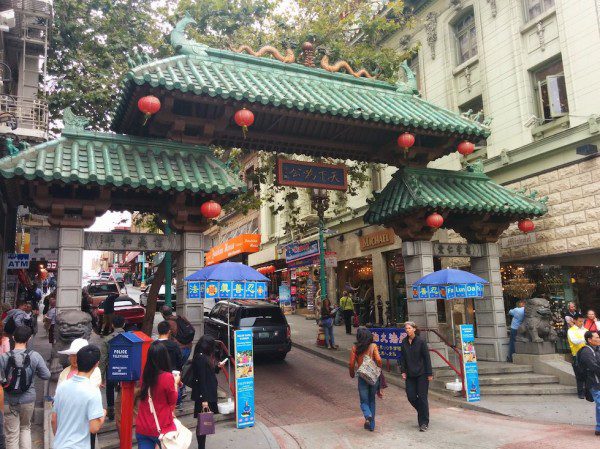 As you walk up Grant Avenue, you are greeted by dozens of kitschy shops selling anything from Chinese firecrackers to giant ceramic vases. You'll soon hit the cable car tracks of the California Street line and a red brick church – Old St. Mary's Church. Head inside the church for a great photo exhibition of the area just after the devastating 1906 earthquake and fire that brought immense destruction (and reconstruction) to this part of town. If you come here at noon on a Tuesday, you'll also be treated to a classical concert! Grant Avenue from this point looks just lovely, decorated with a Chinese touch all across.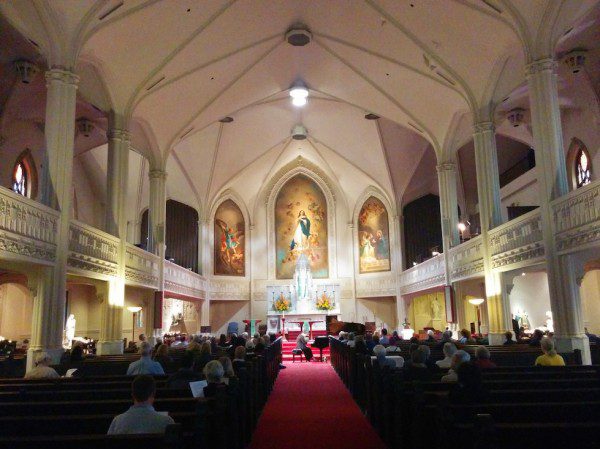 From Old St Mary's Church, we went on a little detour, climbing California Street. Stop at the corner of Stockton St. and wait for a cable car to climb up or roll down the hill. This is a great photo spot with the skyscrapers below and the Bay Bridge making a slight appearance in the background.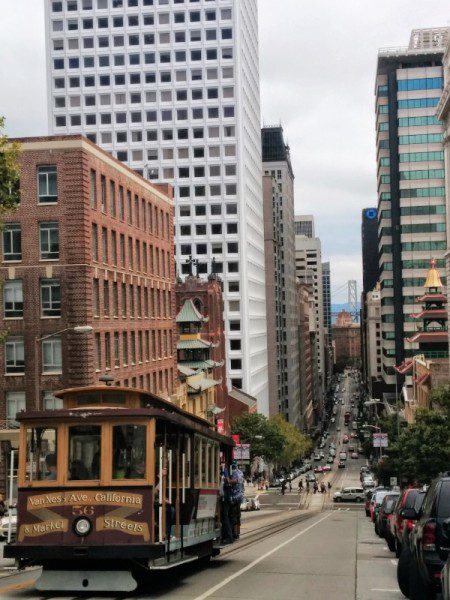 Further along California St. is Grace Cathedral which looks like a church straight out of Europe. This is one of the nicest spots in Nob Hill. If you really feel like getting a good view and further exploring this neighborhood, continue up to Ina Coolbrith Park on Taylor St. for one of the best downtown views. You might even have this place all to yourself.
Now back in Chinatown, it was time to explore Stockton St. Abundant with vegetable stalls, Dim Sum joints, and fish markets, this place has an authentic feel to it, in sharp contrast to souvenir shop lined Grant Avenue. Turn right on Clay St. and then either right or left on Waverly Place, a very small but beautiful street. On this tiny street, look above you and you'll see magnificent Chinese pagodas. Waverly Place is home to numerous temples. At #109 is Norras Temple and at #125 is Tin How Temple, which we visited. Don't let the modest staircase fool you, this active Tibetan temple is magnificent. Incense is continuously burned and traditional Chinese red ornaments light up this prayer chamber. Step outside onto the balcony and admire the tranquility of this place, at the heart of bustling Chinatown. Entrance is free but donations are highly appreciated, no photography is allowed.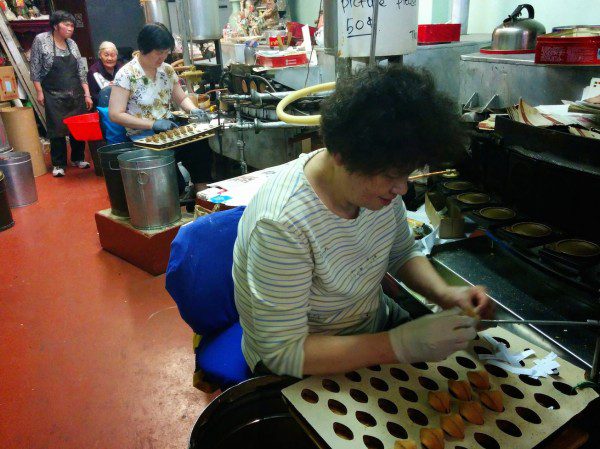 Now open up your smelling sense and walk up the tiny Ross Alley. You'll soon smell something familiar (it's not 'weed') and just towards the end, find the Golden Gate Fortune Cookie Factory. Step inside this crowded working factory that's been making fortune cookies since the 1960s. Watch how cookies (and fortunes) are made and also buy a small bag if you want ($1). Also, be prepared to pay 50 cents for taking photos but it's totally worth it. Just across the road is Delicious Dim Sum on Jackson St, very popular with the locals.
Take a right on Grant and a left on Washington St. and you'll see across the street a beautiful Pagoda housing the East West Bank but better known as the Chinese American Telephone Exchange Building. Opened in 1909, this former busy telephone exchange was manned by operators who routed the calls by memorizing each subscriber's destination, as Chinese homes did not have a number, due to traditional customs.
Just across from you at 763 Washington St, head into Ellision Enterprises Corp. Don't let the ambiguous name fool you, this traditional Chinese medicine shop is lined up with hundreds of different herbs for any ailment and excellent tea options. Pharmacists still use hand-held scales to serve customers – really cool to see and great if you're in the market for some ginseng.
Back on the other side of the street was our last Chinatown stop, Portsmouth Square. This little square is extremely popular with the locals and you'll see many congregate in small circles and watch as two battle it out in an intense game of Chinese checkers.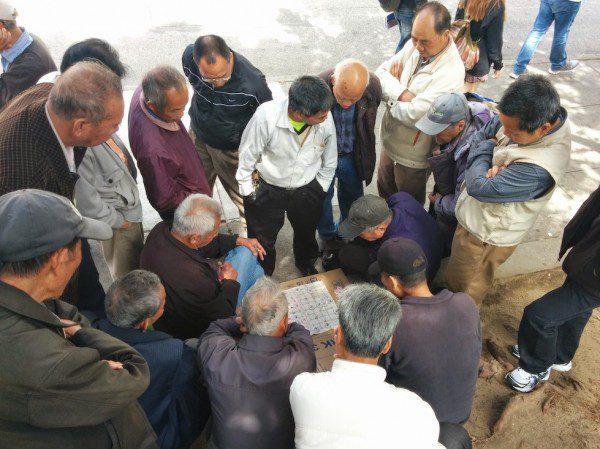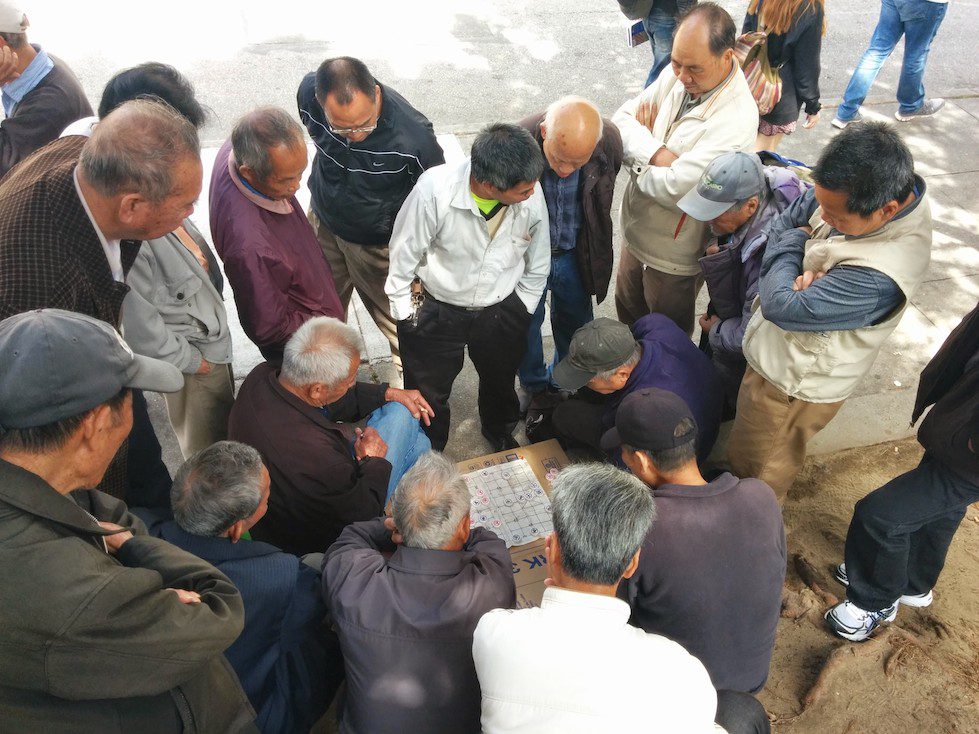 San Francisco's Chinatown was by far the coolest one we've ever visited. There are so many spots to explore and it's amazing what just a few city blocks in San Francisco can do, to completely change the atmosphere – a theme that would repeat itself on our city journey.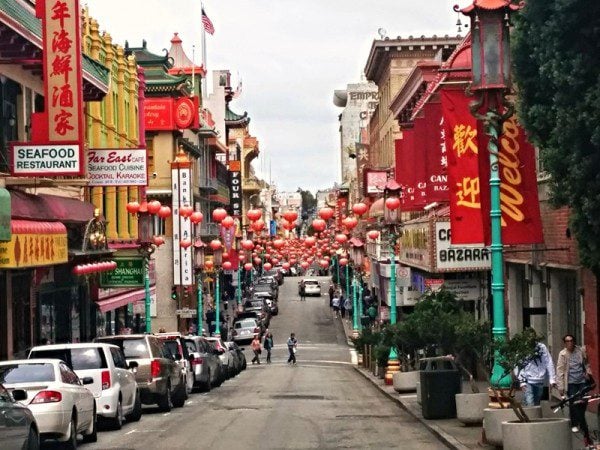 It was time for a late lunch by now so we walked down to Columbus Avenue via Kearny Street towards Washington Square Park. Along the way, stop at the intersection with Pacific Avenue and Kearny Street, for a great view of new and old architecture in San Francisco. You'll see the famous Transamerica Pyramid which was completed in 1972, in the backdrop of the Columbus Tower, completed in 1907.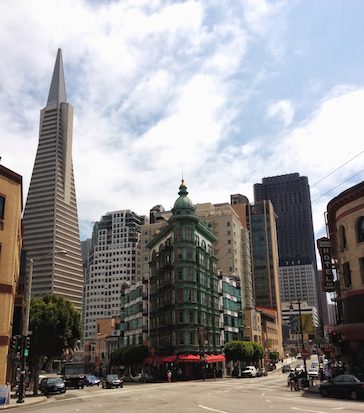 Further along Columbus Avenue, you are now entering the area known as North Beach. This part of town is Little Italy and at just a few blocks away from Chinatown, really shows how diverse San Francisco is.
North Beach is home to many Italians and many Italians mean great food and European style cafes.
You'll find dozens of good options in this part of town. We stopped for lunch at Mario's Bohemian Cigar Store Cafe. This cafe has a simple and inexpensive yet delicious Italian menu and a great selection of Italian flavored soda. The staff is friendly, the food is great but the bathroom could use a makeover. We enjoyed the cannelloni and turkey focaccia with fine Washington Square views.
After a good lunch, we headed for a stroll in Washington Square Park. This is a very popular hangout spot and if you come in the morning, you're bound to see Chinese seniors practicing their tai-chi. Saint Peter and Paul Church cannot be missed from the park area, and its two towers are a dominant feature in the local skyline. We had already done quite a bit of walking so relaxing in the park was a pretty good idea.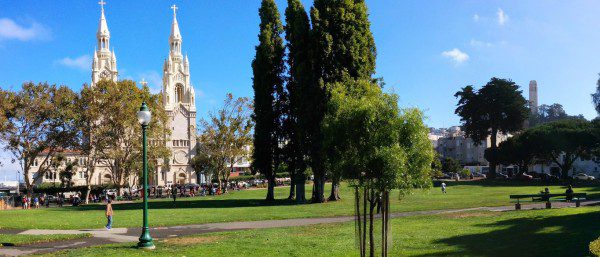 Our next stop was the Coit Tower on Telegraph Hill and we made our way via the Filbert Steps on Filbert Street. The climb is compensated by great vistas which come into view as you head up to one of San Francisco's most famous landmarks. The Coit Tower was built in 1933 and rises like a pin over Telegraph Hill. The view from Pioneer Park, where the tower resides, is amazing with the entire San Francisco Bay just below you, along with Alcatraz and the Golden Gate Bridge to the west. You can climb to the top of Coit Tower but since the queue was too long, we decided to just enjoy the view from the park.
You can head back down the same way you came but a better option is to take the Greenwich Steps down towards the opposite side. This steep staircase takes you through a lush urban forest and through some beautiful homes with enviable views.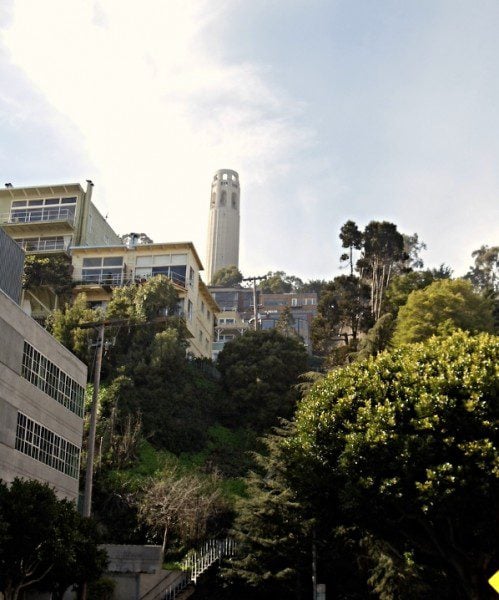 From here, we headed to the Embarcadero and caught the 'F' streetcar back to Market Street. For dinner, we decided to explore Japantown and went to Isobune Sushi at the Japantown Plaza. Japantown certainly lacks the architecture and vibe of Chinatown but there's a great choice of excellent sushi restaurants around here. The plaza is really a small shopping center that's worth visiting when the shops are open if you're into crafts and Japanese fine paper. Isobune Sushi is not your average sushi joint. Guests sit around a river, where boats deliver the sushi that's being prepared by the chefs in the 'island'. Take what you want and pay according to the plate's color. The sushi is simple and not the fanciest in town but this place certainly gets points for originality and the sushi is not bad at all. It's also extremely reasonably priced and we had boatloads of sushi for only $45 including beer.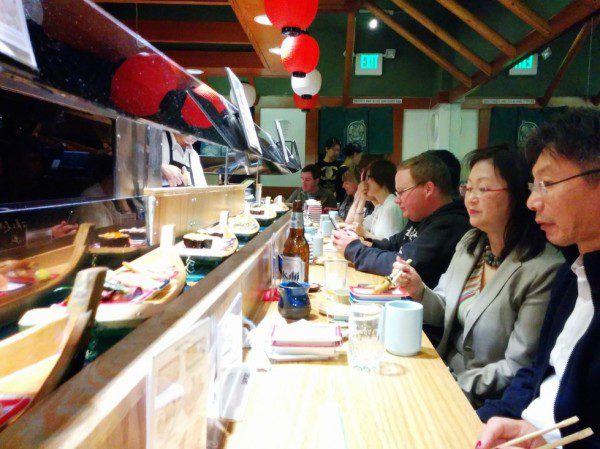 Any regrets?
We really enjoyed Chinatown and wish we had more time to explore. There are a few good tea shops in Chinatown that we wanted to try.
The view from Pioneer Park is really amazing. However, we would have loved to catch the unobstructed view from the top of the Coit Tower but the queues were simply too long.