Day 4: Lombard St, Bike Tour, Golden Gate Bridge & Sausalito
Today we would cover a greater distance and to do so, we would rent bicycles, another very popular thing to do in San Francisco. We started our day early, as you need the time on a day like this. There are many bike tour companies in San Francisco and one of the most popular ones is Blazing Saddles. They offer a wide range of bikes and good prices ($32 per day) as well as multiple locations in the city. There is no need to book but locations get crowded, especially on weekends, so get there early to avoid the queues.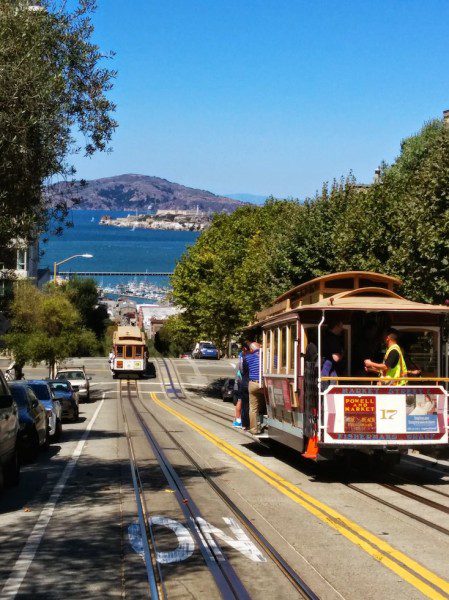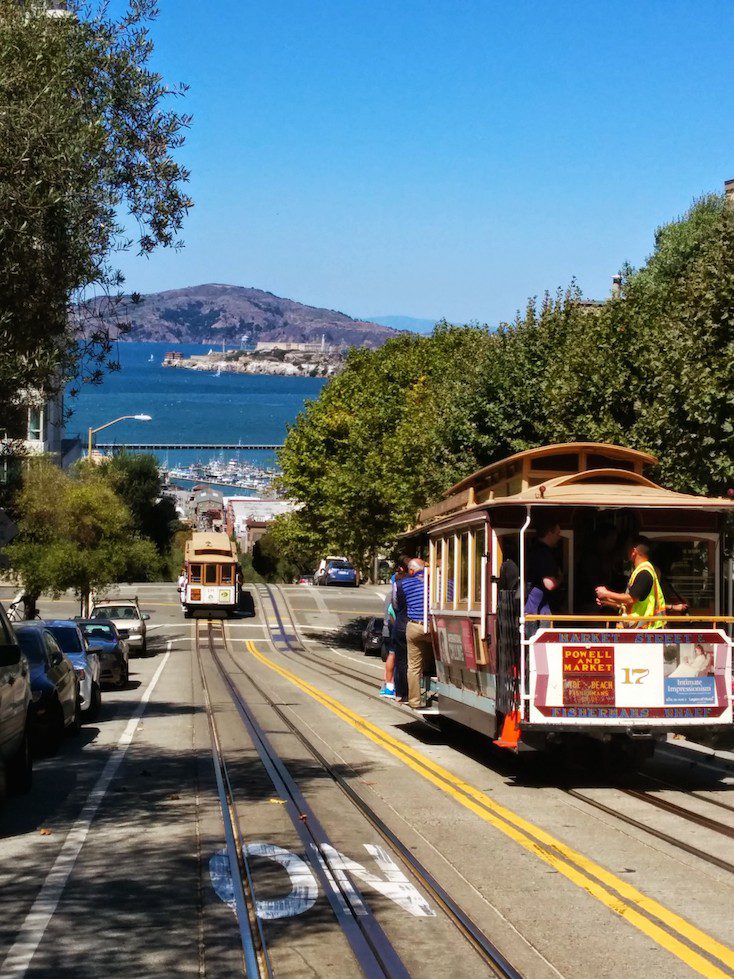 On the way to pick up the bikes, why not take advantage of the view? We headed out to Market and Powell and bought one-way tickets ($6) for the cable car (you can actually pay on board, cash only). Your ticket here also gives you 10% off at Ghirardelli's and that would come in handy later on. The 'best' line is the Powell – Hyde line, which takes you all the way down to Fisherman's Wharf. This is the starting point and the queue here is horrendous. If you want to skip the queues, simply walk a few blocks up Powell St to Union Square and catch the cable car from there. It's not the nicest thing to do but if you think about it, it's quite smart and makes sense (not everyone catches the bus at the same station – right?).
Riding a San Francisco cable car is a must. This piece of engineering marvel has been negotiating the city's steep hills since 1873. There is no practical need for them today but being as iconic as they are, Muni keeps them running (though not very efficiently). If you want to learn more, head to the Cable Car Museum at some point, admission is free. Snaking up and down the hills, with a few turns in between, make sure to stop at the corner of Lombard Street. This is one of the best spots in San Francisco. With Alcatraz straight in the background, you'll see cable cars climb up and down the hill. It's one of the best photos ops in town.
And now for Lombard Street. This famous street snakes its way down the hill via 8 steep curves and is famous around the world. Originally conceived to help drivers safely negotiate the hill, this section of Lombard Street is popular with the tourists who drive down the hill in endless amounts. For those of us on foot, it's great to walk down and admire the landscape, along with the panoramic views that the lucky (or unlucky) residents of this street enjoy.
We continued straight down Hyde St to pick up the bikes. The staff here will explain to you various bike routes you can take and you'll get a very useful map to take with you. Be sure to bring with you plenty of water and sunscreen (as well as a light wind jacket). Each bike is equipped with a pouch.
The most popular bike route is to cycle across the Golden Gate Bridge to Sausalito and return by ferry to Fisherman's Wharf (and then cycle back to return the bikes). Since this is my second time doing this, I'll actually be giving two options here. More on that later.
To start off with, there's pretty much one way to go and that's along the water until you reach a steep climb towards Fort Mason. The view from here is fantastic and gives you the first good glimpse of the Golden Gate Bridge. We continued along the path through the grassy park and down to Marina Boulevard (don't worry, you'll see many other cyclists with you). To your right, great bay views and to your left, amazing modern Victorian houses with million dollar views (literally).

The first real stop is the Palace of Fine Arts which is on your left side. This is another famous landmark in San Francisco and you'll surely recognize this open classical rotunda. Built for a fair in 1915, the palace has since managed to go through a period of decay and reconstruction. It's popular with the swans in the center pond and couples on pre-wedding photo shoots (the houses around it aren't too bad either).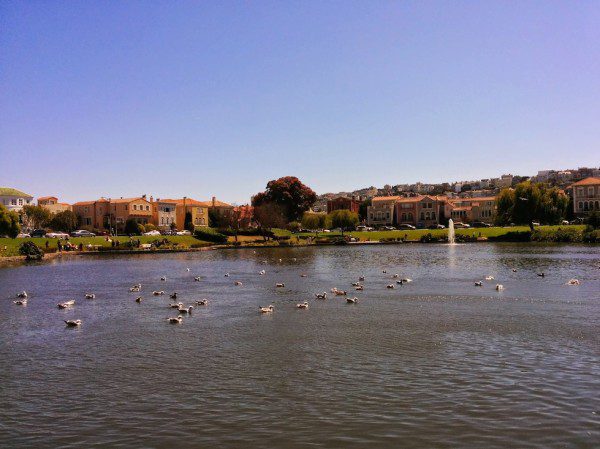 Back on the bikes, we continued along the San Francisco Bay Trail which takes through Crissy Field Marsh and by a beautiful beach with great Golden Gate views (everything is well marked).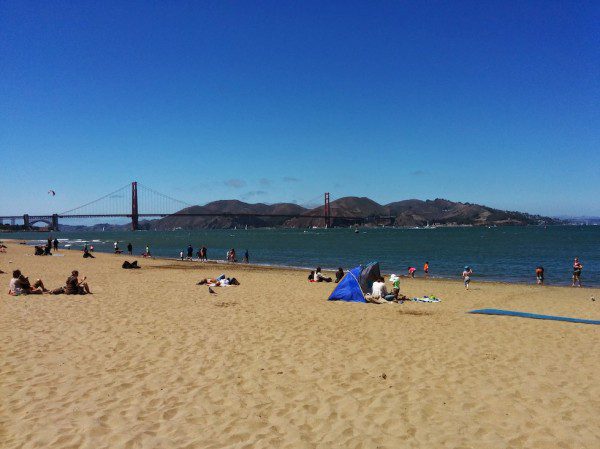 Eventually, we got to Crissy Field, a huge park very popular with locals on weekend BBQs. The views of the Golden Gate Bridge and the city behind you keep getting better and better and there's no better to enjoy it than grabbing lunch from the Warming Hut Cafe and eating outside with a view. Sandwiches are amazing here and the view, well, have a look at the picture.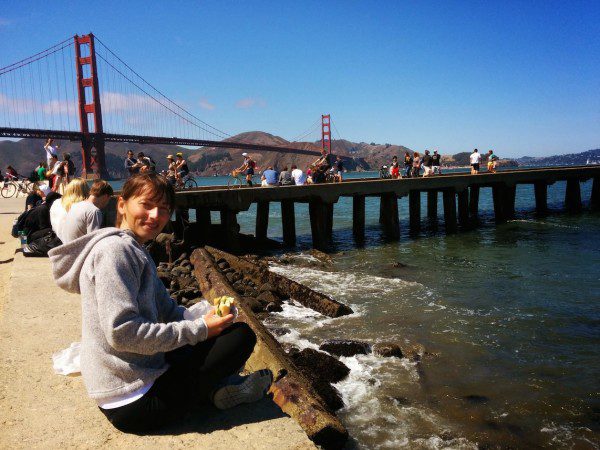 After fueling up you are now faced with two choices: either cycle across the Golden Gate Bridge or cycle towards Baker Beach across the Presidio, eventually getting to Golden Gate Park. Both options involve climbing up a hill and getting to HWY 101.
Option 1: Cycle Across the Golden Gate Bridge to Sausalito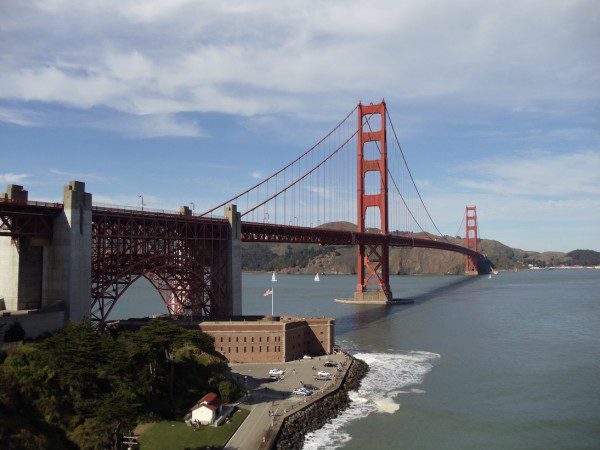 When you think about San Francisco, the image that first comes to mind is no doubt, of the Golden Gate Bridge. After 4 years of construction (costing over $1B in today's money), the bridge opened in 1937. This beautiful suspension bridge (spanning 1,200 meters between towers) is the symbol of the city and connects Marin County to San Francisco, almost 3 kilometers away. Continuously pounded by the Pacific winds (it's pretty windy up here), the bridge was designed to endure the worst that mother nature can swing at it and hanging over 60 meters above water, is, unfortunately, a popular spot for suicides.
Crossing the bridge is certainly another 'achievement unlocked' and only when crossing by foot or bike, you really get a true sense of this engineering marvel.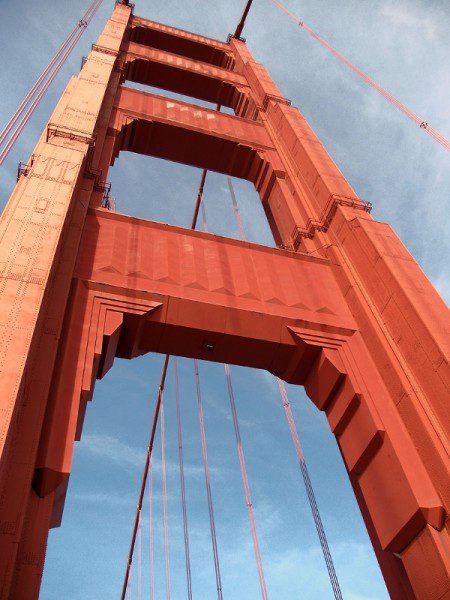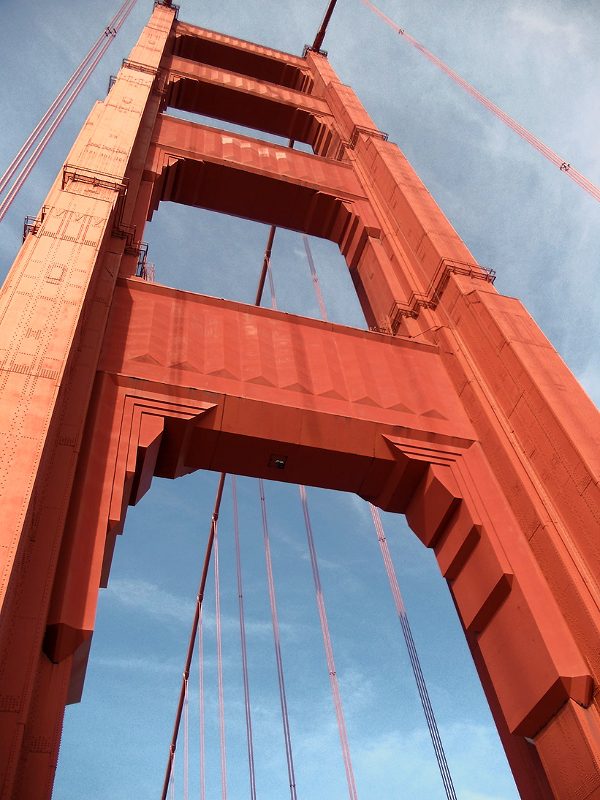 It can get pretty crowded on the bridge but you do have some spaces to stop and soak in the sites. When crossing the bridge heading north, you'll be on the opposite side of the city. However, there are plenty of good viewing spots when you cross the bridge. One option is the vista point just as you cross the bridge, but we'll cover that with the car the next day when we head out to Muir Woods.
As you finish crossing the bridge, you'll just follow the path that takes you onto Conzelman Rd, below the bridge then onto Moore Rd and finally East Rd and into Sausalito.
Sausalito is the kind of town you'd love to live in. Its tiny but cute main street is filled with restaurants, cafes, and boutiques. Its hills are lined with beautiful cottages that have million dollar views, and its houseboats further to the north have become iconic. The marina in the city center make Sausalito extremely accessible for day-trippers and you'll take the ferry back to town.
We parked the bikes near the marina and headed for a stroll in town. If you have a sweet tooth (and you deserve some candy after all that riding), head to Munchies Candy and try their saltwater taffy. After a nice stroll in town, we hopped on the bikes for a 1km ride to Wellington's Wine Bar. No need to make reservations here but the highlight is definitely to sip a glass of wine with an appetizer outside on the deck. The action here is to watch the boats come and go and maybe a few seals if you're lucky. It's a very popular place with local Marin residents.
For early dinner, we made reservations at Sushi Ran beforehand, just across the street. This busy place requires a reservation and it's the perfect way to end the afternoon. The sushi is great with fine finishing touches and ever so fresh.
After dinner, we caught the ferry back to the city. The ride back offers great sunset views of the city, the Golden Gate Bridge, and Alcatraz. Check the ferry times here and be sure to come back before Blazing Saddles closes for the night (they are open until pretty late).
Option 2: Cycle to Baker Beach and Golden Gate Park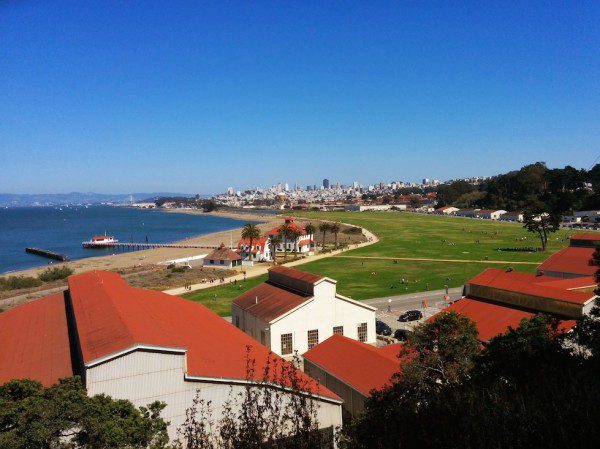 If crossing the bridge is not your thing or if you are fine with crossing it by car – here's an excellent option for you. Instead of crossing the bridge when you reach HWY 101 just after climbing from The Warming Hut, turn left and continue on Merchant St and then Lincoln Blvd. You are now deep in the Presidio. A military fort for 218 years, this present-day national park is filled with hills, beautiful mansions and lots of paths. Just Follow Lincoln Blvd and walk if the climb is too much. You will eventually be rewarded with a fun downhill ride right onto Baker Beach.
Not too many tourists venture out to Baker Beach. That's a shame because this beach is one of the nicest city beaches you'll come across. With a unique view of the Golden Gate Bridge to the east, stroll along the fine white sand and watch as huge ocean liners enter the bay. Don't be alarmed if you see a few nudists in the northern part of the beach. This beach is the birthplace of the legendary Burning Man festival which now takes place in Nevada – so you can imagine it's quite a free spirit spot.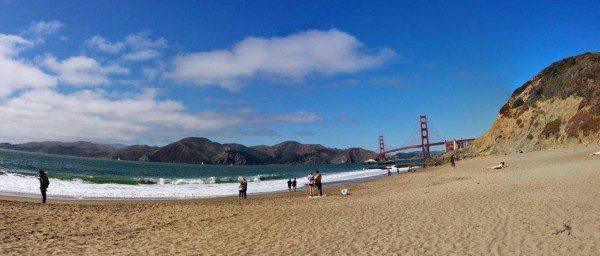 From Baker Beach, you are faced with two options.
If you're too tired at this point, head back via Lake and Clay streets, eventually making it back to Hyde street, where you drop off the bikes. The drive is mostly flat and on the odd hill, just walk the bikes. You'll pass through one of the nicest (and quietest) parts of town and be amazed that in the heart of the city, you have such grand Victorian houses as you see here.
If you still have some gas (and daylight) left, head down via 25th Av to Golden Gate Park. Rivaled only by New York's Central Park, this is one of the finest city parks you'll come across. It's quite huge and really deserves its own day to explore but if you don't have the time and have a bike, it makes for a pleasant ride, with plenty of trails and roads to ride on. There are a few highlights within the park, with the most famous (and touristy) one being the Japanese Tea Garden – the oldest Japanese garden in the US. The gardens ($8 for non-residents) are filled with small footpaths, pagodas, bonsai and cherry trees, ponds and everything you'd expect from such gardens. Other highlights include the famous bronze Buddha sculpture and the oversized U-shaped bridge. Be sure to unwind in the tea shop, where you can choose from a wide range of selections.
If you're still up for some adventure, cycle east out of the park to Haight-Ashbury, the iconic peace movement area. Once again, this place does deserve more time for exploring. There are cool vintage shops, restaurants, and bars. Here too, you'll smell a lot of Marijuana and parts of it are a bit rough around the edges. From here, it's about 4 miles back to Blazing Saddles so it is quite a long ride.
All the cycling options I've mentioned here are an excellent way to discover this side of San Francisco (and even beyond the bridge). It can be challenging, but you are definitely rewarded with an experience of a lifetime.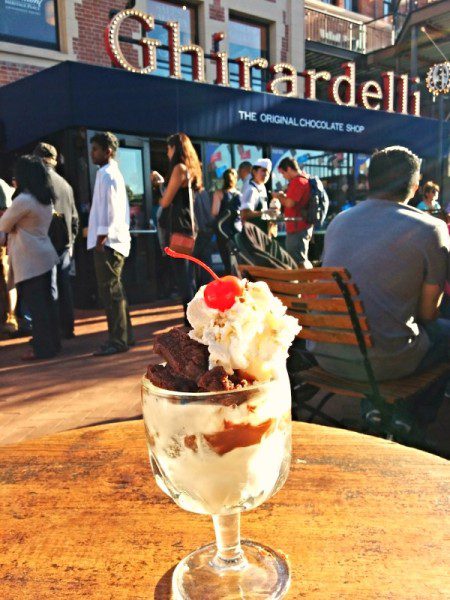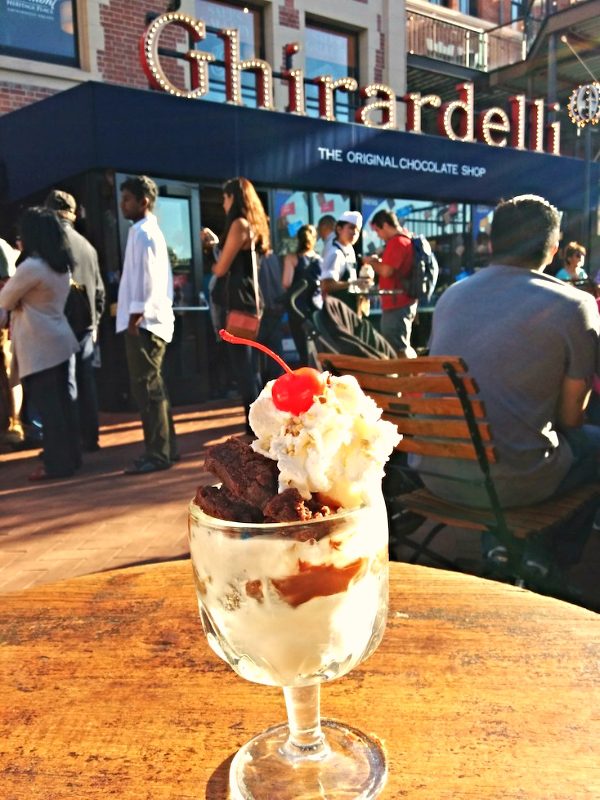 After all that cycling, you really deserve a sweet break. Conveniently enough, Ghirardelli's is just a block away from Blazing Saddles. Famous for their chocolate squares, Ghirardelli's is also famous for sundaes. What a perfect way to welcome the evening with a sundae in Ghirardelli Square. Your cable car ticket also gives you 10% of your sundae.
If you want to head back home, the Powell – Hyde line starts just one block away. Be warned though that queues can take well over an hour. Of course, you can climb up the hill and catch the cable car from there too. We took a taxi to Washington Square and to Tony's Pizza Napoletana for dinner. This is one of the best places in San Francisco for pizza. You can either try your luck in the restaurant or if the queue is too long, order takeaway at their spin-off location just 2 doors down. Slices are big and the pizza is excellent!
Any Regrets?
The queues to the cable car are quite long at the start/end points. We did wait for a while in line before we thought about walking further along the line and hopping on.
There's a lot to see on any of the options I've described here. Some areas do deserve their own day but it really depends on your time. We finished the day exhausted but ecstatic!