Day 3: Farmer's Market, Alcatraz & Fisherman's Wharf
It was Saturday and our day's itinerary would focus on the waterfront area. We planned to visit Alcatraz on this day and had booked tickets in advance (as you should) for a noon departure at Pier 33 ($30 for a day tour). Saturday mornings (and Tuesdays & Thursdays) provide you with a great opportunity to visit a California farmers market, in the city. We headed to the Ferry Terminal Building via the Market St. streetcar, on the southern end of the Embarcadero. The building itself is unmistakable, with its clock tower designed after the famous Giralda in the Seville Cathedral in Spain. This 1898 building used to be very busy with bay area travelers before the Bay & Golden Gate bridges were completed. Nowadays, it's an embarkation point for the surrounding towns in Marin County and Oakland.
It's also a great place for food. The farmers market brings together local producers from around the area selling lots of organic stuff and regular fruits & vegetables, flowers and great food – all with the great background of the Bay Bridge. Inside, you'll find more gourmet and specialty shops selling anything from olive oil to fresh pastries. We grabbed some breakfast and headed outside for breakfast with a view.
From the ferry terminal, we continued along the Embarcadero towards Pier 33. This wide boulevard has come a long way and it's now a favorite jogging spot for locals, also boasting seafood restaurants with bay views. Pier 33 is the departure point for Alcatraz, one of the highlights of any holiday to San Francisco.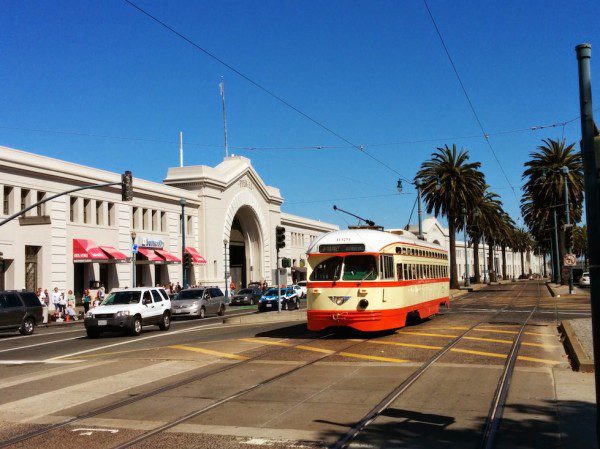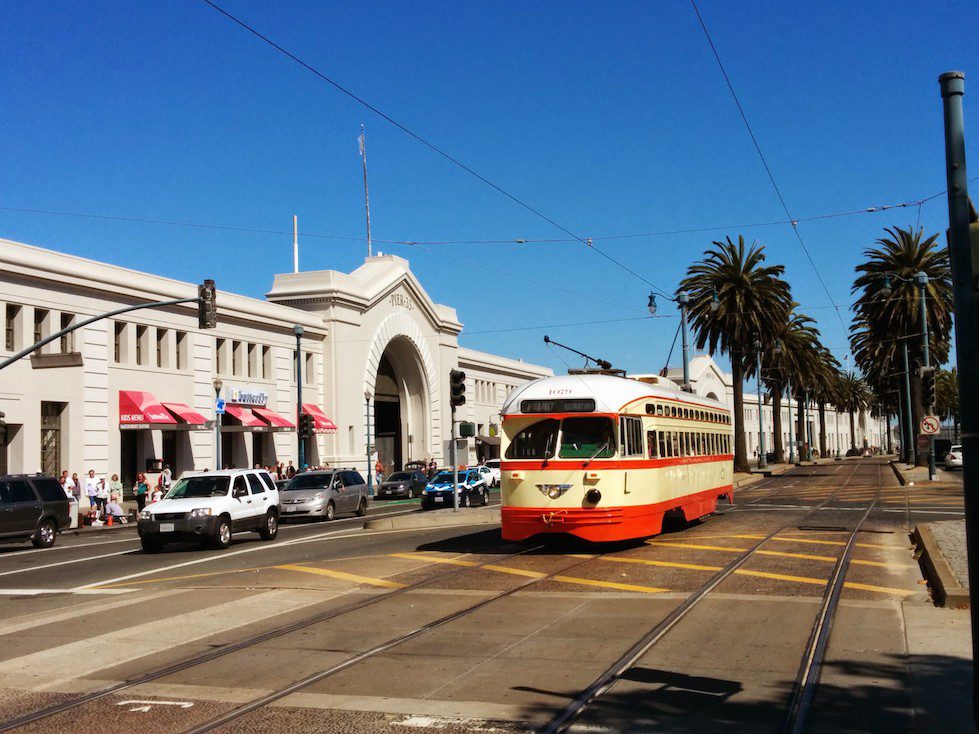 The boat ride to 'The Rock' offers great city and bay views and takes about 15 minutes. As soon as you disembark, you really feel like you've stepped back in time. Alcatraz is a major tourist spot so they've really invested a lot of effort making this experience special. Now a US National Park, Alcatraz was originally an army fort until converted to a federal prison in 1934. Housing the worst criminals in the US until 1963 like Scarface Al Capone, 'The Rock' became infamous for a place with a one-way ticket.
Nowadays it's an extremely popular destination. You can visit Alcatraz on a day tour in which your $30 ticket includes the boat ride, park entrance, and an audio tour, or a night tour which includes a more intimate tour (and quite recommended from what I've heard). The audio tour is a must. It takes you around the must-see areas of the former prison. The story is told through the eyes of former guards and prisoners. With all the legend around Alcatraz, it's really cool to walk around and see how these inmates lived. You can even step into one of the solitary confinement cells for a few minutes, which goes pitch black – hard to imagine how someone would endure this for weeks. Allow at least 2.5 hours for a visit to Alcatraz and be sure to enjoy the great view from the outside deck. This is certainly an 'achievement unlocked' and we can now tick that box on our 'must see places list'.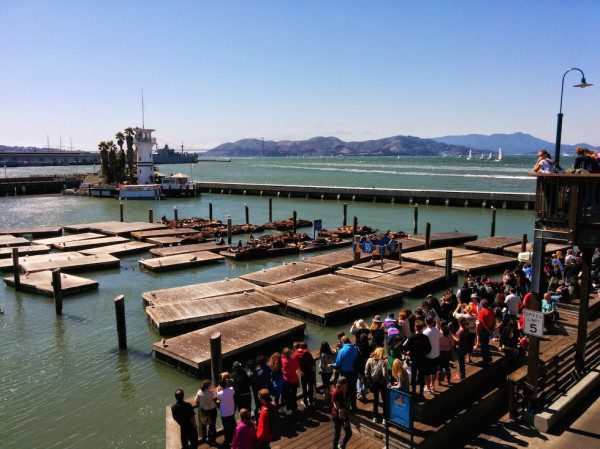 Continuing on the Embarcadero, we eventually reached Pier 39, another tourist hotspot. This little complex is packed with souvenir shops, cafes, arcades, and restaurants. It has a county fair atmosphere to it. We came here to watch the dozens of seals that have been calling this place home since the 1989 earthquake. They soak in the sun, swim around for food and mainly make a lot of noise.
A few more steps along the Embarcadero and you'll see the familiar sign welcoming you to Fisherman's Wharf. This was once the center of the fishing industry but that's long gone and today, this place draws the tourist crowds.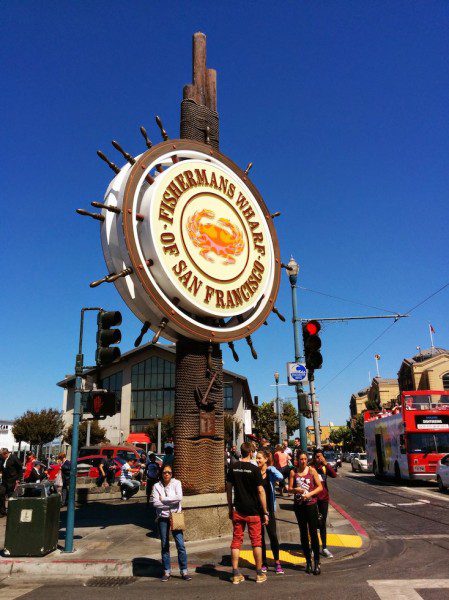 A popular spot for street performers, you'll also find here souvenir shops and touristy seafood restaurants. It's cool to walk around and see the fine crab and lobsters being prepped up for a meal. Another popular item here is the bread bowl seafood chowder – where the bowl is actually the bread. Head over to nearby legendary Boudin Bakery, famous for its sourdough bread. Breadmakers put on a show for the tourists, just look for the large window. You can also grab a tour and a meal inside.
Before dinner, we continued to explore Fisherman's Wharf. We headed over to Musée Mécanique (free) to experience what an arcade used to look like many decades ago. These vintage arcade machines have been restored and you'll find old 'love meters', pinball machines and also a few other vintage machines that may have been considered 'X-rated' at the time. There are other, more maritime museums to explore if you're into that like the Hyde Street Pier.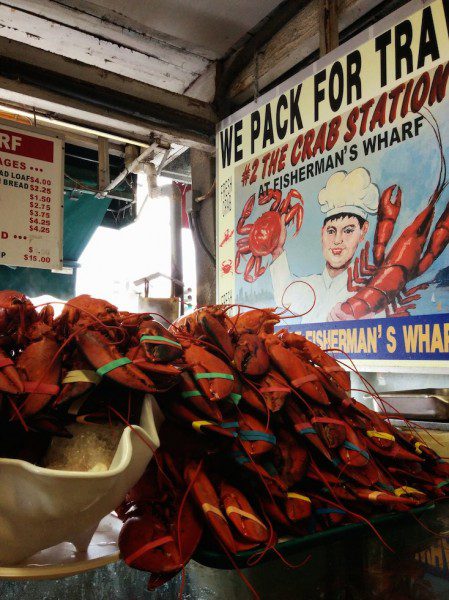 Even though the restaurants are touristy around here when in Fisherman's Wharf, you must taste the local seafood. We ate at Alioto's Waterside Cafe which offers good combination options for those of us who are not seafood experts and just want to taste. We had ½ a crab and ½ a lobster to share, along with salad and fries. It's not too expensive, the food was good and hey, you get to wear ridiculous lobster aprons!
Any Regrets?
We really wanted to visit Alioto-Lazio, one of the last family-owned and operated fishing companies in San Francisco. This place opens and closes early but apparently, you can see fish wholesaling at its best.
One of the better seafood restaurants in San Francisco is the Franciscan Crab Restaurant. Unfortunately, they were fully booked.