Endless roads in an endless desert, remote towns, scenes out of an old western movie and one Grand Canyon. A trip to the American Southwest is a unique and unforgettable experience. This travel guide highlights the ins and outs of a classic American road trip from Las Vegas to Monument Valley. Ready to hit the road?
A visit to the American Southwest was on our minds for quite some time. What can be better than hopping in your car and driving through some of the best desert scenery in the world? We traveled during April, from the city that has artificially created some of the world's best man-made sights to places where the only creator is nature. We visited Monument Valley and Grand Canyon, both in Arizona. In between, we caught a glimpse of Navajo country and drove on the legendary Route 66.


What's Included in this Southwest USA Itinerary?
Several sections make up this guide:
Day Trip to Death Valley from Las Vegas
Have an extra day to spare? Consider using it to visit Death Valley on a day trip from Las Vegas. You can rent a car and drive to Death Valley and back on your own but it's a lot of driving, so opting for the organized tour from Las Vegas is a safer option.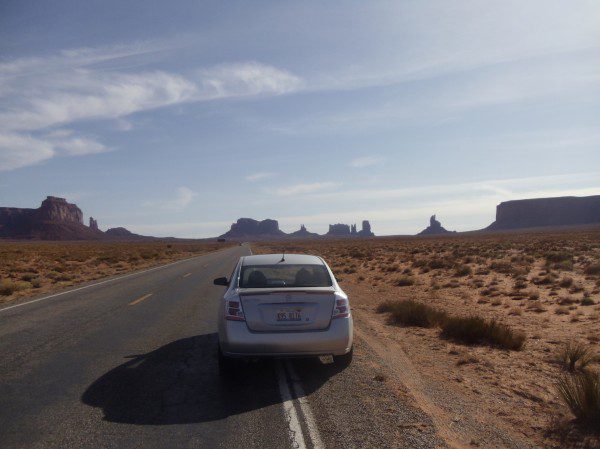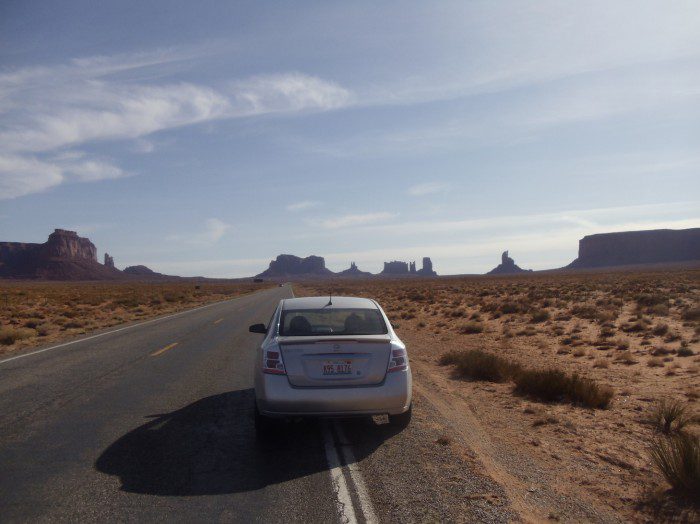 Road Trip Travel Tips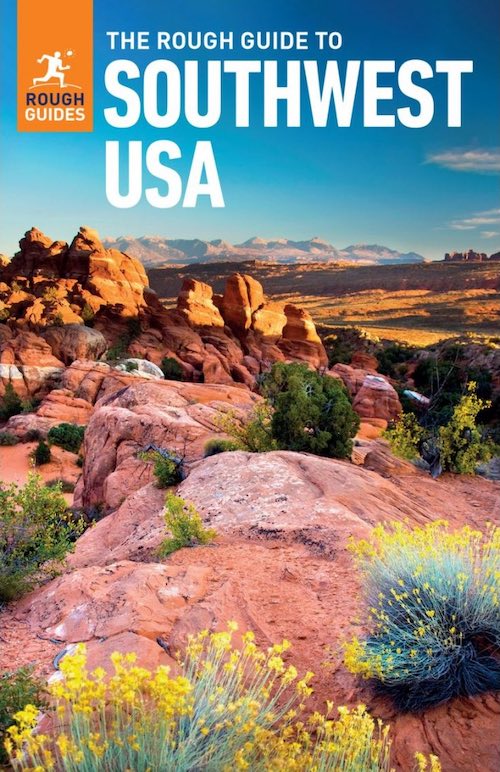 Don't leave home without The Rough Guide To Southwest USA! It's got loads of photos, national park & small town info that, together with this guide, will be your best friend on this epic road trip. Also visiting Las Vegas? Grab the pocket guide book as well.
Even if it's warm in Las Vegas, Grand Canyon, and Monument Valley can be chilly, especially after sunset. So be sure to check the weather reports and bring layers.
Speaking of sunset, be sure to check out the sunset times for Grand Canyon and Monument Valley as these times will affect what you can do on a given day. Sunsets are one of the highlights of any Southwest USA travel holiday so be sure to experience one.
Having a car is the ultimate freedom in the US and it's highly recommended to explore this region with a car. Renting one is easy and inexpensive if you book in advance.
On that note, many car rental companies have branches within the Vegas mega-resorts. It's very convenient to rent from these locations but there will be a fee associated with this convenience.
You really don't want to get lost in the desert and while scenes like in the movie Breakdown will likely not happen, have a good roadmap with you. Grab one when you stop for some snacks at the gas station.
Driving and stopping in small towns, diners and old gas stations are part of the fun. Don't rush and leave enough time to enjoy the wide-open road.
Vegas is for a long time more than just a gambling town. There are world-renowned shows on stage every night (music, magic, circus and more). Be sure to book in advance to guarantee availability but if you are a last-minute kind of person, check out Tix4Vegas. They sell discounted tickets to tonight's shows if there are any left unsold. They also have a few physical locations and there's one just outside the Fashion Mall on the Strip. For skip-the-line tickets to experiences in and around Las Vegas (including Hoover Dam and Grand Canyon), have a look here. If you're planning on doing quite a bit of sightseeing, consider purchasing the Las Vegas Explorer Pass.
The major hotels on the Vegas Strip (Las Vegas Boulevard) are considered resorts and as resorts, a 12% resort tax will be added to your bill.
There are some beautiful and super convenient accommodation options both in Monument Valley and inside Grand Canyon. They are outlined further in the post. Be sure to book early to ensure you have a good spot as these places are the ones to fully book first.
Southwest USA Travel Route
Click on the map to open in Google Maps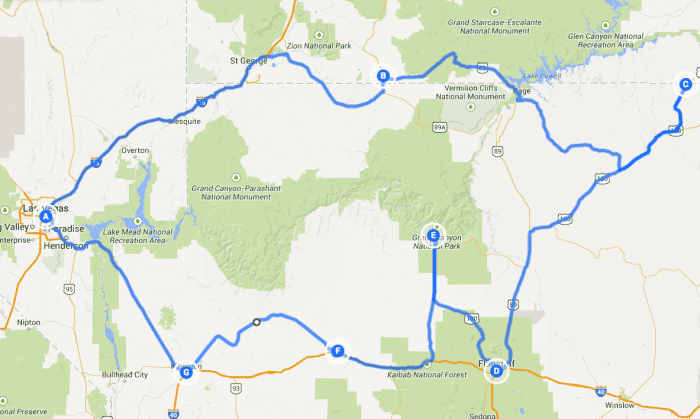 Part 1: Las Vegas (2 Days)
We start this Southwest USA road trip with a couple of days in Las Vegas, experiencing the complete opposite vibes of the next legs of our road trip.
Sleepless in Las Vegas
We had arrived in the evening and checked into the Palazzo resort, right on Las Vegas Boulevard, better known as 'the Vegas strip'. The Palazzo and its sister resort the Venetian, make up one of the most extravagant luxury hotel complexes in the world. As most resorts in Vegas go, this complex also revolves around a world theme, this time it's Venice Italy. The complex has over 8,000 combined rooms, dozens of restaurants, 2 huge casinos, a man-made river, and of course – a luxury shopping center (Lamborghini anyone?). In Vegas, the bigger the better! The Palazzo and Venetian have taken the Vegas 'art' of replicating famous landmarks to a whole new level. Outside, it's the replica of Piazza San Marco, with its famous clock tower and the Rialto Bridge. Inside, it's Venice's canals with their oversized gondolas – truly amazing, even if totally fake… it's Vegas after all so get used to it.
The Palazzo also dominates prime real estate on the strip. Just nearby you'll find major resort highlights such as the Mirage, Treasure Island, the Bellagio, the Paris Hotel, Caesar's Palace, and the Wynn, just to name a few. So it makes a great base for exploring other resorts in Vegas which, with their themes from around the world, really make up for an interesting night! It's also just in front of the Fashion Show Mall, an upscale shopping center that offers luxury brand shopping as well as some more down-to-earth brands.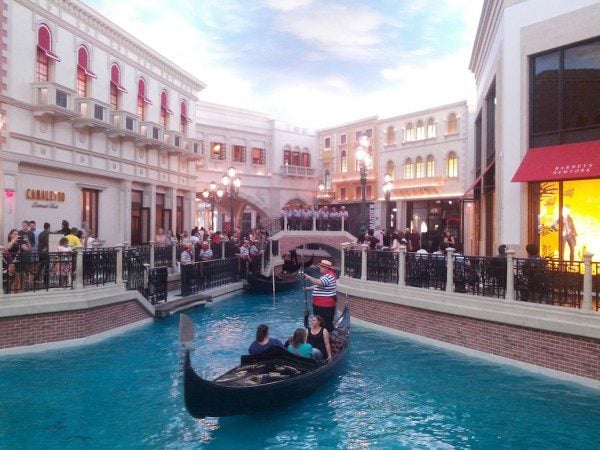 As for the casinos, both the Venetian and the Palazzo have their own, with a combined area of 20,000 square meters. The Venetian's floor seems to be more upscale and vibrant while the Palazzo's are quieter (at least when we visited). One thing to note for us non-heavy gamblers, if you're over the slot machines and feel like testing your blackjack skills, the table minimums at the Venetian and the Palazzo range from $10-15 so keep that in mind. If you're looking to extend your losing night a little bit longer, head over to nearby Harrah's or the Quad (and a bit further the New York-New York) – though the ambiance is not the same (and can drive you a bit mad after a while).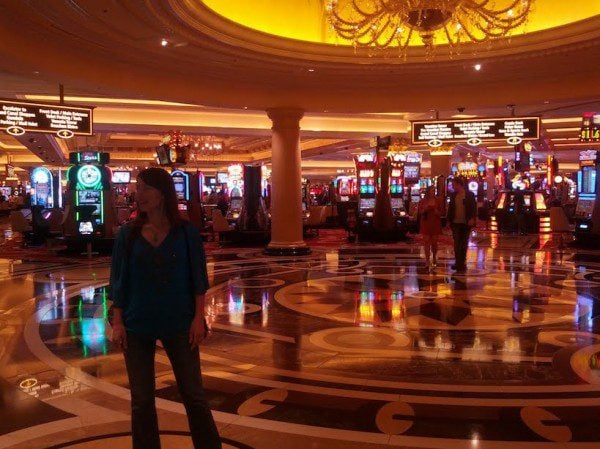 There are countless dining options at the Palazzo, from simple casual dining to super gourmet restaurants. For dinner, we headed over to Grand Lux Cafe which is open for nearly 24 hours. This is a family-style restaurant with almost everything conceivable on the menu. Portions are huge and the food is great. We had a burger along with grilled salmon and some appetizers to start.
The rule of thumb in Las Vegas is that you don't come here to sleep. Sure, the rooms are amazing and the bed ever so cozy but the real party is out on the strip. So despite our fatigue, we headed to explore the Las Vegas strip. The strip plays with your senses. Sounds of slot machines cashing out pay, sexy hostesses trying to get you to come into the casino (or check out a nearby 'gentleman's club' – limo transport included), massive hotels, volcanos erupting, pirates raiding ships, and an endless display of neon lights – the temptation is everywhere in Las Vegas!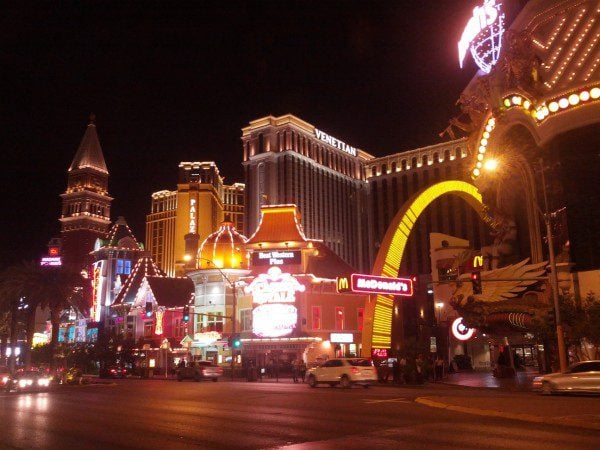 The Las Vegas Strip
From the Palazzo, you want to head south on the strip as aside from the Wynn (highly recommended to check out), there's not much happening up north (yet). Keep in mind that Las Vegas city blocks are huge so the distance from one major resort to another takes longer than it seems on the map. Also, you can only cross from one side of Las Vegas Boulevard to the other via pedestrian bridges. But don't worry, there are plenty of distractions on your way and you'll never get bored.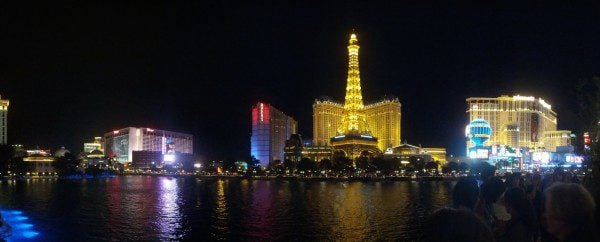 Other than the Wynn, other 'must-see' resorts to check both from the outside but definitely on the inside are the Paris Hotel, Caesar's Palace, and the Bellagio – which had the nicest interior of all the resorts we visited. After a successful night of slots and blackjack, we called it a night.
American Breakfast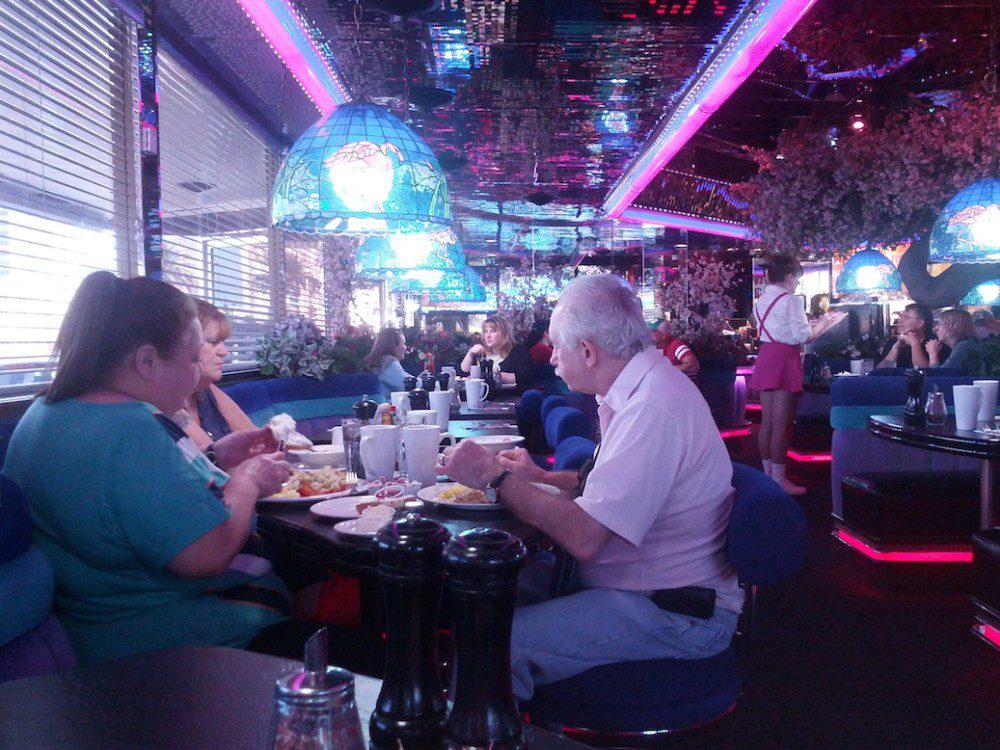 The following morning, we decided to venture out of the Palazzo for breakfast and try something original. We got a recommendation to head over to nearby legendary Peppermill Restaurant for one of their signature breakfasts in a 50's diner setting. It was a short 20-minute walk past the Wynn to get to this 24-hour breakfast joint. The staff as you would expect at a place like this is super friendly and we were offered several times bloody Mary's and mimosas, even though it was 8 am. This place serves American food at its best (or worst, depending on how you look at it). Portions are huge, I mean super huge. I ordered a regular omelet and got a triple-decker monster – only in America! So if you're looking for that old American experience without caring for calories, this place is a great experience. If you're looking for something else, the Palazzo has plenty of options though not as down to earth as the Peppermill Restaurant.
It was now on to another American experience, shopping! Las Vegas is home to not one but two premium outlets. We caught a taxi ($15) to Premium Outlets North as we were more interested in checking out the stores there. Be sure to check out Premium Outlets South's store listing and make the right choice for you. It's gonna be mighty hard to see both on the same day. In any case, these places are very popular and in our case, though we got there at 9 am, tourists were arriving by busloads (literally). Not to worry though as this place is large enough to accommodate everyone and the bargains make up for any inconvenience. On that note, if you're planning to return to Vegas by taxi, queues will start to form in the early evening hours and though they are quite efficient at getting taxis for everyone, try and avoid these queues and leave slightly early.
For dinner, we headed to Sushisamba in the Palazzo. This was a great choice and the food was fantastic in this upscale Japanese restaurant. The setting is very ambient and the menu is wide to choose from. We, of course, came for the sushi which is served fresh and with a fine touch of art. It's pretty moderately priced and for $30 each, we had plenty of sushi and drinks.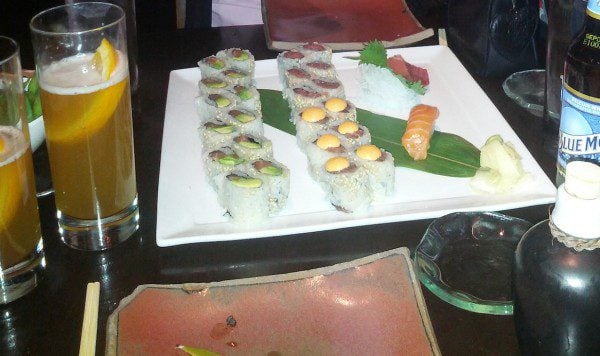 Cirque du Soleil Show
Aside from gambling, Las Vegas is pretty big on shows and some of the world's best acts perform here on a nightly basis. One of the long-time residents of Las Vegas is Cirque du Soleil, who has turned the circus from clowns and human cannonballs to hair-raising acts and amazing sets. There are several different Cirque du Soleil shows happening across town so check for the ones that suit your taste. We pre-booked tickets for Cirque du Soleil's 'O' at the Bellagio and for $130 per person, sat in the 5th row – not too bad. This show revolves around water and it is simply spectacular. Before you know it, the stage is transformed into a pool of blue water as dancers and acrobats perform death-defying acts high above and across the water. You can also book a premium package that includes a pre-show dinner at the Bellagio.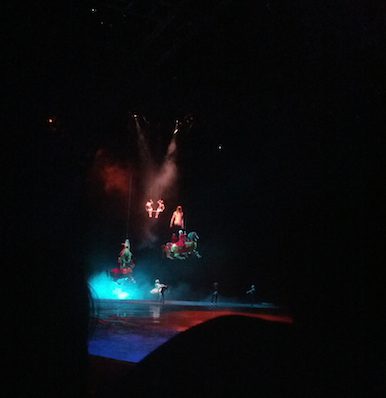 It's hard to choose which show to go to in Las Vegas with so many good names around. We made a good one by watching show trailers on YouTube and choosing the one we liked the most. It also gave us the chance to see the beautiful Bellagio hotel with its colorful interior and famous water fountains. Every 15 minutes in the evenings, these huge fountains break into a choreographed dance to the sound of familiar tunes.
As we were embarking on our road trip the next day with lots of desert driving, we called it a night and headed back to the Palazzo.
Any Regrets?
We missed the famous Welcome to Fabulous Las Vegas sign which is just outside the airport before you get to the Mandalay Bay resort. I know it's kitschy but still cool to see.
Skydiving over the desert was another option on our list and there are plenty of options to choose from. However, despite what they tell you, these can take up a full day so we decided to pass.
I already mentioned that the Palazzo is a one of a kind resort. So it's important to leave some time to relax by the pool and enjoy the scenery.
Part 2: Las Vegas to Monument Valley (2 Days)
Leaving Las Vegas behind, we'll venture deep into the desert and drive to the furthermost point of this road trip in Monument Valley.
The Drive to Monument Valley
This part of our southwest USA travels was the one we most looked forward to. It would be a 400-mile drive through the desert to one of the most famous places in America – Monument Valley. Even if the name doesn't ring a bell, you'll surely recognize Monument Valley from dozens of John Wayne westerns and one film you might recall starring Tom Hanks. More on that later. We planned to hit the road early but not too early and make it to Monument Valley just in time for the sunset, allowing 10 hours to cross through 2 states and driving through some of that famous remote American desert. Be sure to check sunset times for Monument Valley here.
We arranged to conveniently pick up our rental car from the Hertz location at the nearby Harrah's hotel, where we would drop it off on the return and spend the last night in Vegas.
Leaving Las Vegas, there's not much choice as far as roads go so take Interstate 15 towards Salt Lake City, Utah. As soon as you leave Las Vegas, you truly enter that great American desert. The road is as straight as an arrow at some points as far as the eye can see and the hills around you are spectacular. It feels like engineers added curves to the road just to keep you alert. Of course, you'll pass by that odd remote casino resort, which also adds to the atmosphere. We stopped early on at a gas station to pick up a road map which came in handy throughout our road trip.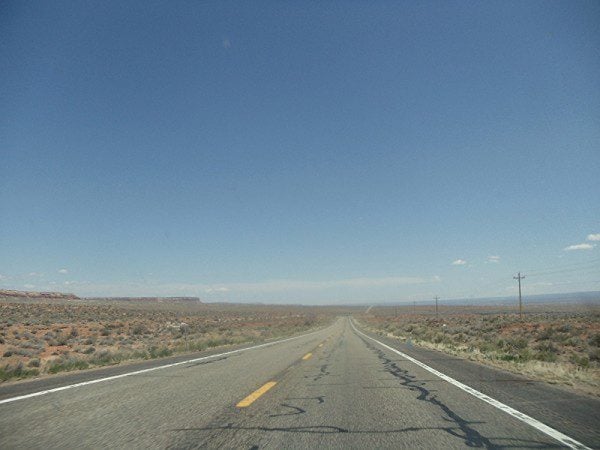 Once you cross over to Utah and reach the town of Hurricane, switch over to Highway 59 towards Kanab. The road will take you back to Nevada and back again into Utah. Getting off the interstates is highly recommended where possible as the road takes you through remote towns and the sweeping desert views.
Once we reached the town of Kanab, Utah, we stopped to grab lunch at one of the diners which is no longer in operation. A word of advice – keep the calorie counting for when you get home and enjoy some of those great-tasting American burgers and fries. This was mostly our diet for the next few days and we did not have any guilty feelings! So we had a great hamburger lunch with a side of nachos and salsa. The home fries are great and the prices are cheap.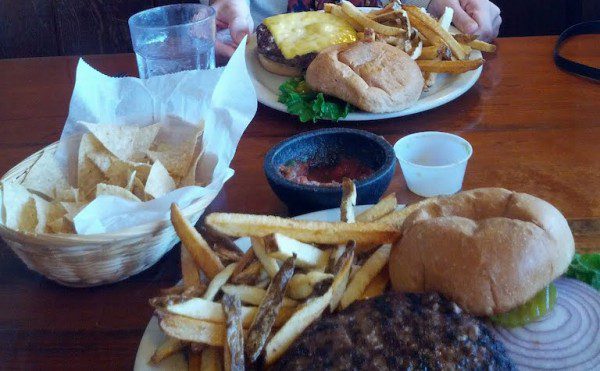 From Kanab, we planned to drive by the Vermillion Cliffs via HWY 89A, a beautiful stretch of round red cliffs in which you can spend a whole day visiting. However, the night before, a stretch of the highway simply collapsed to the canyon below, and the road was closed indefinitely. So we simply continued on HWY 89 towards Page, Arizona, and shaved a few miles off our original driving plan.
A few miles before Page, you'll start to see a large lake on the side of the road. This is Lake Powell, a man-made lake that was created when the Glen Canyon Dam went up and is today, a very popular spot for holidaymakers and their boats. Just after the sign for Glen Canyon National Recreation Area, you'll have the option of stopping at a great lookout point and seeing from up top the flooded canyon below.
A few more miles and you'll enter the town of Page, which was pretty much created to house the workers who built this dam, completed in 1960. The road will take over a steel bridge and just after, you can stop and walk back to get a great view of the Glen Canyon Dam, which harnesses the power of the mighty Colorado River to supply electricity.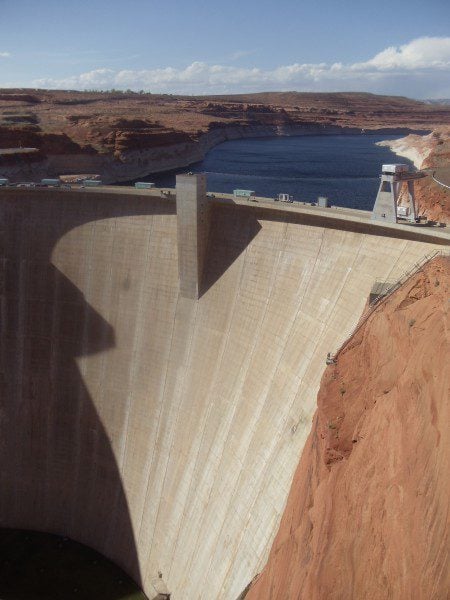 From Page, switch over to HWY 98, then to HWY 160, and finally to HWY 163 at Kayenta which will take you into Navajo country and to Monument Valley. You'll pass through Native American land and numerous mini-markets, or as they're locally called 'trading posts'. Once you pass Kayenta, you'll hit a beautiful stretch of straight road and catch your first glimpse of the strikingly red buttes (isolated hills with steep sides and a flat top) and eventually Monument Valley – unmistakably familiar at this point.
Sunset in Monument Valley
We finally reached our destination and one of the highlights of our southwest USA travel – Monument Valley Navajo Tribal Park, just in time to catch the sunset. Perfect timing! We parked the car in the car park of The View Hotel and joined the small crowd that waited to catch the light spectacle as the valley changes to different shades of red as the sun sets over Monument Valley. This is one of the nicest sunsets you will ever see and it's ever so quiet in this remote part of the USA. The best sunset view is offered at this spot so be sure to get here in time for the sunset on the day you visit. If you're a fan of deserts, as I am, you'll certainly feel that visiting Monument Valley is another 'achievement unlocked'.
Tired from the driving but extremely satisfied with the experience, we checked into The View Hotel. If you have already made it to Monument Valley, be sure to book well ahead of time to reserve your spot in this unique hotel which is the only one inside the park. While rooms are basic, they are comfortable and all face the valley floor, offering unparalleled views of Monument Valley from the comfort of your own balcony. At night, you'll see countless stars (and shooting stars) but the real highlight is to watch the sunrise over Monument Valley (more on that soon).

As you would expect, it's not cheap but it's worth it. We stayed in the Star Room ($215 per night on a weekday) which was more expensive than other options, as you are meant to have a more unobstructed view of the night sky but honestly, we didn't feel the difference. The hotel is a flat three-story building that's perched on the top of a cliff overlooking the valley. The hotel does mention that premium rooms are ones located furthest from the lobby and on the top floor, apparently offering more unobstructed views of Monument Valley. There's also a restaurant and a very nice, yet overpriced gift shop, showcasing fine Navajo art. All in all, consider yourself lucky if you manage to book this hotel.
Monument Valley Tour
Monument Valley Navajo Tribal Park is as you might have guessed – Navajo. This means it's not technically part of Federal US land and as such, Monument Valley is not serviced by the national parks scheme. This also means that the Navajo call the shots around here when it comes to fees and you don't have much choice. Though there might be a back way to enter Monument Valley, you'll probably just pay the $5 entrance fee to get to the visitors center at the View Hotel, which is the starting point for your Monument Valley visit.
Another worth mentioning point is the time. So that the entire area governed by the Navajo is w the same time zone, Daylight Saving Time is observed from April to October – the same as in Utah. If you're driving from Arizona, be aware of this and adjust your clocks. I know, it's weird, but that's the way things are.
As you can tell from the pictures, Monument Valley has certainly earned its reputation and it's no surprise this was a favorite spot for John Wayne. With towering red buttes mysteriously rising from the vast and flat valley floor, there's a lot of sacred history in this place too. The ancient Anasazi lived here for centuries until they mysteriously left around 1300 AD. The Navajo came in centuries later and this area is sacred ground with rock paintings scattered throughout and shrouded with ancient religious spirits that are believed to be present.
Sunrise in Monuement Valley
So as I mentioned before, they don't call it the View Hotel for no reason. In addition to spectacular sunsets, another must-do activity in Monument Valley is to wake up early and watch the sunrise. The hotel will let you know when tomorrow's sunrise is and you won't be alone as everyone pretty much gets up and heads to their balcony or the viewing area below to watch as the sun rises over the flat horizon. We are still undecided as to what is prettier, the sunrise, or the sunset. You can judge for yourself from the pictures and hopefully when you're actually there. As you click through the gallery, notice how the colors change.
Breakfast is served buffet-style at the hotel's restaurant and is pretty decent and inexpensive. Of course, the view is just amazing.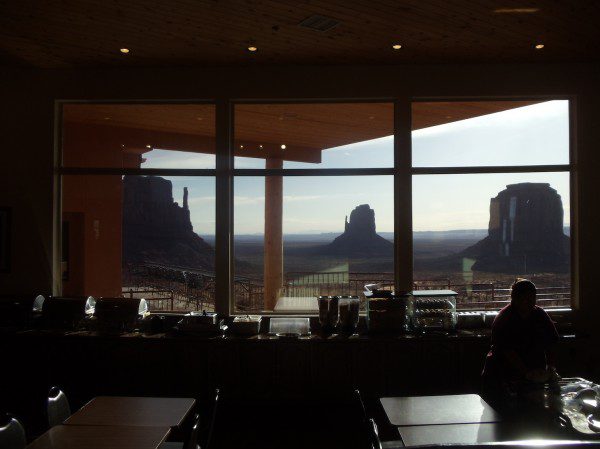 Run Forest, Run!
Before we turned to explore Monument Valley, we had to cross another item off the 'must-do list'. Remember that scene in Forrest Gump when Tom Hanks suddenly decides to end his endless marathons, much to the disappointment of his followers? Remember where that scene takes place? Well, here's a reminder for you. This beautiful stretch of dead straight desert road with Monument Valley in the foreground is just a few miles from the visitors center at the View Hotel. Get back into the car and drive back into Utah for about 20 minutes on HWY 163. You'll eventually find this stretch of road and just park the car and admire the view. It is worth it. The reason why we did this detour at this stage is that we didn't want the sun to be in the wrong direction so mornings are the best time to head out here.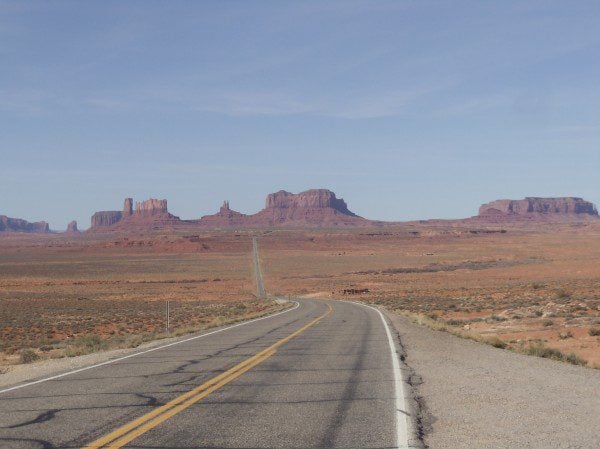 Now it was time to explore the valley floor and you have a few options here. You can either drive your own car down into the valley floor and ride along a 17-mile loop dirt road which will take you around most of the famous sites and lookout points. The advantage here is that it's a self-guided tour and you can stop wherever you want. The disadvantages are that your car (or the road on your particular day) may not be in good shape. Also, the 17-mile road doesn't take you to the remote areas where rock paintings are as well as where interesting rock formations can be seen.
The recommended alternative is to hire a Navajo guide from the car park of the View Hotel (it's all very official so don't be worried) that'll drive you down in a 4X4 truck and share with you the history of the place as well as the Navajo people. The fact that you'll get to spend some time with a Navajo is also a huge plus – let's face it, this opportunity doesn't come every day. Hiring a guide also gives you the option to explore, as mentioned before, areas of the park not accessible to self-guided tours. You can choose from ½ day tours, as we did ($100 per person) or full-day tours that include visiting scared areas outside of the park. We tried to shop around but prices are pretty much the same. We were lucky to arrange our own private tour, just the two of us in the truck, with King – our Navajo guide.
Driving along with King was a memorable experience and worth the steep price. You'll start your drive with the East and West Mitten Buttes which can be seen from the hotel and also offer a good view back towards the hotel, where you can admire how the structure blends in with the surroundings.

John Ford's Point is another worthwhile stop, offering you the chance to get on a horse for a ridiculous but much called for a photo op as well as a good view of the Three Sisters.
We then continued to drive deep inside the park, on roads that are only open to guided tours. You find yourself driving between immense rock pillars with strange circular chunks of rocks alongside the road. We got to see ancient deserted mesas with beautiful rock paintings depicting ancient spiritual beliefs. As you pass by here, you can help it but wonder what took place in these spots thousands of years ago.
Kicking it with King
King then took us to see a few natural rock arches, formed over millions of years as well as a pit stop in a large open cave where we were treated to a lovely live performance of traditional Navajo tunes. We were pretty much alone at this point and just listening to the silence of the desert (after King's performance) was a memorable experience.
We then stopped to see the Totem Pole, a large group of thin pillars rising from the desert floor and seeming to be out of place.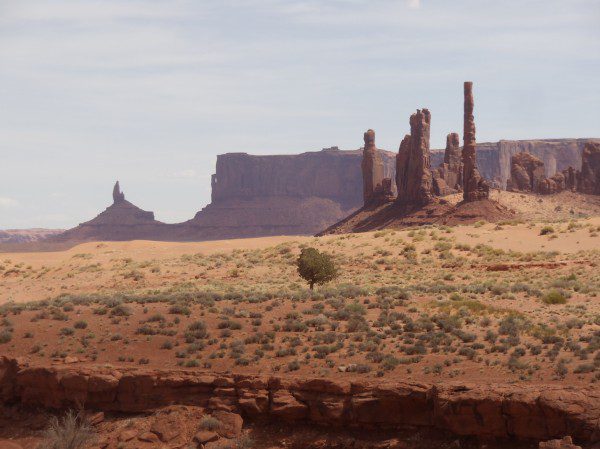 Our final major stop was at Artist's Point, which offers the best panoramic views of the buttes and the vast desert valley – simply amazing.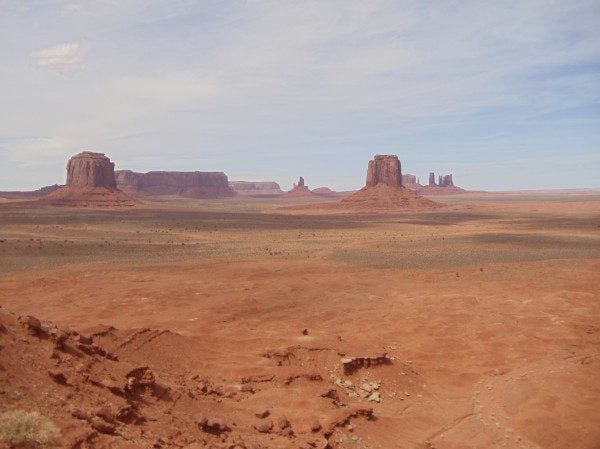 We got back to the visitor's center at around 4 pm for some coffee with unforgettable views. Monument Valley lived up to our expectations, and then some. It's certainly worth the long drive and spending a full day here overnight is highly recommended. Before hitting the road to Flagstaff, three hours to the south, we stopped just outside the park entrance where there is a plaza housing dozens of Navajo artists. It's cool to stop by and have a look, and maybe buy yourself a dream catcher. Prices are also a lot more down to earth compared to the gift shop at the View Hotel and you'll get the chance to talk with the locals – always a plus!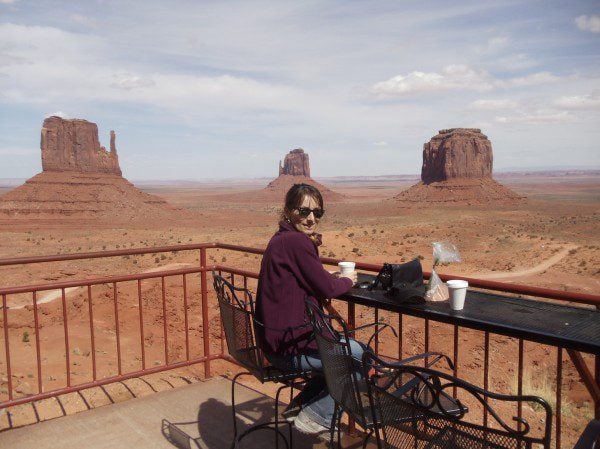 Flagstaff – Arizona
Three hours or 170 miles south of Monument Valley is the lovely town of Flagstaff. The scenery quickly changes along HWY 160 from red desert to alpine green. You theoretically can cut across via HWY 64 for 32 miles to get to the rim of the Grand Canyon but we decided to spend the night in Flagstaff as the lodges inside Grand Canyon Village were fully booked. It turned out great, though.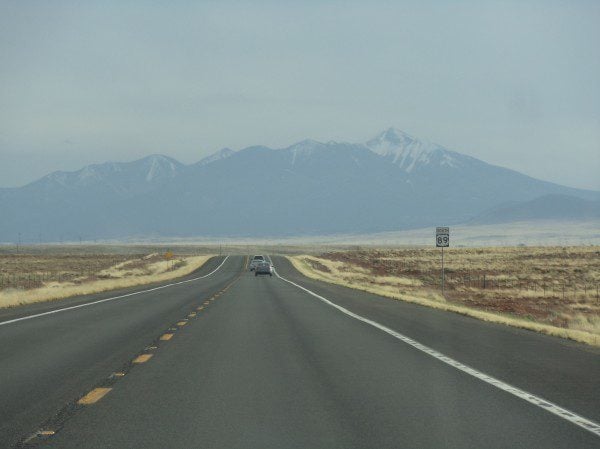 Flagstaff lies at the foothills of the San Francisco Peaks with Mount Humphreys dominating the skyline at over 3,000 meters. It's the main town in northern Arizona and has a rough feel to it as you would expect from a country town, with miles of train tracks rolling through the outskirts of town with its low-lying buildings and freight trains as long as the eye can see. Yet, at the same time, it also has a great vibe to it thanks to Northern Arizona University which is located here. It's also home to a great ski park which gets quite busy when there's snow so this town packs everything in just a few square miles.
There are lots of accommodation options here and we pre-booked at The Hotel Aspen Flagstaff, which wasn't right in the middle of downtown but was in a good enough location and at a great price (our Monument Valley and Grand Canyon accommodations were quite expensive). We didn't expect much from this place at $68 per night including breakfast but when we entered the 'executive king suite', we were pleasantly surprised. We pretty much had a small apartment, complete with a kitchen, living room, a comfortable bed, and even a jacuzzi smack in the middle of the bedroom. It wasn't a 5-star stay but we enjoyed this place.
Probably the Best Burger
For dinner, you have a lot of options downtown, and continuing with the burger theme, we asked around for the best burger joint in Flagstaff.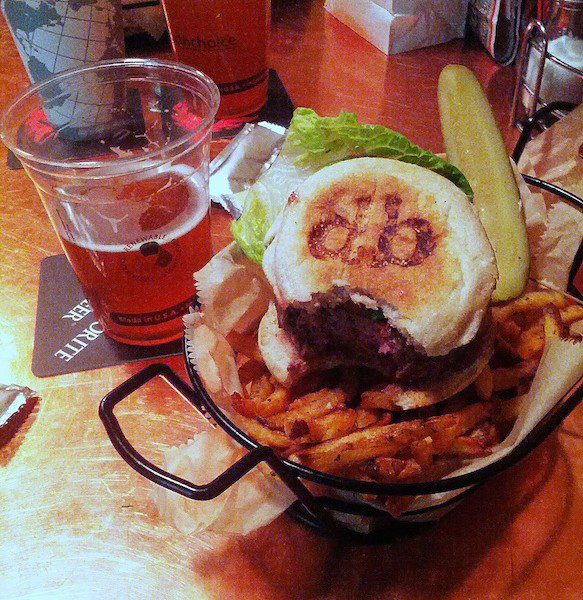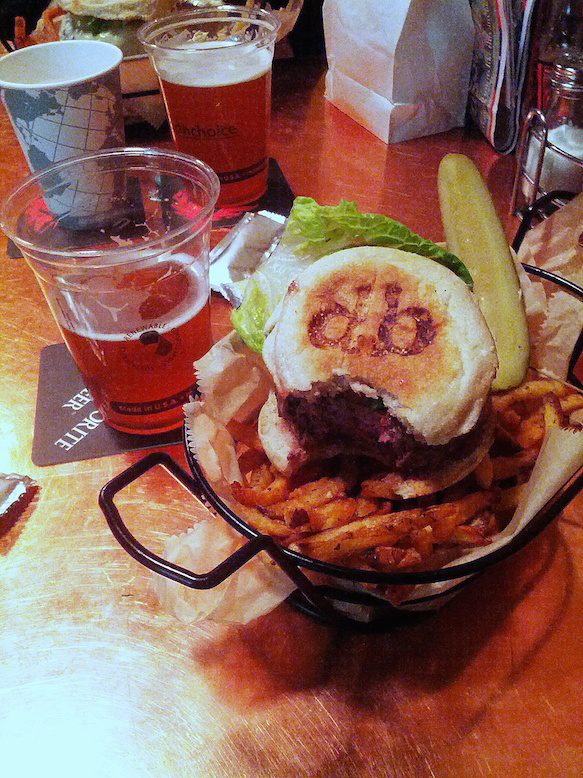 We were recommended to head over to Diablo Burger on 120 N. Leroux St, which is a favorite among locals and students alike and these guys do know a thing or two about burgers. This tiny burger joint serves excellent burgers. These babies were some of the best we've ever had and the college student staff were so friendly.
Heading back to the car, we were lured by our sweet tooths into The Sweet Shoppe & Nut House on 15 Aspen St. We simply couldn't resist the sight of the finely made chocolates here. And did I already mention that people are friendly around here? We pretty much got to taste a dozen or so samples before choosing and stocked up for the drive the next day. Try the chocolate-covered marshmallows, delicious. We love Flagstaff.
While The Hotel Aspen Flagstaff is great, their breakfast is not amazing so we headed over to Macy's European Coffee House & Bakery, just across the train tracks. This place serves real coffee, which is pretty hard to find in the US. There's a great college vibe here and locals pack this place. It also has excellent wi-fi, which probably keeps the crowds inside.
Our next stop would be Grand Canyon!
Any Regrets?
As I mentioned, we planned to drive the stretch of HWY 89A from Kanab to Page via the Vermillion Cliffs and drive along these beautiful red cliffs. While you could spend a day or two inside this park, we simply wanted to enjoy this scenic drive. However, we were forced to detour because of major roadworks, missing this opportunity.
Right outside the town of Page and two hours west of Monument Valley is Antelope Canyon. It's one of the most photographed places in the American Southwest and you'll surely recognize some of the sights. This narrow canyon is best visited when the sun is just right so you have to plan for this and hope it fits with your plan.
Only 44 miles east of Flagstaff is Meteor Crater, a huge crater caused by a slamming meteorite over 20,000 years ago which caused this massive hole that's 1.2 km in diameter and 170 meters deep. It looks cool in the pictures but with a full day planned in Grand Canyon, you need an extra day to explore the region around Flagstaff.
Part 3: The Grand Canyon (1 Day)
The next leg of this road trip takes us to one of the greatest natural sites on the planet where we'll overnight and spend a full day exploring The Grand Canyon.
Flagstaff to Grand Canyon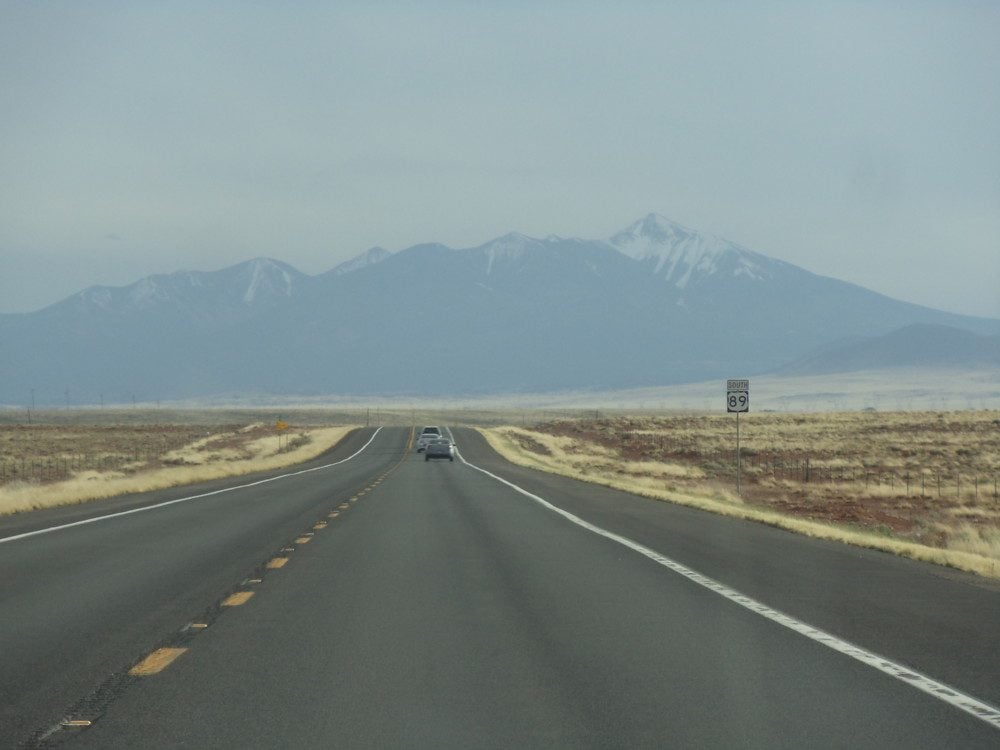 We were now on our way from Flagstaff to Grand Canyon and a 75 mile or 1 hour and 15-minute drive. Heading north out of Flagstaff on HWY 180, the road twists and turns through the alpine forest and you get a chance to see beautiful ski cabins, vast ranches, and the San Francisco Peaks. HWY 180 eventually becomes HWY 64 and that takes you over a long stretch of straight road right into the entrance of Grand Canyon National Park ($25 per vehicle, valid for 7 days).
There is no doubt about the Grand Canyon's spot in the shortlist of 'seven natural wonders of the world'. Carved over millions of years by the mighty Colorado River, the canyon runs for 277 miles and is 18 miles wide from north to south rims. This epic geological transformation has left its mark and layer after layer of uniquely colored rock, swerving across the rims in the contour of the sculpting Colorado River, reveals the process that has taken place here. In all this space, dozens of animal and plant species thrive, making Grand Canyon a mecca for travelers from around the world.
It's So Big… What Should I See?
Most visitors spend their time at Grand Canyon on the south rim, which is more accessible and with all the facilities. It's also the home of Grand Canyon Village, where the tourist rush to Grand Canyon pretty much started. More on that later. The north rim is much harder to get to and involves a considerable amount of driving, even if it does look pretty close when you look at it from the south rim. It also doesn't have many facilities and is more suited for trekking (you can trek there from the south rim). The advantage with the north rim is that not too many people make it there, especially not the busloads of tourists that you'll come across in the south rim. But not to worry, there are plenty of quiet spots on the south rim.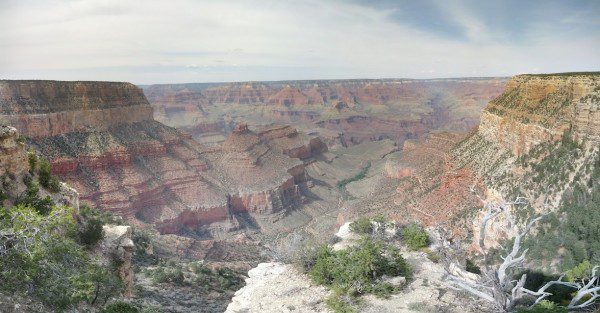 Speaking of quiet spots, once you've had a short stop at the visitors center (grab a map and talk to the friendly rangers to get some tips), hop back into the car and head out to Desert Drive. This is a 23 mile signposted road that offers excellent viewing spots of the canyon. It officially ends at Desert View with its famous watchtower but will eventually take you east along HWY 64, connecting with HWY 89, north to Page or south to Flagstaff. Each viewing spot along the way offers a different vantage point and the further you head east, the fewer visitors you'll encounter.
We started with a stop at Yaki Point followed by a stop at Shoshone Point, which after a short stroll, offers excellent views. You might even find a spot all to yourself.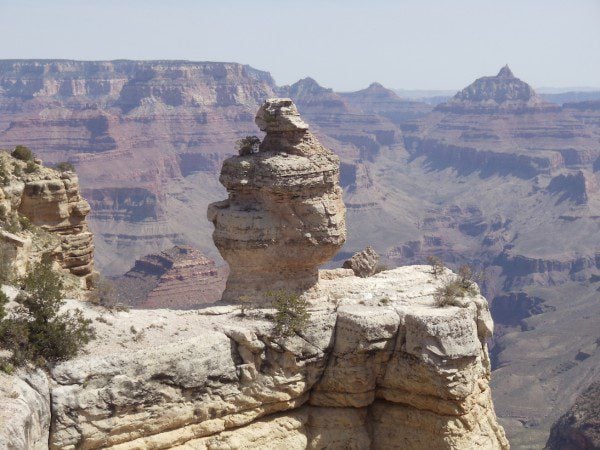 We then continued to Grandview Point, where the views are excellent and you can catch your first glimpse of the Colorado River just below. You can also walk down along the path and find your very own rocky spot to relax and enjoy the view.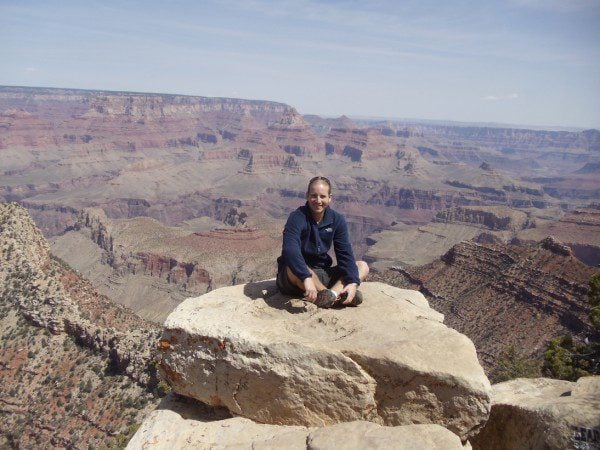 We could have continued to Desert View at this point, but decided to head back towards the visitors center and start to explore the western side of the south rim. Mather Point is just across from the main car park and though you have to jostle your way amongst the crowds, it offers excellent and sweeping views of the Grand Canyon. There are also a few smaller lookout points spread around this area, easily accessible and also with excellent (yet crowded) views.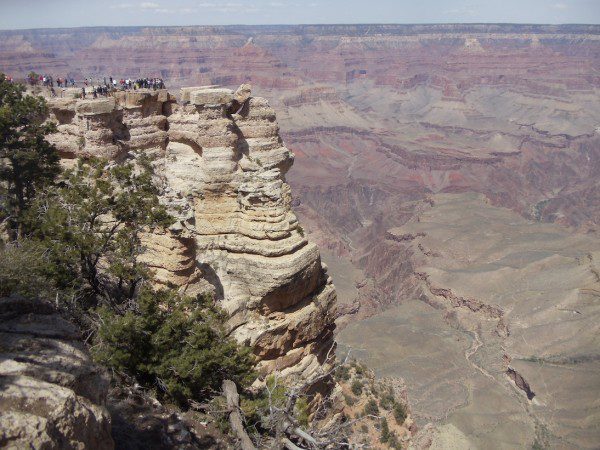 We left the car in the car park at this point and started walking along the south rim with a plan to eventually get to The Abyss viewpoint, 4.5 miles away. While Desert View is accessible by car throughout the year, the western part of the south rim is accessible during the high season only with the park's shuttle. These shuttles are free, efficient, and run in several lines reaching most parts of the south rim. Depending on where you wish to go, you may have to transfer lines at Grand Canyon Village. More on that later.
Our first stop on this walking tour was Yavapai Viewpoint, which offers wide and long-range views of the canyon and river. Next up was Grandeur Point, where you can start to see the famous Bright Angel Trail snaking its way down to the canyon floor.
By now, you'll pretty much be inside Grand Canyon Village, a small community built around the tourist facilities here. The view is not amazing here but it's a good time to rest and grab lunch. Unless you fancy eating in one of the restaurants here (or grabbing a beer), there aren't many good casual options so you may want to bring your own lunch. The cafeteria-style places are very overpriced and the quality is low. It is, however, worth checking out the historic El Tovar Hotel, which pretty much started everything around here. It feels like a warm mountain cabin, with wooden beams and stuffed animal heads 'decorating' the walls.
We then officially started to walk along Hermit Road, which is the 8 mile equivalent of Desert Drive, just on the western side of the south rim. It runs to Hermit's Rest where the road simply ends. You can hop on one of the shuttle lines, which drives from Grand Canyon Village to Hermit's Rest and back.
Our first stop was Trailview Overlook, which gives you a great view of the starting point of the Bright Angel Trail. This legendary 8-mile trail twists its way down to the canyon floor and the Colorado River. Depending on the time of day, at Trailview Overlook, you'll either see excited trekkers head out on their adventure or completely exhausted yet satisfied folks making their way back to civilization.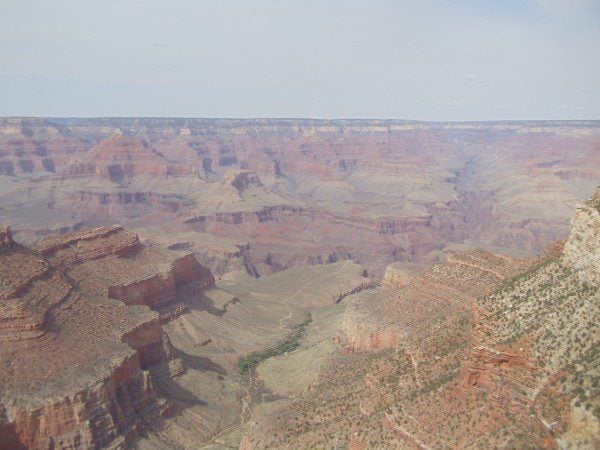 We then continued to The Abyss, stopping by at Maricopa Point, Powell Point and briefly at Hopi Point as we would come back here for the sunset. In some of these spots, you can see the Colorado River. After Hopi Point, we found ourselves pretty much alone on the Hermit Trail and had the Grand Canyon all to ourselves.

The Abyss is the furthest spot we've reached. You'll find yourself on the edge of a 900-meter chasm that plunges to the canyon floor. You'll also see interesting rock columns formed in the sandstone, some of them quite large.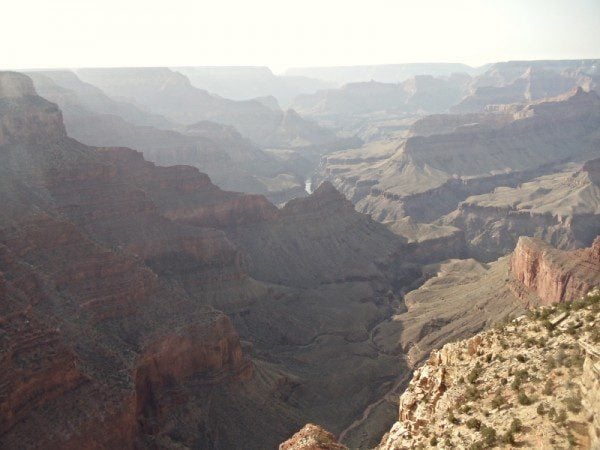 Sunset in the Grand Canyon
It was almost time for sunset (check out times here) so we headed back to nearby Hopi Point which is one the best spots for viewing the sunset in Grand Canyon. You want to get here early as not only does this place get very crowded with visitors like yourself and amateur photographers, but also because the real show is the actual transformation that the canyon undergoes. As the sun sets, the rocks emit different shades of red, orange, white, and even pink. This moment is not to be missed if you visit Grand Canyon – simply amazing.
As soon the sun sets, it gets pretty chilly out here (it was April) and you won't be the only one waiting for the shuttle so pack warm layers with you. Because we parked the car in the visitor's car park, we had to transfer lines in Grand Canyon Village. The shuttles are very efficient so you won't have to wait for too long (or wait at all).

We were lucky to find an overnight spot in one of the lodges (booked in advance) and checked into Yavapai Lodge. There are quite a few lodging options in Grand Canyon, some more upscale than others, some with a few and some without. If you want to spend a full day at Grand Canyon and especially if you want to see the sunset without a long drive afterward, book a room in one of the lodges inside the park. The Yavapai Lodge is spread across several flat buildings. The room was great, with an excellent shower and a comfy bed ($166 per night). It was worth it to stay here.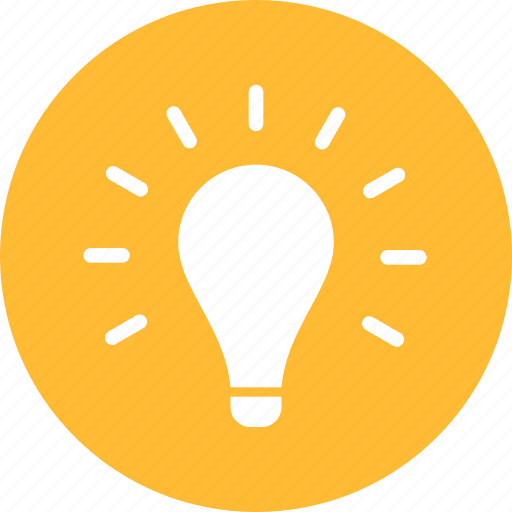 As for dinner, there aren't too many options in the village. You can go upscale and dine at the El Tovar Hotel (book in advance) but we headed back to the Bright Angel Lodge and the Arizona Room. No reservations were required here and this place serves traditional meets in a nice setting. We tried a few cocktails but they were not well prepared but the food was good, even if a bit pricey. Overall, it was a good choice as it was a great ending to a memorable day at Grand Canyon, a definite highlight in any southwest USA travel plan.
Any Regrets
It would have been great to have an extra full day to take the Bright Angel Trail. It's not possible to explore the rim and do the trail on one day. If you don't have enough time for a trek, exploring the southern rim is a smart option.
Don't get me wrong here, Grand Canyon is amazing. However, after coming from Monument Valley, which is remote and different than anything else, it felt like a bit of an anti-climax at Grand Canyon. But that's just our opinion.
Part 4: Route 66 and Las Vegas (1 Day)
The last leg of this Southwest USA road trip takes us on a beautiful stretch of The Mother Road back to Las Vegas.
Grand Canyon Village to Route 66
The next day we would head back to Las Vegas via a short stretch of the legendary Route 66. We had breakfast at the Maswik Cafeteria near our lodge which wasn't very good. There is a supermarket next door if you want to buy something else.
Route 66 is an old 4,000 km rural highway that pretty much connects Chicago to Los Angeles via small (and now forgotten) American towns. Parts of it merge into today's modern highway system and some parts are left untouched. It's those stretches that most people picture in their minds when they think about Route 66, 'America's main street'.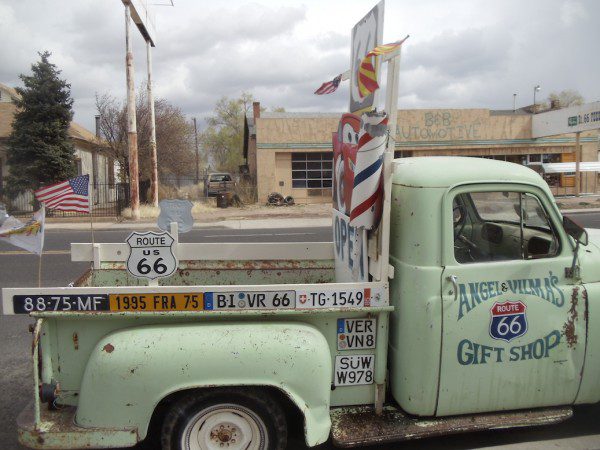 We drove on HWY 64 out of Grand Canyon towards Interstate 40 and got off at exit 121 heading towards Seligman. Right when you exit, you get the feeling of driving on that iconic stretch of road and Seligman makes for an interesting stop. It pretty much lives off the notoriety of Route 66 which is so famous in popular culture.
We stopped here for a stroll on a windy day and the tumbleweed in the streets, along with bikers riding through town on their choppers, only further added to that special feeling. Pretty much all the businesses here do their best to give off that 1950s vibe. You'll see plenty of old Coca-Cola signs, antique fuel pumps, root beer machines, and whatnot. It's quite cool and there aren't too many people around. We stopped for some coffee at the Route 66 Roadrunner.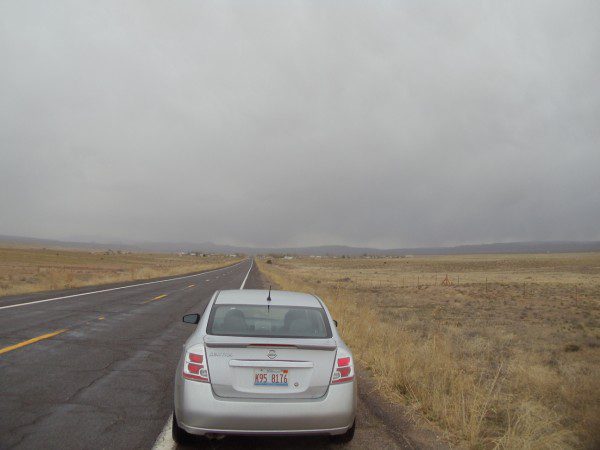 We continued along this isolated stretch of Route 66 which takes you through some lovely countryside scenery. Be sure to have some gas in the tank, as the few options around here are quite expensive. We stopped by in an old gas station turned into an antique museum/convenience store. This place was full of antique cars, fuel pumps, and other such memorabilia.
Greasy, Yet Delicious Lunch
Eventually, we reached Kingman. That stretch of Route 66 from Seligman, will take you about an hour to drive. In Kingman, we stopped for a late lunch at Mr. D'z Route 66 Diner. As you may have guessed, this is a 1950's style diner serving burgers and milkshakes amongst other things. Drop a quarter into the jukebox and enjoy your lunch!
Route 66 to Las Vegas
From Kingman, it was a nonstop 90-minute drive to Las Vegas on HWY 93. The road takes you right over Hoover Dam just before you reach Henderson. If you want to stop and have a look, be sure to get off the highway at Kingman Wash Access Rd and drive to the visitors center. We, unfortunately, missed it and it was not possible to turn back for the next few miles so we had to see the dam from … our rearview mirror.
We dropped the car off at Harrah's and checked in. What's great at these car rental locations, is that you can simply drop off the keys after hours and you're not bound by the closing times of the branch. This ain't the Palazzo and the crowds are certainly different but for $130, we got upgraded to a massive room. Harrah's casino certainly could use a renovation but the room itself was terrific. It is one of the 'old school' Vegas hotels though not as old school as The Sands or Dunes which have long been demolished.
We headed over to the Fashion Show Mall for some last-minute shopping and ended our Southwest USA visit cocktails and blackjack at the Paris Hotel.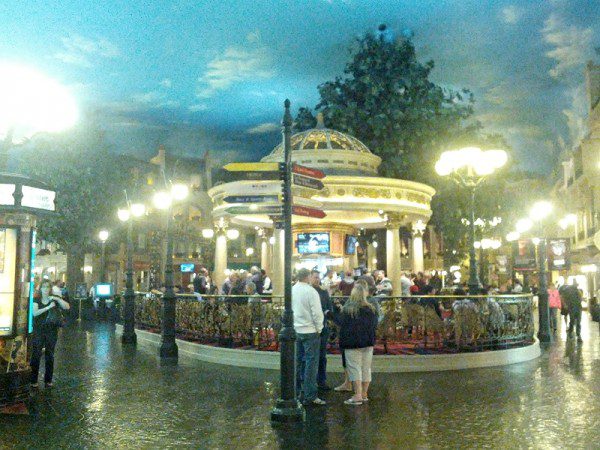 Our trip was officially over but we were treated to excellent views of some of the sites we visited from the plane.
Any Regrets
We missed stopping over at Hoover Dam. It's quite tricky to get there if you're coming from the south.
We wanted to check out Gordon Ramsay Steak at the Paris Hotel as we heard the food is great but we were still so stuffed from the diner food we had for lunch.
We would have loved to check out the Fremont Street Experience which is pretty much a stretch of old downtown Las Vegas street that's been covered in a neon light show.