It was no easy task, but to mark my 40th birthday and my father's 80th, I finally managed to convince my mother to overcome her dislike for extremely long flights and finally say "yes" to a trip to the islands of Tahiti and French Polynesia. After all, for the past seven years, my family has heard countless stories about my endeavors in the South Seas, so it was the right time to show them what all the fuss is about.
We recently returned from this once-in-a-lifetime family trip after visiting four islands in the Society Islands archipelago, each with its distinctive personality. It was my sixth visit to French Polynesia but their first, so I was curious to see if the spark I felt during my first visit would also appear in their eyes.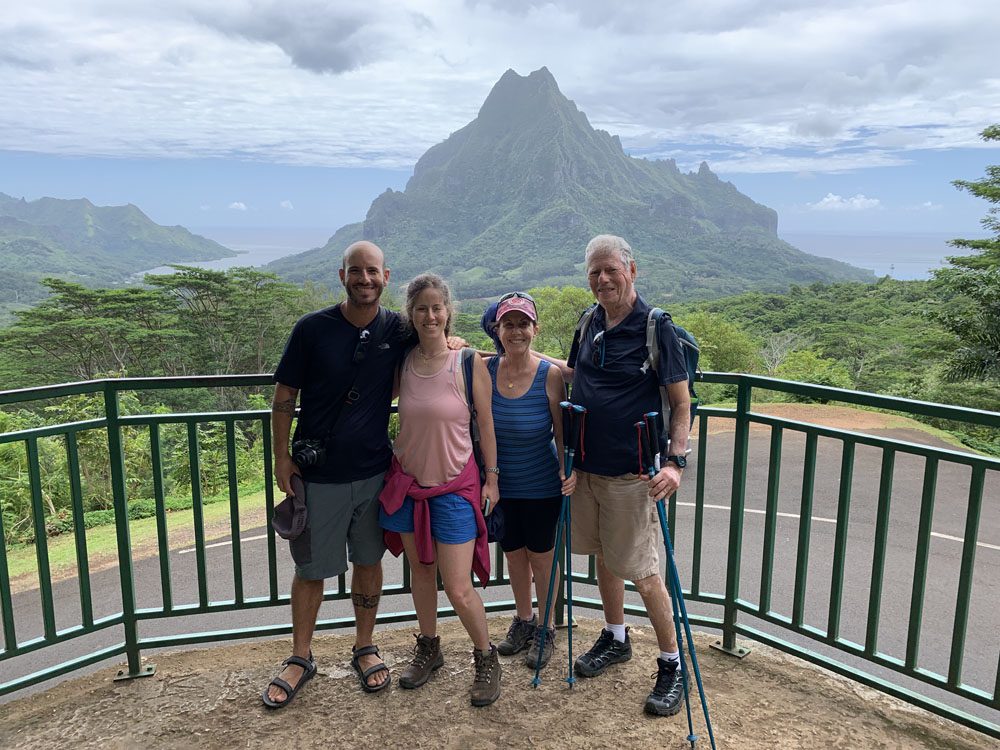 Heading off to French Polynesia? In-depth island guides to all 5 archipelagos await you, including sample itineraries and essential travel tips & tricks.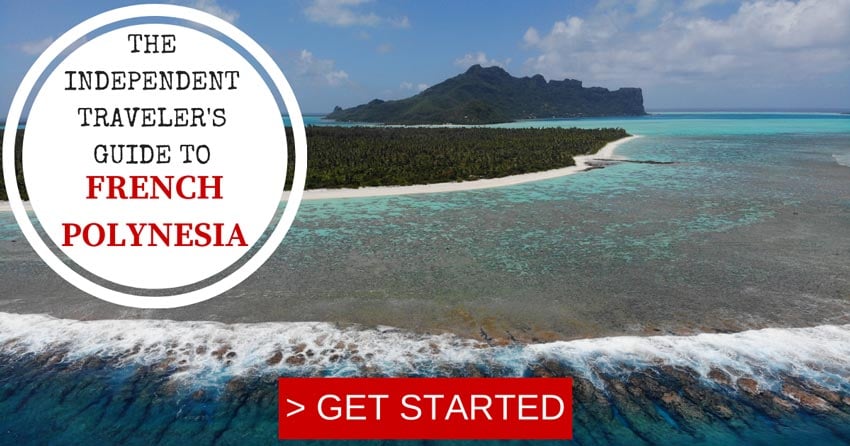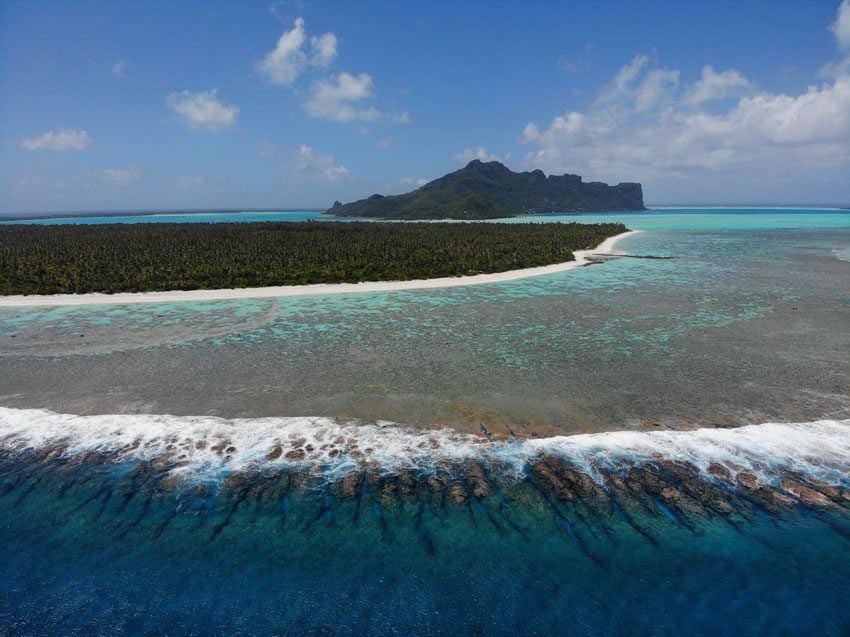 Tahiti, Tailor Made!
The Islands of Tahiti are among the last places to be colonized by mankind, 118 islands, each with their unique personality.
Get expert advice and assistance with planning your trip to the destination where tropical dreams come true!
See Options
Here are the main highlights from paradise.
Tahiti: the Queen Island
Every trip to French Polynesia begins in Tahiti, the territory's main island and international gateway. Tahiti is home to nearly 70% of French Polynesia's population of 280,000, comprising two islands "joined at the hip," Tahiti Nui ("big" Tahiti) and Tahiti Iti ("little" Tahiti).
We started the journey with four nights at the Te Moana Resort on the island's west coast. The resort is perfectly positioned for magical sunsets, with the neighboring island Moorea providing the perfect backdrop.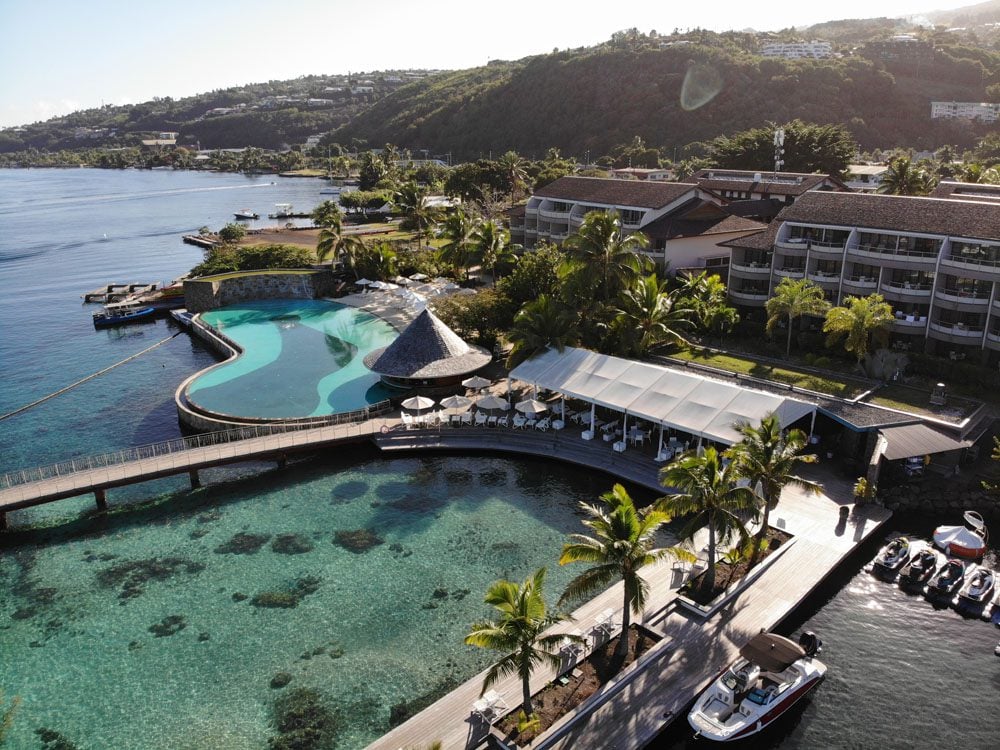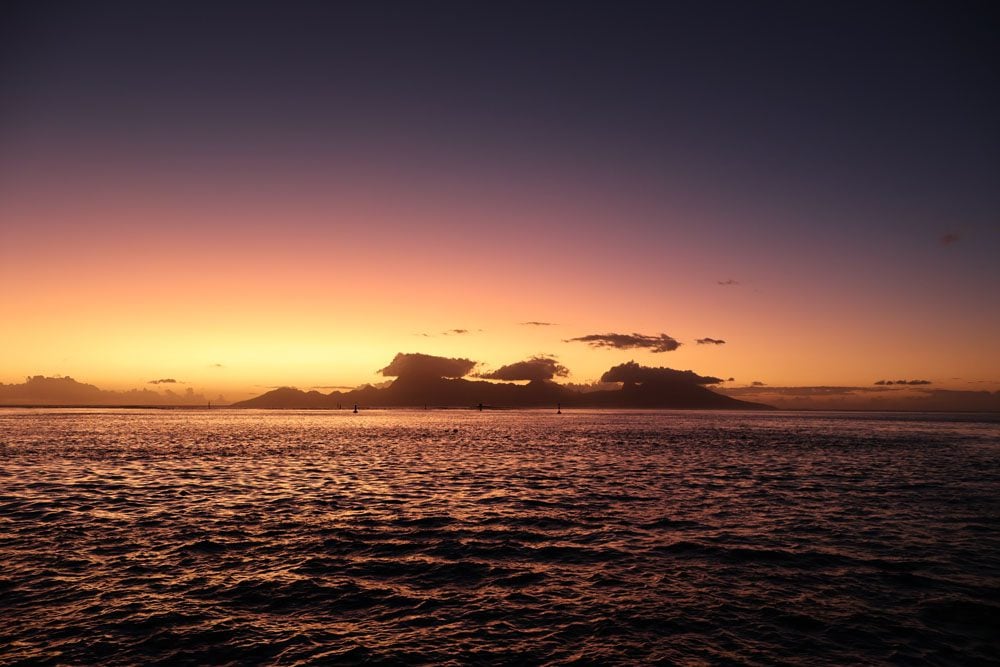 Papenoo Valley
On our first full day of sightseeing, I reconnected with my good friend Olivier Lenoir for a long 4X4 journey through Papenoo Valley and the uninhabited center of Tahiti. The lush valley is home to French Polynesia's longest river and plays a key part in draining massive quantities of rainfall that soak Tahiti's high peaks around its former caldera.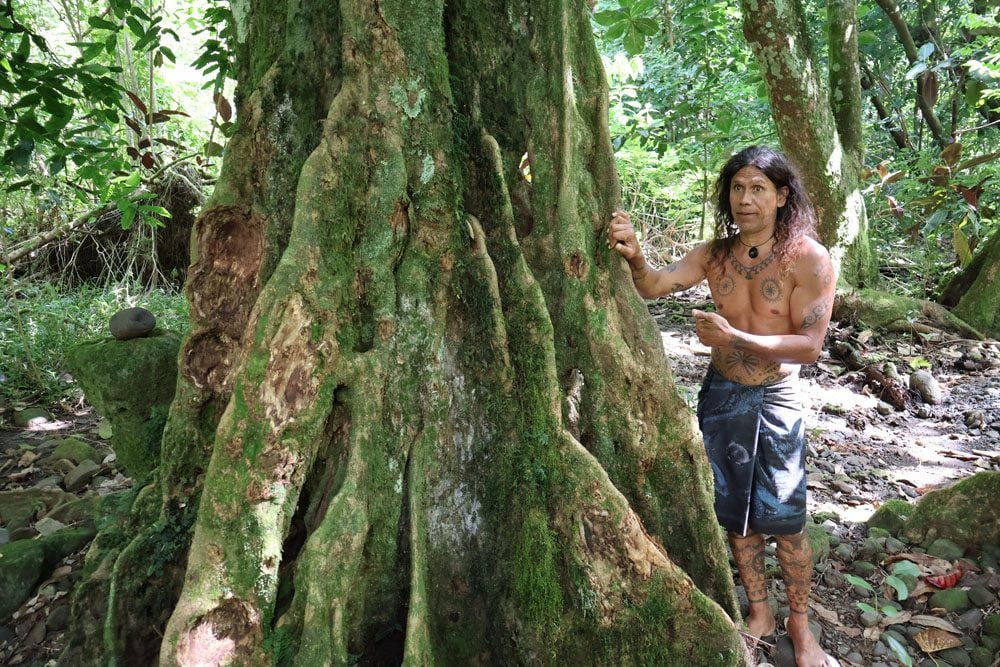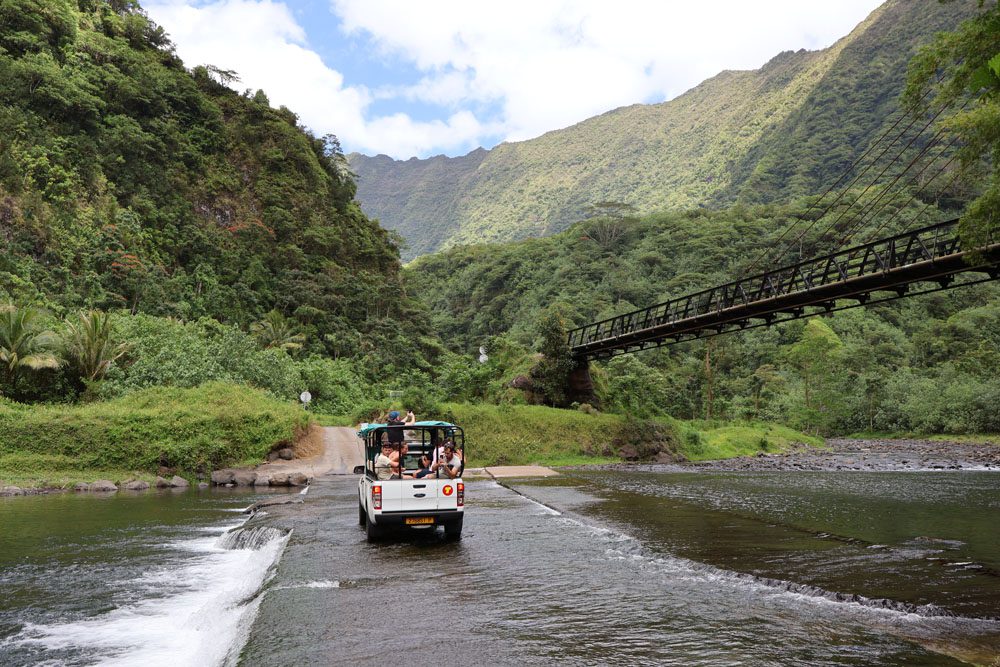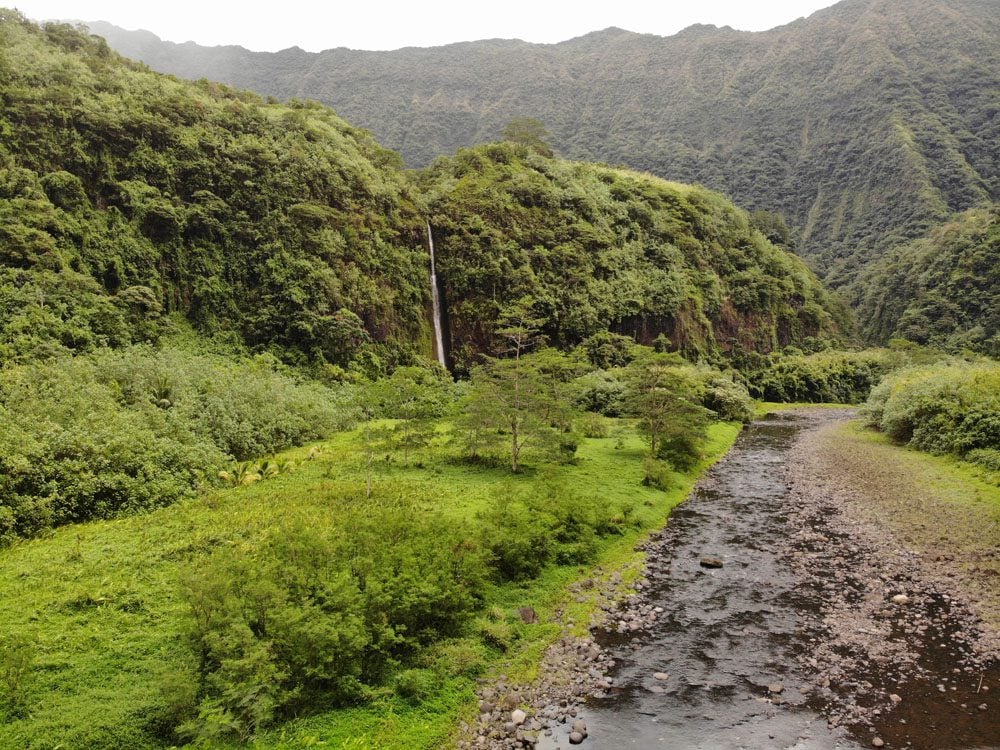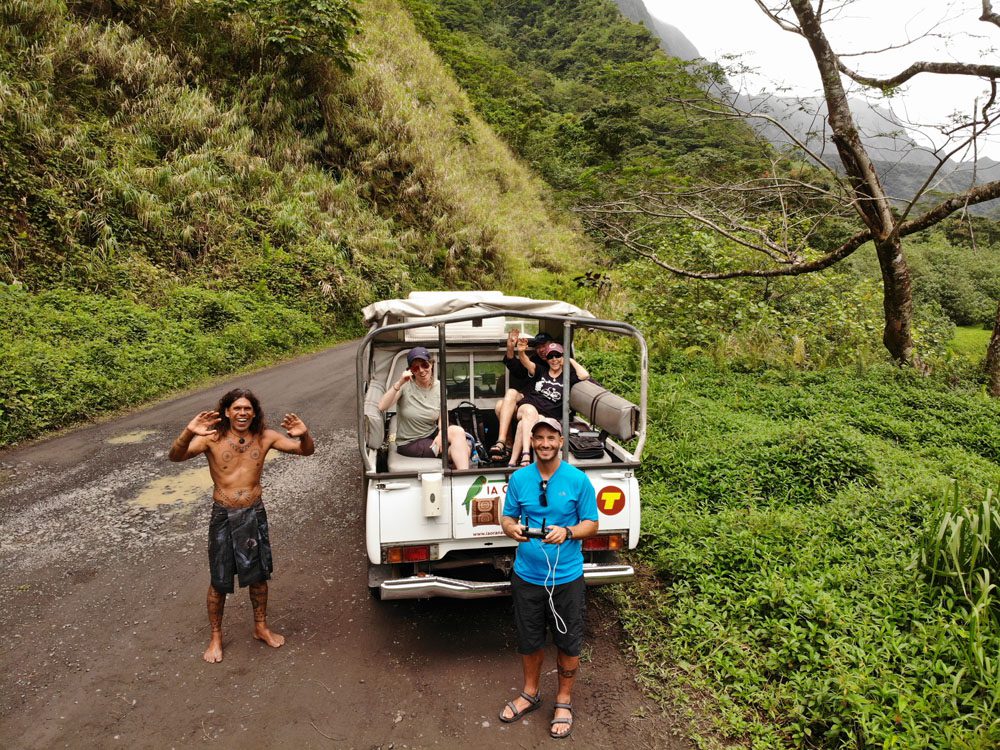 Like many other valleys in Polynesia, Papenoo Valley was once home to a large population, but there's little left apart from a few ancient relics. Taking advantage of a short tunnel dug by sheer human force, we crossed the central mountain peak to magical Lake Vaihiria before reconnecting with the circle island road on the west coast.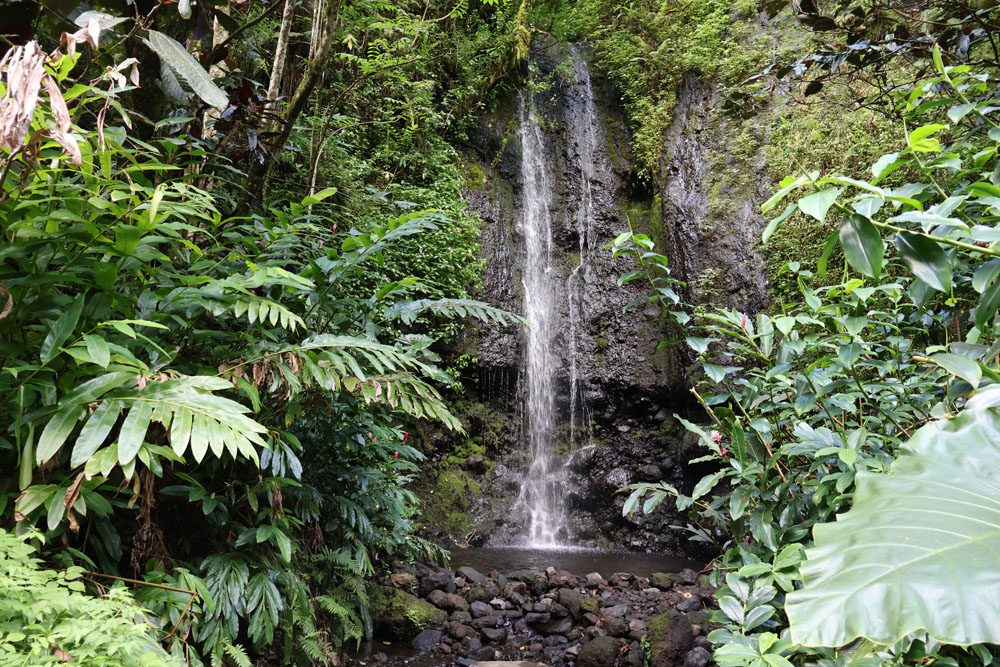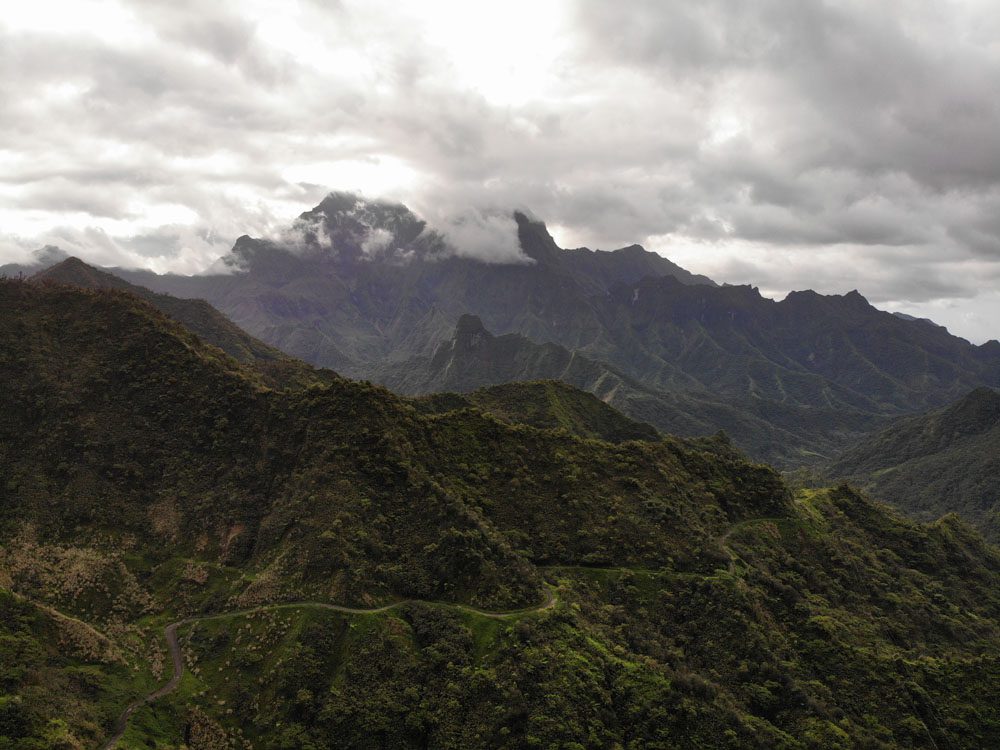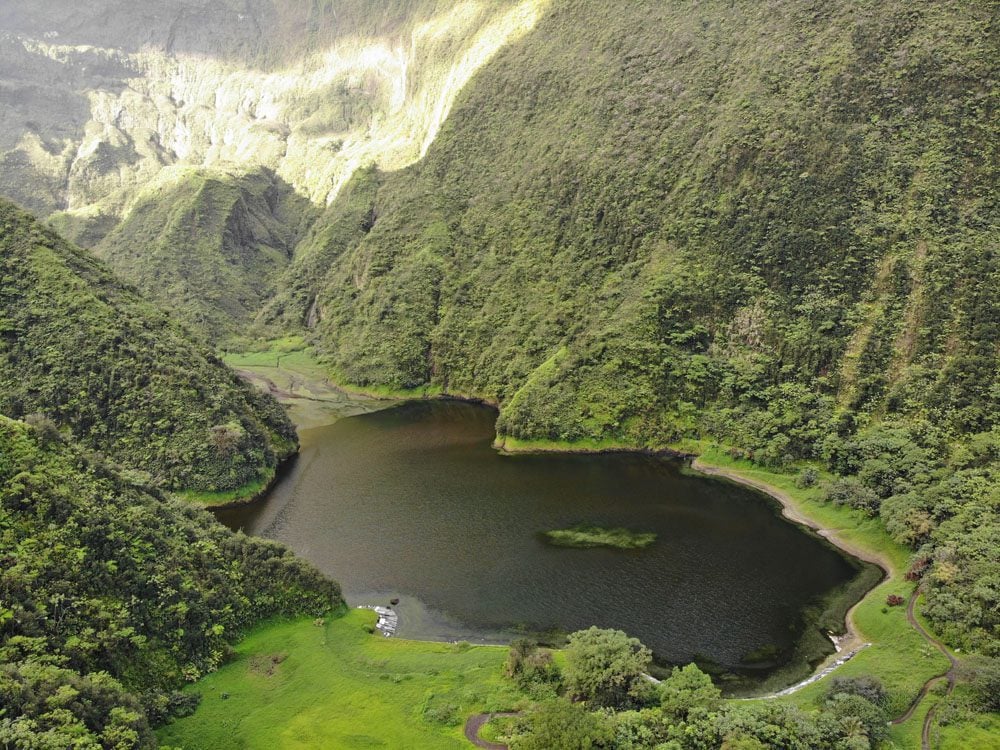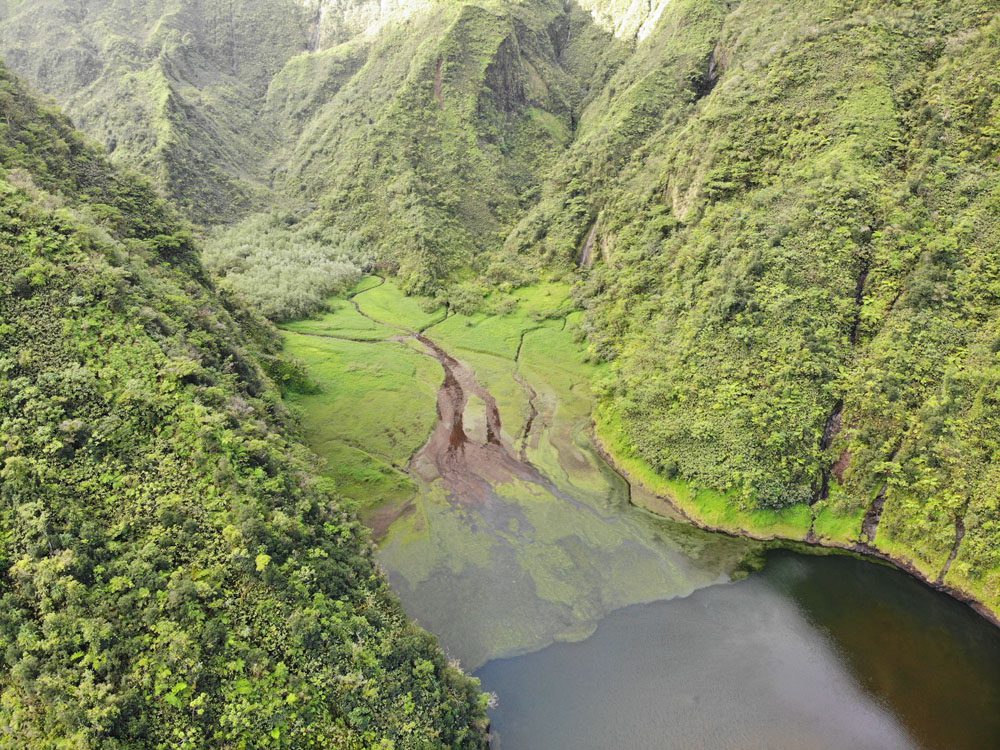 West Coast Road Trip
We rented a car for the next two days to explore Tahiti's beautiful coastline. We first started with the island's west coast, road tripping from our resort near Papeete to the end of the paved road in the legendary surfing village of Teahupoo.
Highlights included Tahiti's most impressive archaeological site at Marae Arahurahu, the Eden-like cave pools at Maraa Grotto, the sizzling black sand beach in Papara, and the tranquil sliver of white sand in Plage de Maui, where we also paused for lunch. Finally, we ended the road trip in Teahupoo, just as surfers were boarding boats en route to the famous waves.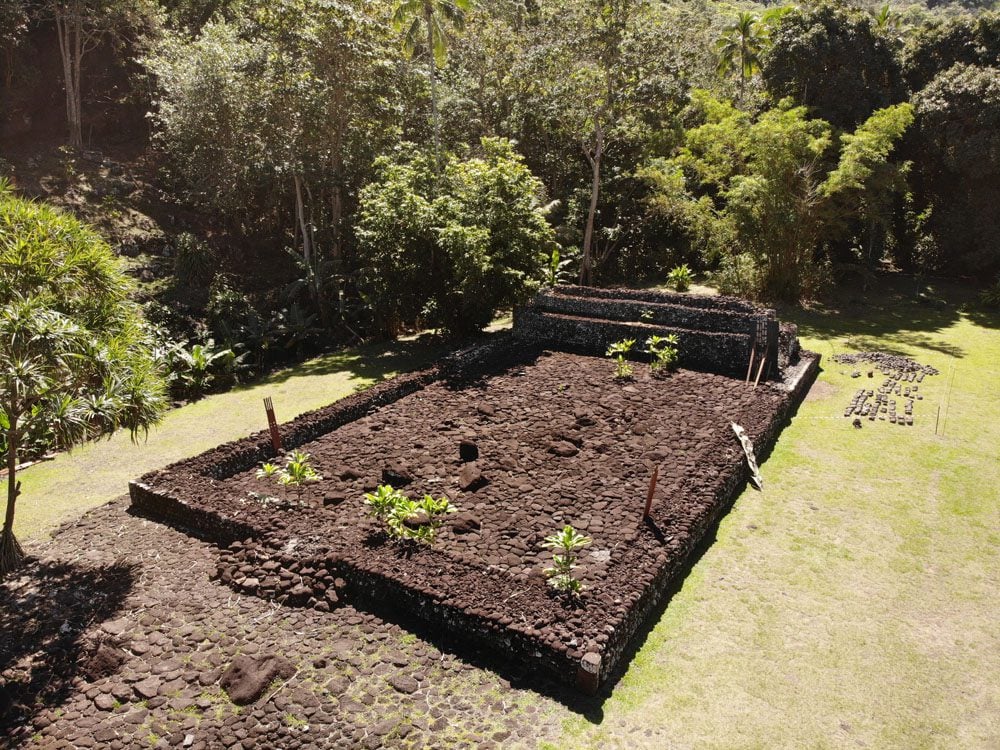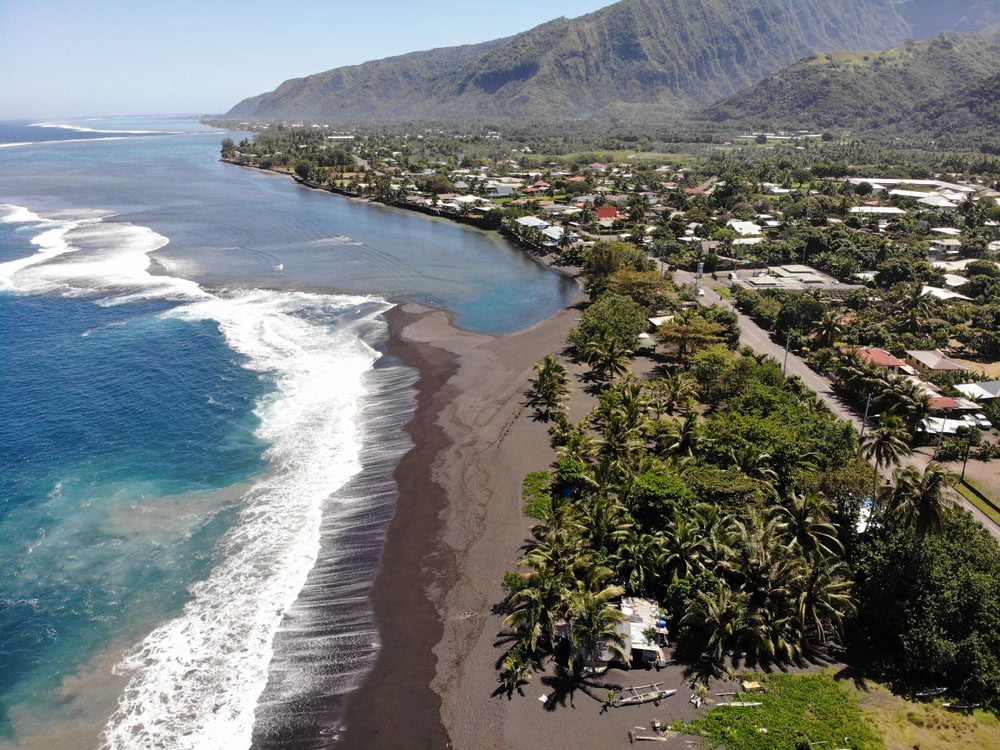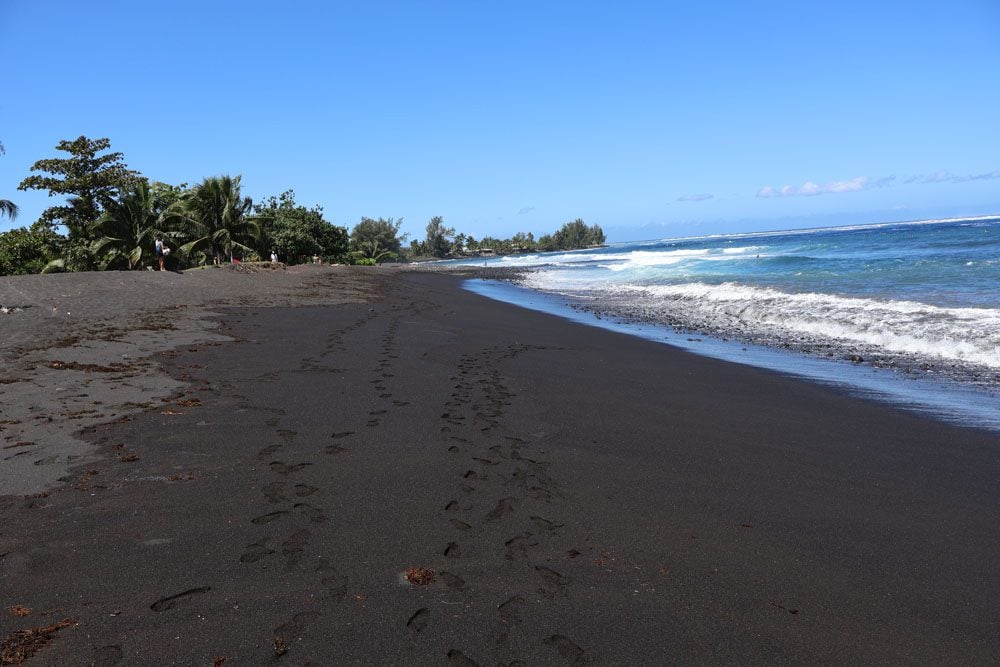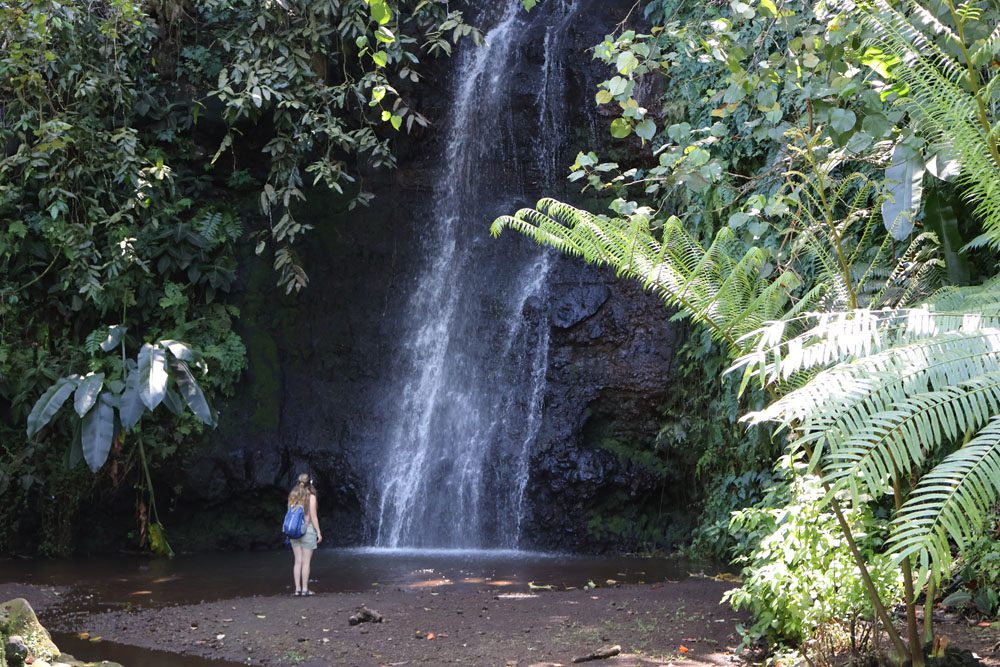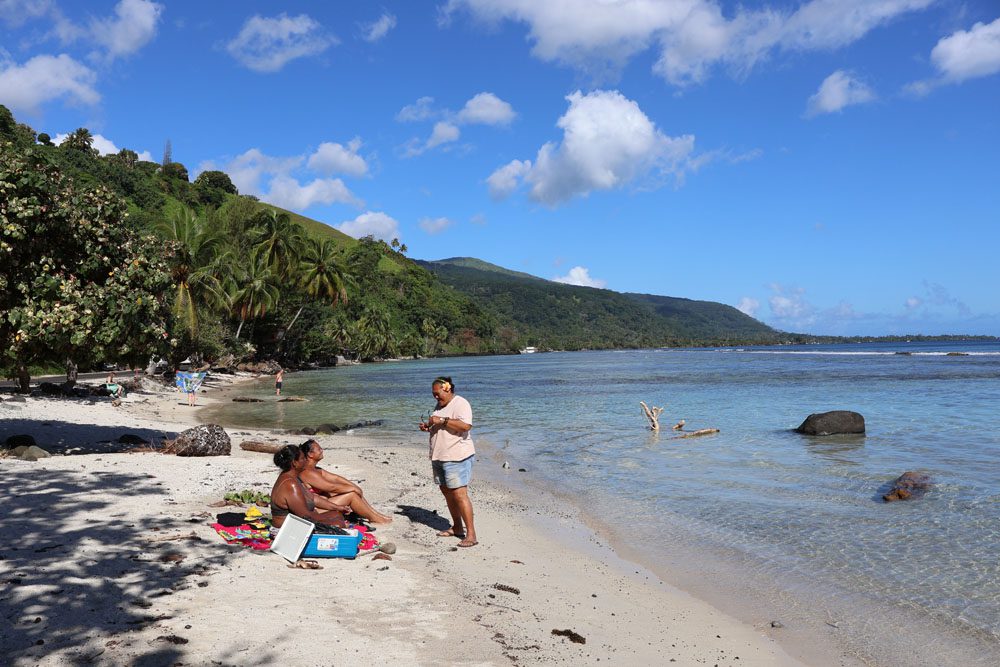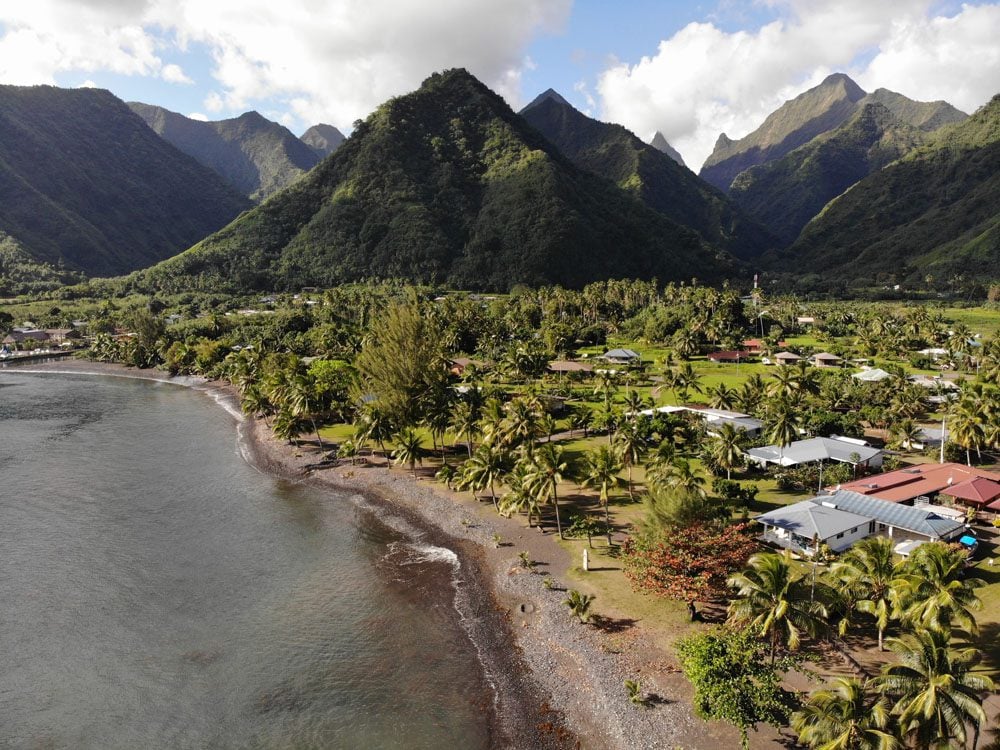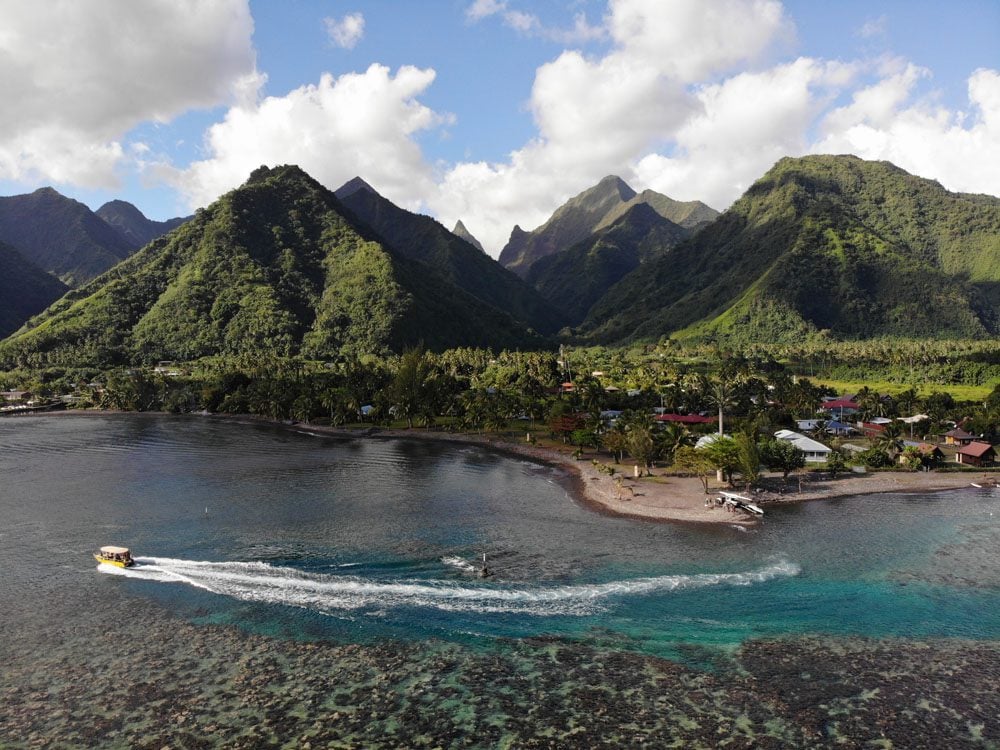 East Coast Road Trip
We started our final day in Tahiti at the Papeete Market, shopping for souvenirs and a picnic lunch. After picking up some fresh juice, coconut bread, breadfruit chips, and tropical fruit, we set out to explore the wild east coast.
Our first stop involved a slight detour up the mountain towards the O Belvedere restaurant for sensational views of the coastline and Tahiti's famous rocky crown (Le Diademe). Then, back on the coast, we visited Pointe Venus, where the first European explorers and the likes of Captain Cook, William Bligh, and Christian missionaries made landfall.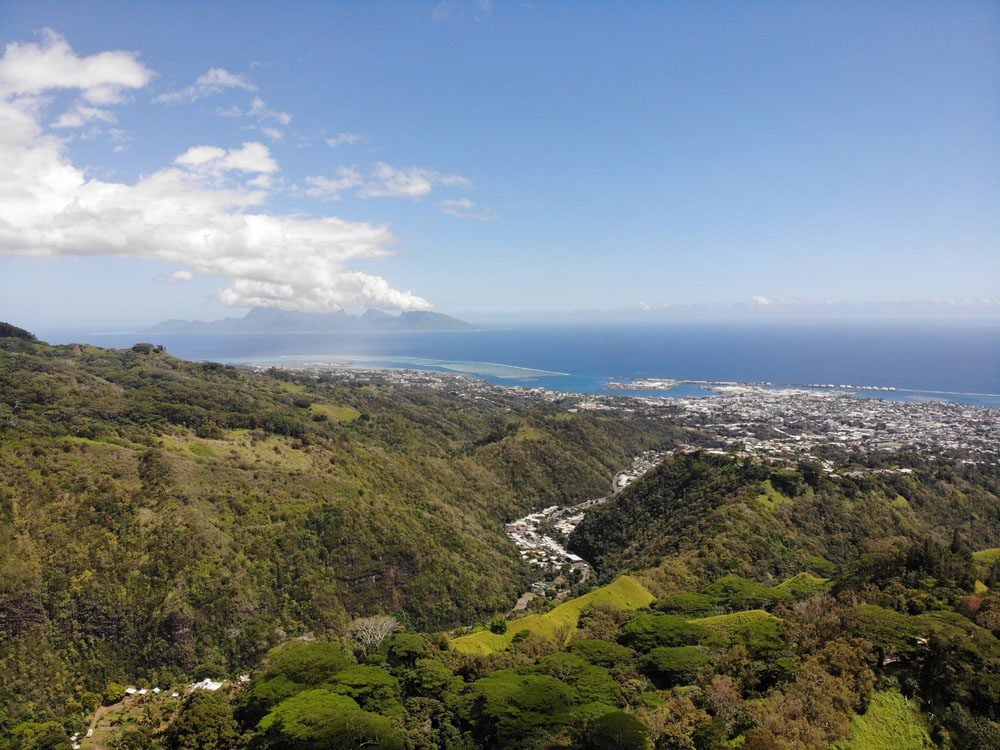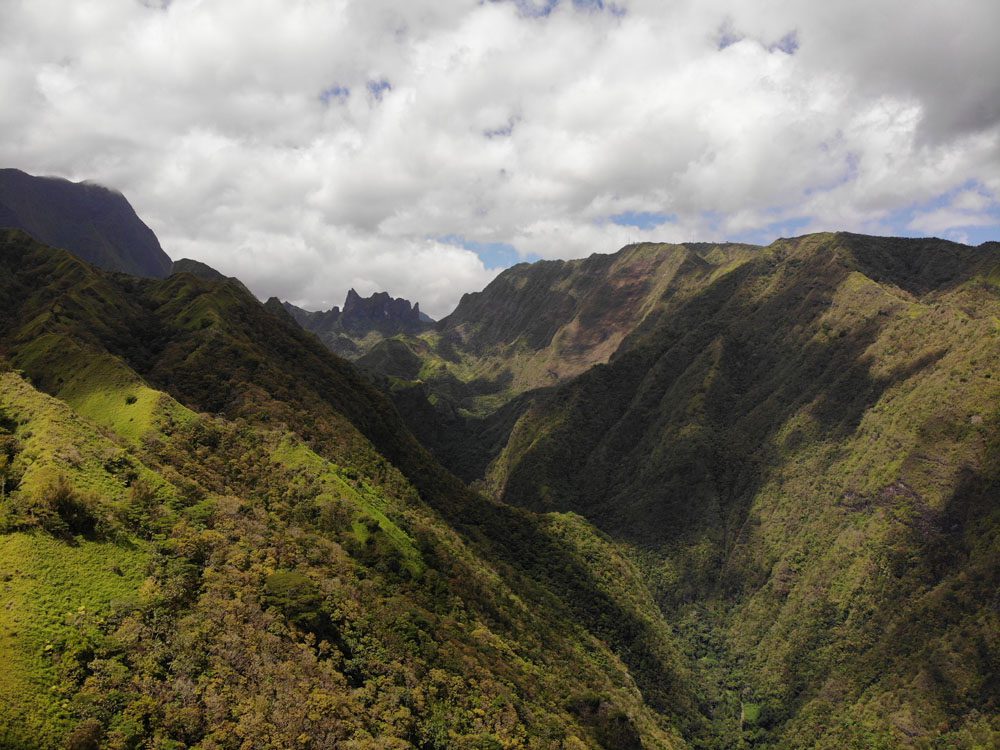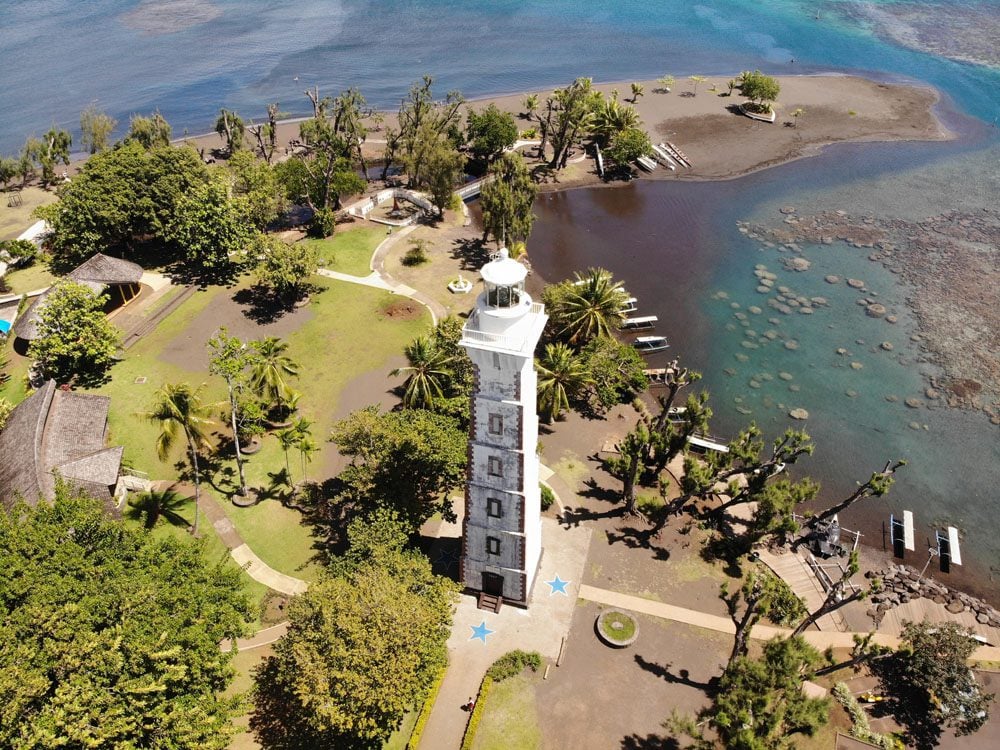 Beyond Pointe Venus, the coastal road is often tightly squeezed by the Pacific and the mountains. There isn't much of a lagoon on this side of the island, but the black sand beaches and tranquil villages are more than enough to keep the eyes busy. After a short hike to check out Faarumai Waterfall, we ended the trip at Tautira. The peninsula's black sand beach overlooks majestic deep valleys shaded by jagged emerald peaks.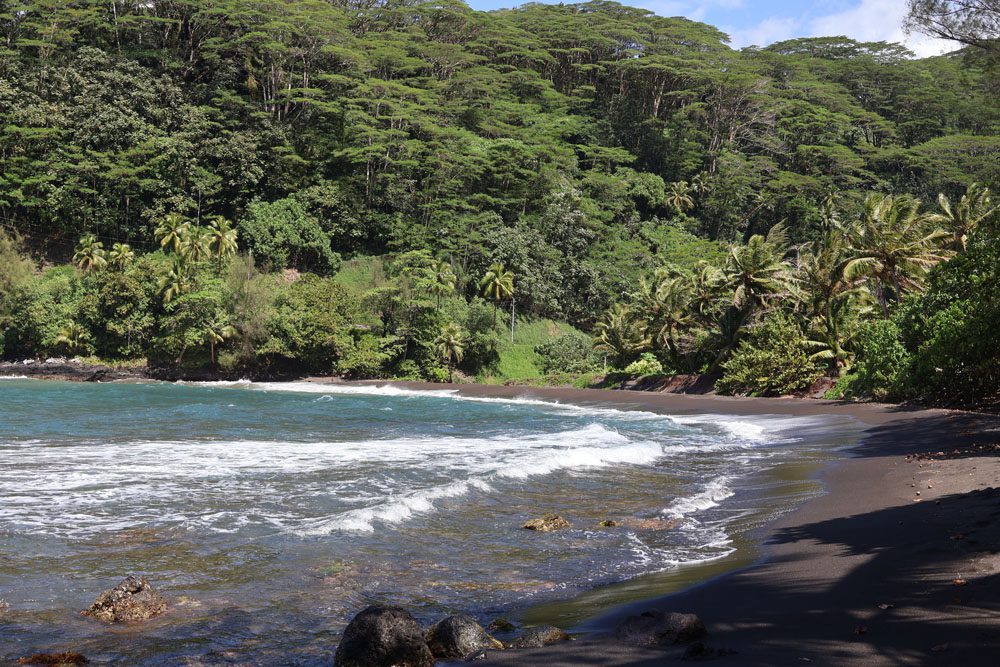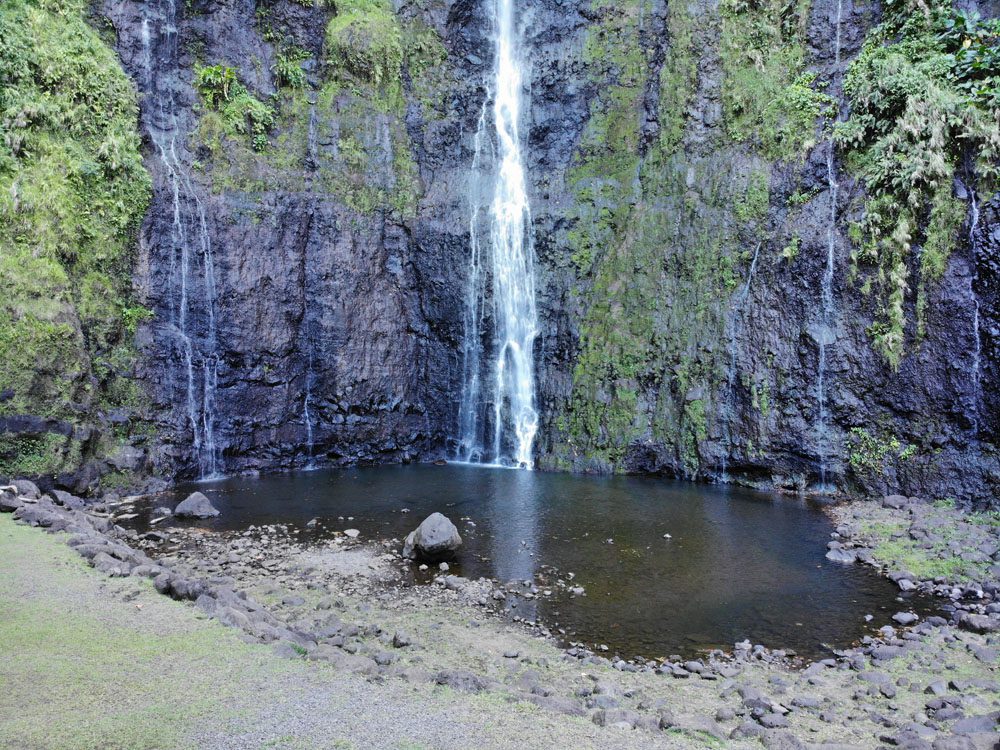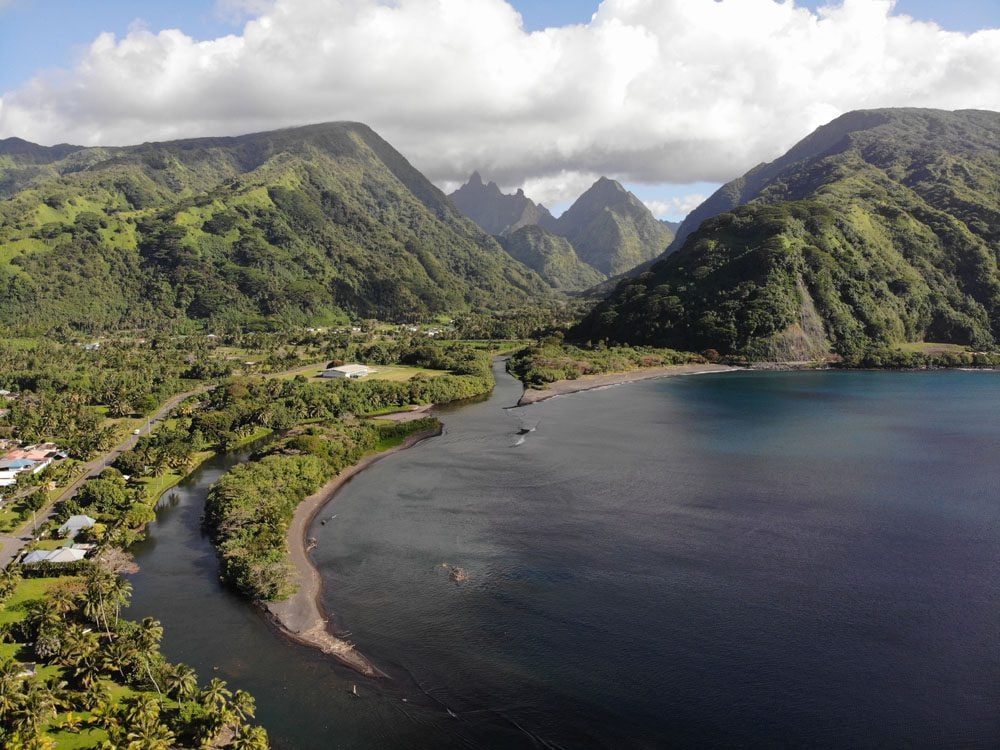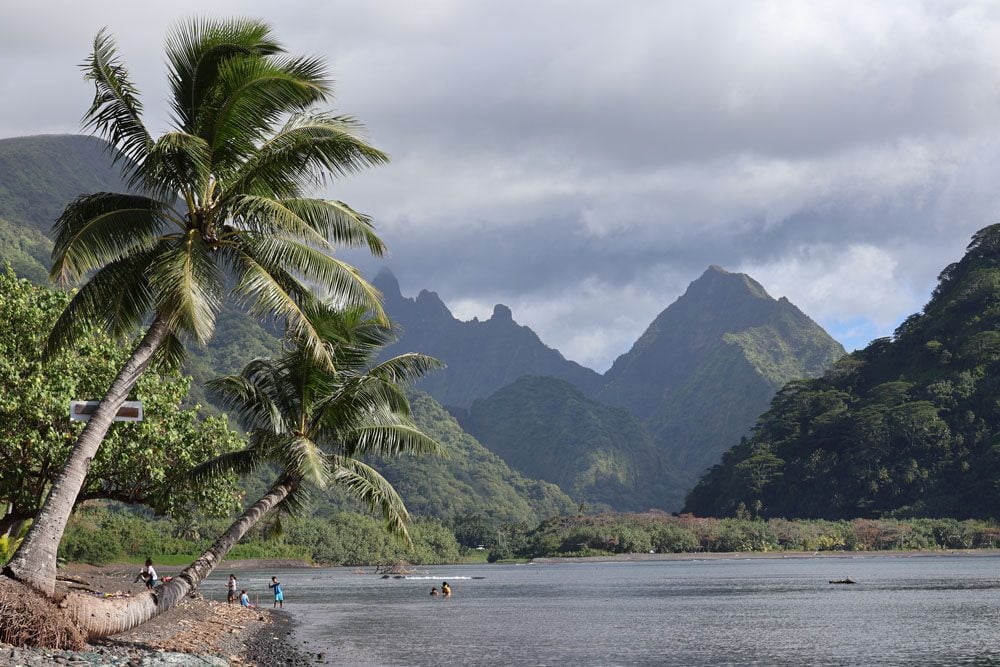 Tahitian Dancing
To celebrate a successful first stop in Tahiti, we headed to the InterContinental Resort for their famous Friday evening dinner and show. The buffet was exceptional, but the real stars were the dancers and musicians who displayed Tahitian culture at its best.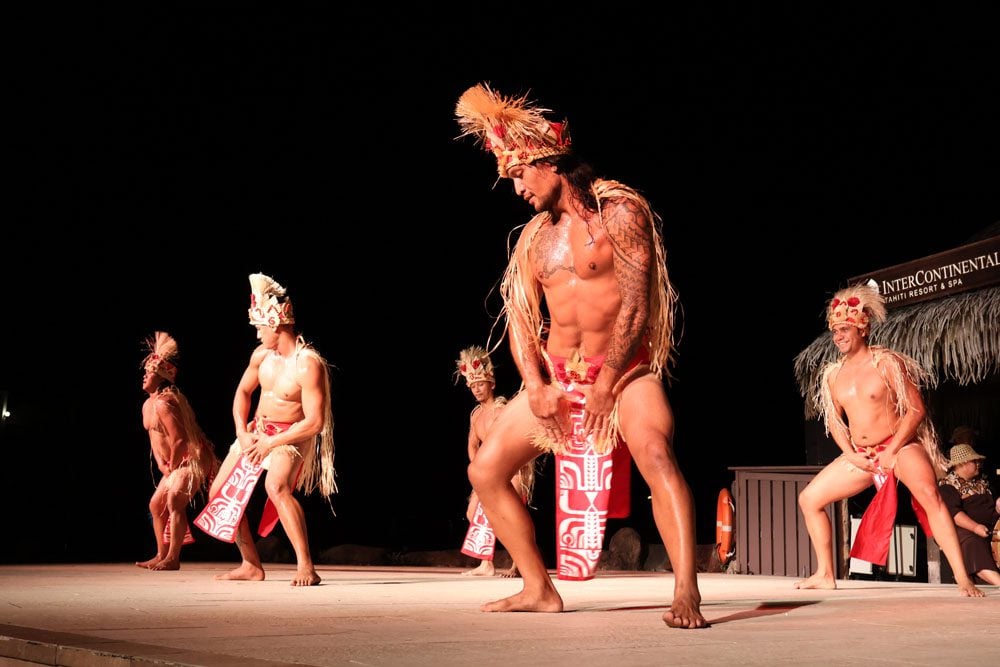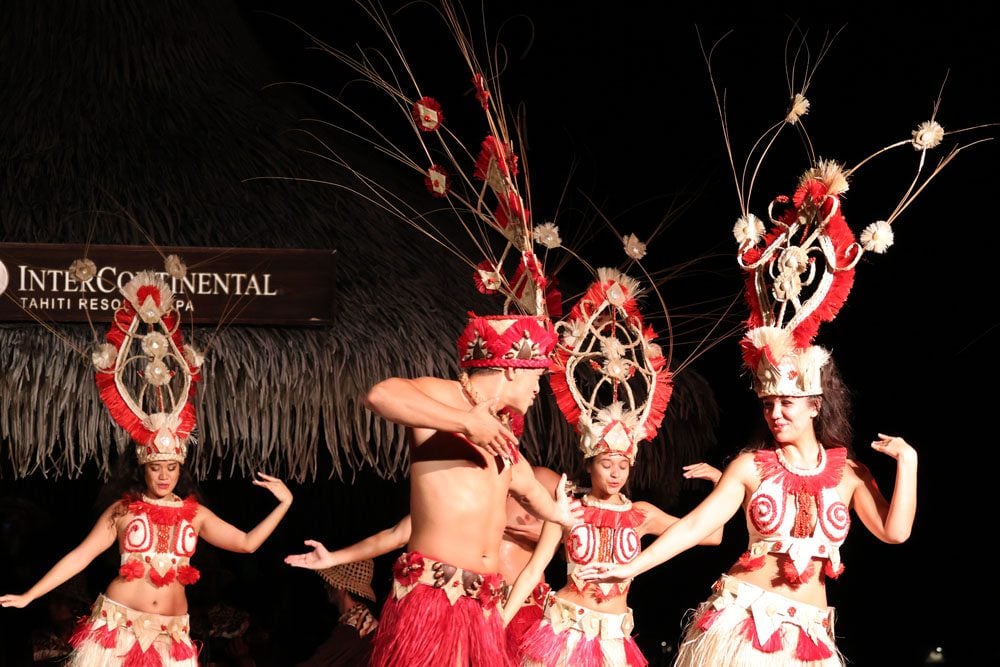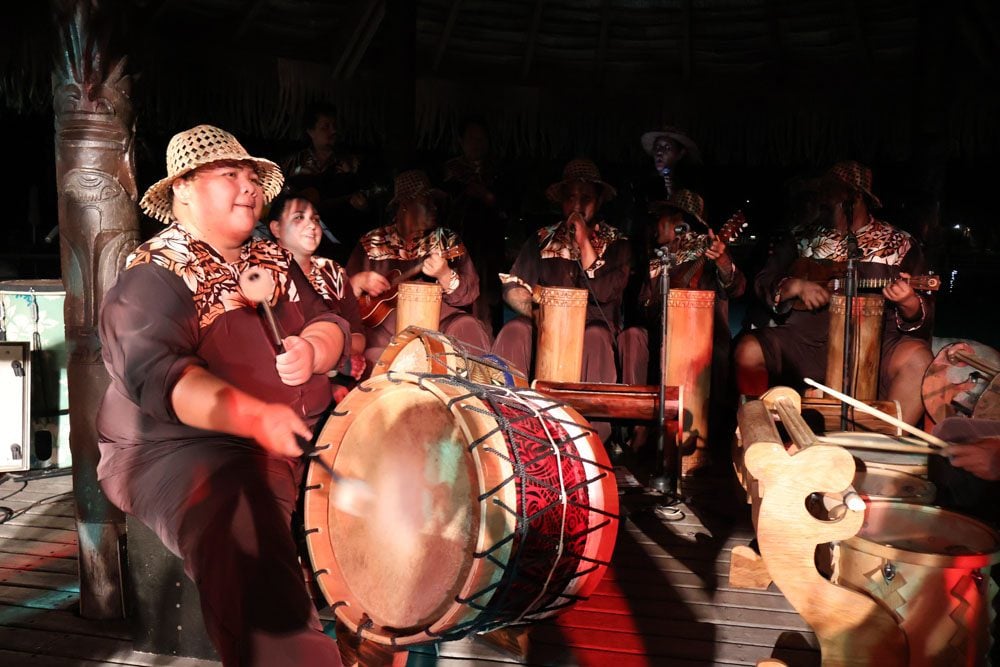 Moorea: the Heart-Shaped Island
The island-hopping portion of this trip began with a fifteen-minute flight from Tahiti to Moorea, where we picked up a car for the entire stay to explore the island, where I spent a whole month during my first visit to French Polynesia. Moorea's north coast is home to two deep bays that give the island the shape of a heart when viewed from the air.
Moorea is one of the most visited islands in French Polynesia. As such, it offers a wide range of accommodations, from simple lagoonside bed and breakfasts to pampering resorts, including the Manava Resort, our choice for this visit.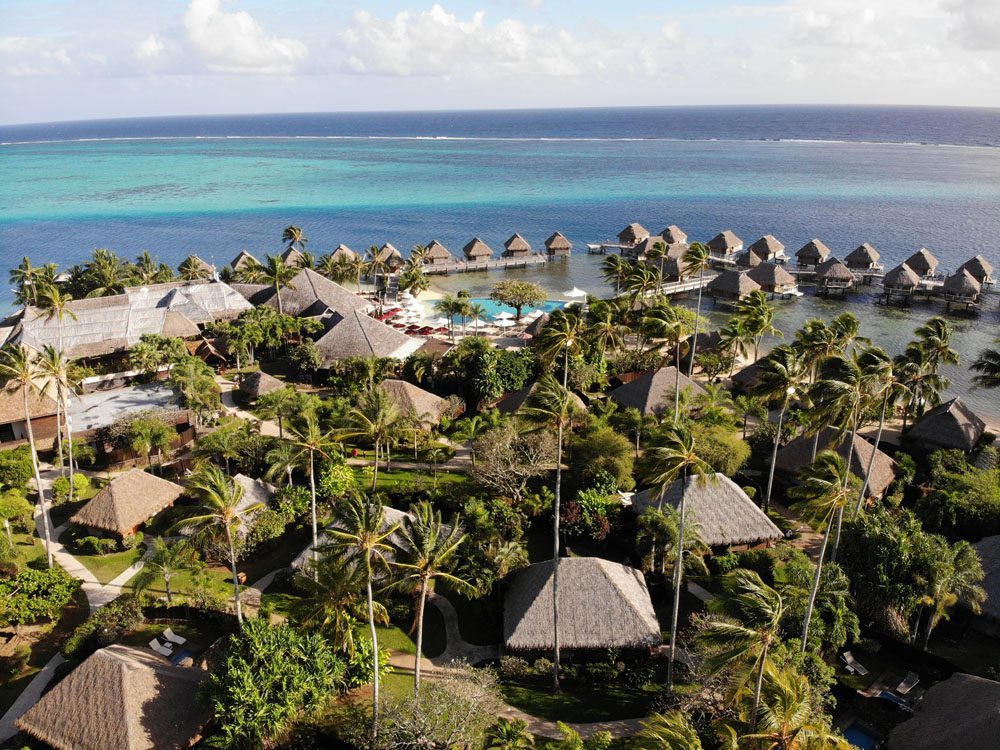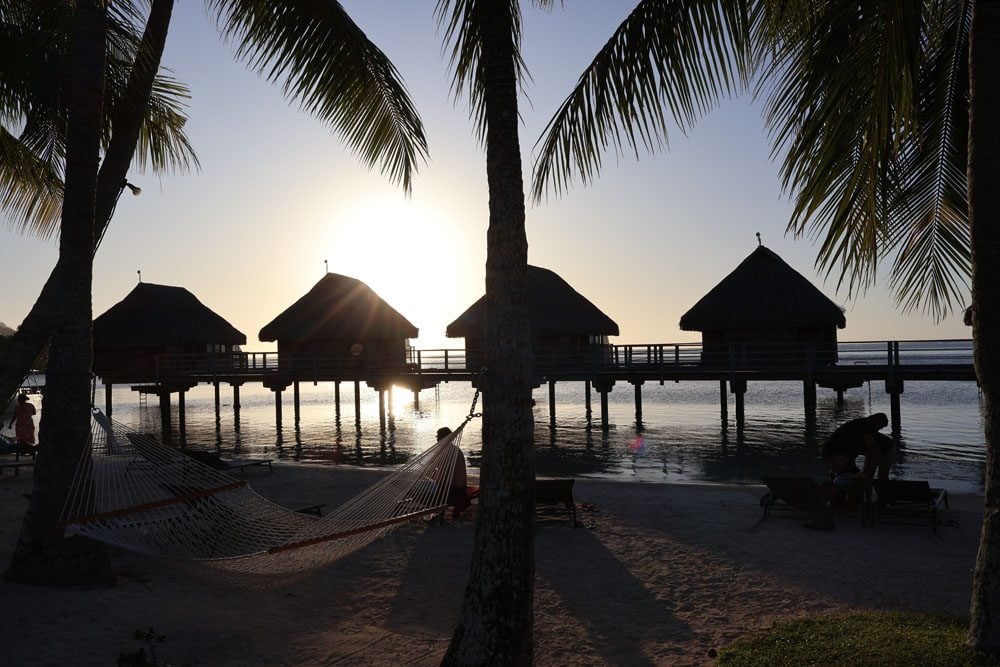 Circle Island Tour
My favorite activity in Moorea is to circle the island, mixing beach time with short hikes and stops at scenic viewpoints. The island has several public beaches that are all pretty on a sunny day. It's hard to say which is the best, but ​​Ta'ahiamanu Beach is definitely a top prize candidate with its coconut palms and views of Opunohu Bay.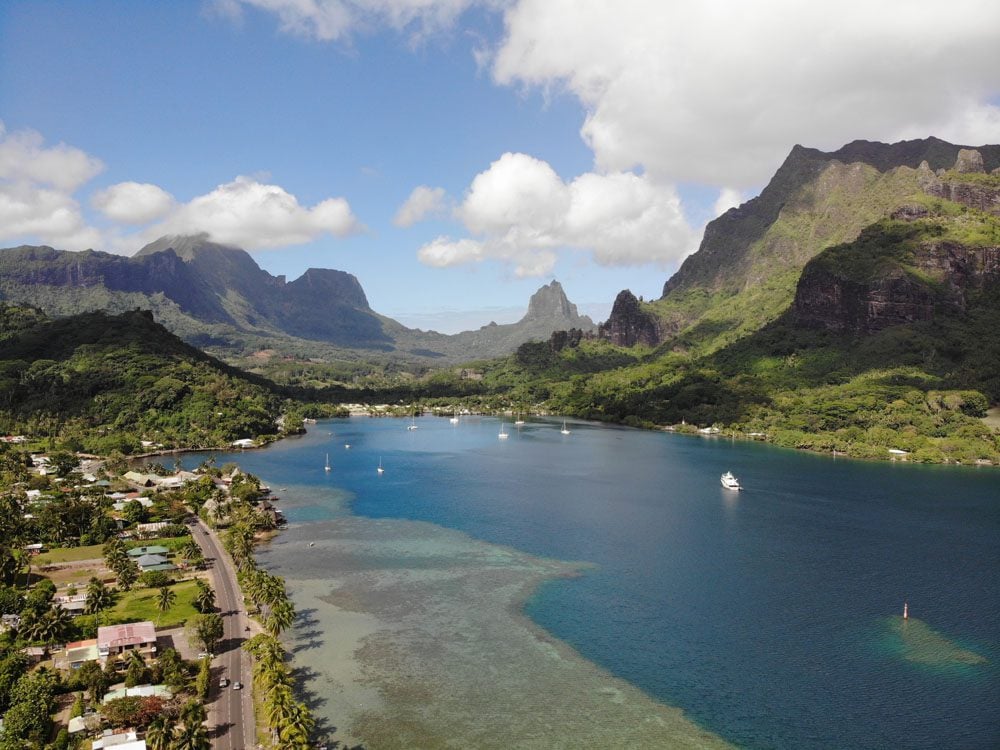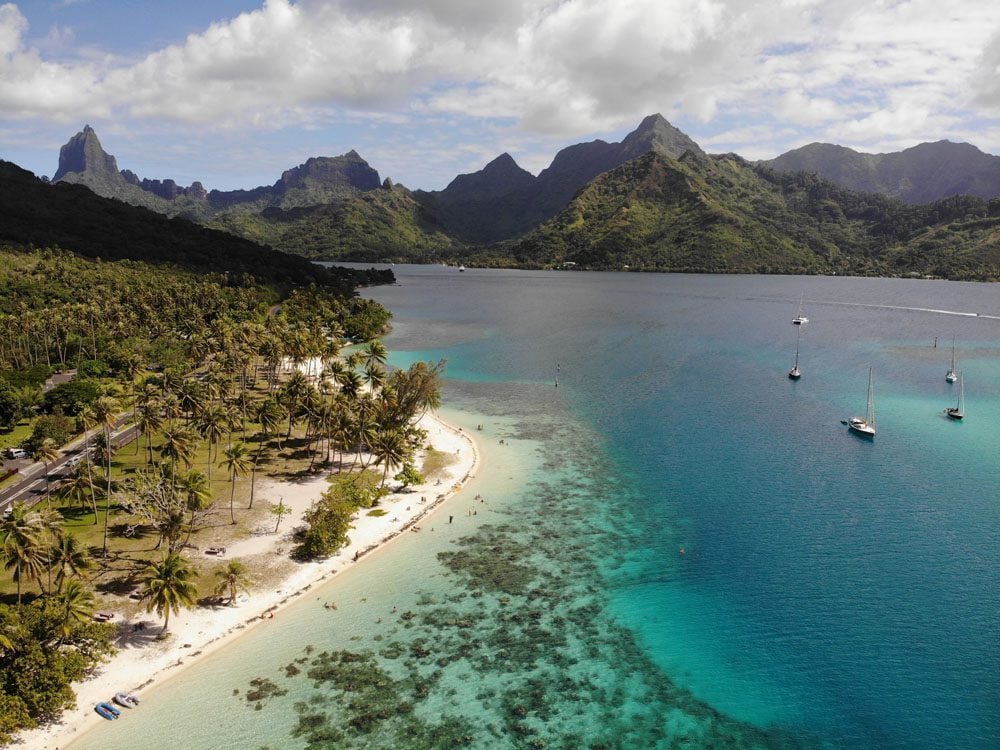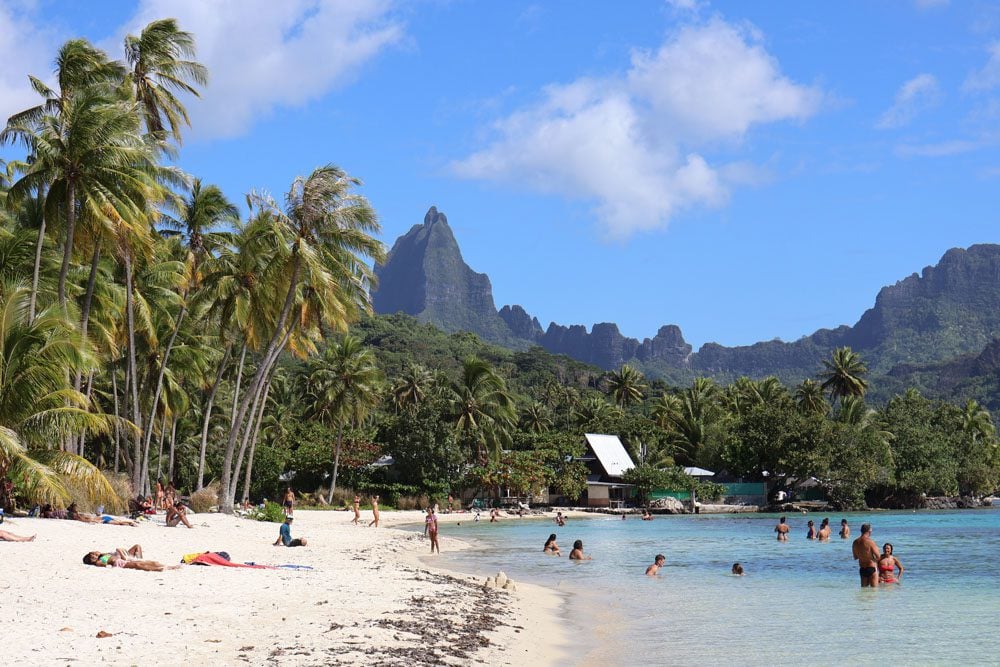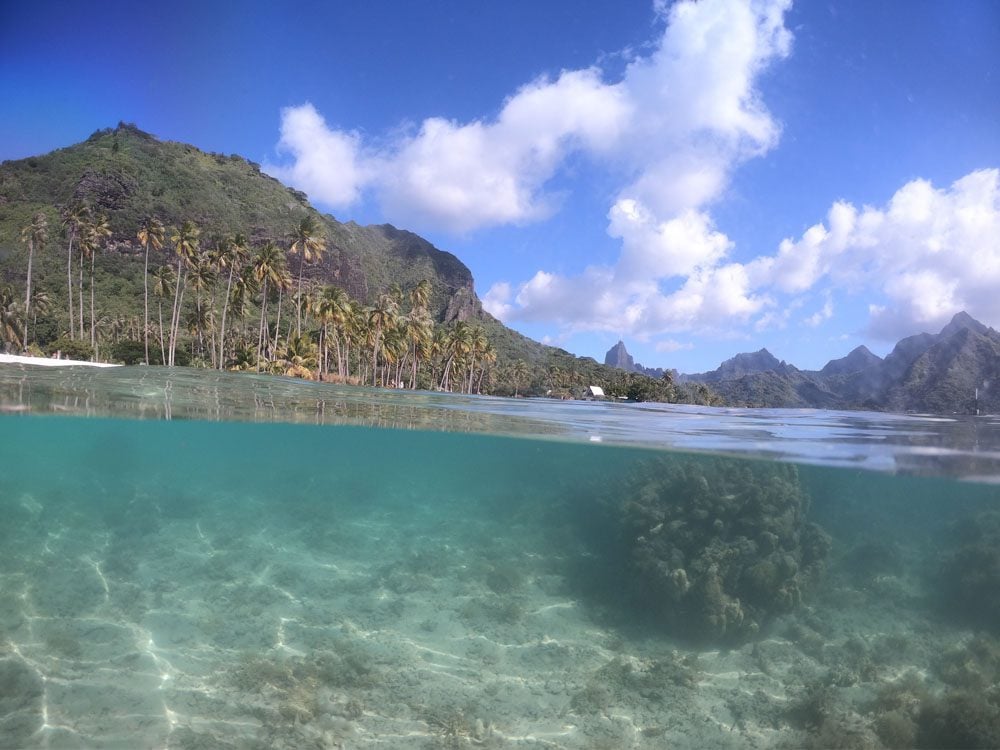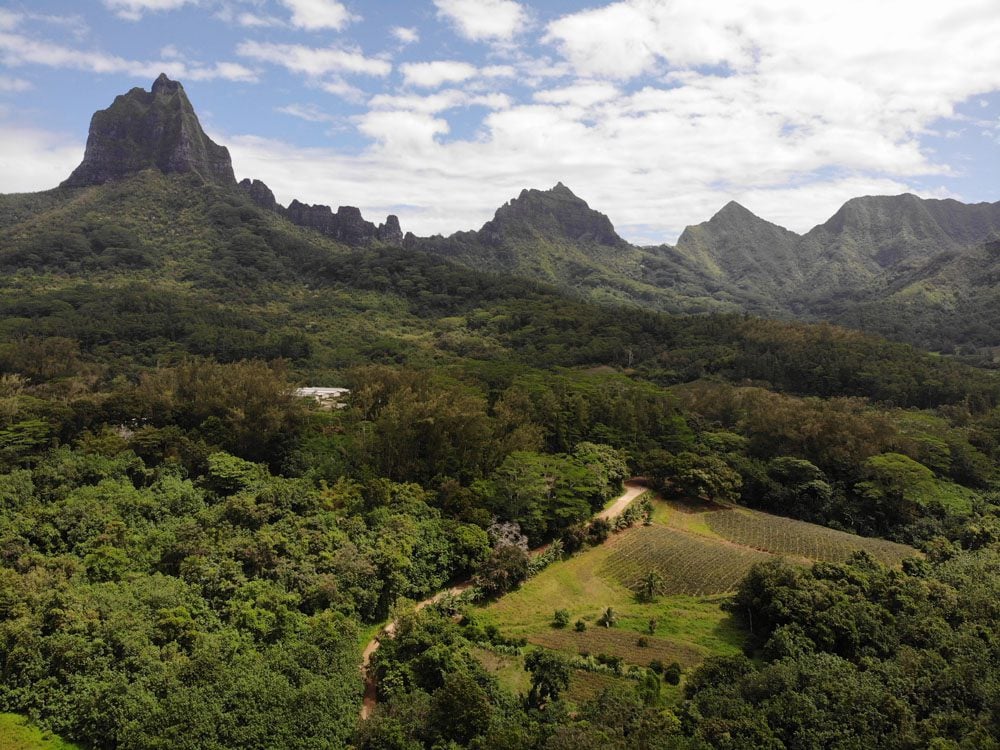 One deviation from the coastline that should not be missed is the inland road crossing Opunohu Valley. The lush valley sits on the remains of the ancient caldera, its soil perfect for growing pineapples. The road then rises to the Belvedere viewpoint, first passing an ancient temple complex before ending in the island's most iconic spot, where both bays and Mount Rotui are seen in a single frame.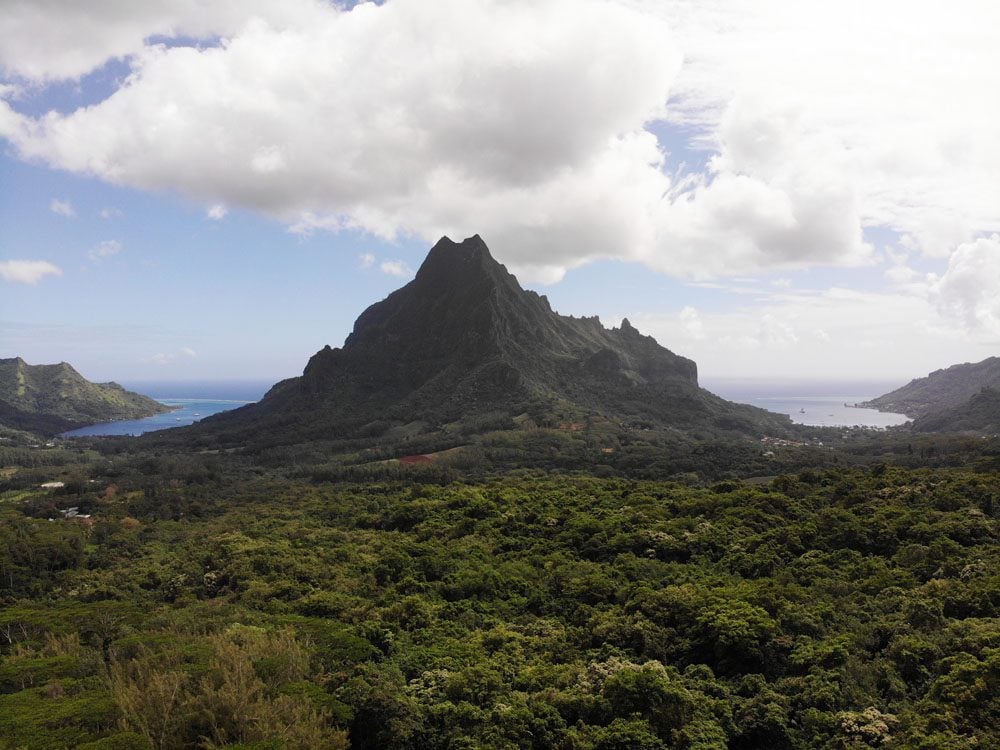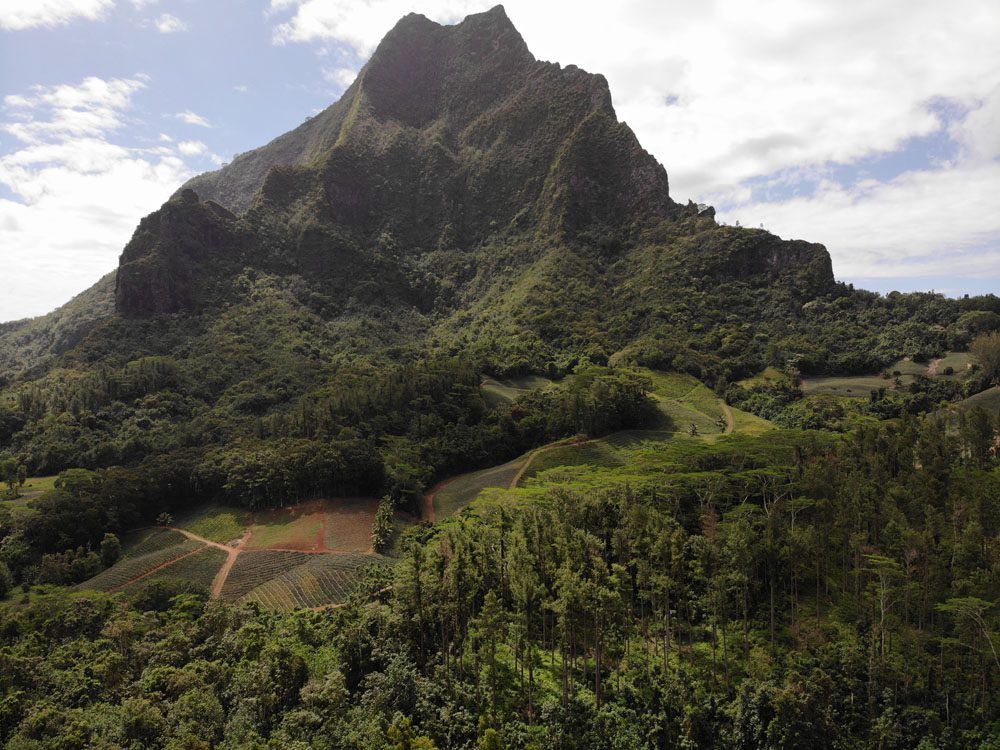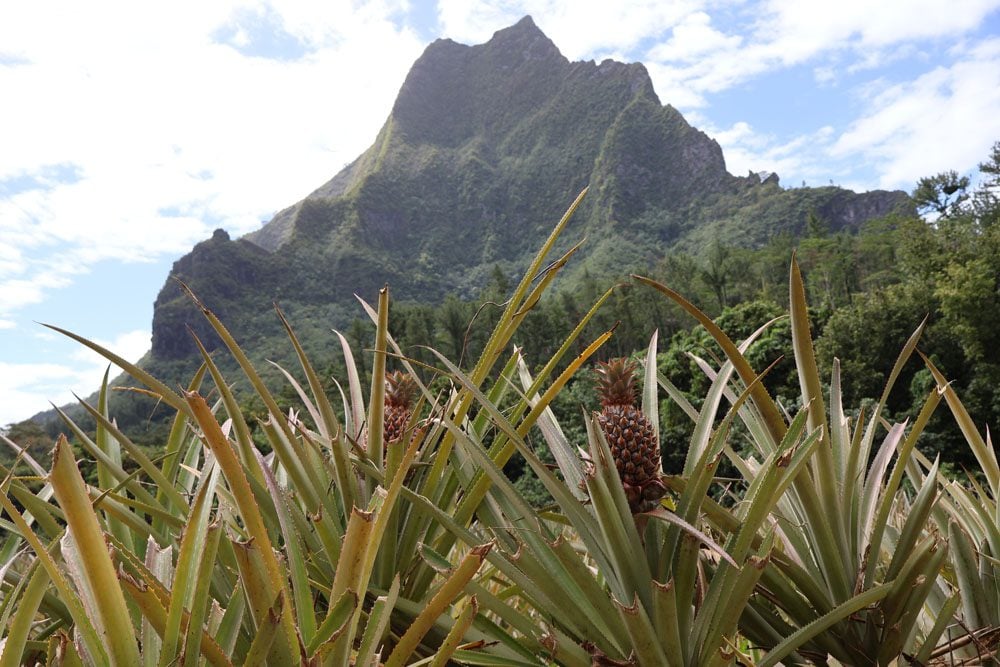 Swimming With Whales
Humpback whales make the long journey from Antarctica to spend the winter in the warm waters of Polynesia. On my previous visit, I had a memorable encounter with these magnificent marine mammals in the Austral Islands. I wanted my sister to experience the magic, this time in Moorea.
The boat ride was an experience on its own, offering a unique perspective of Moorea and attracting curious spinner dolphins who came to play. We were also lucky enough to spot a large whale swimming directly under us before the guides took us to excellent snorkeling spots to wrap things off.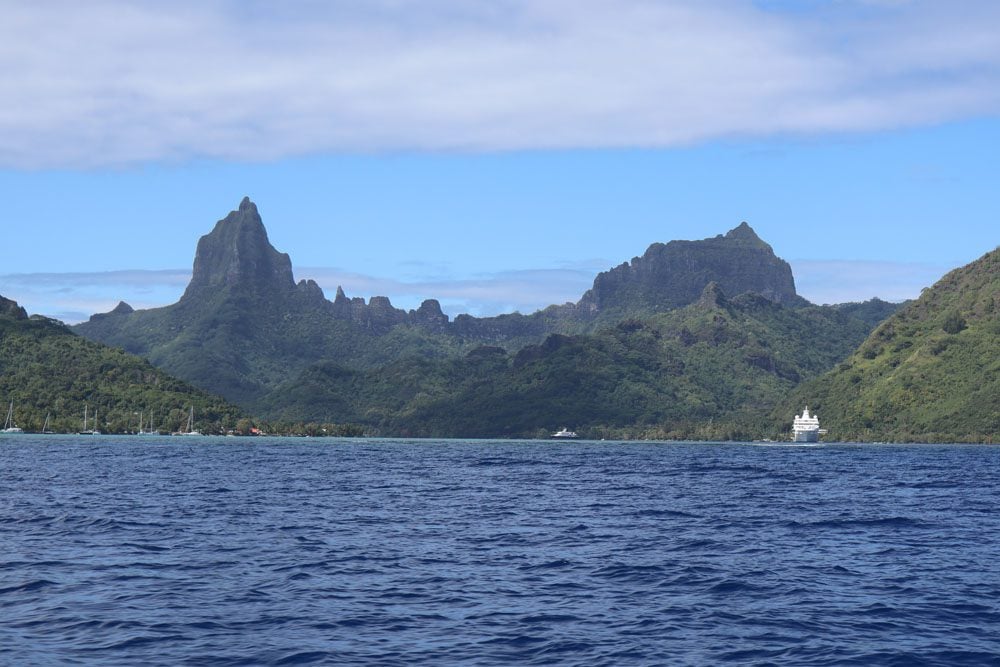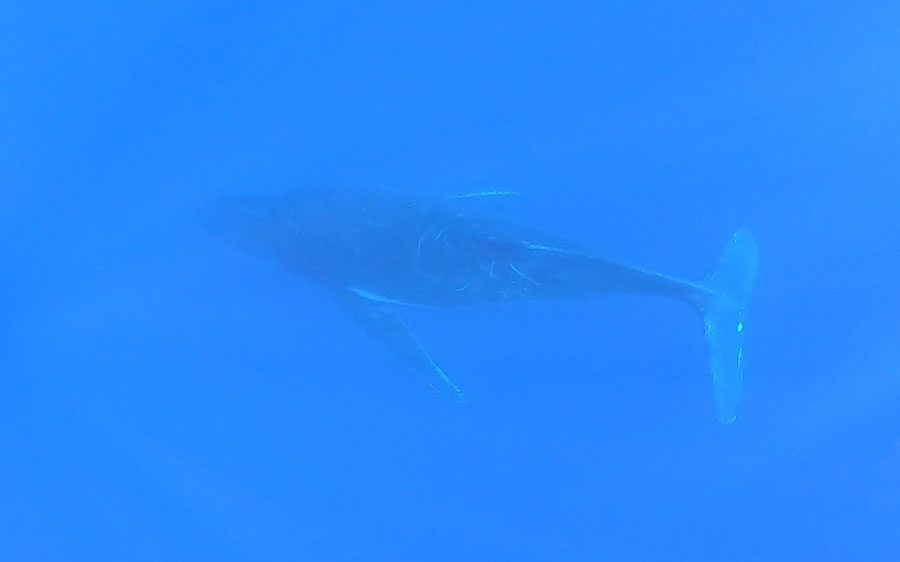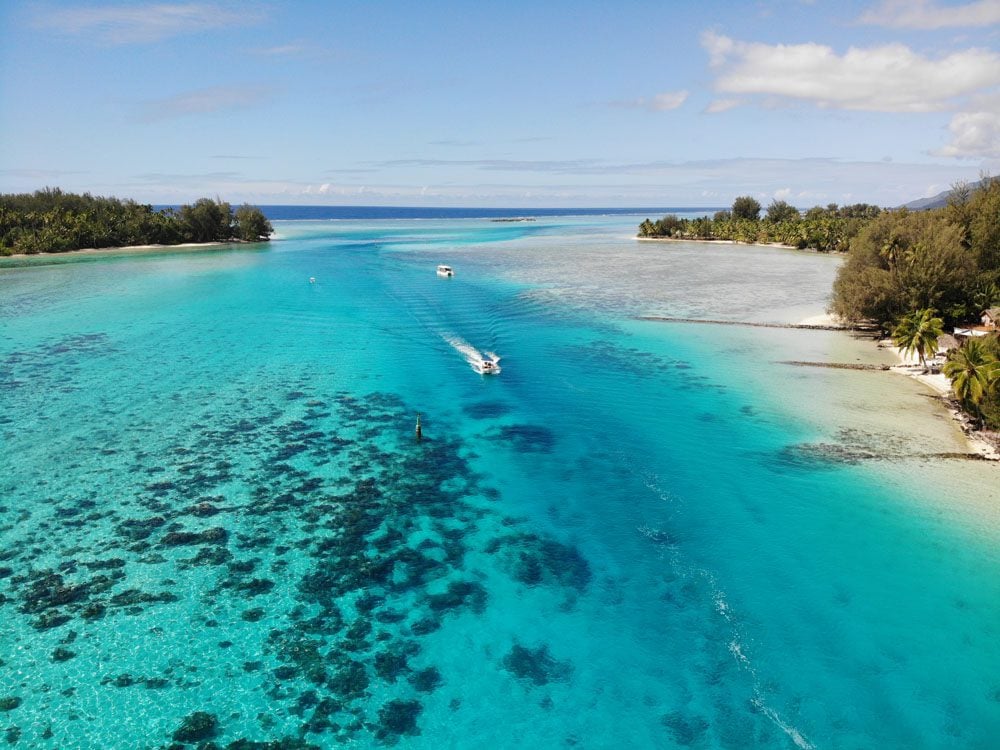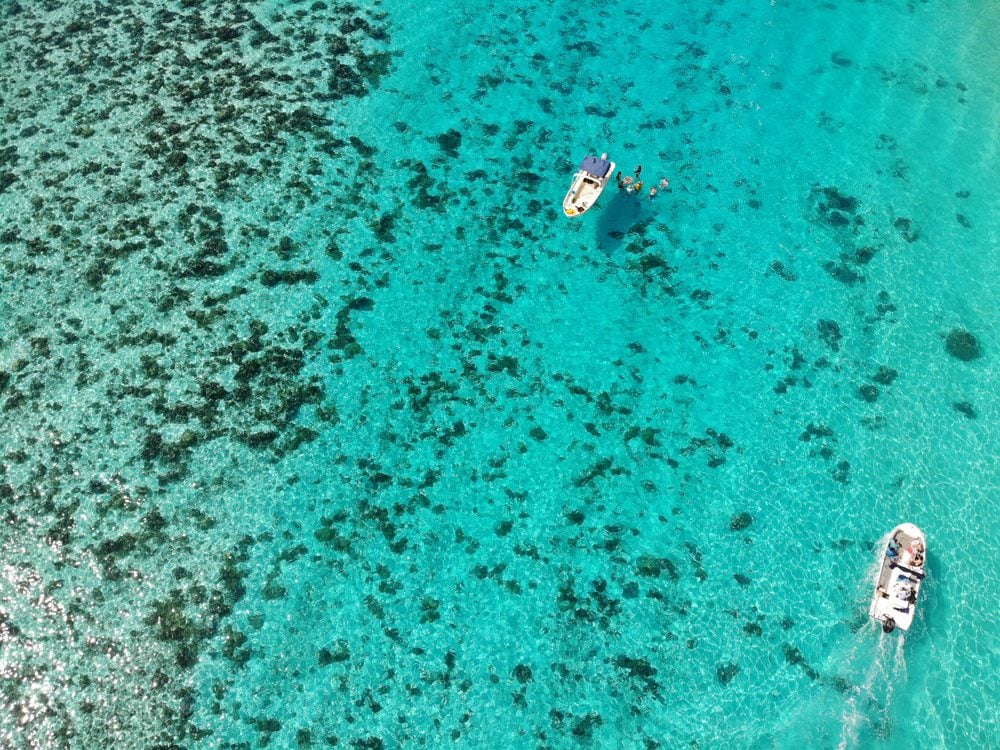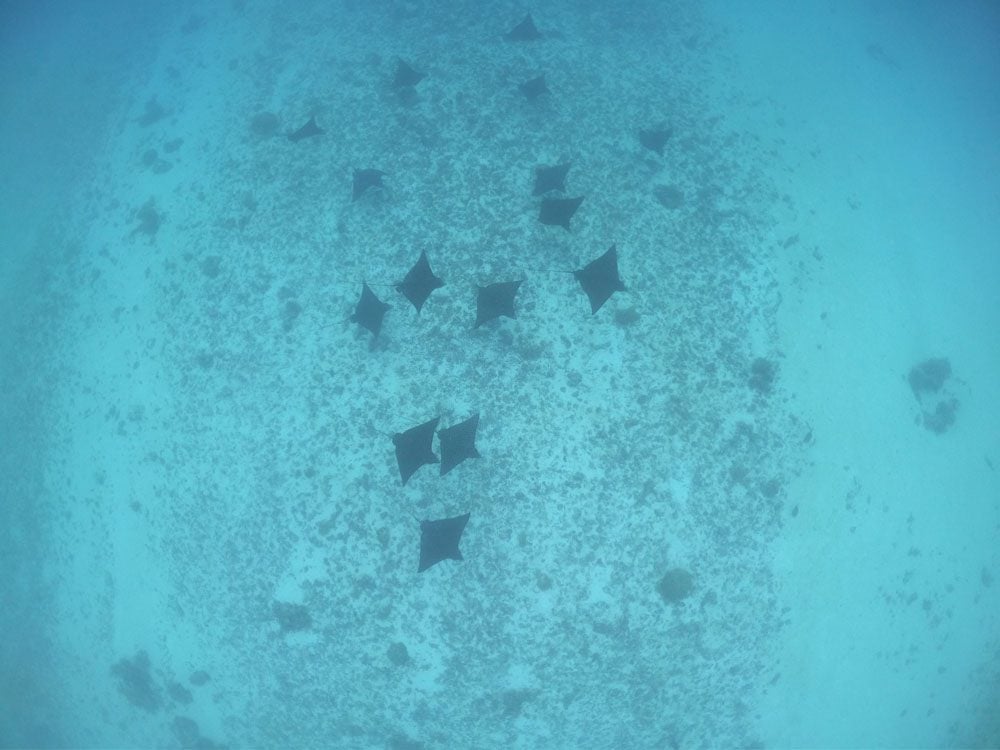 Huahine: the Garden of Eden
The second half of our family trip to French Polynesia was dedicated to lesser-known islands, where we hoped time would slightly tick at a slower pace. We started this leg in Huahine, an island known for its lushness and agricultural production. Like Tahiti, Huahine is also comprised of two islands, only this time they're connected by a bridge which is apparently the tallest in the territory.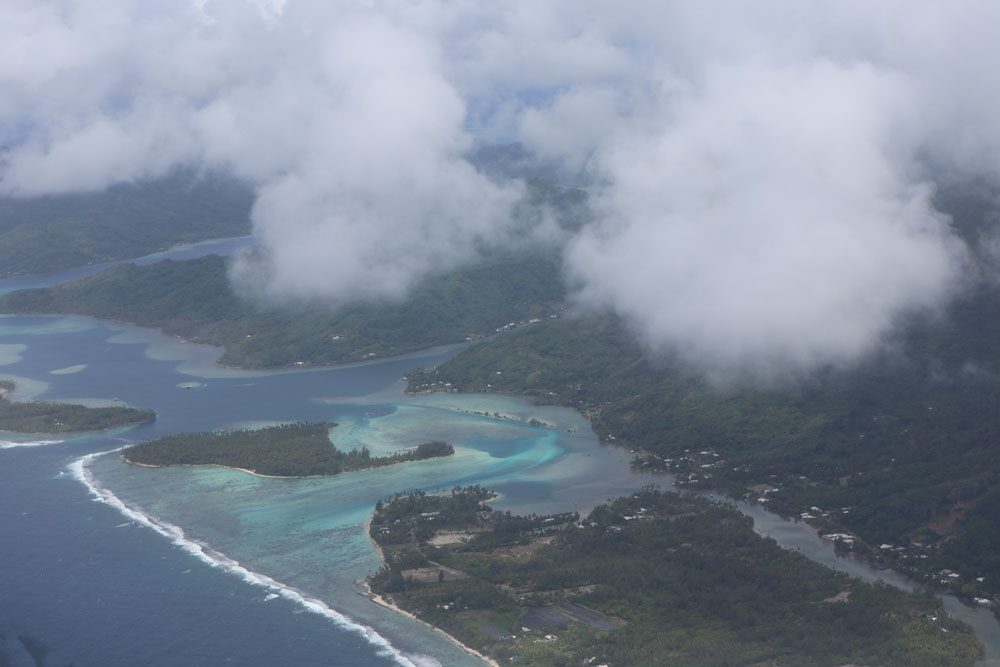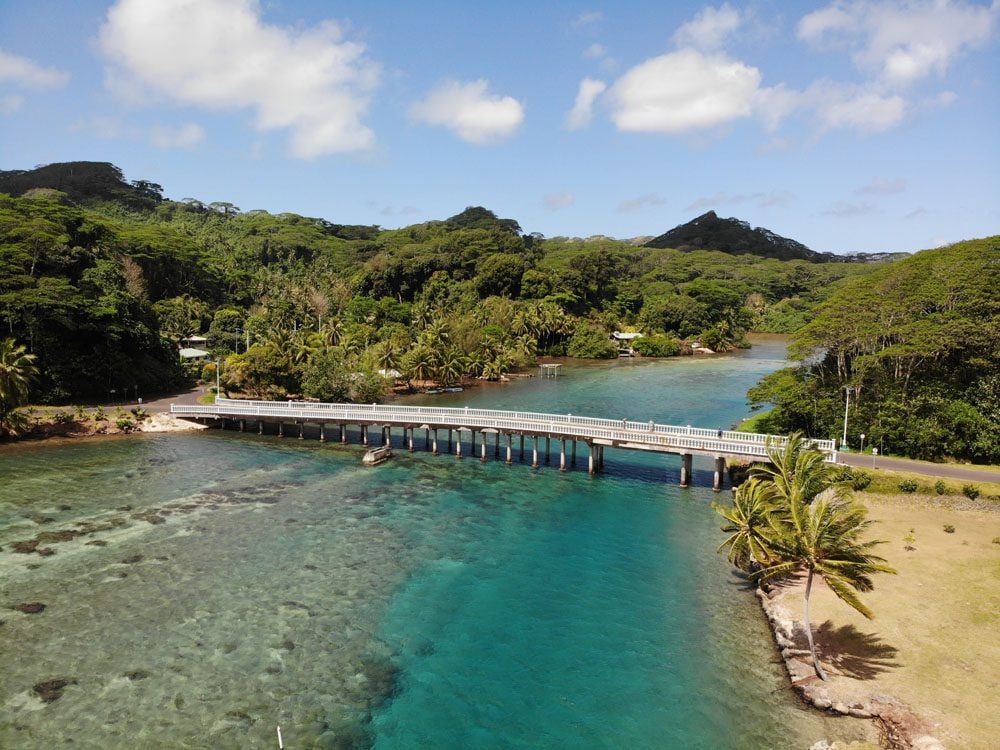 Our base for the next four days was on the "far side" of the island in gorgeous Avea Bay. We took a lagoon front bungalow at Hotel Le Mahana and enjoyed its beach, snorkeling spots, and radiating sunsets.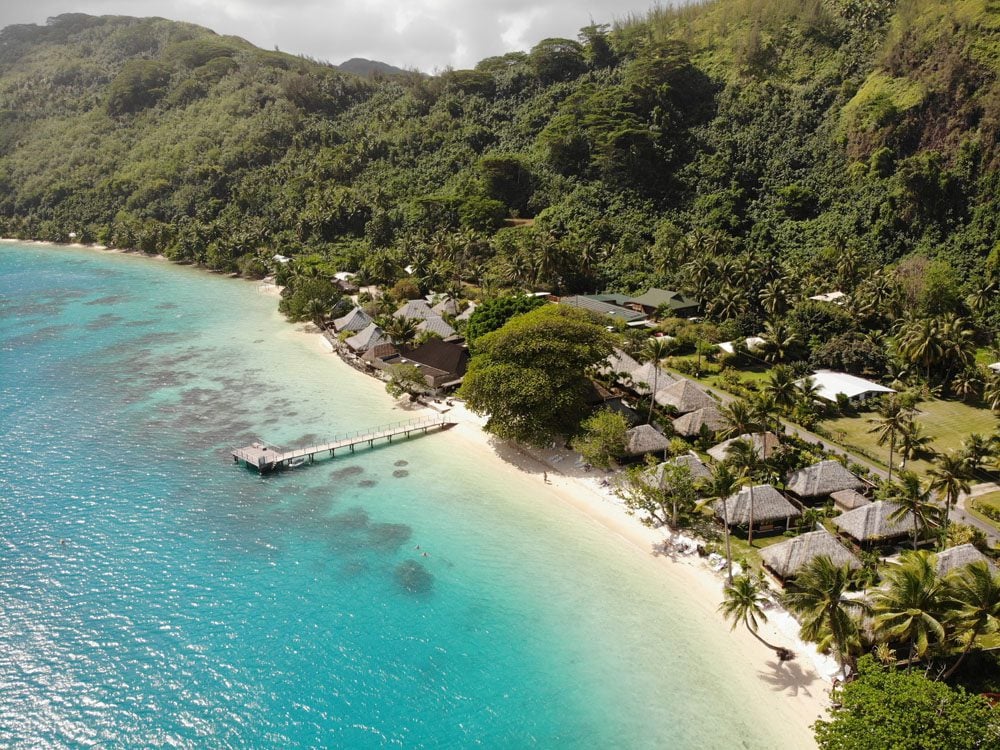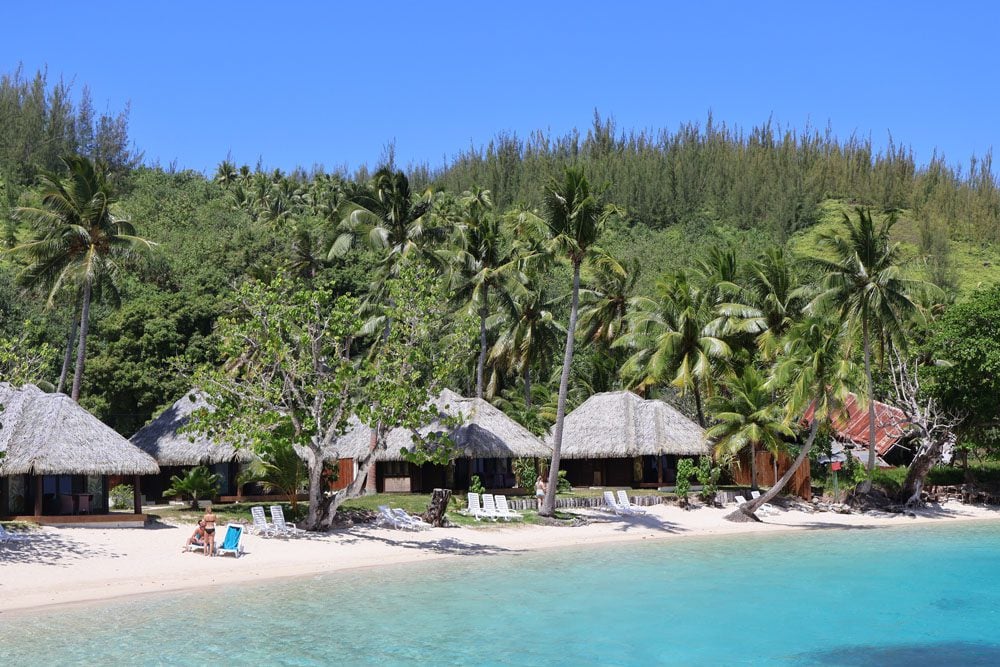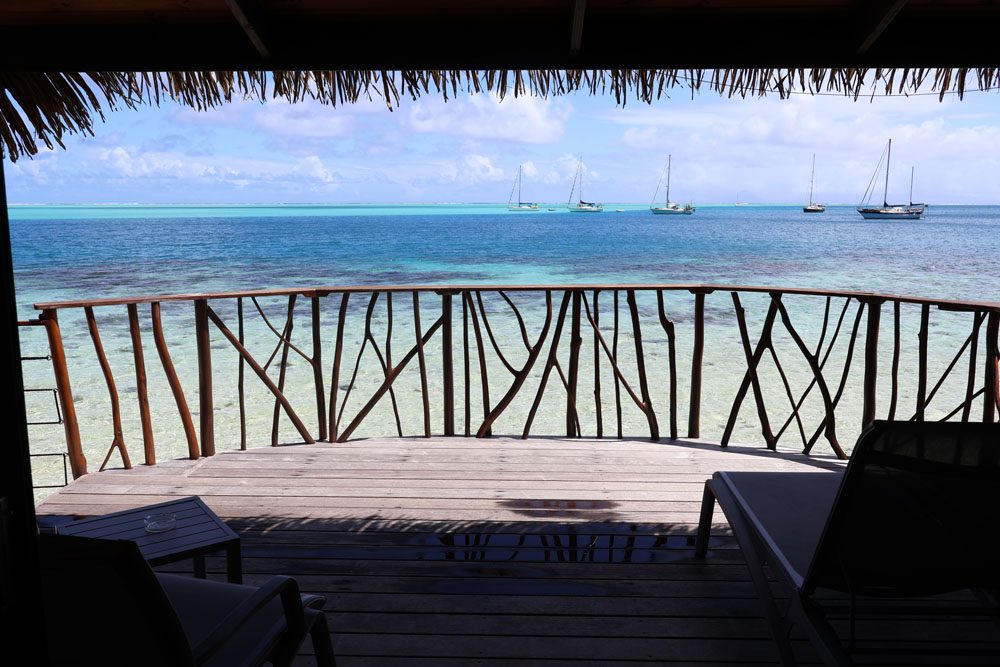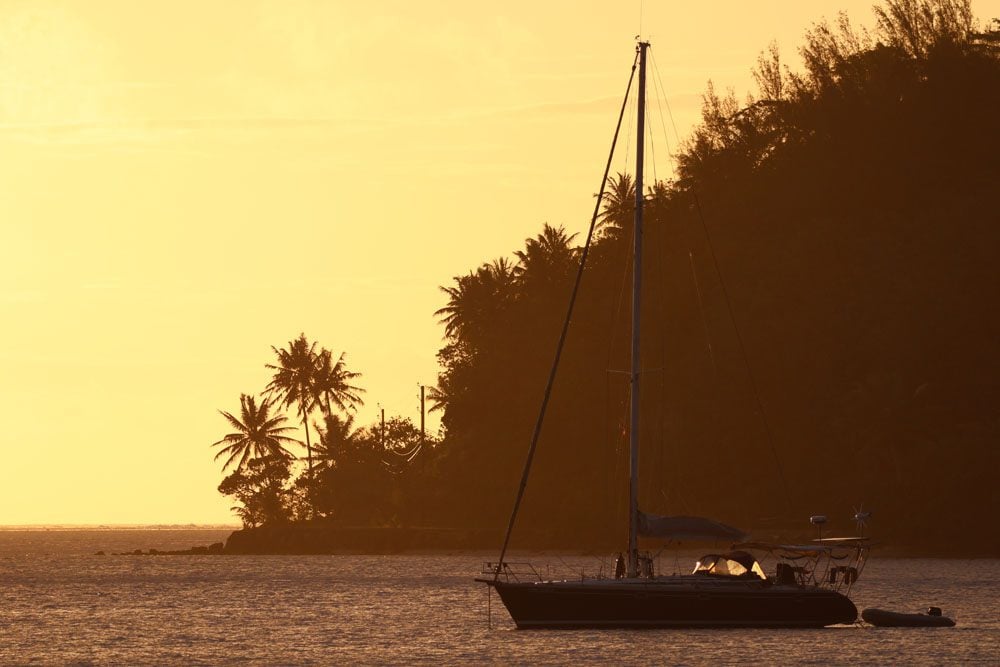 Road Tripping Around Huahine
Repeating our successful recipe from Tahiti and Moorea, we rented a car and explored Huahine's twin islands. On Huahine Iti ("little" Huahine), we especially enjoyed hiking down to Hana Iti Beach, somewhat of a secret beach that was only accessible by boat until recently.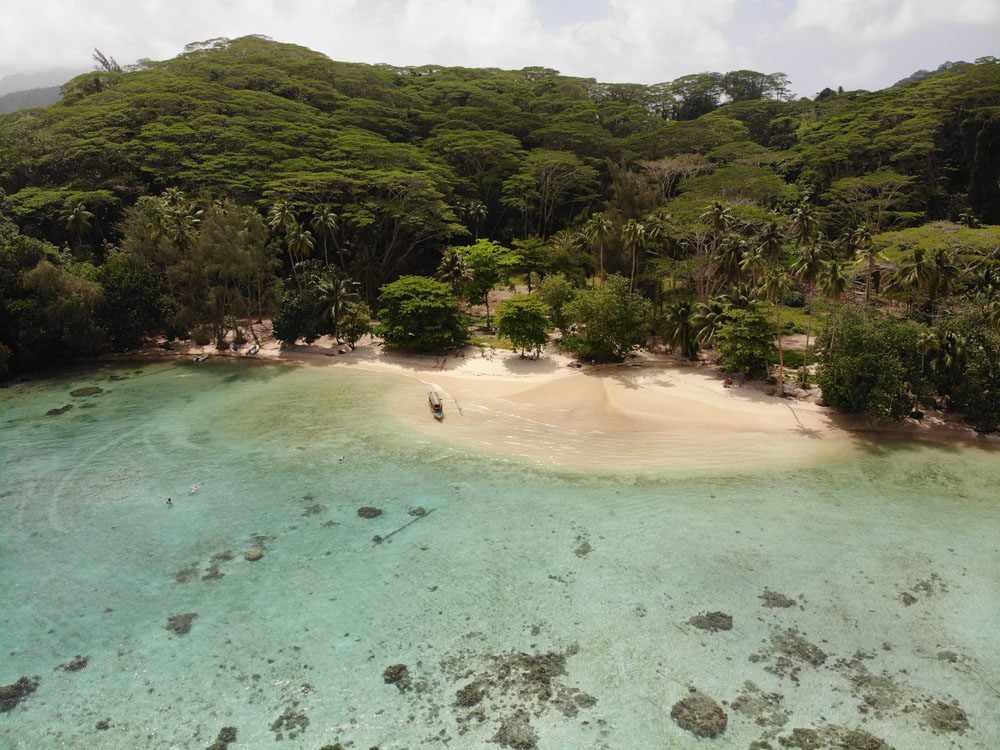 On Huahine Nui ("big" Huahine), we enjoyed memorable views of Maro'e Bay from the Belvedere scenic viewpoint, feeding the sacred blue-eyed eels, seeing the ingenious ancient fish traps still in use, and killing time in the main village of Fare.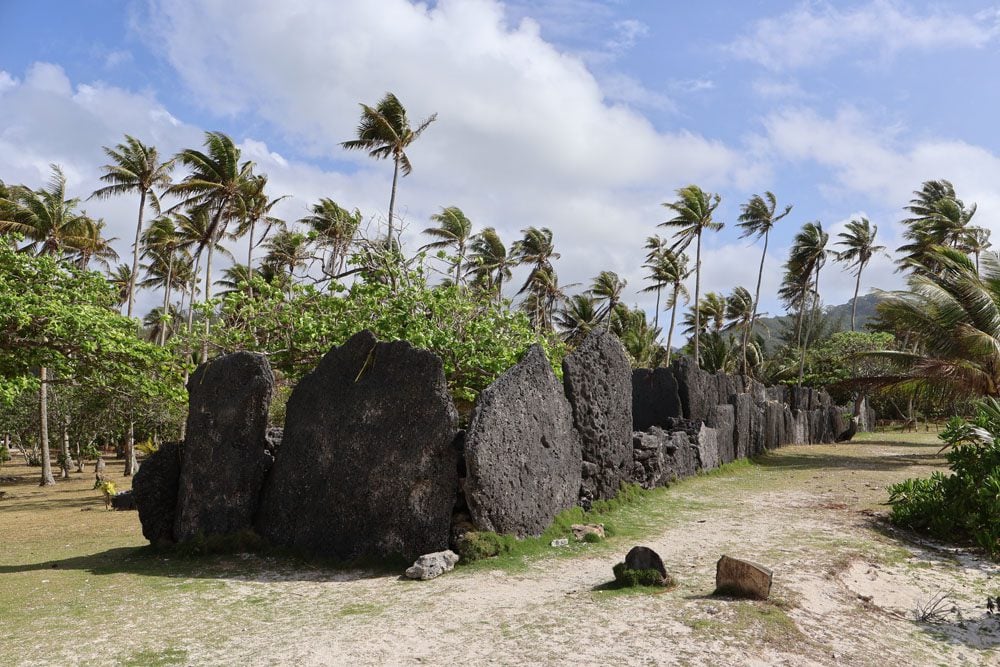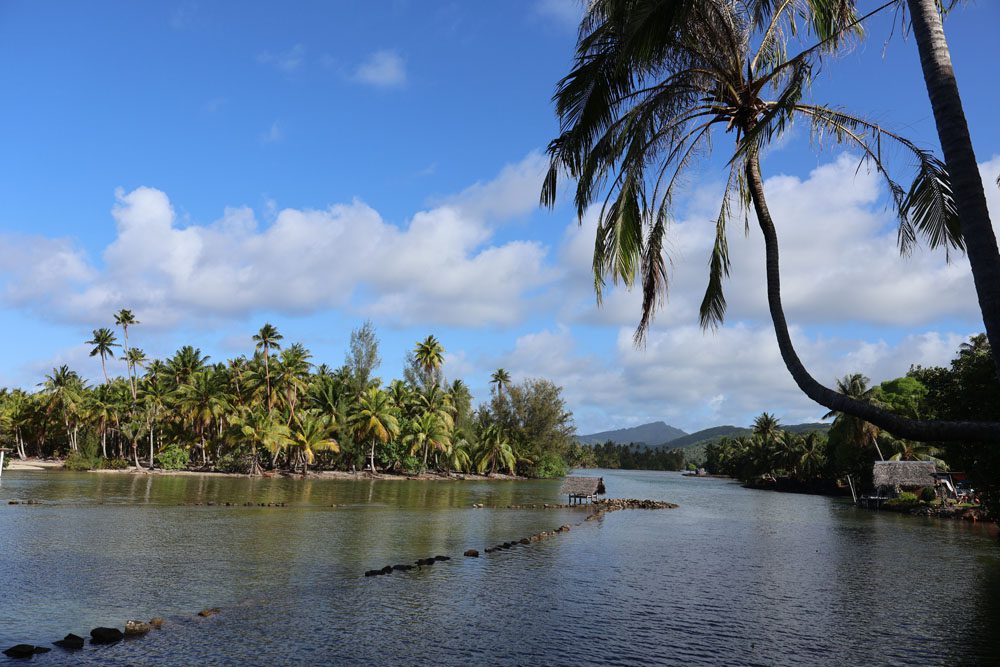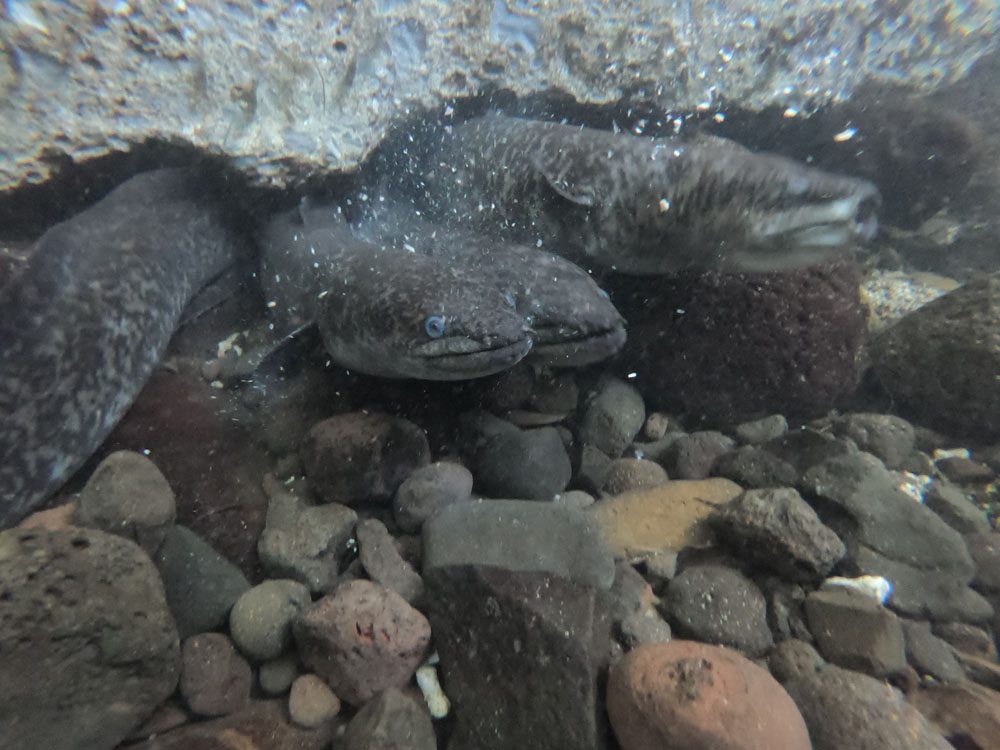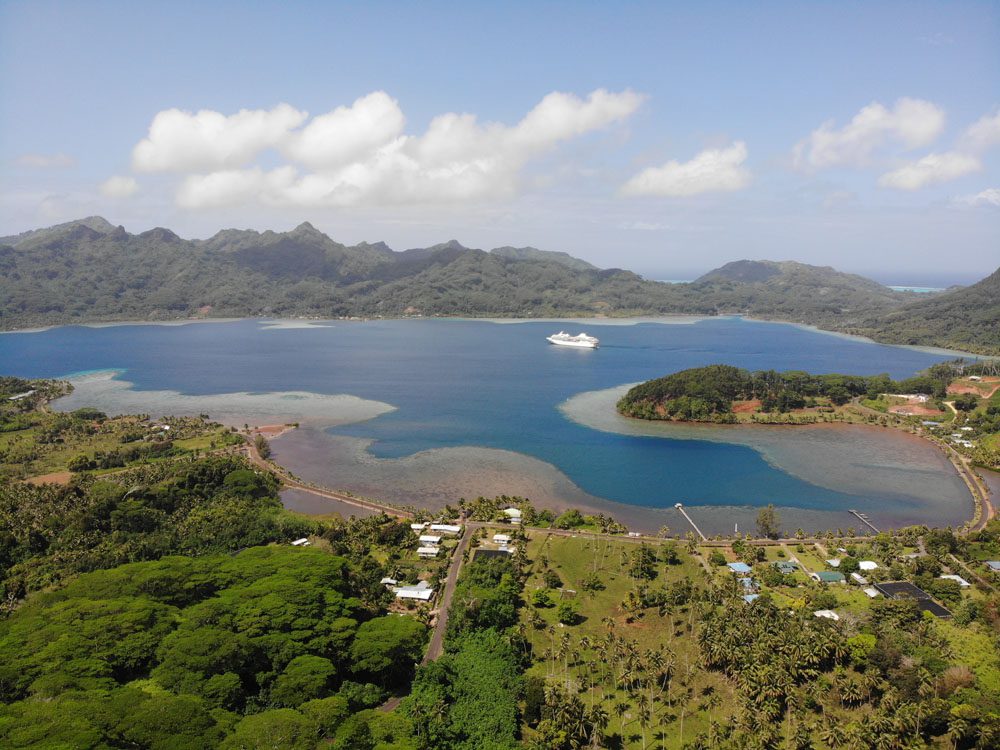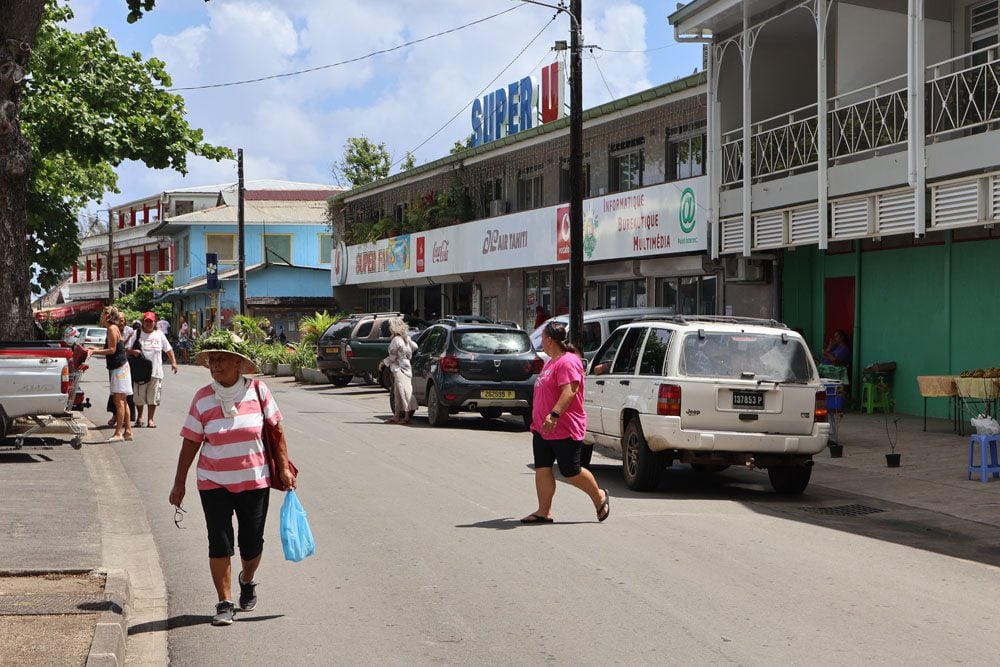 Huahine hides a rich cultural past that researchers are slowly uncovering. The island is dotted with dozens of stone platforms used in the past for religious and cultural gatherings. Some platforms were constructed along the lagoon's shores, but some are found deep in the rainforest and require a bit of hiking to reach, such as the ones on Matairea Hill.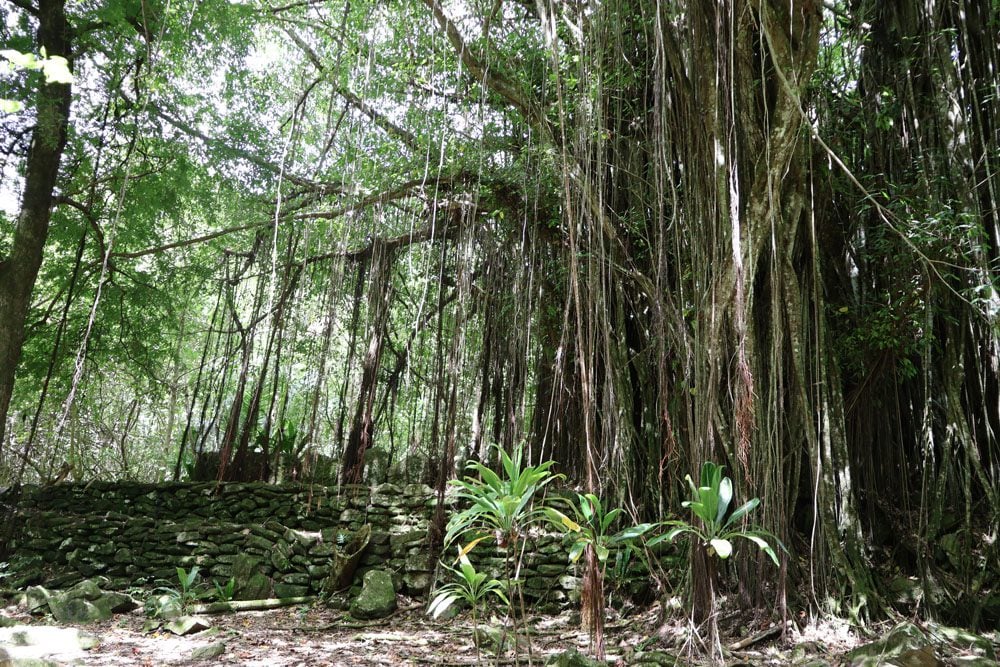 Lagoon Tour
On our final day in Huahine, we joined Huahine Nautique for a day of exploring the lagoon. We started with a couple of snorkeling stops in pristine coral gardens and then cruised beneath the bridge connecting the two islands to see from up close a few small islets called motu, some of which are rented to tourists, such as "Motu Obama."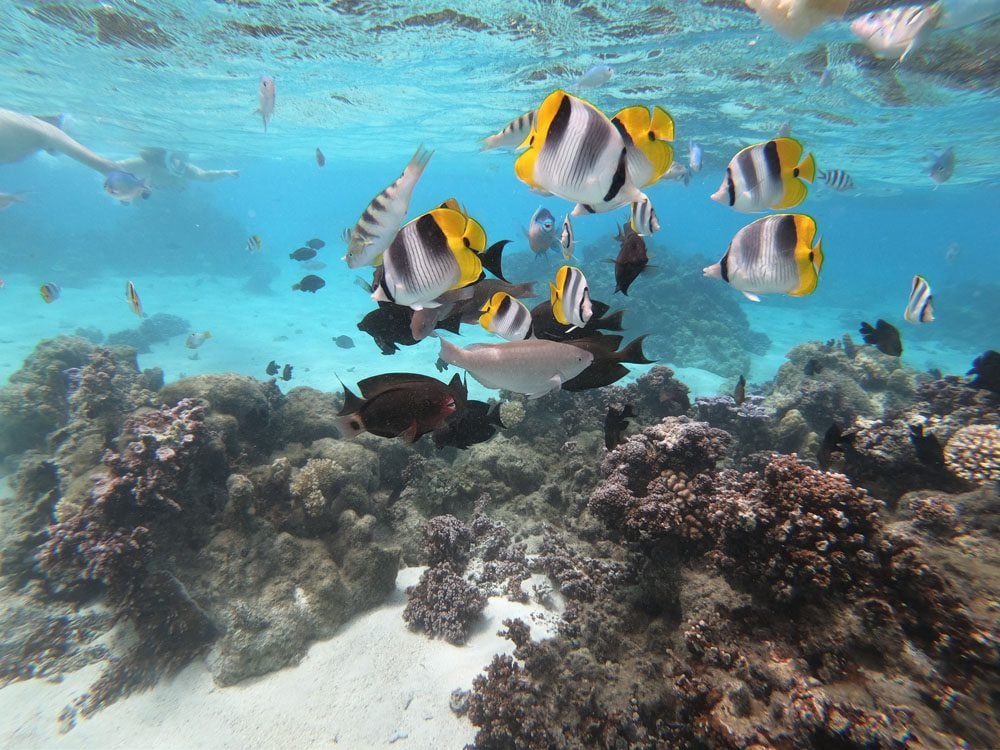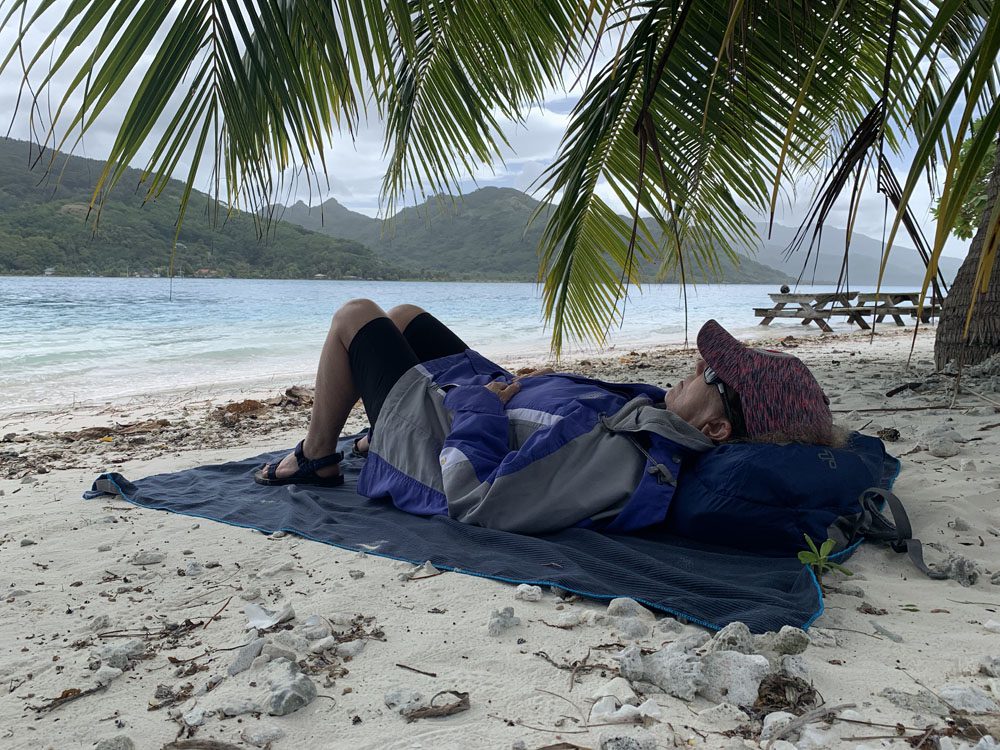 The tour then took us to a floating pearl farm, where we learned the ins and outs of producing the exquisite Tahitian black pearl. Our motorized canoe then took us to a remote islet on the island's far side, where we were treated to a picnic lunch and an afternoon nap, accompanied by a symphony of gentle waves and swaying coconut palms.
Tahaa: the Vanilla Island
Tahaa was the final stop on our family trip to French Polynesia, a sparsely populated island trapped in the same lagoon with its larger neighbor, Raiatea. Tahaa is known for black pearl production and vanilla, regarded as the finest in the world. It's also home to one of the premier resorts in the South Pacific.
I stayed in Le Taha'a Island Resort & Spa on my first visit to Tahaa in 2016, so it was quite easy to convince the folks to splash out for a luxury stay to end the trip. The resort is located on Motu Tautau, a small islet perfectly positioned between Bora Bora and Tahaa's main island.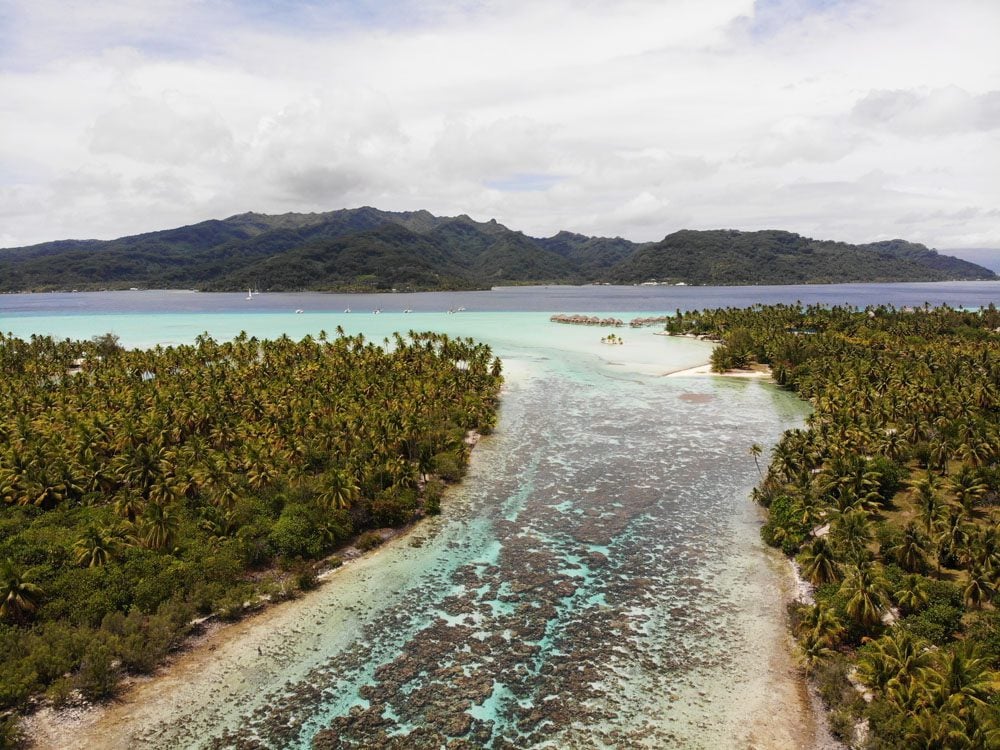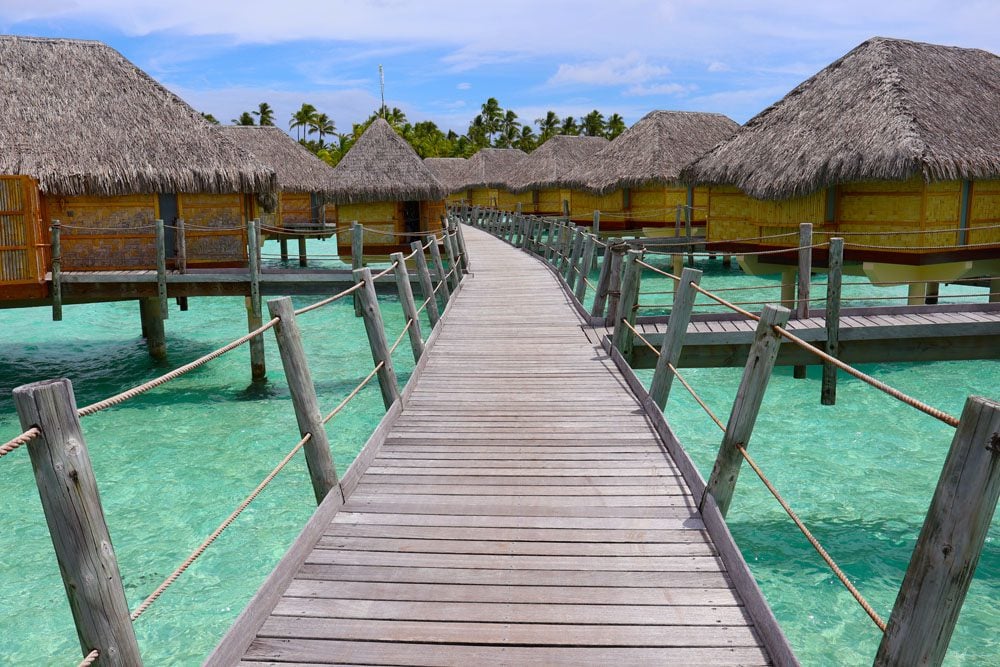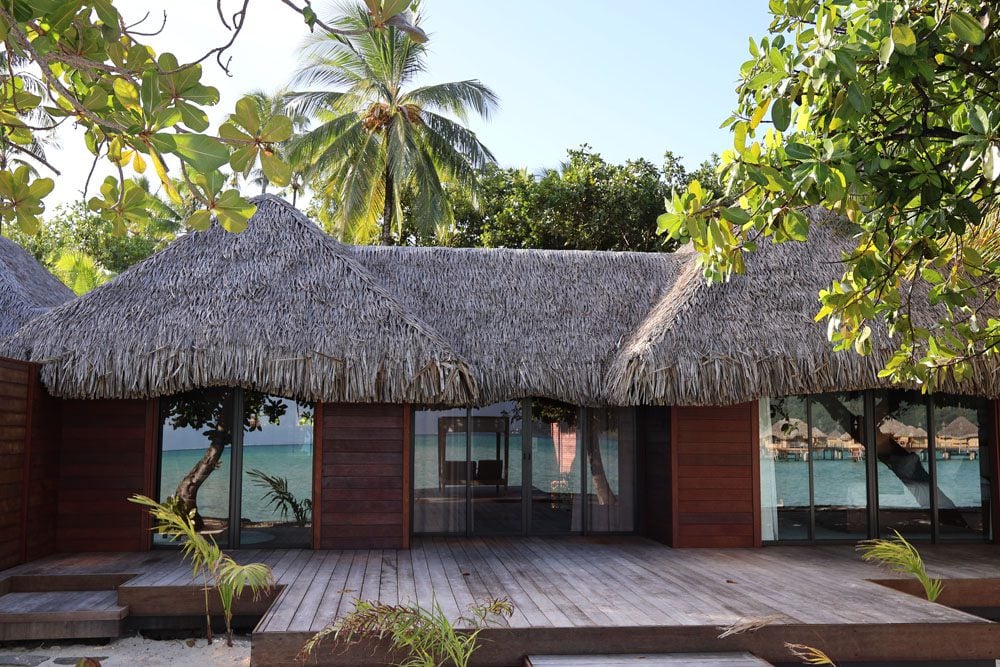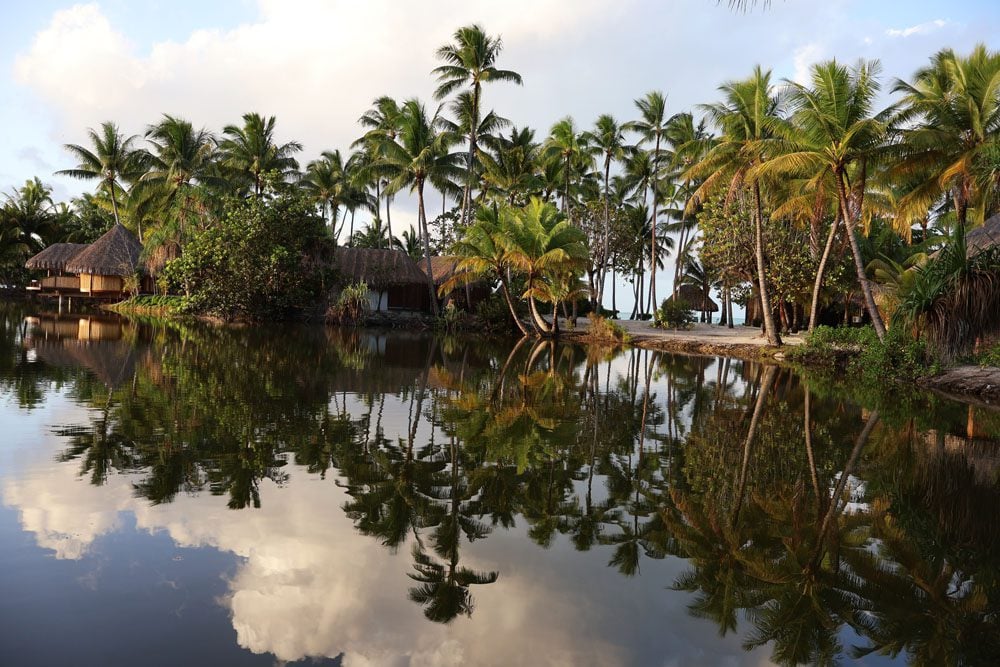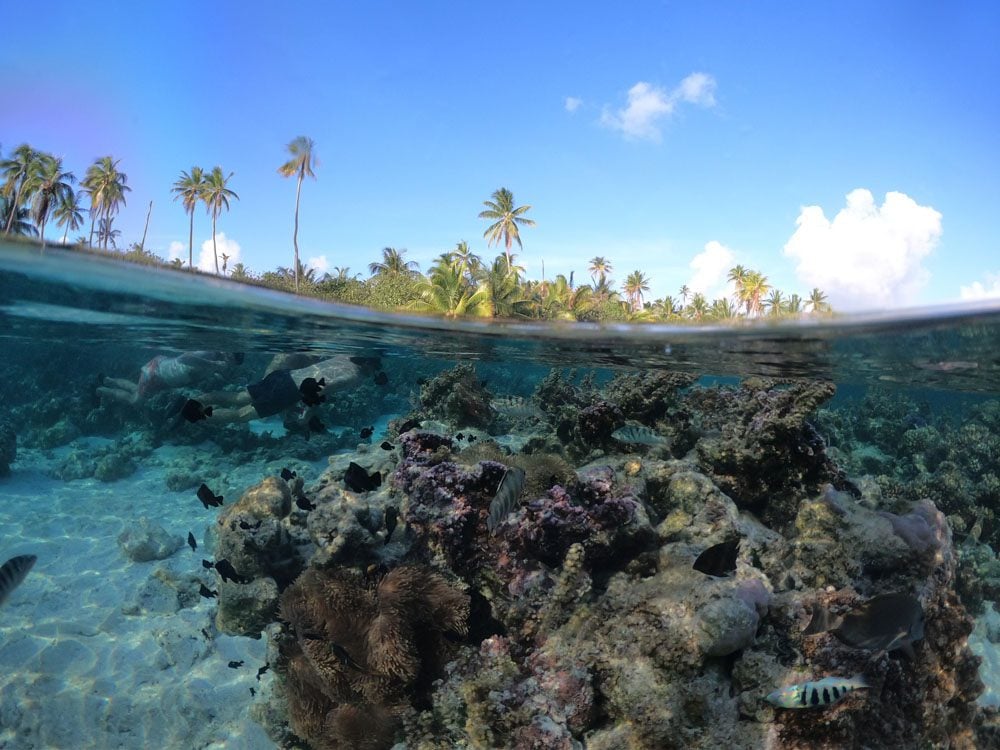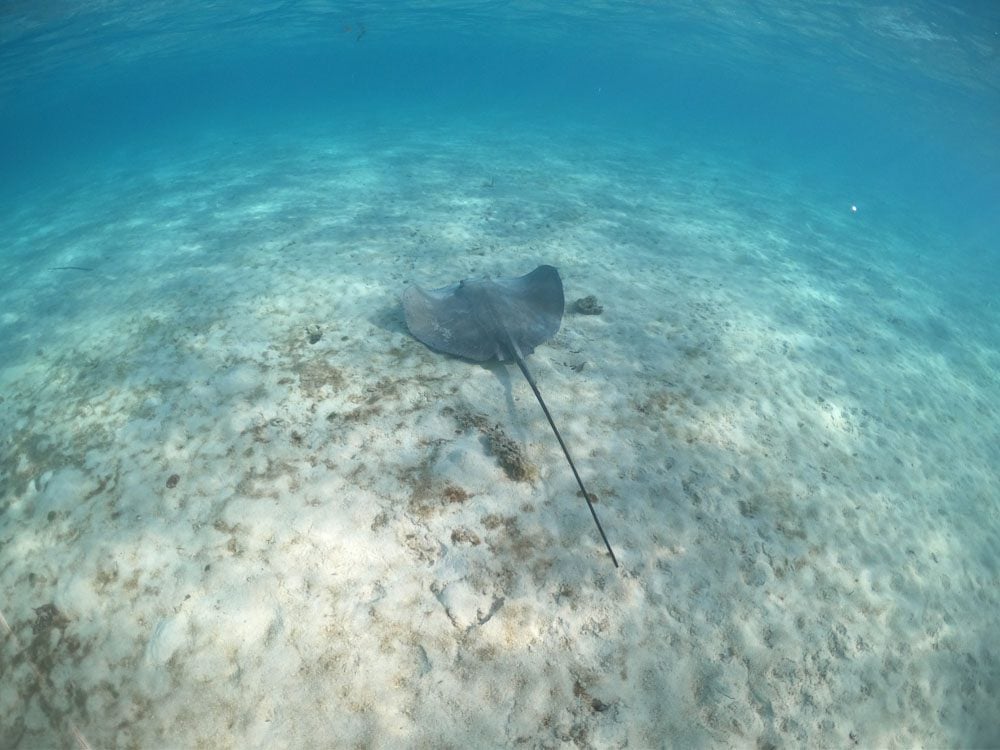 Tahaa Island Tour
When you stay at a luxury resort like Le Tahaa, it's hard to get out of your overwater bungalow or beach villa. But Tahaa is so beautiful and small that it would be a sin not to taxi boat to the main island and see what's happening on the other side. So, once again, we rented a small car to tour the island.
We were blessed with a sunny day that accentuated the island's infinite shades of blue and green. On Tahaa, no matter how simple a home may be, locals tend to their garden as if it were part of a palace. Things were very calm on this sunny Sunday morning, but I'm not sure anything changes come Monday. It's so peaceful in this corner of the world that why go beyond third gear? Take it slow and enjoy the sights, sounds, and aromas.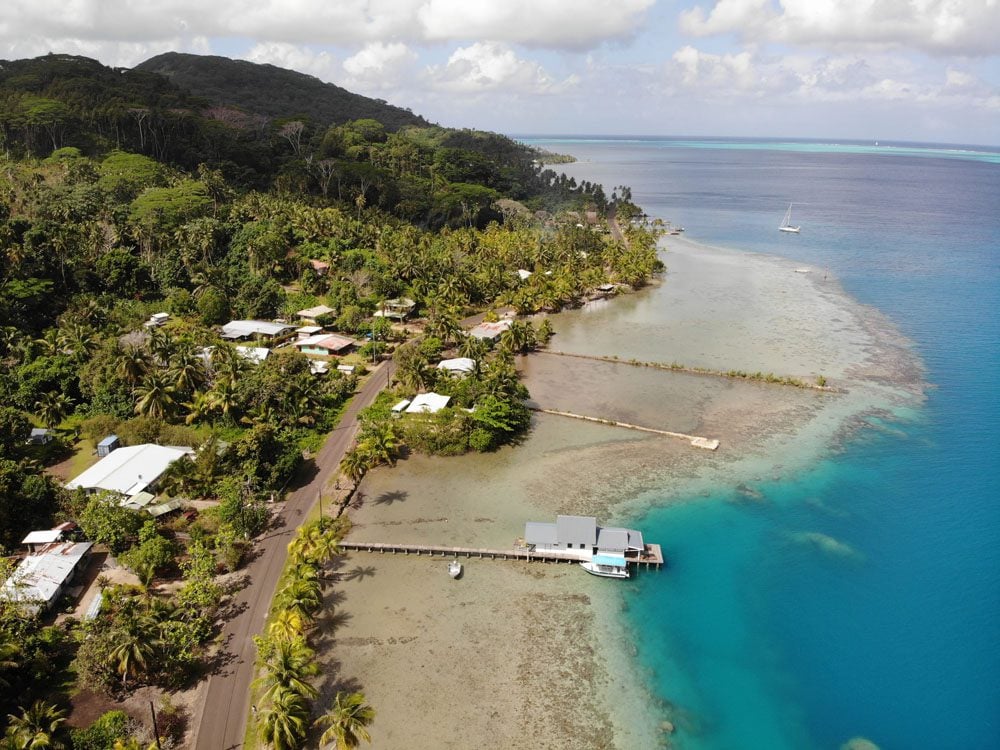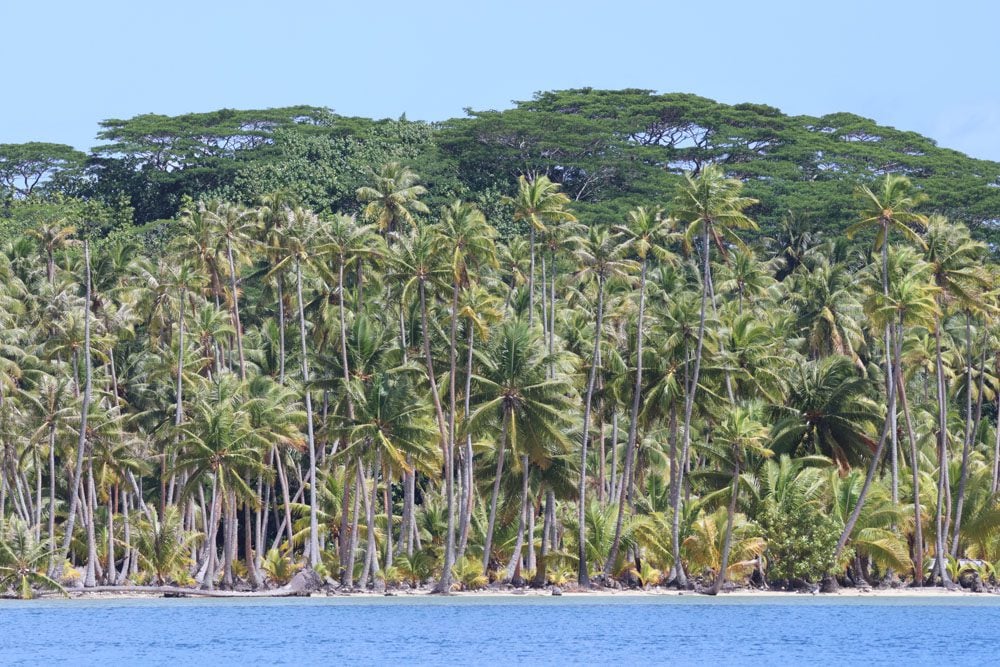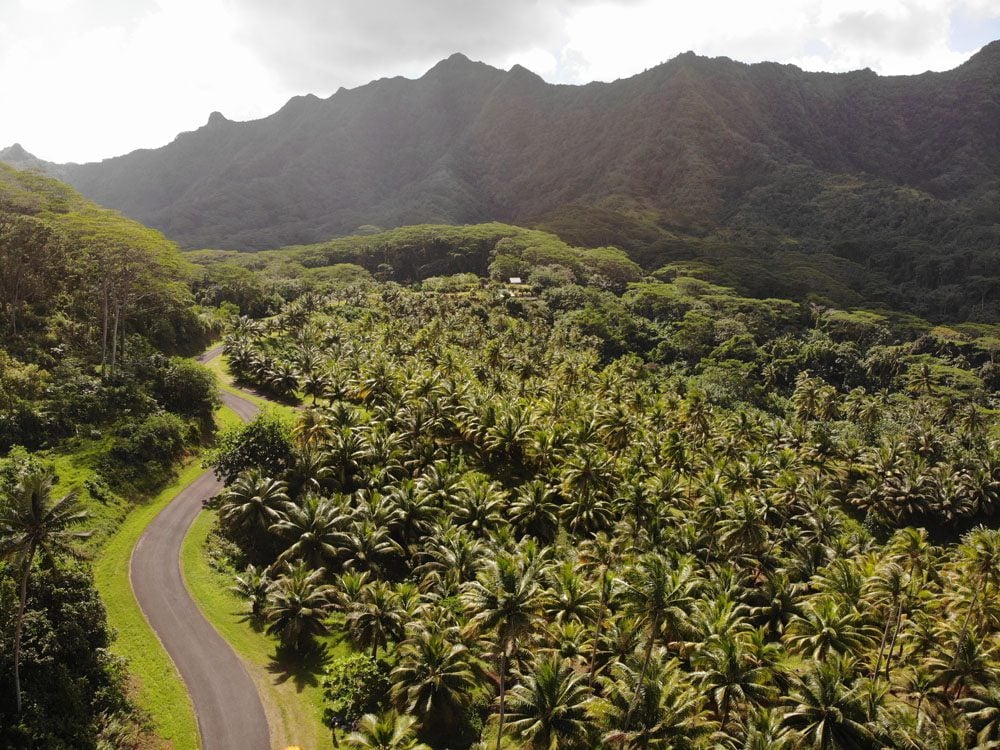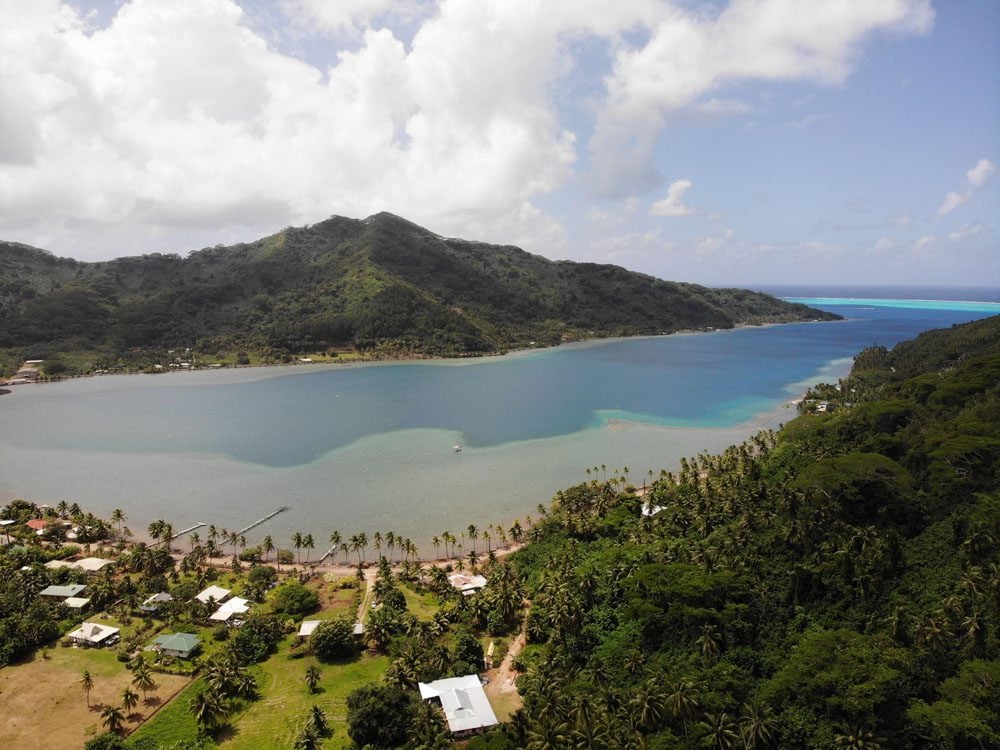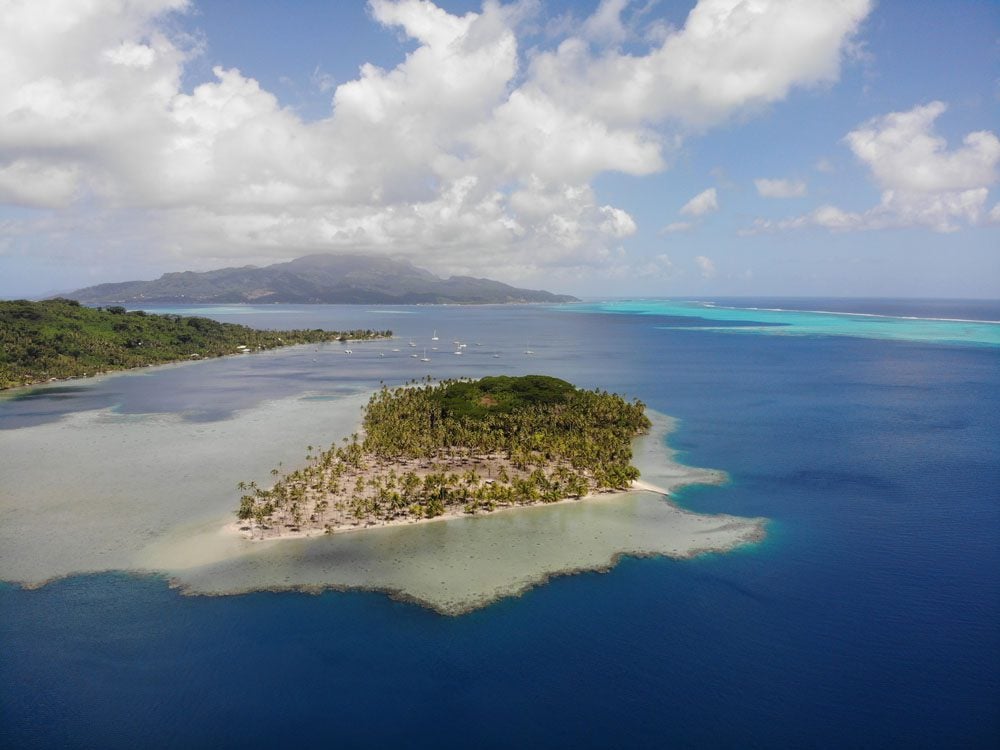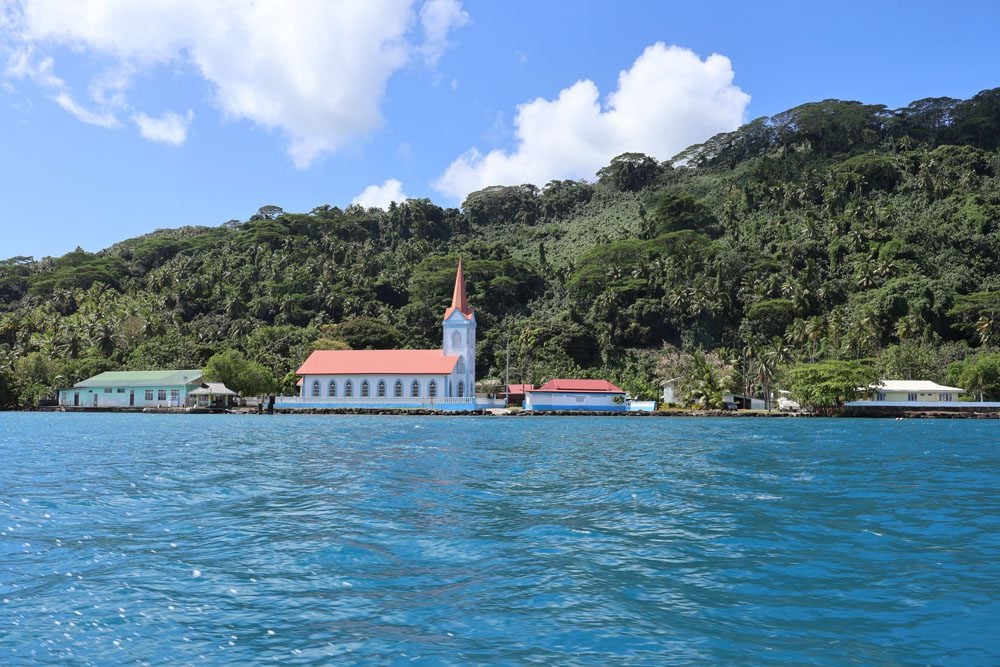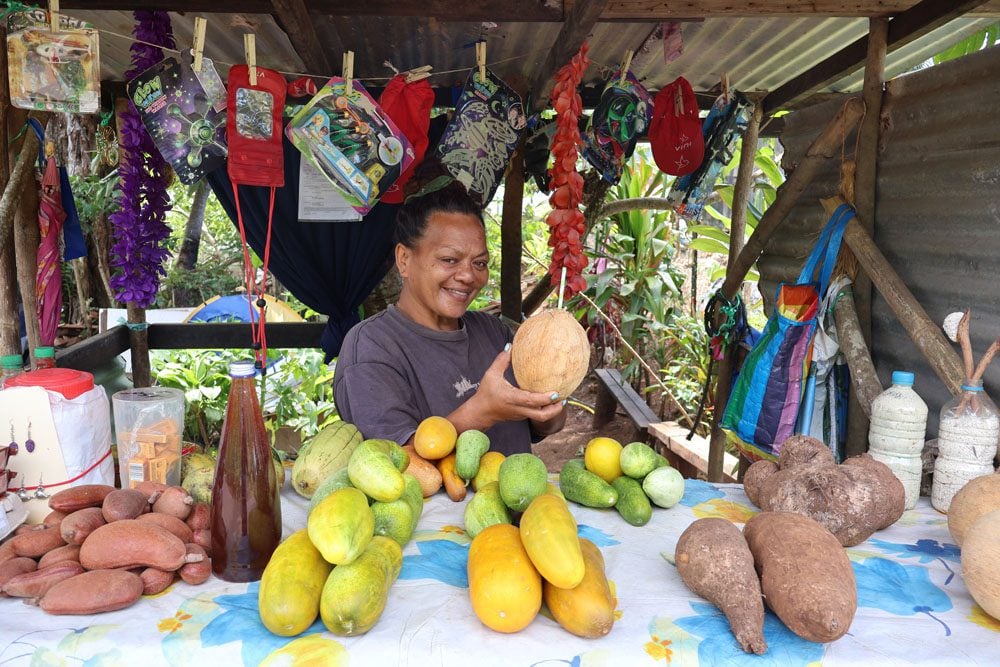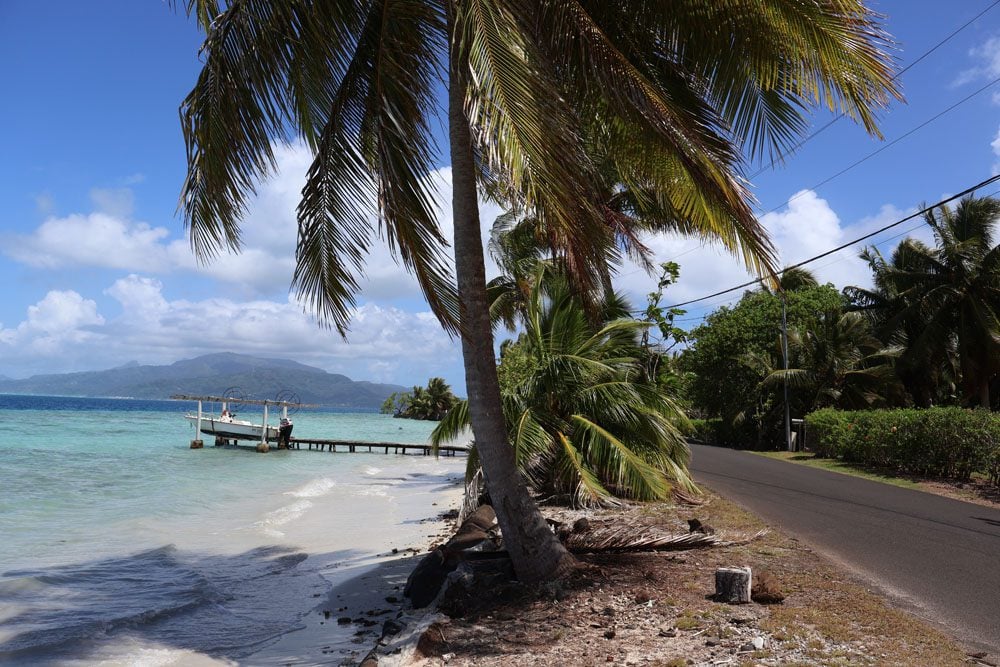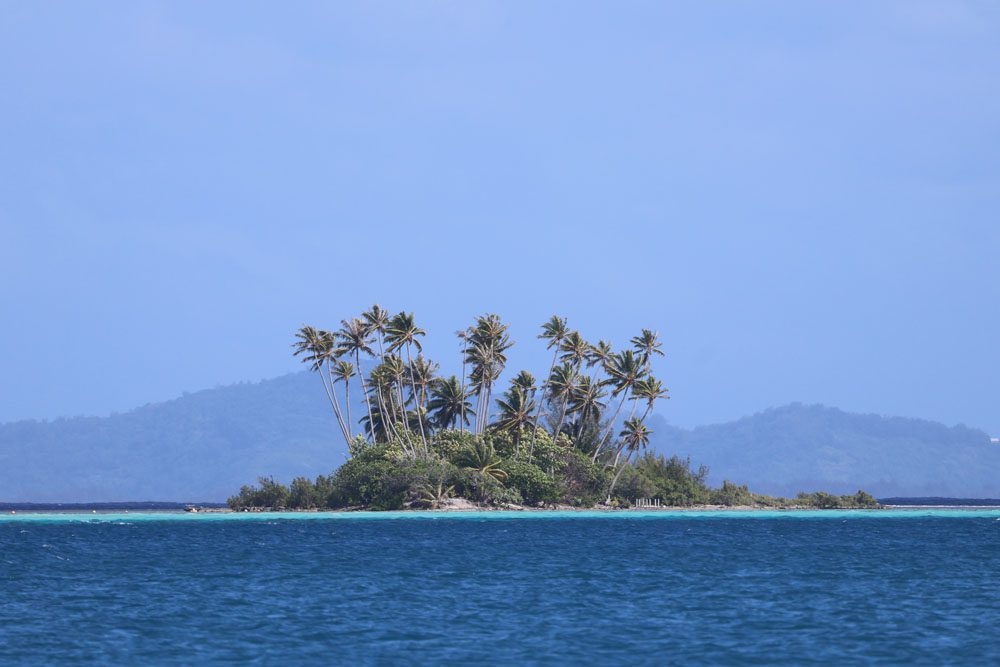 Speaking of aromas, we paid a visit to La vallée de la Vanille just in time to join a guided tour of the vanilla farm. We learned about the lengthy and challenging journey local farmers must take to produce the second most sought-after spice after saffron. From the vanilla farm, we cruised into Teva village, just in time to catch the tail end of Sunday service. We'll never forget the genuine friendship displayed on the faces of the local congregation, their beautiful attire, and the harmonious singing throughout the service, all of which brought tears to our eyes.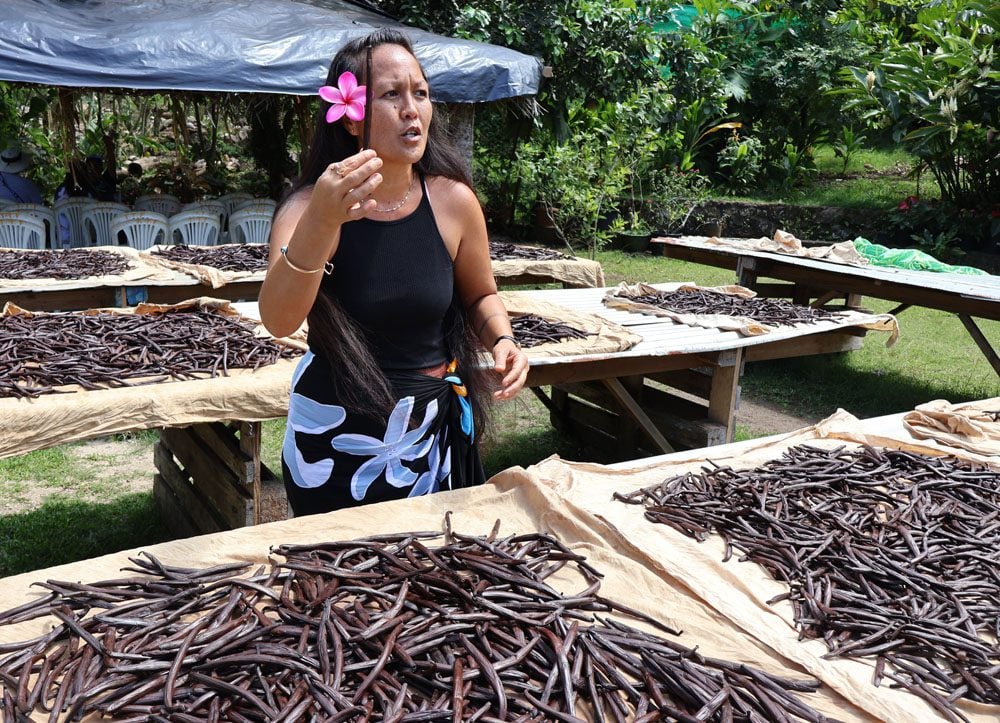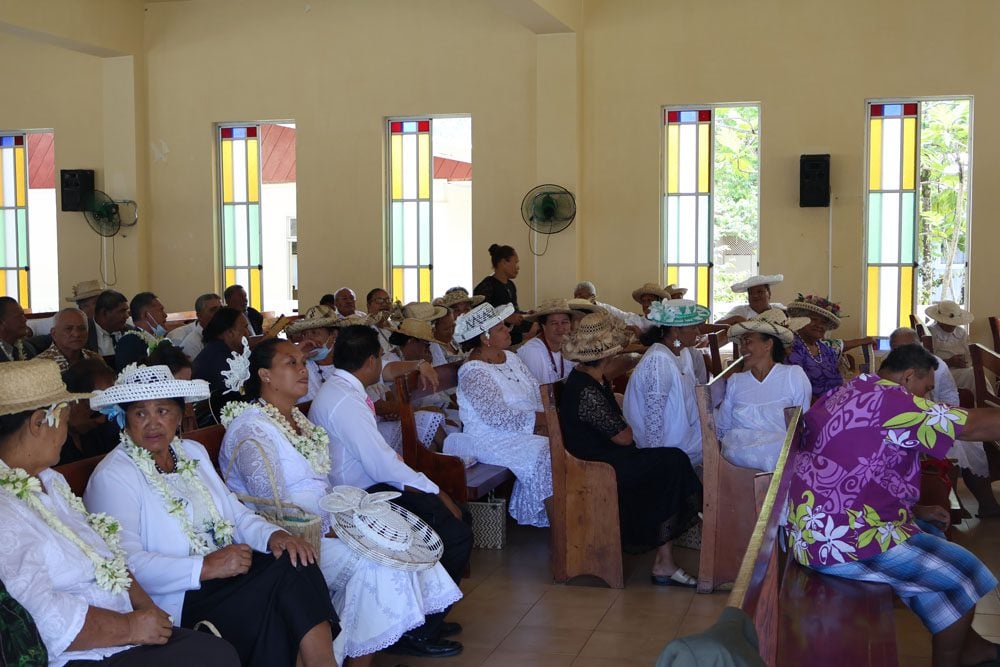 What's Next?
It's been a few weeks since we returned home from French Polynesia, and its effects are still felt. We find ourselves greeting strangers hello, smiling more often, never honking the horn, and more aware of nature's small gifts. But above all, we have a better perspective on life. When a challenge arises in our hectic schedules, we briefly look back and reflect on the beauty etched in our memories.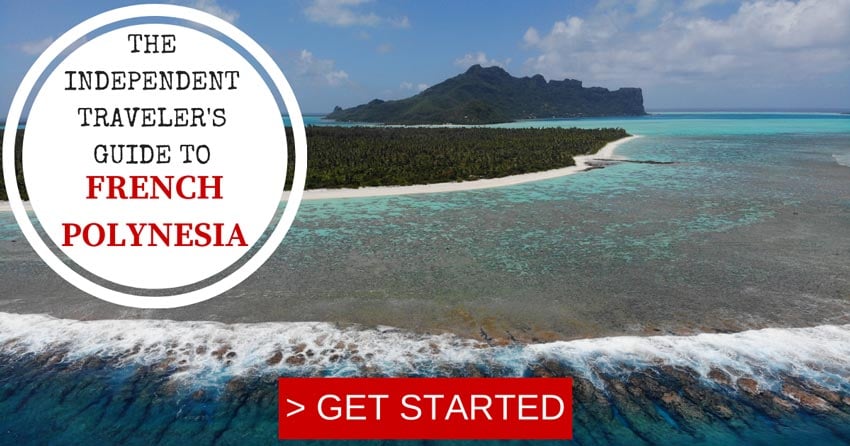 ---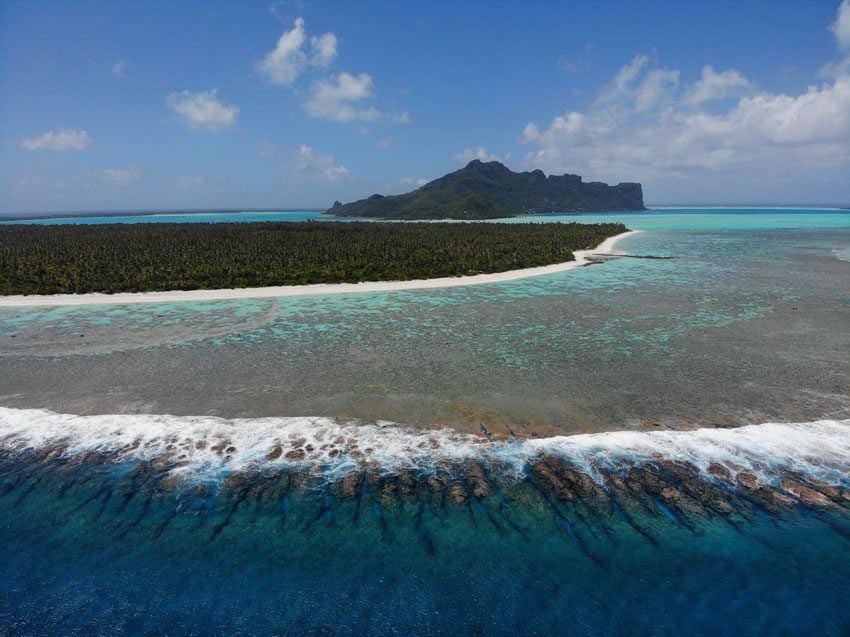 Tahiti, Tailor Made!
The Islands of Tahiti are among the last places to be colonized by mankind, 118 islands, each with their unique personality.
Get expert advice and assistance with planning your trip to the destination where tropical dreams come true!
See Options
---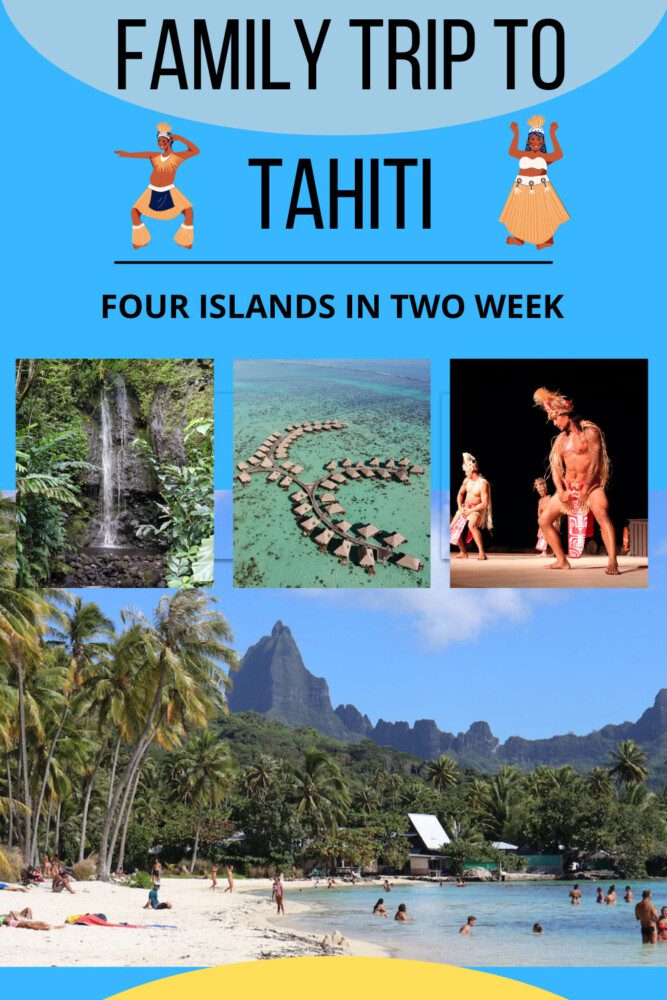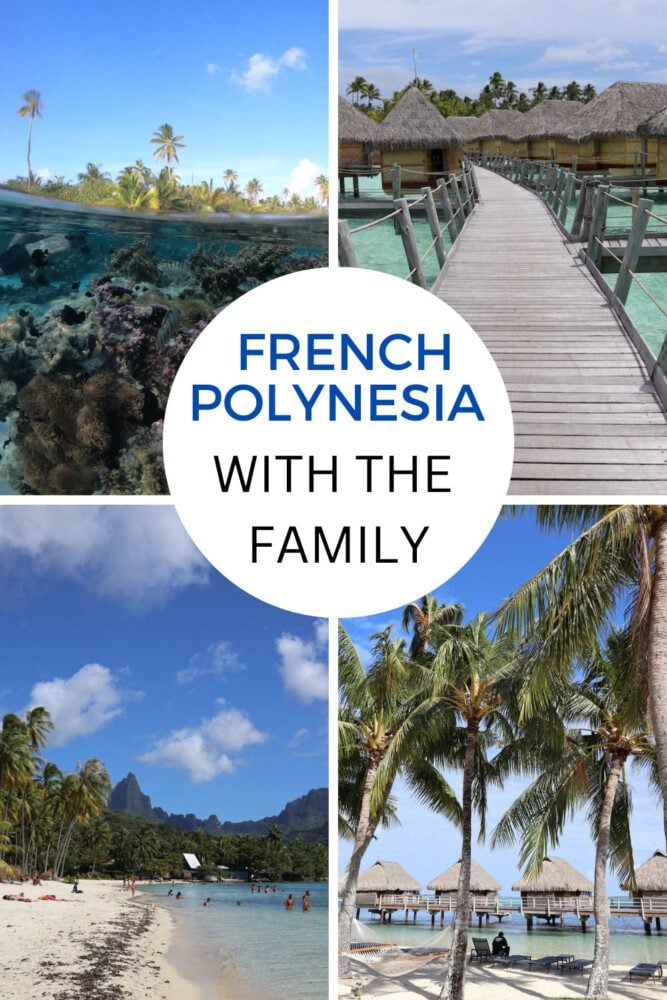 Pin These Images To Your Favorite Boards!