The ultimate way to go back in time and experience the Paris of old, the Latin Quarter is not something a visitor to Paris can miss. If its chic neighbor to the west, Saint Germain, is abundant with cafes, pastry shops and boutiques – the Latin Quarter is abundant with superb academic institutions, magnificent Gothic churches and affordable bistros. You might even find yourself all alone in an ancient Medieval street on the old road to Rome. In this Latin Quarter itinerary, I'll show you all the neighborhood highlights along with my secret tips!
Heading to Paris?
Plan the perfect trip to Paris with free and in-depth Paris travel guides, including the Best of Paris collection and a guide to all major Parisian neighborhoods.
If you're wondering how the Latin Quarter got its name, look no further than all the top-notch academic institutions that have been here for centuries (like the Sorbonne) and the Gothic churches that have been here for even longer. In Paris of old times, students and clergymen spoke Latin and the name just stuck!
The Latin Quarter in Paris takes up the majority of the 5th arrondissement (district) on the Left Bank of the Seine. Boulevard Saint Michel pretty much marks the boundary with Saint Germain and these two neighborhoods, arguably making up the nicest area of Paris, couldn't be more different than each other. That's what I love about Paris, you walk just a couple of blocks and it's like you're in a completely different city.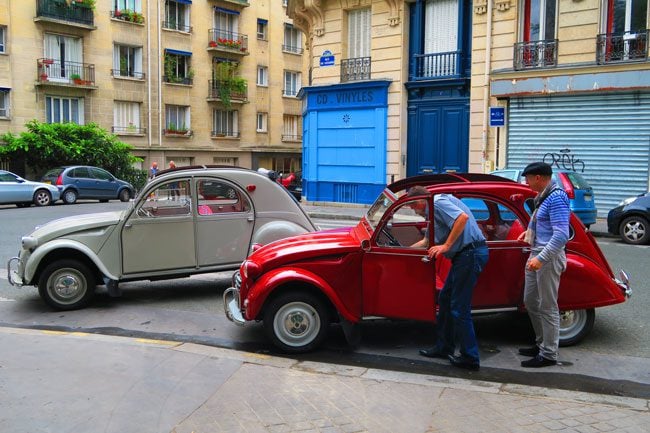 This is one of the oldest areas of Paris, with narrow lanes opening up to small squares in the shadows of great monuments. You'll have a blast exploring the Latin Quarter! I kept coming back here on my 3-month visit to Paris – and there's still so much left to explore!
What's Included in this Latin Quarter Itinerary
Several sections make up this itinerary:
Exploring The Latin Quarter – Logistics: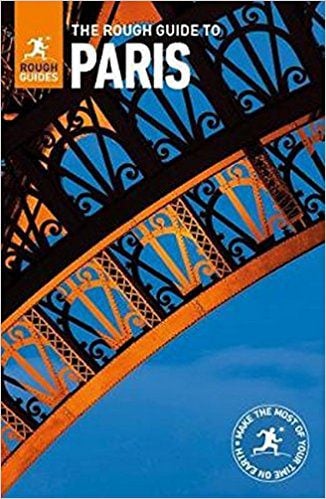 Before you go: pick up your copy of

The Rough Guide To Paris

, together with these neighborhood guides, it'll be your best friend in The City of Lights.
When to go: the Latin Quarter is best explored by foot so prepare for a beautiful day of walking (weather permitting of course). The weekend is ideal though if you visit during a weekday, the lovely old lanes will be pretty empty. If you like Parisian food markets (and who doesn't), the Marché Monge takes place on Wednesdays, Fridays, and Sundays. Rue Mouffetard which is essentially a market street should be open throughout the week though a lot of shops will take Monday off (along with quite a few restaurants). The Cluny Museum is open throughout the week aside from Tuesdays.
Start & Finish: there is no right or wrong way to see the Latin Quarter. I enjoy starting at the southern end in Rue Mouffetard and working my way up to Place Saint Michel. Alternatively, you can start at Pont de l'Archevêché, crossing over from the Right Bank at Ile de la Cité and finish off either at the Jardin des Plantes or Jardin de Luxembourg.
Duration: definitely worth a full day and if you've got more time, you'll be coming back!
Other options: the Latin Quarter borders Saint-Germain-des-Prés, the ultimate Parisian neighborhood. Have a look at this Saint Germain itinerary guide that I wrote and feel free to jump in and out of what are probably the two most attractive neighborhoods in Paris. You're also just across from the historical islands of Paris, le de la Cité & Île Saint-Louis – where Paris pretty much began. If you try to do both, it might be pushing it a bit but feel free to sample a little bit of both banks of the Seine!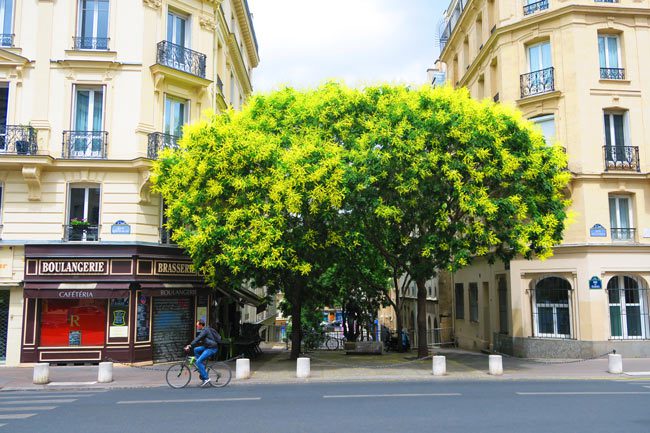 Latin Quarter Itinerary Map
As with the Saint Germain itinerary guide, since there are so many things to do in the Latin Quarter, I'll mention the highlights and you can pick and choose what you like best. I've visited this part of Paris on many occasions and I'll share with you the top must-see highlights, along with my secret tips!
Click on the image to open the Latin Quarter map in Google Maps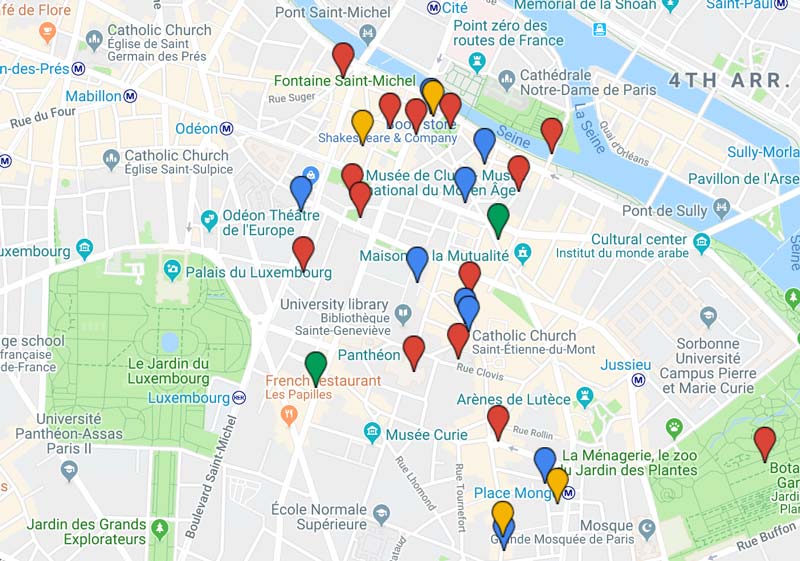 Famous Landmarks in the Latin Quarter
Place Saint-Michel & Around
Place Saint Michel is one of the busiest spots in all of Paris, through where a lot of traffic between the two banks of the River Seine passes and where the 5th & 6th arrondissements meet. The square itself is unmissable, thanks to the fountain celebrating the Archangel Michael. Saint Michel is accompanied by two obeying water-spouting dragons – creating a popular meeting spot for tourists, street performers, and very often, demonstrators.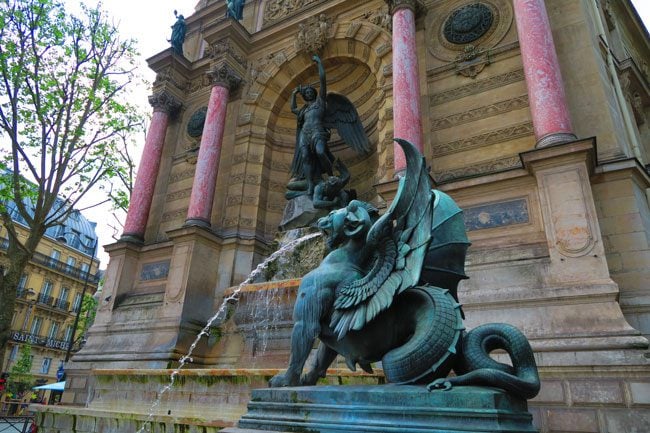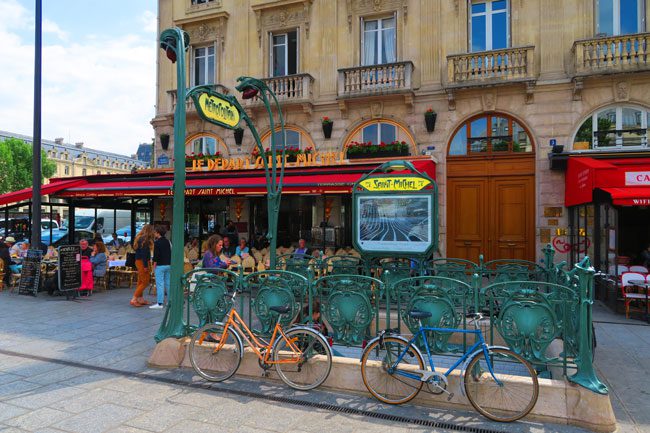 The area around Place Saint Michel is buzzing. Over at Place Saint-André-des-Arts, just behind the fountain, things are a bit quieter – with a few food & drink options out on the terrasse.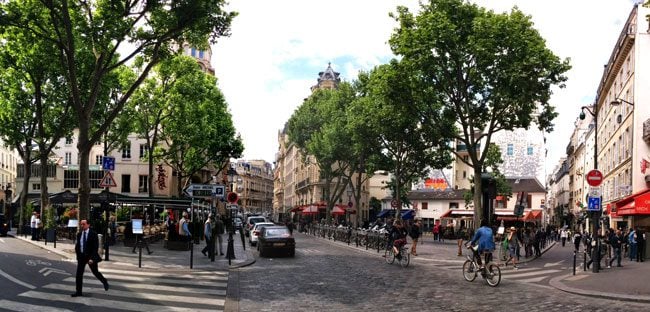 This entire area is also a book lover's heaven! Over on the riverside Quai Saint Michel, you'll find a handful of Bouquinistes – those famous Parisian booksellers with their green wooden pop-up stalls. Further away from the river, there are loads more 'regular' book shops. We'll visit a couple of the special Parisian bookshops in the next sections but it's clear by now just how much Parisians love good old-fashioned paperback books.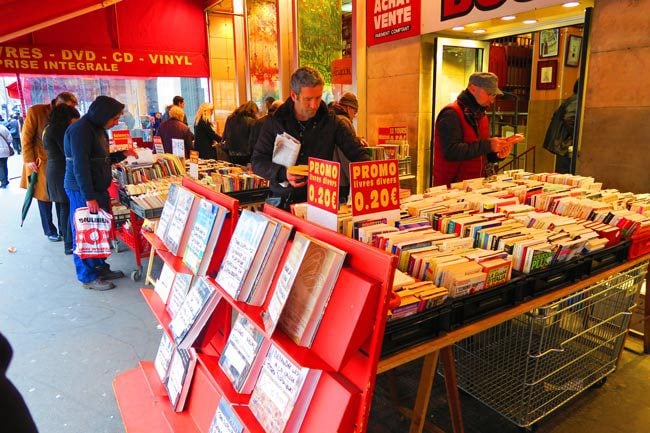 Speaking of old, the Latin Quarter is one of the oldest in Paris. If you've been reading some of my posts, you might remember a mention or two of Baron Haussmann. The Baron was commissioned to bring Paris up to standard from its then state of filth, overcrowdedness, and disorganized urban planning. Haussmann took his job seriously and among other things, demolished entire city blocks in favor of those wide boulevards we see today. Why am I mentioning this? Between those wide boulevards, old Parisian lanes survived demolition and we'll see a lot of those in the Latin Quarter.
You can head to nearby Rue de la Huchette and Rue de la Harpe, also exploring their side streets. In the case of the former, it has gone 'super tacky' these days and is mostly filled with kebab joints. Rue de la Harpe, on the other hand, is slightly more pleasant and gives you a better sense of what this area may have looked like 150 years ago. Keep in mind that this isn't the best area to spend most of your day in the Latin Quarter – so get going.
Church of St-Severin
For those of you who don't know me by now, I will admit that I have a thing for old European churches. Not from a religious perspective (no offense to anyone) but more from an architectural sense. Some of these old cathedrals in Europe are simply works of art and it makes you wonder if that was money well spent? In any case, the Church of St-Severin has one of the most unique interiors among Parisian churches – and believe me, I've visited quite a few.
Step inside this 13th-century Gothic cathedral and behold the twisting columns that are its signature mark. The stained glass windows aren't too shabby either, with some of the brightest colors around. On the outside, you can peek into what looks like a cloister, where parish members were buried centuries ago. The church is open every day, pretty much the entire day.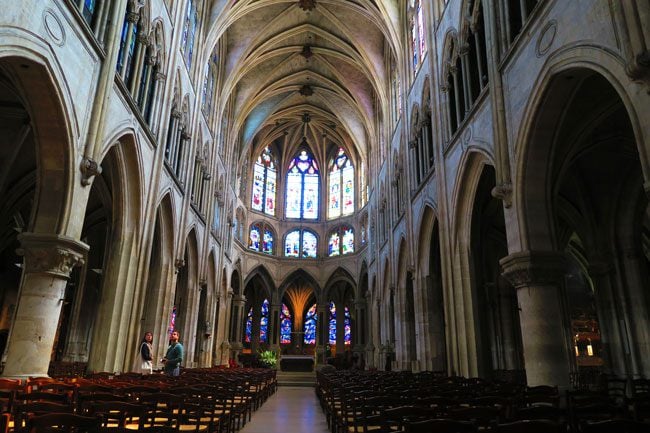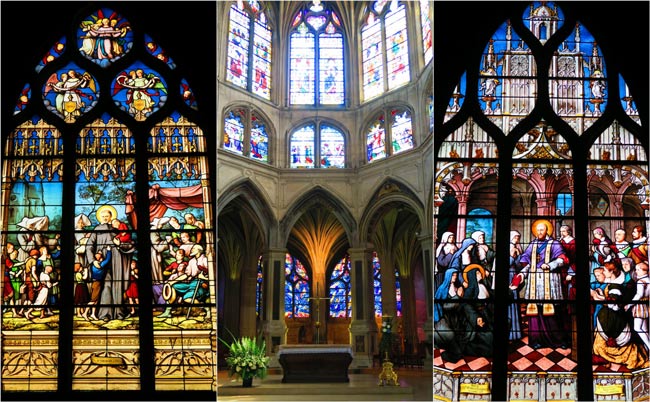 Saint-Julien-le-Pauvre
Translating to Church of Saint Julian the Poor, I, unfortunately, missed the opening times at this super old church. It's one of Paris's oldest churches, dating back to the 12th century! The church is currently run by the small community of Eastern Catholic Melkites – of Greek and Middle Eastern origin, whose prayers on Sundays are in Greek and Arabic. This might explain why the church is closed to visitors on weekends.
Pont de l'Archevêché & Around
Connecting Ile de la Cité with the Left Bank, the bridge offers one of those classic Paris photo ops. Perhaps this is the reason why so many couples choose to have their cheesy pre-wedding photoshoots here. In any case, this can be an optional starting point for your Latin Quarter itinerary.
You'll find here the original 'love locks', a rarity these days following the city's decision to remove the 45 tonnes of locks on the famous Pont des Art. The view of Notre Dame, the riverboats cruising the Seine and couples enjoying a romantic picnic on its banks – are what makes this spot unique!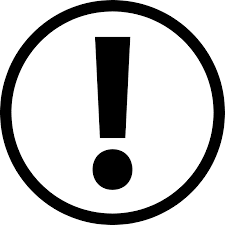 Update
Due to the tragic fire that destroyed large parts of the cathedral in April 2019, it is highly unlikely that you'll be able to enter the cathedral anytime soon. Expect major changes to pedestrian traffic around Notre Dame and check the official website for re-opening updates.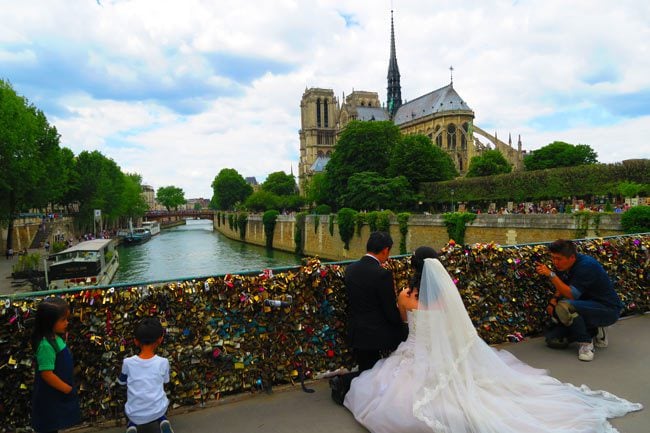 As you cross the bridge and make landfall in the Left Bank, check out the charming old streets between Rue des Bernardins & Rue Frédéric Sauton. They will lead the way to the special part of the Latin Quarter!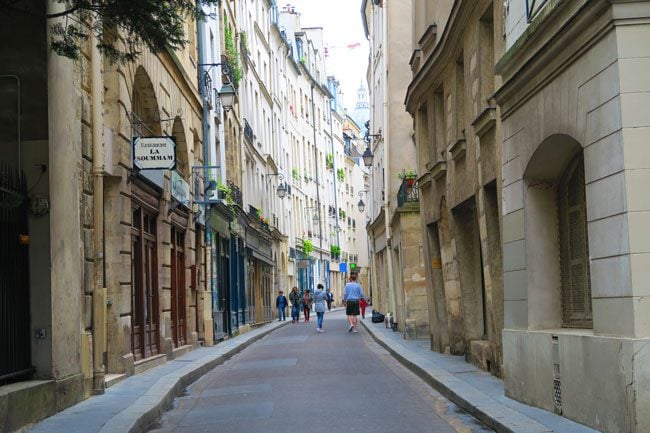 René Viviani Square
If you already need a break, grab a seat on one of the benches at René Viviani Square. The view across the Seine to the Notre Dame is priceless and the massive broken tree is said to be one the oldest in Paris!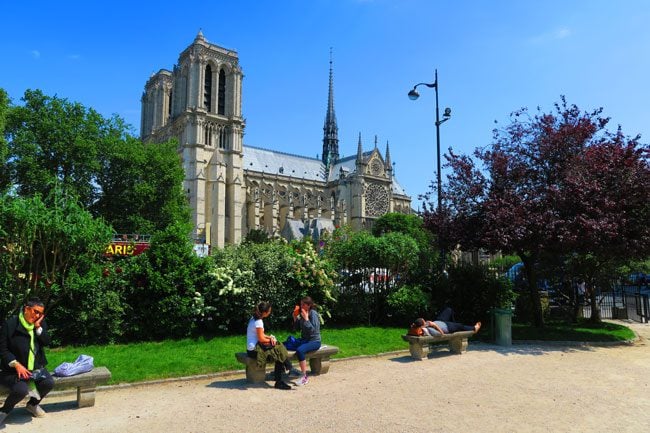 Cluny Museum – National Museum of Medieval Art
I am usually not a huge fan of museums, especially on such fine sunny days as the one I spent in the Latin Quarter. However, I found Paris to be the exception to this habit of mine. I visited some of the city's finest museums like the Louvre, Musée d'Orsay, and the Musée Jacquemart-André but the most surprising visit was by far to the Cluny Museum.
Since 1843 and housed in a gorgeous 16th-century mansion, the Cluny can easily be overlooked from the main boulevards of Saint Germain & Saint Michel. Adjacent to the mansion and part of the museum, are the remains of well preserved Roman baths from the 1st century – back from the days when Paris was called Lutetia! So with the finest collection of Medieval art and ancient Roman baths, visiting The Cluny is a no-brainer (closed Tuesdays, €8 per adult).
You'll start by getting an up-close and personal look at stained glass window fragments. Some of these pieces are straight from the Sainte Chapelle, nearby on Île de la Cité (absolutely a must-see in Paris). If you've visited Parisian churches, you know the French love their stained glass. Seeing these up close really puts in perspective just how exquisite this work is.


Next up are the 21 heads of the Kings of Judea. These 13th-century statues used to be in the Notre Dame Cathedral but during the French Revolution (1789-1799), Parisians found it fashionable to destroy churches. An angry mob decapitated these guys and buried them somewhere in Paris until they were randomly found in 1977.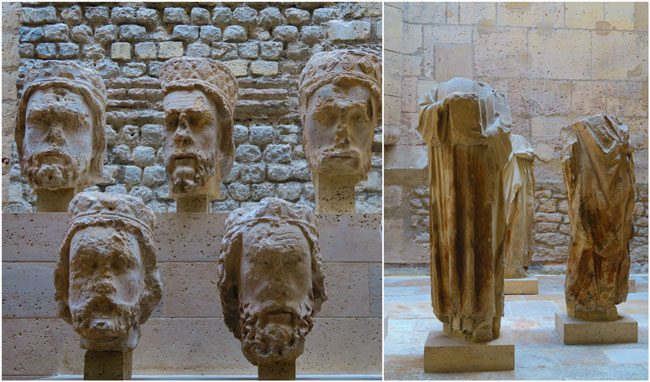 The first-floor highlights climax at the Roman thermal baths. This used to be a massive complex back in the 1st century and you can imagine that this was the place to be, in the Roman city of Lutetia – back in the day.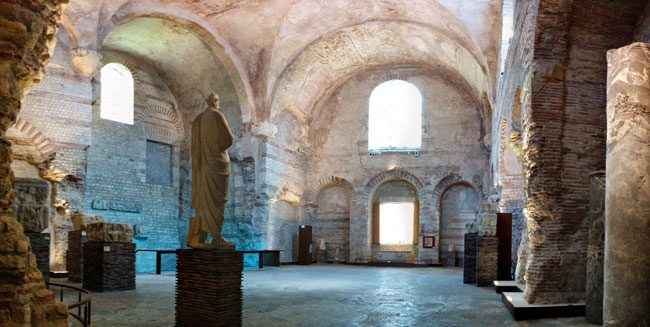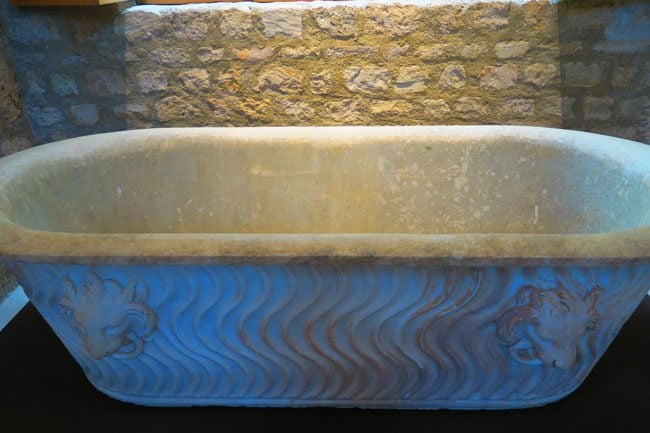 The second floor is where things start to get interesting. You begin by walking through rooms with tapestries that are out of this world. It's hard to imagine hanging one of these on your wall these days but back in the Middle Ages, this was soooo in fashion (if you were super-rich).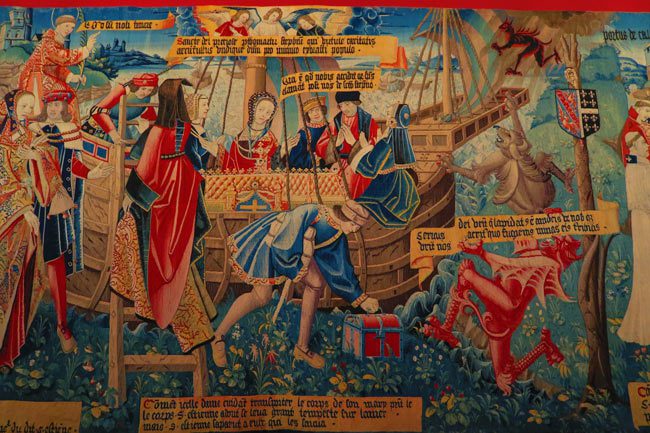 As you work your way towards the climax of your visit, pop into the Gothic Chapel of the Hotel de Cluny – an intimate vaulted chapel with a massive central pillar. The level of precision needed here is really impressive, especially considering it was built over 600 years ago!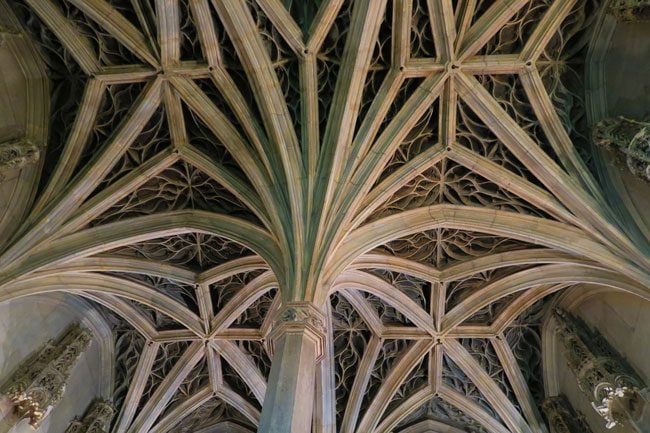 And now for the highlight of our visit to The Cluny. Some of the tapestries we just saw a few minutes ago are child's play compared to that of The Lady and the Unicorn – a series of exquisite tapestries from the 15th century. There is still a lot of mystery as to their meaning but they somehow seem to be depicting the five senses, along with the sixth sense of love & understanding – but who really knows why there's a unicorn in there…?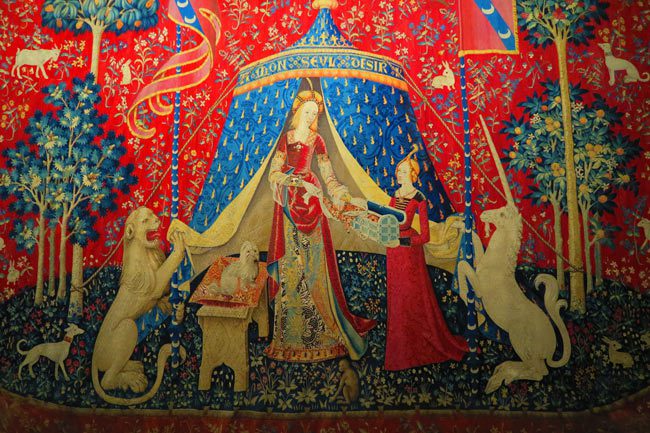 Bottom line: the Museum of Medieval Art is one of the best museums in Paris, period! Even if you only have an hour to spare, it's worth the visit and a lot less crowded than some of the marquee museums in town. If Medieval is your thing, check out their concert lineup – usually on Mondays and Sundays
Montaigne Statue
As you exit The Cluny Museum, you'll find yourself literally on the 'street of the schools' (Rue des Écoles) – and for good reason. The Latin Quarter is the historical home of France's oldest and finest universities & schools, like the Sorbonne, College de France, and Lycée Louis-le-Grand. As you might know from your own experience, students always look for that extra luck before exams. In this part of town, it means rubbing the right toe of good old Michel Montaigne, famous philosopher and pretty much the inventor of the essay – something we all know and love back from our school days, yeah right! It turns out that students in these fine institutions haven't fully gone digital yet and you'll find here a nice collection of 'old school' book shops – though I don't know how long these guys will stay in business.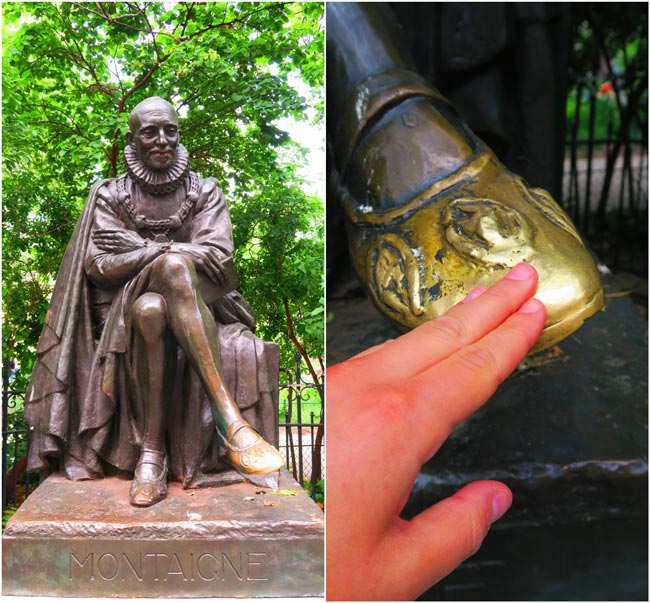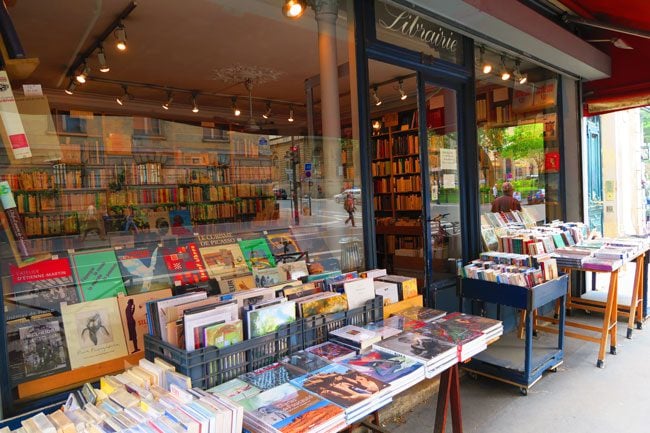 Place de la Sorbonne & Around
Unfortunately, you can't enter the Sorbonne without a student ID so the next best thing is to chill in the Place de la Sorbonne. It's a wonderful spot to pass the time and grab some lunch in one of the classic Parisian cafes lining the square. You might even see a few students doing some last-minute prep before exams. The soothing sounds of the water fountains surely help their young minds.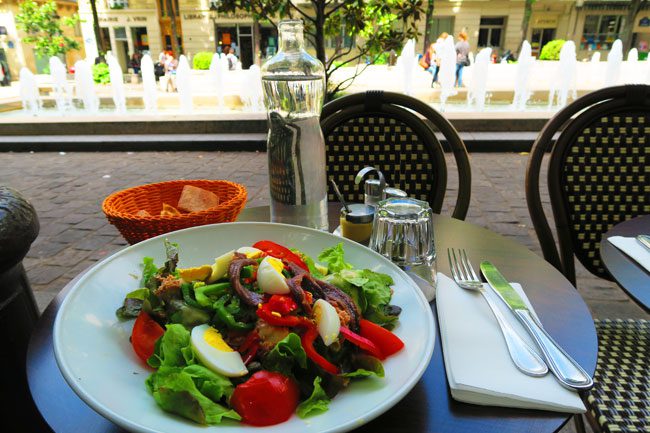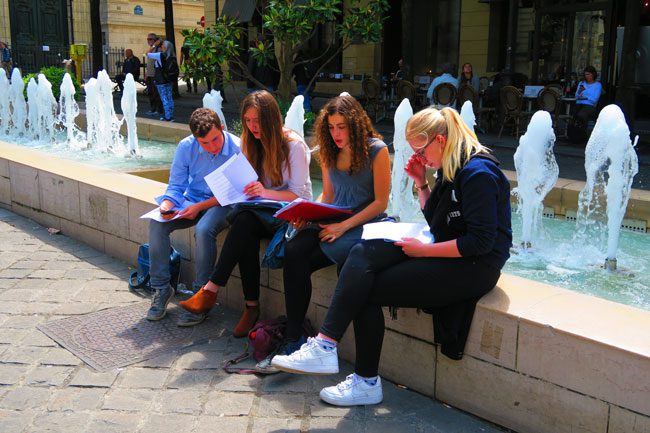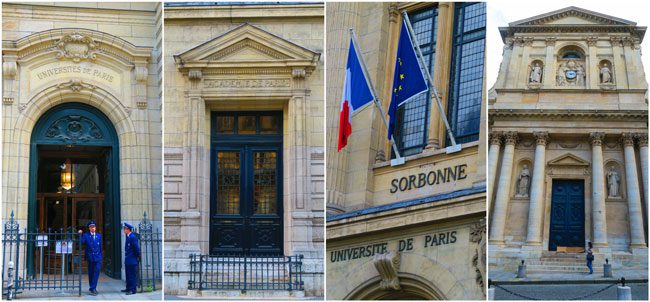 Rue de la Montagne Sainte Geneviève
Ascending from the Place de la Sorbonne towards the Panthéon, you'll feel like you're walking through a Medieval village on this secluded street. I mentioned earlier that in some parts of the Latin Quarter, you'll feel a world away from the big city – and Rue de la Montagne Sainte Geneviève is the perfect example of that.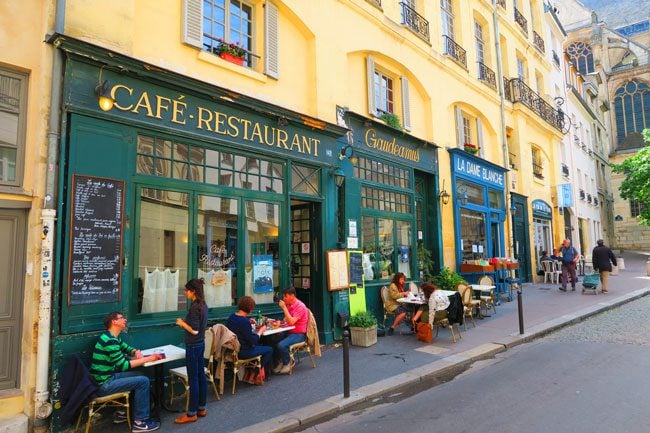 You'll find here old book shops, lots of wine bars and cafes – especially around Place Larue (see restaurants & cafes section). It's another great stop to recharge your caffeine or alcohol levels – depends on how you look at it.
Towards the top of the street, even tinier cobblestone alleys will reveal themselves – this is the Latin Quarter at its best!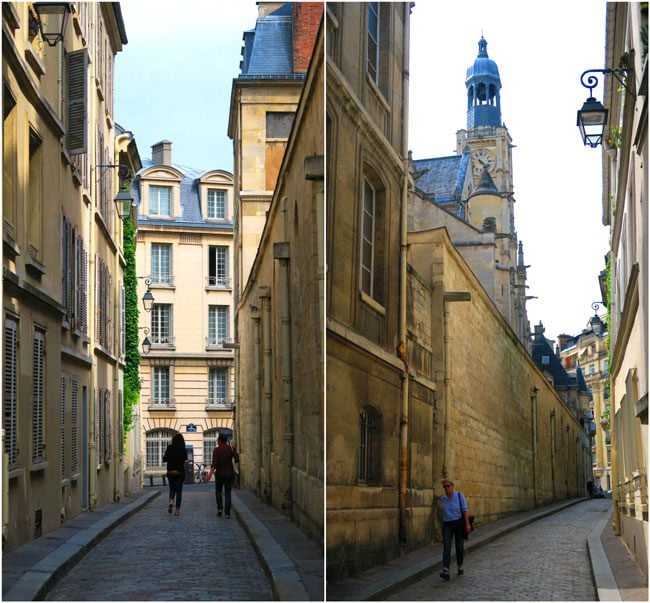 Panthéon
Strategically positioned on a hill so that no Parisian will be able to ignore it, the Panthéon is one of the must-see things in the Latin Quarter, along with the Luxembourg Garden just down the street in neighboring Saint Germain. The story behind this magnificent Neoclassical building is quite interesting, all starting with King Louis XV coming down with an illness in 1744 and vowing to replace the dilapidated Abbey of St Genevieve which stood on these grounds. Upon his recovery, the King made good on his word and construction began on a brand (and grand) new church.
The Pantheon was designed as a hybrid between the Pantheon of Rome and Saint Paul's Cathedral in London – two of the greatest Neoclassical buildings of the time. Sadly for the king, construction ended in 1789 just in time for the French Revolution, which brought with it the habit of destroying churches. The new structure escaped destruction and instead, converted to a secular mausoleum honoring the nation's greatest. Surprisingly, Napoleon Bonaparte is not buried here. He's got his own little mausoleum at the Church of the Dome over by the Eiffel Tower. But Zola, Voltaire, Rousseau, Dumas (author of the Three Musketeers), Marie Curie (the only woman to be honored here), and many others, rest in the crypt of the Pantheon.
Unfortunately, the exterior is undergoing extensive renovation following the discovery of cracks. That should not stop you from heading inside and finding yourself somewhere between Ancient Greece & Ancient Rome (open every day). You'll feel super small inside the Pantheon and I guess that was the intention. Be sure to head up the stairs to the interior balcony for impressive panoramic views.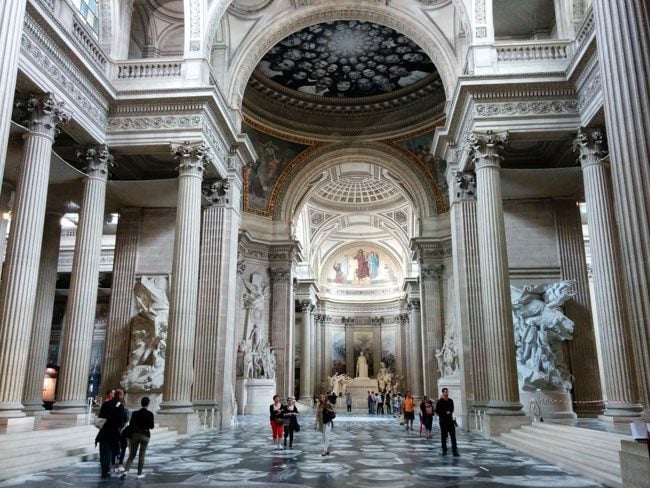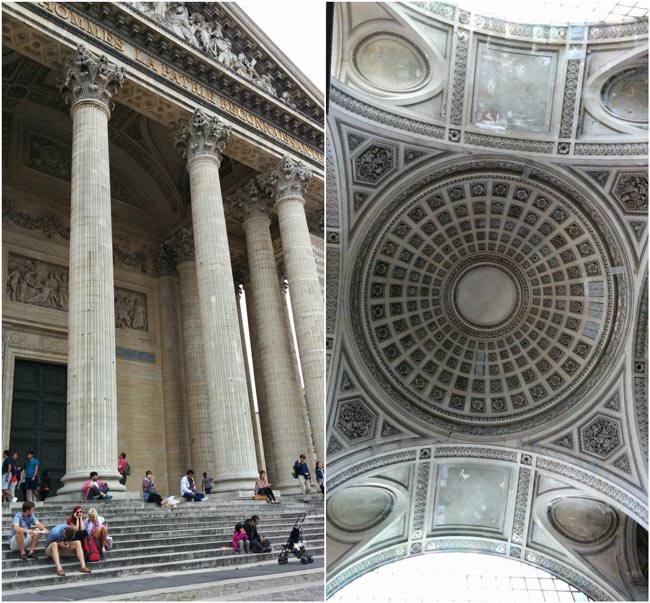 Other highlights include the Pendulum of Foucault, a scientific experiment conducted here in 1851 to show the rotation of the Earth (currently not on display due to maintenance), and the exterior balcony out on the dome, though this is probably closed until the work is done.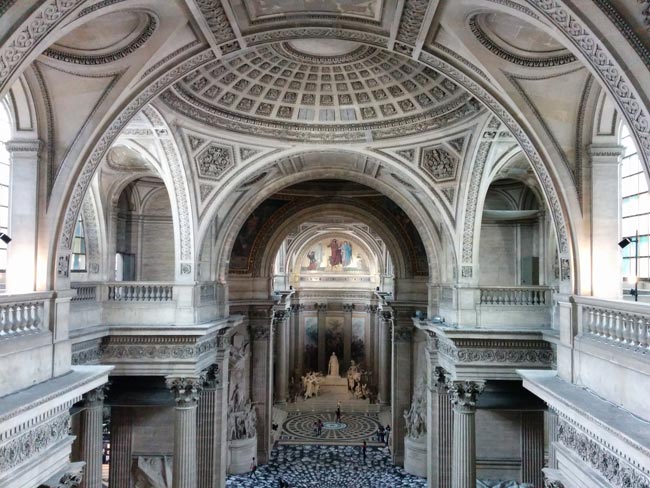 Saint-Étienne-du-Mont
Right by the Pantheon and at the top of Rue de la Montagne Sainte Geneviève, look out for that tower that looks out of place and step inside another one of the nicest churches in Paris. For me, these old European churches are more like museums and I just love checking them out. The tower is all that remains from an earlier church honoring Saint Genevieve but the new one constructed around it is simply magnificent (closed Mondays).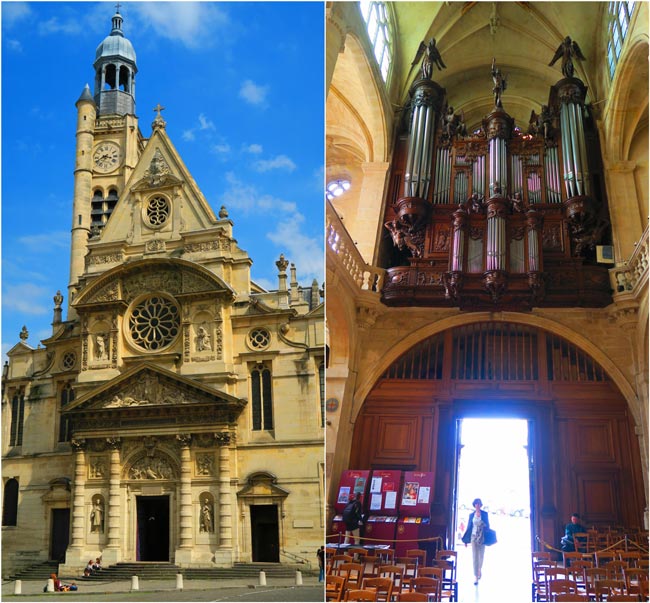 The interior is a lot different than what we're used to from the likes of Saint Sulpice and Notre Dame. Over here, the choir sits below a balcony that snakes its way along the walls of the interior. Beautiful stained glass windows emit a kaleidoscope of colors and there's a curious-looking chapel over by the right side. The church is not a major tourist hotspot, which is good. I found it to be one of the nicest in all of Paris.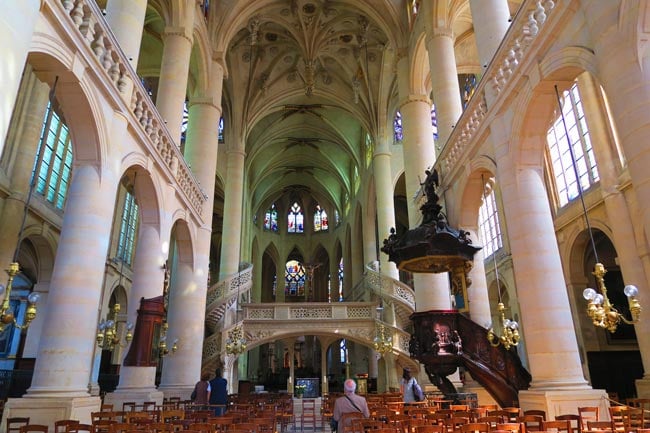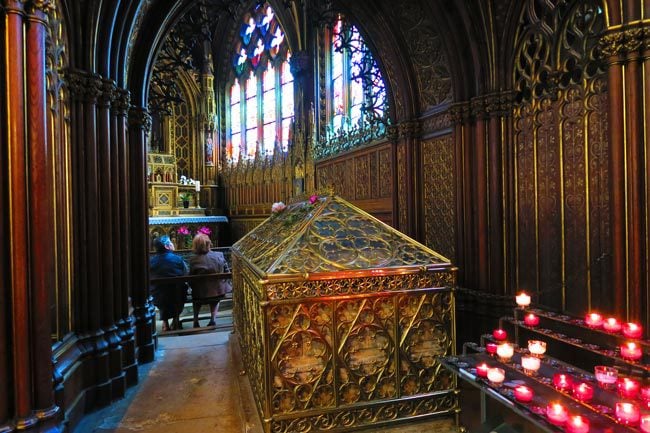 Place de la Contrescarpe & Around
Occupying a lovely square in the Mouffetard area, Place de la Contrescarpe is a wonderful place to grab some lunch and even breakfast. It is from here that Rue Mouffetard slopes down towards southern Paris, marking the ancient route from Paris to Rome. Just beside the square, you can even find relics of one of the old city walls that wrapped around Paris. This one is from the 13th century and as the city grew outwards, old walls were destroyed and new ones constructed around the changing perimeter.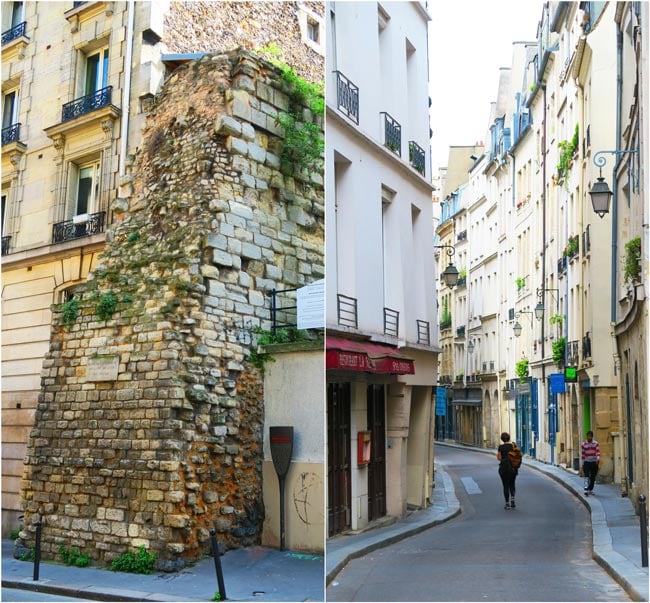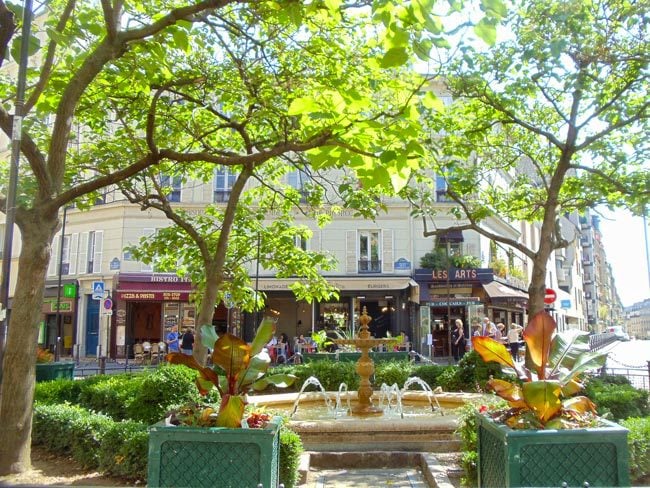 Rue Mouffetard
One of my favorite streets in Paris and an absolute must-see! This cobblestone street used to be one of the great market streets in Paris, just outside the city walls. Today, it's still one of the most pleasant streets in town, filled with restaurants, bakeries, cafes, specialty shops, and lots of fresh fruits & vegetables (see Shops & Markets section for more culinary details).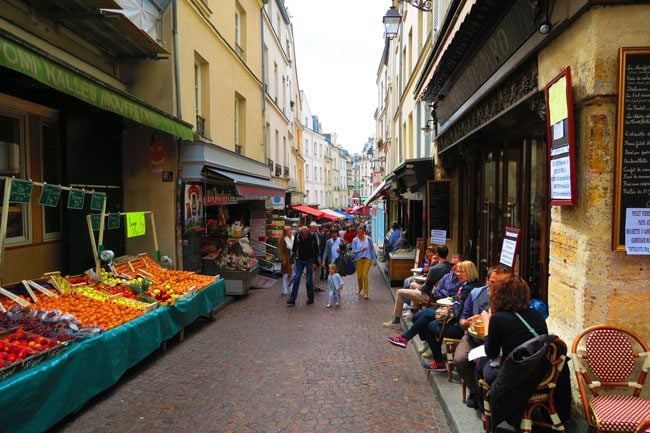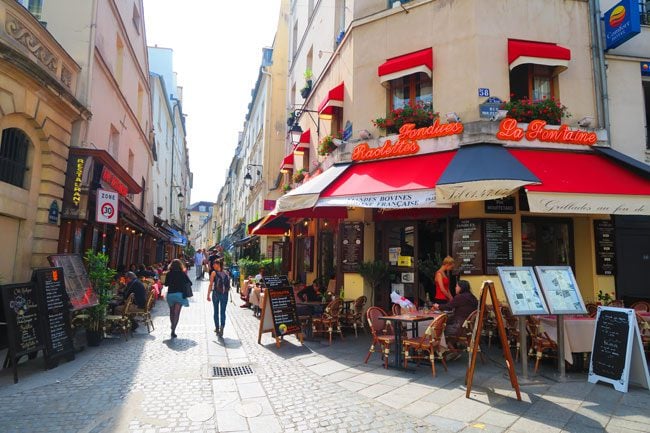 The area just south of Rue Mouffetard is also worth paying a visit if you want to check out a cool Parisian neighborhood: windows with old wooden shutters decorate old buildings with charming balconies that are just full of plants come springtime, sounds of children playing in the schoolyard and people starting to make their way back home – I could definitely live in the Latin Quarter!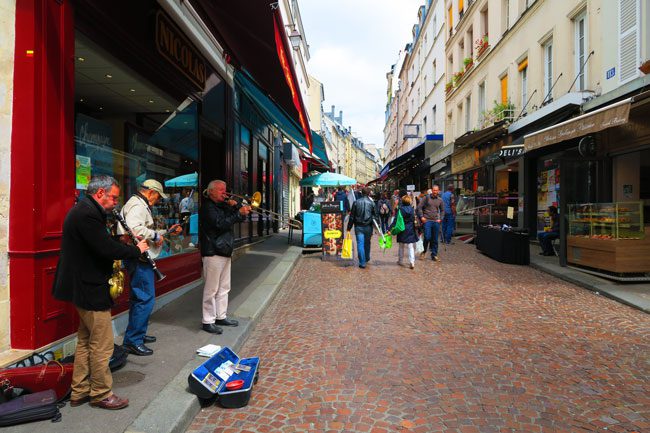 Jardin des Plantes
As I've mentioned in earlier posts, what makes Paris so special is that it's a city that's made for actually living in it. Proof of that is that every Parisian neighborhood has its large park. In the case of the Latin Quarter, this park is the Jardin des Plantes. This is not just any park though!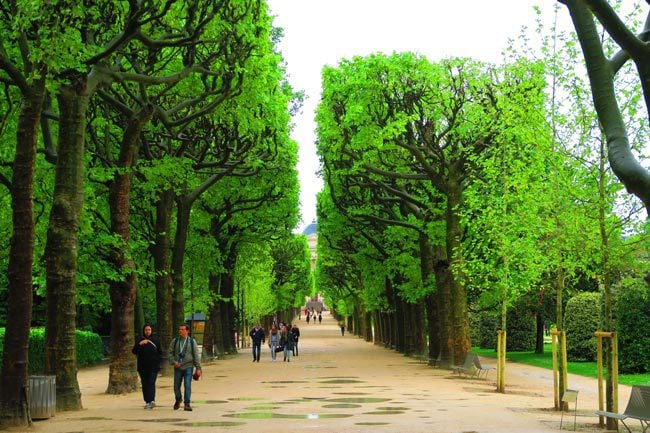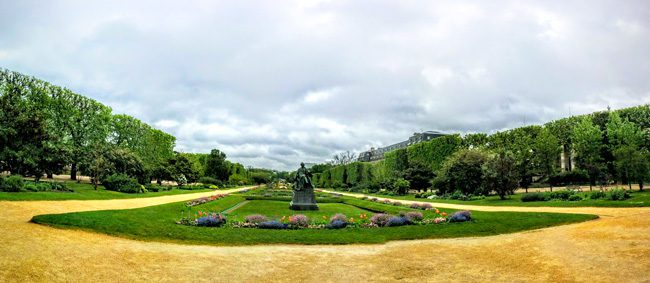 It started as a medicinal herb garden in the 17th century and you can still stroll through the collection of plants today. Over the years, it attracted many scientists who set up their labs around the park. Today, the massive green lung is the largest botanical garden in France. If you're into tropical plants or just want to warm up a bit, head inside the hothouses where you can even climb up to canopy level.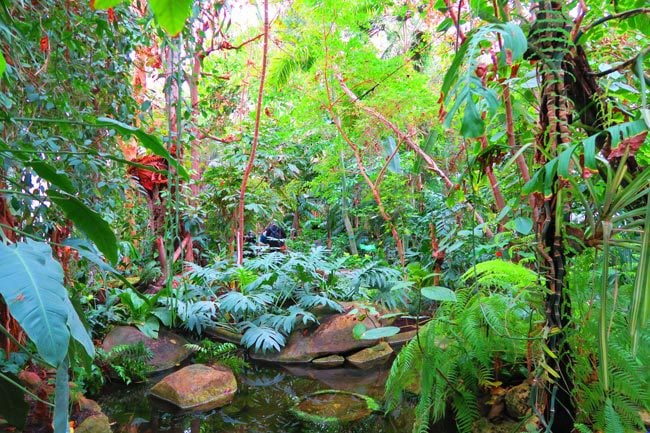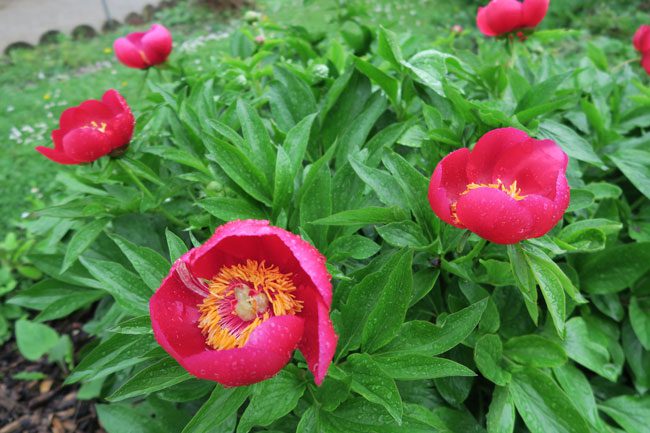 Aside from just walking the beautiful grounds of the Jardin des Plantes, you can also visit a small zoo, an impressive rose garden, and the Museum of Natural History. In my opinion, the museums are great for kids or if you really don't have anything to do on a rainy day in Paris. Other than that, the park itself is pleasant and not as crowded as the Luxembourg Garden, nearby in Saint Germain.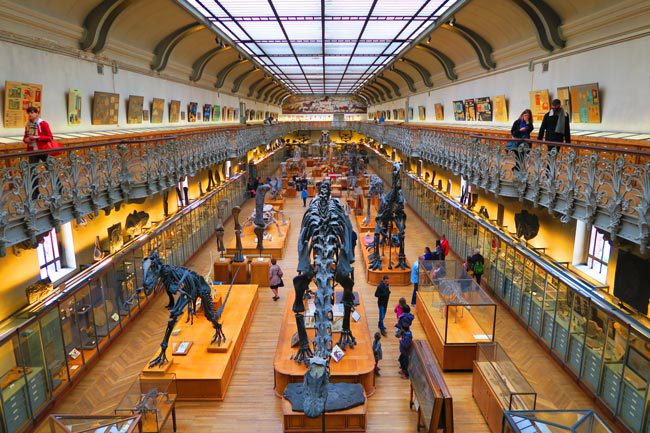 Church of the Val-de-Grâce
Accessible via the Museum of the Medical Corps, the Val-de-Grâce is another beauty in the lineup of Parisian churches. Commissioned by Queen Anne of Austria – wife of Louis XIII, the church was completed in 1667, to honor her newborn son who would grow up to be King Louis XIV.
Latin Quarter Cafes, Restaurants & Pastry Shops
The Latin Quarter doesn't have the abundance of food options like Saint Germain but what it lacks in quantity, it makes up for with more intimacy – especially as you get further away from the Seine and the Place Saint Michel area. I'll share with you my highlights – in no particular order and you can work these into your own Latin Quarter itinerary. Keep in mind that a lot of restaurants take Monday off.
Le Petit Châtelet
Rue de la Bûcherie runs in parallel to Ile de la Cité and Le Petit Châtelet serves wonderful French food with a Notre Dame view. The service is a bit slow but the food is great and reasonably priced for authentic, non-touristy French food. The best seats in the house are on the top floor overlooking the Notre Dame, though be warned that on a hot summer day, the restaurant's interior feels more like a sauna – so book a spot on the outside terrace.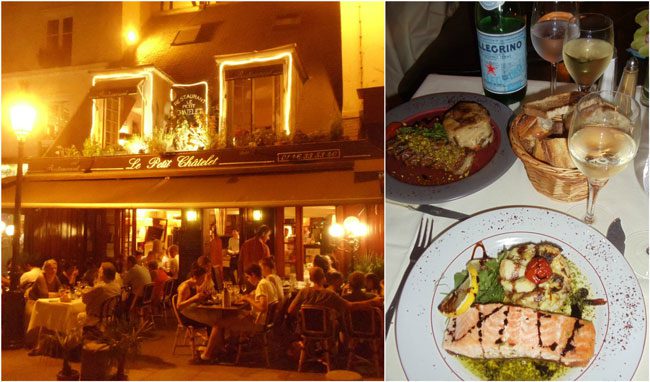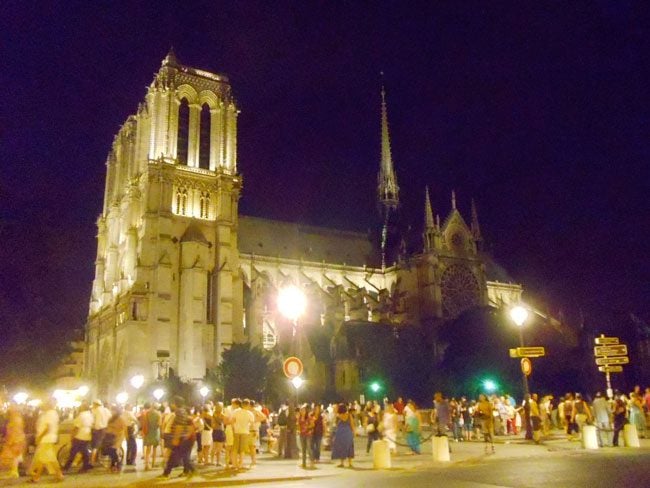 Bouillon Racine
Food is reasonably priced in this brasserie of over 100 years, but you might just want to come here for the decor!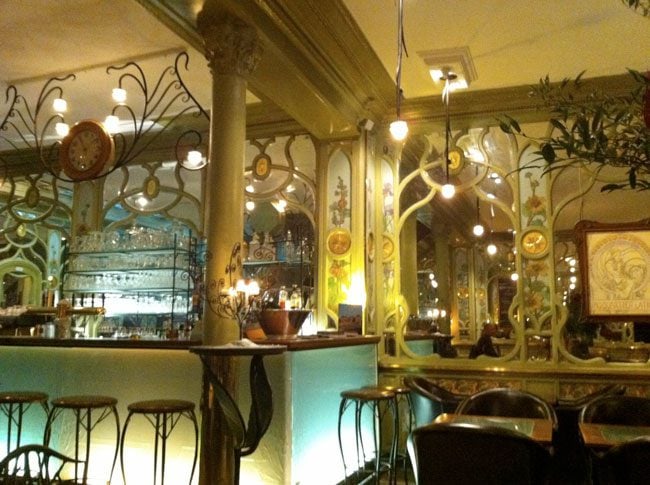 Le Petit Prince de Paris
Another hidden French restaurant in one of the old lanes of the Latin Quarter. Le Petit Prince started way back in 1450 as a tavern and the interior still has that cozy feel of a historical building. The food is excellent, the dessert amazing and you can choose from a variety of set menus to satisfy your craving.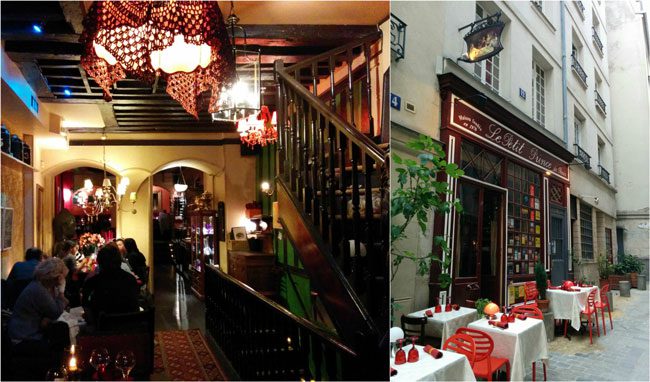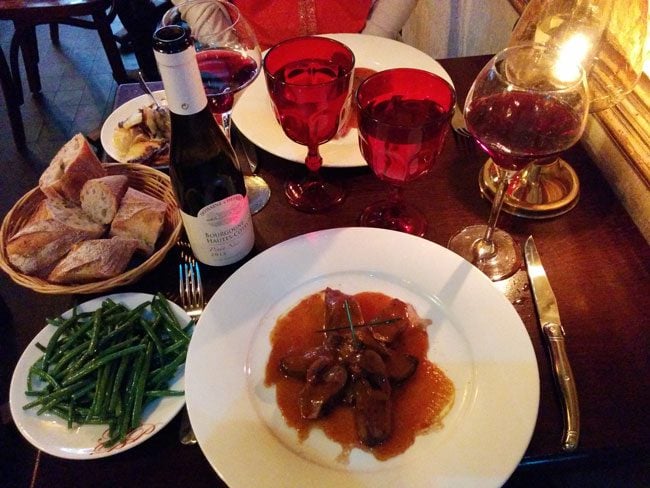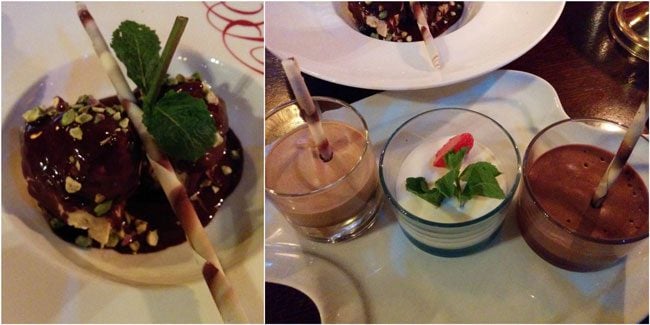 La Maison des Trois Thés
Choose from over 1,000 blends of tea in this impressive salon de thé that's run by Madame Yu Hui Tseng, one of the world's experts on tea. Some of these blends date back over 100 years!
Les Pipos
Over on the village-like street leading up to the Pantheon, Rue de la Montagne Sainte Geneviève, Les Pipos serves up great wines by the glass with great views of life passing by. I took a wine break with my buddies here as part of our culinary weekend in Paris and could have definitely stayed for another glass!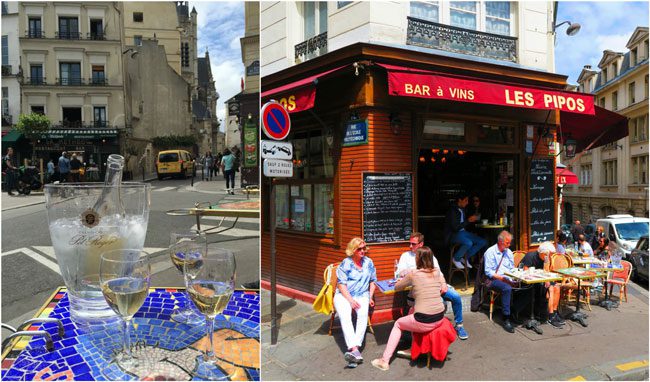 La Methode
Nothing fancy about this bistro, just the great location. Right across from Les Pipos, if it's too early for a glass of wine and it's coffee you're after, grab a spot on the terrace and forget that you're smack in the middle of Paris.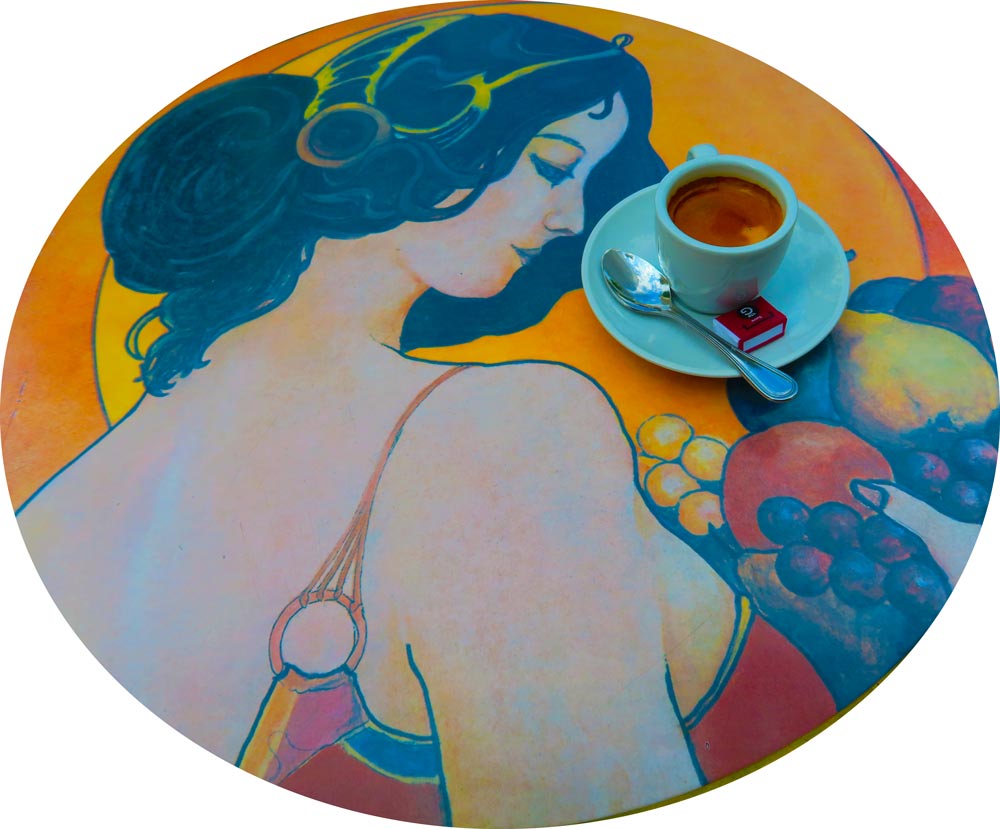 Au Petit Bistrot
Rue Mouffetard is known for its affordable bistros and you'll find here traditional French food served in a 'no frills' atmosphere with good set menu options. We came here after a visit to the Jardin des Plantes.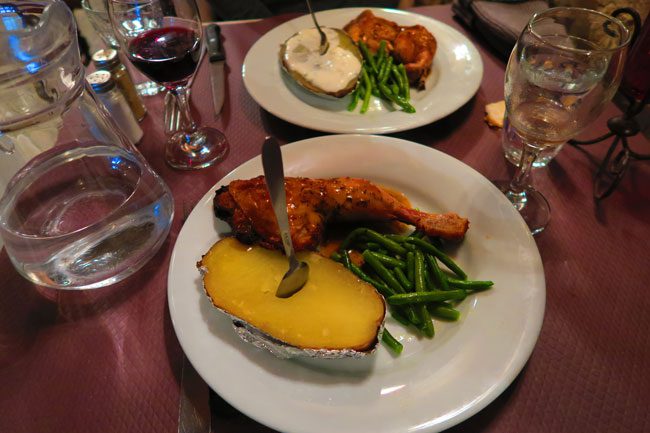 Beaurepaire
So close to the busy Seine yet so far away, there's something in the way the trees blend in with the old buildings and the open terrace of Beaurepaire – that makes this place feel like a village somewhere in the French countryside.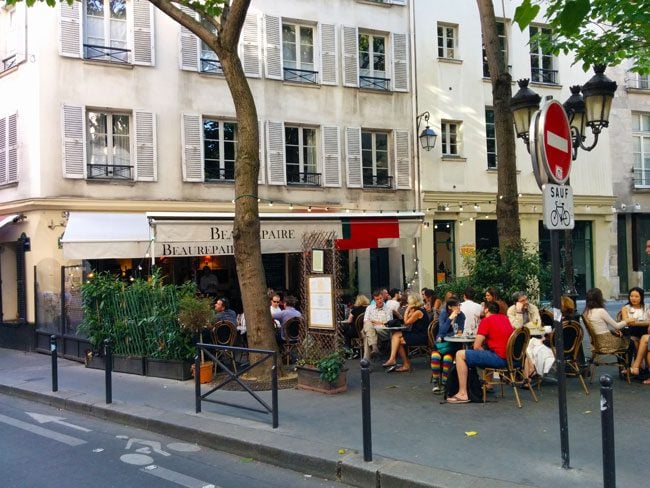 Le Métro
Don't expect too much, just a great terrace on Boulevard Saint Germain by a soothing water fountain. Great spot for grabbing a coffee and catching up on the morning news.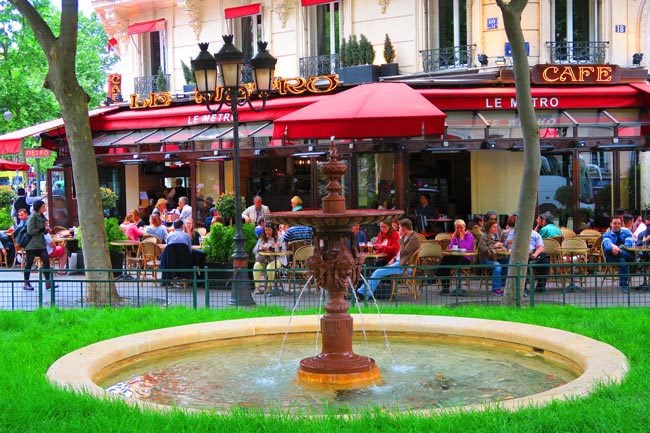 Latin Quarter Pastry Shops
Patisserie Sébastien Degardin, Carl Marletti, Pâtisserie Ciel, Gregory Renard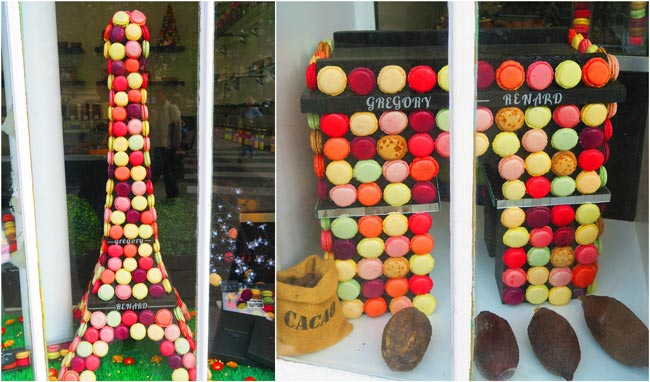 Latin Quarter Shops & Markets
Shopping in the Latin Quarter is more low-key than in its chic neighbor to the west, Saint Germain. This is after all the historic academic center of France so it's no surprise to find here loads of sophisticated book shops instead of boutiques. The Latin Quarter also has excellent markets and I will highlight my favorite stops in this section.
Shakespeare & Company
Somewhat of a Mecca for any visitor to the Latin Quarter, the American ran Shakespeare & Company certainly deserves its reputation for being the best English bookshop in Paris. For the sake of shoppers having somewhat of a chance of getting around, photography is not permitted (though I managed to sneak a quick one). This reincarnation of the original shop has been around since 1951, a glorious period to be in Paris (apparently). Many writers and poets have passed through these doors and the shop has a few cool events happening throughout the week.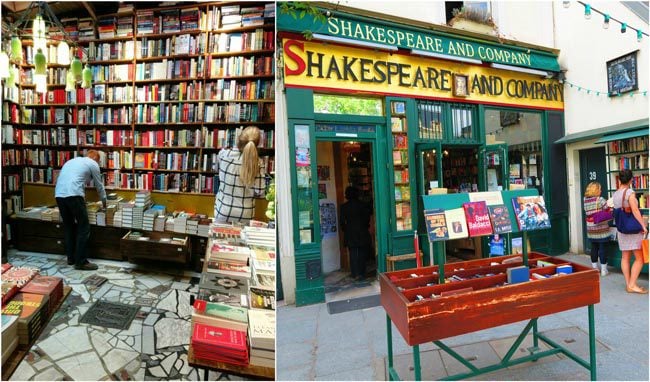 Abbey Bookshop
Some would say it's the friendly US – Canada rivalry but in any case, the Canadian operated Abbey Bookshop sits in a historical street that used to be the hangout spot for Medieval scribes (folks who could read and write) and parchment sellers (animal skin used for writing) – the nerds of those days. There are 35,000 English titles here with an emphasis on Canadian literature – Oh Canada!
Rue Mouffetard
The 7th arrondissement has Rue Cler, the 8th has Rue de Levis, the 1st has Rue Montorgueil and the Latin Quarter has Rue Mouffetard. Every Parisian neighborhood has a market street but Rue Mouffetard is special. Historically, this was an ancient road leading from Italy to Paris, ending up on the hill at Place de la Contrescarpe. It was also a major market street back in the day when this area was just outside the Paris city walls.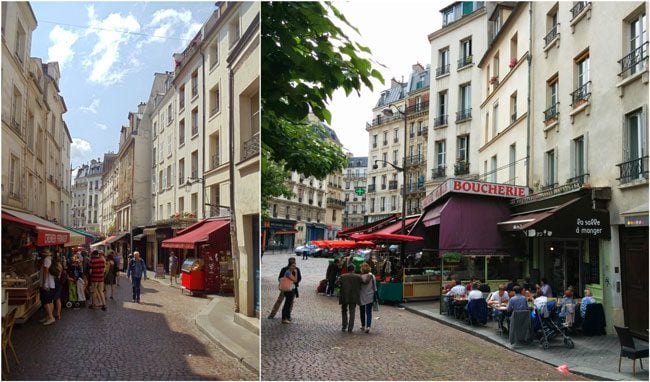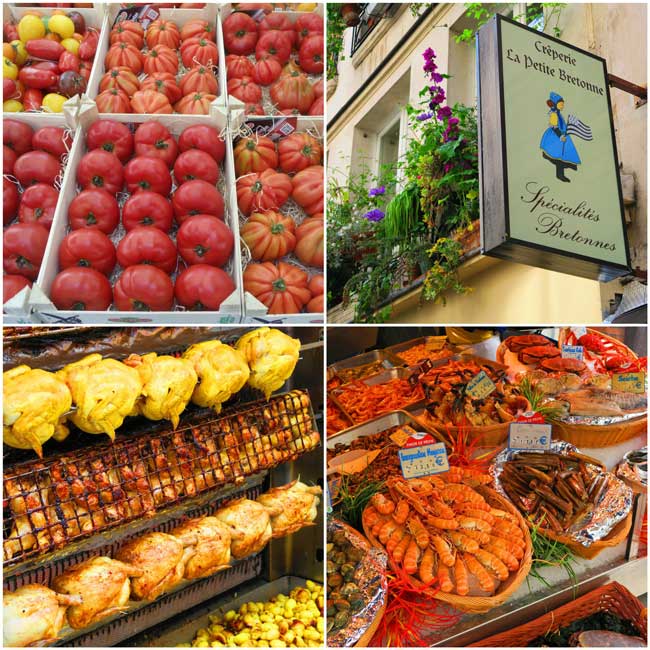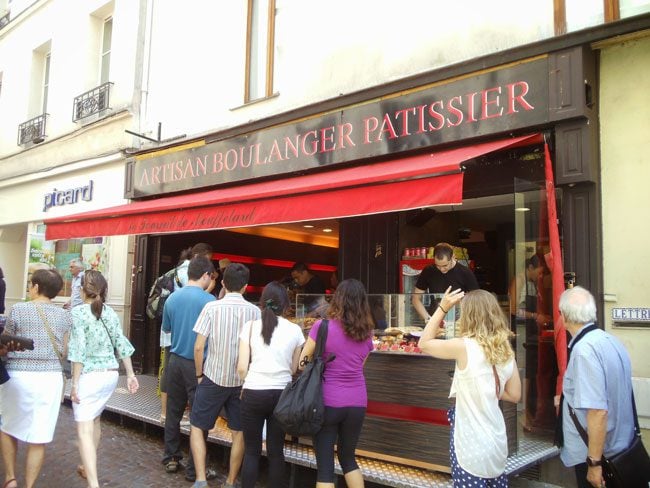 These days, despite a few souvenir shops moving in, Rue Mouffetard is still a super charming street for food shopping. You'll see so many locals race between the shops to get their groceries done, getting a hold of that fresh baguette or grabbing that roasted chicken for the Sunday afternoon family meal (note those delicious potatoes just baking down below, letting gravity do the flavoring).
The southern end of the street is where you'll find the fresh fruits & vegetable shops and as you slowly work your way up the street towards Place de la Contrescarpe, you'll find more fromageries (cheese shops), poissonneries (seafood shops), wine shops, patisseries (pastry shops) and lots more goodies.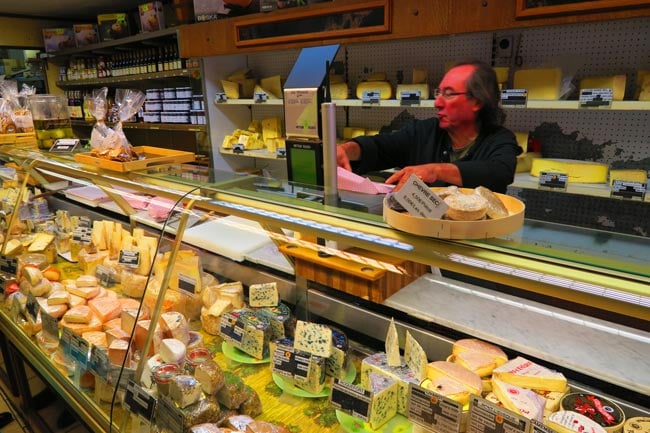 The top end of the street is home to restaurants and creperies until you eventually make your way to Place de la Contrescarpe, a great spot for lunch/breakfast/ just a cup of coffee!
Marché Monge
Every Wednesday, Friday and Sunday, the otherwise gloomy-looking Place Monge comes to life with one of the best food markets in Paris. You'll find here all your market favorites and if you want to have a light picnic lunch, stocking up on food here is a good idea. The Jardin des Plantes and the Luxembourg Garden are just a stone's throw away!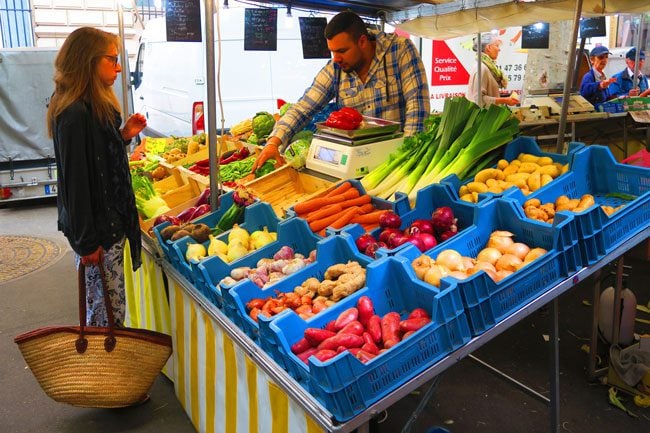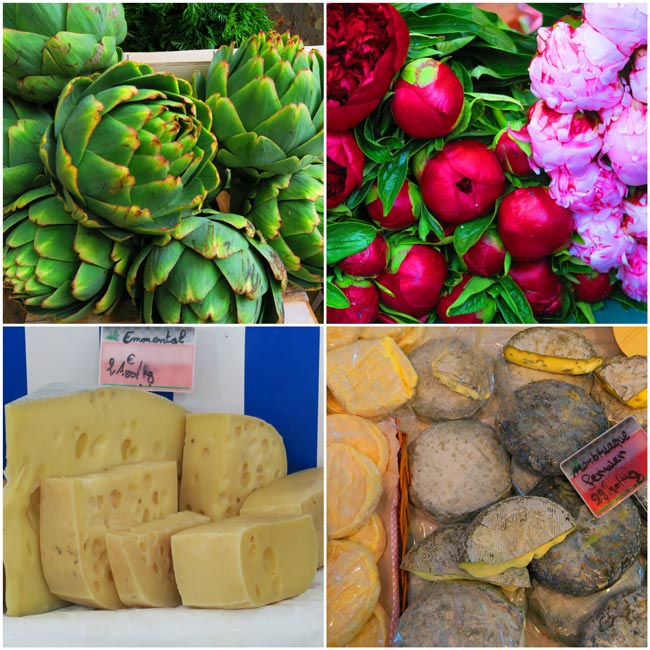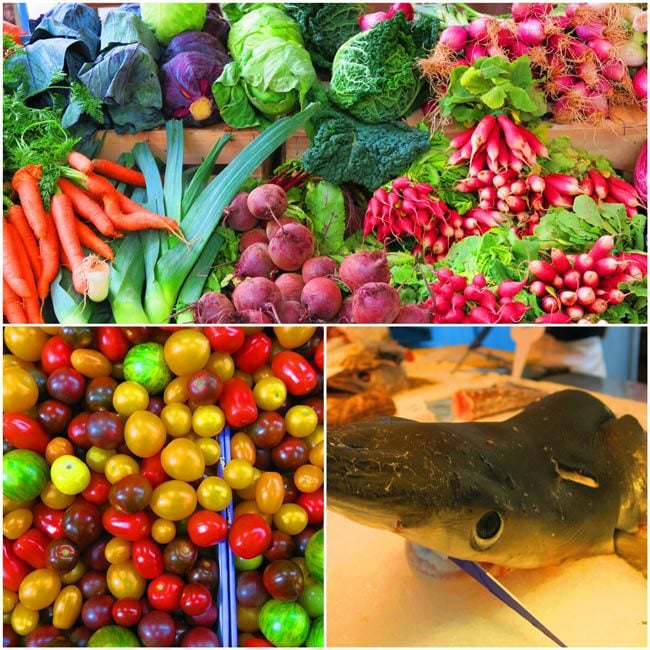 Aside from the usual choice of unbelievably fresh produce, you'll also find here ready-to-go African food, clothing, jewelry, and even a knife sharpener. But above all, it's the vibe that made me fall in love with this otherwise ubiquitous market – watching local Parisians starting their day with all this freshness…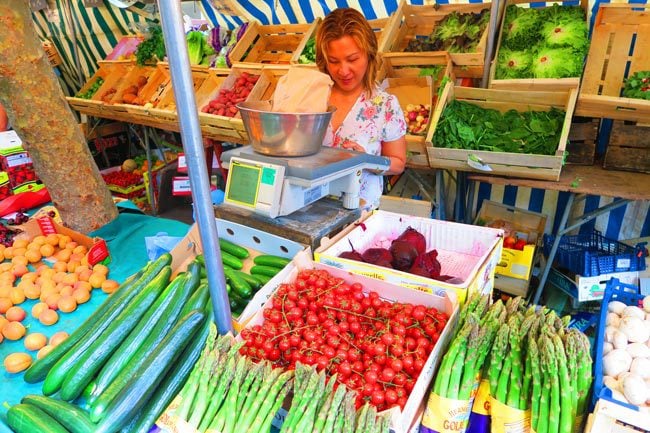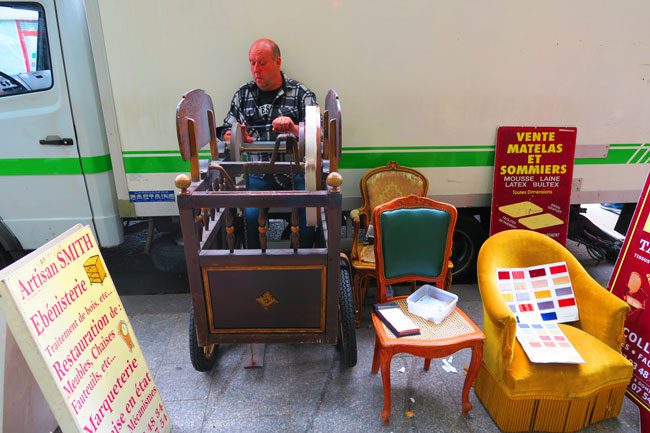 Conclusion
I hope you've found this Latin Quarter itinerary guide useful. Don't be overwhelmed with all that's possible to see here. The rule of thumb in Paris is that you cannot (and should not) try to see too much in one go. It's the small subtleties of life that make you really experience this great city – or as the French call it: la joie de vivre!
What's Next?
Plan the perfect trip to Paris with free and in-depth Paris travel guides, including the Best of Paris collection and a guide to all major Parisian neighborhoods.