The Paris Passages: Ideas For a Rainy Day In Paris
Scattered across the vast Grand Boulevards area of Paris are a few, last remaining hidden gems. These relics from the past are the famous Paris passages – covered shopping streets that have mostly been bulldozed down during the historic development of this part of Paris. Visiting the Paris passages is like taking a trip back in time. The kind of shops you'll find here are a rarity these days and who knows if they'll be here a few decades from now. So let's explore the Paris passages, with a few surprises along the way.
Heading to Paris?
Plan the perfect trip to Paris with free and in-depth Paris travel guides, including the Best of Paris collection and a guide to all major Parisian neighborhoods.
Why Visit the Paris Passages?
The Paris passages are a thing of the past. You have to understand that the whole area where they are today, known as the Grand Boulevards, used to be cluttered with old alleys that congested the growing city, not to mention invited crime and other dangers. When Baron Haussmann was appointed by Napoleon III to open up the city, many of the passages were bulldozed, along with many other buildings, to make way for the wide boulevards we see today. For today's visitor, the passages offer a retro look into Paris of old (Montmartre is another such place) and they can seem like a world away from the city just outside.

When to Visit the Paris Passages?
Exploring the Paris passages can be a great idea if you're wondering what to do in Paris on a rainy day. On Sundays, most shops will be closed so perhaps a museum would be a better idea, maybe the Musée d'Orsay, Louvre or even the Musée Jacquemart-André. So, your best options are either to come on a weekday or if you enjoy Parisian markets (and who doesn't), visit on a Saturday. Why Saturday? That's because you can combine your visit to the Paris passages with a quick stop at a super cool market that only takes place on a Saturday!
The Marché Biologique des Batignolles is one of the city's few 'bio' markets and can be a great way to start your day, even if just browsing. It's a favorite with locals who visit with their classic shopping carts to stock up on all kinds of goodies (have a look at the map just below). If you want to extend your visit to the area, check out this Grands Boulevards itinerary.
Where to Start Your Visit
Well, that depends. I'll cover three options for exploring the Paris passages in this post, offering a few extensions.
If you want to start with the bio market, take the Metro to the Rome or Place de Clichy stations.
If you want to skip the market but start your day on a typical Parisian street (more on that soon), get off at the Pigalle metro station.
If you just want to check out the passages, you can just get off at any of the metro stations close to Passage Verdeau.
What to Do at the Paris passages?
I'll cover an extended itinerary that's great for a rainy day in Paris but you can just choose what you want. If you want to just read about the passages, skip over to Passage Verdeau, a bit further down.
You can follow along on this map, where all the major points are marked – just click on the map to open in Google Maps.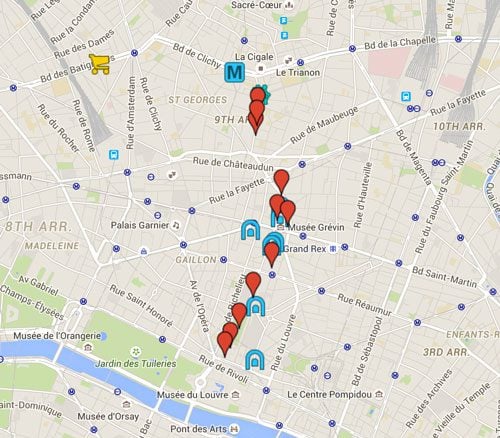 Visit a Bio Market
Paris has so many exceptional markets, ranging from the famous Marche aux Puces (Paris flea market) to the historical Marche des Enfants Rouges – with lots more in between. On Saturdays, one of the city's best markets takes place on Boulevard des Batignolles in the 17th arrondissement (district).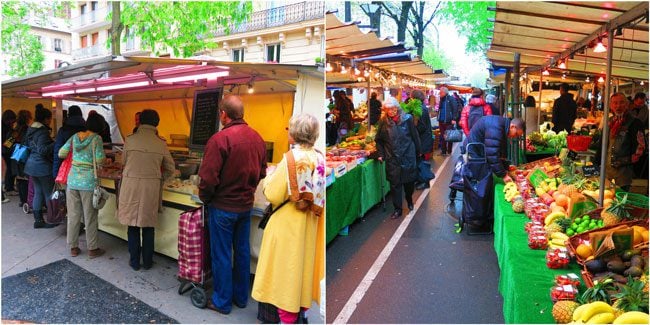 The Marché Biologique des Batignolles as it's officially known as a heaven for food lovers and market lovers alike. You'll pretty much find everything in this classic Parisian market and you'll have to control yourself as everything looks great.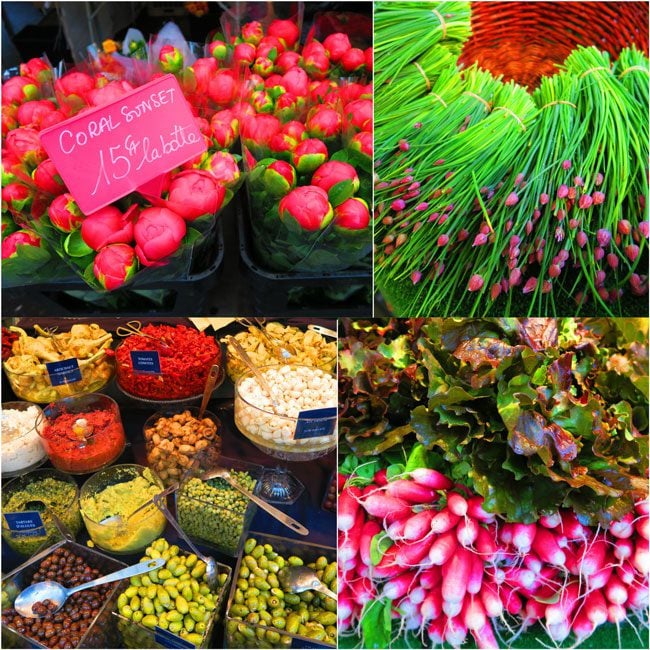 Keep in mind though that 'bio' usually means 'extra' when it comes to the price and it's no different here. From the few spot checks we made, prices were quite high. But the produce looks so damn good, who cares!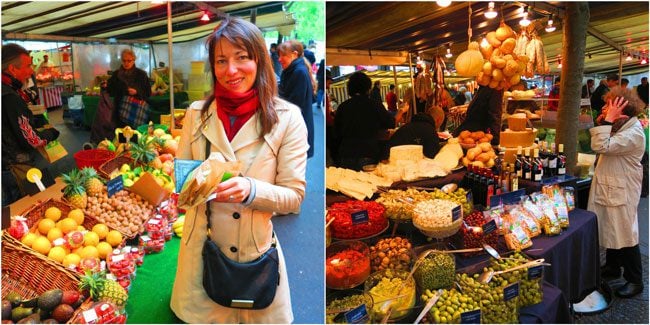 A typical Parisian Street
Another option if you want to combine the Paris passages with other highlights around you, is to approach the passages from the north side. That way, you can walk down the lovely Rue des Martyrs. This street leads from the Grand Boulevard area to romantic Montmartre and has a ton of cool food shops to see (and sample).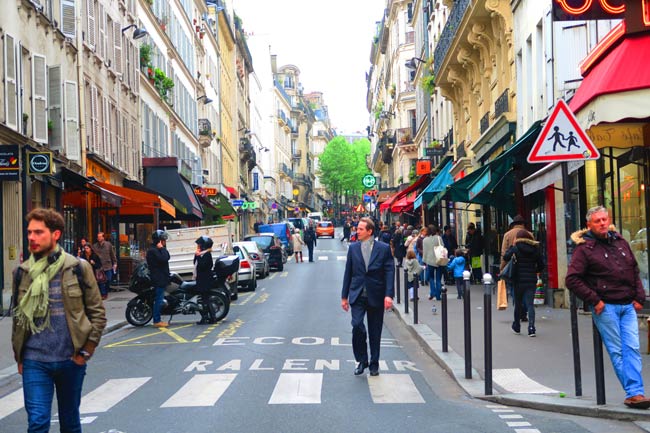 What's so great about Paris is that it's a city that's made for a living. Rue des Martyrs is smack in the center of town, yet you'll find here so many specialty shops that are kind of a thing of the past in many other cities.
You'll have a great time walking passed the fruit & vegetable shops – where extra attention is given to the decor, boucheries (butcher shops), fromageries (cheese shops), poissonneries (seafood shops), cafes, restaurants, and among many others – the boulangeries, of course!
There are a few notable mentions.
Arnaud Delmontel on #39 is a boulangerie that has won several awards in the past for top-notch baguettes.
Just a few meters away on #44 is Popelini – makers of excellent parfumes. These are small pastries filled with lots of good stuff!
Further down on #22 (I know the numbers don't sense, but it's Paris!) is Sébastien Gaudard – one of the best pastry shops in Paris! I was recommended to pay a visit there from my local friend Vincent, who also recommended catching a view of Paris on the terrace of the Printemps department store. Vincent did not disappoint once again. These pastries are more like pieces of fine jewelry.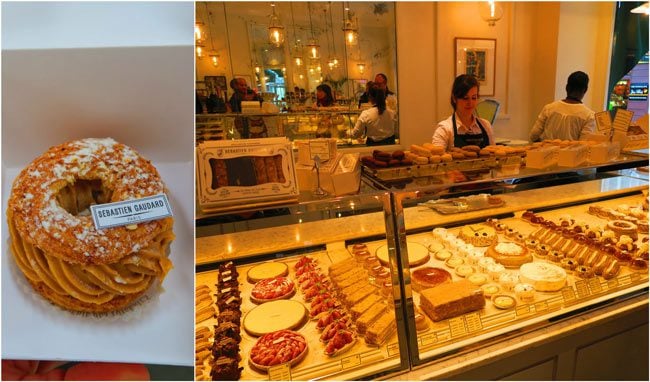 Isabelle and I just tasted here and there to sample the goods at both pastry shops – which is a good idea! It's worth noting that beauty has its price and these pastries are very expensive (can be €4-5 per pastry).
We'll continue walking down towards our first passage but just before we begin, there's another shop that's worth checking out, especially if you love chocolates. Over on Rue du Faubourg is a real Paris institution – À la Mère de Famille. The chocolate boxes are treated more like jewelry boxes (and priced accordingly) but don't be shy to take home a small sample. It's one of the oldest sweet shops in Paris!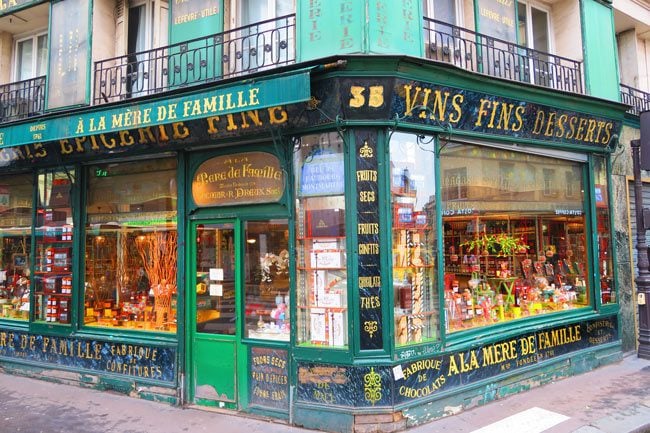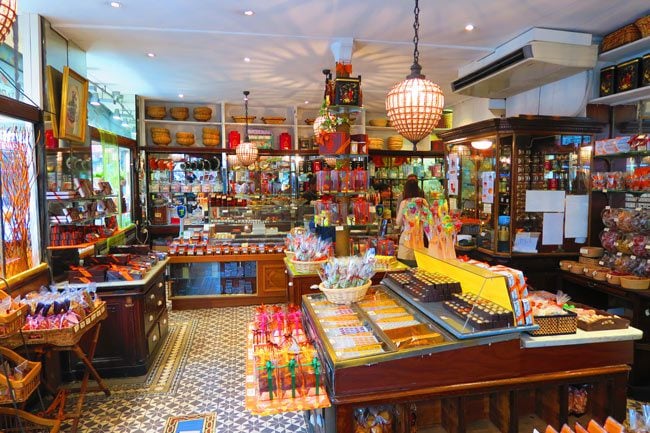 Passage Verdeau
Yay – we've finally made it to our first Paris passage! Over at Passage Verdeau, you'll mostly find super old book shops, selling super old… books. Want to find out what happened in the world in 1865? You can get your very own 1865 Le Tour du Monde – right here! I don't think they've heard the Kindle yet (that's a good thing).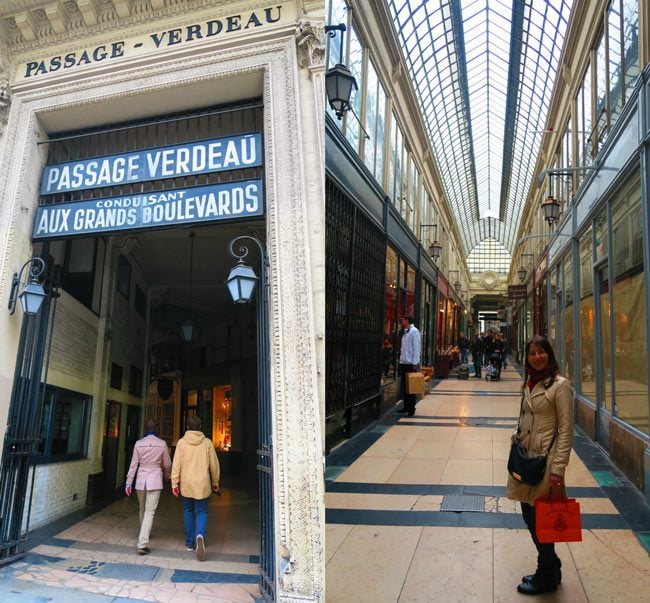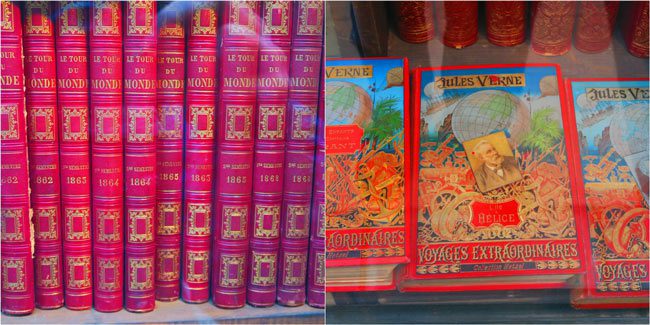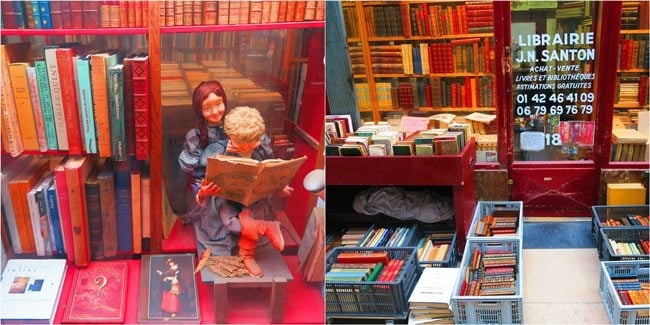 Passage Jouffroy
This passage is a bit livelier than its predecessor. Highlights include pretty impressive Tin Tin collections, M & G Segas, specializing in antique walking canes (only in Paris!), and the charming Hotel Chopin.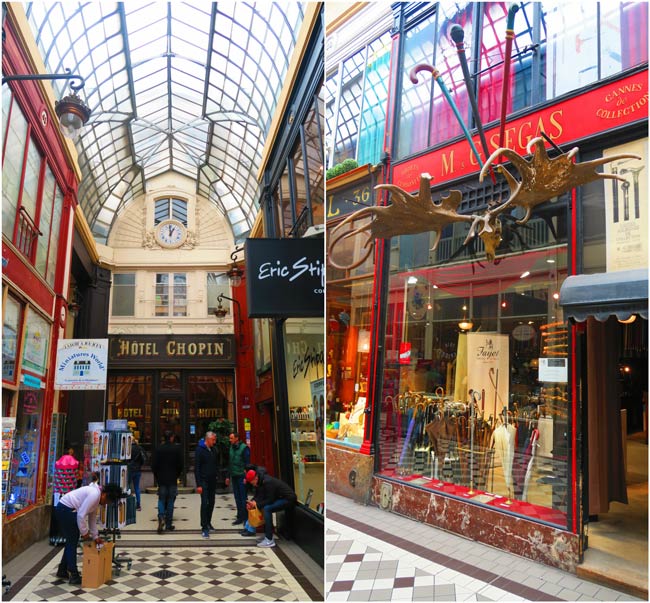 Toy lovers definitely must head into Pain d'épice, where you won't find any Nintendo Gameboys (are they still called that?) – just good old-fashioned toys. Fancy some kitchen accessories for that dollhouse? or perhaps a super cool kaleidoscope? You'll find these and a lot more in this trip down memory lane!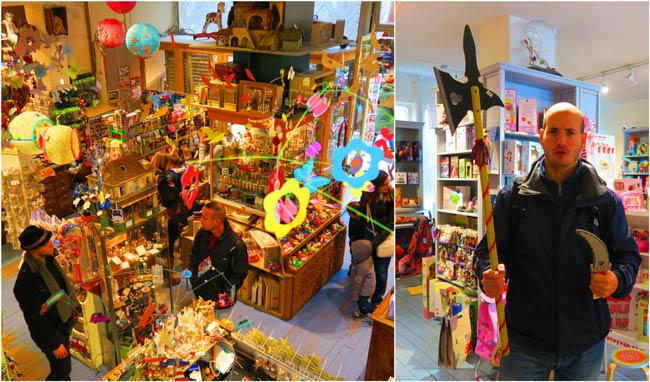 Passage des Panoramas
This is one of the oldest passages in Paris and is mostly home to restaurants with seating options outside in the passage itself (a bit too crowded for me). You'll also find here lots of stamp and coin collectors. If you peek inside one of the shops, you'll see the dealers in action – sorting through piles of old stuff and trying to close a deal or two.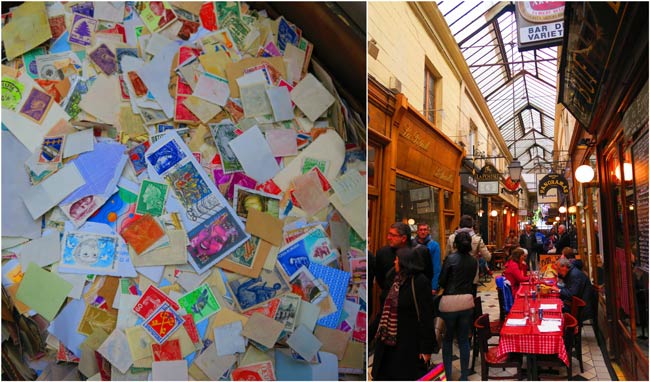 Passage des Princes
From the bottom of Passage des Panoramas, we'll take a slight detour to Passage des Princes. There are no shops to highlight here but the main attraction is the glass ceiling – super retro!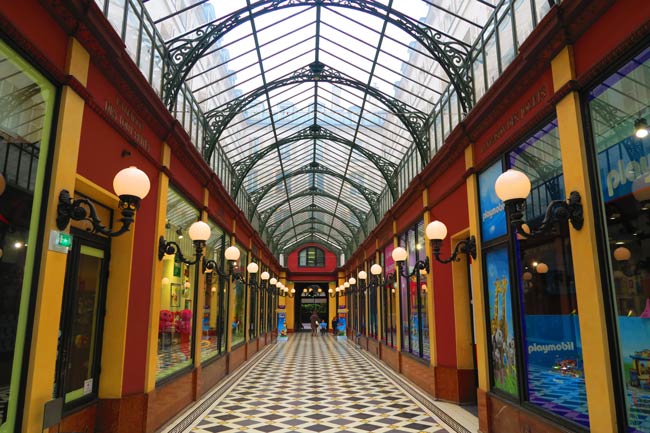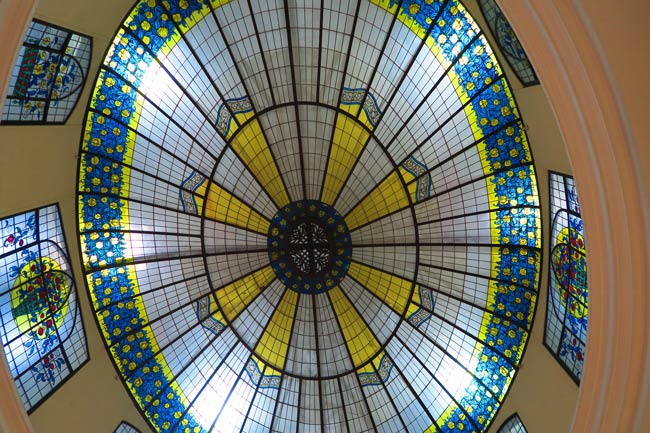 The Paris Stock Exchange
If it's raining, open your umbrellas because we'll have to walk for a few minutes. Head down Rue Vivienne and stop in front of the Bourse, the Paris Stock Exchange. You can go inside if you want (on certain days) but you could easily just admire this classic building on your way to the next passage.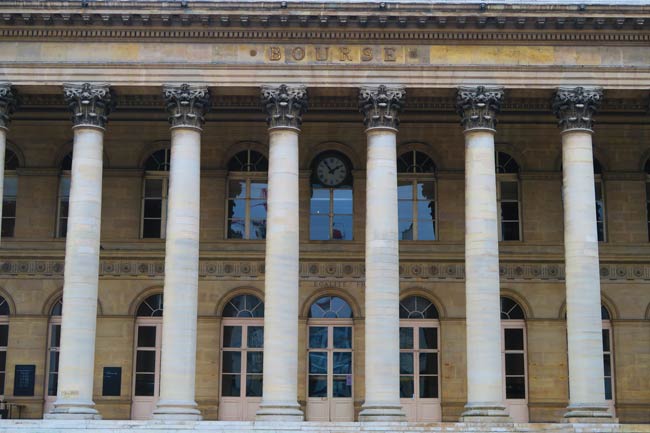 Galerie Vivienne
Just at the bottom of Rue Vivienne, you'll find, as you would expect, Galerie Vivienne. Notice how this one is called a galerie and not a passage – strange, ah? Perhaps since this passage is one of the most impressive ones.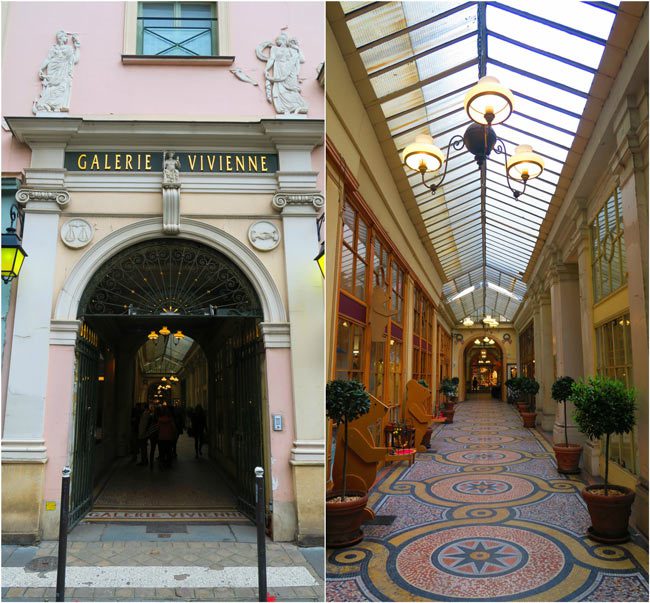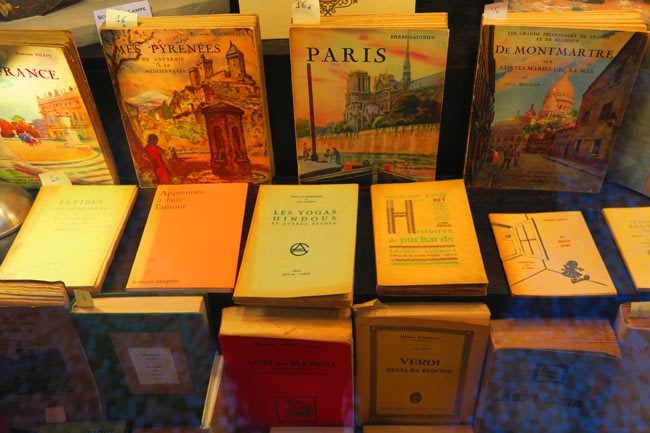 I was surprised that there were fewer people here than in the other passages we visited since it's super charming and takes you back to Paris' heyday. The main highlights here are the old book shop that's been here forever, a wine shop that sells massive bottles, and a salon de thé (tea house). It's a good spot to take a break as we're about to head back outside.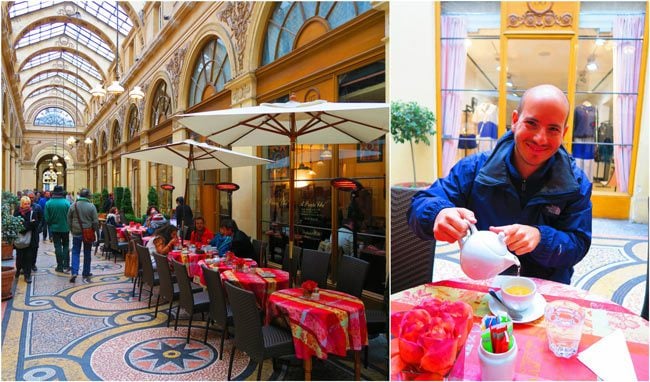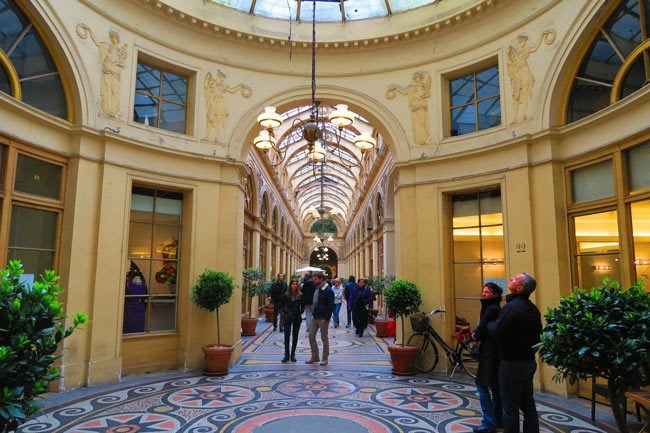 The Jardins du Palais Royal
So we are pretty much done with the passages and we'll go for an early dinner soon. But, just as you exit the Galerie Vivienne, there's a charming little garden that many visitors simply miss out on. The garden is part of the Palais Royal complex. The Palais Royale is occupied by government offices now but the gardens are free to enter – and they are worth it.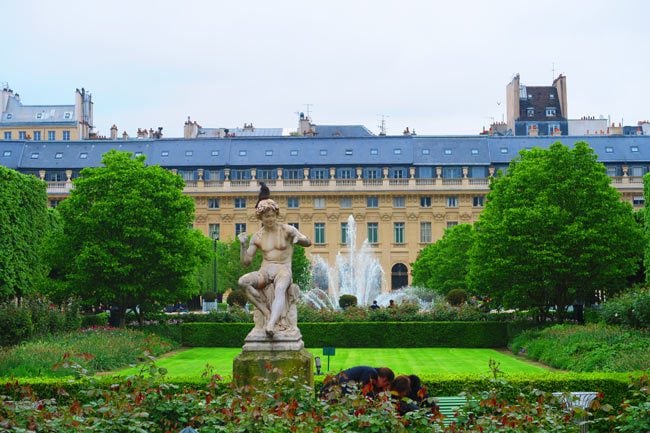 The tranquil gardens are surrounded by an arcade of antique shops and cafes, while above are desirable Parisian apartments. Hopefully, it's not raining by now so that you can enjoy this romantic spot in Paris but if it is, just check out the shops or the nearby black and white pillars that were installed in the '80s as some form of 'modern art' (yuk).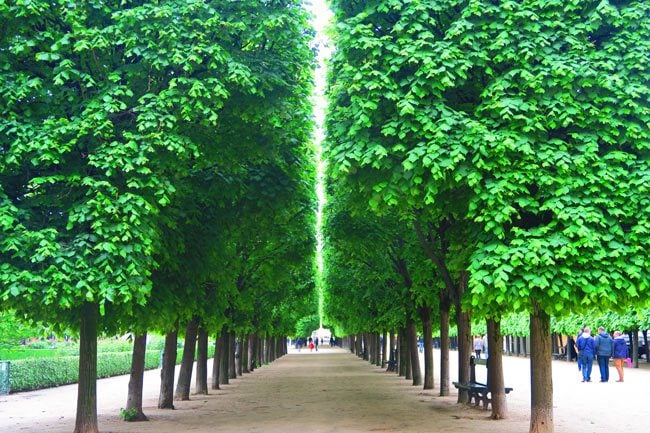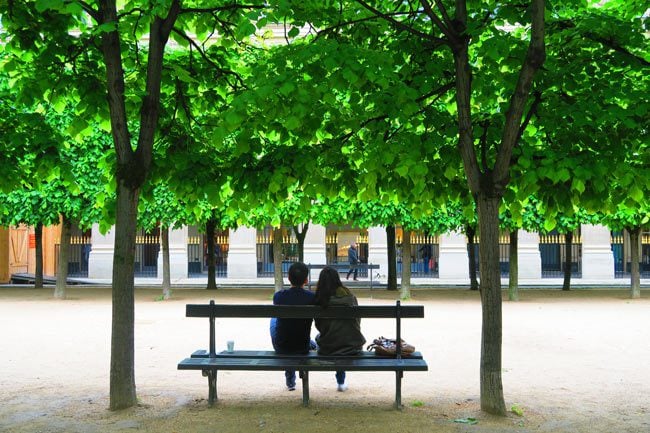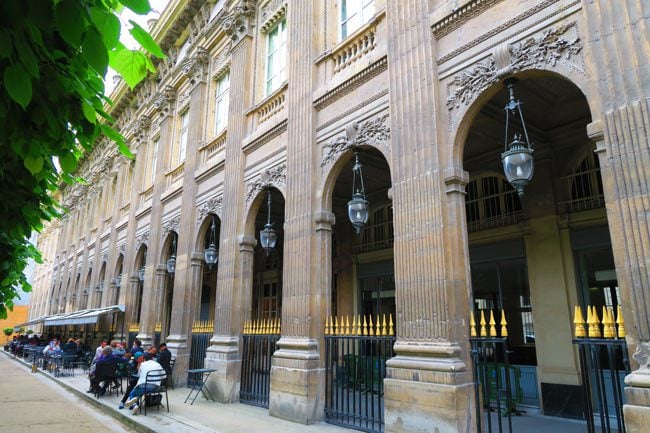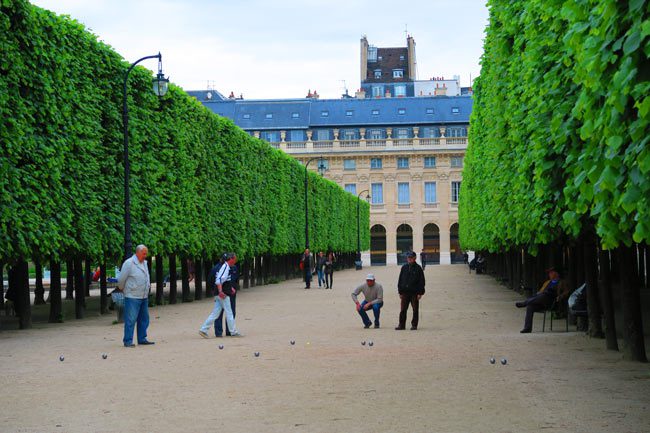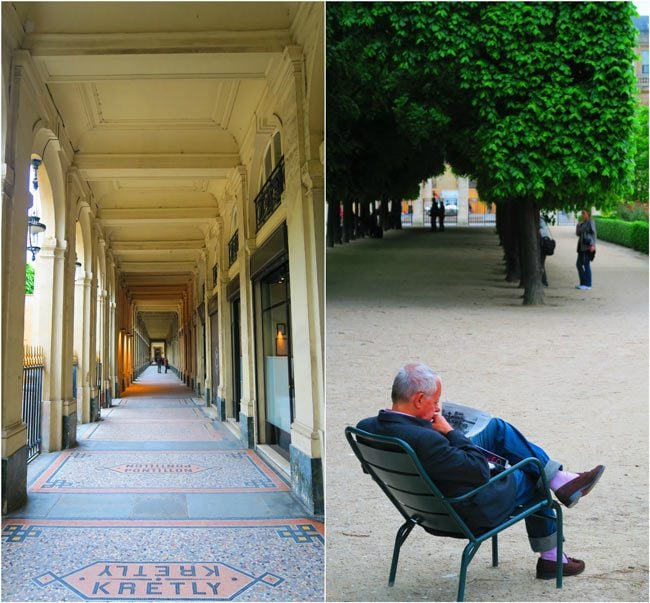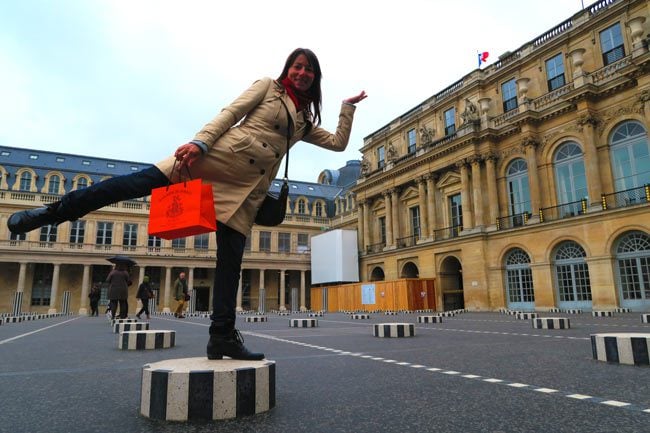 Just as you exit the gardens, you'll see another cool cafe that's good for a break – especially if the weather has cleared up by now. The outside terrasse of the Cafe Le Nemours is great for watching the crowds go by but also commands a prime spot for street performers.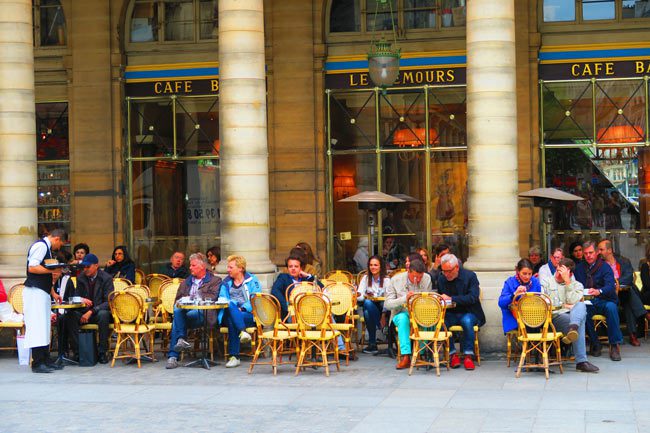 It was my luck when I visited this spot – Paris is truly one of the most magnificent cities in the world! Wanna watch them in action? Have a look here.
Early Dinner in a Classic Parisian Brasserie
You didn't think I forgot dinner, did you? For this, we headed back to Rue du Faubourg for an early dinner at Le Bouillon Chartier. This restaurant has been around since 1896 and has always served meals at reasonable prices to working folks. Today, it's a popular place with tourists and I can understand why.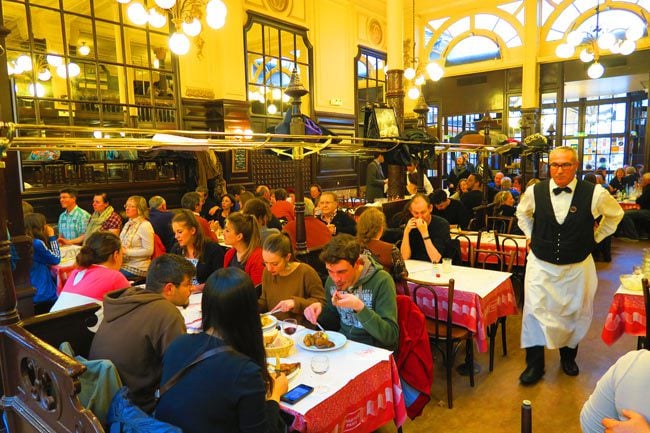 The food is certainly not top-notch but it's quite good and very reasonably priced. The real highlight though is the atmosphere itself, starting from the old decor and to the classic uniforms. Your order will be written straight on the paper covering your table and expect to share tables with other guests. Come here for the atmosphere, get here before the crowds, and do not expect a quiet romantic dinner – just a fun experience.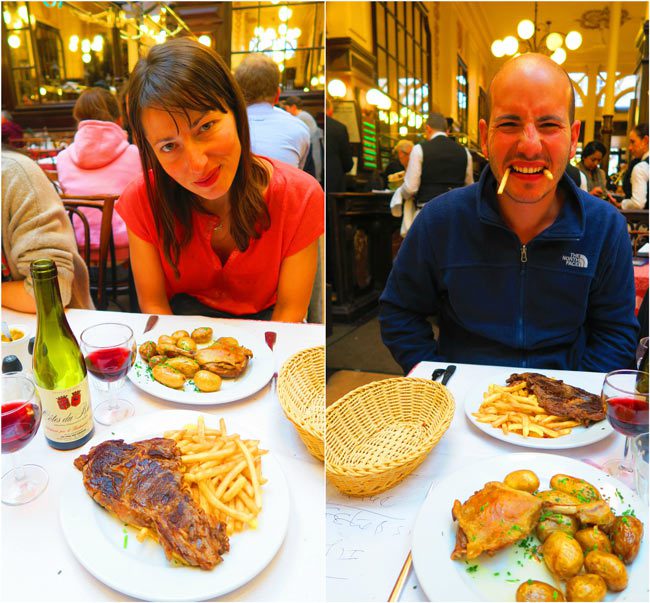 In conclusion
Visiting the Paris passages is a great thing to do, especially if you're looking for things to do in Paris on a rainy day. This is what's so great about this town – there's always something to do. As you've seen, you can combine your tour of the Paris passages with a few more stops along the way. I recommend doing so as there are a few interesting stops here and there that won't throw you too much off course. Though the passages are by no means 'mindblowing' and not very big, there are so many cool shops you won't find anywhere else – and that's what fills up your time, and your mind!
What Next?
Plan the perfect trip to Paris with free and in-depth Paris travel guides, including the Best of Paris collection and a guide to all major Parisian neighborhoods.