Hiking In Rarotonga
With such an impressive mountainous skyline, hiking in Rarotonga is a great activity for those who relish the outdoors. Unfortunately, most hiking trails are not marked and/or are in such poor condition that can actually pose a danger (covered in shrubs, ropes haven't been check etc.). It is paramount to check with the local tourism office before embarking on any hike, aside from the following two.
Cross Island Track
The most popular and accessible hike in Rarotonga, the moderately difficult Cross Island Track cuts through the island and should be done going from north to south.
After a quick and easy stroll, you'll begin a steep ascent through the dense forest. This part of the hike is the most challenging one, as you'll often use the tree roots as stairs.
Once you reach the plateau, you'll catch your first glimpse of 'the Needle' – the iconic natural feature that's the signature of Rarotonga. This huge chunk of rock is so massive, that hikers at its base look like tiny flies from a distance.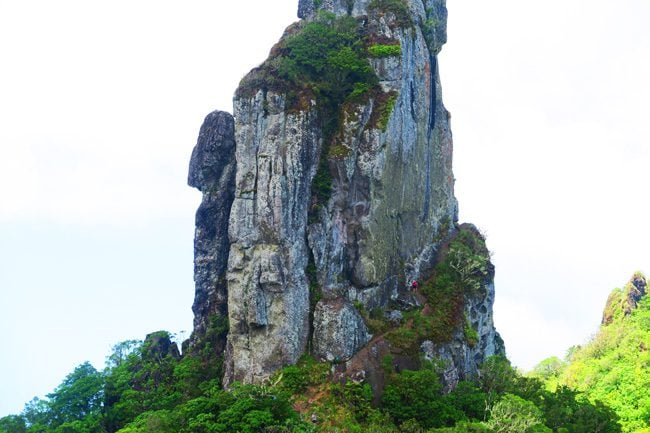 From up here, take the trail going right towards the needle and use a series of chains and ropes to make it to the highest section of its base. From up here, the views are simply breathtaking, with 360-degree vistas of the island. It is here that you realize just how wild Rarotonga is. With so many modern facilities down by the coast, it's easy to forget that the bulk of this high island is uninhabited and too rugged to settle. Note that it's not advised to rock climb the needle.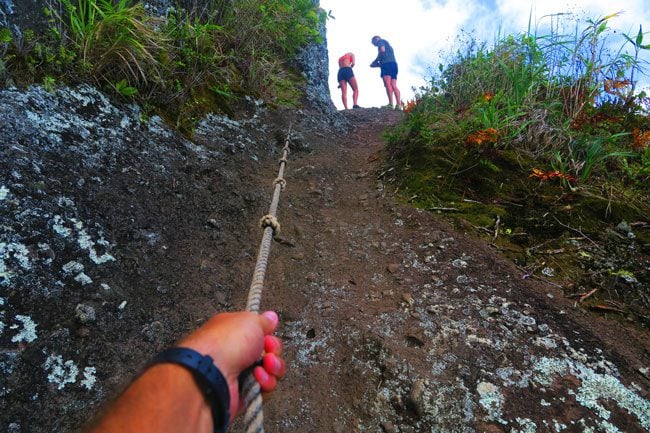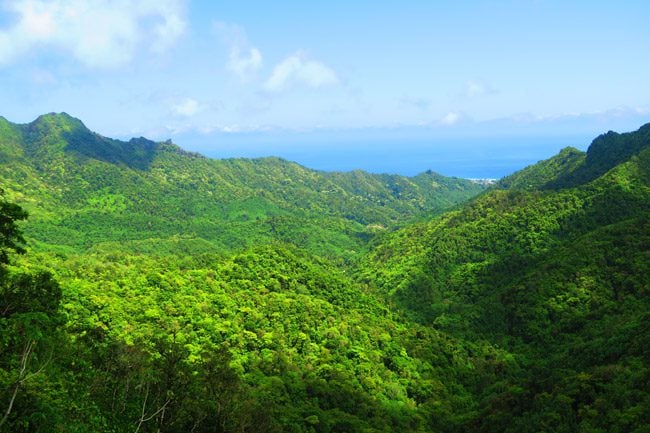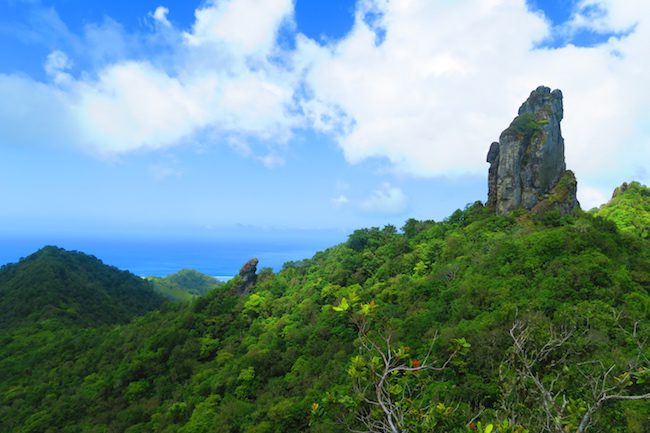 It'll be hard to leave this spot but once you do, you can either walk back to the car park or take a left this time and hike down to the south coast, completing the crossing of the island.
This part of the hike will be slippery, as you're walking along and over a few streams. Since a lot of hikers simply go back after the needle, you might be all alone in the thick rainforest (as I was) – and that can be a super cool experience.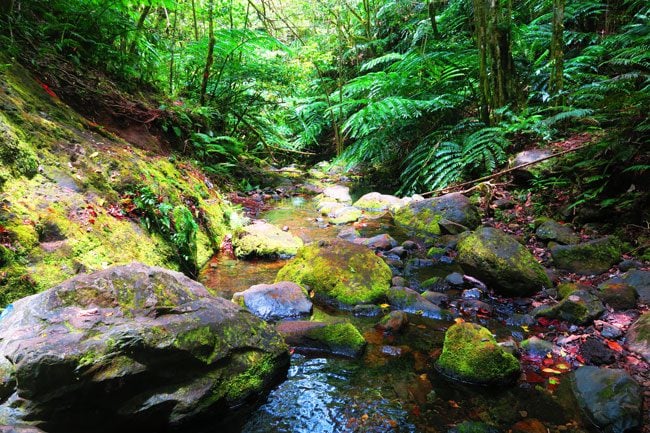 You'll complete the crossing at Wigmore's Waterfall, a refreshing way to end this serious hike – that is if there is actually water cascading down to the fresh pool.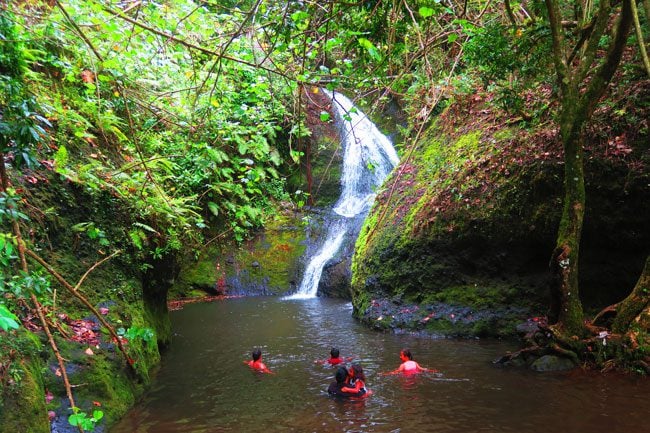 Logistics: the clearly marked track begins inland, somewhere behind the airport. Just ask any local to point out the direction of the car park. DO: wear comfortable hiking shoes, take at least two liters of water, wearing shorts is OK but bring with you a change of clothes as you'll be completely soaked in sweat. DON'T: leave anything in your vehicle or scooter (though it's safe to leave it locked) or hike after heavy rainfall. Getting back: The entire walk takes 2.5 hours plus another two if you chose to complete the circuit and need to use a mix of bus and walking to get back to the car park. You can simply head back after the needle or team up with a friend and leave a second vehicle at Wigmore's Waterfall.
Mount Raemaru Track
Over on the west coast of the island, not many tourists know about this moderately difficult hike. You'll begin with a 45-minute climb through the rainforest, clearing a few spider webs along the way if nobody's been hiking up here for a while.
You'll then reach the ridgeline, where the views keep getting better and better. At some point, you'll reach what looks like a dead-end, with a bunch of colorful Buddhist flags that you might recognize from Himalayan hikes.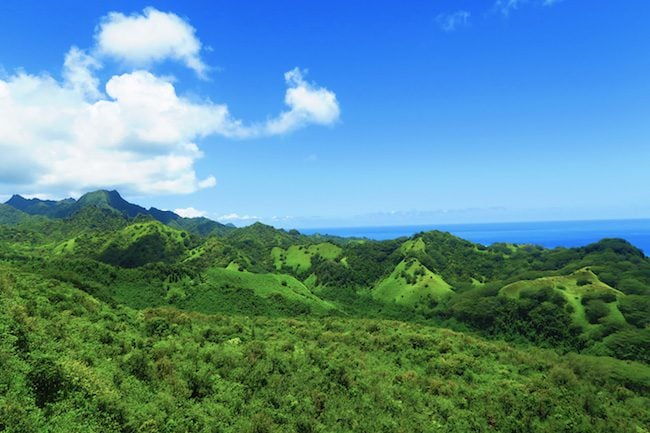 This actually isn't the end of the line folks! Grab on to the rope and begin climbing your way up the cliff. It's quite a breeze and not slippery at all if it hasn't been raining – totally paying off in just a few moments.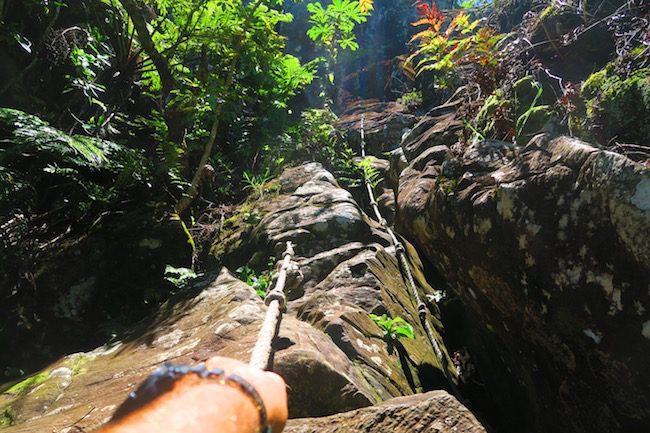 As you make your way to the top, you'll reach a grassy plateau with a series of small trails taking you in different directions. Find the spot you like and enjoy the panoramic views. From up here, the tiny villages look even tinier, and life just seems so beautiful! There's a very good chance you'll have this spot all to yourself.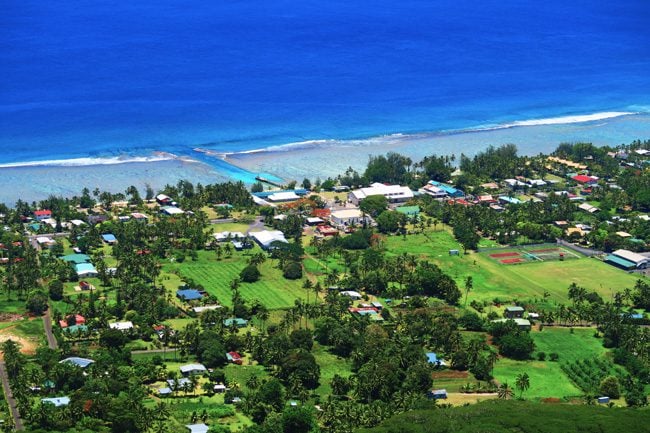 Logistics: Take a right on Akoka Road by the Friendly Supermarket and across Magic Reef Bungalows. The trailhead itself is quite difficult to find as you need to take a right on a larger trail that leads to an agricultural plot up a neighboring mountain. Look out for this sign but keep in mind that it might be covered in bush. If you walked for more than 10 minutes and started ascending not through a thick forest – you missed it. DO: take plenty of water, tell your hosts that you're attempting this hike, wear comfortable shoes and shorts are OK. DON'T: attempt this hike after heavy rain or continue hiking up the bare mountain without spotting the trailhead sign.

Diving In Rarotonga
Scuba divers should not miss the opportunity to discover Rarotonga's rich marine life. Those without certification can use their time on the island to get their diving card. I went diving with Patrick from Adventure Cook Islands and absolutely loved it. Their small powerboat fits only five divers, so I highly advise booking in advance and planning for an early start to your day.
South Coast
On our first dive, we crawled our way through one of the lagoon passes – where the current is strong and where lots of fish like to hang out. A pass essentially drains the lagoon, nature's way to clean this massive 'swimming pool'. All this hard work pays off though, with close encounters with sea turtles, moray eel and colorful trumpet fish.
On the second dive, we calmly cruised along the reef, venturing out in the deep blue from time to time only to return to the safe comforts of the rocky cliff. It is here that you realize just how sharply Rarotonga rises from the deep ocean, or sharply drops down – depending on how you look at things. Aside from vertigo, you'll also be treated to incredibly clear waters and beautiful corals stemming from the purest of white sand.
North Coast
Our second pair of dives were in calm waters, weaving our way through the lush coral garden. We spotted a few sharks having a good time and ventured into caves, while having close encountering with colorful tropical fish.
The water visibility in Rarotonga was some of the best I experienced throughout the South Pacific Islands. I highly recommend having a go, and who knows – maybe you'll see a few surprises in the deep blue?