Rarotonga Travel Guide Tips
Listed here are specific travel tips for Rarotonga. Be sure to also read the Cook Islands Travel Guide, filled with general travel tips to paradise.
Recommended Reading
How Many Days Do You Need In Rarotonga?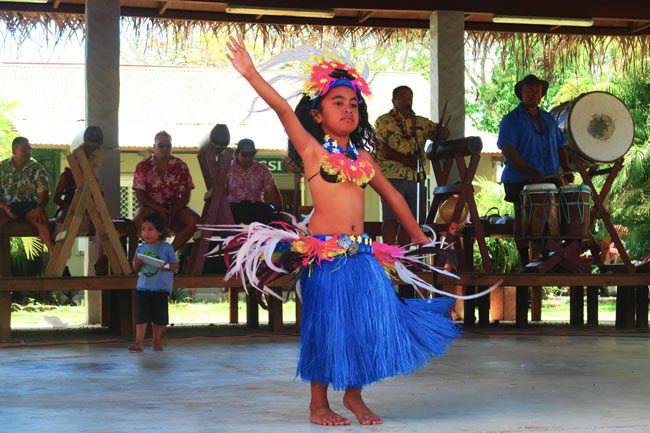 Most visitors spend a week in Rarotonga and that's plenty of time to do a bit of sightseeing, experience island life and finish a good book. Rarotonga isn't very big, and everything will start to look familiar after a few days. If you spend a week in Rarotonga, you'll be able to experience the various events that take place on specific days on the island such as the Saturday market, Sunday church service, island nights etc. Keep in mind that if you haven't got a few days to spare for Aitutaki, you can visit on a day trip from Rarotonga. More info on that in the Aitutaki Travel Guide.
Is Rarotonga Worth Visiting?
Rarotonga offers a great mix of laid-back South Pacific charm, natural beauty and lots of activities to keep you busy. It's so easily accessible from Australia and New Zealand that it should be a no-brainer. If it's more traditional Polynesian life you're after, Samoa is also a worthy candidate. Rarotonga caters to all types of travelers, from backpackers to honeymooners to seniors, and everything in between.
When Is the Best Time To Visit Rarotonga?
Rarotonga enjoys comfortable weather throughout the year, never as oppressively hot as other South Pacific destinations.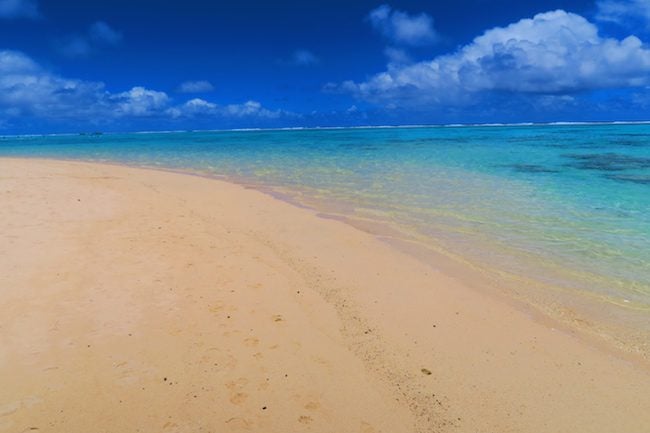 Cyclone season (November – March): cyclones are always a threat but rarely hit the island. Expect hot and humid days, combined with rainy, cloudy and thunderous periods that can be short-lived or last for a few days. That said, there are plenty of sunny days. Having something light yet warm is also advised for those colder and windier evenings.
Cooler months (June – August): the southeasterly trade wind is in full swing, blowing away the clouds and affording consistent sunny weather. Temperatures will dip below 20 degrees at night so pack something warm.
Shoulder seasons (September – October & March-May): pleasantly warm days with fewer chances of cloud cover and rain. Temperatures will rarely dip below 20 degrees at night and rarely rise above 30 degrees during the day.
I personally spent time in Rarotonga during November and December – the start of cyclone season. I had exceptionally good weather, with plenty of sunny days that weren't too hot but hot enough. It was kind of humid, but nothing like I experienced in Samoa – my previous destination. The only exception was a period of a few days with high winds and rain that were caused by a cyclone that was hitting Samoa – some 1500 km's northwest.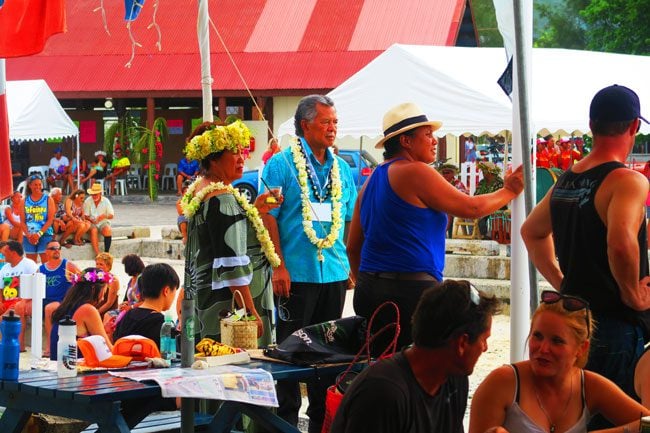 Keep in mind: December and January experience a huge surge in visitors to Rarotonga and locals heading home. With that comes a surge in prices and difficulty in finding spots on flights and accommodations. Book in advance if you plan to visit during this time. April sees the Constitution Celebration (Te Maire Nui), the Cook Islands' major festival, while November hosts the Vaka Eiva canoe race – both periods of extra high tourist demand.
What To Pack?
Have a look at the X days In Y Packing List for recommendations on what to pack for Rarotonga based on my own experience.
Money
Finding an ATM in Rarotonga should not be a problem as you're never too far from one. Most businesses accepted credit and debit cards, without any extra surcharge.
Rarotonga Average Costs
Here's a breakdown of costs during my weeks in Rarotonga. I stayed at quite a few places around the island, always had either a scooter or car, did all the major activities including scuba diving, and mixed dining out with self-catering
Tips For Saving Money In Rarotonga
Here are three ways to save a bit of money in Rarotonga:
Self-catering: choose accommodations that have cooking facilities.
Use the bus: while renting a vehicle is not an expensive affair in Rarotonga, the island's bus system is the most efficient in the South Pacific.
Visit the Saturday market: all major tour operators are present in the Saturday market and might have some interesting deals for you.
Coupons: the official Rarotonga tourist map has pretty useful coupons for restaurants, bars and even scooter rental.
Duty-free: buy spirits and tobacco (if you smoke) at the duty-free.
Night market: the Muri night market has lots of inexpensive outdoor dining options.
Happy hour: a lot of restaurants and obviously bars, will have special hours where food and drinks are low priced. Most island brochures will list where and when happy hours take place.
How To Get To Rarotonga
Flights are pretty much your only option of getting to Rarotonga. At the time of writing this Rarotonga Travel Guide, there are direct flights from Australia, New Zealand, Los Angeles and Tahiti. Important: you must be able to show your onward ticket if asked by the border police upon arrival in Rarotonga.
Getting Around Rarotonga
Rarotonga isn't very big. A 32-kilometer paved road circles the island, taking about 45 minutes to complete. Renting a car, scooter or bicycle in Rarotonga is very inexpensive – with lots of competition and extra discounts for longer-term rentals (~$15/scooter, ~$40/car). I highly recommend having the freedom to get around on your own, but here are a few options I can think of:
To/from airport: all accommodations will arrange airport transfer, either for free or for $10-20 (NZD) per person using a local transport company. You can also use public buses if the timing is right.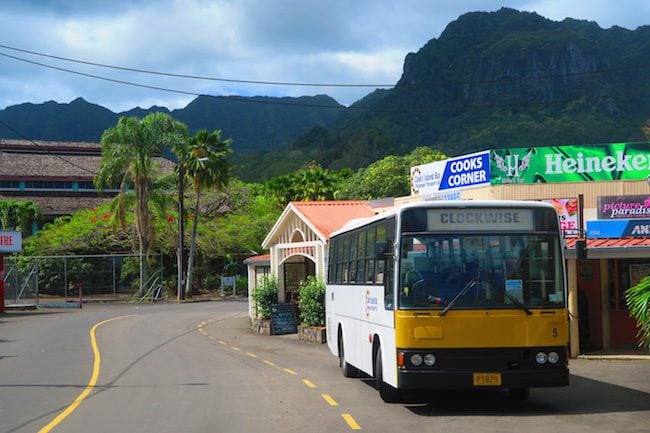 Public transportation: busses in Rarotonga are refreshingly efficient, by far the most of any South Pacific island I visited. Heck, you might even have 'Mr Hopeless' as your driver, singing Andrea Bocelli tunes while sharing valuable tips with newly arrived tourists. Two lines circle the island, running in clockwise and anti-clockwise directions. They stop at designated stops and anywhere along the road. The fare is $5 one way or $8 return (cash only), and there are discounts for multi-ride packages. The buses run on a set timetable, leaving from the center of Avarua near the Bergman & Son's pearl shop. Frequency is reduced after 4 pm and on weekends. Have a look here for official information on how to use the bus in Rarotonga.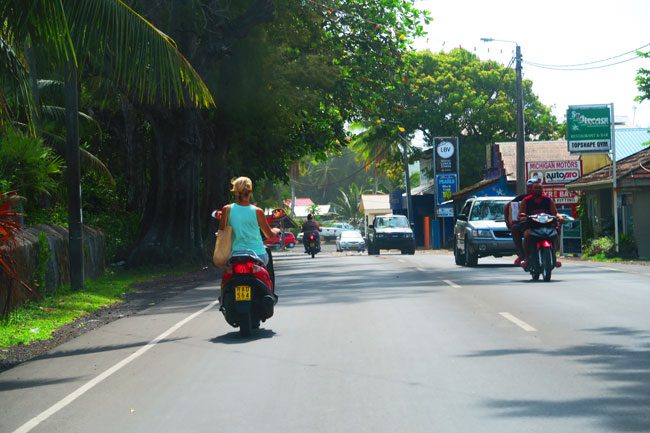 By scooter: getting around Rarotonga by scooter is by far the most popular and most fun way to go. There are so many scooters around here probably in a similar ratio to the number of smartphones back home. Polynesian Rental Cars & Bikes is a top choice for scooters. They have a wide range of bikes in excellent conditions, six locations spread around the island and unbeatable deals. Polynesian runs a very efficient business both online and on the ground. I had an extremely pleasant experience renting a scooter from them.
Have a look at the Cook Islands Travel Guide for important information on how to get a scooter license in the Cook Islands.
By car: if two wheels ain't your thing, renting a car in Rarotonga is a breeze. Go Cook Islands has the largest fleet of cars in Rarotonga, all super well maintained. Canadian born Manager Jaret Moore is extremely helpful and will offer you the lowest possible price for car rental on the island. Need to pick up or drop off the car at the airport? Not a problem! Go Cook Islands will arrange that for you with no extra hassle, and they'll also pick you up from your accommodation if necessary. Along with your car, Jaret will throw in a super useful coupon booklet that he put together. I actually managed to save quite a bit with it. There are also special deals with leading accommodations in Rarotonga – so renting a car from Go Cook Islands is a real no brainer.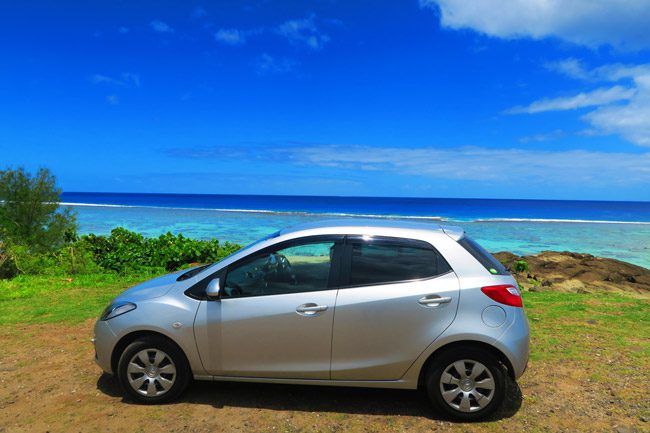 In style: if you want to explore Rarotonga in style, rent a Mini Cooper from the friendly folks at Polynesian Rental Cars & Bikes. The small convertible is a bit of a gas guzzler, but there's nothing like the wind blowing in your face as you're road tripping around Rarotonga!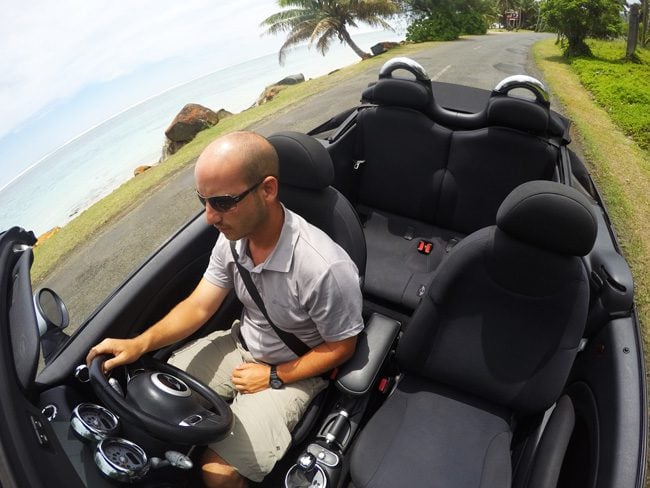 By bicycle: cycling in Rarotonga is a breeze, without any great distances and a pretty flat surface all the way around the island. Polynesian Rental Cars & Bikes has a good selection of bicycles, and there are lots of other providers spread around the island.
Where To Stay In Rarotonga?
Rarotonga is fully geared for tourism, so there are plenty of accommodations to choose from – ranging from backpacker friendly to high-end luxury resorts. The self-catering scene in Rarotonga is very popular. You'll find that many accommodations are equipped with cooking facilities, with quite a few geared towards longer stays.
I stayed at both in the Muri Lagoon area and the west side of the island, known as 'the sunset side'. Both are excellent spots to base yourself at, with Muri pretty much being the 'center of the action' outside Avarua, and the sunset side a lot more low key but nonetheless a short distance from all the action. Here are my recommended places to stay in Rarotonga.
Here's a list of all Rarotonga accommodations that can be booked online!
Muri Lagoon
Te Vakaroa Villas
Smack in the middle of the Muri Lagoon and right on the beach, the exclusive gated property of Te Vakaroa Villas offers the absolute self-catering luxury in Rarotonga, without the anxiety of a large resort. Relax and rejuvenate in one of six spacious villas, impeccably furnished and tastefully decorated. All units open up to a large secluded balcony overlooking a well-kept garden. Furnished with comfy sunbeds, a spa and an infinity pool – the garden fronts the prettiest section of Muri beach. After a perfect night's rest, enjoy a complimentary tropical breakfast delivered daily to your villa, and for an extra romantic dinner – order from the adjacent Sail's Restaurant or have the chef come over.
Te Vakaroa Villas is perfect for self-catering couples, honeymooners, wedding groups and special family occasions. Here's a full review of Te Vakaroa Villas, including an exclusive offer for X Days In Y readers.
Muri Beach Cottages
On the much quieter southern end of the Muri Lagoon, the adults-only Muri Beach Cottages offers a get-away-from-it-all atmosphere in Rarotonga's most sought after location. The rustic units are absolutely charming, with all but one right on the water's edge. In fact 'the pole house' is literally on the water! From the comfort of your breezy wooden deck, enjoy sweeping panoramic views throughout the day – from the sun rising over the magnificent lagoon to millions of stars shining at night. All units are fully self-contained, feeling like that dream cabin in the woods you've always wanted – except this one is in a tropical oasis. There's also a studio unit in the lush front yard, and you're more than welcome to pick whatever you fancy from the trees.
Muri Beach Cottages is a top choice for single travelers and couples, seeking some privacy and a low key vacation without being too far from all the action. Here's a full review of Muri Beach Cottages
West Coast
Lagoon Breeze Villas
Spread across a lush five-acre tropical garden that's backed by Rarotonga's signature peaks, there's plenty of space to call your own in one the 18 spacious units at Lagoon Breeze Villas (soon to be 22). With a large swimming pool, trampoline, a children's playground, free kayaks and snorkeling gear – there are plenty of ways for both children and adults to stay busy during the day. Let's not forget beautiful Aroa Beach just across the road, perfect for swimming, snorkeling, kayaking and especially for sunsets. All units are fully self-contained, with some specially designed for larger families. A complimentary breakfast is served daily in the main house, where you'll also get to interact with the lovely owners Debbie and Garth, along with guests from around the world that keep returning to Lagoon Breeze Villas Oh, and there's even happy hour!
Lagoon Breeze Villas is perfect for self-catering couples, families, groups of friends and long term holidaymakers. Here's a full review of Lagoon Breeze Villas.
The Black Pearl At Puaikura
This up and coming place has recently been renovated and yet to be fully discovered – so hurry up and check out The Black Pearl at Puaikura! Twelve extremely spacious units are intimately set in a lush tropical garden with a saltwater pool at its center. Units are fully self-contained and have plenty of storage space, so there's no chance you'll be living out of your bag on this holiday. Each is painted in bright pastel colors and decorated with local island art. When you're not relaxing in your room or poolside, Aroa Beach is just across the road. This part of the island isn't as busy as others, and you might have a lovely beach for yourself. Don't miss the sunsets! Restaurants, bars, car hire and other useful amenities are just a short walk away.
The Black Pearl at Puaikura is a great choice for self-catering families traveling with or without children, and those seeking a quiet setting with impeccable service. Here's a full review of The Black Pearl at Puaikura, including an exclusive offer for X Days In Y readers.
Finally, here's a list of all Rarotonga accommodations that can be booked online!
Scuba Diving
Rarotonga is the best place in the Cook Islands for scuba diving. While the coral is mostly hard, visibility is excellent and you can expect to have close encounters with sharks and sea turtles. I joined Patrick from Adventure Cook Islands for 4 dives around the island. Catering to both beginners & experienced divers and always with personal treatment, they'll take out a maximum of five divers at a time on their small boat. A two-tank dive including gear will cost $129 (NZD), with the price dropping for additional dives. Aside from scuba diving, they also rent out scooters, bicycles and can arrange adventure tours.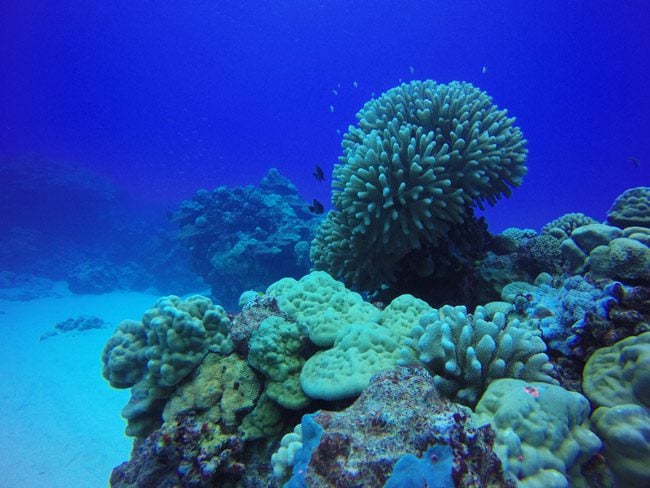 Have a look at the 'diving in Rarotonga' section for more info and lots of photos.
Beaches
Rarotonga's best beaches are on the southern side of the island, starting from Muri Beach in the east to Aroa Beach in the west. Over on this side of the island, the reef breaks far from the coast, creating a large and calm lagoon. See the 'best beaches in Rarotonga' section for more info. I recommend entering the water with reef shoes, and watch out for signs pointing out to the dangerous spots where the reef opens up to the ocean. In case you were wondering if there are private beaches in Rarotonga – the answer is 'no'. You can freely park it on any beach you fancy, just don't cross private property to get there.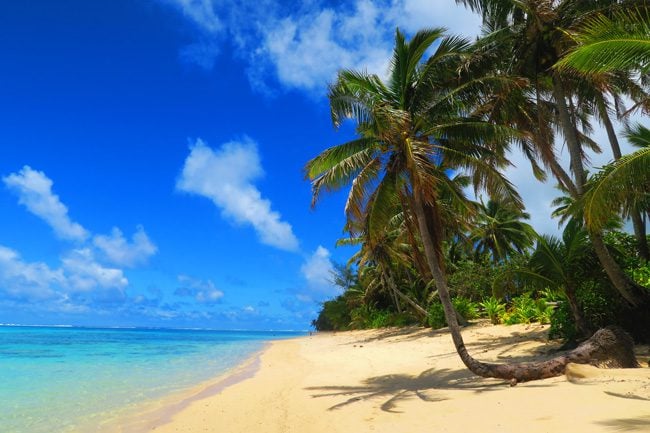 Drinking Water In Rarotonga
Do not drink tap water in Rarotonga unless it is filtered. Some accommodations will have filtered water coming out of the taps, while others might have a special tap inside your unit or a communal one outside. Always ask your hosts before stocking up on bottled water.
Internet In Rarotonga
Vodafone is currently the main (and perhaps sole) Internet and mobile phone provider in the Cook Islands. You'll need to connect to their hotspots, which are spread in various places throughout the island. Some resorts may still use the Zenbu prepaid system so inquire before purchasing Vodafone credit. See the Cook Islands Travel Guide for more information.
Eating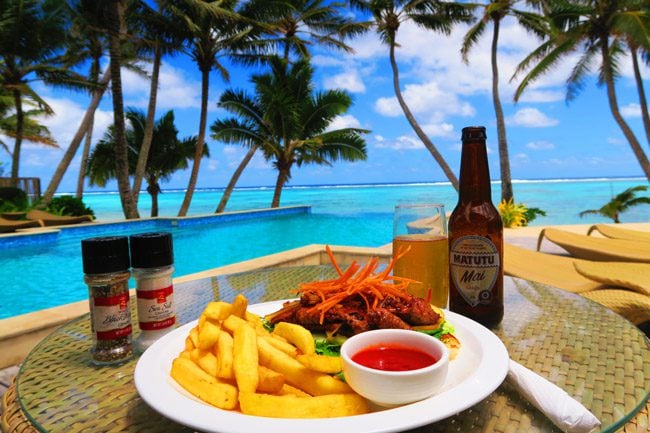 Rarotonga has quite the culinary scene, with more than enough choices to fill up your holiday calendar. You'll find anything from juice bars, to simple eateries, to fine dining and even Indian & Mexican restaurants. For the self-caterers, there are several supermarkets in and around Avarua: Prime Food (good for meat), Wigmore's (good for fruit, vegetables and healthy food), CITC (large selection) and Foodland (on main street Avarua).
See the 'places to eat & drink' section for specific recommendations.
Safety In Rarotonga
For general safety tips in the Cook Islands, have a look at the 'safety' section of the Cook Islands Travel Guide. As for Rarotonga specific safety tips:
Wear reef shoes when swimming or snorkeling as there could be a stonefish hiding amongst the sand.
Be extra careful and inquire about the dangerous swimming spots. Those should be signposted and are dangerous for kayakers as well as for swimmers. Just before I visited Rarotonga, a German kayaking couple got into a bad spot and died.
Theft is not common in Rarotonga but it can happen. Don't leave your bags unattended at the beach. If you're traveling alone, a metal wire and a lock will allow you to tie your stuff to a palm tree.
What To Buy In Rarotonga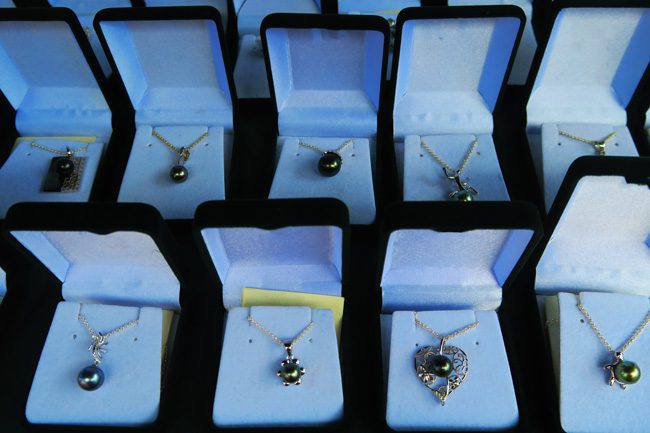 Shopping in Rarotonga is an integral part of your Cook Islands vacation. Most shops are concentrated in Avarua and Muri, along with the Saturday Punanga Nui Market that's geared for tourists. Aside from a ukulele, you can shop for: island fashions, sarongs, shell necklaces, bags & hats from coconut fiber and wood carvings. However, the most unique souvenir you can bring back from Rarotonga (at least on the materialistic side) is a black pearl. Common in the Cook Islands and French Polynesia, these beautiful pearls are a great gift for a lady.