Places To Eat & Drink In Rarotonga
There's no shortage of places to eat and drink in Rarotonga. Here are a few I recommend:
Breakfast
Cafe Salsa: in 'downtown' Avarua and a great place to start your day. Breakfast with a drink goes for $10-15 (NZD) and is served until 2:30 pm. They also do lunch and sometimes even dinner, using their wood oven to bake fresh bread and pizza.
LBV: with several locations around the island, my favorite was in the historical Beachcomber Gallery in Avarua. Sip on a strong cup of coffee and maybe even dive into a buttery croissant, listen to tropical birds happily singing and lagoon waves breaking just meters away.
Lunch
Tahiti Cafe: one of my favorite places on the island. I just kept coming back here again and again, always going for the combo of sashimi and Tahitian fish salad – served with rice, special sauce and vegetables ($12 for takeaway, $18 to eat inside). It's only when I made it to French Polynesia, that I fully understood just how authentic the food at this special cafe was.
Little Polynesian: you don't have to stay at this beachfront resort to enjoy lunch. Just grab a seat poolside and admire the view of the prettiest beach on the island. I had the open beef sandwich and my first taste of the local brew – Matutu Beer (excellent). Mains go for $15-25.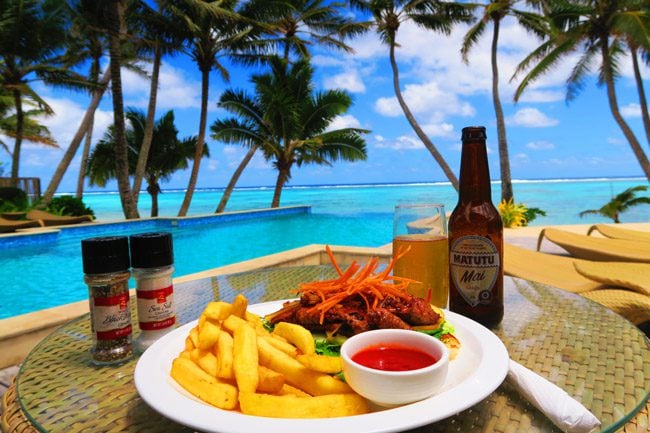 Mooring Fish Cafe: another place I kept coming back to. The sandwiches are simply to die for and the setting super relaxed, in Avana Harbour.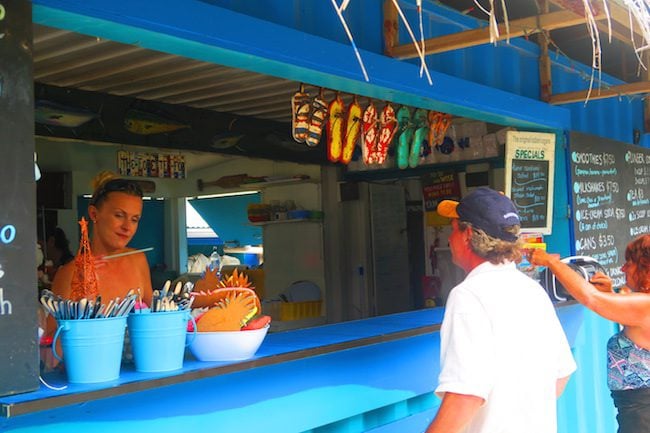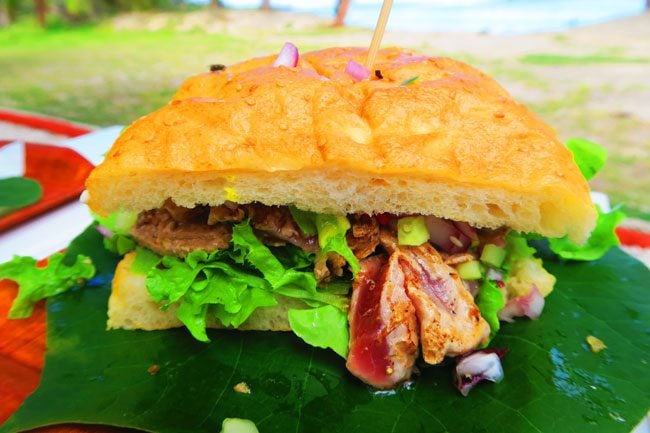 Atmosphere
Trader Jacks: one of the iconic spots in Rarotonga, there's always a great vibe at Trader Jacks. Grab a drink at the bar or come here for lunch or dinner. I heard they smoke their own marlin so opted for that. It was simply delicious. They also serve dishes from back home, and a meal plus drink will set you back about $30.
Punanga Nui Market: if you're in Rarotonga on a Saturday, do not miss the chance to wander around one of the coolest markets in the South Pacific. Aside from shopping and entertainment, there are lots of food and drink options. You can even do some grocery shopping. The market wraps up by noon.
Muri Beach Night Market: grab some food from one of the stalls and find a table beneath the stars. There's always some form of local entertainment and the best day to visit is Thursday.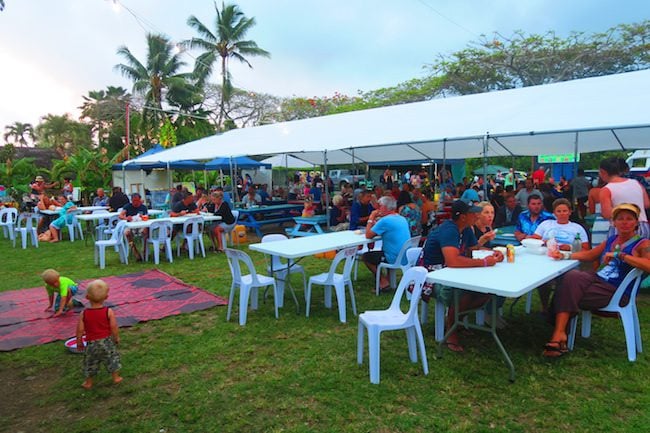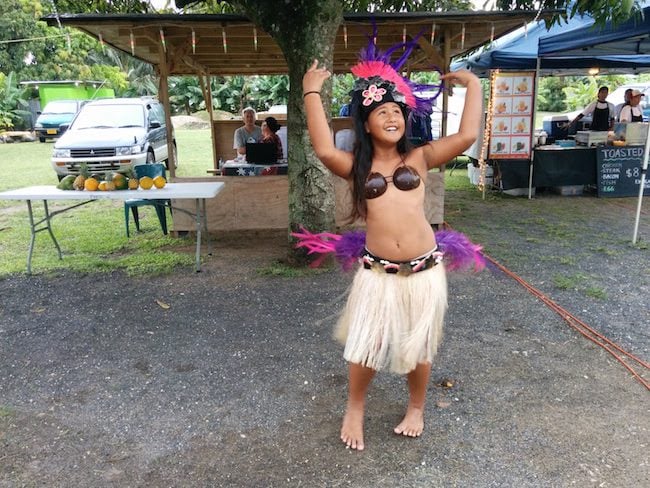 Romance
Tamarind House: come here for a romantic dinner or a fancy lunch. Housed in a 1909 colonial-style house overlooking a wild beach, the setting is magnificent whether you're dining inside or by candlelight in the garden. The lunch menu is simple but the specials are the real deal. I had the seared tuna with a side of breadfruit and pawpaw (papaya) salsa. Mains range from $20-30.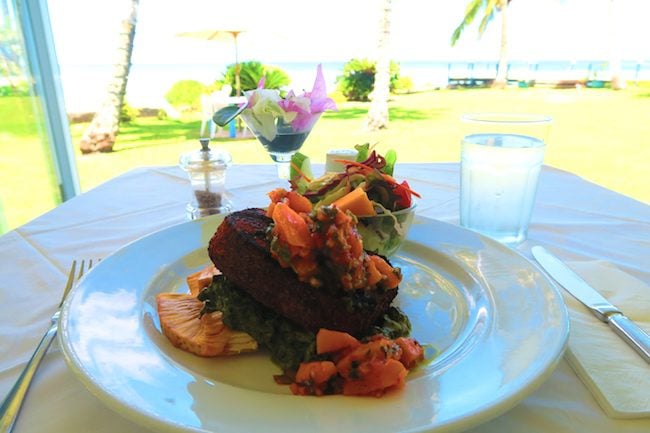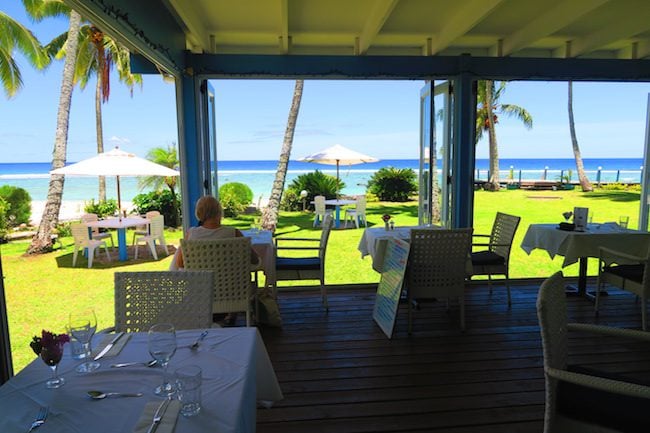 Indian
Raviz: in downtown Avarua and the only Indian restaurant in Rarotonga (I was even surprised to find this one). Takeaway lunch is just $6.95 and they have special offers every day of the week.
Groceries
With self-catering so popular in the Cook Islands, you'll likely visit a supermarket or two during your visit. Prime Food is good for meat, Wigmore's is good for fruit, vegetables and healthy stuff, CITC has the largest selection, Foodland is on main street Avarua, and Ocean Fresh (right by the airport) is the best place to buy fresh fish in Rarotonga.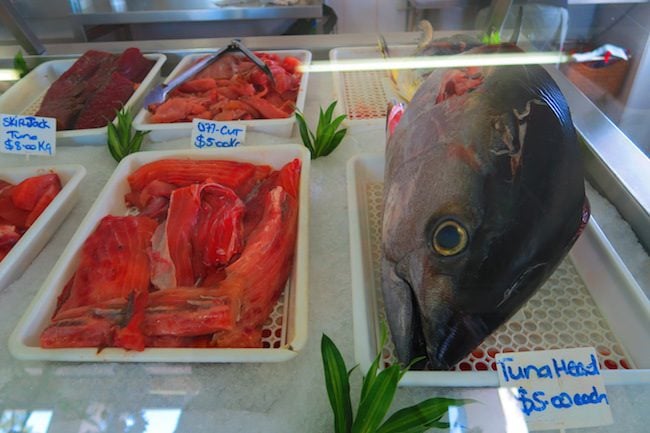 Local Experience
Progressive Dining Rarotonga: have dinner with a real Rarotongan family, learn about the culture and enjoy a great local meal. Inquire with your accommodation or phone 20-639.
Beach Bars
Shipwreck Hut: definitely the coolest bar in Rarotonga. Come here to watch the glorious sunset and even better – on Tuesdays, Thursdays or Saturdays when there's live music.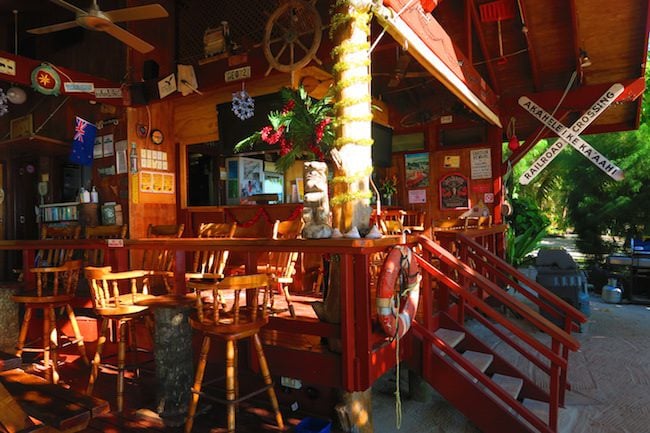 Isobar: adjacent to Sail's Restaurant, happy hour goes from 4-8pm. Grab a drink and catch the breeze on the wooden deck overlooking the Muri Lagoon.
Staircase: climb up to the deck, grab a cocktail, maybe some food – and enjoy the views!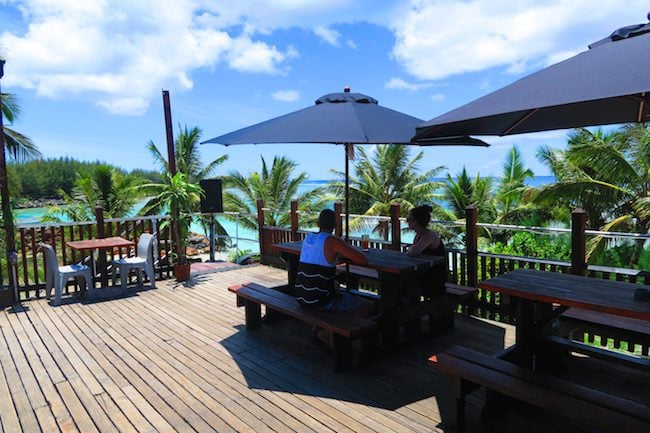 Smoothies
Fruits Of Rarotonga: treat yourself to a massive cup of freshly prepared smoothie and pick up some chutney for later.
Now It's Your Turn
I hope you've found this Rarotonga Travel Guide useful. If you have any questions or your own Rarotonga travel tips, leave a comment below and let's get the conversation started!