Talofa! That means 'welcome', to beautiful Samoa that is. This proud independent island nation is not only blessed with stereotypical natural beauty of the tropical kind, but it's also the most authentically Polynesian destination in the vast South Pacific – an exotic land where even men wear skirts. As you're chasing waterfalls, touching down on white sand beaches or roadtripping around the islands, remember one thing – 'Samoan time' beautifully ticks at its own pace. So take advantage of this in depth Samoa Travel Guide, and plan the trip of a lifetime!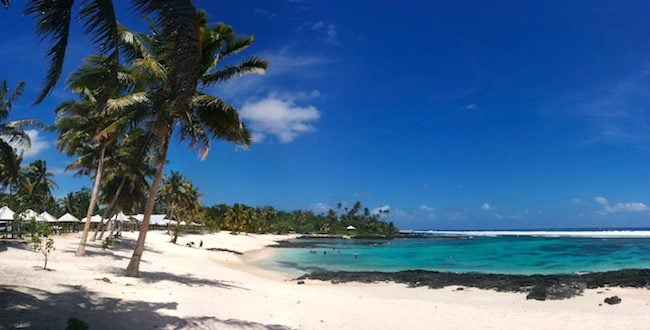 About This Guide
I spent nearly a month in Samoa while backpacking across the South Pacific Islands for six months, spending time in both Upolu and Savaii. This Samoa Travel Guide was written based on my experiences and is meant to help you make the most of this tropical destination.
Planning a visit to Samoa? Check out the Samoa travel guide collection, where you'll find in-depth travel guides to Samoa's main islands, sample itineraries, and essential planning tips!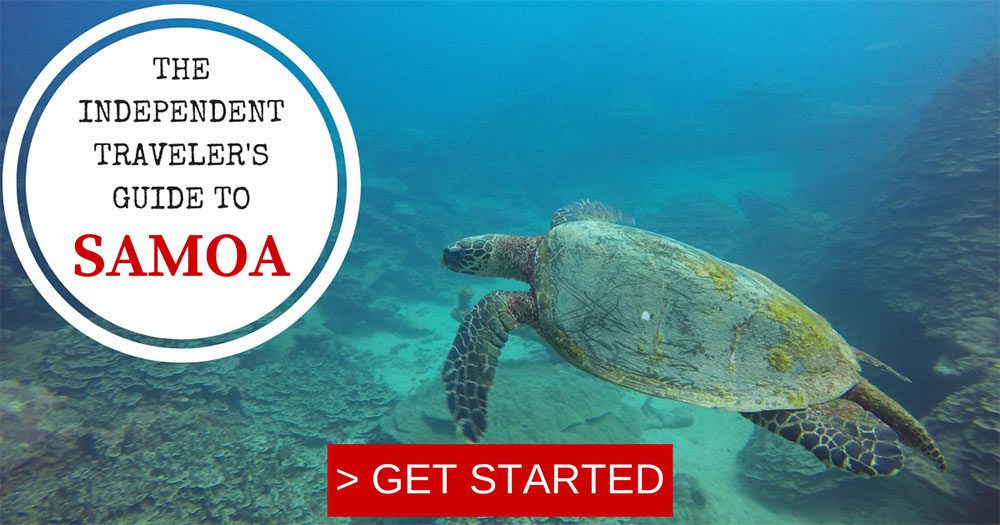 What's Included In This Samoa Travel Guide?
Several sections make up this travel guide:
Why Should You Visit Samoa?
I don't know about you, but for years I felt an unexplained yearning to visit Samoa. In my mind, I envisioned Samoa as this tropical paradise, home to those 'stereotypical' Pacific Islanders and where time has absolutely no meaning. I must admit that Samoa proved to be exactly that and much more. Samoa was one of the most interesting places I've ever visited. It's not your typical luxury beach vacation but it is one the most affordable South Pacific destinations. Its islands are blessed with immense tropical beauty: from white sand beaches to towering waterfalls to ancient volcanoes covered in thick vegetation.
However, Samoa's 'ex-factors' are its culture and its people. Decades of independence have resulted in relatively little foreign influence. This has aided Samoans in preserving their unique culture and code of behavior known as Fa'a Samoa (the Samoan Way). Visitors will notice the particularly different ways of doing things in Samoa. And with a lot of curiosity and patience on your end, you'll find this lifestyle beautifully blends with the natural beauty to create a one-of-a-kind destination.
Facts & Brief History
I usually try and keep this section brief but in the case of Samoa, this is downright impossible. If history and understanding the Samoan culture aren't your things, simply scroll over to the next page of this Samoa Travel Guide.
The proudly independent Samoa lies at the very heart of the Polynesian Triangle. Scientists are still disputed over the origins of Samoans and where exactly they came to the islands from. It is currently thought that Samoans, and in fact the Polynesians, are the descendants of the Lapita – a seafaring people from Southeast Asia who settled in Samoa some 3000-3500 years ago.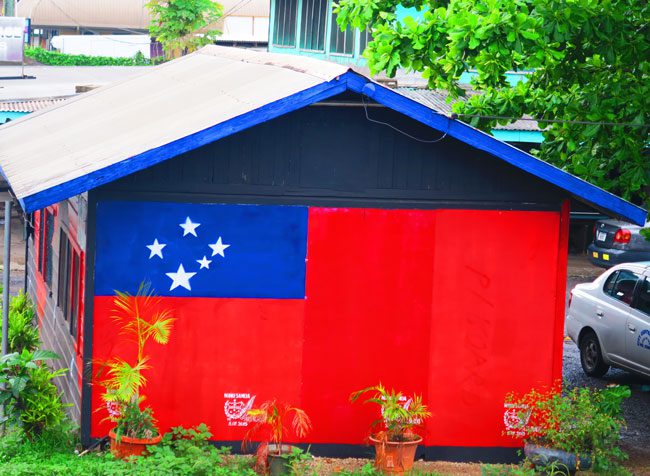 Europeans, nicknamed 'Palagi' for their pale skin, first made contact with Samoans in 1722, beginning a period of frequent European trips to the 'Navigator Islands'. With the explorers, whalers and traders came the missionaries. In 1830, the London Missionary Society began its campaign, later joined by the Mormons. Following on their success in the Cook Islands and French Polynesia, conversion to Christianity was relatively quick. Samoans saw many similarities between their traditional beliefs and this new religion, further speeding adoption.
Now on the world map, the naval superpowers of the late 19th century showed great interest in the Samoan islands, each for their own reasons (agriculture, rubber, natural harbors). Powerful Samoan families sided with the various parties, leading to a long and bloody dispute which eventually ended with Samoa going to Germany and American Samoa going to… the Americans.
With the outbreak of WWI, New Zealand took over Samoa from the Germans on behalf of the British Crown. The period under New Zealand rule was marked by intense yet nonviolent Samoan resistance (the Mau Movement). An Influenza epidemic brought over by the Kiwis in 1918 led to the death of 20% of the population and to further animosity. Independence was finally achieved in 1962, the first Pacific island nation to break free from colonial rule.
Samoa Today
Though tense in colonial days, current ties with New Zealand are very strong, as with Australia. In the absence of substantial foreign investment, the two 'Pacific superpowers' contribute a lot of needed aid money to Samoa. Remittance payments from thousands of Samoans living abroad are also a primary revenue source for some families. In 2009, Samoa switched to driving on the left side of the road and in 2011, moved west of the International Date Line. This allows the cheap import of cars and conducting business on the same calendar day as New Zealand and Australia.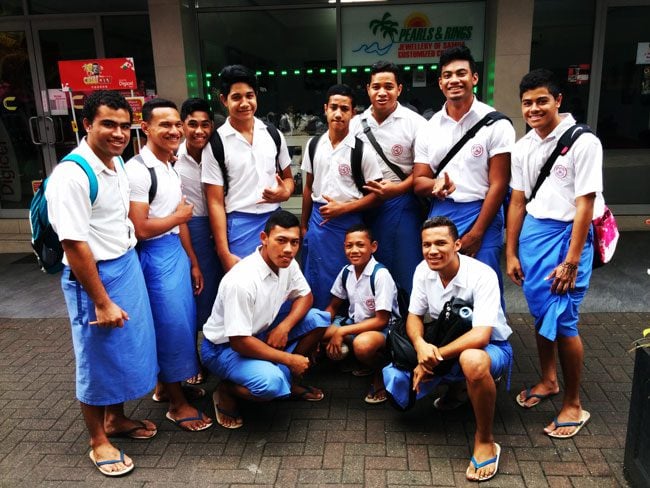 Fa'a Samoa – The Samoan Way
This traditional code of behavior and governance is the backbone of Samoan society even in modern times. At its heart is the extended family, known as 'aiga. The more hands to carry the load, the easier life will be. The bigger your family is, the more powerful it is. So everyday life is not about 'you', it's about 'us'. There is no 'I', only 'we'. Though likely originating from a real survival need back in the day, these codes still blindingly lead Samoans to do everything (and give everything) to their extended family and its representative bodies: chiefs, village, and church.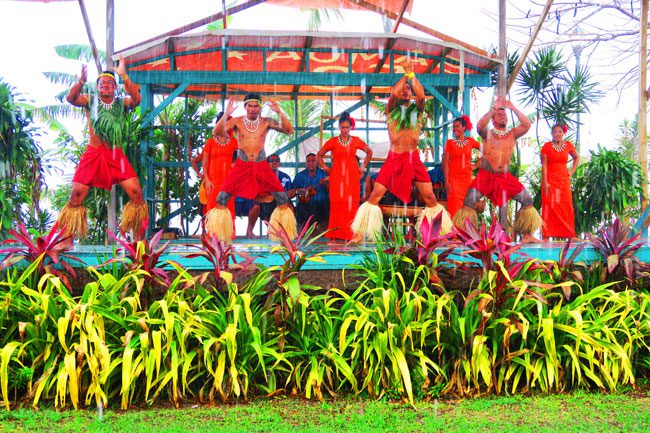 Though an official government exists in Samoa, there is a traditional chief system that runs in parallel and often intersects the official system. There are four types of Samoan chiefs: the ali'i (high chief) who represents the district in the fono (national legislation), the matai (extended family chief) who decides on matters relating to the village, the polenu'u (administrative chief) who decides on municipal/local police matters and liaises with official government bodies, and lastly the tulafale (talking chief a.k.a orator) who represents the family in ceremonies and speaks on behalf of the matai in matters concerning neighboring villages (think of him or her as a PR lead).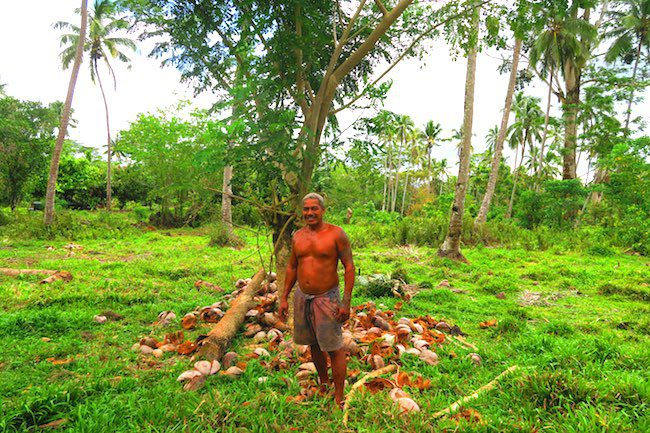 Beneath the chief system, 'regular' Samoans have their roles in life pretty much defined by fa'a Samoa. Unmarried and married men and women each have their family duties to fulfill. This sounds very overbearing and in fact, it's a challenge the traditional system faces with the 'Facebook generation'. Millennial Samoans often feel trapped on their island, frequently leaving for Australia and New Zealand for self-determination. Whatever their motivation to leave Samoa may be, they will always send money back home to support their families and village.
There is, however, a positive side to the tight family life. Samoans need not worry about a plot of land to build their home or who will take care of them when they're old. In fact, loved ones are simply buried in the front yard! Though you might need to share a house for a few years with your uncle or cousin, you will always have a roof over your head and food on the table. So it's not uncommon that many Samoans simply do not hold any official job. Somehow, if each extended family member takes care of his or her duties, everything will be alright.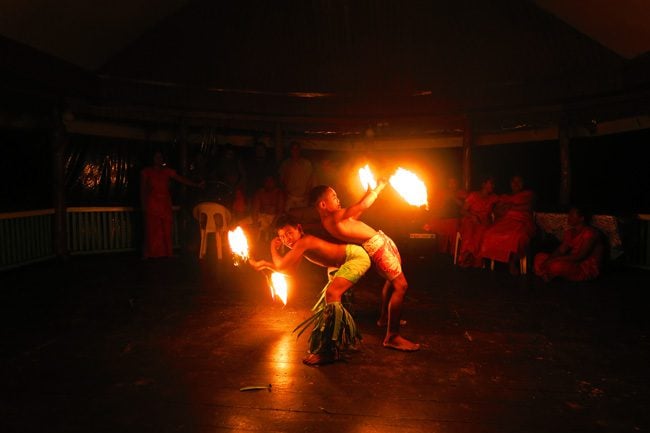 Fa
'afafine
– Samoa's Third Gender
Though strict, Fa'a Samoa does have a tolerant side. You will no doubt encounter the flamboyant male Samoans known as Fa'afafine. Referred to as 'transexuals' in the Western world, they are not considered male nor female or gay by traditional Samoan culture. Fa'afafine are very much accepted in Samoan society, often bringing a 'carnival vibe' to any place they go. I heard somewhere that the surprising tolerance stems from the old days when families that only had boys raised the youngest as a female to aid with the female-oriented family chores. Watch the fantastic documentary film 'Next Goal Wins' to understand more about the Fa'afafine.
Samoa Travel Tips
Listed in this section are essential travel tips for planning your visit to Samoa.
Read & Watch List
When Is The Best Time To Visit Samoa?
Samoa is a classic tropical destination, with hot and very humid weather throughout the year. There are two seasons in Samoa: the dry season and the wet season, which also brings with it cyclone season. Always keep in mind though: you can't have all this intense green without plenty of rain!
Dry Season (May – October): plenty of sunshine with the occasional downpour. This is the perfect time for hiking and for less humid weather. Towards October, things can change with more rainy and cloud-filled days.
Wet Season (November – April): expect plenty of wet days and I mean seriously wet days. Cyclone season in Samoa is in full swing and that can be an unpleasant experience, with high winds and flooding. This is especially true if you plan to stay at a beach fale. That said, there will be plenty of sunny days but without a guarantee to fall exactly when you visit.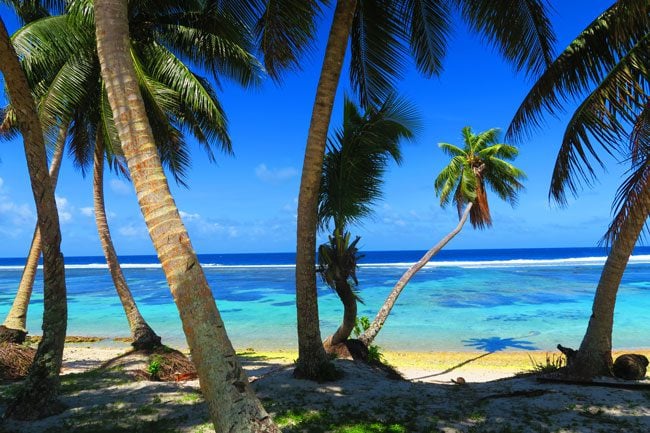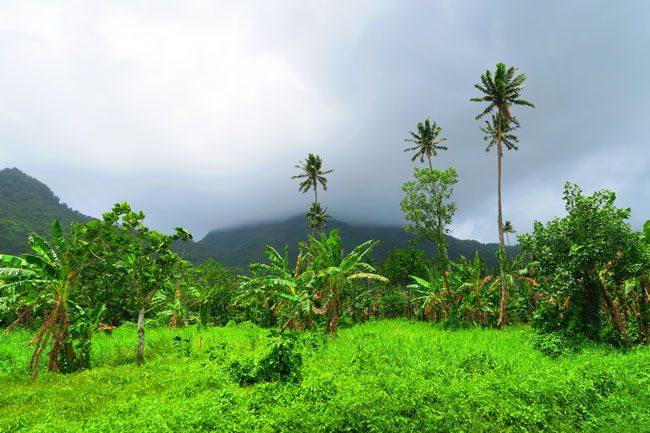 I personally visited Samoa in the shoulder season, during October and the start of November. I was quite concerned about having nothing but rain but it turned out to be just fine. My first week was plagued by on and off rain and clouds, while the rest of the time was nothing but sunshine. However, while I was in the Cook Islands towards the end of November, a small cyclone hit Samoa, causing flooding and some damage in Apia. Its effects were felt all the way in Rarotonga, so it wouldn't be a pleasant time to be in Samoa.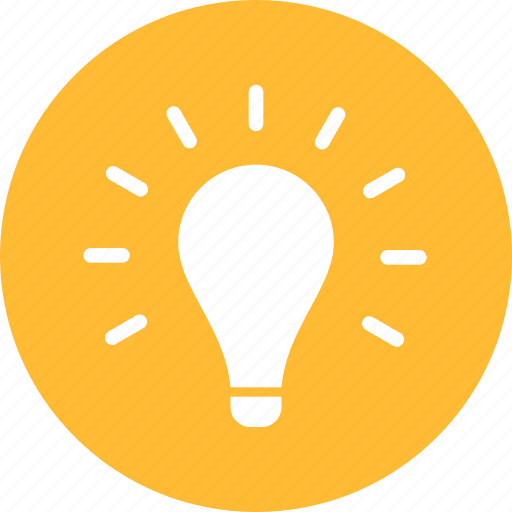 Pro Tip
Many Samoans live abroad, mostly in Australia and New Zealand. During the Christmas holiday season, flights and hotels will get booked quickly so I recommend booking early if visiting Samoa during this time.
What To Pack?
Water is the main element to be prepared for in Samoa: rain, seawater, and sweat (lots of it). Have a look at the X Days In Y Packing List for recommendations on what to pack for Samoa based on my own experience.
How To Get To Samoa?
Samoa is reached via direct flights from Australia, New Zealand, Fiji, Hawaii, and American Samoa. I personally flew to Samoa from Vanuatu, spending a night in Fiji on the way. Keep in mind that international flights arrive and depart from Faleolo Airport, about 40 minutes outside of Apia.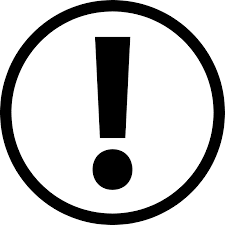 Updates
As of July 2017, you might be able to fly from Samoa not only to American Samoa but also to Tonga with newly formed Talofa Airways. As of November 2017, the "resurrected" Samoa Airways commenced flights between Apia and Sydney/Auckland. In December 2020, Fly Coral Ways started to offer flights to Samoa from Wallis and Tahiti. Keep in mind that small South Pacific-based airlines come and go and these routes may no longer be available at the time of your visit.
Entry Requirements
Visitors receive a 60-day tourist visa upon arrival in Samoa. It is important that you are able to show an onward flight ticket upon request. This means that if you're planning to island-hop in the South Pacific with one-way tickets (like I did), you should always have your next segment booked and the ticket printed (or saved on your phone).
Language
The official languages in Samoa are Samoan and English. Samoan is a strangely beautiful dialect that you'll likely not be able to pick up during a short stay aside from talofa (hello) and faafetai (thank you). English is widely spoken in Upolu but in Savaii the story is a bit different, with a lot of villagers only speaking Samoan (this is hardly an issue for tourists though).
How Long Do You Need In Samoa?
Most visitors spend a week to 10 days in Samoa, which is enough to get a good taste of the country. Ten days would give you enough time to properly explore both Upolu and Savaii, while maybe even spending a night or two in one of the smaller islands like Namua or Manono. With two to three weeks in Samoa, don't miss the chance to visit neighboring American Samoa. You might even be able to make it to Ofu beach, one of the prettiest beaches in the world!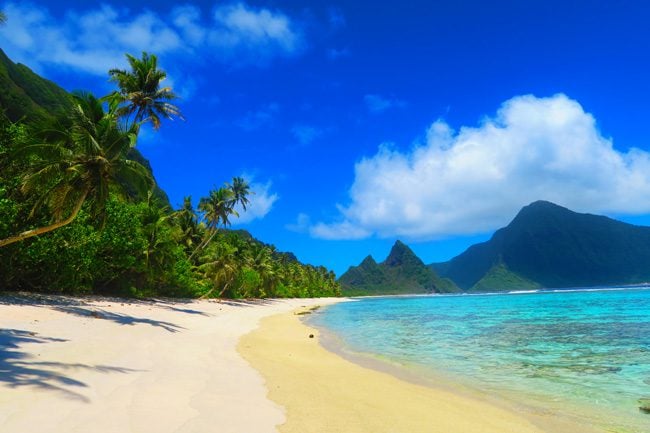 Upolu vs. Savaii?
The question of which island to visit in Samoa is not as tricky as in other South Pacific destinations like French Polynesia or the Cook Islands, where getting from one island to another requires a flight or a cargo ship voyage. Savaii and Upolu are connected by a short ferry ride, so it is merely a question of how much time you have. Here's a brief snapshot:
Upolu: home to the vast majority of the country's population and naturally the busier of the two. The island can be easily explored by bus or on a road trip with a rented car. There are plenty of accommodations to choose from ranging from the simple beach fale (Samoan beach hut) to luxury resorts. Aside from having the only 'city' in Samoa, Upolu is home to incredible waterfalls, tropical white and black sand beaches, and off-the-beaten-track Namua Island.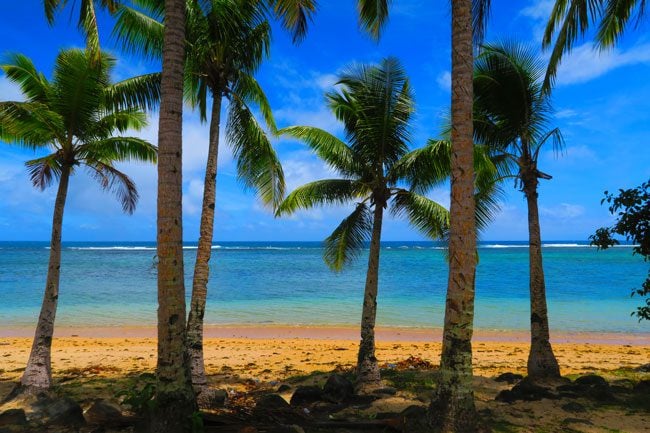 Savaii: one of the largest islands in the South Pacific and home to a fraction of the already tiny Samoan population. Savaii is deeply traditional, simple and little changed over time – with English not as commonly spoken as in Upolu. The island's main draw is exactly that – living life in the extra slow lane. Visitors come here to stay in simple beach fales, though there is a small selection of hotels and resorts. Highlights include guided hikes, scuba diving, ancient Polynesian sites, lava fields, sea cliffs, and blowholes. Getting around is more challenging, with a car essential for properly exploring the entire island.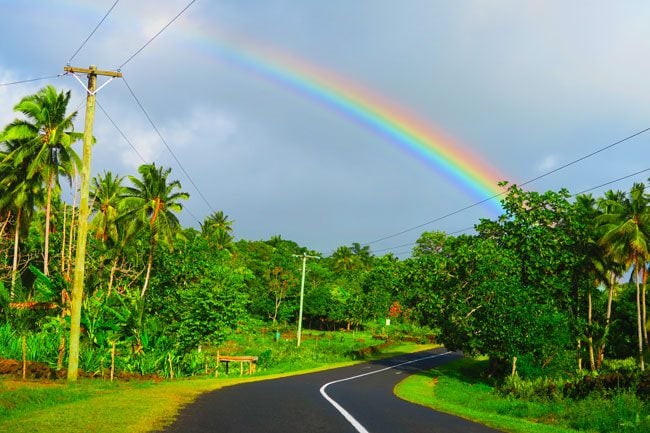 The bottom line: both islands offer a wealth of attractions, but if you have less than a week – stick to Upolu. I personally felt that Savaii receives more hype than it deserves. It was nice, don't get me wrong, but I found Upolu to offer more of that 'classic' tropical vacation.
How Much Does It Cost To Travel In Samoa?
Samoa is one of the most affordable South Pacific destinations. While you can stay at upmarket resorts and have your own car for the entire stay, there aren't too many opportunities to spend a lot of cash. Samoa is a very simple country. Here's a breakdown of my travel costs in Samoa.
Backpacking In Samoa
After Fiji, Samoa is probably the most backpacker-friendly destination in the South Pacific. In fact, there are quite a few backpackers visiting from New Zealand as part of their year-long work holiday visa. If you are happy with a simple hut on the beach and getting around using public transportation, you'll be surprised at how little your vacation will cost. The best places for backpackers in Samoa are Taufua Beach Fales in Lalomanu and Manase Beach in Savaii. See the individual island guides for more details.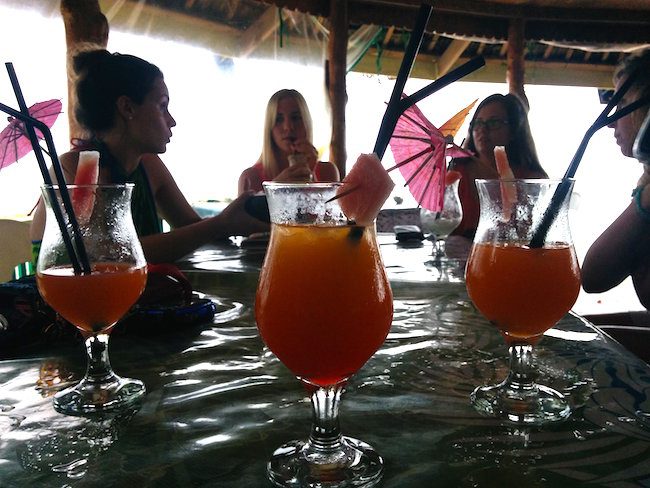 Where To Stay In Samoa?
Samoa's accommodations are basic and reasonably priced. I'll recommend specific places to stay in Samoa in the various sections of the guide but here's a general overview.
Beach Fales: pronounced fa-le, Samoa's signature accommodation offers you the chance to literally stay 'on the beach'. It's the absolute top choice for those seeking an authentic slice of Samoa and a great way to save on costs. Usually, a simple thatched roof-covered wooden hut, fales seem to be everywhere along the coastline. Owned and operated by extended families, staying at a good beach fale can be an experience you'll never forget – offering you the chance to meet real Samoans and other like-minded travelers.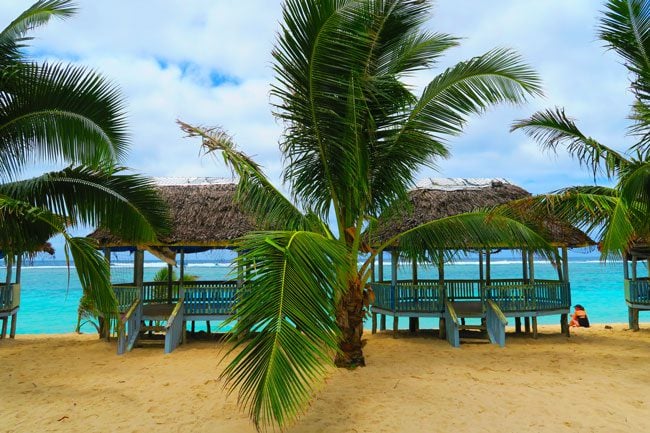 In the T60-80 range, you'll get a very simple open-air fale with a thin floor mattress, mosquito net, and woven blinds that can be rolled down at night yet still allow for the breeze to enter. In T100-120 and up, you can find open or walled fales with proper beds, maybe a fan, and all the way up to proper beach huts with electricity and air conditioning.
Priced per person, do the math if it's worth sharing a fale or opting for a proper room at a resort or hotel. The price almost always includes a communal breakfast and dinner (sometimes even lunch), with a shared bathroom/shower usually with cold water. Note that beach fales in Savaii are much cheaper than those in Upolu. You'll almost always be able to walk in and find a spot, and don't forget to bring your own towel.
Hotels: simple hotels and bed & breakfasts will almost exclusively be found in Apia and Salelologa.
Resorts: Samoa has a few high-end resorts, though it's nothing like the resort scene of the Cook Islands or French Polynesia. The bulk of the resorts in Upolu are in and around Apia and down on the south coast where the best beaches are. Over in Savaii, there are a few mediocre resorts in Salelologa and high-end options in Manase. One of the newest resorts to open in Samoa are the Aga Reef Resort & Spa, located on arguably the best beach in Samoa at Lalomanua, and Taumeasina Island Resort, situated on an exclusive private resort close to Apia.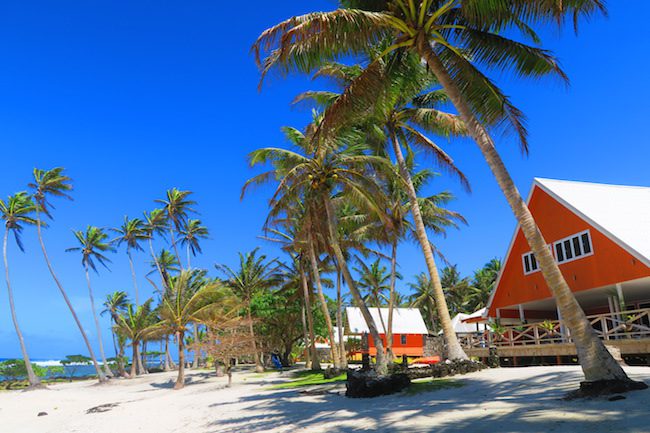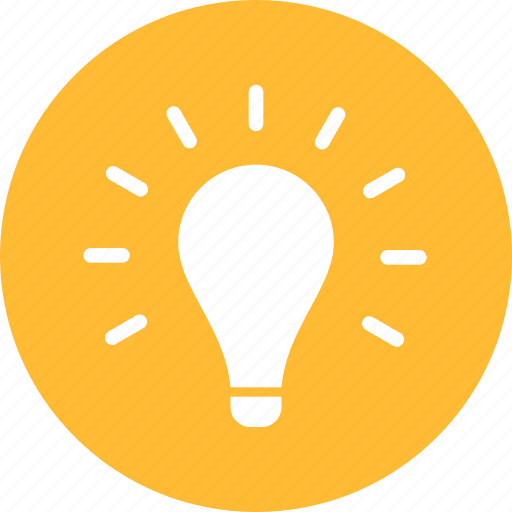 Pro Tips
(1) Book your accommodation in advance during the Christmas holiday season and ahead of weekends, when many young Samoans head to the popular beaches for overnight stays. (1) Here are all Upolu Island accommodations and Savaii Island accommodation that can be booked online via booking.com.
Money
Samoa uses the Western Samoan Tala (WST or just T and even sometimes $) as its official currency. While most Apia hotels and resorts throughout the country will accept credit cards – Samoa is in large parts a cash economy when it comes to tourism. Much like in Vanuatu, a lot of places might add a 3-5% surcharge if you wish to use your credit card.
So equip yourself with enough cash! In Upolu, I'm aware of ATMs at the airport and in Apia, while in Savaii you'll for sure find an ATM in Manase and Salelologa. Be aware of high banking fees and don't be surprised if an ATM is out of money over the weekend.
Tipping & Bargaining In Samoa
Tipping is not necessary in Samoa, aside from perhaps in the luxury resorts. Bargaining is actually quite frowned upon and you should refrain from doing so, aside from perhaps before entering a taxi. You'll notice that even in markets, prices are clearly marked, down to the smallest banana.
Getting To & From The Airport
A bus from the airport to Apia and vice versa will cost around T4, caught from just outside the terminal along the main road or from the central bus station in Apia. If you don't feel like taking the bus or if you arrived late at night or on a Sunday – taxis will take you to and from the airport for about T60-70. Your hosts can also book the Aggie Grey shuttle which picks you up from your Apia accommodation 24/7 for T25.
Riding The Bus In Samoa
Taking the bus in Samoa is an experience you'll never forget. It's a great way to save on travel costs and to get to know the Samoan culture from a unique perspective (you'll soon see why). Busses in Samoa are essentially massive Toyota trucks that have seen better days since hitting the road a few decades ago. Colorfully decorated, sometimes 'gangsta style', drivers always blast pop remixes to some of your favorite tunes Samoan style… that is when the Christmas mix isn't playing in an endless loop. The most uncomfortable wooden benches that mankind could design line up the interior, with space underneath and in the aisles kept free for bags, groceries, and even cargo that might be loaded throughout the ride.
Aside from getting from point A to point B, taking the bus in Samoa will open your eyes to another aspect of Fa'a Samoa (the Samoan way). There's a seating arrangement that may seem invisible to you at first, but every Samoan is totally aware of it. Tourists and the elderly will always be given a seat on the front benches, no matter how crowded the bus is. If offered, do not refuse, simply say thank you (faafetai lava) and observe what's happening around you. As the bus fills up, Samoans will start to play 'musical chairs'. Children and even teenagers free up their seats in favor of those older than them, only to sit on their laps… Total strangers quietly sit on each other until either benches free up or it's time to get off – whichever comes first. It's incredible to witness how Samoans get along so well with each other!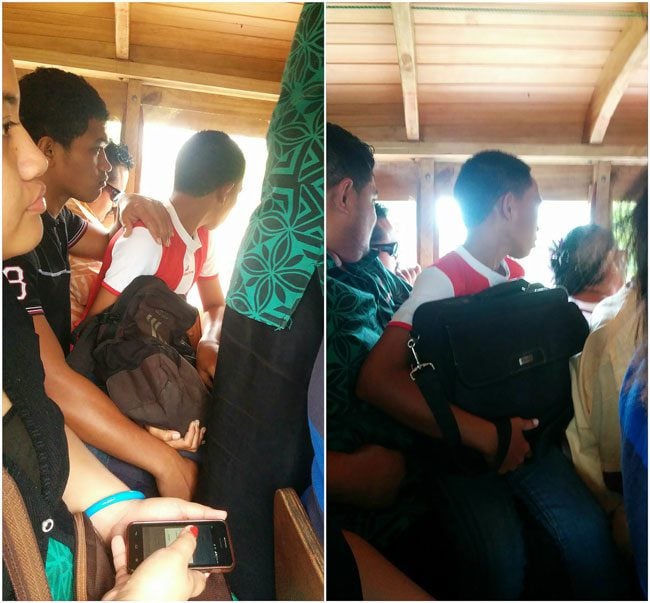 Each village has its own privately operated line, with the final destination clearly marked on the front of the bus (which may not mean much to you). You'll have to ask around which line to take and keep in mind that it is very difficult to get from one village to another without connecting first in Apia, as busses essentially connect a village to Apia (or Salelologa) and vice versa. There are 'central stations' in Apia and Salelologa, but you can just flag a bus from the main road and get off wherever you want. In fact, it's very common for the driver to stop along the way for gas and a bit of shopping in discount grocery shops. Locals know the drill, quickly disembarking and returning within minutes with groceries for the family anticipating their imminent return in the village.

There is somewhat of a bus schedule, though you'll need to be flexible and ask multiple sources in order to triangulate the information given to you. Buses run every day except Sunday, starting from very early in the morning until late afternoon/early evening. Payment is (obviously) cash only and exact change is not needed.
Renting A Car In Samoa
Renting a car in Samoa costs between T100-120 per day and less for periods of three days or more. You'll find car hire companies in Apia, Salelologa, the larger family-owned beach fales, in some hotels and resorts.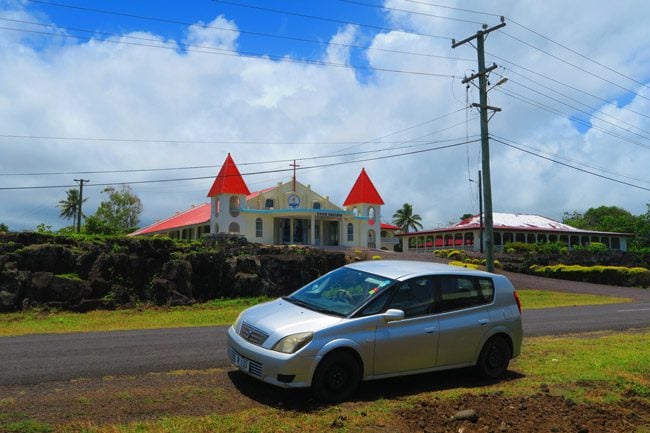 In Upolu, I rented from AA Rentals who offer well-maintained cars and great service. They dropped off and picked up the car in my Apia hotel free of charge, though charging a 5% fee for paying with a credit card. In Savaii, I rented from the Jet Over Hotel. They have economy cars starting at just T105 but those sell out fast.
Here are a few tips for renting a car in Samoa: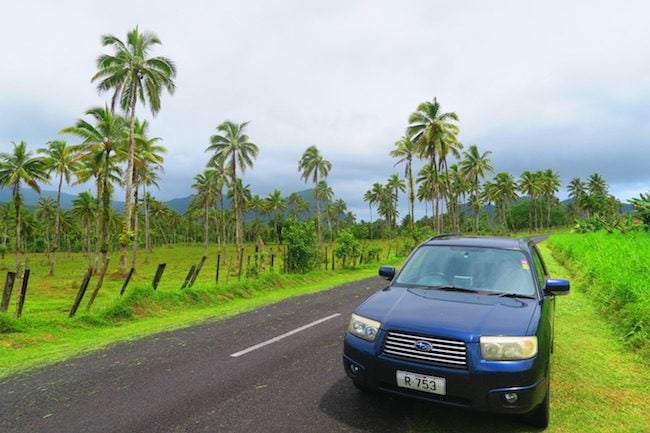 Some companies will require a cash bond instead of a credit card authorization (~T300). This is common practice and you will get your money back.
Driving is on the left side of the road in Samoa.
A 2WD will allow you to reach nearly all tourist highlights.
Inquire if the price includes extra insurance (it surprisingly might).
You must purchase a temporary local license for T21 to compliment your own driver's license. You'll get it when renting your car and will be asked to produce this document if stopped on a random police check (which happened to me).
While gasoline was inexpensive in Samoa at the time of my visit (less than $1.20 per liter), always gas up whenever you get the chance. Gas stations are sparsely spread around the islands and some of them may run out of gas.
Roads are usually in good condition but some parts might be unsealed and unmarked – so drive with extra care and don't go over the speed limit.
There aren't a whole lot of radio stations once you get out of Apia aside from the occasional Christian music station, so you might want to prep for that.
Hitchhiking & Cycling
Hitchhiking is not that common in Samoa but you will likely not wait very long as Samoans are very friendly people. I personally did not hitchhike but met quite a few backpackers who sporadically did.
Cycling is a great way to get around on small day trips and some beach fales might offer free bikes. If you're not venturing up into the mountains, roads are relatively flat. Remember to take plenty of water and don't forget to wear a hat. If you get too tired, just offer someone with a pickup truck a few Tala and dump your bike in the back. I did that when trying to visit three beaches in one day, which required cycling on dirt tracks from the main road down to the beach. By the third beach, I was completely exhausted.
Getting To American Samoa From Samoa
There are lots of daily (and inexpensive) flights connecting Apia and Pago Pago, departing from Fagali'i Airport on the outskirts of Apia. At the time of writing this guide, Polynesian Airlines was the only airline flying from Samoa to American Samoa, but this may change. There is a passenger ship connecting Apia and Pago Pago but you'll need to inquire about that locally. UPDATE: as of November 2017, Polynesian Airlines has been rebranded as Samoa Airways which also flies international routes from Samoa to/from Australia and New Zealand. The "brand" Polynesian Airlines may or may not be still in use and, as always, things constantly change when it comes to South Pacific aviation.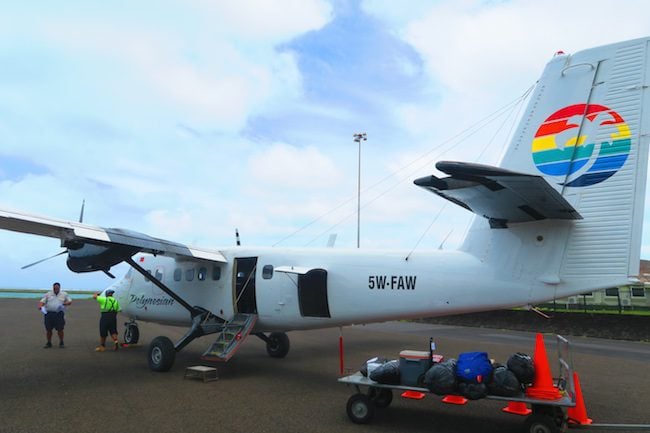 Mobile Phones In Samoa
At the time of writing this guide, Digicel and Vodafone were the current mobile operators in Samoa. When I visited Samoa, for ~T25 (Tala), I got the SIM card, along with 850 MB of mobile data valid for 14 days. I could then top up with phone credit. Over at Digicel, they wanted, at the time, T25 just for the SIM card, with any added credit valid for only 7 days. These packages likely changed but the moral of the story is – shop around!
Internet In Samoa
As in the Cook Islands, the concept of free wifi was unheard of in Samoa, at the time of my visit. You needed to connect to either a Lavaspot or Vodafone hotspot using a prepaid card. Hotspots are found in various hotels, beach fales, resorts and internet cafes on Upolu and Savaii. Before you purchase credit, check which provider has coverage where you'll be staying. Savaii is almost exclusively covered by Lavaspot, whereas Upolu is covered by both. Usage is measured in minutes, which is far better than by megabytes like in the Cook Islands (just remember to log off). So technically, you could do heavy-duty work without using too much credit – if the connection is good. Samoa should have better Internet coverage by now thanks to new undersea cables.
Sundays In Samoa
Samoans don't do much on Sunday and in some villages, the same will be expected of you. The day starts with church service (highly recommended), followed by a whole lot of eating with the extended family until the sun sets. Consider yourself lucky if invited to join a Samoan family for the Sunday routine, it's as authentic as it gets (I describe my own Sunday experience towards the end of this article). Some villages will request that you refrain from swimming, but that's only the case in absolute rural areas.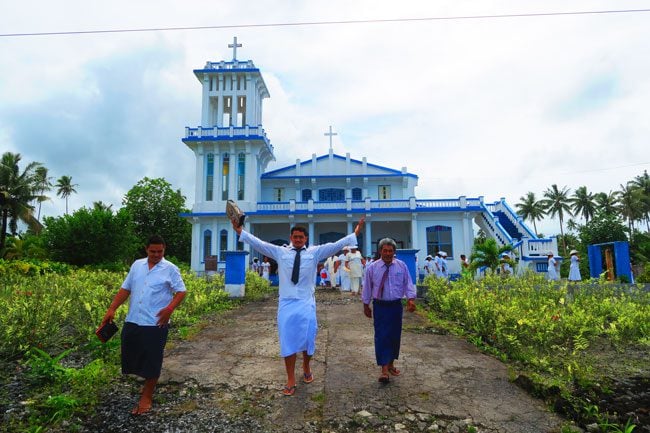 In resorts and popular beach fales, hosts will throw their own version of the Sunday feast, requiring a lot of post-lunch napping from your side. In any case, I highly recommend keeping the movement on Sunday to a minimum. There is no public transportation so you'll need to have your own car or hire an expensive taxi. 'Samoan time' is known to be out of sync with what you're used to from back home and… that's actually part of the charm! Airport shuttles do operate on Sunday in case you're wondering.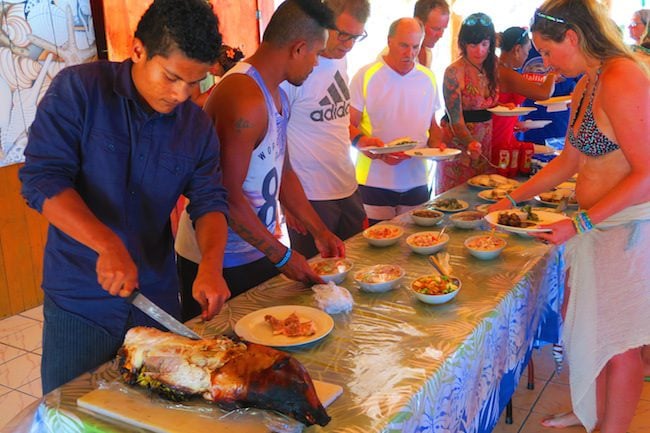 Samoan Village Protocol
As mentioned in the introduction, Samoa is a traditional country where family, church, and customs are pretty much all that matter. This is all part of Fa'a Samoa – the Samoan way, a 'code of conduct' which dictates everyday life. For tourists, this may all appear strange (and it is), but for Samoans, it's serious business. This is especially true in rural areas far from Apia, where your hosts might be more traditional than others. Here's how you can respect the Samoan way, but in any case – just ask when you check-in: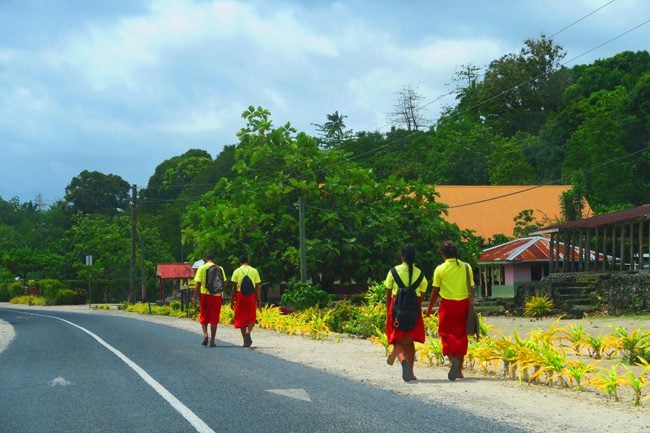 Honor the local village customs if the evening prayer curfew is observed (this is called s'a). This might mean staying indoors between 6-7 pm until you hear the 'all clear' sound.
Take it extra slow on Sunday.
No topless sunbathing and cover yourself when entering the village (t-shirt and sarong are fine).
Pack 'nice' clothes if planning to attend Sunday church service: skirt or dress for women and long pants for men.
When sitting inside a fale with locals, avoid pointing your feet at others.
Always ask permission before taking photos of locals and inside villages. You'll find that Samoans love to have their picture taken if only asked.
Entrance Fees In Samoa
Just like the internet, nature ain't free in Samoa! Do not be alarmed if you're stopped by a local en route to a beach, waterfall or mountain vista. Since most of the land in Samoa is privately owned by villages, so are its natural landmarks. This is quite an important source of income for villages and they can set the price as they wish. Be prepared to pay entrance fees almost everywhere, calculated on a per person or type of vehicle basis. Anything from T5-10 is reasonable. For anything above that, think twice if it's really worth the price of admission.
Food In Samoa
To go along with its traditional vibe, the Samoan cuisine is authentically Polynesian. But that's not necessarily a good thing for weight watchers, as Samoan food is very (very) fattening and thus, Samoans are quite large folks. If they're not deep frying, Samoans stick to traditional recipes, with food often cooked in an earth oven called umu. While in Apia you'll find plenty of international culinary choices, outside the capital it's a different story.
Don't expect to find roadside stalls overflowing with fresh fruits, vegetables, and coconut water like in French Polynesia. In fact, the island's fresh produce can unfortunately only be purchased in large supermarkets and food markets in the major cities. Village shops will only have packaged food without much selection (I hope you're not allergic to peanuts). Here's what you'll likely find: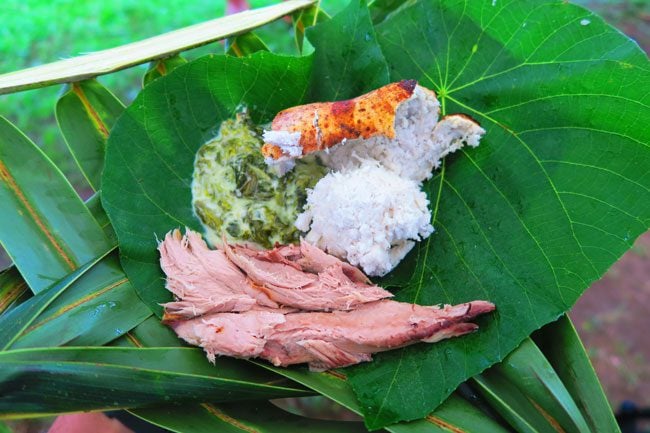 Palusami: an irresistible local dish of boiled taro leaves in coconut cream
Taro: an essential South Pacific staple crop that grows in the ground like a giant carrot
Breadfruit: a typical crop that grows on trees and boiled or fried like French fries
Koko Samoa: a drink made of a thick mix of rice and cacao
Oka I'a: a delicious dish of raw fish (usually tuna) marinated in lime and coconut milk, known as ikamata in the Cook Islands and poisson cru in French Polynesia. Here's the recipe.
Samoan chicken: a brothy soup with chunks of bony chicken
Fish & seafood: readily available in Apia but outside will vary greatly on the season and the mood of the fishermen
Palolo Worms
The caviar of the South Pacific magically appears like clockwork, a week after the full moon in October and/or November. The Palolo Worms gently rise from the shallow reef to the surface, where local parties eagerly await with large nets to collect the prized trophy. When I visited Samoa and American Samoa, I always seemed to arrive a few days after the worms had risen. They don't appear on all beaches and some years are better than others. It's best to inquire with the locals, who will happily allow you to join them if the timing is right.
Scuba Diving In Samoa
The best place for scuba diving in Samoa is currently in Manase on Savaii Island. Dive Savaii will take you on a two-tank dive including equipment for about T270. Expect to see hard coral, stingrays, sea turtles, and small surprises. Sharks are not as common as in the Cook Islands or French Polynesia. See the 'things to do' in the Savaii section of this Samoa Travel Guide for more information.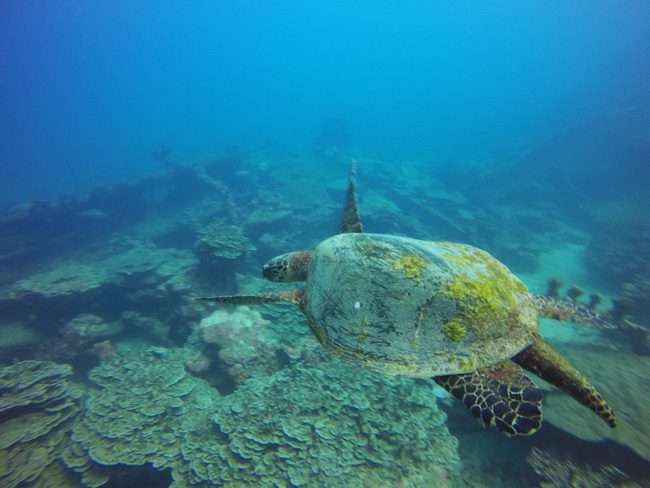 Safety Tips For Samoa
Samoa is a friendly and safe destination, where most of the dangers are from mother nature and not the Samoans themselves. Here are a few tips for staying safe in Samoa: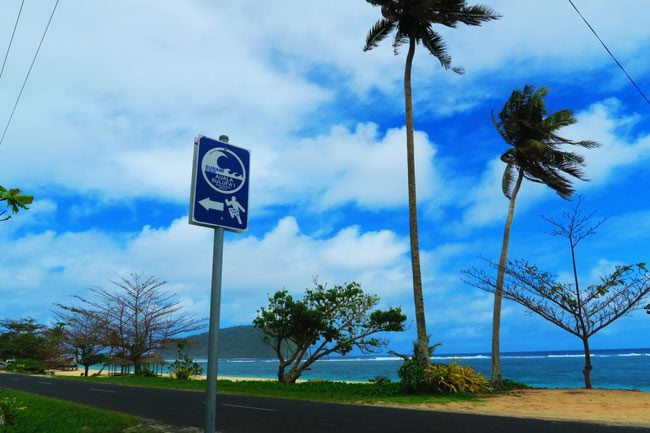 Drinking water: despite fresh water cascading from waterfalls, you must drink bottled or filtered water in Samoa. Do not gamble with this and do not be tempted to drink the water from fresh pools. I've met quite a few tourists who got sick from this!
Theft: rare but can happen, especially at the beach or in beach huts. I recommend to seal your valuables in your bag and fix the bag onto a pole using metal wire and an additional lock. If driving, don't leave any valuables visible in a parked car.
Driving: remember to drive on the left and be careful with sections of the road that are not sealed. While unmarked, these sections can be extremely slippery if you're ever so slightly exceeding the speed limit.
Tsunamis: Samoa was struck by a powerful tsunami in 2009 which devastated Upolu's southeast coast. You will see tsunami evacuation signs throughout the country and it's not uncommon for drills to take place during the early morning hours. Your hosts, unfortunately, may not inform you of this so it's best to just get up and follow the crowds.
Cyclones: rare but can happen between November to April and obviously not pleasant to be around. Samoa is inside the South Pacific's cyclone hotspot.
Hiking: nearly all hikes in Samoa should be attempted with a local guide. Hiking is hardly a common Samoan activity and trails are rarely marked.
Dogs: almost every home has at least a pair of nasty looking dogs. If you see a pack of dogs coming to check you out, just walk away quickly and with confidence. Threatening with a rock or a coconut branch can help solve the issue quickly.
Travel Insurance
Like with any trip, make sure that you are covered with sufficient travel insurance. World Nomads offer excellent coverage and value for money. Aside from the usual lost luggage and medical coverage, I would recommend the following areas to consider:
Diving

: if you'll be diving, you must have special insurance coverage in case of an accident. Most diving centers will have some insurance included in the cost of diving. However, you never know what it does or does not include – so it's best to have your own.

Flights

: in this remote part of the world, things

can

go wrong, so it's best to have special travel insurance that covers the costs of missing a connecting flight or a hotel reservation.

Lost or Stolen electronics

: if you're carrying a laptop, camera, GoPro, etc. – consider purchasing insurance in case those are lost or stolen.
What To Buy In Samoa?
Aside from the usual island fashions, sarongs, wood carvings, and shell necklaces – I highly recommend buying siapo in Samoa (also known as tapa cloth). In a long, difficult, and manual process – slices of mulberry tree bark are pounded to create a cloth-like canvas where sea turtles and beautiful Polynesian patterns are hand-painted. The best place to buy siapo is actually in the Samoa Cultural Village in Apia, where you can buy directly from the artist starting at just T20.
Samoa is also the best place in the South Pacific for a Polynesian tattoo. The traditional method of painfully and manually tapping the tattoo onto the skin is probably not for the regular tourist (and will take up a lot of time), but nonetheless, finding a good artist using modern tools should be a breeze in Apia. Here's a good article about souvenirs and shopping in Samoa.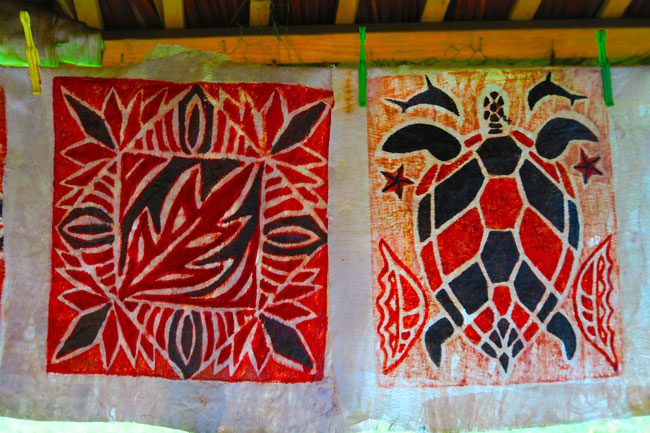 How To Save On Costs In Samoa?
Here are some ways to reduce your travel costs in Samoa:
Stay at beach fales where breakfast and dinner are included

Use the bus to get around the islands

With entrance fees the norm, carefully choose what's worth paying for (beaches, waterfalls, etc.)

Seek

volunteering opportunities

to exchange your time for free accommodation & meals
Apia Travel Guide
Apia is the capital of Samoa and though barely a large town, it's the country's only real city. Despite its small size, Apia has an abundance that is rare in all other parts of this traditionally Polynesian country, even home to a busy Mcdonald's! Situated along a natural harbor and backed by Mount Vaea, Apia started out as a small fishing village, gradually growing to its present size and 'swallowing' surrounding villages in the process. It naturally has the largest ex-pat community, partly due to the fact that there are still large chunks of land which do not belong to any particular village in perpetuity.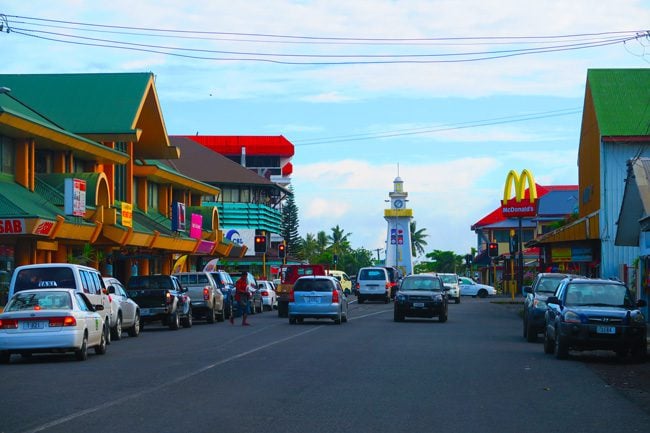 You don't necessarily need to base yourself in Apia, but it's absolutely worth exploring, with vibrant markets and a handful of colonial buildings scattered throughout the town. In this section of the Samoa Travel Guide, we'll cover the capital city's major highlights.
Apia Map
Click on the image to open in Google Maps. This map features all the places highlighted in this section of the Samoa Travel Guide.
Apia Travel Tips
Recommended reading:

Talofa! Welcome To Beautiful Samoa

– a personal account of my visit to Apia and its surroundings

Apia is small enough to be explored on foot. If you do need to take a taxi in Apia, a ride within town should cost no more than T5.

You can catch a bus from the central station to every part of Upolu.

There are at least three supermarkets and a fruit & vegetable market in Apia, with

Farmer Joe

even open on Sundays.
Where To Stay In Apia
Apia naturally has a large selection of hotels and resorts. Prices are also much higher in Apia than elsewhere. Have a look at my recommended places to stay in Upolu Island for a few good choices in Apia that I tested out.
Things To Do And Places To See In Apia
Let's check out some of Apia's major highlights.
Clock Tower
You cannot miss the WWII memorial which sits at a large traffic circle at the bottom of Vaea Street. This is a charming part of Apia, close to the waterfront and home to a bunch of old colonial buildings that manage to survive the humidity. There is, however, an ugly government compound that was donated by the Chinese just behind the clock tower. I am mentioning this because it's the scene of a weekday ritual that is not to be missed.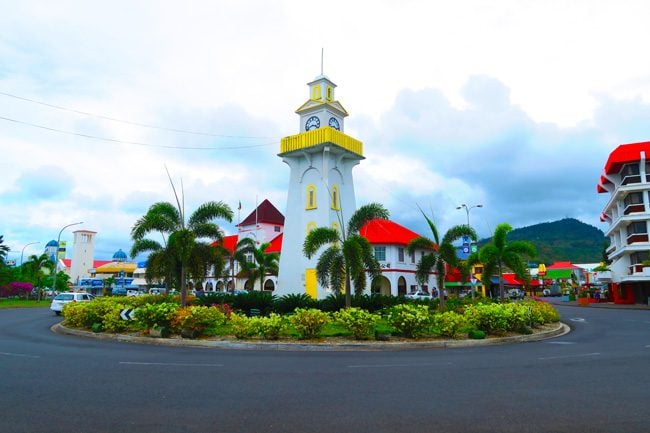 Every weekday morning at 9 am, a siren signals all traffic to come to a halt in the vicinity of the clock tower. It's time for the Samoa Police Band to proudly raise the flag, marching from the nearby Police headquarters down to the government compound. They march to tunes inspired by Buckingham Palace and sport lavalava skirts – all in honor of Samoa, a country so beloved by its citizens. The whole ceremony takes about 20 minutes so aim to arrive at 8:50 am to position yourself.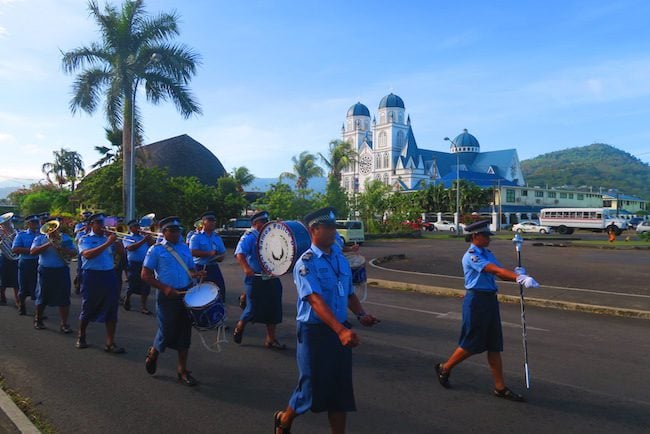 Maketi Fou
Market lovers will absolutely love Apia's main market, the Maketi Fou – also known as Fugalei Market. This covered market is simply huge, loaded with all the tropical produce you could ever imagine. It's a great opportunity to not only witness the abundance that living on a tropical island brings with it, but also to interact with Samoans themselves, who sometimes take turns sleeping in the market to keep save the spot for their family's stall.
Aside from the seemingly endless supply of coconuts, mangoes, starfruit and other tropical delights, you'll also be able to browse for island fashions, souvenirs and buy some ready-to-eat breadfruit and taro, sold by Samoan women so accustomed to keeping the flies away!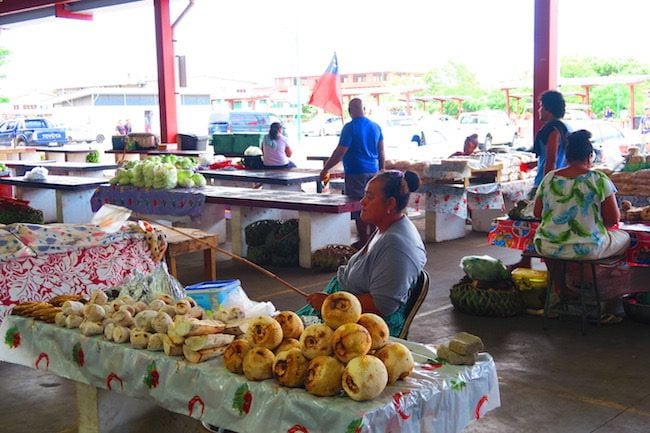 Flea Market
Apia's flea market is a fantastic place to buy souvenirs and gifts. Alley after alley of ubiquitous stalls will display sarongs, wood carvings, bracelets, island fashions and what not. If you want to do some shopping, bring plenty of cash and don't even try to bargain.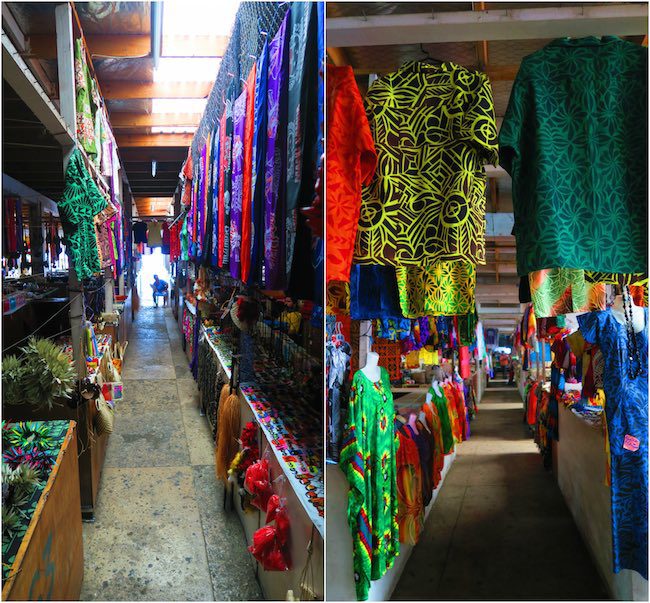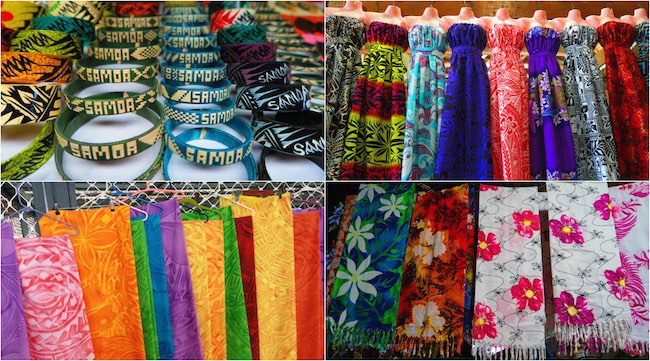 The flea market also has a small 'food court', where Samoans just love eating what looks like giant deep-fried donuts stuffed with chicken or other meat. If that's not to your liking, I also saw some fish and chips for sale. In any case, the place gets packed especially when school's out, another good opportunity to catch a glimpse of local Samoan life.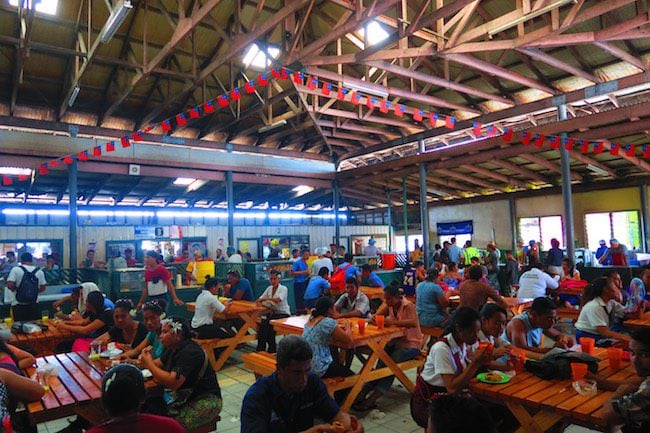 Fish Market
Best enjoyed in the early morning hours, I visited the Apia fish market around 9 am just as things were wrapping up. Up for Sale? Lobsters, crabs, yellowtail tuna, skipjack tuna, and more fish that I have no clue what they're called. There's also a small shop selling fish and chips.
Central Bus Station
The central bus station in Apia is probably the busiest spot in Samoa and definitely one of the most colorful ones. Throughout the day, busses that are more like pimped-out trucks connect villages across the island with the capital city. The most interesting time to visit is in the early afternoon when students grab a snack, chit chat and maybe quarrel over a girl, as they await the bus that takes them back to their village. Have a look at the 'taking a bus in Samoa' section for information on getting around Samoa by bus, an experience you'll never forget!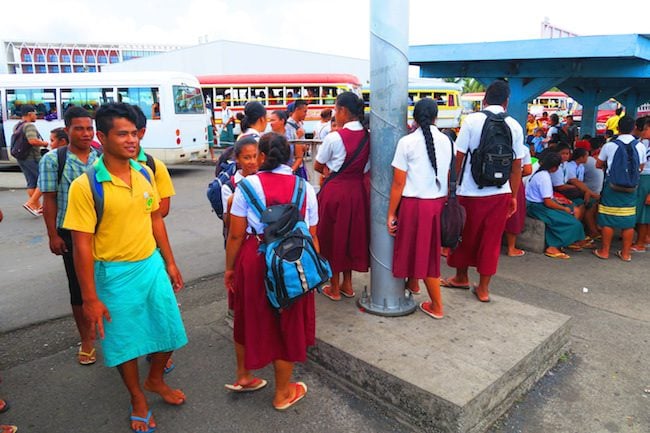 Mulivai Catholic Cathedral
Completed in 1905, Apia's main Catholic church has the most beautiful interior of any church I came across in the South Pacific. If you happen to be in Apia on a Sunday, you're welcome to attend the service. Samoans love their church and there's plenty of singing followed by a whole lot of eating on Sunday. It's a very interesting experience for visitors, believers or not.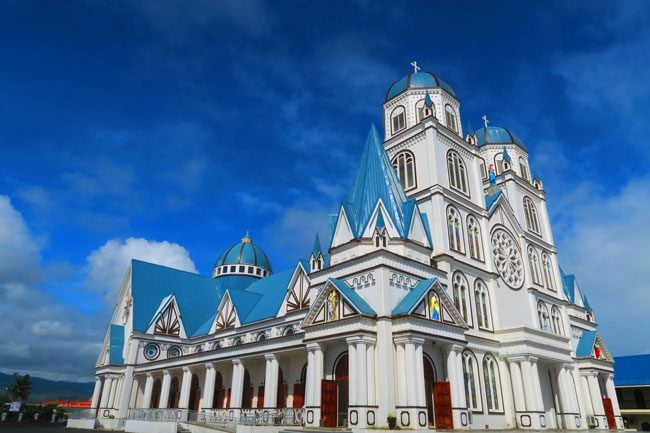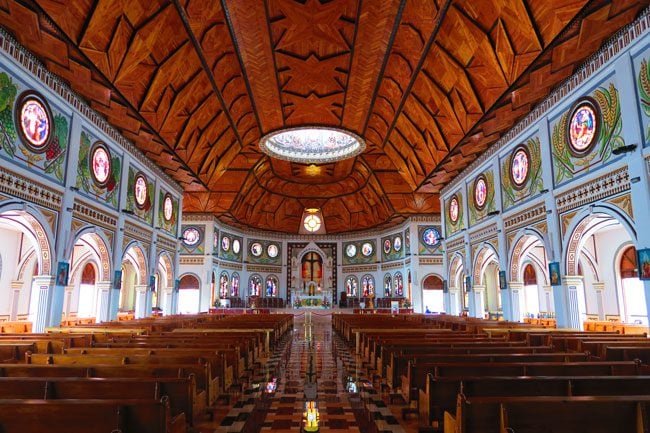 Samoa Cultural Village
An absolute must-visit, the Samoa Cultural Village is a top-notch and free attraction graciously offered by the Samoa Tourism Authority. On this authentic tour, you'll get practical lessons on the basics of being a Samoan. This will help you put the rest of your visit to Samoa in the right context. You'll also learn about Fa'a Samoa – the Samoan Way, a code of behavior that governs Samoan lives.
The first stop is a bit of weaving from the leaves of 'the tree of life'. The palm tree has so many uses for Pacific Islanders, with its branches used in the production of anything from baskets, to roofs to plates.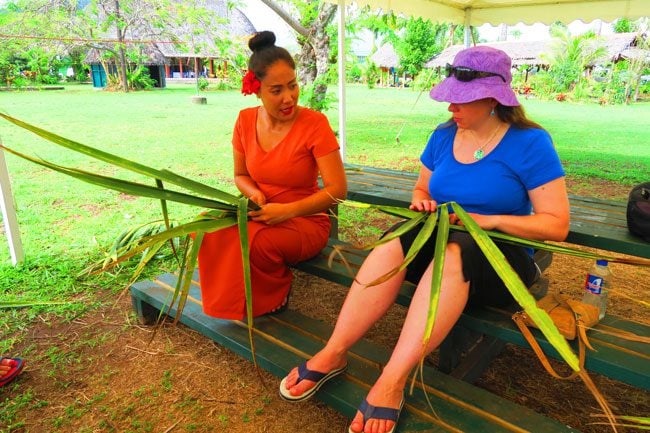 You'll then proceed to watch the men prepare the umu, a traditional Samoan Sunday meal prepared in a ground oven. In Samoa, it is the men who are in charge of preparing the umu. Taking a few hours to prepare and requiring a lot of muscle, the food is eventually wrapped in leaves and laid in the underground oven – heated by volcanic river rocks that won't crack like salty beach rocks. Later in my visit, I was privileged to prepare a Sunday umu with my hosts, so this lesson sure came in handy.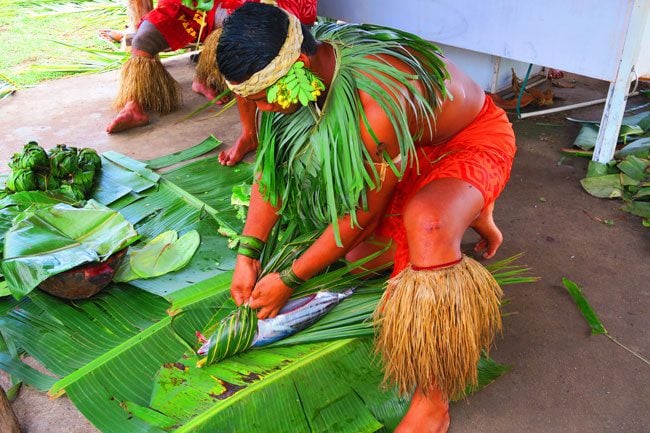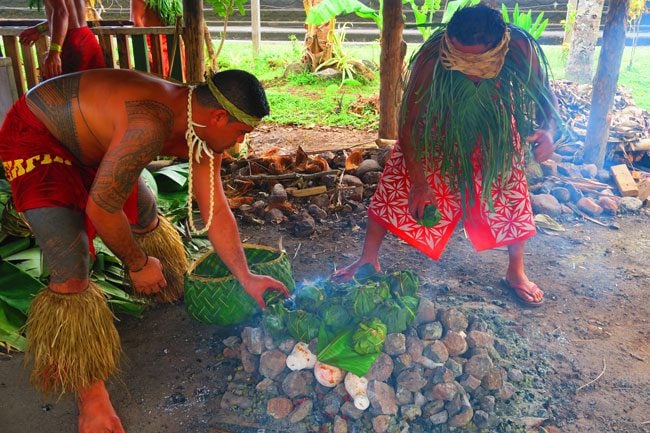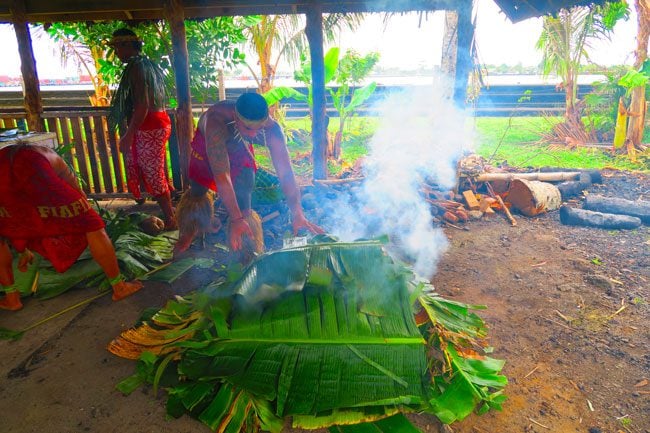 As you wait for the food to cook, you're treated to a traditional ava (or kava) ceremony and some very impressive traditional Samoan dancing. Samoans love to dance, bang on the drums and play with fire – but you'll learn this on your own after a few days on the island.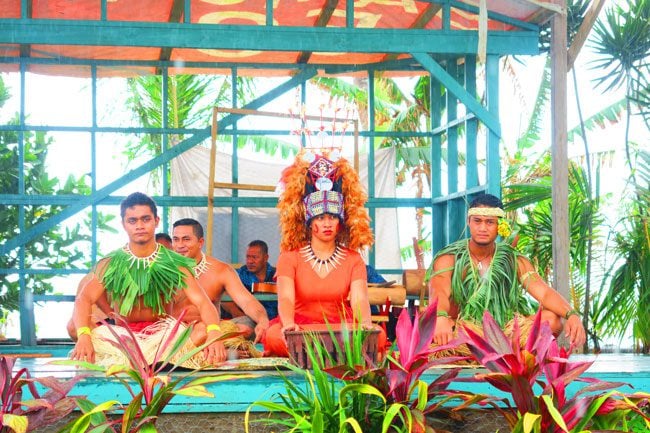 As the show wraps up, lunch is served on the very same plates that you made earlier from the palm tree branches. On the menu? Tuna, palusami, taro, and breadfruit. So delicious and so authentic.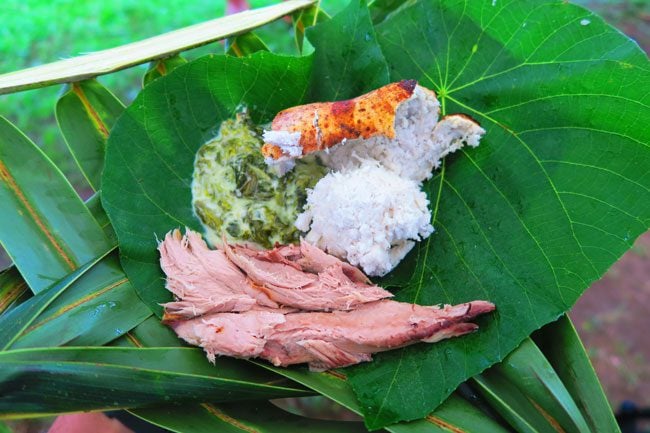 You'll then learn about the Samoan way (fa'a Samoa): the chief system, the importance of family, land ownership, and even the seating arrangements in village meetings. As our guide was enlightening us about the traditional code, the ladies were making siapo (also known as tapa cloth). In a difficult and manual process, the inner parts of the mulberry tree (U'a) bark are hammered to make a canvass-sized cloth. To compensate for tiny holes, additional layers are added until a smooth surface is reached.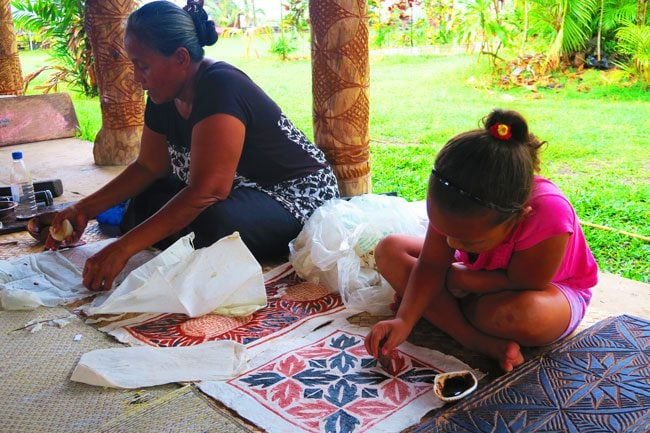 Natural dye is then used to paint Polynesian patterns and my absolute favorite – sea turtles. The finished product comes in all sizes, from small A4 paintings to large tablecloths. Siapo was used to barter for goods and is today still used in gift-giving. The best part? You can buy one of these directly from the artist for as low as T20, quite a bargain considering I saw the same thing sold in French Polynesia for three times the price!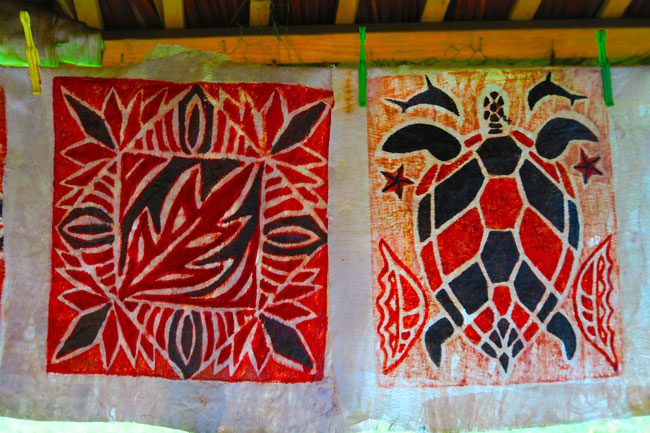 From the tapa station, it's on to the woodcarving hut. If you were a Samoan woodcarver back in the day, you were 'the man'! Woodcarvers could make anything from houses to pots to canoes which allowed Samoans to harvest the bounty of the ocean. As with the previous station, you can buy souvenirs directly from the artist.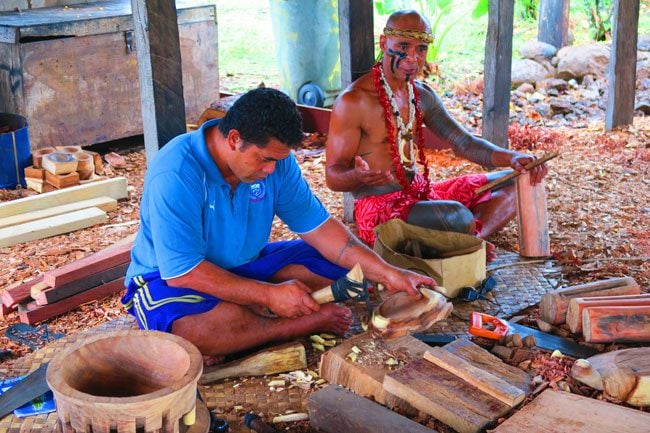 The last station was the tattoo hut, where a traditional Samoan tatau session was actually taking place. Samoans were among the earliest tattoo artists, considered to be among the best in the world. A traditional Samoan tattoo is a rite of passage, a key part of fa'a Samoa. Men and women endure multiple sessions, where the tattoo is tapped onto their bodies and where family members that have undergone this painful process come to support. There are only a few families in Samoa who own the trade, with knowledge passed from father to son. A Samoan man or woman with a traditional tattoo (from knees to waist for men), will rise up the village ranking, earning respect and perhaps even a chief's status later on in life. No filming is allowed here, this is serious business!
Palolo Deep Marine Reserve
The Palolo Deep Marine Reserve is the best spot I found in Samoa for snorkeling. Best visited at high tide and not after a storm, you'll need to swim out to the 'blue hole', where you can cruise around a beautiful patch of hard coral that's teeming with tropical fish. Entrance plus equipment rental will cost T12 (fins are a must) and Vaiala Beach is right here, so it's not a bad place to get some tanning done.
Beach Road
A nice way to get to the Palolo Deep Marine Reserve is by walking along Beach Road. You'll get a great view of Apia and Mount Vaea while passing the historic Aggie Grey's Hotel.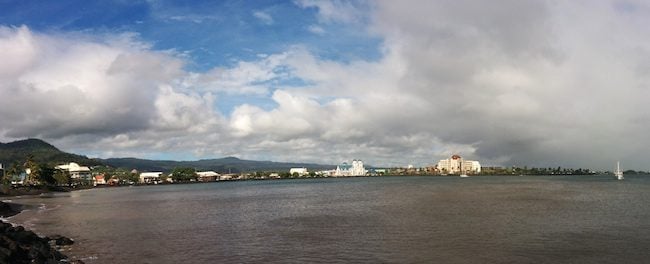 Museum Of Samoa
This definitely ain't the Louvre in Paris, but the Museum of Samoa is one of your few options for rainy days in Apia. It's a small but at least air-conditioned museum that showcases Samoa's history and its environment. My takeaway from here was learning about the nonviolent Mau movement for Samoan independence.
Robert Louis Stevenson Museum
On my voyage across the South Pacific, I learned of many famous European writers and poets who escaped to these tropical islands. Samoa's most famous European is no doubt the Scottish author of Treasure Island. Stevenson moved with his family to Samoa in the hope that its tropical climate would help with his tuberculosis. He constructed a beautiful mansion in the foothills of Mount Vaea and became very involved in local life. In fact, Stevenson strongly advocated for Samoan independence and was highly admired by locals. He sadly died in 1894, buried at his request at the mountaintop. Also serviced by local buses, you can visit his beautiful former home for T20 and hike to his grave for panoramic views of Apia (free).
Papaseea Sliding Rocks
Not too far from the center of town and reachable by bus, everyone loves the Papaseea Sliding Rocks. Why? Because who needs a Six Flags when you can simply slide on a smooth volcanic rock down to a fresh pool! Always check if the water level is high enough before attempting a slide (trust me), or to play it safe, just watch the local kids who can't seem to get enough of this natural wonder. If you're lucky, you might even spot a few rare birds and the beautiful red ginger flower. The entrance is a steep T20, toilets, and change rooms are available in the parking area.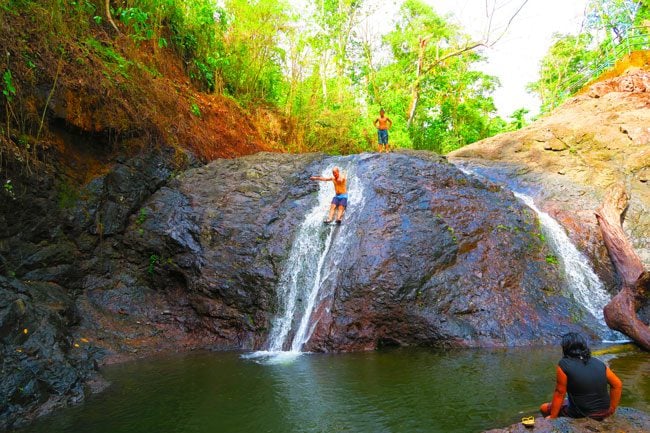 Places To Eat & Drink In Apia
Apia has plenty of restaurants and bars to choose from to go along with its casual markets, proper supermarkets, and random stalls along its main streets (good for breakfast and tropical juices). Here are a few places I sampled and enjoyed.
Georgie's Pizzeria
Good spot for a pizza in the center of town. Enjoy a large personal pizza on the outdoor terrace for T25-30 and don't forget an ice-cold bottle of the local Vailima Beer.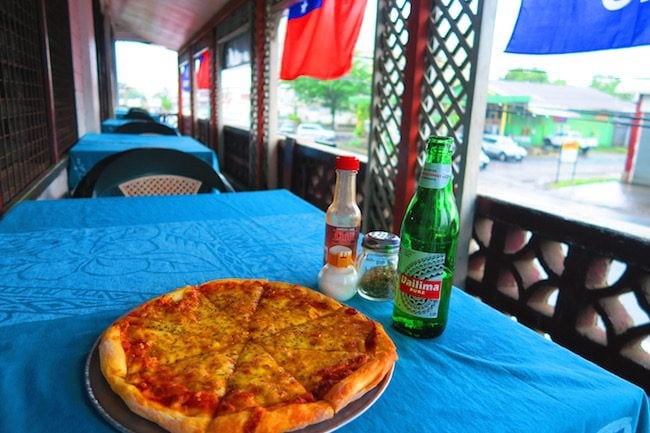 Seafood Gourmet Bar & Grill
Over on Beach Road, I came here a couple of times for lunch. They're known for their fish and chips, but I personally loved the grilled tuna (T24). Portions in Samoa tend to be quite huge and this is the case here. For an extra T3.50, you can wash it down with a fresh coconut!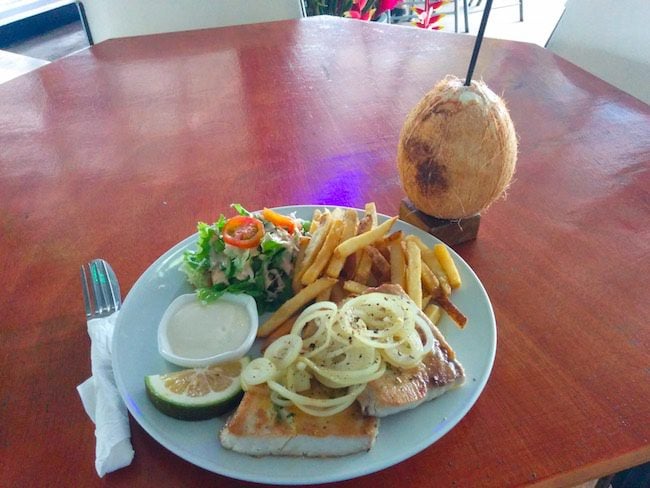 Tifaimoana Indian Restaurant
I personally love Indian food, so I couldn't refuse a visit to an Indian restaurant in Samoa of all places. Mains plus rice for about T25 and I must say it wasn't bad at all.
Cocktails On The Rocks
Known locally as 'cocks on the rocks', this place is not too far from the cultural village. It's nothing fancy, just a place to grab a drink, shoot some pool, and meet a few ex-pats.
Upolu Travel Guide
Once you get out of Apia, Upolu's roads are for the most part empty, rising to cloud-covered plateaus where waterfalls cascade from just above everywhere and where sleepy villages hug the beautiful coastline. Along the way, you'll surely bump into groups of uniform-dressed children heading to and from school, always appearing to be so well behaved and carefree. In this section of the Samoa Travel Guide, we'll cover all the small island's top doable highlights that are outside of Apia.
Additional Upolu Resources
Upolu Travel Tips
Recommended Reading:

Tropical Beach Hopping In Samoa

– a personal account of my visit to Upolu Island

Most of Upolu's highlights are on its eastern half – abundant with waterfalls and beaches. The island's southwestern side, however, has its prettiest (and hardest to reach) beaches.

The best way to explore Upolu is with a hired car (see 'Samoa travel tips' section), easily covering everything in 2-3 days in a tropical road trip.

It is possible to explore the island by bus (and bicycle), keeping in mind that in Samoa it's challenging to take the bus from one village to another without having to switch lines in Apia.

The Southeastern coast was badly damaged in the

2009 tsunami

, with the coral reef virtually destroyed. Don't expect too much when it comes to snorkeling.

Pick up some fruits & vegetables from Apia if you're staying in the outer villages. Village shops only have dry packaged foods.
Upolu Travel Guide Map
Click on the image to open in Google Maps. This map features all the highlights mentioned in this section of the Samoa Travel Guide: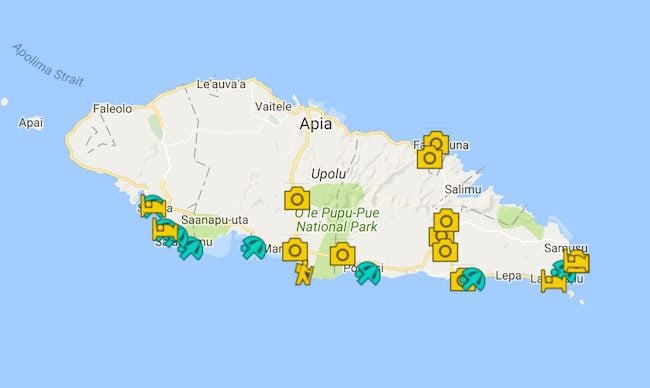 Where To Stay In Upolu Island
If you're renting a car, it doesn't matter all that much where you base yourself in Upolu, as the island is pretty small. If you'll be using the bus to get around, you should probably pick a place to stay on either end of the south coast. Here are a number of personally tested recommended accommodations in Upolu Island, ranging from simple beach fales to beachfront resorts.
Things To Do And Places To See In Upolu
Let's see what Samoa's major island has to offer.
Upolu Northeast Coast
Vast sections of the island's northeast coast are not accessible by bar aside from the highlights mentioned here which are on or around the main coastal road.
Piula Cave Pool
Wow wow wow. I came twice to this freshwater pool on the grounds of the Piula Methodist Theological College and here's the deal: aim to come here early on a weekday morning. Why? With nobody around, you'll be able to fully appreciate the absolute clarity of the water and its surprising marine life.
Created by an ancient lava tube, the pool is fed by rainwater trickling down from the highlands, yet it's just a few meters away from the ocean. Don't forget your mask and snorkel. Underwater, you'll feel like an astronaut drifting in the illusional vacuum of the invisible water. There will be lots of fish around you and even eels – but don't let that scare you! What should scare you is an attempt to locate the inner pool, which requires swimming underground with no signs pointing the way! The entrance is 5T and there are shower/toilet/changing facilities.
Here's what it felt like to float in the cave pool.
Sauniatu Waterfall
It's not the most impressive waterfall in Samoa, but it's free to have a look at and it's a wonderful spot for a picnic lunch. You'll need to do a bit of off-roading to get here, about 7km of easy driving on a dirt road to the Mormon College. Along the way, you'll drive in lush mountain scenery and pass a few off-the-grid settlements. Before you have that picnic, walk down the steps for a refreshing swim!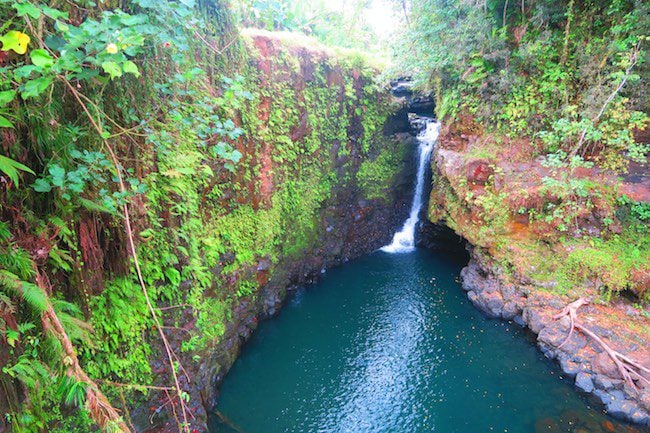 Upolu Interior
The interior part of Upolu Island in Samoa is mountainous in the 'classic' tropical island fashion. Cloud-covered peaks rise from the coastlines, with plenty of waterfalls and panoramic views to fill up your day when the weather is pleasant.
Le Mafa Pass
This scenic drive offers panoramic views of the Samoa you've vividly imagined in your mind. The rugged road snakes its way to the lush mountains from the north coast of the island, eventually descending to the south coast. En route, you'll be rewarded with incredible views of the forested valley meeting the blue ocean. Unfortunately, the weather can change quickly along the drive, with the sunny and dry coastal weather quickly turning into the cloudy and wet weather of the mountains. You can't have all this green without any rain – remember that!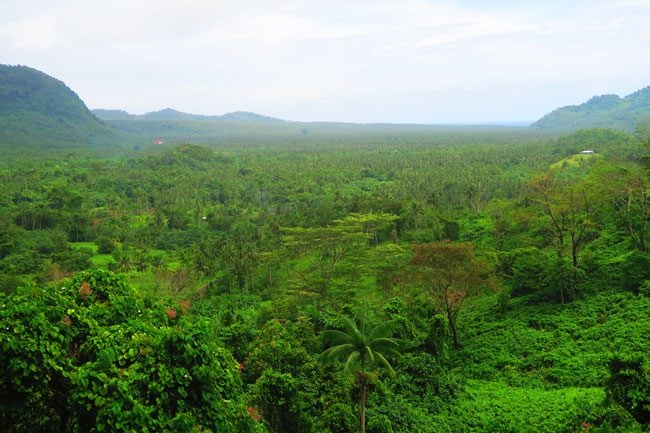 Papapapaitai Falls
The sign to the Papapapaitai Falls lookout is about halfway on the cross-island road. This 100-meter waterfall is the highest in Samoa and you'll need to have some luck to fully appreciate it, as the gorge which the water cascades down to is a serious 'cloud factory'. You'll probably not be alone at the lookout spot, accompanied by colorful butterflies who also like to hang around here.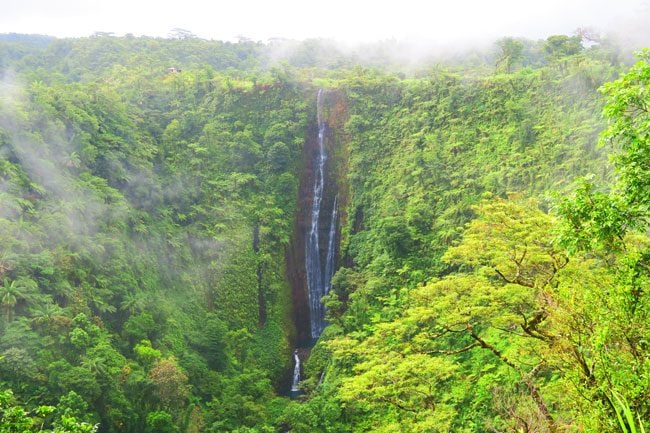 Fuipisia Waterfall
The T7 entrance fee is certainly worth the pay. Why? You can actually walk to the very top of this 55-meter high waterfall. Standing up here and hearing the thunder of the cascading water is an experience you'll never forget. Though you'll probably dream of splashing in the pool at that base of the waterfall, your only swimming option is upriver just before the water begins to tumble down.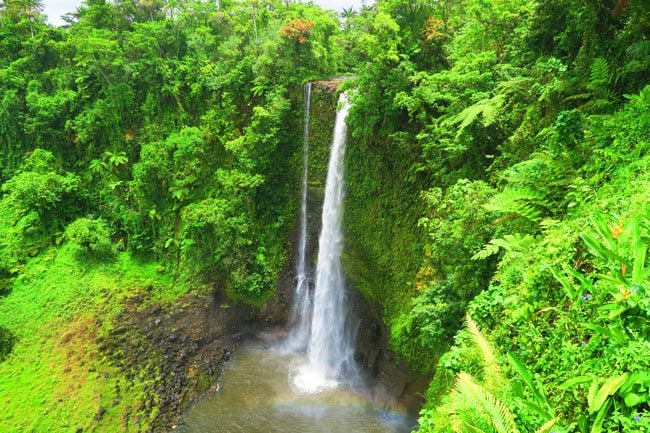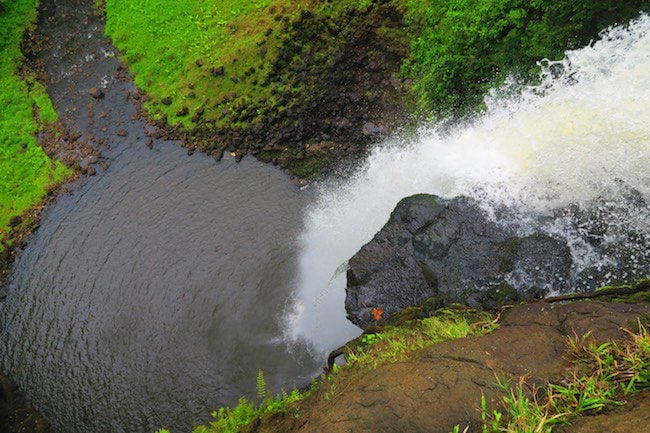 Sopoaga Waterfall
The Sopoaga Waterfall is probably the prettiest waterfall in Samoa. Maybe it's the way in which the water splashes from one pool to another, maybe it's the secluded forest which hides this wonder, maybe it's the birds so happily singing – or maybe just all three! This is an absolute postcard. The family that owns the lookout spot also cultivates a small tropical garden with Samoan plants and trees neatly labeled for your educational pleasure. The entrance is 5T.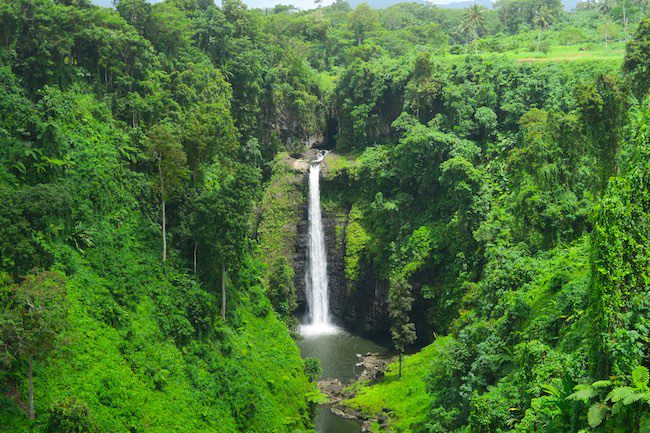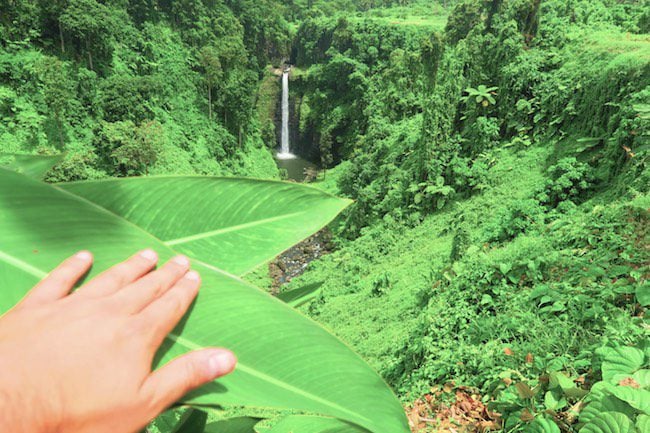 Upolu South Coast
The south coast is the best place to base yourself. The coastline is home to Samoa's finest beaches, resorts, beach fales, and natural wonders. All highlights are on or around the main coastal road, with the westernmost beaches requiring a bit of off-roading to get to.
To Sua Ocean Trench
You can't say you've been to Samoa until you've visited the To Sua Ocean Trench. This natural wonder serves as Samoa's 'ambassador' in travel magazines and lists of places to visit before you die. The trench is formed by two giant holes connected by a lava tube. The close proximity to the ocean just meters away fills one of the holes, creating the signature swimming spot. Part of the fun is overcoming your fear of heights and stepping down the ladder to the swimming platform.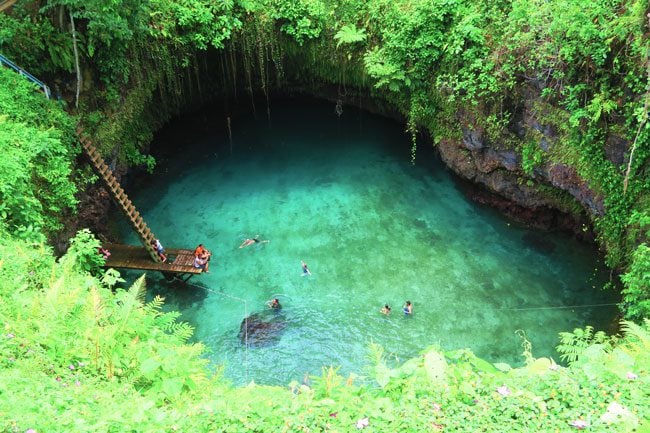 Once you've made the brave decent, it's nothing but paradise. You'll float in the saltwater pool with water trickling down from mossy ferns growing on the rocky walls. As you get close to the ocean side of the pool, you'll feel the current pushing you out and sucking you in, a reminder of how the pool is naturally fed.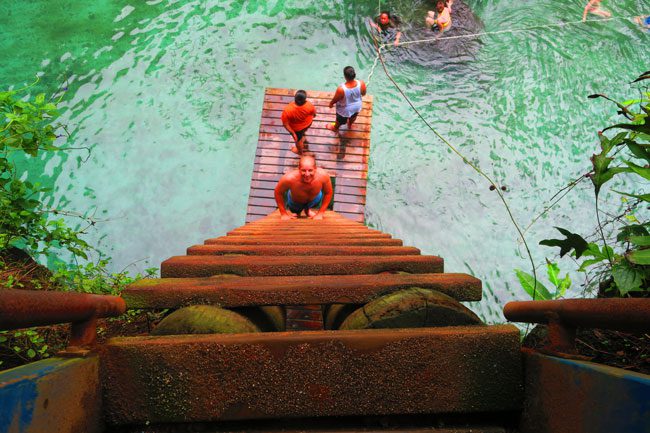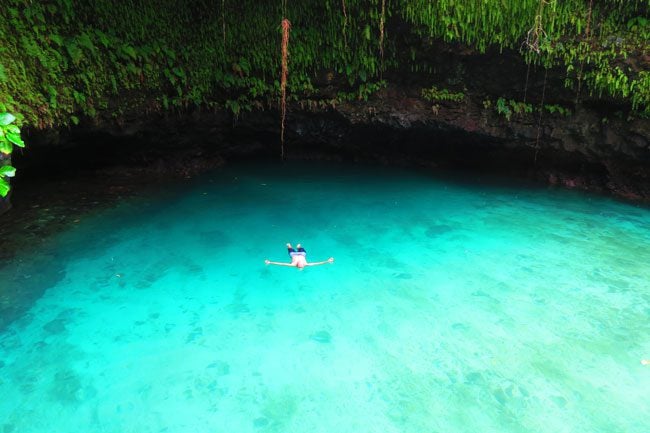 When you've somehow managed to pull yourself away, check out the nearby sea cliffs, lava tubes, and natural rock pools. During low tide, you can walk around and experience the wild coastline of this part of Upolu. The site also features a picnic area and fales that can be rented out for the day. The entrance is T20.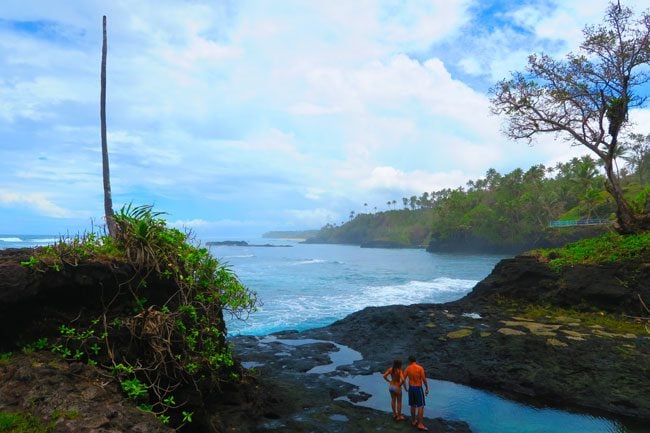 Vava'u and Vaiula Beaches
After Lalomanu Beach, these two are the best beaches on the eastern half of the south coast. I found the T20 entrance fee at Vavau Beach to be a bit of a ripoff, while Vaiula Beach was pretty, quipped with simple beach fales but nonetheless nothing out of the ordinary.
Lalomanu Beach
The most photographed beach in Samoa is also considered to be one of the prettiest tropical beaches in the world. In Lalomanu, the palm trees perfectly bend, the white sand melts between your toes and the uninhabited Nu'utele Island provides the perfect backdrop. The beach is home to a number of family-owned beach fales, from the super basic to the swanky. It's a magnet for backpackers, young couples, and even Samoans over the weekend. It's also a great place to catch a traditional Samoan dance show and impressive fire dancing. Have a look at the recommended Upolu accommodations for some ideas on where to stay in Lalomanu Beach.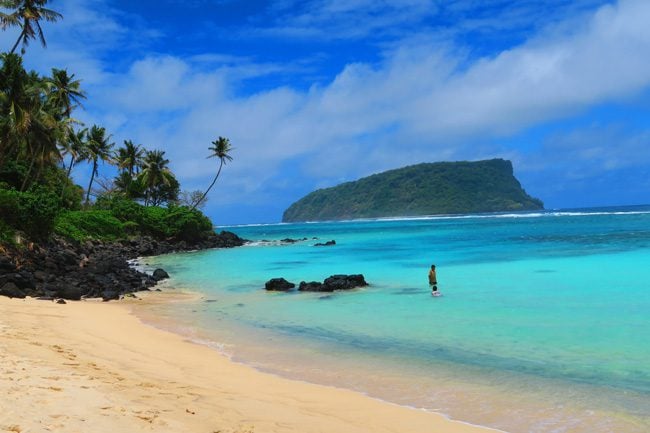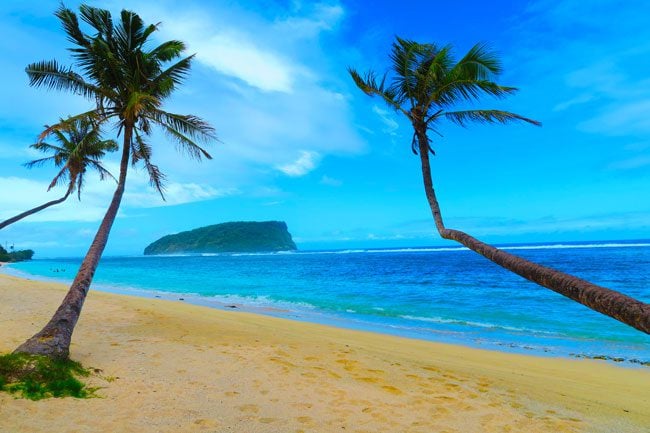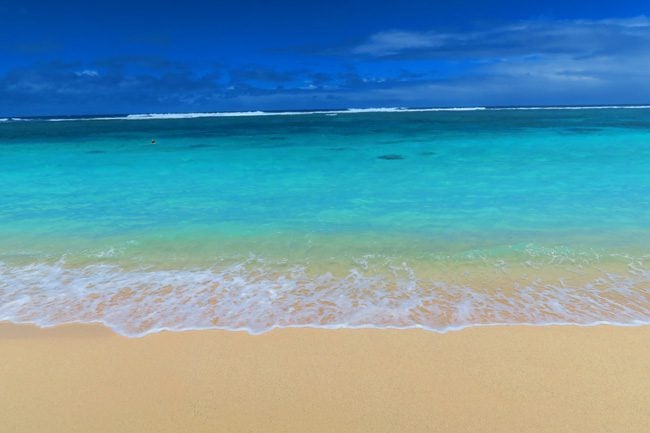 This area of Upolu was badly damaged by the 2009 tsunami caused by an 8.1 magnitude earthquake. Some villages have better recovered than others, but the reef is still in bad shape. So even though the water is magnificently aqua blue, do not expect much in terms of snorkeling. You can visit the beach free of charge, or use the beach fale facilities for a charge (you can also buy food from the fales or from the local food shop). The bus from Apia takes about 2 hours and will cost only T7.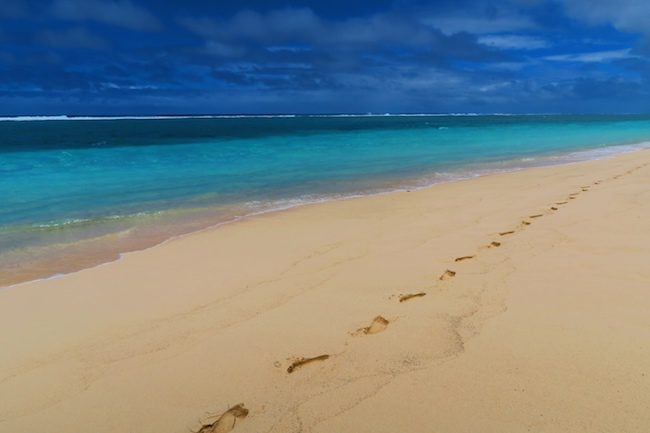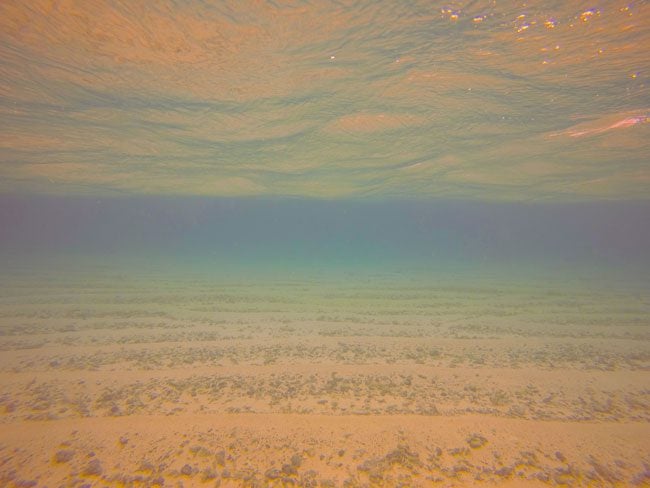 Namua Island
While Lalomanu Beach is extraordinarily pretty if you really want to get off the grid, head to Namua Island. To visit the island on a day trip (~T40, T55 including lunch) or to stay overnight, contact the family that runs Namua Island Beach Fales (+685 7501231 | 7588209).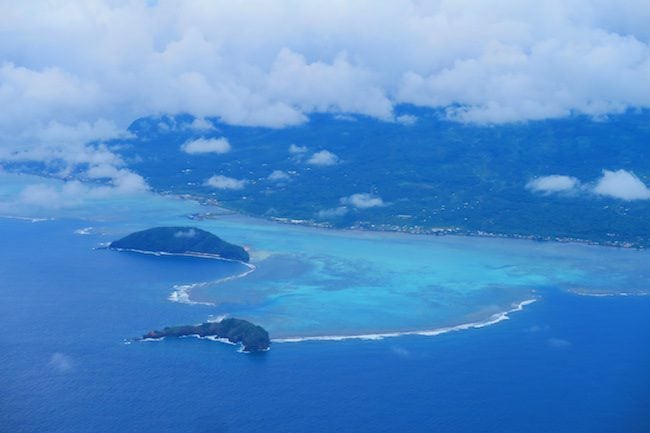 The island lies just a short distance from Upolu, but it's a whole other dimension out here. Activities include: relaxing on the beach, snorkeling, hiking to the top for sunrise or for daytime views, circling the island on foot during low tide, and counting the stars at night.
I would recommend staying here for at least one night to really get the relaxing feel of the place. If you'll just come for the day to lie on the beach, I'm not really sure it's worth the effort. I spent two nights in Namua Island and it was one of the most memorable experiences of my visit to Samoa.
Togitogiga Waterfall
Part of a recreation reserve that's free to enter, a path through a lush tropical garden will lead you to a series of cascading pools that are perfect for swimming. In fact, legend has it that this was the favorite bathing spot for Samoan warriors back in the day. Aim to come here during a weekday, as on weekends many Samoan families crowd this place with family BBQs.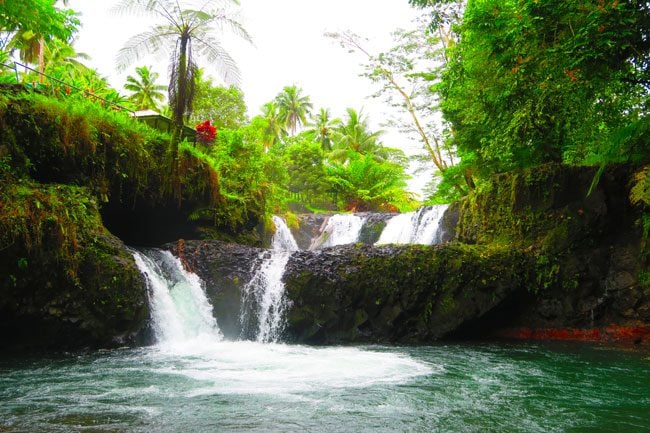 Ma Tree Walk
I've seen my fair share of tropical chestnut trees in French Polynesia, but this tree was totally out of this world. On the main road opposite the ocean, look for the sign to the Ma Tree Walk. An easy-going 15-minute walk through the tropical rainforest will bring you to the base of this beast. Its roots spiral out in every direction above ground, swallowing everything in their path. In French Polynesia, this is called a mape tree, and it will blow your mind! This is a very quick stop, definitely worthwhile if you're driving along the southern coastal road.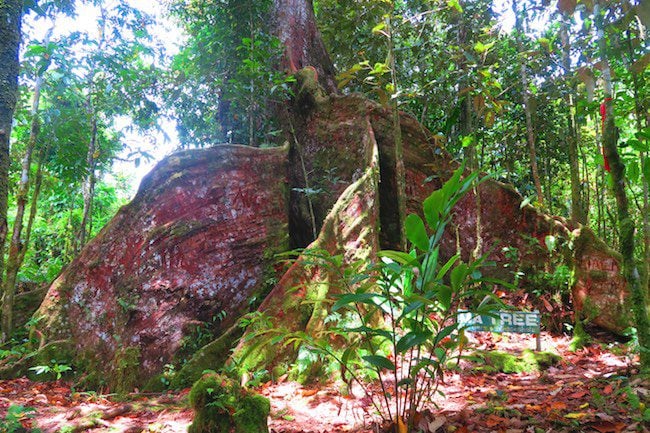 Coastal Walk
Pretty much opposite to the Ma Tree Walk, you'll see a signposted dirt track heading in the direction of the ocean. The Coastal Walk is part of a national park, taking you along sea cliffs to an open lava field. The walk will take about an hour if you started from the car park. Wear a hat and bring plenty of water.
Aganoa Black Sand Beach
If you won't be heading to Tahiti, this is your chance to see a black sand beach in Samoa. The only catch? You'll need a 4WD to traverse the rough road which leads to the Aganoa Black Sand Beach (T10 entrance). The beach is also a prime spot for surfing in Samoa.
Salamumu Beach
A dirt track leads from the southern coastal road to beautiful Salamumu Beach. It's at its prettiest at the Sa'Moana Resort, where white sand meets basaltic cliffs, but before you reach it you'll pass a deserted beach only frequented by occasional local fishermen.
There is a T10 entrance fee that's payable if someone is actually manning the booth up at the turnoff from the main road.
Matareva Beach
Another dirt track will take you from the road down to a series of tropical beaches, the last of which is Matareva Beach (T10 per car, T2 per bicycle). Along the way, you'll drive (or cycle) past endless coconut plantations where locals are busy collecting the ripe ones for copra production.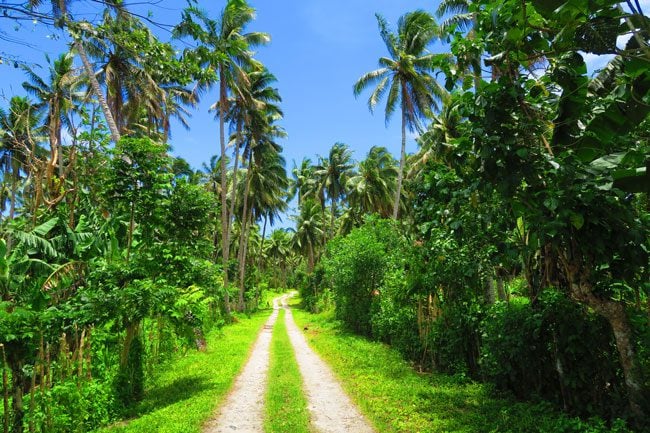 Eventually, you reach a beautiful and secluded lagoon. There's hardly anyone around here on a weekday. You can easily find your own patch of white sand and go for a swim in the warm waters. When the tide is rolling in, the swimming is a bit rough and snorkeling is not really all that possible.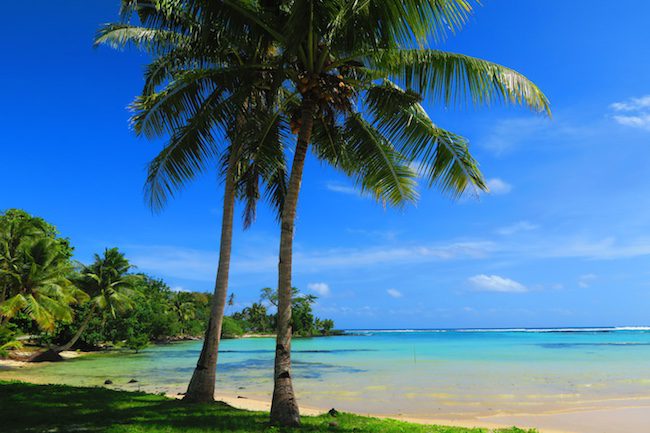 The last beach on the dirt road is Matareva Beach – absolutely stunning! Sheltered by the sweeping cove, the beach is more like a giant swimming pool so even if the sea is a bit rough, you can still enjoy a nice dip. Matareva Beach Fales offers simple accommodations in the middle of nowhere or just a place to buy something to eat and a cold beer!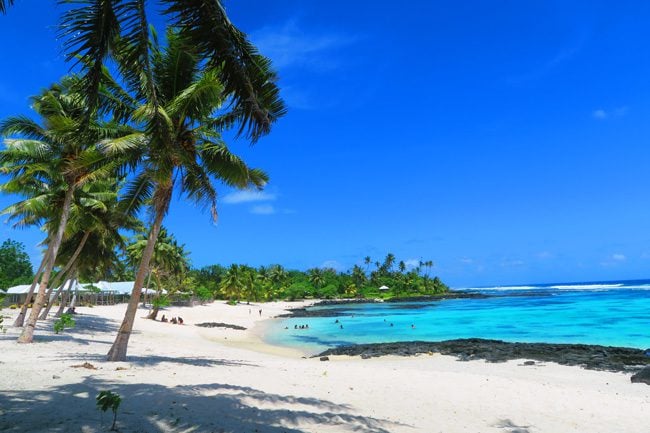 Return To Paradise Beach
The filming location for the 1953 hot movie of the same name, the Return to Paradise beach is another stunning beach in a section of Upolu blessed with so many. The best section of the beach is at the Return to Paradise Resort, where a T25 entry ticket is redeemable at the gazebo bar overlooking the beach. It's a magical spot to catch up on some holiday reading, or just finally hear those relaxing ocean sounds from the YouTube video made for depressed office workers – only that in this case, it's absolutely real! Swimming, on the other hand, is a bit too rough, so don't venture too far away from the beach.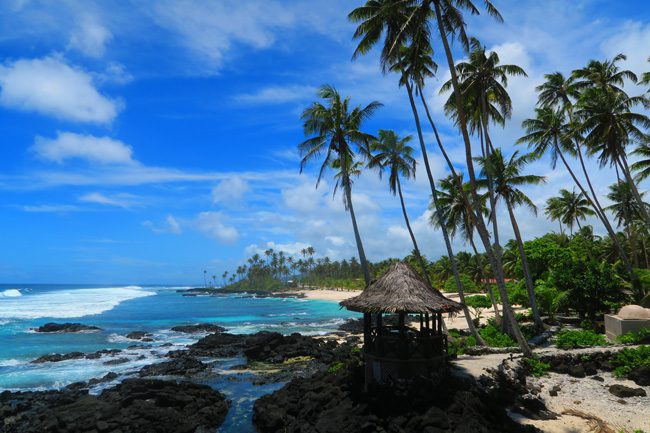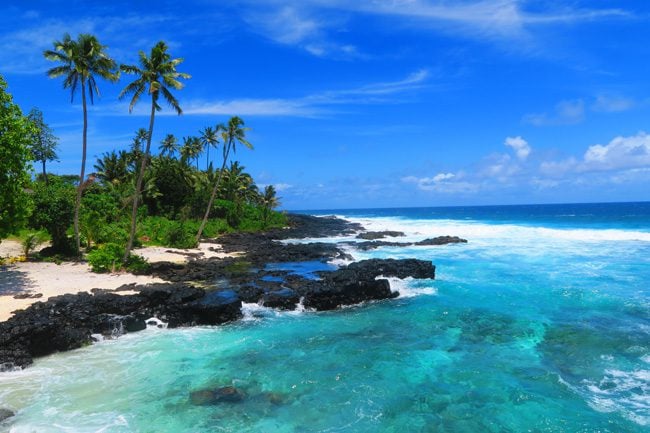 Giant Clam Sanctuary
Savaia Village sits at the mouth of beautiful Lefaga Bay, home to the Giant Clam Sanctuary. Pay the T5 fee at Le Valasi's Beach Fales (an amazing place to spend a few nights at) and head underwater to see the colorful clams. They were brought over from Tonga many years ago and you'll find them decorating the homes of locals. Their meat is highly sought after by customers in Australia and New Zealand, but not the clams over here. Part of a marine sanctuary, these giant clams are protected by a ring of buoys and local villagers. Keep your eyes peeled as you cruise underwater, as these guys open and shut faster than you can say 'Clint Eastwood'.
Savaii Travel Guide
Savaii is Samoa's largest island, yet home to just a quarter of the already tiny Samoan population. Considered by many to be 'the real Samoa', Savaii is where you can seriously get off the beaten track. To explore Savaii is to travel back in time. As you drive its rural roads, it's not uncommon to pass men bearing heavy loads of coconuts on either shoulder, children happily marching to school and families wrapping the day with a local round of kilikiti next to their ancestor's graves in the front yard. Savaii is wild, scarred by hundreds of craters covered in thick forest, and decorated with slivers of white sand. In this section of the Samoa Travel Guide, we'll cover the big island's highlights.
Additional Savaii Resources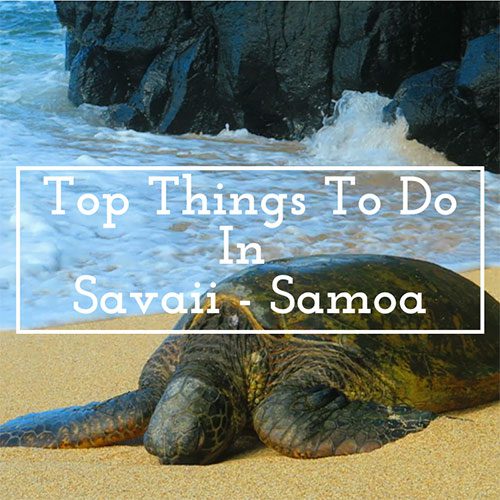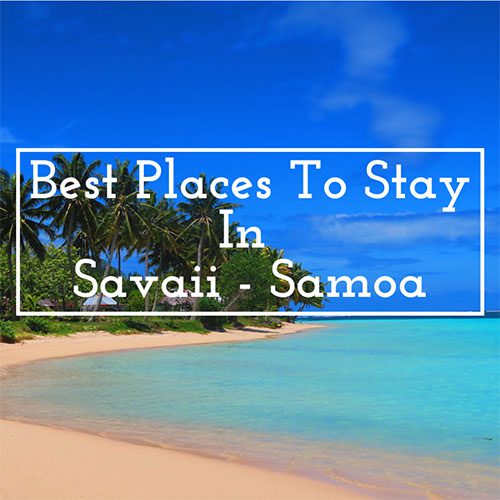 Savaii Travel Tips
Recommended Reading

:

Roadtripping In Savaii

– a personal account of my visit to Savaii Island

Getting to Savaii from Upolu

: catch the ferry from Mulifanua on the Upolu side for the 22km journey to Salelologa (ferry terminal reachable by bus). There are two ferries in operation: a comfortable air-conditioned passenger-oriented ferry (~1-hour crossing), and a vehicle transport oriented ferry with a small outdoor seating area (~2-hour crossing). Check the

Savaii ferry schedule

, noting the two Sunday departures as opposed to the usual five. It is possible to transport a rental car from Upolu to Savaii but not vice versa. If you're planning on switching islands over the weekend, it is advised to book your ticket in advance.

Getting to Manono and Apolima

: ferries also connect Savaii and Upolu with the small islands of Manono and Apolima.

Getting around Savaii by car

: I highly recommend renting a car for at least two days to properly explore the island, as without any stops it takes about 90 minutes to drive the length of the south or north coast (see 'Samoa travel tips' section). There is just one main road circling the island so you will not get lost. Gas stations in Savaii are located in Salelologa and Manase (and maybe in a couple of the remote villages). A regular 2WD will do just fine, but if you want to head up to the Matavanu Crater, you'll need at the very least a high 2WD. Don't leave any valuables in the car and in general, it's best to give an empty interior appearance when parking.

Getting around Savaii by bus

: though the central bus station is by the market and shopping complex at the edge of Salelologa, there will always be a bus waiting for you at the ferry terminal in Salelologa. Busses pretty much cater to the ferry schedule. Be sure to inquire with your hosts so you don't miss the ferry back to Upolu.

Fees and road signs

: there aren't always signs to all the highlights I'll mention here (it's OK, just ask the locals). Be prepared to pay entrance fees everywhere. If asked for more than T20, attempt to (very) politely negotiate the asked price as in Savaii, it's not set in stone (though bargaining is not well taken in Samoa).

ATMs in Savaii

: both Salelologa and Manase have ATM's but I would advise to not count on the Manase ATM to always have enough cash.

Food in Savaii

: every village has small grocery shops selling a dull selection of packaged foods. For fruits and vegetables, stock up in the Salelologa market.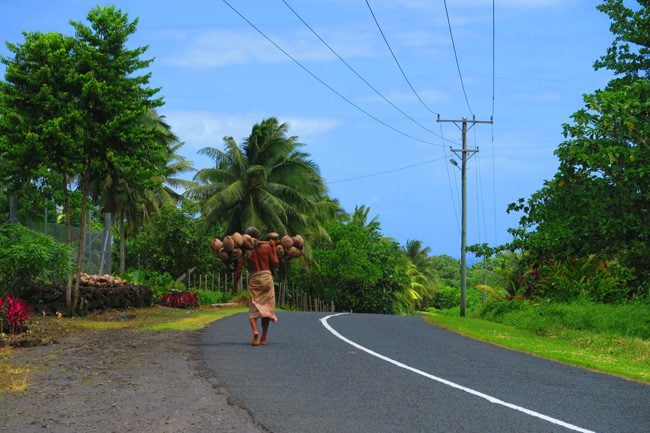 Savaii Travel Guide Map
Click on the image to open in Google Maps. The map features all the places mentioned in this section of the Samoa Travel Guide: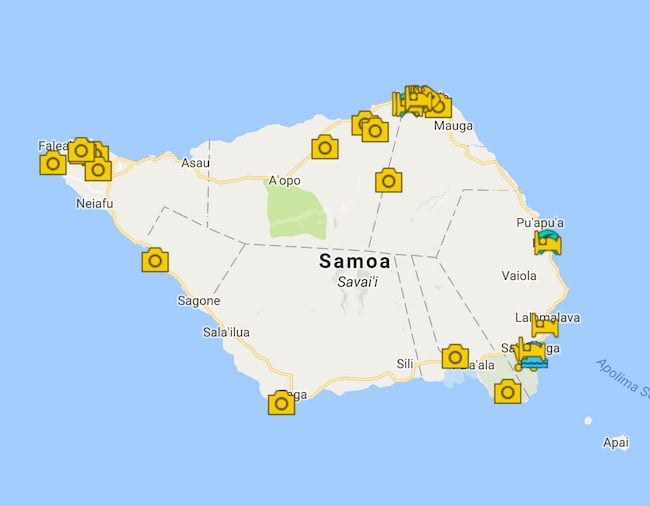 Where To Stay In Savaii Island
Savaii is a huge island so even if you do have a car, it does matter where you base yourself at. Nearly all visitors base themselves in Salelologa, Lano Beach, or Manase. Salelologa is the main town in Savaii, with a handful of simple resorts and hotels but no memorable highlights. Lano Beach is a lovely stretch of sand that though not very large, is home to a few popular beach fales. Manase is by far the most popular spot on the island, for backpackers, families, groups, and luxury travelers. Here are a number of personally tested recommended accommodations in Savaii Island from all three locations.
Things To Do And Places To See In Savaii
Let's see what Samoa's largest island has to offer.
Salelologa
The only 'town' in Savaii, there's not much to do in Salelologa other than using its facilities such as car rental, ATM, gas station, shops, market, ferry terminal, internet cafe, etc. I personally spent two nights in Salelologa because I had eight nights in Savaii and it was convenient for me to stay here, figure out my plans, and explore the nearby south coast to reduce driving times. If you'll want to connect to wifi hotspots with your laptop (mobile data works as well), there's a Xoom internet cafe in town. Just look for the yellow air-conditioned building. You can get online but also buy Lavaspot credit in denominations not sold by individual hotspot owners (2hrs = T25, 5hrs = T40, 10hrs = T75 though prices subject to change).
Salelologa does have a large market. I found it to be a bit dodgy and not that frequented by tourists. Maybe that explains the weird looks I got. Locals were shooting pool while others were buying anything from coffee to cleaning supplies. The market is adjacent to a shopping complex that also houses a proper supermarket.
Savaii South Coast
The South Coast of Savaii is its wildest, where ancient lava fields are smashed by ocean waves and where Samoan legends are still alive and kicking.
Mount Tafua Crater
Part of the Tafua Peninsula Rainforest Preserve, I was a bit disappointed with the Tafua Crater and wouldn't recommend this stop. If you want to see for yourself, look for the sign opposite the former Savaii airport and follow the road towards the coast. At some point, you'll reach the metal gate where you pay the T10 fee. I tried finding the crater on my own but ended up driving in a big circle. So the next time around, one of the locals who collected the fee took me on the unmarked trail to the viewing area (a 10-minute hike). There's actually not much to see up here since the crater is overgrown with tropical vegetation.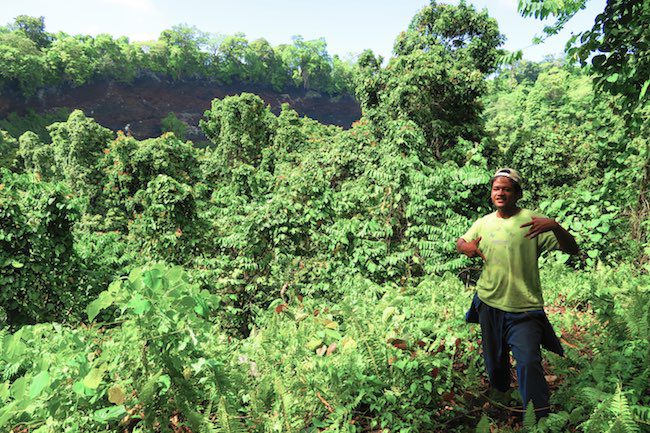 Afu Aau Falls
Come to this dreamy spot on a weekday, and you'll have it all to yourself. The Afu Aau Falls (also known as Ole Moe Falls) are signposted just before an iron bridge that you can't miss. Pay the 5T entrance fee to the family manning the fale and continue driving to the small car park. A five-minute walk will then bring you to the falls, plunging from the rainforest into a deep pool that is so refreshing. If you're here on your own, it'll feel as if you're stepping into some kind of movie set about paradise. Listen to the birds singing, the water gently trickling down from the moss-covered rocks and maybe even stop for a quick picnic. For those who want to understand Savaii's unique geology, the sign back in the car park makes for an interesting read.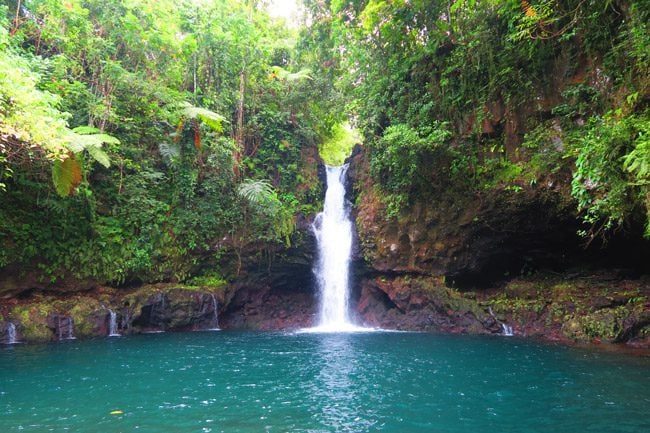 From the fale back in the entrance, you can ask the locals if they can take you to the Pulemelei Mound. It's a tricky hike through the thick rainforest and I was quoted T50 so I opted out.
South Coast Road
The stretch of coastal road from the Afu Aau Falls to the Alofaaga Blowholes is the most scenic in Samoa. The sections which cling to the ocean, offer dramatic views of sea smashed volcanic cliffs, weird rock formations carved by the water and palm trees that somehow manage to survive the battering winds.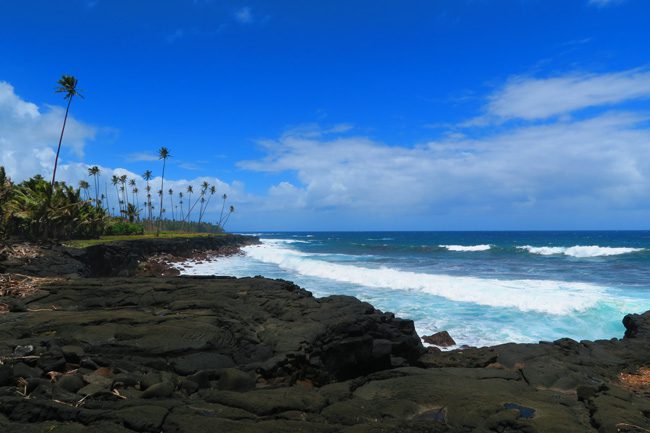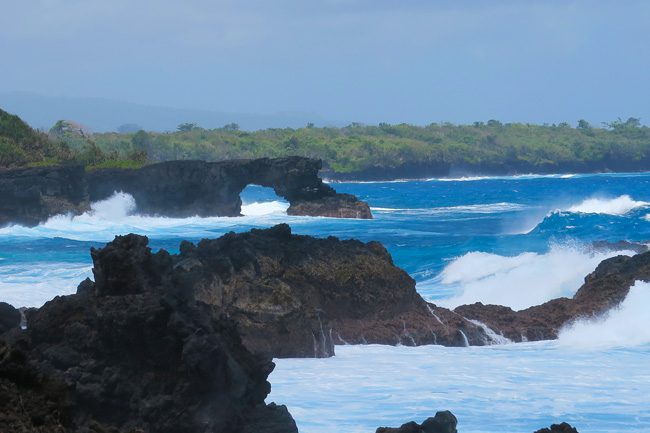 Alofaaga Blowholes
Everyone loves visiting the Alofaaga Blowholes, one of Savaii's top highlights. First off, the scenery out here is incredibly wild, bringing you so close to the edges of cliffs battered by massive waves. But the real stars out here are the blowholes. As the swell comes in, water enters ancient underwater lava tubes, quickly rising in the air in spectacular fashion. If you get here when the ocean is calm, you'll still get to witness the show so not to worry.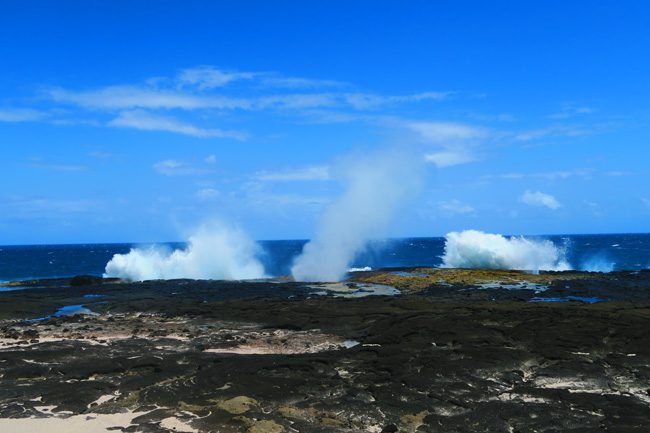 To get here, look for the easy-to-miss sign off the main road and continue along the dirt road. Pay the T5 entrance fee at the fale and continue driving to the car park. Keep in mind three things: (1) if you park the car close to the fales by the blowhole, you will be charged extra (there's a free car park just before) and (2) there will usually be local tossing coconuts into the blowholes which make for an even more exciting show. However, whether you asked for this or not, you will be charged T20! So it's best to just let the guy know in advance you are NOT interested. (3) If you're lucky, there will be a friendly villager selling ice-cold coconuts on your way out.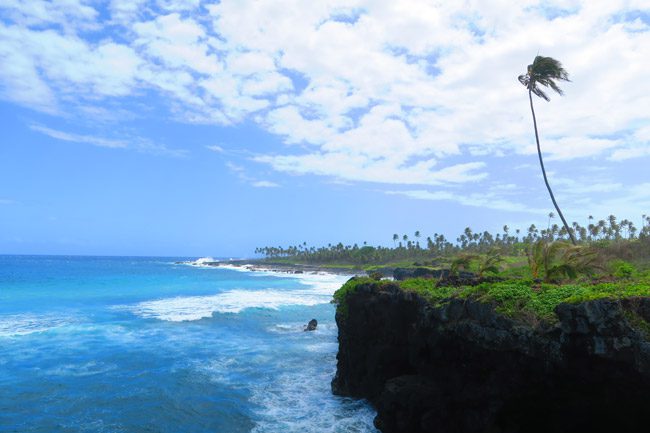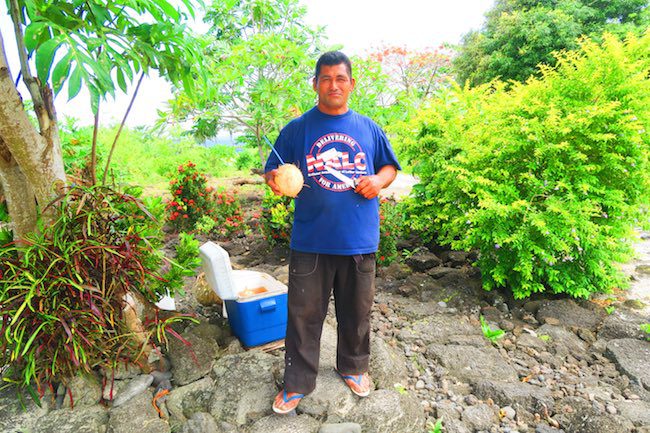 Lovers Leap
Not of the romantic kind, local legend tells of a blind mother and her daughter who plunged into the ocean from this spot. The mother couldn't bear the lack of attention she and her daughter were getting during mealtime and decided to take action. Upon hitting the water, the mother morphed into a sea turtle and her daughter into a shark. This might explain the good chances of spotting sharks and turtles from this panoramic spot (T2 entrance fee).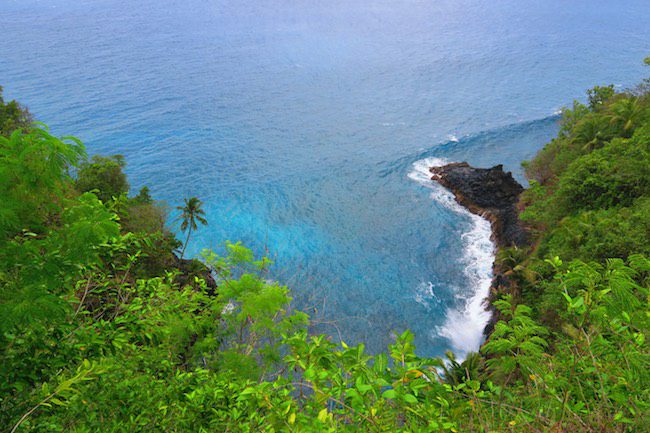 Cape Mulinuu
Part of the sacred Falealupo Peninsula, this is not only an area of significant spiritual importance to Samoans but also one of the weirdest places I visited in Samoa. Cape Mulinuu is on the southern end of the Falealupo Peninsula and we'll cover the northern side a bit later on. Before conversion to Christianity, locals believed the westernmost point in Samoa was a gateway for the soul to the afterlife. Far removed from any major town, villagers out here are very simple people, hardly speaking English and without full-time jobs for the most part.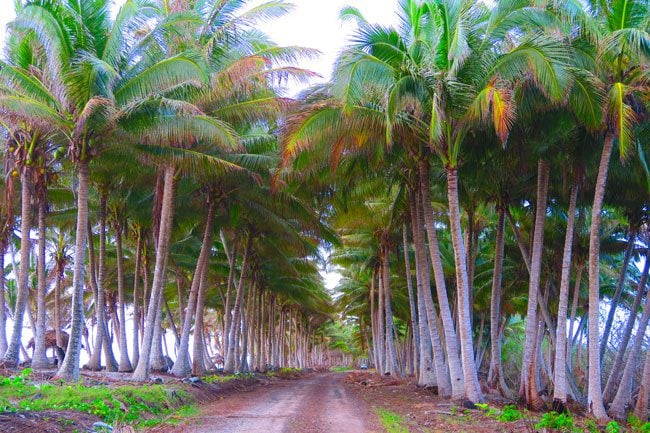 The sealed road turns into dirt and you just need to keep driving until you see a small beach fale at the end of a large coconut plantation. Pay the T10 fee and you can now visit all the cape's sites. Ask the locals to take you into the rainforest for the quick hike to the star mound, Vaatausili Cave, and the Blood Well (Via Sua Toto). These spots were used by ancient Samoans for religious ceremonies and by warriors to bury enemies.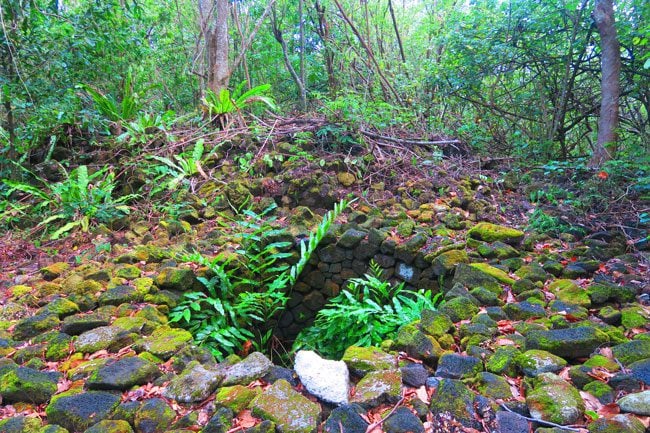 Back at the fale, this is the best place in Samoa to watch the sunset. It's also one of the reasons why Samoans believed this was the gateway to the afterlife. In preparation for sunset, go for a swim in the tidal pool or just watch the fish play around in the ultra-clear shallow waters. I personally opted out of waiting for the sunset as it was a bit cloudy and I didn't feel like driving back to Salelologa in the dark.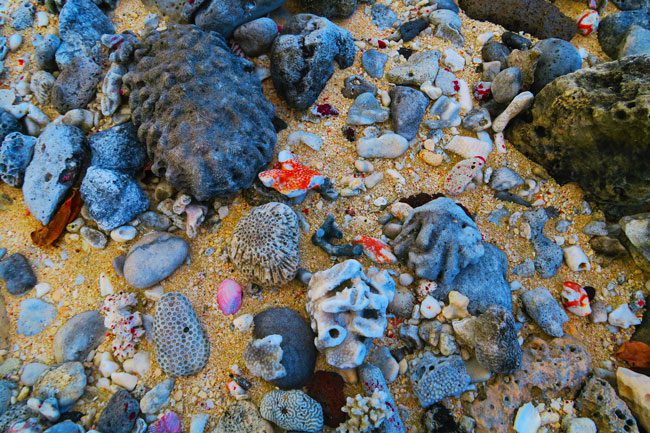 Note that you can continue from here and explore the northern section of the peninsula, or just leave it for the day when you'll explore the north coast of Savaii (like I did).
Savaii East Coast
As you leave the 'metro area' of Salelologa, you'll start to see the real Savaii. The coastal road takes you parallel to narrow white sand beaches, before veering back inland at the massive Saleaula Lava Field.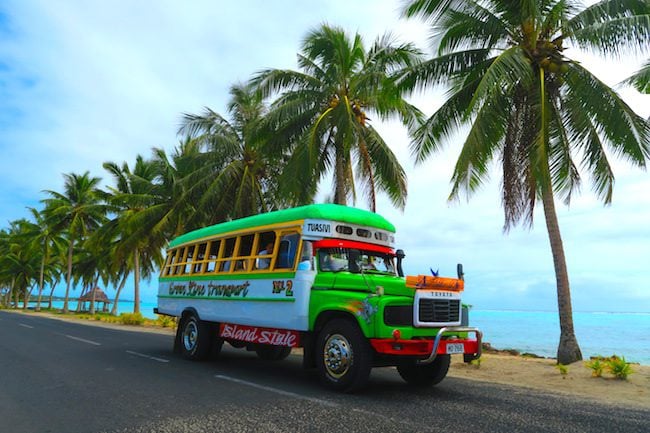 Churches
Savaii's east coast has a few interesting churches. Just outside Salelologa, a church marks the spot where Samoa's first missionaries landed. Further up the coast, a massive whitewashed church looks like something out of an old western.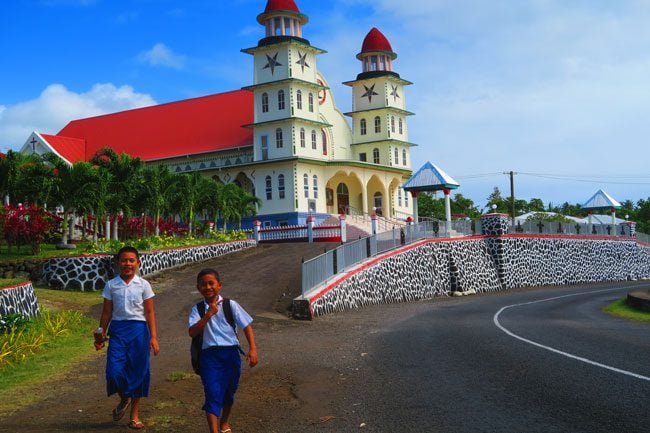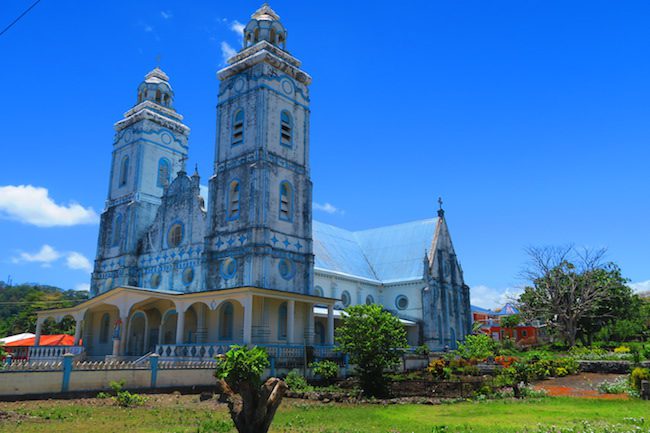 Lano Beach
Lano Beach is one of the prettiest in Savaii. There's not a whole lot of beach during high tide, but you'll find lots of cute-looking family-owned beach fales at super low prices. This is a good place to stay if you want to do some beach bumming without venturing too far from the ferry in Salelologa. Have a look at the recommended Savaii Island accommodations for a good place to stay in Lano Beach.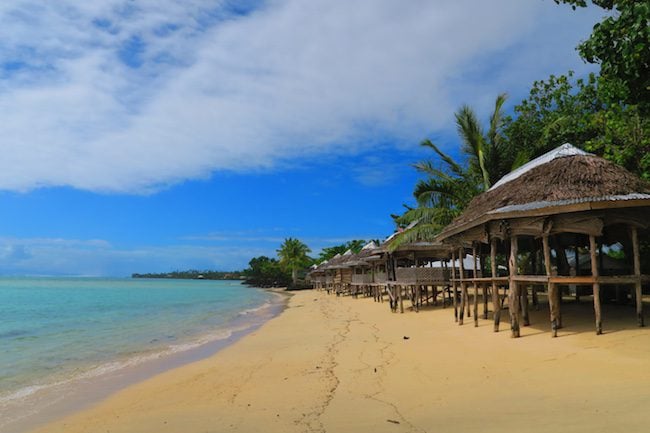 Saleaula Lava Field
Between 1905-1911 the Mount Matavanu Volcano eruptions sent lava flowing down the fertile plain and underground lava tubes towards the coast. Over 70 square kilometers of land were covered by up to 9 meters of lava. Five villages were destroyed but no lives were lost. The eruptions left an eerie scar on Savaii's northeast coastline. The good news is that this tragic past provides local villagers with one of the top visitor attractions on the island. To get here, look for the sign on the main road and park the car at the visitor's center. Pay the T5 entry fee and head down the trail. You're essentially now walking on top of one of the destroyed villages.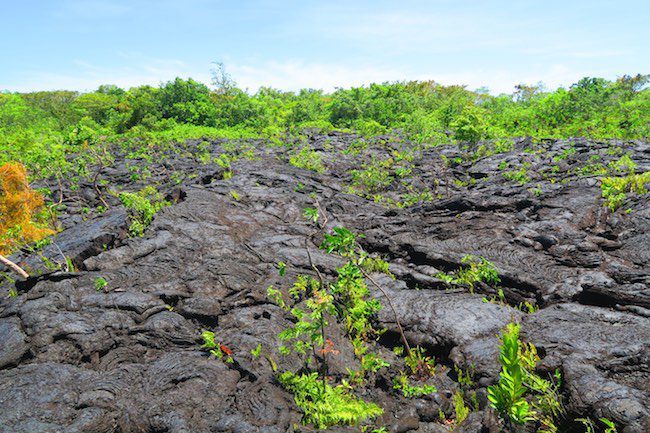 The first stop is the old LMS Church, where the lava literally flowed through its aisles. Continue on the lava field, hopping from one boulder to another until you reach the coastline. On your way back to the visitors center, stop by the Virgin's Grave. As lava flowed from the volcano, it covered the local cemetery. Local legend tells of the grave of a young virgin that was so holy and pure, that the lava simply flowed around it, creating this strange depression in an otherwise completely covered surface.
Don't forget a hat and plenty of water as the lava field absorbs much of the sun's rays.
Savaii North Coast
On the north coast of Savaii, the mountains and the coast tightly hug each other. This part of the island is home to the best beaches and hikes in Savaii.
Swimming With Turtles
Just after the Saleaula Lava Field, you'll get the chance to swim with sea turtles in an enclosed pool. I personally prefer to swim with turtles in their natural habitat so I opted out, but I did meet other travelers who enjoyed the experience.
Scuba Diving In Savaii
The best scuba diving in Samoa is currently in Manase, where Dive Savaii will take you on a grand tour of the reef. Seeing how snorkeling was on the whole quite disappointing throughout Samoa, I was pleasantly surprised with these dives. The volcanic underwater landscape was a continuation of what you see on dry land, with rocky mounds overgrown with hard coral. We also tightly maneuvered through narrow channels and inside lava tubes, where we sometimes had to do a bit of crawling and where there were often surprises. We even came across an unexplained group of dead fish, probably arriving only seconds after a predator took care of business.
As for the marine life, the only time I saw a lionfish in the South Pacific was right here (and I went diving in Vanuatu, the Cook Islands, and French Polynesia). We also came across stingrays and had lots of close encounters with sea turtles.
An unexpected highlight was the wreck of the John Williams V, a missionary boat that sailed from Apia to Savaii over Christmas and mistakenly crashed into the reef.
Logistics: a two-tank dive will cost ~T260 (extra T20 for mask and fins), snorkelers can join for T60 (same extras) and you can even get your certification here. The dives themselves were not very deep, which meant we were underwater for more than 50 minutes! You should book in advance as outings depend on the tide (closed Sundays and usually on holidays from December – February) Dive Savaii is located in front of Le Lagoto Resort & Spa and right next to Leilina's Pizza – a refreshing escape to Italy.
Manase Village and Beach
Manase is a 90-minute bus ride from Salelologa and a relatively 'large' village in Savaii. It's the most popular section of the island, with miles of white sand beaches and lots of accommodations to choose from. The village has a couple of shops, an ATM, a dive center, a pizzeria, and a gas station. Other than that, just sit back, relax, and enjoy paradise. There is, however, one activity that'll keep you busy. This coastline is sort of a 'sea turtle' highway and sometimes these cute creatures like to nibble on the seagrass close to shore. So before you move on to the next chapter in your holiday read, glance out at the ocean and try to spot one! Lucky snorkelers can even try to keep up with them underwater.
Mount Matavanu Crater
After you've seen the Saleaula Lava Field, why not pay a visit to the cause of the destruction? The challenging drive up to Mount Matavanu Crater is totally worth the effort. En route, you'll drive through coconut plantations and maybe see an occasional farmer tending the cows or chopping coconuts in the sweltering heat to make copra.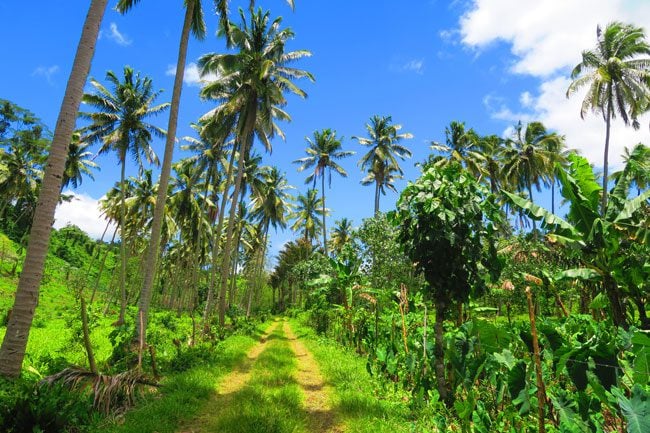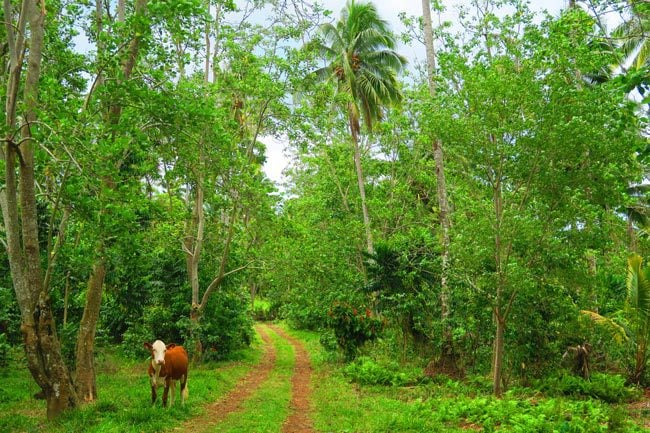 Eventually, you'll reach a small fale and meet Da Craterman. This friendly guy is a living legend around here, maintaining the grounds and celebrating the visitors who pass through his gates with signs in his own version of the English language ('cr8ta' = crater). Hand over T20 to Da Craterman and continue to the upper car park via yet another challenging section of the road.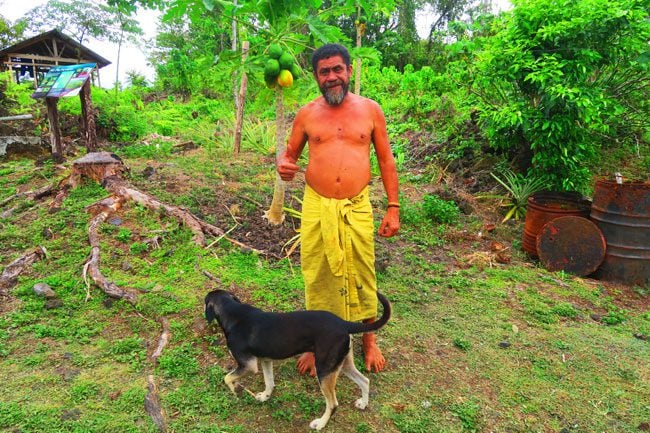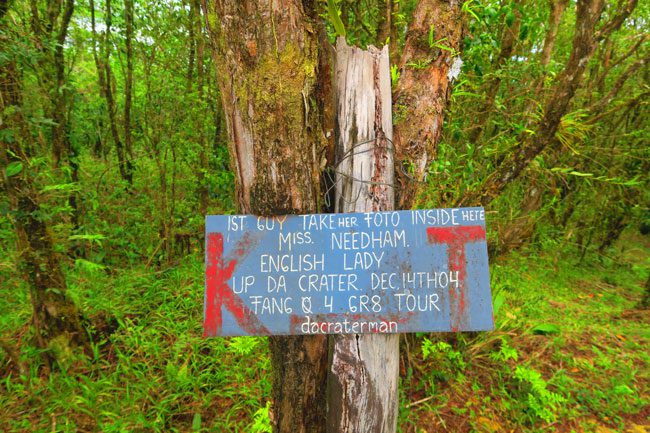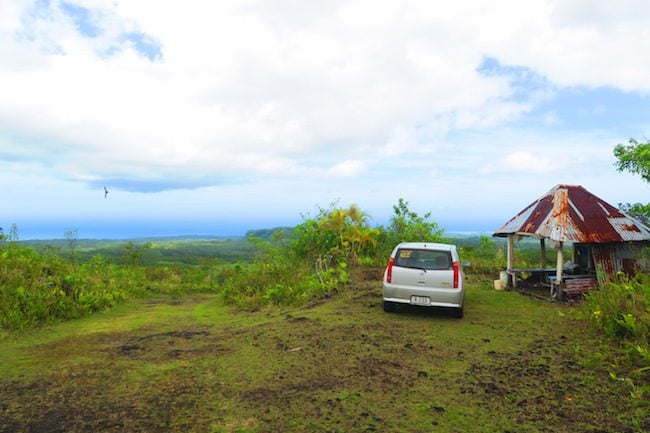 Up at the car park, it's just you, the birds, and the blue ocean in the far distance. This is really the definition of 'off the beaten track' in Samoa. Just imagine all the lava that came pouring down from right here! An easy twenty-minute signposted hike will bring you the viewing platform just above the crater. It's an absolute serene spot, so peaceful and a little scary considering the sheer drop with one bad move. Here's what it looks and sounds like.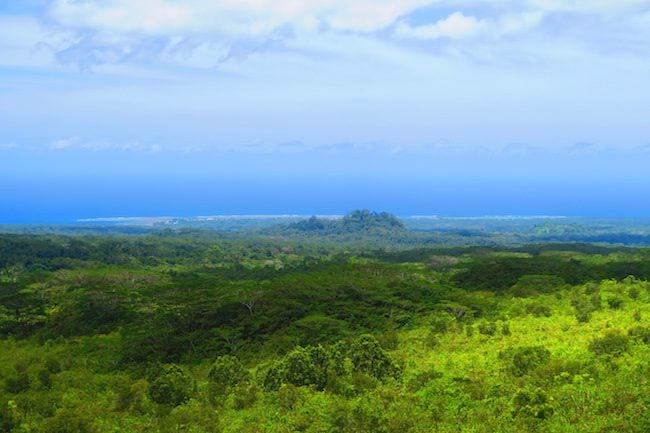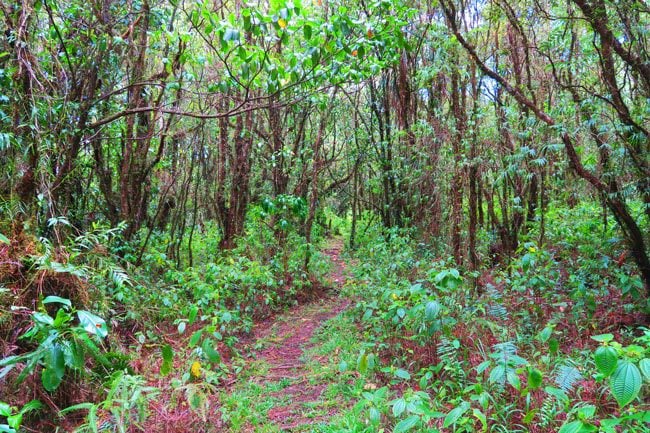 Back in 1905, molten lava rose from the ground like fountains. Eventually, a small cone was formed, collapsing to form the crater we see today. Lava flowed via a dry river bed and via an underground lava tube at the crater's base. The huge crater is now overgrown with vegetation, but the volcano is still technically active…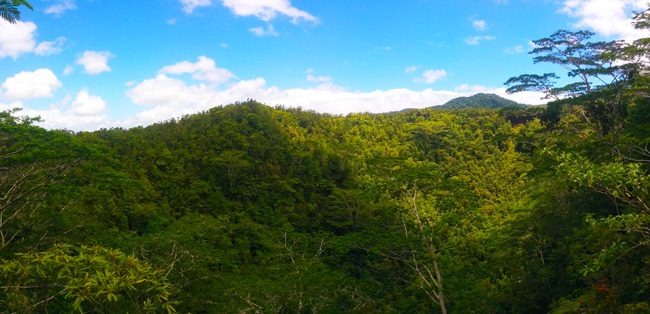 Logistics: look for the sign towards Paia Village and Mount Matavanu. A 4WD will afford a comfortable drive but a high 2WD will do just fine, though expect a very bumpy ride for about 8km. Allow for about 2 hours for the whole affair.
Mataolealelo Spring
Definitely not as grand as the Piula Cave Pool in Upolu, stop at the Mataolealelo Spring to quickly cool off (T5 entrance fee). Though right on the ocean, the spring is fed by water somehow trickling down from the mountains.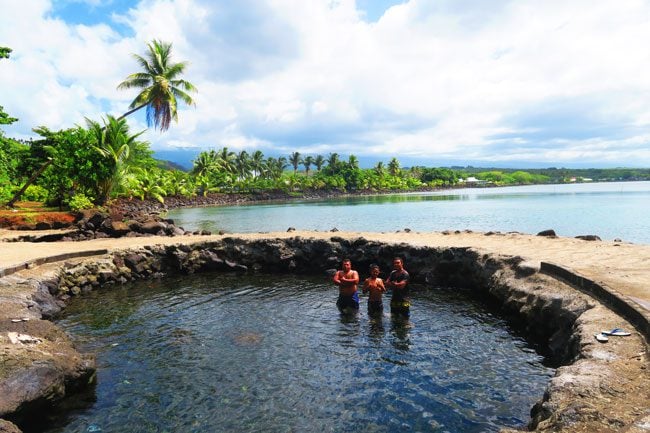 Paia Dwarfs Cave
Not visiting this cave was one of my regrets, but you kind of need to have a car to get here and it does take up the bulk of your day. Local guides will lead you through a massively long lava tube, where you'll get muddy, wet, and at some point just ask to turn back around (T20 entrance fee + guide).
Peapea Cave
In a much smaller lava tube, the Polynesian Swiftlet dwells inside the Peapea Cave. The entrance costs T5 and it's just off the main road. The local manning the booth will lead you down with a flashlight and point out the nests. It's a quick stop, no more than 20 minutes.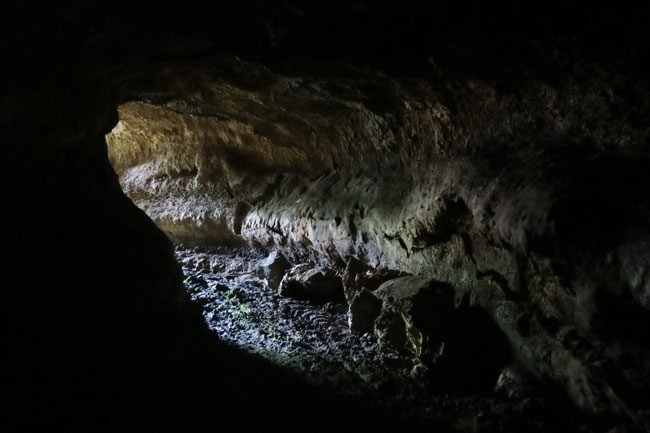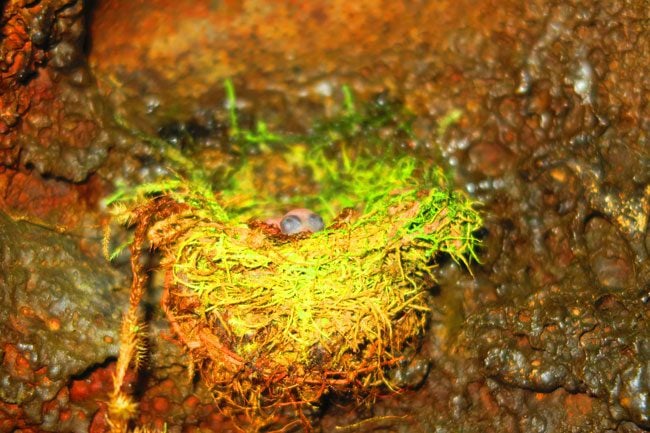 Falealupo Peninsula
We already covered the southern section of this mysterious peninsula with Cape Mulinuu, but there's still plenty to see in the northern half. The road from the Peapea Cave to Falealupo Village will take you up and down hills and past sleepy villages where absolutely nothing seems to happen.
Follow the signs to the Falealupo Rainforest Preserve and park the car in front of the Canopy Walkway. Pay the entrance fee and walk along the suspension bridge to a wooden viewing area atop a giant banyan tree that resembles the treehouse you've always dreamed of having as a child.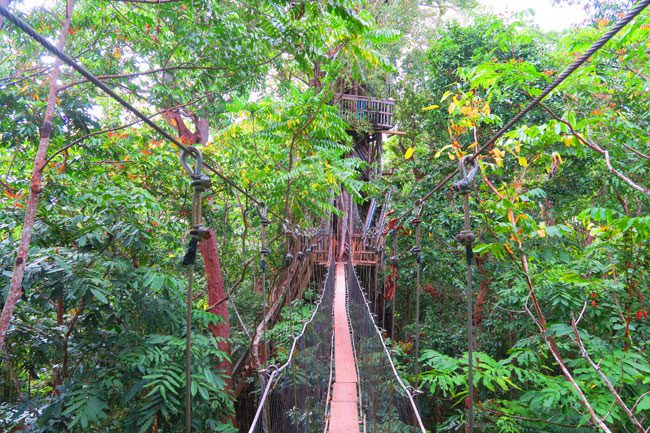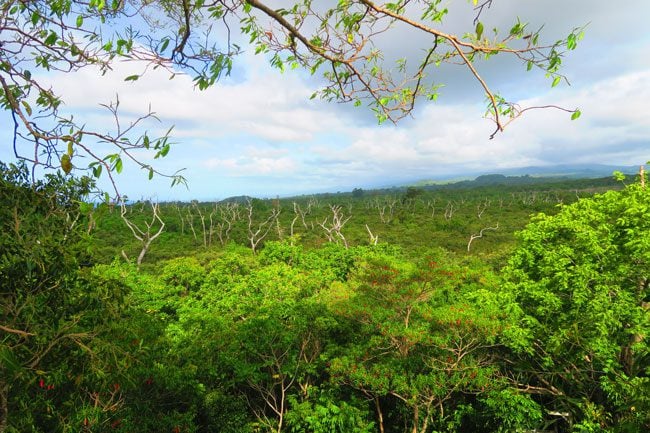 The T20 ticket you pay at the Canopy Walkway is also valid for Moso's Footprint and the House of Rock, though villagers at these next stops might attempt to get more out of you.
Next up is Moso's Footprint, an imprint in the lava rock that kind of resembles the foot of a giant. Local legend claims this is the work of Moso, a giant who left his mark when stepping over from Fiji… I don't have a picture of Moso's Footprint because the local lady wanted, even more, money than I already paid just to take a photo. Don't be alarmed, this is how things go in this part of Samoa.
Further up the road, you'll pass a beautiful empty beach and the original spot of Falealupo Village. The village was relocated to its present spot following the devastating cyclones of 1990 and 1991. Aside from a few families who still live out here in very simple homes, the eerie ruins of the old Catholic church are all that survived (you will be asked for T5 to snap pictures of the church).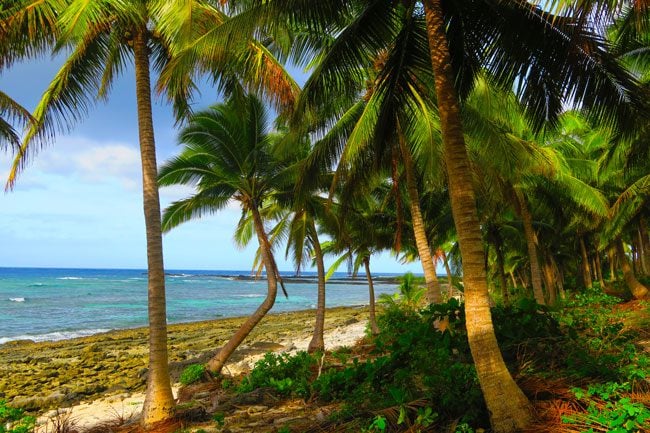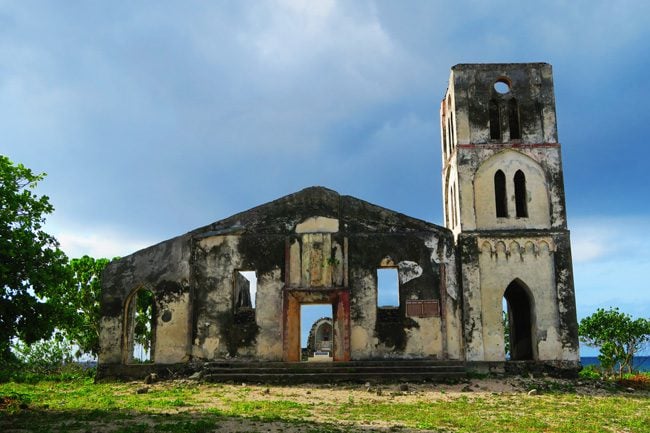 The last stop in the northern section of the Falealupo Peninsula is the House of Rocks. The collapsed lava tube served as a shelter during the cyclones. Legend has it that the cave is actually the result of a house-building competition between the men and women of the village. The women won by the way. The 'house' is at the end of a short trail and if you can't find it, one of the kids living out front will be more than happy to lead the way for T5.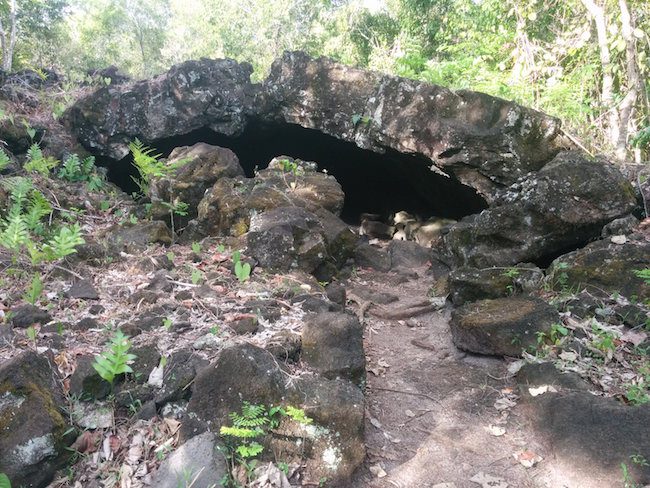 Ready To Visit?
I hope you've found this Samoa Travel Guide useful. Check out the Samoa travel guide collection for additional resources, including sample itineraries.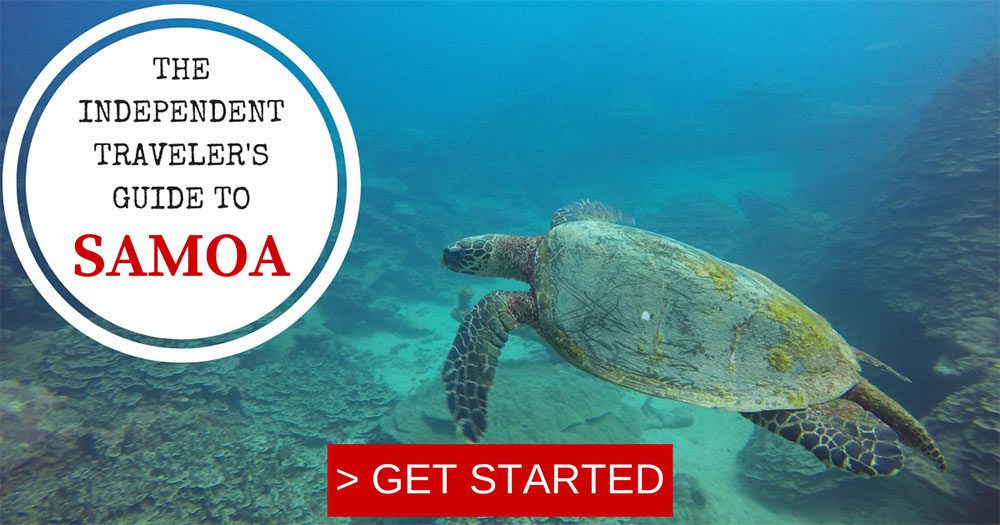 ---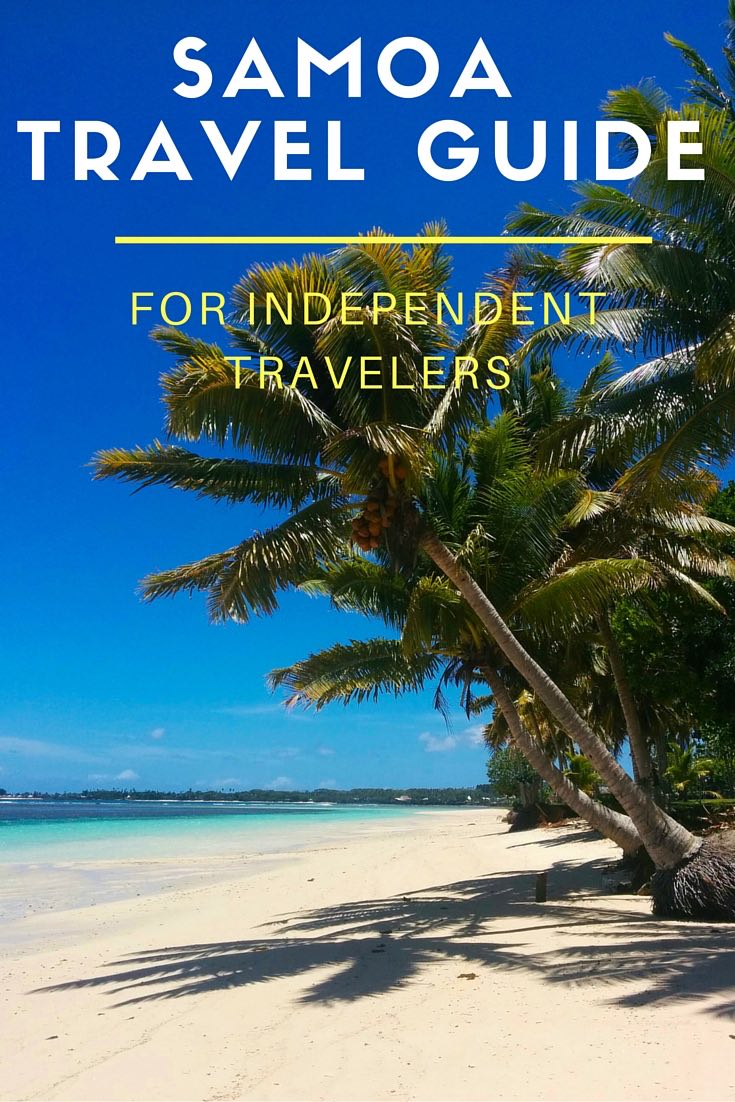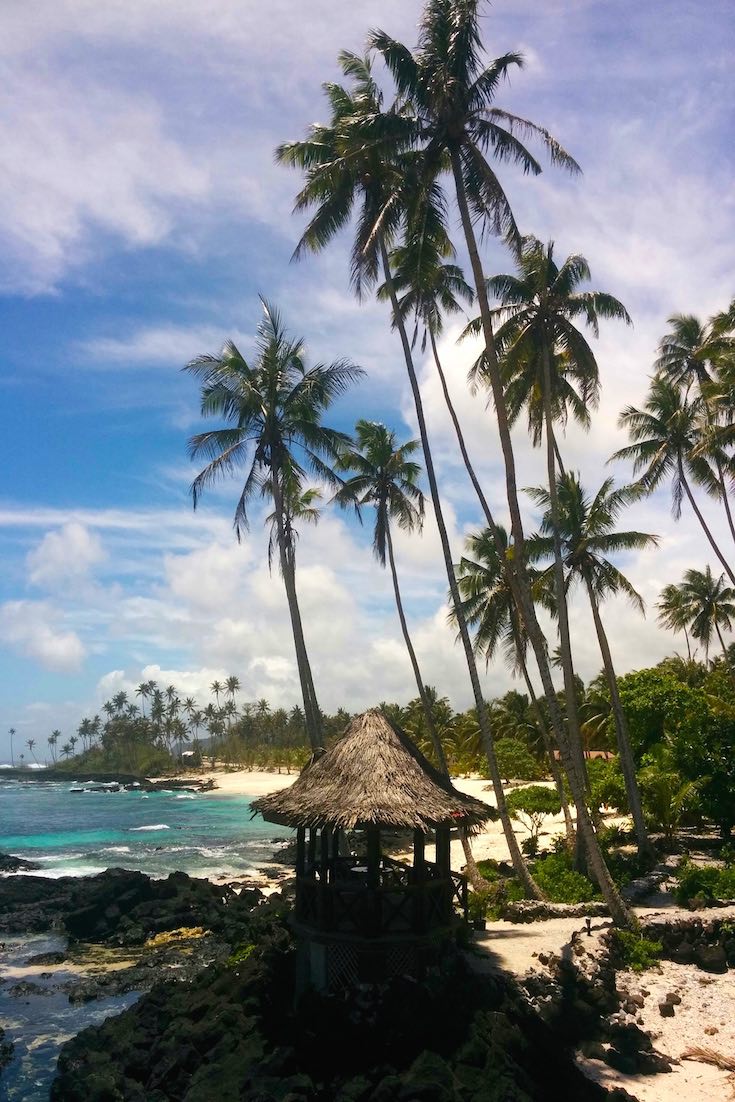 Pin These Images To Your Favorite Pinterest Board