Hiking Options In Tahiti
Tahiti may not have the prettiest beaches in French Polynesia, but it does have some of the best hikes in the territory and perhaps in the entire South Pacific Islands. Most hikes require a guide as trails are either dangerous or unmarked. For guided hikes in Tahiti, reach out to Olivier Lenoir from 'Ia ora na Tahiti Expeditions'. He's the closest thing I've found to a real Tahitian: in touch with nature, super knowledgeable about Tahitian culture, and never wearing any shoes (plus he speaks excellent English). He is a two-time Mr. Tahiti champion, winning the coveted Heiva festival. If he's not available or busy with 4X4 tours into the Papenoo Valley, contact Aito Rando – a father-and-son company specializing in group hikes throughout Tahiti Nui and Tahiti Iti. For up-to-date information about hiking in Tahiti, check out Tahiti Rando and their Facebook Page.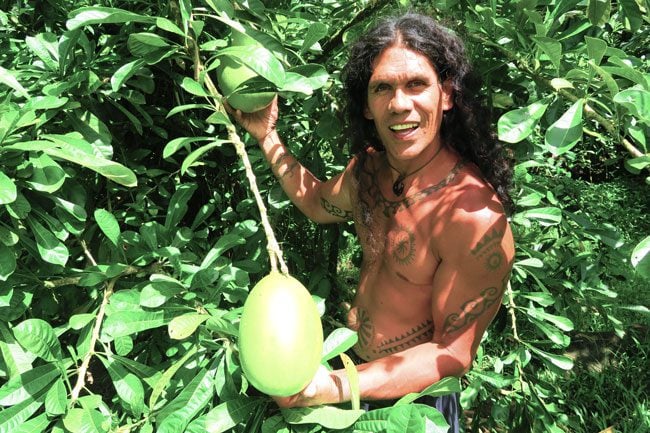 Mount Aorai Hike
When you picture Tahiti, you probably imagine giant mountains stretching high into the clouds covered with lush tropical rainforests. If you hike Mount Aorai, the third highest peak in Tahiti (2066m) – this image will become a reality! It's one of the most challenging, demanding, and dangerous hikes in the South Pacific – but also one of the most rewarding. Here's a good resource to help you out.
Safety first:
You

can

hike Mount Aorai on your own, but it's better to go with at least another person.

Check weather conditions on meteo.pf and avoid hiking if it has been raining the days before. The trail is well marked but slippery and narrow. Pretty much every move could be your last.

During the wet season, it is strongly advised to avoid summiting the mountain. I recommend hiking only to the first refuge hut. Between the huts is the infamous

Devil's Peak Pass

– a sliver of trail along the ridge with nothing but thousands of meters below.

Hiking alone? Tell someone at the hotel reception and consider turning back at the first refuge hut (like I did).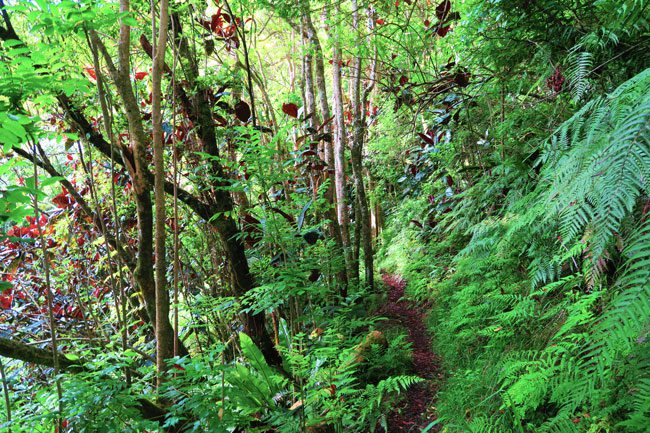 Logistics:
The trail starts from the parking lot of the O' Belvedere restaurant. You can safely leave your car there, just don't leave anything visible inside.

If you are not staying overnight in one of the two huts –

start hiking very early

, no later than 5:00 am (that's right). The reason for this is that the clouds move in at about 10 am, covering the peaks (and the jagged spikes of Mont Te Tara o Maiao – Diadème).

There are two overnight huts

(one at 7.5k and one at 8.5k) and another refuge shelter just before the summit. The higher overnight hut and the refuge shelters have been renovated in 2021. The lower refuge shelter is in poor condition and awaiting renovation.

The complete hike is 10.6km (one way). It is possible to summit in a single day if weather conditions are perfect and if you are extremely fit and not carrying. a lot of weight on your back.

Bring with you 3L of water per person (there are taps in the refuge huts but you need to filter the water), good hiking shoes (even waterproof shoes will get completely wet), a light rain jacket, long pants, food, first aid kit, headlamp, overnight gear (if sleeping) and a change of clothes and socks – because you'll smell like hell back in the car park.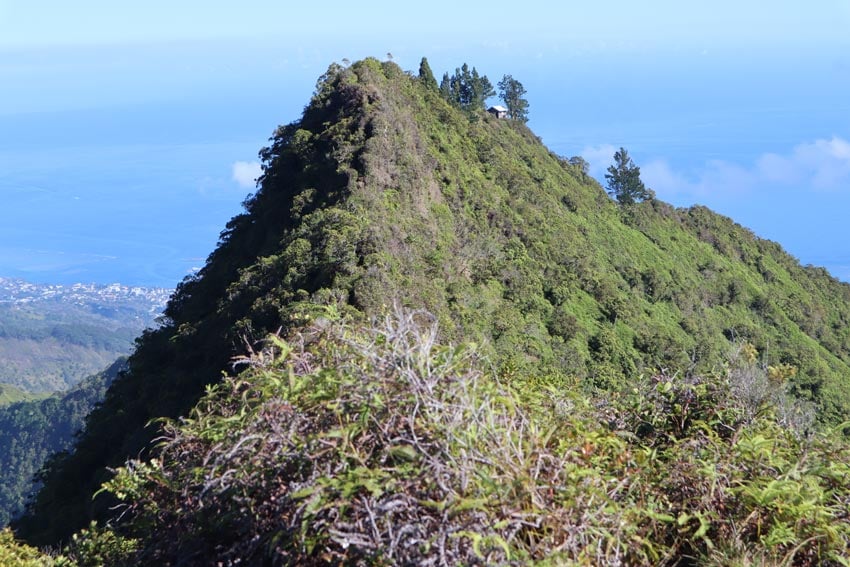 The hike:
The trail itself is very well marked – in fact, it's simply carved into the mountain somehow. Since you're starting the hike in the morning hours (start by no later than 5 am), you'll be hiking in the dark and getting completely wet right from the start, as the dew from the knee-high shrubs soaks your shoes and pants.
In the first section of the hike, there are excellent views of the curving mountains, Papeete and Moorea. Very quickly though, you enter the thick rainforest for kilometers after kilometer of slow ascent. You'll hear birds starting their day, see moss-covered rotting tree trunks and pass an occasional freshwater stream. This is a proper rainforest!
The hike starts to get tough as you continue climbing along the super narrow trail. You really need to concentrate on your every move since it's very slippery out here and there isn't much room for error.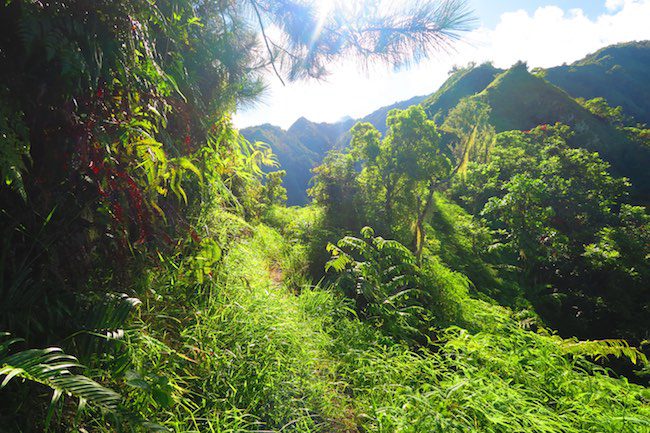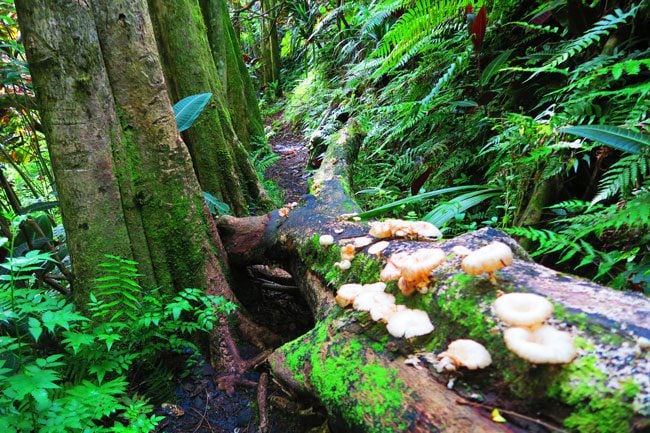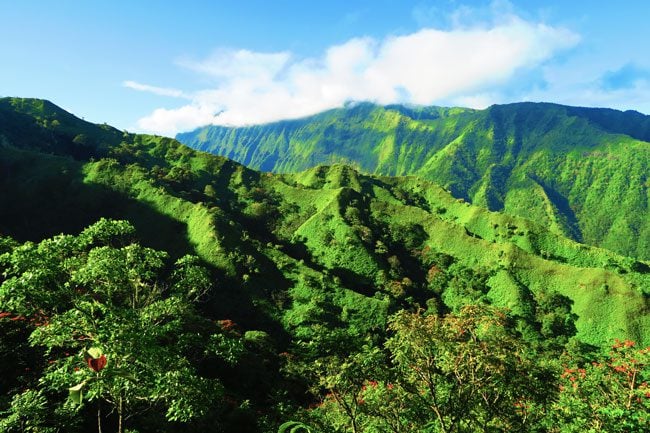 After about 2.5 hours of climbing, the views reach a climax and you should aim to be here before 9 am. You'll be pinching yourself as you see breathtaking panoramic views just across the deep valley. If you're lucky enough, you'll see the jagged successive peaks of the Mont Te Tara o Maiao (a.k.a Diadème). I'm pretty sure it's possible to hike there too but that's a whole other story.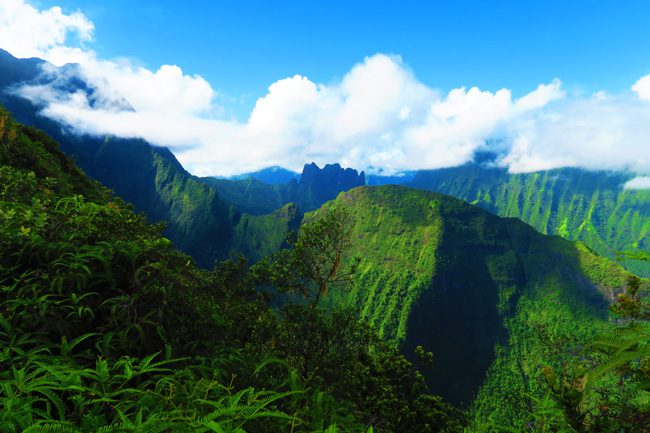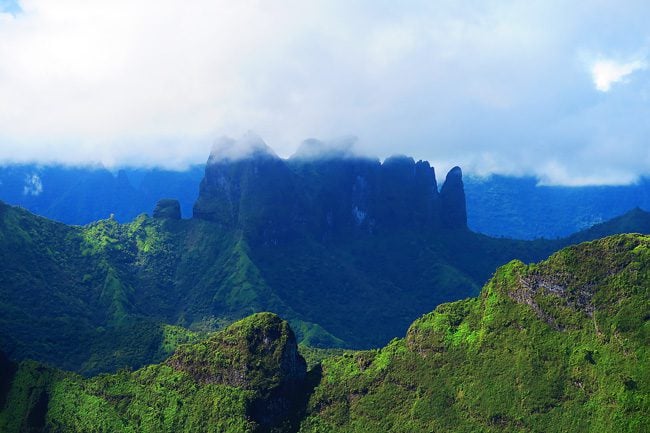 It's another few kilometers to the first overnight shelter (3 hours of hiking so far). There's some collected rainwater, a toilet you don't really want to use and wooden bunk beds to pass the night. The views from the shelter are superb with panoramas of the Diademe and Moorea in the distance.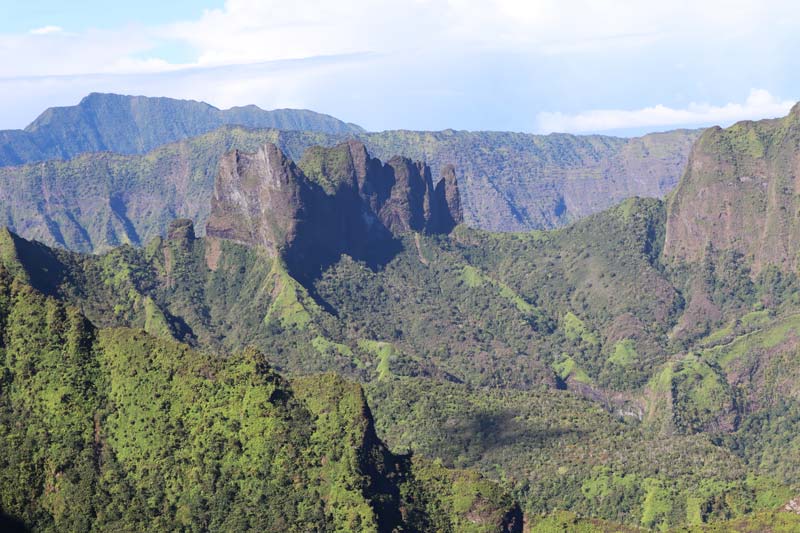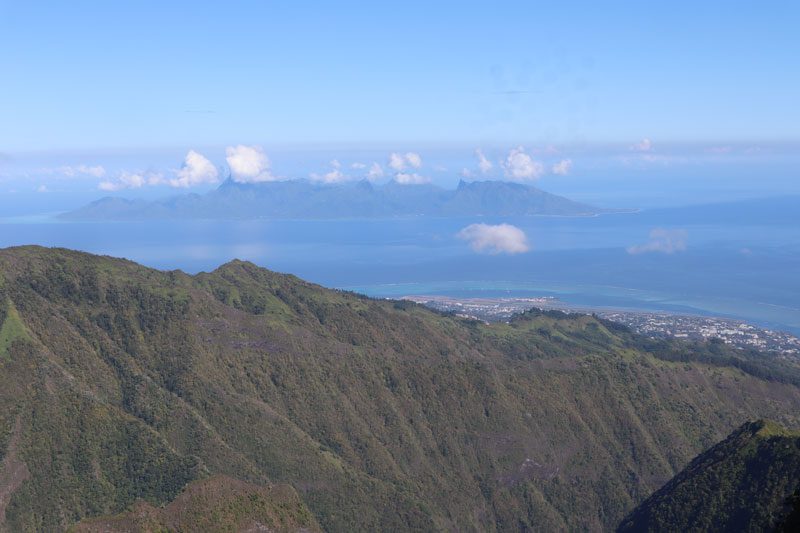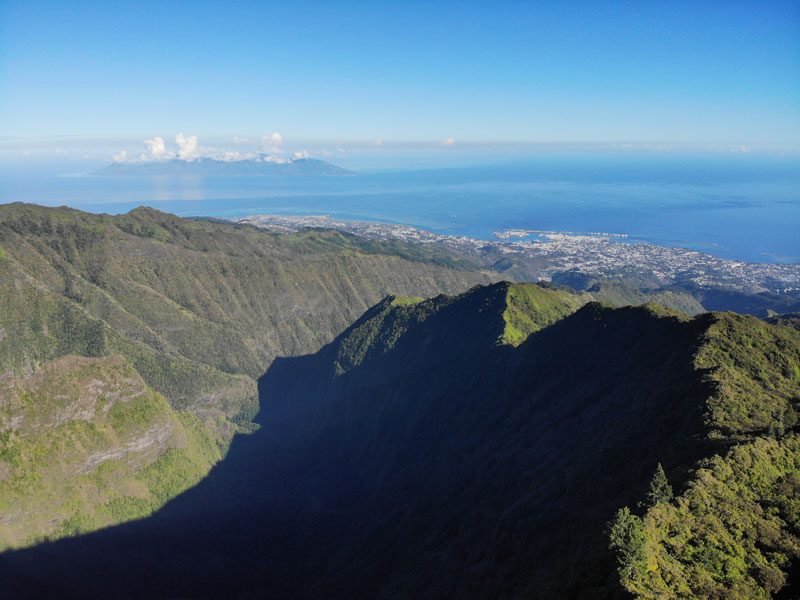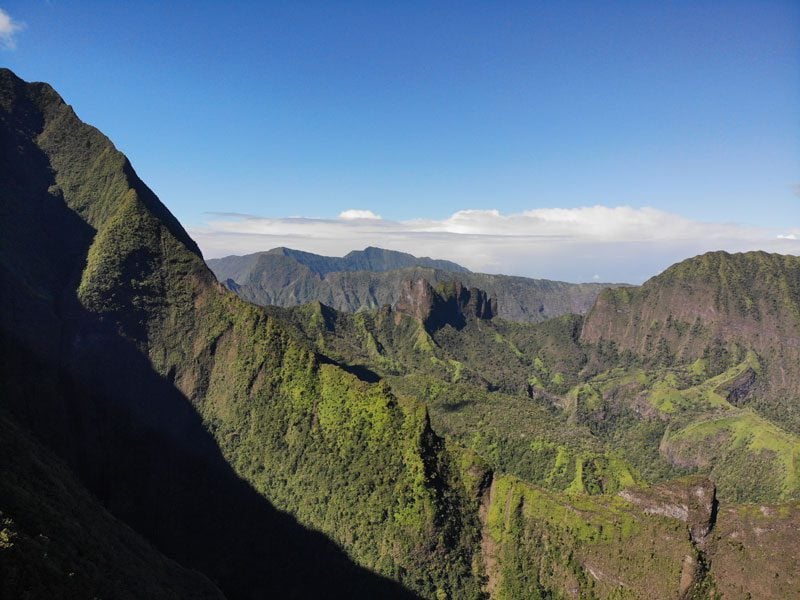 From here, it's another 2 km's to the second hut via the Devil's Ridge Pass. I've attempted to summit Mount Aorai on three separate occasions and never made any further than the first hut either due to poor weather or exhaustion.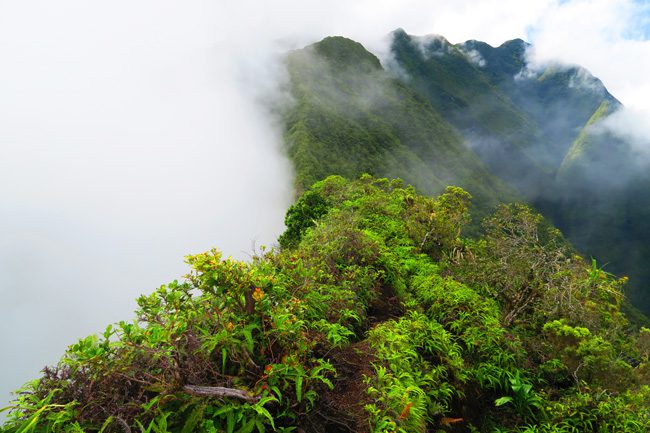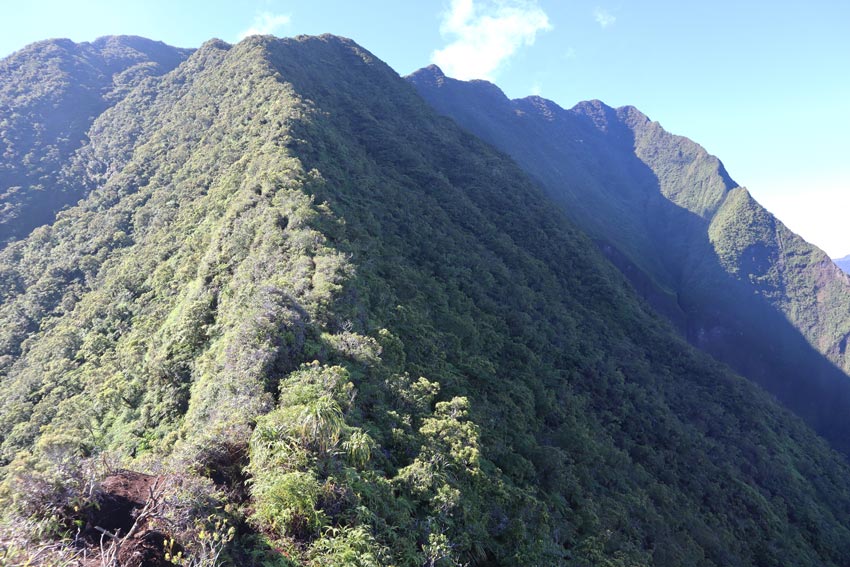 From The first hut, it takes about 6 km's and 90 minutes back down to the car park – basically walking through the clouds for the most part.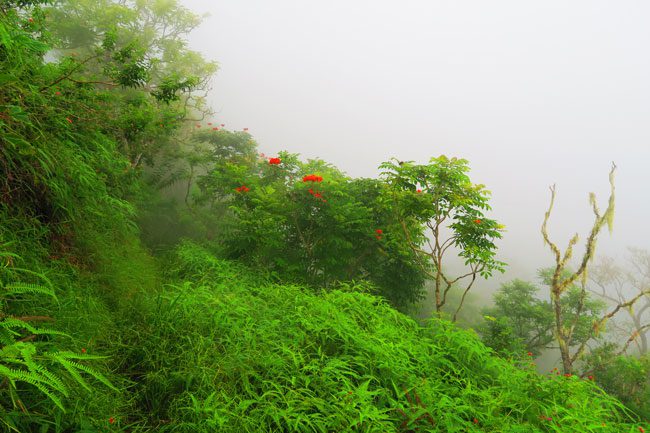 Fautaua Valley Hike
Fautaua Valley is "just behind" central Papeete, so this is a convenient and easy hike if you're looking for a half-day experience (about 4 hours return). If you're not hiking with a guide, you must pre-purchase a permit at the city hall (Maire de Papeete). Head to the first floor between 8 am and 3 pm, Friday from 8 am to 2 pm. It costs just 600 XPF per person and a guard will check your permit at the trailhead. The car park is just after the grounds of the water utility company and that's where the trail begins (Polynésienne des Eaux).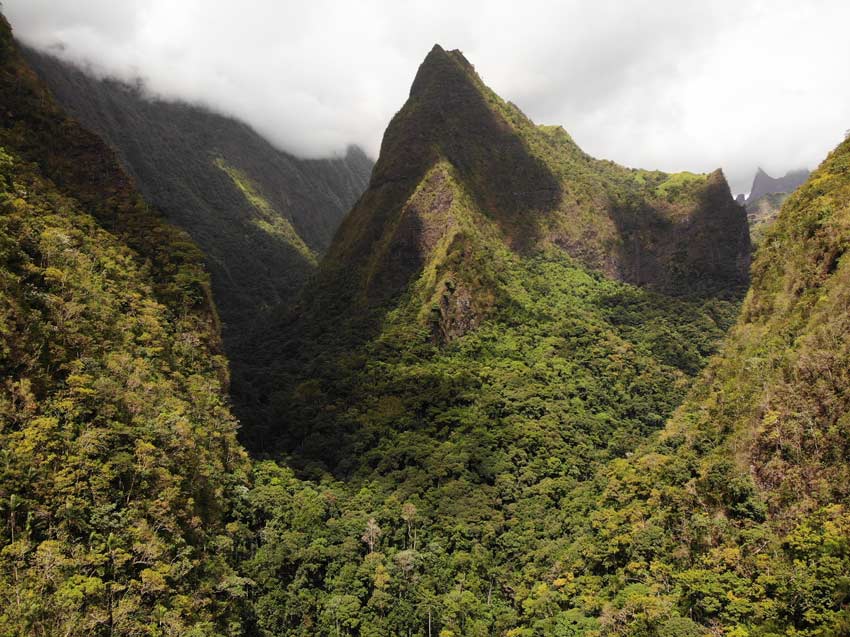 The hike begins with an easy walk along a path that's used by the utility company as well as by city residents who come here after work to do sports. After a few minutes, you'll see to your left signs pointing out to a small marae. This is the remains of an ancient Polynesian ceremonial site. You'll also see signs explaining (albeit in French) that the valley was used by Tahitians who did not side with the French in the Franco-Tahitian War. Tahitian fighters sought shelter in the valley and built forts to protect from French troops.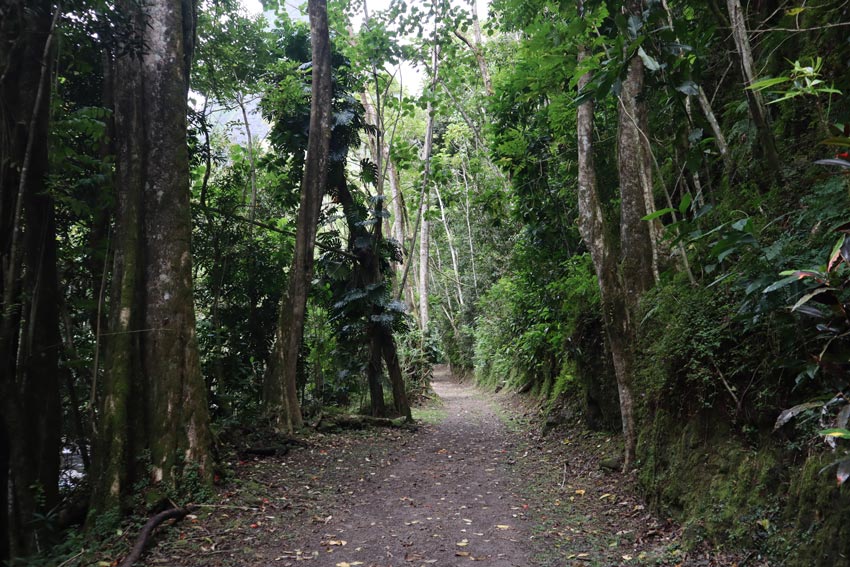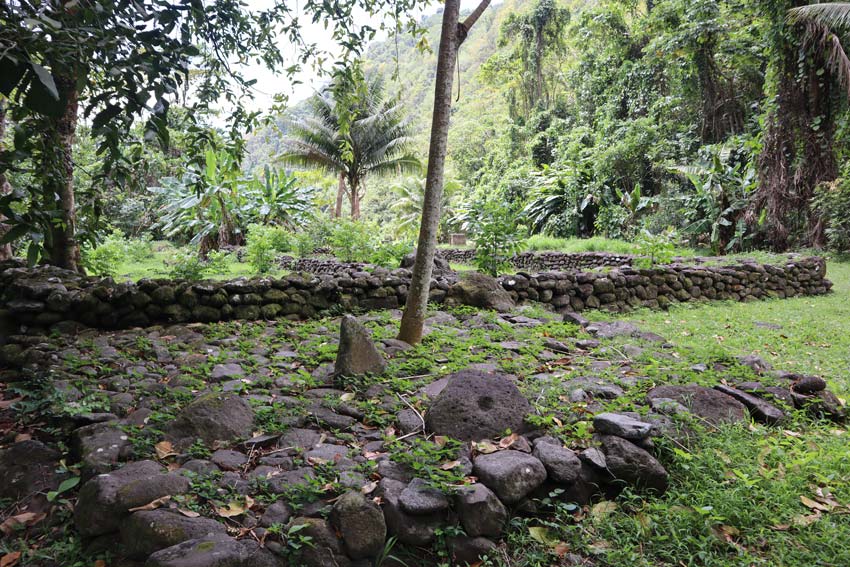 After a short walk, the trail splits. If you turn left and cross the bridge, you'll head on a trail that leads to the top of the waterfall. It's a more challenging hike but the views are worth it. If conditions are right, you'll be able to take a dip in a small pool at the top of the waterfall. This section is prone to closure due to trail erosion so it might be closed. It's best to inquire before because people have gotten injured here.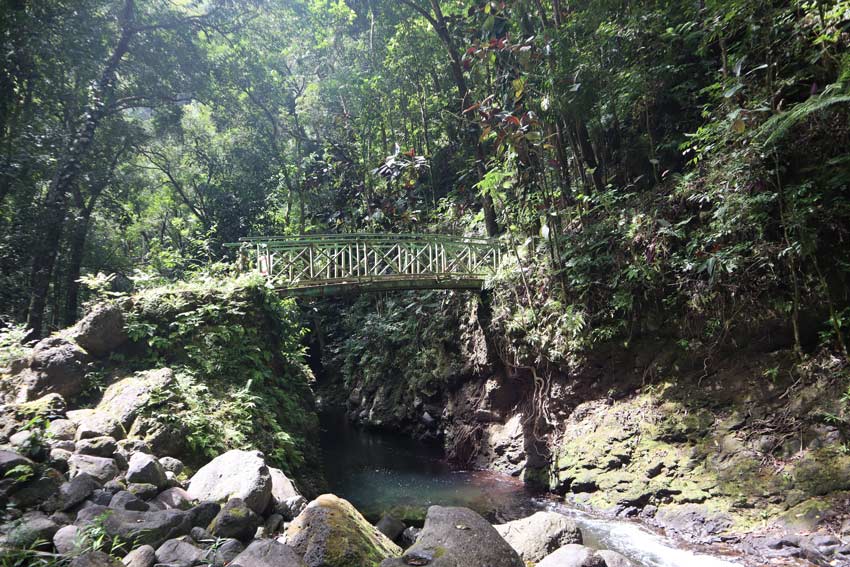 If you keep heading straight, the wide trail will enter the rainforest and become narrow as it takes you deep into the valley. You'll ford the river a few times and must pay attention to the short stacks of rock that mark the way back. I got lost on the return leg and it started to get dark, which led to a bit of panic, so be sure to mark exactly where you crossed because this part of the trail is not well-marked.
After a pleasant walk in a pristine rainforest, you'll reach the Fautaua Waterfall. Go for a dip, take a break and enjoy the sounds of the cascading water and the birds.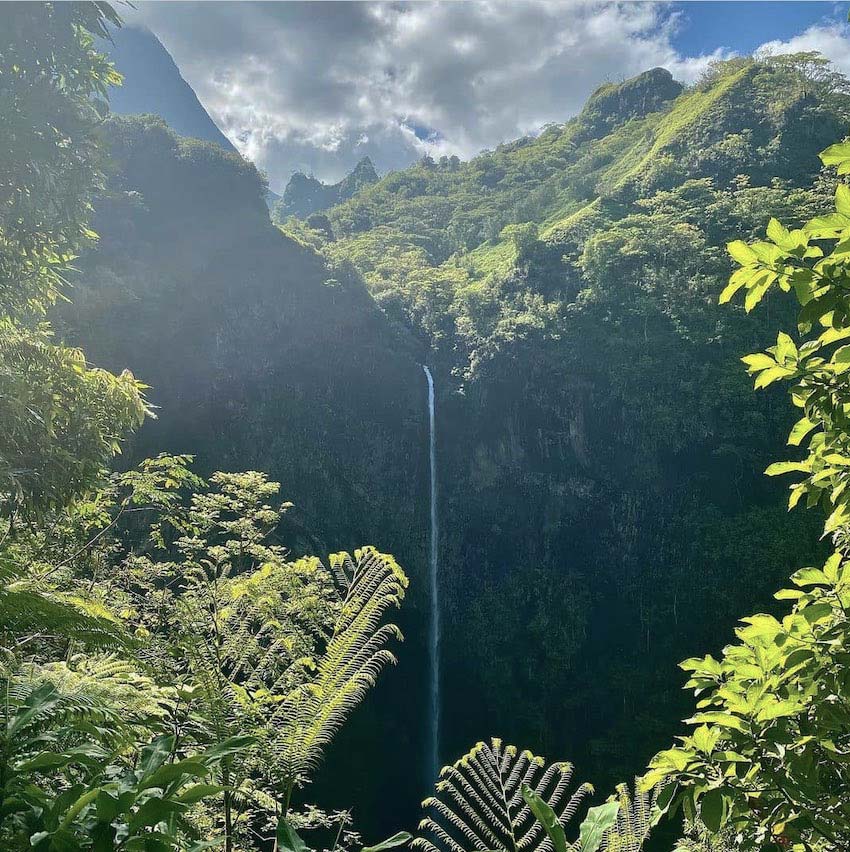 Bain de Vaima & Vaipahi Spring Gardens
There are three short walks to choose from, with either river or lagoon views. See 'Tahiti south coast' section.
Mount Marau Hike
This moderately easy hike basically takes you to the ridge parallel to Mount Aorai so there are great views to be enjoyed. The mountain is famous for the weather instruments installed at its summit. More info here.
Fara'ura Valley Hike
This challenging hike requires fording a river a few times but the waterfall at the end and lack of any other humans around are well worth the effort. More info here.
Tahiti Iti Hike
A trail starting in Teahupoo will lead you along cliffs, past caves, and into lava tubes. This hike needs to be done with a guide.
Additional Hiking Options In Tahiti
Tahiti is a hiker's paradise, with many trails to choose from in all levels of fitness. Check out this useful website for additional hiking opportunities in Tahiti. Some of these hikes must be done with a local guide for your safety.
Recommended Excursions In Tahiti
You can technically join a guided tour of Tahiti but also just rent a car and sightsee on your own. Listed in this section are excursions that must be done with a guide.
Papenoo Valley
Heading into the uninhabited interior of Tahiti Nui in the Papenoo Valley is a day I guarantee you'll never forget. If you've ever seen pictures of Tahiti with massive green mountains and fresh waterfalls as tall as a skyscraper – they were probably taken here. The 32-kilometer track is only accessible with a 4X4 or on an excursion and you can extend your visit to a full-day tour that includes exiting on the west coast of Tahiti via the dreamy Lake Vahiria.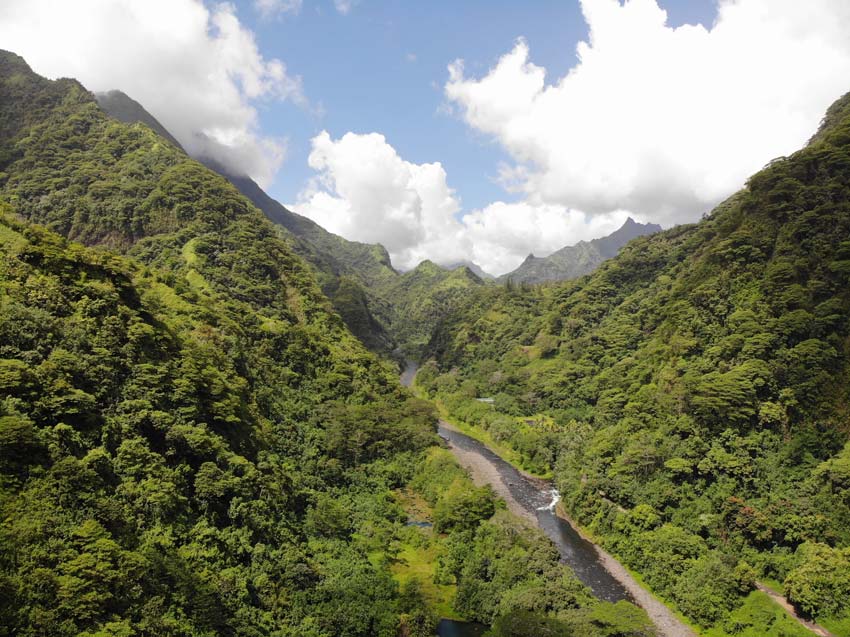 My guide on this magical day was Teuai Olivier Lenoir, who now runs 'Ia ora na Tahiti Expeditions'. He's the closest thing I've found to a real Tahitian: in touch with nature, super knowledgeable about Tahitian culture, and never wearing any shoes (plus he speaks excellent English). He is a two-time Mr. Tahiti champion, winning the coveted Heiva festival for his weight class (this is hardly a beauty pageant).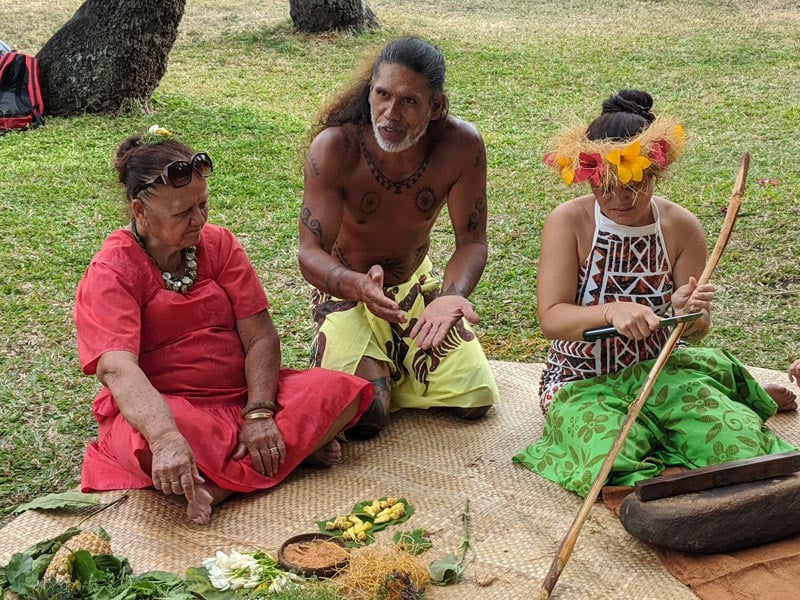 If you book your tour with Teuai, be sure to let him you came through Avi from XDAYSINY.COM (that's me) and he'll take extra good care of you.
The valley is defined by the Papenoo River, the largest in Tahiti that drains a large percentage of Tahiti's rainfall into the Pacific Ocean. The 4X4 road snakes its way along the river, crossing it a few times before rising back into the lush hills. In the past, the valley was home to warriors and Tahitians who refused to convert to Christianity. It was even used as a place of refuge during the Franco-Tahitian war (1844-1846). Past dwellers left their marks in the form of ancient temples and fruit trees, all of which are to be seen on this magical day in Tahiti's rugged interior.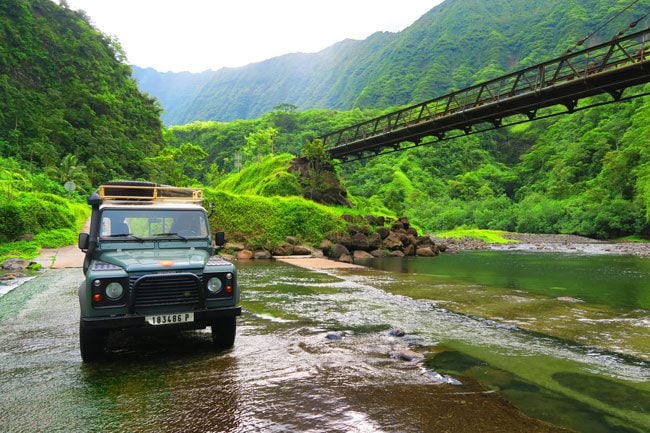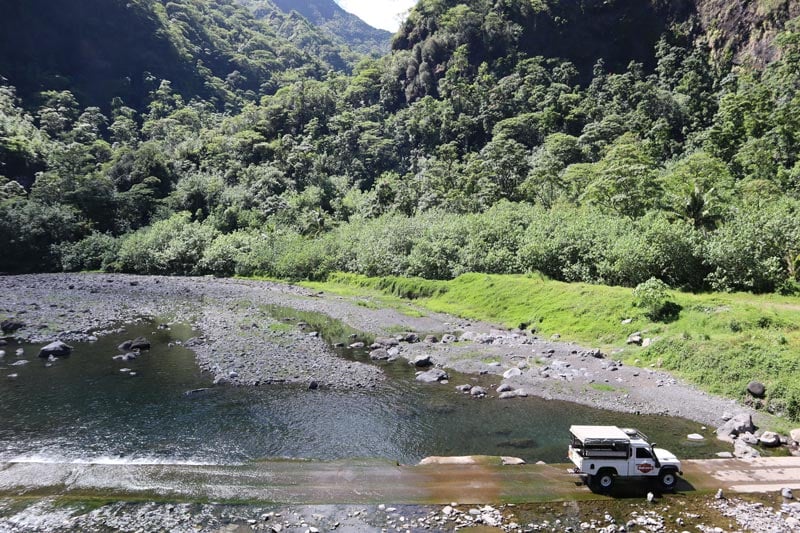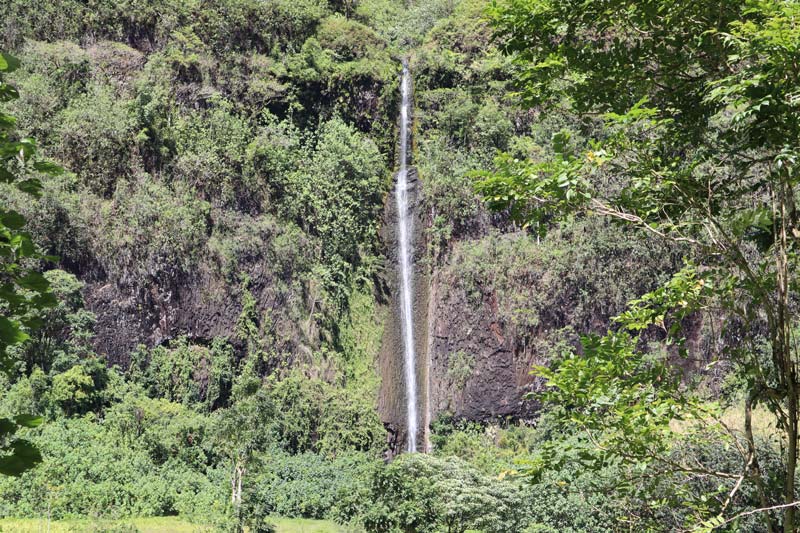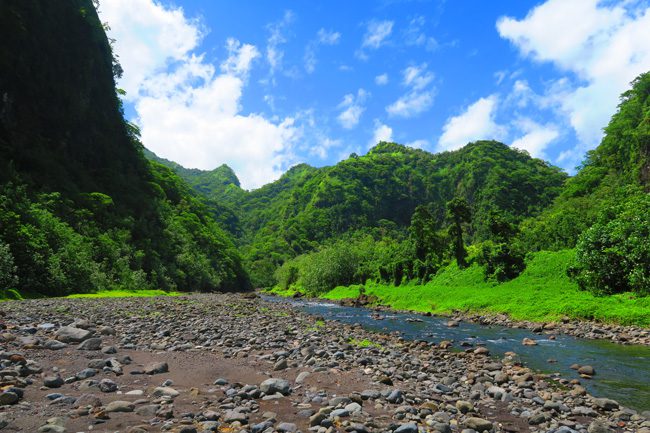 Our first stop was the Topatari Waterfall. It required a bit of walking and crossing a river to get to its base – but it's well worth the effort.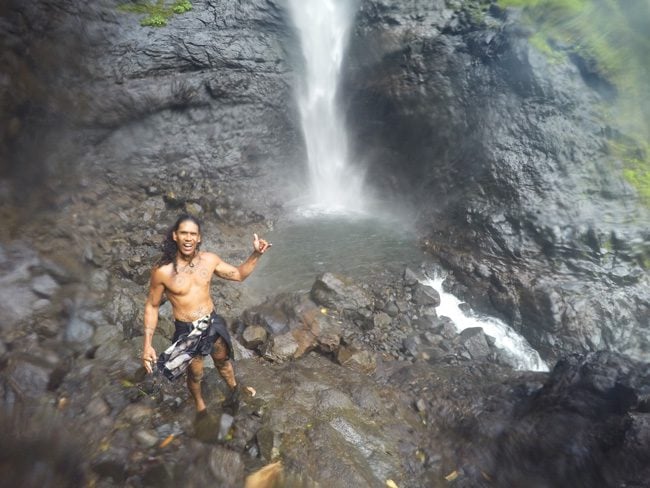 The Papenoo River is a prime source of hydroelectric power, supplying 45% of Tahiti's power. At one point, you'll be driving over the dam. Look on your left to catch a glimpse of Puraha Waterfall. If you're in luck, you should also be able to spot rare ducks that live in the valley (non-native).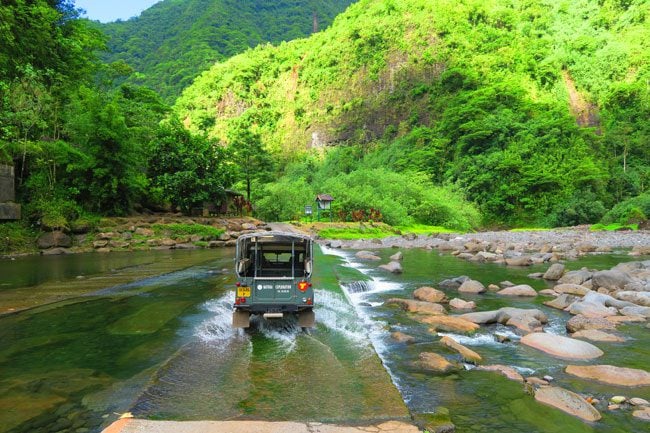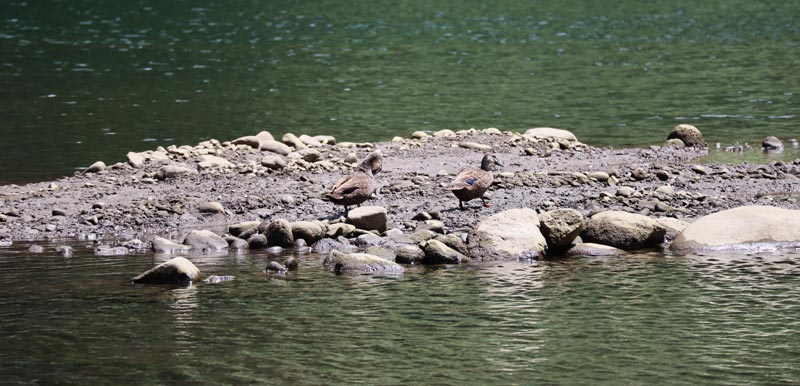 The road then climbs to a breathtaking panoramic vista. This is Tahiti as you imagined it to be! Look around you – there's a good chance of spotting a distant waterfall splashing thousands of feet from some giant mountain!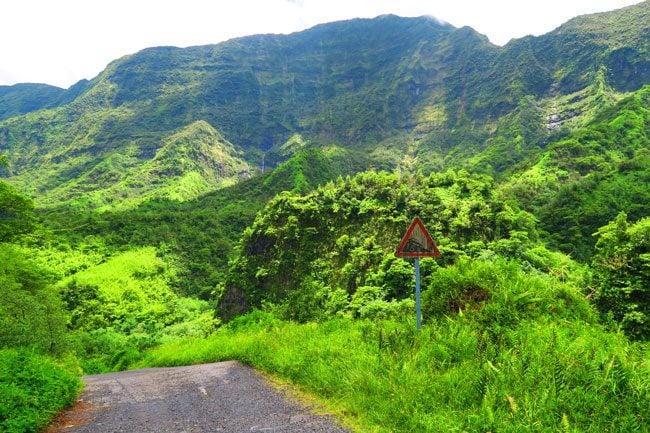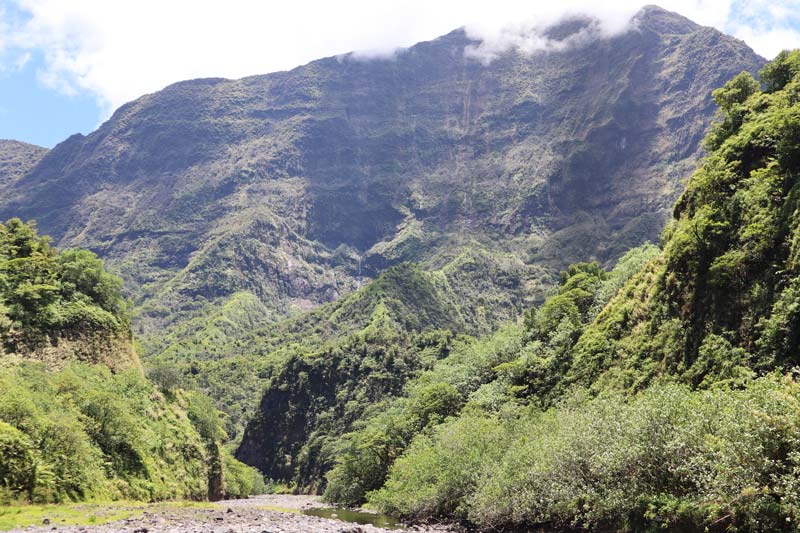 After lunch in the middle of nowhere, we hiked down to the prettiest waterfall in Tahiti – Te Pape o Teura Vahine, also known as Maroto Waterfall. Look at the color of the swimming pool, and may I just add that we were the only ones here!
From here we climbed up to the Relais de la Maroto. Surprisingly enough, there's a hotel with a restaurant all the way out here. Needless to say, the views are worth a million dollars. The hotel was originally built to house the workers who constructed the dam but these days, rooms are looking quite inviting for curious tourists.
After a quick cup of coffee, we descended to check out one of the many maraes (ancient Polynesian temples) that are found in the Papenoo Valley. The most impressive is the marae Farehape. Teuai explained the history of the marae and how each section was used back in the day. Interestingly enough, the valley served as the last refuge for Tahitians opposing Christianity and French rule back in the 19th century. Aside from the temple, there are lots of tropical fruits and medicinal trees growing out here. It's very interesting to learn what you can and can't eat, and which plant can cure which illness.
Other ancient temples can also be visited in the Papenoo Valley and it is quite evident that Tahitians still frequent these sites. Local belief is that "mana" (a Polynesian word for supernatural powers) can still be felt in the marae while lost spirits that did not make it to the underworld are believed to visit the sites at night.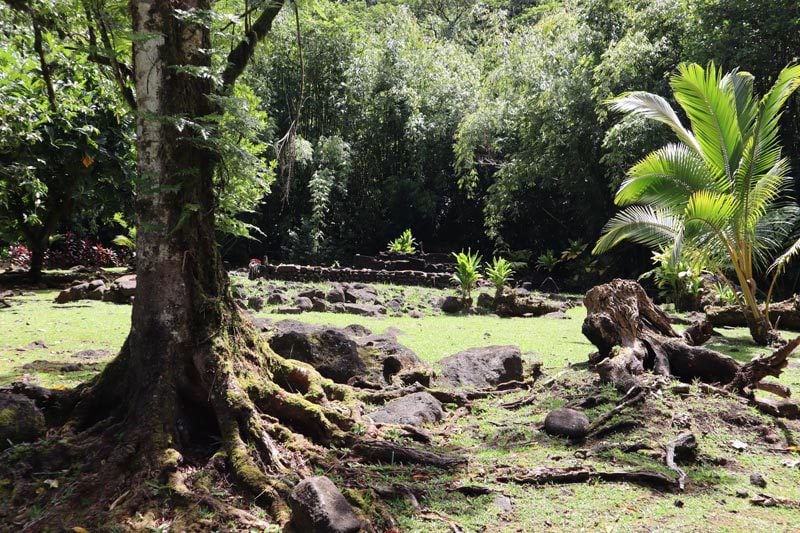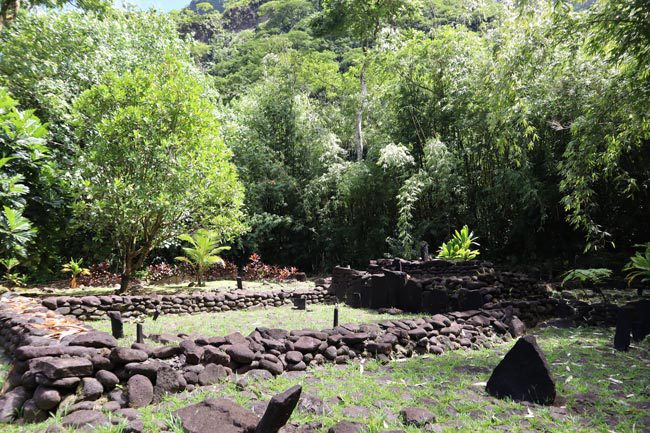 From the Relais de Maroto, full-day tours should continue the climb to the top of the caldera of the ancient volcano. From up here, the views are sensational and on a clear day, you should be able to spot to Ocean and even the highest peak in Tahiti – Mount Orohena (2,241m).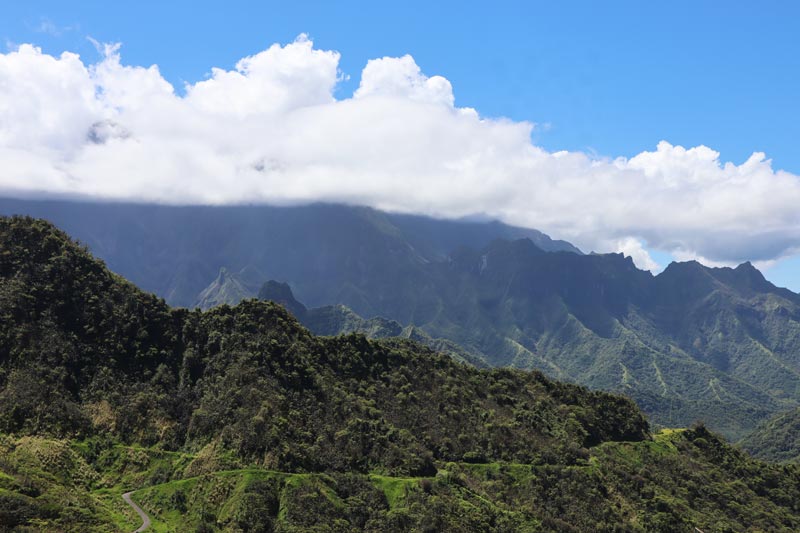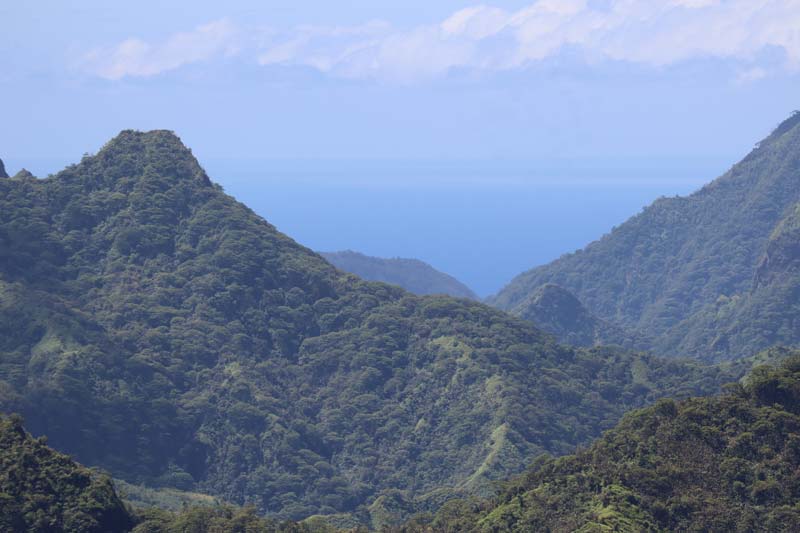 It's now time to exit to the west coast of the island and you'll start the return leg by going through a tunnel that runs right beneath the highest section of the area. Afterward, you'll begin the plunge to Lake Vahiria (473m) and continue through a section of an extremely lush rainforest before reaching the highway on the west coast.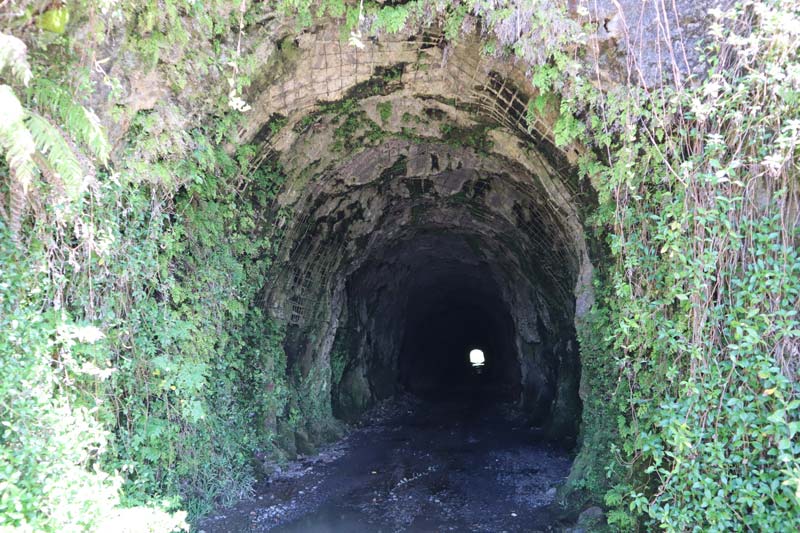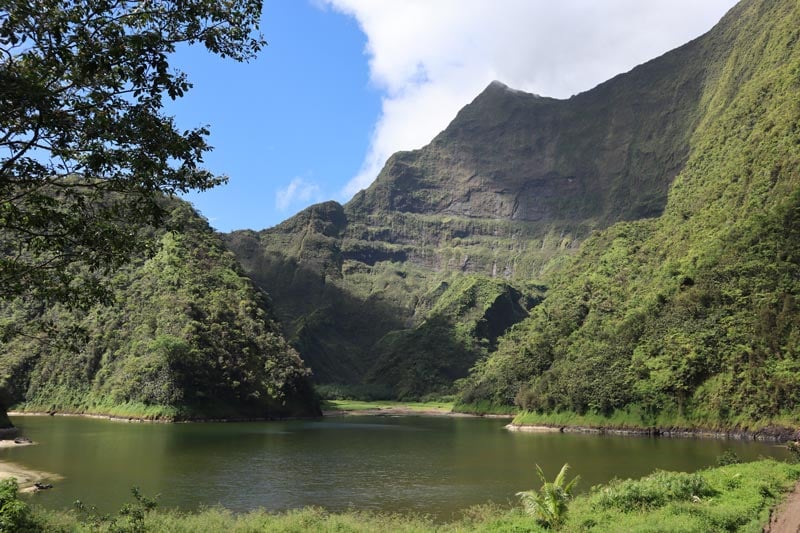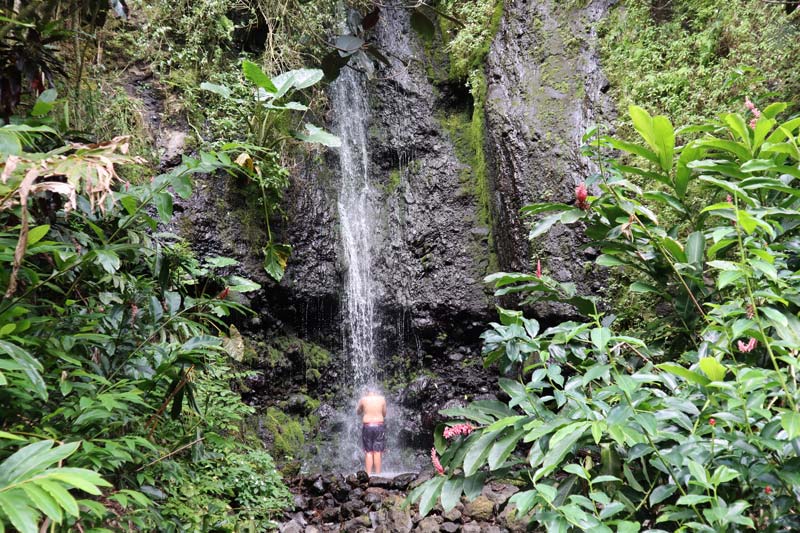 Here's what the entire day looked like in this time-lapse video
Logistics: depart Papeete at 9:30 am and return at 4:30 pm, half-day tours are available, bring at least 2L of water, sandals, comfortable shoes, swimsuit, towel, and change of clothes. Note that there's a minimum number of people required for a tour to take place and that excursions may be canceled after heavy rain. I highly recommend the full-day option but be sure it also includes a visit to Lake Vaihiria.
Tetiaroa Atoll
Tetiaroa is known as the island that Marlon Brando bought. These days, it's also famous for the luxury 'eco' resort that has been built here (anyone got $3,000 per night?). The island is only about 60 kilometers north of Tahiti, but it takes a good few hours to get there on an excursion from Papeete. A good way to visit the island is on a day trip from Papeete. You'll meet the crew and guests at 5:45 am and return before 6 pm. Once you near Tetiaroa, you'll be transported by small groups to the island on a tiny speedboat, where you'll have time to snorkel, wander around and admire the bird colonies that make Tetiaroa so famous.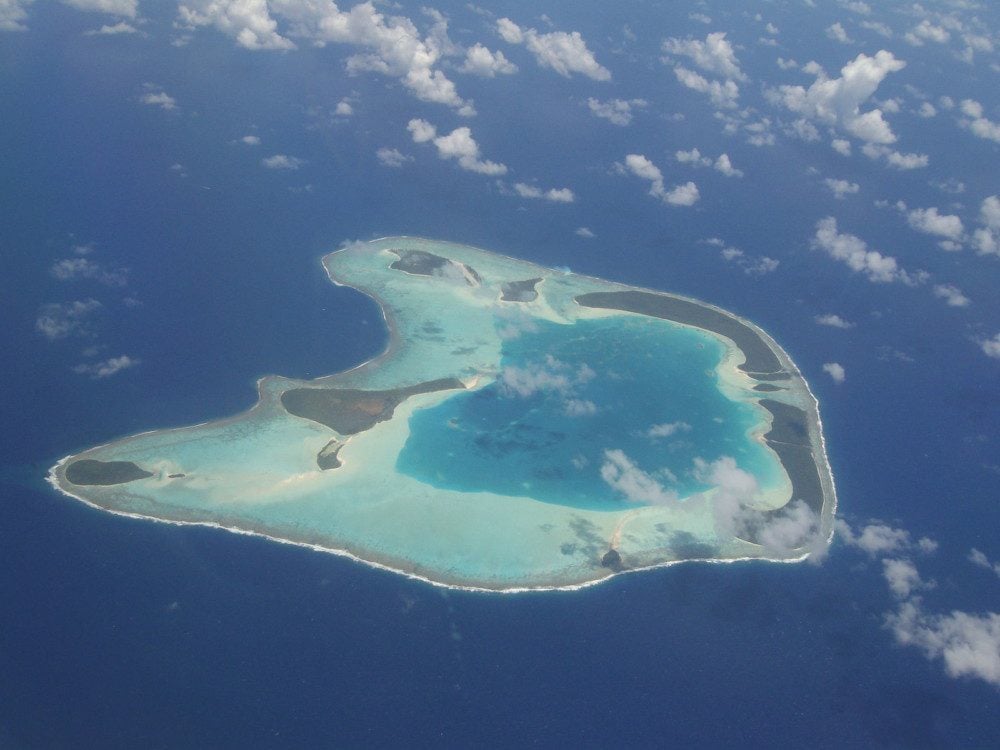 Logistics: inquire with either Poe Charter or L'escapade and book in advance (about 15,000 XPF per person). Food is included in the price and they'll have you back in Tahiti for dinner. Keep in mind that sailing can be rough and prone to last-minute cancellations due to rough sea or wind conditions. If you really have your heart set on visiting Tetiaroa, plan an extra day in Tahiti when outings are offered.
Lava Tubes
If you're looking for an adrenaline rush, book a guided trip deep into the rainforest and visit several lava tubes flowing with water. Since this is a challenging excursion, children under a certain age cannot take part.
Moorea Day Trip From Tahiti
The magical island of Moorea is just a 30-minute ferry ride from Tahiti. It totally deserves a few days on its own, but if you haven't got the time – it is possible to join an excursion for the day and visit its lagoon.
Scenic Flights In Tahiti
Take to the sky and get an unbeatable view of Tahiti's interior. For scenic flights in Tahiti, check out Tahiti Nui Helicopters. This new service offers several routes in Tahiti, Moorea, and Bora Bora. Trips require an early start, a minimum number of passengers, and are prone to cancellations due to weather conditions which can be very tricky in such mountainous terrain.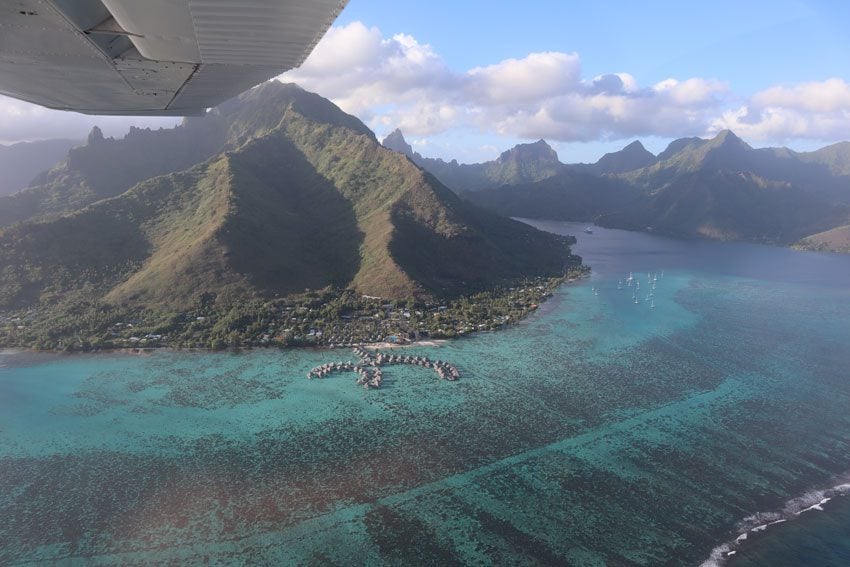 What's Next?
I hope you've found this Tahiti Travel Guide useful. For more information about Tahiti and French Polynesia, check out these recommended guides.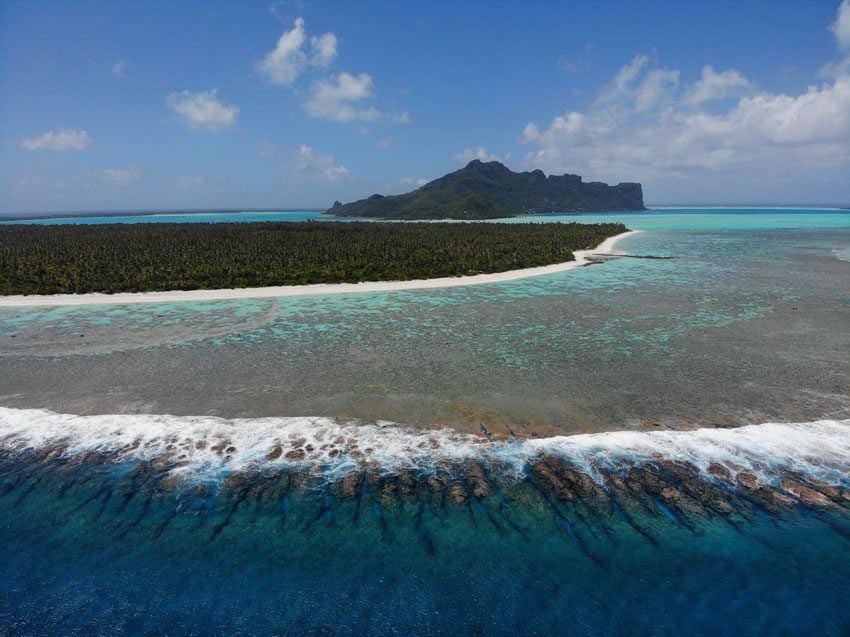 Tahiti, Tailor Made!
The Islands of Tahiti are among the last places to be colonized by mankind, 118 islands, each with their unique personality.
Get expert advice and assistance with planning your trip to the destination where tropical dreams come true!
See Options
---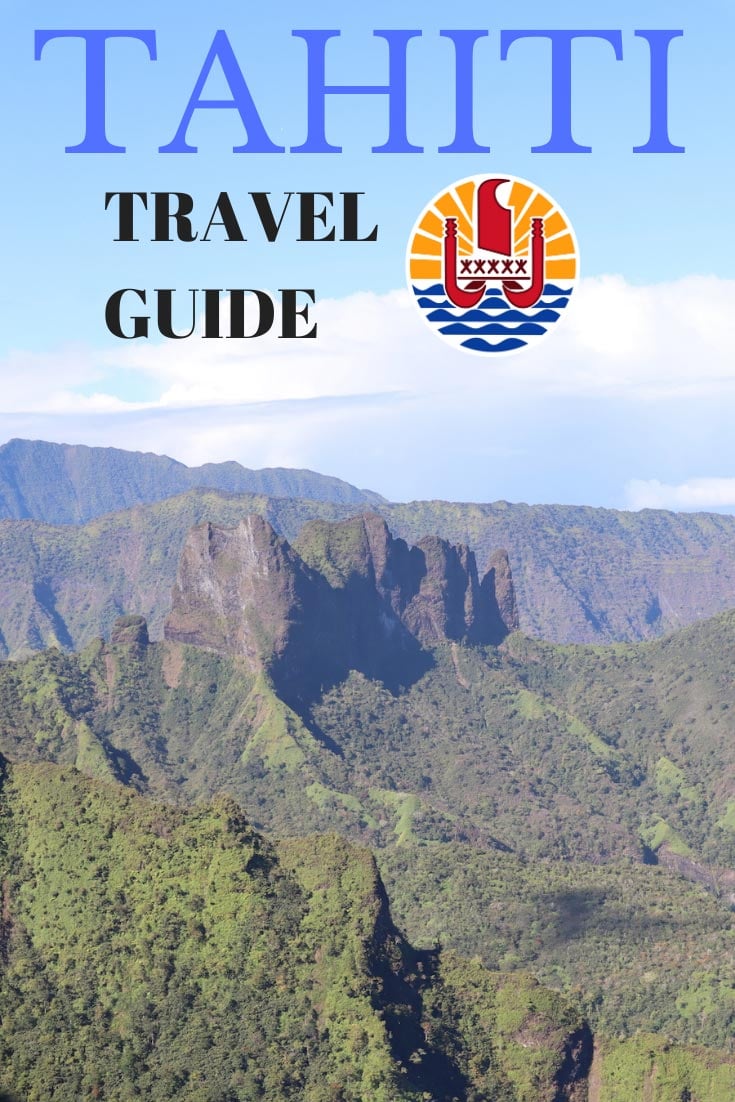 Pin These Images To Your Favorite Boards!