A Journey To The End Of The World Concludes. Was It Worth It?
Back in September of last year, I set out to fulfill a decade long dream of visiting the remote islands of the South Pacific. It's now been over a month since I returned to 'civilization', a fitting time for reflection and putting in perspective this once in a lifetime experience. So what did I learn during six months on the road? Does paradise really exist? And what life secret do Pacific islanders possess? Since I personally hate cheese (childhood trauma… don't ask), I promise this concluding post will not be (that) cheesey!
When I embarked on this 'journey to the end of the world', it felt in many ways like a crazy thing to do. I had a very comfortable job in a tech company that's known for the free food and whacky office space (hint: you use its products several times each day). But there's a limit to how much free food you can eat and how many times you can play foosball. I got tired of living life in fiscal quarterly cycles, and tired of missing out on what I thought is the true meaning of life. So I just left… I left to finally do something for myself. I chose 'now' over 'maybe next year' so that I'll never have to live with this regret.
Two days after my 33rd birthday, I was on a plane heading out to start the journey of a lifetime.

By the numbers
Traveling to the far reaches of the globe for such a long time has brought with it a few interesting stats:
I visited 21 islands in 5 countries

Taking 37 flights over a total distance of 75,897 km's –

just 4,253 short of circling the earth twice!
Stayed 167 nights in: 33 hotels/lodges/pensions, 1 luxury resort and 3 airport benches

Spent only 21 days of doing absolutely nothing at the beach while going on 28 hikes and scuba diving 20 times

Of those beaches, 3 were used to film various seasons of 'Survivor'

'Eliminated' 33 cockroaches (I had no clue they could fly prior to this trip)

Got bitten over 100 times by mosquitoes and once by a wasp but the balance is definitely in my favor (guess they took revenge for the cockroaches)

Came back with 65GB of

videos

and 40GB of photos

Published

23 posts

from the road and posted

186 pictures on Instagram

Saw millions of stars in the night sky

Returned home with enough lasting memories for a lifetime!
There were so many magical places I visited and interesting people I met along the way. Picking the absolute highlights is a difficult task. Here's a small taste from every island nation. For much more, visit the X Days In Y blog and for a few moments, teleport yourself to the remote islands of the South Pacific.
Vanuatu
Mount Yasur on the island of Tanna is dubbed as 'the world's most accessible active volcano'. Experiencing the day turn into night on top of its rim is an unforgettable and 'ash-filled' experience.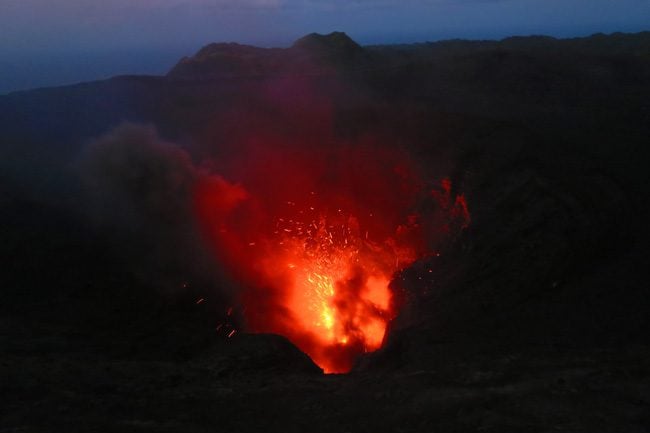 Still in Tanna, I got to visit a tribe of former cannibals now running village tours. The guys appointed me their chief for the day and paraded me around the village out in the middle of nowhere.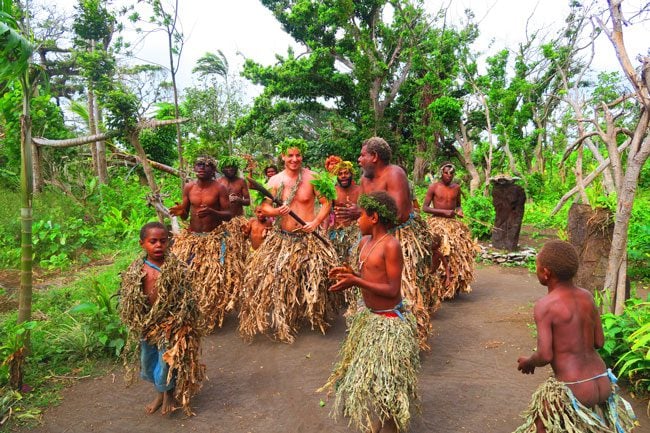 The SS President Coolidge sunk off the coast of Espiritu Santo Island after hitting a friendly mine. It was a luxury liner converted to a personnel carrier during WWII and today is one of the premier wreck dives in the world.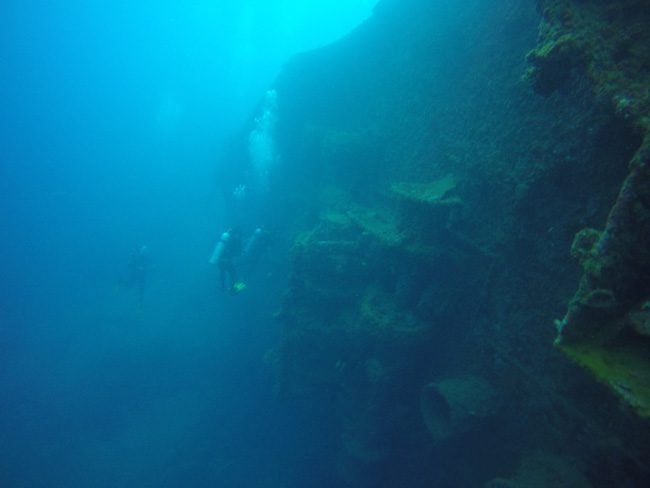 Vanuatu is blessed with thousands of 'blue holes'. The Matevulu Blue Hole was probably the coolest one. The water is so clear, giving you the strange feeling of floating in space.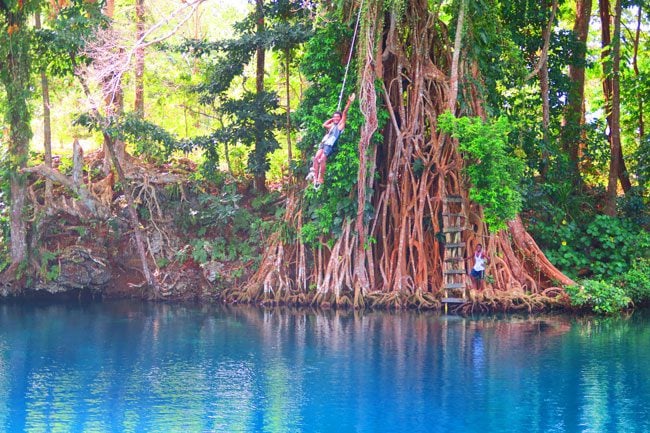 Samoa
A proud independent nation, Samoans still live by traditional codes where family always comes first. They love showcasing their Polynesian culture, whether through dance or playing with fire.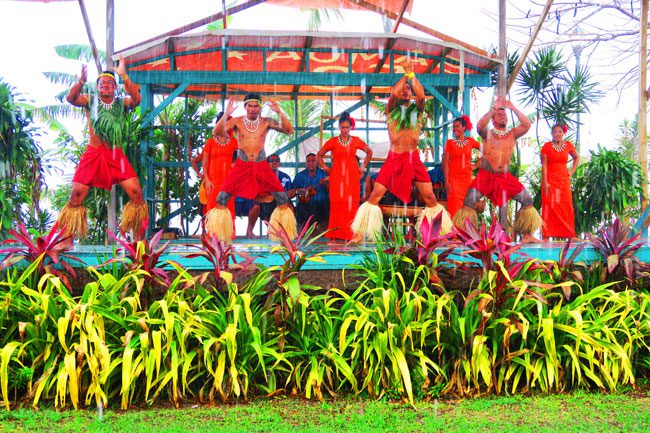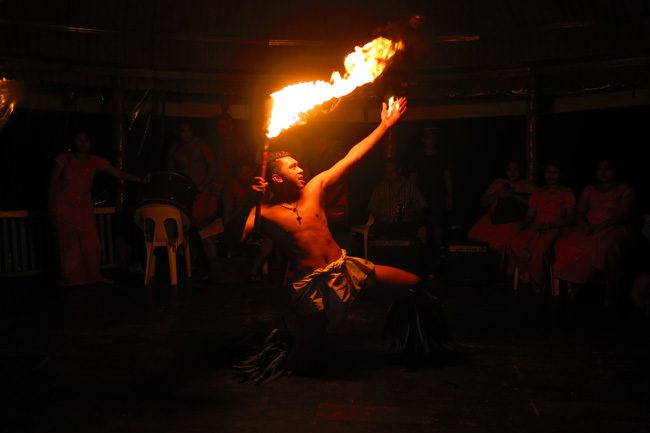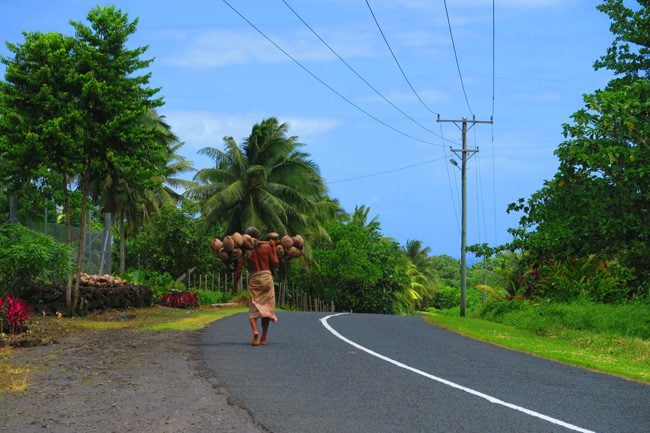 Probably the most backpacker-friendly South Pacific destination, it's so easy to find a little beach hut of your own. Sweet dreams are pretty much guaranteed and you get to know the friendly villagers after a day or two.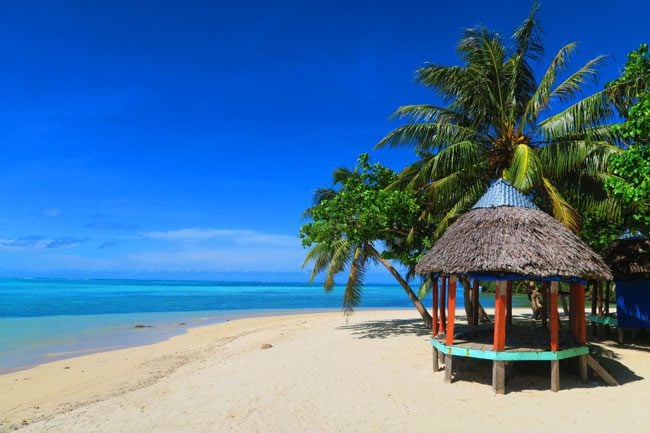 There's nothing like going out on a road trip to find the exotic waterfalls of Upolu Island. They're like those waterfalls you've always imagined paradise to have.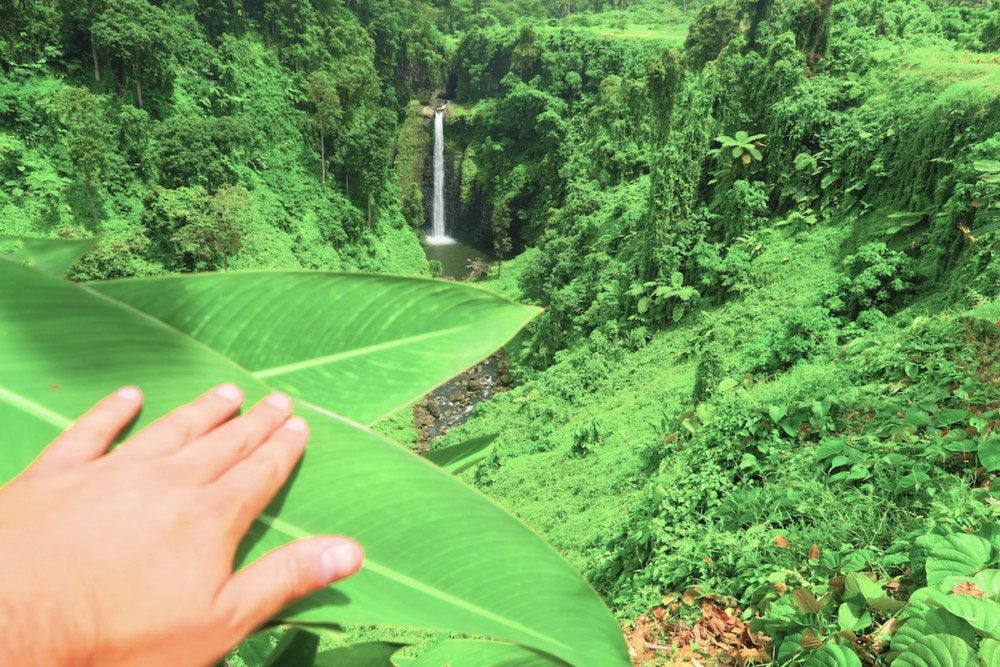 American Samoa
I didn't actually think I would make it to this remote US territory and I nearly missed the weekly flight to the even more remote magical Ofu Island. This island would surely rank in the list of top 10 in the world, that is if anyone actually knew it existed. A spectacular beach, amazing hikes and terrifying eels working together to hunt terrified crabs – what a memorable week!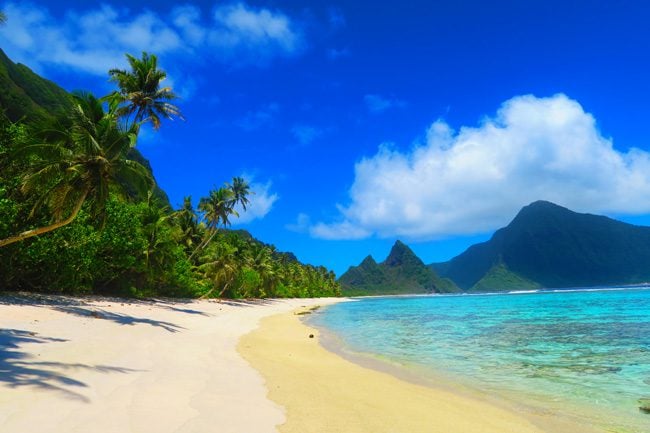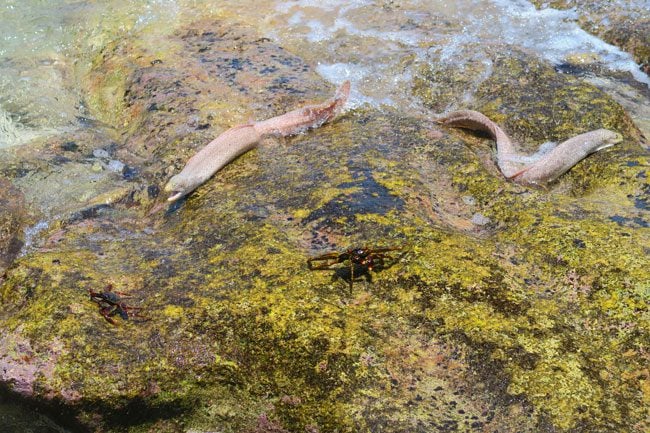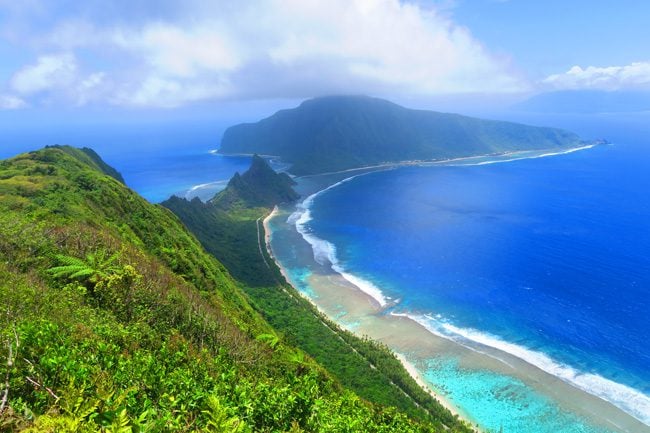 The Cook Islands
The small islands inside the Aitutaki Lagoon were like images straight out of a magazine.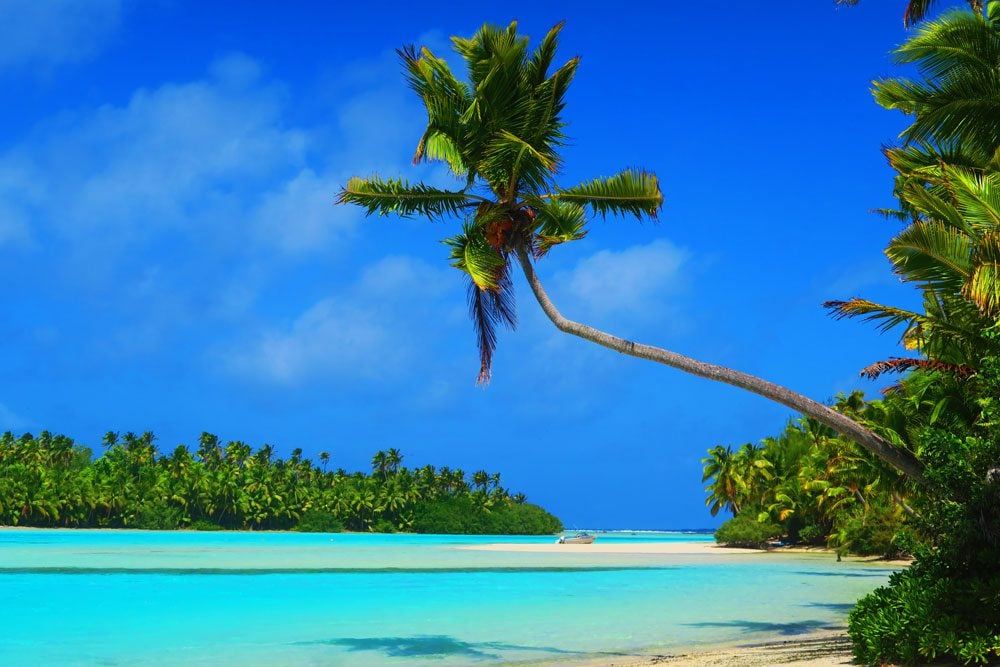 'Island Nights' in Rarotonga were the best ways to experience traditional Cook Islands culture and stuff yourself with yummy food from the buffet.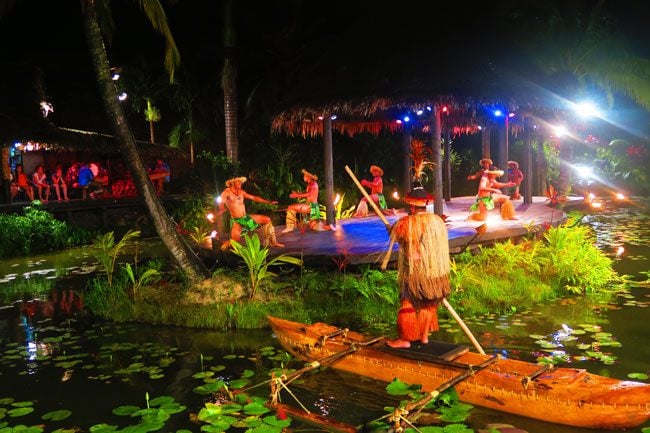 French Polynesia
Hiking Mount Aorai in the big island of Tahiti was super challenging, rewarding and proved that there's more to this destination than just tropical beaches.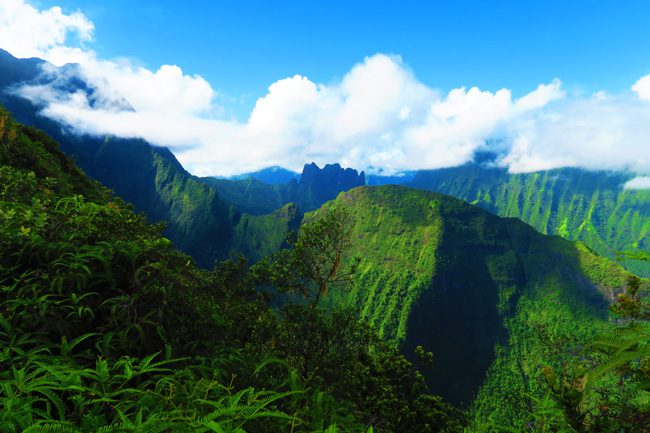 The pretty little island of Maupiti was probably the slowest week on the trip – and I mean that in the best possible way. So laid back, friendly and beautiful.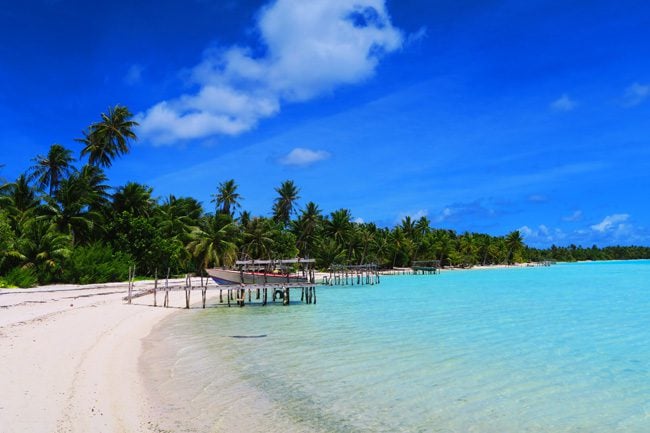 I've seen a fair share of sharks but never hundreds of them at once like on this shark feeding in the island of Huahine.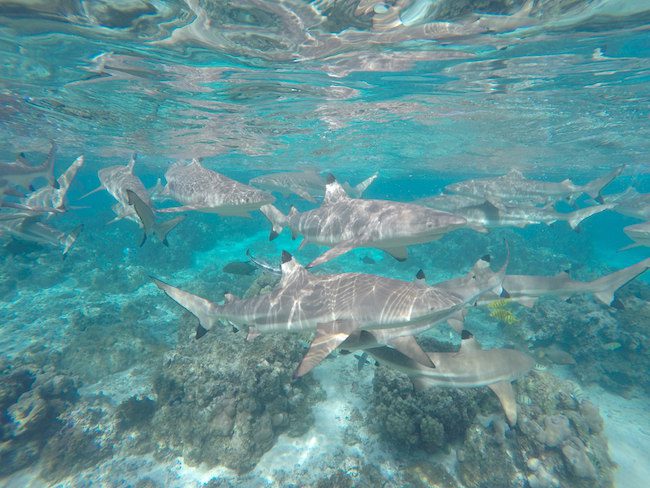 There's a first time for everything. I've never seen dolphins in the wild before, until heading to the remote Tuamotu Atolls. They're among the best places in the world for scuba diving and I was lucky to come across a family of dolphins.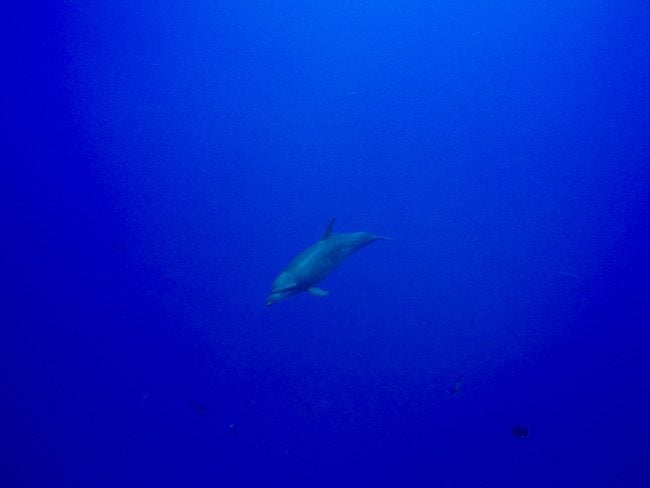 The last islands I visited were the most impressive ones. Nuku Hiva and Hiva Oa in the remote Marquesas Islands are smack in the middle of nowhere. They're so wildly beautiful, strange and there's hardly anyone around. It felt like being in Jurassic Park, only the dinosaurs were (thankfully) not around.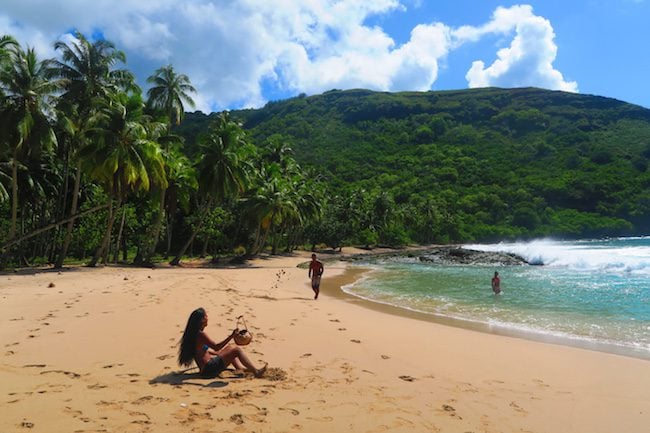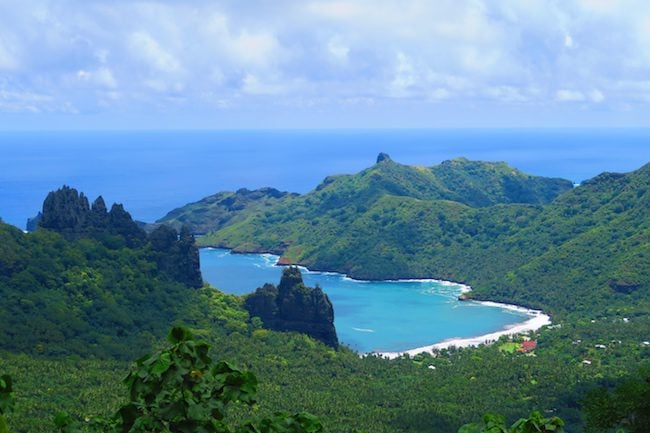 The secret to island life
Like anyone who's been on a long journey, I too have learned quite a few valuable lessons. I learned that I definitely overpacked, realizing you can actually do a lot more with a lot less. I learned to enjoy the small things during the day, like finding a nice spot for a break, having absolutely no mobile phone reception, spotting the Milky Way at night or even just having a mosquito-free nap. But the most valuable lesson I learned was from the Pacific islanders themselves. How can they be so happy? Is there more than the eye can see?
When I asked islanders in every country I visited what makes them so happy, their answer was usually the same:
"While you guys spend so much mental energy analyzing the past and worrying about the future, we enjoy the present".
The first few times I heard this it felt all too naive and clicheic. But the more time I spent on the islands, venturing beyond the confines of the regular tourist, the more I realized they weren't kidding around.
Why do we so often fail to see what's in front of our eyes? In many respects, it's much easier for islanders to enjoy the present. There's no shopping mall around, no promotion coming up, no quarterly business review and no war with the neighboring island in the foreseeable future. Perhaps our lives have become so infested with distractions, that we simply fail to see the sun that's shining right above us?
Was it all worth it?
So, was it really worth quitting my comfortable job, leaving everything behind and spending a ton of money on a mere trip? The short answer is: hell ya!
As for the long answer… It's hard to describe the immense sense of satisfaction one can feel from fulfilling his or her dream. Here I was living out this fantasy in my head for over a decade, at times thinking it would stay only a fantasy. Then, one day I find myself stepping off an airplane in some remote island nobody's ever heard about and realizing the fantasy is actually coming true! Nothing can ever beat this feeling.
A friend of mine who cycled around the world described his adventure as 'dreaming with open eyes'. I only understood what he meant once I gathered the strength and embarked on my own little adventure. Every day I discovered new things, learned about new cultures, met interesting people and went to sleep with the fulfilling sense of making the most out of the day. I was perfectly aware that I was living a dream – my dream, and I was doing it with open eyes!
All the money in the world, fancy job titles, expensive business trips or the latest version of iPhone – cannot remotely be compared to the wealth of lasting experiences and micro-moments that are now mine, forever.
And now for what I hope are the only 'cheesy' lines in this post… Ready? Here goes: each and every one of us has their fantasy. It might be conquering some mountain, opening up that business, learning that new skill, and so on. As Morgan Freeman once said in The Shawshank Redemption (see it tonight if you haven't already) "get busy living, or get busy dying". There is no time like the present, nothing should live out its days merely as a fantasy in your head!
What's next?
The strange thing is that while I was island hopping, I consciously felt I was living a dream (it's even the title of one of the posts). Now that I am back home, the entire experience seems like a dream – something that may or may not have happened, it's not entirely clear. The sharp contrast between life on the islands and the 'modern life' back home plays tricks on the mind. Thank God I bought a few souvenirs and made a few real human friends that remind me it really did happen.
I'll be honest with you. It was very difficult to get back to life in the fast lane during the first few weeks of returning home. Island life has taken its toll on me and I fully embrace it. I'm gonna miss smiling to random people I pass on the road, learning new things every day, discovering exotic new cultures and appreciating nature's awesomeness.
Have I found the place I want to retire in? For sure. But why wait for retirement! I'm currently working on travel guides for every island I've visited. I hope to help regular folks like us who want to visit this magical part of the world. It's totally within reach. I'm sure I'll be back in the islands at some point in time, in one way or another. It's just a matter of when and where.
So does paradise really exist? That was the question that followed me throughout the six months on the road. I guess the answer to that is that each of us has our own vision of paradise. I just happened to find mine.