Like hamburgers and fries or Batman and Robin, Utah's Zion National Park and Bryce Canyon perfectly combine to spice up any road trip in the American southwest. The two parks are close neighbors in terms of distance, but each park's geology and vibe are strikingly different. This Zion and Bryce Canyon itinerary will explore how to craft the perfect road trip.
I first visited Zion and Bryce Canyon on a family road trip back in the mid-90s when I was just a young boy. I recently returned to this beautiful desert region as part of a long road trip in the American Southwest. This Zion and Bryce Canyon itinerary is based on extensive research and my experience.
Why Visit Zion and Bryce Canyon Together?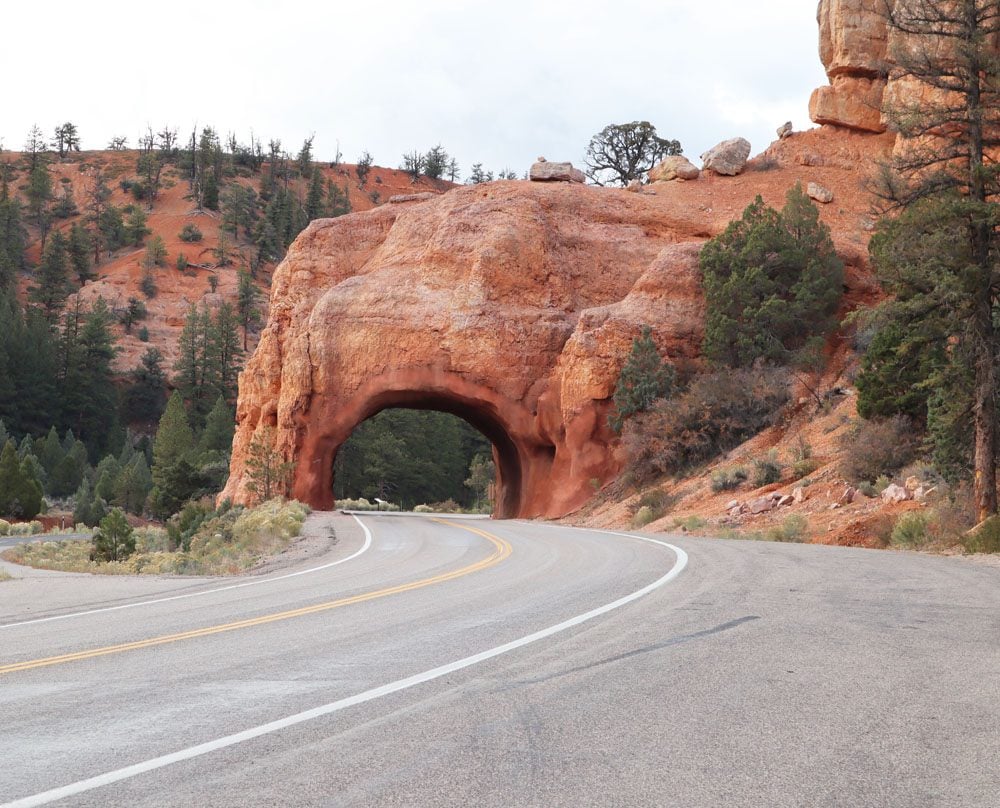 They're Close to Each Other
It takes a little over one hour to travel the 72 miles (116 km) separating Zion and Bryce Canyon. So if you've already made it here, you might as well combine the two.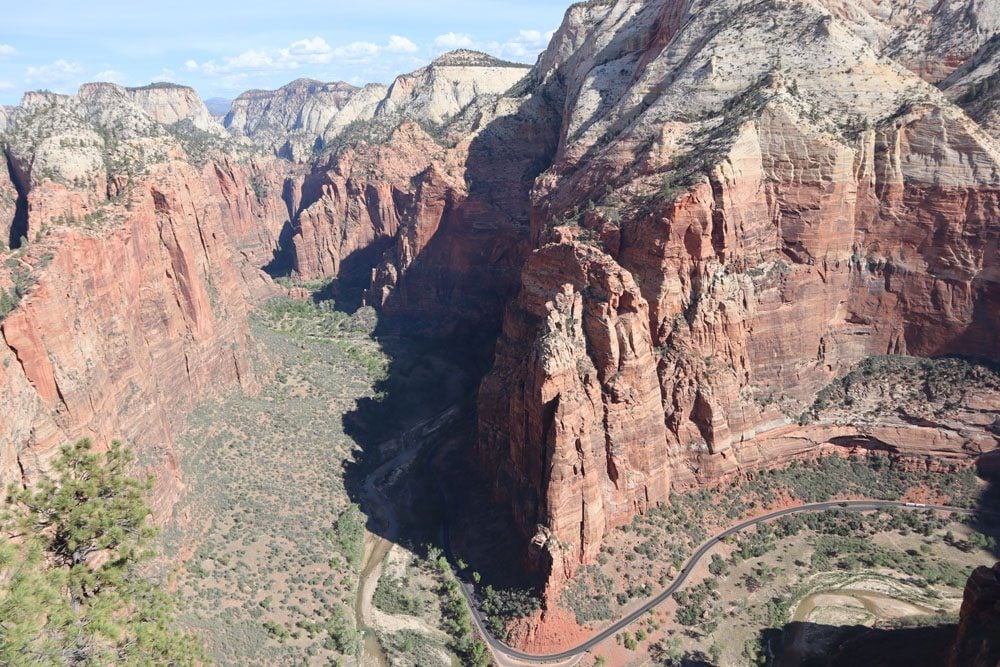 Stunning Scenery
Marvel at Zion Canyon from magnificent vistas on the canyon floor and its rims high above. In Bryce Canyon, see the world's highest concentration of bizarre-looking limestone pinnacles known as hoodoos.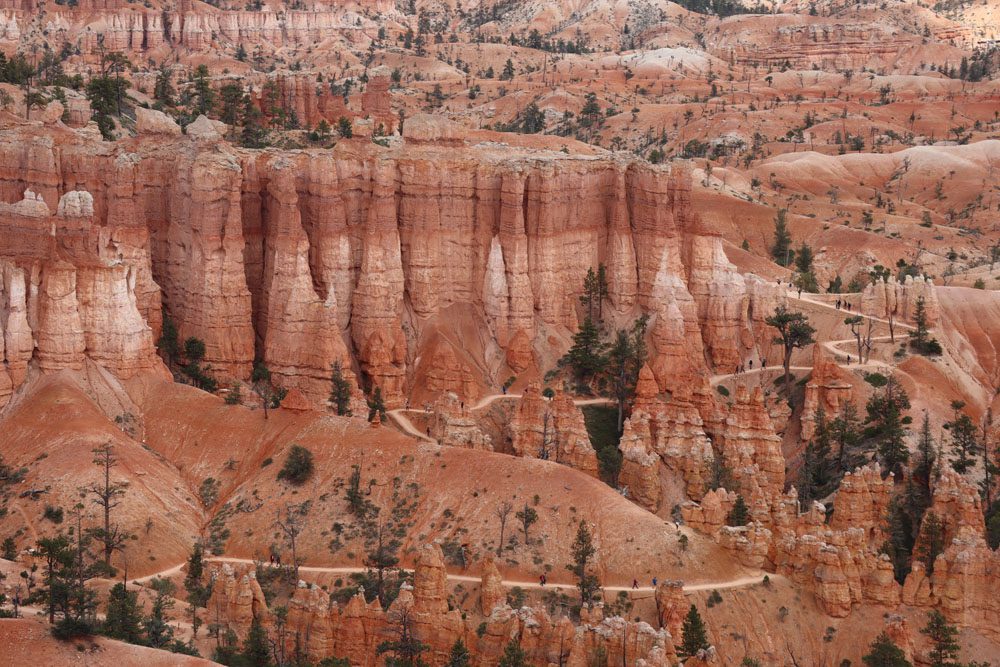 Easy Access
Despite growing visitor numbers, both parks are pretty compact and easy to explore by car or by using free shuttles. Moreover, Bryce and Zion are relatively close to many other southwest gems.
What's Included in This Itinerary?
Several sections make up this itinerary from Zion to Bryce Canyon:
Part 1: Essential planning tips
Additional Southern Utah Resources
Check out additional travel guides to Southern Utah. Take a deeper look into visiting Zion and Bryce Canyon, and combine your visit to the two with other members of Utah's "Mighty Five".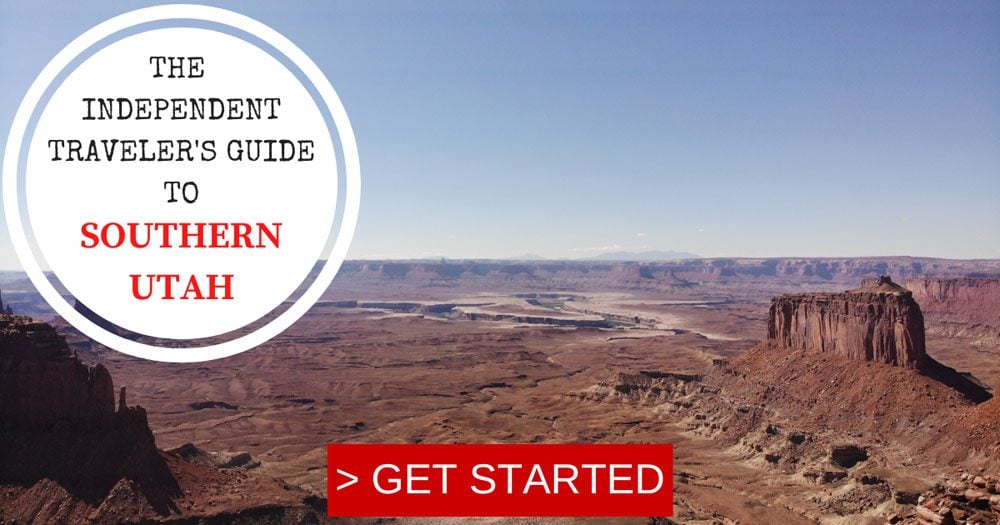 Zion and Bryce Canyon Itinerary Map
Find all of the places mentioned in this itinerary on this companion map. Simply click on the image to open it in Google Maps.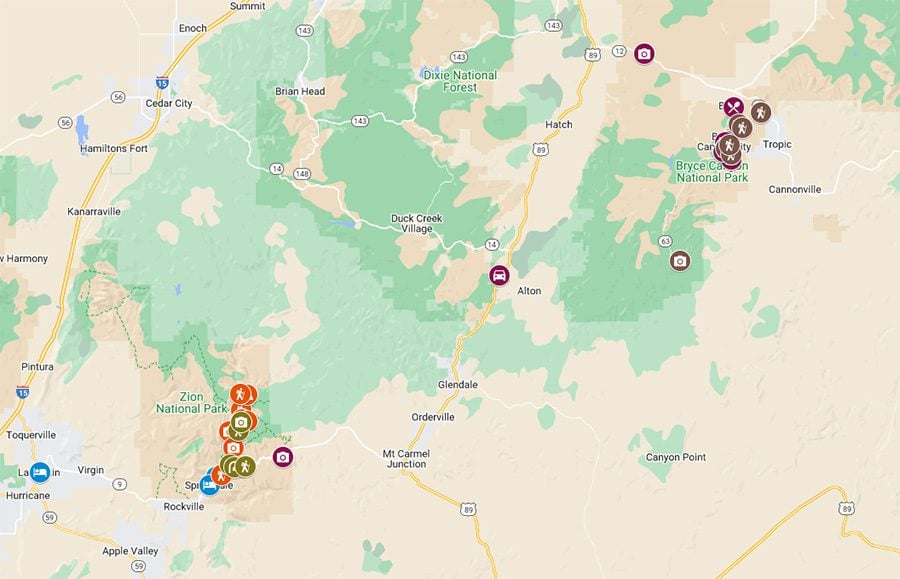 Essential Planning Tips
This section highlights important things to consider when planning a road trip between Zion and Bryce Canyon.
When to Visit Zion and Bryce Canyon?
The best time to visit both Zion National Park and Bryce Canyon National Park is in late spring and early fall. During these times, both parks experience pleasant weather with slightly fewer crowds. However, it is possible to visit both parks throughout the year, but winter and summer each have caveats worth considering.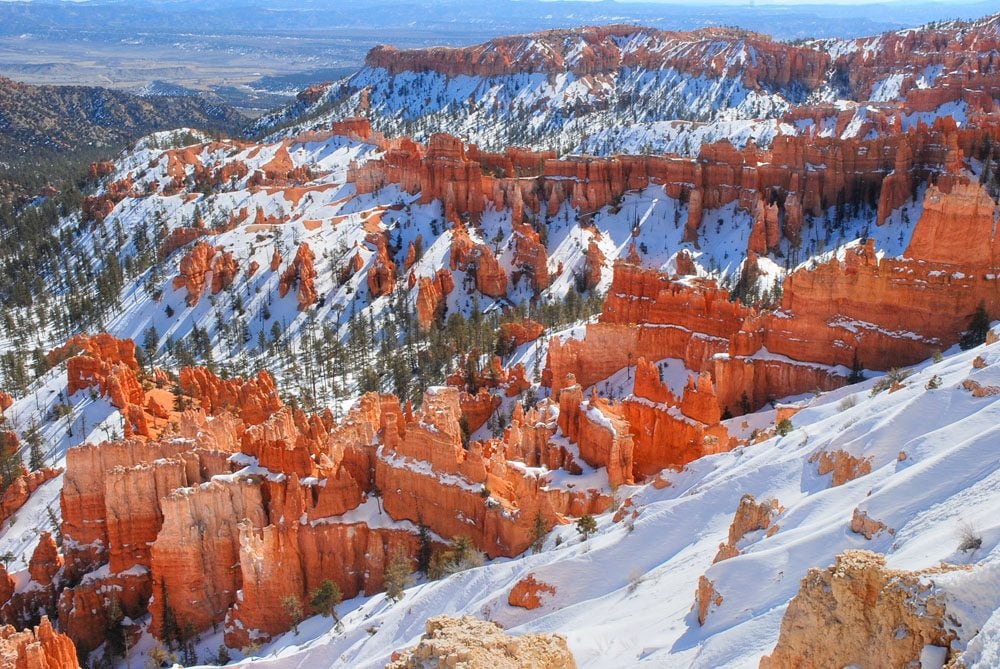 How Much Time is Needed for Zion and Bryce Canyon?
Ideally, plan to spend four days in both Zion and Bryce Canyon. In Zion, spend two days exploring the canyon floor and hiking to scenic spots on the rims. Then, drive to Bryce Canyon and do some afternoon sightseeing. On the fourth day, hike on the canyon floor and explore the rest of the park. Finally, if you have a "spare fifth day", devote it to Zion's Kolob region.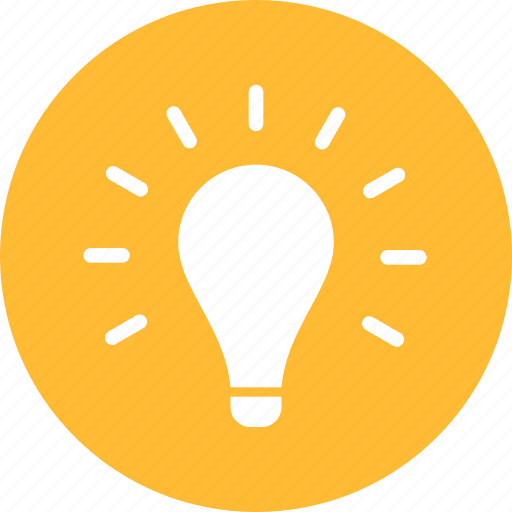 Pro Tip
Don't forget to factor driving times to Zion and from Bryce Canyon to your next stop or departure city.
The Drive & Roadtrip Options
Most visitors drive to Bryce Canyon from Zion. The drive takes a little over one hour (72 miles), and there isn't much to see on the way, though the rural high plateau scenery is pleasant.
The Zion Canyon section of the national park is reached via State Route 9 near the town of Springdale. If driving from the Grand Canyon, you can also get to the park from the opposite direction via Kanab and the Zion-Mount Carmel Highway. Zion is about three hours northeast of Las Vegas and nearly five hours from Salt Lake City. If you're driving to Bryce Canyon from the east, it's a very pretty drive from Arches National Park and Moab via Grand Staircase-Escalante National Monument and Capitol Reef NP.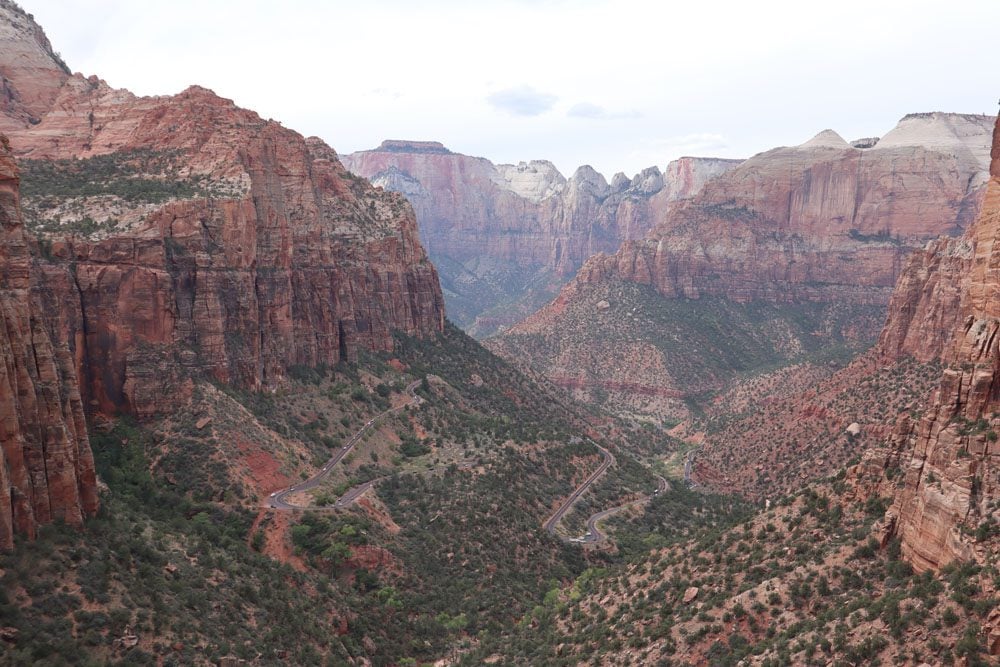 If you're looking for a good 10-12 day road trip itinerary, fly into Las Vegas and spend one or two nights in Sin City. Then, rent a car and drive to the Grand Canyon. Include some driving on Route 66 and a brief visit or overnight stay in Flagstaff on this leg. After the Grand Canyon, Head north on scenic Highway 89 towards Page. En route, drive through, or explore Vermilion Cliffs National Monument. When in Page, visit Horseshoe Bend and Antelope Canyon. From Page, head to Zion National Park via the Zion-Mount Carmel Tunnel.
Where to Stay?
In Zion: Most visitors stay in Springdale when visiting Zion or in the nearby towns of La Verkin and Hurricane. Explore options at the Zion Lodge if you want to sleep inside the park. Camping in Zion Canyon is at the Watchman Campground and South Campground. I stayed at the Best Western Plus in La Verkin, which was very comfortable and convenient.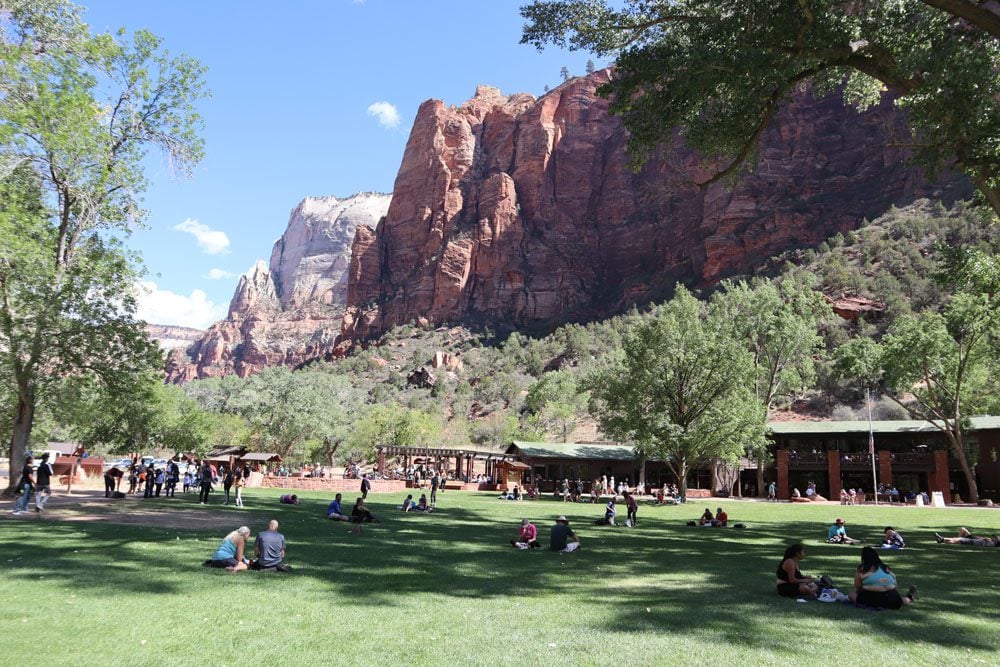 In Bryce Canyon: You'll find many affordable and upscale options in Bryce Canyon City. If there's nothing suitable there, you might find something nearby in Tropic. The historic Lodge at Bryce Canyon is the only option if you want to stay inside the national park. Camping is available at the North Campground (closer to the rim) and the Sunset Campground. I stayed at the Ruby's Inn, a vast and well-run lodge with all the amenities.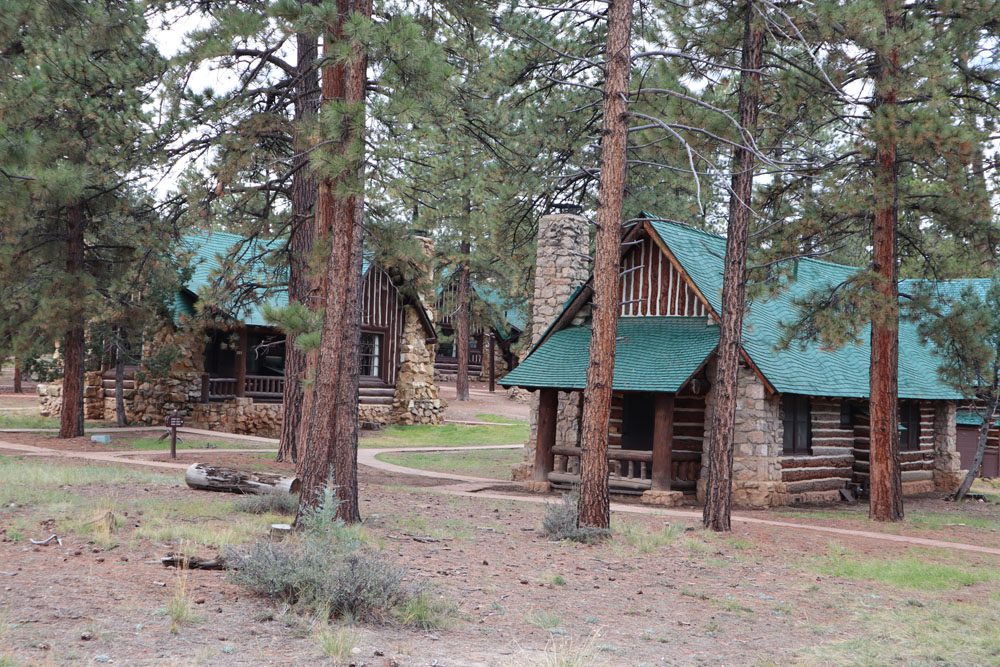 Getting Around
Most of the year, access to Zion Canyon is restricted due to increased visitor numbers. Visitors must use the park's free and efficient shuttle system, consisting of a Springdale line running from the outskirts of town to the visitor center and a Zion Canyon line from the visitor center to the end of the scenic drive. Exceptions are made for guests of the Zion Lodge (just to reach the parking area) and for access to and from the Zion-Mount Carmel Highway.
When writing this guide, access to Bryce Canyon is not restricted. Drivers are free to access scenic Bryce Canyon Road. However, parking is very limited in most of the popular viewpoints along the Bryce Amphitheater, the park's main attraction. Therefore, it might make sense to use the free shuttle bus when exploring this park section. Then, reunite with your car to explore the more remote southern area. Be sure to stay updated on the park's official website, as regulations can change in the face of increased visitor numbers.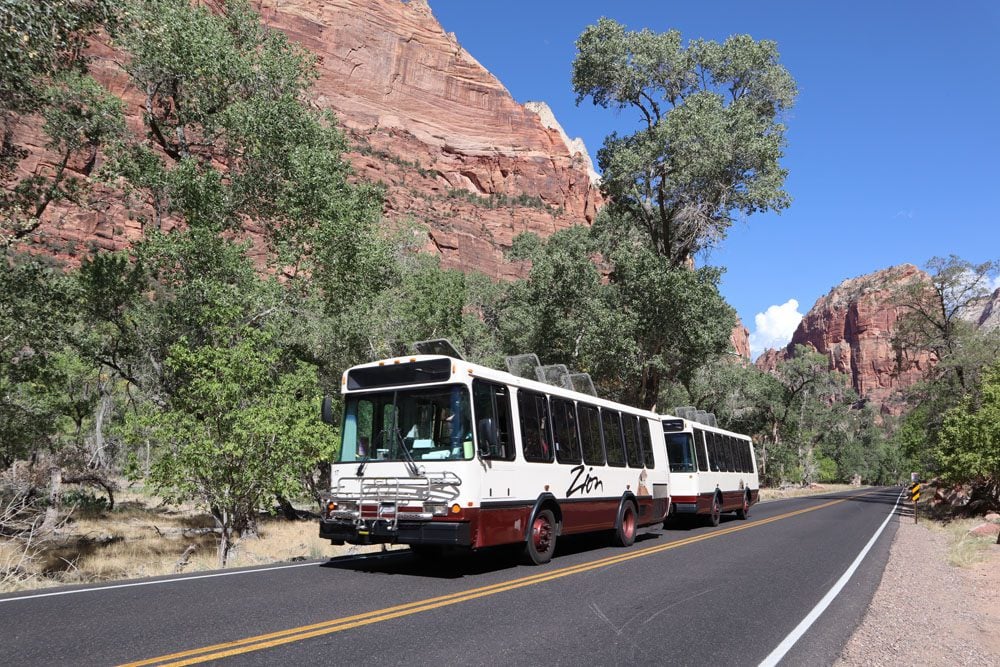 Hiking in Zion and Bryce Canyon
Both national parks offer a good mix between easy-to-reach scenic viewpoints and hiking trails. However, Zion has an advantage over Bryce when it comes to variety and "wow factor". The best hikes in Zion are mainly to breathtaking lookouts on the canyon's rims, while in Bryce, I recommend exploring the Bryce Amphitheater floor on foot.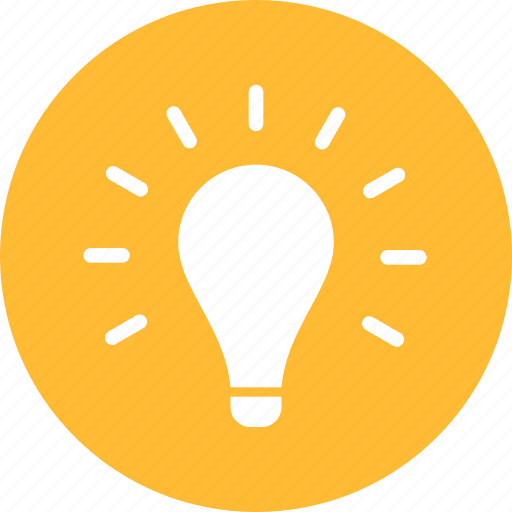 Pro Tip
Specific hikes in both Zion and Bryce Canyon are highlighted in the next sections.
Zion and Bryce Canyon Hiking Tips
Do some research before your visit and "sanity check" your plan with park rangers upon arrival.
Stay alert to trail conditions on the parks' websites. Some trails close due to seasonal or hazardous conditions.
Check if a permit is required for your desired hikes and plan accordingly. For example, a permit system for Angel's Landing was started recently.
Download trail maps to your smartphone so you'll be able to navigate even if offline. I used AllTrails Pro.
Dress in layers, especially on hikes in high elevations. The temperature can greatly fluctuate between the canyon floor and the rims.
Mornings are the best time to hike in both parks to avoid the crowds. You will not have the trail to yourself (unless hiking in the backcountry), but conditions will be more optimal.
Stay on the trail! Not all sections have guard rails, so it's really up to you to stay safe.
Pack more water and snacks than you think you'll need.
Protect yourself from the sun.
Carry a first aid kit on long hikes.
Tours & Activities
Check if any ranger-led programs are taking place during your visit to Zion and Bryce Canyon, including guided stargazing. The most popular excursion inside both parks is horseback riding (Zion | Bryce Canyon). This activity is recommended if you enjoy riding on horseback and if you have any mobility challenges but still wish to cover some ground without hiking.
Additional thrills are usually available outside the national park boundary but pose an exciting option if you travel with children to Zion and Bryce. In Bryce Canyon, check out tours and activities offered in Bryce Canyon City. In Zion, most tours depart from Springdale.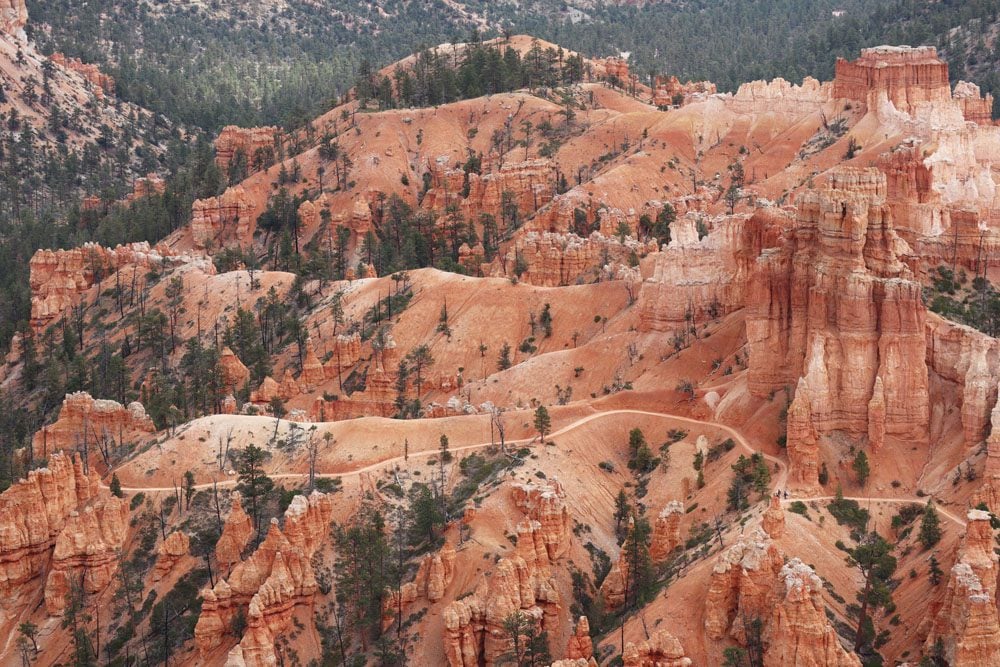 What to Pack
Listed here are some items to pack for a visit to Zion and Bryce Canyon. Get them on Amazon!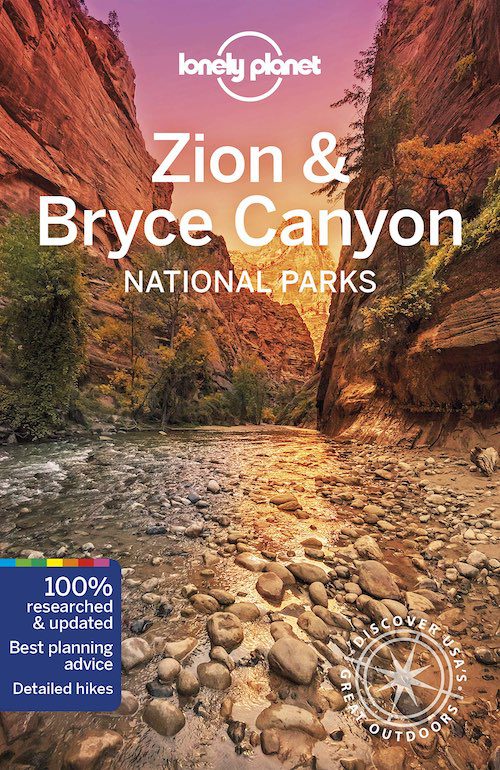 Get your copy of the Lonely Planet guide to Zion & Bryce Canyon. If your visit is part of a more extended road trip, the Lonely Planet guide to Southwest USA is a good alternative.
Dress in layers, preferably sweat-repelling clothing. Mornings are chilly in both parks, and nights are almost always cold in Bryce Canyon.
Light rain gear with hood
First aid kit
Proper hiking shoes, preferably high shoes
Thick socks (for foot protection during hikes)
Lip balm (must) and hand cream (optional), especially during summer and early autumn, as the air can be dry.
Toiletries
Lock(s)
Flashlight and headlamp
Pocket knife
Picnic gear
Walking poles (optional)
Waterpack
Alcogel
Ziploc bags
Foldable day pack
Food and snacks
Earplugs if overnighting in tents of any kind
Hat and sunscreen
Photography gear
Zion National Park (1 or 2 Days)
We'll start this Zion and Bryce Canyon itinerary in the former, spending one or two days exploring Zion Canyon.
Day 1: Zion Canyon Scenic Drive & Hiking
On your first day in Zion National Park, use the free shuttle to explore Zion Canyon. Start your morning on the easy Riverside Walk and catch the view of the Mountain of Mystery at the start of the Narrows. Next, continue to the scenic lookout at Big Bend and see if the trail to Weeping Rock has reopened. Then, ditch the park shuttle by walking from the Grotto shuttle stop to Zion Lodge along the Grotto Trail.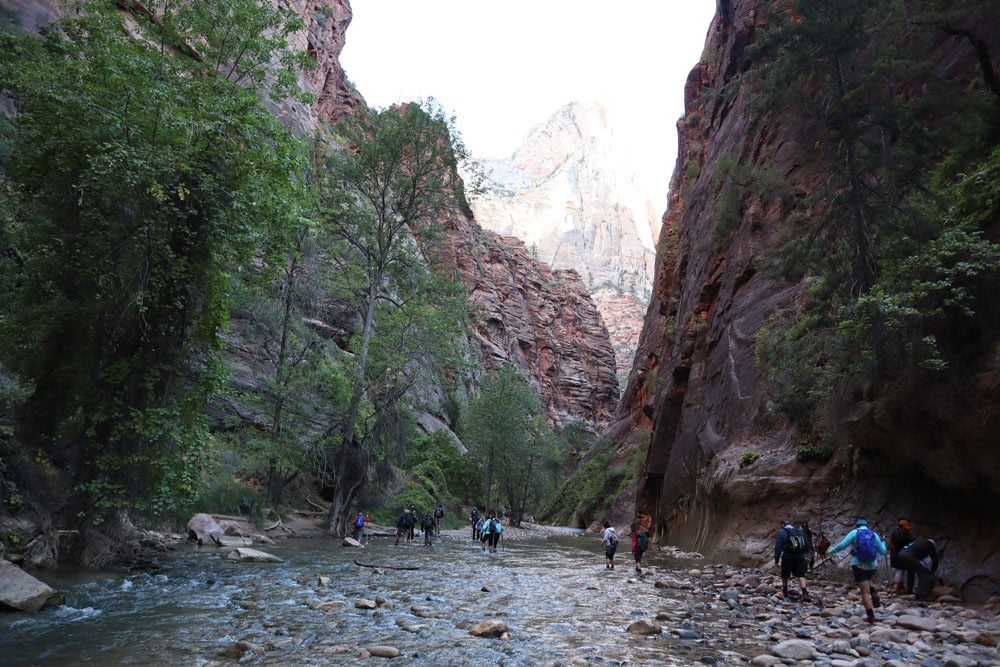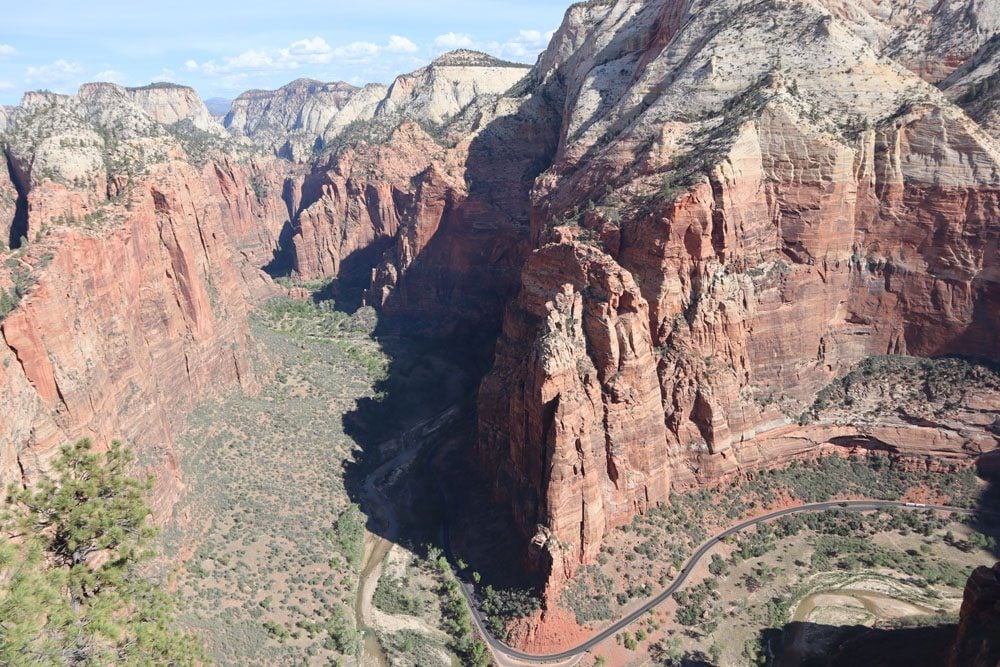 At Zion Lodge, pick up the trail to the Emerald Pools. On this popular hike, discover Zion Canyon's desert oasis with a visit to three natural pools. The most impressive is the Upper Emerald pool, whose surface appears to embody similar traits to a perfectly-polished mirror.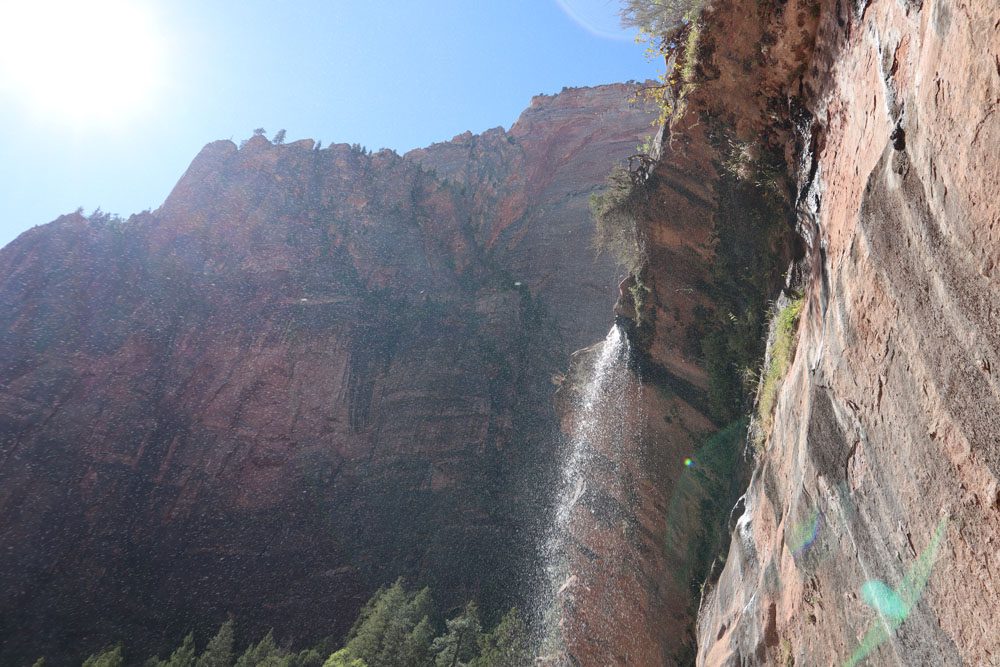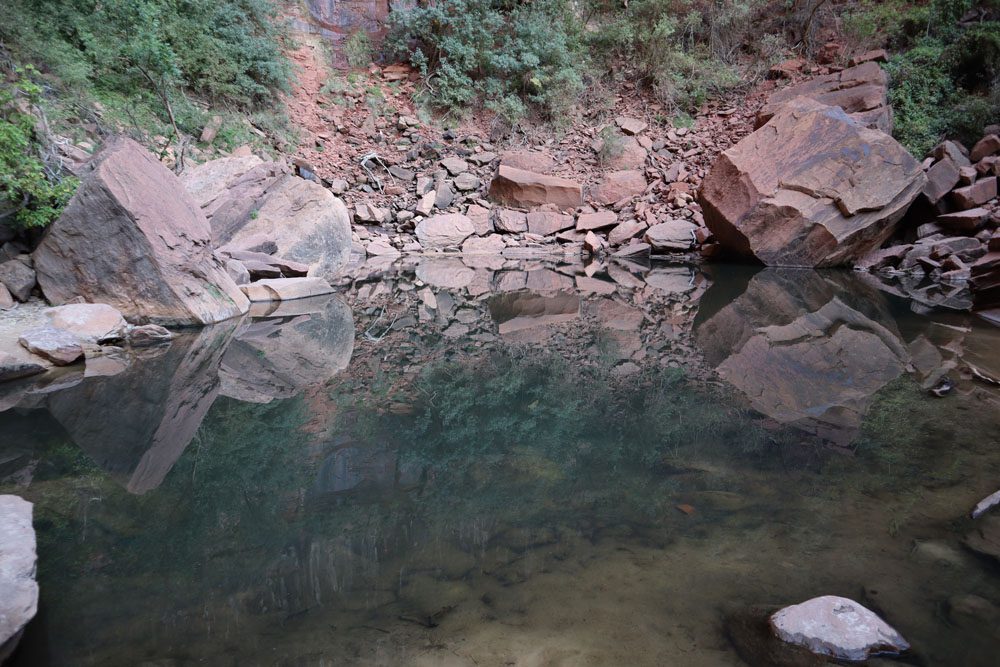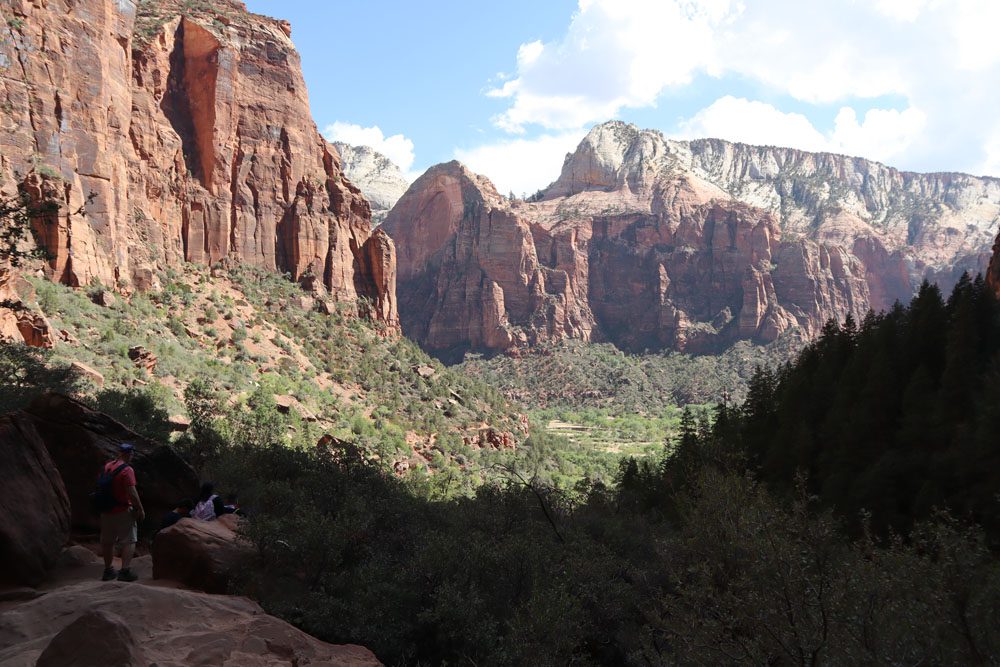 After a lunch break at the Zion Lodge, stop at the prettiest viewpoint on the Zion Canyon floor in the Court of the Patriarchs. To wrap up this busy day, pick up the Watchman Trail from the visitor center and hike to a beautiful scenic lookout overlooking Springdale and the southern canyon floor.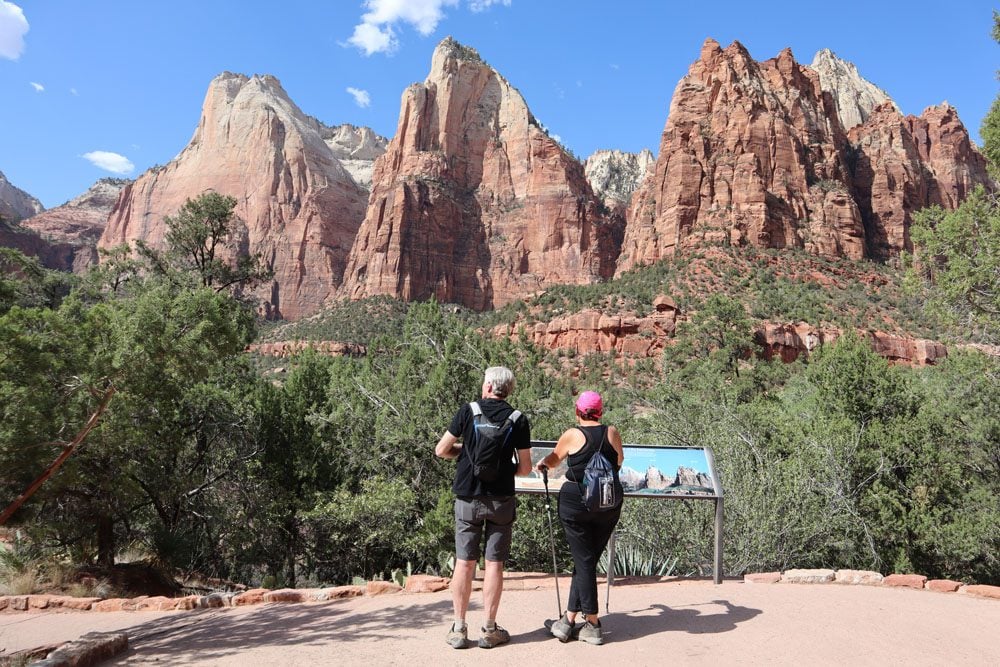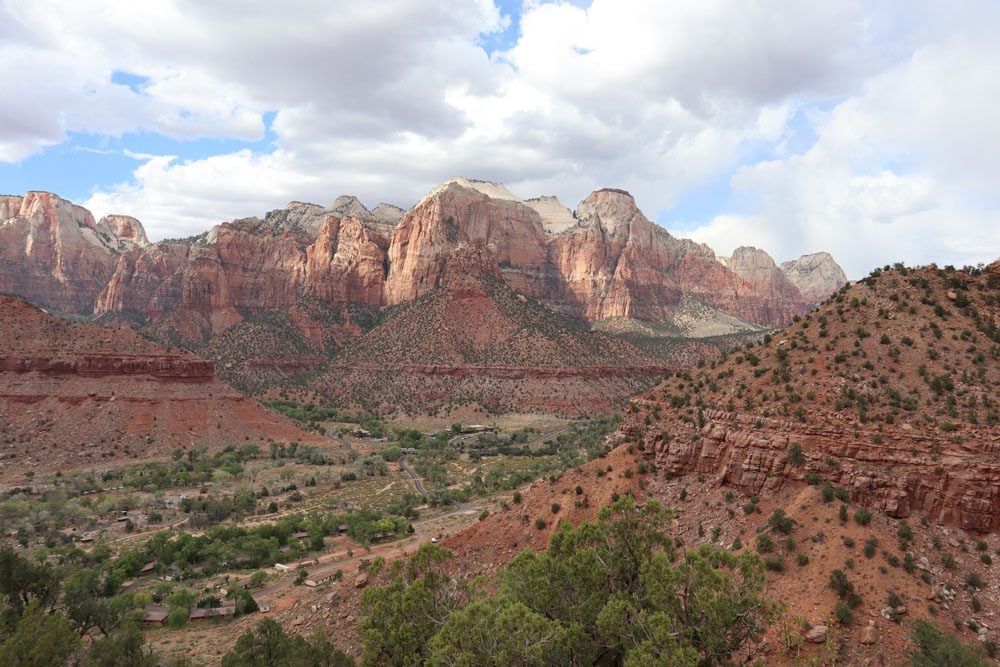 Day 2: Angel's Landing & Zion-Mount Carmel Scenic Drive
It's back to the Grotto shuttle stop in the morning to pick up the trailhead to Angel's Landing, undoubtedly Zion's finest hike. This is a challenging hike that not only includes an uphill battle most of the way but also requires overcoming your fear of heights on the final ascent to Angel's Landing. A hiking permit is now required for this hike.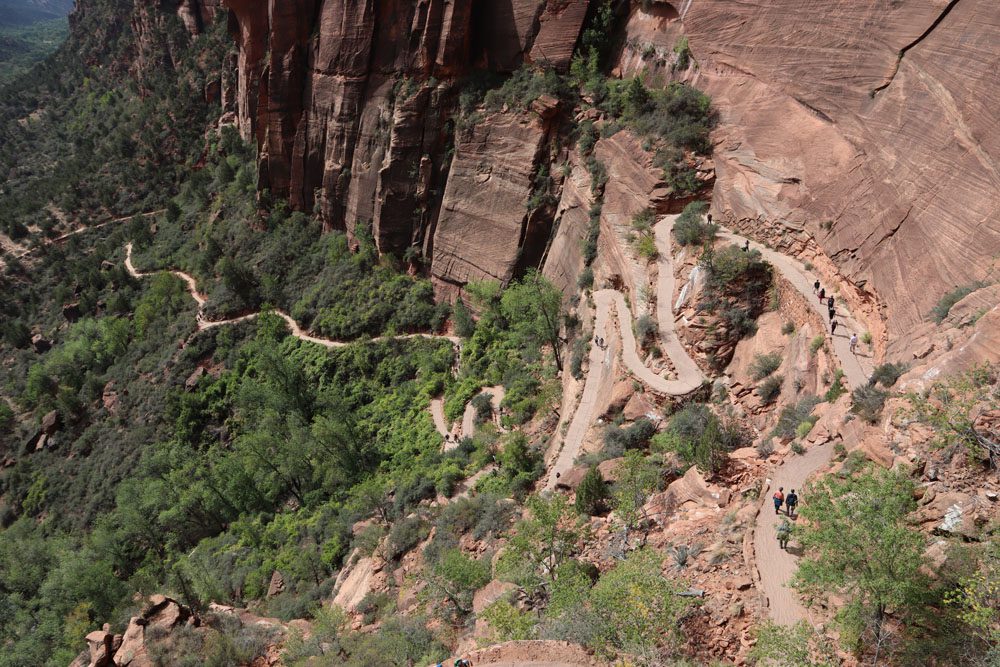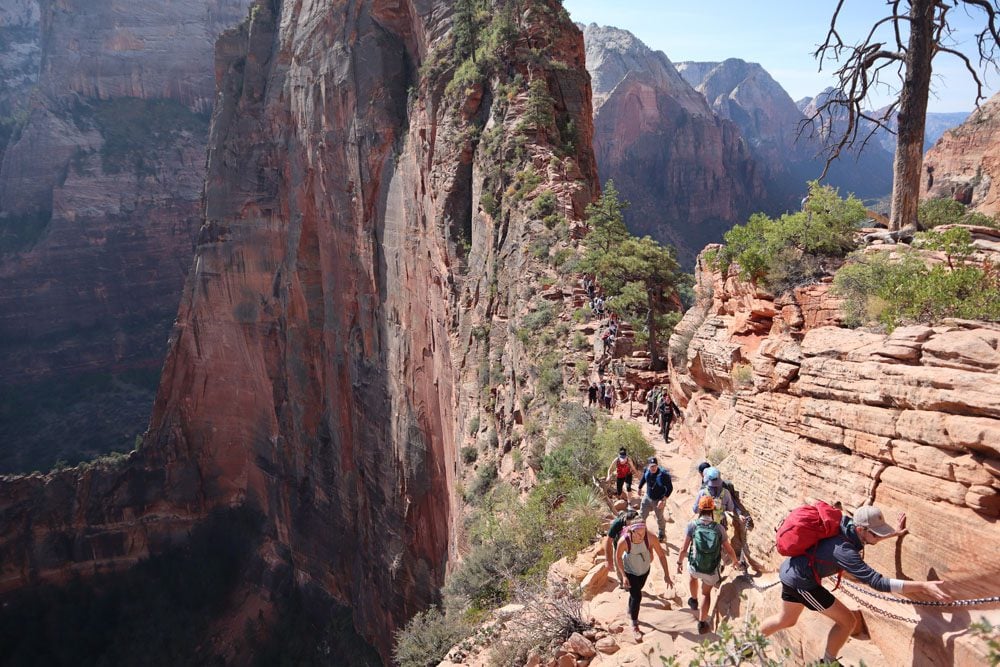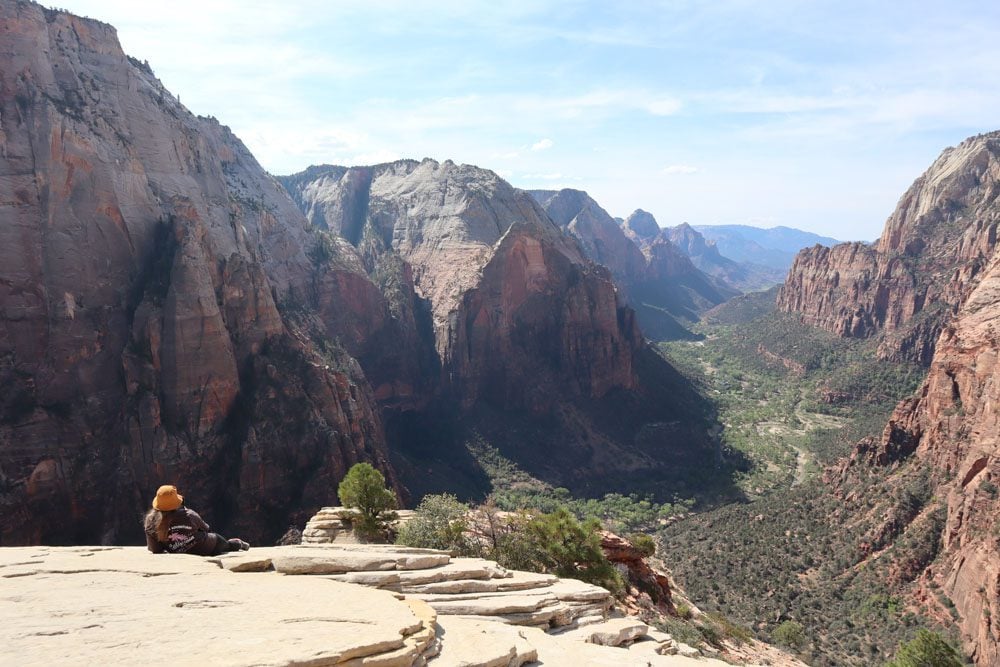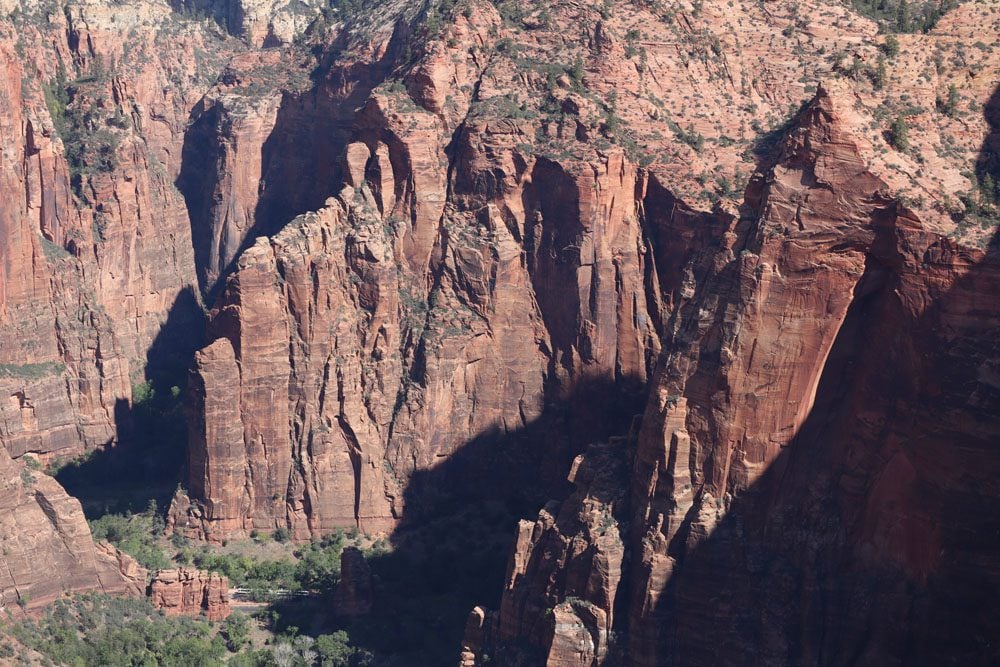 Back on the canyon floor, get back to your car, and drive on the scenic Zion-Mount Carmel Tunnel, crossing the tunnel to the other side where the Canyon Overlook Trail begins. This short trail leads to one of the most breathtaking vistas in the national park.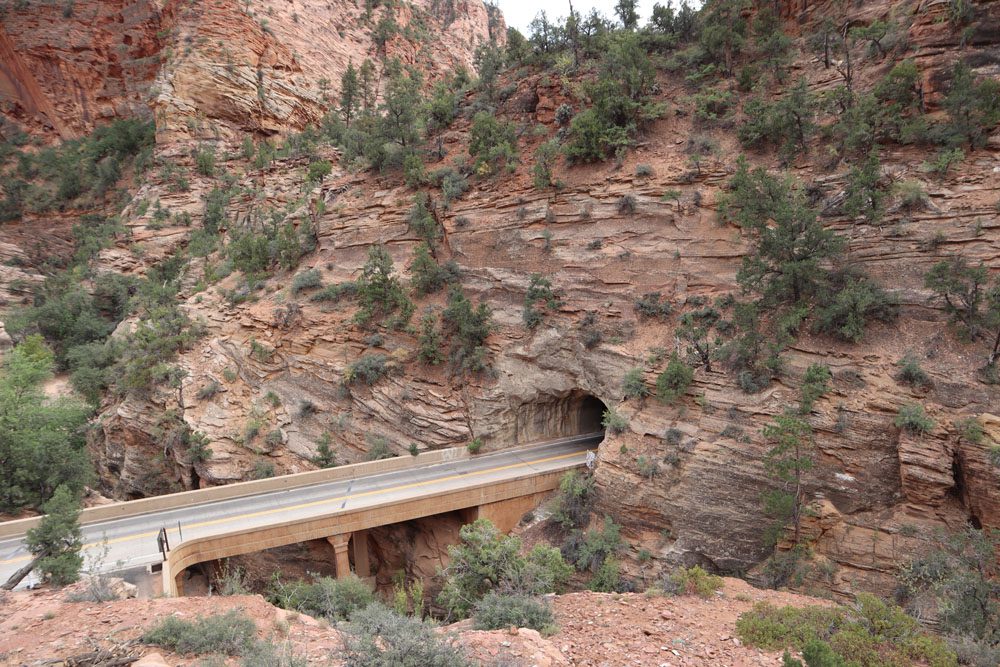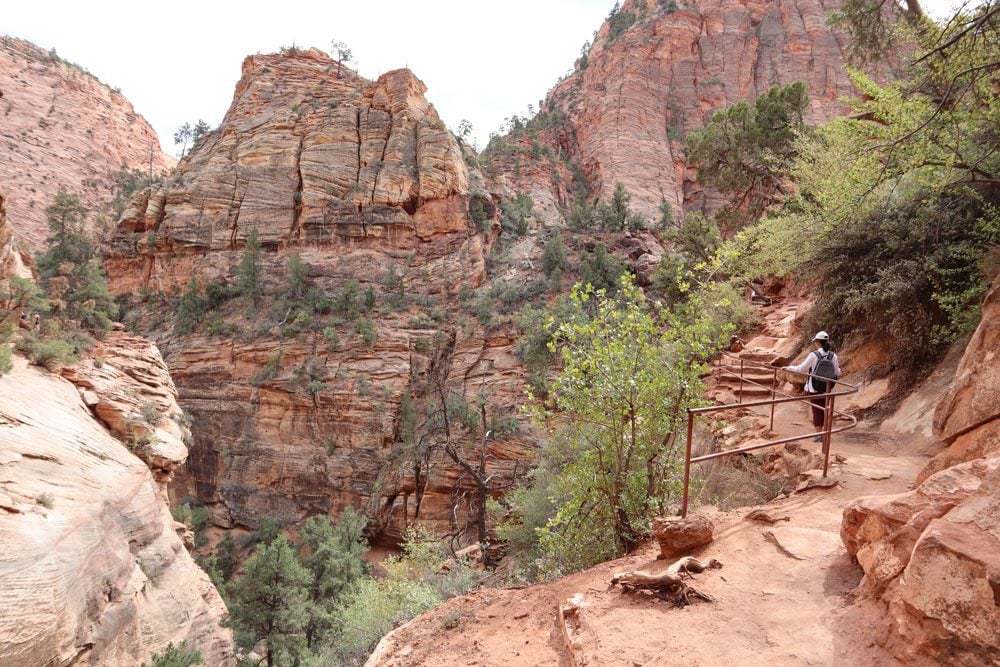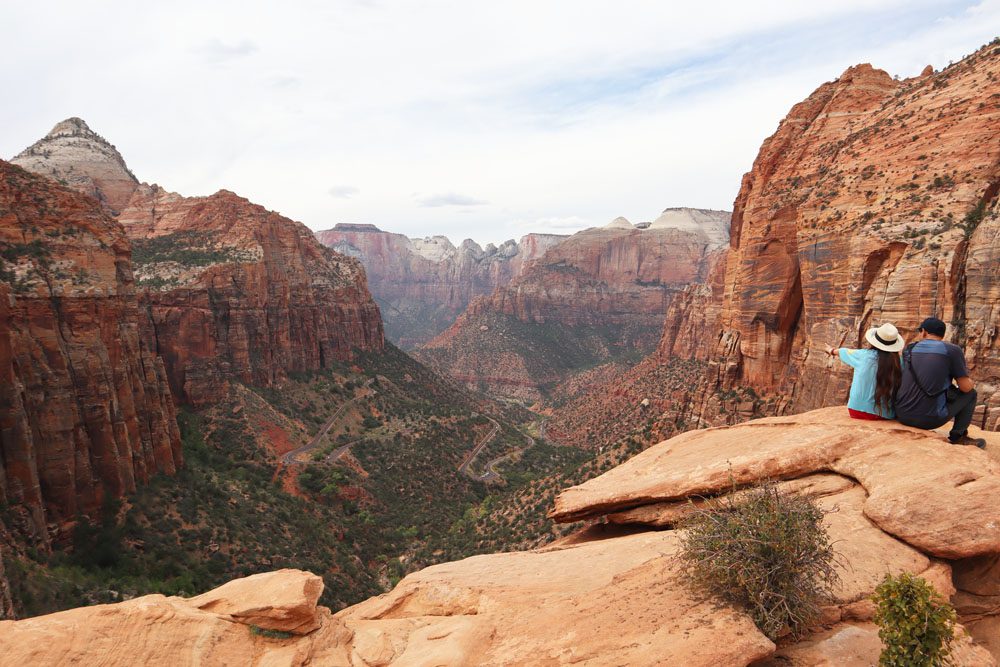 Bryce Canyon (1 or 2 Days)
Bryce Canyon National Park is our next stop on this road trip. It's the smallest of Utah's national parks and can be properly explored on a complete one-day visit or 1.5 days.
Day 3: Drive to Bryce Canyon and Scenic Drive
The following day, hit the road and once again take the Zion-Mount Carmel Highway, this time driving to Carmel Junction to link with Highway 89. On the way, check out Checkerboard Mesa and take it slow on the serpent-like scenic highway. You should reach Bryce Canyon City by late morning. You'll pass through the iconic Red Canyon Arch a few miles before town as you enter Dixie National forest.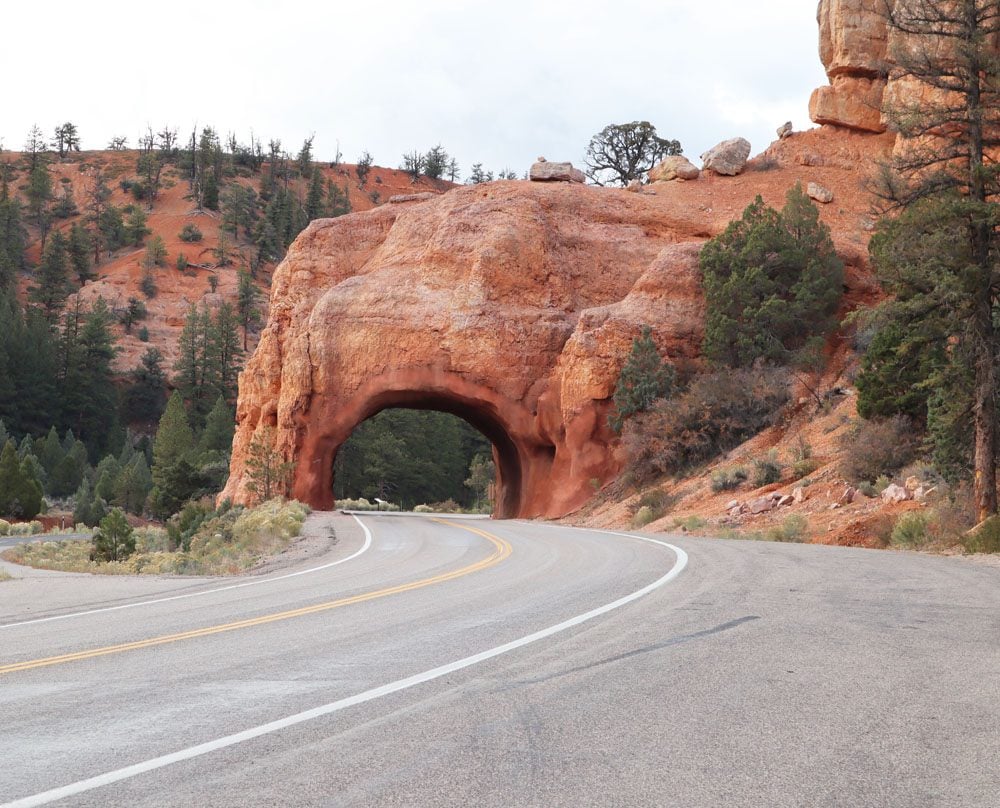 Use the rest of the day to jump from one scenic viewpoint to the next in the Bryce Amphitheater. You see, Bryce Canyon is not technically a canyon by geological standards but rather a series of crescent-shaped depressions known as amphitheaters. Bryce Canyon's famous hoodoos are best seen in the Bryce Amphitheater.
Start your tour at Sunrise Point and continue to Sunset Point along the Bryce Canyon Rim Trail. On the way, check out the historic Bryce Canyon Lodge and stop for lunch in its dining room or casual outdoor cafe. Take your time at Sunset Point, one of the park's top viewpoints. Spot Thor's Hammer, the most famous hoodoo in the park, and Wall Street, a narrow cavity slicing through a family of towering pinnacles.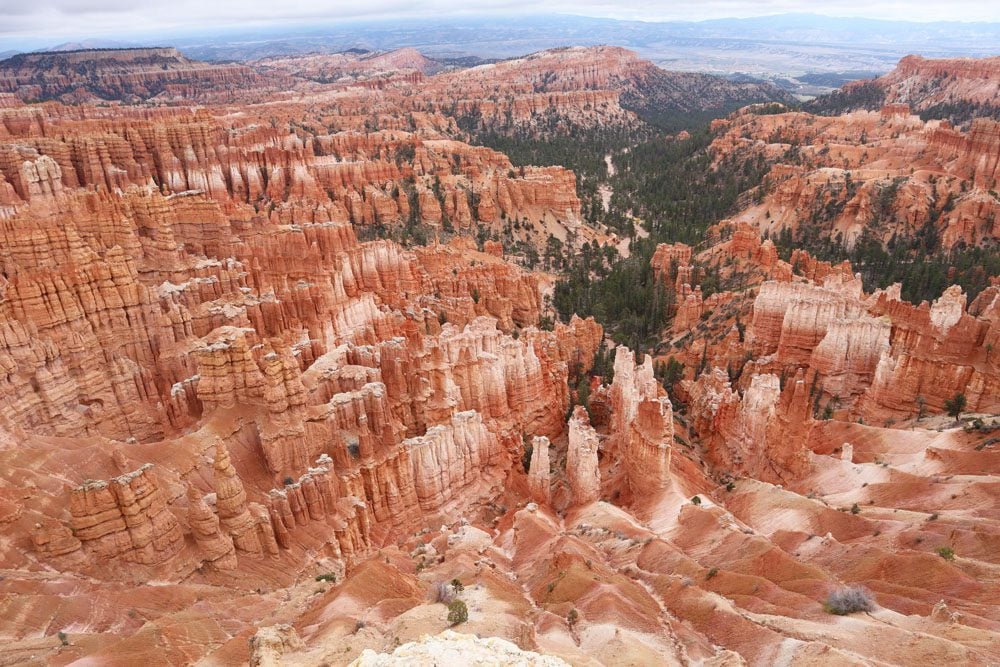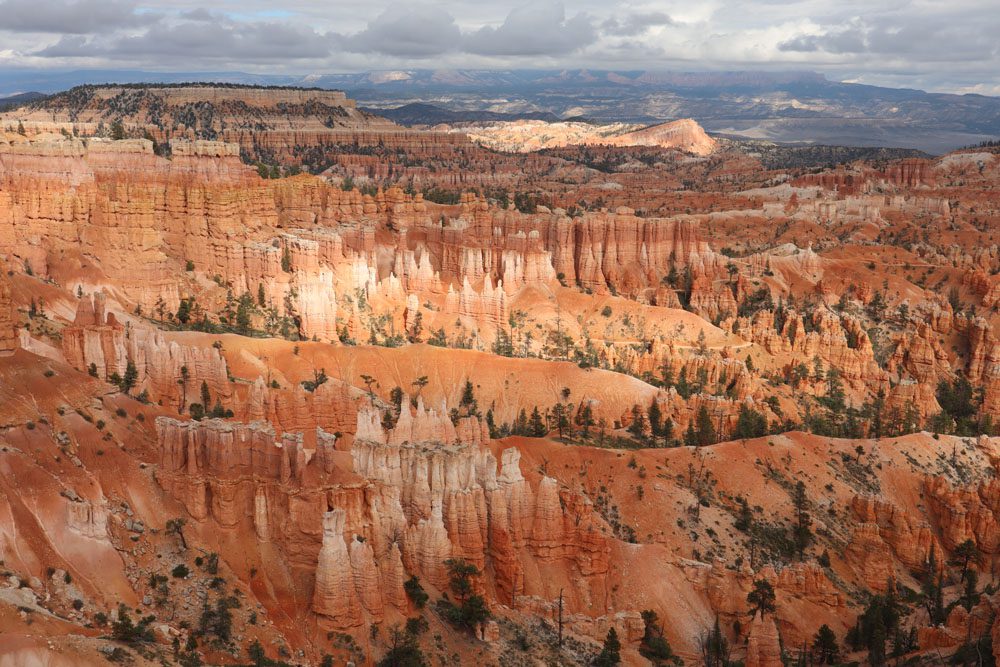 From Sunset Point, head to Bryce Point via Inspiration Point. You can take the rim trail to Bryce Point or use your car or the free shuttle (parking can be tough). At Bryce Point, get a slightly more distant and broader perspective of the Bryce Amphitheater. Together with Sunset Point, Bryce Point offers the finest views of the amphitheater.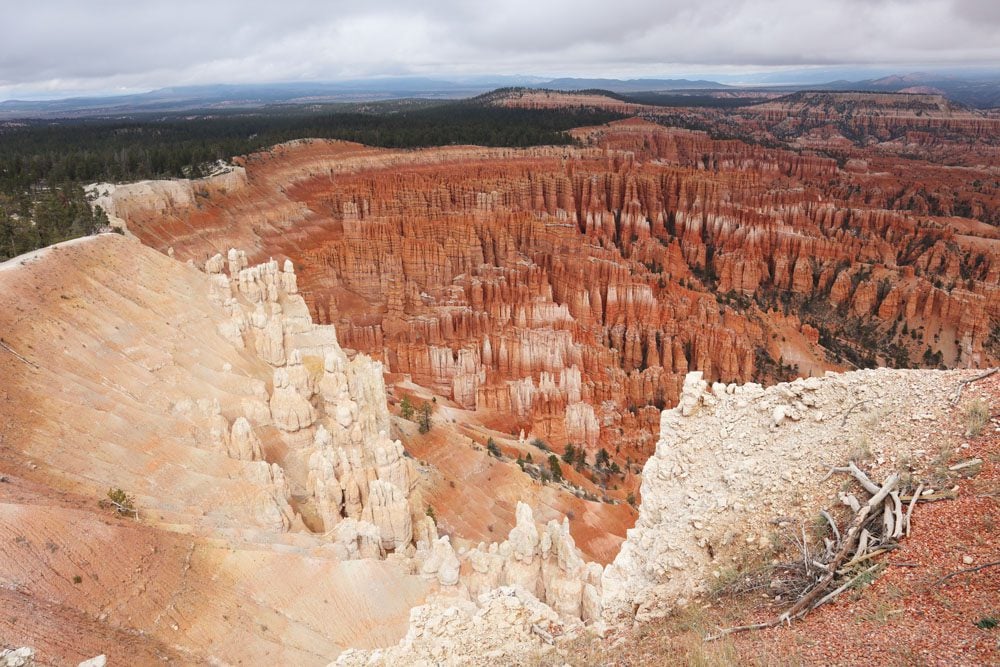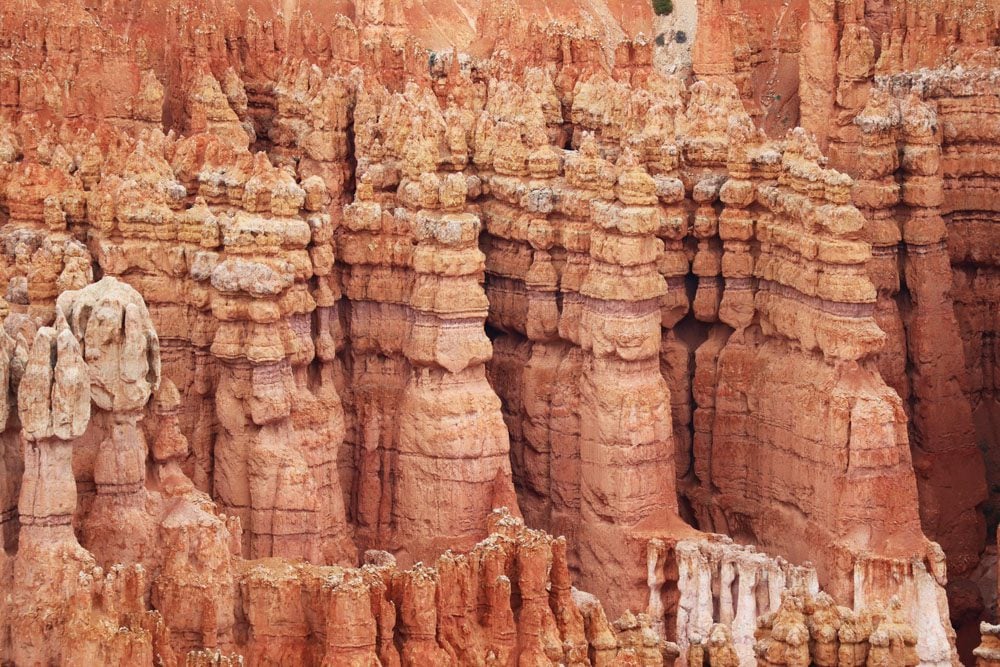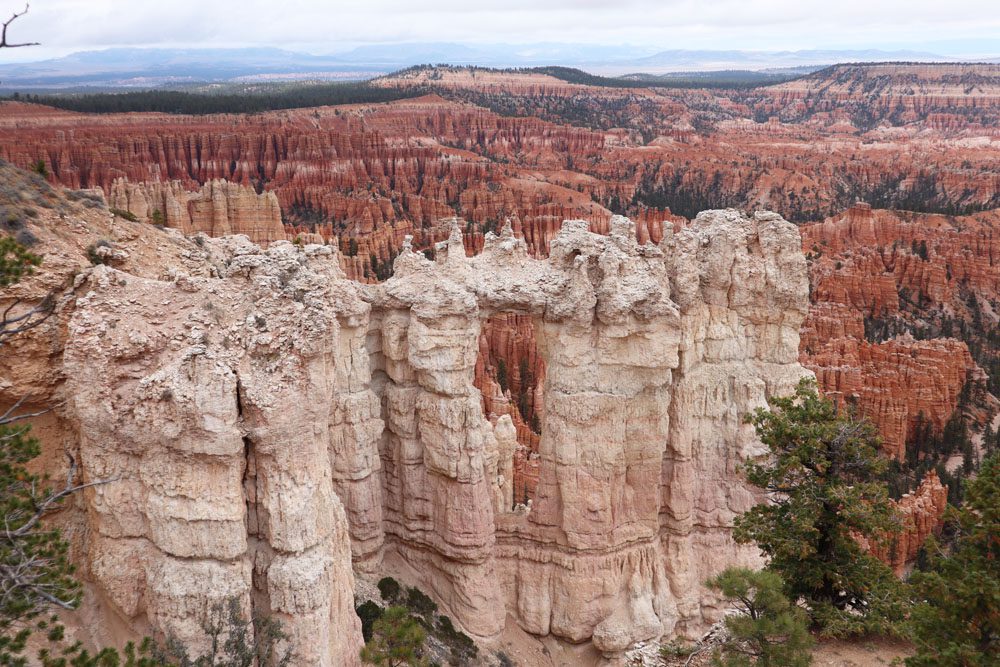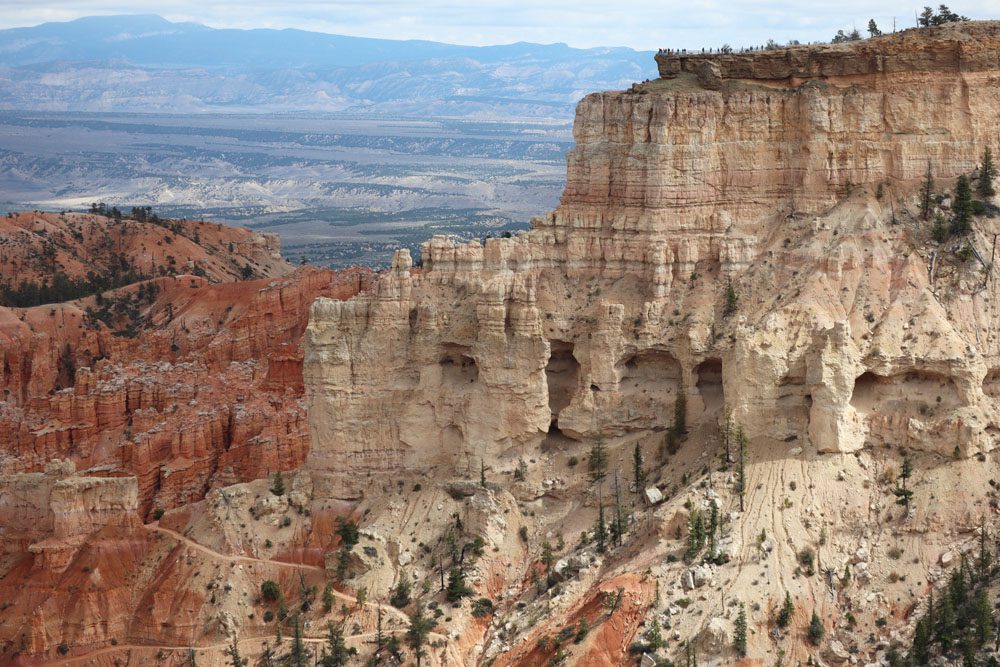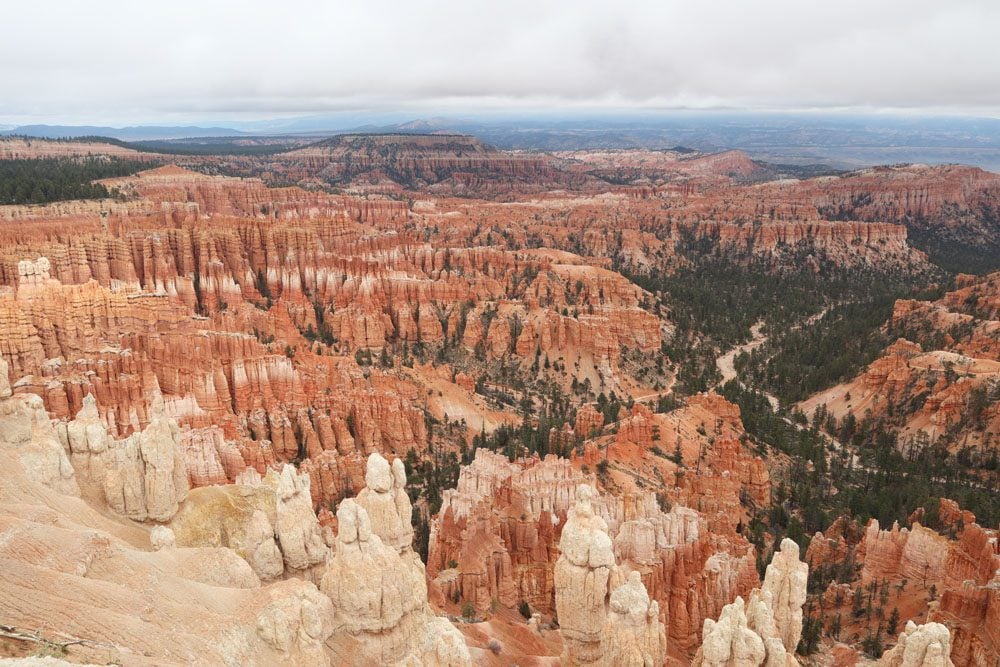 In the evening, head back to Sunset Point to catch the sunset and book seats at Ebenezer's Barn & Grill for their dinner and country music show. Then, if there's still some gas left in your tank and it isn't too cold, head back to one of the viewpoints to watch the night sky.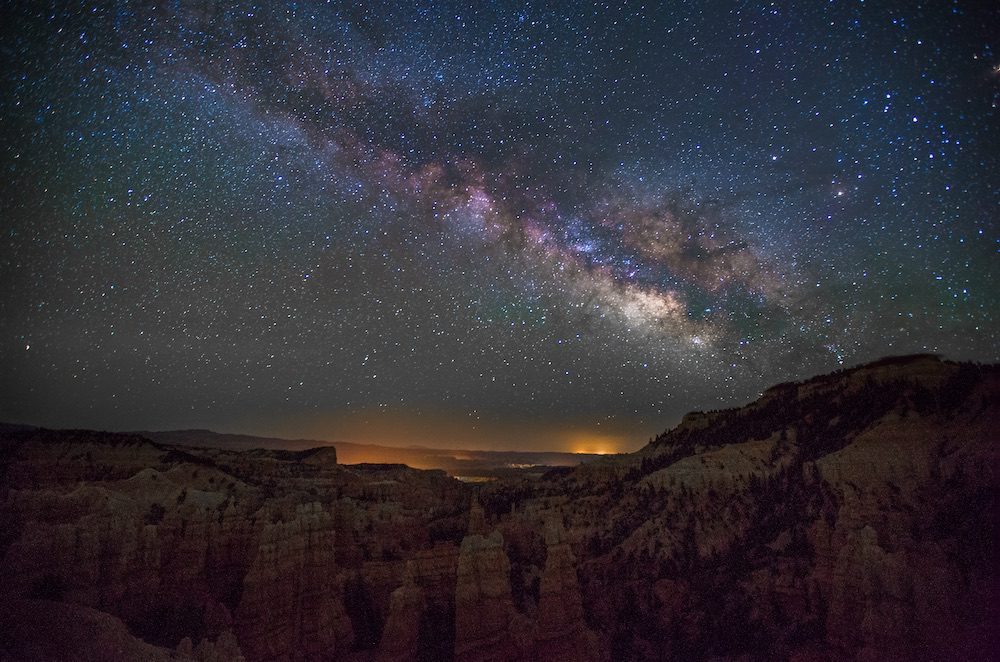 Day 4: Hiking and Southern Bryce Canyon
Get an early start to beat the crowds and explore the Bryce Amphitheater floor. Pick up the Navajo Loop Trail from Sunset Point and walk through Wall Street to link with the Peekaboo Loop Trail, considered the best hike in Bryce Canyon. Some sections are uphill, but the rewards wash away the pain. The Peekaboo Trail meets the Queen's Garden Trail, completing an extensive tour of the amphitheater floor.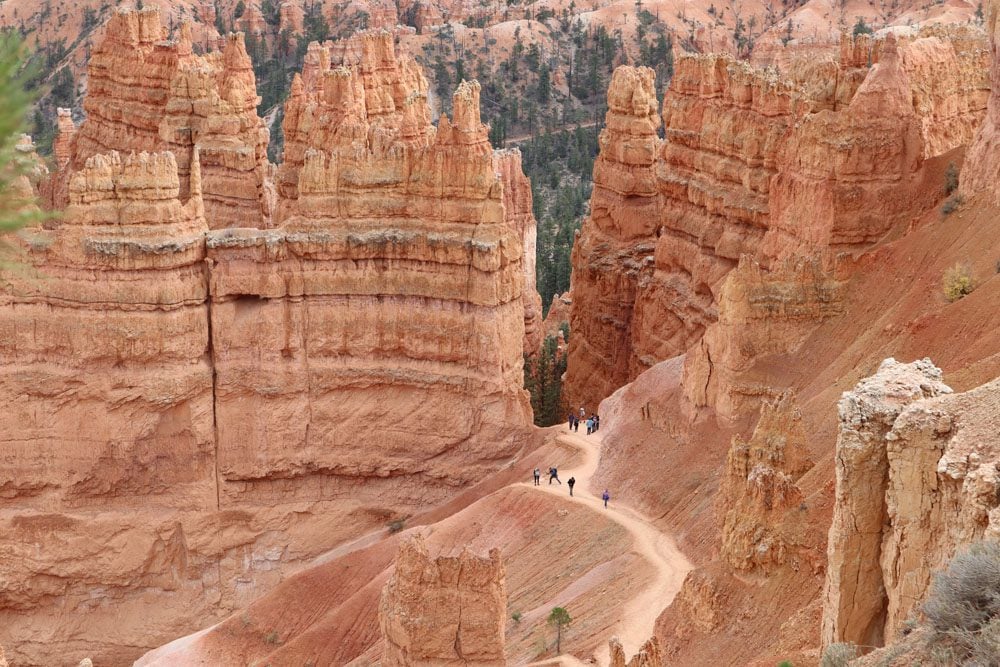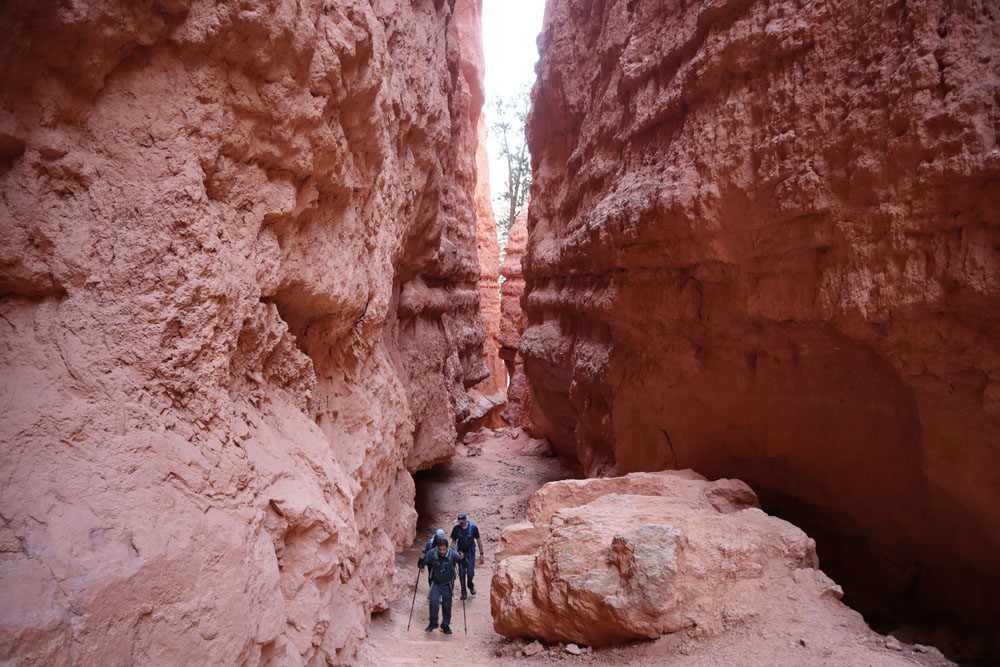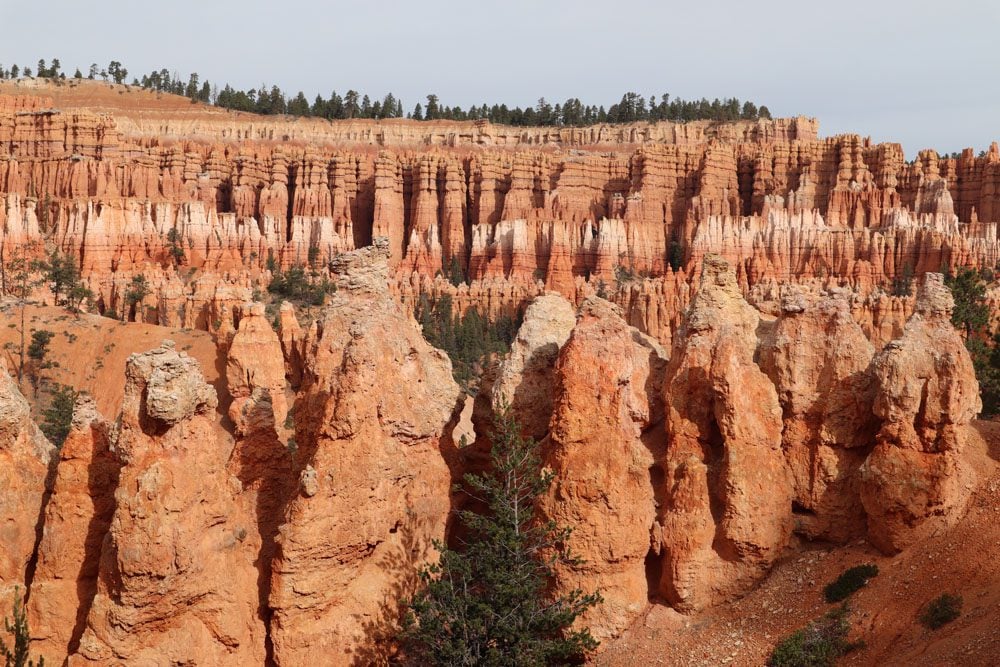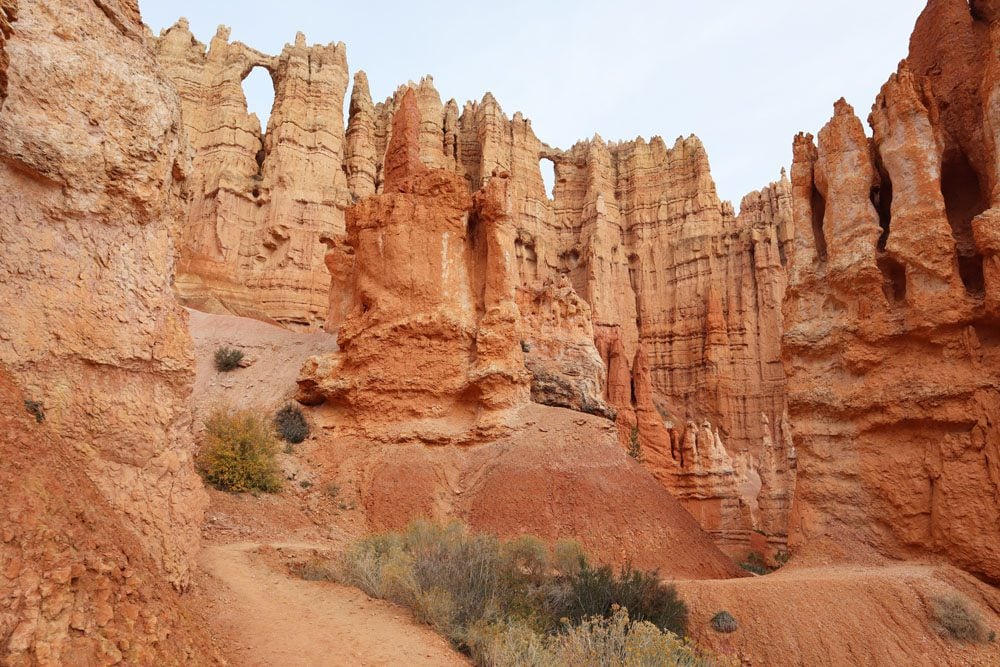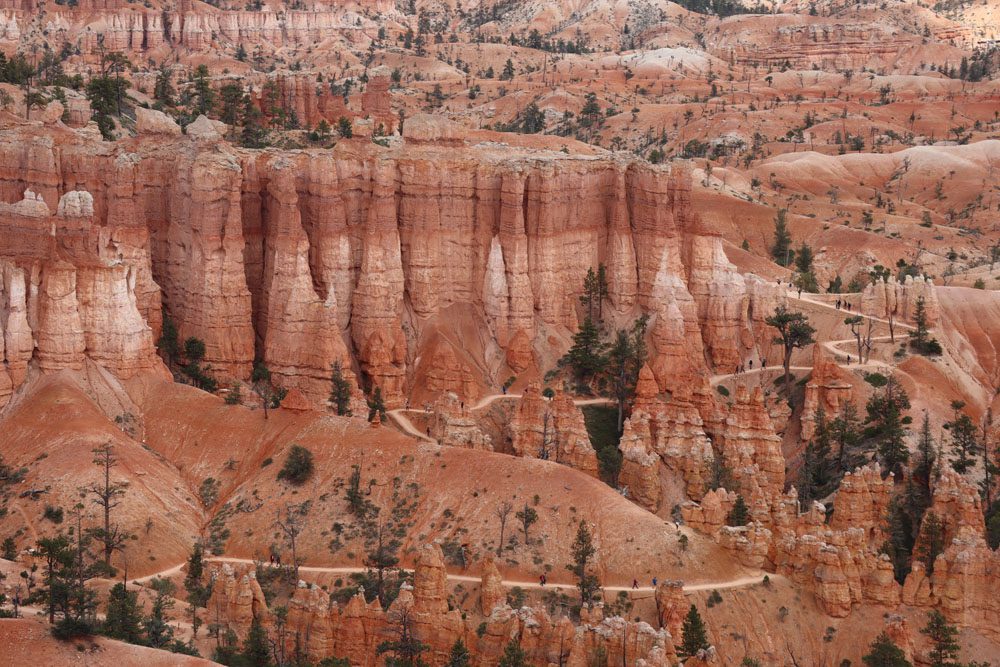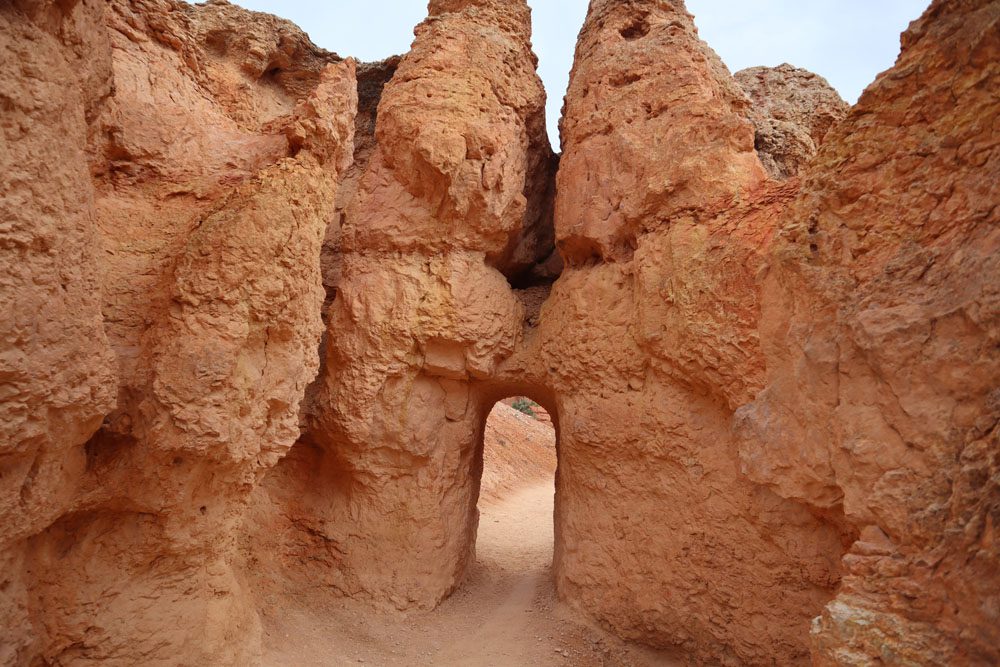 In the afternoon, drive to Rainbow Point, the highest viewpoint in Bryce Canyon. If there's still some time and will, exit the park via Fairyland Canyon. At Fairyland Point, catch views of this smaller and more wooded amphitheater. On the Fairyland Loop Trail, you'll see young hoodoos and fully eroded hoodoos that have reached the end of their shelf life. Alternatively, the Mossy Cave Trail near Tropic is a quicker alternative.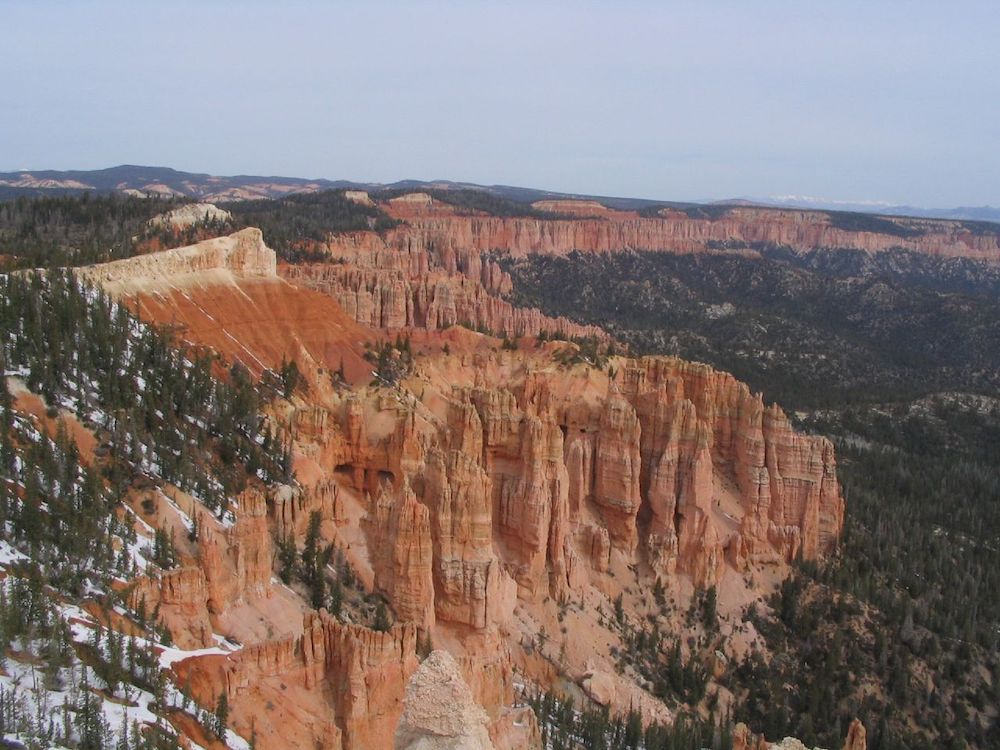 What's Next?
On this Zion and Bryce Canyon itinerary, we covered the very best of both on a quick road trip. Explore relevant Southern Utah travel guides if you want to dive deeper into the ins and outs of each national park. Additional resources are also available if you're planning a much more extensive road trip in the American Southwest.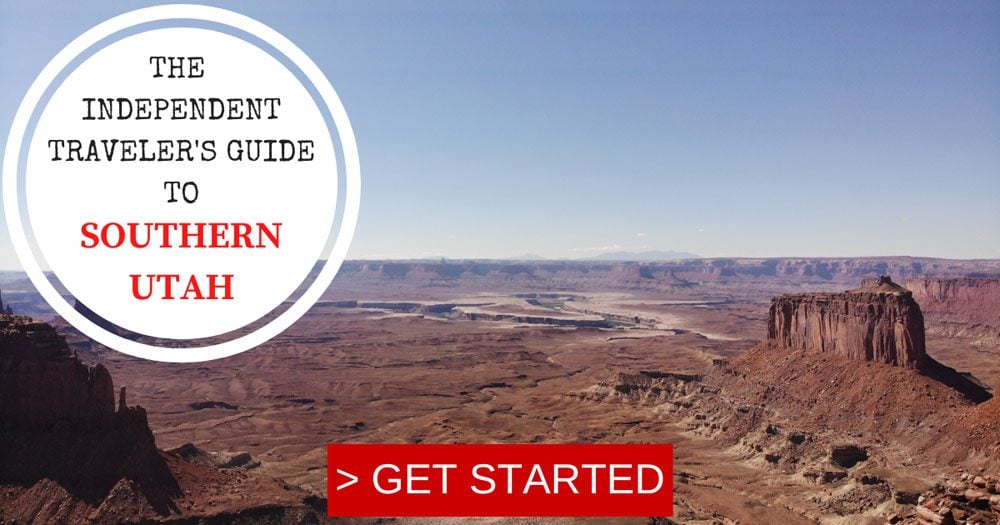 ---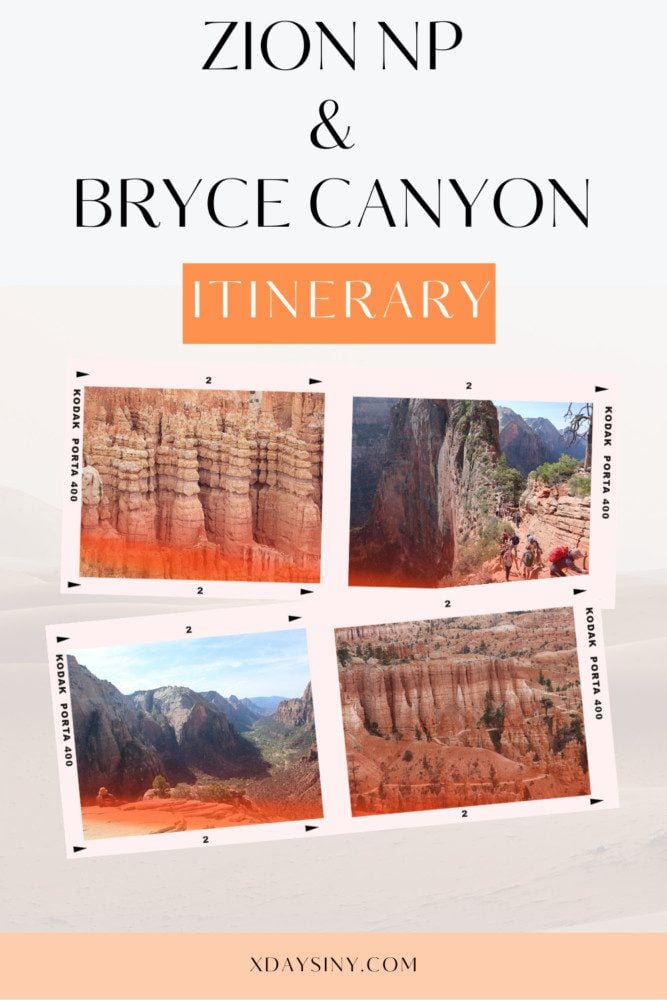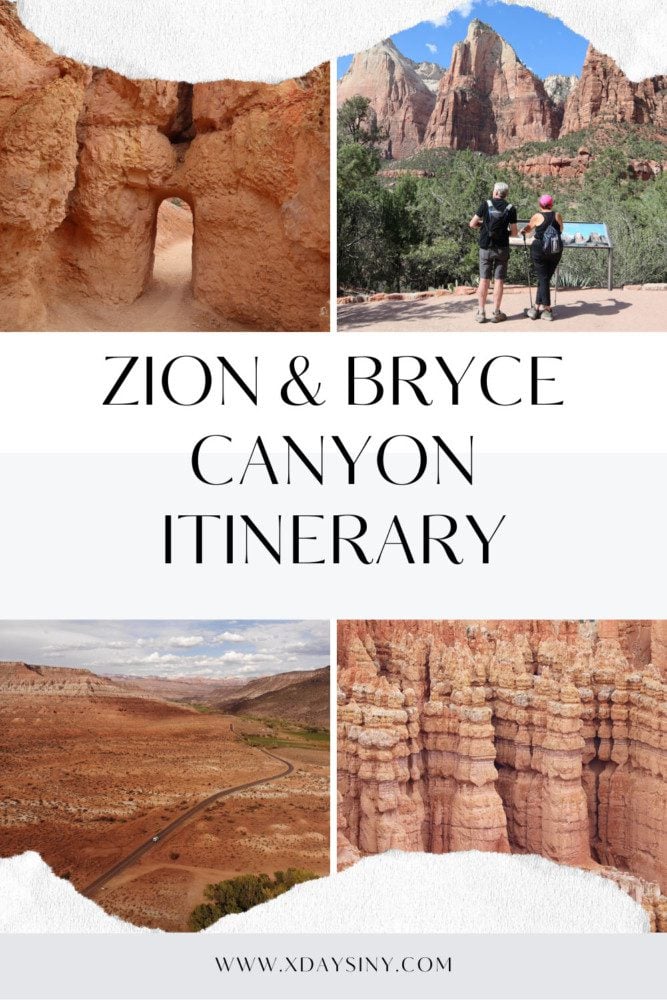 Pin These Images To Your Favorite Boards