Part 4: Southern Mallorca (3 days)
Arta to Mondrago National Park & Cala Mondrago
About a 1.5-2 hour drive from Arta lies Mondrago National Park. There is no need to stop on the way and in general, try to avoid this part of the east coast which is where a lot of the package holiday resorts are situated (there are, however, some famous caves to visit if you're into that stuff). Park your car (free) in the parking lot and head down the paved path to the beach. As you reach the main beach, you are faced with 3 options: you can take the wooded path to your left for about 400 meters and reach a very narrow cove (in our case, it was quite crowded), you can simply stay at this main beach which is quite family-oriented, or take the right path (can't miss it) to the next beach which is in a wide cove with lovely sand and pinewood in the rear. There is a beach bar, chemical toilets and decent snorkeling in the surrounding rocks if the water is clear on that day. This is a lovely place to spend the day.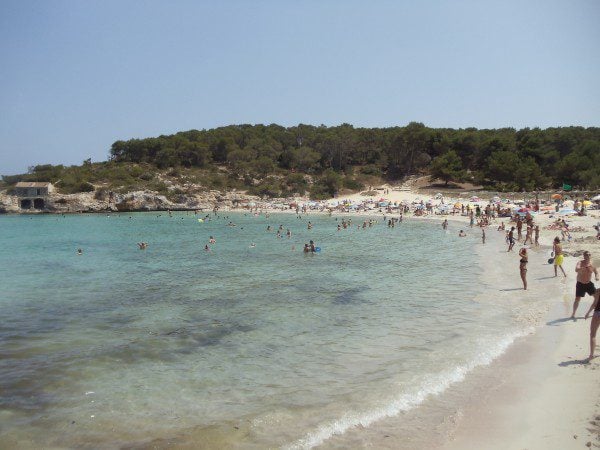 Mondrago National Park to Ses Salines
We were headed to the small village of Ses Salines for our next 2 nights and en route from Mondrago, stopped at the picturesque fishing village of Cala Figuera. No beach here, just a lovely stroll down to the old port and just in time to catch the fishing boats unloading their bounty. Local chefs eagerly await nearby for a good catch and dozens of tourists for a classic photo op. The port is a lovely place for a stroll through the narrow seaside path, dotted with boathouses and sunny villas clinging to the surrounding cliffs.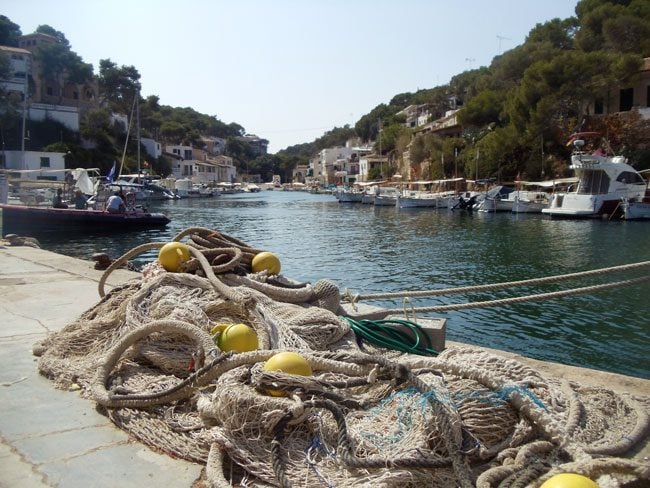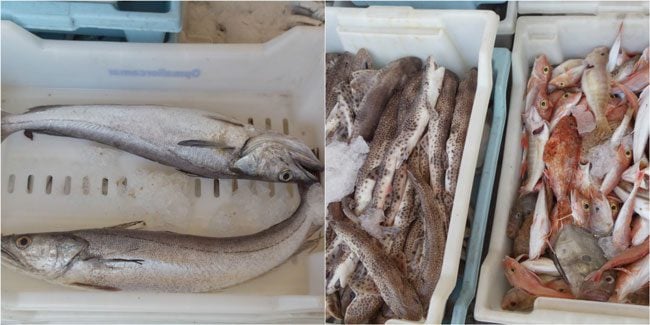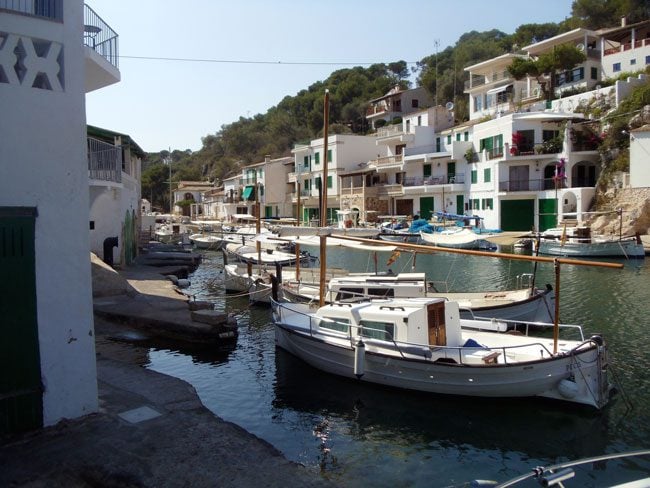 A further 10-minute drive brings you to Ses Salines which seemed like an upscale village to us. We stayed at the Villas Station hotel which is a great place but just hard to find so ring them up before to get directions. This is a converted train station with spacious family rooms and a nice swimming pool. There is an even an ancient but active well in the gardens, just watch out for the cactus. That night, we headed to Colonia de Sant Jordi for dinner on the seaside promenade. We chose Port Blau which offers a great dinner deal for a couple (21€ pp for a three-course meal and a bottle of wine) and some fantastic fresh fish.
Here's a list of all accommodations in this area which you can book online.
The next morning we went on a hunt after the best Ensaimada in Mallorca, the famous local spiral-shaped pastry. The hunt took us to the town of Campos and Patissiere Pomar, a famous establishment since 1902. This place really does deserve its reputation and is frequently visited by locals and visitors. You can buy various pastries (try the Ensaimada and the almond croissant), coffee, bread, and the typical Mallorcan 'pizza-like bread'. We bought some bread in the bakery, fruits, and vegetables in town and headed to the beach.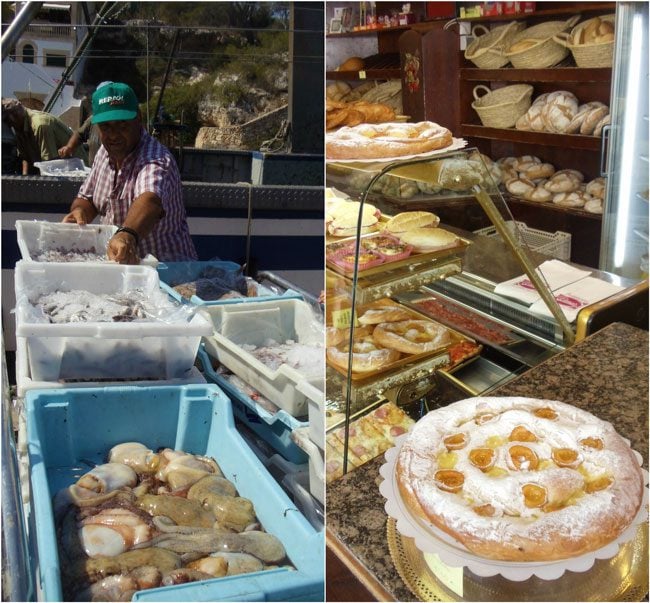 Ses Salines to Es Trenc Beach
Drive towards Colonia de Sant Jordi and just before the town, you'll see a right turn towards Es Trenc. This road takes you past the Flor de Sal d'Es Trenc salt factory which makes this region so famous (you can stop at the factory shop) and takes you to the parking lot (6€) of Es Trenc beach. This is by far the nicest beach we visited throughout Mallorca.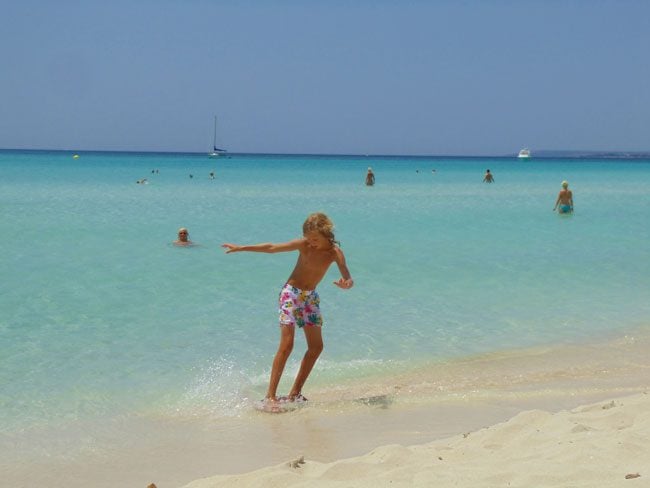 Es Trenc is a wide and long strip of nearly unspoiled white sand where you can have some space for yourself. The area near the parking lot is more family-oriented and houses numerous restaurants. Head an additional 300 meters to the nudist area which is in my opinion, the nicest part of the beach. Es Trenc is a Caribbean-like beach. Substitute the palm trees for the pine trees and you are in a tropical setting. The sand, soft and white. The waters shallow and crystal clear, stretching for about 300 meters.
If you truly fancy feeling on vacation, feel free to take your clothes off as this beach is popular with nudies. It's not a must though. What is a must is spending as much time as possible in this magnificent setting. Bring plenty of water, food, and shade as the beach bars and restaurants are quite overpriced and the sun is at its best. For dinner, we had some excellent tapas at Casa Manolo in Ses Salines, reasonably priced and rich with history.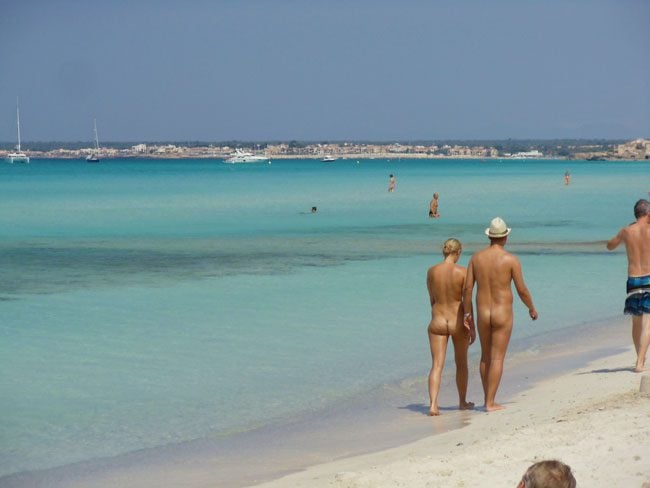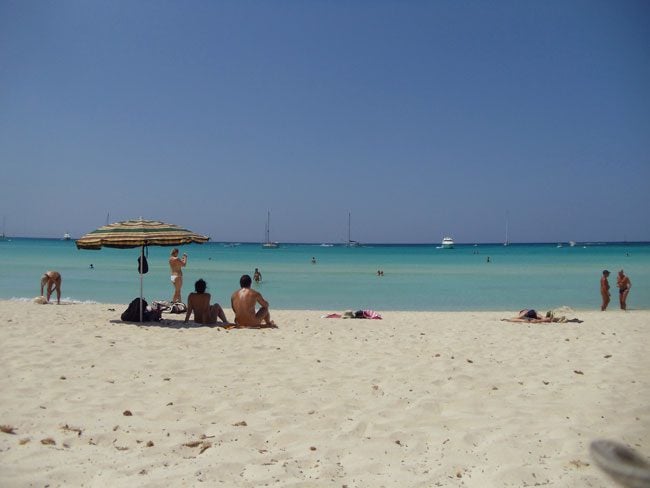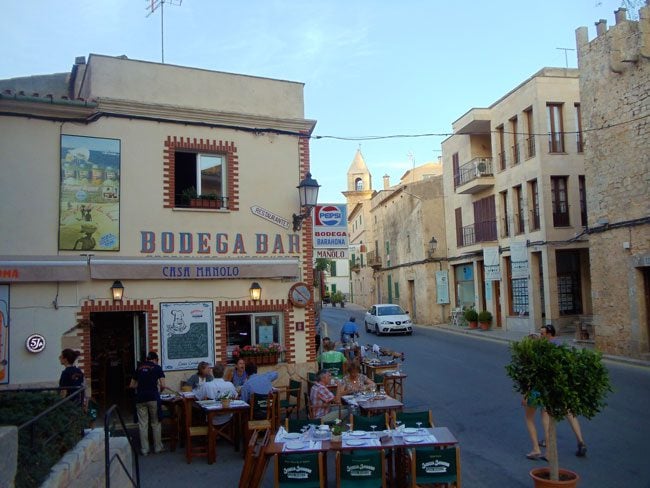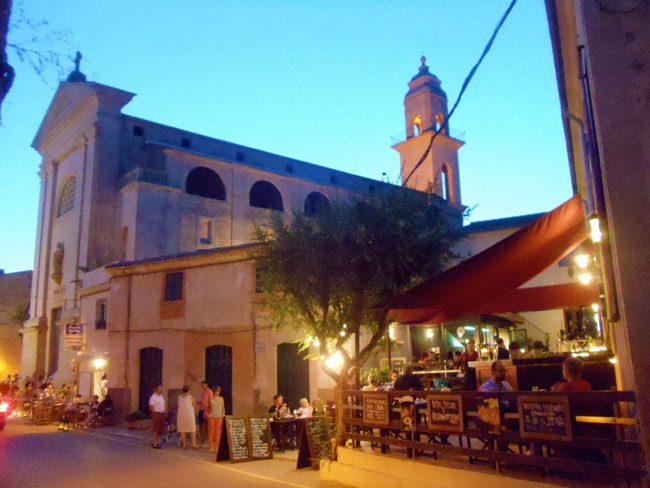 Any regrets?
Our only regret on this leg of the trip was not knowing how beautiful Es Trenc really was. We went to 9 Mallorcan beaches and this was by far the most memorable.