Part 2: Tramuntana Mountains (2 Days)
Palma de Mallorca to Valldemossa
We got an early start on the second day of our Mallorca travels and picked up our rented car, which would be our companion for the remainder of the trip. The first stop in our mountainous adventure was the hilltop village of Valldemossa. The drive from Palma takes about 30 minutes and it's not until you get close to the village that things start to get interesting. The village is just lovely, perched over 2 hills with a dominating cathedral, a theme that repeats itself throughout rural Mallorca. Parking is quite easy and we were lucky that Sunday was market day.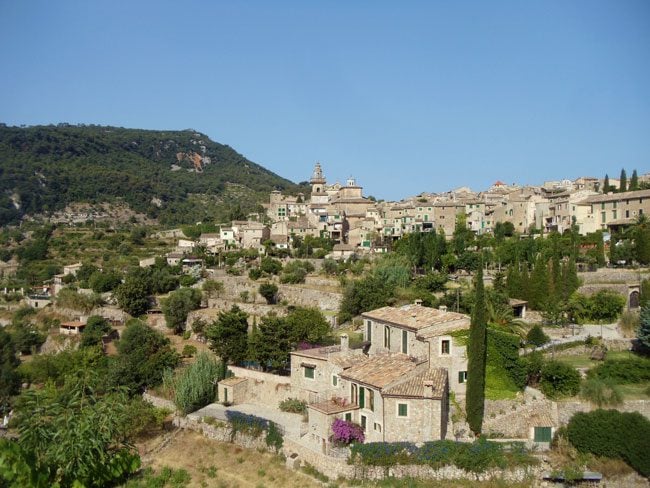 We decided to skip the famous monastery and immerse ourselves in rural life. The market is lovely and we stocked up for a later picnic. You will find a great selection here of fruits, vegetables, meats, olive oil, bread, and other local delights. We even bought a few gifts as prices are much lower than in deli shops back in Palma. Valldemossa is all about strolling its cobblestoned streets, taking in the lovely views of the surrounding hills and colorful flower arrangements decorating every historical stone house. Cafes are slightly overpriced and the cathedral in the town square is not free (as many Mallorcan cathedrals are) but this is still a worthy stop. One of the parallel streets below the cathedral leads to a lovely lookout point where you can enjoy spectacular panoramic views of the surrounding hills and the lower part of the village.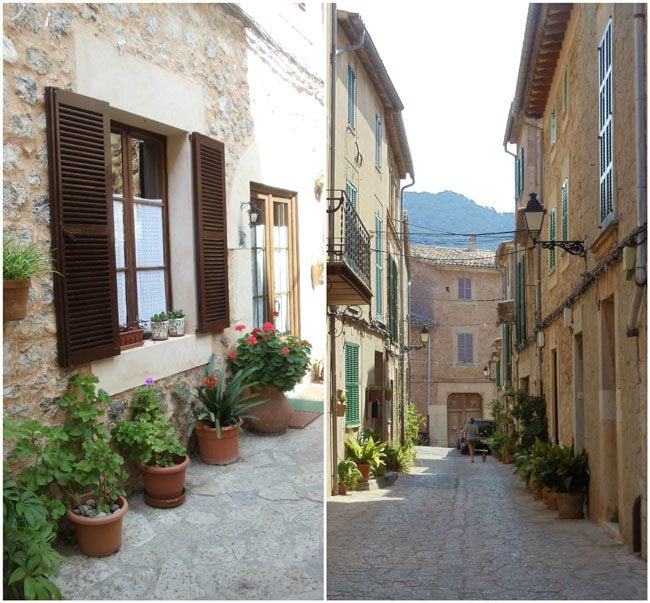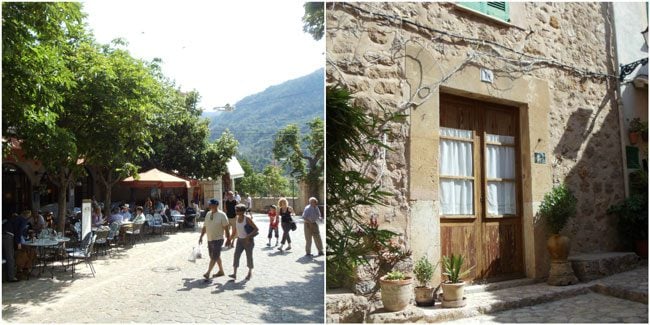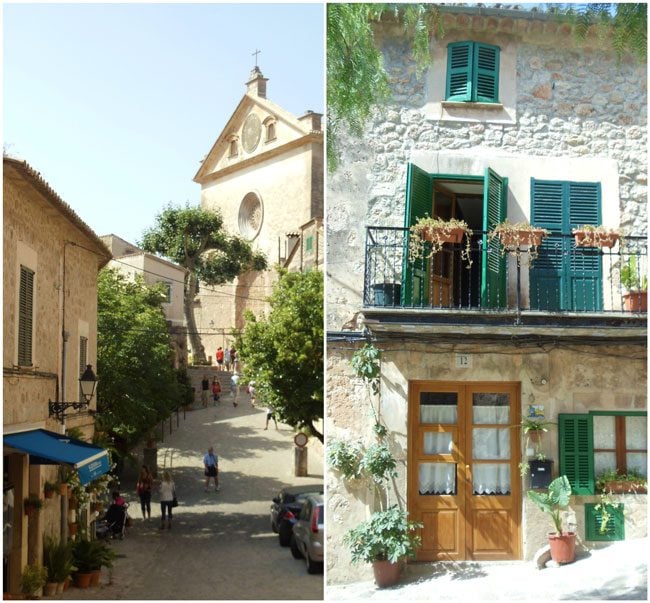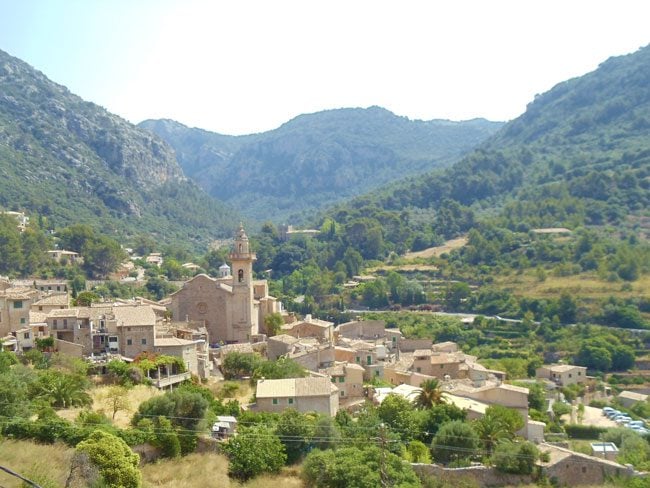 Valldemossa to Port Valldemossa
From the village, we drove for about 20 minutes down a narrow winding road to the beach at Port Valldemossa. Parking is difficult but manageable and the beach makes an ideal spot for enjoying your successful market shopping. The beach itself is rocky but not crowded and the views enjoyable.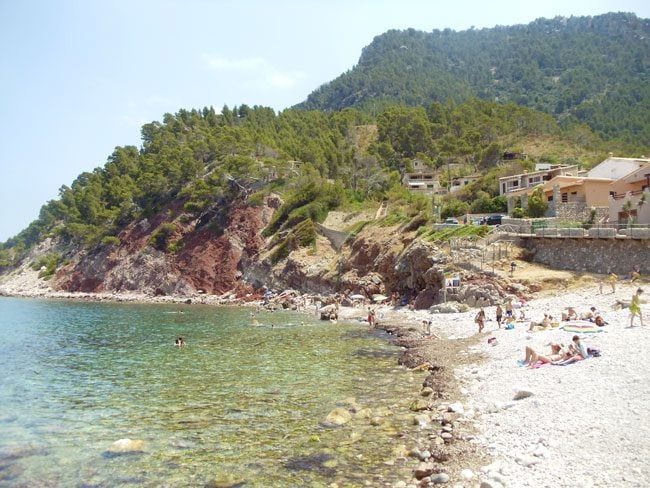 Port Valldemossa to Deià
About a 25-minute drive on the Ma-10 from Port Valldemossa rises the village of Deià, made famous by its resident poet Robert Graves. The drive to Deià on the scenic coastal road is spectacular, to your left, the sea and to your right, the towering mountains with the occasional house that makes you wonder how on earth did people build that? Deià is a beautiful village, definitely worthy of a stop.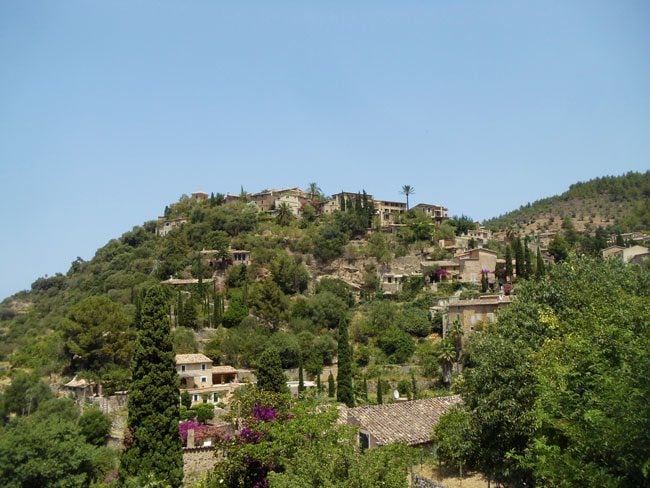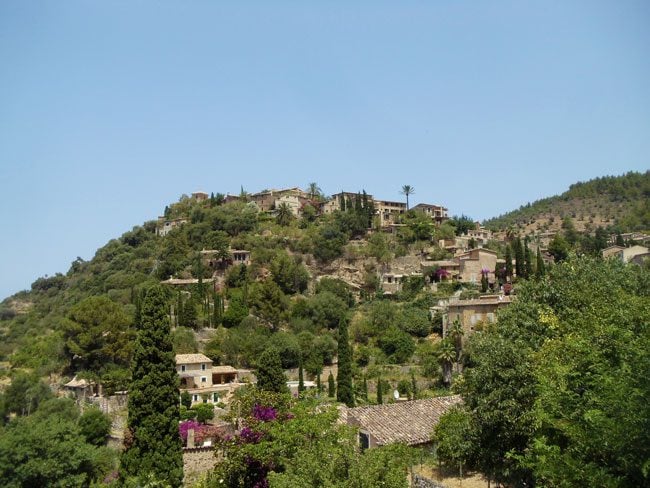 For great photos, stop on the side of the road where possible en route from Valldemossa. Like Valldemossa, simply enjoy strolling the narrow streets, eventually making your way to the hilltop cathedral. The cathedral houses an old cemetery with fantastic views of the surrounding hills and the sea. Coming down from the hill, we made our way to The Village Cafe, nestled on a side street at the edge of the village. Under the natural vine canopy, you can enjoy a great lunch and refreshing lemonade at excellent prices.
Deià to Sóller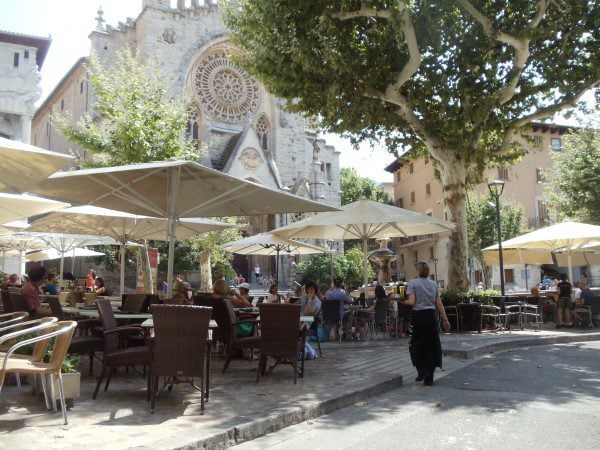 A 30-minute scenic drive on the Ma-10 will get you to Sóller. We arrived during siesta time so not many shops were open. With the majestic mountains towering in the background, Sóller is a nice spot and quite a major town in the mountain region. Parking is not a problem. Sóller is famous for its traditional train ride to/from Palma and you will see the train riding along the center of town. Most action happens, no surprise, around the town's main square with its dominating cathedral and historical building which is now a bank. Sóller has its fair share of nice restaurants and cafes and can be a relaxing spot. Most will venture from here down to Port de Sóller but it was about 4 pm by now and we wanted to head to our accommodation. We will revisit Port de Sóller tomorrow.
Sóller to Binibona
The ride from Sóller across to the eastern slopes of the mountains takes you through the most spectacular scenery of this area. This part of the island is rugged and sparsely inhabited. Right after Sóller, you drive through the old tiny villages of Biniaraix and Fornalutx. If you don't stop, you might even miss them. Though I read quite a bit about their beauty, we didn't really see a reason to stop. Perhaps you will appreciate them more by walking the short distance from Sóller. Just before reaching the highest area in the mountain range, you will pass Mirador de ses Barques, a lovely lookout point. From here, you can catch great views down to the sea and Port de Sóller with its beautiful horseshoe-shaped bay. Continuing the drive through the mountains and by now reaching its plateau, you enter the lake district. Here is a set of emerald lakes created I believe after a dam was erected to collect precious rainwater.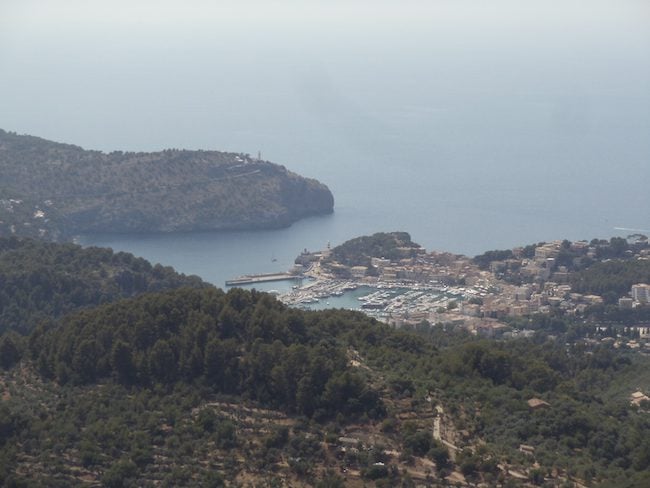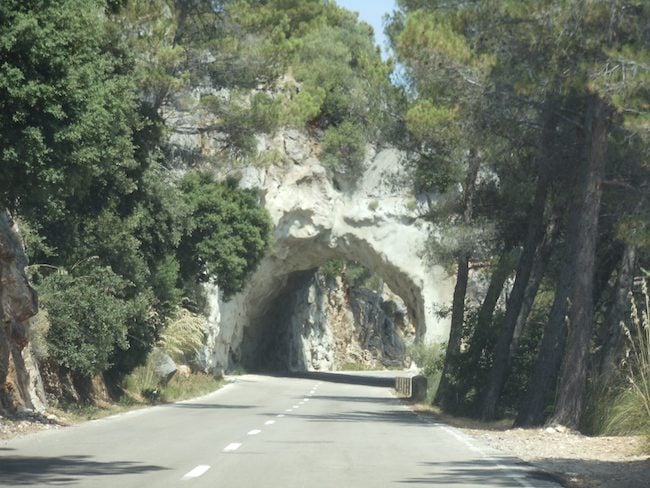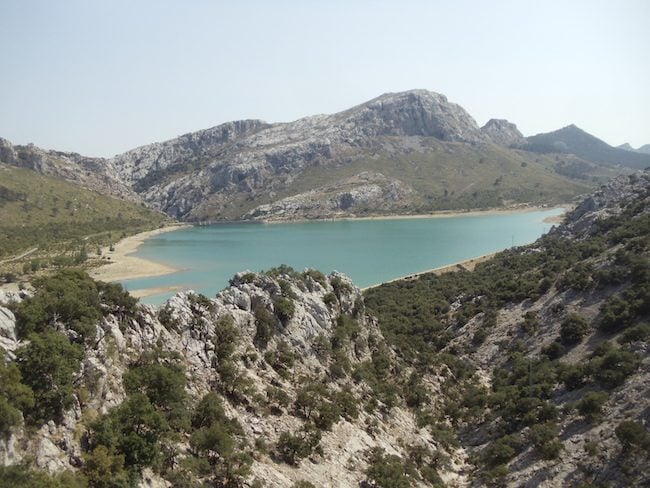 You'll be lucky to find a room here!
Snaking its way down the eastern slope, the Ma-10 is at its best with rugged views and sharp bends. A turnoff to the Lluc (famous monastery) is off this road but we headed straight to Finca Es Castell, just outside Binibona, arriving at 6:30 pm after a long day and demanding drives. Finca Es Castell is a restored farmhouse, sitting on a huge property filled with roaming sheep, olives groves, and orange trees.
It is an award-winning hotel and did not disappoint. With tranquility at its best, you can relax poolside, taking in the breathtaking views during the day and watch the countless stars as bell wearing sheep orchestrate the night in an enchanting symphony. Breakfast is superbly fresh and attention to detail is the name of the game in this relaxing country home. You can enjoy the changing dinner menu for 31€ pp or venture out to nearby Selva for a variety of dinner options.
Here's a list of all accommodations in the Binibona region which you can book online.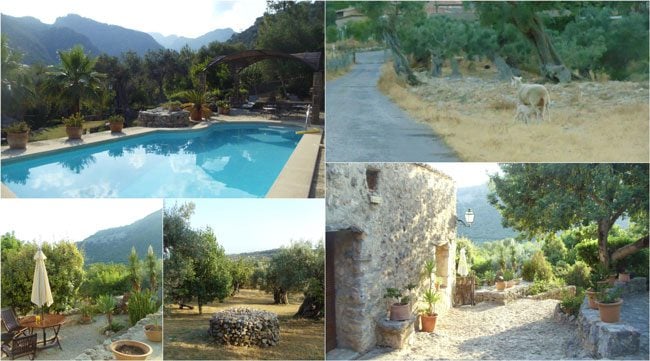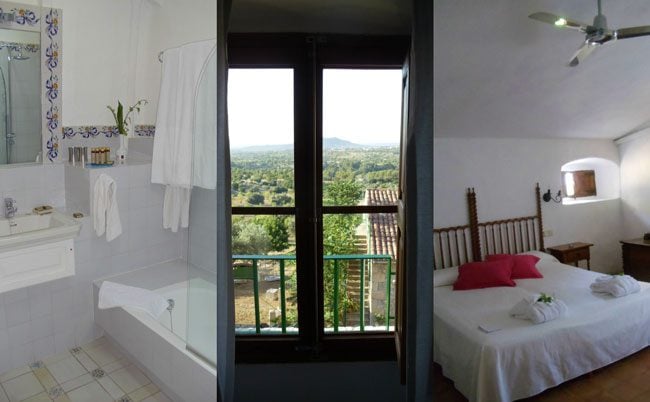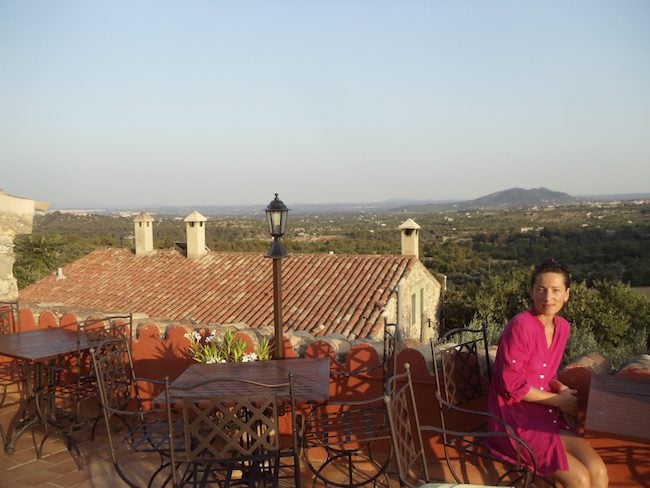 Binibona to Sa Calobra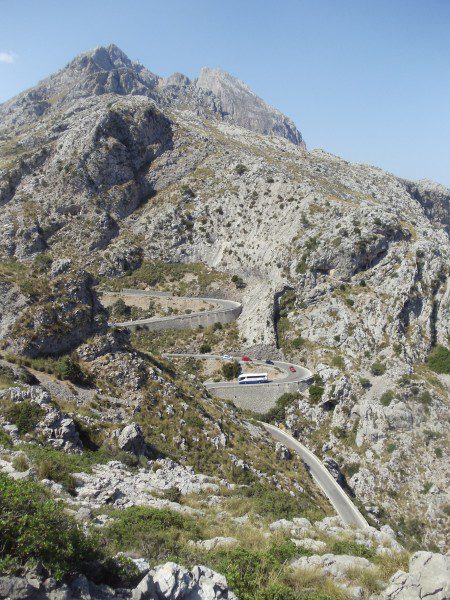 The following morning, we were headed for 3 beaches: Sa Calobra, Cala Tuent, and Port de Sóller. As a rule of thumb, always stock up on plenty of water, snacks, food, etc. when headed to Mallorcan beaches. You will find that most visitors are well equipped so consider bringing with you cooler bags and ice bags not to mention umbrellas and towels if possible. There is usually a place to buy food and drinks but it will definitely be pricey. We were well prepared and always took with us water, fresh fruit from the local market or grocery shop and some snacks. The road down to Sa Calobra is famous for its incomprehensible sharp curves. If you want to catch a postcard view of this road, stop at the lookout point just before the descent begins. The road down will take you some 30 minutes, depending on how many tour buses are making their way up or down and will challenge the best drivers with its 270-degree turns. Once completed, say goodbye to about 3€ per hour at the only car park, skip the first beach you see and race the other visitors through the tunnels down to the famous spot. The infrastructure at Sa Calobra caters to the masses, including endless tour buses dumping tourists off by the dozens. If you are to come, get here early. The beach and its surroundings are spectacular but once the masses arrive, its beauty disappears and so did we, not after a pleasant snorkel in its crystal clear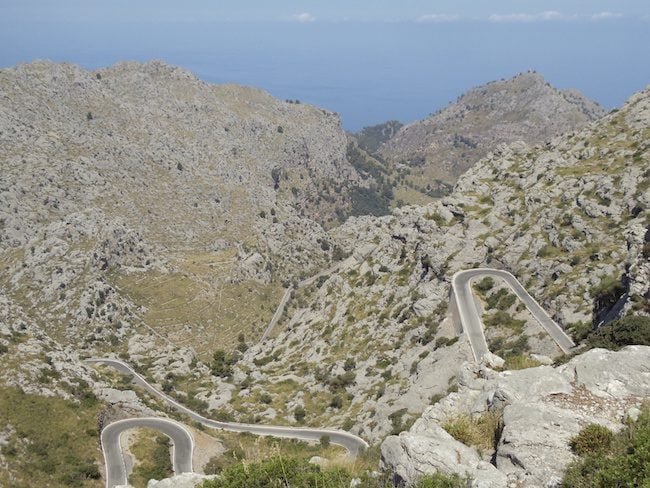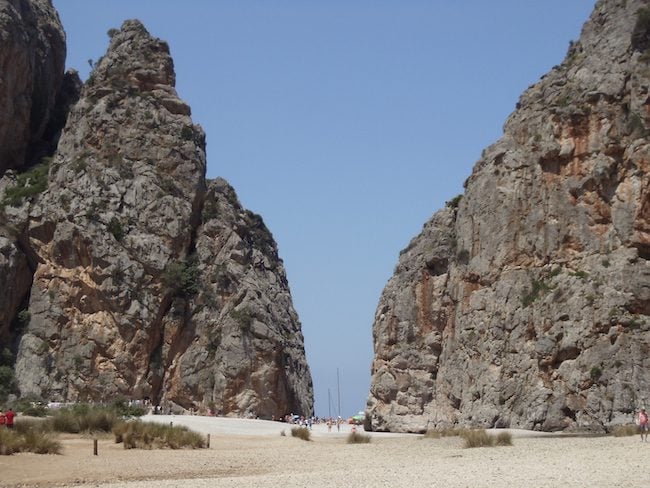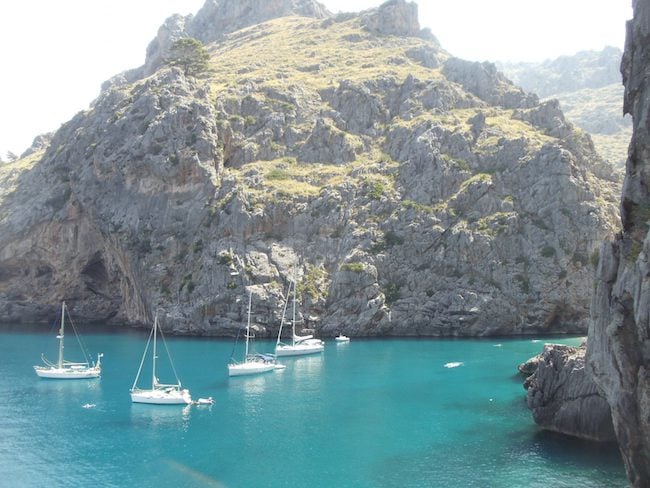 Sa Calobra to Cala Tuent
When things get crowded, head back to the car, pay the overpriced parking fee and head about 20 minutes to Cala Tuent– the 'unloved' sister beach of Sa Calobra. We really enjoyed this place. The drive holds great views and photo ops of the dramatic peaks on one side and the turquoise bay on the other. Not much parking is available here but you'll manage.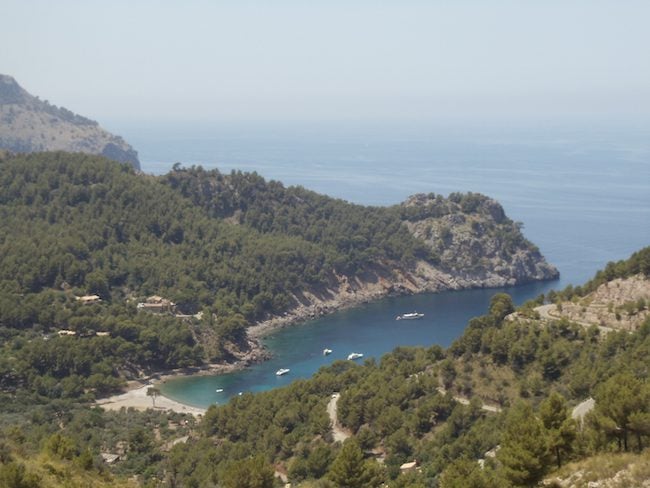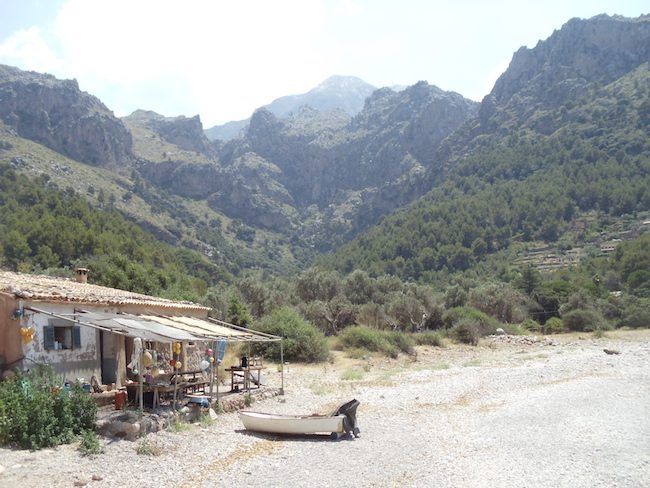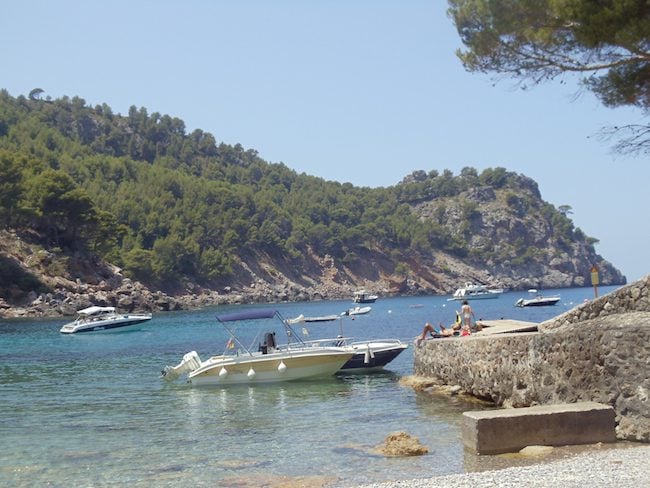 The beach is rocky and the water definitely not as nice as with the older sister at Sa Calobra but tranquility wins over here.
Cala Tuent to Port de Sóller and back to Binibona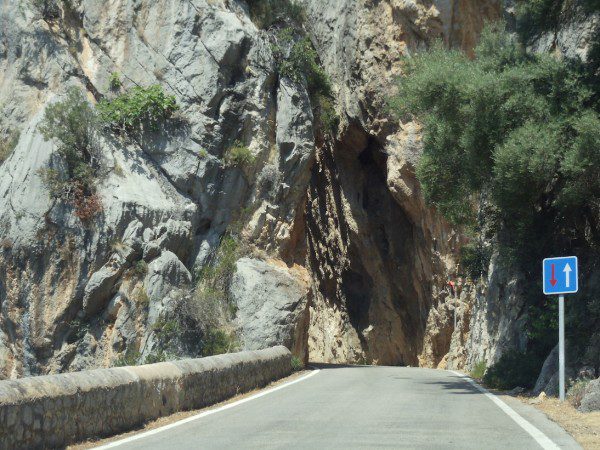 A 45-minute drive back on the Ma-10 took us back to Port de Sóller and our third and final beach for the day. We headed straight for the northernmost beach in Port de Sóller, which is less of a family beach. Sure, the horseshoe-shaped bay is nice and the town itself is cute even though a tourist resort, but we didn't understand what the hype about this beach is about. Considering we were pretty tired at this point, especially with the difficult drive, we really could have just stayed at Cala Tuent. On the day we visited, the water was very murky and visibility was almost zero. If you are looking for that special beach, head for the small coves (Cala) in this part of Mallorca. Instead of driving again through the mountains and the lake district, we used the Sóller tunnel (5€) to head directly to the eastern slopes of the mountain range and back to Finca Es Castell through Inca. For dinner, we found a gem of a place in Selva called Miceli. With memorable views across the valley outside on the terrace, you will not find a menu at this restaurant. Dinner depends on the local produce of that day. We chose the 'taste menu', a 5-course feast for 27€ including the best Gazpacho we have ever tasted and a memorable dessert.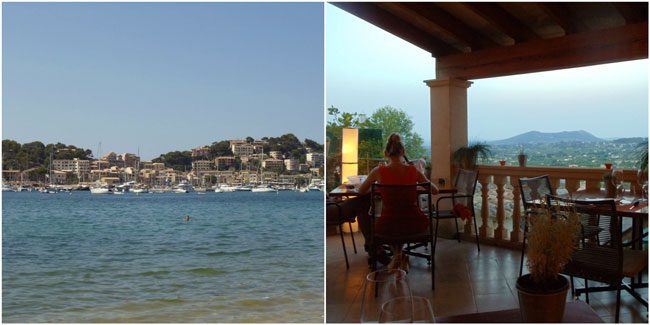 Any regrets?
We definitely underestimated the drive times in this part of the island. While distances are not great, roads are narrow, windy and usually one-laned, making driving times twice as long as you would think.
As far as beaches, doing 3 in one day was a bit too much. I would include Cala Deià in the mix as it looks inviting in pictures and probably not as crowded as neighboring coves. Definitely get to Sa Calobra early and Port de Sóller is not a must.
We didn't have time to see the Lluc, a famous monastery with some fantastic panoramic views.
There is a lot to see in this part of Mallorca: beaches, small towns, mountain views, and top-notch rural hotels to stay in. Two days may not be enough and you might feel rushed. We did not have time to hike in this region which is famous for its hikeable terrain. Allow at least one additional full day if you want to squeeze in a hike, there are plenty of options with well-marked and documented trails.