Part 1: Stone Town (2 Days)
The first part of this Zanzibar itinerary is dedicated to its major town. Many travelers overlook Stone Town en route to the beaches, but for those who seek a taste of the local vibe and have an affinity for architecture, don't miss a quick stop in Stone Town.
Where To Stay?
We landed in Stone Town in the morning hours after a connecting flight from Nairobi. Unlike us, our checked luggage did not make the connection, a story often heard from those connecting through Kenya. Luckily for us, we came prepared and had enough essentials to last us for a couple of days. We were greeted by sunny and humid weather, unlike the ominous weather reports which predicted constant rain throughout the week. We had arranged for an airport transfer when booking our hotel and were on our way to The Dhow Palace Hotel. Hakuna Matata!
All places mentioned in this section of the itinerary can be found on this companion map. Click on the image to open in Google Maps.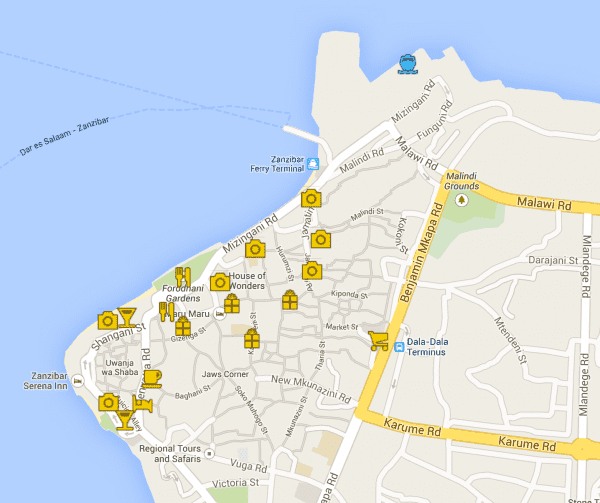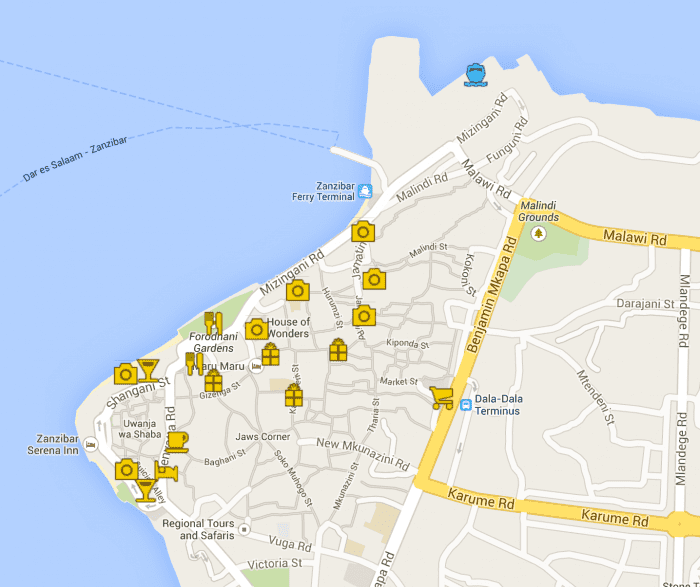 There are quite a few hotel options in Stone Town, both in the historic town itself and the surrounding beaches. If it's in the historic center you wish to stay in, I recommend choosing a place that is around Shangani Square. This area is less dense, with all the amenities you need, and relatively safe. Had we stayed in the labyrinth of alleys in the center of the historic area, we would have felt a bit unsafe.
The Dhow Palace was a great choice: excellent location, working air conditioning, wi-fi in the room (even Skype worked), a mini-refrigerator, hot water, friendly staff, well lit at night and with an excellent breakfast. Above all, the building is very historic, a beautiful colonial-style structure with heavy African influence and wonderfully furnished. It's not 'the Hilton' but excellent value for money. If you are sensitive to noise, avoid the rooms on the top floor as the tin-covered roof can get a bit noisy in the rain or when birds rest on it.
Before heading out to explore the town, we wanted to inquire about a day trip to Chumbe Island Coral Park. Chumbe Island is located just off the coast of Stone Town and is a marine-protected island. Due to the delicate land and marine ecosystem, only 14 guests are allowed on the island at any time. Bizarrely, though a truly authentic eco-friendly conservation project, the island holds a small and luxurious eco-lodge. Your only chance to visit this special island is either by booking a stay at the lodge, which will set you back a fortune, or call a day before you wish to visit and see if there is room on the island for day-trippers. If you're lucky, and we were, you can catch a ride for a day trip to the island for $100 per person. Call +255 (0) 242 231 040 or +255 (0) 777 413 232 to try your luck. More on this day trip later on.
Feeling good about tomorrow's island trip, we had the whole day to explore the town. Stone Town, at least the area that most attracts tourists, is very small and easily explored on foot. From the impressive colonial buildings dotted around the seafront to the narrow alleys further to the east, Stone Town is rich with history.
Stone Town was a trading (and slave) hub where the east literally met west. The architecture bears the influence of European, Indian, Arabian, and African touches with houses fitted with rotting yet charming wooden verandas and magnificent wooden doors, which Stone Town is famous for. You will find yourself snapping loads of pictures of… doors.
If there's one annoyance in Stone Town, it's the 'papasi'. With the literal meaning of parasite in Swahili, the papasi are mostly 'highly qualified' men who will try to sell you everything imaginable. They are tour guides, artists, shop owners, chefs, carpenters, taxi drivers and whatnot – all in one person. Don't be tempted to take them up on their offer but be warned- they will be VERY persistent. Just be very friendly, kindly decline and whatever you do- continue walking.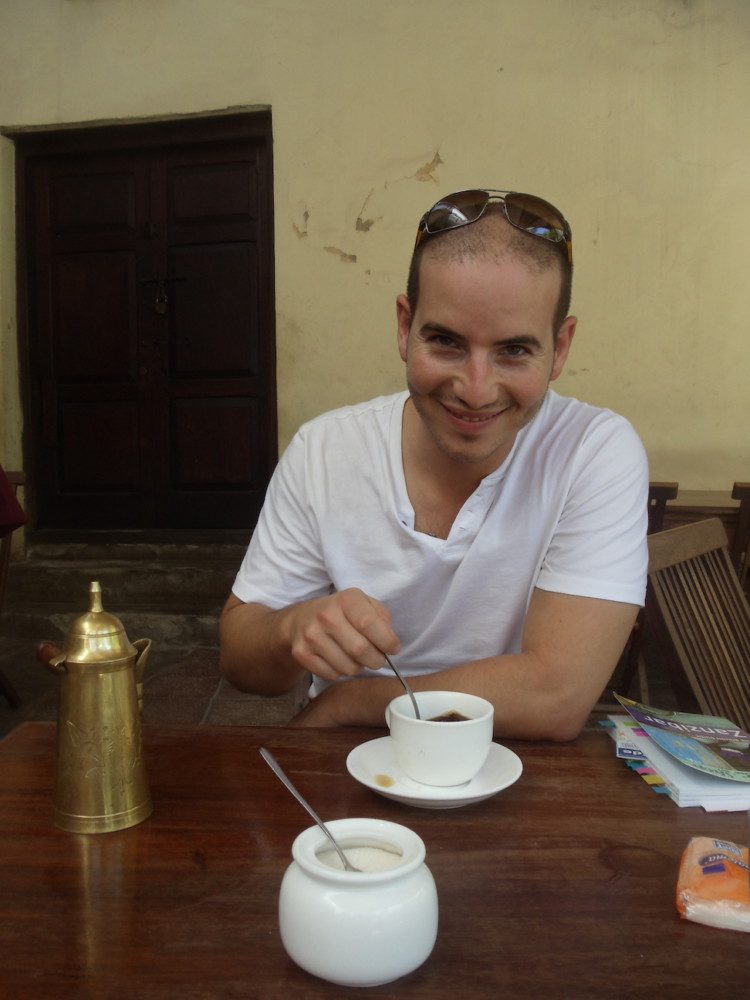 Start your city exploration in the waterfront area, eventually making your way east to Creek Road, which can serve as your boundary. Beyond Creek Road, there are very few tourist highlights and you may feel less safe with not too many visitors around you.
Our first stop was to get something to eat and we headed to the nearby Stone Town Cafe. With a non-pretentious menu at very reasonable prices, we had a lovely tuna steak with fresh salad and rice. The real highlights here are the fruit smoothies (try the mango) and the spiced coffee. Zanzibar is famous for its spiced coffee, a blend of Arabica coffee from the mainland beautifully blended with cardamom, ginger, cinnamon, and sugar and served in an Arabian brass pot. This is a must if you like coffee.
Oddly enough, you would think that such a local delicacy would be served at the hotels and resorts but this is an anomaly. So take my word and head to Stone Town Cafe as this is one of the best places on the entire island for spiced coffee.
From Stone Town Cafe, head down 'Suicide Alley' until you reach Tippu Tip's House. It's quite run down these days but this former slave trader's house boasts one of the nicest wooden doors on the island along with black and white marble stairs. It's not officially open to the public but makes for a great photo opportunity. You may also request a tour of the residence from the inhabitants for a small 'donation'.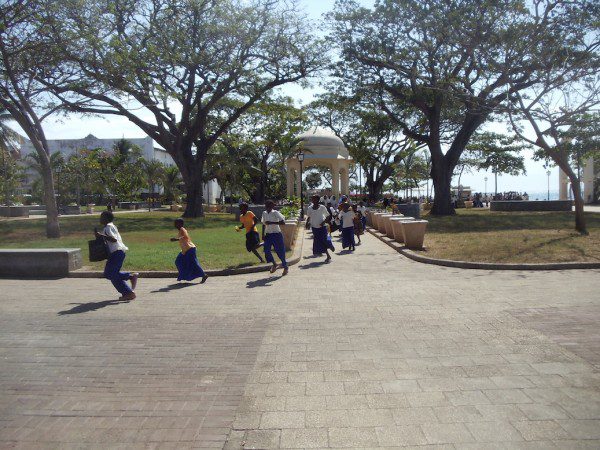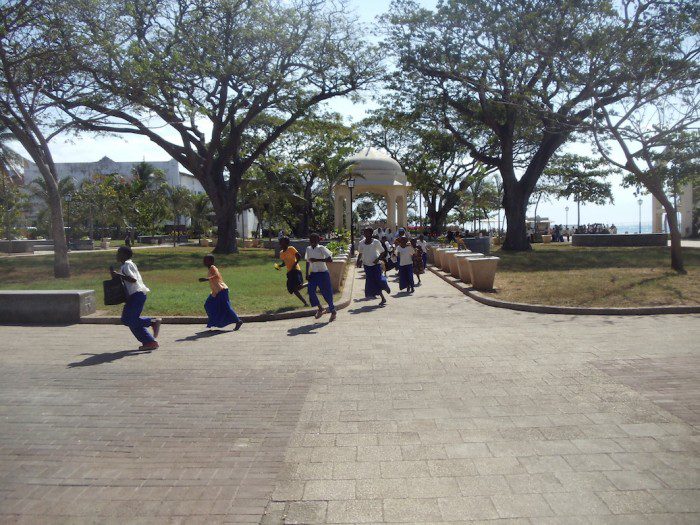 Continue walking beyond the Shangani Square and the historic Beyt al Chai hotel and you'll get to the beach area. If you fancy a dip, go for it but if you're pressed for time and will anyway hit the beach resorts, use this time to enjoy a great view of the Stone Town waterfront.
Just beyond the beach is the famous Forodhani Gardens, not much of a place as far as gardens are concerned but it serves as one of Stone Town's main gathering areas and at night, this place comes to life as locals set up food stalls as part of a nightly food market. More on this to come.
Just across from Forodhani Gardens, you cannot miss The House of Wonders (Beit-al-Ajaib), one of the most dominating landmarks in Stone Town. This former sultan's palace was the first building in Zanzibar to have electricity and the first in East Africa to have an elevator. The house is now a museum of local history.
Continuing along Mizingani Road and the waterfront, you'll see to your right the Palace Museum (Beit el-Sahel), another impressive landmark that now houses a museum about former Zanzibari royals. Just after the Palace Museum and a little bit tricky to find, is the Big Tall Tree, a strange huge fig tree. Catch some shade with the locals and enjoy its beauty.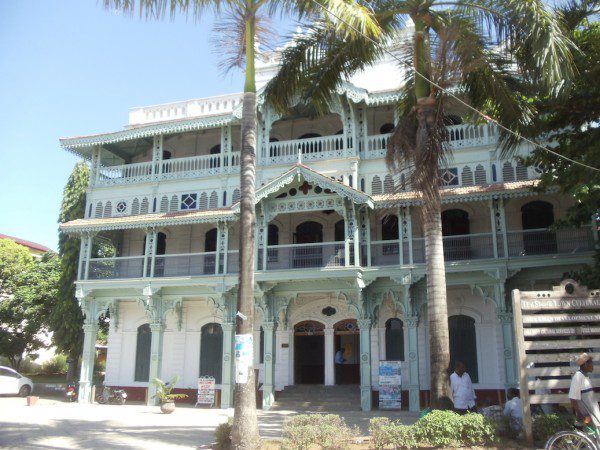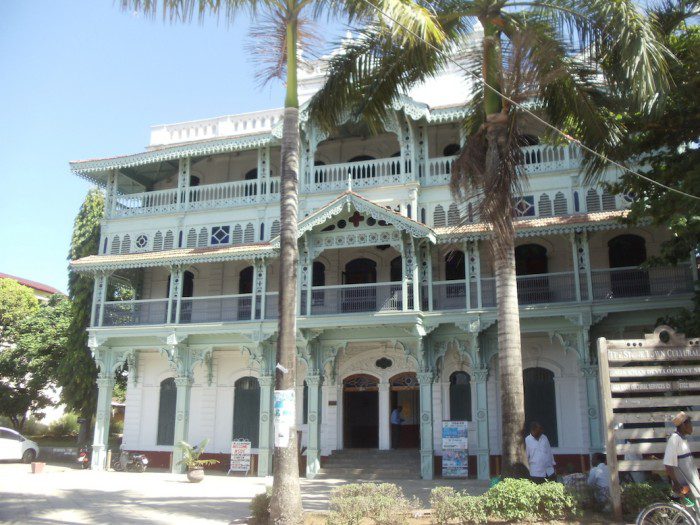 A short stroll away from the big tree is The Old Dispensary, another impressive local landmark. With heavy colonial, Indian and Arabian influence, this impressive wooden structure also has a decent crafts shop inside. Once you've seen the Old Dispensary, you've pretty much reached the port area. There's not much happening here with the exception of the early morning hours when fishermen return to port with their fresh bounty.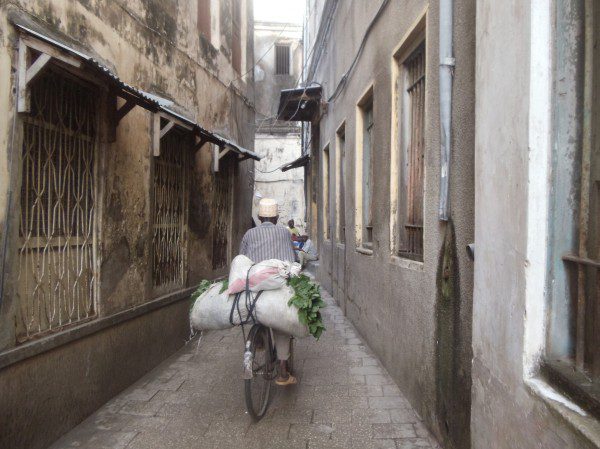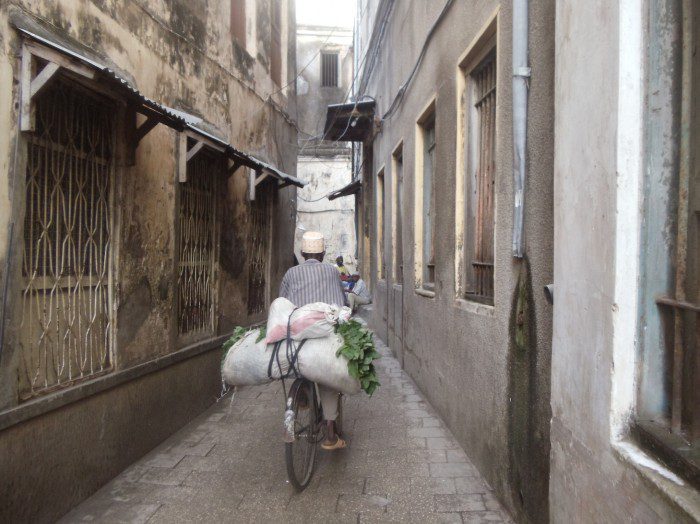 From the Old Dispensary, we ventured eastward into the labyrinth of ancient alleys that make up the old city. Getting lost is part of the fun so don't let it get to you. Locals are friendly but be sure to dress relatively modestly, especially covering your shoulders and if you're a female- preferably your legs as well. In this part of town, you'll be taken back in time as you stroll by decaying yet charming houses with magnificent carved wooden doors that Stone Town is famous for. You'll get to see the locals go about their daily routine, buying groceries in the small shops, freshening up with some sugar cane juice, going to school or to the mosque for prayer and like you- heading in the direction of the Darajani Market. If you get lost, just ask the locals for the direction of Creek Road, it's the main road to the east of you and can also serve as your border, no need to go beyond Creek Road.
If you are impressed by the wooden doors so far (or not yet), attempt to get to the Aga Khan Mosque (which might be also known as the Ismaili Mosque). Like a clearing in the forest, this mosque in the rare open courtyard has the nicest (and perhaps biggest) carved wooden door in town. It was tough to find this place and we needed the help of a local but it was certainly worth the adventure.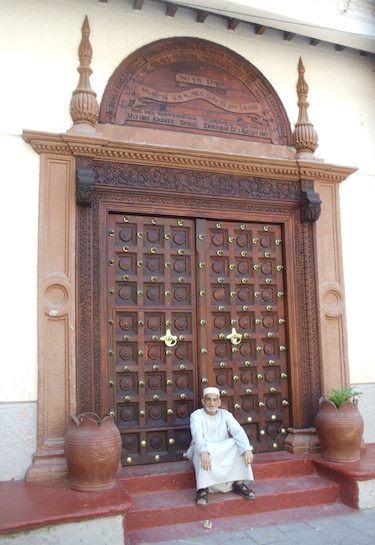 f you still have some time, head for a stroll in the Darajani Market. We were a bit tired and planned to visit the market in the morning hours anyway so we headed back through Changa Bazaar and Hurumzi Street, popular alleys lined with souvenir shops, back to the Dhow Palace Hotel (more on Darajani Market later). This way, we got to see what we could potentially buy at the end of our trip and get a feeling for the initial prices asked. If you will have some time in Stone Town on the last day of your trip, even just a few hours, I recommend saving the shopping for then. At night, we headed to the same beach area where we more or less started our day. We found a very nice bar near the Tembo House Hotel which also had seats outside in the sand. It's a very cool place to relax and have a beer.
Chumbe Island
The next morning we were greeted by the driver that was arranged by Chumbe Island to take us to the lovely Mbweni Ruins Hotel, where we would catch the boat to the island. Our driver, Salim, turned out to be a wonderful man and we ended up renting his services for other travels on the island (you can reach him at +255 777421199 / 787421199).
Lying just a short distance from Stone Town, Chumbe Island was one of the highlights of our trip. As mentioned earlier, Chumbe Island is a marine-protected coral park and only 14 visitors are allowed on the island at any given time (aside from the rangers). Pristine shallow waters surround this tiny island with superb marine life, something of a rarity these days even in a paradise-like Zanzibar.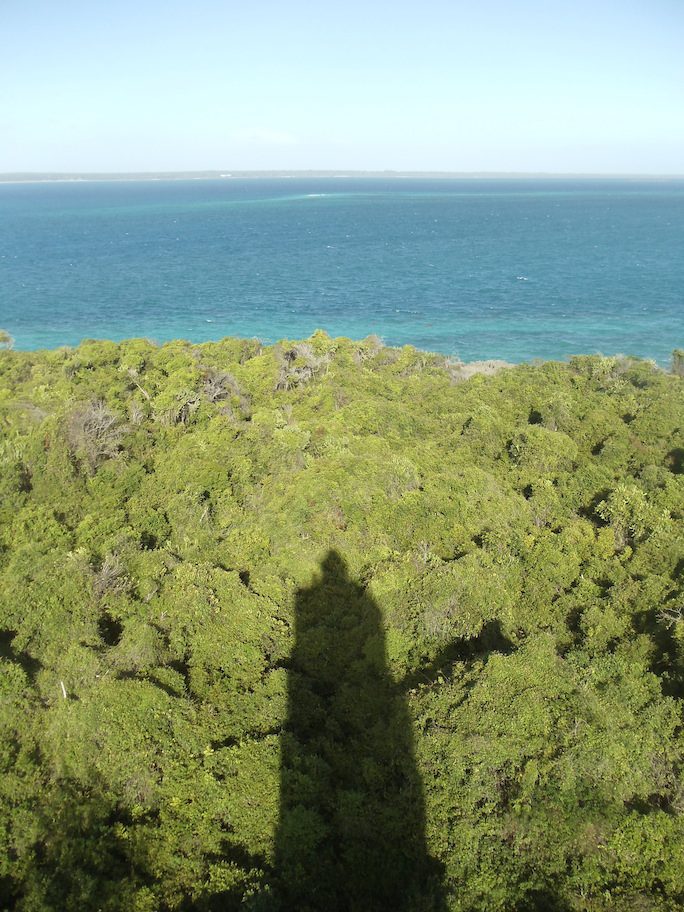 The island itself boasts a lovely mangrove forest and a relaxing beach. Guests on the island usually spend a few nights in its eco-friendly lodge and if you're lucky enough to come as a day tripper, part of your stay on the island includes your own cabin for the duration of your stay. Cabins are well equipped and quite comfortable. Complete with remarkably effective natural ventilation, eco-friendly toilet & shower, natural soaps and insect repellent- this is indeed luxury with a low carbon footprint.
You'll start your visit with a talk by the rangers about the island, animal and marine life and the conservation project. Depending on the tides, you'll then have some time to rest in the cabin, hit the beach, or walk around the island as you await lunch and the real treat which is the snorkeling trip.
The beach is fantastic and you'll have it almost to yourself. The forest walk is interesting as you'll see crabs, birds, and other animals living in a thick mangrove forest. Be sure to climb all the way up to the lighthouse for breathtaking panoramic views of the island and turquoise waters. Oh and one last thing, make sure you come hungry for lunch- an exquisite buffet of Swahili food which you can enjoy outside while gazing at the ocean.
And now to the highlight- the snorkeling trip. The rangers will take you out for pretty much as long as you want. If you get tired, they'll do rounds back to the lodge. Make sure to test your equipment before you leave as in my case, the mask wasn't amazing and that can kill the experience. If you're very sensitive to cold water, do take a wetsuit as you'll be out for a while and it's really a once-in-a-lifetime experience.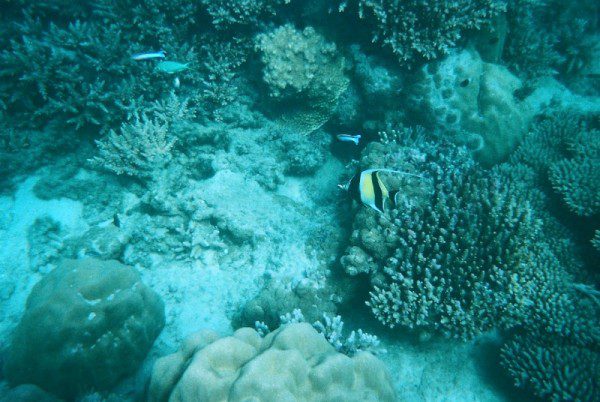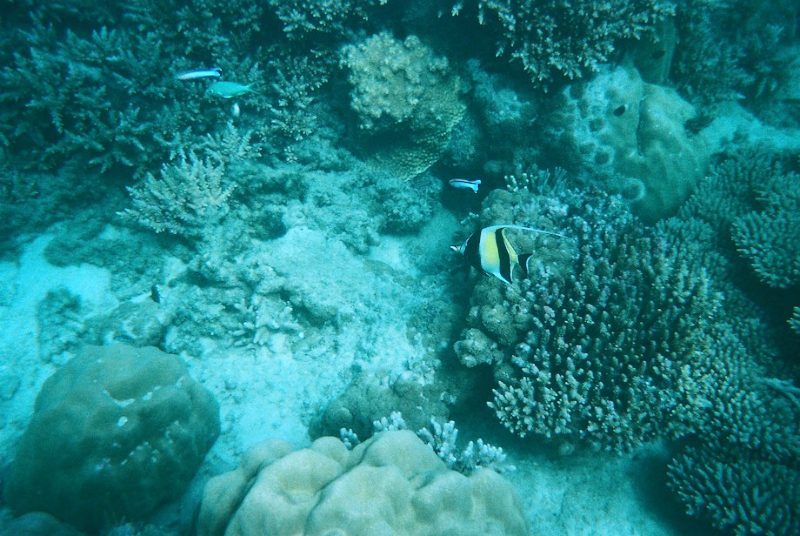 The waters are crystal clear and no deeper than 3-5 meters so it's perfect for snorkelers. I have never seen coral in such better shape like in Chumbe with a kaleidoscope of colors. You'll see plenty of tropical fish from the, very small but all-time favorite, the 'clownfish' and all the way to really big fish that I would never imagine seeing here. To sum it all up, it's worth the trip and the money: great beach, fantastic views, no crowds, friendly staff, amazing food and all part of a really good cause.
Evening in Stone Town
While it was sad to leave the island, and feeling a bit jealous of the 'lucky' ones who were going to spend the night on Chumbe Island, we got back to town just in time for the sunset. A must-do in Stone Town is to catch the sunset with a cocktail in your hand at the accurately named Sunset Bar in the historic Africa House Hotel (which is impressive on its own). Be sure to get there early enough to grab a good seat and simply enjoy the views as the Dhow boats come back to port in the backdrop of a majestic sunset. This place also serves great cocktails ($8-10), attracts the tourists and is visited by Maasai warriors who come over from the mainland to put on their traditional dance show for the tourist crowd (cheesy but nice to see).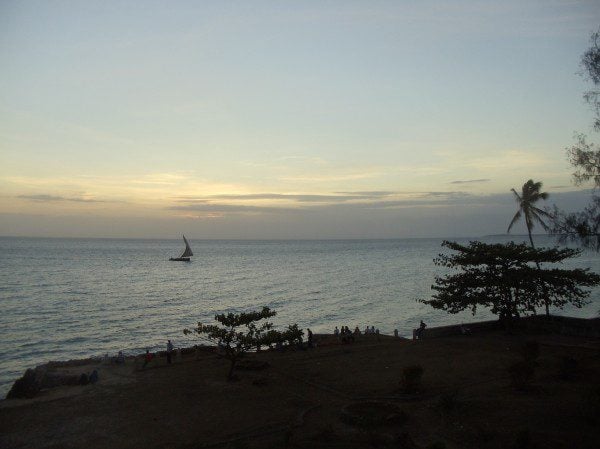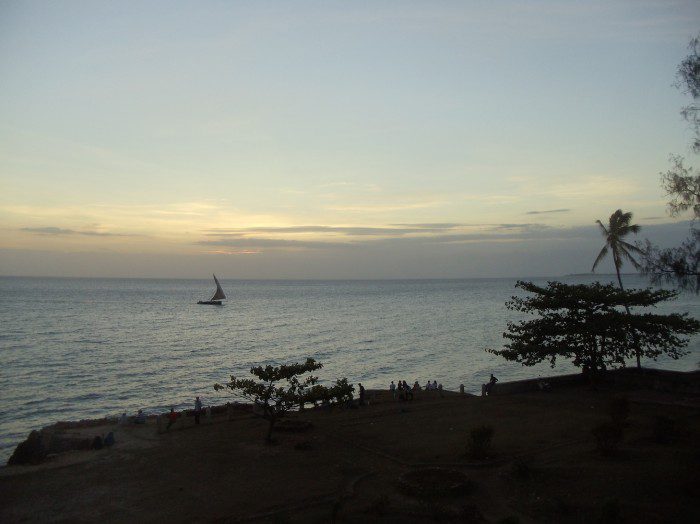 And now for another must-do in Stone, dinner at the Forodhani Gardens night food market. While a bit sleepy during the day, this place comes to life at night as dozens of stalls serving anything from traditional Swahili BBQ, seafood, spiced coffee, sugarcane juice and more fill up the gardens. This is quite an experience, especially if you like tasting authentic local food as many locals come to eat here but even if you're not, it's a great place to satisfy your curiosity. It's almost certain you'll pay double the price so do shop around a bit and whatever you drink- be sure there is no ice in it as it may not originate from purified water. While the local stomachs can probably tolerate it, your stomach will likely punish you for it so don't take the chance- no ice!
Any Regrets?
Inspired by the Arabian vibes, we were hoping to find a Shisha (water pipe) bar but were quite disappointed not to find any. The bar at the Africa House Hotel does serve Shishas but not on a regular basis.
We didn't have enough time to do the Safari Blue day trip which, though not the most intimate boat ride, does get you to some fantastic beaches with a superb BBQ lunch. We also didn't have the time for a spice tour and were hoping to book from the next destinations though this proved to almost double the price we could get if booking from Stone Town.