Part 2: Stone Town to Matemwe (4 days)
Leaving Stone Town behind, it's now time to unwind and relax on one of the island's finest beaches.
Matemwe
Leaving Stone Town en route to the beaches is when you really feel you started your vacation in Zanzibar and in our case, the first stop was Matemwe, a 45-minute drive from Stone Town. By booking directly with our hotel, we were able to get free transportation from Stone Town to Matemwe, saving $50 each. We had a couple of hours to kill before our ride so we headed to the Darajani Market to get some fruit and water for the journey (more on the market to come later).
Matemwe is a tiny village on the west coast of the island with a long, broad, and beautifully bright white sandy beach. There are several resorts dotting the beachfront but overall, this is a very laid-back place where you'll recharge your batteries. The beach also doubles as a bicycle highway and you'll see many locals riding up and down the beach. The beach is so wide so this won't bother you at all (aside from the children who'll try and sell you the odd souvenir). As beautiful as Matemwe beach may be (and it is), it is very tidal and so it is used by locals to harvest seaweed. Seaweed farms dot the shallow waters and depending on the tide, you'll see locals as far out as 100 meters from the shoreline tending their farm.
Where To Stay?
We checked into the Villa Kiva resort for a three-night stay in Matemwe. A successful selection of beach resorts will really impact your stay in Zanzibar so invest some time to find the right one. Villa Kiva was an excellent choice and it turned out it had only opened for business just recently. The resort is quite small with just a few 2 story bungalows. It is maintained to the highest standard by the manager Gabriella and the group of local staff from the village. A tropical garden surrounds a fresh pool in the front of the main house, which also serves as an open dining room with ocean views. There is a small sanded area with beach beds and a gate that leads out to Matemwe beach which is simply spectacular. We stayed in the top floor of the Africa House bungalow, with not much sea view unfortunately but the room was huge, clean, had good air conditioning, contained a small living room in the back and there was good wi-fi in the main house.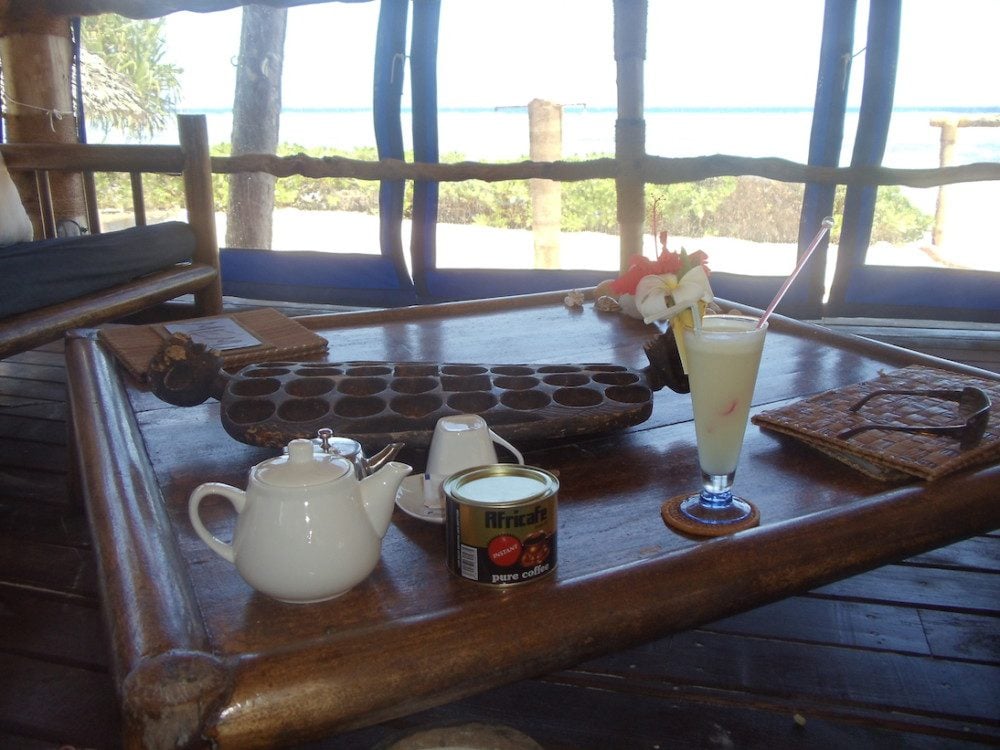 Breakfast is excellent with fresh passion fruit juice and eggs of your choice. For lunch, you can order a-la-carte from the kitchen at reasonable prices ($5-12) and treat yourself to a great cocktail. Afternoon tea and freshly baked cookies are served poolside as well but the real treat is dinner. A delicious 3-course meal is served poolside every night and I mean a gourmet dinner usually with an Italian flavor, probably inspired by Gabriella, the manager. You do get a few water bottles every night in your room (which is cleaned twice a day) but if you don't fancy paying a few dollars during the day for water, bring a few with you from Stone Town.
And now for the beach … During the day, it is a spectacular contrast of white, turquoise, and blue while at night, millions of stars light up the black sky, the most impressive star show I have ever seen. Matemwe beach is a picture postcard beach dotted with tall palm trees, fishing boats here and there, and the odd hammock.
There isn't much happening here so just relax. Don't expect to get a good swim here despite what you might hear. Matemwe beach is very tidal with the reef breaking 500 meters away (don't bother venturing out there in low tide, there isn't much to see). Even when the water seems to be OK, the reef is full of small corals and thousands of sea urchins so I wouldn't recommend swimming, definitely without sandals.
But on the bright side of things, the beach is so long that you will enjoy a stroll in any direction where you'll get to see the locals wandering about and also find better swimming spots where the sand extends further into the shoreline.
As for diving, Matemwe is perfectly situated close to Mnemba Island, whose reef is one of the finest diving spots in Zanzibar and whose beach is home to one of the most expensive resorts in Africa. There are plenty of dive sites here along with drift dives if you fancy. One Ocean Dive Centers has a branch in the Matemwe Beach Resort, a few steps north of Villa Kiva and is a reputable dive center. Their dive packages are reasonably priced (2 dives for $110) and snorkelers can join as well. I had to take a refresher course in the pool as I didn't dive for over a year which set me back $35 but was overall well worth it. The dive boat's departure time varies according to the tide but the ride gives you an excellent view of Matemwe beach and we even saw a turtle swimming by. As for what you see under the water, well that is spectacular.
Water visibility is excellent and you'll see a huge variety of soft corals, hard corals, and tropical fish. The guides are excellent and a Swahili lite lunch is even served on deck between dives. The water though can have a strong current so our second dive was more like a drift dive, which was a little scary but nonetheless provided a pleasant feeling of weightlessness. An unexpected treat awaited us on the return as we had to be dropped off about 30 km north of Matemwe due to the tides and be driven back by bus. We ended up landing on one of the nicest beaches I have ever been to, truly picturesque. We wished we could have stayed here longer.
Any Regrets?
Matemwe beach is a picture postcard beach but not amazing for swimming. There are only a handful of beaches in Zanzibar suitable for swimming and this is not one of them.
On the other hand, it is a real place for relaxation and unpretentious. We wish we had more time to spend here just to relax and to do more diving.