Part 3: Matemwe to Nungwi (3 Days)
In this section, we'll leave Matemwe and head north to Nungwi, one of the prime tourist hubs in Zanzibar.
Where To Stay?
Sad to leave Matemwe and Villa Kiva, we headed to our second and last beach resort, the Ras Nungwi Beach Hotel, just outside of Nungwi in the north of the island. We arranged a ride from Villa Kiva which wasn't too expensive and got there within about 30 minutes. The village of Nungwi is a major tourist hub. You can find a wide range of beach resorts, restaurants, and shops here.
Tourism has boomed here in recent years and what was once a quiet fishing village is now home to dozens of holiday resorts. The nearby village of Kendwa is more relaxed and popular with backpackers. It apparently also boasts an excellent beach, one of the few unaffected by the tides.
We decided to spoil ourselves for our last few days by staying at the fancier Ras Nungwi Beach Hotel. Located outside the village of Nungwi, it occupies a little hill overlooking beautiful yet strange turquoise water a bit murky, probably due to the currents washing up white sand. South African-owned, this place caters more to couples who pretty much come directly to the resort after their mainland safari.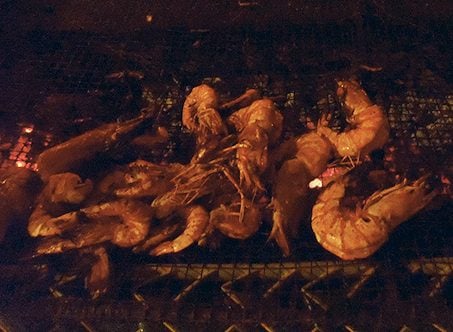 Dotted on the hill are a hundred or so bungalows, very comfortable with great air conditioning and a small balcony. Most bungalows face the garden, which also has a small ocean-facing pool. The resort is home to a dive center which is extremely overpriced as well as to a games room, a well-stocked bar and 2 restaurants. Breakfast here is OK, with nothing out of the ordinary. If dinner is not included in the price of your stay, you'll pay about $20-30 pp if you opt-in and do so on BBQ night where staff prepares a delicious selection of meats and seafood. You're almost certain to also be serenaded by the house band playing 'Hakuna Matata', a favorite among tourists (though originally really a song about how hospitable Kenyans are to visitors…).
If you fancy something a little bit more laid back, head to the adjacent Sazani Beach Hotel which is a simple eco-friendly resort, serving a modest yet excellent dinner comprised of local Swahili food.
The beach at the Ras Nungwi Beach Hotel is not bad at all. While the water is a bit murky from the currents washing up the white sand, it is swimmable nearly throughout the day and you don't have to worry too much about sea urchins, though sandals are recommended. At low tide, you can enjoy a nice stroll along the beach and find some beautiful spots to privately enjoy the ocean views. There has been some theft along these beaches so just be sure to notify the security guard that's present on the beach that you're going for a stroll and don't take with you unnecessary valuables.
The stay here was mostly about relaxation, working on our tan and catching up on some reading. The one excursion we did take was a walk from the hotel along the coast to the village of Nungwi. We left in the morning when the tide was high and walked on the hillside path until we got to the lighthouse. When at the lighthouse, cut down towards the beach, past the 'marine park' and start walking along the beach towards the village. It's a nice walk and you get to see dozens of fishing dhow boats coming back with their bounty and children playing in the ocean.
The village itself isn't amazing and there's not much to it but if you're here, you might as well take a look and see how the locals really live, just have some modest clothing with you to respect the local culture. You can then walk around the hotel area which is quite congested, with a narrow strip of sand that disappears when the tide is high and a decent wooden boardwalk where you can grab lunch and groceries at one of the restaurants. One the way back, we took the beach route back to our hotel which was quite a nice walk.
Any Regrets?
Overall the Ras Nungwi Beach Hotel is good by all standards but lacks the simplicity and tranquility we experienced at Villa Kiva. If you do choose to stay in Nungwi, you might as well stay here or at least in this area which is much prettier and quieter than staying in Nungwi itself.
The Nungwi area as a whole was more expensive and less tranquil than Matemwe. If you're looking for serenity, try the more laid back villages like Matemwe and Jambiani.