Part 4: Nungwi to Stone Town (1/2 Day)
We arranged with our driver friend Salim to pick us up from the Ras Nungwi hotel, drop us off in Stone Town for a few hours and then pick us up for our evening flight to Nairobi. Had we used the hotel's transportation rate, we would have paid double.
Prior to leaving Stone Town, we had arranged with the Dhow Palace hotel to store our stuff for a few hours while we wait for our flight as we had a good few hours to kill. They were so kind to us and even offered us to use their shower facilities. We wasted no time and headed for some shopping starting with the Darajani market. Since we spent some time window shopping on our first leg in Stone Town, we knew what we wanted to buy and knew how much to pay for it.
Darajani market was quite an experience and definitely, 'a must' for market lovers. Inside the market, you'll find countless stalls selling tropical fruit, spices, coffee, fish, scented soaps, and much more. Be sure to head deep inside to the seafood section for a real treat (depends on how you look at it).
Outside the market itself you'll find more of the same stuff but also street food, garments shops (great silk from India), live fish auctions, and shops that sell spices, soaps, and coffee wholesale – usually to local businesses and it's here that you can get great deals.
When buying some silk garments, we asked the local shopkeeper where to buy good spices and coffee. He was so nice and actually took us to a wholesale shop called Mahanjumati Spice & Herbs where we got great value for great products and we were not ripped off at all.
After doing our market shopping, we headed back to the hotel through Changa Bazaar and Hurumzi Street, the main tourist shopping area. Some stores are more upscale than others but overall, they mainly sell the same stuff. The interesting things to buy are wooden crafts and if you're into tribal masks like I am, you're in for a treat. Do shop around and get a feel for quality and price. Do feel comfortable bargaining as this is also expected but do try and make it a win-win situation.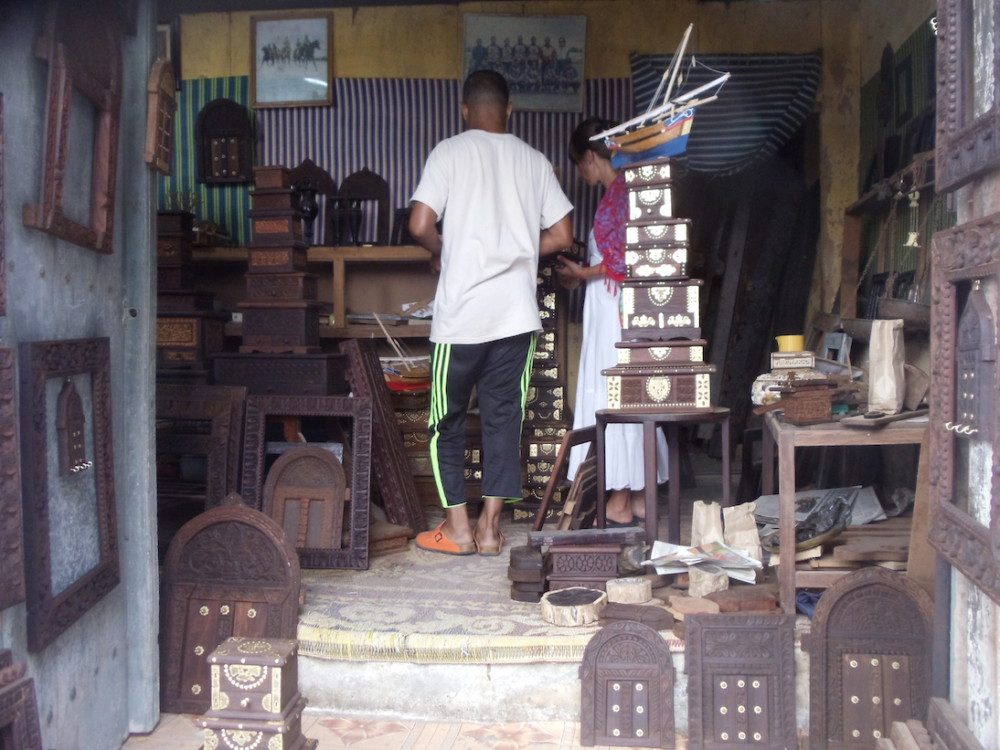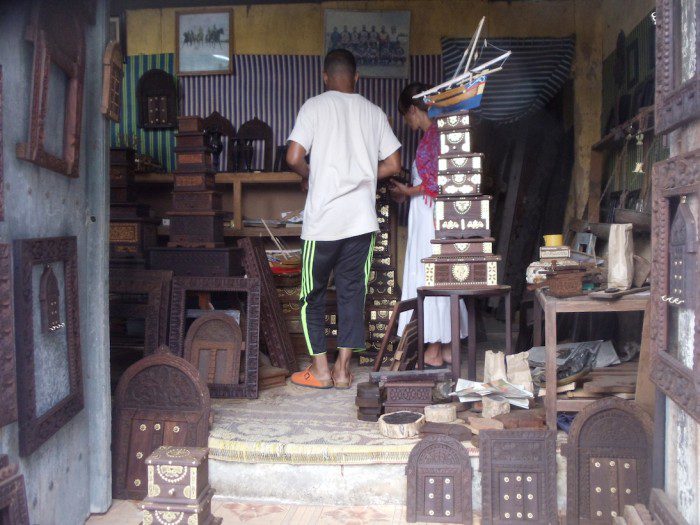 A few exceptions worth mentioning. Head to Zanzibar Souvenir Shop on Hamamni Street and look for Amour Aziz. This place creates beautiful pieces of useful art from recycled Stone Town doors. You can find for example handcrafted jewelry boxes beautifully decorated with gold tin. There are also some great craft shops on Cathedral Street and in and around the Old Fort which are worth checking out.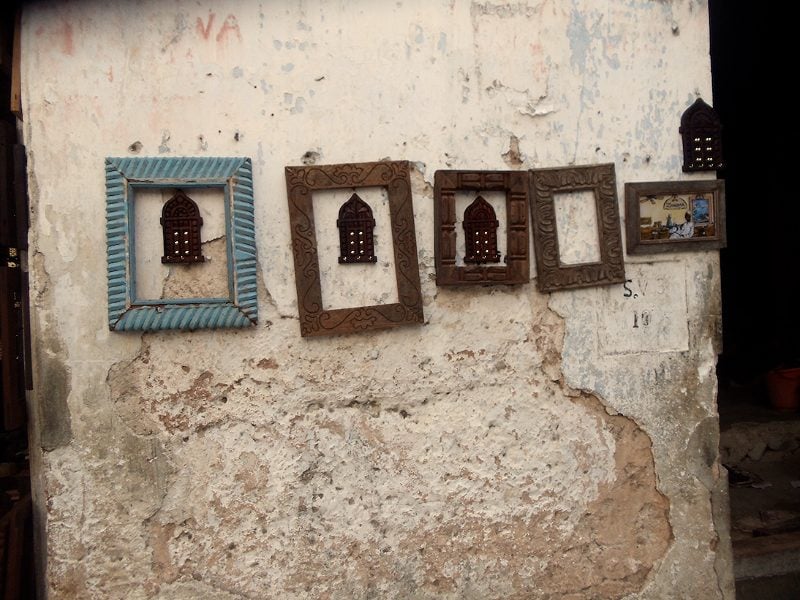 We capped off our visit to Zanzibar with and Indian lunch at the Silk Route Restaurant and spice coffee where else but in Stone Town Cafe. At the airport, you'll be hinted by the porters to give them some money in return for your bags to be loaded onto the plane. Don't try and be a wise guy and just have a couple of $1 bills prepared. This will ensure you ever get to see your bags again.
Our Zanzibar travels were over… for now, but the memories will last forever. The Spice Island did not disappoint and was an enchanting way to travel back in time while enjoying picture-postcard views.
Any Regrets?
Our only real regret was not buying a Bao, which is a traditional Swahili board game played on an impressive piece of decorated wood with 32 holes. Aside from being a good way to kill a few hours, it also makes a very nice decoration.
What's Next?
Now you know how to spend 10 days or less in Zanzibar, consider extending your African beach holiday to Zanzibar with a visit to neighboring Kenya. Here's a 3-day Kenya itinerary and a list of the top things to do in Kenya.